Arc'teryx Rush LT Pant
Price: $499
Waterproofing: 3L Gore-Tex w/C-Knit
Weight: 1 lb. 4.3 oz.
What we like: Great weather protection and ventilation, coveted Arc'teryx fit and finish.
What we don't: Limited storage space with only three small pockets, overkill for resort use.
See the Arc'teryx Rush LT Pant
North Vancouver-based Arc'teryx knows its way around the backcountry, and that comes across clearly with the Rush LT Pant. These pants are purpose-built for ski touring, with a 3-layer Gore-Tex construction and low bib for sealing out weather, trimmed-down build that easily moves up the skin track, and soft backer for comfort over long days. The design is overkill for on-piste use both in cost and construction, but for avid backcountry-goers, it's hard to beat the level of weather protection and all-around quality. Below we break down the Arc'teryx Rush LT's weather protection, breathability, comfort, storage, fit and sizing, and more. To see how it stacks up, see our article on the best ski pants.
 
Performance
Weather Protection
Using a 3-layer Gore-Tex construction and low bib design, the Arc'teryx Rush LT effectively sealed out Japan's infamous deep powder. While ski touring and exploring the lift-accessed sidecountry in Hokkaido, the pants weathered conditions ranging from cold and windy to sunny and warm and even full-on white-out blizzards. Any time we ventured above treeline, we were faced with howling winds and bitterly cold temperatures down to around -5 degrees Fahrenheit. On one outing in particular, the Rush LT kept me warm and protected against strong gusts while ascending one of Hokkaido's volcanoes on a rare, clear winter day. It's worth mentioning that I tend to run hot and prefer to wear shell pants on their own in warm conditions, but I threw on long underwear underneath the Rush LT that day given that temperatures fell below 15 degrees Fahrenheit (my usual cutoff for adding an extra layer).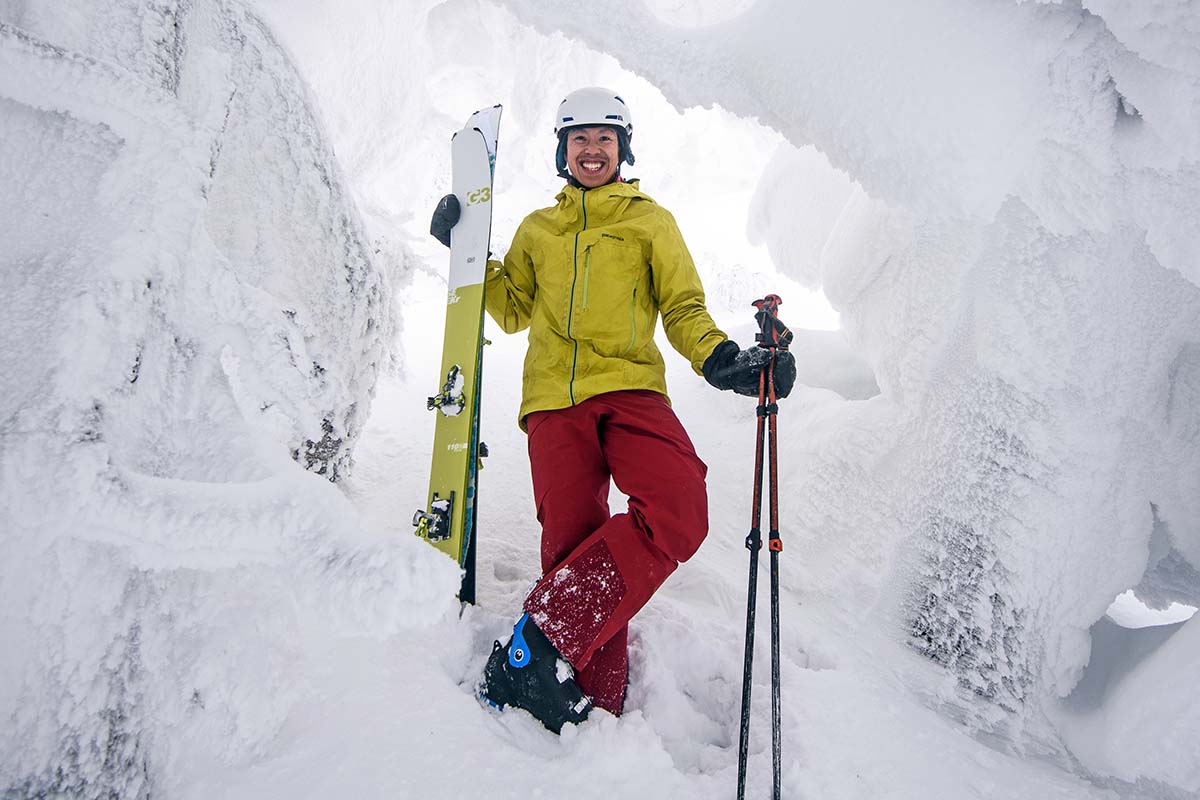 On the snowiest day of the trip, I chose the Rush LT over my more minimalist (and non-bib) Strafe Cham2 pants and had no regrets as we broke trail through thigh-high snow. At one point, I caught my ski tip under a hidden branch and faceplanted into powder, but the Rush LT's bib design effectively sealed out the snow. That said, when sitting down to rest, I was able to feel the chill through the pants relatively quickly. With that in mind, they wouldn't be my first choice if I were spending the day sitting on wet, snowy chairlifts. For a dedicated resort option, I'd instead look for a pant with light insulation like Arc'teryx's Sabre AR (or simply throw on a more substantial pair of long underwear underneath).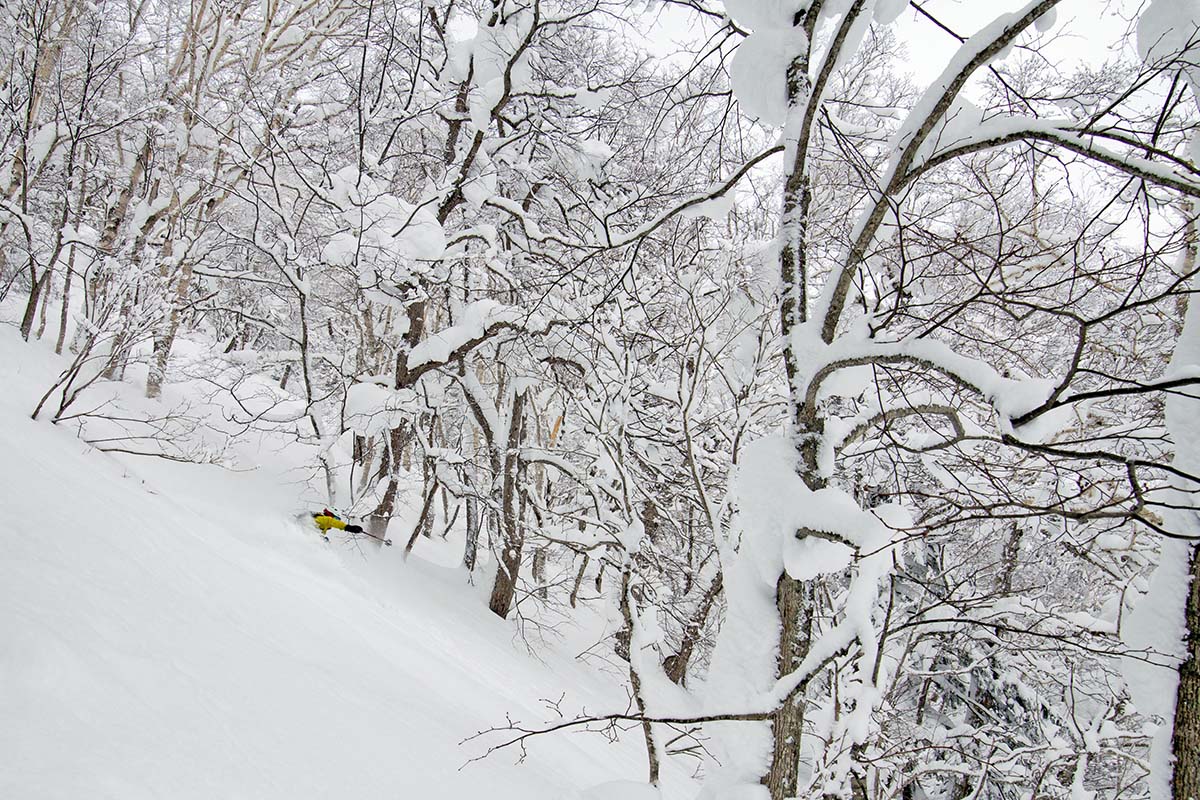 Breathability
I tend to run warm, especially when working hard in the mountains, but the Rush LT did an adequate job of dumping heat. The pants feature two side vents with two-way zippers: the left opens from the hip to the knee, and the right opens more fully from the top of the bib down to the knee (this allows you to get out of the bib to use the bathroom without removing the suspenders). Most often, I was only able to utilize the lower section of both zippers as the waist strap of my ski pack blocked the top (the two-way zippers helped immensely here). I did find myself constantly reaching down to open the vents on warmer days, but the Rush LT's breathability was nevertheless on par with other Gore-Tex ski pants.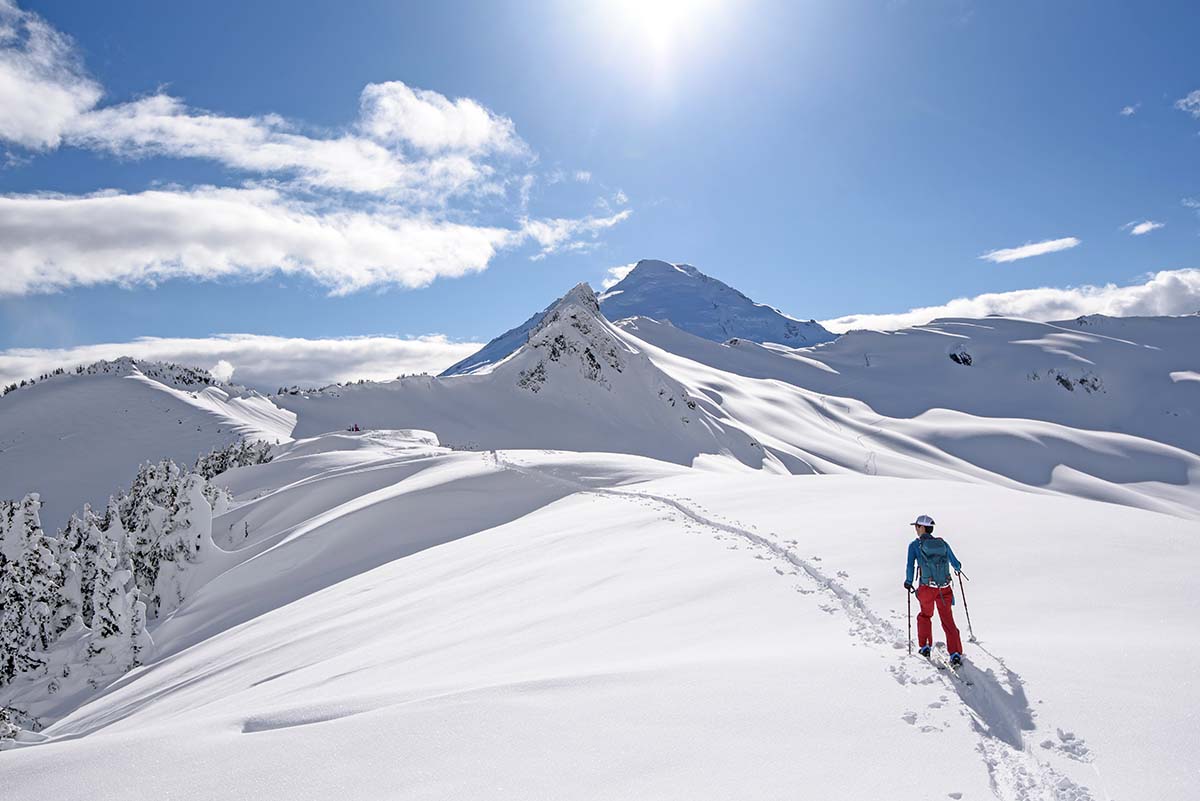 Comfort
The Arc'teryx Rush LT Pant scores high in the comfort department. Most notably, the C-Knit backer is supple and smooth, and it lacks the crunchy and crinkly feeling that you often get with hardshell pants. Further, the articulated patterning and gusseted crotch allow for unrestricted movement, which was especially noticeable when taking long strides while touring and bootpacking. All in all, I was very impressed with how light and comfortable the Rush LT pants felt, even after long days in the mountains.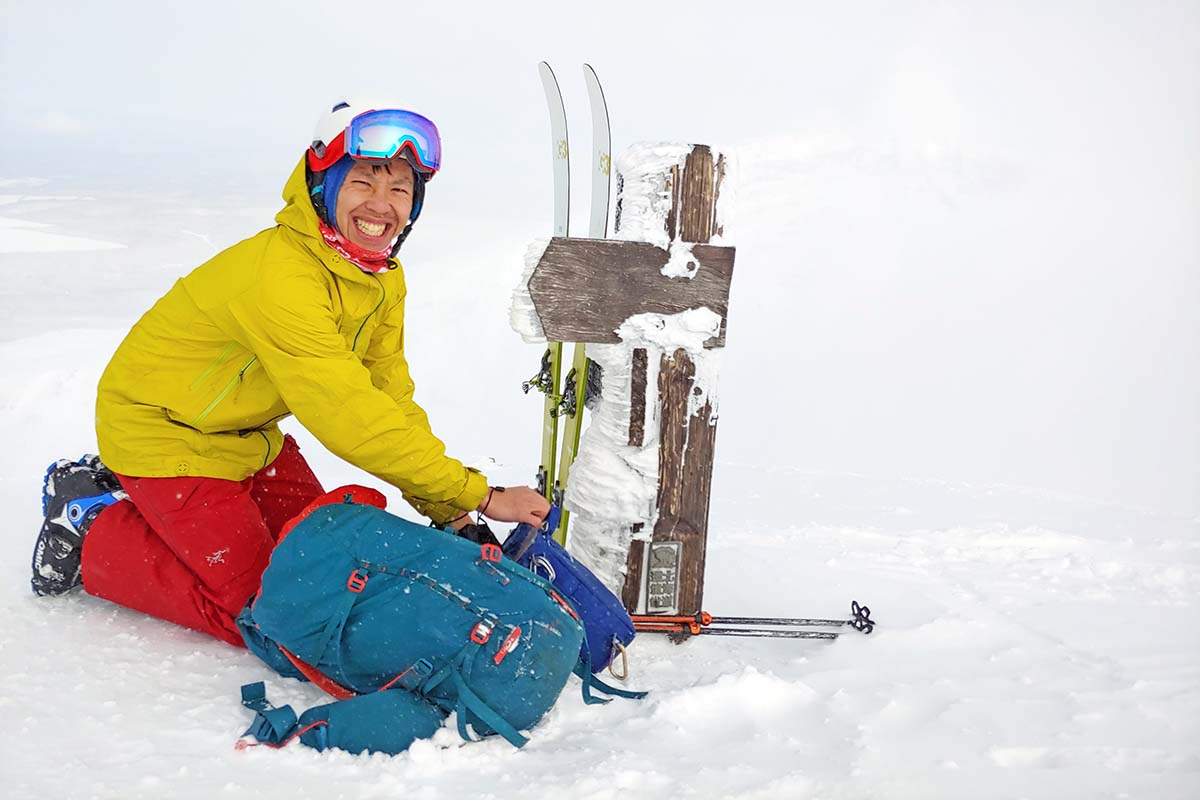 Key Features
Internal Gaiters
The Rush LT's built-in gaiters easily slid over my ski boots (the Atomic Hawx Ultra XTD and Atomic Carbon Backland) and never rode up while bootpacking or walking in the snow. Arc'teryx also reinforced this area with instep patches to boost durability and protect against abrasive boots, crampons, and ski edges. After a full season of abuse, I'm happy to report that the gaiters are holding up extremely well with no signs of wear.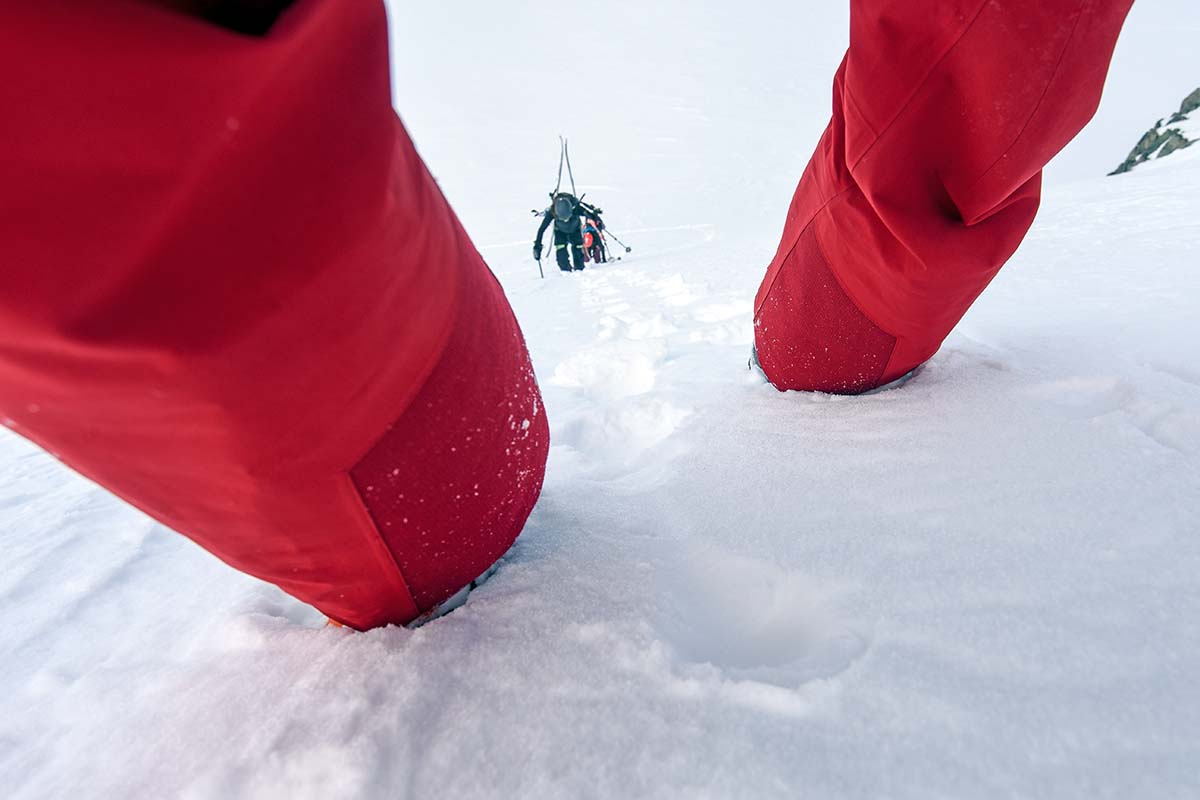 TouringCuff
Arc'teryx's TouringCuff allows you to quickly and easily adjust your boots' power straps without reaching under the pants' gaiters. To use the cuff, slide your strap through the slit and snug it down as you normally would around your boot. When you need to make adjustments, simply lift up the lower pant leg to expose the gaiter. In practice, this makes tailoring tightness easy while on-the-go and also boosts protection from snow creeping in as you alter fit. 
 
Vents
As I mentioned above, the Rush LT features a vent at each side for dumping heat quickly. These are nicely sized for letting in ample airflow when you're overheating, and the two-way zippers allow you to customize venting from either the top or bottom. The right vent also opens more than the left so that you can get out of the bib to use the bathroom without taking off the suspenders. 

Storage: Pockets
My biggest complaint about the Rush LT is that its pockets are very small, even for someone who prefers to keep bulk to a minimum. In terms of layout, the pants feature a flap-secured pocket on the right side, a zippered pocket on the left thigh, and a zippered pocket on the bib (the latter two have clips for securing car keys). The zippered left thigh pocket is just large enough to swallow a pair of thin gloves or a hat, but I rarely used the smaller right pocket as I was concerned about items falling out. The bib pocket fits keys or a clip wallet but trying to squeeze anything larger inside applied pressure directly to my stomach. I did manage to fit my Mammut Barryvox avalanche beacon here, but it interfered with my pack's hipbelt. In the end, I wish Arc'teryx had at least included a dedicated avy beacon pocket so that I could comfortably store my beacon close in case of emergency.

Build Quality and Durability
From the removable suspenders down to the lower instep patches, the Rush LT is exceptionally well-built. Most of the design uses 70-denier, 3-layer Gore-Tex fabric with a C-Knit backer, while the knee and lower leg are reinforced with 150-denier Gore-Tex for added protection against sharp objects like ski boots, crampons, and ski edges. After months of wearing the pants for deep-powder skiing, on windy alpine ridges, for long mountaineering and bootpacking-intensive days, and during resort outings, they still look and feel like new. I haven't found a single frayed stitch, the seams still look fresh with no peeling, and the zippers operate smoothly.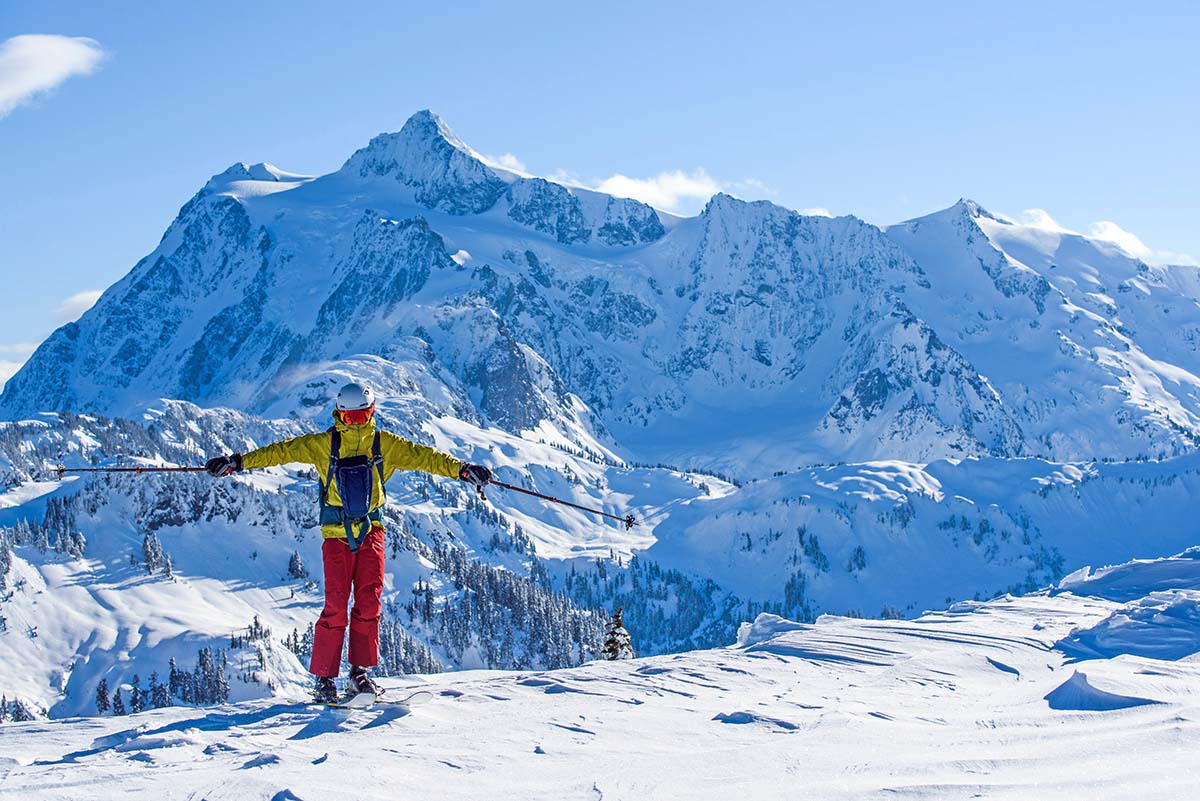 Weight
At 1 pound 4.3 ounces, the Rush LT Pant is on the lightweight end of the ski pant spectrum. Similar backcountry-ready designs including the Outdoor Research Hemispheres Bib (1 pound 4.8 ounces) and Patagonia PowSlayer Bib (1 pound 4.6 ounces) clock in at similar weights, but both are less durable with 70- and 40-denier fabrics respectively. Our favorite ski pant this season, the Arc'teryx Sabre AR, is a nice crossover for both the resort and backcountry with a thin fleece backer and 3-layer Gore-Tex construction, though the light insulation adds weight (1 pound 5.3 ounces) and its roomier fit is better suited to inbounds use. All told, the Rush LT provided ample protection from the elements—the most important consideration for a backcountry design—and I appreciated that it didn't feel heavy or bulky on the skin track.

Fit and Sizing
Typically, I have a hard time finding ski pants that fit—the thighs are often too tight when sitting down or making long strides. But Arc'teryx nailed the fit with the Rush LT Pant. I'm 5'9" with a 32-inch inseam and 31.5-inch waist, and a size small (inseam: 32 inches; waist: 32 inches) fit me perfectly without any areas of bagginess. Further, the articulated patterning was helpful for allowing ample mobility—the pants never interfered with skiing, nor did they feel heavy on the skin track. That said, it's worth noting that the upper bib portion is slimmer than the rest of the design, so those who are a bit larger up top will likely want to size up.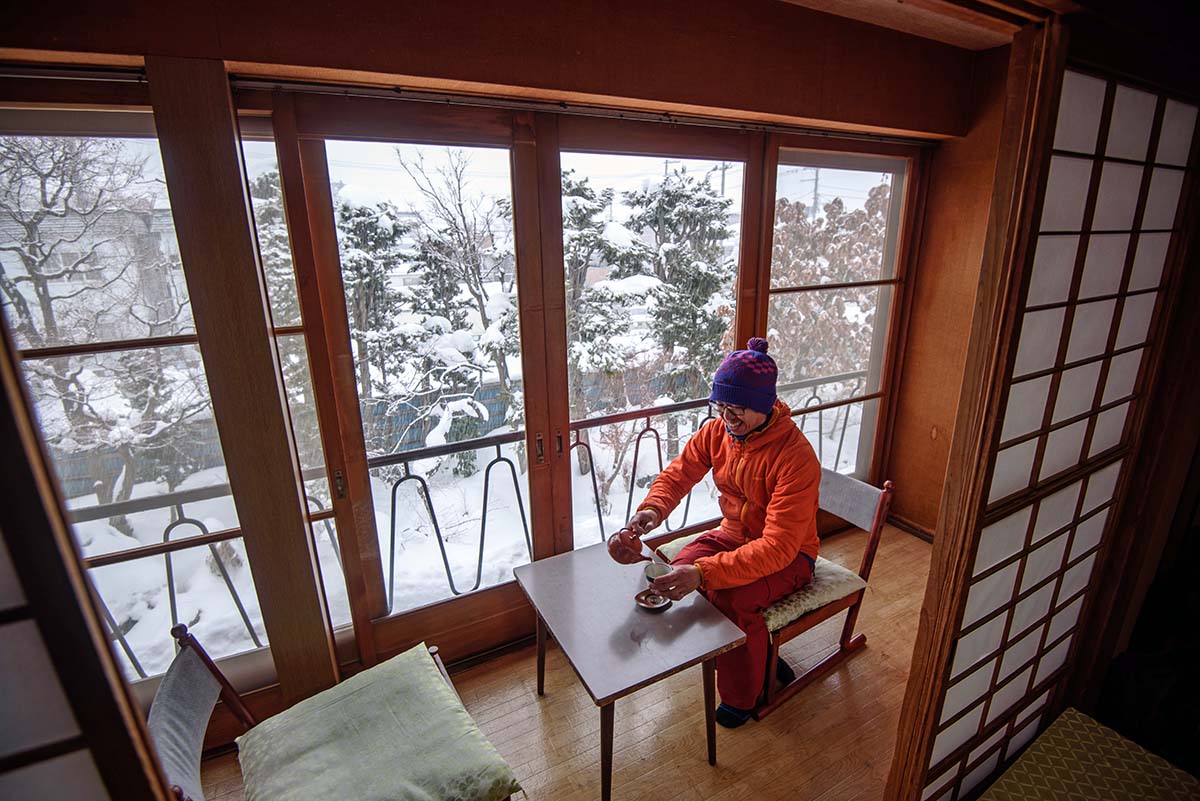 Finally, the removable suspenders have a single strap along the back with a Y-shaped connection to the two front straps. With the flat, low-profile buckles, I didn't experience any discomfort wearing the bibs both with and without a touring pack. In my opinion, the best gear is the gear that you don't notice, and the Rush LT fits that bill nicely.

Women's Arc'teryx Shashka Pant
The Rush LT is a men's-specific ski pant, but Arc'teryx makes a similar bib for women called the Shashka. Like the Rush LT, the Shashka Pant retails for $499 and features a 3-layer Gore-Tex with C-Knit construction, quick-adjust TouringCuff for tailoring boot fit, three total pockets, and a low bib design with removable suspenders. The Shashka is lighter at 1 pound 3.6 ounces, available in different colorways, and lacks the beefed-up, 150-denier sections along the knee and lower leg, but otherwise the men's and women's pants are nearly identical.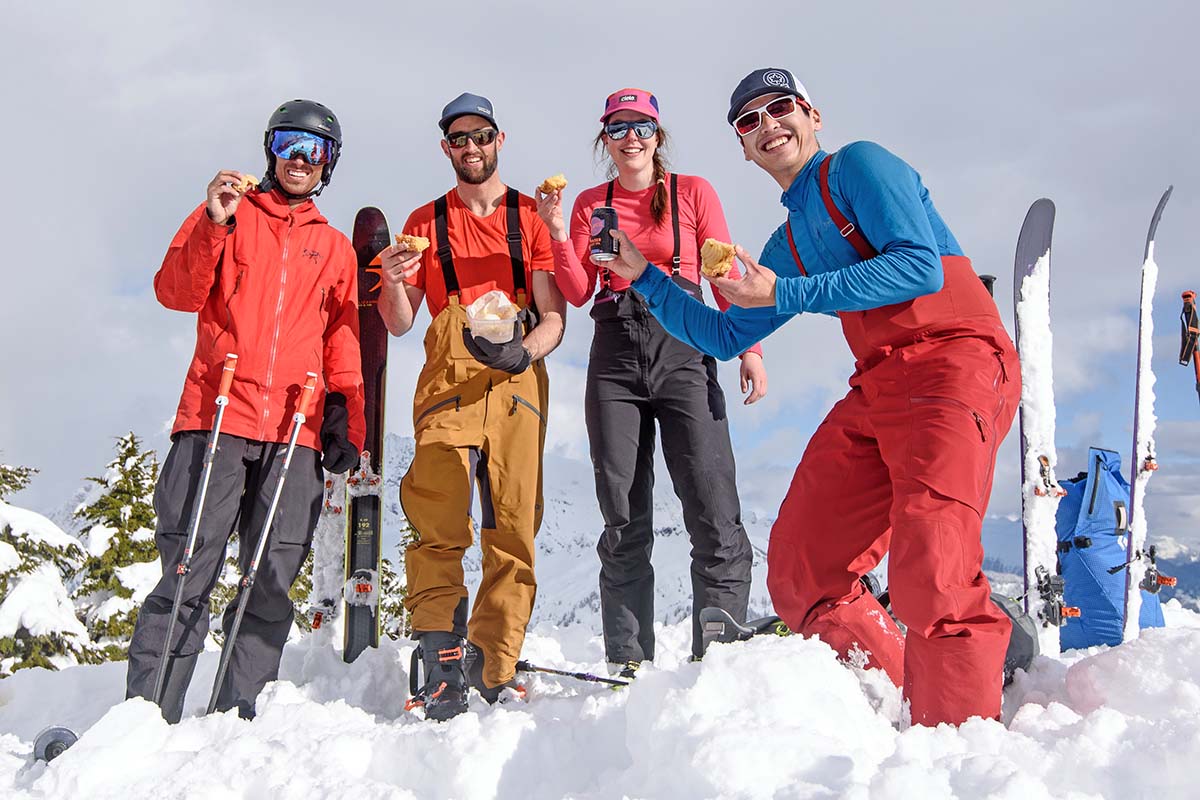 What We Like
Lightweight without sacrificing weather protection for truly harsh conditions.
Impressive mobility and comfort for long days of skiing and touring.
Generously sized vents work well for dumping heat quickly.
Fit is superb: I was able to layer underneath without feeling restricted, and there were no areas of excess bagginess. 
 
What We Don't
Storage space is limited with three small pockets, and I wish Arc'teryx had included a dedicated spot for stowing an avalanche beacon.
Expensive at $499, although the quality is apparent.
A little too trimmed down and thin for resort use.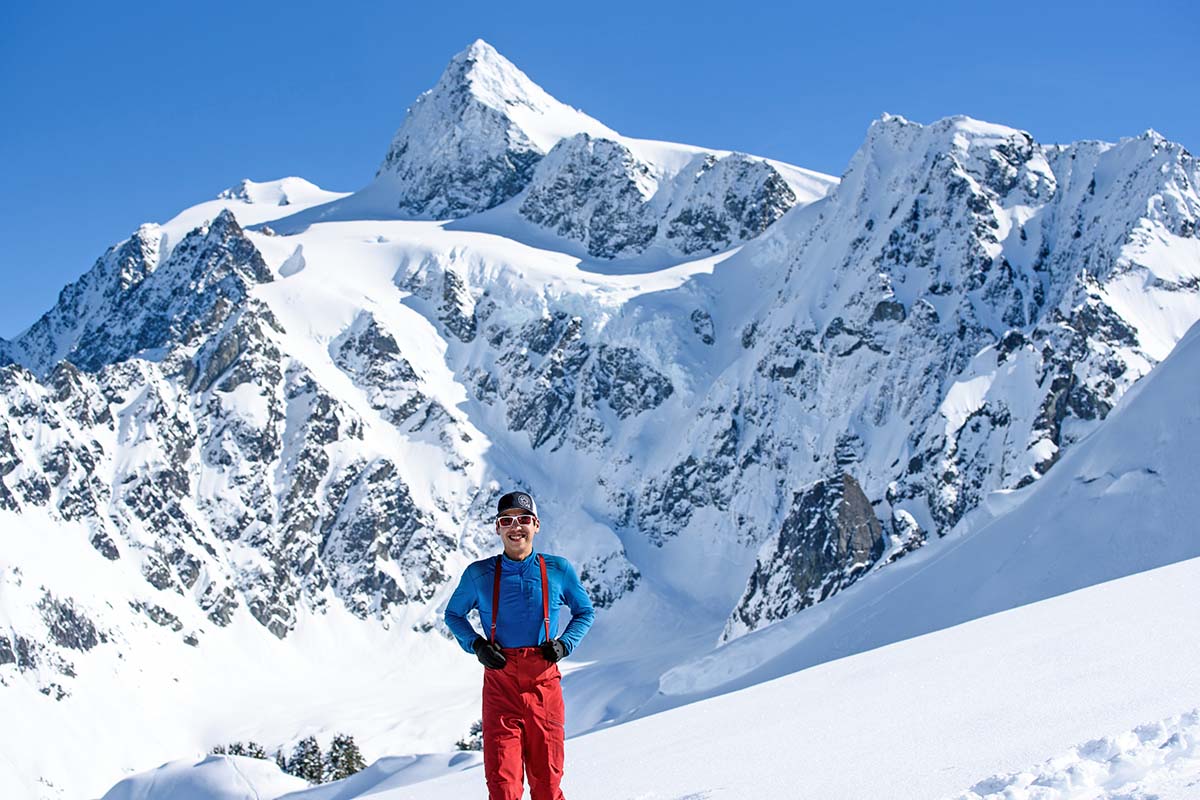 Comparison Table

The Competition
Within the ski pant market, the Arc'teryx Rush LT hits a sweet spot between weight, comfort, and overall protection for demanding backcountry outings. Another option in the Rush lineup is the Rush FL ("fast and light"). Unlike the LT's hardshell construction, the FL uses a softshell fabric called Aequora to boost mobility, breathability, and next-to-skin softness. However, the FL is only water-resistant (rather than waterproof), foregoes the low bib design of the LT in favor of a standard pant with removable suspenders, and clocks in about 2.5 ounces heavier (at 1 pound 6.9 ounces). Both pants feature quick-adjust TouringCuffs for easy boot management and instep patches to protect against sharp ski edges and crampons. All told, given its build and harness-compatible construction, the Rush FL is more ideal for alpine use or touring in dry conditions. If you're looking for an all-around backcountry pant for variable snow, we'd instead go with the LT.
For mainly backcountry skiers, the Patagonia PowSlayer Bib is another good choice. The PowSlayer and Rush LT have a lot in common, including integrated gaiters, scuff guards, low bib designs, and two-way side zippers for venting. That said, the PowSlayer's Gore-Tex Pro construction sacrifices some comfort compared to the softer and suppler C-Knit on the Rush LT, the 40-denier shell fabric isn't as robust as the Arc'teryx's 70- and 150-denier build, and the PowSlayer has a larger and less mobile fit. Both are great options, but given the Rush LT's added comfort and durability at $100 less, we think it's the better pick.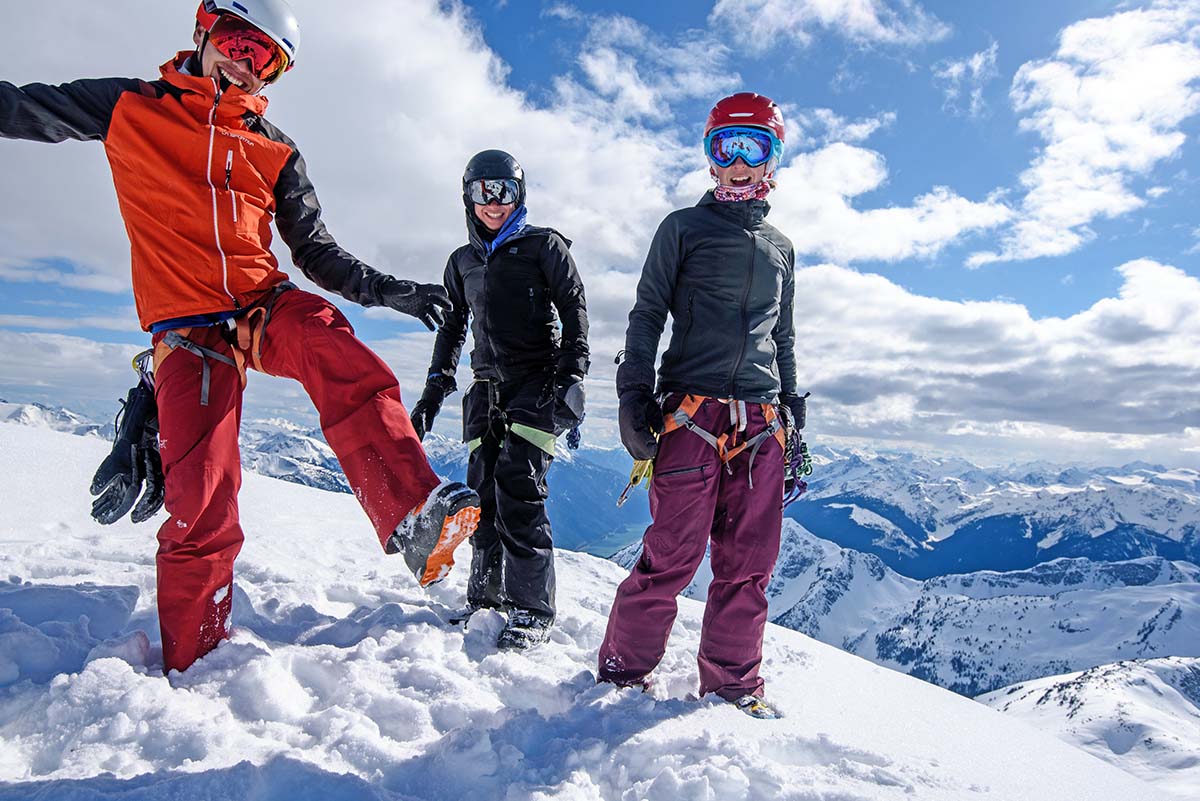 An interesting option to consider is the Outdoor Research Hemispheres Bib. Like the Rush LT, the Hemispheres Bib sports a soft but weather-worthy Gore-Tex with C-Knit construction, low bib design, generous side vents, water-resistant zippers, scuff guards, and adjustable suspenders. However, the OR adds in 2-layer Gore-Tex with Stretch for added elasticity in areas like the waist, rear belt line, and inner thighs, which we found incredibly helpful when skinning and skiing. With the OR, you also get the addition of a dedicated avalanche beacon pocket (for more, read our in-depth Hemispheres review). The Hemispheres Bib will run you an extra $100 and lacks the Rush LT's 150-denier reinforcements in the knee and lower leg, but the added stretch and storage space give it the overall edge.
If you're wanting a pant that's a little more at home at the resort, Arc'teryx's Sabre AR is worth a look. Similar to the Rush, it features a 3-layer Gore-Tex construction, although you get a fleece backer with the Sabre rather than the lighter and thinner C-Knit on the Rush. This provides a little additional protection on frigid chair lifts, and the Sabre's fit is a little more generous too. Where they truly differ is style: the Rush is taller with its bib and suspenders design compared to the Sabre's standard pant. That said, a decision there will come down to personal preference. For us, we think the Rush is best served in the backcountry, while the Sabre AR excels for those that dabble with the occasional tour but spend the majority of their time in and around the resort.
If you're thinking about buying gear that we've reviewed on Switchback Travel, you can help support us in the process. Just click on any of the seller links above, and if you make a purchase, we receive a small percentage of the transaction. The cost of the product is the same to you but this helps us continue to test and write about outdoor gear. Thanks and we appreciate your support!
Depending on the seller, most products ship free in the United States on orders of $50 or more. International shipping availability and rates vary by seller. The pricing information on this page is updated hourly but we are not responsible for inaccuracies.
Learn More About Ski Gear