Flylow Gear Lucy Jacket
Price: $400
Weight: 1 lb. 3.5 oz.
Waterproofing: 3L Stretch Stormshell Intuitive
What we like: Softshell-like comfort and stretch in a highly protective, 3-layer design.
What we don't: Lacks the bombproof feel of Gore-Tex-equipped models.
See the Women's Flylow Gear Lucy  See the Men's Flylow Gear Malone
Released for winter 2020-2021, Flylow Gear's Lucy Jacket combines the comfort and stretch of a softshell with the durability and protection of a hardshell. We brought the new women's-specific piece to Crested Butte, Colorado, for testing, and found it to be impressively well-rounded. It can't match the bombproof feel of Gore-Tex, but the jacket is still a solid performer in the wet, well-made, exceptionally soft, and looks good to boot. To see how the Lucy Jacket stacks up to the competition, see our articles on the best ski jackets, women's ski jackets, and women's snowboard jackets.
 
---
Table of Contents
---

Performance
Weather Protection
Using Flylow Gear's in-house 3-layer Stretch Stormshell Intuitive fabric, the women's Lucy Jacket is a highly protective barrier against the elements. We didn't get any big powder dumps during our time testing in Crested Butte, but the jacket deftly fended off light precipitation with no signs of wetting out. For added assurance, the Lucy jacket sports Flylow's quality durable water repellent (DWR) coating called OmniBloq, includes YKK waterproof zippers at all openings, and is fully seam-taped. Rounding out the protective features, you also get a removable powder skirt for blocking out snow at the waist, functional hem adjustments, a helmet-compatible hood that provides ample coverage both at the top and sides, and Velcro at the cuffs that sealed nicely under my gauntlet-style gloves. Finally, the collar comes all the way up to my nose and leaves only my ski goggles exposed, which is great on especially blustery days.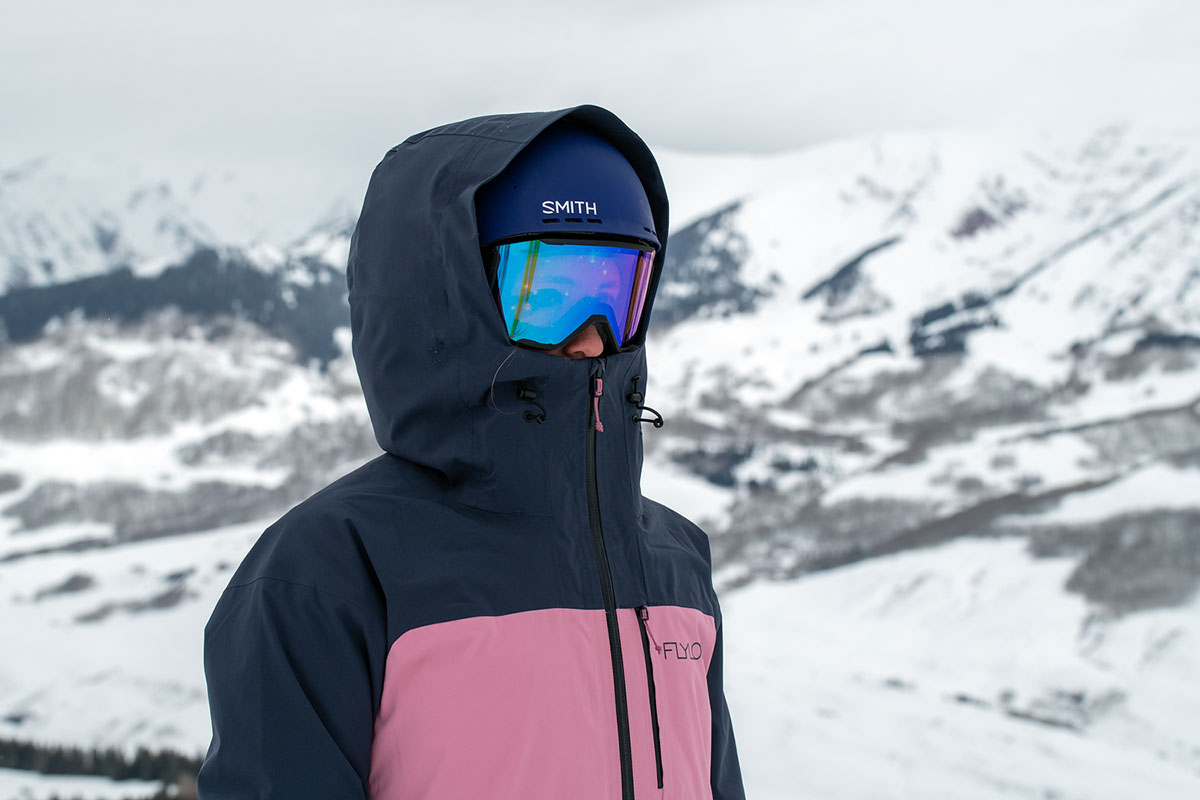 All that said, it's worth noting that the Lucy feels more like a soft and supple softshell than a highly protective hardshell, and you can get a more bombproof and impervious construction in a Gore-Tex-equipped model like the Patagonia PowSlayer or Arc'teryx Sentinel AR. To be sure, I didn't experience any issues with the Lucy in terms of wetting out or allowing wind in, but it simply doesn't have the batten-down-the-hatches feel of those other shells (a potential downside in particularly wet climates like the Pacific Northwest). Depending on your priorities, the tradeoffs may or may not be worth it. Personally, I think the Lucy is a good compromise: it's perfectly capable at sealing out the elements but manages to do so without the stiff construction typical of a hardshell design. For skiers that prioritize comfort but don't want to sacrifice wet-weather protection, the Lucy is a great match.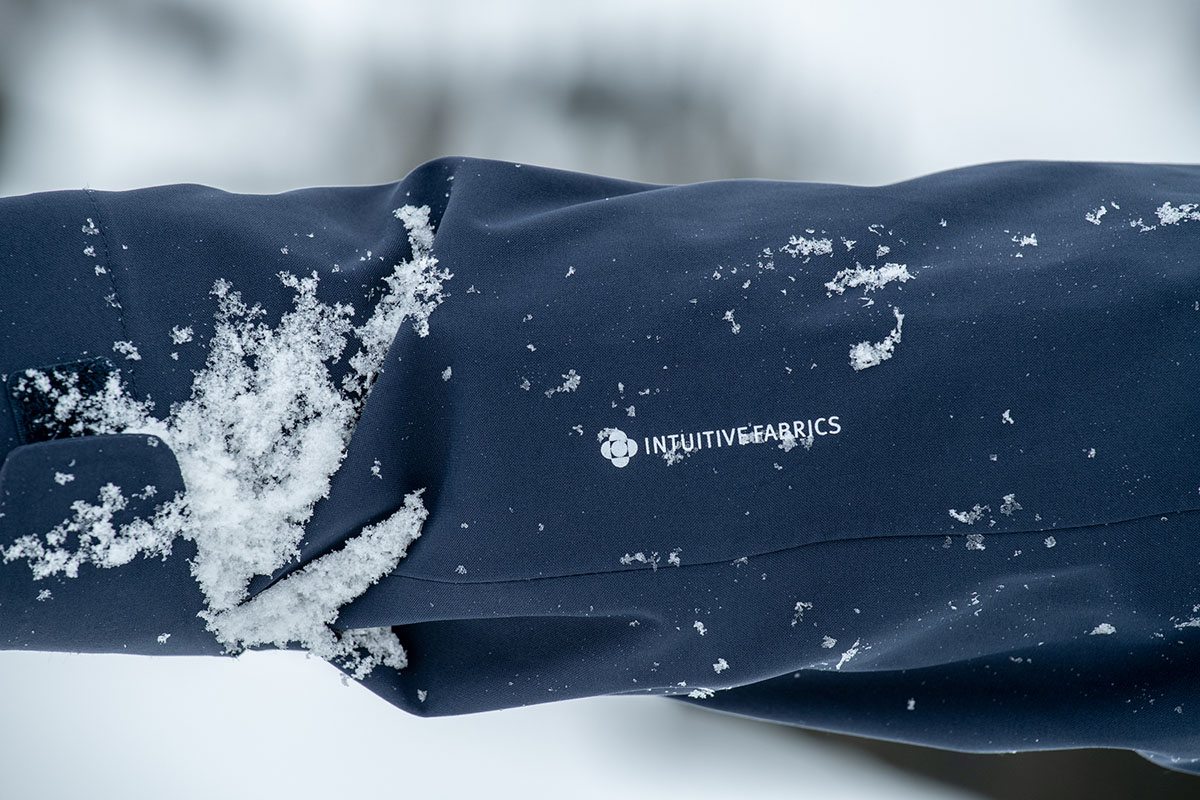 Comfort
As I touched on above, the Flylow Gear Lucy Jacket is an exceptionally comfortable ski shell. Its stretchy construction is immediately noticeable, as is the supple, tricot-lined interior. This is especially great news for backcountry-goers, as the Lucy allows great freedom of movement to reach down and adjust bindings, remove skins, etc. In addition, I never experienced any bunching or riding up, and the jacket never felt crinkly or stiff like a typical hardshell (my Patagonia PowSlayer comes to mind). And Flylow nailed the details, with soft fleece lining in the hand pockets and chin area and a flattering, streamlined cut that stays out of the way and adds to the jacket's good looks (more on this below).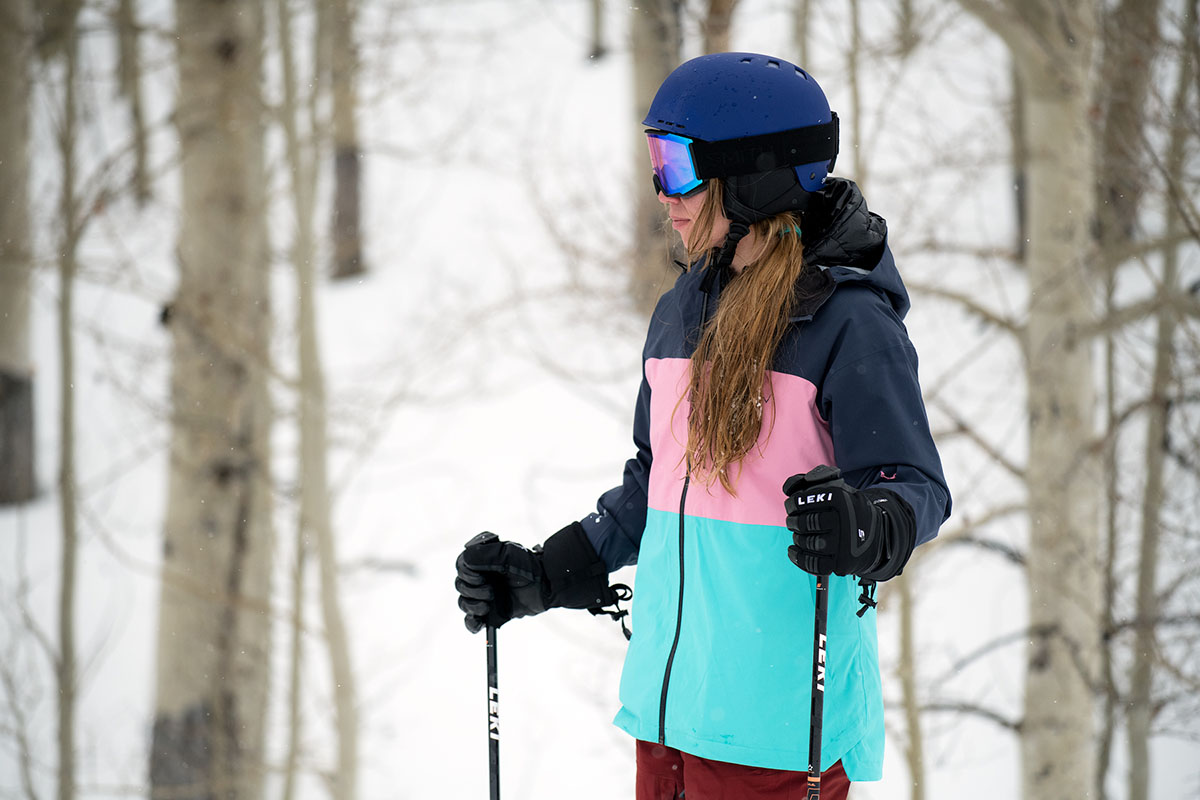 Breathability
The Lucy is designed with demanding backcountry use in mind, and it follows suit that the jacket was a good overall breather. I admittedly run cold, but I didn't experience any overheating, even when venturing off-piste on a short sidecountry hike. To help with temperature regulation, the Lucy comes equipped with generous, 12-inch pit zips that are easy to open, even with gloves on (closing them is a bit tougher, but still manageable). I didn't find myself needing to use these unless temperatures creeped into around the 30s Fahrenheit, but to be fair, I also didn't get a chance to take the Lucy on longer, more intensive backcountry missions (COVID-19 cut our testing short). I'm eager to get more time with the jacket this coming season and put it through more demanding adventures, and I'll follow up here should any issues crop up.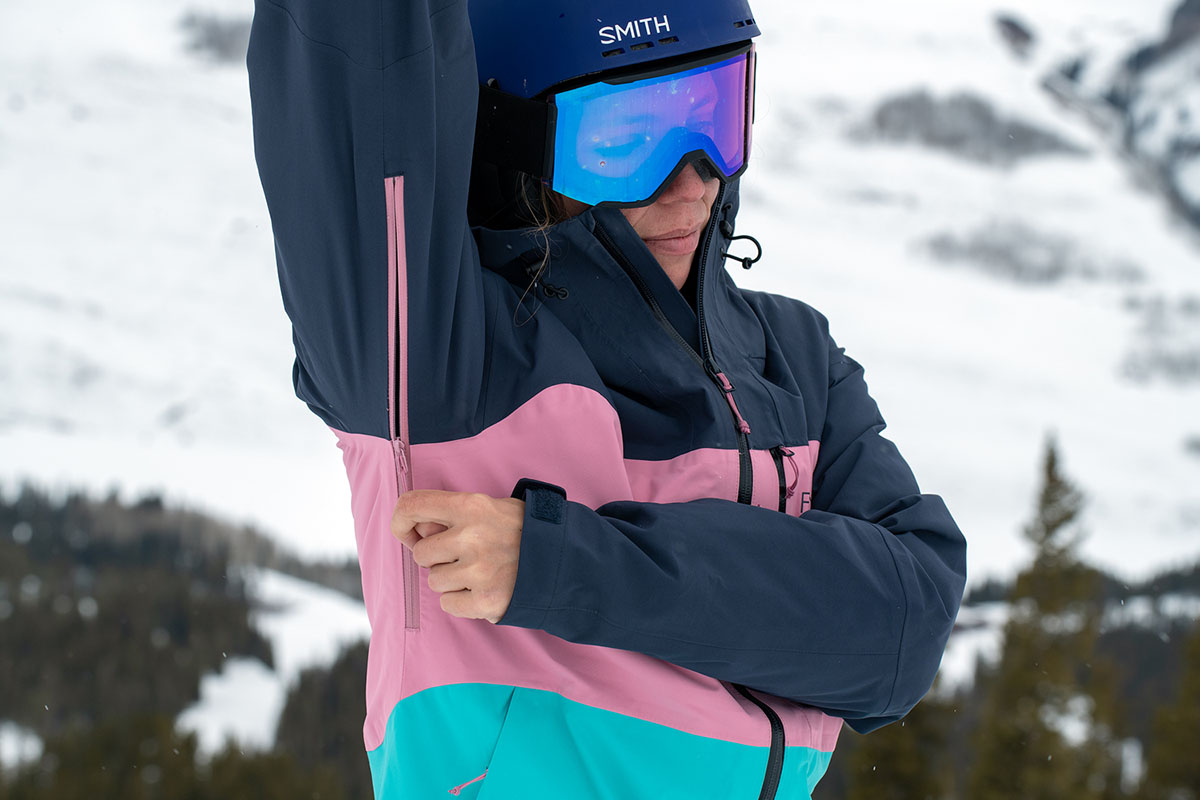 Build Quality and Durability
Simply put, the Flylow Gear Lucy Jacket exudes quality. Everything from the Velcro cuffs to the zipper pulls and seams have a robust, confidence-inspiring feel. And the specs back that up: for the face fabric, Flylow chose a hardwearing 90-denier (D) polyester that feels noticeably thick to the touch. For reference, many of our favorite ski shells fall in the 50- to 75-denier range, and Arc'teryx's burly and alpine-ready Alpha SV uses a class-leading 100D fabric. Overall, we appreciate the extra assurance for backcountry pursuits, which often involve encounters with trees, rocks, and other obstacles. Again, I haven't had a chance to truly put the Lucy through its paces, but all signs are positive that the jacket will hold up well to regular use and abuse.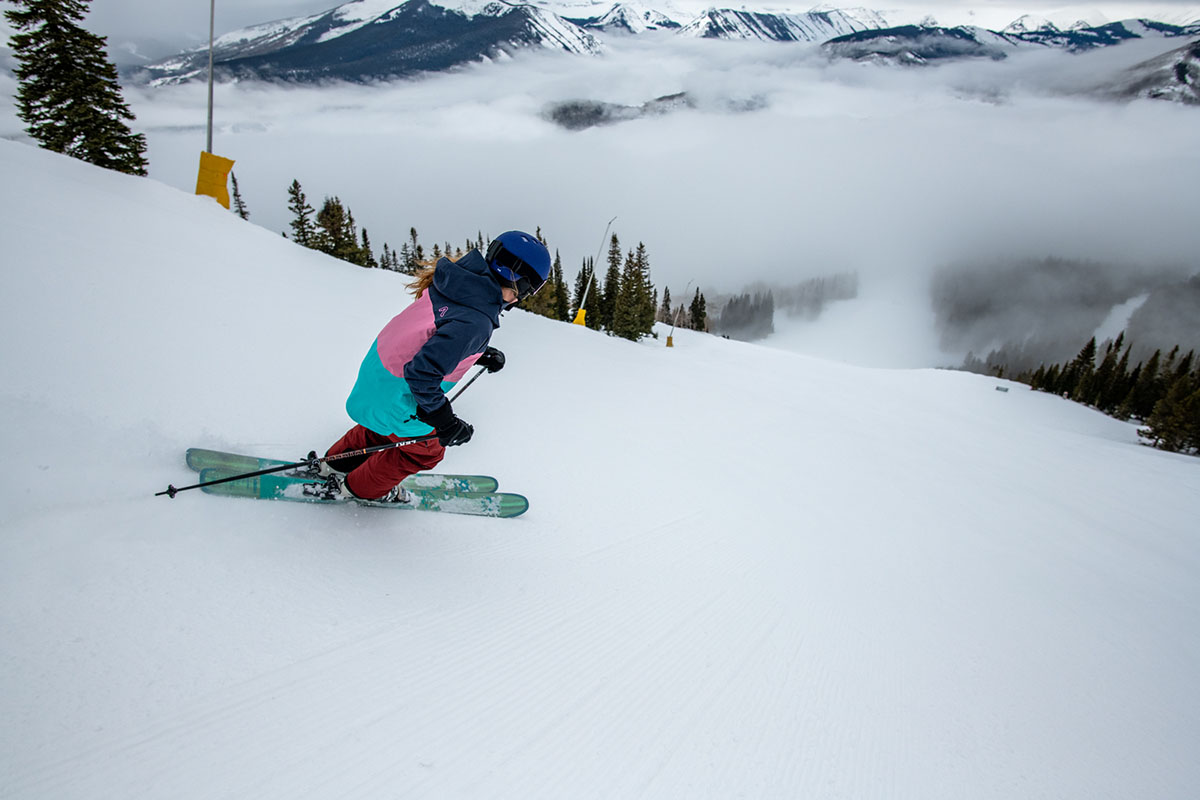 On another note, we'd be remiss not to mention the Lucy's attractive styling here. More than any other ski jacket I've worn, the Lucy has received so many compliments on its fun color scheme and eye-catching design. All in all, it's a piece I've loved taking directly from the slopes to the lodge and even walking around town, and the pastel pink and blue sections haven't faded or stained (an initial concern I had given the lighter hues). Taken together, despite its performance focus, this is a supremely good-looking jacket (with very tasteful and unobtrusive branding) that doesn't come off as overly technical.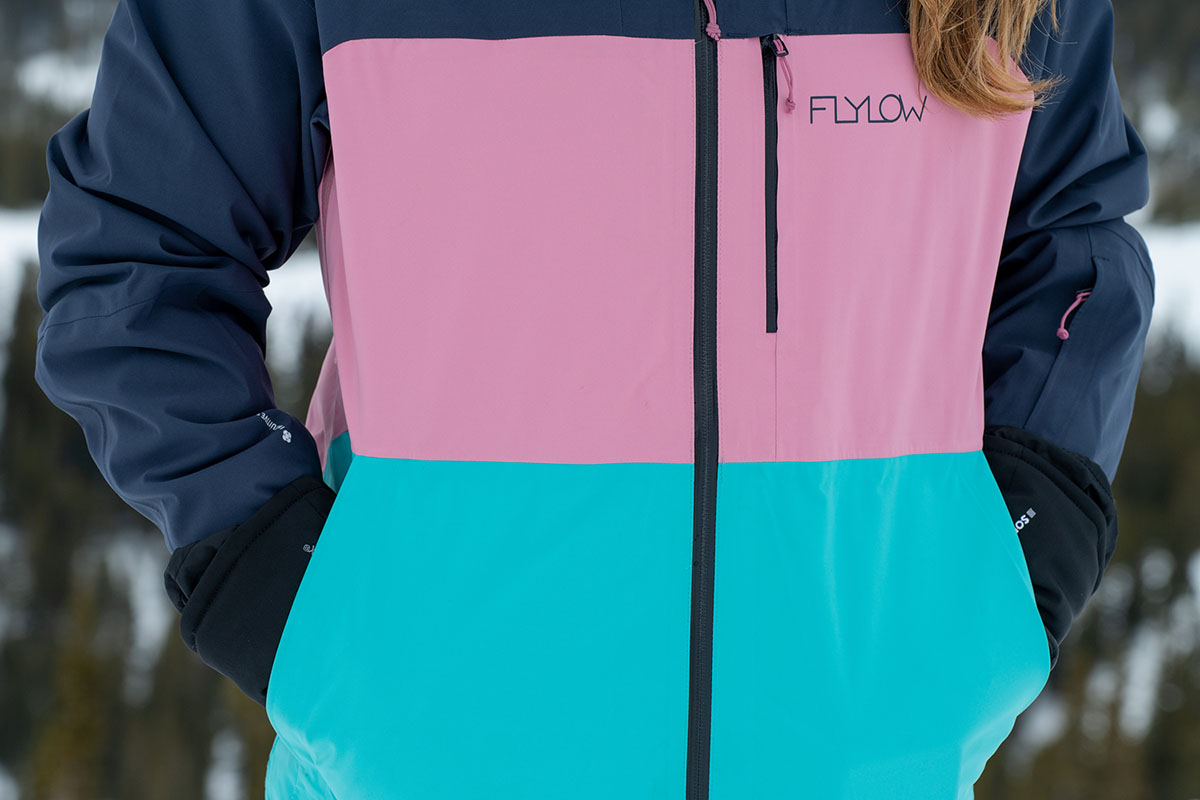 Weight and Packability
Despite the burly build, at 1 pound 3.5 ounces, the Flylow Gear Lucy Jacket falls on the lighter end of the women's ski jacket spectrum. For reference, Flylow Gear's own Vixen 2.1—another 3-layer design with a soft-touch jersey backing for comfort—clocks in a few ounces more at 1 pound 6.2 ounces, while Outdoor Research's similar hybrid hard/softshell Skyward II comes in at 1 pound 6.3 ounces. Some of our other favorite shells, including Arc'teryx's Sentinel AR (1 lb. 4.8 oz.) and Strafe's Eden (1 lb. 11.2 oz.) also outweigh the Lucy. Dynafit's Beast Hybrid (1 lb. 0.8 oz.) is one of the few designs to undercut the Flylow, but that jacket uses a 2-layer softshell around the lower body (and 3 layers elsewhere), which translates to less overall protection. And in terms of packability, the Lucy rolls down easily into its hood to about the size of a cantaloupe. Added up, the Lucy felt light and airy on the slopes, and I have no complaints from a weight or bulk perspective.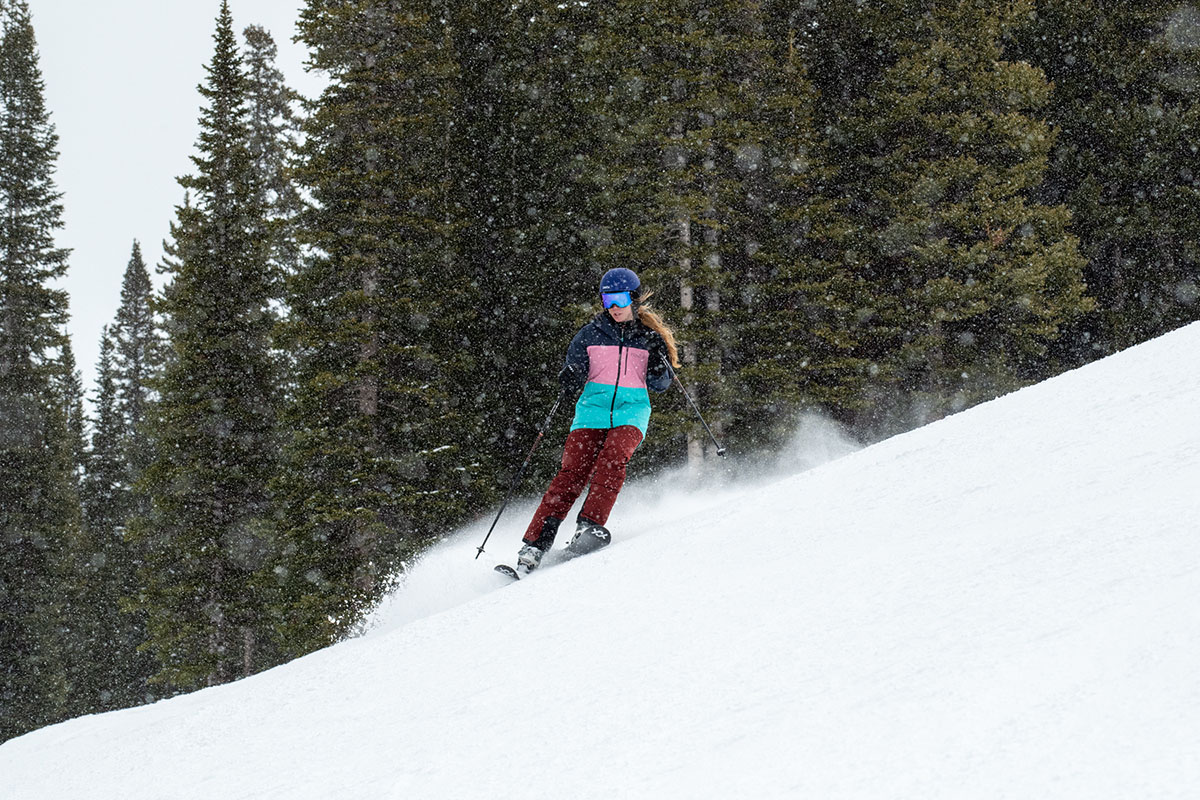 Key Features
Hood
As I mentioned above, the Lucy's ski helmet-compatible hood is highly protective and offers ample coverage both at the top and around the sides. Further, adjustment is as simple as toggling the two drawcords at the front and one at the back of the head (tightening and loosening can both be done with gloves), and the tall collar leaves only my goggles exposed to the elements. That said, I did find it difficult to turn my head side to side with the hood over a helmet and main zipper fully engaged. It was an easy problem to solve by lowering the zipper around two to three inches, and we've had this same problem with a few other ski shells, but mobility nevertheless was an issue.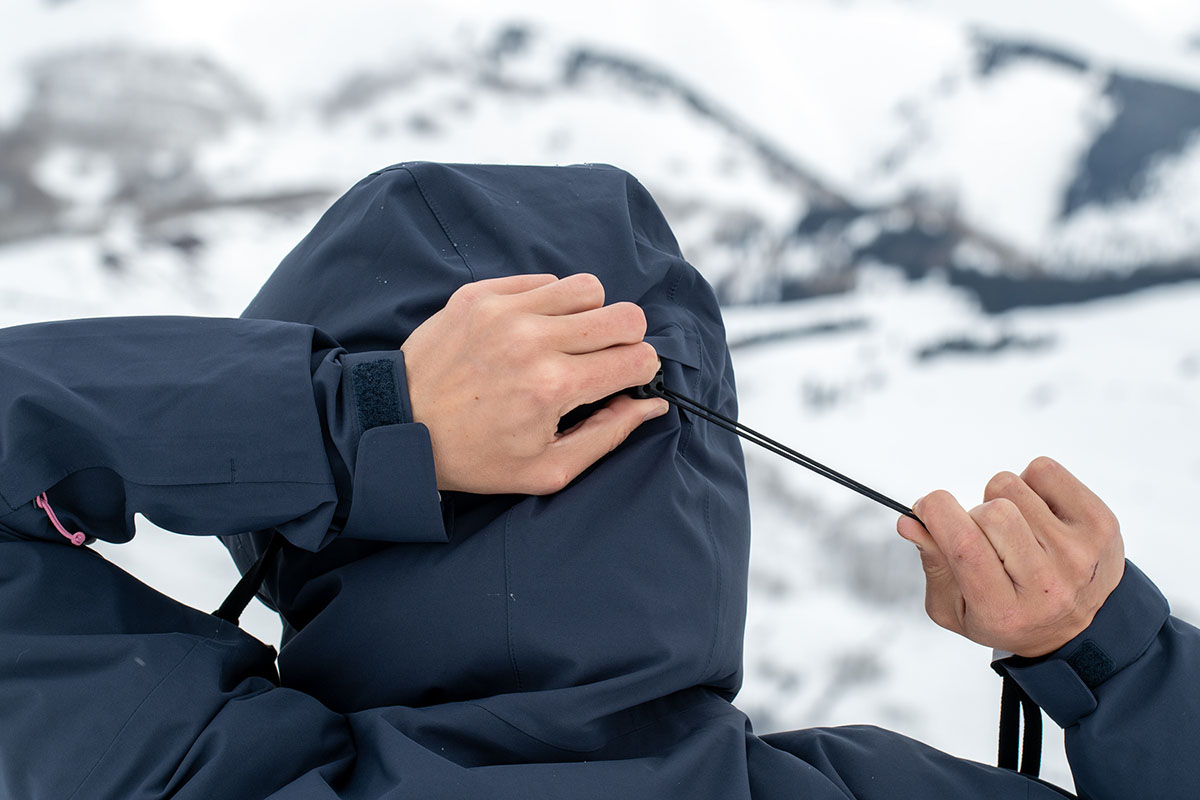 Storage: Pockets
In my opinion, the Flylow Gear Lucy Jacket has just the right number of pockets for stowing the essentials. For starters, you get two massive, fleece-lined hand pockets that easily swallow gloved hands. Additionally, the jacket features a pass pocket along the left forearm, a mesh-lined chest pocket at the left side, and an interior mesh pocket along the right side of the torso. Neither of the latter two are big enough to stash a modern smartphone like my iPhone 11, but they work well for items like a wallet, keys, and snacks. And interestingly, despite its backcountry focus, the Lucy doesn't have a dump pocket on the interior for stuffing climbing skins, a hat, or gloves while on the go. However, the hand pockets can easily fit those items, and this shouldn't be a deal-breaker for most.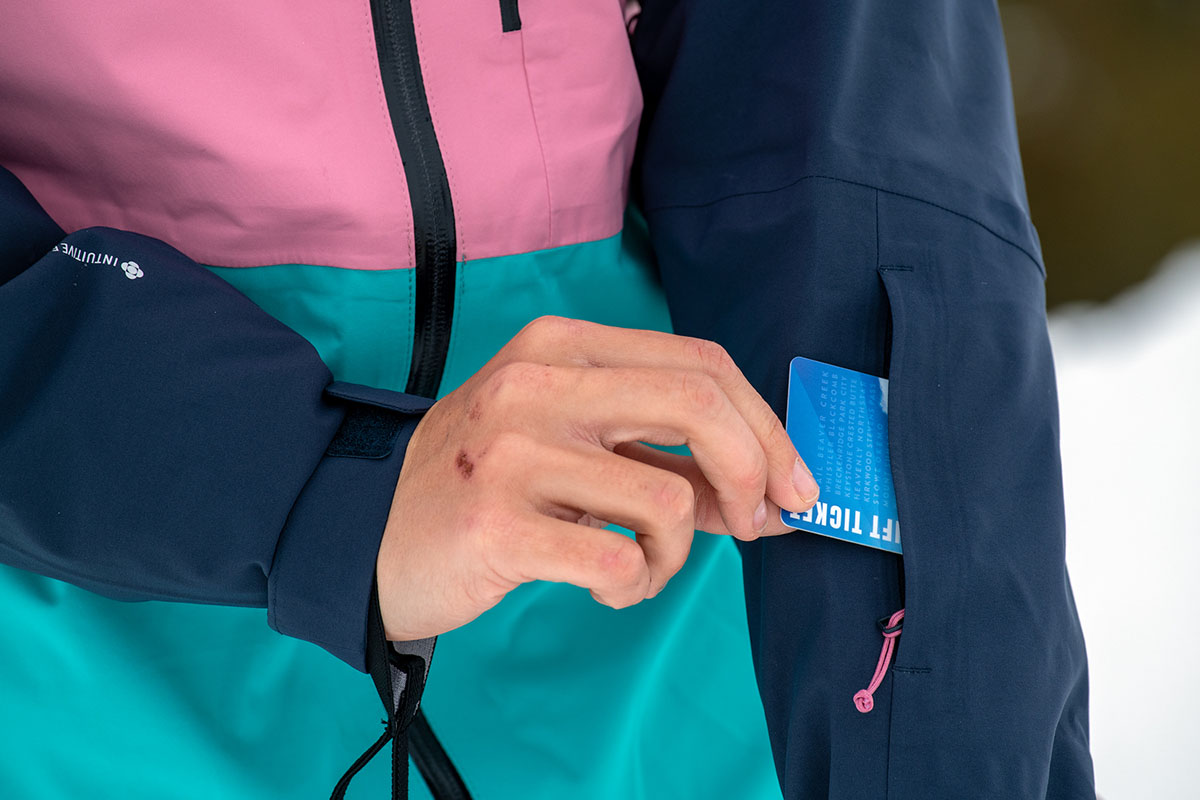 Powder Skirt
Like many ski-specific shells, the Flylow Gear Lucy Jacket sports a powder skirt for sealing out snow at the waist in the event of a fall or on deep powder days. It's a functional all-around design with two sets of buttons at each side for adjusting fit, an elastic, silicone-like band along the bottom for keeping it in place, and a zipper at the top for removing the skirt when not in use. It's an unobtrusive design that goes largely unnoticed throughout the day (which is a good thing). And for those wanting an integrated system, the skirt can be attached to any of Flylow's current women's snow pants.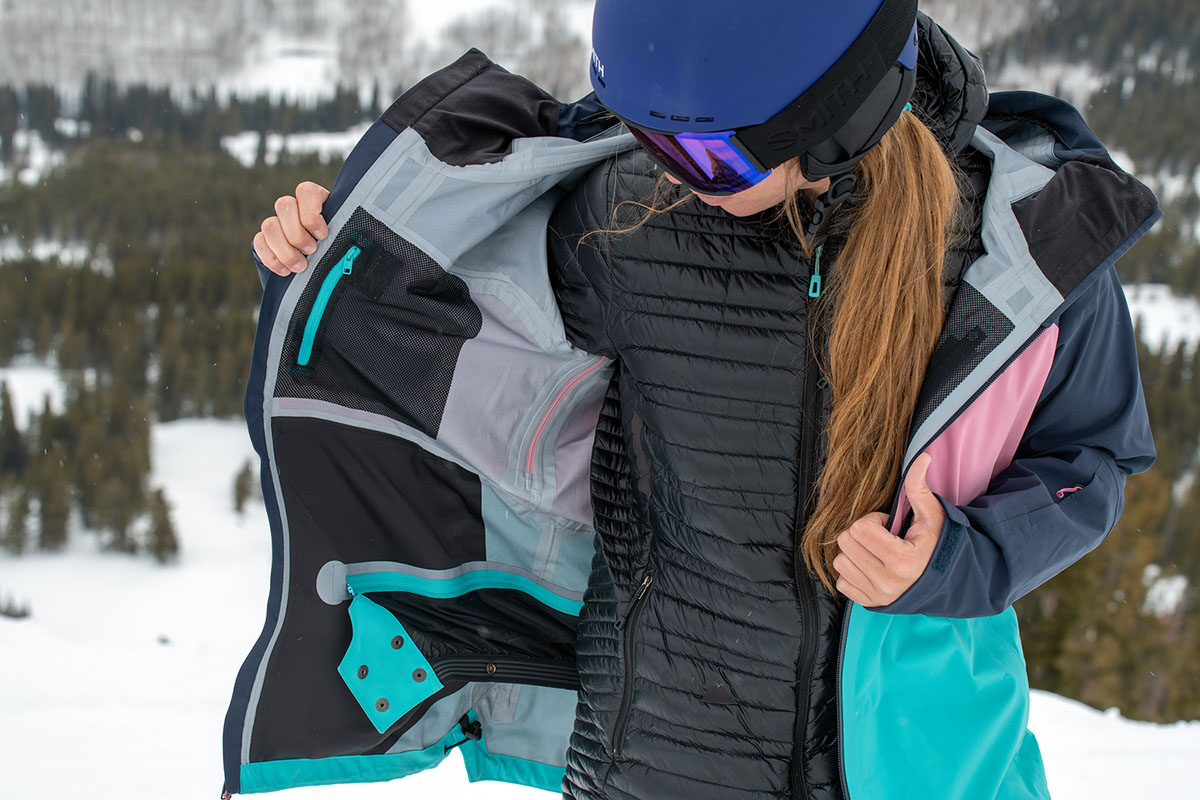 Fit and Sizing
I ordered a women's size medium in the Flylow Gear Lucy and found it to be a good all-around fit. For reference, I'm 5'6" and 135 pounds, and the jacket fit me well overall with no noticeable areas of tightness or looseness when wearing my usual merino baselayer and down midlayer combo underneath (I typically alternate between my Patagonia Ultralight Down Sweater or Rab Microlight Alpine depending on temperatures at the resort). For backcountry use, the fit is a little baggy on me with a lighter baselayer and optional midlayer, and I'd likely size down if I planned to use the jacket strictly for touring. But the length is just about perfect: the jacket covers well below my butt (I measured the center back length at around 29.5 in.) and nicely seals out snow without riding or bunching up when sitting on a lift or bending down to adjust my bindings.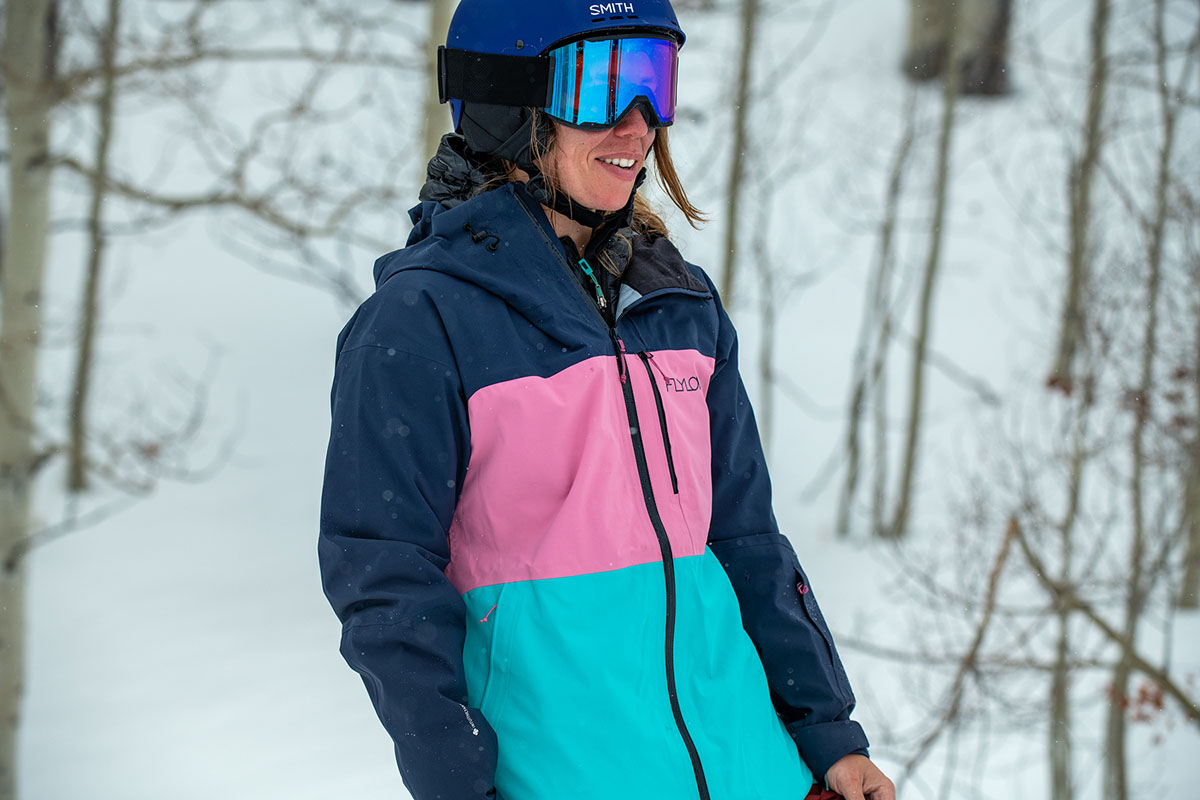 Flylow Gear Men's Malone Jacket
The Lucy is a women's-specific jacket, and Flylow Gear also released a men's version called the Malone. The Malone costs the same at $400 and has a nearly identical construction and feature set, including a 3-layer Stretch Stormshell Intuitive build, helmet-compatible hood, removable powder skirt, and YKK waterproof zippers. The men's variation clocks in heavier at 1 pound 5.3 ounces and is sold in different colorways (three at the time of publishing), but you can expect performance between the two to be very similar across the board.

What We Like
Great combination of weather protection and comfort. Overall, the Lucy is a highly capable barrier against the elements but also exceptionally soft.
At 1 pound 3.5 ounces, the jacket feels light and airy while riding.
One of the best-looking performance-focused jackets we've tested to date, with fashionable styling and attractive colorways that don't look overly technical.
Premium materials and well-thought-out feature set.

What We Don't
Lacks the bombproof feel of Gore-Tex-equipped hardshells (although the boost in comfort is a worthwhile tradeoff, in my opinion).
Collar feels slightly restrictive with the hood over a helmet and the main zipper fully closed.
No internal dump pocket to stash goggles or skins, and the chest pockets are both too small to accommodate a modern smartphone.
For strictly touring use, I'd prefer a trimmer fit and likely would have gone down from a size medium to a small.


Comparison Table
| Jacket | Price | Best For | Type | Waterproofing | Weight | RECCO |
| --- | --- | --- | --- | --- | --- | --- |
| Flylow Gear Lucy | $400 | Backcountry/resort | Hard/softshell | 3L Intuitive | 1 lb. 3.5 oz. | No |
| Flylow Gear Vixen 2.1 | $380 | Backcountry/resort | Softshell | 3L Intuitive | 1 lb. 6.2 oz. | No |
| OR Skyward II | $350 | Backcountry/resort | Hard/softshell | 3L AscentShell | 1 lb. 6.3 oz. | No |
| Arc'teryx Sentinel AR | $675 | Resort/backcountry | Hardshell | 3L Gore-Tex | 1 lb. 4.8 oz. | Yes |
| Dynafit Beast Hybrid | $400 | Backcountry | Softshell | 3L/2L polyamide | 1 lb. 0.8 oz. | No |
| Strafe Eden | $599 | Backcountry/resort | Hard/softshell | 3L Recon Elite | 1 lb. 11.2 oz. | No |

The Competition
Flylow Gear's new Lucy shell stands out among the ski jacket competition for its excellent combination of comfort and protection. Within Flylow Gear's own lineup, the Vixen 2.1 (and men's Higgins 2.1) is another versatile on- and off-piste option to consider. Like the Lucy, the Vixen uses an impressively weather-worthy and comfortable 3-layer Stretch Stormshell Intuitive build, is fully seam taped, sports five total pockets (including an interior dump pocket), and boasts protective features like a helmet-compatible hood and YKK waterproof zippers. However, the Vixen uses a soft-touch jersey backing that adds weight (it clocks in at 1 lb. 6.2 oz.) and lacks a powder skirt for sealing out snow in the event of a fall or on deep powder days. It's a close call between two capable shells for mixed resort and backcountry use, but we think it's worth spending $20 more for the Lucy's lighter and more complete design.
Outside of Flylow's collection, Outdoor Research's Skyward II is our favorite backcountry design this year and delivers similar comfort and stretch as the Lucy. For waterproofing, the Skyward uses OR's proprietary AscentShell membrane, which we've found to be impressively protective, flexible, and breathable. The OR also includes more generous pit zips, which OR calls TorsoFlo venting, that stretch from the hem all the way to the bicep. The Lucy gets the edge in weight (the Skyward clocks in at 1 lb. 6.3 oz.) and durability (90D vs. the OR's 50D build), but the Skyward costs less at $350. Given the cheaper price and similar overall performance, we think the Skyward is the slightly better value.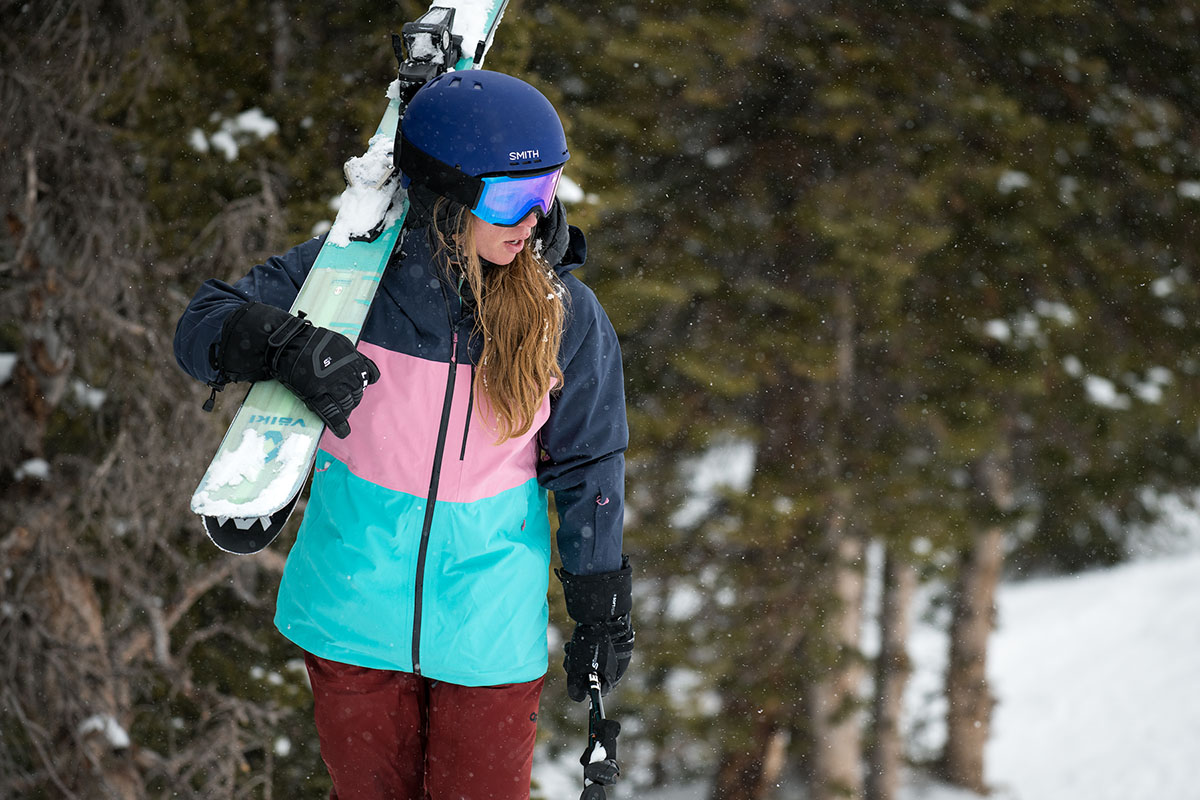 Our top-rated women's ski jacket this year is Arc'teryx's venerable Sentinel AR (the men's model is the Sabre AR). Unlike the stretchy shells above, the Sentinel utilizes sturdy 3-layer Gore-Tex, but its thin flannel liner gives it a boost in comfort and all but eliminates the crinkly feel of a traditional hardshell. Added up, the Sentinel is the more protective option and includes ample snow-specific features—including a standout hood design, powder skirt, and large pit zips. However, the Lucy wins out for extended backcountry use with its thinner and stretchier build, lighter weight (the Sentinel is 1 lb. 4.8 oz.), and better packability. In the end, a final decision will come down to how you spend your time: for those who stick mostly to the resort, it's hard to beat the Sentinel AR; for skiers who split their time on- and off-piste, we think the Lucy is the better buy (and you do save almost $300 with the Flylow).
At the same price point as the Lucy Jacket, we also like Dynafit's unique Beast Hybrid. Rather than combining hardshell and softshell fabrics throughout, the Beast Hybrid separates them: the upper body, arms, and hood of the jacket use a waterproof 3-layer construction, while the lower body utilizes a thinner 2-layer softshell for added mobility and comfort. All in all, we like the idea, but it does fall short in wet and windy conditions—the Lucy's stretchy hardshell construction is much more impervious to the elements—and is limited to places like Colorado and Utah that get a lot of dry powder. The Beast does undercut the Lucy in weight at 1 pound 0.8 ounces, but the subpar protection and lack of pit zips detract from its appeal.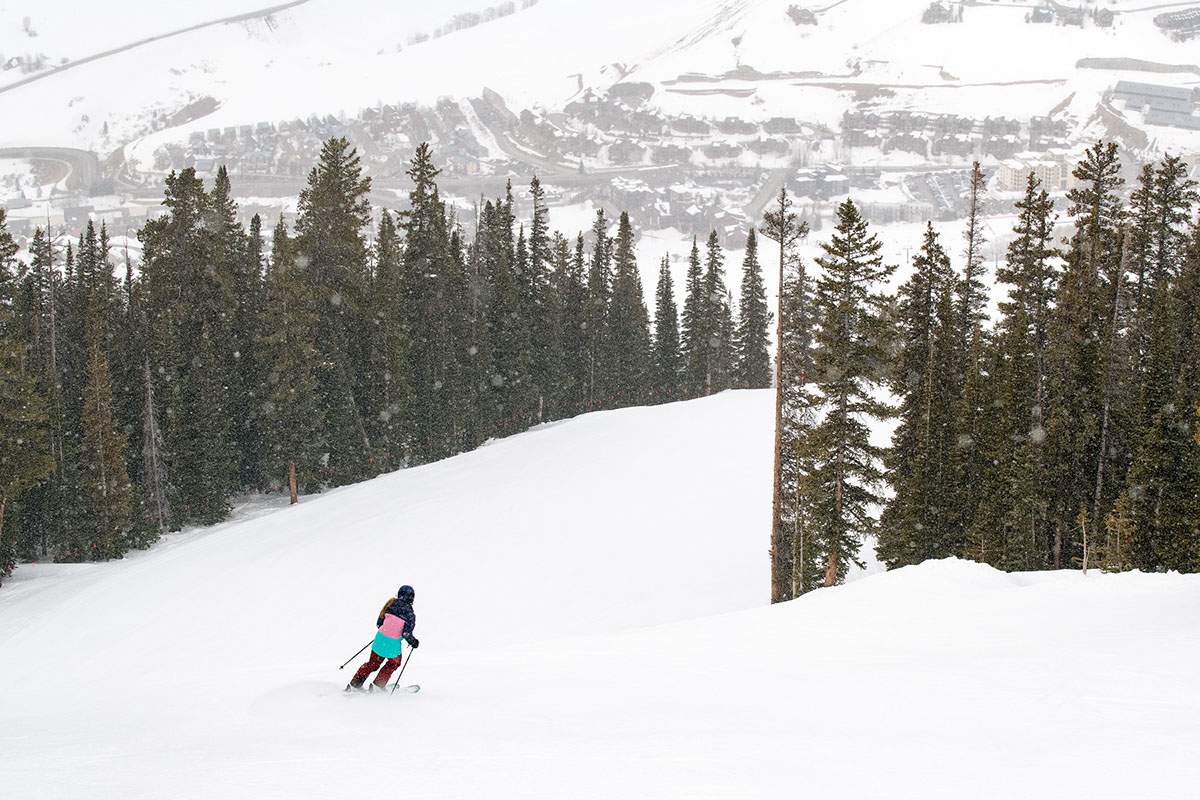 A final option to have on your radar is Strafe's Eden Jacket (and men's Pyramid). Like the Lucy Jacket, the Eden uses an in-house 3-layer membrane with four-way stretch that offers softshell-like mobility and comfort. But the similarities mostly stop there: the Pyramid is considerably heavier at 1 pound 11.2 ounces, adds Polartec Alpha insulation (120g in the body and 60g in the sleeves) for added warmth, and doesn't protect as well against moisture or wind. And the real clincher for us is price: at $599, the Eden costs significantly more than the Lucy without any notable performance benefits. For around $200 less, we think the Flylow is the more well-rounded ski shell.
If you're thinking about buying gear that we've reviewed on Switchback Travel, you can help support us in the process. Just click on any of the seller links above, and if you make a purchase, we receive a small percentage of the transaction. The cost of the product is the same to you but this helps us continue to test and write about outdoor gear. Thanks and we appreciate your support!
Depending on the seller, most products ship free in the United States on orders of $50 or more. International shipping availability and rates vary by seller. The pricing information on this page is updated hourly but we are not responsible for inaccuracies.
Learn More About Ski Gear