Patagonia Storm Shift Jacket
Price: $499
Weight: 1 lb. 13.9 oz. (men's large)
Waterproofing: 2L Gore-Tex
What we like: Highly protective and durable, soft interior lining, and strong sustainability slant.
What we don't: Pricey for a 2-layer design; too heavy and bulky for backcountry use.
See the Men's Storm Shift Jacket  See the Women's Storm Shift Jacket
Patagonia makes some of our favorite ski jackets, and their Storm Shift stands out as an impressively well-built design for resort riders who put a premium on durability and comfort. We tested the men's version in typical Pacific Northwest conditions—including wet, heavy snow and frigid winds—and came away pleased by its overall performance. It's pricey for a 2-layer design and too heavy for long slogs into the backcountry, but the combination of proven Gore-Tex waterproofing, cozy interior lining, and healthy feature set have made it one of our favorite all-mountain jackets for resort use. As a bonus, it's also one of the most sustainably built designs on the market. Below we break down our impressions of the Storm Shift Jacket. To see how it stacks up to the competition, see our articles on the best ski jackets and best snowboard jackets.
 
---
Table of Contents
---

Performance
Weather Protection
With a burly 2-layer Gore-Tex build and healthy suite of protective features, the Patagonia Storm Shift Jacket has been a highly reliable companion in the wet, heavy snow typical of the Pacific Northwest. In fact, I haven't experienced any vulnerabilities to date: The jacket is fully seam-taped for added assurance in gnarly weather, the thick shell has done a great job fending off frigid gusts, and you get all the requisite features for sealing out the elements. These include a large hood with a brim to deflect moisture, Velcro cuff adjustments that work with undercuff or gauntlet-style gloves, a powder skirt to prevent snow from entering at the waist, and dual hem drawcords to minimize drafts. Finally, I appreciate that Patagonia included watertight zippers on all the pockets to keep valuables dry (note: They technically aren't waterproof, but I've experienced no leakage). My only complaint is that the hood aperture is fairly large and gapes open at the jaw, resulting in subpar coverage at the chin (more in "Key Features" below).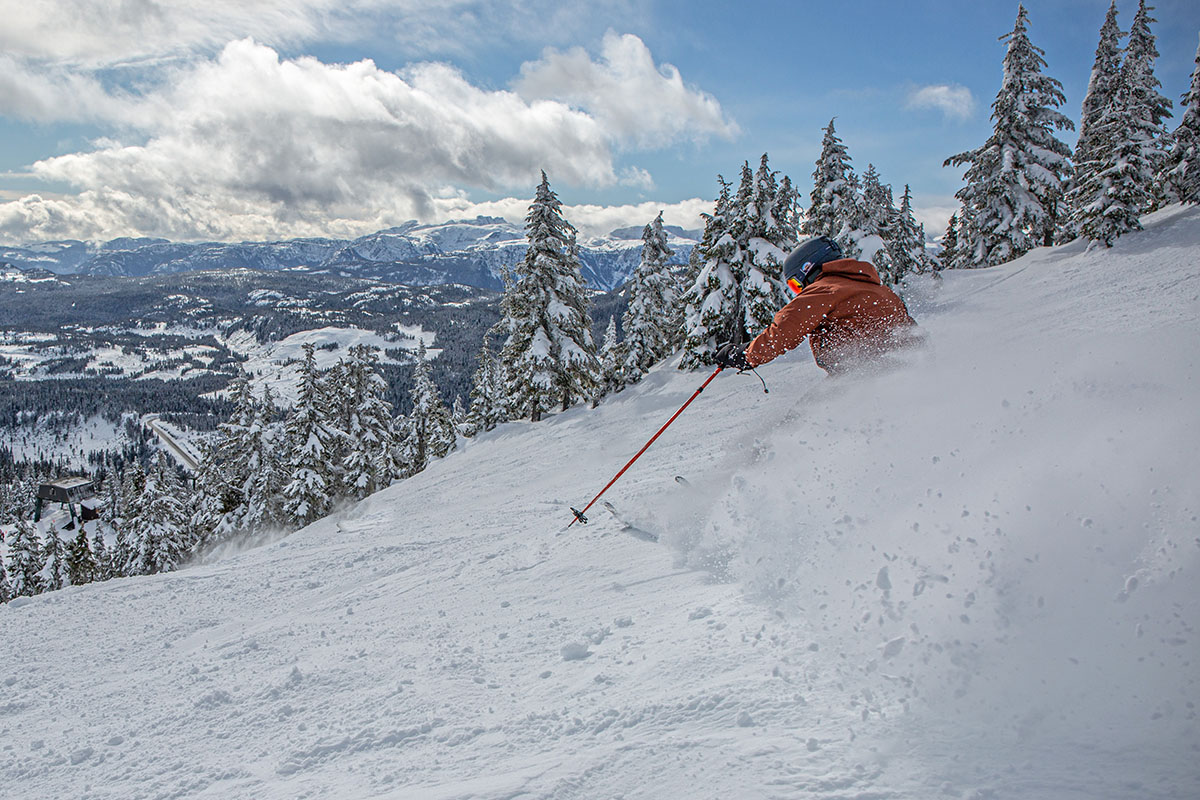 Warmth
The Storm Shift is primarily an uninsulated shell, although they've incorporated a thin tricot knit lining around the core for a modest boost in warmth (the hood and arms are uninsulated). For reference, this thin, soft, and cozy zig-zag layer (its appearance is reminiscent of Patagonia's popular R1 Air) has helped me stay comfortable in the jacket down to around 25 degrees Fahrenheit with just a lightweight merino baselayer underneath (I do run very warm, and most would prefer a midlayer in those conditions). The lack of insulation under the arms was noticeable when wearing a T-shirt—especially around the pit zips—but it's a non-issue with a long-sleeve layer. And with a center back length of 33 inches in my men's size large, the jacket did an admirable job of sealing out snow and wind at the waist while keeping my backside covered when sitting down.
All told, I was surprised by the Storm Shift's ability to keep me warm and comfortable on rough-weather resort days and cold chairlift rides—one of which ended with me covered in a layer of sleet but cozy and dry. It lands in a nice middle ground between the uninsulated shell and insulated categories: You won't overheat on balmy days or on a sidecountry hike (more on this below), but there's enough warmth and coverage to stay comfortable in winter conditions.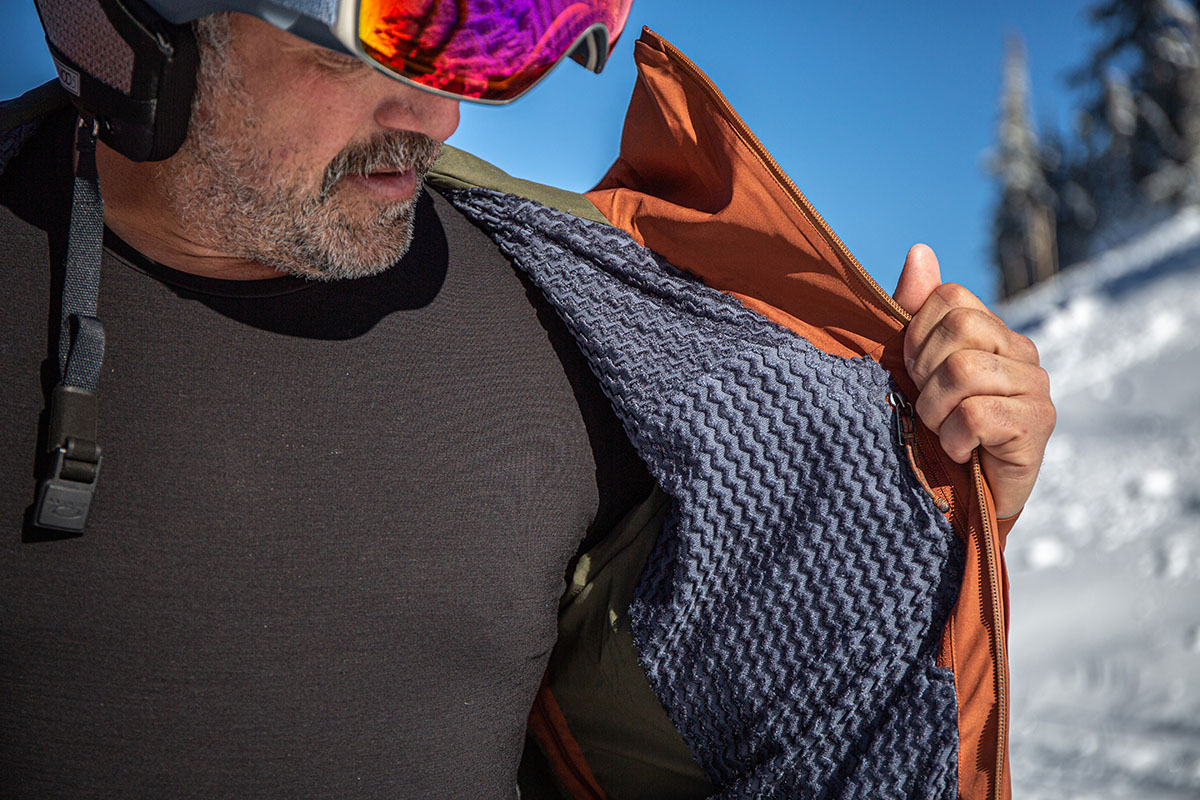 Breathability
Insulated ski jackets are inherently limited on breathability, but the Storm Shift is a decent performer thanks to its thin liner and the inclusion of pit zips for dumping excess heat. The jacket's biggest test came during an unexpected bootpack on Mount Washington: After breaking a binding, I had to bootpack in powder to a chair for a ride down to grab a rental set. About halfway up the hike, I started to heat up and unzipped the pit zips and main zipper to get air moving. I still sweat enough to dampen the tricot knit lining, but the interior dried quickly, and I was able to ski the rest of the day in cold temperatures (mid teens Fahrenheit) without growing chilly. To be sure, I wouldn't bring the Storm Shift along on long days of touring, but it's perfectly serviceable for slackcountry outings or short bootpacks to powder stashes.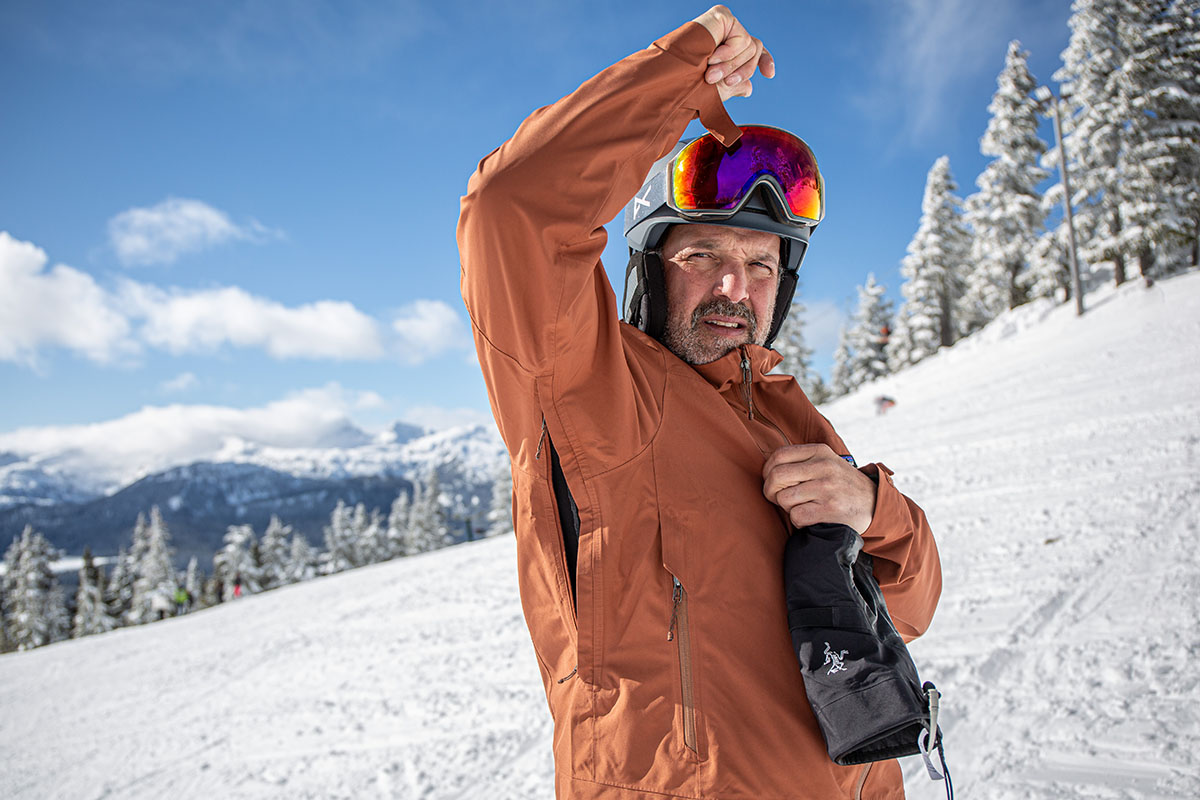 Build Quality and Durability
It's no exaggeration to say that the Patagonia Storm Shift Jacket exudes quality from top to bottom. For starters, the outer shell is noticeably robust at 150 denier (D), which is around double the thickness of many leading resort designs including the Arc'teryx Sabre Jacket (80D) and Patagonia's own Powder Town (75D). All the smaller details are equally well sorted, from the smooth zippers to the secure Velcro cuff adjustments and quality hood and hem toggles. And importantly, the jacket is holding up incredibly well thus far: There are no signs of wear or abrasion despite being frequently stuffed in my ski backpack, the shell remains completely waterproof and windproof after months of wear, all zippers and seams are intact, and the tricot lining with its zig zag pattern has maintained its soft feel with no pilling or clumping. All told, the Storm Shift looks and feels like a premium design and should last for many seasons to come.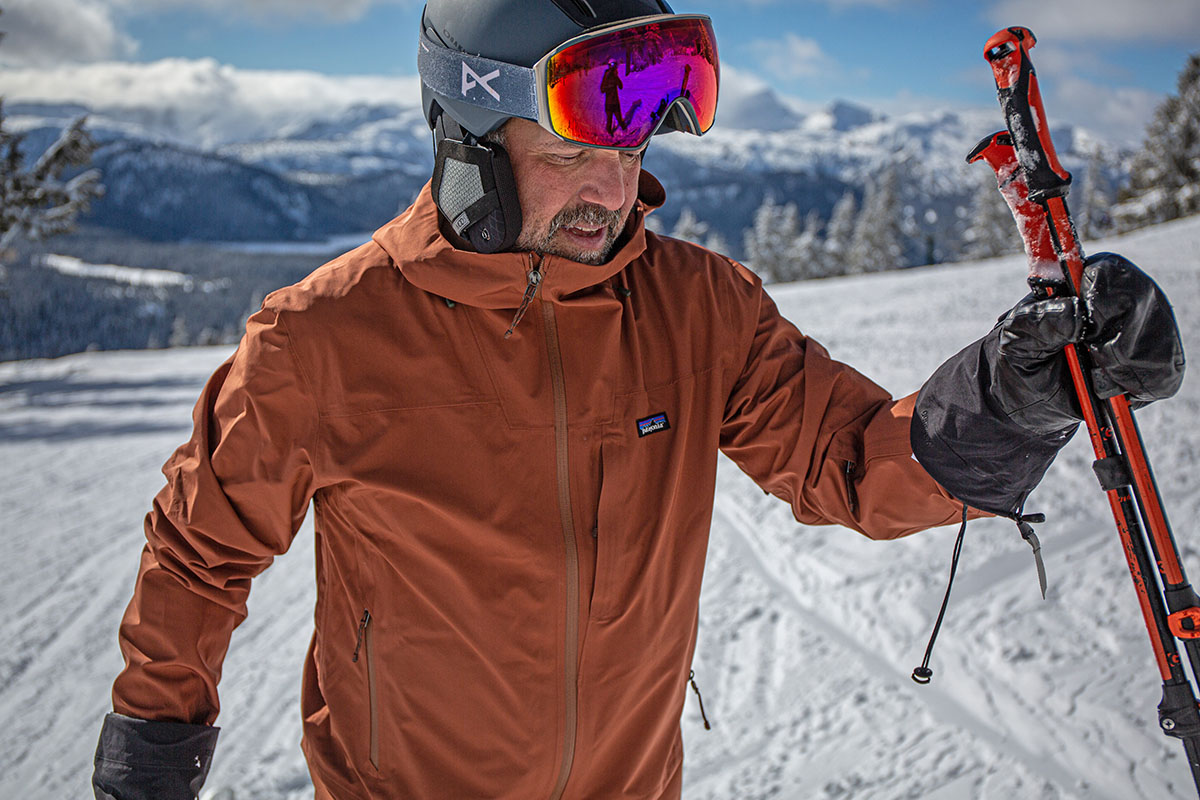 Weight
At 1 pound 13.9 ounces for my men's size large (listed weight is 1 lb. 12.8 oz.), the Storm Shift is an unapologetically resort-focused design. Coming from lighter backcountry shells, the jacket's added heft was immediately noticeable on the slopes. To be fair, however, the Storm Shift isn't a total outlier among other resort-oriented jackets: Designs like the Arc'teryx Sabre Jacket (1 lb. 8.9 oz.) and Patagonia's own Powder Town (1 lb. 8.7 oz.) are a little lighter, while fully insulated shells like the Helly Hansen Alpha 3.0 (2 lb. 8.6 oz.) and Insulated Powder Town (1 lb. 14.7 oz.) clock in heavier. And it's important to note that the Storm Shift's weight is well spent—the jacket is noticeably robust, highly protective, and fully featured, which are reasonable trade-offs, in my opinion. If you plan to mix in the occasional tour, however, I'd recommend going with a more streamlined design like the aforementioned Sabre.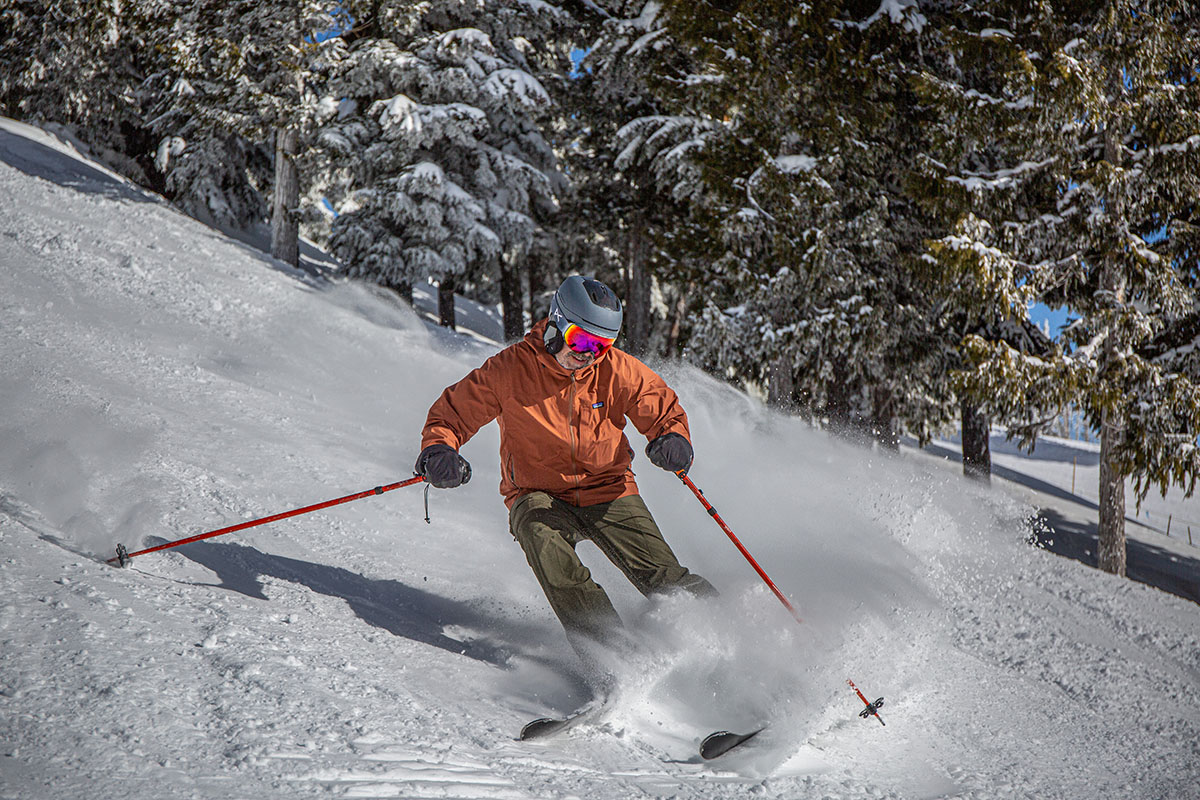 Key Features
Hood
As I mentioned above, the Storm Shift comes equipped with a generously sized hood that comfortably fits over a ski helmet. You get two adjustments for dialing in fit: The drawcord at the rear tightens the brim, while the dual drawcords at the base of the collar control the aperture. Again, I found the aperture to be a little large—I have to pull the lower toggles as tight as possible to adequately protect my chin—but the good news is that they're easy to access with gloves on. The rear pull cord is a little tougher to cinch since it's protected by a "garage," and the same goes for releasing the tension. Rounding out the design is a small brim that effectively deflects precipitation from dripping onto my face. It also houses a hidden Recco reflector that will transmit your location to search and rescue in the event of an emergency.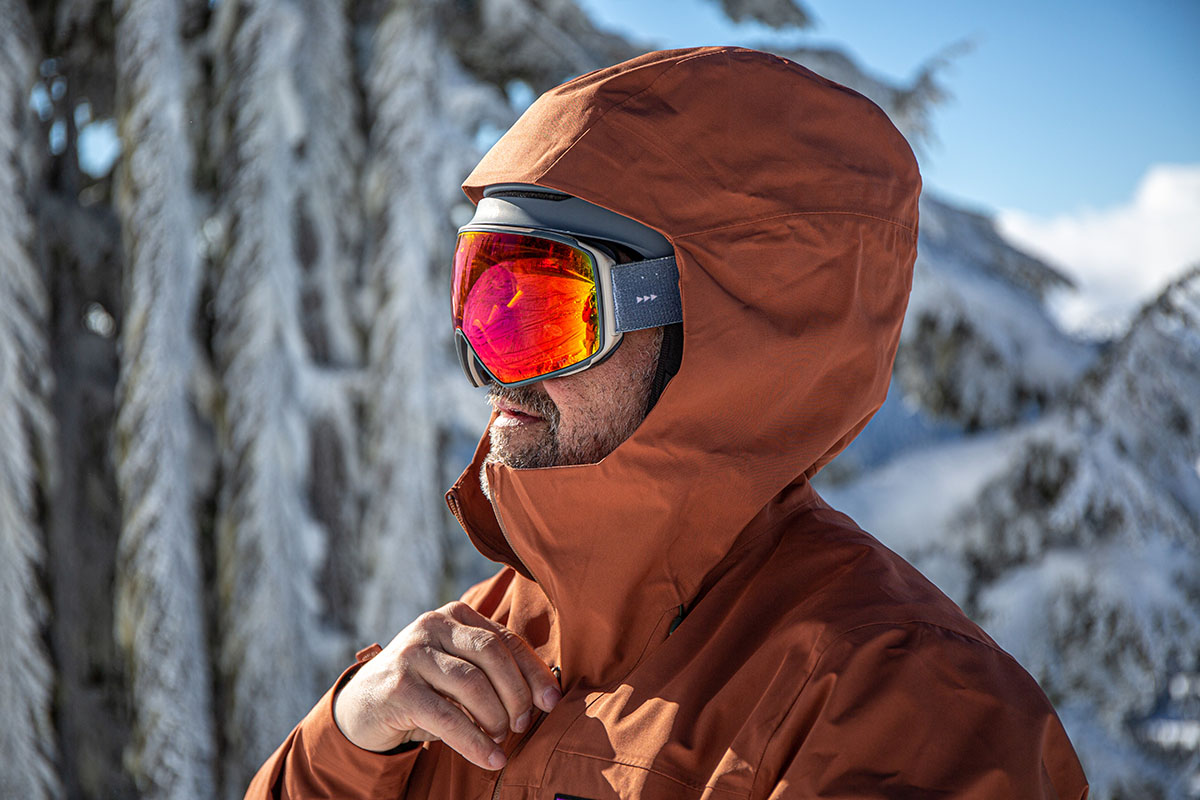 Storage: Pockets
With six pockets, the Storm Shift Jacket easily fits all the essentials for a full day at the resort. Starting on the outside, you get a zippered forearm pocket on the left side that's well positioned for lift pass scanning, a small exterior chest pocket that fits a phone, and two decently large hand pockets that easily accommodate gloved hands (bonus: They're fleece-lined for comfort when not wearing gloves). Moving to the inside, Patagonia included a large dump pocket at the right side that swallows goggles, gloves, or even climbing skins for short slackcountry adventures when I'm not wearing a pack. There's also a small interior chest pocket where I like to keep my keys—I prefer to keep them separate from my wallet and phone to minimize the chance of losing them. My only real gripe is that the interior and exterior chest pockets are on the same side, which causes a lot of bulk if you're storing larger items in both at once.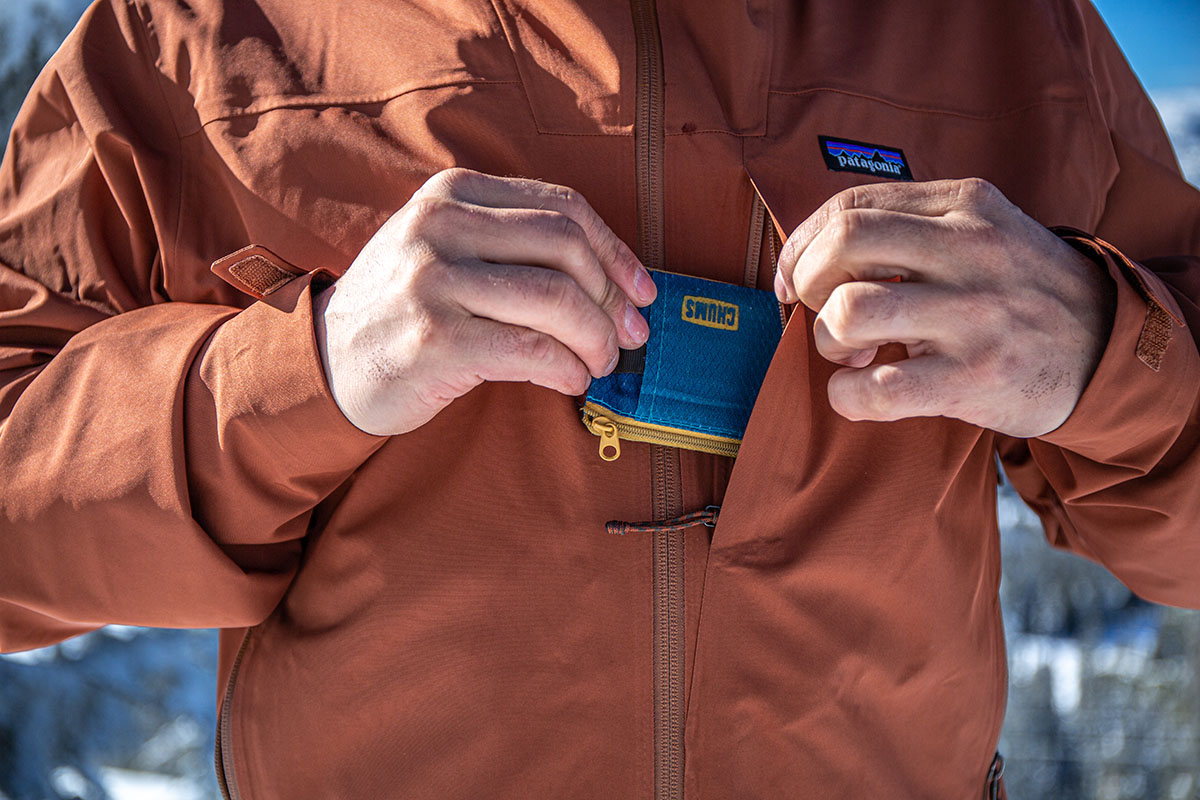 Powder Skirt
Like most ski-specific shells, the Patagonia Storm Shift Jacket comes equipped with a powder skirt for sealing out snow at the waist—great for keeping you protected on deep powder days or in the event of a fall. There's only one snap for attaching it to compatible ski pants, which gave it a less secure feel than many other premium designs I've tested, but the low-profile skirt worked as intended (the sticky rubber lining around the perimeter certainly helped). In fact, it even managed to keep me dry as I slid down ungroomed runs on my butt after breaking my binding on a powder day.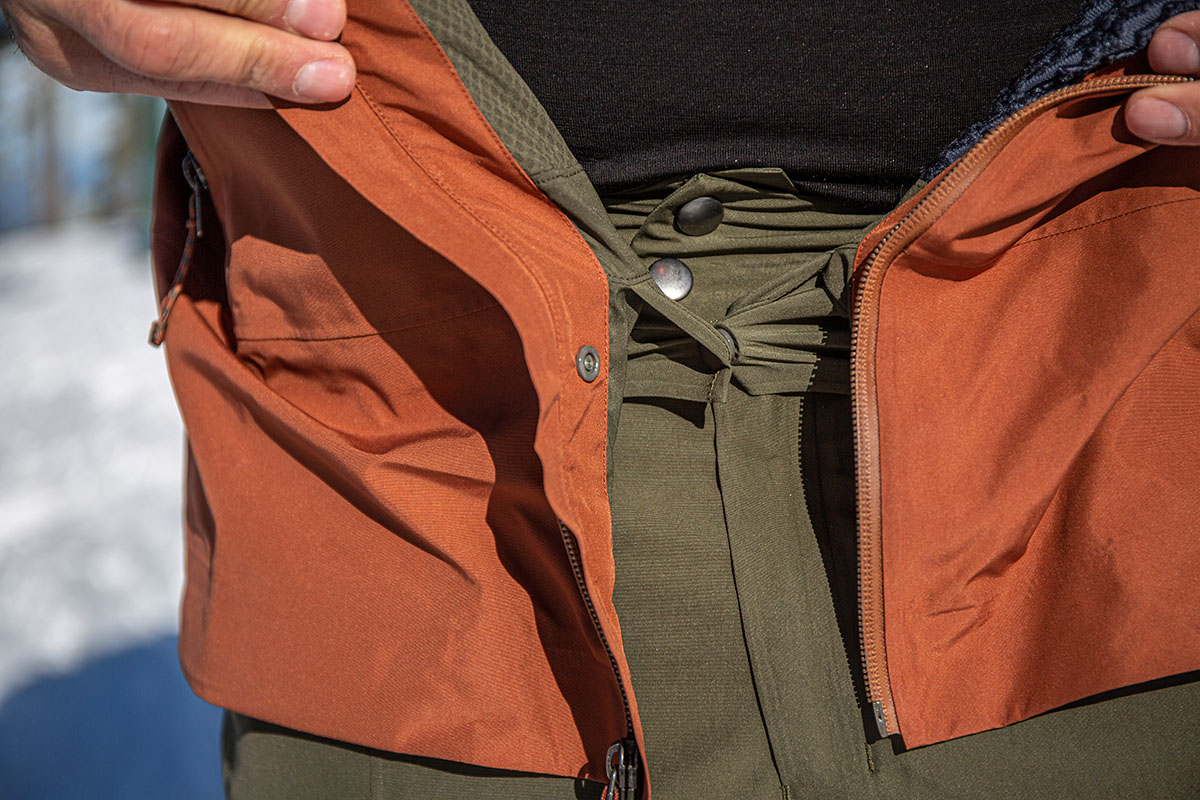 Fit, Sizing, and Comfort
I opted for my usual men's large in the Patagonia Storm Shift Jacket and was pleased with the all-around fit. For reference, Patagonia lists the jacket as a "regular" fit, which provided ample room for layering underneath—my go-to midlayers last season were the Arc'teryx Cerium Hoody and Patagonia Micro Puff Hoody—without any restriction to movement. Importantly, the jacket isn't so big that it feels awkwardly baggy or oversized, and it avoids the boxy shape that plagued some Patagonia jackets of old. Finally, from a comfort perspective, the Storm Shift is cozy to wear on its own thanks to the soft tricot knit lining. However, as I mentioned above, the lining doesn't cover the inside of the arms, and I was able to feel the cold pit zipper against my lower bicep when wearing just a T-shirt underneath. This is easily remedied by wearing at least one long-sleeve layer under the jacket—which most skiers will do the majority of the time.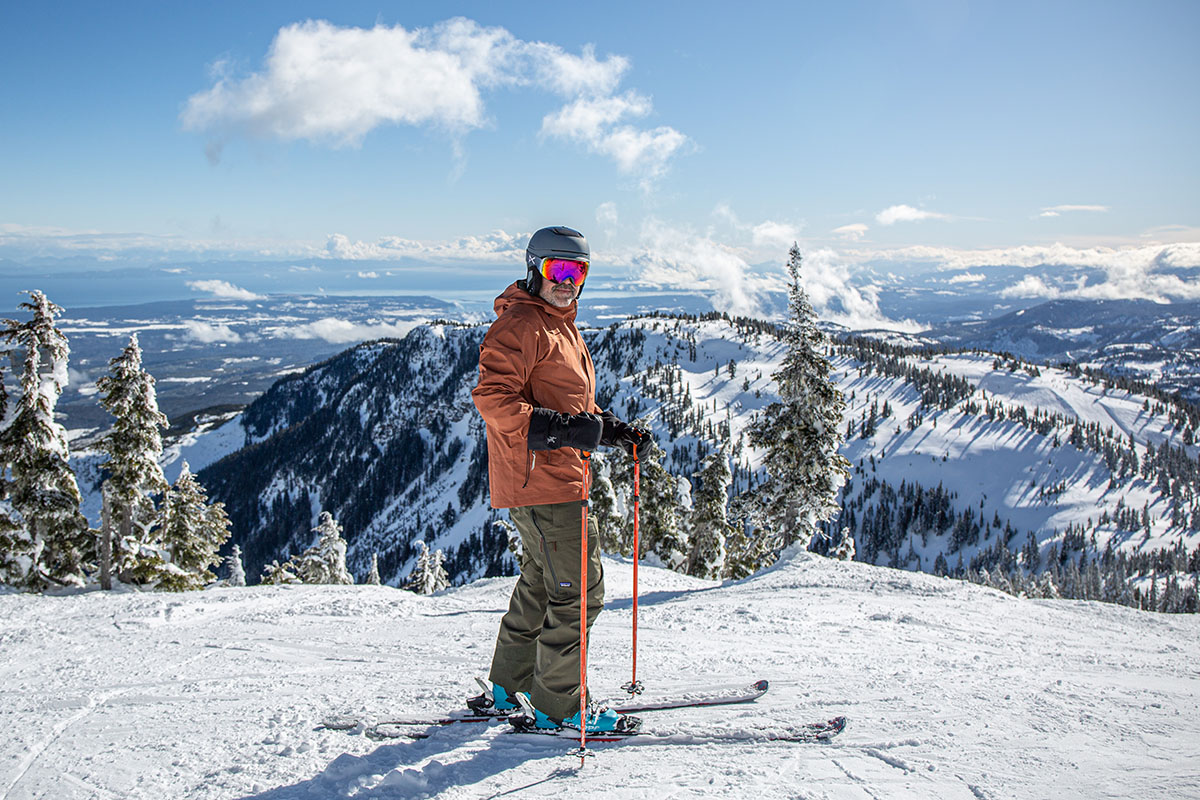 Sustainability
Patagonia is known for their sustainable materials and design, and the Storm Shift is the epitome of this ethos. The Gore-Tex construction is completely PFC-free—including the membrane, DWR finish, and fabric—and recycled materials are used throughout, including for both the shell (100% recycled) and tricot knit lining (61% recycled). Finally, the jacket is Fair Trade Certified sewn, which indicates that Patagonia put extra money into production to ensure workers are compensated fairly and have access to programs like healthcare, childcare services, and more. Added up, it's another laudable effort from the brand and only boosts the Storm Shift's all-around appeal.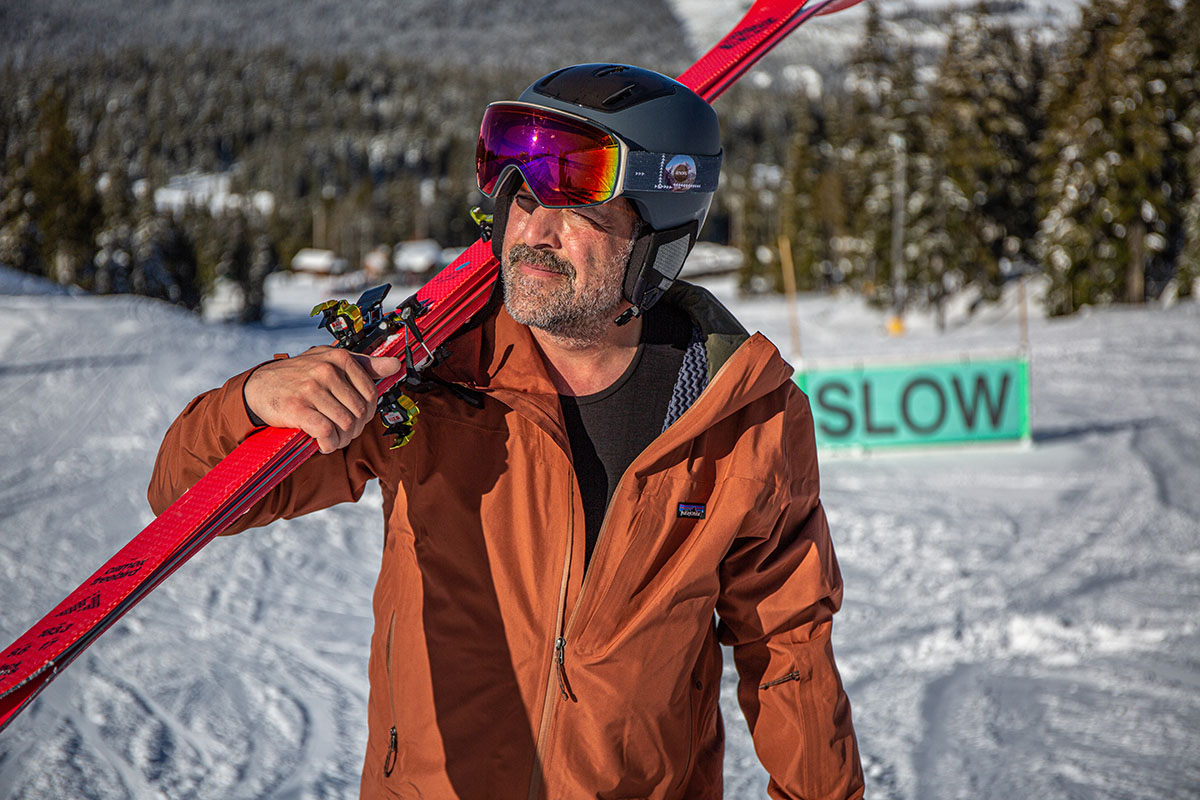 Other Versions of the Patagonia Storm Shift
I put the men's Storm Shift Jacket through its paces for this review, and it's also offered in a women's version for the same price. Comparing the two, the women's Storm Shift Jacket is a little lighter at 1 pound 9.5 ounces and sold in different colorways but retains an otherwise identical feature set and overall construction. To complete your kit, Patagonia sells compatible Storm Shift Pants in both men's and women's styles, which retail for $399, come in both regular (32 in.) and short (30 in.) inseam lengths, and can be attached to the jacket's powder skirt for integrated protection (for more, see our Storm Shift Pant review). Rounding out the lineup is a kids' version of the Storm Shift Jacket ($279), which uses the same 2-layer Gore-Tex construction and boasts many of the same features as the model tested here.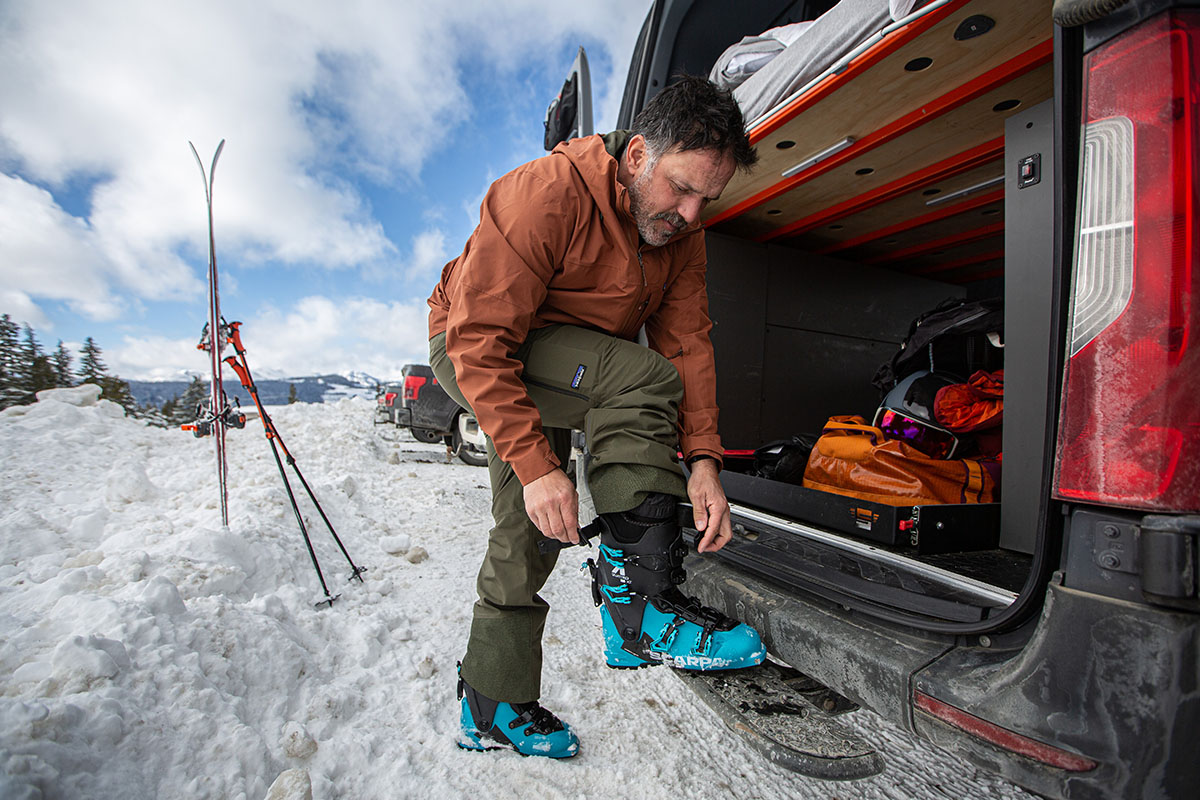 What We Like
Proven Gore-Tex membrane, thick shell fabric, and healthy suite of protective features make the Storm Shift a stalwart in wet and rowdy weather.
Thin tricot knit lining adds a nice boost in warmth for cold resort days, doesn't detract too heavily from breathability, and has a very soft and comfortable next-to-skin feel. 
Top-notch build quality, including a noticeably robust 150D shell, premium fit and finish, and quality components throughout. 
Six-pocket layout provides ample space for stashing the essentials on full days.
One of the most sustainably built ski jackets on the market with a fully PFC-free Gore-Tex construction, recycled materials, and certification to the Fair Trade standard.

What We Don't
Expensive for a 2-layer design at $499.
Decidedly hefty at 1 pound 12.8 ounces—those looking for a touring jacket should look elsewhere (although it's great for sidecountry hikes).
Interior and exterior chest pockets are on the same side, which can lead to a good amount of bulk when both are in use.
The hood design could be improved: The aperture is noticeably big, and the rear drawcord is difficult to operate with gloved hands.


Comparison Table
The Competition
Patagonia's Storm Shift is an undeniably premium and hardwearing ski jacket, but it's fairly pricey for a 2-layer design at $499. For a considerable $150 less, their Powder Town Jacket is a step down in all-around performance but plenty of jacket for most resort riders. In parsing out the differences, the Powder Town is a little lighter at 1 pound 8.7 ounces (for the uninsulated version); retains key features like a helmet-compatible hood, pit zips, a powder skirt, and six total pockets; and boasts a soft interior with a mix of taffeta and tricot mesh linings. The Storm Shift gets the clear edge in durability with its 150D shell (compared to the Powder Town's 70D build), is slightly warmer, and its Gore-Tex construction is a step up in all-out protection compared to the Powder Town's in-house H2No membrane. But from a value standpoint, there's no question that the Powder Town is impressively well rounded for the price. But for the ultimate in wet-weather performance and durability, we'd spend up for the Storm Shift.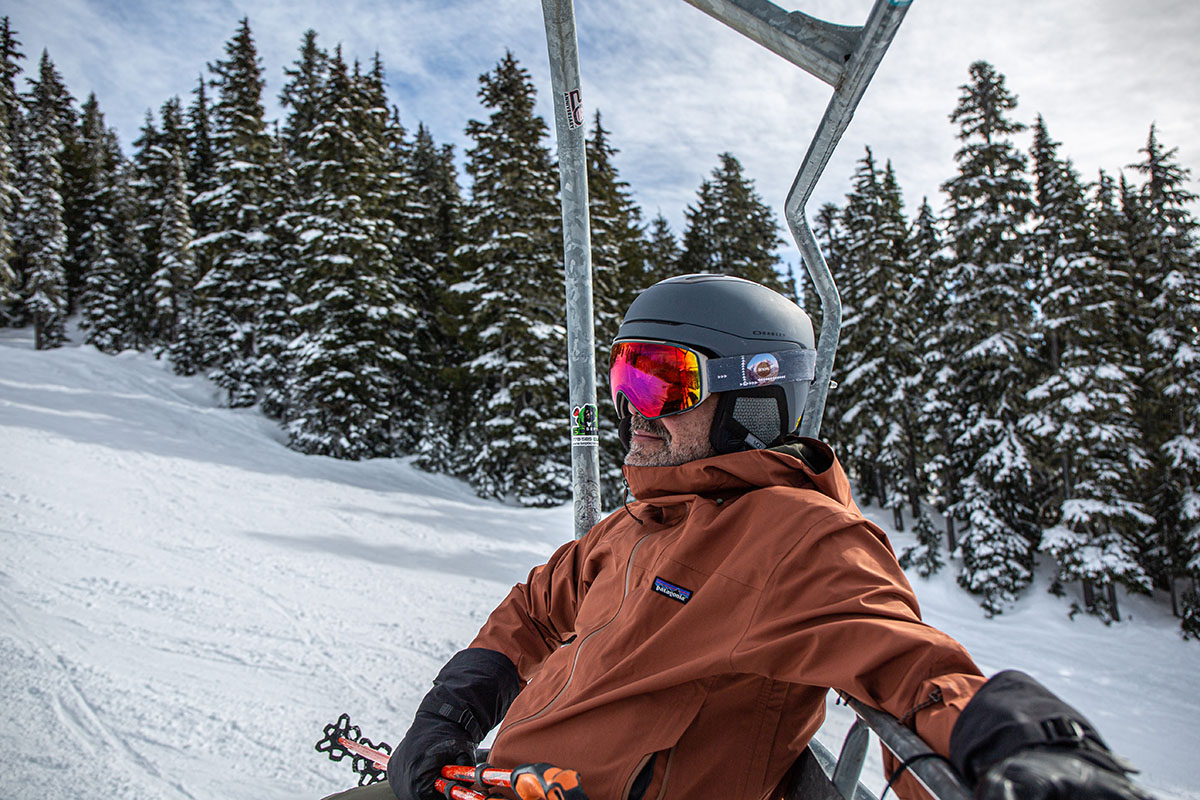 Next up is another 2-layer Gore-Tex design to have on your radar: REI Co-op's First Chair GTX ePE Jacket. Recently updated with Gore's more sustainable expanded polyethylene (ePE) membrane, the First Chair is a strong alternative to the Storm Shift for a considerable $180 less. Along with comparable protection from the Gore-Tex build, you get a helmet-compatible hood with multiple adjustment points, a tall collar with a tricot backing for added comfort, pit zips for dumping excess heat, hook-and-loop cuff closures that work with multiple styles of gloves, a removable powder skirt, and ample storage for stashing the essentials. The First Chair is also lighter by around an ounce, although REI opted for fabric flaps rather than more premium coated zippers on the pockets and pit zips, and overall fit and finish fall short of Patagonia's impressive attention to detail. Occasional riders and those just starting out can get away with saving, but the Storm Shift's performance upgrades are worth the added investment for those who get out a lot.
While still relatively new to the ski market, Oregon-based Trew Gear offers a well sorted lineup of premium and tough shells at competitive prices, and their Jefferson Jacket is a strong alternative to the Storm Shift. Like the First Chair covered above, the Jefferson retails for $319 and uses a 2-layer build (in this case, Trew's in-house PNW membrane) that stands up well to wet and windy weather. Comfort is another strong suit with the Jefferson's impressively smooth lining, and the feature set lines up closely with the Storm Shift's. Not everyone will love the freeride styling and baggier fit, and both designs are too heavy for backcountry use (the Trew Gear checks in at 1 lb. 14 oz.). Again, it's hard to beat Patagonia's keen attention to detail, but the Jefferson is no slouch and offers comparable performance for less.
Last but not least, we'd be remiss not to compare the Storm Shift to our top-rated ski jacket this year: Arc'teryx's Sabre Jacket. Right away, we'll note that the Sabre costs a whopping $250 more than the already-spendy Storm Shift, but you do get a few noteworthy upgrades. These include a less bulky and more breathable 3-layer Gore-Tex construction, lower weight (1 lb. 8.9 oz.), and top-notch fit and finish that Arc'teryx is known for. Similar to the Patagonia, the Arc'teryx also includes a soft-touch liner that adds a little extra warmth and boost mobility and comfort. The Sabre does use a thinner 80D face fabric, although we've had zero issues to date and consider it a very hardwearing piece (for more, check out our in-depth Sabre Jacket review). And perhaps the biggest draw: The Sabre crosses over well for light backcountry use, making it the better pick for those who like to earn their turns from time to time. There's little reason to spend up if you exclusively ski inbounds, but for mixed in- and out-of-bounds use, the Sabre is hard to beat. 
If you're thinking about buying gear that we've reviewed on Switchback Travel, you can help support us in the process. Just click on any of the seller links above, and if you make a purchase, we receive a small percentage of the transaction. The cost of the product is the same to you but this helps us continue to test and write about outdoor gear. Thanks and we appreciate your support!
Depending on the seller, most products ship free in the United States on orders of $50 or more. International shipping availability and rates vary by seller. The pricing information on this page is updated hourly but we are not responsible for inaccuracies.
Read More From Switchback Travel