Today's ski jackets are well made and built to handle many seasons of use in foul weather. They also can be big investments, with even entry-level jackets often setting you back a couple hundred dollars or more. With so many styles to choose from, it helps to narrow your search right off the bat, and one of the most important considerations is whether you want a ski jacket with insulation or a non-insulated shell (or a mix of the two). All can be good options—it just comes down to what's best for you. Below we break down the shell vs. insulated vs. 3-in-1 debate. For more information and our top picks, see our article on the best ski jackets. And for all of our product recommendations in one place, check out our detailed ski gear reviews.
 
Ski Jacket Types
Shell (Non-Insulated) Jackets
Shell jackets essentially are a solid outer layer that protects you from wind and moisture, often without any insulation added. In other words, a shell jacket is there to keep you dry and block wind but is dependent on adding midlayers and baselayers for warmth. And there are large differences in price within the shell category. High-end hardshells like the Arc'teryx Rush and Norrøna Lofoten GTX Pro feature waterproof and breathable Gore-Tex with a tailored fit for excellent range of motion. Basic shells use thick fabrics and cheap waterproofing that don't breathe as well. Softshells win out in breathability for high-output activities like ski touring, but are much less impervious to the elements than standard hardshells. In the end, beginning and intermediate skiers will be fine with an entry-level option, but experienced skiers or those who work up a sweat hiking will really appreciate the upgrade to a premium shell.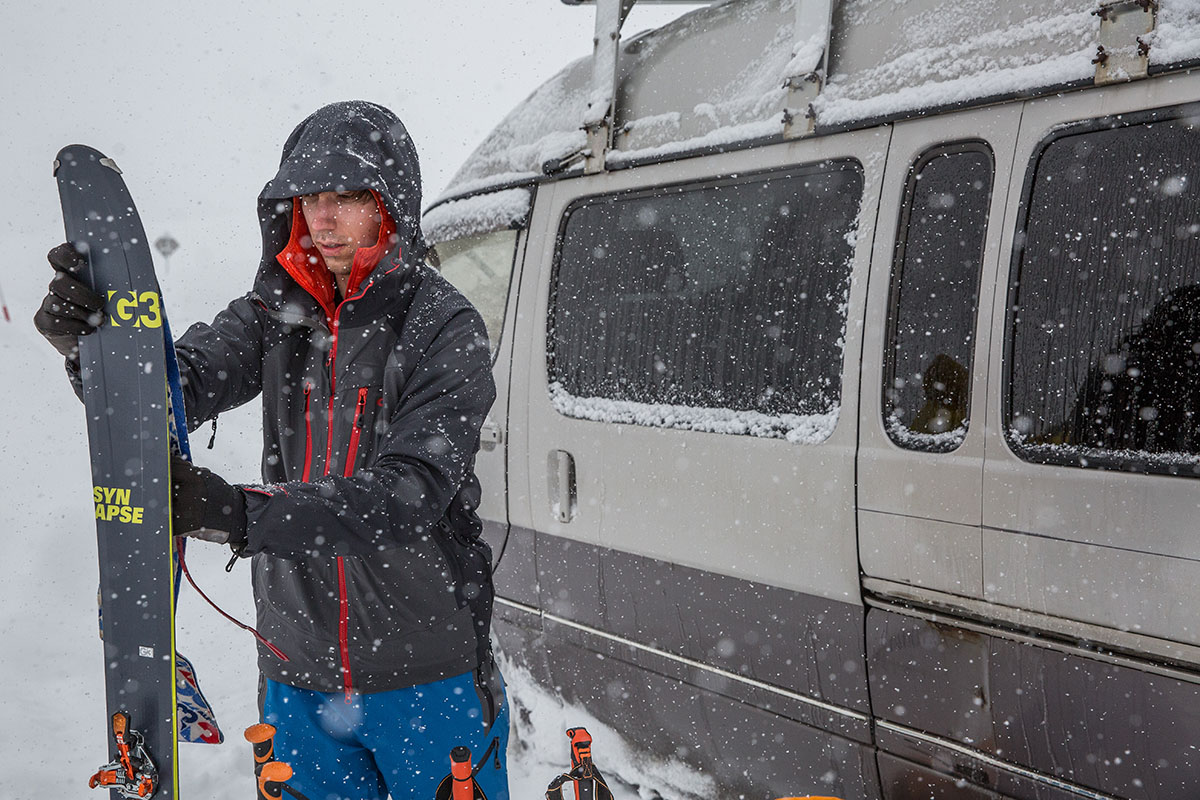 Insulated Ski Jackets
Comfort and warmth rank highly for resort-goers, and to help make cold chairlift rides more tolerable, many skiers opt for a jacket with insulation like the Helly Hansen Alpha 3.0. Choices with insulation come down to the classic down vs. synthetic debate. Down gives you premium warmth with less bulk, while synthetic insulation is cheaper and will outperform down should moisture make its way through the lining. For these reasons, synthetic insulation is by far the most popular choice for skiwear. Insulated jackets add a little bulk and impact range of motion more than when layering with a separate midlayer beneath a shell. But for those who run a little cold or ski in frigid climates, an insulated jacket is a great match.

3-in-1 Jackets
A nice budget option is a 3-in-1 ski jacket like The North Face ThermoBall Eco Snow Triclimate. With this style, you get a shell that is usually waterproof and a separate zip-in liner jacket. The liners vary from thin fleece to warm synthetic fill and can be worn separately when you're not on the slopes. Given the relatively inexpensive pricing of most 3-in-1s, this makes them quite a deal. It may sound like the best of both the shell and insulated worlds, but for performance-oriented skiers, we typically recommend steering clear of the 3-in-1 style, as performance, fit, and material quality fall short of most insulated and shell options. But casual skiers will love the convenience—in fact, a 3-in-1 is a popular first ski jacket (for this author included).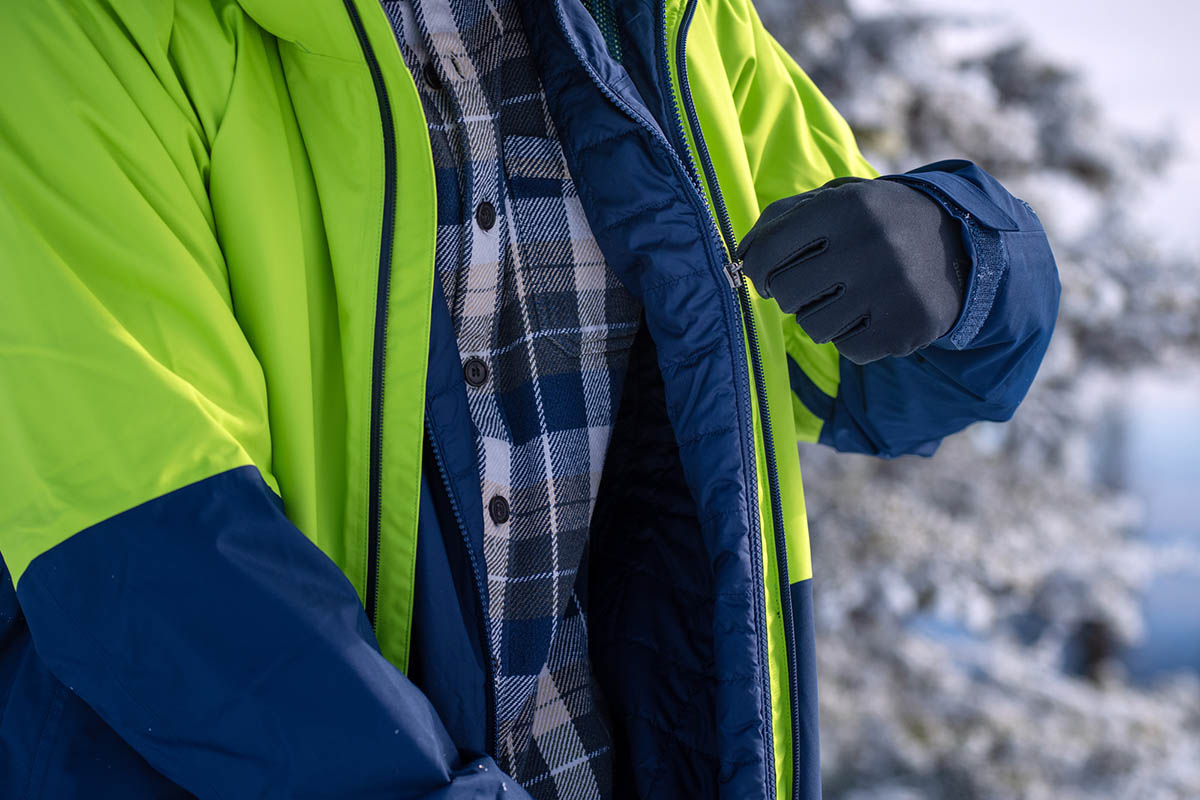 Performance Considerations
Warmth Advantage: Insulated Jackets
It's a given that an insulated jacket will offer a higher degree of warmth, and if the conditions at your local resort usually are cold, an insulated jacket makes a lot of sense. But the answer isn't always that simple. Other considerations to take into account include whether or not you find yourself standing around a lot. Are you teaching kids to ski or do you have long lift lines or chairlift rides? In these instances, the extra insulation may be helpful (it's no surprise you'll see a lot of ski instructors sporting insulated jackets). There are also individual factors such as whether or not you constantly run cold. If you're the kind of person who wears a down jacket inside the house, we recommend an insulated jacket for maximum warmth.
But what about the ski days where the weather report shows 35 degrees and sunny? If you've chosen the very warmest ski jacket you could find—for example, the Arc'teryx Macai that's stuffed with a mix of 750-fill-power down and 100- and 60-gram synthetic insulation—you'll be opening up the pit zips before you even start your first run. This is where the adaptability of a non-insulated ski shell shines through. For most of us, the amount of warmth that you need can vary throughout the ski season. Moreover, if you're someone who's the first on the hill in November and the last off of it in April (or later), then having a shell jacket probably is the way to go. Those early- or late-season days can get warm towards the afternoon, so the flexibility to tailor your warmth more easily to changing temperatures (leave the midlayer at the lodge) is a valued feature.
 
Waterproofing Advantage: Shell Jackets
Even if you never venture beyond the ropes at your resort, you can find yourself in some pretty nasty and wet conditions. For ultimate protection, you'll need a jacket that has a waterproof shell and seam taping around the interior. Dry and cold snow isn't as prone to getting through your jacket, but the wet snow you'll find at low elevations or in certain parts of the country (including areas in the Pacific Northwest) makes a fully waterproof ski jacket a smart buy.
In general, nearly all shell jackets are waterproof. More expensive models—like our top pick this season, the Arc'teryx Sabre—have a 3-layer shell, with a tough outer layer bonded to a waterproof/breathable membrane and interior lining. The more affordable construction is 2-layer, which often supplements the inner lining with loose mesh. Either choice is commonly seam-taped and has a durable water repellent (DWR) finish on the outer layer to bead up and repel any moisture.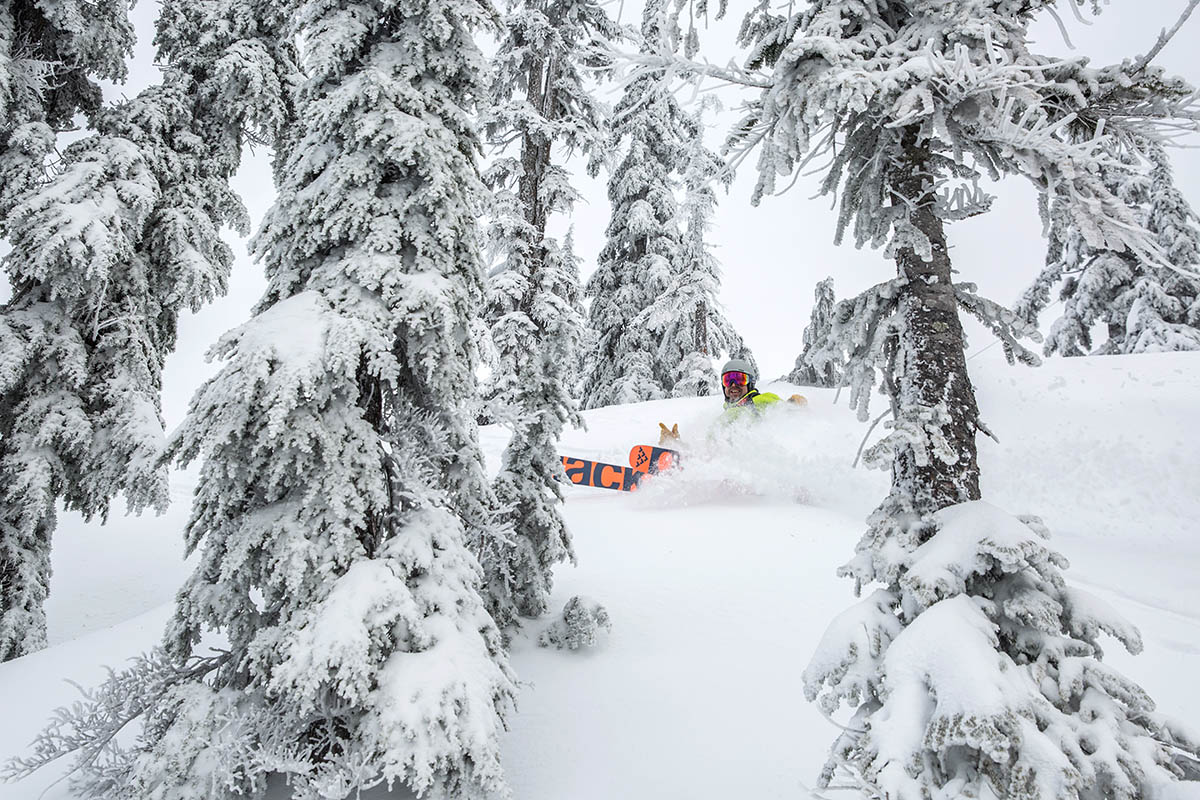 Insulated jackets, on the other hand, are not always fully waterproof. There are a number of high-end options that have a similar waterproof design as shells, but the more cost-friendly focus of insulated jackets leads to some compromise here. Although their outer fabrics will be made with a tough and water-resistant material, they will eventually give in to sustained moisture. In addition, seam taping and waterproofing technology is expensive, and the combination of a DWR finish and a burly outer fabric are plenty to keep you dry most of the time. As a final note, it's important to keep in mind that there are exceptions to these generalities, and you can find the occasional ski shell that is not completely seam-taped. We always recommend checking the manufacturer's specs to verify.
 
Breathability Advantage: Shell Jackets
This category really isn't a competition, as high-end shell jackets have the clear advantage. The thin fabrics are much more efficient than insulated models at releasing hot air when you're working hard. The price of the shell jacket generally will correspond with its ability to breathe, and some of our favorites include the premium Patagonia PowSlayer and Arc'teryx Alpha SV, which both feature top-end Gore-Tex Pro. Softshells also are popular among backcountry-goers, although the lack of weatherproofing isn't ideal for use in harsh conditions. For resort skiing, breathability is less of a concern, and a set of pit zips on your insulated jacket or 3-in-1 can be a big help. In fact, if you only wear a baselayer underneath your insulated ski jacket, opening your pit zips can cool you quickly with only one layer between your skin and the cold air. But for those who demand high performance, a lightweight 3-layer ski shell is the best waterproof choice.

Fit and Mobility Advantage: Shell Jackets
Since our first days on the slopes, freedom of movement has improved drastically, with advanced forms of lightweight insulation and thinner fabrics now widely available. Even very warm synthetic-insulated jackets aren't excessively bulky and offer a good fit for aggressive skiers. Shell jackets are designed for layering, but overall will have the most streamlined cut—and particularly performance pieces from brands like Arc'teryx, Norrøna, Helly Hansen, and Patagonia. In addition, we've found shell jackets to offer improved mobility compared with insulated jackets and 3-in-1s. By having your insulating midlayer independent from the outer shell, overall ease of movement increases. To be sure, a well-fitting insulated piece also can be a good choice—including the snug-fitting Helly Hansen Alpha 3.0—but the thinner design of shell jackets gives them the edge here.

Cost Advantage: It Depends
It's important to know that for casual use in mild conditions, nearly any ski jacket from a reputable brand will do. For resort days, the most important considerations are staying warm and dry, which leads us to the question: Does purchasing an insulated or 3-in-1 ski jacket pencil out to save you some bucks?
To best answer the question, it's important to get an idea of how much insulation you need. For big-time warmth, the aforementioned Arc'teryx Macai has a very substantial mix of 750-fill down and 100- and 60-gram synthetic. That combo delivers more insulation than your standard lightweight synthetic midlayer, which is closer to 60-gram. However, an option like the Macai is at the top end of the market and incredibly pricey at $999—for comparable quality and warmth in a synthetic jacket, you can expect to spend around $250-$400. In this case, opting for a non-insulated shell and warm midlayer could save you a decent amount.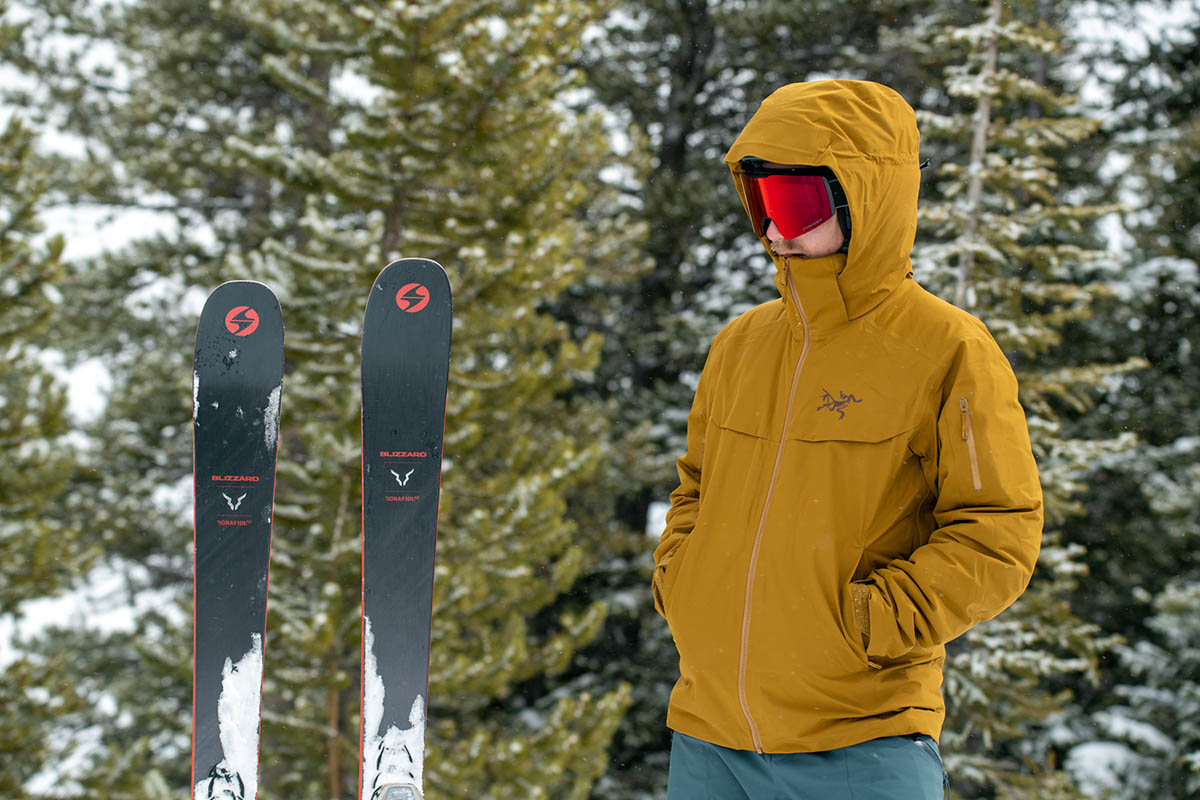 However, the case is a bit more promising for less-insulated ski jackets and 3-in-1 options. The Helly Hansen Alpha 3.0 ($475) and the Patagonia Insulated Powder Town ($399), for example, both use 80-gram synthetic in the body. This means that if you were to pair an uninsulated hardshell with a similarly insulated midlayer, you'd likely have to spend up. Further, 3-in-1 options like The North Face ThermoBall Eco Snow Triclimate ($360) and Columbia Bugaboo II Fleece Interchange ($210) are great values given the overall design, but they are far from the best performers in high-exertion activities. In the end, while the answer isn't crystal clear (don't forget that a separate midlayer can be worn for around-town use), examples like the Alpha 3.0, Insulated Powder Town, and ThermoBall Eco Snow Triclimate can offer tangible financial benefits. For those looking to keep the costs of their kit low, see our article on good ski gear on a budget.
 
Weight Advantage: Shell Jackets
Weight isn't a top consideration for resort skiers, but it's nevertheless important not to feel bogged down on the slopes. Shell jackets again get the clear advantage here—with no insulation and lighter-weight fabrics, they undercut insulated and 3-in-1 options considerably. That said, as long as you're comfortable, there's really no harm in shouldering an extra few ounces (even the 2-pound-3.3-ounce ThermoBall Snow Triclimate isn't unreasonably heavy for a day at the resort). In general, cheaper jackets use heavier fabrics and have more durable shells, while lightweight hardshells are ideal for human-powered missions and those venturing out of bounds. For dedicated backcountry-goers, we really like unencumbered designs like the Arc'teryx Beta AR (1 lb.), Outdoor Research Hemispheres II (1 lb. 3.7 oz.), and Patagonia PowSlayer (1 lb. 3.3 oz.).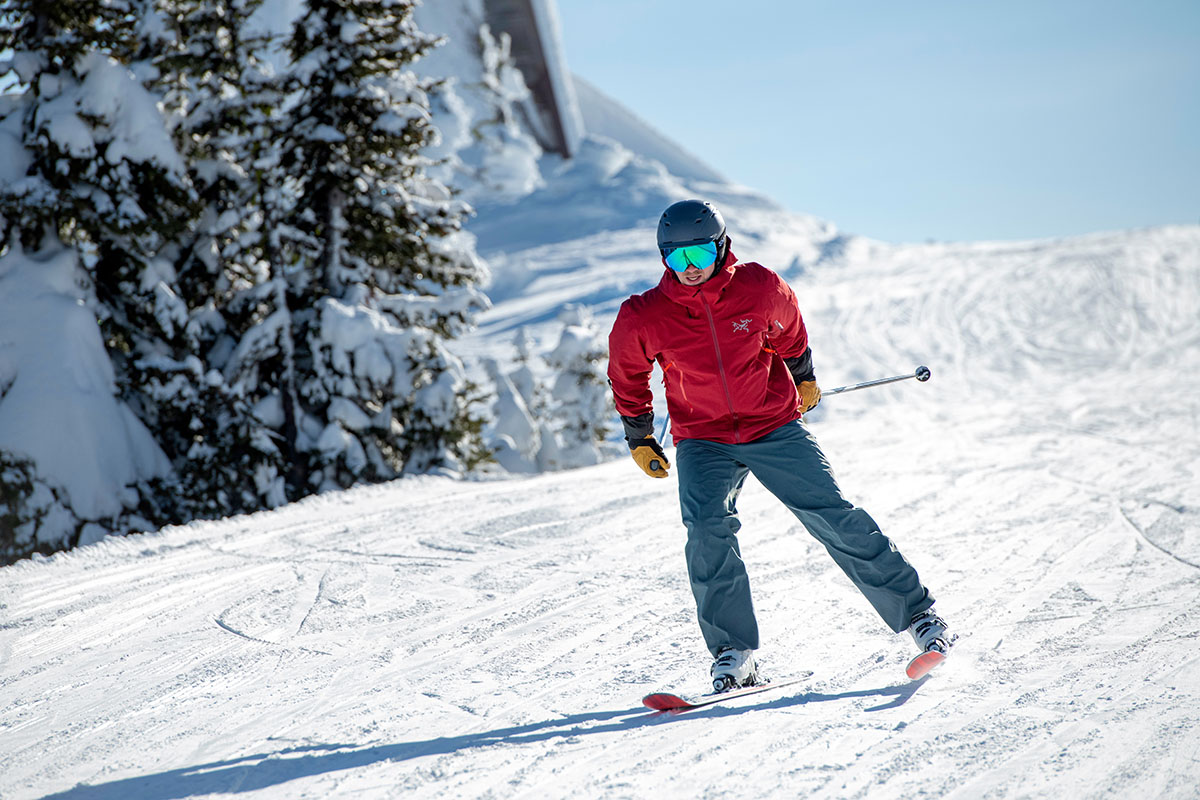 Intended Uses
Resort
Resort skiers are pretty divided between insulated and shell jackets, and the considerations that we've covered above should dictate what is best for you. Things like weather conditions and whether or not you prioritize absolute warmth over a more streamlined fit will lead you in one direction or another. For resort use, we still lean towards a shell jacket for the season-long flexibility as well as less bulk, but many people are still very pleased with their insulated jackets. It's also not unheard of to have one of each. For dedicated skiers who put in 40-plus days a year in a variety of conditions, a shell and insulated option can make a lot of sense. Pairing Arc'teryx's non-insulated Sabre and Helly Hansen's Alpha 3.0 makes for a pretty dreamy combo.

Backcountry
For backcountry skiers or those who value performance, the answer is clear: Get the shell jacket (one of the few exceptions is Arc'teryx's lightly insulated Rush). As we touched on above, breathability plays a big role when you're hiking for your turns or skinning up to a ridgeline. Reducing weight also is helpful the farther you venture off trail, which gives the clear edge to non-insulated pieces. To stay warm, you can easily carry a midlayer in your pack and throw it on once you point your skis downhill. And for backcountry specialists, we've seen some great softshell tech like the Outdoor Research Skytour that is fully waterproof yet stretchy and breathable.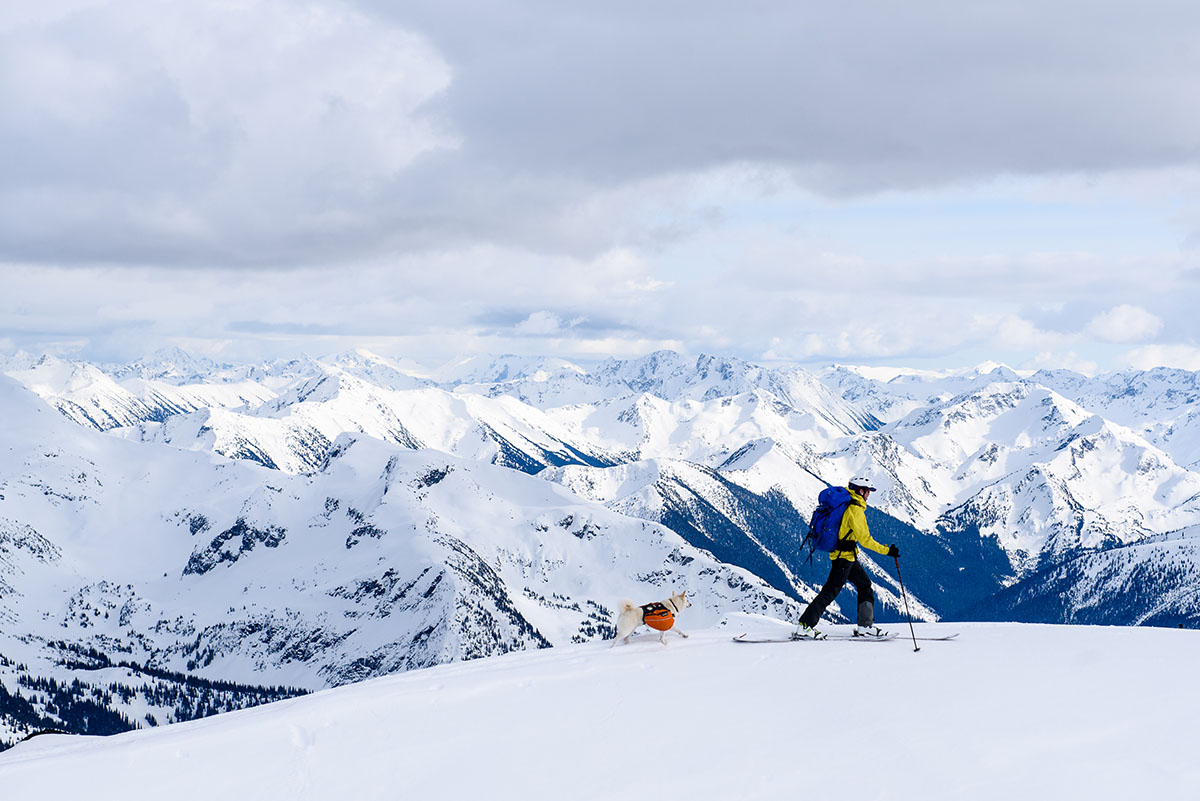 Our Ski Jacket Picks
Nailing down the type of jacket that's best for you is an important early step in the buying process, and below are our team's top selections from the three core ski jacket categories. For even more picks, see our articles on the best ski jackets and best women's ski jackets.
Men's Ski Jackets
Shell: Arc'teryx Sabre
Insulated: Helly Hansen Alpha 3.0
3-in-1: The North Face ThermoBall Eco Snow Triclimate
Women's Ski Jackets
Shell: Arc'teryx Sentinel
Insulated: Helly Hansen Alphelia LifaLoft
3-in-1: The North Face ThermoBall Eco Snow Triclimate

Completing the System: Baselayers and Midlayers
If you wind up selecting a shell jacket, you'll need to start planning out your midlayer selection. And for both insulated and non-insulated jackets, a good baselayer is necessary. As the next-to-skin article of clothing, baselayers play an important role in your comfort level by pulling moisture away from your skin. On all but the coldest days, our go-to baselayers are lightweight or midweight merino wool or polyester for a good balance of warmth and breathability.
Regarding midlayers, the amount of insulation can vary dramatically, from a thin fleece to a puffy down jacket. Fleece jackets are the classic choice for skiing, and can be quite warm and lightweight, but warm models are bulky. Down jackets are the priciest option but unmatched in lightweight and compressible warmth (just make sure to keep it dry because it will stop insulating when wet). Synthetic jackets fall in the middle, and are bulkier than down but continues to insulate even if moisture creeps in. Combining a shell jacket with one of the midlayer types above gives you the most flexibility to tailor your warmth to the day's specific conditions.
Learn More About Ski Gear