MSR's updated-for-2019 FreeLite tent shares many design similarities with one of our favorite backpacking models, the Hubba Hubba NX, but with significant weight savings. At 2 pounds 8 ounces, the FreeLite 2 is a serious contender in the category of ultralight two-person tents. We took the FreeLite on several fastpacking trips into the Canadian Rockies backcountry where rugged terrain and variable weather can put any gear to the test, and it performed extremely well for its weight. Below we break down the FreeLite's weight and packed size, livability and interior space, weather protection, ventilation, durability, and more. To see how the FreeLite stacks up, see our article on the best backpacking tents.

Performance
Weight and Packed Size
Stacked up against leading ultralight tents, the 2-pound 8-ounce MSR FreeLite 2 is on the heavy end of the spectrum, especially when compared to other semi-freestanding models. For example, Big Agnes' Fly Creek HV UL2 and Nemo's Hornet 2P both clock in lighter at 1 pound 15 ounces. That said, the FreeLite offers two doors (the Fly Creek has one) and the most interior space of the bunch, which are important considerations for some backpackers. Alternatively, you can opt for a fully freestanding design like the Copper Spur HV UL2, which is easier to pitch and has near-vertical walls for an additional 4 ounces. Other popular freestanding models like the Nemo Dagger 2P (3 pounds 5 ounces) come in significantly heavier.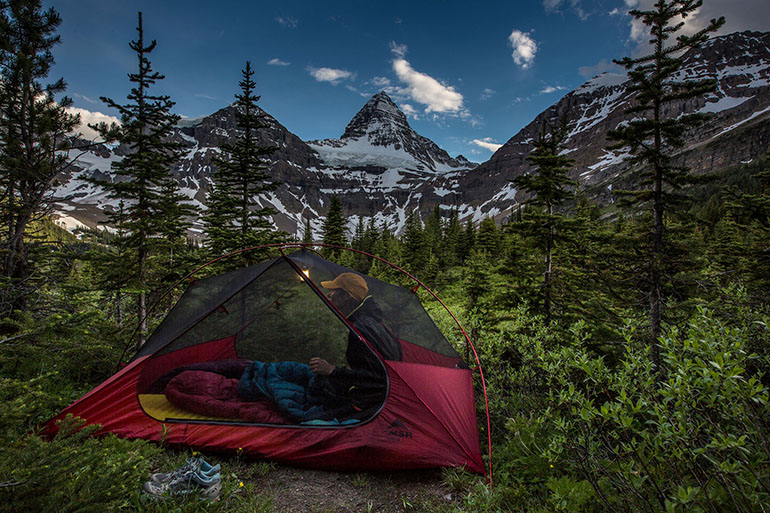 In terms of packability, the FreeLite is fairly average at 6 x 18 inches once compressed into its included stuff sack. We appreciate that MSR added compression straps around the bag that can be cinched down to tighten the load, which is particularly helpful if you remove the tent poles. Lighter-weight designs like the Big Agnes Fly Creek HV UL2 (4 x 19 inches) and Nemo Hornet (5.5 x 19.5 inches) don't pack down much smaller.

Livability and Interior Space
The FreeLite 2 has 29 square feet of floor space and feels roomy for a two-person tent. Two things explain this: it is rectangular and not tapered at one end like some other ultralight models, and the center ridgepole pulls the walls out so that they are nearly vertical. At 7 feet long, you comfortably can fit one large sleeping pad with some room to spare for storage. The peak height is a little short at 36 inches (MSR's Hubba Hubba NX is a roomier 39 inches), but sitting up and reading a map or going through the day's photos is no issue. The two vestibules, each offering roughly 9 square feet, provide extra room for gear.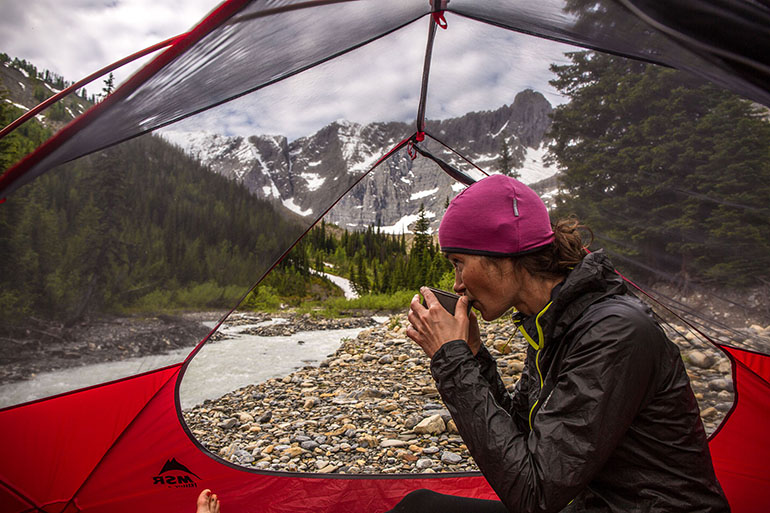 Two backpacking sleeping pads fit side by side easily in the tent, and two adults can sleep in reasonable comfort (particularly if they know each other well). Two large people would likely find the FreeLite 2—and probably most two-person lightweight tents—tight for space. After a few nights, we decided that we could increase comfort by sleeping with our heads at opposite ends, enabled by the rectangular floor. The focus on interior comfort does mean the FreeLite weighs more than its ultralight competition—both the Big Agnes Fly Creek and Nemo Hornet are lighter at 1 pound 15 ounces—but we like the balance of weight and space here.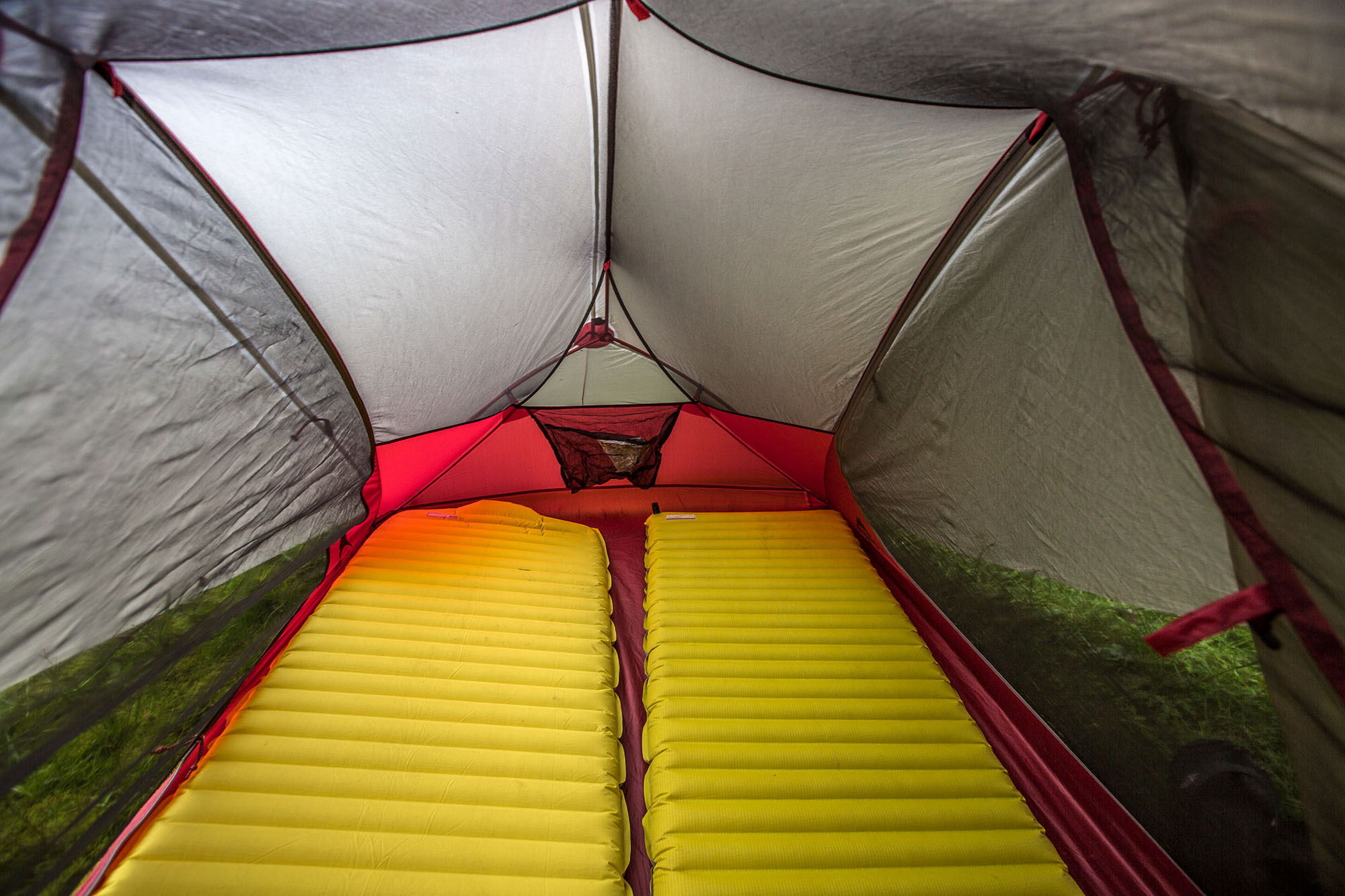 One of the tent's best features is the two large D-shaped doors that make it easy to enter and exit from either side. Crawling over a friend or partner in the middle of the night to leave the tent is never fun, but with the FreeLite 2 each person has their own door and gear storage. For comparison, all three versions of the Big Agnes Fly Creek have only one door. And two small pockets at each end of the FreeLite allow for quick and easy storage of items we prefer to have readily available, such as headlamps and bear spray. 

Weather Protection
You expect compromises with a tent as lightweight as the MSR FreeLite 2—namely durability and weather resistance. In addressing the latter, we spent many nights in conditions that included heavy rain, hail, gusting winds, and night temperatures that dipped well below freezing. In all instances, the FreeLite surprised us with its toughness. We slept in summer sleeping bags the entire time and remained warm and comfortable. Every time either of us awoke, we would do a quick survey to ensure that our gear was still dry (it always was).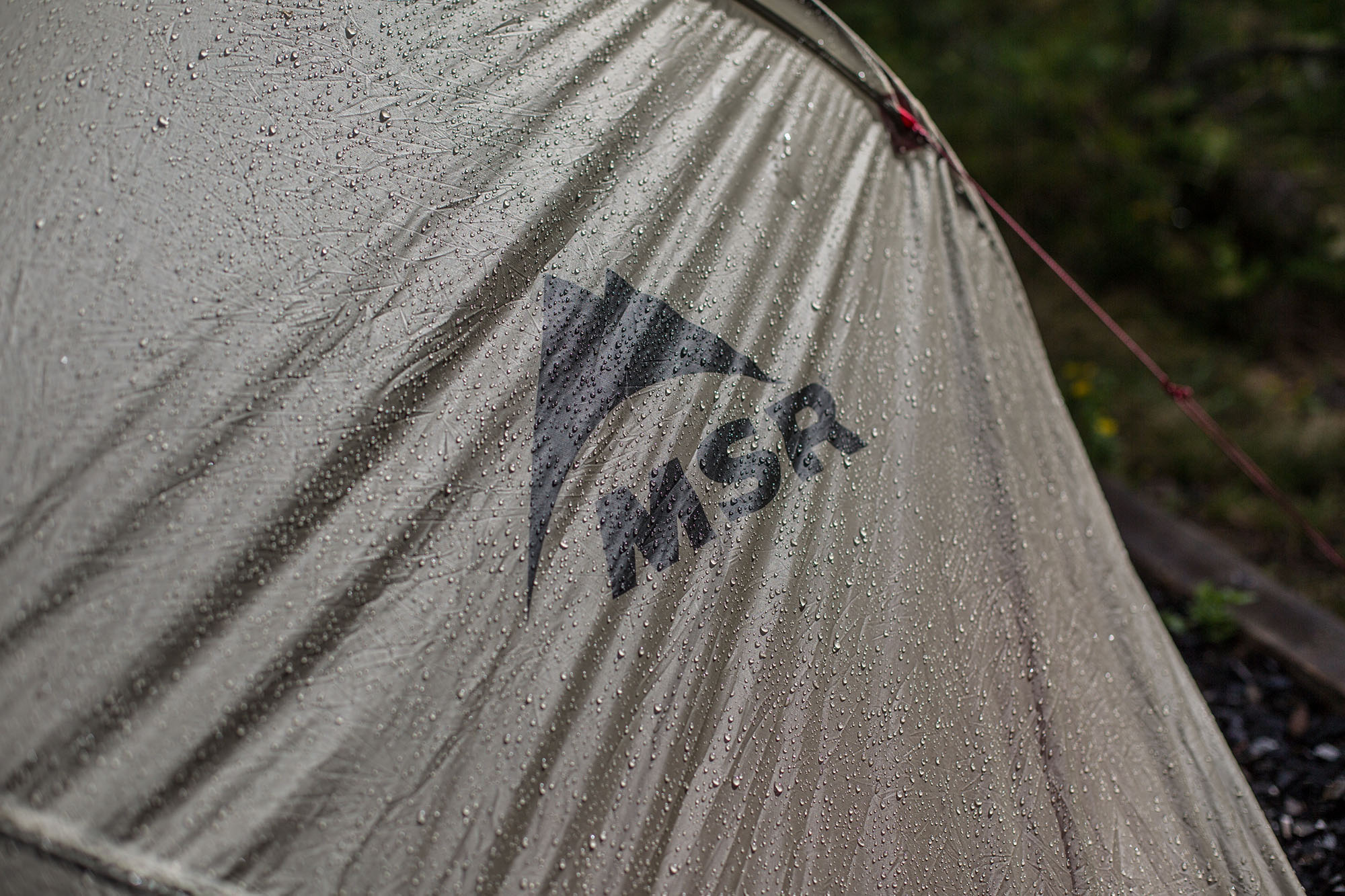 This impressive performance can be attributed to a complete and thoughtful design. While some backpacking tents at this weight trim away sections of the rainfly or utilize a single-wall construction, the FreeLite has a full-coverage rainfly that reaches the ground along all sides. The fabrics for both the rainfly and tent floor are quite thin, but they are seam-sealed and we can attest to their waterproofness. With the added footprint, we were comfortable pitching the tent in damp, mildly boggy conditions on a trip near Mount Assiniboine without worrying about water soaking through. The bathtub-style flooring also helps prevent any moisture from trickling in over the sides.
 
Ventilation
The upper portion of the tent body is mostly mesh, which makes ventilation excellent in both warm and humid conditions. And when properly pegged (not too tight), the fly won't touch the tent, reducing the chances of a wet sleeping bag or other gear that might lean against the sidewall. This is a notable improvement over the Big Agnes Fly Creek HV UL2, which suffers from condensation in wet conditions due to a rainfly that sags into the tent body. To further increase airflow on mild weather nights, we recommend leaving the rainfly unzipped and just using the Velcro strips to hold it in place.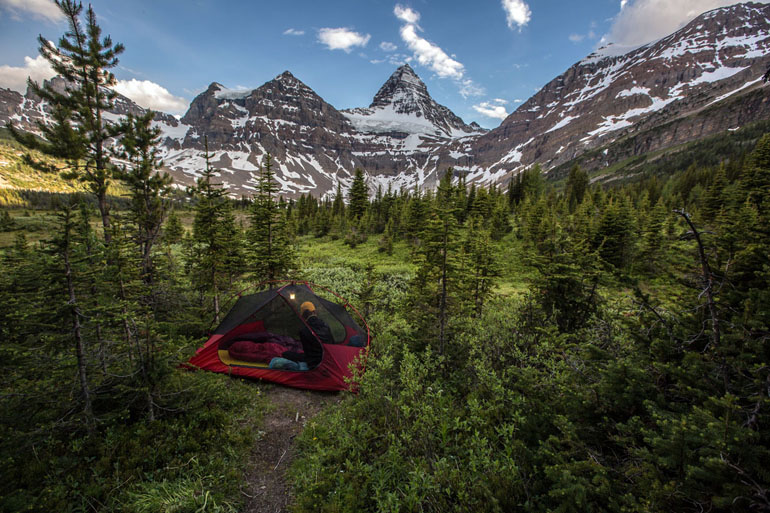 Durability
In the tent world, lower weight usually means less durability. The MSR FreeLite 2 uses some very lightweight fabrics: the tent body is composed almost entirely of 10-denier mesh, and the floor and rainfly utilize a slightly thicker 15-denier polyurethane-coated nylon. For reference, the heavier MSR Hubba Hubba NX uses a 30-denier floor, which feels far more robust. As with most ultralight gear, it is necessary to treat this tent with care. We have not had issues with durability, although we have been fairly careful in selecting campsites and always use the optional 68-denier polyester footprint. The extra 7 ounces for the footprint (or other ground sheet of your choice) is worth it in the long run to protect the thin floor.


Set up and Take Down
The MSR FreeLite 2 is a semi-freestanding tent, meaning it requires stakes at the corners of one end. In other words, it cannot be moved without unstaking and restaking. We consider this a worthwhile compromise in reducing heft and think that most weight-conscious backpackers will agree. For comparison, both the Big Agnes Tiger Wall UL2 (2 pounds 3 ounces) and Nemo Hornet 2P (1 pound 15 ounces) have similar designs to shave ounces. Alternatively, heavier freestanding tents are much easier to move around camp and require less time and effort when pitching on uneven or varied terrain.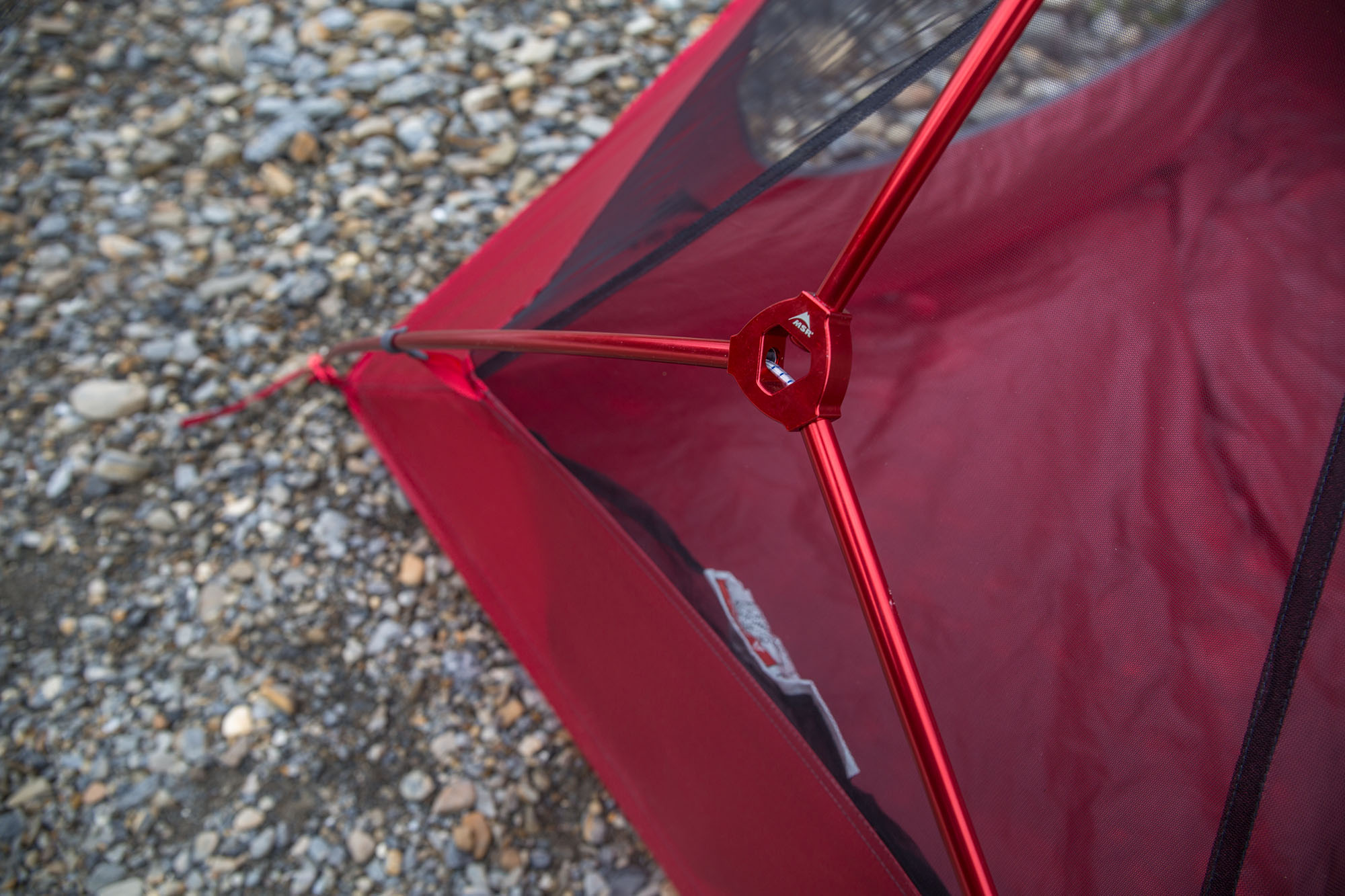 All that said, setting up the MSR FreeLite 2 is extremely simple, even by a single person, which is nice when tasks are shared (we typically have one person making dinner while the other sets up camp). One of the biggest changes for 2019 is the inclusion of an Easton Syclone pole. Borrowed from their collection of 4-season tents, these poles are made to flex in strong winds rather than permanently bend or break under pressure. The rest of the layout remains the same: three arms of the pole run the spine of the tent and form a "Y" with the split at one end, and the attached cross-section is inserted into grommets above each of the doors to keep the ceiling taut and the walls vertical. The fly goes on quite easily and shares the same stake-out points. The entire set-up process takes only a few minutes, which is great if weather is moving in. Take-down is just as easy and the tent stores into the included stuff bag without issue.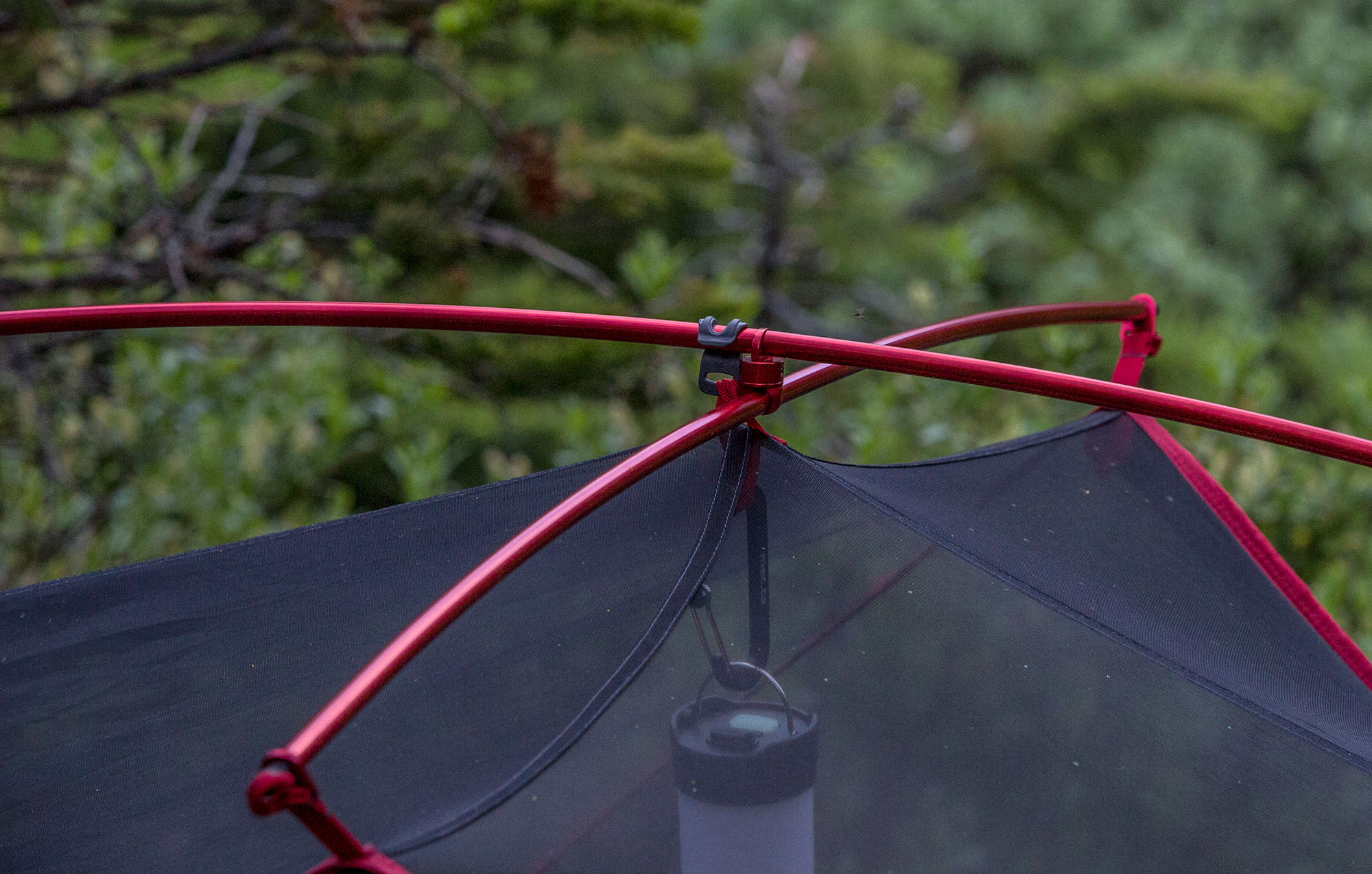 Other Capacities of the MSR FreeLite
For this review, we tested the two-person FreeLite, and MSR also makes the tent in one-person and three-person versions as well as a stripped-down Fast & Light Body for all three sizes. The 1P FreeLite ($390) shaves off 8 ounces but you only get 18 square feet of interior space, while the 3P ($590) comes in at 2 pounds 15 ounces (6 ounces heavier than the 2P) and has 39.5 square feet of space. As we mentioned above, the 2P FreeLite is reasonably roomy, but sizing up definitely makes the interior more livable for two campers.
Finally, the Fast & Light Body (1P, 2P, and 3P) does away with the upper mesh portion of the tent entirely—instead, you get a bathtub-style floor that can be pitched underneath the rainfly. For those primarily concerned with weight, it offers more protection than a rainfly and footprint setup, but we strongly prefer the added coverage of the full tent for the slight weight penalty—the two-person tent, for example, is only 6 ounces heavier than the 2P Fast & Light setup. It's also worth noting that you must purchase the Fast & Light Body in addition to your FreeLite (the 2P version is $130).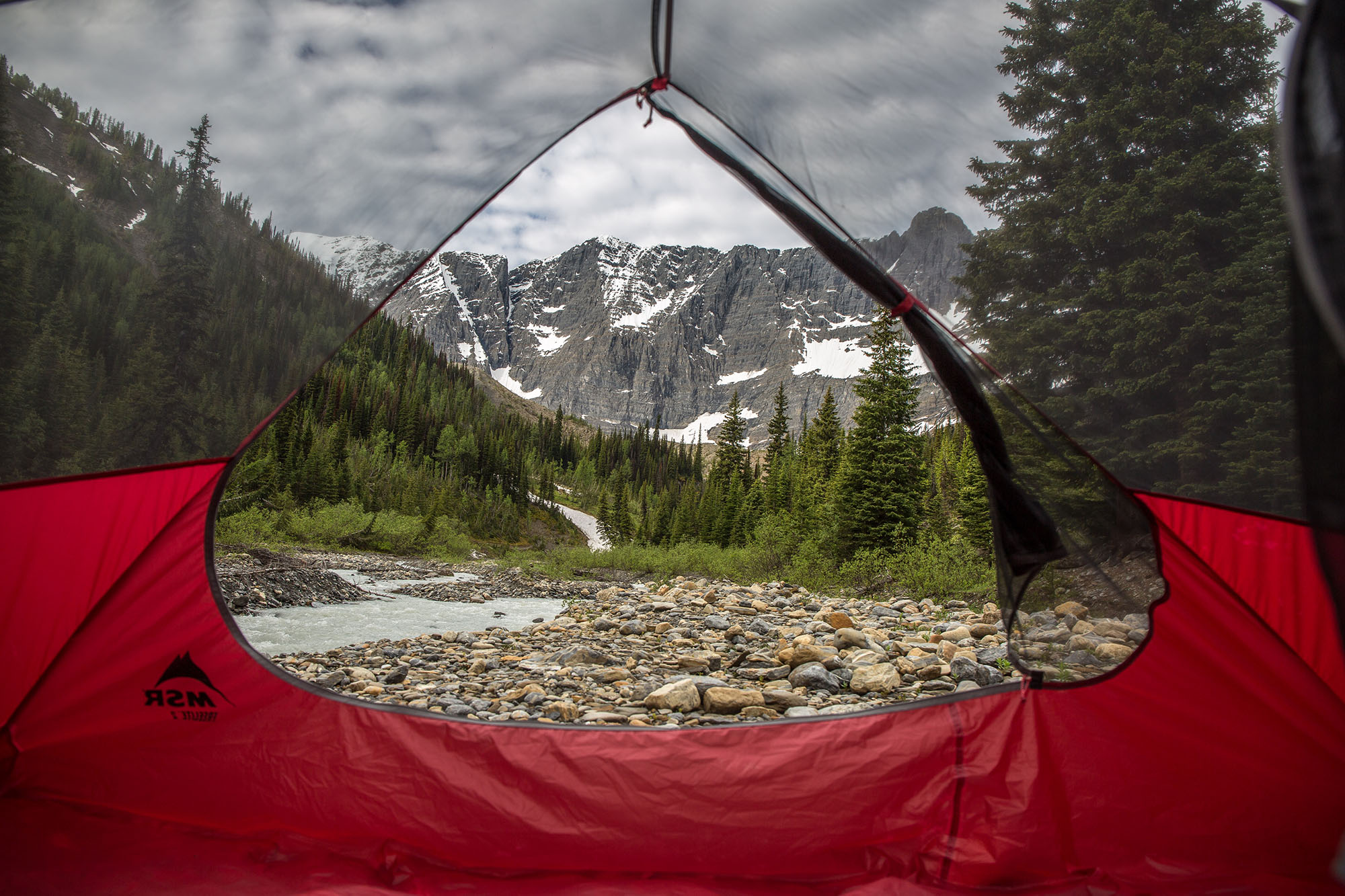 What We Like
Rectangular floor, roomy interior, and full-coverage rainfly at well under 3 pounds.
Two doors and two vestibules for easy access and plenty of storage.
Great ventilation, particularly if the vestibule is left partially open.
 
What We Don't
Not truly freestanding.
As with all UL gear, durability is compromised to obtain the weight.
Despite the $490 price tag, the tent isn't as light as some of the competition.
 
Comparison Table
| Tent | Price | Weight | Floor | Area | Height | Door(s) | Capacities |
| --- | --- | --- | --- | --- | --- | --- | --- |
| MSR FreeLite 2 | $490 | 2 lbs. 8 oz. | 15D | 29 sq. ft. | 36 in. | 2 | 1P, 2P, 3P |
| Big Agnes Fly Creek HV UL2 | $350 | 1 lb. 15 oz. | 20D | 28 sq. ft. | 40 in. | 1 | 1P, 2P, 3P |
| Nemo Hornet 2P | $370 | 1 lb. 15 oz. | 15D | 27.5 sq. ft. | 39 in.  | 2 | 1P, 2P |
| Big Agnes Copper Spur HV UL2 | $450 | 2 lbs. 12 oz. | 20D | 29 sq. ft. | 40 in. | 2 | 1P, 2P, 3P, 4P |
| MSR Hubba Hubba NX | $450 | 3 lbs. 8 oz. | 30D | 29 sq. ft. | 39 in. | 2 | 1P, 2P, 3P, 4P |
| MSR Carbon Reflex 2 | $550 | 1 lb. 13 oz. | 15D | 29 sq. ft. | 34 in. | 2 | 1P, 2P, 3P |

The Competition
Joining an impressive group of ultralight backpacking tents, the MSR FreeLite is heavier than much of its competition yet offers better livability. For comparison, Big Agnes' Fly Creek HV UL2 is $140 cheaper and significantly lighter at 1 pound 15 ounces, but we don't like the single door and vestibule and find the tapered interior much less agreeable for two campers. We also experienced its rainfly sagging into the tent body, which results in condensation buildup in wet weather. In that same price range, the Nemo Hornet 2 weighs the same as the Fly Creek and has an additional door but is heavily tapered toward the feet and sides of the tent and compromised in terms of interior space. Neither can stack up to the FreeLite's quality of materials and construction, but both are significantly lighter, and that is the deciding factor for some folks.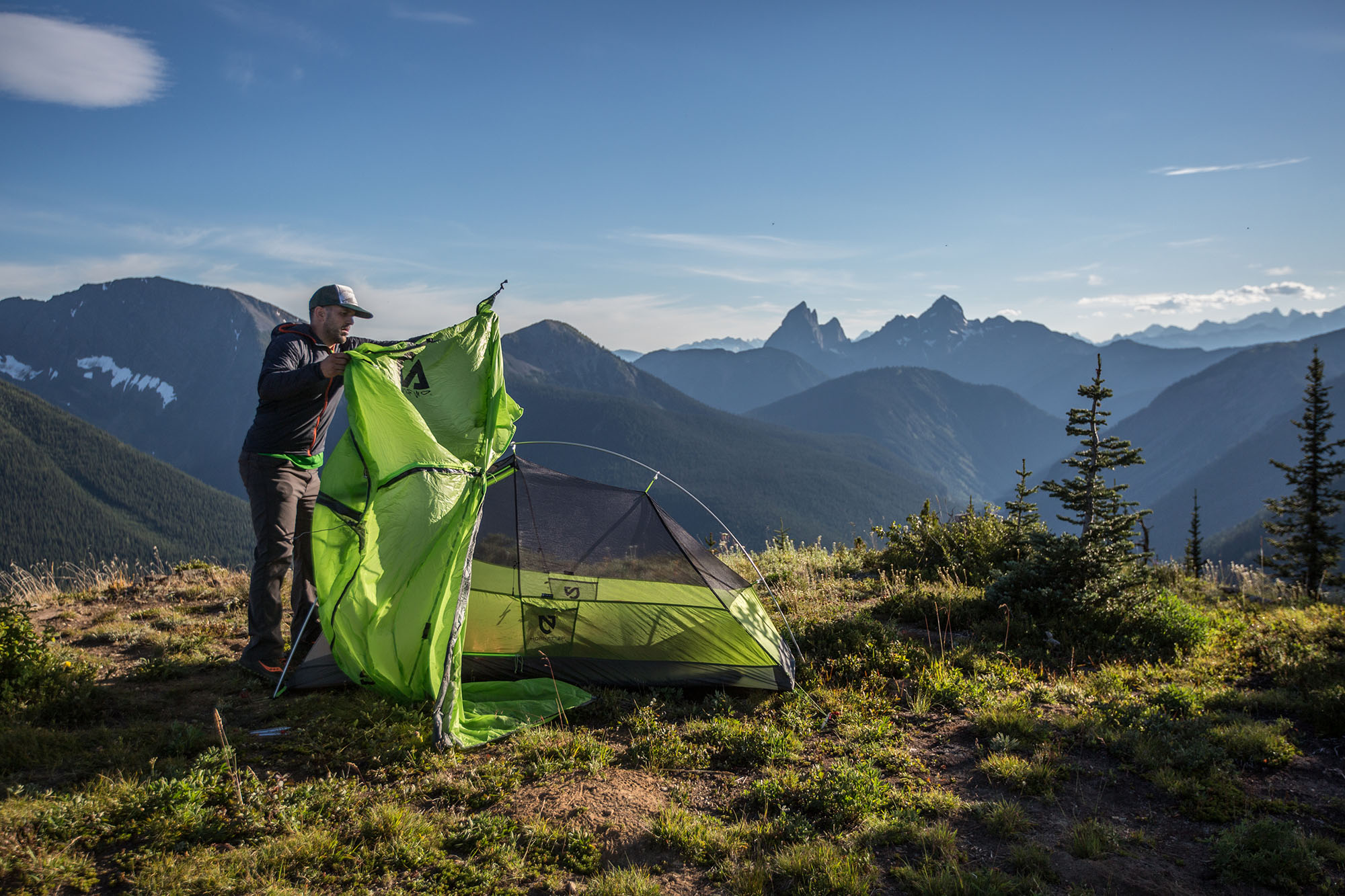 Instead, we think the Big Agnes Copper Spur HV UL2 is the stronger competitor. Both the FreeLite and Copper Spur aim to balance interior space and a two-door design with premium, superlight materials, but this tent exposes the weaknesses in the FreeLite. For only 4 ounces more, the Copper Spur is freestanding, has nearly vertical walls, and offers 4 inches more interior height. As an all-around tent, we prefer the Copper Spur, but the low-slung design of the FreeLite does redeem itself as the more formidable option in windy and harsh conditions.
Within the MSR lineup, the FreeLite is sandwiched between two other intriguing options: the Hubba Hubba NX ($450) and Carbon Reflex 2 ($550), both of which also received updates for 2019. Stacked up against the popular Hubba Hubba NX, the FreeLite is significantly lighter by 1 pound but has a far less durable floor fabric (15D vs. 30D) and 3 inches less of headroom. As with the Copper Spur above, we prefer the convenience of the freestanding Hubba Hubba NX (see our in-depth review here), but the extra pound may be sacrilege to weight-focused backpackers.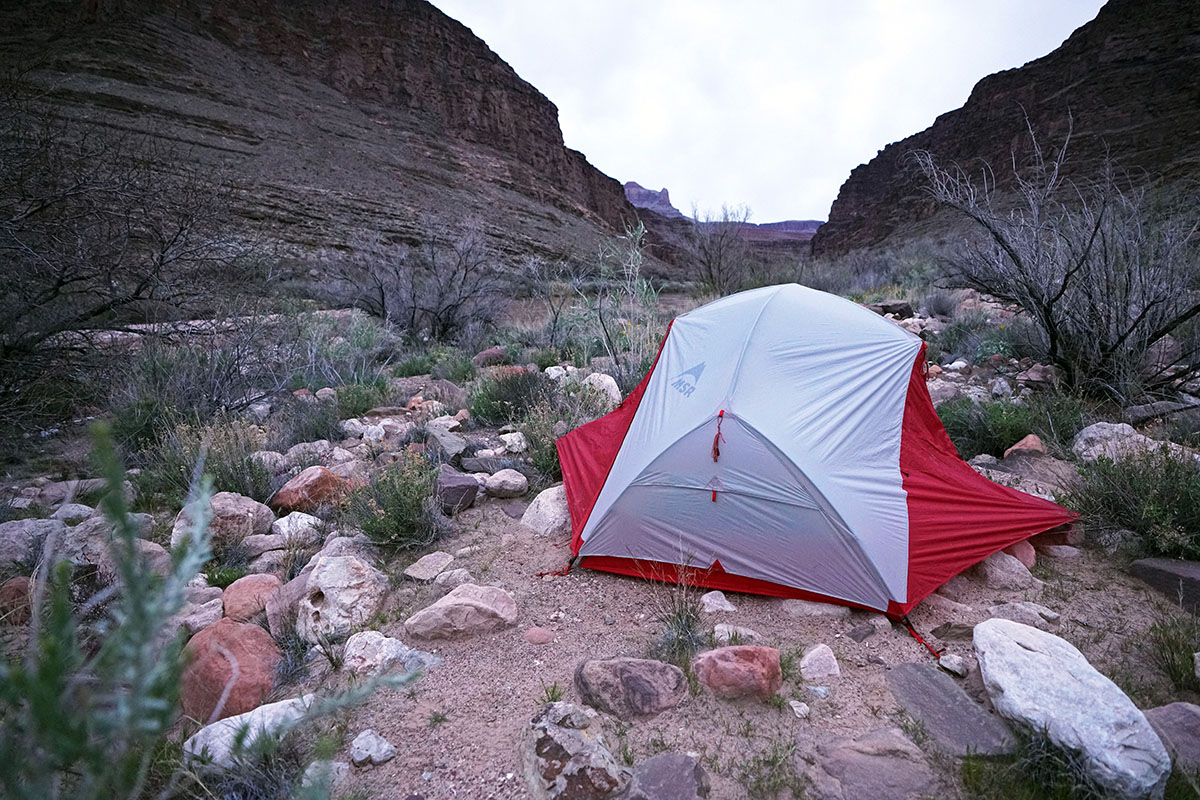 Finally, the 1-pound 13-ounce MSR Carbon Reflex 2 is the lightest option of the bunch but comes with some notable sacrifices. For one, the tent is completely non-freestanding, so all corners need to be staked out. In addition, the carbon fiber poles aren't our favorite—they're light but require extra care to keep from breaking. And given that the Carbon Reflex costs a whopping $550, we think only true gram counters should spend up for it. In the end, the FreeLite accomplishes much of what it's supposed to do: it bridges the gap between the more robust Hubba Hubba NX and more hardcore Carbon Reflex.
If you're thinking about buying gear that we've reviewed on Switchback Travel, you can help support us in the process. Just click on any of the seller links above, and if you make a purchase, we receive a small percentage of the transaction. The cost of the product is the same to you but this helps us continue to test and write about outdoor gear. Thanks and we appreciate your support!
Depending on the seller, most products ship free in the United States on orders of $50 or more. International shipping availability and rates vary by seller. The pricing information on this page is updated hourly but we are not responsible for inaccuracies.
Learn More About Outdoor Gear