MSR FreeLite 2 
Price: $410
Packaged weight: 2 lbs. 5 oz.
Floor area: 29 sq. ft.
Capacities: 1P, 2P, 3P
What we like: Two doors and a symmetrical floorplan in a superlight and packable design.
What we don't: Snug inside when sitting side-by-side with a tentmate; middling wind protection. 
See the MSR FreeLite 2
MSR's updated-for-2022 FreeLite tent shares many design similarities with one of our favorite backpacking models, the Hubba Hubba, but with significant weight savings. At 2 pounds 5 ounces all in—a notable 10-ounce drop from the prior model—the latest FreeLite 2 is a serious contender in the ultralight two-person tent category. We tested the updated tent in Patagonia and back home in the Pacific Northwest on several backpacking trips that involved rugged terrain and variable weather. Our verdict: Its symmetrical floor, two-door-and-vestibule layout, and legitimately ultralight build have their appeals, but the tent does come with compromises in livability and wind protection, which was particularly apparent in Patagonia's notoriously rough weather. Below we break down our experiences with the FreeLite 2. To see how it stacks up to the competition, see our articles on the best backpacking tents and best ultralight tents.
 
---
Table of Contents
---

Performance
Weight and Packed Size
The original FreeLite was not a weight leader—at least relatively speaking in the ultralight tent market—but MSR shaved a significant 10 ounces with the latest update to the two-person model. At 2 pounds 5 ounces all in (minimum weight is 2 lbs. even), it now stacks up very well to its primary competitors, including Big Agnes' Fly Creek HV UL2 (packaged weight: 2 lbs. 4 oz.) and Nemo's Hornet 2P (2 lbs. 6 oz.). And importantly, despite the weight reduction, MSR still managed to retain some of the FreeLite's standout features, including a larger floor space (29 sq. ft., which beats out both the Fly Creek and Hornet) and two doors and vestibules (the Fly Creek has one of each). In fact, the FreeLite's interior dimensions line up closer to Big Agnes' 3-ounce-heavier Tiger Wall UL2. Looking purely at specifications, it's undeniably a lot of tent for the weight.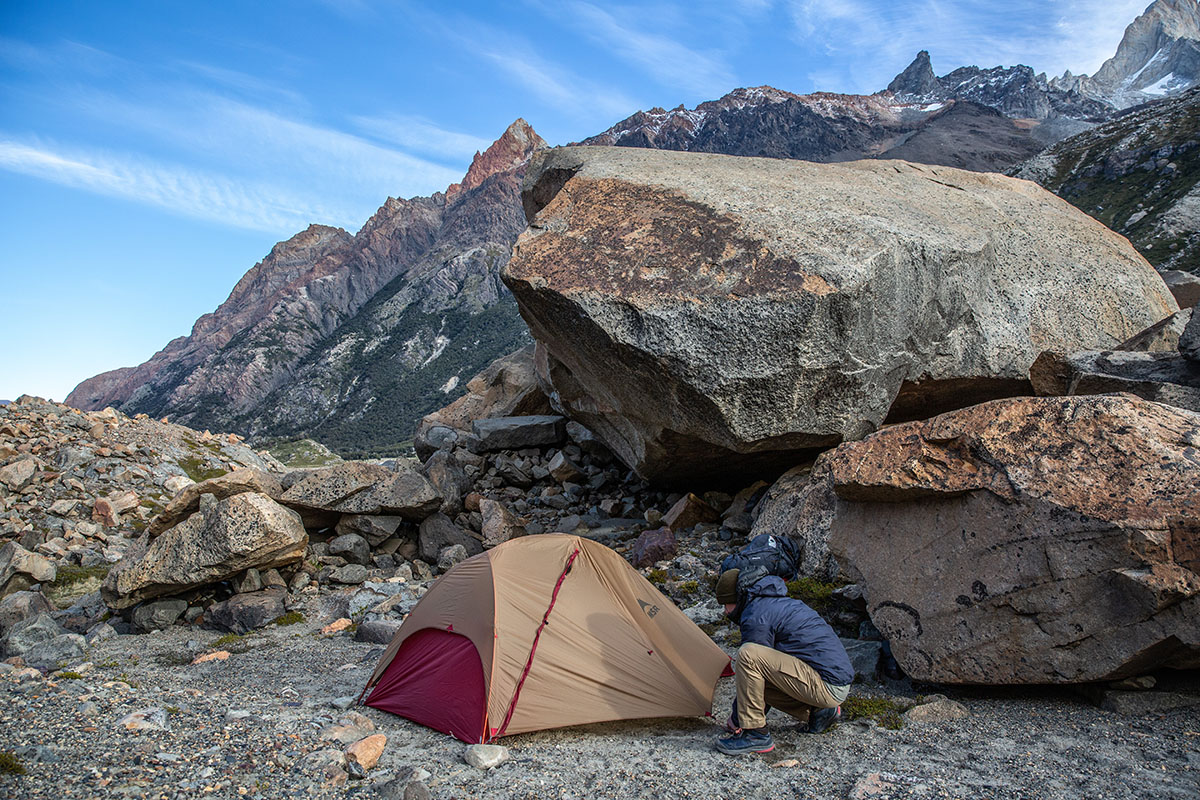 The FreeLite's impressively low weight translates to great packability, and the tent measures a compact 4.5 x 18 inches when stowed into its stuff sack. For reference, that's a little smaller than both the Big Agnes Fly Creek HV UL2 (6 x 19.5 in.) and Nemo Hornet 2P (5.5 x 19.5 in.). It's equally notable that it's rather easy to fit the FreeLite inside its stuff sack without having to do a perfect packing job—something I experienced when quickly breaking camp in windy conditions in Patagonia. And for those really tight on space, or if you just prefer to separate the pieces in your pack, you can compress the tent even further by putting the tent body and fly into a dedicated compression sack (we like Sea to Summit's Ultra-Sil collection in particular).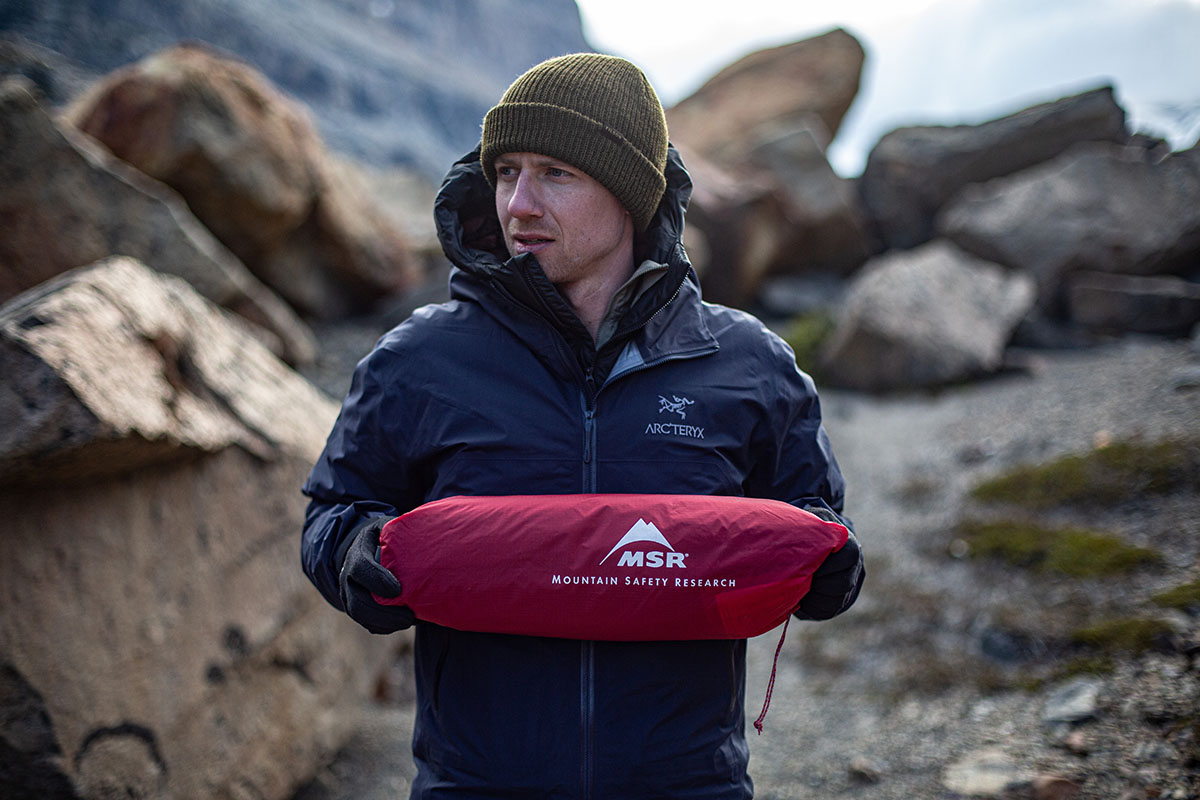 Livability and Interior Space
As we touched on above, the MSR FreeLite 2 offers 29 square feet of floor space, which puts it on the roomy end in this weight class. There are two big contributing factors here: First, the tent is rectangular and doesn't taper at one end like some other ultralight models; second, the center ridge pole pulls the walls outward so that they are nearly vertical in the middle of the tent (right at the doors). At a listed 84 inches long (it measures a couple inches less in the middle), I was able to comfortably fit one large/wide sleeping pad with some room to spare for storage. MSR also raised the FreeLite's peak height by 3 inches with the latest update—a nice upgrade from the prior model that felt a little cramped when sitting up, especially when camping with a partner. And the two vestibules, each offering roughly 7.5 square feet, provide extra room for gear.
If you'll be camping with a partner, we found that two 25-inch-wide backpacking sleeping pads fit side by side in the tent, which isn't the case with most UL designs. As such, two adults can sleep in reasonable comfort (particularly if they know each other well). That said, despite the decently wide floor, it's still a relatively tight space. This is especially noticeable when trying to sit up at the same time as your tentmate, as the center ridge pole that stretches the walls is rather short. By comparison, the Big Agnes Tiger Wall has a much larger ridge pole that gives it a noticeably more open and spacious feel. The good news is that the rectangular floor does allow you to sleep with your heads on opposite ends, although the "foot" end of the tent has a lower ceiling, so you'll need to be mindful when sitting up. But the extra wiggle room is unquestionably nice and sets the FreeLite apart from tapered models like Big Agnes' Fly Creek and Tiger Wall, Nemo's Hornet, and REI's Flash Air.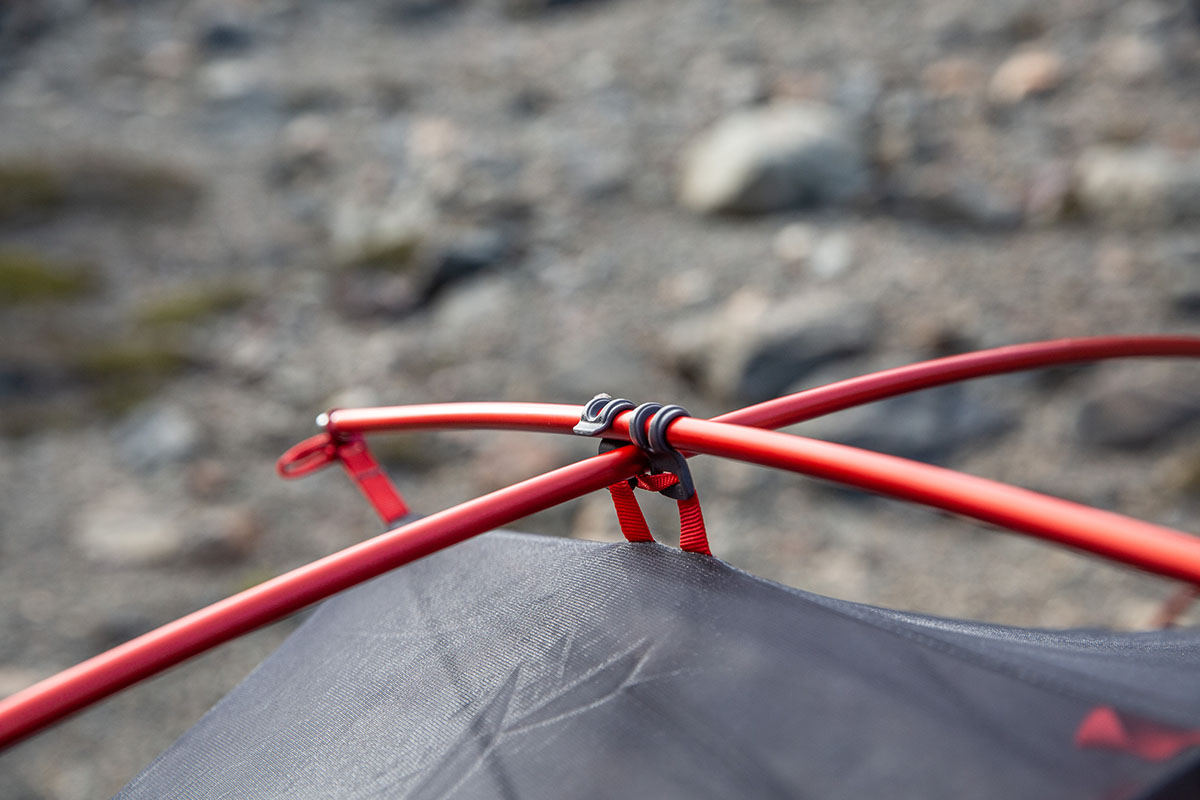 In terms of access, the FreeLite's two large, D-shaped doors are a highlight of the design and make it easy to enter and exit from either side. Crawling over a friend or partner in the middle of the night to leave the tent is never fun, but with the FreeLite 2, each person has their own door and space for gear storage. By comparison, all three versions of the Big Agnes Fly Creek have only one door. And inside, two small pockets at the head end allow you to quickly and easily stash items that you want to keep readily available, such as a headlamp and bear spray.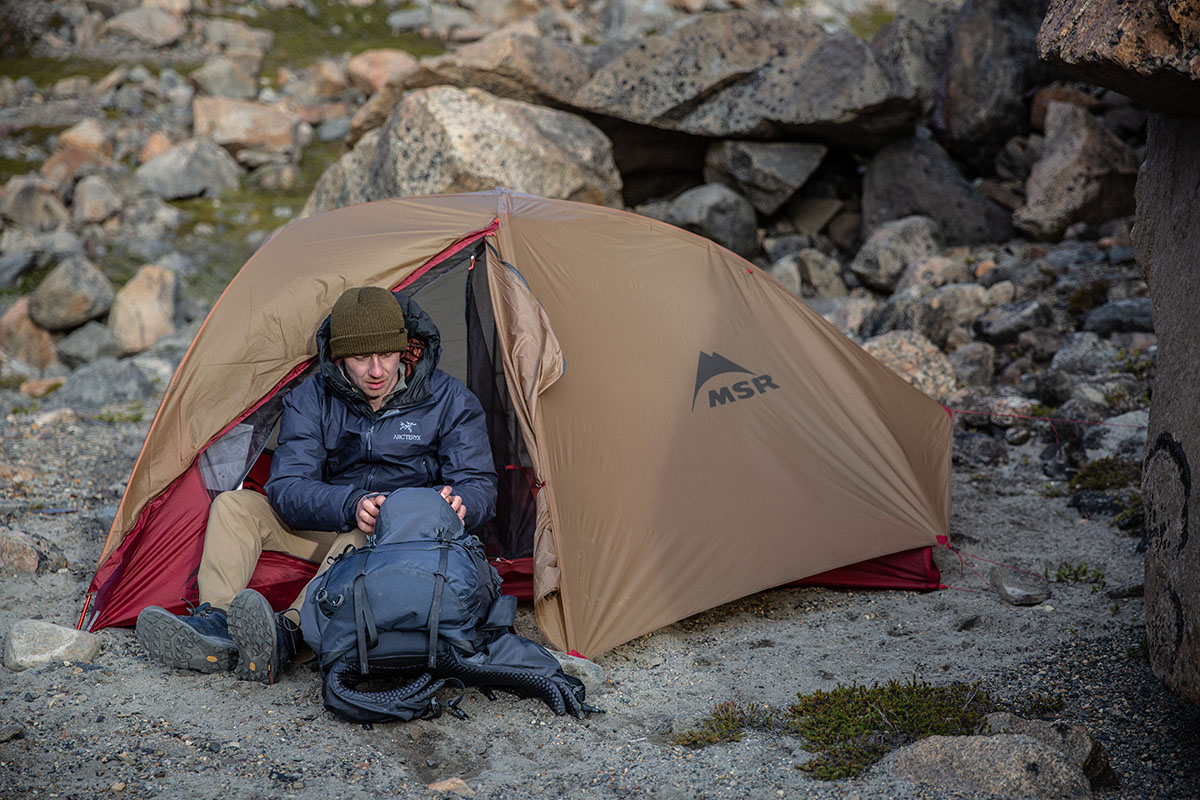 Weather Protection
You can expect some compromises with a tent as light as the MSR FreeLite 2—namely durability and weather resistance. In addressing the latter, my experience with the tent was a mixed bag. High winds are the norm in Patagonia, and one night in particular was challenging for the FreeLite. A tough combination of a tricky campsite—built up with rock walls for some degree of protection—and swirling winds meant that the foot end of my tent bowed heavily in some of the strong gusts. Everything held up without damage, including the poles and tent body, but the lack of pole support on the foot end (only a single pole runs down the center in this area) was the culprit. And it's worth noting the rest of our group, who all had fully freestanding tents with more solid pole structures, did not experience the same issue.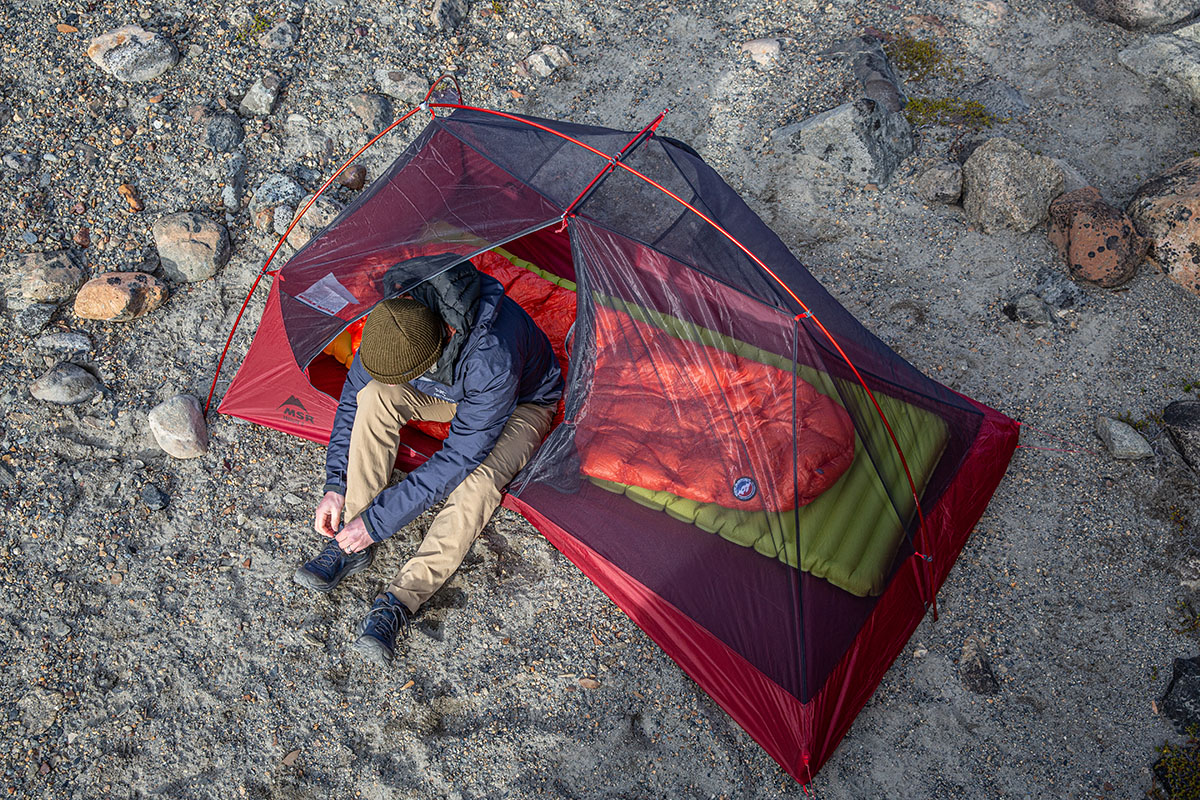 In truth, this was a pretty unique scenario, and the vast majority of three-season backpackers won't find themselves in these types of conditions. On subsequent trips in the Pacific Northwest where I've had more flexibility in choosing a campsite, the FreeLite has held up very well (including in wind when I was able to better brace the tent). The same goes for wet-weather protection, where the rainfly, bathtub floor, and solid seam taping throughout provided reliable protection. There is a cutout in the rainfly at the head end of the tent—Nemo also utilizes this concept in many of their models—but I didn't experience any leaking or issues with moisture collecting on this single-wall section.

Ventilation
With a mesh-heavy, double-wall construction, the FreeLite 2 is predictably a good ventilator. That aforementioned cutout in the rainfly at the head end provides a nice opening for air to enter—just make sure to use the included guylines to create a gap between the fly and tent body—and the mesh reaches all the way to the bathtub floor to minimize moisture buildup. Finally, there are two-way zippers on the vestibule doors, which allow you to crack open the top of the vestibule to get even more air moving (weather permitting). Compared with hybrid single-wall models like Zpacks' Duplex Tent or Tarptent's Double Rainbow, the difference in ventilation is quite noticeable and will be a real boon in humid conditions.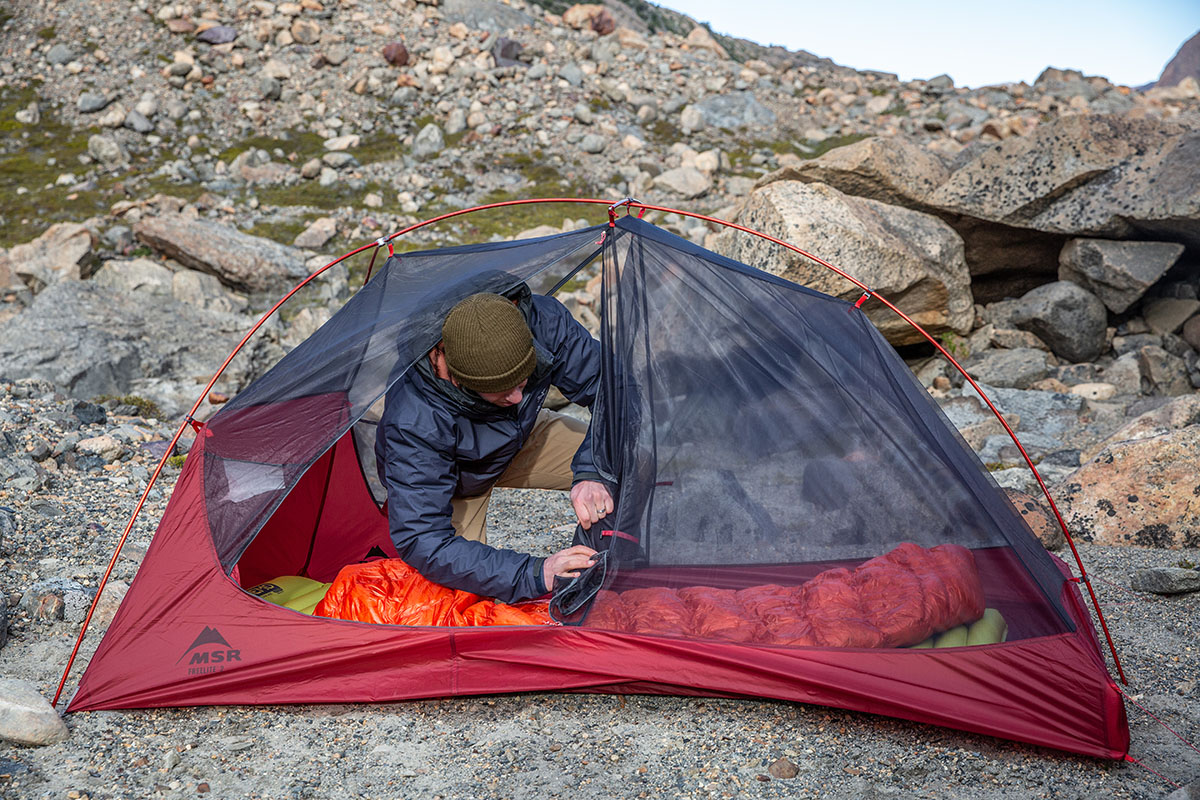 That said, the extensive use of mesh—combined with a rainfly that doesn't completely reach the ground—means that the FreeLite 2 doesn't block out blowing dirt and dust. During our time in Patagonia, this led to a coating of dirt accumulating on top of my gear and sleeping bag overnight. In truth, that's a common complaint with ultralight tents—we had similar problems with the Fly Creek—but it's worth considering if you frequently camp in dry, windy, and dusty conditions (think high desert environments). For those kinds of regions, MSR's Hubba Hubba is a better choice.

Storage
Like Nemo's Hornet, one of the FreeLite's signature features is its two-door-and-vestibule layout. For camping with a partner—and even in certain solo situations when storing gear outside the tent—having separate access and storage spaces is a huge benefit. With 15 square feet of total vestibule area, it's easy to stash your packs and footwear away from the elements while still allowing relatively easy entry and exit. For comparison's sake, the Fly Creek has a single door and 8-square-foot vestibule, and the drop in convenience (especially when camping with a partner) is significant. Nemo's Hornet stacks up more favorably with two doors and vestibules, but both are a bit smaller than the FreeLite's (each vestibule is 7.1 sq. ft.). You can get considerably more space with the Nemo Dagger OSMO 2P's massive 11.4-square-foot vestibules, but that tent is much heavier at 4 pounds 2 ounces all in.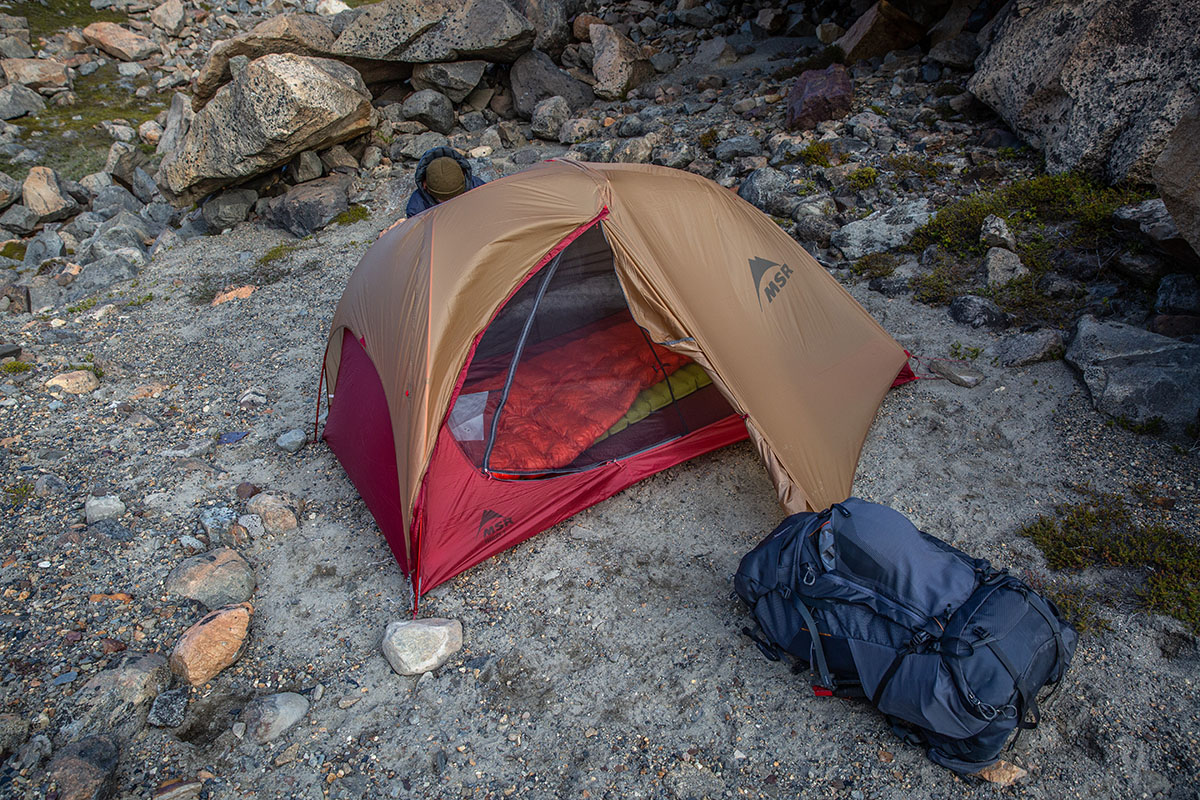 Interior storage is equally good. Two lower pockets are positioned just in front of the doors for easy access when lying down on your pads, and there are two additional pockets built into the roof of the tent body. For us, that's plenty of storage for items like headlamps, bear spray, stuff sacks, and other small gear.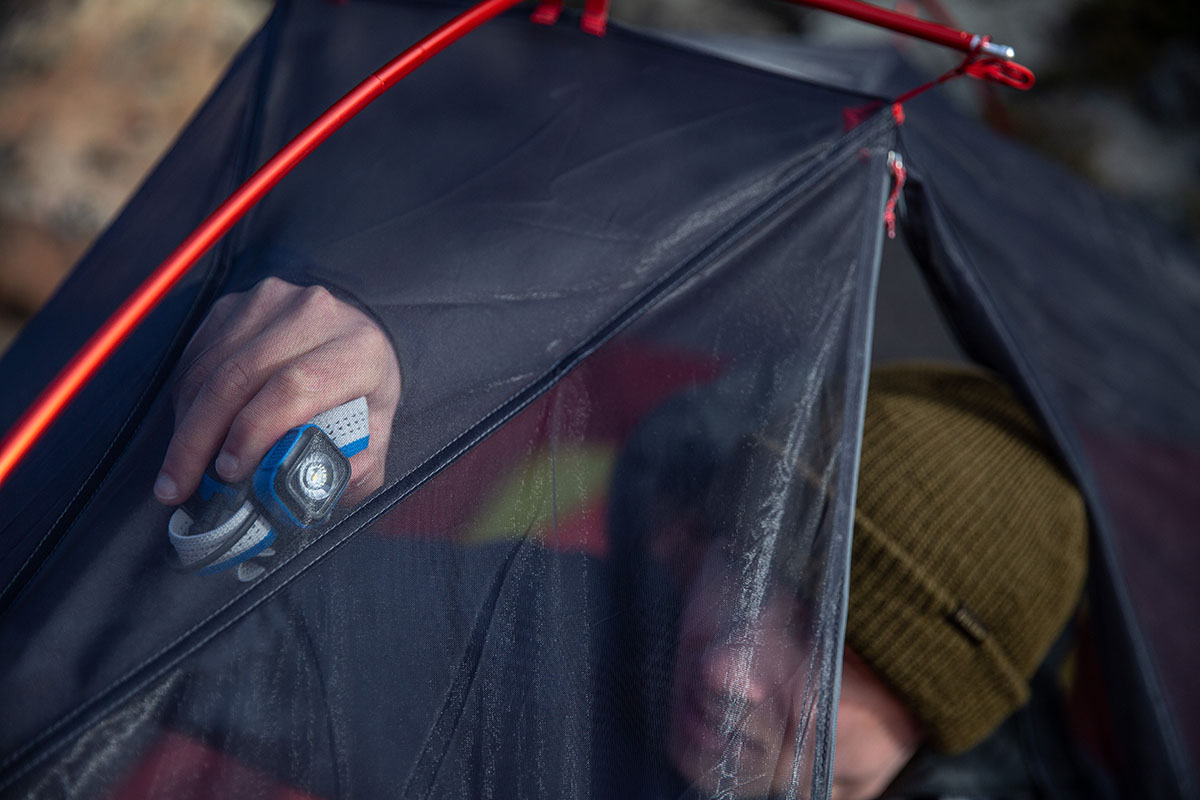 Build Quality Durability
In the tent world, lower weight usually means less durability, and that holds true with the MSR FreeLite 2. The tent body is comprised almost entirely of 10-denier (D) micro mesh, and the floor and rainfly utilize a slightly thicker 15D polyurethane- and silicone-coated nylon. For reference, MSR's heavier Hubba Hubba uses a 20D floor, which feels more robust. In other words, as with most ultralight gear, it is necessary to treat the FreeLite with care. I didn't utilize a footprint on our trip to Patagonia and put a small hole in the floor from camping on rough, sandy ground. In my opinion, the extra 8 ounces for MSR's Universal footprint (or any ground sheet of your choice) is worth it in the long run to protect the thin floor.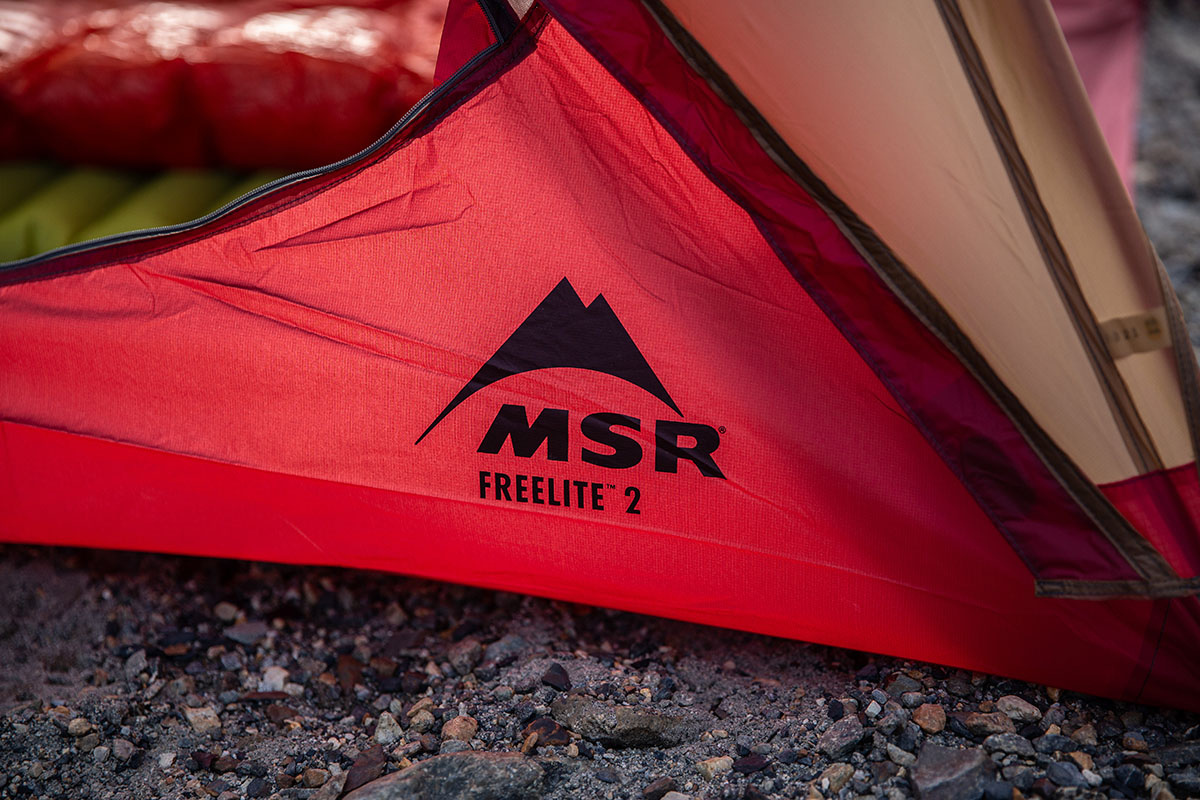 Overall build quality, however, is quite good. The included ultralight stakes have a premium feel, hold well, and are very resistant to bending, and the zippers on the doors and rainfly all operated smoothly. In addition, MSR incorporated some nice touches like a gutter on the rainfly to keep water from dripping down, and the coating on the fly is a quality, long-lasting product. At $410, we think it adds up to a solid all-around value.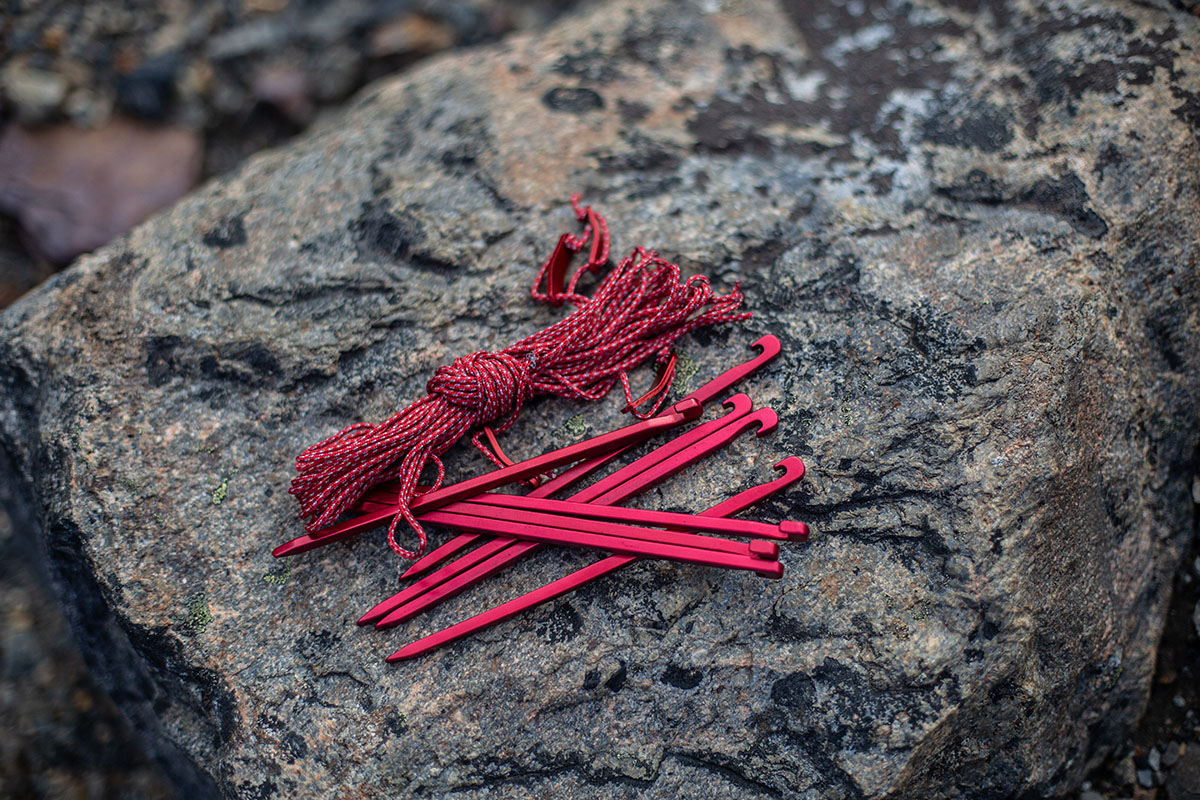 Set up and Take Down
The MSR FreeLite 2 is a semi-freestanding tent, meaning it requires staking out at the corners of one end to create a rigid structure. We consider this a worthwhile compromise in reducing heft and think that most weight-conscious backpackers will agree. For comparison, both the Big Agnes Tiger Wall UL2 (2 lbs. 8 oz.) and Nemo Hornet 2P (2 lbs. 6 oz.) have similar designs to keep weight to a minimum. Alternatively, heavier freestanding tents like the MSR Hubba Hubba and Nemo Dagger OSMO are much easier to move around camp, sturdier in windy conditions, and require less time and effort when pitching on uneven or varied terrain.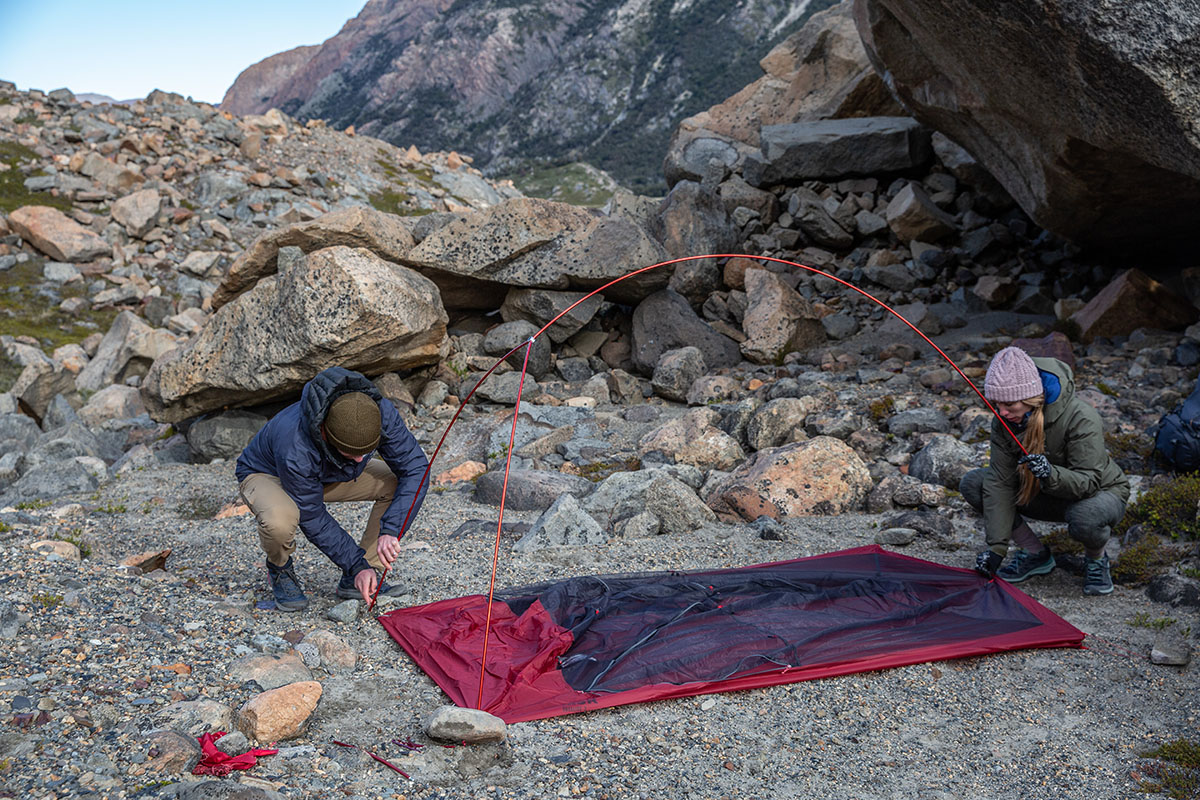 All that said, setting up the MSR FreeLite 2 is extremely simple, even for a single person. Here's the process: Three arms of the pole run the spine of the tent and form a "Y" with the split at the head end. After connecting this pole, there's a separate ridge pole that inserts into grommets above each of the doors to keep the ceiling taut and the walls vertical (ideally, this pole would be attached to the other pole system to reduce the chances of losing it). The fly goes on quite easily and shares the same stake-out points. Finally, given the rough weather on all our trips, I guyed the tent out every night, which was well worth it for the added rigidity and ventilation. I found the standard setup process takes only a few minutes (tack on a few more minutes for the guylines), which is great if weather is moving in. Take down is just as easy, and as I mentioned previously, the tent compresses into its included stuff sack without issue.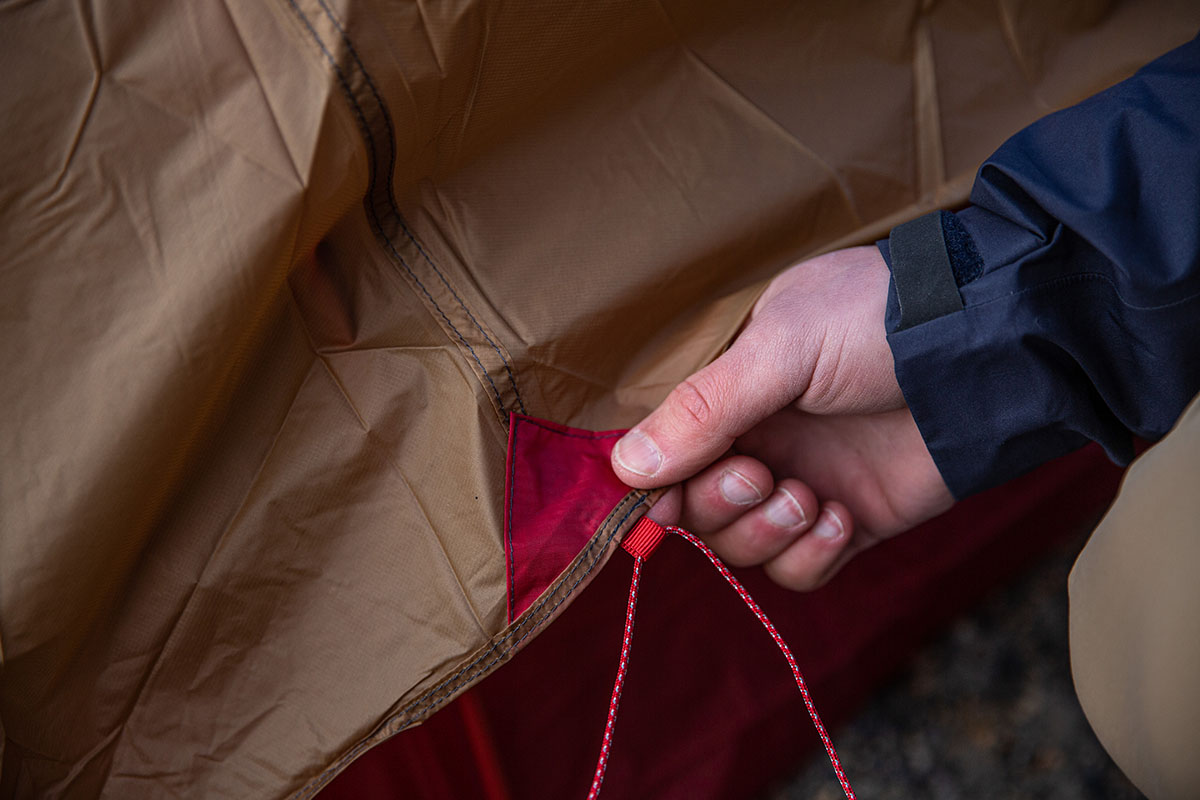 Other Capacities of the MSR FreeLite
We tested the two-person version of MSR's latest FreeLite tent, and it's also offered in one- and three-person capacities that share the same pole structure and basic layout. The FreeLite 1 will save you $40 and 6 ounces, but interior space drops to 20 square feet. The FreeLite 3, on the other hand, costs $70 more than the two-person model reviewed here and comes with a 6-ounce weight penalty but is noticeably roomier with a 38.5-square-foot interior. Given our experiences with the FreeLite 2, we consider the three-person variation a good match for two comfort-focused adults or couples who camp with a dog.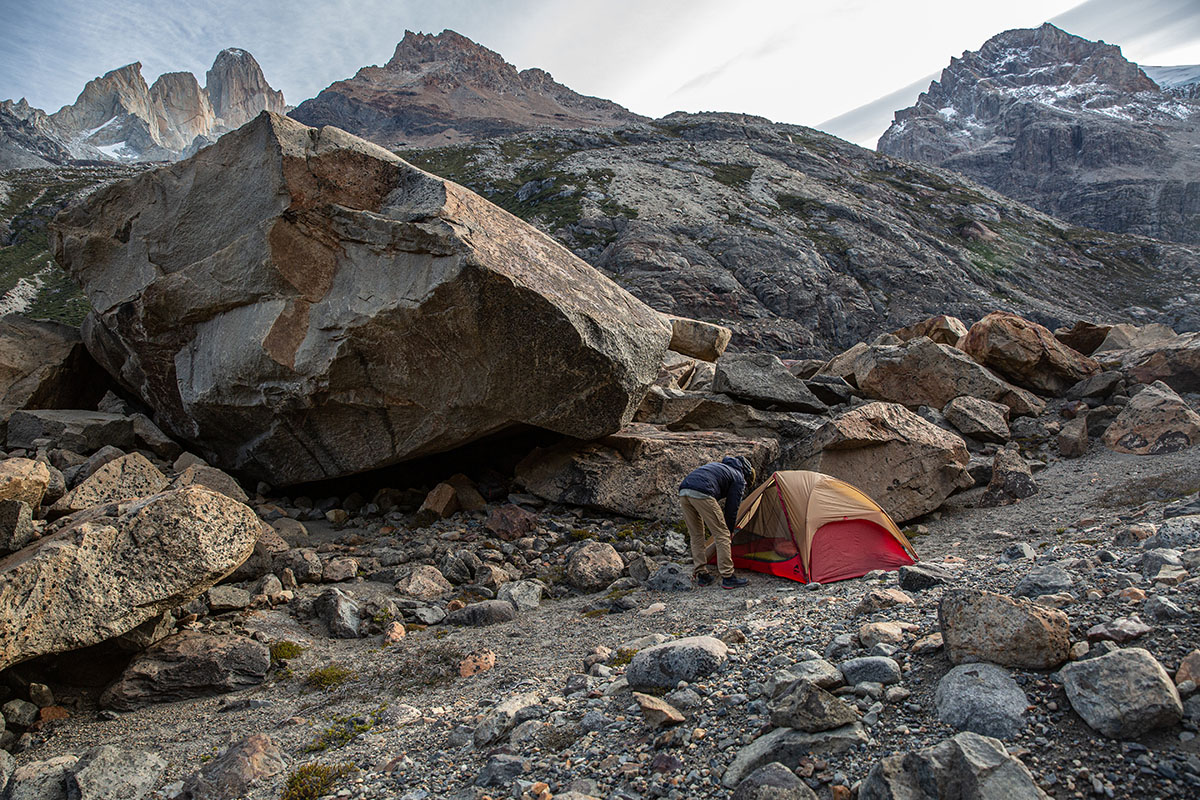 What We Like
Rectangular floor, relatively roomy interior, and full-coverage rainfly at just over 2 pounds.
Two-door-and-vestibule layout offer easy access and plenty of storage for two campers.
Mesh-heavy build provides great ventilation, particularly if the vestibule is left partially open (weather permitting).
A good all-around value at $410 considering the overall build quality and performance.
Easy to set up for a semi-freestanding design, even when camping solo.

What We Don't
While the width at floor height is very good, the tent's short center ridge pole and tapered ceiling (lower at the foot end) make it hard for two people to sit upright.
As with most UL gear, the FreeLite uses thin fabrics to keep weight low and requires extra care to avoid snags and tears (we recommend using a footprint).
Our FreeLite bowed heavily in particularly windy conditions due to the lack of pole support at the foot end, but it performs well in most three-season scenarios.
Extensive mesh and cutout in the rainfly allow blowing dirt and dust to enter.


Comparison Table
| Tent | Price | Weight | Area | Floor | Height | Door(s) | Capacities |
| --- | --- | --- | --- | --- | --- | --- | --- |
| MSR FreeLite 2 | $410 | 2 lbs. 5 oz. | 29 sq. ft. | 15D | 39 in. | 2 | 1P, 2P, 3P |
| Big Agnes Fly Creek HV UL2 | $370 | 2 lbs. 4 oz. | 28 sq. ft. | 20D | 42 in. | 1 | 1P, 2P, 3P |
| Nemo Hornet 2P | $400 | 2 lbs. 6 oz. | 27.5 sq. ft. | 15D | 39 in. | 2 | 1P, 2P |
| Big Agnes Tiger Wall UL2 | $400 | 2 lbs. 8 oz. | 28 sq. ft. | 15D | 39 in. | 2 | 1P, 2P, 3P |
| MSR Hubba Hubba 2 | $480 | 3 lbs. 4 oz. | 29 sq. ft. | 20D | 40 in. | 2 | 1P, 2P, 3P |
| MSR Carbon Reflex 2 | $630 | 2 lbs. 3 oz. | 29 sq. ft. | 15D | 34 in. | 2 | 1P, 2P, 3P |

The Competition
Joining an impressive group of ultralight backpacking tents, the latest MSR FreeLite 2 offers excellent livability at a competitively low weight. For comparison, Big Agnes' Fly Creek HV UL2 is $40 cheaper and weighs nearly the same at 2 pounds 4 ounces all in, but the single-door-and-vestibule layout detract heavily from overall convenience (you'll have to crawl over your tent mate to get in and out). Unlike the symmetrical FreeLite, the Fly Creek's interior also tapers at the foot end (from 52 to 42 in.), which makes it much less agreeable for two campers to sleep and spread out. A final feather in the FreeLite's hat is weather protection: The Fly Creek's rainfly sagged into the body during testing, which resulted in condensation buildup in wet conditions. Given these downsides, the FreeLite 2 wins out as the more complete and livable UL option.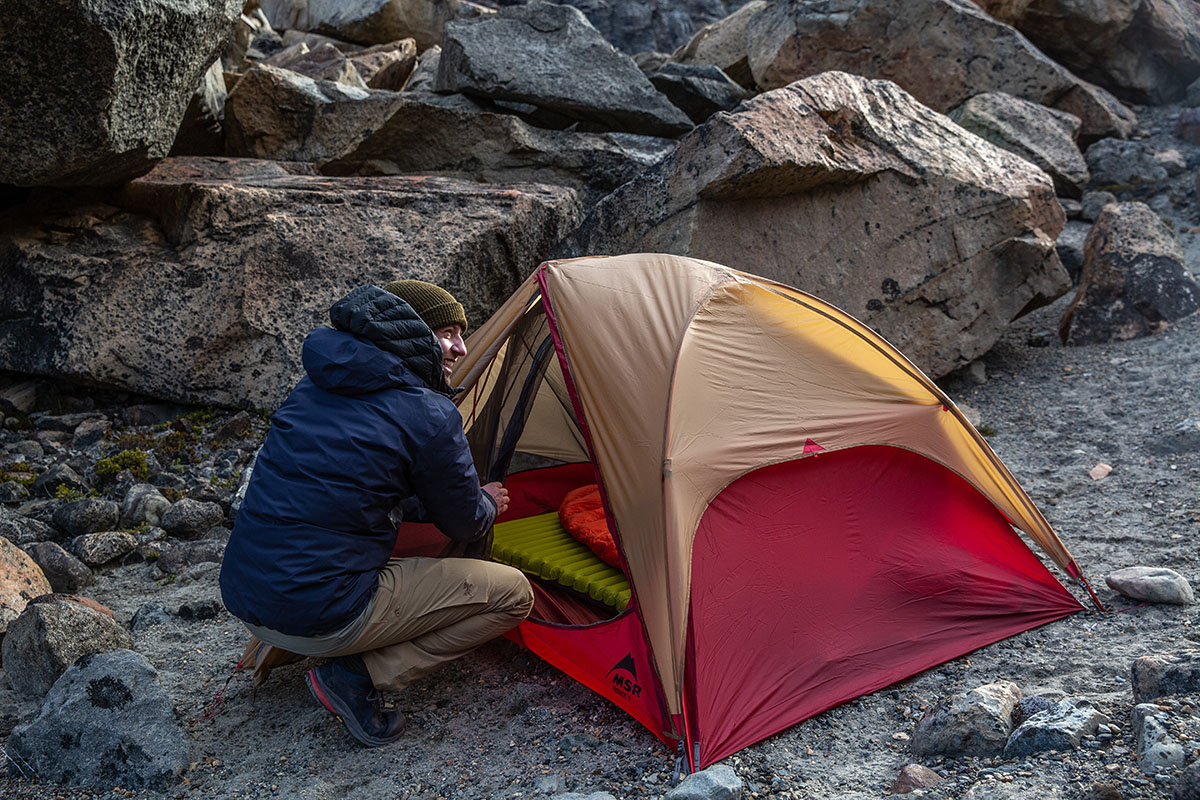 For $10 less than the FreeLite 2, Nemo's Hornet 2P offers similar overall performance. Weight lines up well at 2 pounds 6 ounces all in, and the Hornet shares a similar two-door-and-vestibule design that makes it much easier for two campers to enter/exit and stash gear than one-door alternatives like the Fly Creek above. That said, the Nemo is heavily tapered toward the feet and sides of the tent and compromised in terms of interior space (we consider it best for solo backpackers). Finally, the FreeLite uses slightly higher-quality materials, including a long-lasting coating on the fly for added weather resistance, reinforcements and stitching at guy-out points, and ultralight but strong poles. Both are popular and well-rounded UL designs, but we consider the FreeLite the more comfortable and less compromised option at this price point, especially for groups of two.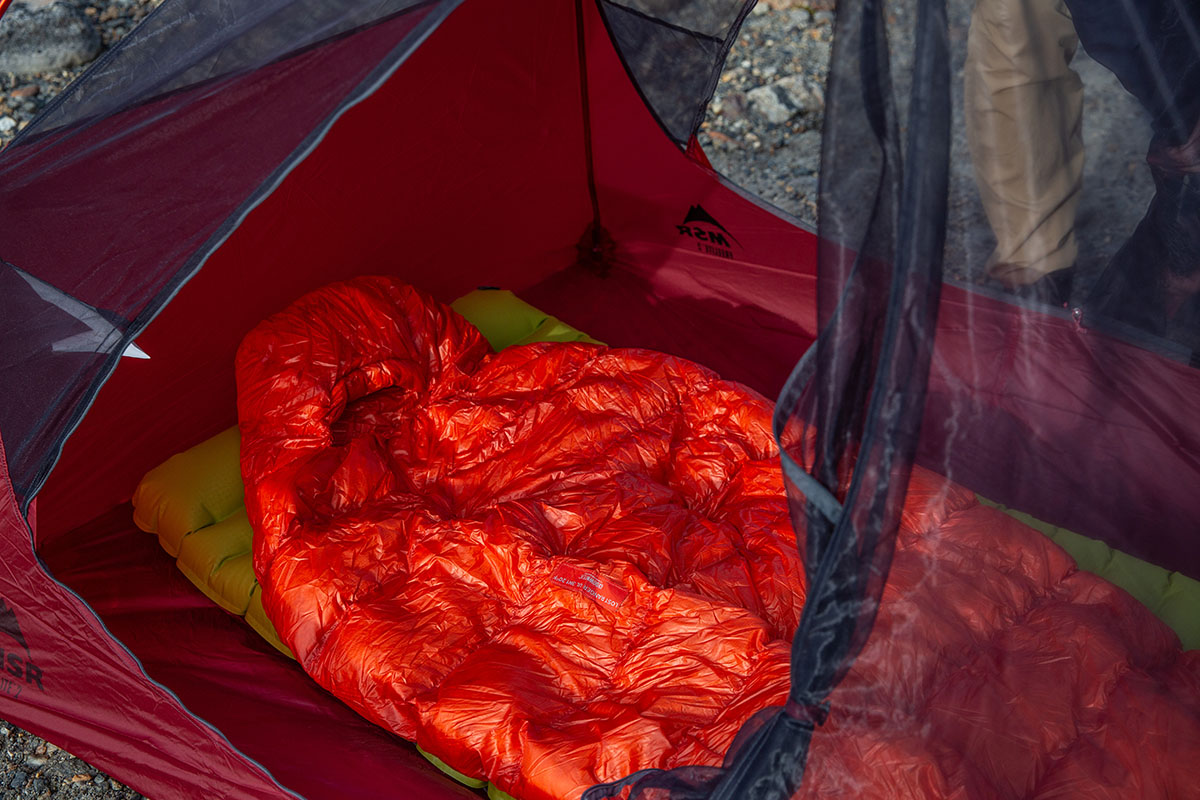 In addition to their Fly Creek outlined above, Big Agnes offers another intriguing ultralight alternative to the FreeLite in their Tiger Wall UL2. While it's slightly heavier than the MSR at 2 pounds 8 ounces and has a tapered floorplan, interior space is actually more generous. Looking at the specs, the FreeLite is narrower at the head end (50 in. vs. 52 for the Big Agnes), while the Tiger Wall offers more volume for backpacking with a partner thanks to its larger ridge pole that stretches the walls up and away. Like the FreeLite, the Tiger Wall also boasts two doors and vestibules, the latter of which are a little larger than the MSR's at 8 square feet each. And overall quality lines up well too, including silicone-coated nylon that's impressively strong (although still thin) and fade-resistant, solution-dyed fabrics that minimize energy and water use during manufacturing. Taken together, the Tiger Wall UL2 wins out in most categories while coming in $10 cheaper, which gives it the edge for us.
Within the MSR lineup, the FreeLite is sandwiched between two other intriguing options: the Hubba Hubba 2 ($480) and Carbon Reflex 2 ($630). Stacked up against the popular Hubba Hubba (which was also updated for 2022), the FreeLite is a considerable 15 ounces lighter and ventilates better with more mesh in the tent body, but it uses a less durable floor fabric (15D vs. 20D), sacrifices an inch of headroom, and requires staking out at one end (the Hubba Hubba is fully freestanding). We personally prefer the convenience of the Hubba Hubba's design (see our in-depth review here), but the extra ounces may be sacrilege to weight-focused backpackers.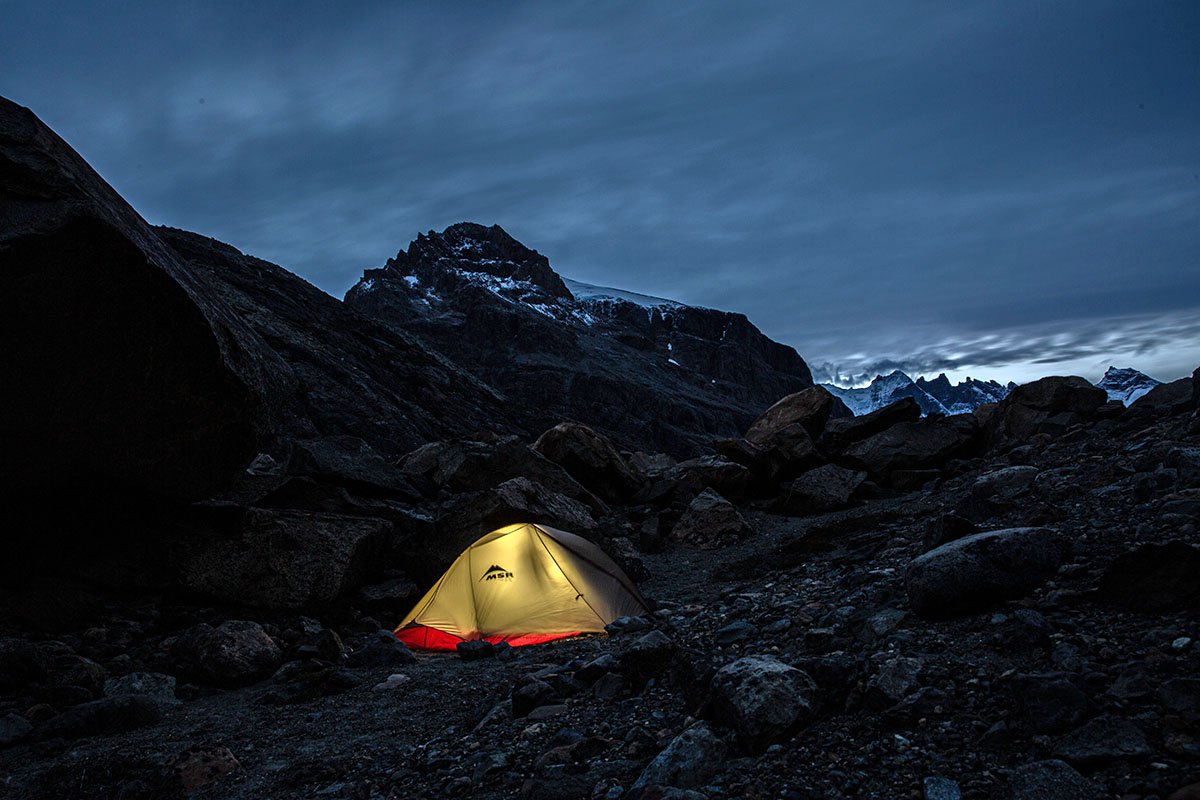 Finally, the 2-pound-3-ounce MSR Carbon Reflex 2 is the lightest option of the bunch but comes with some notable sacrifices. For one, the tent is completely non-freestanding, so all corners need to be staked out. In addition, the carbon fiber poles aren't our favorite—they're light but require extra care to keep from breaking—and peak height drops to a very low 34 inches. And given that the Carbon Reflex costs a whopping $630, we think only true gram counters should spend up for it. In the end, the FreeLite accomplishes much of what it's supposed to do: bridge the gap between the more robust Hubba Hubba and more hardcore Carbon Reflex.
If you're thinking about buying gear that we've reviewed on Switchback Travel, you can help support us in the process. Just click on any of the seller links above, and if you make a purchase, we receive a small percentage of the transaction. The cost of the product is the same to you but this helps us continue to test and write about outdoor gear. Thanks and we appreciate your support!
Depending on the seller, most products ship free in the United States on orders of $50 or more. International shipping availability and rates vary by seller. The pricing information on this page is updated hourly but we are not responsible for inaccuracies.
Learn More About Outdoor Gear