Big Agnes Copper Spur HV UL2
Price: $450
Minimum weight: 2 lbs. 12 oz.
Floor denier: 20D
Capacities: 1P, 2P, 3P, 4P
What we like: Standout combination of livability, weight, and ease of use.
What we don't: Thin materials (a little too thin for our tastes).  
See the Big Agnes Copper Spur HV UL2
First introduced in 2008, the Copper Spur series by Big Agnes has been a consistent front-runner in the ultralight tent category. We tested the HV (high-volume) model of the two-person Copper Spur UL in conditions ranging from the hot and sunny Utah desert to a strong windstorm in the San Juan Islands. All told, the interior space, sub-3-pound weight, and two-door-and-vestibule design make it one of the most complete ultralight backpacking tents on the market. Below we break down the Copper Spur's weight and packed size, livability and interior space, durability, weather protection, ventilation, and more. To see how the Copper Spur HV UL stacks up, see our article on the best backpacking tents.

Performance
Weight and Packed Size
Coming in at 2 pounds 12 ounces, the Big Agnes Copper Spur HV UL2's sub-3-pound weight puts it in pretty elite company. Among lightweight freestanding models, the popular Nemo Dagger 2P (3 pounds 5 ounces) and MSR Hubba Hubba NX (3 pounds 8 ounces) are quite a bit heavier. The tent does fall short of ultralight designs like Nemo Hornet (1 pound 15 ounces) and Big Agnes' own Fly Creek HV UL2 (1 pound 15 ounces) and Tiger Wall UL2 (2 pounds 3 ounces), but these tents compromise big time in terms of interior space and only have semi-freestanding builds. For its combination of space, convenience, and solid weather resistance, the Copper Spur's weight is fantastic. And as far as packability goes, the tent stuffs down to 4.5 x 19.5 inches and we had no issues fitting it inside the stuff sack or our backpacking packs.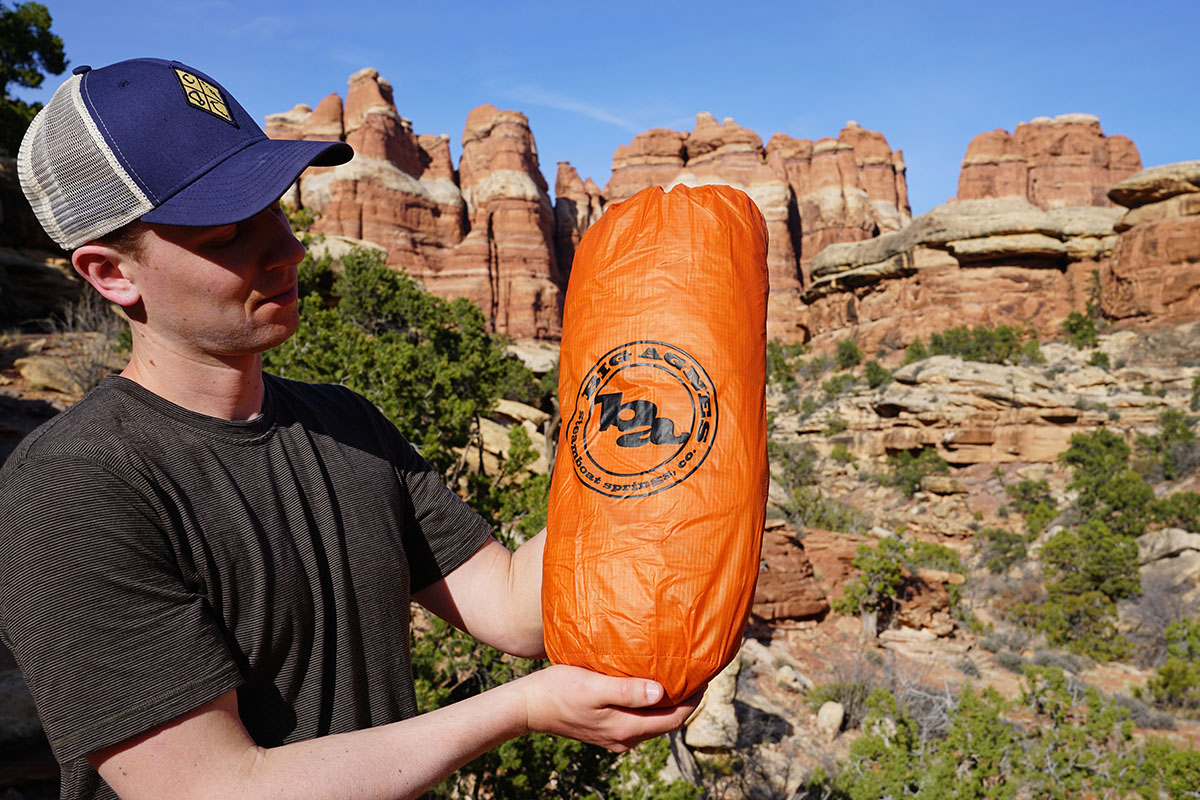 Livability and Interior Space
If you're familiar with older Copper Spur tents, the changes to the Copper Spur HV UL are immediately noticeable. Gone is the multi-hubbed and somewhat complex pole design, and in its place is a clean, sloping rectangular shape with a single hub over the head end of the tent. What this brings is more interior space—a lot of it, in fact. Big Agnes claims that the interior volume increased by 20 percent compared to past versions, and it's something that's particularly noticeable when sitting up side-by-side in the two-person model. The Copper Spur has always been known as a "livable" ultralight backpacking tent, and the HV only strengthens that notion.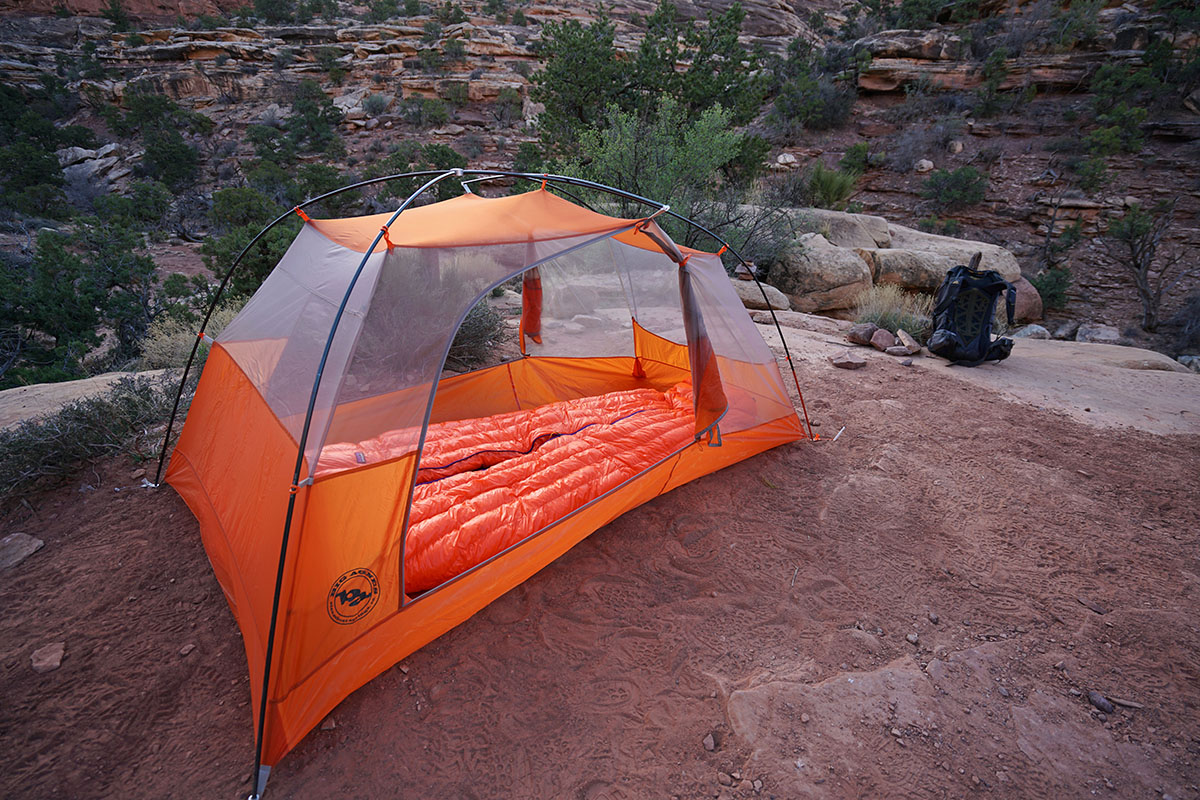 The open feeling is aided by the near-vertical walls, and the pole structure does a great job stretching all four sidewalls up and away from you. In addition, the peak height of 40 inches is right where you would naturally be sitting up near the middle of the tent. Importantly, the peak is a mostly flat roof as the mesh under the hub is stretched by the crisscrossing poles. Further, the tent height drops quickly towards the foot end of the tent, but even that space feels roomier than on older versions.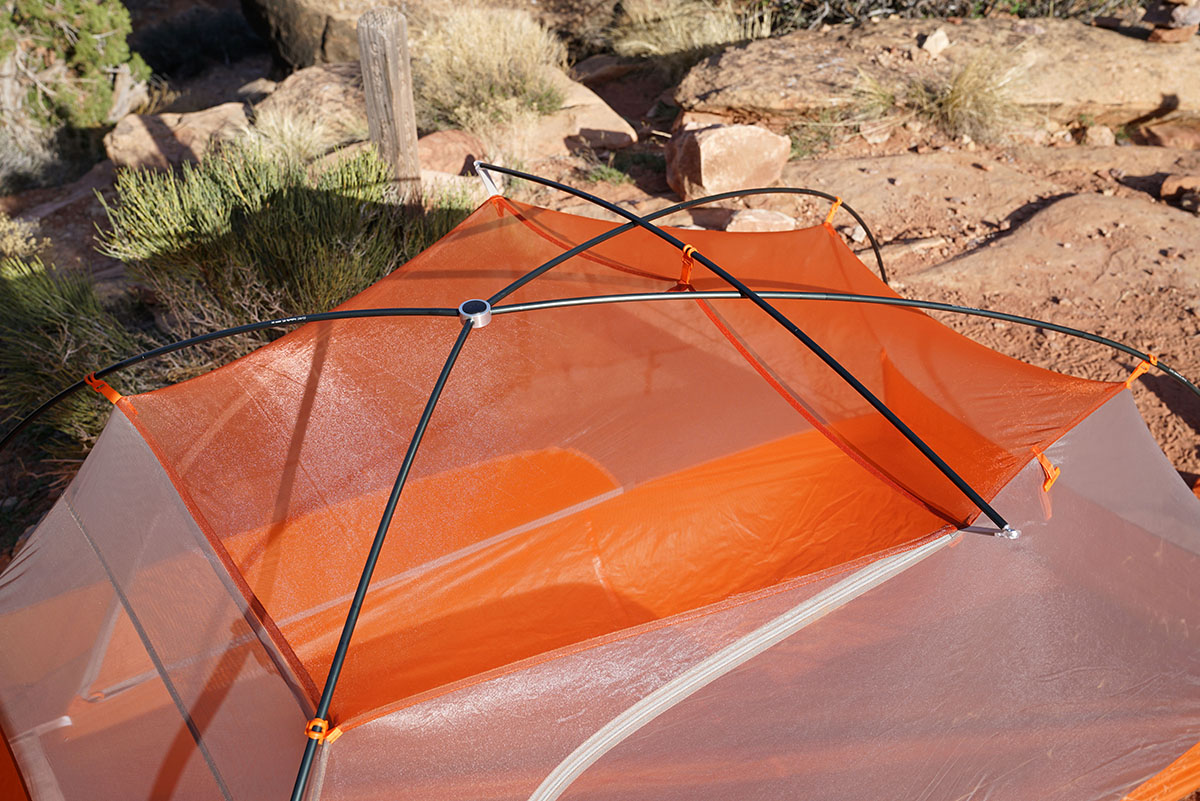 The pole design accomplishes its goal of expanding the interior volume, but it's important to note that the tent's footprint still is relatively small. The Copper Spur measures 52 inches wide at the head end of the tent and a tapered 42 inches at the feet, and its actual widths appear to be a couple inches less for each. As a result, our two regular-width (20-inch) pads were a snug fit for us, and the tapering means you can only sleep with your head at one end. We haven't tried just yet, but it's hard to imagine two wide backpacking sleeping pads (25 inches each) fitting without folding up the sidewalls at the foot end, although a mummy-shaped pad potentially could work.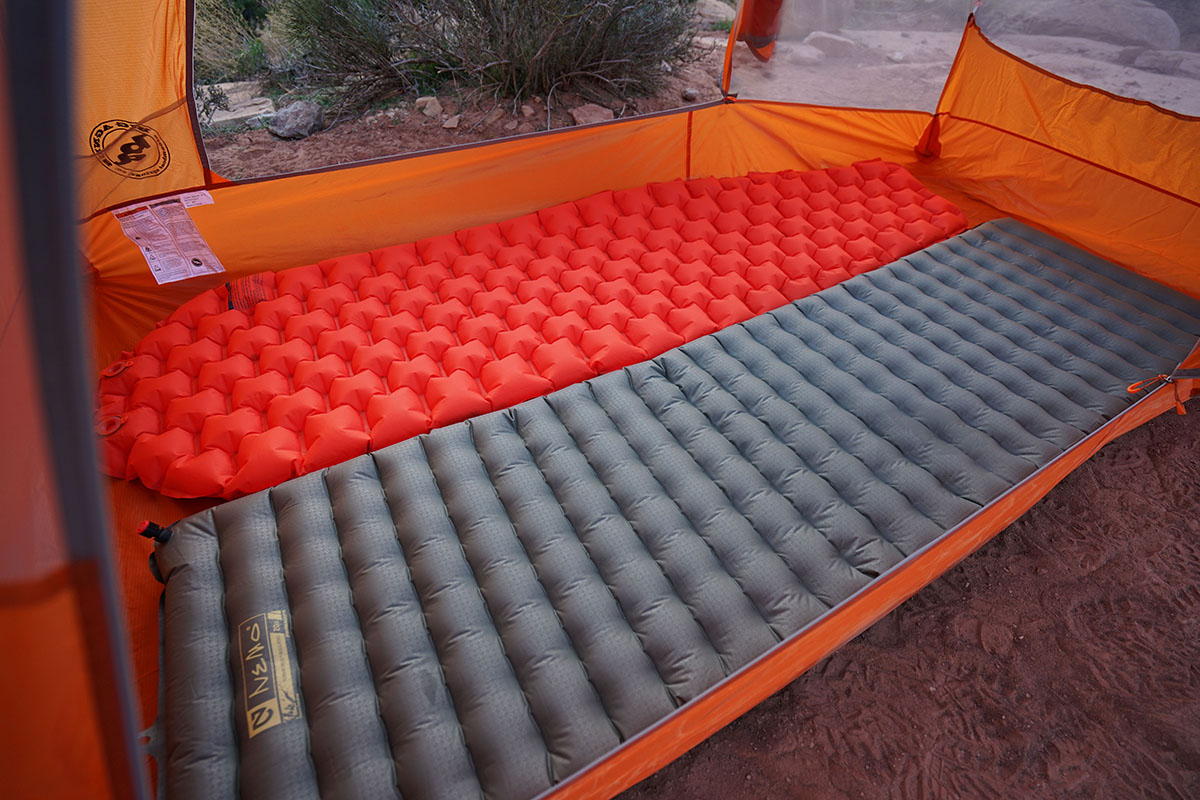 Durability
Cutting weight from a tent usually involves thin and delicate materials, and the Copper Spur HV UL2 is no exception. Denier commonly is used to measure fabric thickness (it actually is the fabric yarn's weight), and this Big Agnes tent has lightweight and low-denier fabrics throughout. The floor, rainfly, and solid fabric portion of the tent body use 20-denier nylon, and the mesh on the tent body is a slightly thinner 15 denier. For comparison, the MSR Hubba Hubba NX has a 30-denier floor for a modest increase in durability in the area most likely to get a tear. There are even lower-denier fabrics on the market, including Nemo's Hornet and MSR's FreeLite tents, which have 15-denier floors. We've found that these tents push our comfort level in terms of fabric thickness, but extra care is advisable for all modern lightweight tents.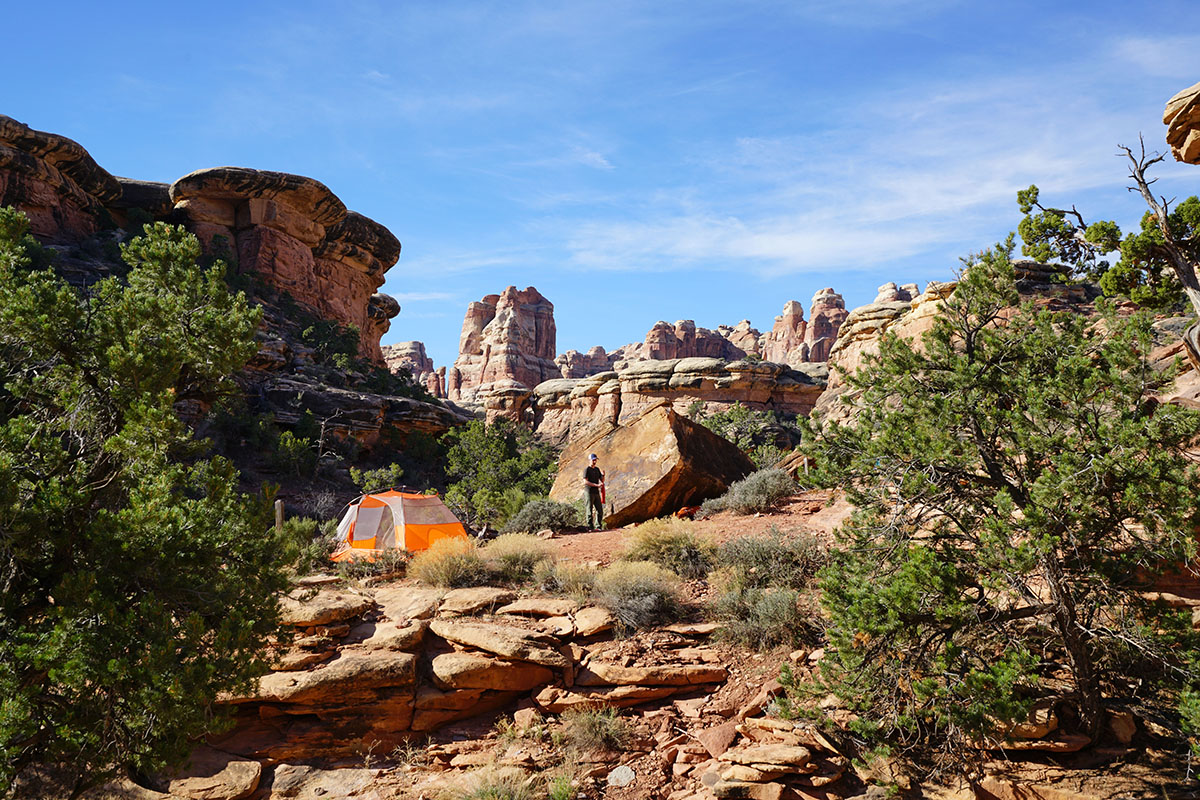 It's important to note that the denier measurement does not take into account various fabric technologies. Big Agnes uses a proprietary nylon ripstop in a unique weave on the floor and fly, intended to increase tear strength (Big Agnes states it's 25 percent more tear-resistant than standard nylon). In use, the fabrics feel light and thin but nothing out of the ordinary in this category. We haven't put a hole in our Copper Spur HV UL2, and even went as far as using it for many nights without a footprint.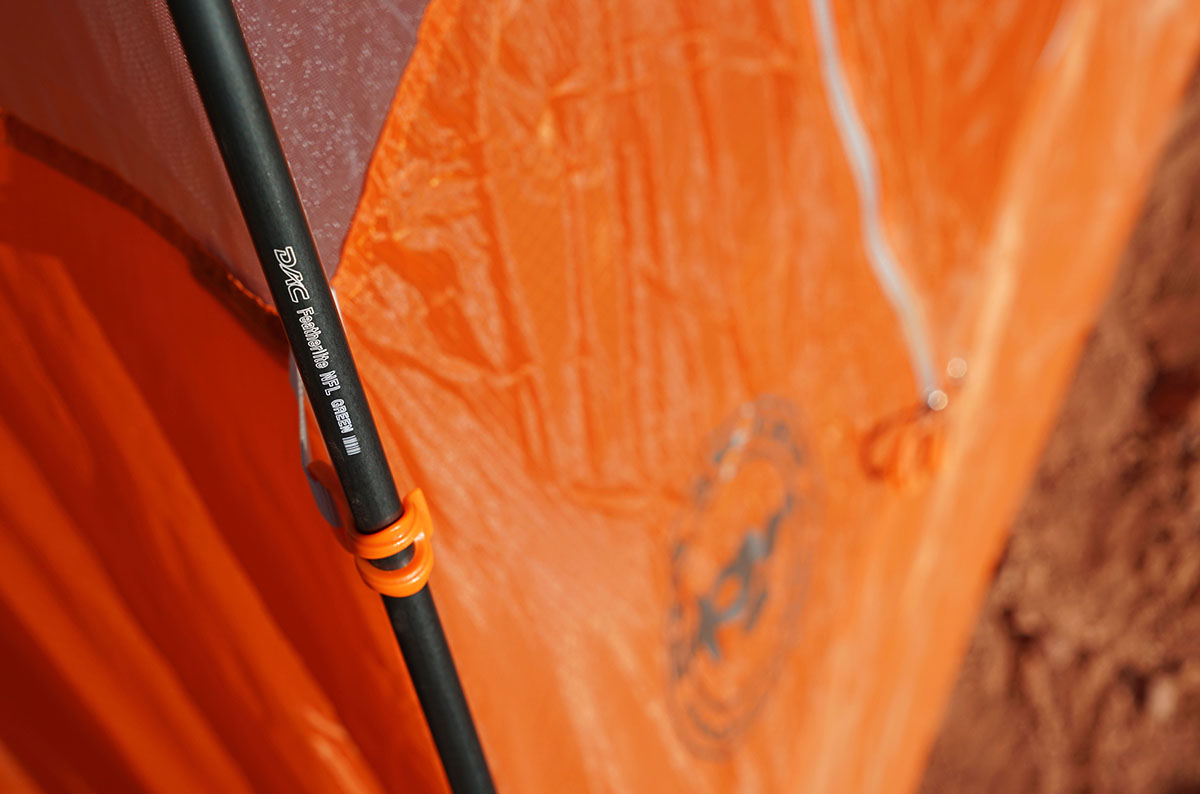 We do see potential for long-term durability issues with the two zippered doors. While we love the access through the large openings, the zippers can be a little finicky to open and close with one hand and feel pretty flimsy. To be fair, our old Copper Spur had a similar feel and never failed us. Nonetheless, we recommend treating them gently, and thru-hikers or those putting in a lot of trail nights may want to occasionally clean the zippers (and keep a lookout for dirt and dust).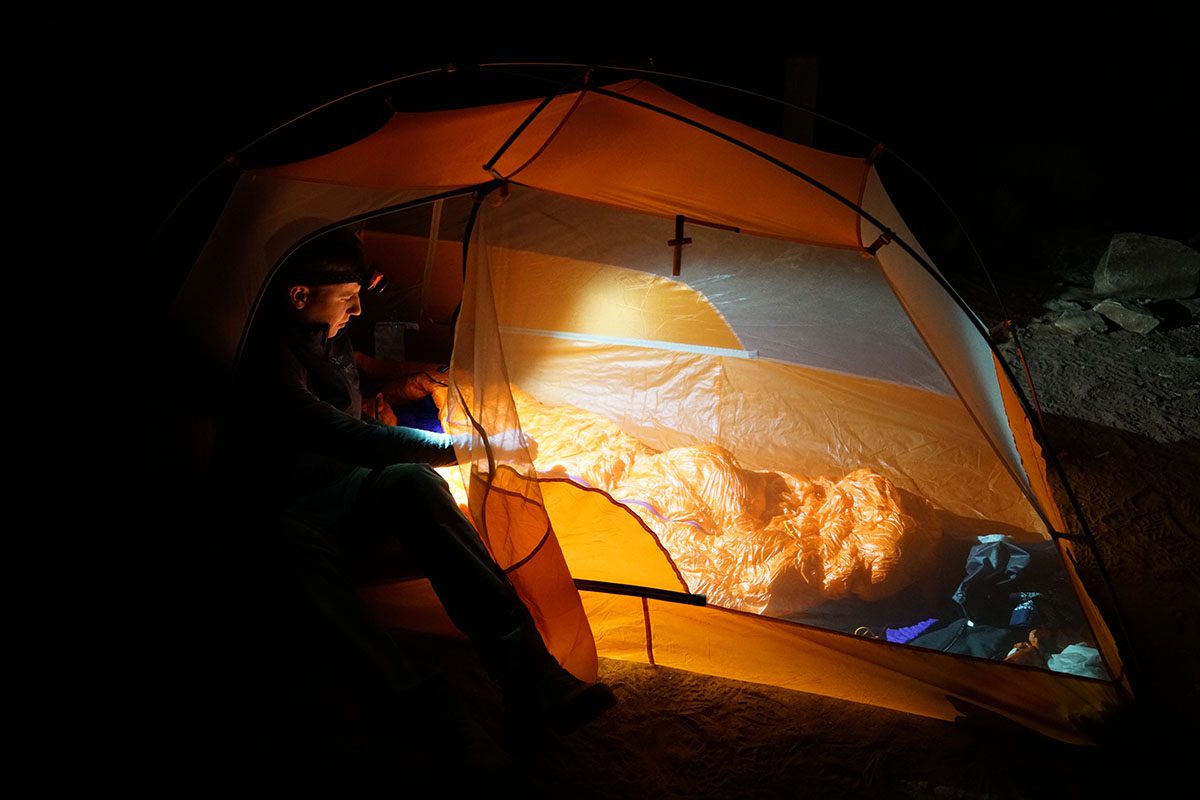 Weather Protection
For its weight, the Big Agnes Copper Spur HV UL2 offers impressive weather protection overall. Big Agnes claims the pole structure increases strength by 25 percent compared to previous versions of the tent, and it's well-designed to hunker down in most 3-season conditions. In practice, the Copper Spur is taught and feels strong, well-placed guyout points are at each corner, and the full-coverage rainfly does a great job keeping moisture at bay.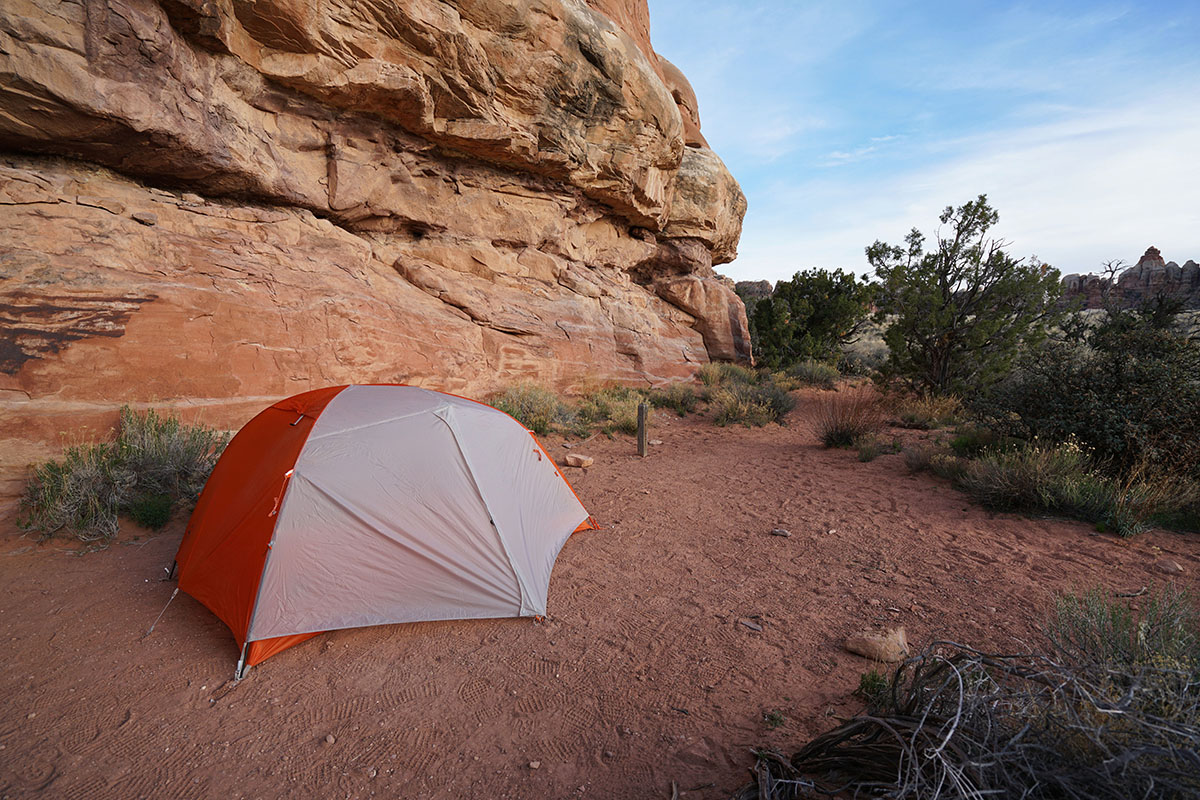 We've had pretty good weather overall thus far with the Copper Spur HV, with only light wind at night and the occasional rain shower on our trips, so we can't definitively say how well the model will hold up. That said, we had the previous Copper Spur out a number of times in rough weather—including a strong windstorm while bikepacking in the San Juan Islands—and were very impressed with its sturdiness. For most backpackers, the Copper Spur should be completely capable in rain, wind, and light snow.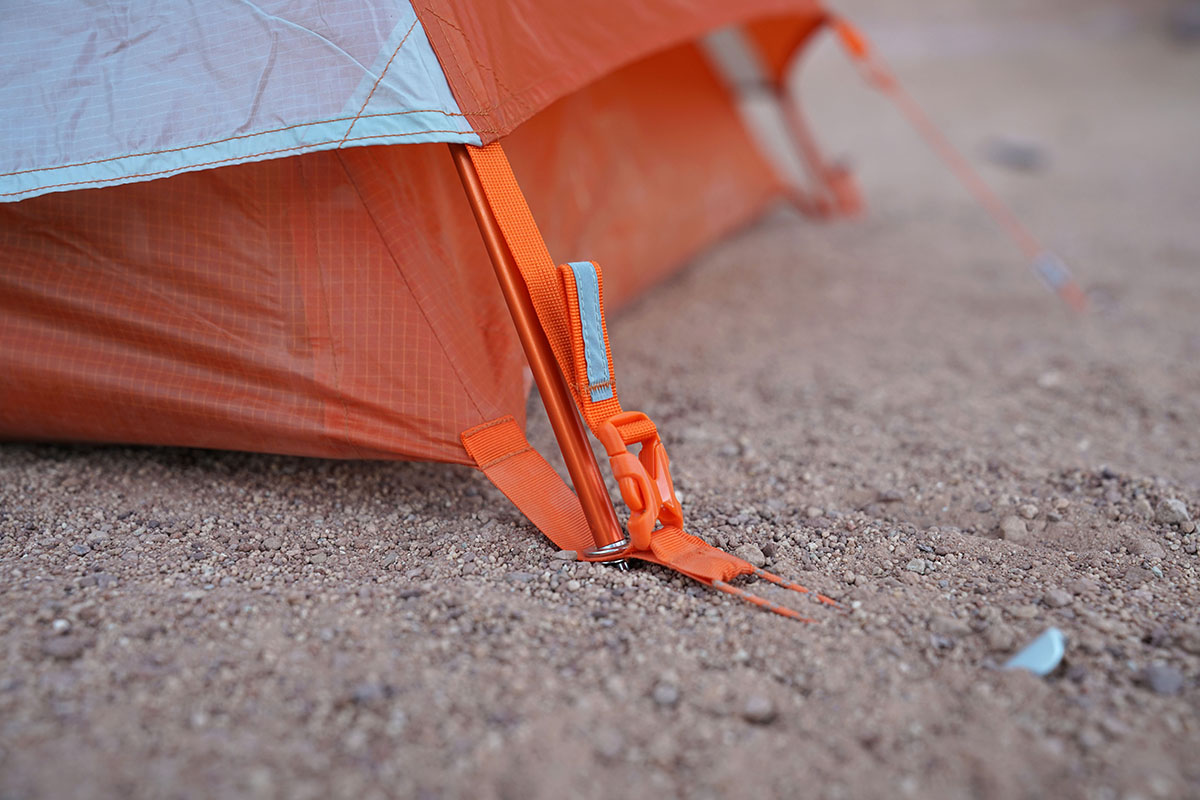 Ventilation
Liberal use of mesh on the tent body and a deployable vent at the top of the rainfly offer good all-around ventilation. And unlike some ultralight tents that utilize a single-wall construction, the double-wall build on the Copper Spur does a great job keeping air moving and reduces the chance of condensation buildup. Importantly, there is good spacing between the rainfly and tent body to encourage airflow, including stakeout points on the rainfly at the head and foot end. In more extreme temperatures than we experienced—we peaked in the mid-80s on our Utah trip—a second roof vent might be helpful for releasing hot air, but we were reasonably comfortable even with the sun hitting the tent in the late afternoon.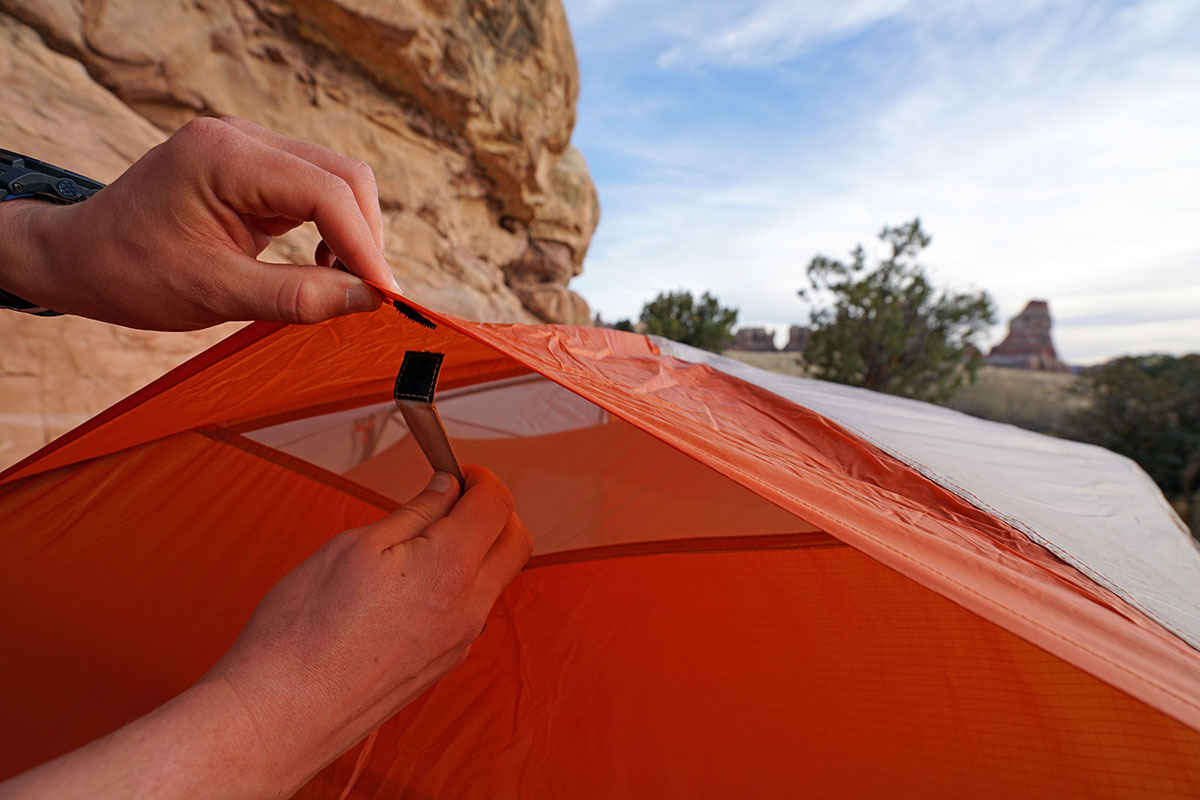 Storage
We love the convenience that comes with a two-door-and-vestibule design. Being able to store gear on both sides, and not having to worry about crawling over your tentmate in the night, are well worth the extra ounces in our opinion. The Copper Spur's two vestibules measure 9 square feet each, which is about average for a lightweight tent, and they are big enough to store a backpacking pack and shoes without tripping you on your way inside. Interior storage is sufficient, with a long pocket built into the tent's roof that easily stretches to accommodate something as wide as a headlamp, and there are two small pockets at head height located just in front of the doors. All in all, we think the storage is great for two backpackers, but Big Agnes does offer a gear loft (purchased separately) that fits the Copper Spur.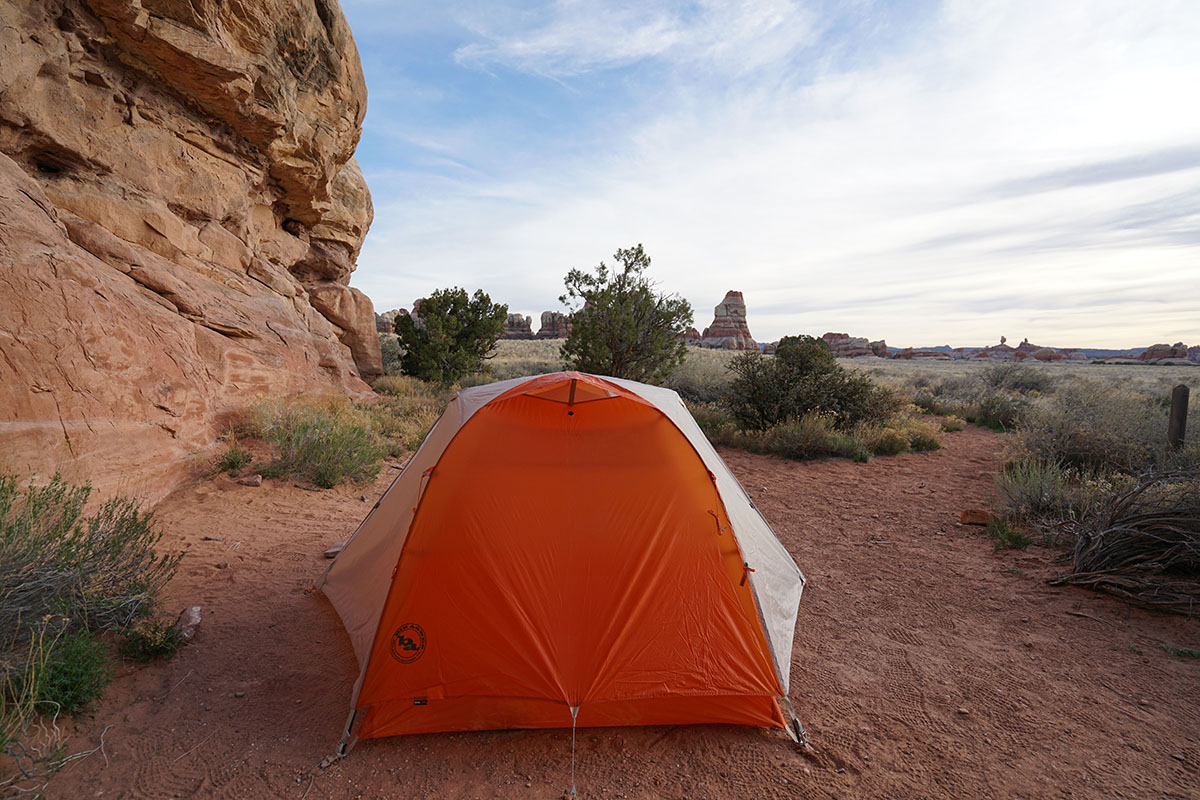 Set up and Take Down
Freestanding tents are among the easiest to set up, and the Big Agnes Copper Spur HV UL2 is no different—particularly if you're familiar with modern backpacking tents. It's as simple as staking out the corners, inserting the poles into the color-coordinated grommets on either end (the non-symmetrical shape means there is only one way to set it up), and clipping in. The center hub creates the X-shaped structure, and a separate small ridge pole connects at the top of each door. The fly goes on over the top and can pulled taut with Velcro attachments for the poles and guylines on all sides. Not surprisingly, tear-down is just as quick and easy. The whole process didn't take more than a few minutes even on the first try, and we also found it relatively simple to set up in the wind.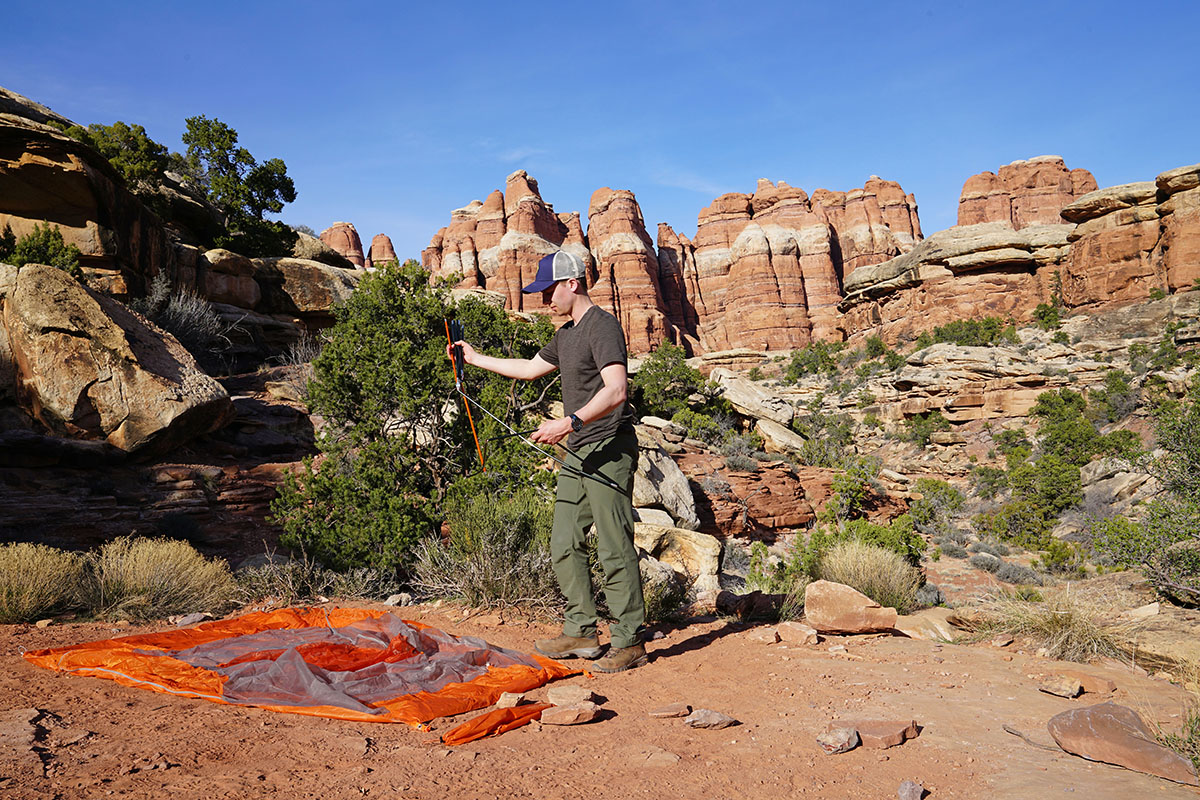 Other Capacities of the Big Agnes Copper Spur HV UL
We put the Copper Spur HV UL2 through its paces for this review, and Big Agnes also makes the same tent in one, three, and four-person versions. The design remains largely the same across all three capacities, although the tents vary in weight, interior and vestibule space, and peak height. As we touched on above, the 2P we tested struggled to fit two regular-width sleeping pads, so sizing up to the 3P (3 pounds 7 ounces and $400) makes a lot of sense for those with wider pads or who simply want added room to move around. Prices also vary—ranging from $380 for the 1P to a whopping $650 for the 4P—but are all great options for backpackers with varying size requirements.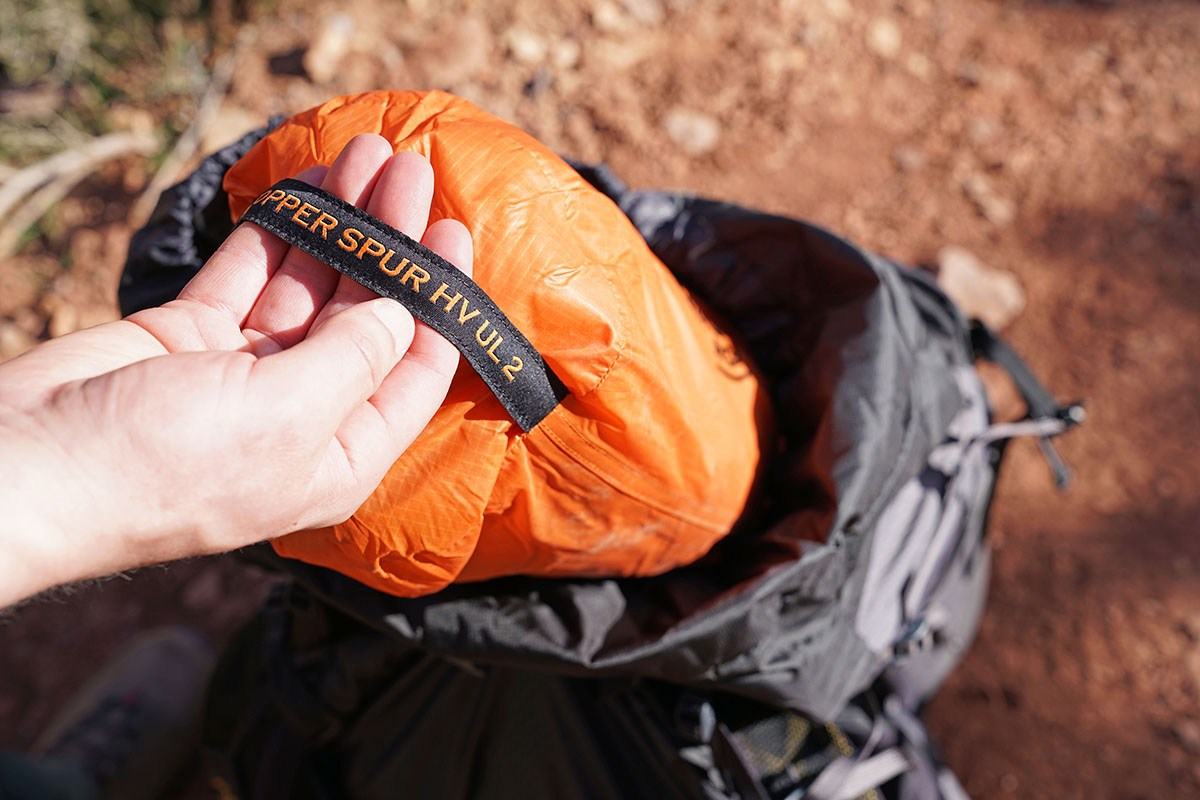 What We Like
Four-way, high-volume pole design does a nice job opening up the interior.
Highly practical despite the sub-3-pound weight: two doors and vestibules, good ventilation, and a full-coverage rainfly.
Quality construction and an easy set-up and take-down.

What We Don't
Even with the advanced fabrics, the 20-denier nylon (on the floor in particular) requires extra care.
Tapered construction means you can only sleep in one direction and it will be difficult to fit wide sleeping pads.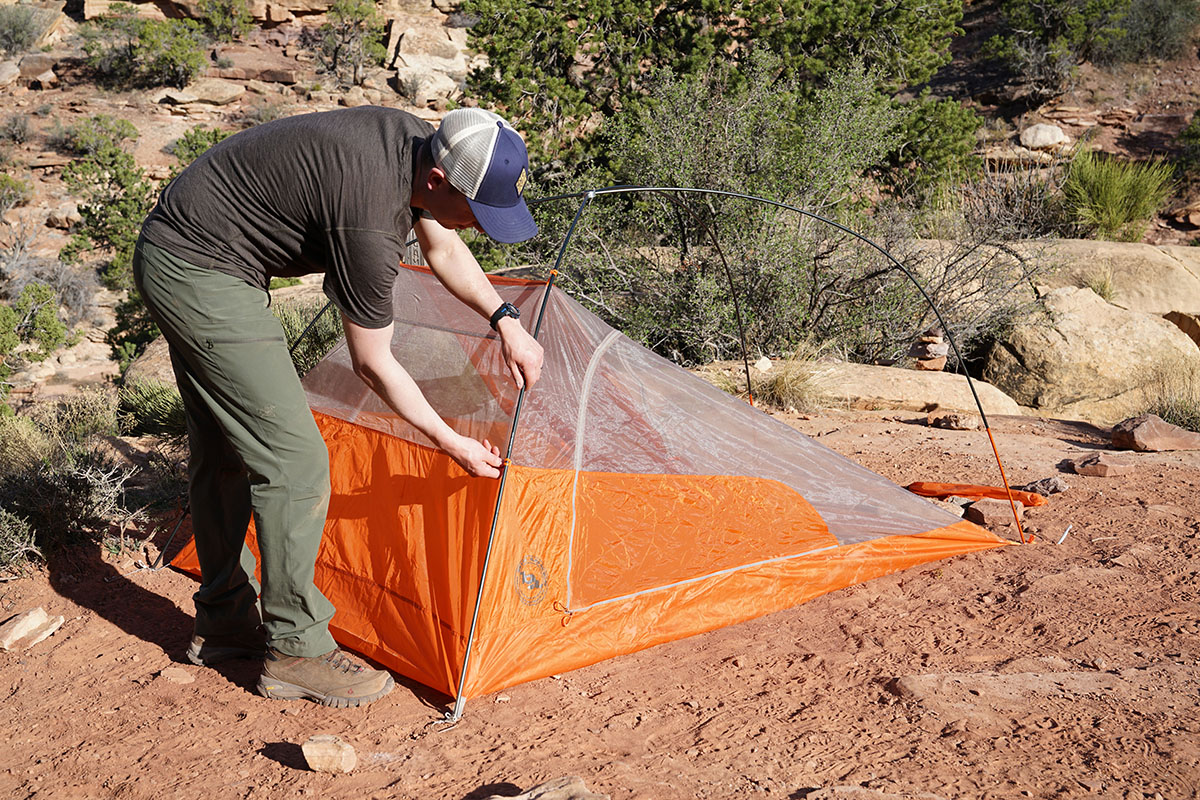 Comparison Table
| Tent | Price | Weight | Floor | Area | Height | Door(s) | Capacities |
| --- | --- | --- | --- | --- | --- | --- | --- |
| Big Agnes Copper Spur HV UL2 | $450 | 2 lbs. 12 oz. | 20D | 29 sq. ft. | 40 in. | 2 | 1P, 2P, 3P, 4P |
| Big Agnes Fly Creek HV UL2 | $350 | 1 lb. 15 oz. | 20D | 28 sq. ft. | 40 in. | 1 | 1P, 2P, 3P |
| Nemo Hornet 2P | $370 | 1 lb. 15 oz. | 15D | 27.5 sq. ft. | 39 in.  | 2 | 1P, 2P |
| Big Agnes Tiger Wall UL2 | $400 | 2 lbs. 3 oz. | 15D | 28 sq. ft. | 39 in. | 2 | 2P, 3P |
| Nemo Dagger 2P | $400 | 3 lbs. 5 oz. | 30D | 31.3 sq. ft. | 42 in. | 2 | 2P, 3P |
| MSR Hubba Hubba NX | $450 | 3 lbs. 8 oz. | 30D | 29 sq. ft. | 39 in. | 2 | 1P, 2P, 3P, 4P |

The Competition
As with the first two generations of the Copper Spur, the HV model is a standout in the backpacking tent market. It bridges the gap nicely between lightweight and convenient designs that weekend backpackers love with the focused ultralight models for thru-hikers and minimalists. We much prefer the Copper Spur HV to Big Agnes' own Fly Creek HV UL2, which we feel is too compromised with its single door/vestibule and non-freestanding design. Nemo's Hornet 2P is another ultralight option that does include two doors and vestibules, but, as with the Fly Creek HV, the interior is just too cramped for most backpackers (the two-person model works best for solo travelers). Both weigh 1 pound 15 ounces, undercutting the Copper Spur by almost a pound, but we think the bump in interior space and livability is worth the weight.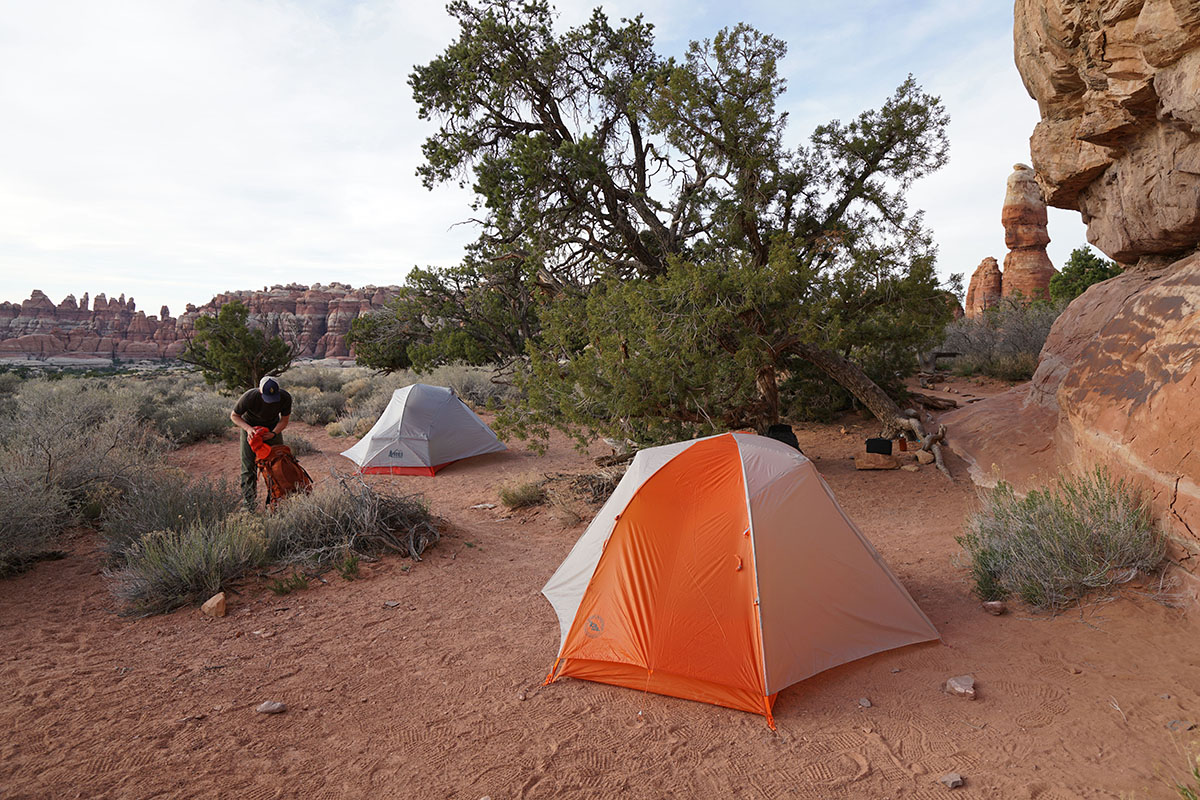 Another ultralight tent from Big Agnes is the Tiger Wall UL2, which blends design elements from the Copper Spur and Fly Creek lines. The Tiger Wall has two doors and vestibules and a center ridge pole like the Copper Spur, but its semi-freestanding layout trims weight even further. Compared with the Copper Spur, the Tiger Wall is lighter by 9 ounces and comes in $50 cheaper (for more information, see our in-depth Tiger Wall review), but the Copper Spur is the one we prefer in most cases. Its freestanding construction is easier to set up on just about any surface, the materials are more durable, and its pole design does a better job opening up the interior. The Tiger Wall has a lot of appeal for solo trekkers and thru-hikers, but we think the Copper Spur is the better all-around choice.
If you're willing to add a bit of weight to your pack, the Nemo Dagger 2P and MSR Hubba Hubba NX and are two excellent backpacking tents. We love the more durable fabrics that you get with the Nemo and MSR, and their symmetrical shapes mean you can sleep head-to-toe for more room to move around. Plus, the Nemo's $400 price tag undercut the Copper Spur by $50. As mentioned above, however, the Copper Spur beats them rather easily in weight (by 9 for the Nemo and 12 ounces for the MSR). And the Copper Spur pulls this off while retaining a double wall, freestanding construction and two-door-and-vestibule design. All told, all three tents are solid options and top choices in our backpacking tent round-up, and the final decision should come down to how you prioritize weight and space.
If you're thinking about buying gear that we've reviewed on Switchback Travel, you can help support us in the process. Just click on any of the seller links above, and if you make a purchase, we receive a small percentage of the transaction. The cost of the product is the same to you but this helps us continue to test and write about outdoor gear. Thanks and we appreciate your support!
Depending on the seller, most products ship free in the United States on orders of $50 or more. International shipping availability and rates vary by seller. The pricing information on this page is updated hourly but we are not responsible for inaccuracies.
Learn More About Outdoor Gear