REI Co-op Flash Air 2
Price: $299
Packaged weight: 2 lbs. 8.2 oz.
Floor area: 28.7 sq. ft.
Capacities: 1P, 2P
What we like: Legitimately ultralight yet easy to set up and use; excellent value.
What we don't: Lacking in interior storage; foot-end pole can be difficult to insert and remove.
See the REI Co-op Flash Air 2
Last year, REI made a serious push into the ultralight market with the Flash Air tent. This design checks the right boxes for a UL shelter with thin fabrics, a non-freestanding construction, and a hybrid single-wall build. But from our experiences with the Flash Air 2 while backpacking in Patagonia, what stood out was its user-friendly nature: the tent is easy to set up, spacious inside, and convenient for two backpackers with a pair of side doors and vestibules. It's also a standout value at $299. Below we break down our experiences with the Flash Air 2. To see how it stacks up, see our article on the best backpacking tents.
 
---
Table of Contents
---

Performance
Weight and Packed Size
With a packaged weight of 2 pounds 8.2 ounces on our scale (0.2 ounces more than what's listed), the REI Co-op Flash Air 2 qualifies as a proper ultralight design. And if you hike with trekking poles, you can trim away another 3.4 ounces by using them in place of the included straight tent poles. Either way, the Flash Air's weight is on par with a number of popular models, including Big Agnes's Tiger Wall UL2 (2 lbs. 8 oz.) and Fly Creek HV UL2 (2 lbs. 4 oz.), Nemo's Hornet 2P (2 lbs. 6 oz.), and REI's own Quarter Dome SL 2 (2 lbs. 14 oz.). You can go lighter with a shelter like the sub-2-pound Zpacks Duplex or Hyperlite's Echo 2, but those utilize Dyneema fabrics that greatly increase their prices. Considering that the REI costs half as much as the aforementioned Zpacks while still offering good livability and a well-rounded feature set, we think its 2.5-pound weight is a true accomplishment.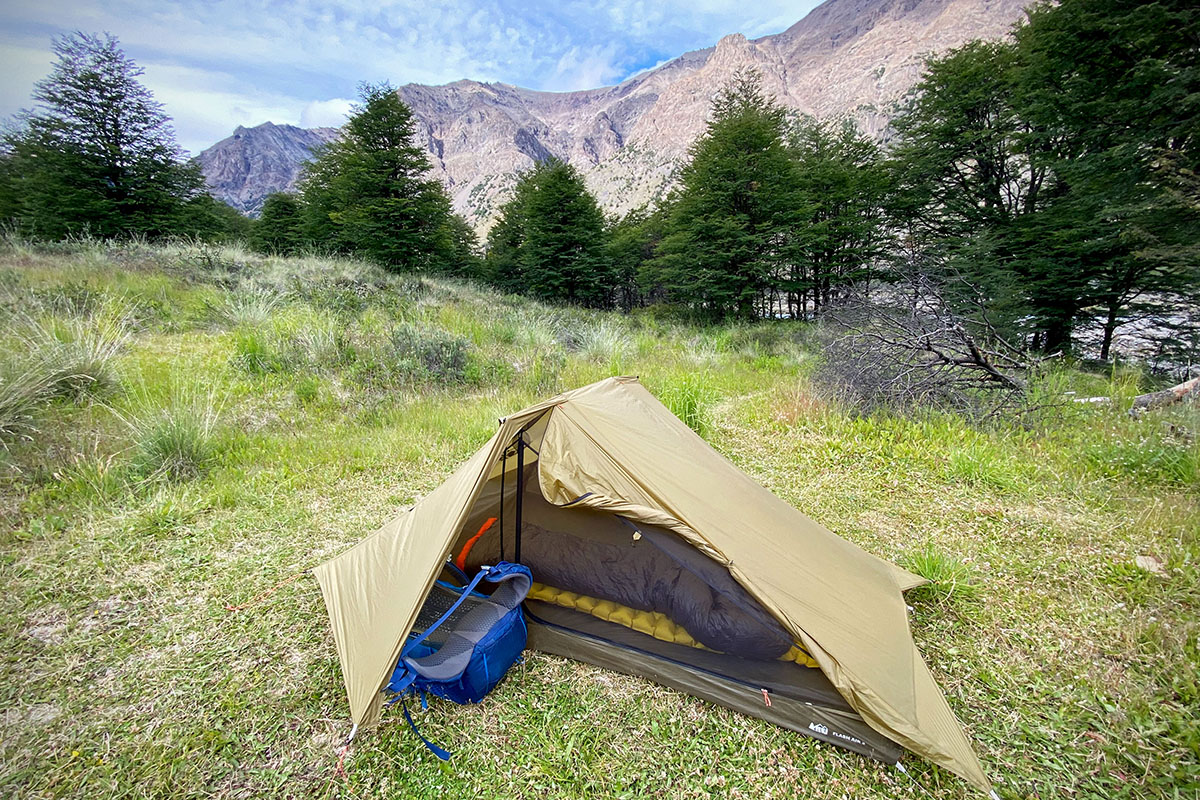 The Flash Air's included stuff sack measures 16 x 7 inches and is forgiving enough to allow for less-than-perfect packing. Design features like a minimalist pole structure, hybrid single-wall construction (meaning the rainfly is connected to the tent body), and thin materials help keep everything compact, and we never had an issue fitting it in our bags (which ranged from 55 to 63 liters). As with weight, its packed size compares favorably with big sellers like the Big Agnes Tiger Wall (18 x 5.5 in.) and Nemo Hornet (19 x 5.5 in.). And if space is a real concern, you can always divvy up the carrying duties with your partner or store the poles and stakes separately from the tent body/fly.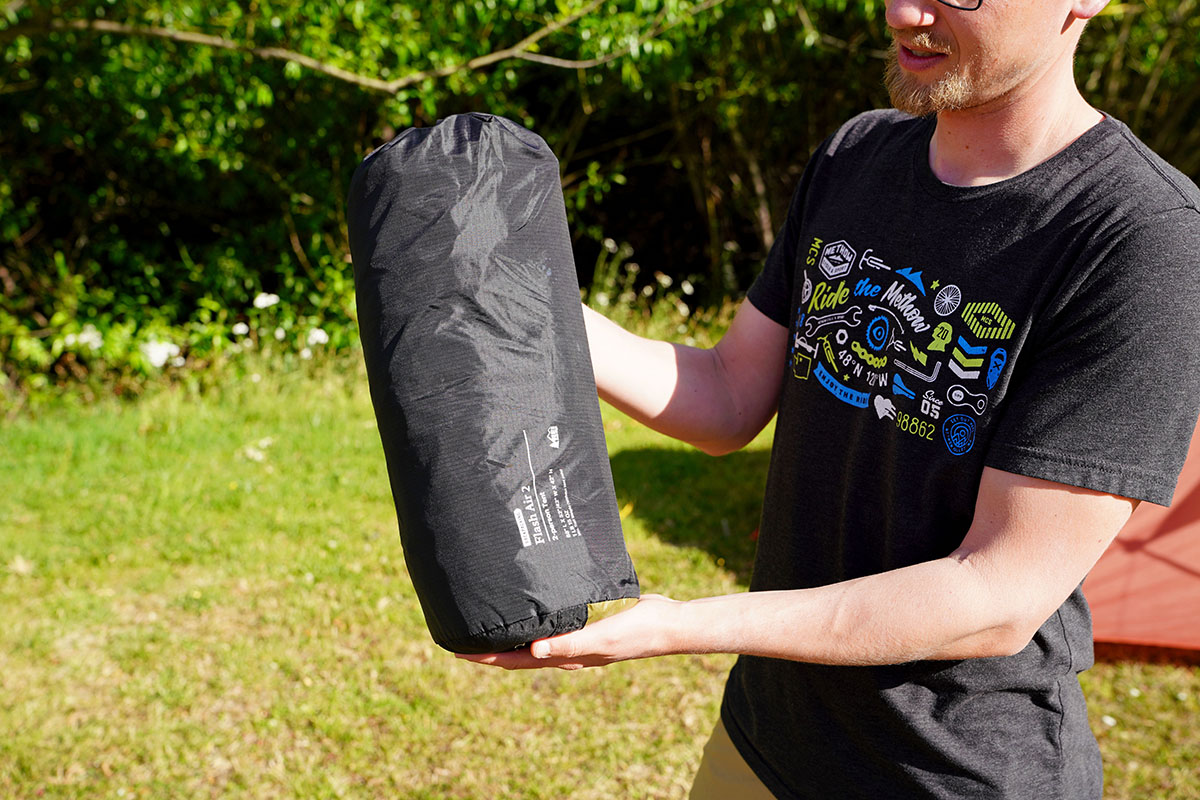 Livability and Interior Space
Generous interior dimensions are a common strength of REI tents, and the Flash Air 2 continues the trend. Listed at 88 inches long and 52 inches wide (like all tents, the actual floor dimensions are a bit less), it's roomy enough to fit one 20-inch, standard-width pad and one 25-inch-wide mat side-by-side without any overlap. Moreover, our group used both regular and long sleeping bags and quilts and didn't have any issues with our feet or heads touching either end. To be clear, it's still fairly snug width-wise for two backpackers, and you won't be able to squeeze two 25-inch pads without some overlap, but that's a common backpacking tent complaint.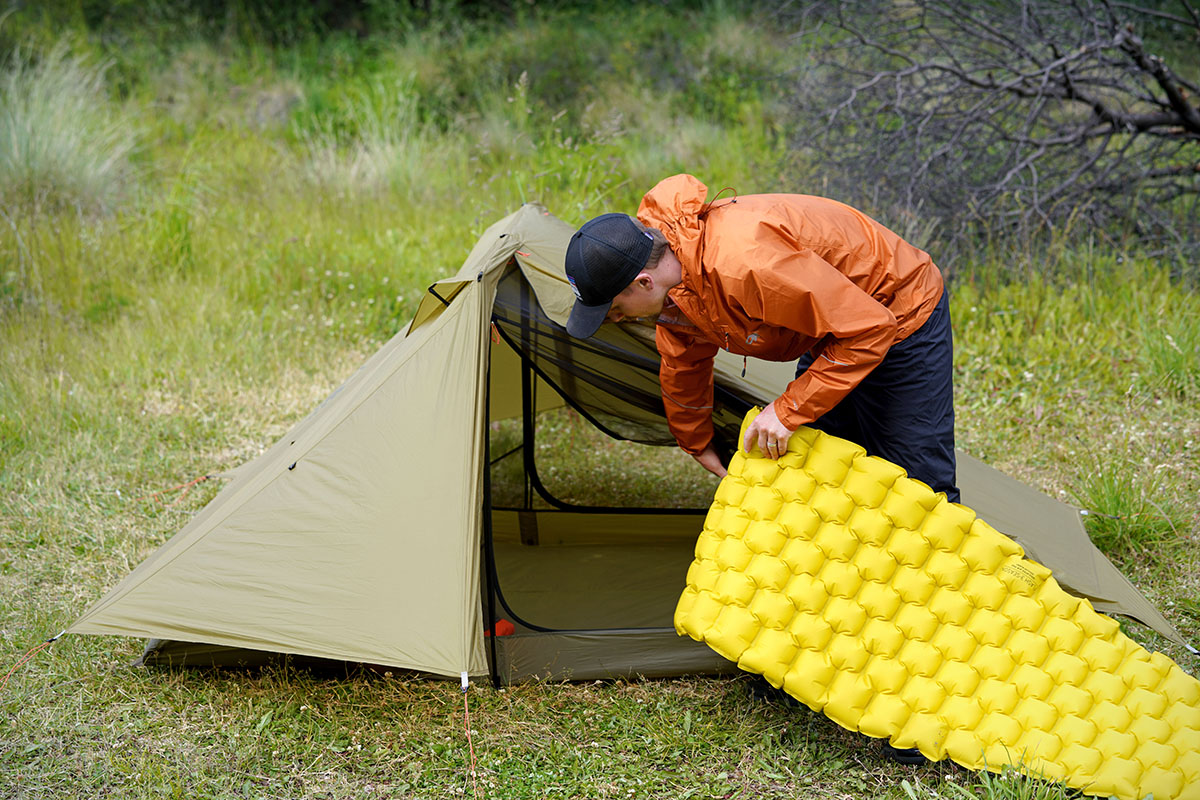 For its roofline, like many non-freestanding and trekking pole-supported shelters, the Flash Air has a tall peak height that slopes quickly downward at both ends. This does limit livable space to a degree, although they've positioned the tallest point toward the head end of the tent, which retains an open feeling when you sit up. In addition, there's plenty of space above your head (and along the sides with the near-vertical walls) while sleeping to avoid the claustrophobic feeling that we've experienced with other low-slung models. However, due to the low ceiling on the foot end, it's not possible to comfortably sleep head-to-toe with a partner.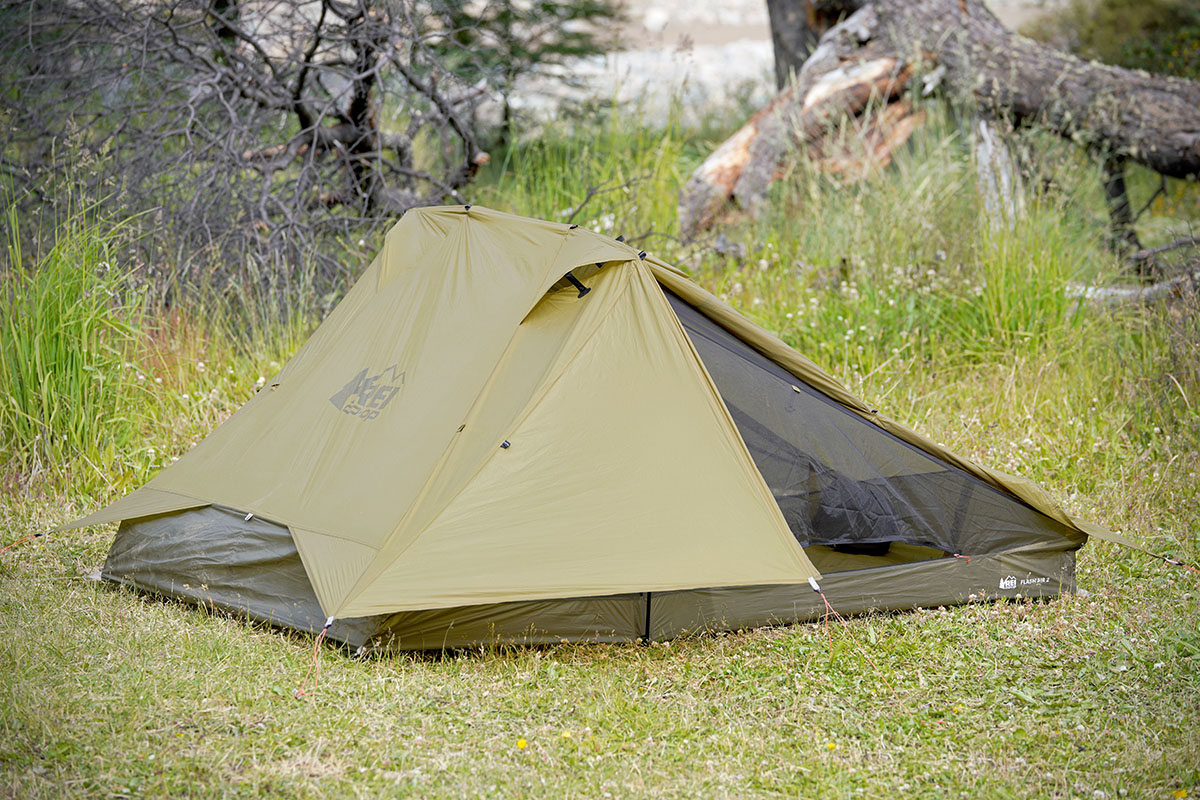 Durability
Without exception, trimming away weight in a tent will lead to some compromises in terms of durability. In the case of the Flash Air, you get a 15-denier (D) nylon floor that will require some gentle care to avoid developing holes over time. If you'll be camping on any type of rough ground, it's a good idea to either pick up the Flash Air 2 Footprint or use some form of ground cloth (Tyvek or Polycro are two proven options). The same 15D nylon is used on the bathtub portion of the floor and rainfly, while the mesh sections of the tent body are 20D. All told, the fabric thicknesses are pretty standard fare among UL tents, and there are plenty of designs that go even thinner—the 7D floors on Big Agnes's Platinum line is one example. And it's worth noting that no part of the tent felt especially flimsy or vulnerable—even the thin DAC poles and stakes didn't strike us as anything to be concerned about.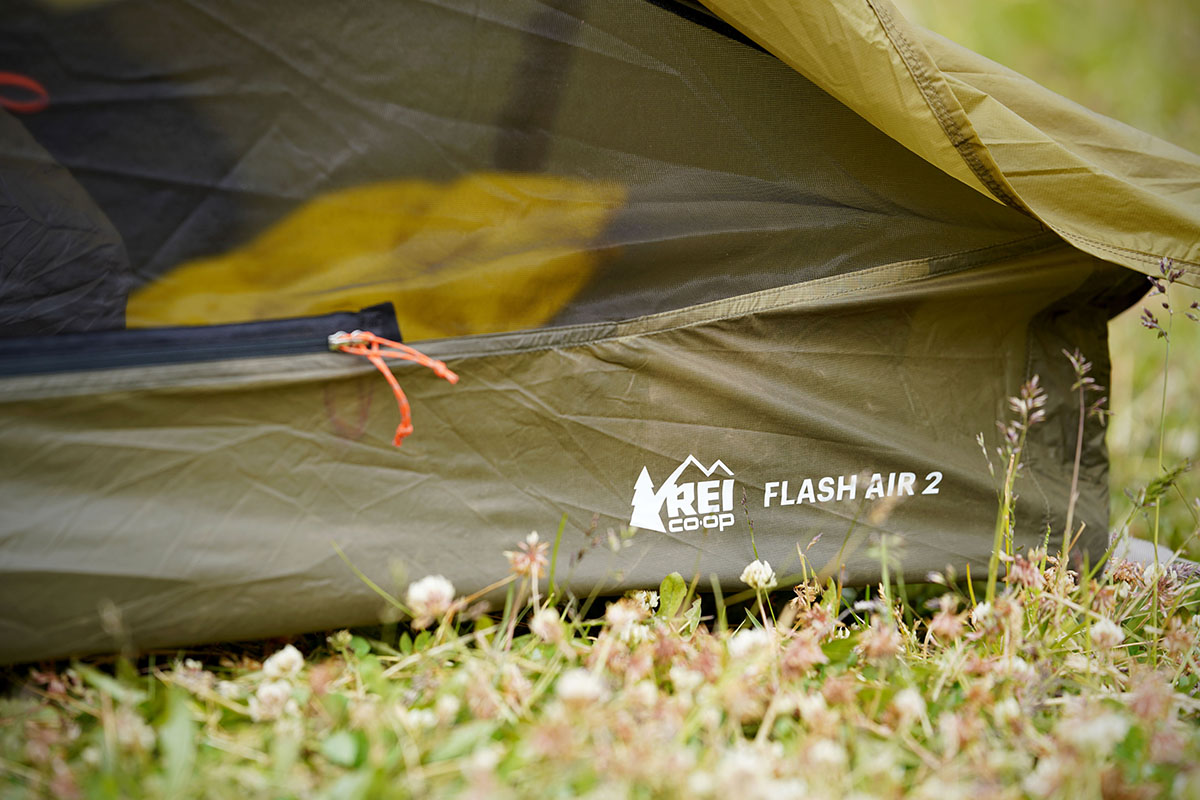 Weather Protection
Our trip to Patagonia in late January/early February was in the heart of the austral summer, but we experienced enough bad weather to get some early impressions of the Flash Air's protection. The tent is well-appointed for 3-season conditions with a full-coverage rainfly, raised bathtub floor, and a solid, pole-supported structure. We had no issues with water leaking throughout a full night of rain, and it held strong and wasn't flapping around at all in light wind. In fairness, we stayed in pretty protected campsites—a common theme in Patagonia where the winds can be particularly harsh—but the tent struck us as one we could trust in moderate conditions. One small issue we did experience was that the rainfly doesn't fully reach the ground and the bathtub floor sits fairly low, so we got lightly coated in dirt as wind blew through one evening. But this is typical among mesh-heavy UL backpacking tents and far from a deal-breaker.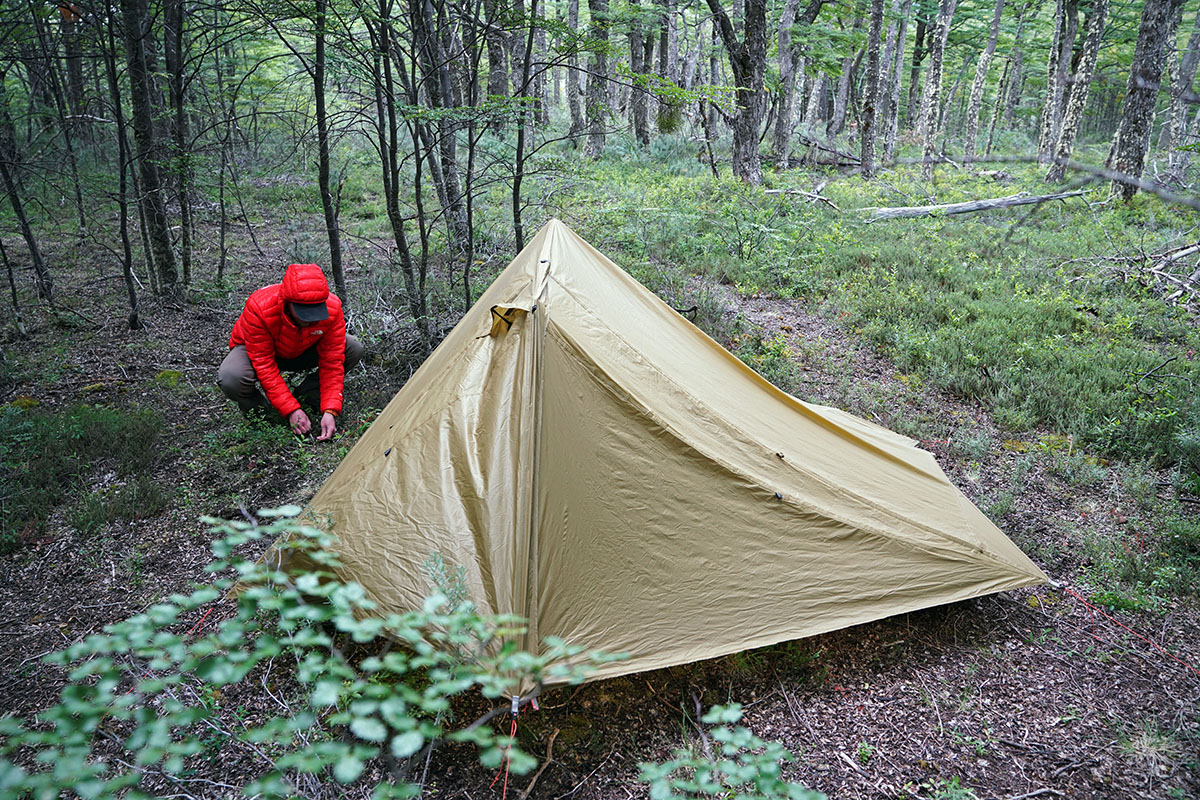 Ventilation
Moisture build-up is a weak point with single-wall designs, and the Flash Air is not immune to this. It's enough of a concern that REI includes tips for keeping dry on the tent's product page, including being selective with your campsite and not storing wet gear inside. Moreover, they've done a nice job limiting the single-wall sections to only the very center of the tent. Mesh covers the entire side walls above the bathtub floor, and the open material even stretches over portions of the roof. You also get deployable vents in the rainfly above each door that are sufficiently protected to stay open in light rain to create a chimney-like effect. Thus far, it seems to be working as we haven't woken up to condensation dripping off the walls—something we experienced far too often with Tarptent's Double Rainbow.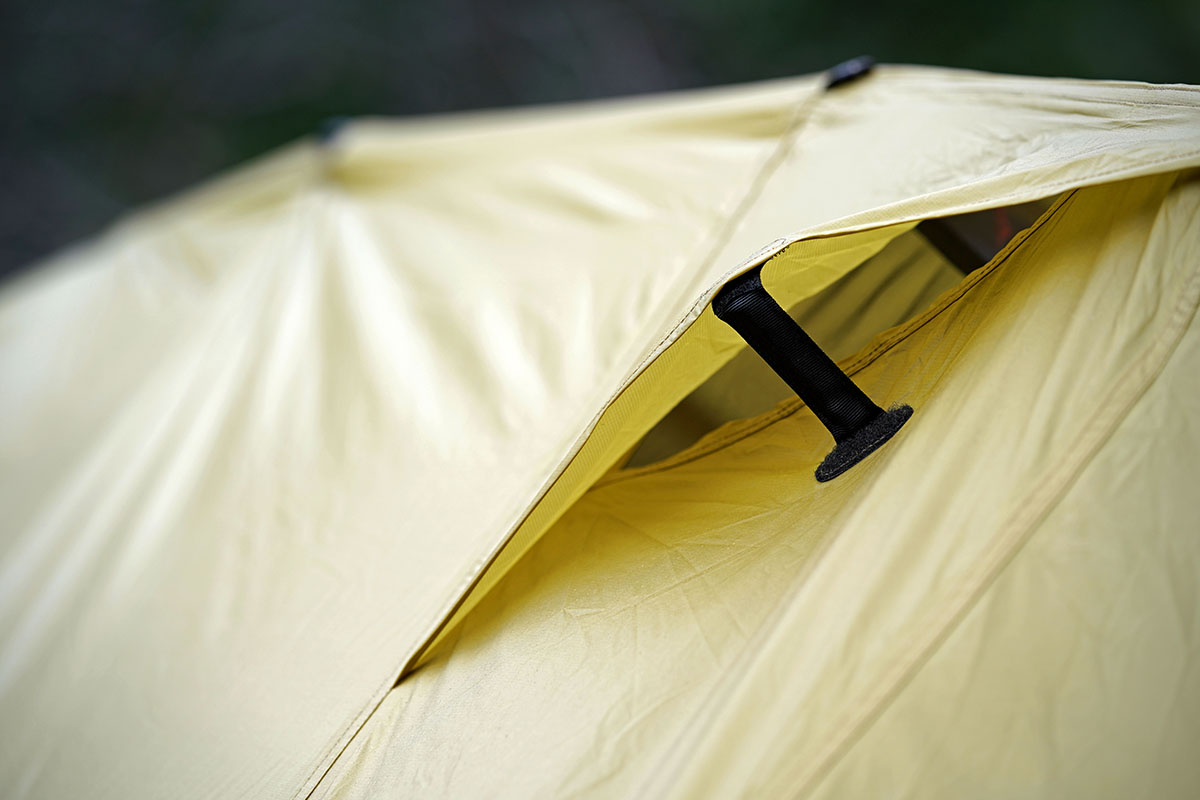 Vestibules and Storage
We love the convenience of a two-door-and-vestibule design, and that holds true with the Flash Air. With 16.8 square feet of vestibule space split evenly on either side, there's just enough ground area to lay your pack down without having to block access to the door or lean it against the tent walls. You certainly can find larger vestibules—REI's own Quarter Dome SL 2 has 21.5 square feet—but we found the Flash Air to be sufficient for our uses (and importantly, it compares favorably to most other designs in its weight class).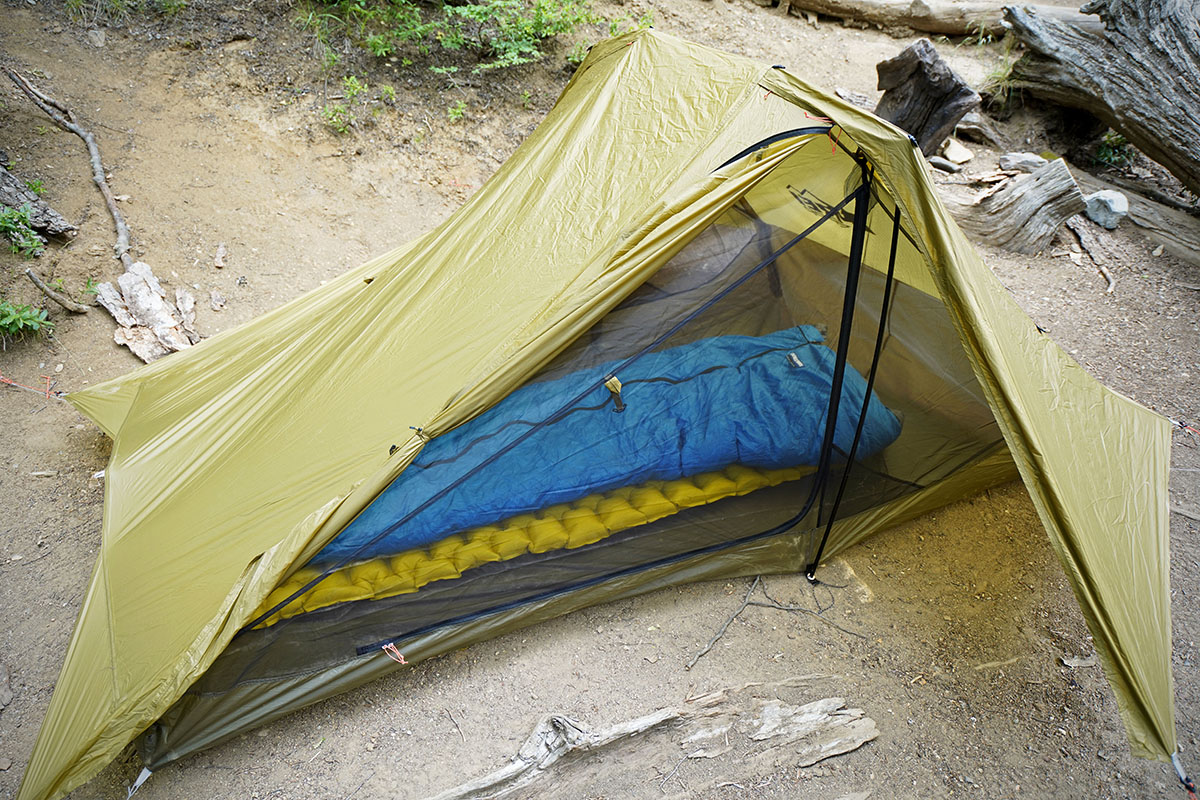 Interior storage, however, is really lacking. You get a single triangular pocket right next to the door on each side. Not only is it small—a map or headlamp is about all you can get in there—but the open shape and floppy structure hurt its usefulness. We think they would've been better off attaching a couple large hanging rectangular mesh pockets to the end walls.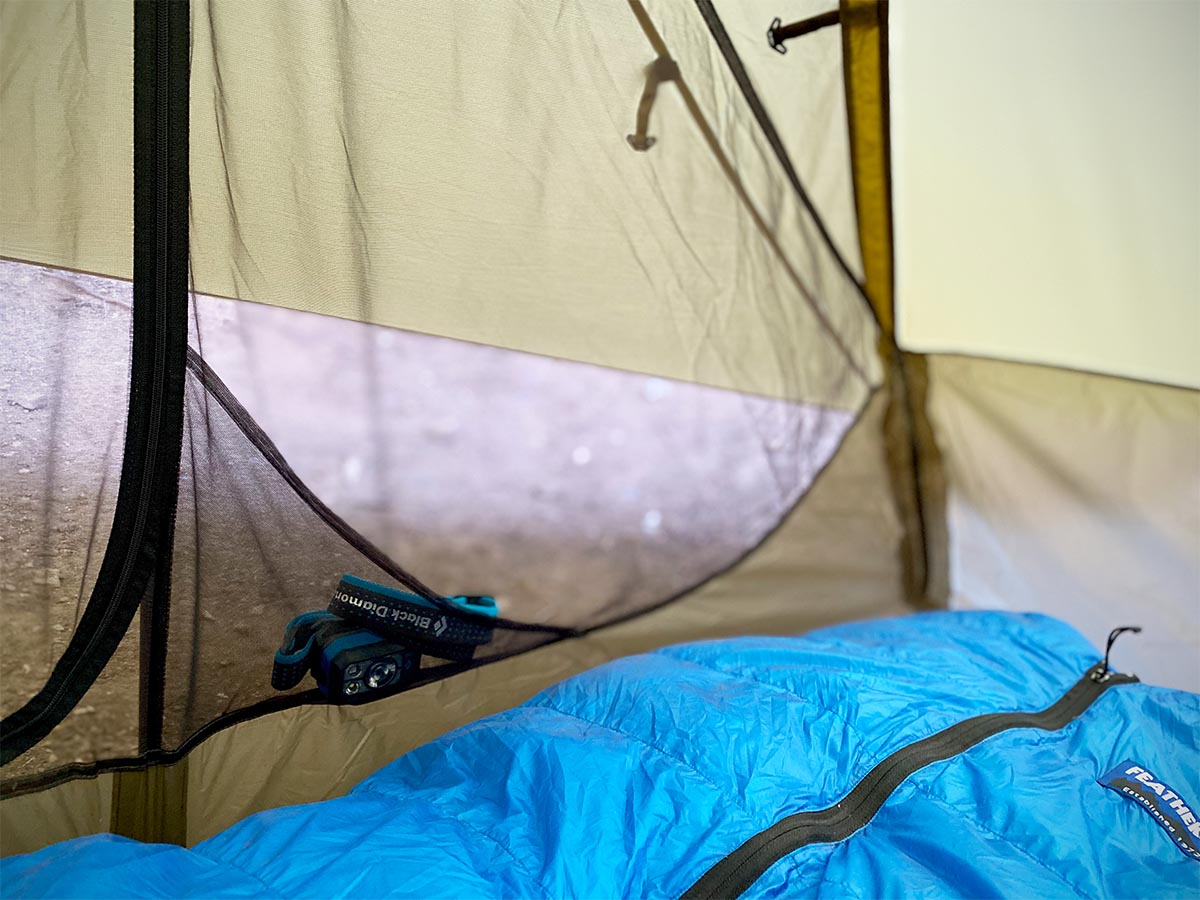 Set up and Take Down
Where the REI Co-op Flash Air 2 really sets itself apart in the non-freestanding market is its user-friendly set-up process. We've found most shelters require a lot of practice to get everything taut and looking right, but we got an almost perfect pitch with the Flash on our very first effort. REI connects written instructions to the stuff sack, but here's a quick breakdown: stake out the gray cord that's connected to the bottom of the tent and insert the short pole into the sleeve and grommet at the foot end. Then, attach one angled hubbed pole into the sleeve under the vestibule and connect either your trekking pole or one of the included straight poles into the base of the plastic hub (repeat for the other side). Finish it off by staking out the vestibule, attaching the remaining rainfly cords at the corners, and tightening it all up. All told, the whole process can be completed solo in about five minutes.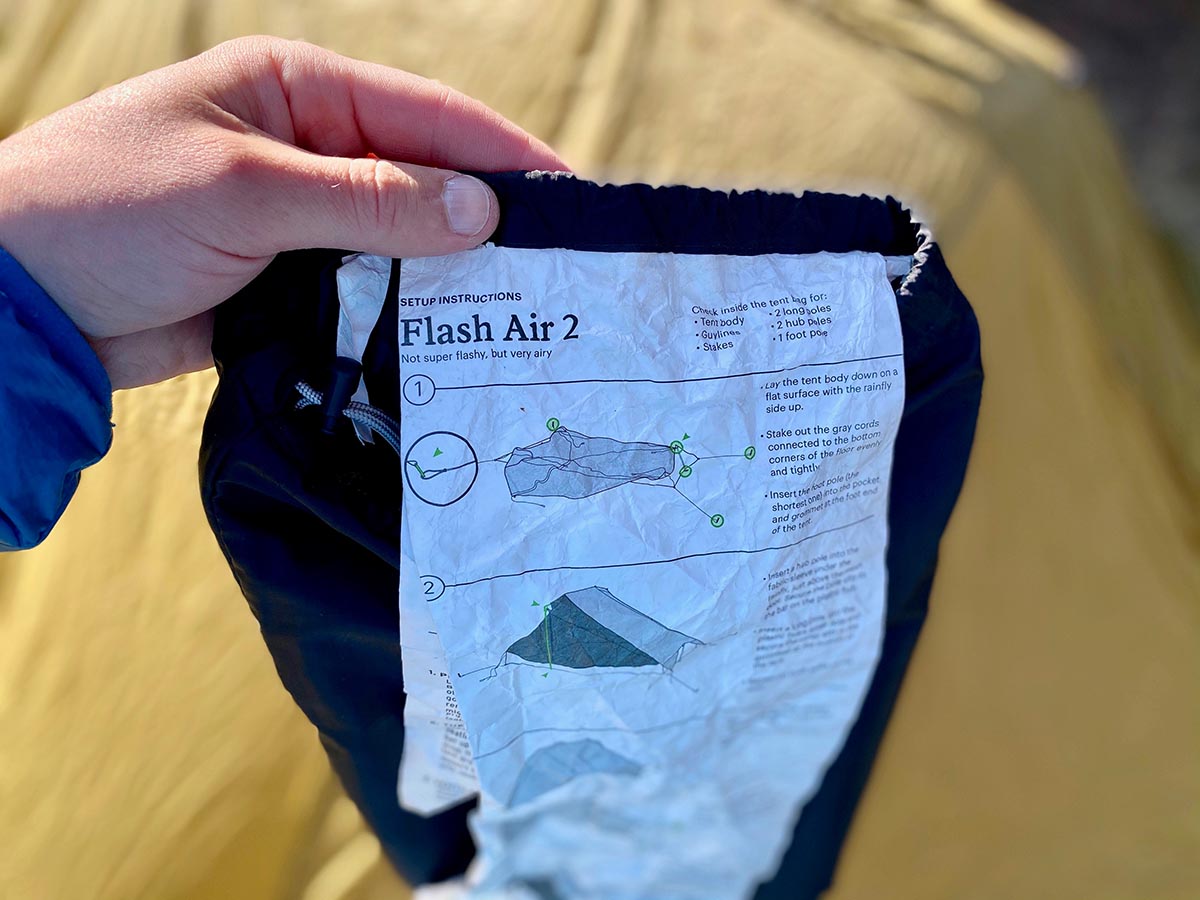 For those transitioning from a traditional freestanding or semi-freestanding tent like REI's Quarter Dome SL, there can be a short learning curve. But the tradeoff in weight savings is worth it—the Flash Air 2 saves you 6 ounces compared with the SL 2 while offering much more floor area—and REI really did a great job making the process as intuitive as possible. One set-up-related complaint we had was that the small pole on the foot end fit very tightly into the sleeve and grommet, requiring quite a bit of force to connect. The fabrics did seem to loosen up a little over time, and it's worth noting that you can just leave that pole in place when breaking down the tent to avoid that step in the future.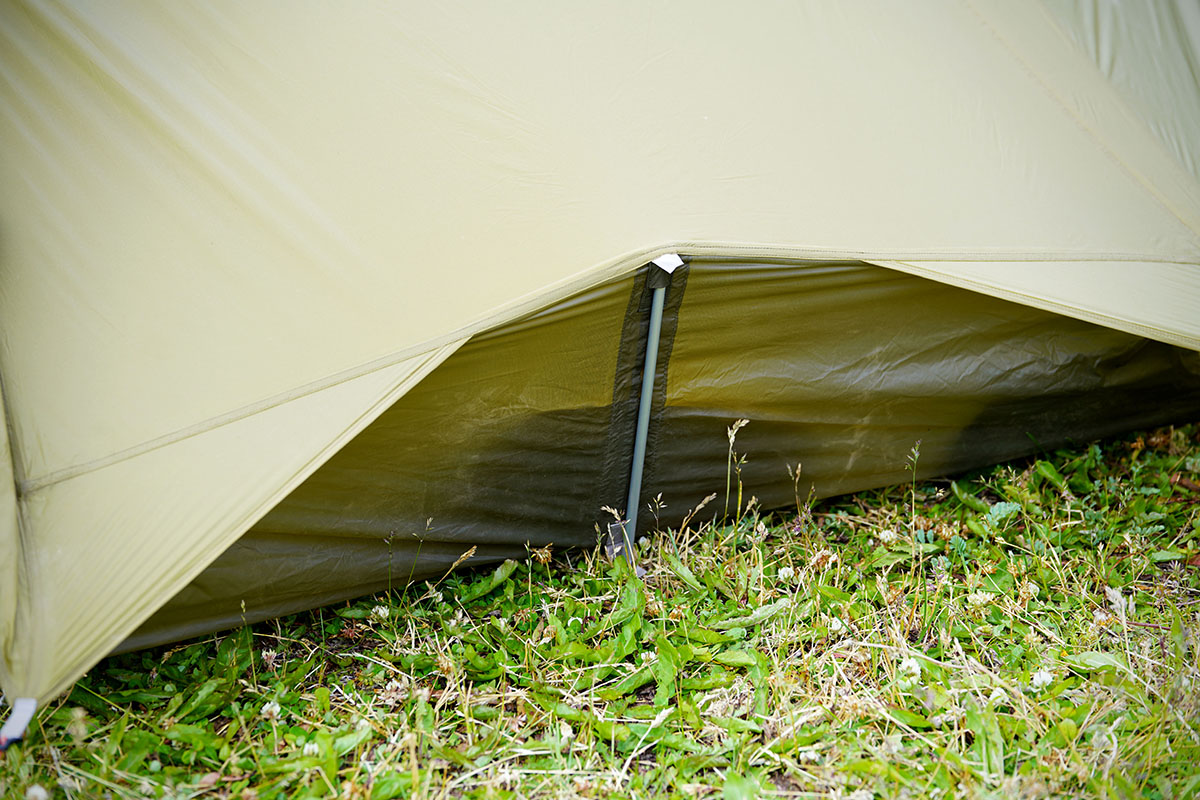 Other Capacity: REI Co-op Flash Air 1
REI has launched the Flash Air line in two capacities to start: the $299 2P model we tested and a Flash Air 1 that costs $50 less. Opting for the 1P gets you a similar hybrid singe-wall build but in a trimmed-down form. Interior space shrinks from 28.7 square feet to 21.3 (the 88-inch length remains, however), there's only one side door and vestibule, and packaged weight drops to 1 pound 10.5 ounces. For solo backpackers considering the two options, it'll likely come down to whether or not the 13.5-ounce weight savings are worth the sacrifice in interior space.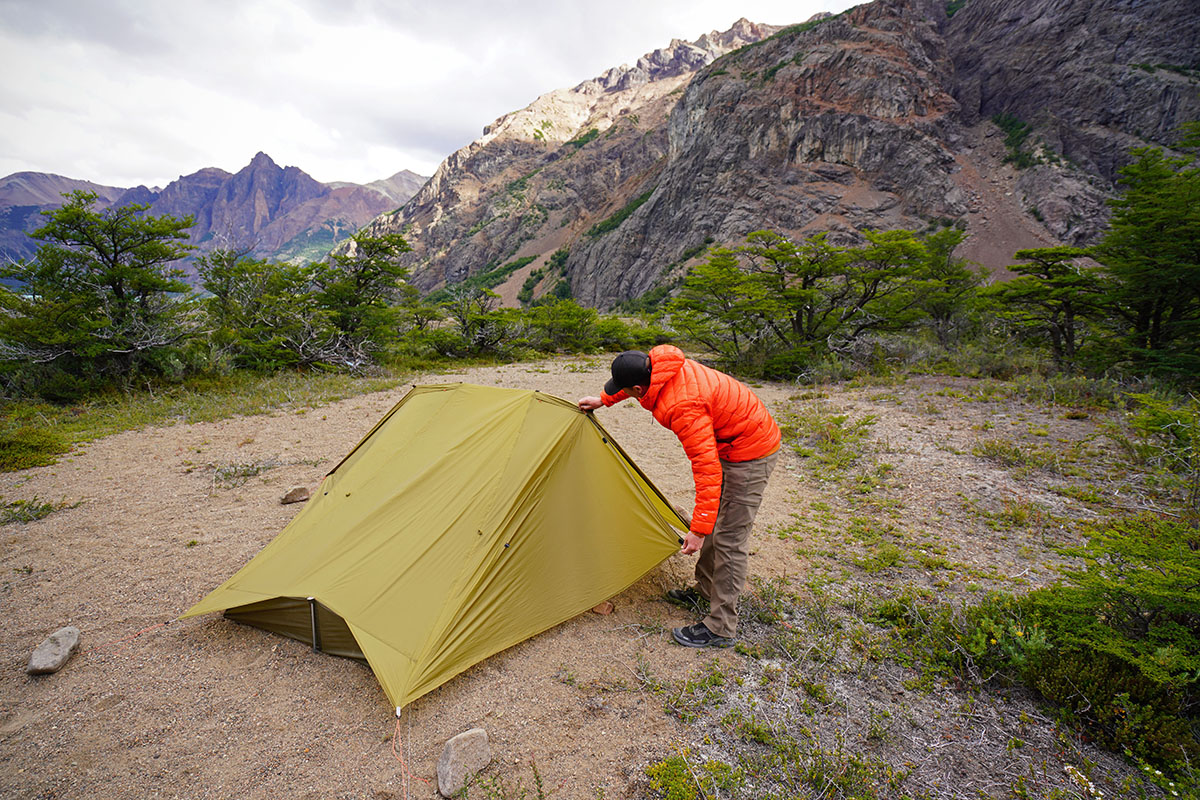 What We Like
REI's lightest tent yet is a winner: it's well-made, roomy inside, and truly ultralight at 2 pounds 8 ounces all-in.
Very intuitive set-up process for a non-freestanding tent that is quick and easy to master.
With two doors and vestibules, 28.7 square feet of floor area, and near-vertical side walls, the tent fits two backpackers pretty well.
At $299 for the Flash Air 2 (the Flash Air 1 is $249), it's an excellent all-around value.

What We Don't
Minimal interior storage: the two triangular side pockets are small and rather flimsy.
As with all single-wall tents, moisture build-up can be an issue. That said, REI did a nice job with ventilation by including a lot of mesh in the tent body and deployable roof vents.
The Flash Air is undoubtedly light, but it still can't match alternatives like the Zpacks Duplex, Big Agnes Fly Creek, or Nemo Hornet.


Comparison Table
| Tent2 | Price | Weight | Area | Floor | Height | Door(s) | Capacities |
| --- | --- | --- | --- | --- | --- | --- | --- |
| REI Co-op Flash Air 2 | $299 | 2 lbs. 8 oz. | 28.7 sq. ft. | 15D | 42 in. | 2 | 1P, 2P |
| Big Agnes Tiger Wall UL2 | $400 | 2 lbs. 8 oz. | 28 sq. ft. | 15D | 39 in. | 2 | 2P, 3P |
| Big Agnes Copper Spur HV UL2 | $450 | 3 lbs. 2 oz. | 29 sq. ft. | 20D | 40 in. | 2 | 1P, 2P, 3P, 4P |
| Nemo Hornet 2P | $370 | 2 lbs. 6 oz. | 27.5 sq. ft. | 15D | 39 in. | 2 | 1P, 2P |
| REI Co-op Quarter Dome SL 2 | $349 | 2 lbs. 14 oz. | 28.7 sq. ft. | 20D | 38 in. | 2 | 1P, 2P |
| Tarptent Double Rainbow | $299 | 2 lbs. 9.8 oz. | 30.6 sq. ft. | 30D | 40 in. | 2 | 1P, 2P |
| Zpacks Duplex | $599 | 1 lb. 3 oz. | 28 sq. ft. | 1 oz./sqyd | 48 in. | 2 | 1P, 2P, 3P |

The Competition
We're happy to see REI jumping into the ultralight world, and especially with such a quality product and great price. In terms of competitors, it's a pretty crowded market that spans mainstream and cottage brands, but one of the more popular models is Big Agnes's Tiger Wall. In parsing out the differences, the Tiger Wall has a semi-freestanding design that sets up a little easier than the non-freestanding Flash Air, but comes in at the same 2 pounds 8 ounces and has a similar two-door-and-vestibule layout. Both tents also utilize thin 15-denier fabrics along their floors, but the REI is slightly roomier inside and wins out in price by a substantial $100, which is enough to give it the edge for us.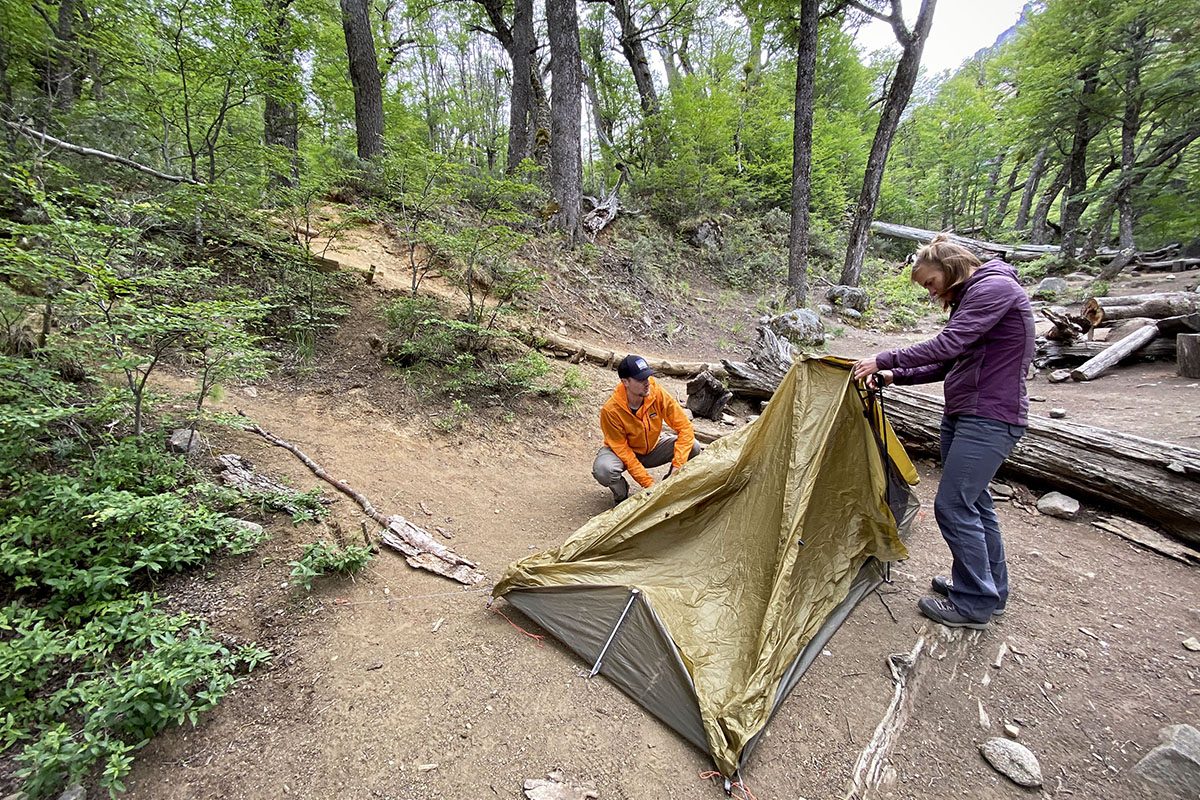 Sticking to the Big Agnes brand, their Copper Spur is our current top-rated backpacking tent. We tested the latest HV UL2 model alongside the Flash Air, and the two designs were our clear favorites on the trip. Each have their respective strengths: The Copper Spur goes up very quickly with its freestanding build, its pole structure creates an open-feeling interior, and the tent is feature-rich with tons of storage, good ventilation, and high-quality materials used throughout. Where the REI beats the Copper Spur is in weight (by 10 oz.) and price (by $151), plus it's not far behind in build quality and ease of use. We think the majority of backpackers still will prefer the familiarity of the Copper Spur's proven freestanding build and airy interior, but the Flash Air is a great example that going ultralight doesn't have to involve a ton of compromises.
Another well-known alternative is Nemo's Hornet. At its launch, this tent captured a lot of attention as it was able to match the Big Agnes Fly Creek in weight while offering the convenience of two doors and vestibules. This holds true today, and it's still a weight leader at 2 pounds 6 ounces (2 oz. less than the REI). But unless you want a double-wall build for its pole structure and better ventilation, we think the Flash Air is the superior all-around design. It's more spacious inside (the Hornet is even snugger than the Tiger Wall above), has larger vestibules, packs down smaller, and costs $71 less. There was a time when the Hornet felt like a class-leader, but the Flash Air is now the superior option in our eyes.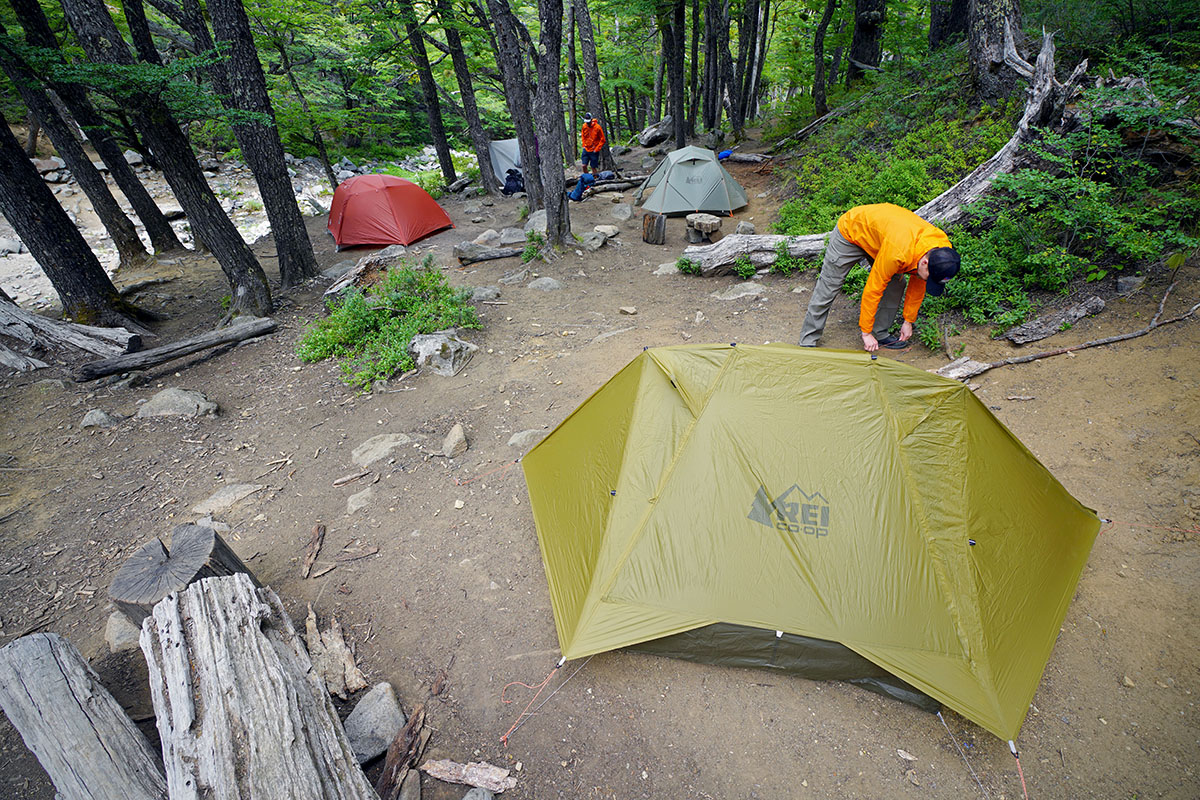 Before the Flash Air, REI's lightest two-person model was the Quarter Dome SL 2. This tent in many ways mirrors the Big Agnes Tiger Wall above with a semi-freestanding build, thin materials (15D on the floor and fly), and two side doors. As with the Tiger Wall, the Quarter Dome is a better ventilator, and its pole structure makes the tent feel more open than the Flash Air. But the SL can't match it in weight, while not offering any more in the way of floor area. If you're weighing the two REI tents, the Quarter Dome has a more familiar set-up process and better storage (both interior and vestibule), but the Flash Air wins out among ounce-counters.
Moving more into the cottage tent industry, the Tarptent Double Rainbow arguably is the Flash Air's most direct competitor. Both tents cost $299, use non-freestanding constructions, and weigh about the same (the REI is lighter by around 2 oz.). In addition, their hybrid single-wall constructions make them a little more prone to moisture build-up, although from our experiences, we've found the REI a better ventilator. The Flash Air also is a more refined product in general: the materials have a higher-quality feel, and the Double Rainbow requires you to either seam seal it yourself or pay an additional $35. Availability can also be a little hit-or-miss with the Tarptent, which is fairly typical among smaller outdoor brands. In the end, both are solid options, but the REI strikes us as the more complete product.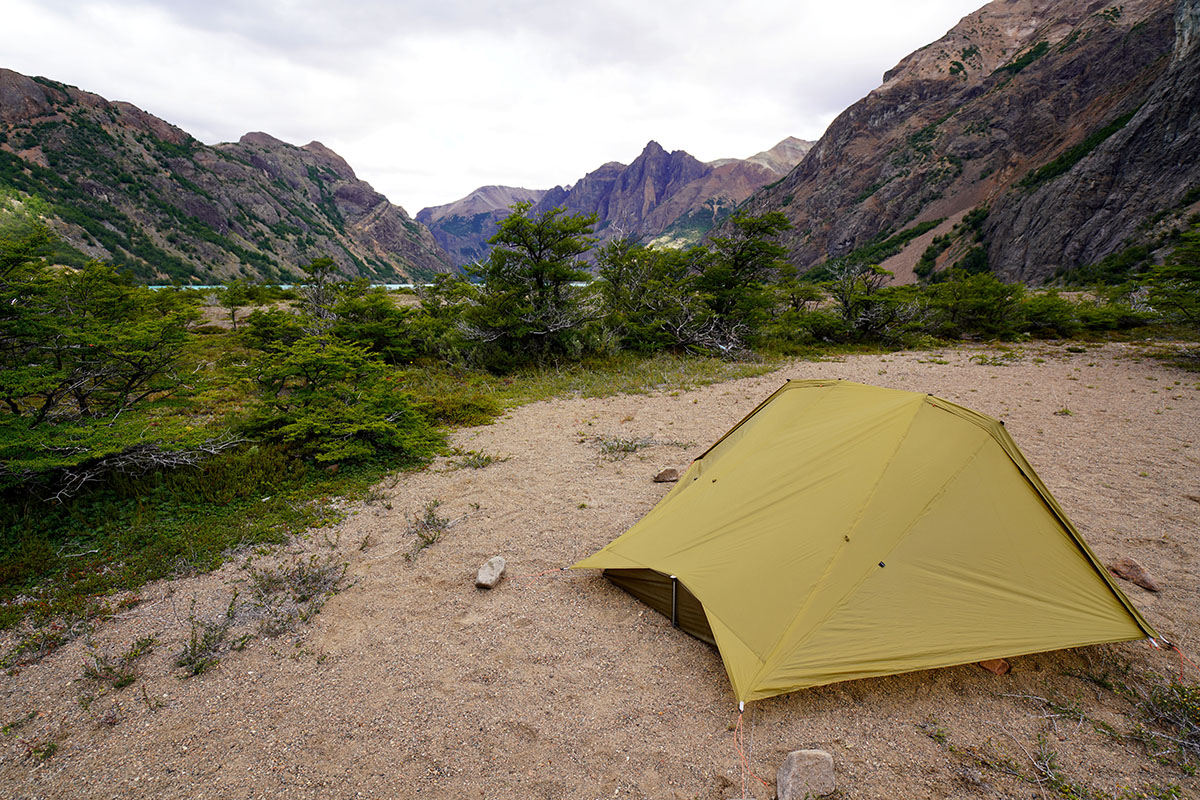 Among dedicated ultralighters, the Zpacks Duplex has developed a serious following. The tent is a pretty common sight along the PCT and AT and for good reason: at 1 pound 3 ounces (not including stakes), it's one of the lightest two-person tents made. Zpacks pulled this off with a trekking pole-supported, non-freestanding design, hybrid single-wall build, and by using ultralight Dyneema fabric. This comes at a serious cost, and at $599, the tent is double the price of the REI. In addition, the Zpacks requires much more practice to nail down the set-up process, and its Dyneema materials don't breathe well. These sacrifices are worth it for many thru-hikers and minimalists, but the Flash Air's more user-friendly set-up and approachable price make it a strong alternative.
Editor's note: We usually provide a live price comparison table below our outdoor gear reviews, but the Flash Air is sold exclusively by REI Co-op. You can see the Flash Air 2 page here and support us in the process. Thanks!
Learn More About Backpacking Gear