Hyperlite Mountain Gear Dirigo 2
Price: $795
Minimum weight: 1 lb. 12 oz. (not including trekking poles)
Floor: 1.3 oz./sqyd (Dyneema)
Capacity: 2P
What we like: One of the most complete ultralight designs on the market.
What we don't: Cramped for two campers plus gear; poor ventilation.
See the Hyperlite Dirigo 2
Maine-based Hyperlite Mountain Gear helped bring Dyneema to the backpacking mainstream—or at least the fringes of it. And new for 2019, the trekking pole-supported Dirigo 2 tent now carries the torch. We took this two-person, 3-season shelter into the rugged Palisades Backcountry of eastern Idaho, where it faced raging winds, heavy rain, and pelting hail. Although a bit cramped and humid inside in those conditions, it's one of the most complete designs on the market for serious ultralighters. Below we break down the Dirigo's weight and packed size, livability and interior space, durability, weather protection, and more. To see how it stacks up, see our article on the best backpacking tents.

Performance
Weight and Packed Size
At 1 pound 12 ounces all in, the Hyperlite Mountain Gear Dirigo 2 is one of the lightest two-door shelters on the market. In fact, when I loaded it up and lifted my pack for the first time, I thought I had forgotten something. I typically split up a tent's components (fly and body) with my hiking partner, but despite not being able to do that with the all-in-one Dirigo, I had no complaints shouldering the minimal weight. You can go lighter with Zpacks' similar trekking pole-supported design, the popular Duplex (1 pound 3.4 ounces), but that comes with sacrifices in both floor area and durability. Others in the sub-2-pound category, like Nemo's Hornet 2P and Big Agnes' Fly Creek HV UL2 (both 1 pound 15 ounces), also are notably less roomy. All told, the Dirigo is one of the least-compromised ultralight shelters we've ever tested.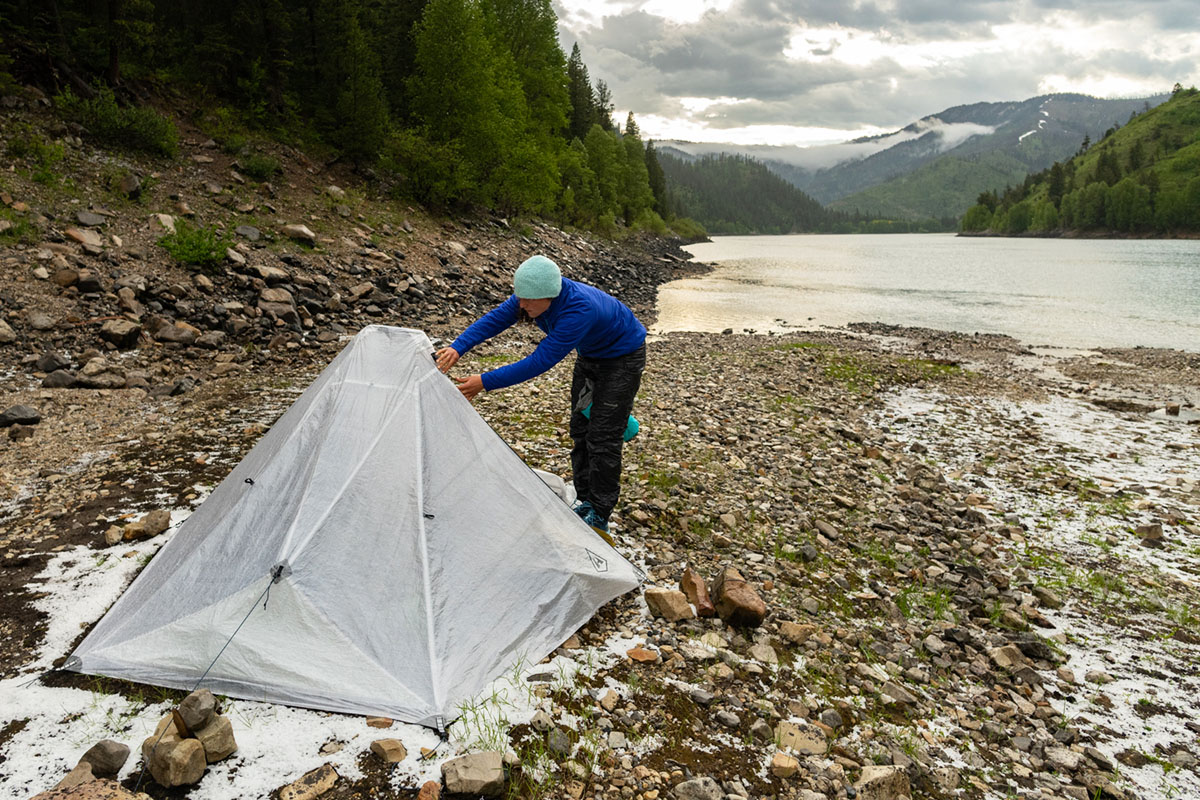 In terms of packed size, the Dirigo 2 rolls up nicely into a svelte 12 x 8-inch package. This is largely due to the tent's thin materials, hybrid single-wall build, and lack of poles, all of which help keep things extremely compact. By comparison, the lighter Zpacks Duplex packs up into a similar 13 x 7 inches, while the double-wall Nemo Hornet takes up more space at 19.5 x 5.5 inches. In the end, I had no trouble stuffing the Dirigo into my REI Flash 55 pack with plenty of room to spare.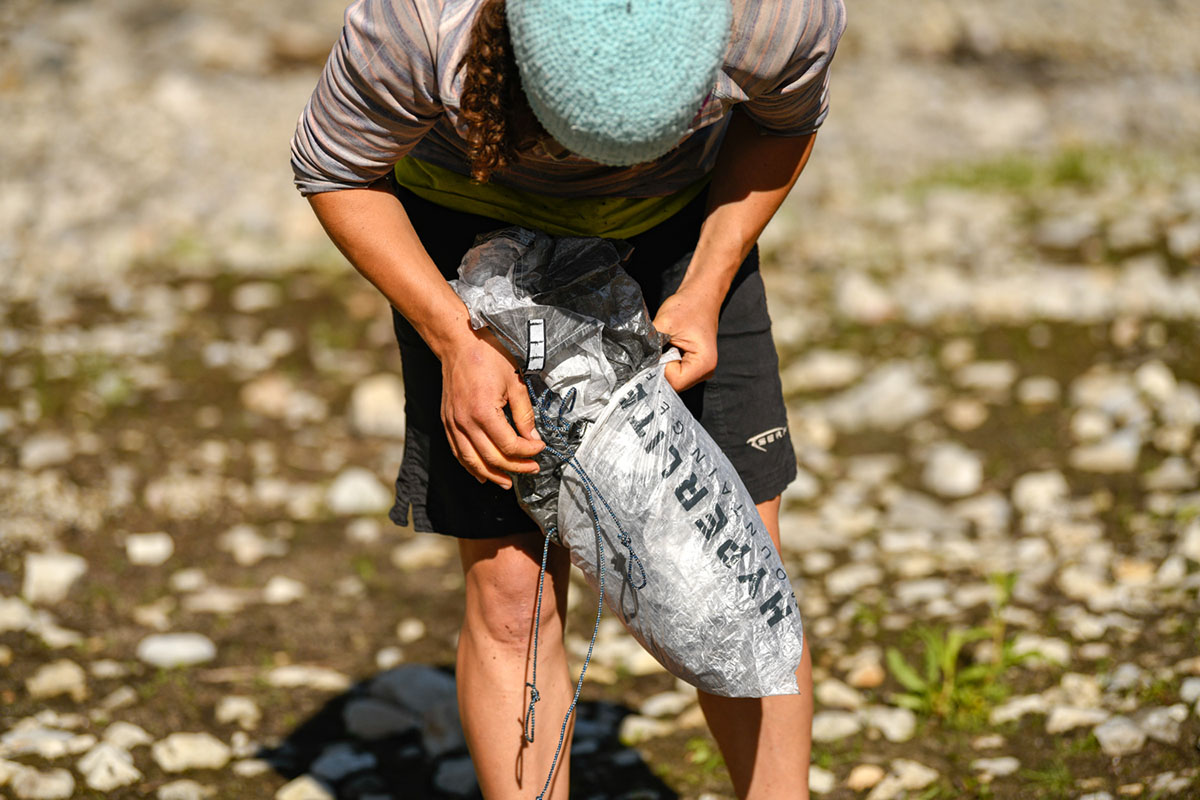 Livability and Interior Space
Despite the low weight and high-tech materials, interior space is one area where the Hyperlite Dirigo suffers. Although advertised as a two-person shelter, I found it uncomfortably snug with a tent mate. Even with 32.5 square feet of floor space (which is fairly generous compared to the ultralight competition), my backpacking partner and I were barely able to squeeze both of our sleeping pads side-by-side without any overlap. As we crawled inside on that first evening—just as a thunderstorm loomed above in the Palisades—I felt grateful for the countless nights we had spent together in a confined space over the years. And thankfully, the symmetrical (non-tapered) shape allowed us to sleep head-to-toe to maximize space.
The biggest issue with the Dirigo is its low-hanging walls. The triangular shape creates a roomy 45-inch peak height, but both the head and foot areas are extremely shallow. While many other backpacking tents utilize poles to stretch the sidewalls up and away from you, the Dirigo's single ridge bar falls short, which resulted in damp tent wall fabric brushing up against our heads and feet all night. For reference, I'm 5'5", so I imagine that most backpackers will encounter the same issue. In my opinion, a single camper would likely have a better experience sleeping diagonally in this shelter.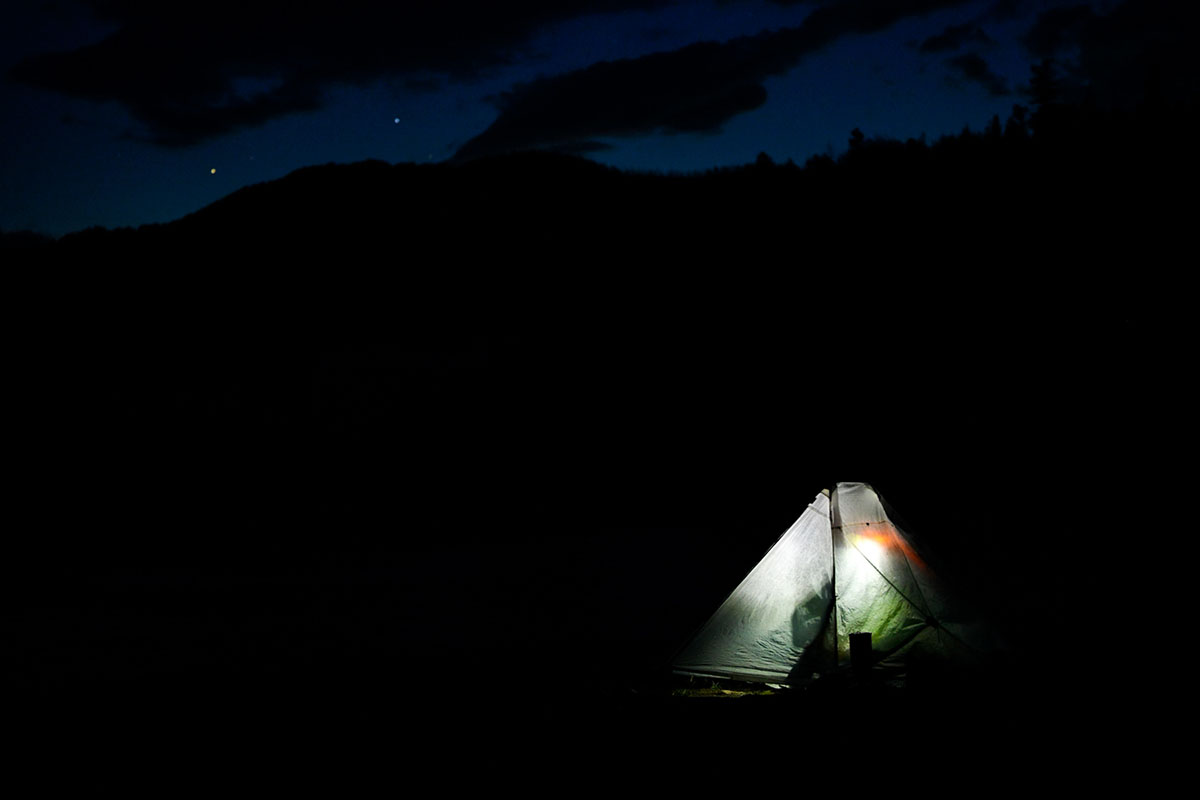 Durability
Dyneema is known to be impressively strong for its weight, so I have very few qualms about the Hyperlite Dirigo's long-term durability. To break it down, Dyneema-based fabrics are made by crisscrossing ultra-durable fibers between a polyester film, resulting in a material that's incredibly tough, tear-resistant, and naturally waterproof. Used in applications like racing-boat sails, ballistic vests, and parachutes, Dyneema is lauded as being 15 times stronger than steel when compared weight for weight. In the case of lightweight outdoor gear like the Dirigo, we're excited to see it become more and more common.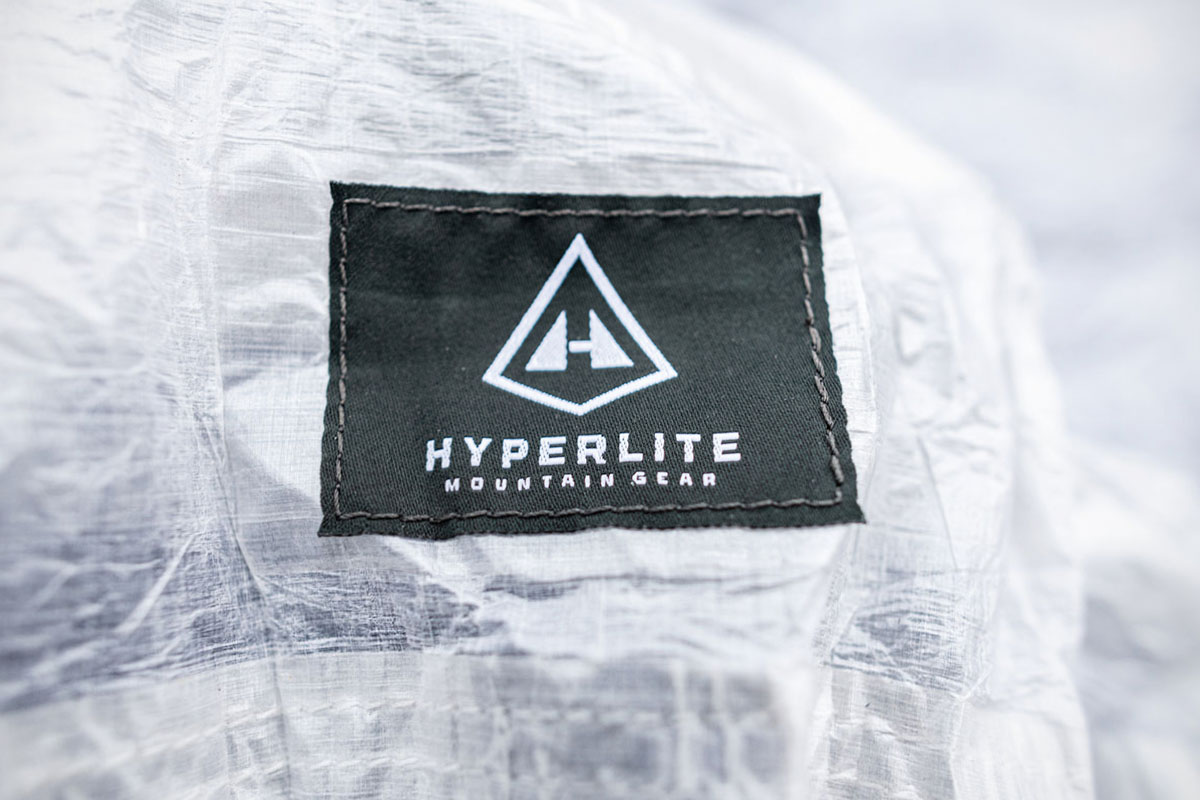 In terms of thickness, Hyperlite uses a fairly generous 1.3 oz./sqyd along the tent floor and a mix of 1.2 and 0.8 oz./sqyd on the rest of the body and vestibules. For comparison, the Zpacks Duplex uses thinner Dyneema across the board (1.0 oz./sqyd on the floor and 0.51 oz./sqyd elsewhere), and we haven't experienced any tears in either tent (it's worth noting that although Dyneema's strength means that it's unlikely to tear, it can puncture via contact with sharp rocks). Only time will tell how the Dirigo stands up to more demanding mountain expeditions, but so far, all signs are very positive in this regard.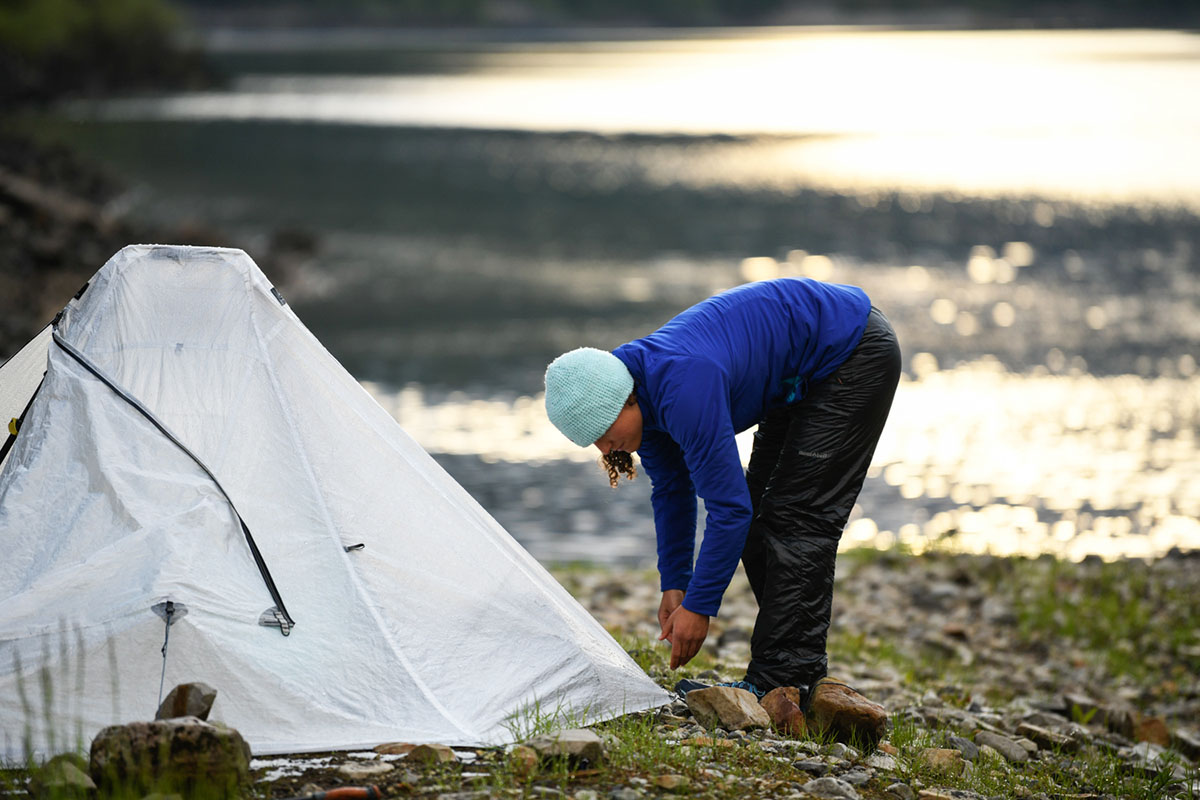 Weather Protection
The Dirigo's sturdy structure, waterproof Dyneema fabrics, and built-in bathtub floor make it a formidable 3-season shelter. During our backpacking adventure, we had the chance to test the tent in torrential downpours and thunderstorms with sustained winds of up to 40 mph. The bathtub floor did an admirable job of preventing flooding and protecting against splashes from large raindrops and hail, the Dyneema deftly repelled moisture, and the tent's triangular shape effectively shrugged off strong gusts. That said, although the tent fabric itself is waterproof, we did experience some drippage through the seams. Hyperlite claims the Dirigo is seam-sealed, but I recommend playing it safe by applying a separate sealant (such as Gear Aid's Seam Grip Seam Sealer) before use.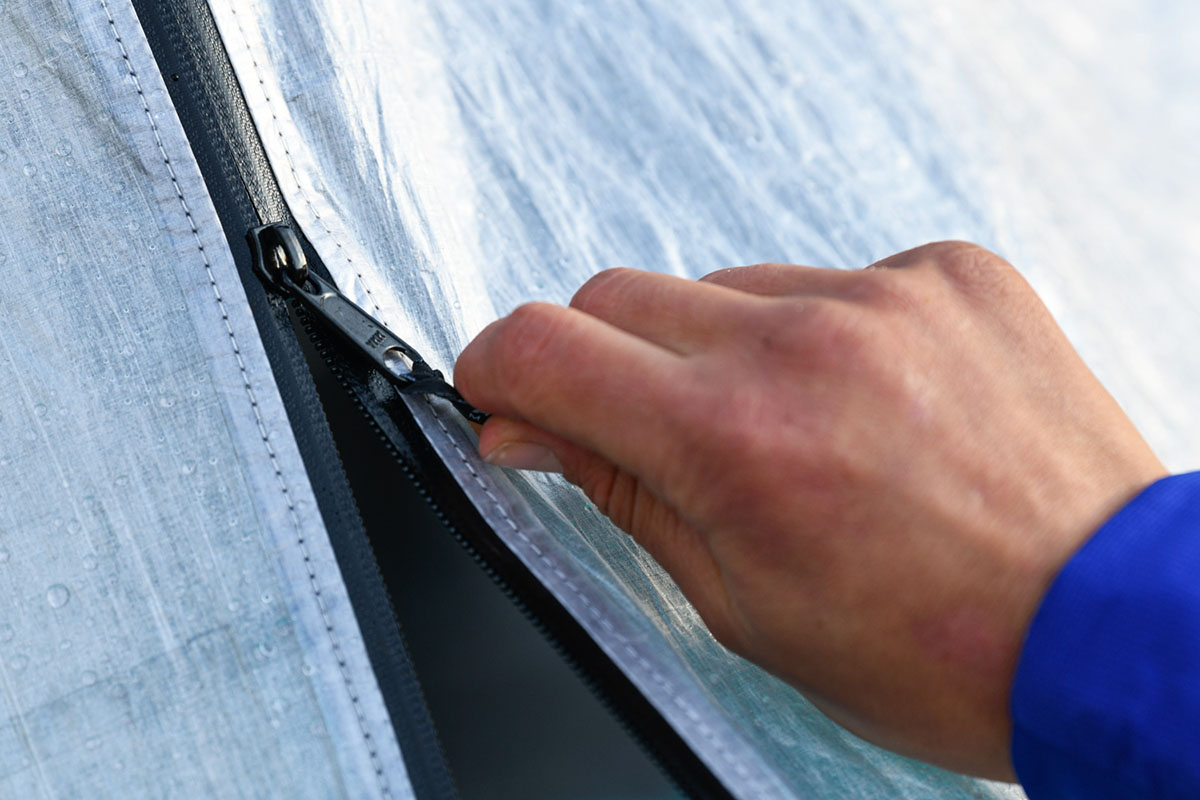 Ventilation
With its hybrid single-wall design and waterproof Dyneema build, the Dirigo predictably suffered when it came to ventilation. Each morning, I woke up to condensation dripping onto my sleeping bag—a telltale sign that the tent didn't vent overnight. To mitigate this, you can roll back the exterior fabric to expose the full-length mesh doors, but this wasn't a viable option in the unpredictable Palisades Backcountry. In the end, it's a tradeoff: we enjoyed the Dirigo's weatherproof construction in inclement weather, but we also dreaded waking up to our down sleeping bags drenched in moisture. In my opinion, the Dirigo is best suited for drier climates where it's possible to sleep with the doors open.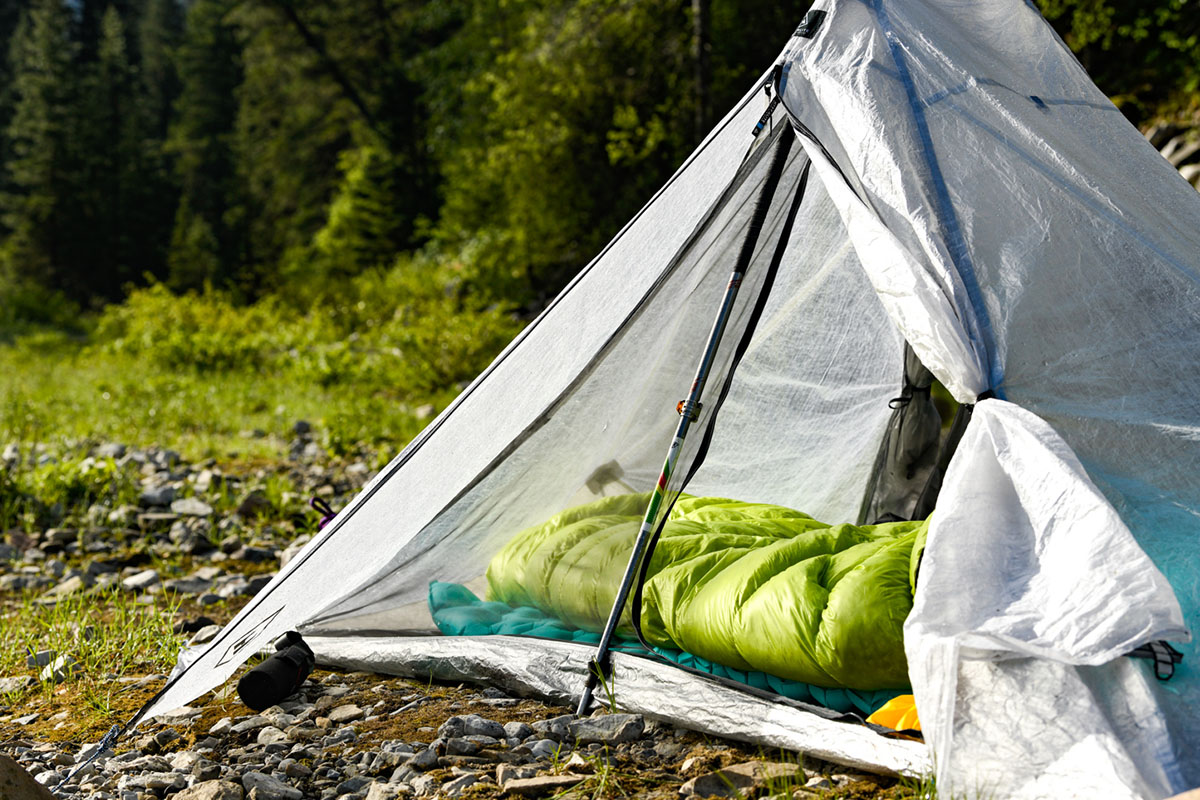 Storage
Because of its ultralight focus, the Hyperlite Mountain Gear Dirigo 2 is very limited on storage space. Despite having two doors and two vestibules—a welcome and convenient addition to any lightweight shelter—space for gear is extremely lacking. Each vestibule only offers 6.25 square feet of storage, which is a tight squeeze even for a single backpacking pack. Inside, a single mesh pocket hangs from the ceiling for items like a headlamp, smartphone, or map. Finally, the doors are quite small and require some contorting to maneuver in and out of. I didn't mind these sacrifices for a short backpacking trip, but I would prefer more organizational compartments and an easier entry and exit on extended expeditions.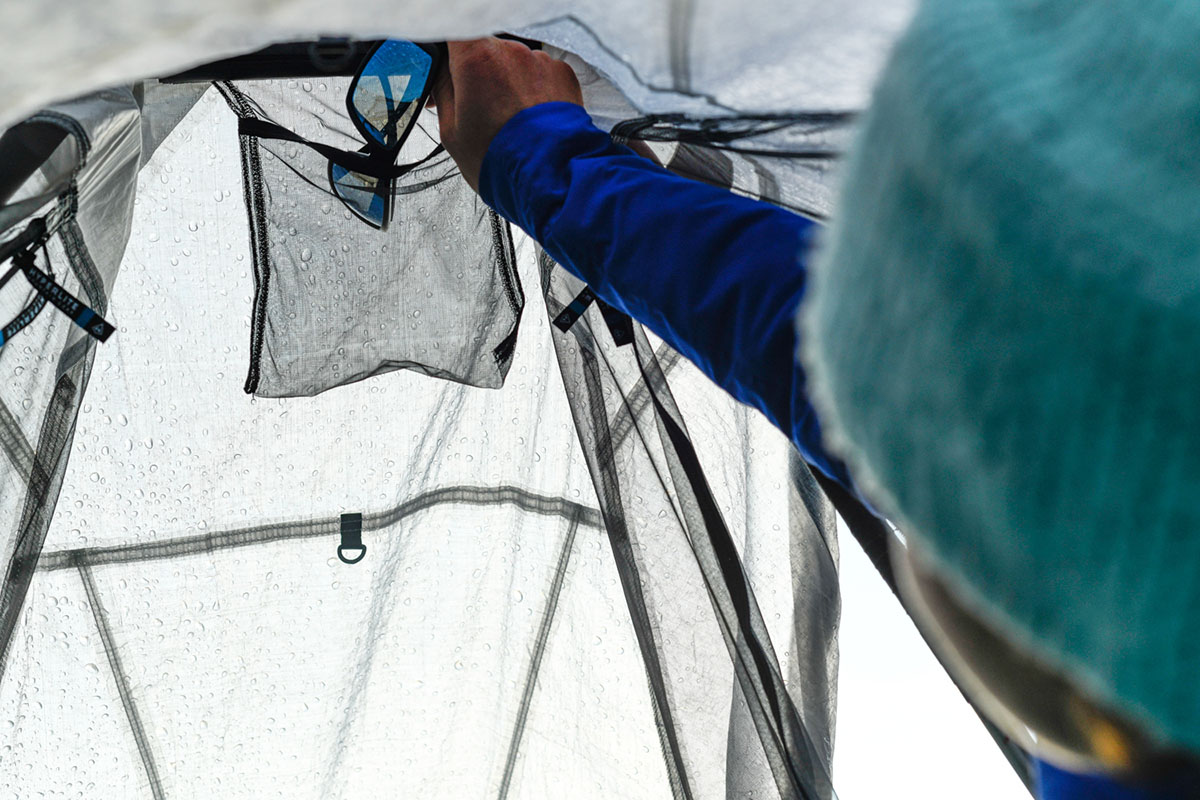 Set up and Take Down
The Dirigo's all-in-one design makes it incredibly easy to set up. First, lay the tent flat and stake out the four corners (you'll need eight stakes total for set-up, which are sold separately as a kit). Next come the poles. Importantly, the Dirigo doesn't require any adapters or intricate duct taping to keep trekking poles together. Instead, simply place one pole at each door, insert the handle into the designated slot at the top, and slide the tip through the lower fabric loop and metal grommet. To complete the process, stake out the remainder of the easily adjustable guylines—the shelter should feel taut and stable. Taking the tent down is just a matter of removing the stakes and poles. After long days of hiking, it was refreshing to know that setting up camp would be a cinch.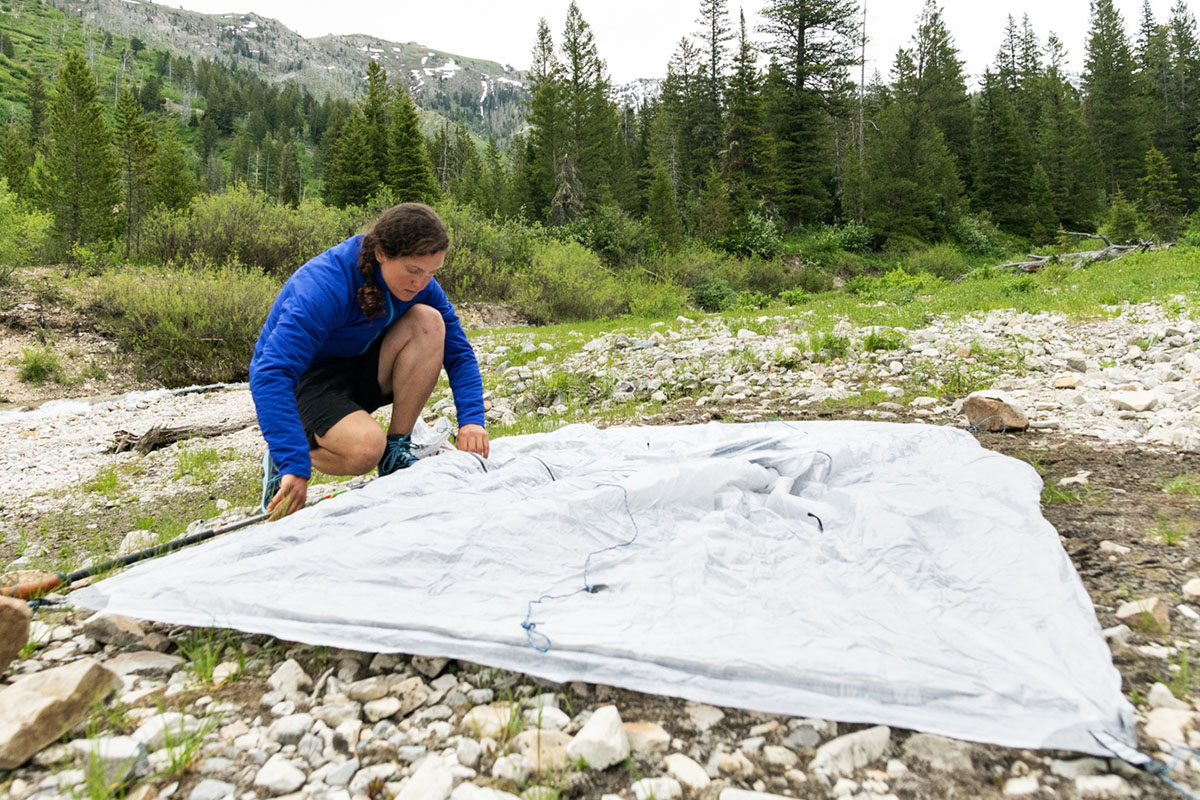 What We Like
At 1 pound 12 ounces, the Dirigo is extremely lightweight while still offering two doors and two vestibules, and it takes up very little space in your pack.
The triangular shape is exceptionally sturdy in high winds.
The all-in-one design is very easy to set up and take down. 

What We Don't
Low-hanging walls and small vestibules are quite limiting—the tent feels very cramped for two campers plus gear.
Hybrid single-wall design and Dyneema construction make the Dirigo prone to condensation buildup.
Despite being seam-sealed, we experienced some leakage through the tent seams during heavy rain.


Comparison Table

The Competition
With its ultralight build and lack of features, the Hyperlite Mountain Gear Dirigo 2 is aimed squarely at minimalist backpackers and thru-hikers. In this category, the Zpacks Duplex is another one of our favorite ultralight shelters and shares a similar Dyneema build, hybrid single-wall design, and trekking pole set-up. However, at 1 pound 3.4 ounces and $599, the Duplex undercuts the Dirigo by a significant 8.6 ounces and $196 (before stakes). You also get 3 more inches of headroom at 48 inches vs. 45 for the Hyperlite (for more, see our in-depth Duplex review). That said, the Dirigo is more spacious in terms of floor area and easier to set up. In the end, both are category leaders, but we give the slight nod to the lighter and less spendy Duplex. 
Two other ultralight—but more traditional—tent options to consider are Nemo's Hornet 2P and Big Agnes' Fly Creek HV UL2. Unlike the Dirigo, neither of these models require trekking poles. Instead, they feature standard pole designs with tapered interiors and double-wall builds, utilize nylon and mesh constructions, and come in slightly heavier at 1 pound 15 ounces each. But the biggest draw, in our opinion, is the cost savings: you can pick up the Fly Creek for $350 and the Hornet for $370. Neither tent matches the Dirigo's floor area—the Big Agnes is 28 square feet and the Nemo is 27.5—which might be a deal-breaker for those who seldom camp solo (plus the Fly Creek only has one door). However, it's hard to ignore the fact that you can score a sub-2-pound tent for less than half the price of the Dirigo.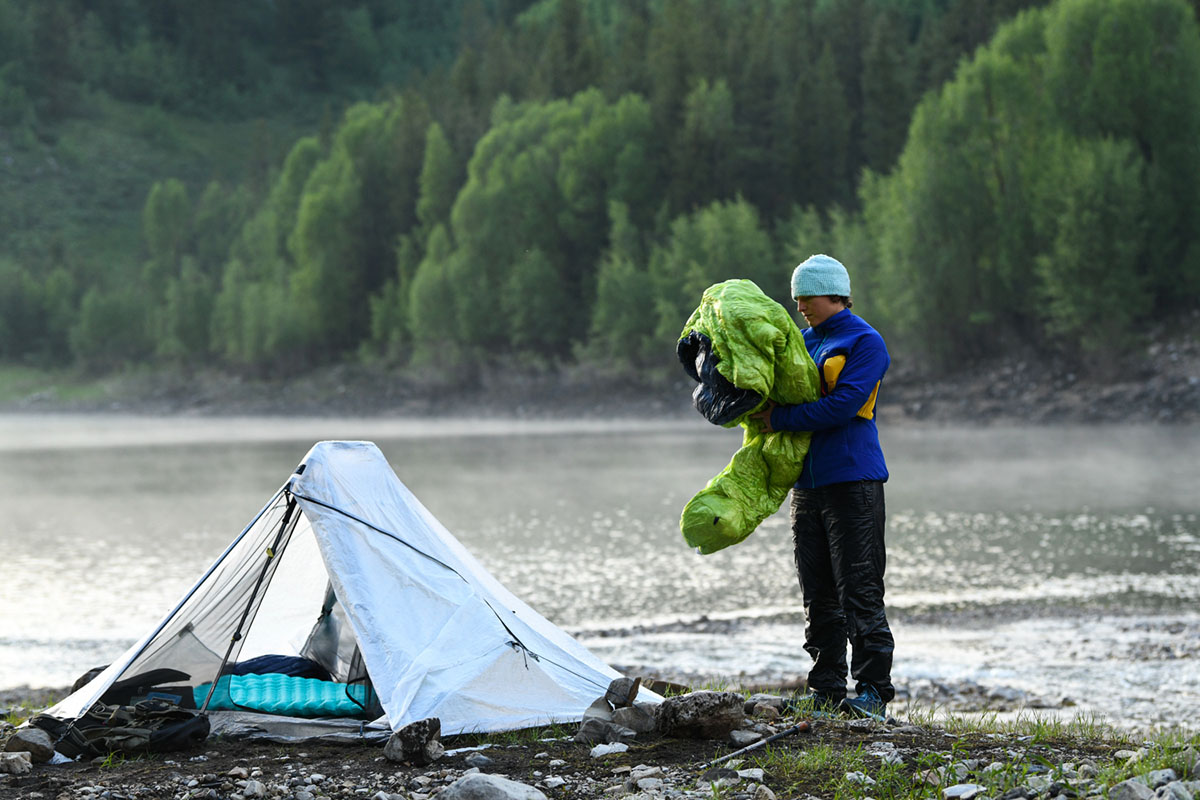 Another standout tent from Big Agnes is their new-for-2019 Scout 2 Carbon. At 11 ounces (1 pound even when packed), the Scout is in a weight class of its own, undercutting the Dirigo by just over a pound. Similarities between the two include a Dyneema construction and trekking pole set-up, but the Scout comes with wall-length pockets—something we wish Hyperlight included—at a $75 savings. The Scout's A-frame shape also opens up the interior significantly, although it has less overall floor area than the Dirigo at 25 square feet (7.5 fewer than the Hyperlite). All that said, Big Agnes accomplishes the Scout's low weight with ultra-thin fabrics, including a 0.34 oz./sqyd fly and 0.51 oz./sqyd floor (alternatively, the Hyperlite uses a thicker 1.3 oz./sqyd along the floor and a mix of 1.2 and 0.8 oz./sqyd elsewhere). All things considered, we're excited to see Big Agnes enter the ultralight space, but we think the Dirigo is a bit more well-balanced.
Last but not least, Hyperlite's own UltaMid 2 is a final, in-house ultralight option to consider. This pyramid-style tent weighs a feathery 1 pound 2.7 ounces and, thanks to its shape, features a whopping 63 square feet of floor space. However, the UltaMid on its own is floorless and easily allows water to enter through the bottom (we know firsthand from a backpacking trip in the Grand Canyon how quickly this tent can flood with rain at the wrong campsite). And by adding a mesh insert with a bathtub floor, the shelter then outweighs and out-costs the Dirigo at 2 pounds 8.8 ounces and $1,110. All told, the UltaMid can work on its own in dry climates or as an emergency shelter, but we think the Dirigo undoubtedly is Hyperlite's most impressive shelter to date.
Editor's note: We usually provide a live price comparison table below our outdoor gear reviews, but the Dirigo is sold exclusively by Hyperlite Mountain Gear. You can see the Dirigo 2 page here and support us in the process. Thanks!
Learn More About Backpacking