REI Co-op Trailmade 2
Price: $179
Packaged weight: 5 lbs. 7 oz.    
Floor area: 31.7 sq. ft.
Capacities: 1P, 2P
What we like: A durable, roomy, and decently weather-resistant two-person tent for just $179.
What we don't: Disappointing quality, construction, and materials, especially compared to what we've come to expect from REI's budget tent offerings.
See the REI Co-op Trailmade 2
In an era of rampant inflation, REI's in-house gear is just getting more affordable with the recent introduction of their new Trailmade collection. The Trailmade replaces the Passage as the Co-op's entry-level, three-season backpacking tent, targeted at new hikers and budget seekers alike. The Trailmade is undeniably durable and easy to pitch, but—despite REI's longstanding track record of high-value tents—it disappointed us with its cheap materials and construction. Below we break down our experiences with the Trailmade 2. To see how it stacks up to the competition, see our articles on the best backpacking tents and best budget backpacking tents.
 
---
Table of Contents
---

Performance
Livability and Interior Space
The REI Co-op Trailmade 2 is designed to sleep two adults in its fairly standard 88- by 52-inch floor area. For reference, most sleeping pads are 20 inches in width (wide versions are 25 in.), so the Trailmade easily accommodates two side by side. We particularly like the tent's non-tapered floor plan, which allows you to sleep head-to-toe with your tentmate for more room and privacy. Most budget tents have a similarly sized floor area, while many premium designs sacrifice a few inches for a lighter weight.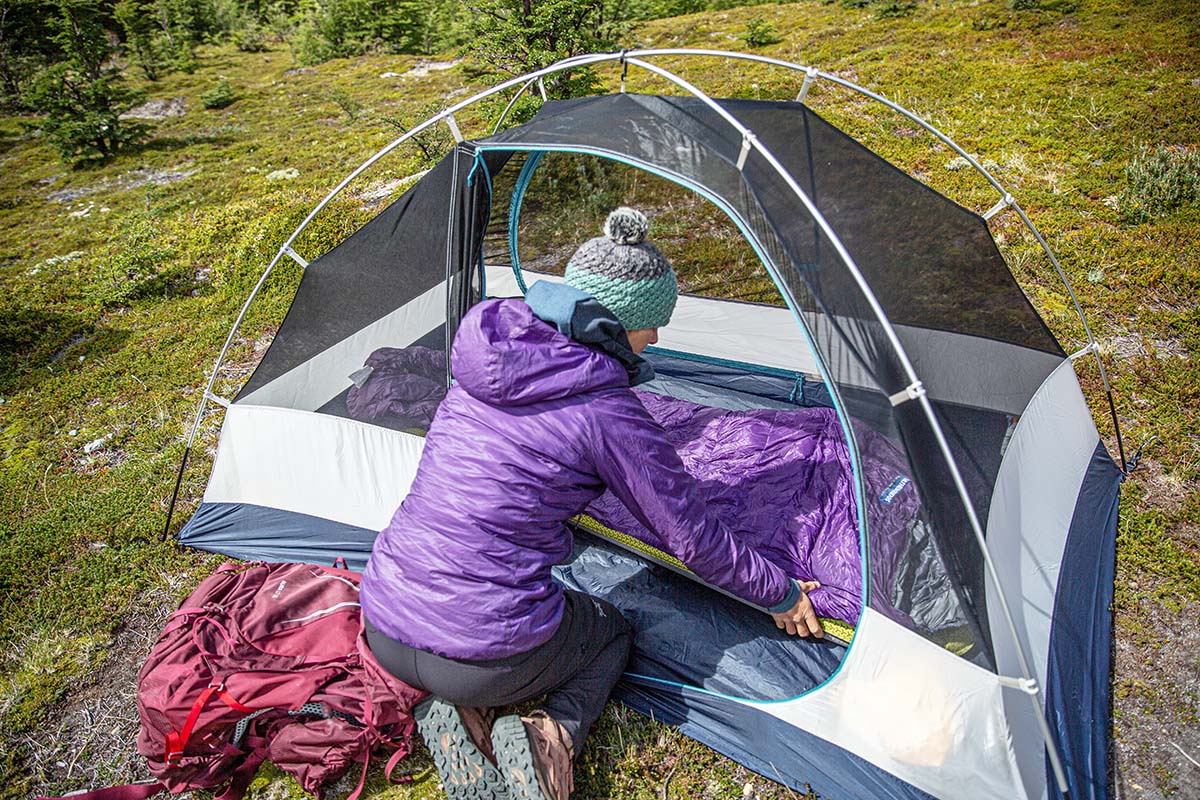 But floor area is only one measurement of interior space—a tent's peak height and pole layout matter a great deal when it comes to headroom and livability. In the case of the Trailmade, the X-shaped configuration results in one defined high point (the peak height is 39.9 in.) with very sloped walls. In other words, you don't get a lot of room to sit up. For just $20 more, REI's own Trail Hut 2 adds a ridge pole that extends the high point across the top of the tent (picture a flat top rather than a sharp summit), which creates more headroom and allows two people to sit up at the same time.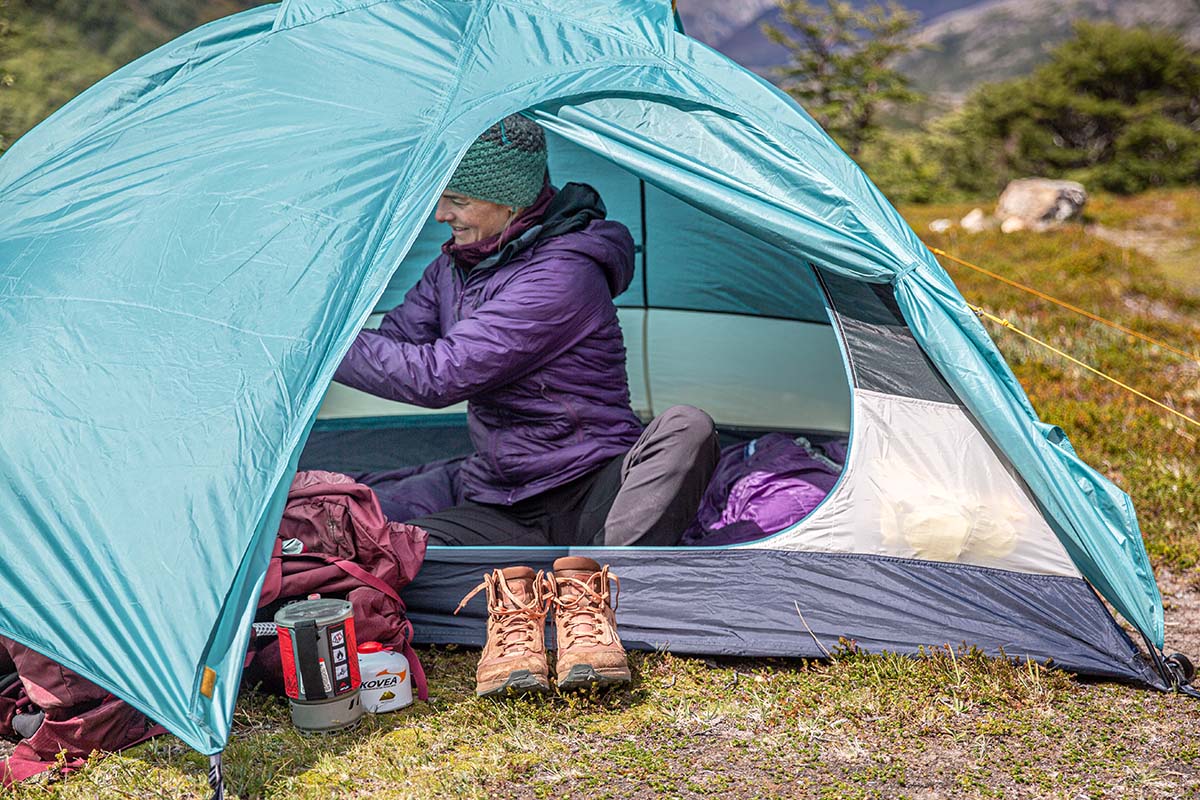 Weight and Packed Size
With its priorities squarely in the budget camp, the REI Co-op Trailmade 2 is not a particularly lightweight backpacking tent. It checks in at a packaged weight of 5 pounds 7 ounces, which includes a footprint, a set of burly stakes, two poles, a thick canvas stuff sack, and guylines with tensioners. If you want to go lighter, it's possible to shave over a pound of components (including the footprint) for a trail weight of 4 pounds 4 ounces. The Trailmade's weight is fairly run-of-the-mill among budget tents—the Trail Hut 2 is 5 pounds 15 ounces, while the Big Agnes Blacktail 2 checks in at 4 pounds 15 ounces—but it's twice or three times as heavy as more premium options (see our list of the best backpacking tents here).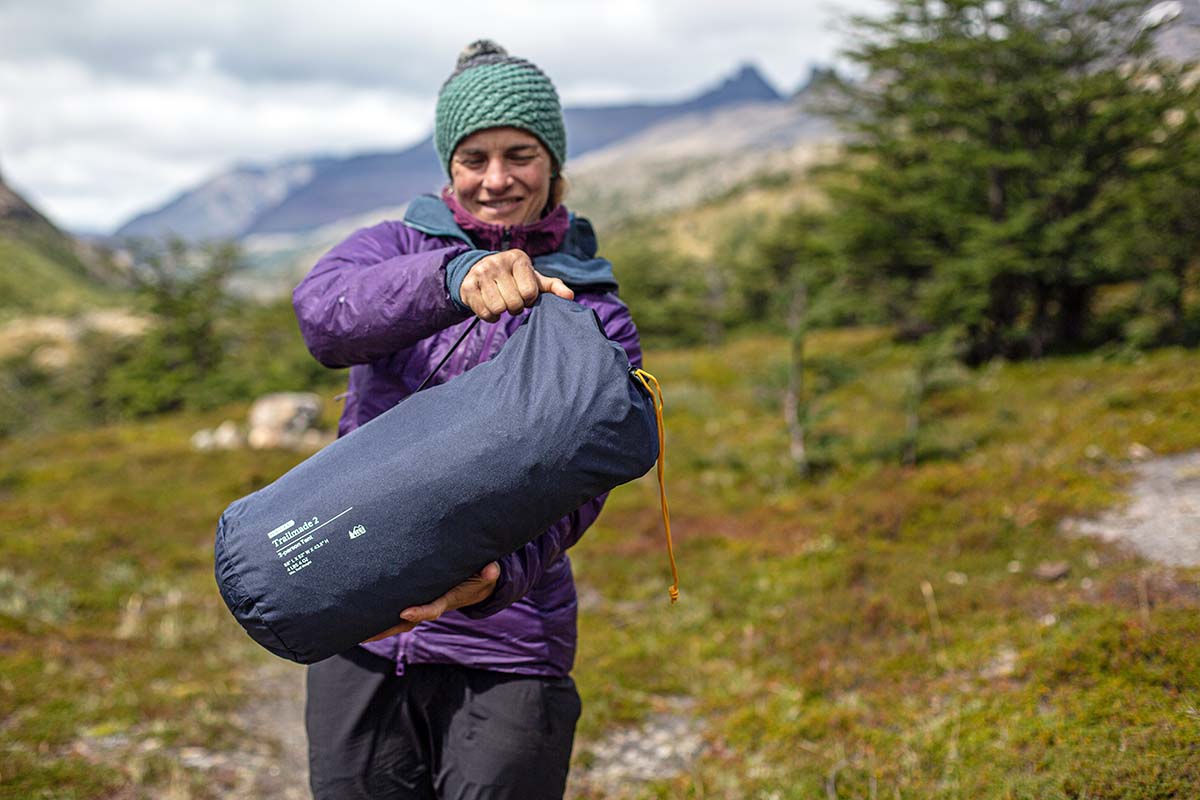 The Trailmade 2 also shows its budget intentions with its bulky packed size. The full package measures about 8.5 by 22 inches. Again, this is pretty standard among entry-level designs but significantly larger than premium backpacking tents (the NEMO Hornet Elite OSMO, for example, packs up to just 4 x 19 in.). One selling point of a double-wall tent like the Trailmade is that you can split the body and fly between two backpacks to distribute the bulk and load. All told, increased weight and packed size are things we've come to expect from budget backpacking tents, and the Trailmade 2's specs don't stand out much from the competition.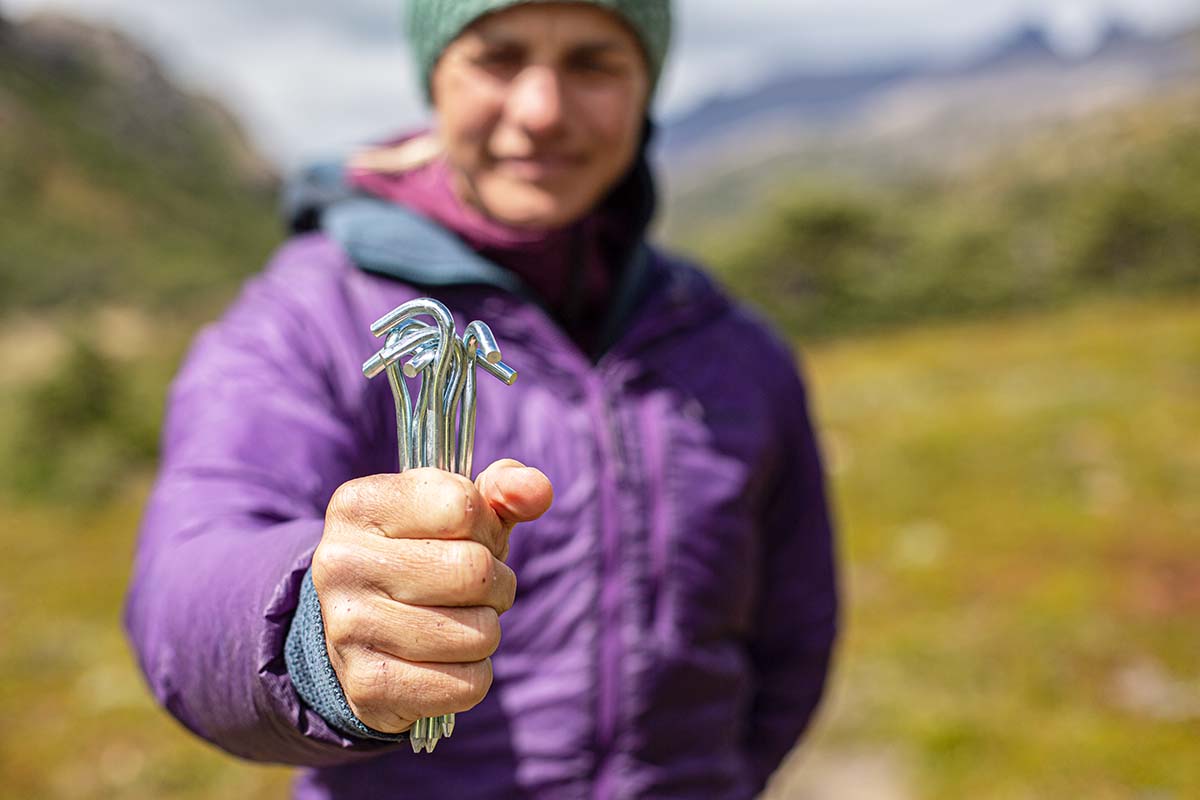 Weather Protection
Like the majority of backpacking tents, the Trailmade 2 is designed for three-season use, which means it can withstand most spring, summer, and fall weather. We would have no issue using the tent in a downpour: The bathtub floor would keep most splashes at bay, and the thick, coated polyester fly is quite confidence-inspiring. The only gripe we have in terms of wet-weather protection is that you can't guy out the Trailmade at the head and foot, which means the fly rests against the tent body—a recipe for moisture leaking through over time (it doesn't help that it's difficult to get a fully taut pitch). All told, the Trailmade is serviceable in most wet conditions, and the thick fabrics provide a trustworthy escape from the elements, but you'll likely want a more premium build if you plan to spend a lot of time in the rain.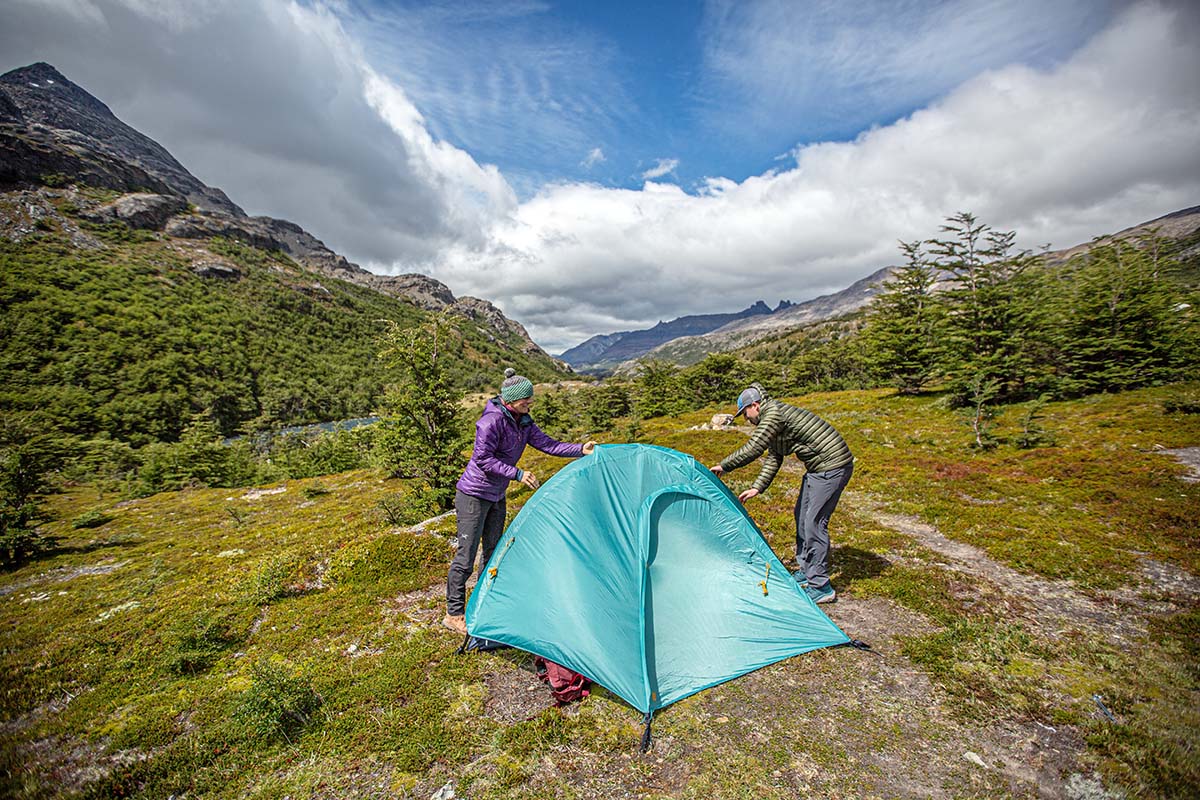 High winds are a bit of a different story with the Trailmade. The X-shaped pole layout is as basic a structure as it gets and can easily become overwhelmed by heavy gusts. You'll want to be very mindful about pitching the tent so that the wind hits one of the short ends (the head or feet) instead of the side. The Trailmade is also really difficult to pitch fully taut and can feel fairly saggy even when guyed out. On a windy night in Patagonia, the flapping fabric was so loud it kept us awake (and in truly high winds, the saggy fly could turn the tent into a sail). That said, the Trailmade does have a few things going for it: Its thick fabrics are more likely to resist wind than thinner materials, and the tent body has a good amount of polyester in contrast to more mesh-heavy designs (great for keeping dirt and dust at bay).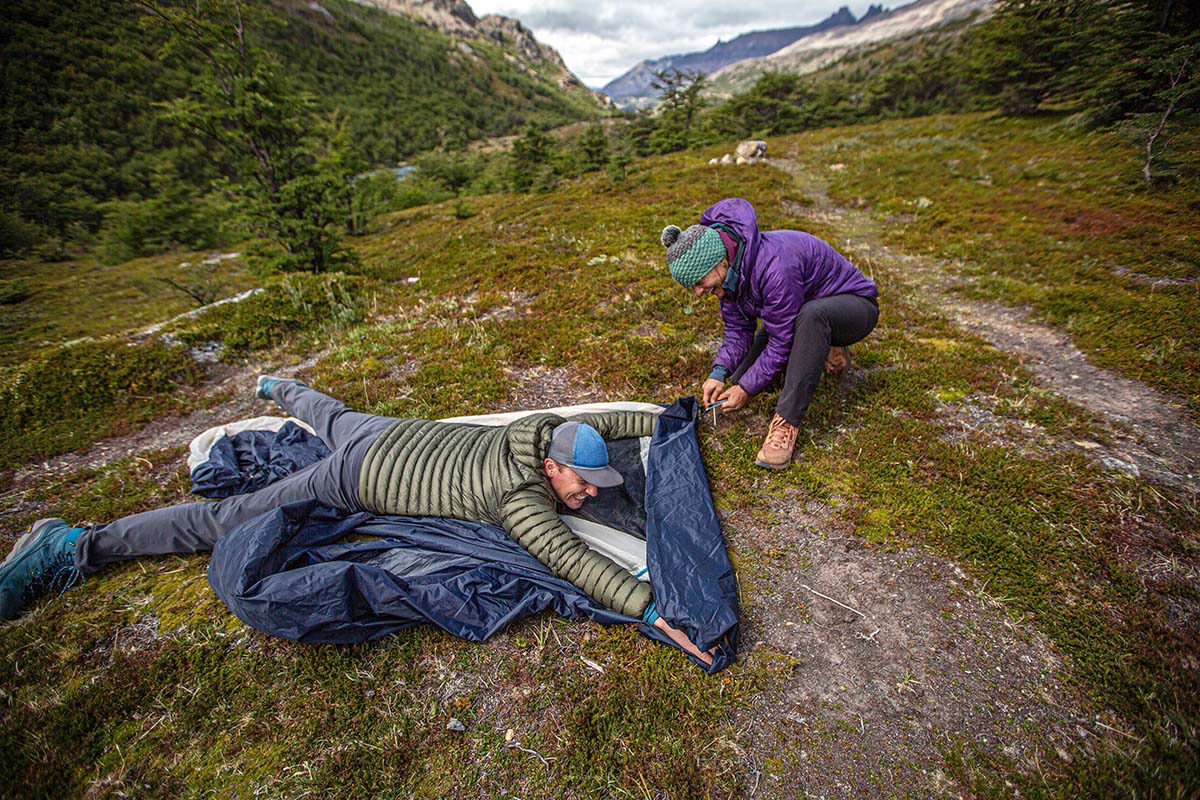 Ventilation
Ventilation is one of the areas where the Trailmade 2 lags behind most. The fly only features two small vents, which do little to let air circulate throughout the tent. Combine that with the non-breathable coated polyester material, and the Trailmade will be a very swampy place to be on a warm, rainy night. Unzipping the fly doors from the top can help, but this will compromise some protection in heavy precipitation. On clear nights, you can boost airflow a good deal by sleeping with the fly doors rolled up.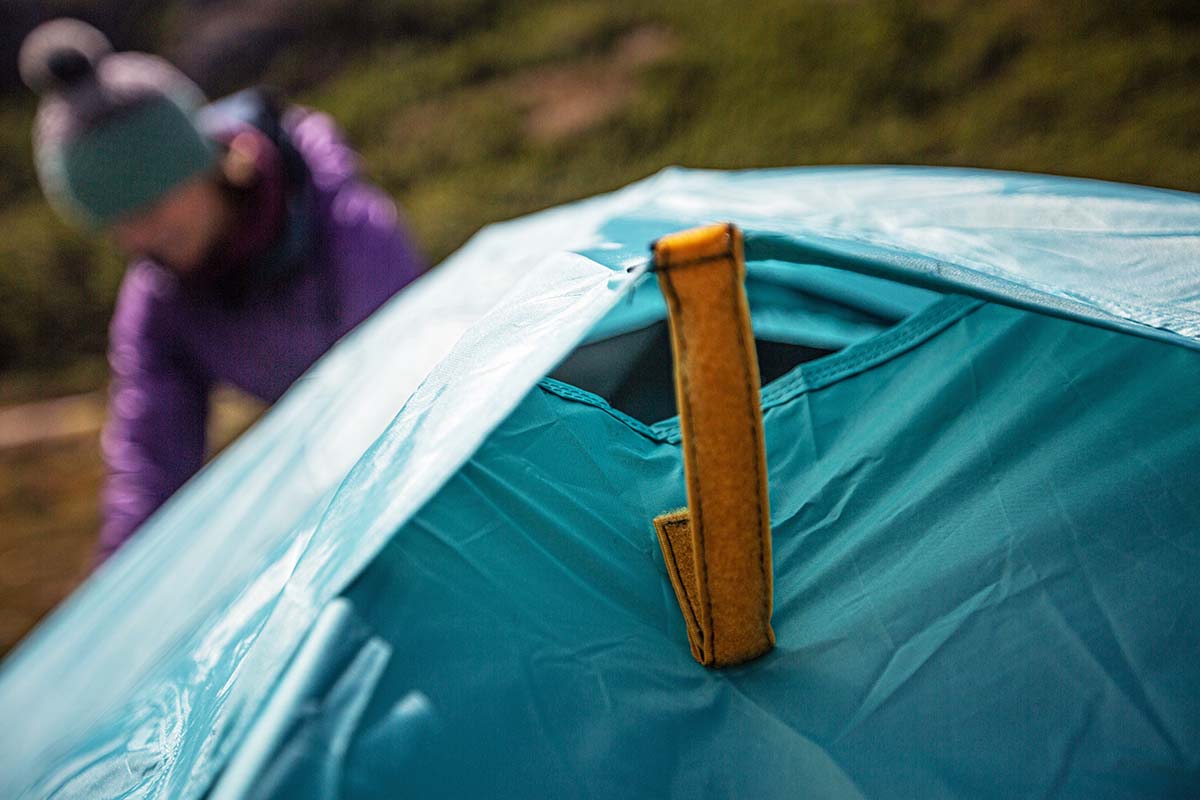 Durability
Durability is one key strong suit of budget tents—with less of an emphasis on weight savings, manufacturers are able to employ thick materials that stand the test of time. The Trailmade 2 is built with 68-denier polyester, which is cheap, durable, and generally more abrasion- and sag-resistant than nylon. In my experience, the tent felt nearly indestructible—from the burly poles and stakes to the rainfly and attached footprint—especially compared to the more fragile, mesh-heavy tents I've grown accustomed to using.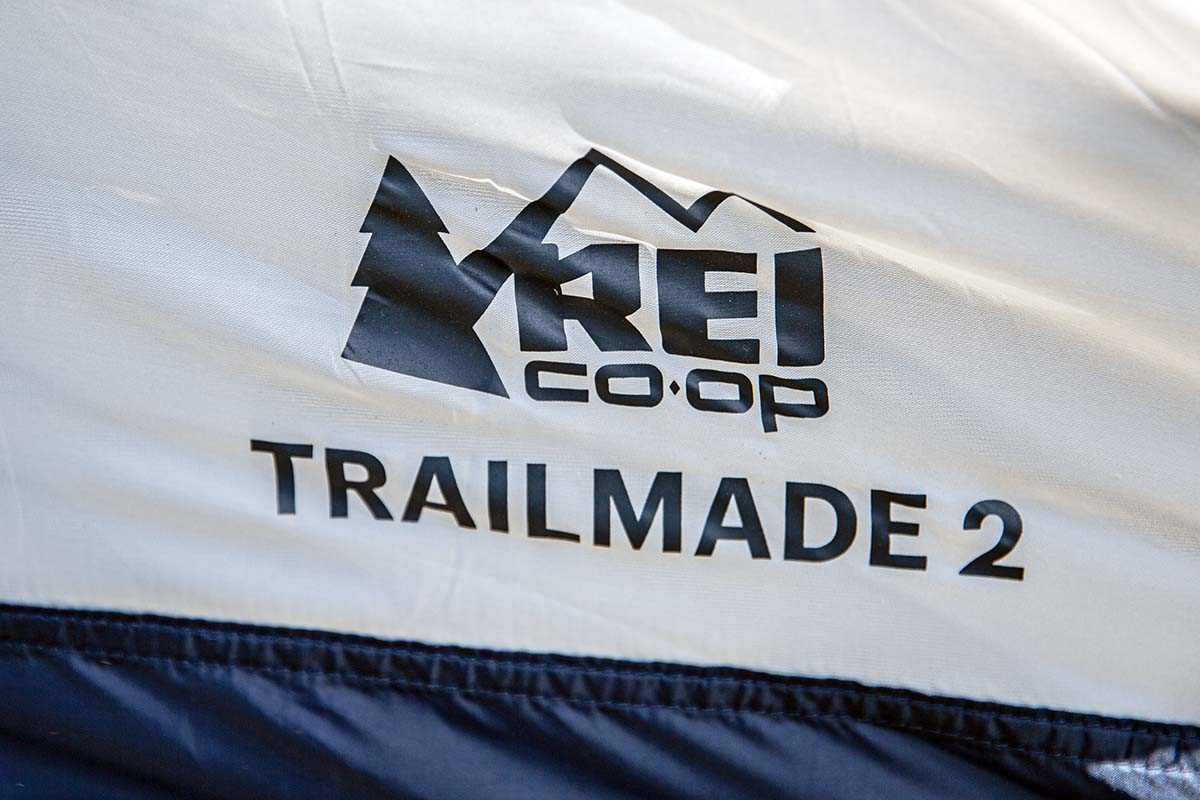 Vestibules and Storage
The REI Co-op Trailmade 2 again shows its budget intentions when it comes to storage. The tent features just two interior pockets—one on the right side of each door—and a loop at the top for hanging a lantern or wet gear. By contrast, premium tents like the Big Agnes Copper Spur HV UL2 feature many more storage options, including ceiling pockets, large stashes at the feet, and media storage with cord-routing. We didn't expect the Trailmade 2's lack of pockets to be much of an inconvenience, but—even sleeping in the tent solo—we missed the ability to keep our gear organized each evening.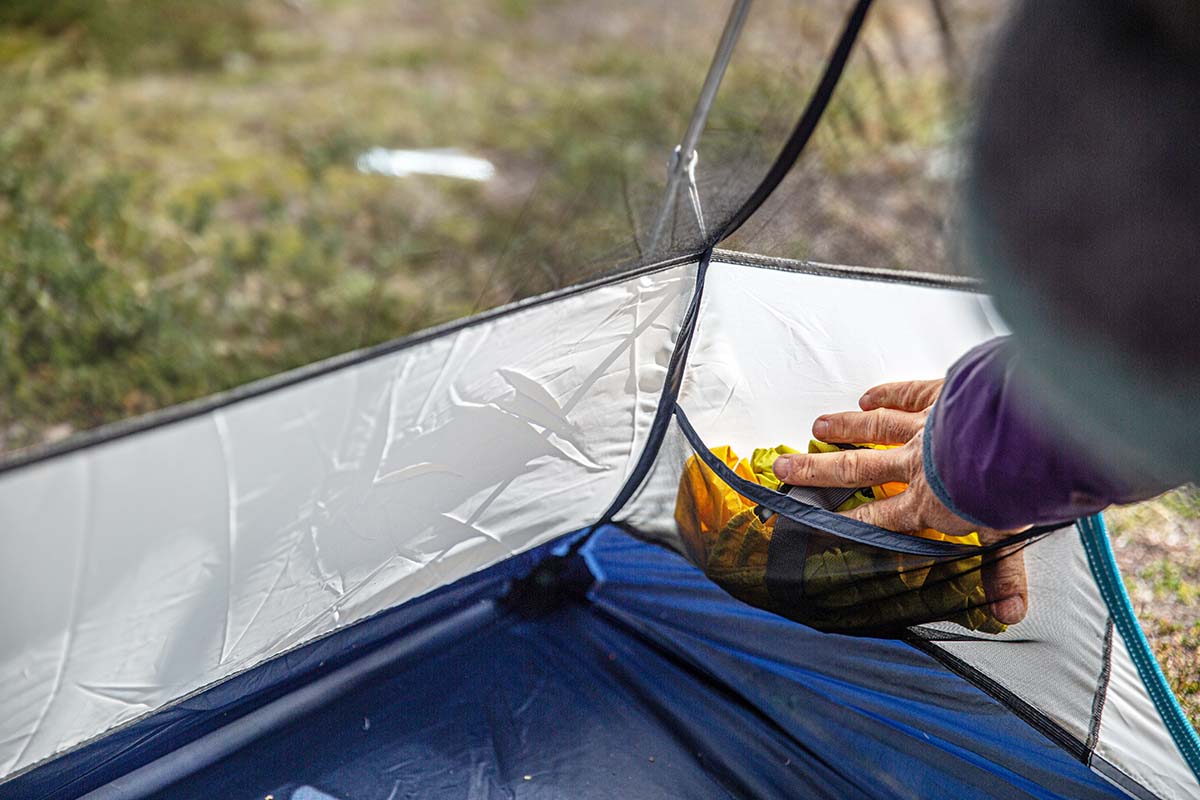 In terms of outdoor storage, the Trailmade 2 features two vestibules that measure 9.5 square feet each. This is a fairly standard size for a backpacking tent vestibule and sufficient for storing a backpack, hiking boots, and other gear you don't want inside the tent. The vestibule doors do have a tendency to sag, but this only has a small impact on storage space and protection. Added up, the Trailmade's vestibules will likely be fully serviceable for most backpackers' needs.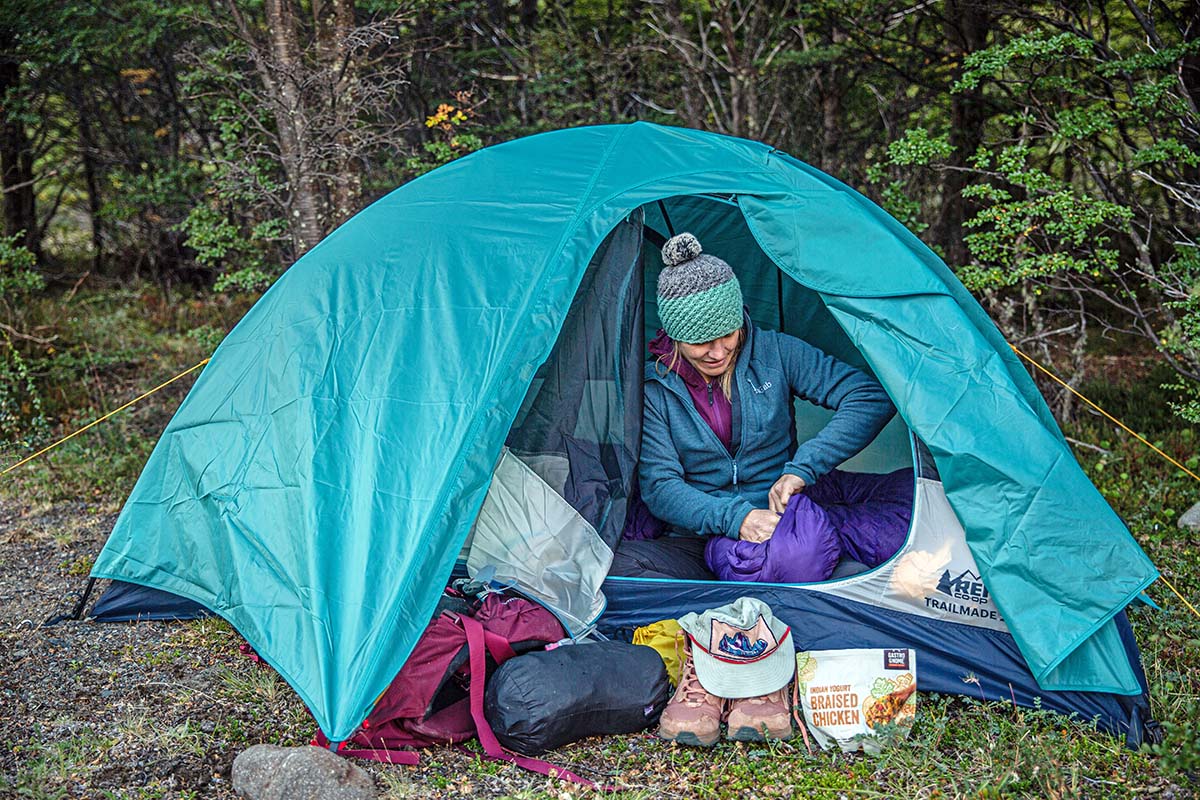 Set up and Take Down
With symmetrical X-shaped pole construction, the Trailmade 2 is a very easy tent to pitch. In fact, it's difficult to get it wrong—simply insert the poles into the corners, cross them at the top, and secure the tent body via the clips. The fly is also symmetrical and secures to each pole end via an adjustable buckle. REI even includes helpful diagrams on the stuff sack delineating proper methods for pitching and guying out the tent. It's clear that the tent is designed and marketed for those new to the outdoors, and most should find it fairly straightforward to set up.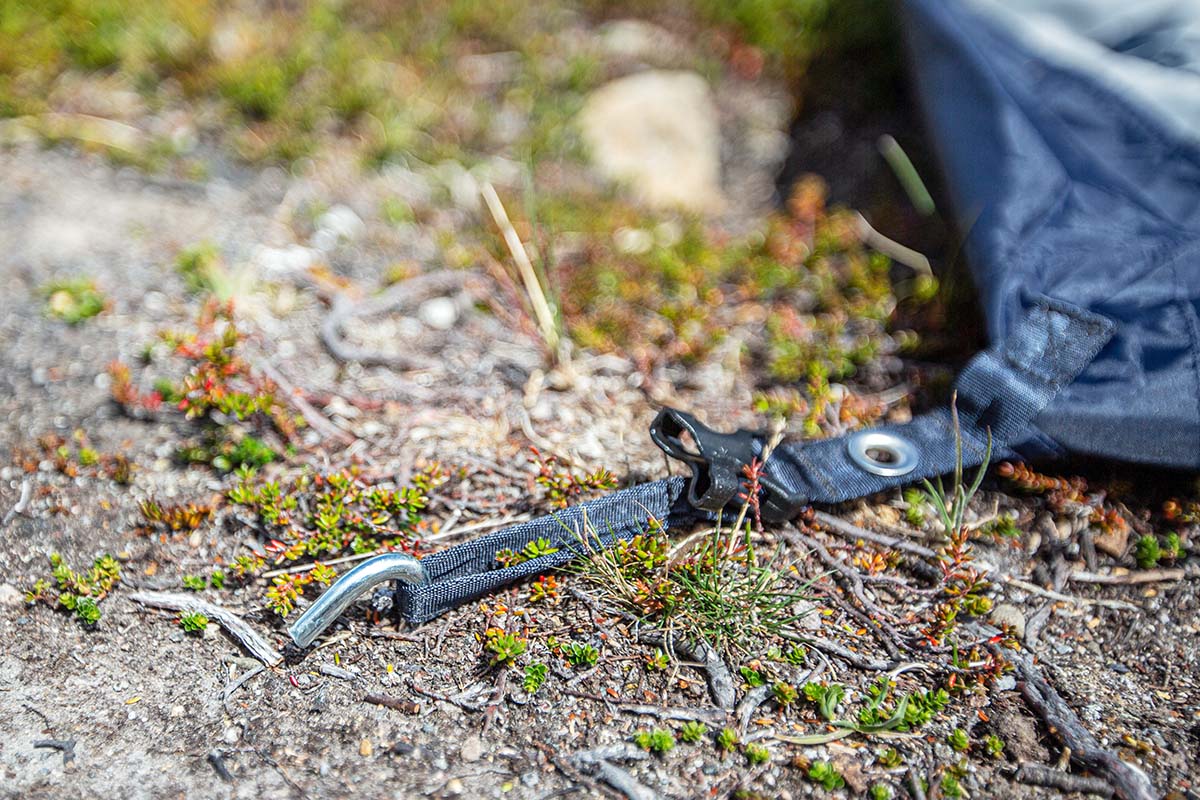 Our one major gripe with the Trailmade's setup is that we could not achieve a taut pitch, no matter how hard we tried. There are many small ways that the tent achieves its low price point, but this struck us as the most obvious; it is simply not a well-honed design. The rainfly seemed to be too large for the tent structure—we could not pitch it in a way where all the seams lined up with the poles, or where each side was fully taut. In most conditions, this is primarily an aesthetic issue (a well-pitched tent looks a lot nicer than a saggy one), but as we mentioned above, it does result in some compromised stability in the wind.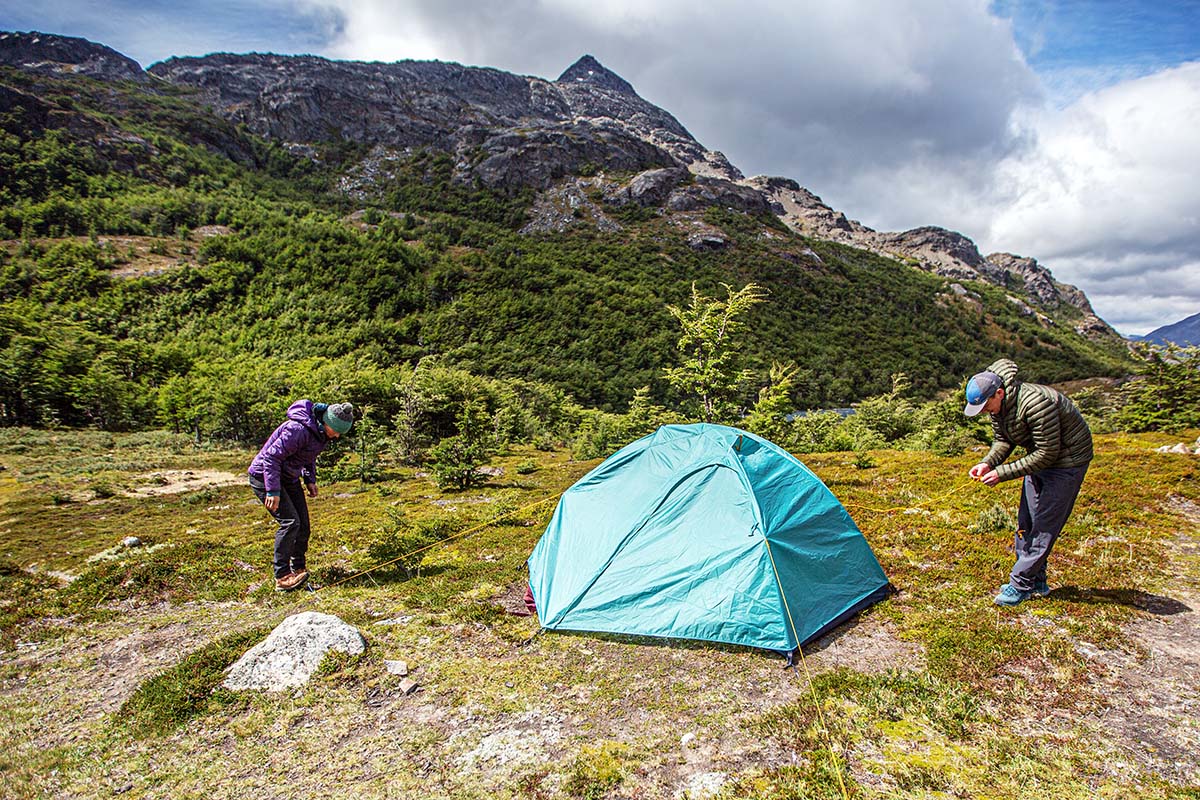 Build Quality
Over the years, we've been very impressed with REI's tent lineup, which has done an exceptional job threading the needle between budget and performance. But the Trailmade feels like a departure from this norm. Put simply, there seems to be very little attention to detail, and the tent's materials, design, and bulky components feel appallingly cheap. Major deficits that stand out to us include the very bulky stake set and stuff sack, the limited venting (paired with a swampy coated polyester fly), and a design that's seemingly impossible to set up fully taut. In the end, the Trailmade feels less akin to the outgoing Passage and more similar to what you'd expect from bargain-basement design purchased at a big-box retailer.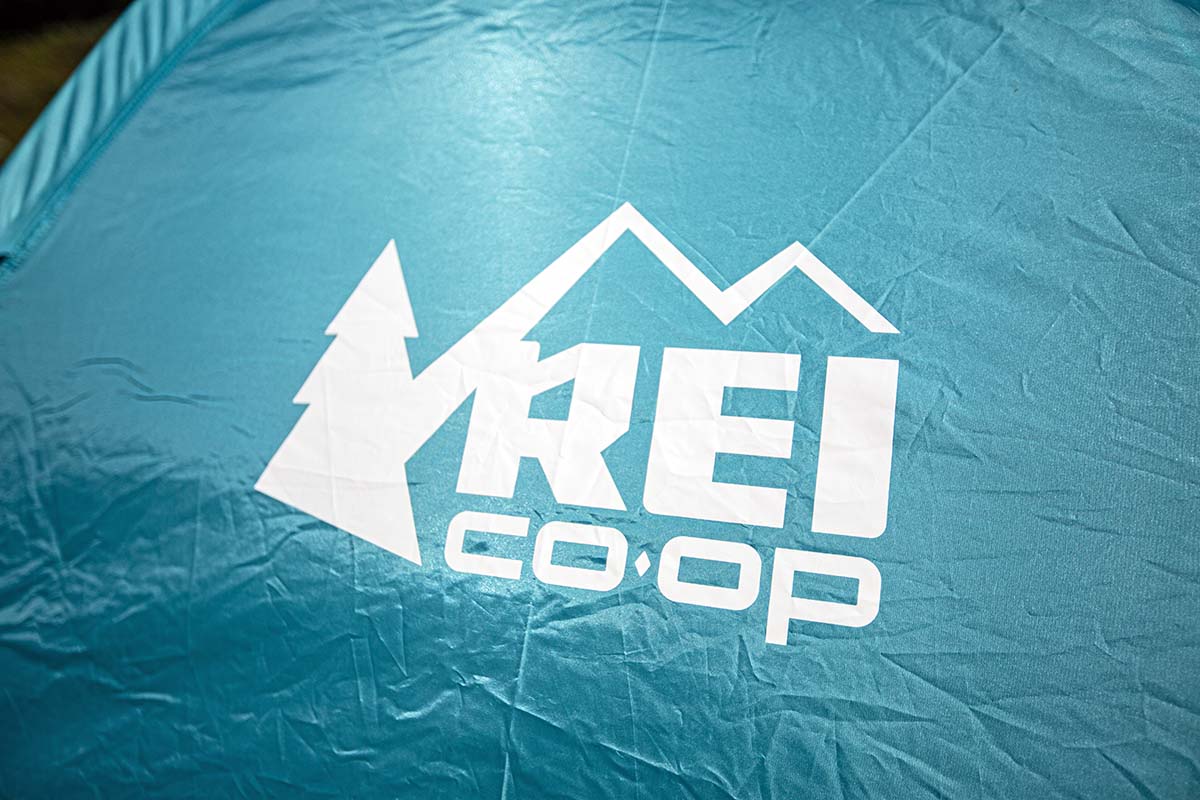 But will the Trailmade keep you dry? In most conditions, yes. Is it easy for beginners to set up? Surely. And can it sleep two side-by-side for just $179? Indeed. Not only that, but its durable—if not refined—components will last you season after season of hard use. Thus, despite being disappointed by much of the Trailmade's design (especially in comparison to what we've come to expect from REI), we still think it's a suitable choice for many.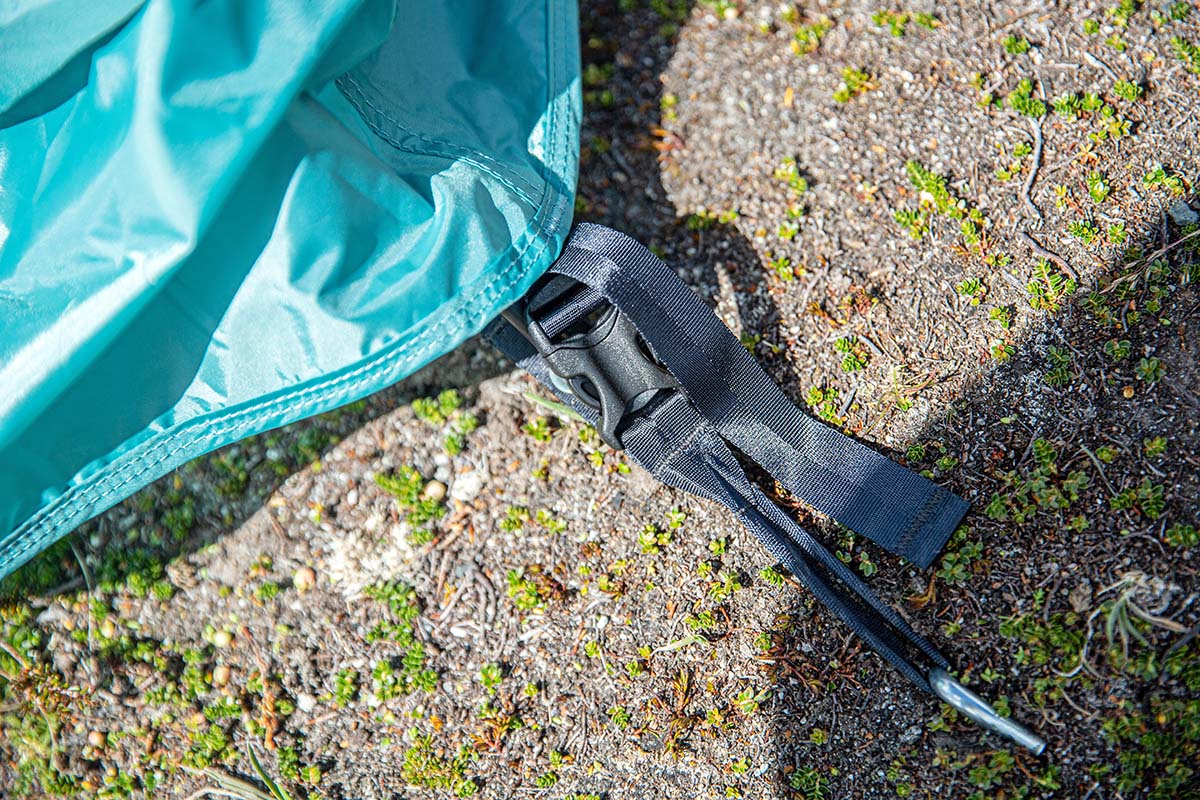 Sustainability
REI Co-op is a huge player in the outdoor space and has taken a leadership role in moving the industry toward deeper levels of advocacy, inclusivity, and stewardship. With this ethos in mind, they've modified many of their production practices to be more environmentally friendly. In the case of the Trailmade 2, the tent is made with solution-dyed mesh that uses less water and energy during production and features durable materials that should last for many seasons of use. It's also worth noting that the Co-op has a well-developed Used Gear program that allows you to trade in and buy gently used gear. We appreciate the stance that REI has taken of late and are eager to see how they continue to push the industry forward.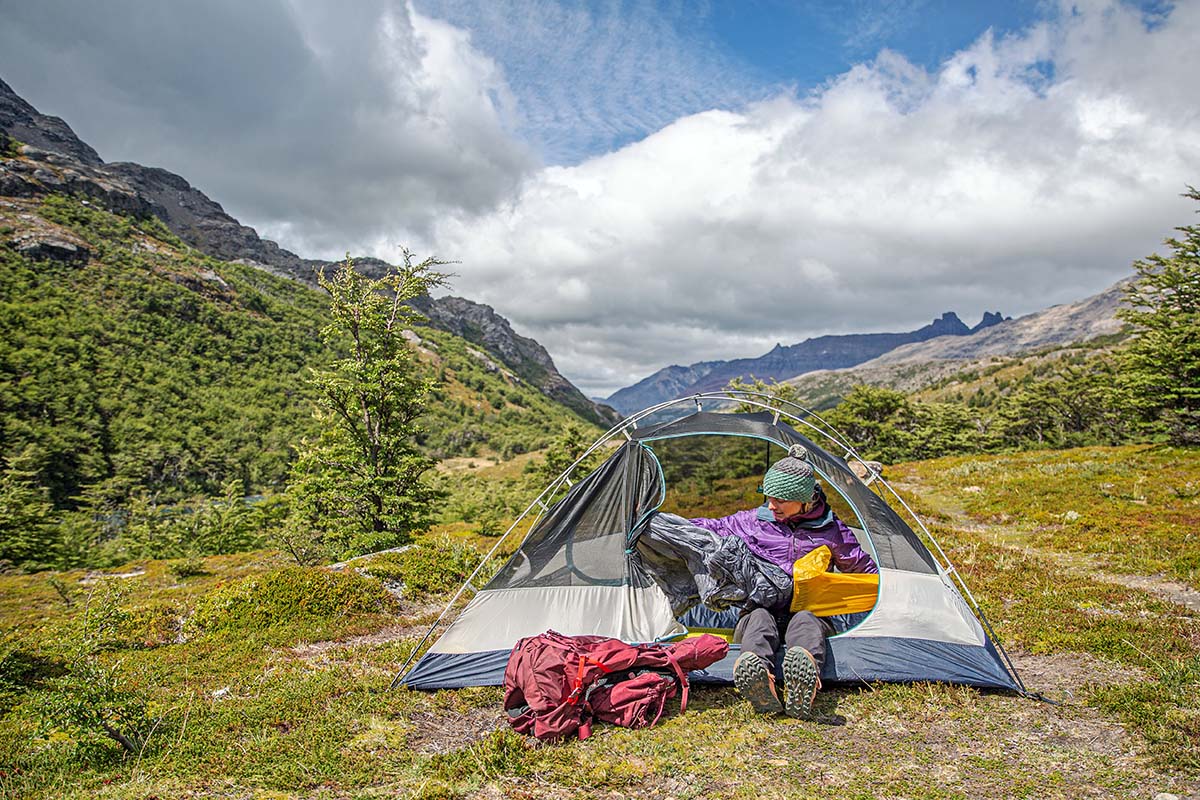 Other Capacity: REI Co-op Trailmade 1
For this review, we tested the Trailmade 2, but REI also makes the tent in a one-person version. The REI Co-op Trailmade 1 features the same materials and X-pole design of the two-person version but shaves a considerable amount of weight with a smaller floor area (88 x 36.5 in.) and just one door and vestibule. At 4 pounds 9 ounces for the packaged weight (and just 3 lbs. 8 oz. for the trail weight), the Trailmade 1 ($159) is a great choice for solo hikers on a budget.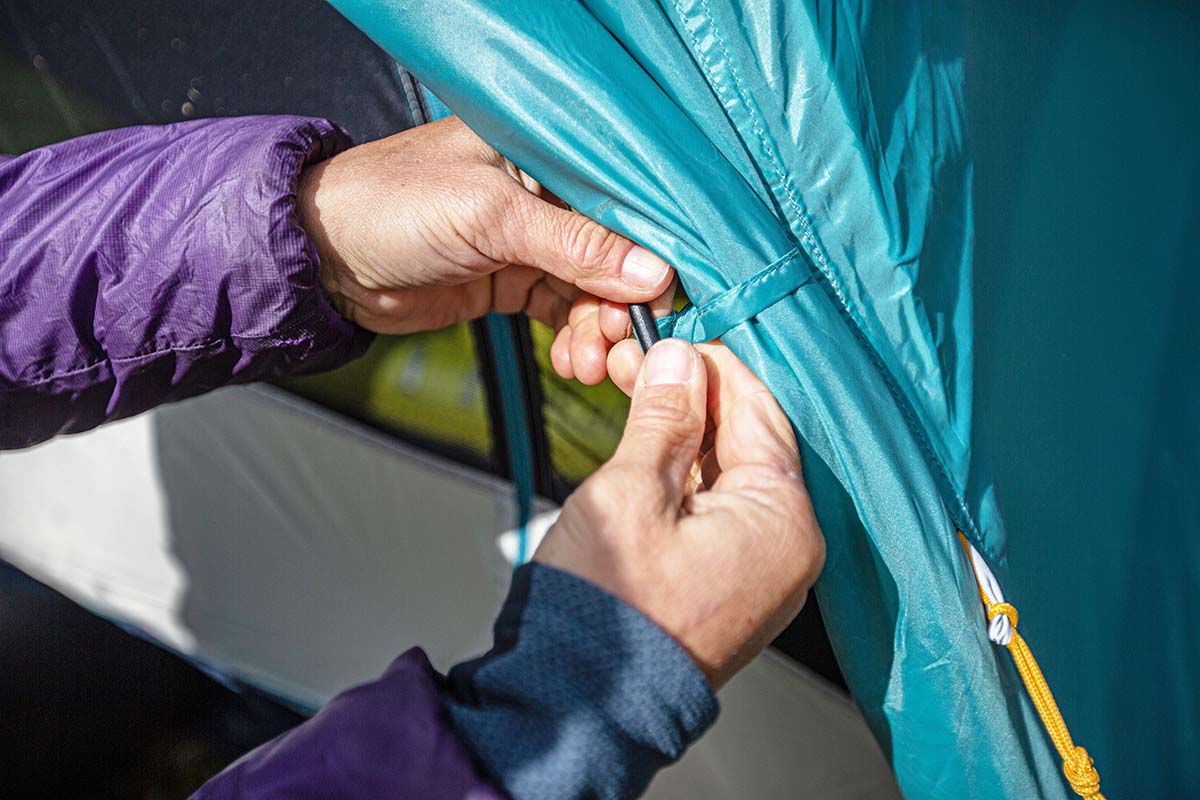 What We Like
A durable, roomy, and decently weather-resistant two-person tent for just $179.
Easy to pitch with a symmetrical X-pole shape and included setup instructions.
With burly polyester materials, the Trailmade 2 is very durable compared to the premium ultralight competition.
Thick and hardwearing materials will be confidence-inspiring in rain and wind.

What We Don't
The rainfly is a bit too large for the tent, making it difficult to get a taut pitch.
No guy-out points at the bottom of each end mean the rainfly rests against the tent body—a recipe for moisture leaking through over time.
At 5 pounds 7 ounces, the Trailmade is considerably heavier and bulkier than most premium backpacking tents.
Limited airflow with two small vents and a thick, coated polyester rainfly.
Very little interior storage—just one small pocket beside each door.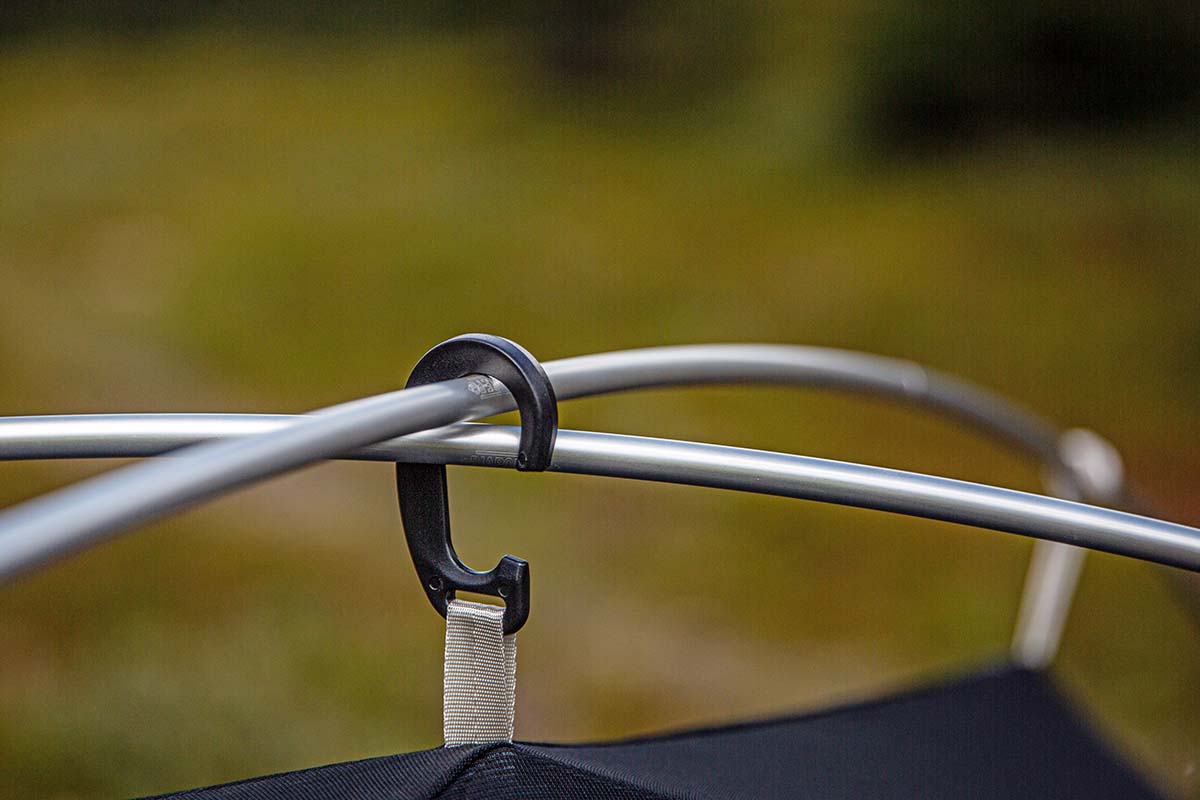 Comparison Table

The Competition
The Trailmade 2 is REI's cheapest backpacking tent, but for just $20 more, their Trail Hut 2 offers a massive upgrade in quality and livability. The key difference here is that the Trail Hut adds a ridge pole to its structure, which boosts headroom and provides a much more livable interior for two. It also features improved airflow, thanks to larger vents and doors that zip all the way to the tent's apex. But a lot of discrepancies are in the intangibles: Unlike the cheap-feeling Trailmade, the sleek Trail Hut doesn't cut corners with its materials and construction. Notably, you get a higher-quality nylon fly that allows a clean, taut pitch. We tested both tents during consecutive trips to Patagonia (see our in-depth review of the Trail Hut 2) and highly recommend the Trail Hut as the more confidence-inspiring shelter.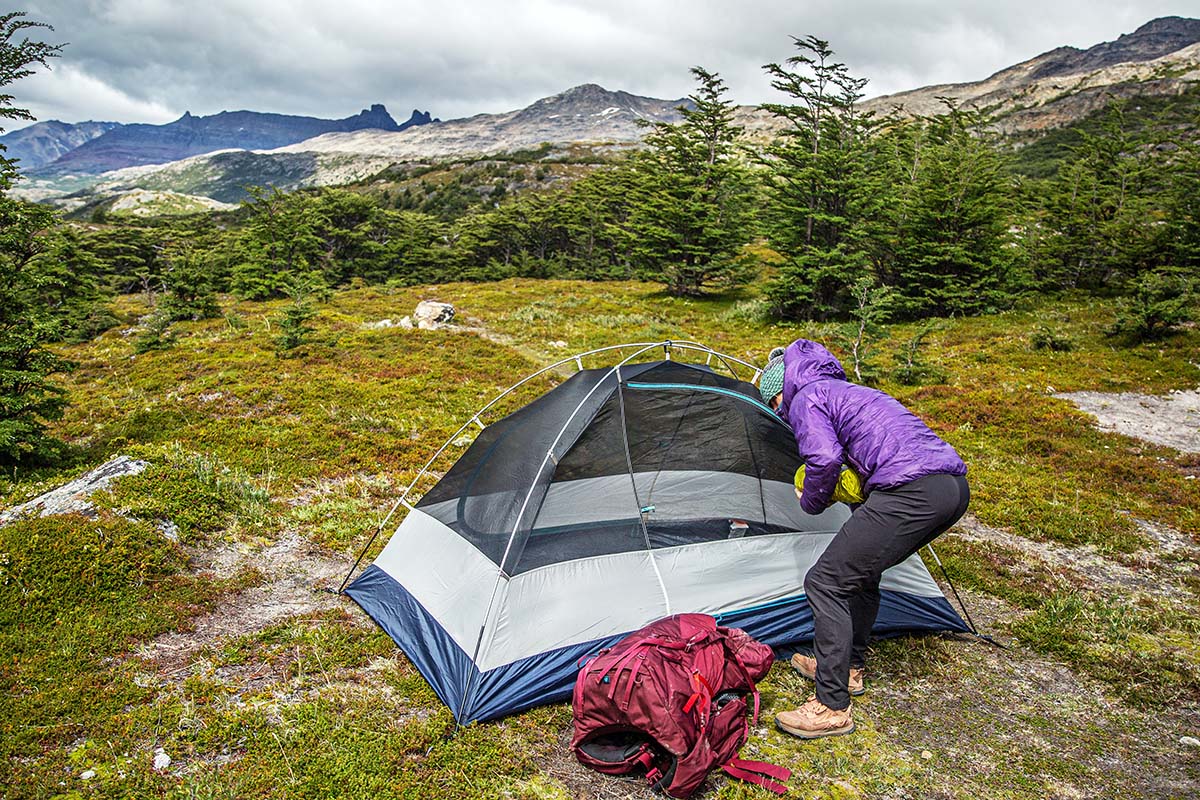 For penny pinchers, another tent to consider is The North Face's $185 Stormbreak. Like the Trailmade, the Stormbreak prioritizes a low price over all-out performance, featuring heavy, durable materials alongside a fairly mediocre build quality. With a slightly different take on the two-person tent design, the TNF has two ridge poles that bisect the X-pole structure—in practice, these poles only slightly increase the tent's headroom, but they do contribute to better stability in high winds. And unlike the Trailmade's cramped-feeling openings, the Stormbreak features large fly doors that can be rolled up all the way for great airflow and ambiance. Neither tent is particularly inspiring, but the Stormbreak is another decent option for the budget shopper.
If you're willing to spend up a bit for quality, the Big Agnes Blacktail 2 ($250) is a good place to start. Big Agnes' budget all-arounder, the Blacktail 2 offers a roomy floor plan and generous headroom by way of pre-bent poles and a ridge pole at the apex. Like most entry-level offerings, it uses 68D fabrics in the floor and fly; at the same time, the tent features many of the premium finishes we see in Big Agnes' pricier designs, including details like a Quick Stash doorkeeper, media pockets with cord routing, and precut guylines. The cherry on top is that the Blacktail sneaks in under 5 pounds—a half-pound lighter than the Trailmade and almost a full pound lighter than the Trail Hut mentioned above. For a few less compromises than REI's budget offerings, it's a great value at $250.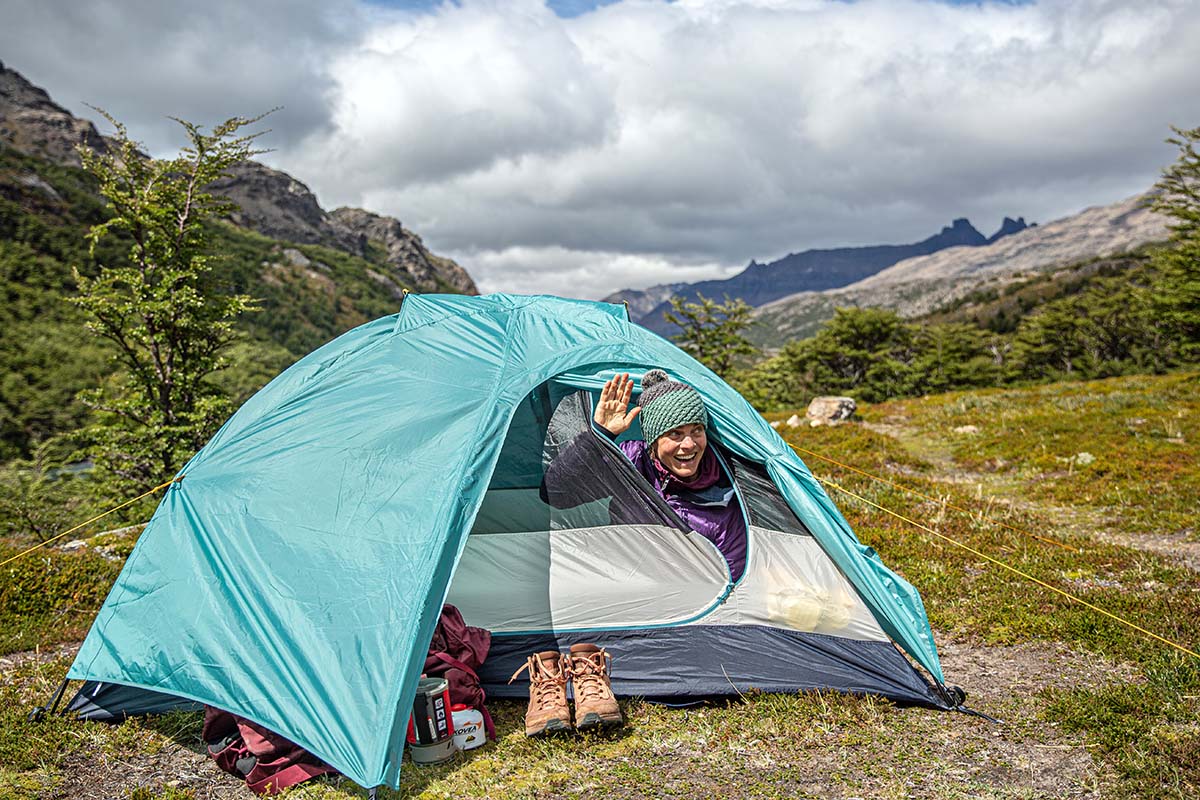 NEMO is another big name in backpacking tents, and we'd be remiss not to mention their entry-level Aurora. At $300, the NEMO Aurora 2P isn't quite in the same category as the truly budget Trailmade, but it's still considerably cheaper than the premium competition (many of which check in around $500). Although similar to many budget tents in weight (5 lbs. 7 oz.) and durability (the floor and fly are 68D), the Aurora 2P stands out in terms of interior space: Prebent poles, hubs at both the head and foot ends, and a ridge pole at the center contribute to near-vertical walls and very generous headroom (it's worth noting that the NEMO's upright shape does make it vulnerable to bowing in strong gusts). But for great livability and build quality at a decent price point, the Aurora slides into a nice middle ground between premium and budget options.
Editor's note: We usually provide a live price comparison table below our outdoor gear reviews, but the Trailmade is sold exclusively by REI Co-op. You can see the Trailmade 2 page here and support us in the process. Thanks!
Read More From Switchback Travel