REI Co-op Trail Hut 2
Price: $199
Packaged weight: 5 lbs. 15 oz. (w/ footprint)
Floor denier: 66D
Capacities: 2P, 4P
What we like: A spacious, durable, and impressively protective tent for less than half the price of many premium designs.
What we don't: Heavy and minimal storage.
See the REI Co-op Trail Hut 2
One step up from their true budget model (the Passage), REI Co-op's Trail Hut offers a spacious interior, durable fabrics, and excellent weather protection for just $199. We put the two-person model to the test in Southern Patagonia, where it outperformed tents over twice the price in terms of comfort and sturdiness in high winds. If you don't mind carrying a few extra pounds, we think it's one of the best values on the market. Below we provide a detailed review of the Trail Hut 2; to see how it stacks up to the competition, see our articles on the best backpacking tents and best budget backpacking tents.
 
---
Table of Contents
---

Performance
Livability and Interior Space
Like many tents in its price range, REI Co-op's Trail Hut 2 is a reasonably comfortable shelter for two people, with listed floor dimensions of 88 x 52 inches. In practice, this means you can easily fit two standard sleeping pads side by side (a standard-sized backpacking sleeping pad is 20 in. wide), and the 88-inch length (over 7 ft.) is great for accommodating taller sleepers. Of note, actual usable space will be a few inches less in all directions, as that 88 x 52 number is measured all the way at the stretched-out corners. Nevertheless, it's a pretty expansive floor that leaves some wiggle room for folks with broad builds. You also get a 40-inch peak height that extends the width of the tent with the help of a ridge pole. The result is decently steep walls and enough space for two people to sit up side by side.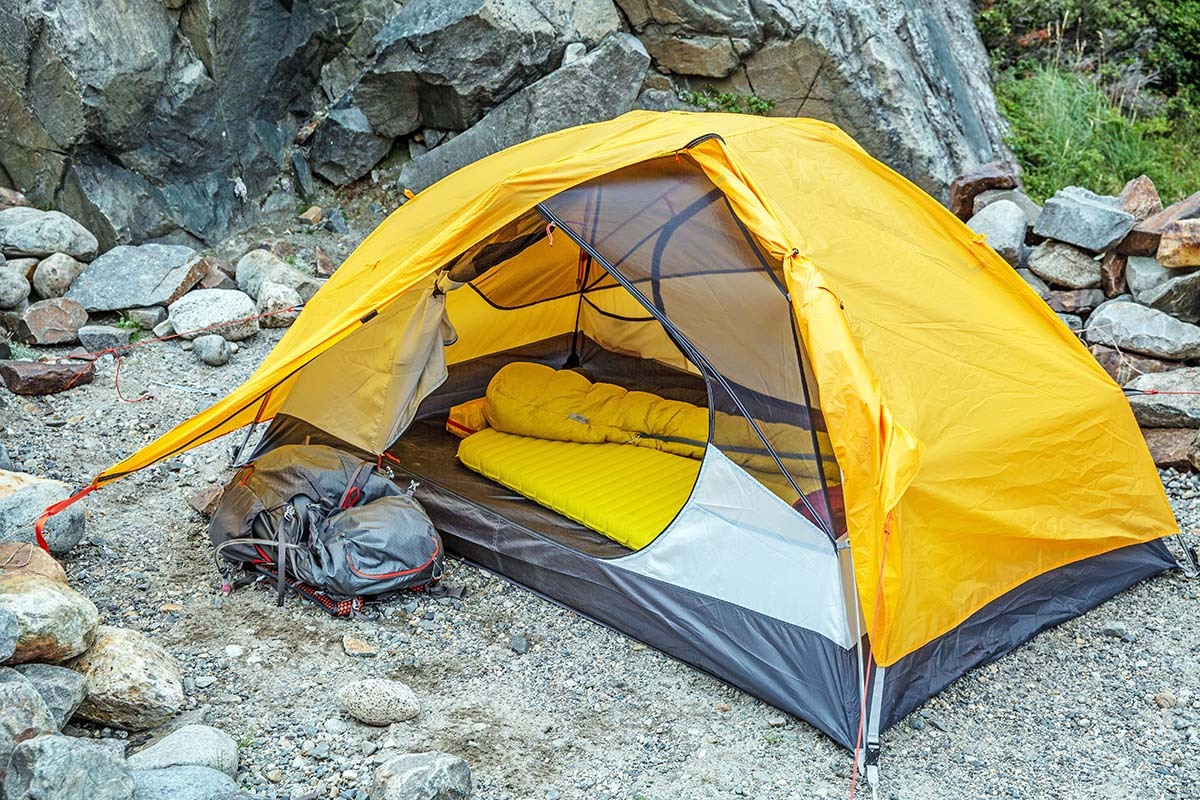 Looking at the competition, you'd be hard pressed to beat the Trail Hut's livability without bumping up in weight or price. REI's Passage 2 has a similar floor plan but forgoes the ridge pole, resulting in a $40 savings but noticeably compromised head room. For a large jump in price ($329), the Co-op's Half Dome SL 2+ is slightly larger (90 x 54 in.) and over a pound lighter. Perhaps the closest competition to the Trail Hut 2 is the Marmot Tungsten ($214): it's a bit taller at 42 inches (with a ridge pole) and 11 ounces lighter with an airy mesh build, but the floor plan is tapered (88 x 54/46 in.), meaning you only have the option of sleeping shoulder-to-shoulder with your tentmate.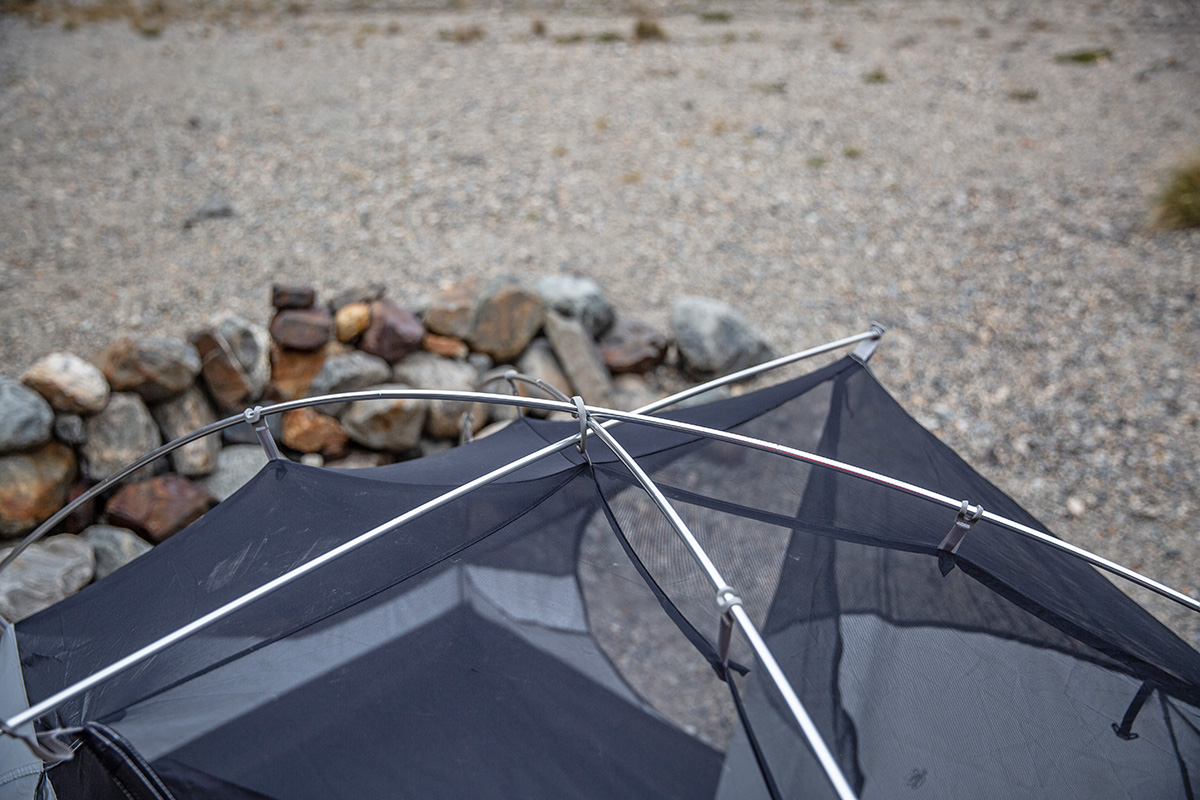 Weight and Packed Size
The Trail Hut 2 has a lot going for it, but where it falls short the most is in terms of weight. At 5 pounds 15 ounces, it's roughly twice the weight of many premium backpacking tents, including models like the Big Agnes Copper Spur HV UL2 (3 lbs. 2 oz.) and MSR Hubba Hubba 2 (3 lbs. 4 oz.). But you'll pay a pretty penny for the weight savings ($500 and $480, respectively), and both the Big Agnes and MSR are significantly less durable than the REI. It's easy to get caught up in the lightweight backpacking craze, but we think a tent like the Trail Hut 2 is perfectly serviceable for most, unless you're really pushing yourself in terms of distance and speed, or have good reason to keep your pack weight very low. Finally, keep in mind that you can always leave the removable footprint at home, which will cut weight by 7 ounces.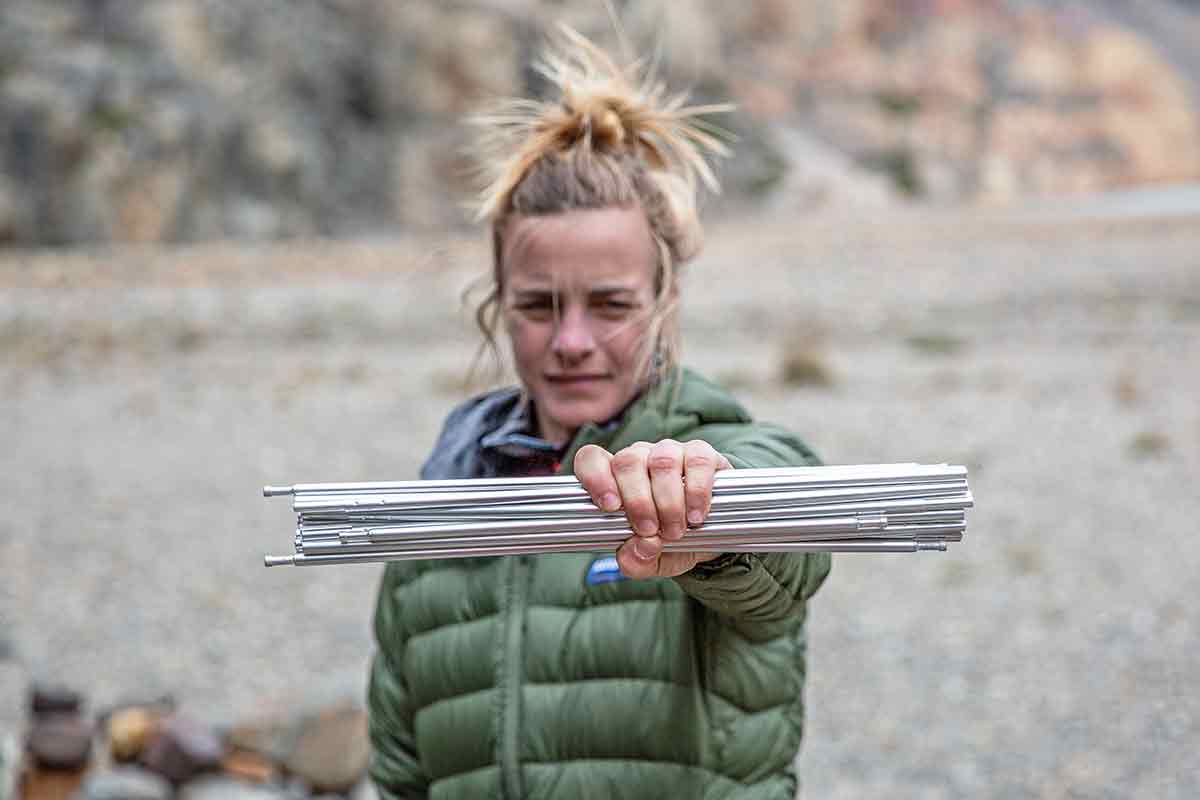 If you're looking for the best combination of price and weight, the Big Agnes C Bar ($200, 4 lbs.) is our top recommendation. However, it's a highly compromised design with just one door, a simplified pole structure, and a tapered floor plan—in short, we'd hesitate to recommend the C Bar for parties of two, and it's a poor choice for windy conditions. Another tent worth noting is REI's Half Dome SL 2+, which hits a nice middle ground at 4 pounds 11.5 ounces and features a spacious floor plan, decent durability, and great weather proofing with a stable pole structure and full rain fly. As we mentioned above, you'll spend up for the Half Dome SL ($329), but the balance of features and price make it a very attractive design.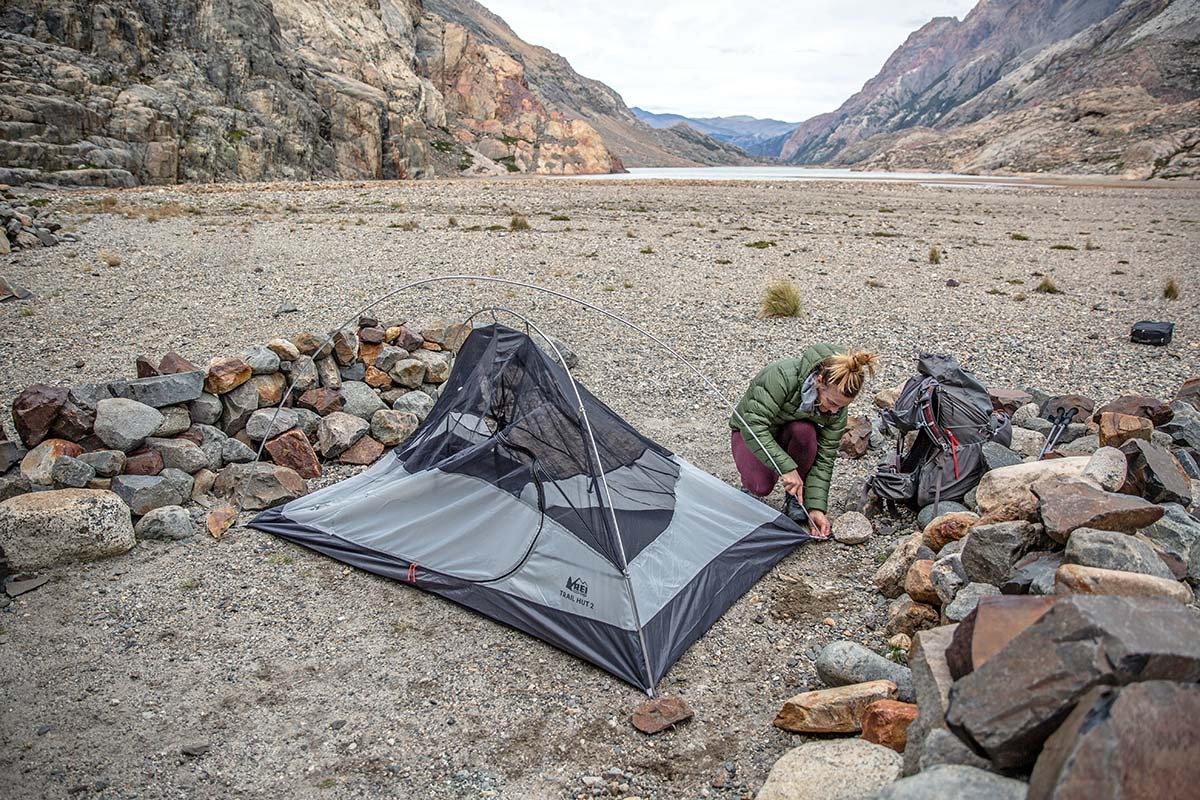 In terms of packed size, the Trail Hut 2 gets down to about 8 x 18 inches—including the poles and stakes—and with some careful packing it can stuff down much smaller, too. I brought a 55-liter backpacking pack on our multi-day trek in Patagonia, and was able to fit the tent inside while having more than ample space for all my other gear. For comparison's sake, the aforementioned tents pack down slightly smaller: The Copper Spur's packed size is 19.5 x 6 inches, the Hubba Hubba's is 19 x 4.5 inches, and the C Bar checks in at 19 x 6 inches. If you're really concerned about packed size, it's worth getting a compression stuff sack for the Trail Hut 2 (you'll have to pack the poles and stakes separately), as it could stuff down much smaller than its listed size.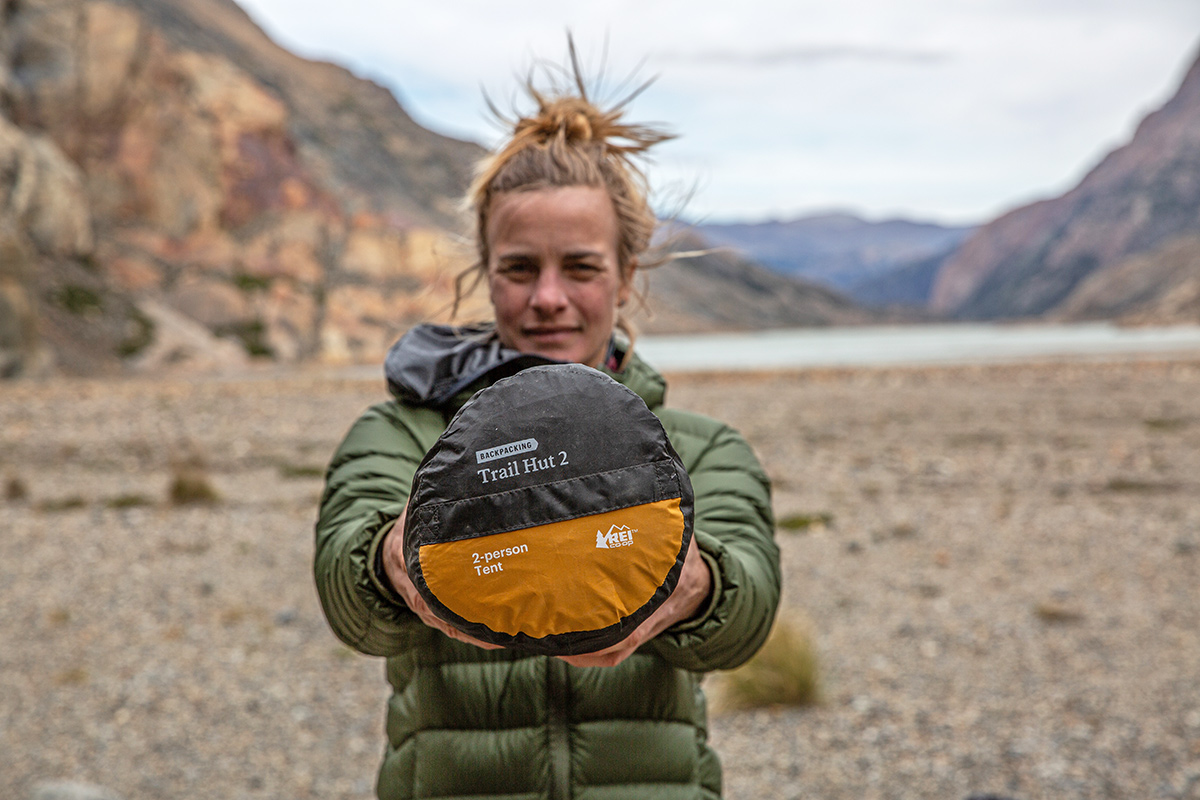 Build Quality and Durability
Budget tents like the Trail Hut 2 are compromised in terms of weight and packed size, but one place they really shine is durability. One of our best metrics for judging the durability of a tent is the denier, or the thickness, of the fabric. In the case of the Trail Hut 2, you get a 66-denier floor and canopy walls, along with a 68-denier rain fly. The tent also comes with a removable footprint, which is helpful if you plan to camp in areas with sharp rocks or ground cover. The REI Passage 2 has a similarly thick floor (66D), while tents like the Copper Spur (15x20D) and Hubba Hubba (20D) are much thinner. Bridging the gap between categories is the REI Co-op Half Dome SL 2+, which has a 40-denier floor.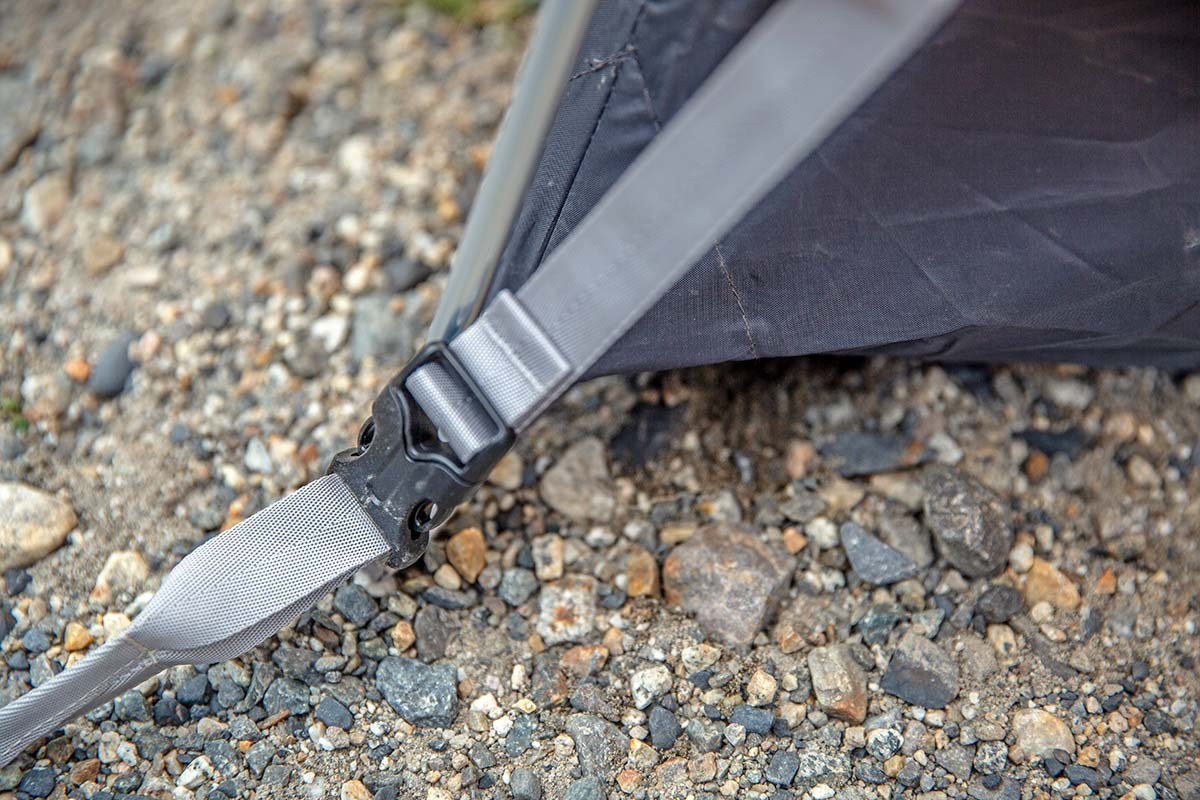 Weather Protection
Southern Patagonia is known for having some of the world's worst weather, and it fully delivered during our visit. Throughout nights of 60-plus mph winds and pouring rain, the Trail Hut surprised us with its rock-solid stability and waterproofing. To be fully transparent, I wasn't sure what to expect from a $199 tent; as the rest of the group set up their more premium designs (the MSR Hubba Hubba 2, Nemo Dagger, and MSR Freelite), I was sure that mine would fare the worst in the night's storm. In the end, the Trail Hut was one of the best performers—it didn't cave in from the side like the semi-freestanding tents, and it provided a quiet night's sleep with minimal flapping. For one of the cheapest backpacking tents money can buy, it's surprisingly ready for a serious storm.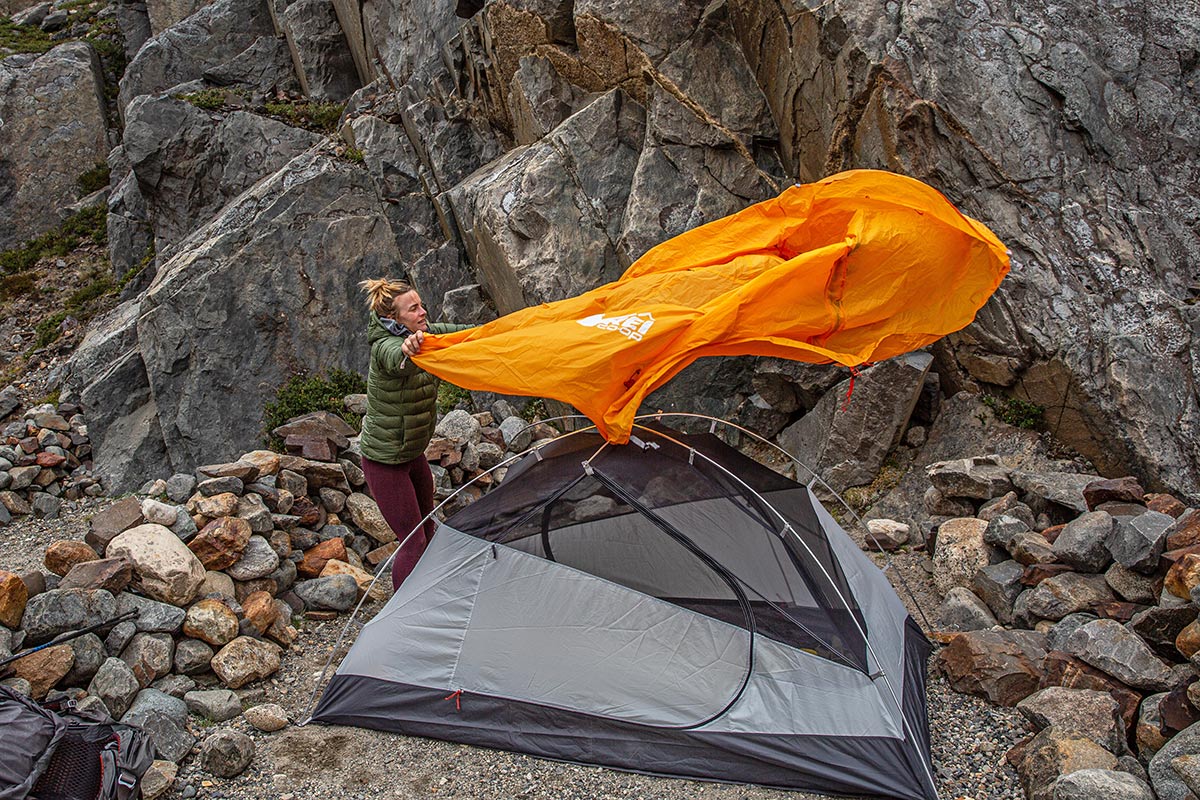 Ventilation
In terms of ventilation, the REI Co-op Trail Hut 2 is perfectly serviceable for all but the warmest days on the trail. The tent body features a moderate level of mesh and the rainfly has a vent on each side that props open with a rigid strut. What's more, the tent is designed so that the fly doors zip all the way to the apex, allowing you to roll them up on dry nights for additional ventilation. If you're particularly concerned about keeping good airflow it might be worth considering a more mesh-heavy design or a tent with a thinner rain fly, but we were impressed with the Trail Hut and have spent multiple nights inside with no condensation issues.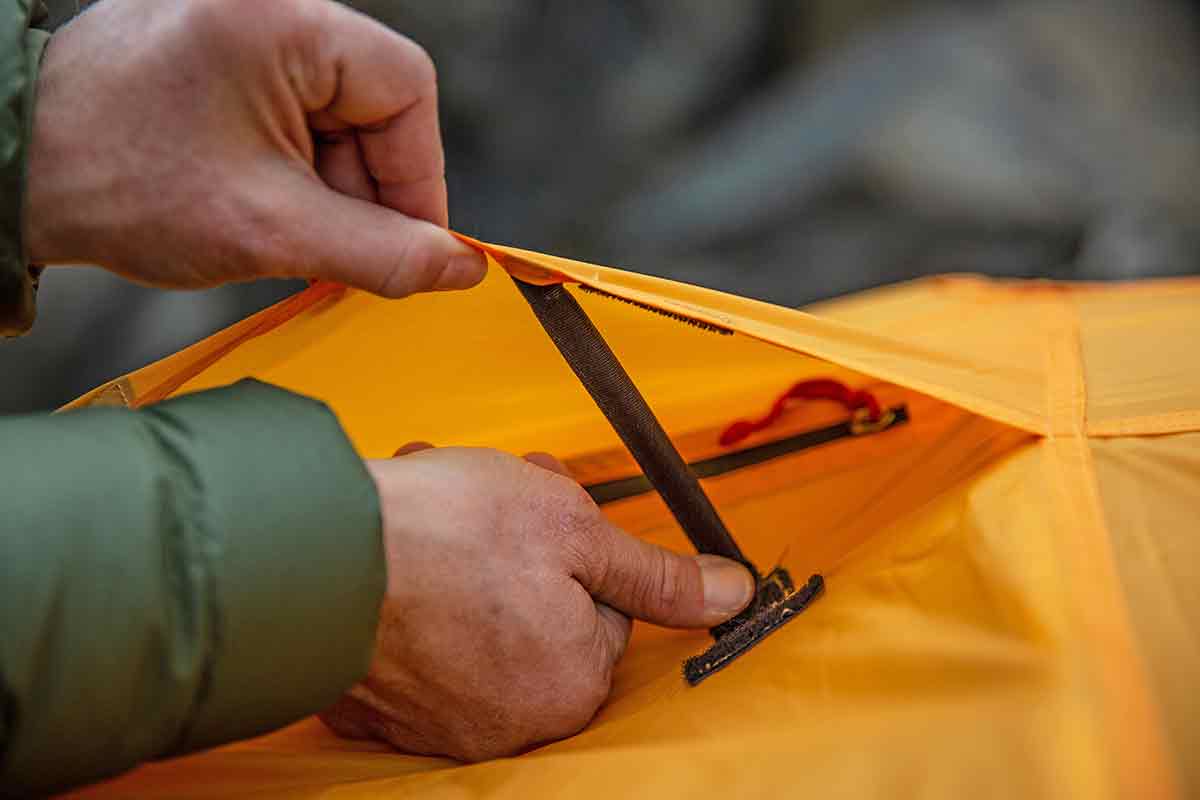 Storage
We break tent storage down into two main categories: interior and exterior. In terms of inside storage, the Trail Hut 2 was relatively disappointing, with just one dump pocket on each side. REI added four loops at the top of the ceiling to provide additional options, but it's up to the user to find a mesh panel or paracord to hang between the loops. Compared to other tents, this is a fairly minimal feature set—for comparison, the REI Co-op Half Dome SL 2+ has a pocket at each corner (four total) and two roof pockets. We appreciate interior storage for staying organized and keeping small items like headlamps and stuff sacks easy to find (and definitely found the Trail Hut lacking), but it's not necessarily a deal breaker for us.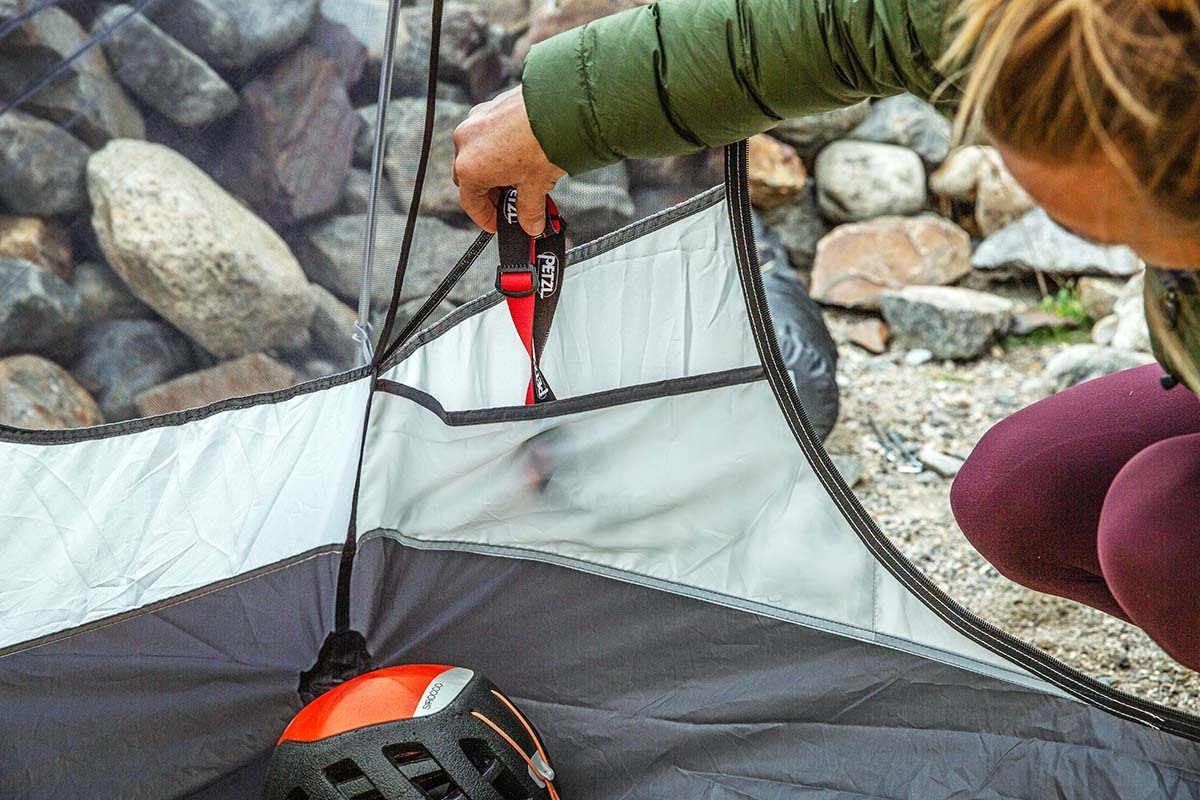 The Trail Hut features two vestibules, each of which provides about 9.5 square feet of storage. It's possible to find tents with larger vestibules (the REI Half Dome SL 2+ checks in at 22.5 square feet), but 18 to 20 square feet is fairly par for the course among two-door models. This covered area is vital for storing wet and dirty items like your pack or hiking shoes, and can go a long way toward making the sleeping area feel more spacious. For couples or hiking partners sharing a tent, we definitely recommend a two-door, two-vestibule design, but you can save weight by dropping down to one door and vestibule.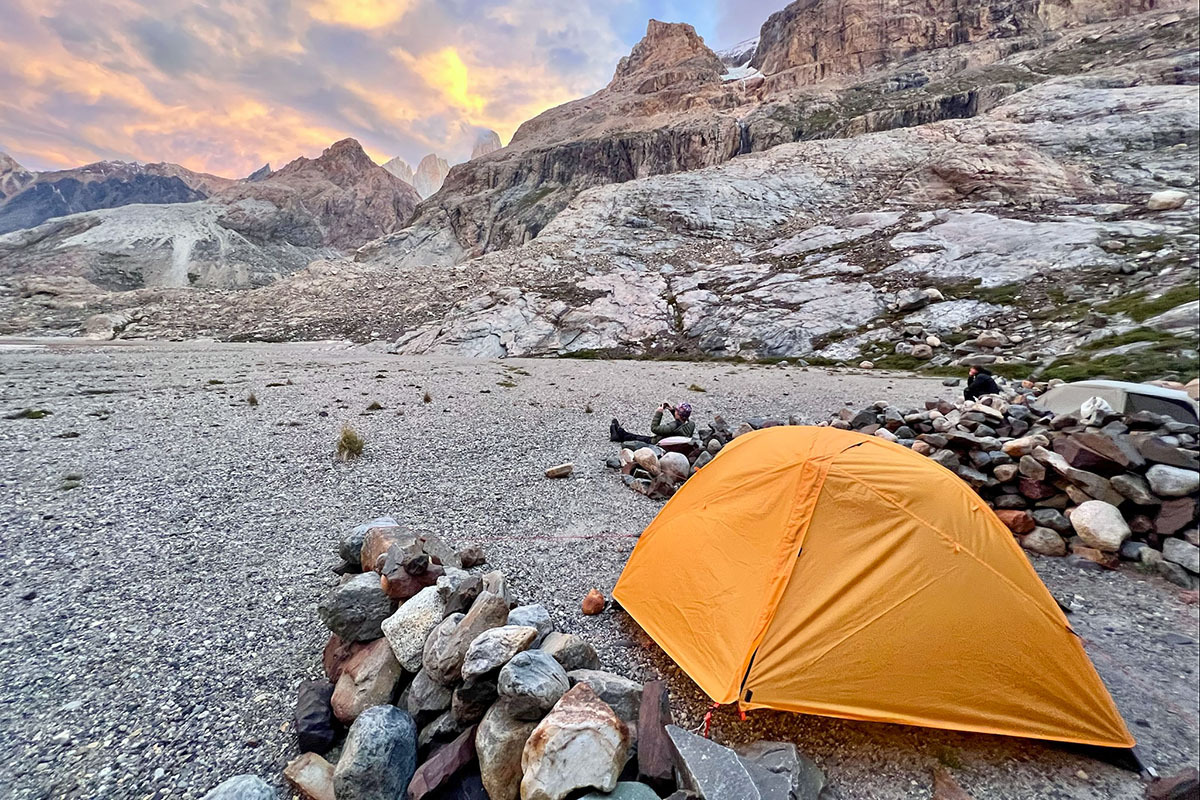 Set up and Take Down
REI designed the Trail Hut 2 to be very easy to set up, with a symmetrical design, attached footprint (removeable), two identical poles that criss-cross at the apex, and a shorter ridge pole that slides in afterwards. We're big fans of getting a really taut pitch, and the Trail Hut was easy to tweak to perfection, with cinches at each corner to tighten the fly and a nice array of guy-out points (with included guy lines). Sure, you don't get color-coded corners or a hubbed pole like you might get with a more premium tent, but we nevertheless found the Trail Hut 2 a breeze to set up and take down.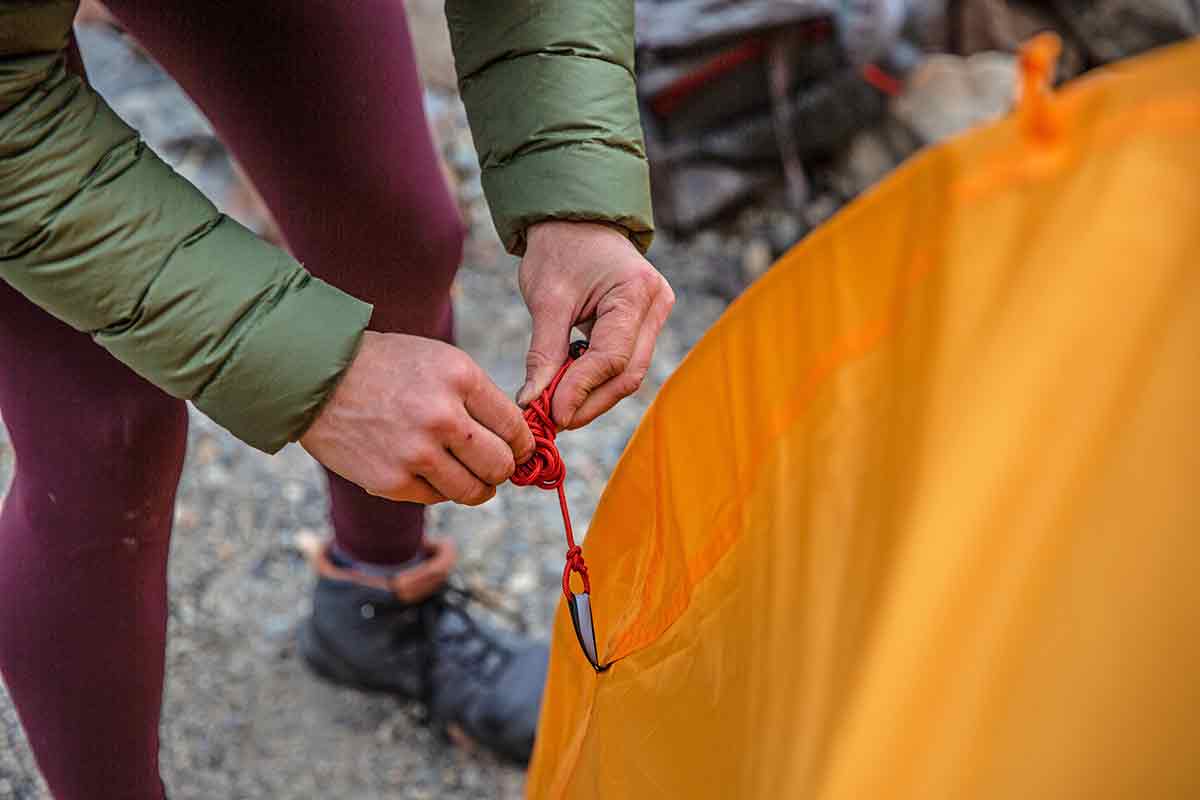 Other Capacity: REI Co-op Trail Hut 4
We tested the Trail Hut 2 for this review, but REI's spacious budget tent also comes in a 4-person design. The Trail Hut 4 tacks on 38 inches to the width of the two-person tent, resulting in a 90 x 88 square inch floor plan that provides a cozy shelter for four. This large tent is one of our favorite designs for families with small children or groups of two or three looking for some extra space, but we wouldn't recommend it for four full-sized adults unless you're ready to feel like a sardine. Still, it's hard to beat the value at $299, and in most cases the Trail Hut 4 is significantly cheaper and lighter (8 lbs. 1.6 oz.) than opting for two 2–person designs.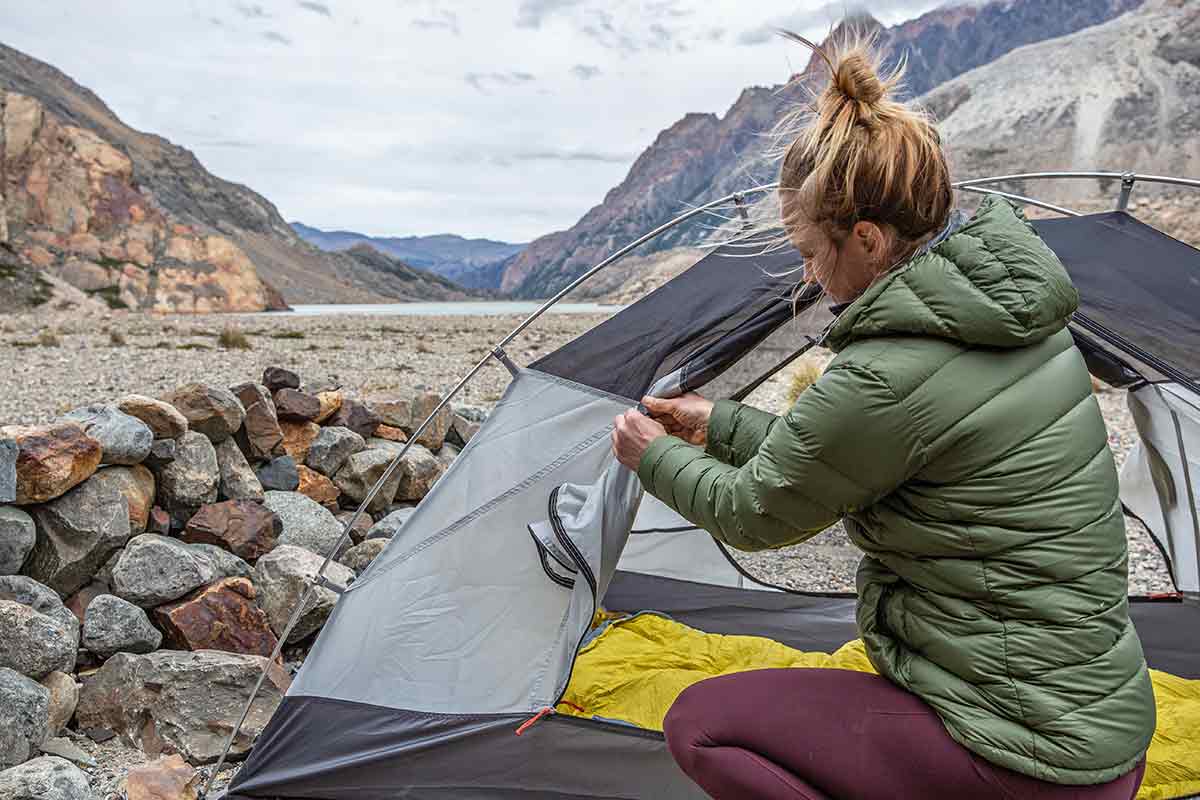 What We Like
A spacious, durable, and protective tent for less than half the price of many premium designs.
A stable pole structure, robust fly, and taut pitch result in excellent wind and water protection.
Ridge pole adds a good deal of interior space for just a small weight penalty.
With a 66-denier floor and body and 68-denier fly, the Trail Hut 2 is more durable than most backpacking tents.

What We Don't
At 5 pounds 15 ounces, the Trail Hut 2 is multiple pounds heavier and notably bulkier than much of the premium backpacking tent competition.
Interior space is competitive for a two-person design, but couples wanting more space might prefer a 3-person tent.
Forgoing features like color coding or a hubbed pole, the Trail Hut 2 lacks the premium feel of pricier tents.
Minimal interior storage, with just two pockets and a few loops at the top.


Comparison Table
| Tent | Price | Weight | Dimensions | Denier | Capacities | Footprint* |
| --- | --- | --- | --- | --- | --- | --- |
| REI Co-op Trail Hut 2 | $199 | 5 lbs. 15 oz. | 88 x 52 x 40 in. | 66D | 2P | Yes |
| REI Co-op Passage 2 | $159 | 5 lbs. 10 oz. | 88 x 52 x 40 in. | 66D | 1P, 2P, 3P | Yes |
| REI Co-op Half Dome SL 2+ | $279 | 4 lbs. 13.5 oz. | 92 x 56 x 42 in. | 40D | 2P, 3P | Yes |
| Marmot Tungsten 2P | $214 | 5 lbs. 4 oz. | 88 x 54/46 x 42 in. | 68D | 1P, 2P, 3P, 4P | Yes |
| Big Agnes C Bar | $200 | 4 lbs. | 86 x 52/42 in. | 68D | 2P, 3P | No |
| MSR Hubba Hubba NX | $450 | 3 lbs. 14 oz. | 84 x 50 x 39 in. | 30D | 1P, 2P, 3P, 4P | No |
*Editor's Note: "Footprint" indicates a footprint is included with the tent purchase.

The Competition
REI Co-op's Trail Hut 2 is one of the best values in backpacking tents, but there's no shortage of attractive alternatives. Within the budget market, the Co-op's Passage 2 is also worth considering. The two are very similar tents with a key distinction being that the Trail Hut has a ridge pole, while the Passage does not. As a result, the Passage is 5 ounces lighter, $40 less, and features more sloping walls and less interior space overall. It's also worth noting that the Passage comes in a 1-person model ($139, 4 lbs. 10 oz.), which is an intriguing option for solo hikers. In our opinion the Trail Hut 2 is worth the added weight and price for the more spacious design, but those less concerned with comfort will likely be content with the Passage 2.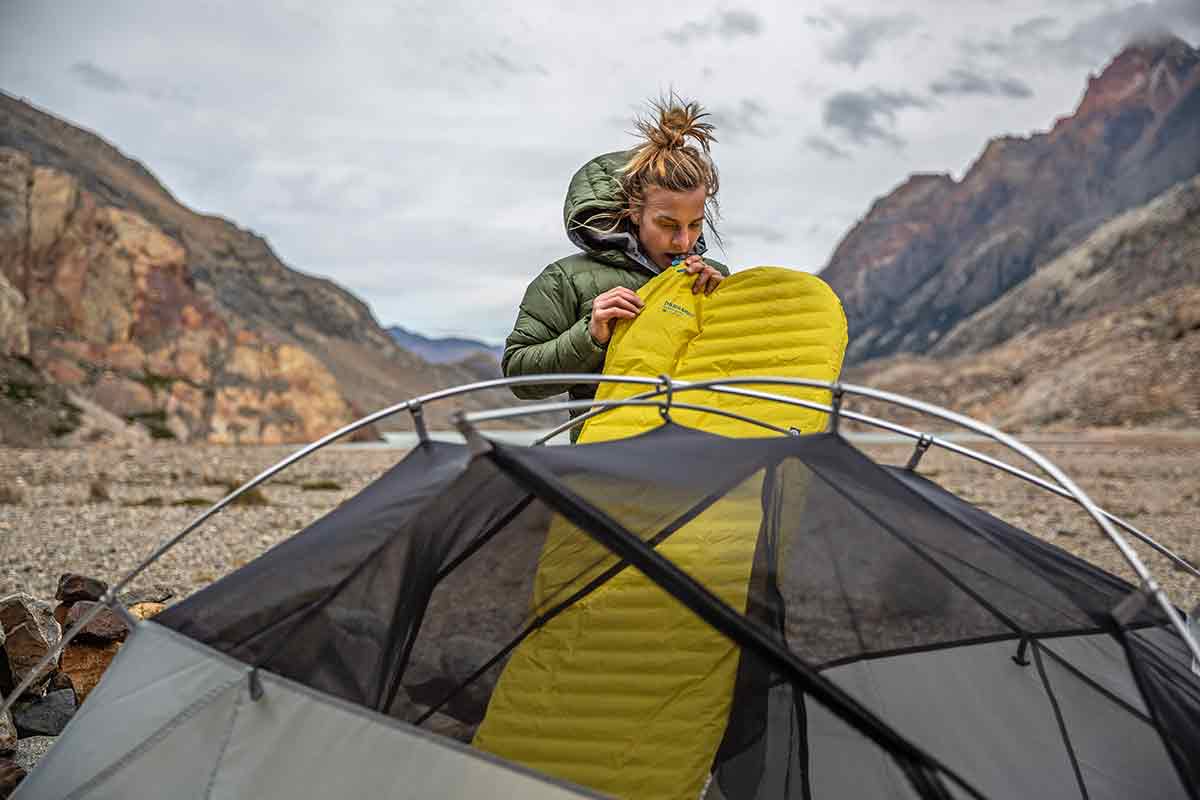 Sticking within REI's lineup, we'll look next at the Half Dome SL 2+. The Co-op consistently nails it with their tent designs, and the Half Dome is the cream of the crop for those willing to spend up for a great balance of weight-savings, interior space, and premium fit and finish. The Half Dome adds 4 inches to each of Trail Hut 2's dimensions (92 x 56 in.) to provide ample room for two sleepers (and an extra child or canine if you're willing to make a tight squeeze). At 4 pounds 14 ounces it's over a pound lighter than the Trail Hut—shaving weight through the use of thinner materials throughout—and features larger vestibules with contoured doors that provide a generous opening. Finally, while storage is one of our primary gripes with the Trail Hut, the Half Dome is much better featured with six interior pockets. It's significantly pricier with a recent price hike to $329, but the Half Dome SL 2+ is nevertheless a nice middle ground between the Trail Hut and the more premium competition (for more, see our in-depth Half Dome review).
Looking closer at the budget competition, Marmot's Tungsten 2 is the Trail Hut's closest rival. For $15 more, the Tungsten shaves 11 ounces off the weight of the Trail Hut with a tapered floor plan (88 x 54/46 in.) and an airy mesh canopy. This translates to less interior space—you'll have to sleep shoulder-to-shoulder with your tentmate rather than head-to-toe—and more compromised wind resistance. But like the REI, the Tungsten includes a ridge pole for steeper walls and increased headroom, plus it's also a bit taller with a 42-inch peak height (vs. the REI's 40 in.). We still give the edge to the Trail Hut for it's better price and interior space, but the Marmot is an attractive option for those looking to shave some weight. 
If you're looking for the best combination of price and weight, the Big Agnes C Bar ($200) is about as light as it gets within the budget category. At 4 pounds, it's almost 2 pounds lighter than the Trail Hut 2 and a bit more packable. But our praise stops there: The C Bar is a highly compromised design with just one door, a simplified pole structure, and a tapered floor plan. Unless you're traveling solo or ready to get really close with your partner, we strongly recommend against a one-door tent. Further, while the simplified pole structure (just one pole down the spine of the tent) is great for shaving weight, it's a poor performer in heavy winds and has a tendency to cave in on the sides. Added up, the C Bar is a nice alternative to the Passage 1 for those looking for a 1-person tent, but we'd hesitate to recommend it for most parties of two, especially when spending up can get you a much more spacious design at a lighter weight.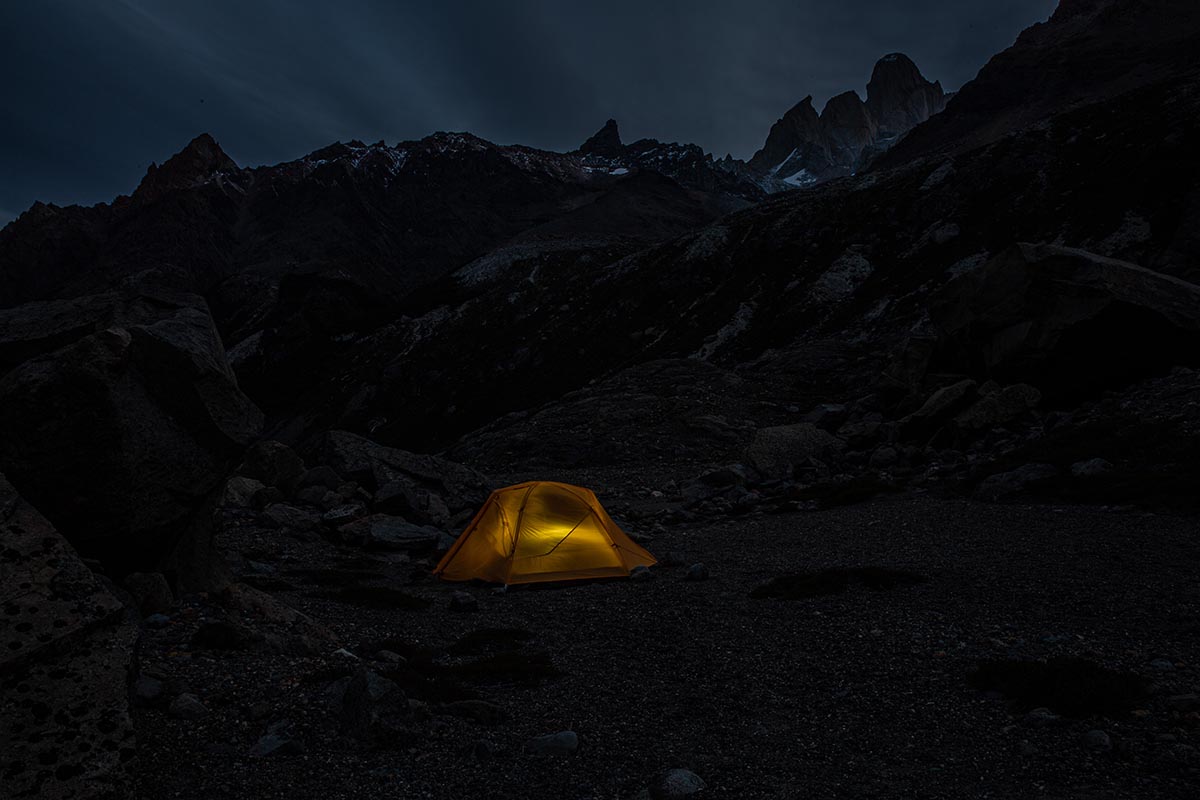 Lastly, it's worth at least mentioning a premium tent to give you a sense for how the Trail Hut 2 stacks up. Year after year, one of the most popular designs on the market is the MSR Hubba Hubba. At $480, the Hubba Hubba is over twice the price of the Trail Hut, but it's over 2 and a half pounds lighter (3 lbs. 4 oz.) while offering the same steep walls and reliable weather protection. You do drop down a bit in terms of interior space with the MSR's 84 x 50-inch floor plan, the triangular doors can take some getting used to, and the fabrics are fairly thin at 20-denier throughout, but these are all concessions serious backpackers are willing to make for the weight-savings. That said, unless you have reason to need the best of the best, the Trail Hut 2 is a high-quality alternative for an impressive savings.
Editor's note: We usually provide a live price comparison table below our outdoor gear reviews, but the Trail Hut 2 is sold exclusively by REI Co-op. You can see the Trail Hut 2 page here and support us in the process. Thanks!
Read More From Switchback Travel