REI Co-op Half Dome 2 Plus
Price: $229
Minimum weight: 4 lbs. 14 oz.
Floor denier: 70D
Capacities: 1 Plus, 2 Plus, 3 Plus, 4 Plus
What we like: Great value, quality materials, and ample interior space.
What we don't: Fairly heavy for serious backpacking.
See the REI Co-op Half Dome 2 Plus
Beloved by backpackers for years, REI Co-op's Half Dome boasts many of the features we love in a tent at a very reasonable price point. Updated last year, the Half Dome line is now exclusively offered in "Plus" models, which are among the roomiest and most comfortable on the market. As such, the tent is too heavy to win over the ultralight crowd, but there's a reason we recommend the Half Dome to friends and family more than any other model: it's durable, has every feature you need for 3-season adventuring, and is a solid value. We put the Half Dome 2 Plus to the test on Patagonia's Huemul Circuit and in the Great Smoky Mountains, and below we break down its livability and interior space, weight and packed size, durability, weather protection, and more. To see how the Half Dome stacks up, see our article on the best backpacking tents.

Performance
Livability and Interior Space
We will start by noting that in years past, REI offered the Half Dome in regular sizes along with a roomier 2 Plus version, which was longer and wider than a standard backpacking tent (great for those who like to spread out or bring their dog). However, as of 2018, the entire Half Dome line is now made exclusively in Plus versions. This is a boon for those who value interior space and cements its status as an ultra-comfortable backpacking tent and attractive crossover option for car camping.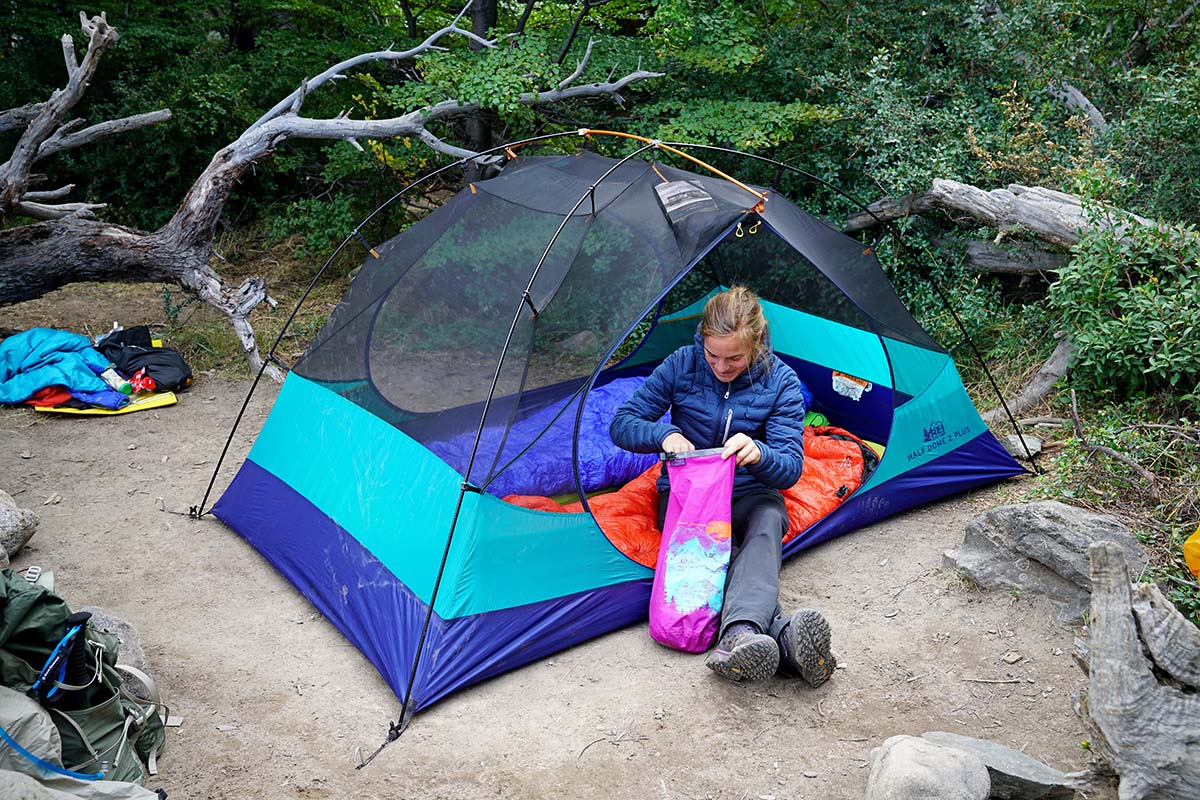 We tested the REI Co-op Half Dome 2 Plus, which is an absolute standout in terms of interior space. The expansive 35.8-square-foot floor is more than 3 square feet larger than most of the competition, and we found that it accommodates two regular backpacking pads with inches on all sides to spare. Further, the floor is symmetrical, the ceiling is tall at 44 inches in the center, and the vertical mesh walls only enhance the roomy feeling. This all adds up to an honest-to-goodness livable option for two people, something almost no other two-person backpacking model can claim (those that are worried about space commonly size up to a three-person tent).


Weight and Packed Size
The Half Dome prioritizes interior space and durability over weight, so even though the tent is about 3 ounces lighter than the previous model, with a minimum weight of 4 pounds 14 ounces, it's still on the heavy end of the market. For reference, leading backpacking tents like the Nemo Dagger 2P (3 pounds 5 ounces), MSR Hubba Hubba NX (3 pounds 8 ounces), and even REI's own Quarter Dome 2 (3 pounds 5 ounces) all undercut the Half Dome by well over a pound, but they also cost significantly more and use thinner materials that are more prone to tearing. Within the $200 category, Marmot's Tungsten 2 (4 pounds 13 ounces) and The North Face Talus 2 (4 pounds 8 ounces) are comparable in weight but can't match the Half Dome's interior space or overall build quality.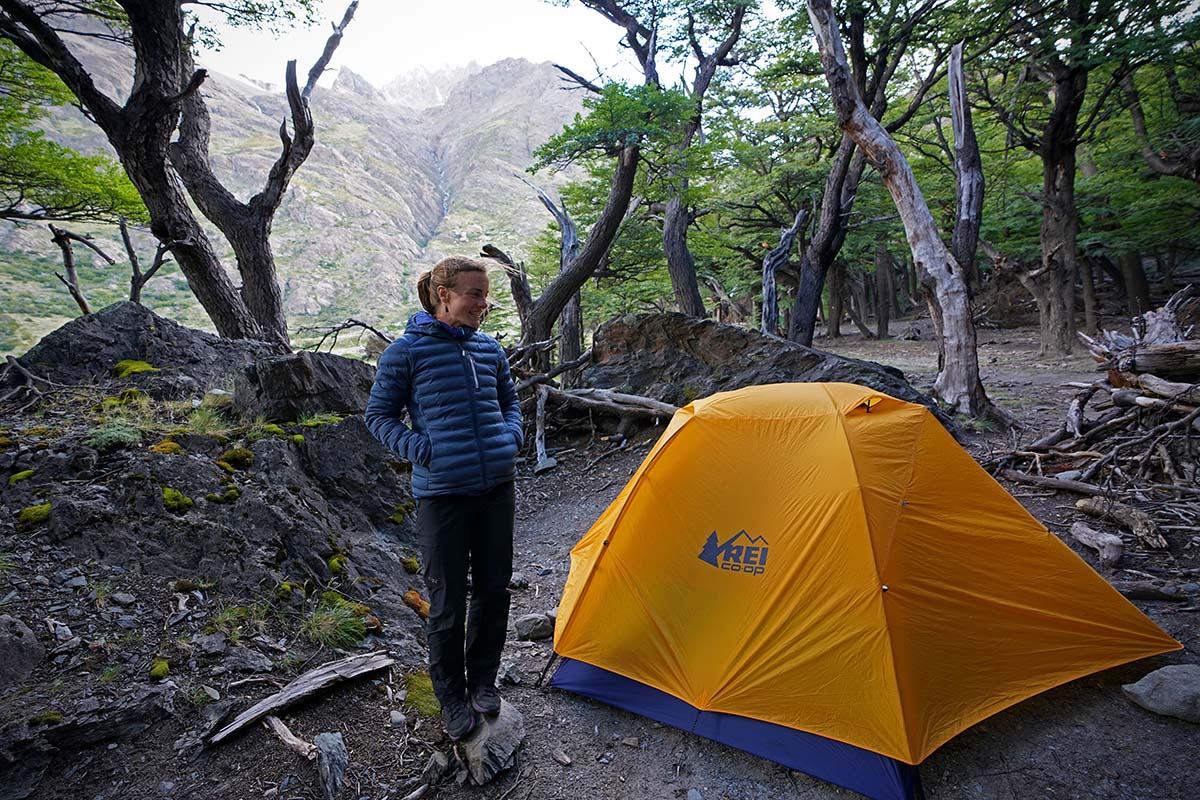 Packed size nearly always goes hand-in-hand with weight, so it's not a surprise that the Half Dome measures a fairly large 7 x 20.5 inches. One of the culprits that increases the bag's diameter is the single pole hub design, which is bulkier when broken down than tents that come with multiple poles. That being said, it's only about an inch longer and a couple inches wider than a lightweight model, and we never had issues storing the tent on either the Patagonia or the Smoky Mountains trips (plus, you can always separate the poles from the tent body and rainfly when stowing them in your backpacking pack). And a final note on packed size: as with many of REI's stuff bags, the Half Dome's is generously sized to accommodate less-than-perfect packing, which we appreciate.
 
Durability
Backpacking gear is light for a reason and always requires some care, but the REI Co-op Half Dome 2 Plus is among the tougher tents on the market. With a substantial 70-denier (D) floor and 40D rainfly, it doesn't require nearly as delicate of a touch as the 20D floor and 15D fly on the Quarter Dome, for example. A footprint can help extend the life of your tent, and be careful when stowing to avoid getting a snag in the mesh that comprises most of the canopy, but otherwise there are very few areas of concern. We would prefer tougher stakes—we ended up bending one of them in Patagonia fairly quickly—but that's an easy upgrade.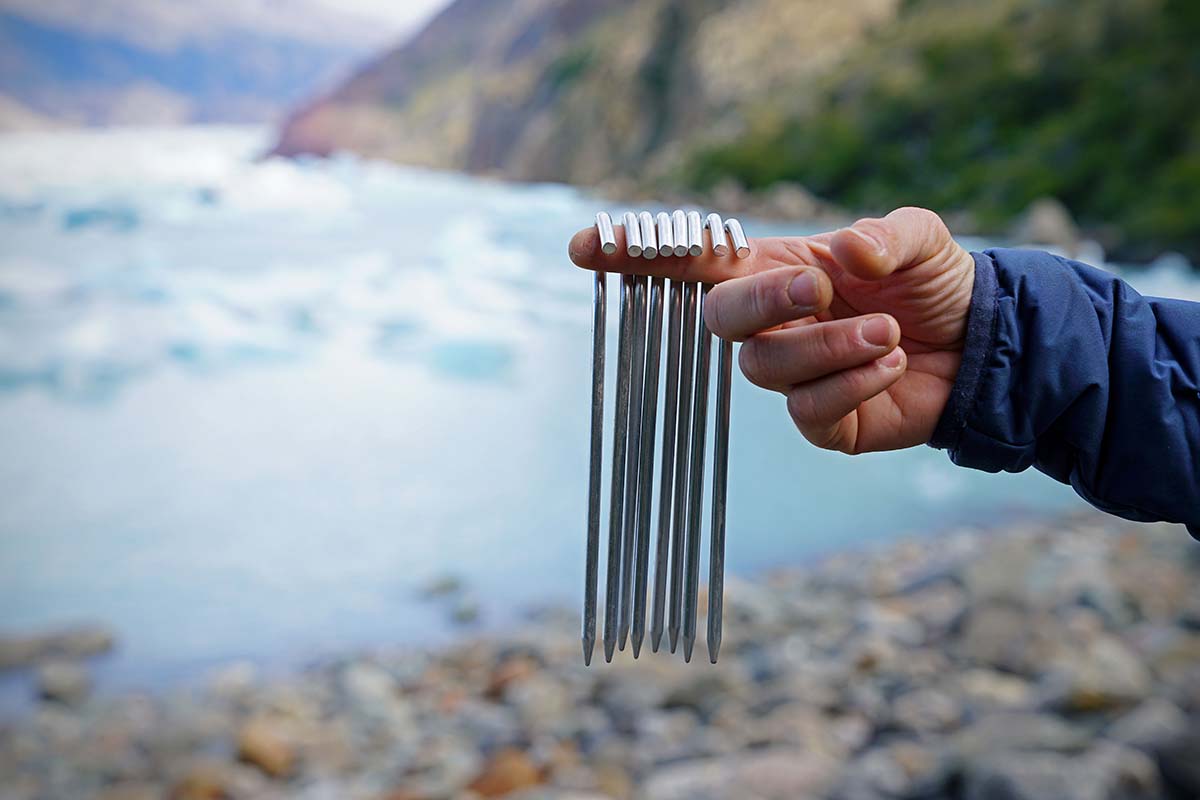 The Half Dome line has a pretty stellar history in build quality, but there were a number of reported issues on previous models with the poles cracking at the junction with the plastic hubs. While we never experienced this problem—and the cause may have been user error in not seating the poles completely into the hubs—REI upgraded the system last year with strong metal DAC-branded hubs. Further, we've found the updated pole design doesn't put any undue pressure on those joints even when setting up the tent solo, so we don't expect that issue to pop up again.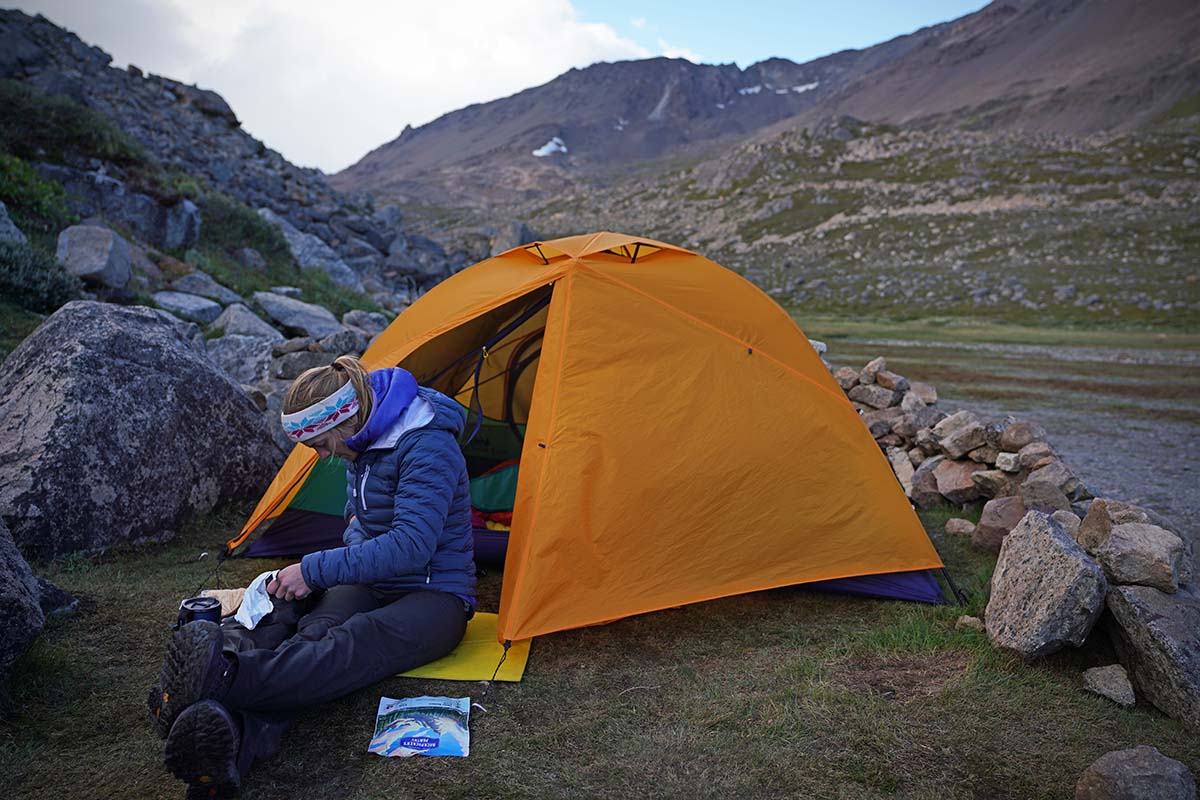 Weather Protection
The Half Dome 2 Plus is built to handle most 3-season conditions with its sturdy construction, full-coverage rainfly, and bathtub floor with quality seam taping. Our trip on the Huemul Circuit involved overnight rain and sleet, and we experienced no leaks or signs of vulnerability (just remember to close the roof vents as needed if the rain is blowing sideways). For increasing weather worthiness, we did pack extra stakes to guy it out as only eight stakes are included.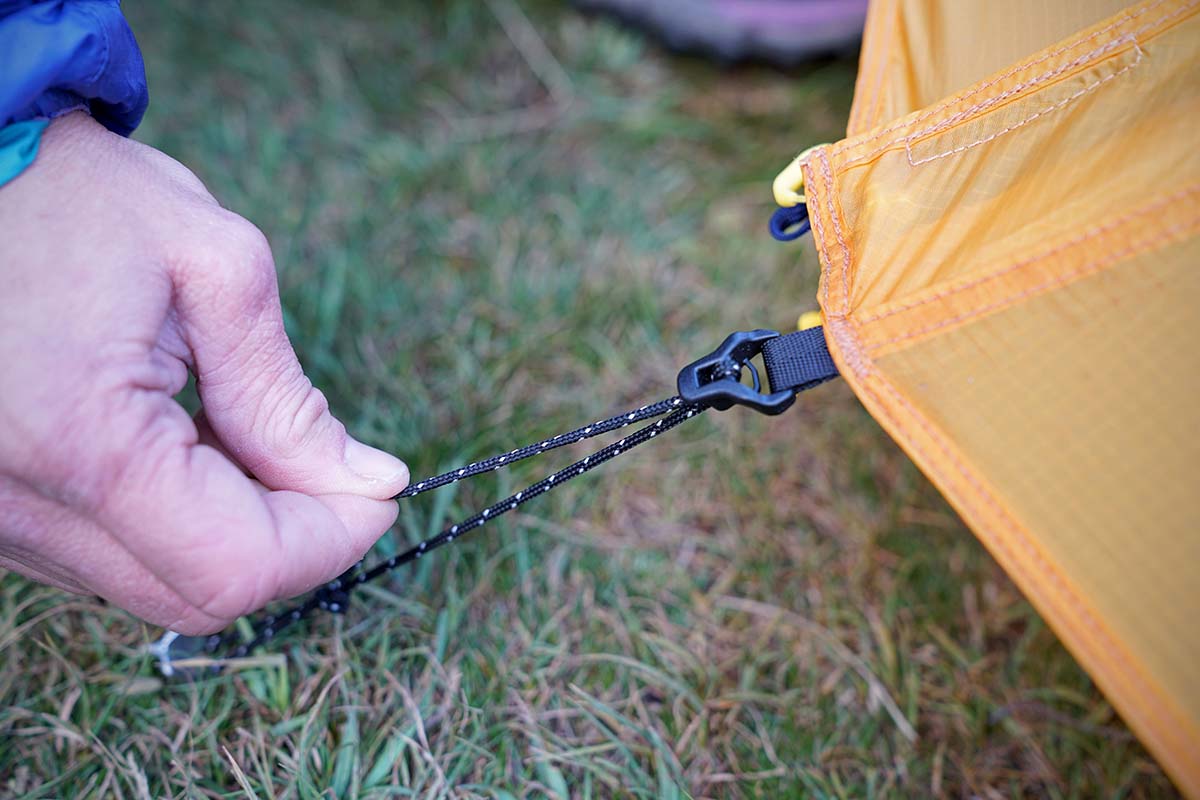 The REI Co-op Half Dome 2 Plus is not, however, fully immune to the wind. Granted, we were camping along the Southern Patagonian Icefield, which was on the extreme end of the spectrum for "summer" use. But even when guyed out and protected with the rocks and branches that surrounded the campsites, the Half Dome was noisy and moved during big gusts (so did our Hilleberg to some degree, we might add). On one occasion during super high winds, our Editor Jenny woke up with the tent bowing all the way down to her head. This is one downside of the tall profile, which prioritizes interior space over all-out strength. Having said all that, we've suffered zero damage during extensive testing in harsh conditions, and have no concerns about overall weather worthiness for most 3-season backpacking.


Ventilation
With large vents, lots of mesh, and enough space separating the rainfly and tent body, the Half Dome is a very good ventilator. Many double-wall backpacking tents include one or two vents for moving air, but the Half Dome comes with a total of four along the ceiling that can be opened or closed with Velcro tabs. This means that you can get some serious air movement for keeping condensation to a minimum on muggy nights. In the cold, we did notice that the extra airflow made it feel a bit drafty inside, but closing a couple of the vents helps with that issue.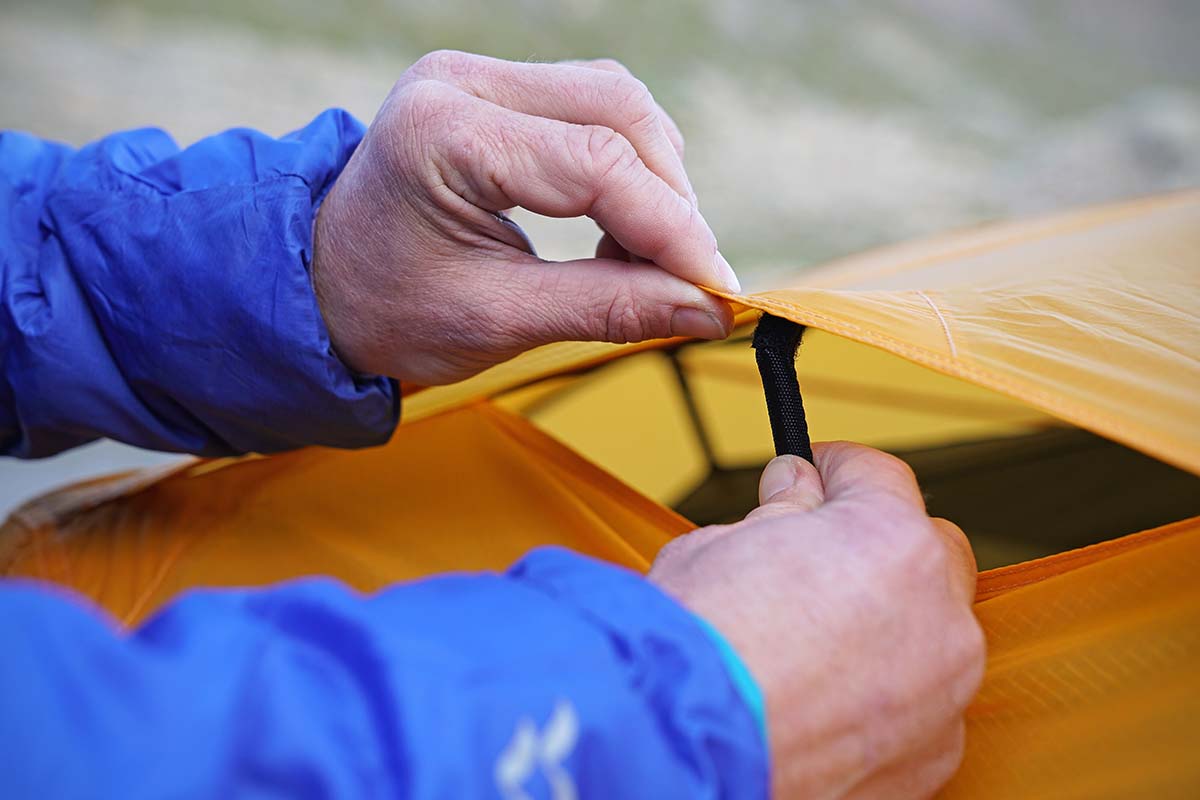 Storage
The Half Dome's two-door-and-vestibule design means it's easy for two people to store their packs, hiking shoes, and other gear on either side of the tent with plenty of room for entry and exit. The old Half Dome had a pretty generous 20.4 square feet of vestibule space, but the updated model stretches that to 22.5, split evenly between the sides. We also love the zipper design on the fly that opens to the side and down, creating a wide and protected opening for getting in and out. In addition, the rainfly is very adaptable: you can roll it back for stargazing, stake it out tarp-like with two trekking poles for a large awning, or zip it up for protecting your gear in rough weather.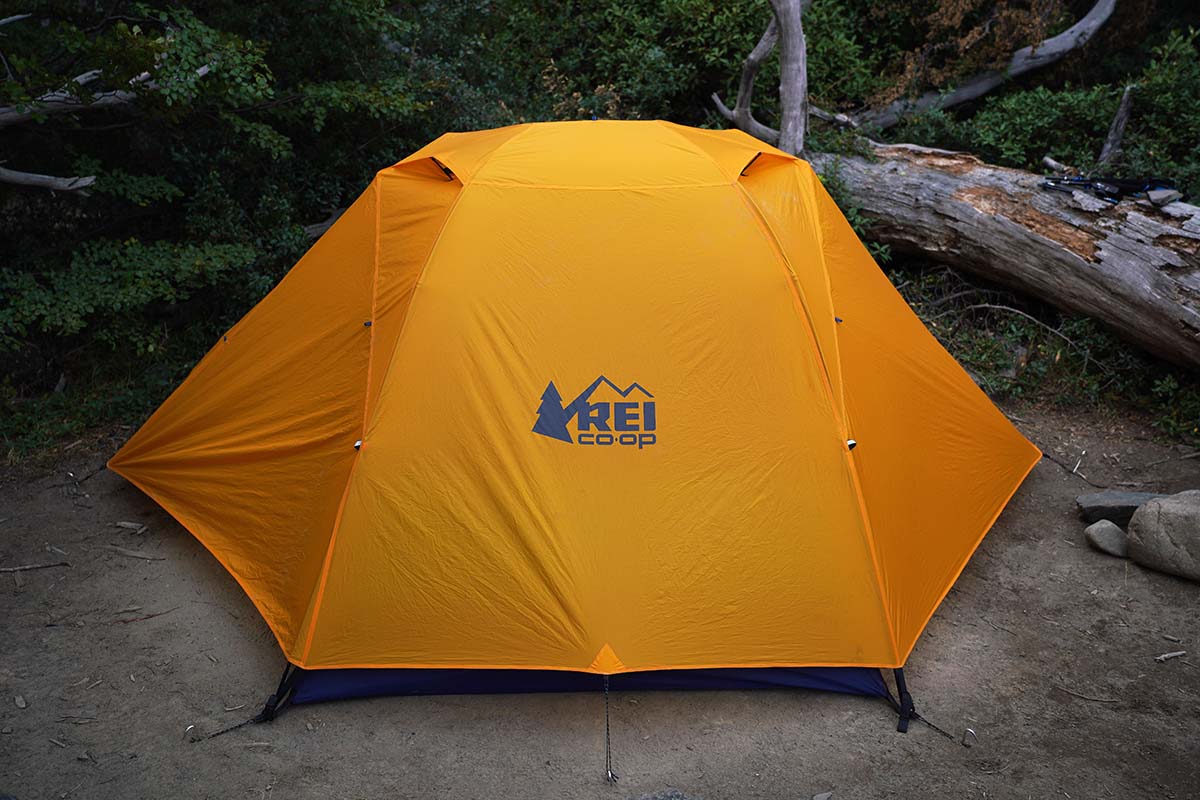 Storage is equally good on the inside of the tent: there are six pockets along the roof (not including the stuff pockets for each door) and a large pocket at each corner for easy access while in your sleeping bag. We suspect even families using the tent will be hard-pressed to use all of the available pockets. And there are plenty of loops along the ceiling for hanging a light for a nighttime game of cards.

Set up and Take Down
The freestanding tent body, symmetrical design, and one-piece hubbed pole makes the REI Co-op Half Dome 2 Plus incredibly easy to assemble and take down. As long as you line up the poles correctly (with the gold ridgepole across the middle of the tent), it's as easy as connecting the four corners, clipping it all together, and connecting the ridgepole. Adding the rainfly is just as painless, although we did find that it's a good idea to connect the ridgepole's grommets before buckling the rainfly into the bottom, which keeps from having to strain to make it fit. REI also includes set-up instructions on the tent bag, but it's a process that you will have down pat after very little practice.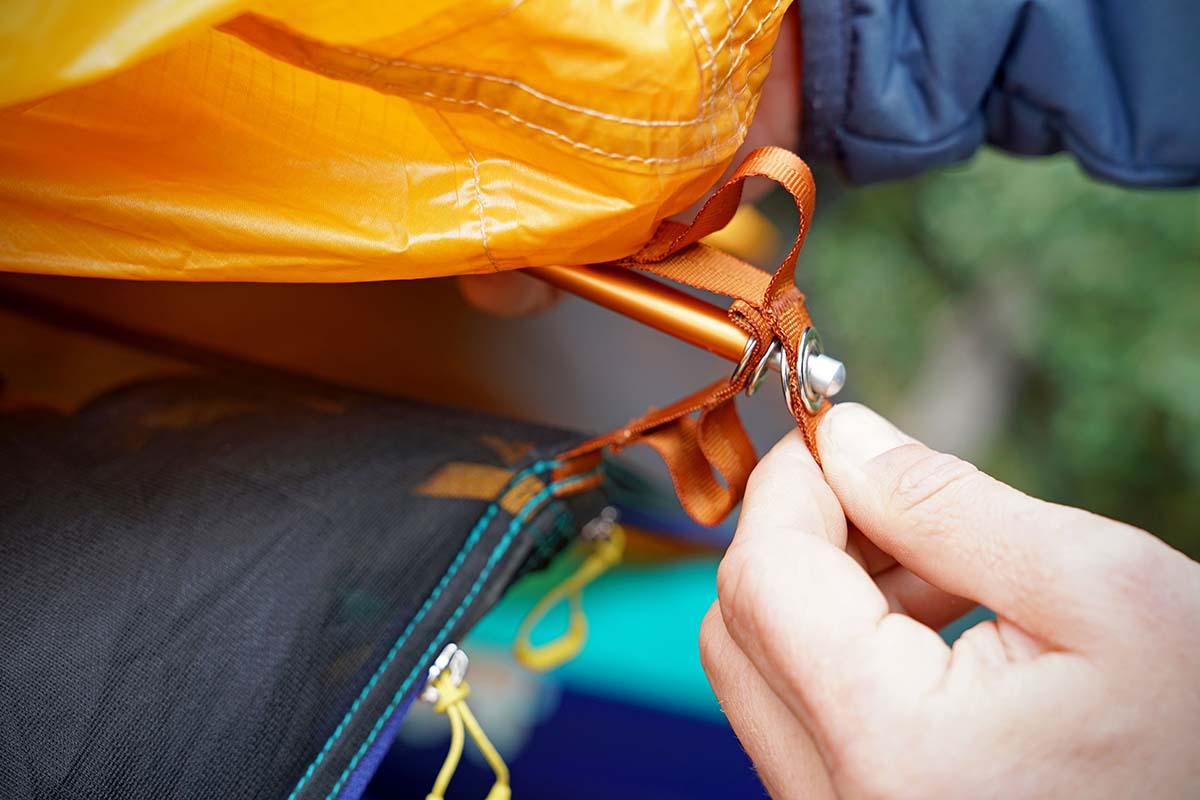 Other Capacities of the REI Co-op Half Dome Plus
As mentioned above, REI has offered a 2 Plus version of the Half Dome in the past, but the line now comes in 1 Plus, 3 Plus, and 4 Plus models as well. Our take on the Plus-only concept is that it's mostly good: the extra space is a welcome addition for casual backpackers, but it does take away some consumer choice. The non-Plus version of the old Half Dome 2P was an awesome value at $199 and weighed less than the 2 Plus tent. We suspect if they offered it again with the new pole architecture, it would be a top seller.
We're not totally convinced the Half Dome 1 Plus will make everyone happy, but we welcome the high-capacity options. It's common to choose a one-person tent because you want to trim weight, but at 3 pounds 11 ounces, the Half Dome 1 Plus is heavier than many two-person models. The larger three- and four-person versions make a lot of sense to us: these likely will be used for families and crossover nicely into car camping with their cavernous interiors. In the end, we think the "Plus" models are well-executed and highlight the positives of the Half Dome line—and the range of color options are a nice touch—but we still think standard-sized one- and two-person versions would be great additions.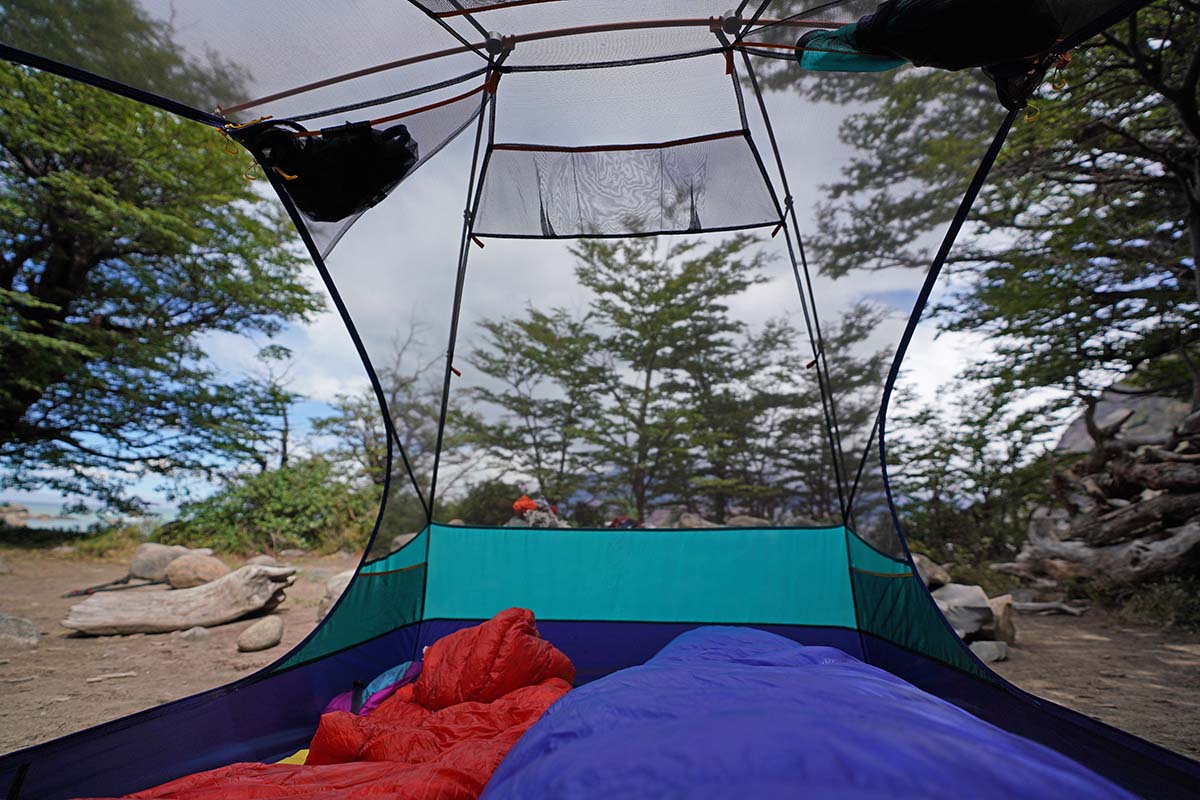 What We Like
Truly comfortable inside for two people with a large footprint and vertical walls.
Excellent value at $229: it's very well-made and has tons of thoughtful touches like adaptable vestibules and great stargazing.
Durable materials that should hold up over the long haul.
The spacious interior makes it a viable crossover car camping option (especially in the 3 Plus and 4 Plus versions).

What We Don't
Heavy at nearly 5 pounds and doesn't pack down very small.
Tall profile prioritizes interior comfort rather than all-out wind protection.
We'd love to see standard-sized one- and two-person versions become available.

Comparison Table
| TENT | PRICE | WEIGHT | Floor | Area | Height | Door(s) | Capacities |
| --- | --- | --- | --- | --- | --- | --- | --- |
| REI Co-op Half Dome 2 Plus | $229 | 4 lbs. 14 oz. | 70D | 35.8 sq. ft. | 44 in. | 2 | 1P, 2P, 3P, 4P |
| MSR Elixir 2 | $250 | 5 lbs. | 70D | 29 sq. ft. | 40 in. | 2 | 1P, 2P, 3P, 4P |
| Marmot Tungsten 2P | $199 | 4 lbs. 13 oz. | 68D | 32 sq. ft. | 42 in. | 2 | 1P, 2P, 3P, 4P |
| The North Face Talus 2 | $199 | 4 lbs. 8 oz. | 70D | 32 sq. ft. | 40 in. | 2 | 2P, 3P, 4P |
| REI Co-op Passage 2 | $159 | 4 lbs. 13 oz. | 75D | 31.1 sq. ft. | 40 in. | 2 | 1P, 2P, 3P |
| REI Co-op Quarter Dome 2 | $349 | 3 lbs. 5 oz. | 20D | 28.7 sq. ft. | 42 in. | 1 | 1P, 2P, 3P |

The Competition
The REI Co-op Half Dome 2 Plus successfully builds on its predecessors and remains at the top of the heap in the $200 backpacking tent category. A strong competitor is MSR's Elixir 2 tent, which was also updated last year. This model shares a similar design to their core Hubba Hubba NX, but with a wallet-friendlier build, more durable materials and less mesh, and a roomier interior. Moreover, at $250 with the footprint included, it's technically a little cheaper than the Half Dome 2 Plus with a footprint (the Half Dome's footprint is $35 extra). If you want the extra privacy and increased warmth and wind protection that comes with the Elixir's solid fabric on the tent body, the MSR is a good buy. But the Half Dome is larger in every dimension and weighs 2 ounces less, which is a pretty hard-to-beat combination.
Marmot's Tungsten 2 and The North Face's Talus 2 are two budget-oriented designs from brands with long histories in the tent business. Where the Tungsten and Talus have the clear edge over the Half Dome is value: at $199, they even include a footprint, which amounts to about a $65 savings over the Half Dome. But given the choice, we'd stretch the budget to the Half Dome. It's much more spacious inside, has larger and better-designed vestibules, and is made with higher quality materials overall. Unless your price is set at $200 and you can't wait for one of REI's coupons to bring down the cost, we prefer the Half Dome.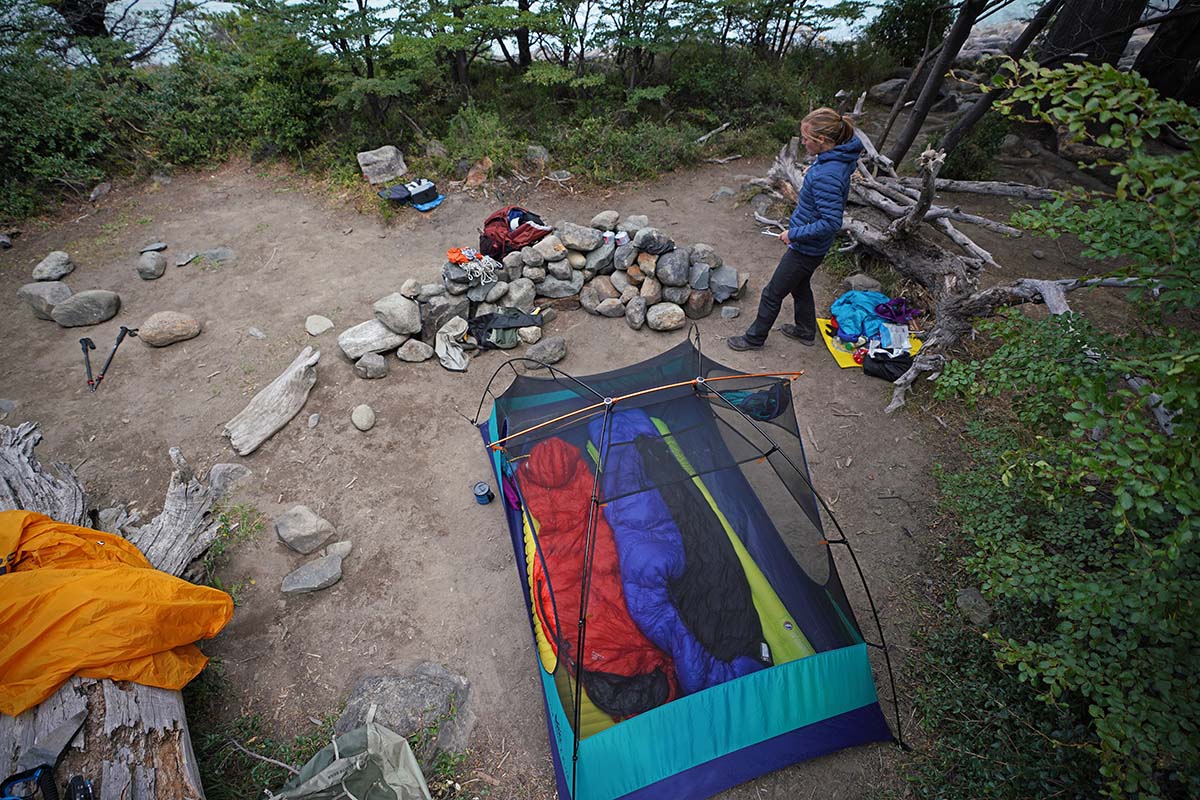 Within REI's own lineup, their budget Passage 2 tent is getting a little long in the tooth, but it's nevertheless a solid option for new or infrequent backpackers. For $159, you get a freestanding set-up with similar features including two large doors, ample storage, and a durable build. That said, the Half Dome 2 Plus is a roomier option both in terms of floor area and peak height, and the Passage feels noticeably dated with its simple X-shaped pole structure (the Half Dome's center ridgepole is much more effective at creating a vertical interior). All told, the Passage is an undeniable value for those on a strict budget, but we think the 1-ounce-heavier and $70-pricier Half Dome is worth the investment for those who get outside regularly.
A final in-house option to consider is REI's lightweight Quarter Dome 2. We gave the tent a thorough test (see our in-depth review) and found there was a lot to like: it's light at 3 pounds 5 ounces, reasonably spacious inside with vertical walls, and competitively priced at $349. If you love the REI brand—and their great warranty—it's a solid buy. But that tent is outdone by a number of other lightweight competitors like the Nemo Dagger and MSR Hubba Hubba, so it isn't a class-leader like the Half Dome. And that's what keeps us coming back to this legendary tent line, generation after generation. It absolutely nails the essentials for most backpackers at a reasonable price.
Editor's note: We usually provide a live price comparison table below our outdoor gear reviews, but the Half Dome is sold exclusively by REI Co-op. You can see the Half Dome 2 Plus page here and support us in the process. Thanks!
Learn More About Outdoor Gear