Fresh off a new Gore license for 2018, REI Co-op now has top-of-the-line waterproofing technology to replace their eVent line. Combine this with REI's increased focus on design and performance of their in-house products, and you have some very competitive new offerings. The new Drypoint GTX demonstrates just how far they have come. This lightweight, comfortable, and very functional hiking shell already is among the best in its class, and at $249 is a solid value for what you get. Below we break down the Drypoint's weather protection, breathability, weight, durability, fit, and more. To see how it stacks up, see our articles on the best hardshell jackets and rain jackets.
 
Performance
Weather Protection
With a 3-layer design, Gore-Tex Active for waterproofing, and fully taped seams, the Drypoint GTX is a hardshell by design (we have it in our hardshell and rain jacket roundups as it meets both criteria). The weather protection it offers is impressive: we took it on the multi-day Huemul Circuit in Patagonia, which included crossing the aptly named Paso del Viento to the edge of the remote Southern Patagonian Icefield. Along the way, we were battered with some of the strongest winds we've ever encountered, plus serious rain and even snow. The Drypoint performed admirably, keeping us dry without feeling clammy, blocking wind (a very tall order), and even providing a little extra warmth when necessary. In fact, it was right up there with the much pricier jackets we had along for the trip (the $450 "The Shell" from Hyperlite Mountain Gear and the $525 Arc'teryx Beta LT).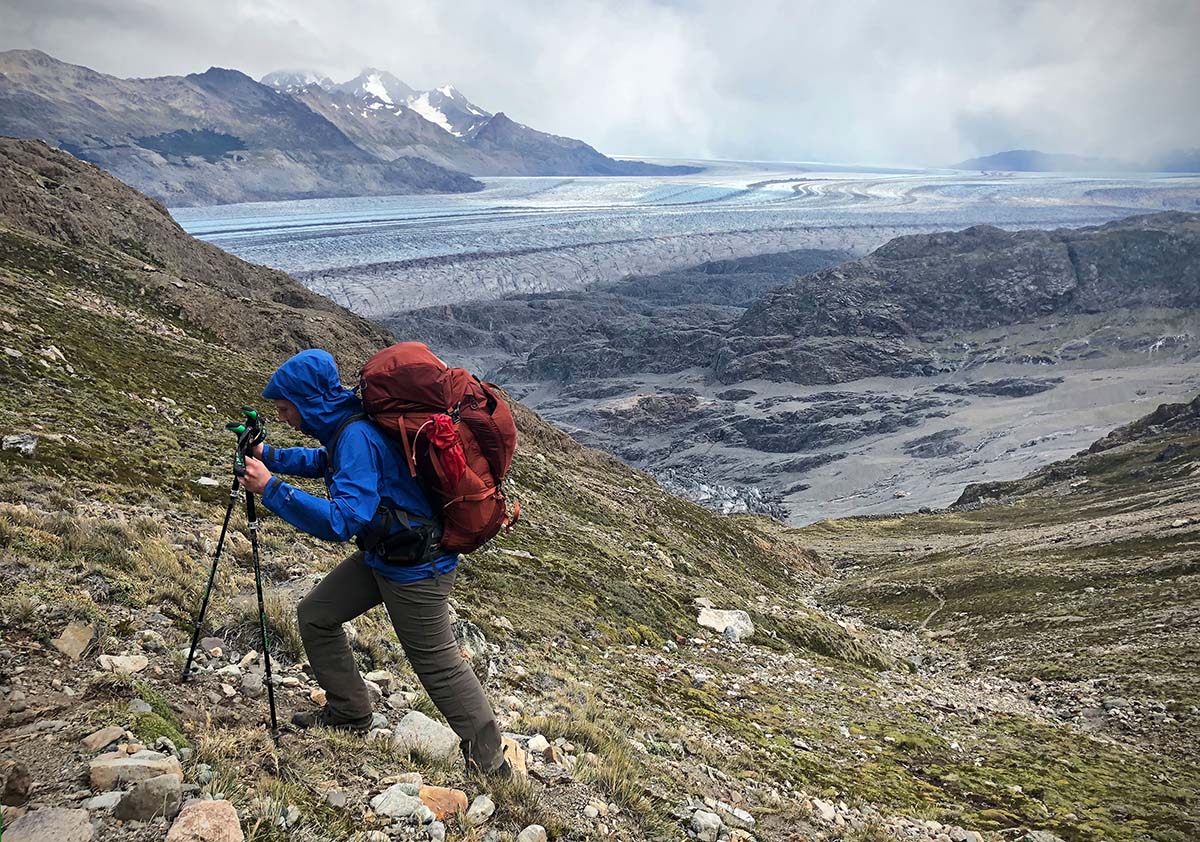 You'll hear us refer to Gore-Tex Active a number of times in this review. This is the most breathable fabric in the Gore-Tex lineup, which is for great hiking and other aerobic activities where you'll be working up some body heat. It isn't, however, as tough as regular Gore-Tex and Gore-Tex Pro that are commonly found in burlier hardshells used for backcountry skiing, climbing, and mountaineering. And given that the Drypoint has a relatively thin 20-denier shell and lack of a helmet compatible hood, the jacket is designed for hiking—and excels at that purpose—but isn't as alpine-centric as some other models.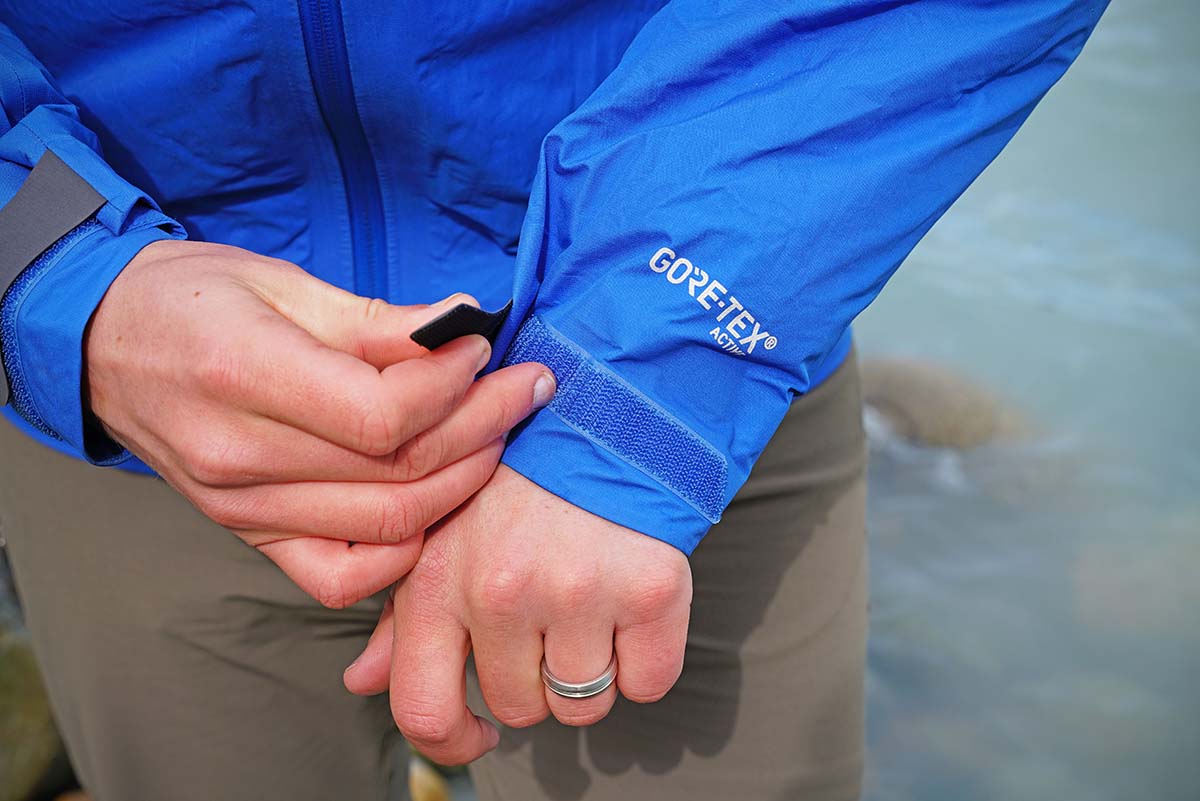 Breathability
One of the big selling points of the REI Drypoint GTX is breathability. Gore-Tex Active is extremely impressive in this regard—it allowed us to hike with a fully loaded pack for extended periods with the jacket on while remaining totally comfortable. Those who have worn a cheap rain jacket and actually tried to hike in it know that clammy, plastic bag-like feeling, but the Drypoint felt soft and smooth against the skin and didn't clam up.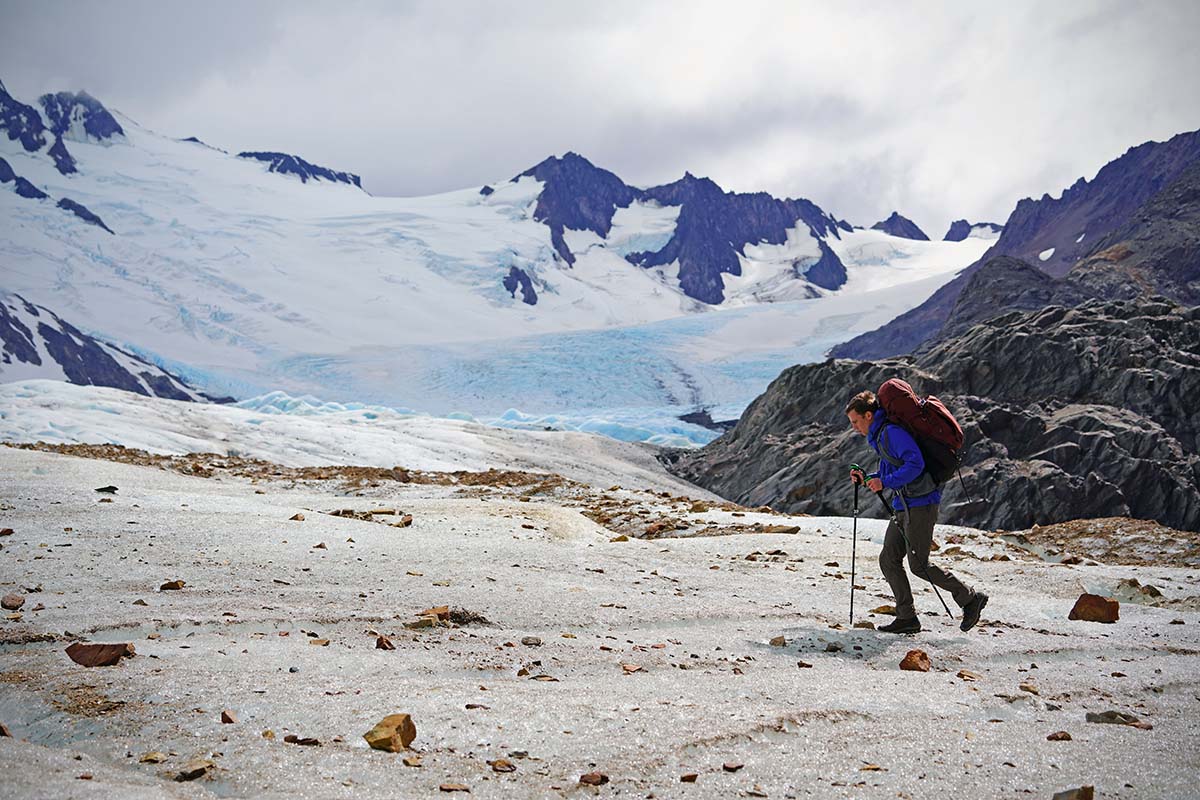 It's worth noting that the Drypoint lacks pit zips, which is a common way to dump heat quickly when you're working up a sweat (often on jackets made with a less breathable type of Gore-Tex or another material). We do appreciate the mesh-lined hand pockets, which can be opened to release body heat, not to mention pit zips are a quick way to add weight. We didn't push the envelope in terms of hiking in hot weather, but the breathability of any shell will have its limitations. But for most conditions and particularly when it's actually raining, the Drypoint is a class leader in breathability.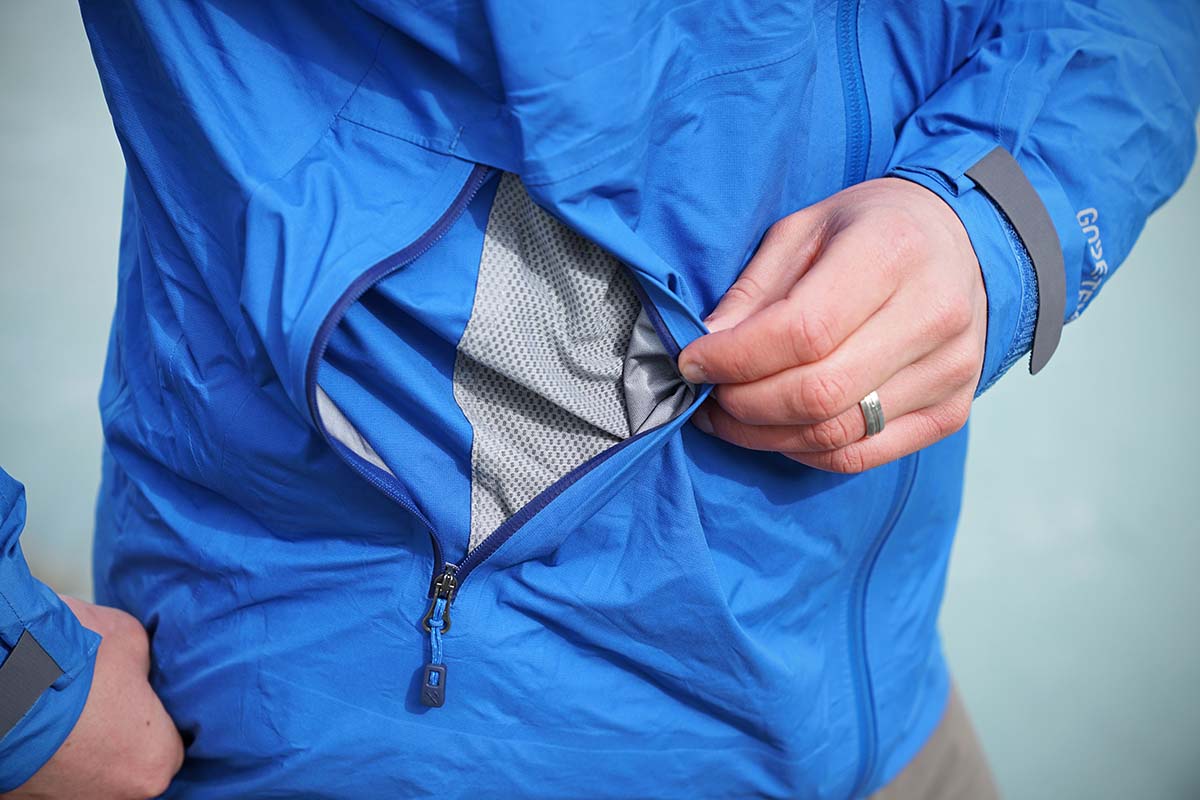 Weight and Packability
At 10.5 ounces, the REI Drypoint punches well above its weight. For comparison, it's the second lightest model in our hardshell roundup behind only the ultra-minimalist Patagonia M10 Anorak at just 7 ounces (this truly is a specialty climbing piece with a lot of compromises). Moreover, the Drypoint even is competitive in the rain jacket category against options that offer far less weather protection. You can shave weight with a minimalist rain jacket like the Outdoor Research Helium II at 6.7 ounces, but that jacket has far less breathability and fewer features—it's much more of an emergency shell. For hikers and backpackers that want a high quality and feature-rich jacket, the Drypoint is a terrific option.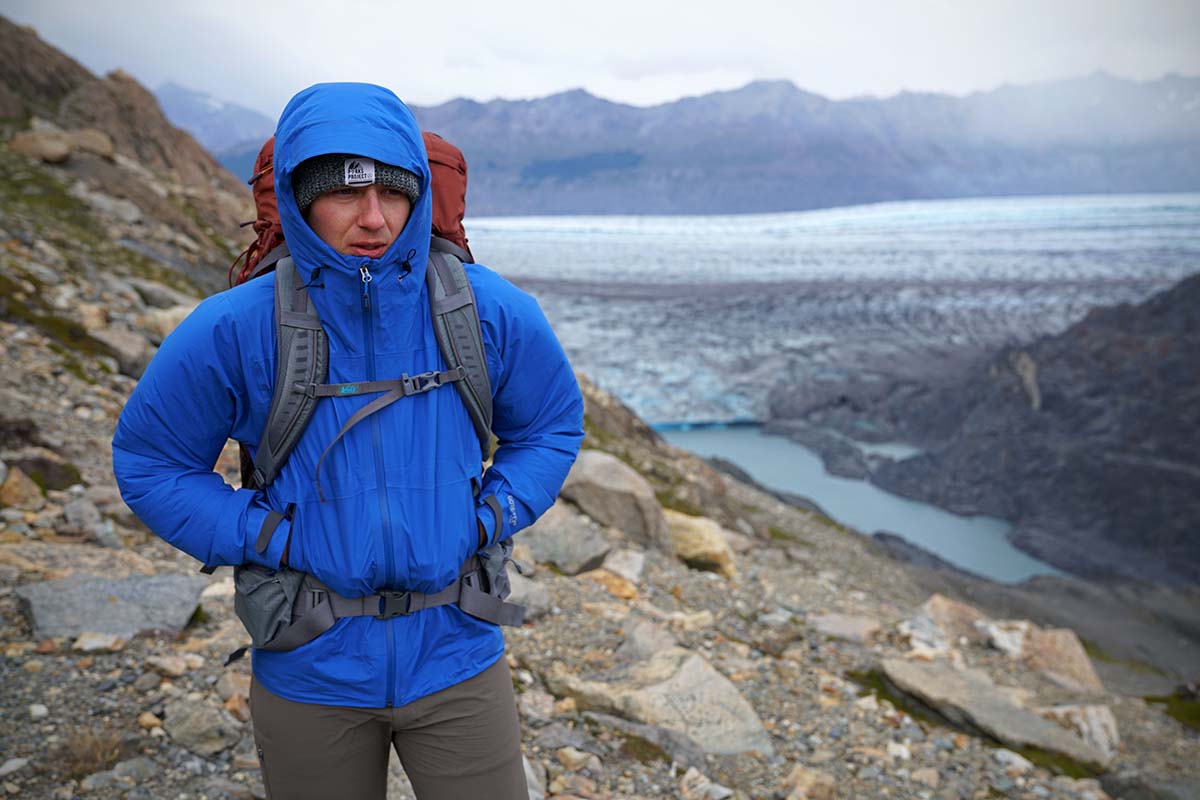 In terms of packability, we've had no issues compressing the Drypoint into its own hood. It doesn't stuff into one of its own pockets, nor does it come with a stuff stack, but this is common in the hardshell world. When folded into its hood, the jacket is relatively compact, easy to grip with one hand, and doesn't take up much space in your pack. The flexible Gore-Tex active membrane and thin 20D fabric actually help out here as they're less burly and more stuffable than a thicker jacket. Remember to keep the Drypoint away from sharp objects in your pack as that would be an easy way to get a tear.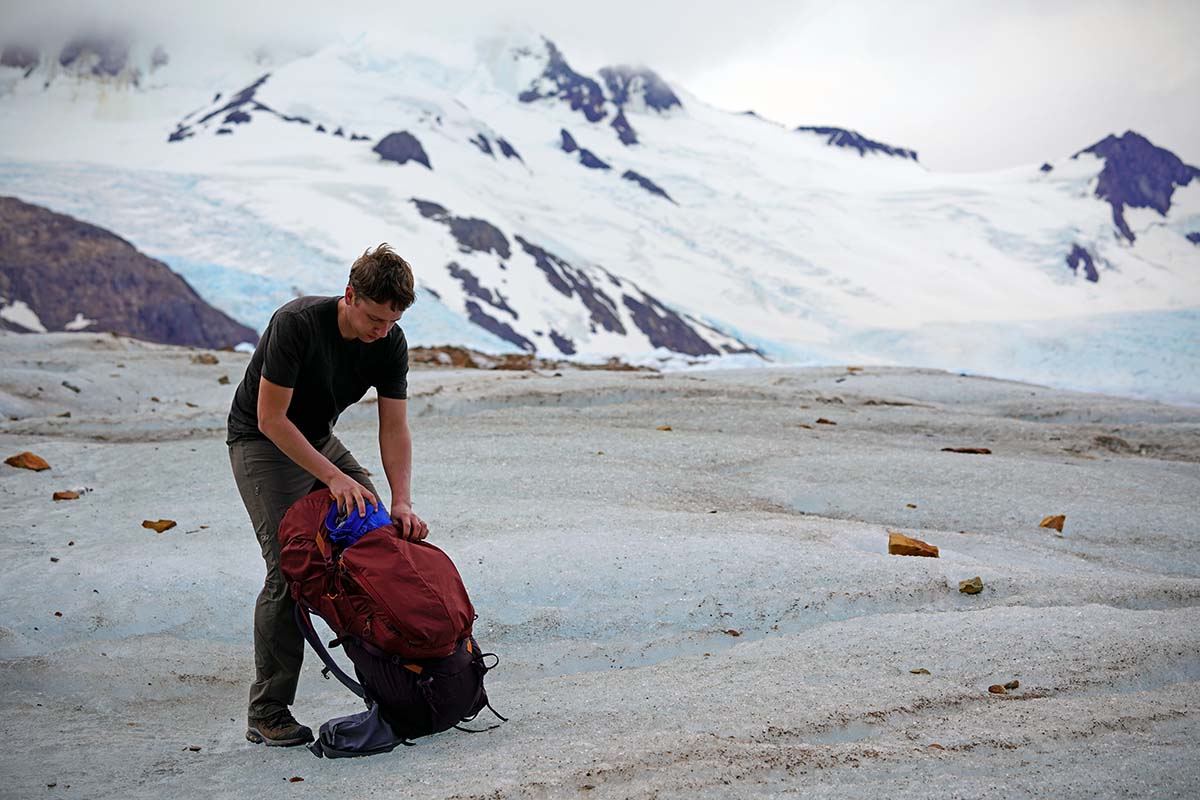 Durability and Build Quality
Durability is one area where the REI Drypoint falls short of more alpine-focused hardshells. Gore-Tex Active prioritizes breathability over durability, plus the Drypoint has a relatively thin 20D shell. For comparison, our top rated all-around hardshell is the Arc'teryx Beta AR, which uses Gore-Tex Pro and a mix of 40D and 80D panels. If you're consistently crashing though branches when backcountry skiing, brushing against sharp granite when climbing, or stuffing your jacket into a pack full of sharp objects like crampons, a higher denier fabric will help prevent tears. But for hiking and backpacking—precisely what the Drypoint is designed for—20D should get the job done while keeping weight down.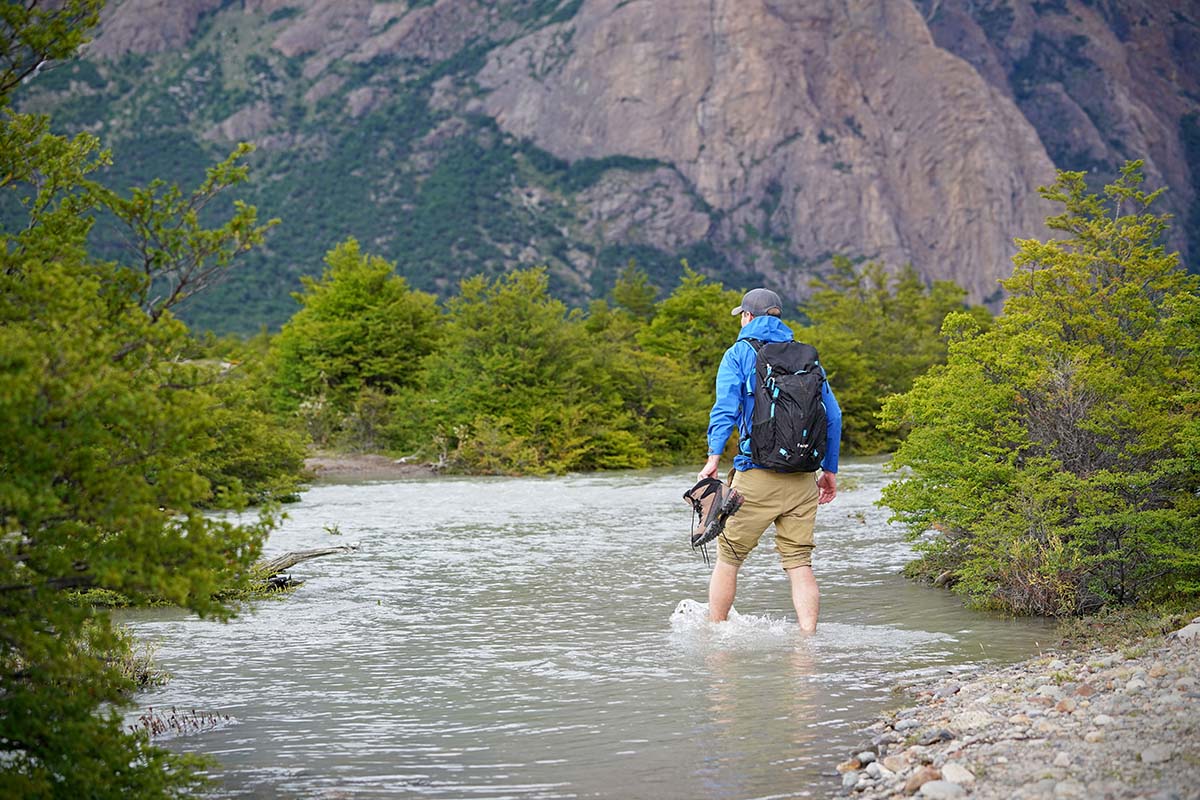 We've worn the Drypoint for a few months including multiple long days during our recent Patagonia trip, and it has held up exceptionally well. We have no scuffs or scratches on the shell and it pretty much looks like new. We can attest to the build quality, which truly hits a premium tier that has eluded REI in years past (we had thoughts of Arc'teryx when first putting it on, which is a huge compliment given that they are the industry leader in shells). We haven't given the jacket a season-long test, but will update this review if any durability issues arise.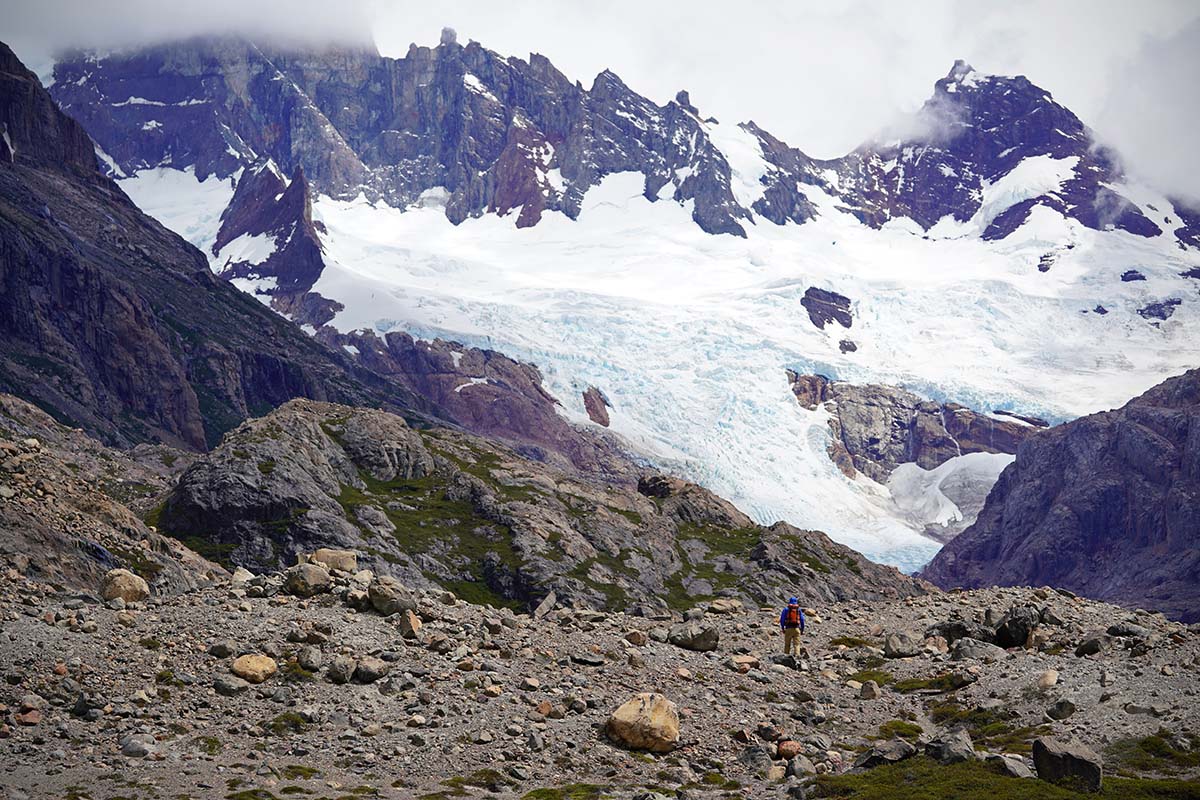 Key Design Features
Hood
The hood matters a lot in choosing a shell—it dictates the type of activities for which it can used. We'll start by saying that we like the hood on the REI Drypoint: it's comfortable and has multiple adjustment points to batten down the hatches including at the back of the head and by the collar. In addition, the built-in visor in a nice feature for periods of extended hiking in the rain. However, the hood is not helmet compatible, which all but eliminates activities like climbing and skiing. For hiking, we appreciate the lack of helmet compatibility as it means a snug fit around the face and less material and bulk. But alpine uses that require a helmet are pretty much ruled out (you can wear the hood under the helmet but we've never been fans of that approach).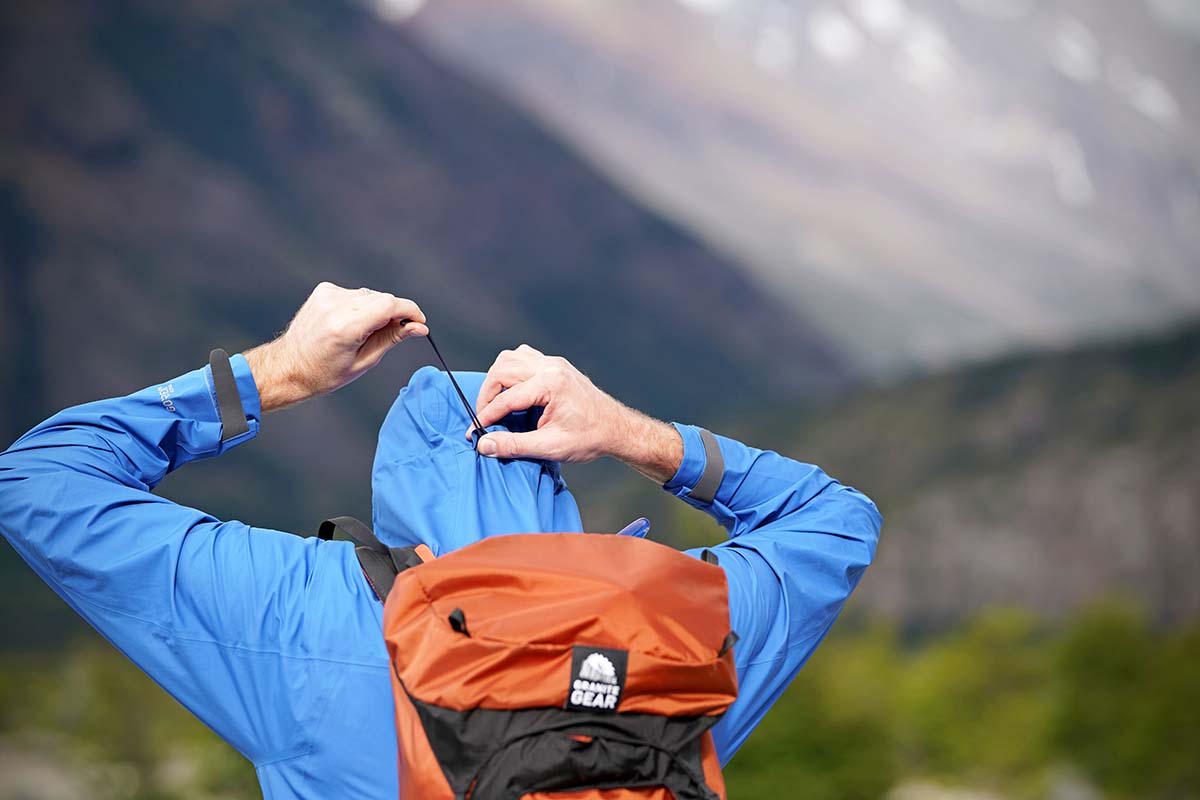 Storage (Mesh Pockets)
The Drypoint has two large hand pockets and no chest pockets. For hiking, this is everything we need and nothing we don't. The pockets are high enough that they are easy to access when wearing a pack, and we don't need the same volume of storage as we do with a shell for resort or backcountry skiing (when skiing we carry things like liner gloves, skins, and a two-way radio, and that's where chest pockets or interior drop-in pockets can be helpful). As mentioned above, the hand pockets are mesh on the inside, which provide a nice way to dump heat and somewhat compensate for the lack of pit zips. In terms of toughness, we did notice one tiny snag on the outside of the mesh that occurred at some point during our backpacking trip, but the mesh seems high quality and we don't expect further issues here.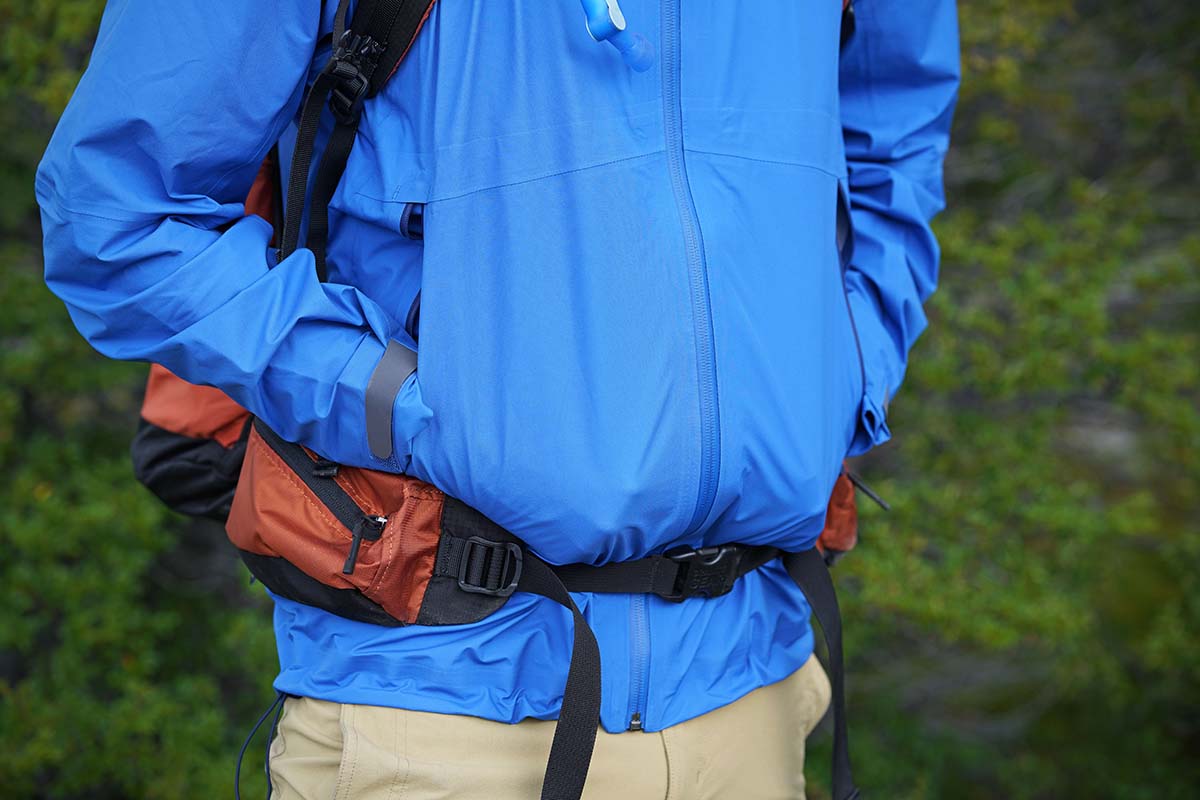 Fit and Sizing
We love the fit of REI's 2018 in-house gear. For the Drypoint GTX, we got our typical men's medium and it fits extremely well. Our primary tester is just over 6 feet tall and 170 pounds, and some jackets fit him well in the torso but are too short in the hem or sleeves. This is not the case with the Drypoint—REI managed to nail the length and create a nice, athletic cut that isn't overly baggy. The Drypoint is slightly less trim in design than a comparable Arc'teryx shell, but that's probably a good thing for hiking and uses like travel where you may might want to layer underneath. Unlike a number of baggier jackets we've worn recently from brands like Patagonia, Marmot, and The North Face, the Drypoint hits that just-right fit that is performance oriented without being too trim.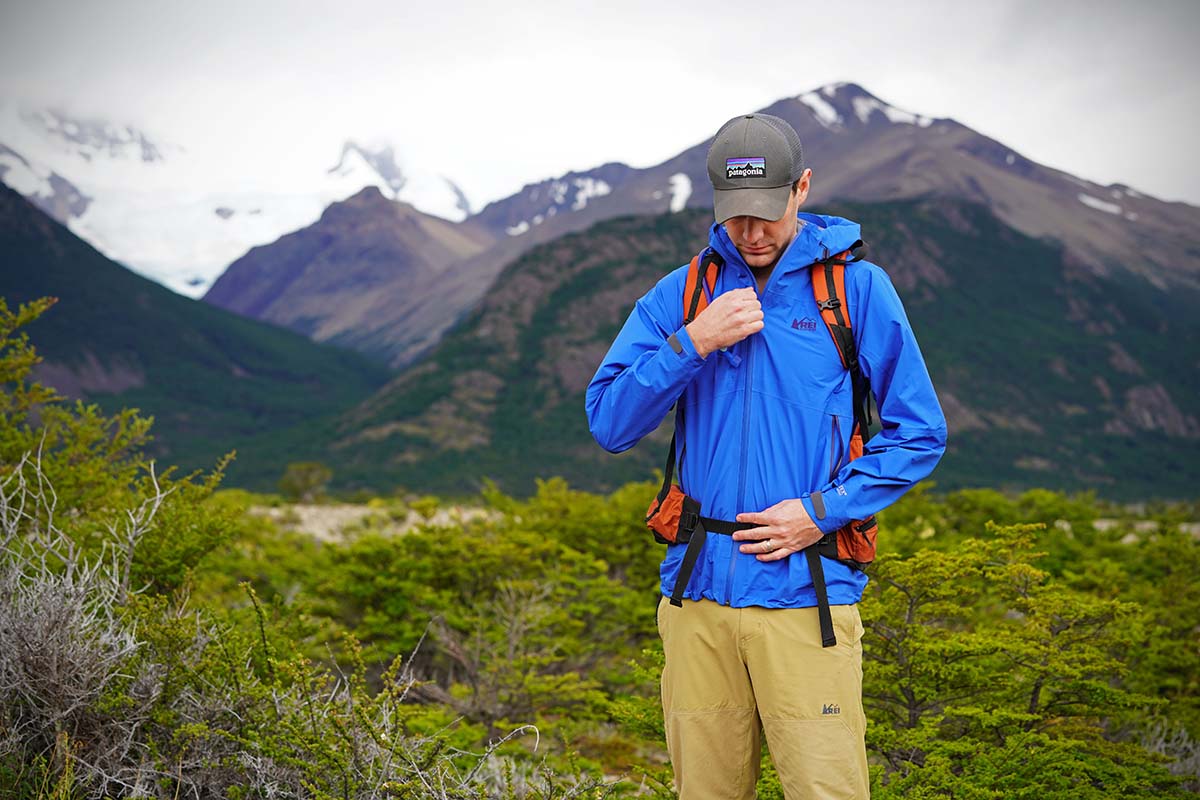 What We Like
Low weight and excellent breathability make the Drypoint GTX a great option for hiking and backpacking.
Wind and wet weather protection exceeded our expectations.
Premium build quality and a great value.

What We Don't
20D shell and Gore-Tex Active membrane aren't as tough or durable as more alpine-focused hardshells.
Lack of pit zips and the non-helmet compatible hood keep it firmly in the hiking realm.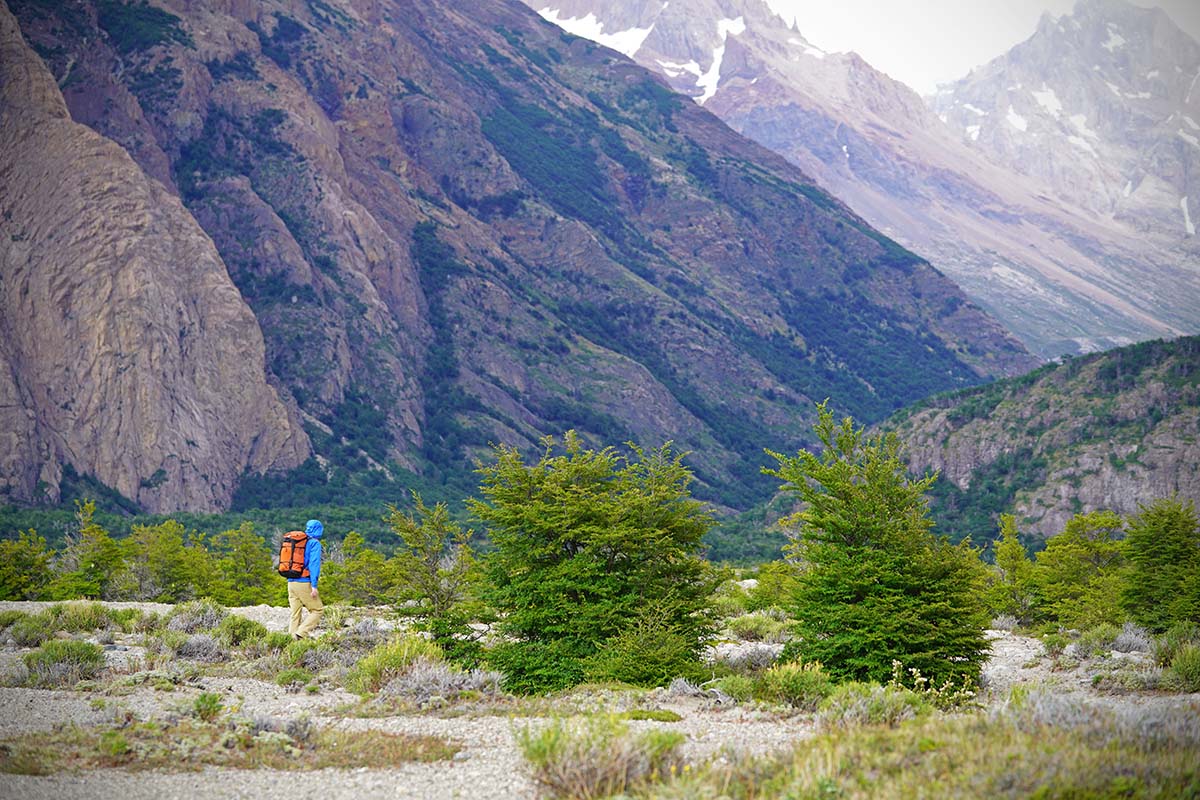 Comparison Table

The Competition
The REI Drypoint GTX is a lightweight yet well-appointed shell built for hiking and backpacking. Despite having a slightly wider appeal, one of its closest competitors is the Outdoor Research Realm, which features a similar 3-layer design with 20-denier fabric, and weighs 10.9 ounces total. The biggest difference is the shell material: the Drypoint uses Gore-Tex Active while the Realm uses OR's in-house AscentShell. We have been impressed with AscentShell overall, which is more stretchy than Gore-Tex Active but less windproof. In terms of features, the Realm has a helmet-compatible hood and chest pockets that make it more of a crossover piece for backcountry skiing and even climbing (for more information, see our in-depth Realm review). If you plan on sticking to hiking, we like the Drypoint both in build and price (it costs $30 less). If you add winter sports to the mix, the Realm is the slightly more versatile option.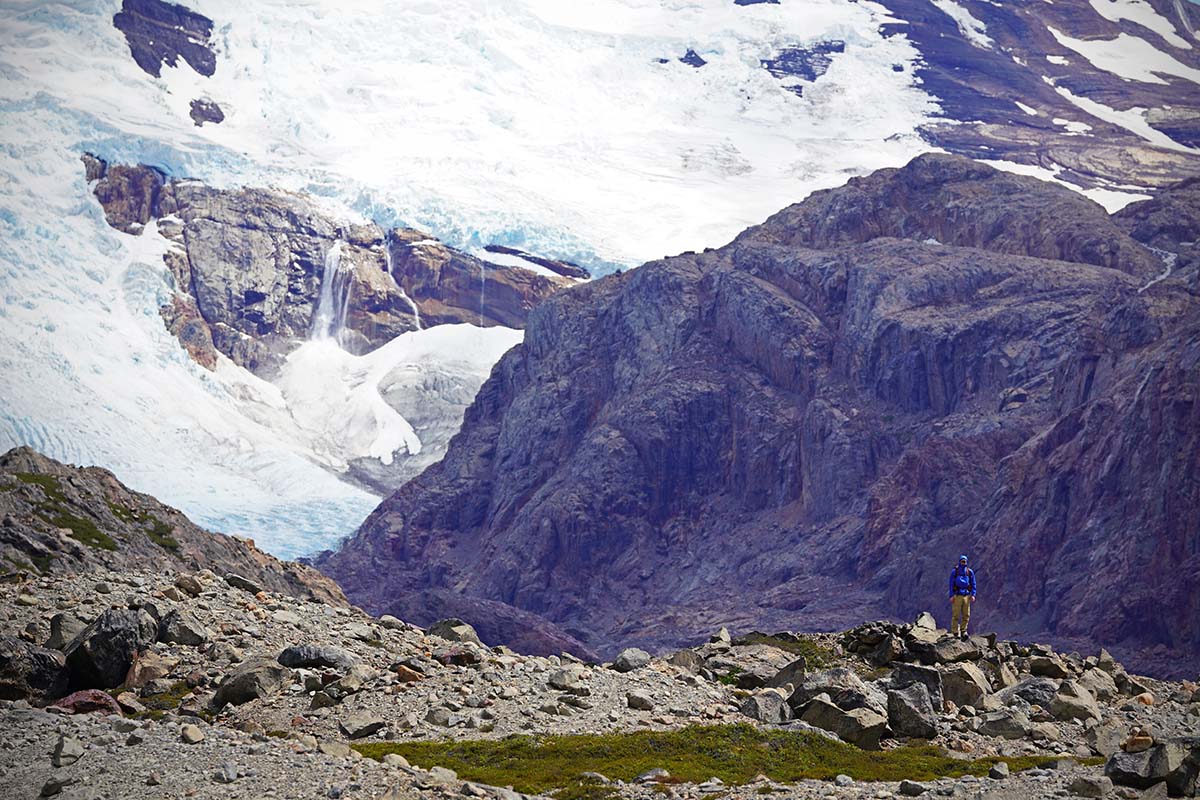 The first time we put on the Drypoint, it immediately reminded us of the Arc'teryx Zeta LT. This premium $425 jacket is Arc'teryx's leading lightweight hiking shell, coming in at 11.8 ounces total. Both the Zeta LT and Drypoint have outstanding build quality and similar features, but the Arc'teryx uses regular 40D Gore-Tex (not Active), so it's more durable but less breathable. On the other hand, the REI is considerably cheaper and performed just as well during our testing. All things considered, it's hard to knock Arc'teryx quality or styling, but we give the clear nod to the Drypoint as a similar jacket that is a far superior value.
For spring of 2018, REI released a second Gore-Tex hardshell: the Stormbolt GTX. We like the Stormbolt, which uses regular Gore-Tex and has a thicker shell that is 30D in the body and 40D in the shoulders and waist. However, the Stormbolt feels much more like a crossover hiking/skiing piece. It's less breathable than the Drypoint and has a baggier fit, which works well for layering but doesn't feel all that necessary for hiking. If you need one hardhsell for both skiing and hiking, the Stormbolt is well built and reasonably priced at $279. But for hiking, travel, and daily wear, the Drypoint is the ticket.
Editor's note: We usually provide a live price comparison table below our outdoor gear reviews, but the Drypoint is sold exclusively by REI Co-op. You can see the Drypoint GTX page here and support us in the process. Thanks!
Learn More About Outdoor Gear