Outdoor Research reincarnated their discontinued Realm Jacket in the form of the functionally improved Interstellar: a minimalist, breathable hardshell with plenty of performance-oriented features. I took the Interstellar into Alaska's Wrangell and St. Elias Ranges, where weather is notoriously unpredictable and adventure almost guaranteed. Despite being battered by rain, wind, and even snow, the Interstellar earned a spot in my pack as my go-to lightweight shell for harsh conditions. Below I break down the Interstellar's weather protection, breathability, weight and packability, build quality and durability, fit and sizing, and more. To see how it stacks up to the competition, see our articles on the best hardshell jackets and best rain jackets.

Performance
Weather Protection
Unlike many hardshells, the Outdoor Research Interstellar forgoes Gore-Tex for an in-house material: 3-layer AscentShell. We've tested this fabric in the past with OR's Realm and Skyward jackets and found it to be solidly weatherproof. The stretchy, softshell-like feel of the AscentShell was an initial concern, but my fears were quieted during a particularly rainy day in the Alaskan wilderness. The Interstellar kept me dry as I hiked through a non-stop downpour, which turned to wet, heavy snow as we arrived in camp. As temperatures dropped quickly and I continued to sweat while frantically pitching the tents, the Interstellar admirably wicked moisture while keeping the elements at bay. All in all, while AscentShell isn't intended to match Gore-Tex in all-out protection—they're aiming for balance with excellent breathability—it's proven to be a strong performer.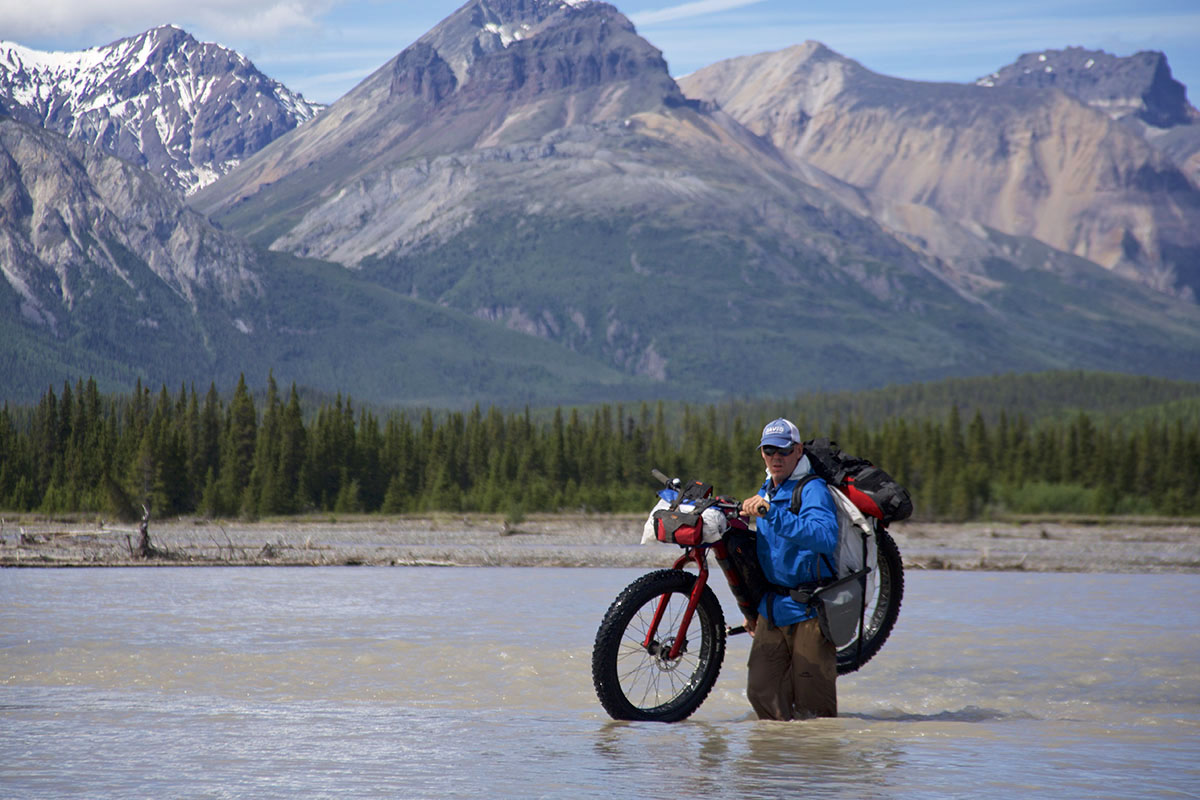 The Interstellar's waterproofing doesn't end with its AscentShell. Aside from the impressive material, the Interstellar also features fully taped seams, YKK water-resistant zippers (with pull tabs large enough to grab with gloved, cold hands), and an elastic drawcord hem and cuffs—all of which do a superb job of sealing out moisture and wind. While I didn't get the chance to test the Interstellar in more extreme or variable conditions, I wouldn't hesitate to take it along on some lighter mountaineering and backcountry skiing adventures. Outside of letting in a little more wind from extremely strong gusts due to its air-permeable design, the jacket's protection is on par with what I would expect from a more expensive performance hardshell like the Gore-Tex-equipped Arc'teryx Beta SL Hybrid.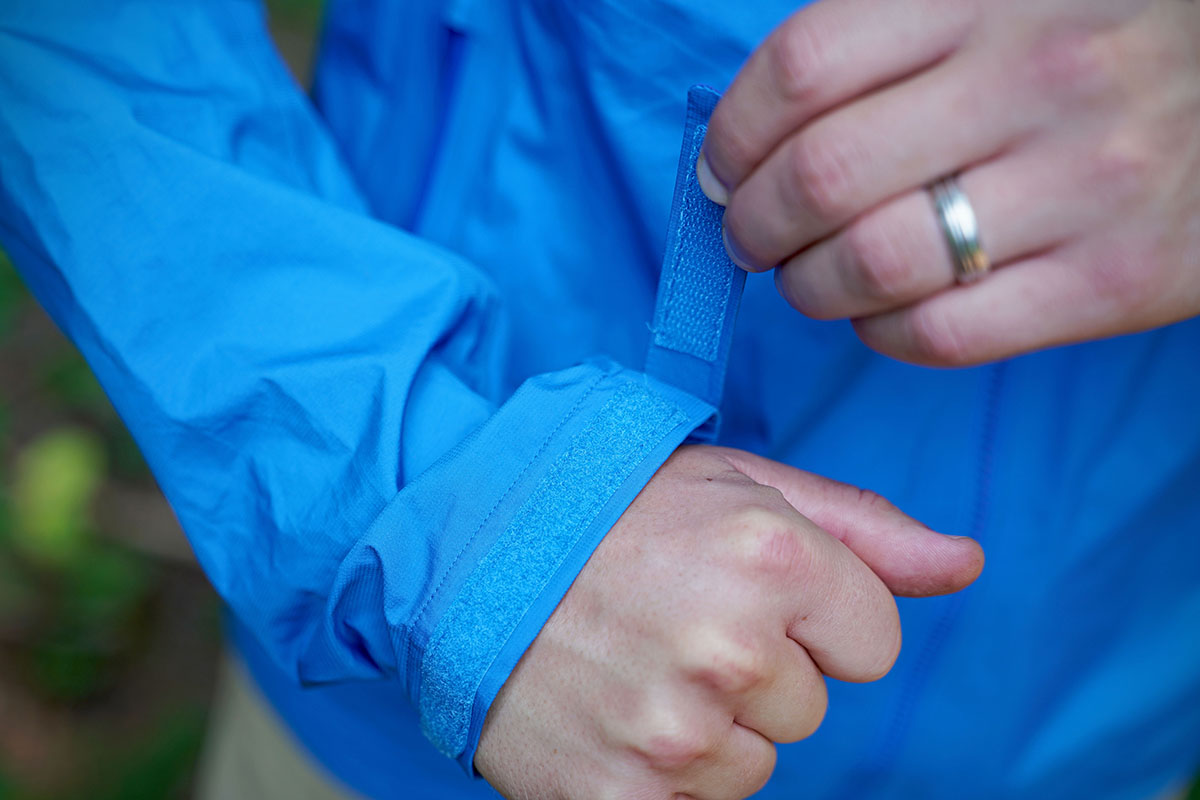 Breathability
We've mentioned this before, but it's hard to discuss waterproofness without also addressing breathability. The two are often at odds—while a plastic bag might keep you dry, it would also turn clammy and damp quickly once you start moving. For a shell to breathe, the air outside has to be colder and drier than the air inside. Put another way, you have to start sweating—making the inside of the jacket humid and warm—for moisture to permeate the membrane and start evaporating. While we all dream of a jacket that wicks away moisture before we even start to feel sweaty, that's asking a lot of a material. Gore-Tex shines in this arena, but does OR's AscentShell material stack up?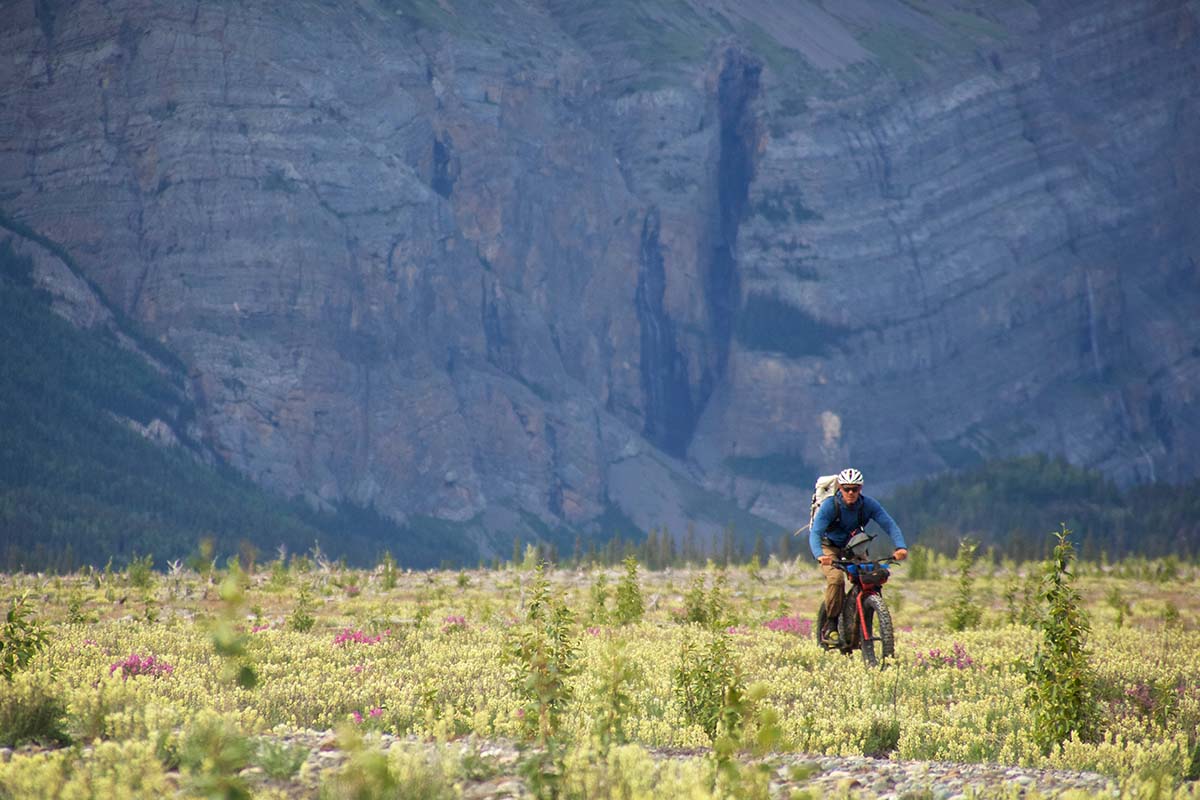 While the AscentShell fabric is undoubtedly waterproof, it's also touted to be breathable and air-permeable. I couldn't have asked for better conditions to test this claim—most of our days included grueling high-output activities for hours on end. Thankfully, breathability was fantastic—the jacket was able to dump significant heat but still keep me dry. I never felt overly clammy or sweaty, and the material performed similarly to when I fat-biked and packrafted through southeast Alaska in the Realm years ago. And while the Interstellar has a pretty minimalist build that omits pit zips, its pockets do have mesh linings for use as core vents, which worked reasonably well (this does compromise storage, however).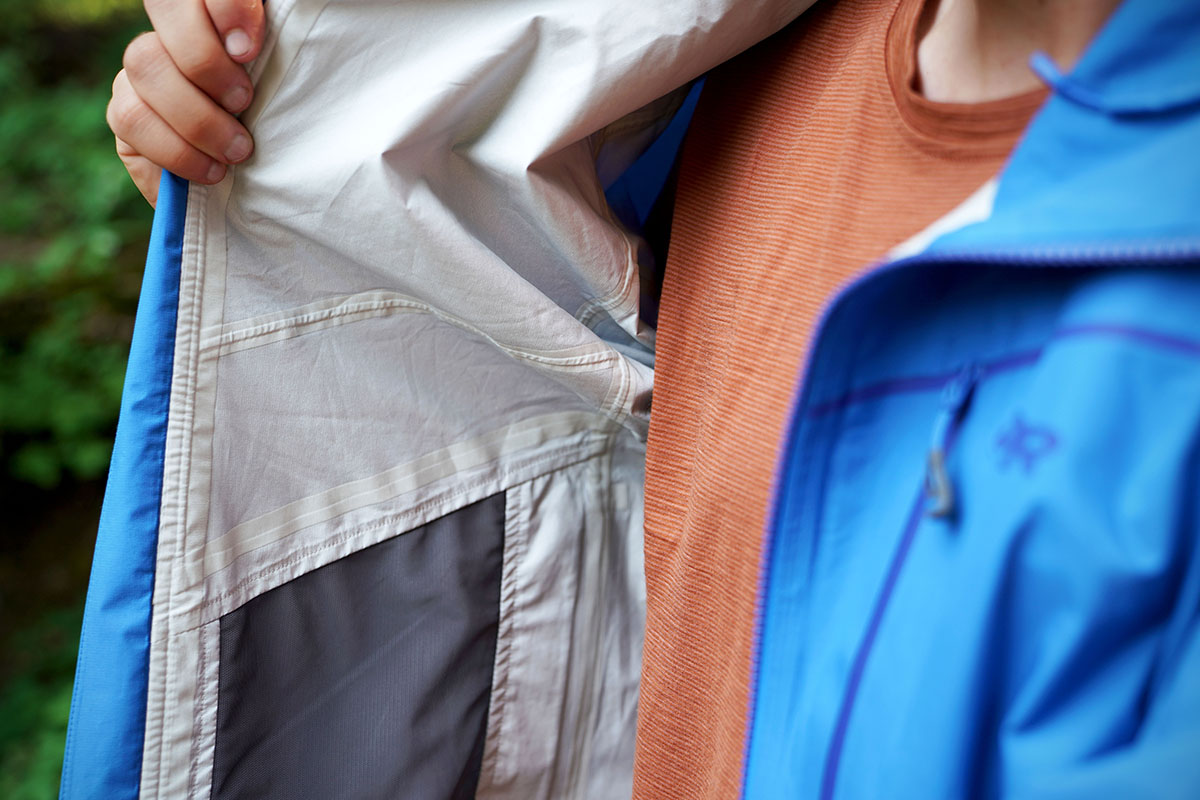 Weight and Packability
Weighing an impressively low 11.8 ounces, the Interstellar—just like its predecessor, the Realm—hits a hard-earned middle ground between ultralight rain jacket and burly hardshell. Many will find this jacket the perfect compromise: feathery and compact enough for fast-and-light alpine missions, but sufficiently rugged for more demanding backcountry skiing and ice climbing. And other hardshells in the same weight class, like the REI Co-op Drypoint GTX (10.5 ounces) and Arc'teryx Alpha FL (11.1 ounces), come with their fair share of sacrifices. With the Drypoint GTX, you lose technical features like a helmet-compatible hood, while you'll have to dish out more cash to get a step up in protection from the Alpha FL ($425). It's clearly difficult to balance these very conflicting demands, but the Interstellar seems to do it with ease—and a very reasonable price tag.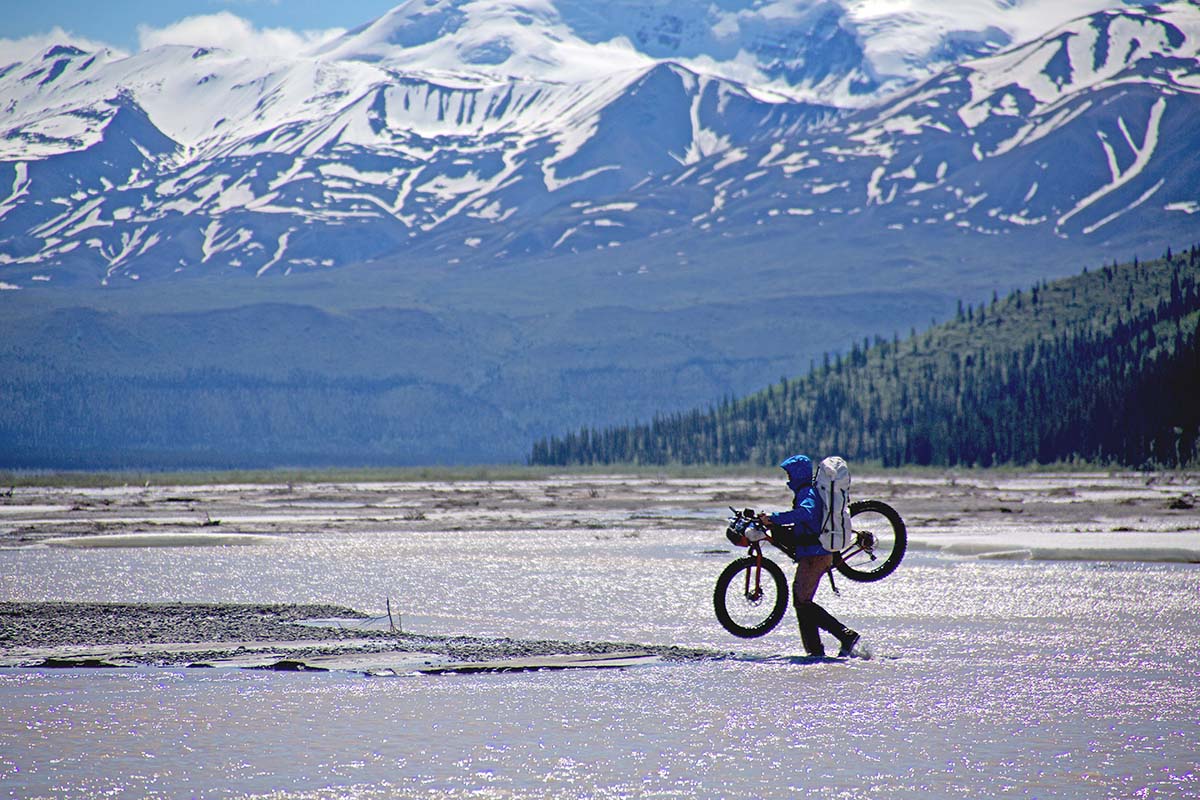 Considering its weight and thin materials, the Interstellar's compact packed size isn't a huge surprise. The jacket stuffs to about the size of a Nalgene in the left hand pocket—once zipped up, you can attach its sewn-in loop to your harness or pack. While the Interstellar can't compete with ultralight rain jackets like Outdoor Research's own Helium (6.3 oz.), it is small enough that we're happy to bring it on any outing when conditions are unpredictable.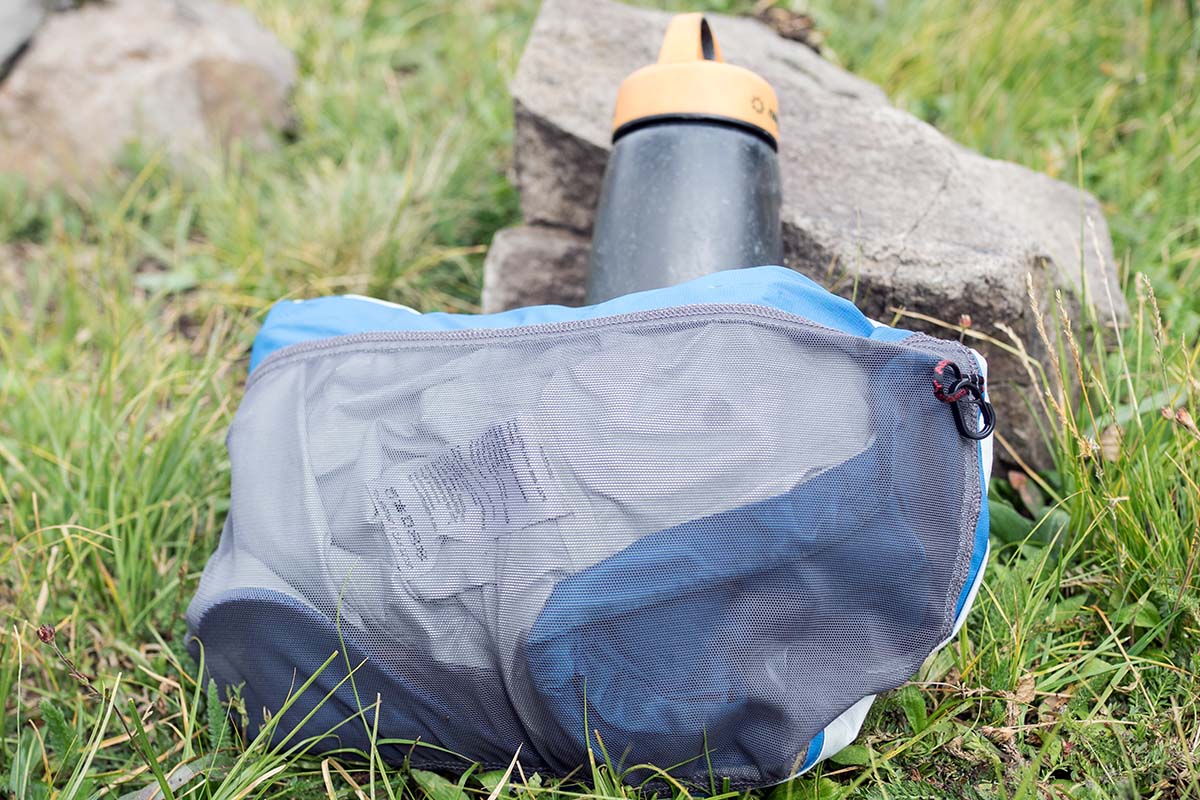 Key Features
Hood
The Interstellar's helmet-compatible hood accommodated both my climbing and bike helmets without difficulty. The easily adjustable three-point cord-lock system and moldable wire brim secure the hood with or without a lid, keeping the elements out regardless of the conditions. We put this feature to the test on a recent peak-bagging mission, where it encountered howling winds coming from every direction. Despite being battered by strong gusts, the hood stayed in place and provided all-around protection. Of note: OR recently updated the hood in late 2019 to include their Hood Lock System (we tested the prior model without Hood Lock). In short, a plastic hook on the rear cinch can be attached to a fabric loop at the base of the neck to help limit excessive bunching when not wearing a helmet. From our experience on the Microgravity Jacket, the feature isn't a must-have, but it can provide a little added convenience while hiking or around town.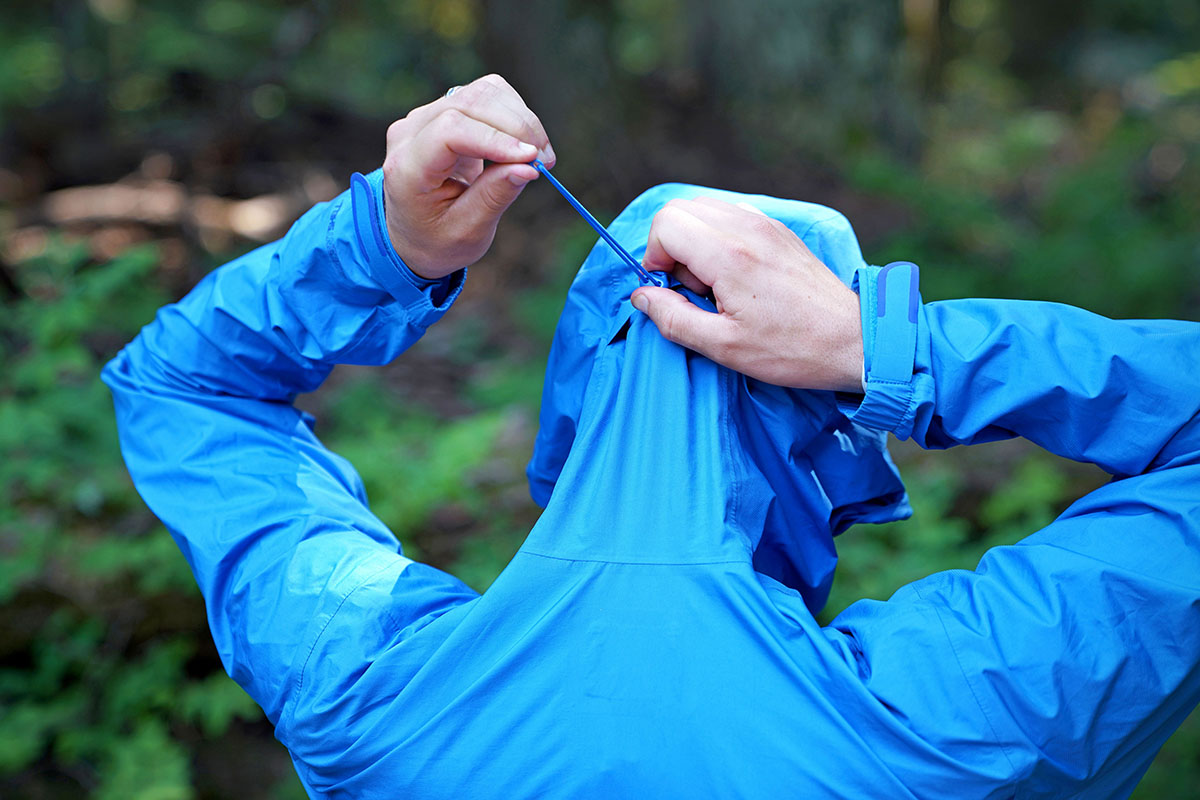 Pockets
The Outdoor Research Interstellar keeps pockets to a minimum: it sports one chest pocket and two hand pockets. The above-the-harness hand pockets sit high enough for more technical adventures, but are roomy enough to fit gloved hands. As mentioned previously, the left hand pocket doubles as the jacket's stuff sack, and its interior features a key clip for convenient and secure storage. The chest pocket also contains a small internal cell phone compartment, but I found it too small to be useful. All three pockets are mesh-lined—which worked as hoped and provided added ventilation when needed—and their YKK water-resistant zippers glide smoothly and easily even with gloved or cold hands.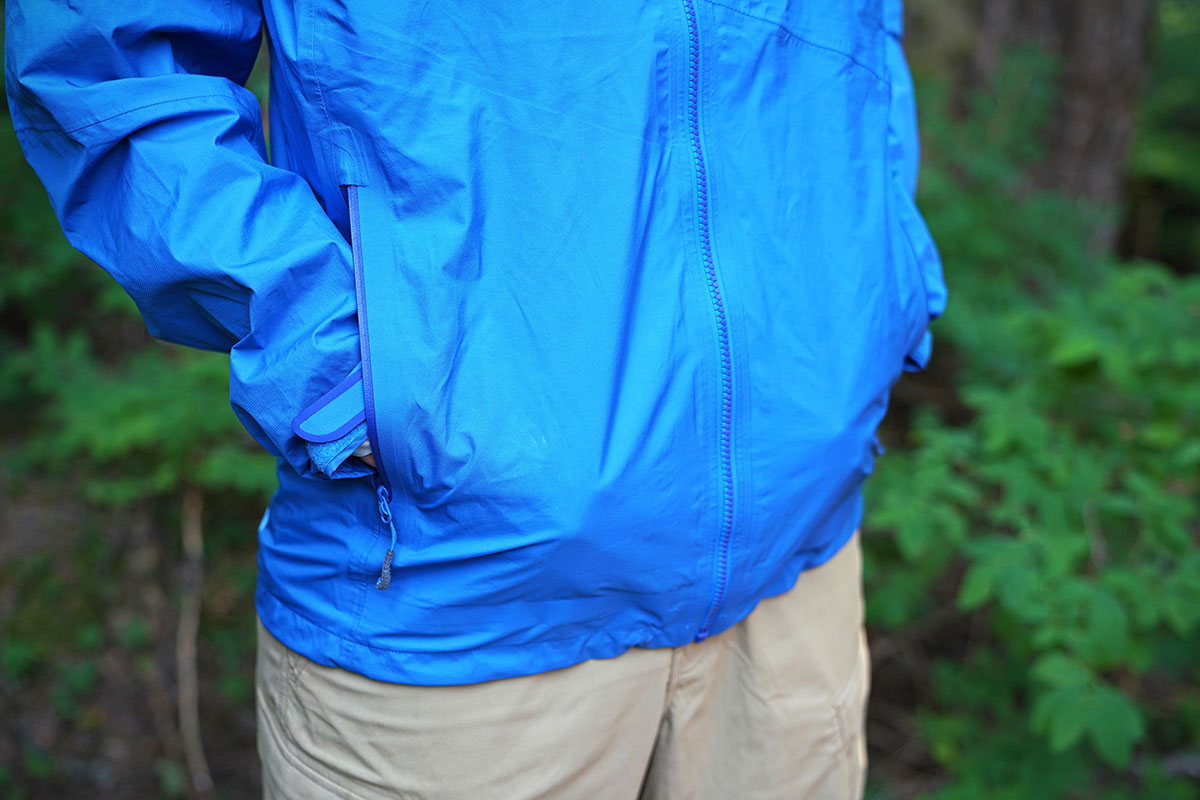 Build Quality and Durability 
Outdoor Research is known for designing and building thoughtful and functional products at lower price points than their competitors. You won't get innovative adjustment systems, fashion-forward design, or that Mercedes feel like you do from companies like Arc'teryx and Patagonia, but you will get functionality at a reliably lower price. For staying basic, OR does a better job than most—and it's worth noting that we've seen considerable improvements in the quality of their products throughout our years of testing. On the Interstellar, the zippers are lightweight but robust, the stitching minimalist, and the hood adjustment standard but sleek and easy to use. Overall, we're very impressed with the quality of the Interstellar, and think of it as a high-end jacket in a $299 package.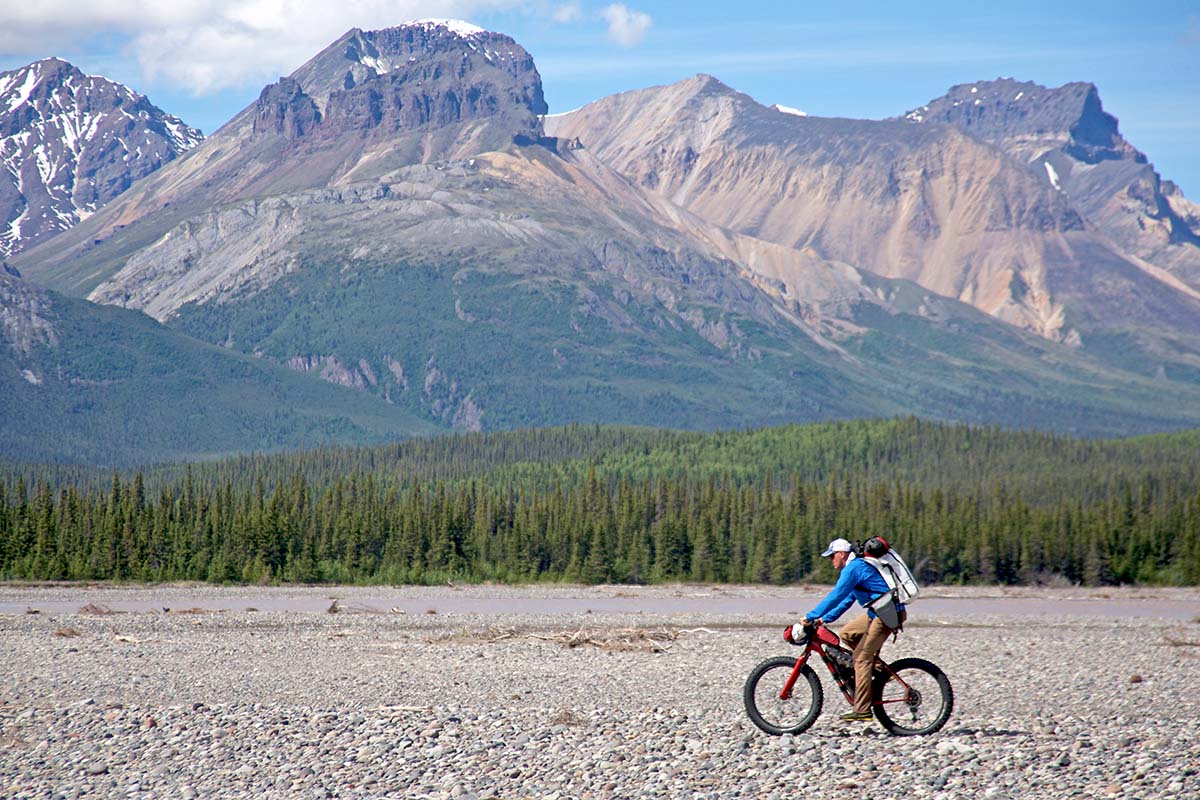 The Interstellar's 20-denier face fabric is noticeably more delicate than a traditional hardshell. While other minimalist options like the Arc'teryx Alpha FL and Montane Alpine Pro utilize 40-denier shells, OR opted for a much thinner material to shed weight. To be fair, I haven't experienced any failures yet despite hard and constant use. The AscentShell fabric has withstood abuse from both myself and Mother Nature, and has left me warm and dry at the end of long and arduous days. We question the Interstellar's ability to hold up to years of intense abuse as well as heavier, Gore-Tex-Pro-designed jackets, but so far it's off to a promising start.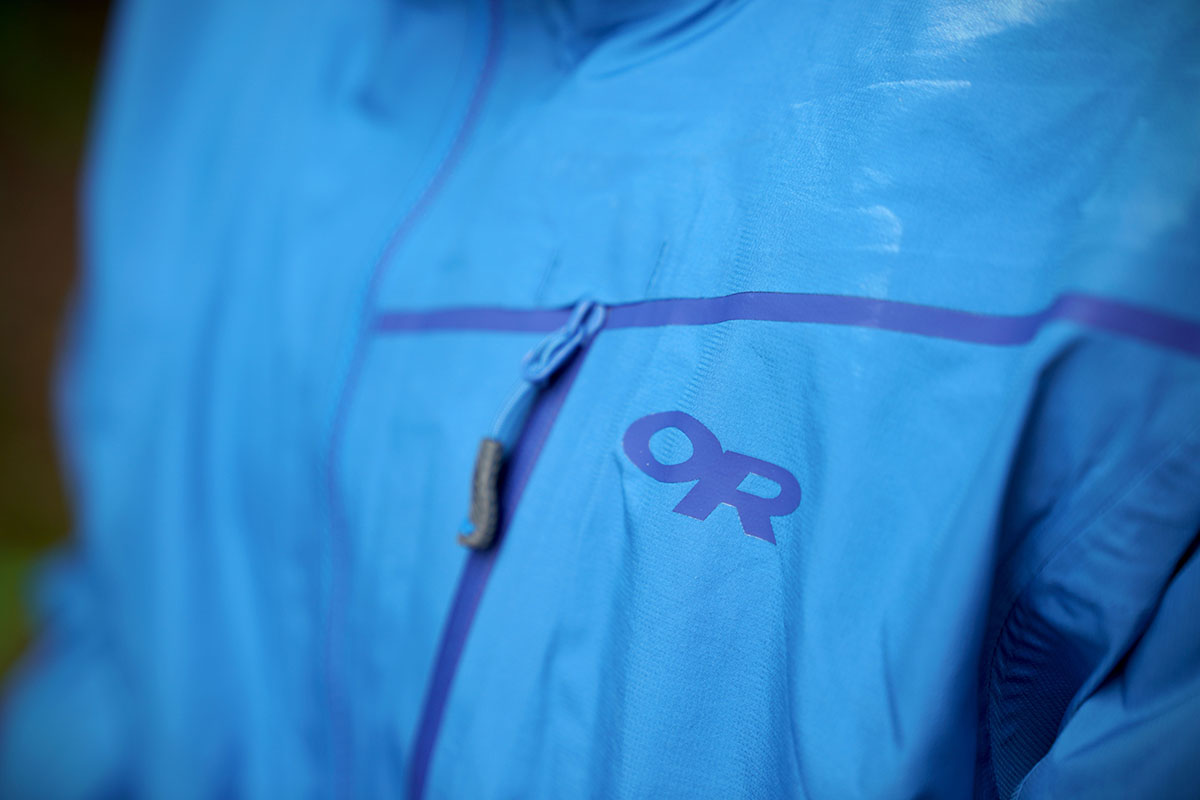 Fit and Sizing
The Interstellar is a performance piece, and has a trim, athletic fit to match. I usually wear a large in Outdoor Research gear, and found the Interstellar's fit was true to size. Despite the relatively form-fitting feel, I was able to layer liberally underneath thanks the jacket's generous stretch—most often opting for a light puffy midlayer during cool nights spent sitting around the fire or lounging in our tent. Further, there is no extra fabric, meaning the jacket never bunched up at inopportune times or in unwanted places. Length-wise, the jacket's longer cut provides great protection—aided by the hem's adjustable cord lock—which was particularly helpful while riding through rainy conditions as mud spewed up behind me. It's also worth mentioning that the Interstellar was lightly updated for fall 2019 with a longer center back length (30.25 in. vs. 29 for the previous version), which adds a bit more coverage.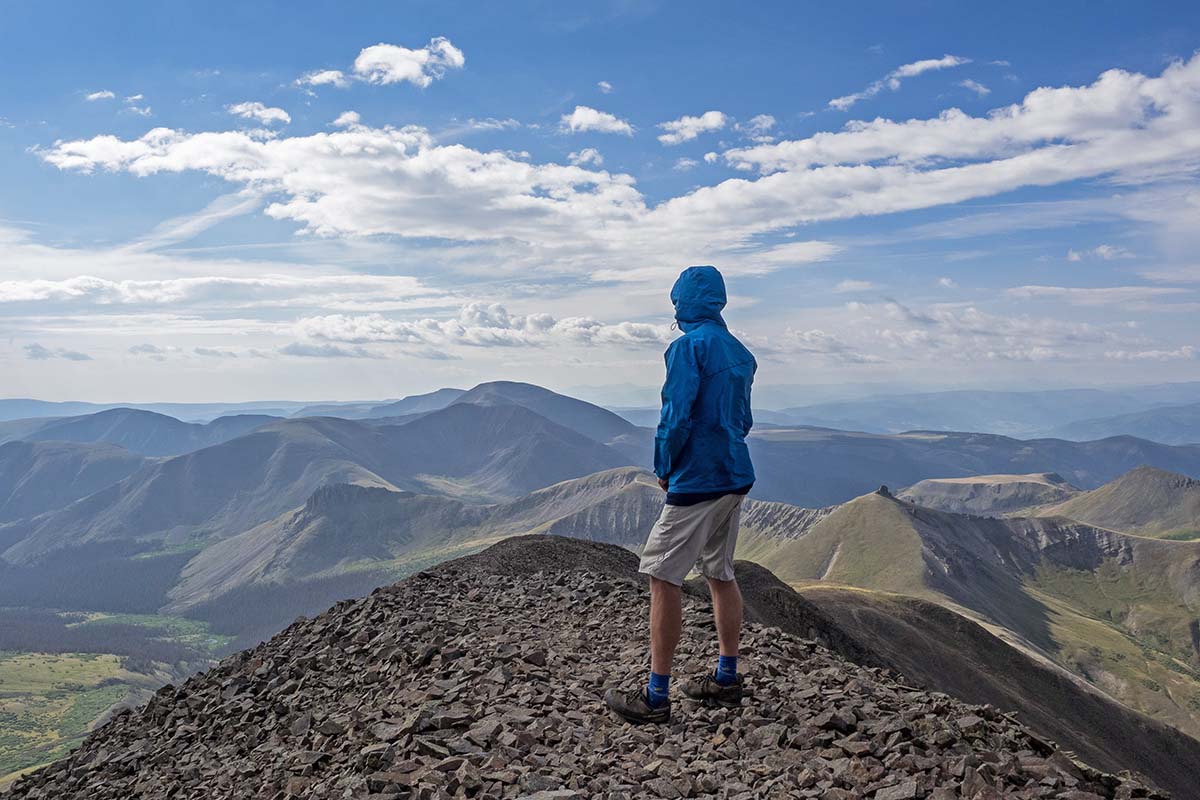 Comfort
I can't emphasize the Interstellar's softshell-like feel enough. Unlike burlier hardshells that often feel crinkly and rigid, I was wowed by the Interstellar's comfort from day one. Further, while it's usually a choice between freedom of movement or weather resistance when choosing a shell, the AscentShell nails both. Unlike some thicker hardshell jackets that can feel over-engineered and somewhat restricting, the Interstellar's stretch allowed me to move mostly unencumbered. Whether leaning forward to reach my handlebars or hike-a-biking in highly technical terrain, the jacket's AscentShell and stretchy underarm panels allowed total mobility and moved with my body. All in all, the AscentShell is one of the best in-house efforts we've seen: the lining is very comfortable and the stretch face fabric offers fantastic mobility while keeping price in check.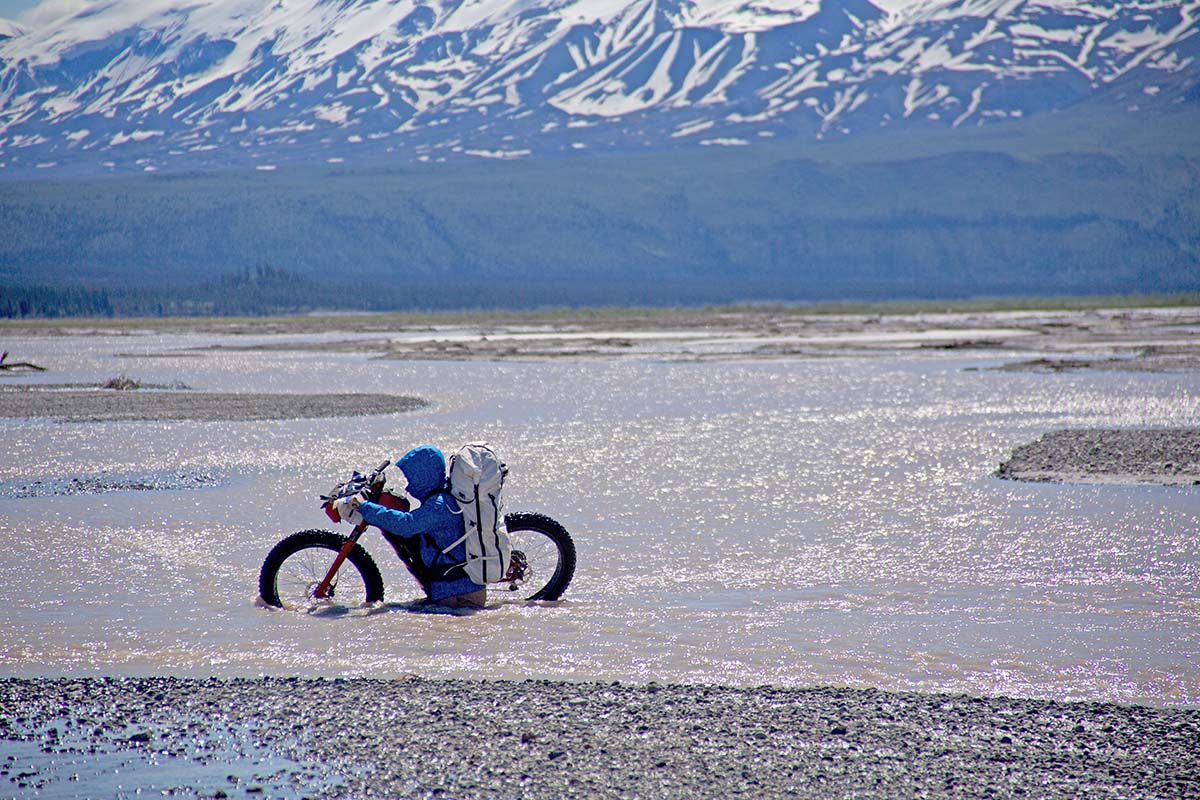 Women's Version of the Outdoor Research Interstellar 
We tested the men's version of OR's Interstellar Jacket, but it also comes in a women's model. The same-priced women's jacket clocks in at a lighter 10.1 ounces, but otherwise is identical in build and materials. At the time of publishing, it's available in three different colors—including a vibrant blue and red—and provides the same trim fit and superior softshell-like comfort.

What We Like
The Interstellar is a budget-friendly hardshell that performs in many ways like a comfy softshell.
Impressive waterproofing and breathability despite a thin build and sub-12-ounce weight.
Lightweight and packs down small for a 3-layer jacket.

What We Don't
The thin 20-denier shell pushes our comfort zone when it comes to fabric thickness (we haven't had any durability issues yet, however).
Minimalist design sacrifices features like pit zips.
Less burly than a standard hardshell.


Comparison Table

The Competition
Outdoor Research's Interstellar is one of our favorite hardshells this season for its impressive overall comfort and weather protection. We've also mentioned the Arc'teryx Alpha FL a few times throughout this review, and that's because it's a standout contender. The Alpha FL is one of the few hardshell jackets on the market to successfully mix alpine-worthy protection and low weight. Its 40-denier Gore-Tex Pro construction gives it a leg up in the durability department over the Interstellar, while its 11.1-ounce weight actually comes in lighter than the 11.8-ounce OR jacket. For weight-conscious alpinists who need a more durable shell in demanding environments, it's hard to beat the Alpha FL. But for a more budget-friendly jacket that will still provide reliable waterproofing and breathability, we give the nod to the Interstellar.
If you like the stretch of the Interstellar, Black Diamond's new HighLine is a nice alternative. Rather than mesh-lined pockets, the HighLine features pit zips, but otherwise the two share very similar feature sets including stretchy materials, helmet-compatible hoods, three total pockets, and water-resistant zippers. That said, the BD includes a new PFC-free DWR, which is a notable sustainable touch (although long-term performance isn't a guarantee with the new tech). In the end, we give the edge to the more proven Interstellar—Black Diamond is still pretty new to the hardshell game—but the HighLine is certainly one to have on the radar.
From within OR's lineup, they recently introduced the Microgravity Jacket. Slotting just below the Interstellar in their AscentShell collection, the new jacket is $50 cheaper, uses a tougher face fabric, and adds a second chest pocket to the mix. On the other hand, the Microgravity weighs quite a bit more at 14.6 ounces and doesn't pack down as small for fast-and-light missions. In addition, we had some performance-related issues with the DWR not beading up moisture straight out of the box, and the hood wasn't as comfortable or as easy to dial in the fit when not wearing a helmet (for more, see our in-depth Microgravity review). As a result, we give the clear advantage to the Interstellar.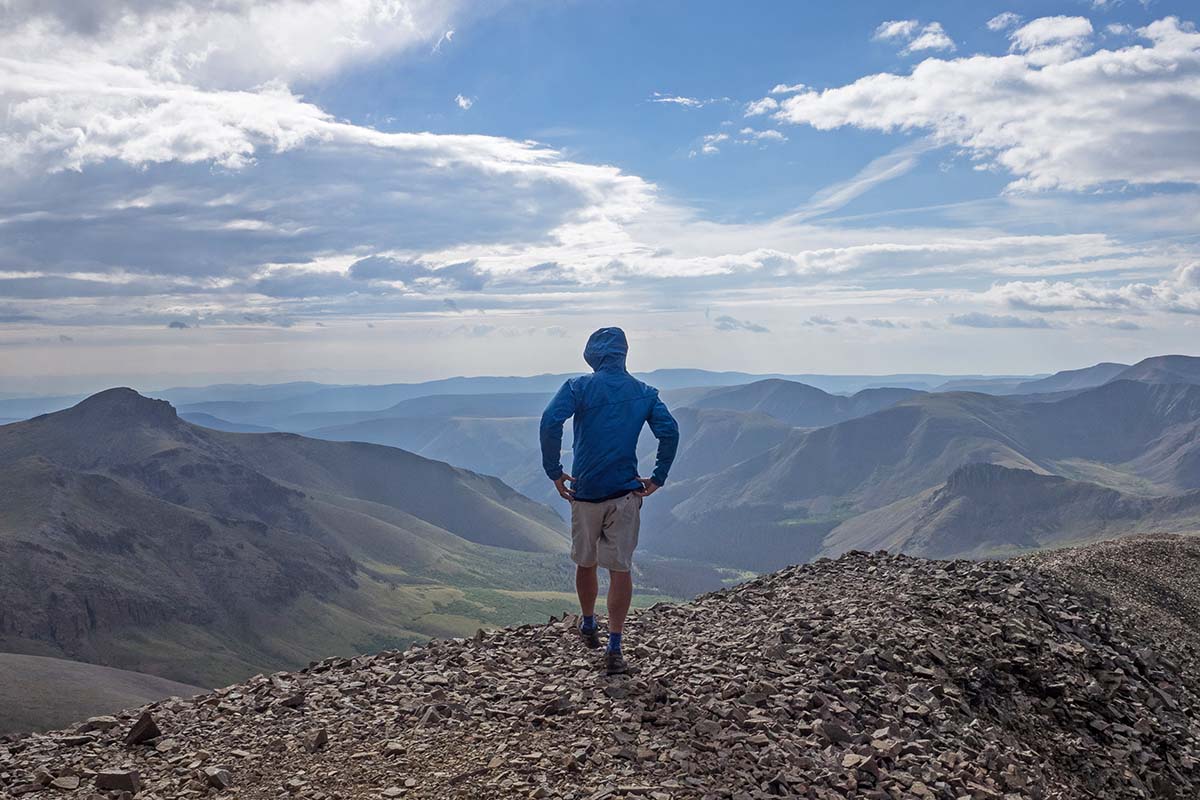 We've also been pleasantly surprised with REI Co-op's hardshells ever since they received a Gore license. Their ultralight Drypoint GTX offers the same shell thickness as the Interstellar and shaves off an ounce, and even comes in at $50 cheaper. The Drypoint uses a 3-layer Gore-Tex Active construction, which we found much better suited for hiking and backpacking versus skiing or climbing (plus, the REI doesn't have a helmet-compatible hood). While both the Drypoint and Interstellar are concerningly thin for more intense, gear-shredding missions, we haven't yet had issues with either during our testing. It's a tough call, but we like the Interstellar for its superior comfort and more alpine-ready design.
A final lightweight shell to consider is Arc'teryx's Zeta SL. Compared to the Interstellar, the Zeta SL is lighter by around an ounce at 10.9 ounces, more durable with a 40-denier face fabric (the OR uses 20D), and features a 2-layer Gore-Tex with Paclite Plus build that's a slight downgrade in weather protection. Further, the Zeta SL lacks a venting system altogether (no pit zips or core vents), which makes it less ideal for high-output activities. We like the streamlined fit of the Zeta SL and think it crosses over better into everyday wear, but the Interstellar is more breathable, fully featured, and its helmet-compatible hood gives it year-round appeal for the same price.
If you're thinking about buying gear that we've reviewed on Switchback Travel, you can help support us in the process. Just click on any of the seller links above, and if you make a purchase, we receive a small percentage of the transaction. The cost of the product is the same to you but this helps us continue to test and write about outdoor gear. Thanks and we appreciate your support!
Depending on the seller, most products ship free in the United States on orders of $50 or more. International shipping availability and rates vary by seller. The pricing information on this page is updated hourly but we are not responsible for inaccuracies.
Read More From Switchback Travel