There's no shortage of high-performance rain jackets that will keep you protected when the weather turns, but the Patagonia Stretch Rainshadow stands apart in one crucial way: stretch. We recently wore the women's version of the shell during a particularly rainy backpacking trip through the Grand Canyon. The verdict? For a 2.5-layer shell, it's expensive but the added stretchiness gives it excellent next-to-skin feel and durability. Below we break down the Stretch Rainshadow's weather protection, comfort and stretch, breathability, durability, fit and sizing, and more. To see how it measures up to the competition, see our article on the best rain jackets. 
 
Performance
Weather Protection
Designed with waterproof and breathable H2No Performance Standard fabric and reinforced with a durable water repellant (DWR) finish, the Patagonia Stretch Rainshadow Jacket is a solid barrier against wind and rain. In our experience, Patagonia's proprietary H2No is an impressive material and just as reliable as entry-level Gore-Tex when it comes to sealing out weather. Additionally, although the jacket only features a 2.5-layer construction (rather than a hardshell-specific 3-layer build), you don't give up much weather protection—we find it to be more than sufficient for everything from in-town to 3-season backcountry use.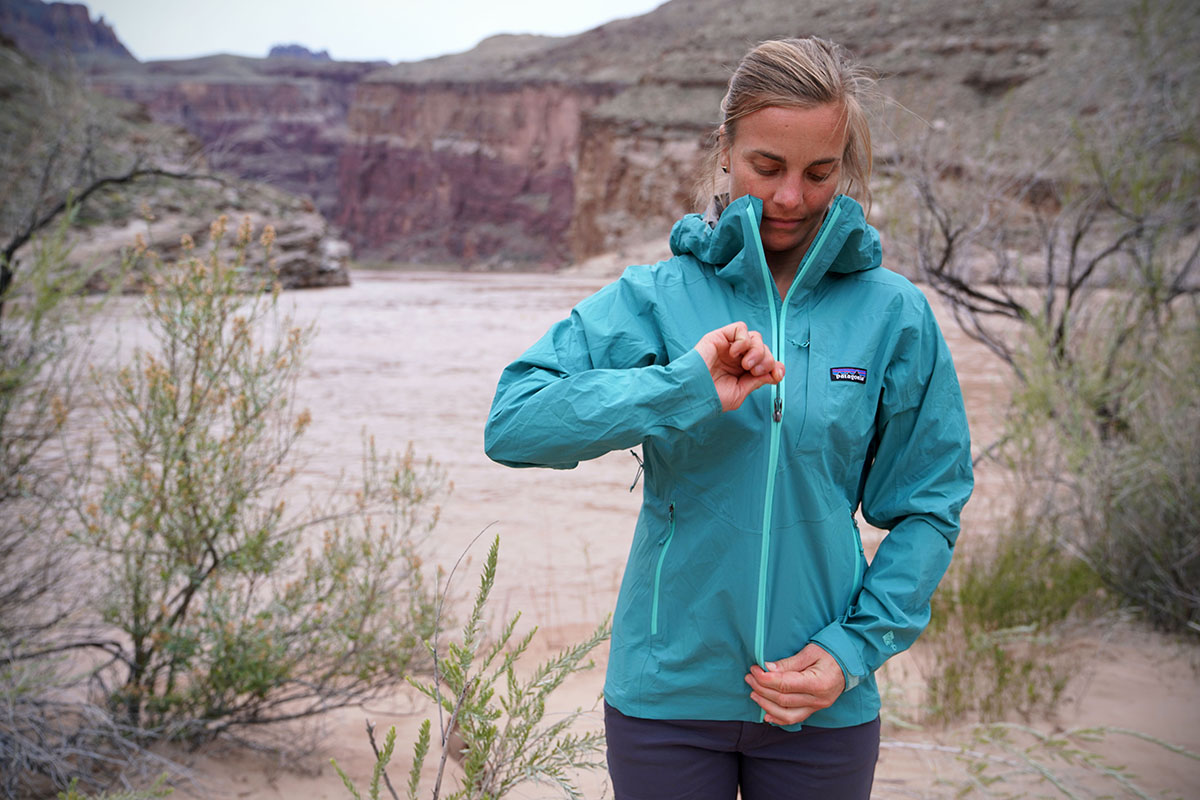 It's important to keep in mind that the DWR finish is what makes water bead up on a jacket's face fabric, not the actual fabric or layered construction. But on even the best-made jackets, this DWR finish will stop working over time or after sustained exposure to rain. On a particularly rainy day during our hike of the Grand Canyon, I noticed that the Stretch Rainshadow had grown "soaked" with moisture, and the inside of the jacket even felt a bit wet to the touch against my bare skin. However, the waterproof membrane was still working, effectively keeping all rain out. A 3-layer design like the REI Co-op Drypoint GTX ($249) will lend a better next-to-skin feel along with a boost in breathability (it utilizes Gore's most breathable fabric: Gore-Tex Active), but the Rainshadow still performed quite well in wet conditions.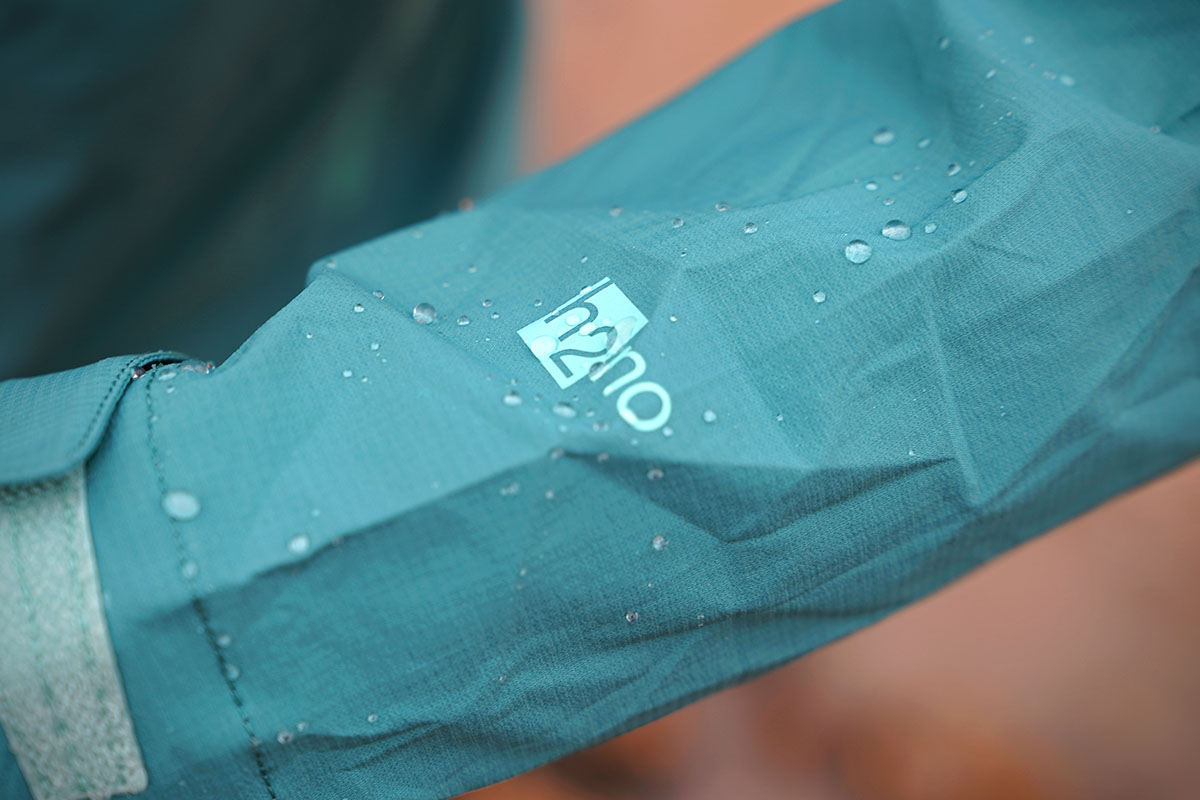 Finally, in addition to the shell fabric and water-repellant coating, the Stretch Rainshadow incorporates a number of features that allow you to batten down the hatches against wind and rain. For starters, the hood is helmet-compatible (great news for climbers, mountain bikers, and bike commuters), and its brim and easy-to-use adjustment allow for great visibility without compromising protection. When hit with heavy showers during our hike in the Grand Canyon, I really appreciated how simple and functional the hood was to both don and adjust. In addition, the below-the-hem length provided ample coverage when it came to setting up camp in the rain, and a simple drawcord accessed through the handwarmer pockets cinched it up for maximum coverage. Last but not least, the Rainshadow features watertight front and pocket zips—uncommon amongst mid-range competition like Marmot's Minimalist and Patagonia's own Torrentshell—and DWR-coated, flap-protected chest and pit zips.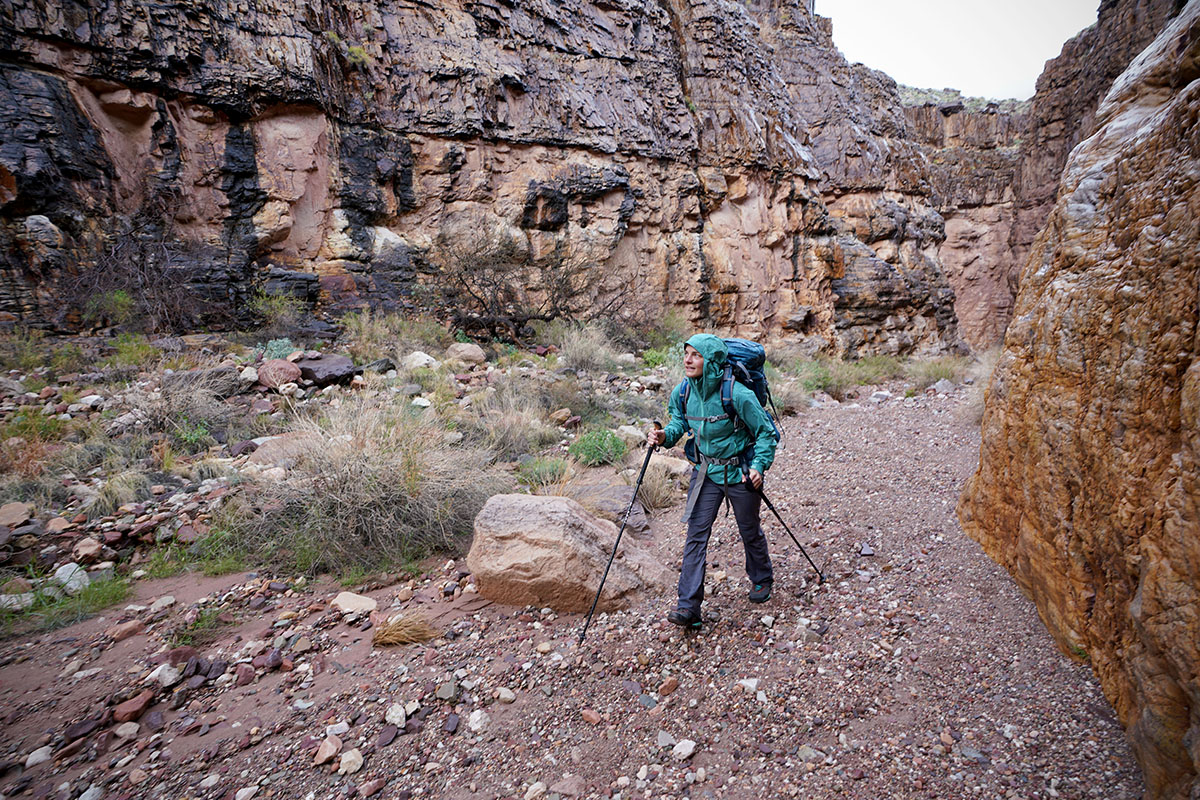 Comfort and Stretch
Patagonia's Stretch Rainshadow uses nylon yarns in its face fabric, giving the jacket added elasticity and comfort. This stretch lends a softer, suppler feel and the added "give" allows great freedom of movement for activities like climbing or biking. In terms of the competition, there aren't many other rain jackets that boast the same level of stretchiness. One of the few shells in this category, Black Diamond's StormLine Stretch Rain Shell, similarly incorporates stretchy nylon into a 2.5-layer build, but the jacket lacks the overall fit and finish that we love about the Rainshadow. You can also opt for the 3-layer, stretchy Interstellar from Outdoor Research, but it will cost you an extra $100.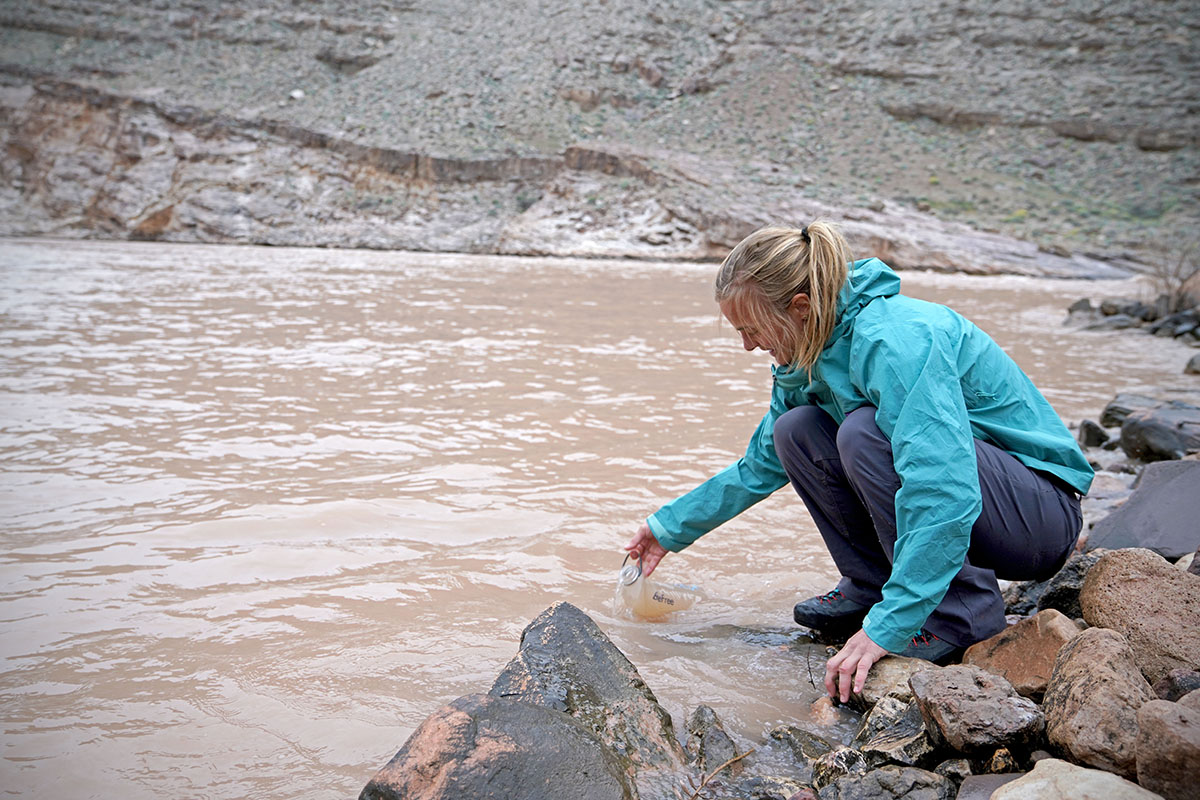 Weight and Packability
Among its rain shell competition, the Rainshadow stands out for its feathery and packable design. In fact, clocking in at 9.5 ounces for a women's medium, it's the lightest 2.5-layer jacket in Patagonia's lineup (the previous leader was the discontinued Alpine Houdini). Further, it stuffs easily into its chest pocket and hangs from a harness with a carabiner-ready loop. Alternatives like the Marmot Minimalist and REI XeroDry GTX come in at 13.6 and 10.6 ounces respectively, and neither are particularly great at stuffing down. At 10.1 ounces, Outdoor Research's Interstellar is a formidable contender, but with a much higher price tag. And it's important to point out that despite its feathery weight, the Rainshadow is a still a fully featured rain jacket. Emergency shells like the Arc'teryx Norvan SL (3.9 ounces) weigh less but sacrifice durability and helpful features like pockets and pit zips.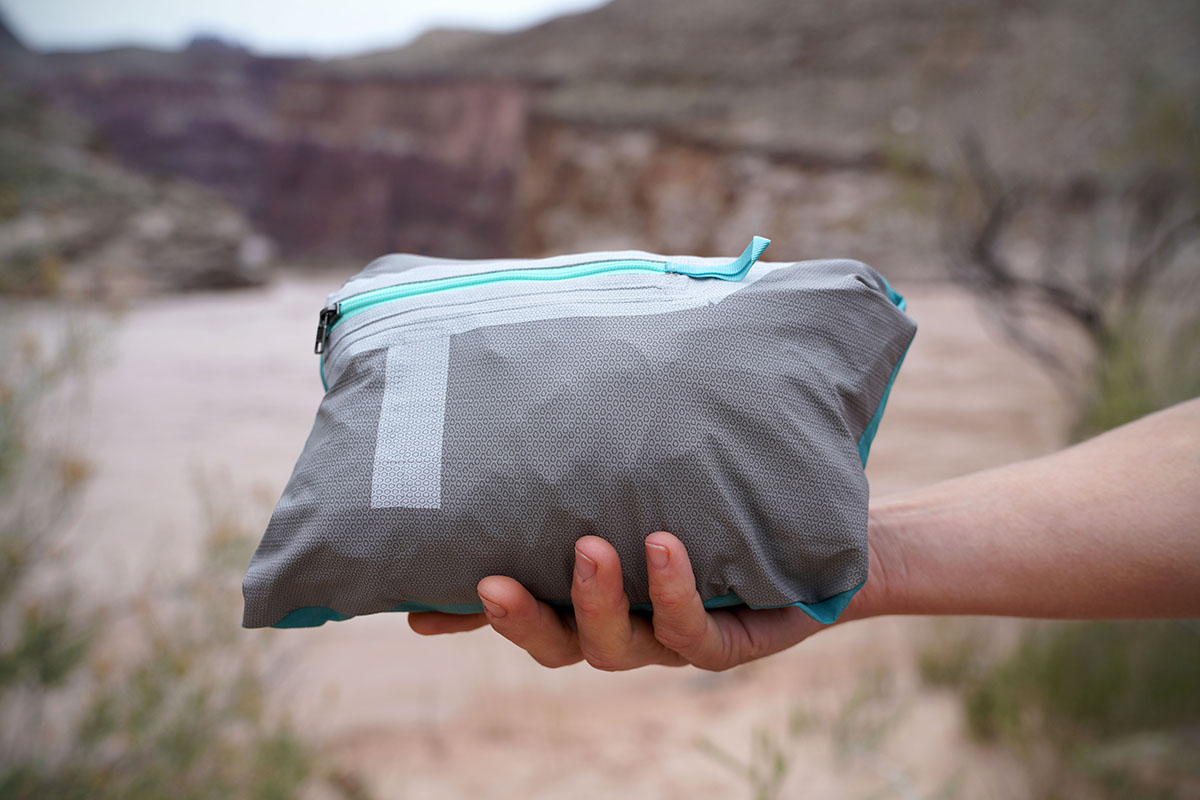 Breathability
While most performance-oriented rain jackets are made with a 2.5-layer construction, they offer significantly less breathability than 3-layer hardshells. As a result, we noticed that the Stretch Rainshadow felt clammy against our bare skin when wearing it over just a t-shirt while hiking. That said, the supple and stretchy nylon of the Rainshadow offered a slightly less "plasticky" feel compared to other rain jackets like Patagonia's Torrentshell and the Marmot PreCip. And similar to these jackets, the Rainshadow also has generously sized pit zips that effectively dump heat. All told, it's among the better lightweight, 2.5-layer designs we've tested. But the jacket still falls short of 3-layer options like the REI Drypoint GTX and Outdoor Research Interstellar for active use.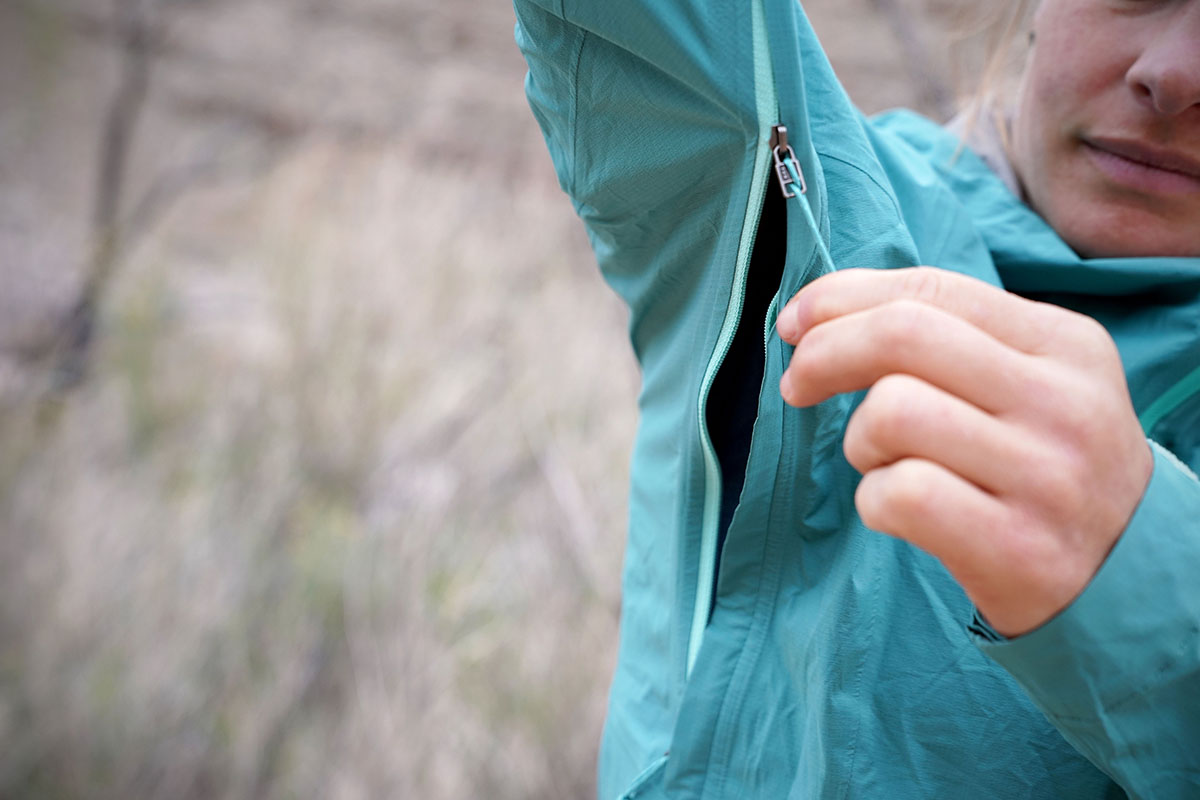 Features
Hood
We love the large, climbing- and bicycle-helmet-compatible hood on the Patagonia Stretch Rainshadow. This compatibility gives the jacket a great deal of versatility for technical use, but the hood also cinches down to look and fit great over a helmetless head, too. Further, a single-pull cord offers simple adjustment. It stretched the hood away from my face and kept it tight to my head even in strong wind, and the wide, laminated brim kept water away from my forehead. Finally, the hood compresses and stows away with a hook-and-cord closure, although I'm not sure I'll ever make use of this feature as the hood isn't overly intrusive when not in use.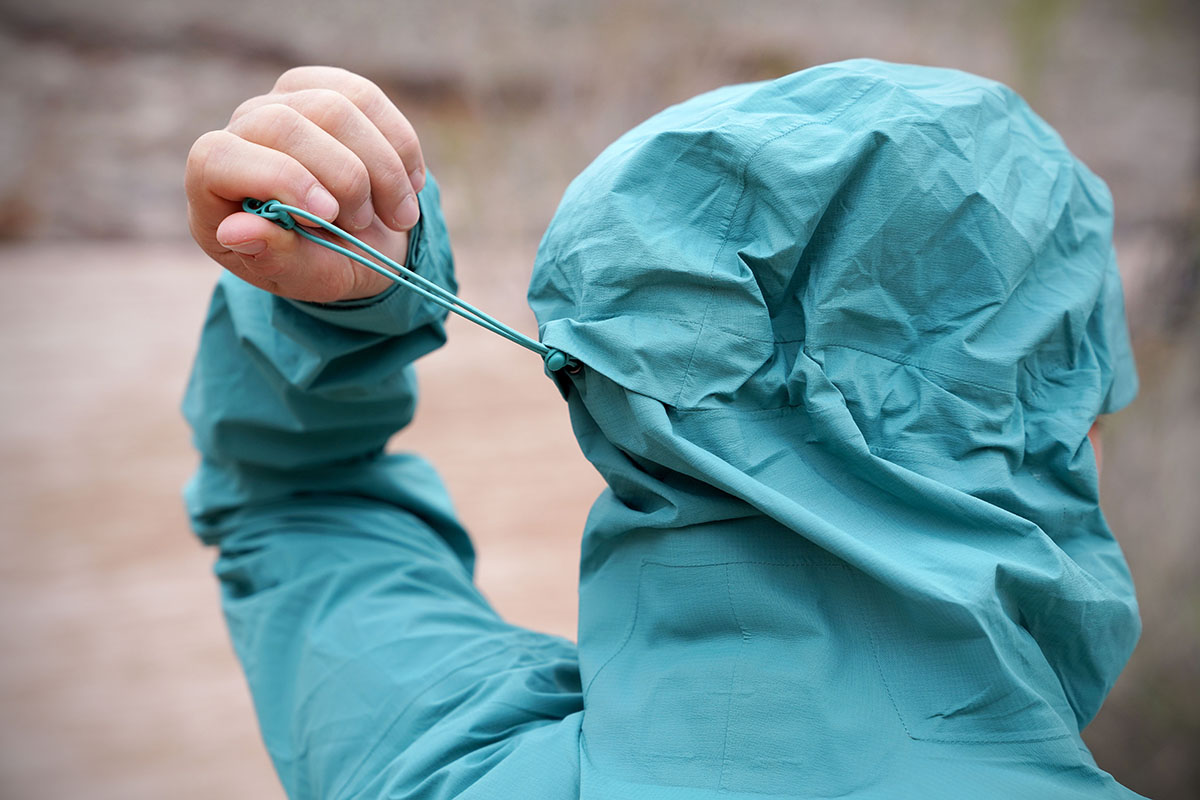 Pockets
Like much of its competition, the Rainshadow features two handwarmer pockets and a single chest pocket. The handwarmer pockets include coated, watertight zippers, and the left chest pocket is welted and treated with a DWR finish. We'd trust the handwarmer pockets to safely stow valuables in moderate rain (although we're always extra careful with electronics) but would err on the side of caution with the less protective chest pocket. And while we were able to access the handwarmer pockets over the waistbelt of our backpack more easily than those on the Torrentshell or REI Co-op XeroDry GTX Jacket, they were still slightly less accessible than the truly harness-compatible pockets of a technical hardshell like the Patagonia Cloud Ridge.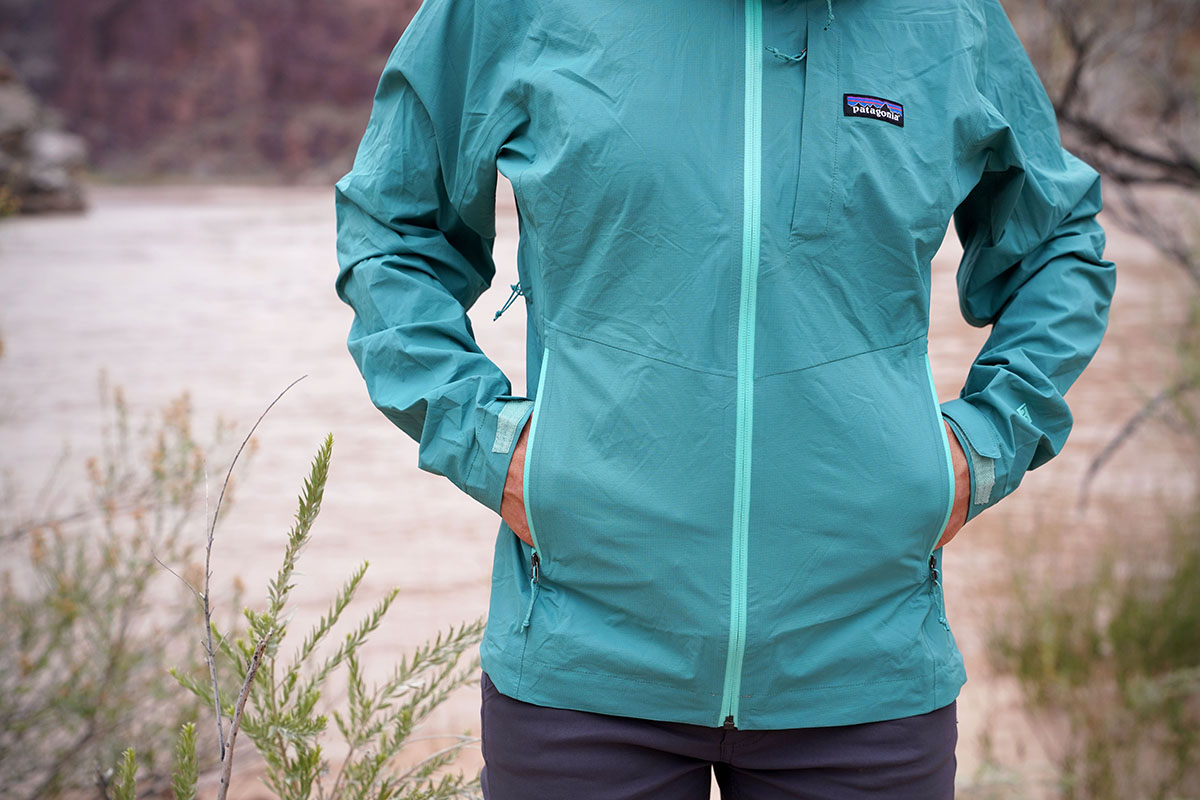 Build Quality and Durability
A jacket's durability hinges on a number of factors, including the shell's build quality and thickness and style of the face fabric. The 30-denier nylon stretch ripstop of the Rainshadow offers a slight bump in toughness from the thinner 20-denier fabric on lightweight jackets like the REI Drypoint GTX and Outdoor Research Interstellar. What's more, it incorporates stretch, which allows the fabric to give under tension rather than rip or form holes. When setting up camp in a heavy rain, our Rainshadow snagged on sharp bush branches numerous times without ripping—a test that might have torn similarly thick, non-stretchy shells. On the other hand, the 50-denier Torrentshell and REI Co-op's XeroDry, which uses a combination of 50- and 75-denier fabrics, have noticeably more robust face fabrics (at the cost of a couple ounces). For its weight, we think the Stretch Rainshadow is impressively hardwearing.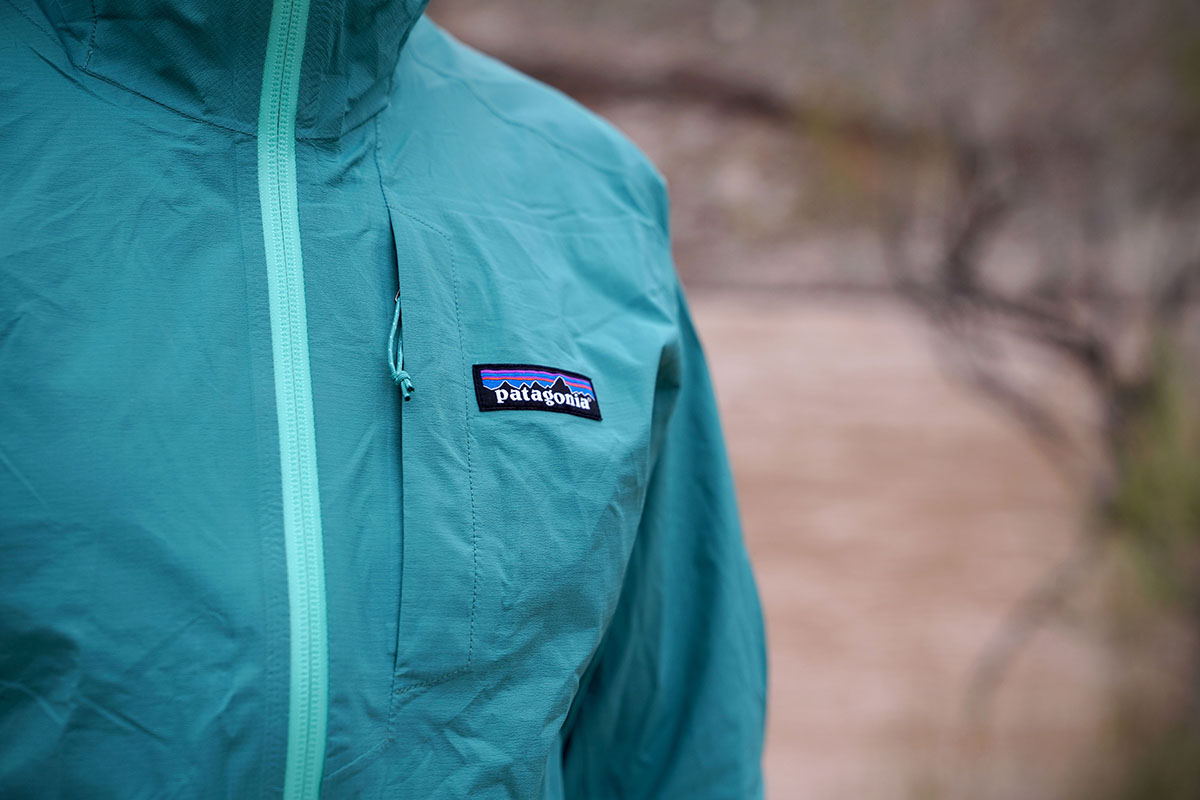 Patagonia is known for its attention to detail and performance focus, so it should come as no surprise that the Rainshadow is a very well-made jacket. For $199, you get a sleek shell with high-quality materials and not a thread out of place. Keep in mind, however, that unlike the robust 3-layer fabric of a hardshell jacket, the thin interior lining is prone to deteriorating over time (typically after many years of use). Further, as is the case with any DWR-finished jacket, the Patagonia Stretch Rainshadow's water-repellant coating will wear away with time and continued exposure, but it can always be revived by washing and drying the garment and/or applying a new finish.

Fit and Sizing
As with most products from Patagonia, the Rainshadow nails the fit. Designed for both casual use and as a performance-focused shell, the jacket offers a regular, hip-length fit that can be worn over baselayer and midlayer alike. Our women's small offers impressive freedom of motion, and the stretchy fabric means you have added agility without a bulky or boxy fit. In comparison, the Interstellar from Outdoor Research is a more technical jacket with a slightly trimmer fit, while the REI XeroDry is roomier in the torso and a little too short for our tastes.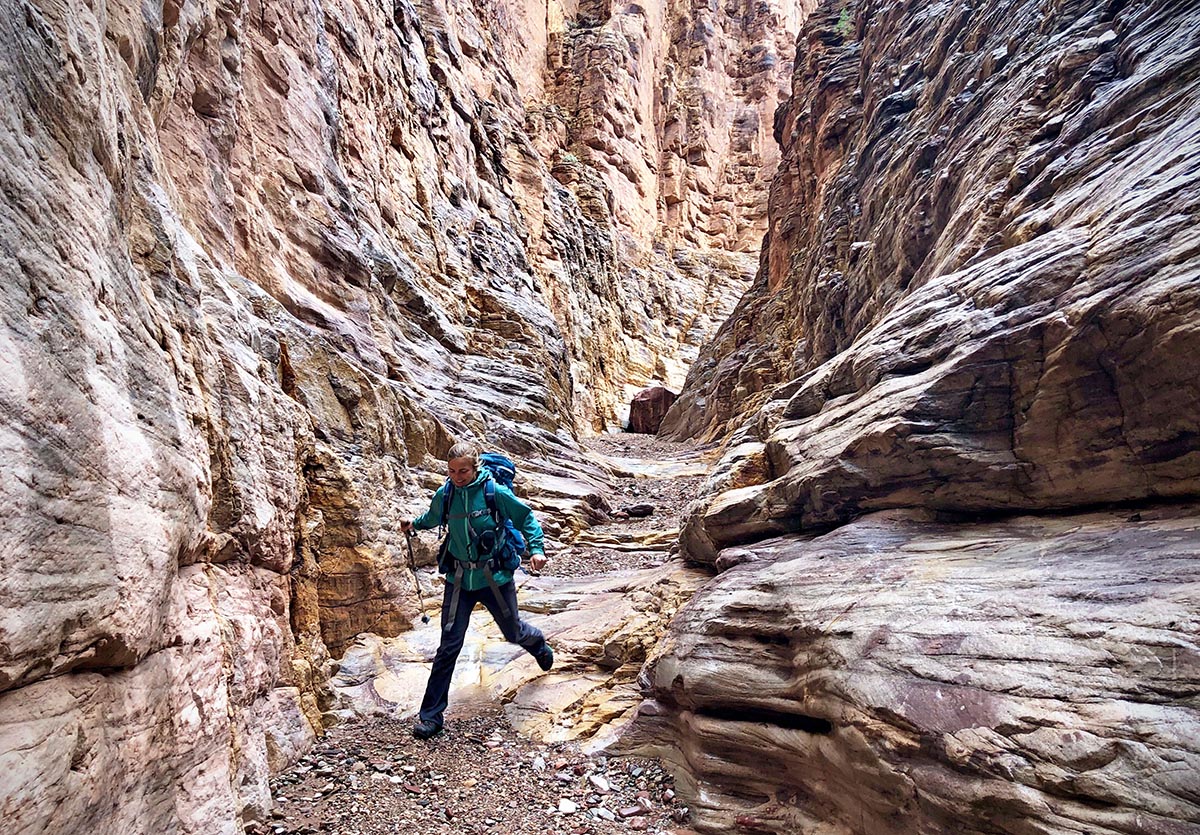 Men's Version of the Patagonia Stretch Rainshadow
For this review, we tested the women's Patagonia Stretch Rainshadow. This jacket also comes in a men's version for the same price ($199). Due to sizing differences, the men's Stretch Rainshadow weighs slightly more at 10.8 ounces and is available in varying colorways. But it boasts the same construction and features as the women's model.
 
What We Like
The Rainshadow is noticeably more stretchy, durable, and comfortable than traditional rain jackets.
In-house H2No Performance Standard membrane delivers solid all-around weather protection.
Its super-lightweight and packable design makes the Rainshadow a great choice for backpacking or alpine climbing endeavors. 
Versatile fit allows layering over a thin baselayer or puffy midlayer—and the jacket looks good to boot.
 
What We Don't
The 2.5-layer construction doesn't offer the breathability or durability of a 3-layer hardshell.
You'll pay a lot for the stretch—the Rainshadow is $70 more than the similar but non-stretchy Torrentshell.
Hand pockets are slightly less accessible than the truly harness-compatible pockets of a more technical hardshell.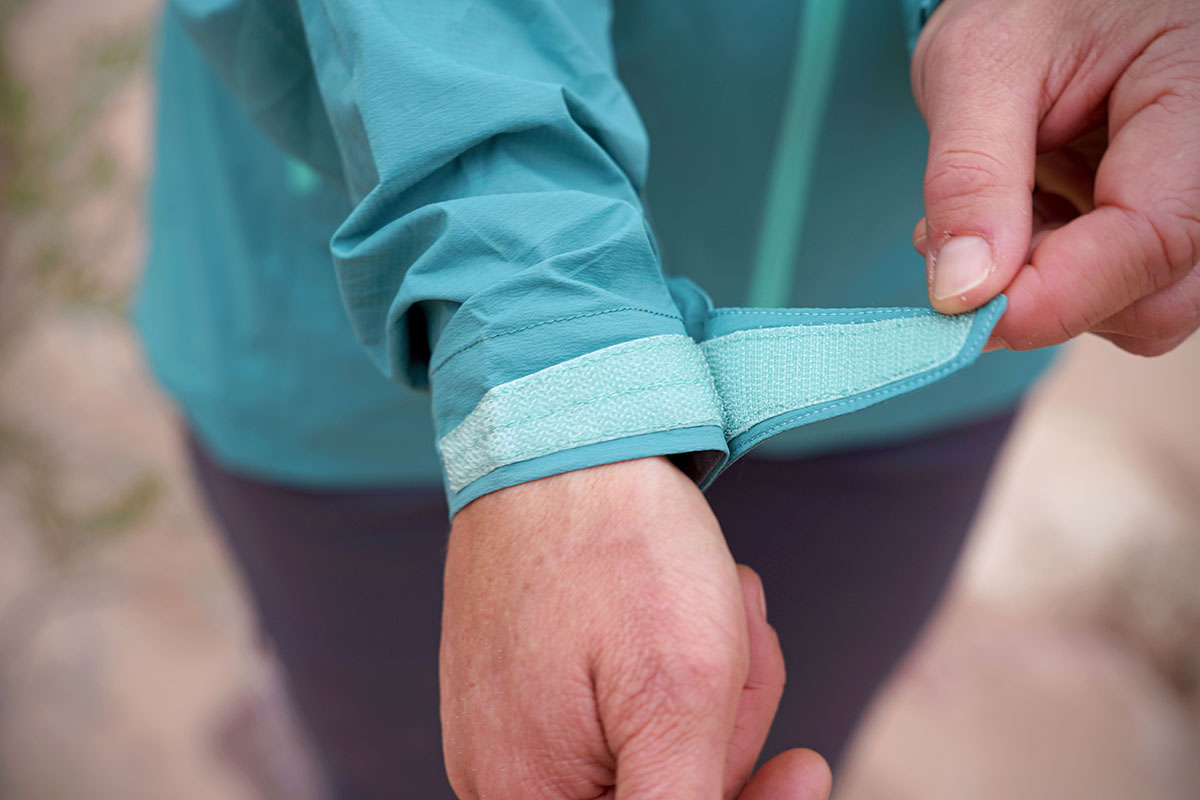 Comparison Table

The Competition
The Stretch Rainshadow is the lightest piece in Patagonia's lineup of rain shells, which also includes the Torrentshell, Cloud Ridge, and Calcite jackets. How do they compare? At $129, the Patagonia Torrentshell stands apart as a budget-friendly jacket for daily use, with durable 50-denier fabric, similar waterproofing to the Rainshadow (but inferior comfort and breathability), and a more casual fit and finish. New for 2019, the Calcite offers a step up in weather protection and breathability, with a durable 75-denier Gore-Tex Paclite Plus shell fabric and textured backer in a slightly heavier package. Finally, the Cloud Ridge is a full-on 3-layer hardshell, with the best combination of weather protection and breathability of the bunch. Where the Rainshadow stands apart is stretch and weight, and it'd be our choice for fast-and-light endeavors and active pursuits where mobility matters.
If you're in the market for a waterproof shell with a stretchy face fabric, the Outdoor Research Interstellar is one of the Rainshadow's closest competitors. Made with OR's proprietary Ascentshell 3-layer fabric, the Interstellar offers just as much stretch as the Rainshadow with a boost in breathability. You get mesh-lined pockets instead of pit zips, but other features remain relatively similar including a helmet-compatible hood, above-the-harness hand pockets, and a chest pocket that doubles as a stuff sack. Priced at $299, you pay a premium for breathability, but Ascentshell is an intriguing and promising material for those who want hardshell-level weather protection and durability during active pursuits (for more, see our in-depth Interstellar review).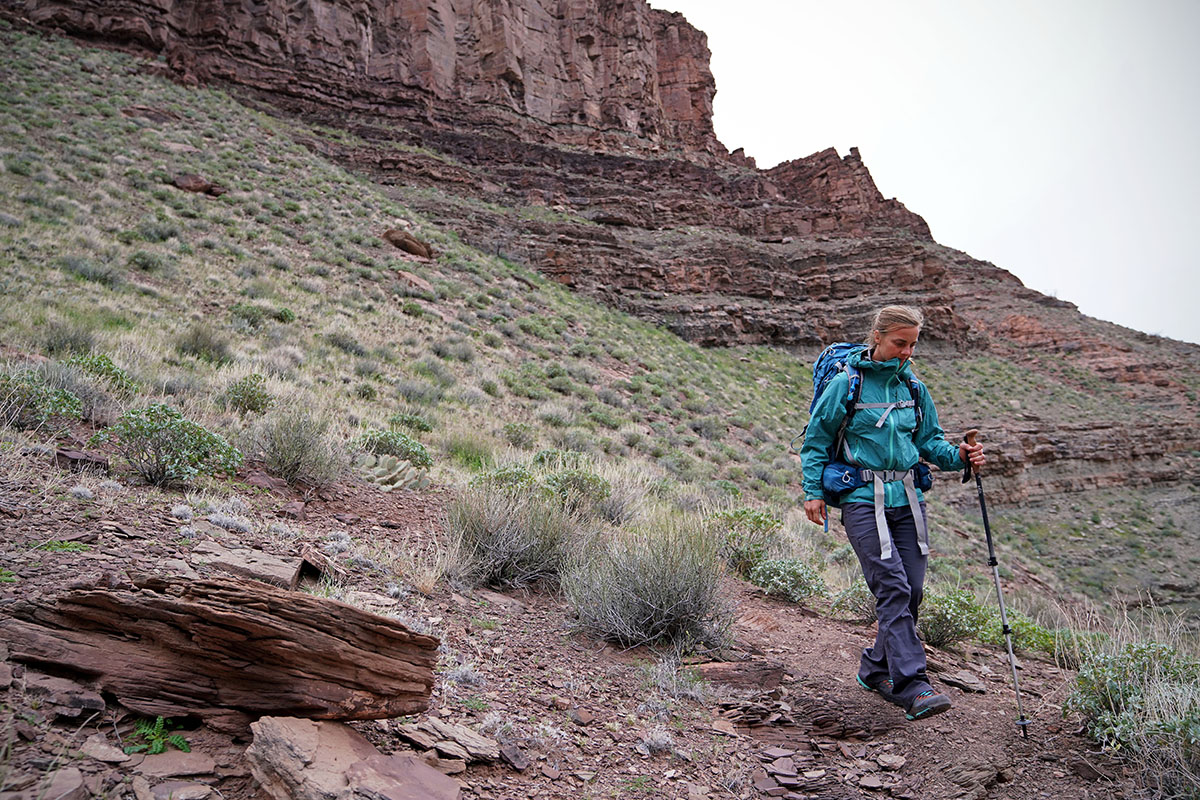 Another jacket that incorporates stretch into a 2.5-layer build is Black Diamond's StormLine. Both the BD and Patagonia include a variety of features tailored to climbers and backcountry enthusiasts: helmet-compatible hoods, stuff pockets with carabiner loops, and pit zips. The StormLine gets the edge in weight at 8.7 ounces but is lacking some features like a chest pocket and water-resistant zippers on the hand pockets. We also prefer the Stretch Rainshadow's moderately trim cut (the BD is a bit roomy for our tastes). But what gives the StormLine the advantage for us in our rain jacket round-up is its significant $50 price savings.
Last but not least, REI Co-op's XeroDry GTX combines waterproofing and breathability in a streamlined, 10.6-ounce package that doesn't break the bank. For $159, you get a mix of robust 50- and 75-denier face fabrics, Gore-Tex Paclite membrane, mesh-lined pockets that serve as core vents, and a sleek fit and finish. That said, we brought the XeroDry on the same trip into the Grand Canyon and it wetted out surprisingly quickly in heavy rain. Additionally, the XeroDry comes without a helmet-compatible hood and doesn't stuff into its own pocket for harness carry. In the end, we like REI's Gore-Tex jacket as an emergency layer or an everyday piece, but for technical or high-output activities, the Rainshadow is a more breathable, performance-oriented option.
If you're thinking about buying gear that we've reviewed on Switchback Travel, you can help support us in the process. Just click on any of the seller links above, and if you make a purchase, we receive a small percentage of the transaction. The cost of the product is the same to you but this helps us continue to test and write about outdoor gear. Thanks and we appreciate your support!
Depending on the seller, most products ship free in the United States on orders of $50 or more. International shipping availability and rates vary by seller. The pricing information on this page is updated hourly but we are not responsible for inaccuracies.
Read More From Switchback Travel