Hiking footwear has been trending toward fast and light for the past few years, and it's easy to see why. These shoes are significantly nimbler and more agile than their bulky hiking boot counterparts, and many designs retain impressive stability and support. Oboz's Arete fits the bill well: this shoe weighs less than 1.5 pounds (for the women's version) but manages to pack in a good deal of cushioning and nicely isolate you from the trail. Below we break down our experiences with the Arete, and to see how it stacks up to the competition, see our article on the best hiking shoes and best women's hiking shoes.
 
---
Table of Contents
---

Performance
Comfort
Oboz is known for their comfort-first designs, and the Arete hiking shoe carries the torch. I took the Arete out of the box and right onto the trail, expecting there to be a painful break-in period. But after our first day hiking into Crater Lake in Colorado's Indian Peaks Wilderness, I was pleasantly surprised: the midsole is nicely cushioned, the interior feels soft and supple, and the insole is high-quality and adds a good dose of padding underfoot. Despite traveling over multiple sections of loose, sharp rocks, the shoes nicely isolated my feet from the trail without ever making me feel off-balance (a common problem with more thickly cushioned models). Additionally, I suffered no blisters or hot spots during our trek, and at a few points forgot about the shoes entirely—a true testament to their all-around comfort.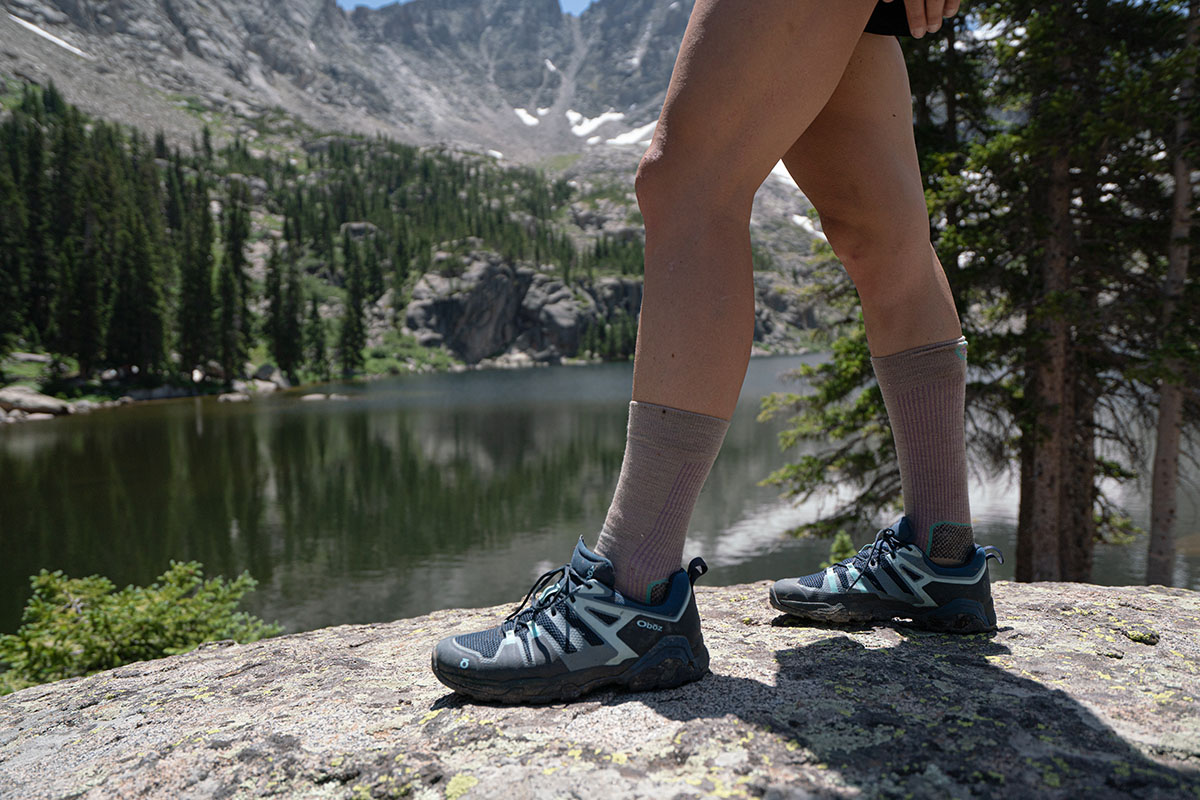 For comparison, I had a vastly different experience with Oboz's Sawtooth II: despite the well-cushioned build and good fit, after my first 10-mile day in the shoes in the Grand Canyon, my arches were in considerable discomfort, and the boots felt noticeably heavy and awkward on my feet. The Arete, on the other hand, has a running shoe-like feel—nimble, sprightly, and light—without sacrificing plushness. I do wish the collar were a bit more padded (Salomon's fast-and-light-focused X Raise is much more cushioned in this area), but this wasn't a big concern. Overall, comfort is a clear strong suit of the Arete.

Weight
At 1 pound 5.2 ounces for a women's pair, the Oboz Arete falls at the light end of the hiking shoe spectrum. For comparison, our top-rated hiking shoe this year, the Salomon X Ultra 3 Aero, clocks in at 1 pound 6.4 ounces. Other shoes aimed at traveling fast and light, including Salomon's X Raise (1 lb. 2.7 oz.) and OUTline Low (1 lb. 3.6 oz.), Merrell's MQM Flex 2 (1 lb. 5 oz.), and Vasque's Breeze LT Low (1 lb. 2 oz.) all slightly undercut the Arete, but the weight difference isn't major. And it was a wildly different experience than I had with Oboz's Sawtooth, which felt noticeably heavy and clunky on the trail (for reference, the Sawtooth II Low is 1 lb. 8.8 oz.). All in all, I think the Arete's weight is perfectly reasonable. I even ran in the shoes on the second day of our backpacking trip and was surprised by how athletic and sprightly they felt.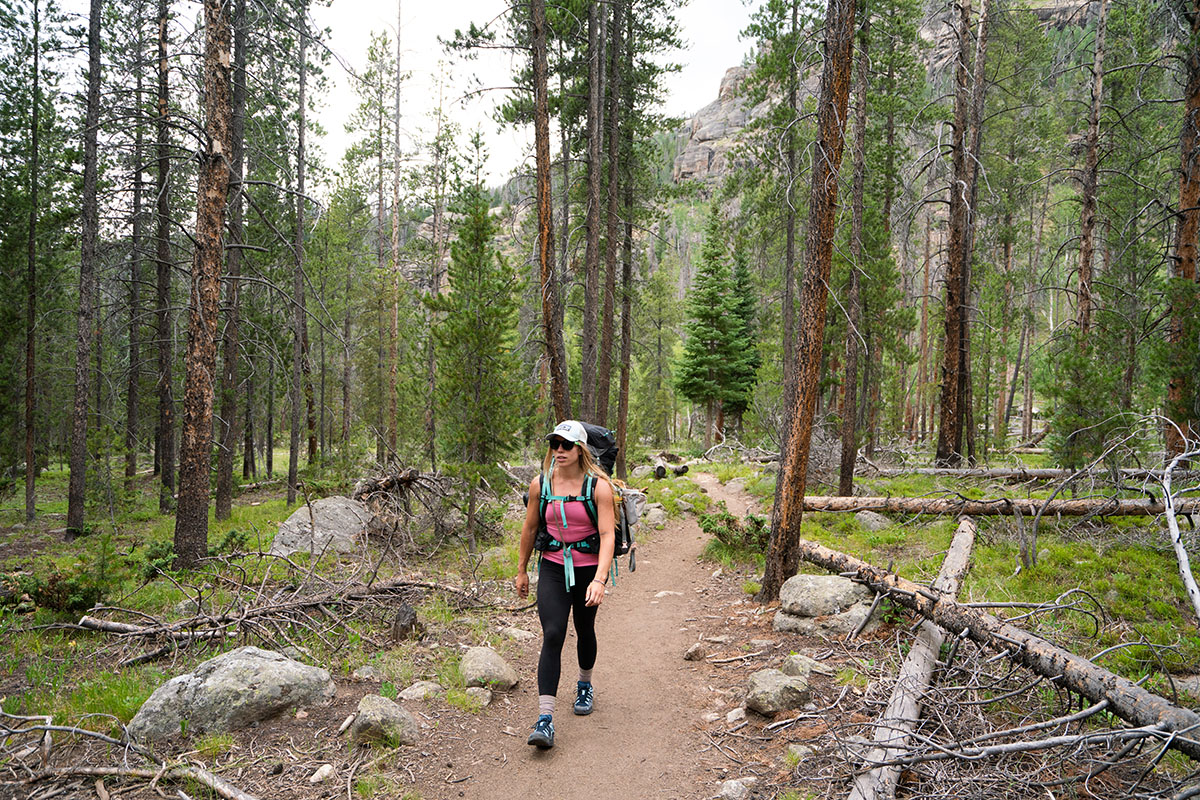 Traction
Simply put, traction is a bit of a mixed bag with the Arete. The good news is that the shoe's multidirectional lugs were grippy across a wide range of terrain, including slabby boulders, loose dirt and rock, and mud. Our descent from Lone Eagle Peak on day three was fairly technical with a good deal of scrambling and descending a steep and loose scree field, but the Arete never faltered. That said, as soon as things turned wet—both while crossing streams along the trail and during intermittent rainstorms over our three-day outing—the Oboz began to struggle. The confidence I had established with the shoes rapidly dissipated as they slipped off of wet rocks and logs, and I quickly found myself avoiding each potential obstacle. For reference, we had a similar experience with Salomon's X Raise hiking shoe, which also gripped well until conditions turned wet. In both cases, it was an unexpected letdown.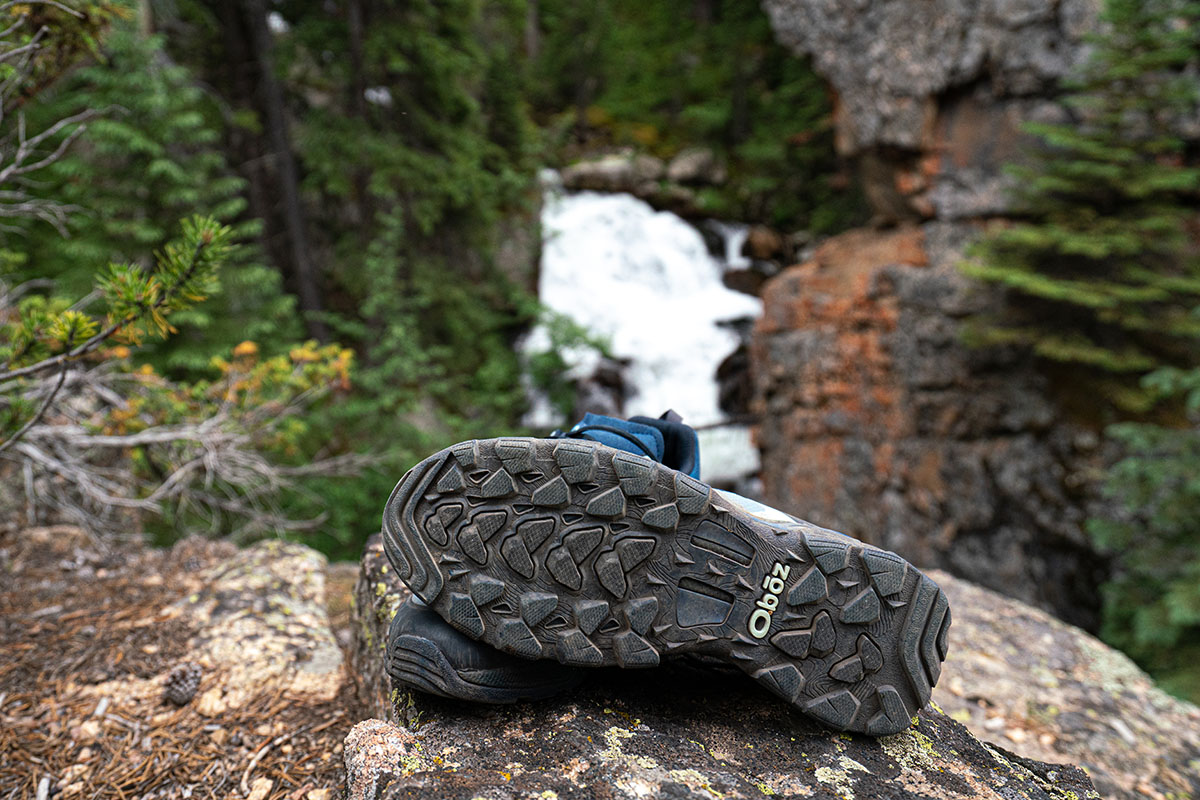 Stability and Support
Low-top shoes inherently provide less support than their mid-height hiking boot counterparts, but the Oboz Arete Low offered a surprisingly stable ride. In fact, I suffered no ankle turns on the trail, despite a good deal of rocks and logs and sections of scrambling under the weight of a fully loaded pack. Overall, the shoe hit a great balance between flexibility and sturdiness: I didn't experience any twisting or side-to-side movement and found it easy to trust even while boulder-hopping with my pack on. But at the same time, the shoe never felt overly stiff or rigid underfoot. It's true that you can get more support and coverage in a stiffer, over-the-ankle design—and Oboz does make the shoe in a mid-height version—but personally, I think the compromise is worth it for the Arete Low's athletic and nimble feel. Unless I'm attempting a particularly technical route, I don't foresee any issues.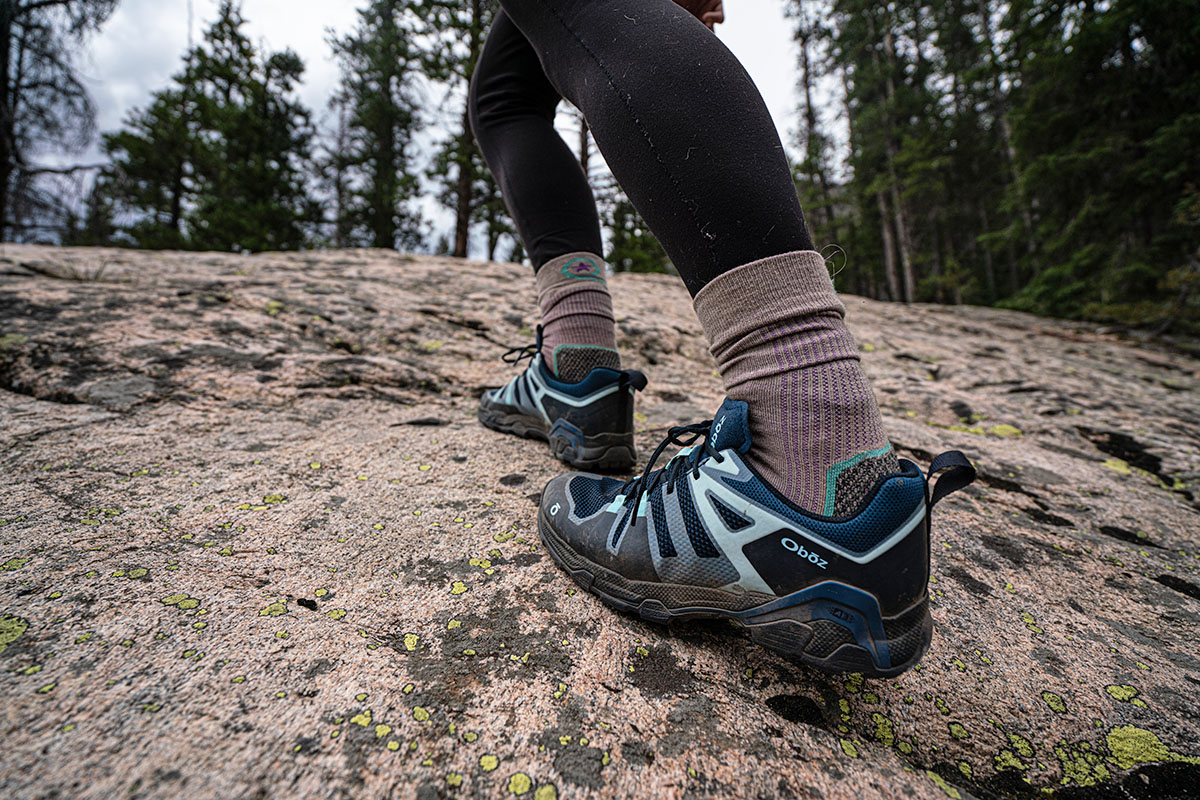 Waterproofing
I opted for the non-waterproof version of the Oboz Arete, so it came as no surprise that the shoes soaked through almost immediately after an accidental plunge in a creek. That said, the upside is that they dried out quickly—by the time we arrived at camp a few miles later, the uppers were almost completely water-free. And in light rain, the tightly woven mesh provided a surprisingly good barrier against moisture. All in all, the non-waterproof build has proven to be a nearly perfect match for Colorado, where afternoon showers are common but pass quickly in the summer.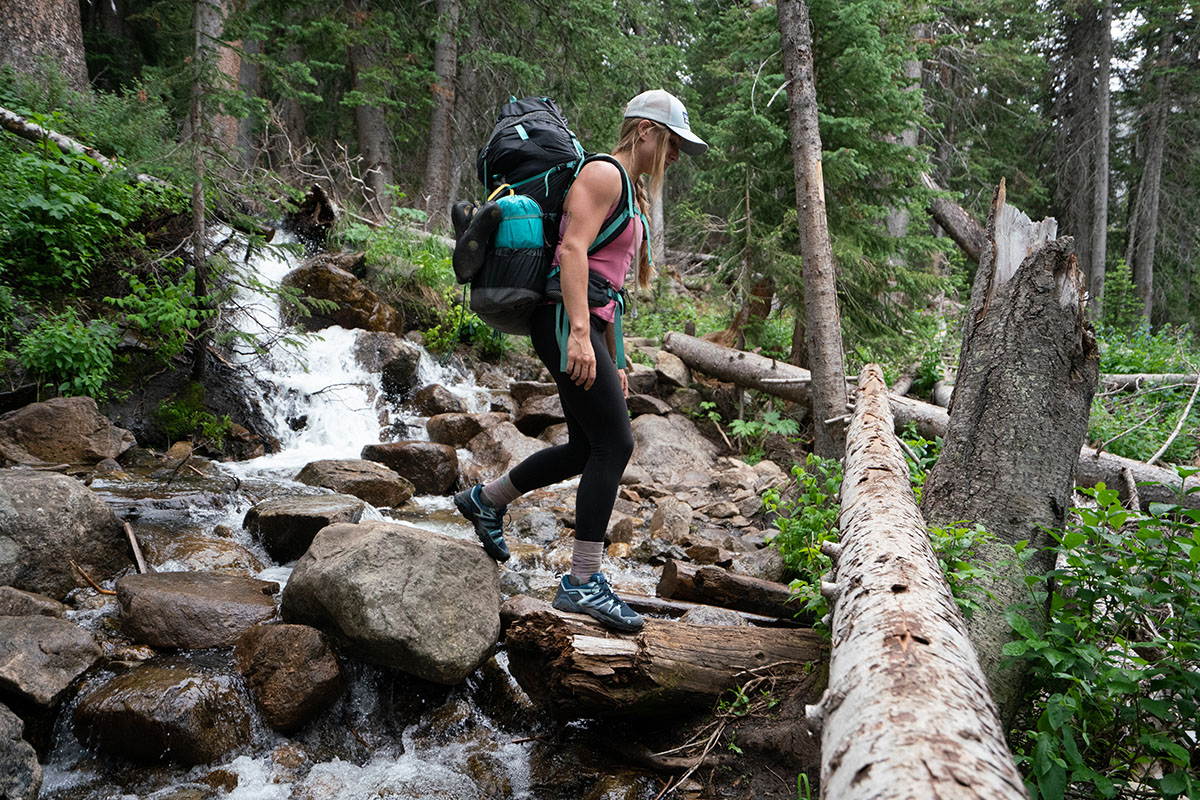 For those who want the added assurance in consistently wet conditions (including places like the Pacific Northwest that see a lot of rain), Oboz also makes the shoe in a waterproof variation that sports their in-house B-Dry membrane for $20 more. We tested the waterproof version of Oboz's Sawtooth II Mid, which uses the same technology, and found that it offered great protection against moisture but lacked breathability. In the end, it comes down to priorities: for those who regularly hike in damp, cold, or snowy areas, a waterproof shoe or boot is a good option. But in typically hot and dry climates or regions with frequent river crossings where your shoes will inevitably get soaked, a quick-drying, non-waterproof model is a better bet. For more on the topic, see our article: Do You Need Waterproof Hiking Shoes?

Breathability
With a non-waterproof build and ample mesh along the upper, the Oboz Arete is an excellent breather. Temperatures reached between 70 and 75 degrees Fahrenheit on our trip into the Indian Peaks Wilderness, but my feet stayed dry and comfortable throughout. In fact, I frequently forgot about the shoes entirely, which speaks volumes about their impressive all-around comfort and breathability. And as I touched on above, an added bonus is that when I accidentally soaked the shoes in the creek during a crossing, they dried out quickly (something waterproof footwear does not do).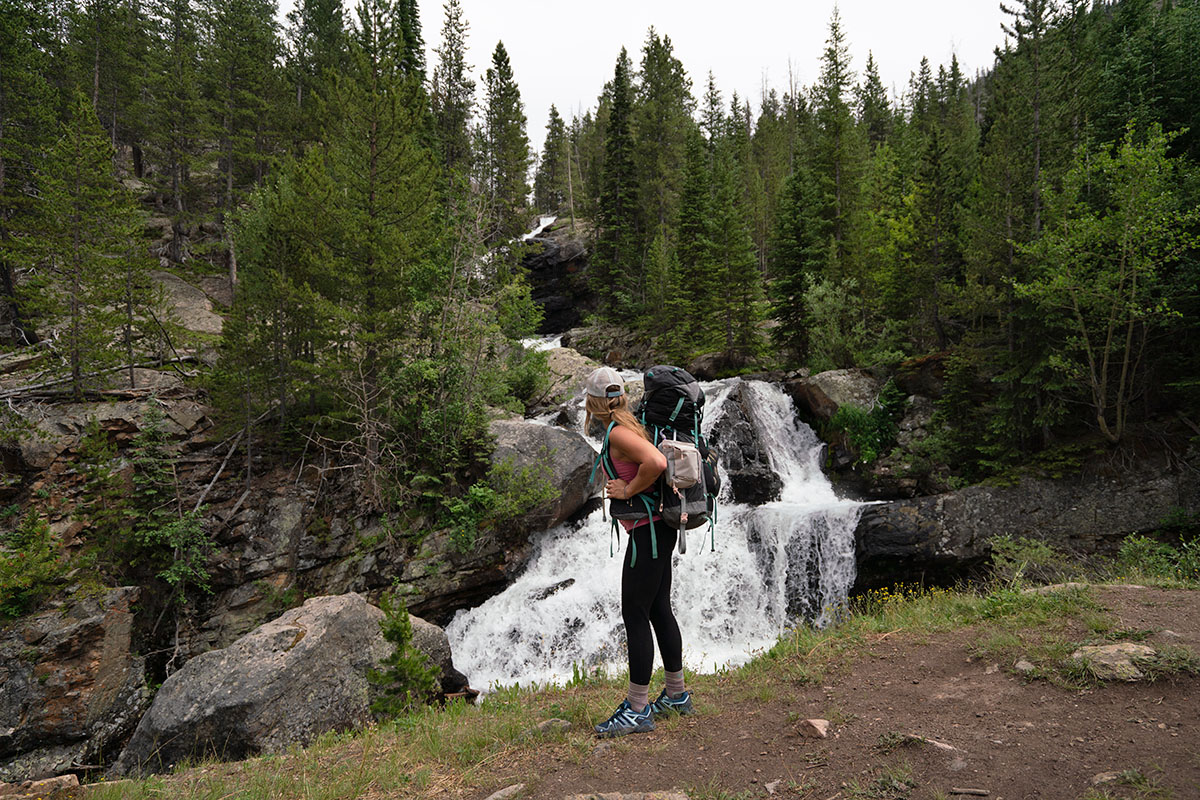 Durability
Quality is another strong suit of the Arete, and considering its lightweight build, the shoe is very hardwearing. For starters, the TPU overlays and toe cap are substantial and add a nice dose of added assurance against trail obstacles. Further, the proprietary Tempest outsole is noticeably burly with relatively deep lugs that show no signs of wear after our 30+ mile trek. I do have some concerns about the sheer amount of mesh along the upper, which feels fairly thin and has the potential to tear or snag over time. But all in all, from a quality standpoint, the Arete is well-built and should have a decently long lifespan.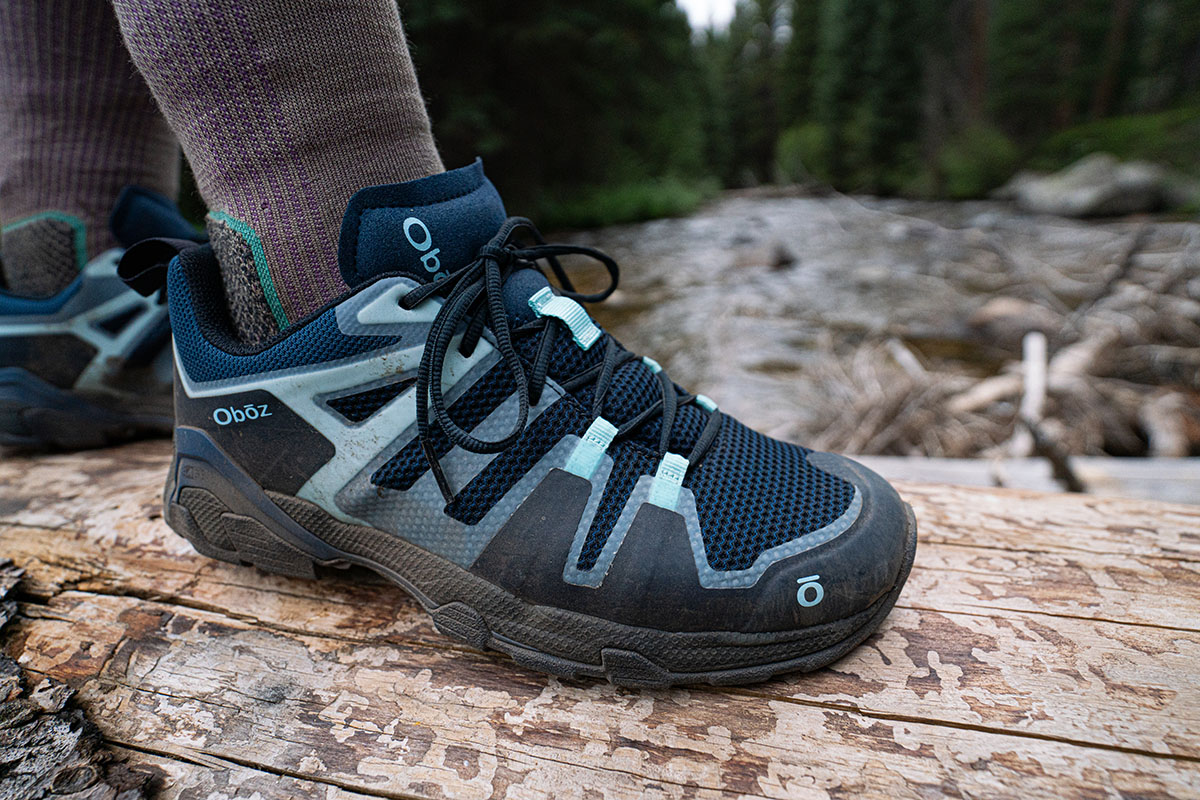 Fit and Sizing
I ordered my usual women's size 9 in the Oboz Arete Low and found it to be a little on the roomy side at first. Widthwise, the fit was just about perfect, but I did have some noticeable space at the front of the shoe when I initially put it on (for reference, Oboz lists the fit as a B width in the heel and C at the forefoot). That said, I'm glad I didn't size down in the end: I didn't suffer any toe bang, even on steeper sections of trail, and my feet swelled a bit after miles of hiking and filled out the shoes nicely. All in all, it ended up being a great all-around fit. I always recommend trying shoes on before you buy as fit can differ even within the same brand, but the Arete strikes me as an accommodating design that works at your standard size.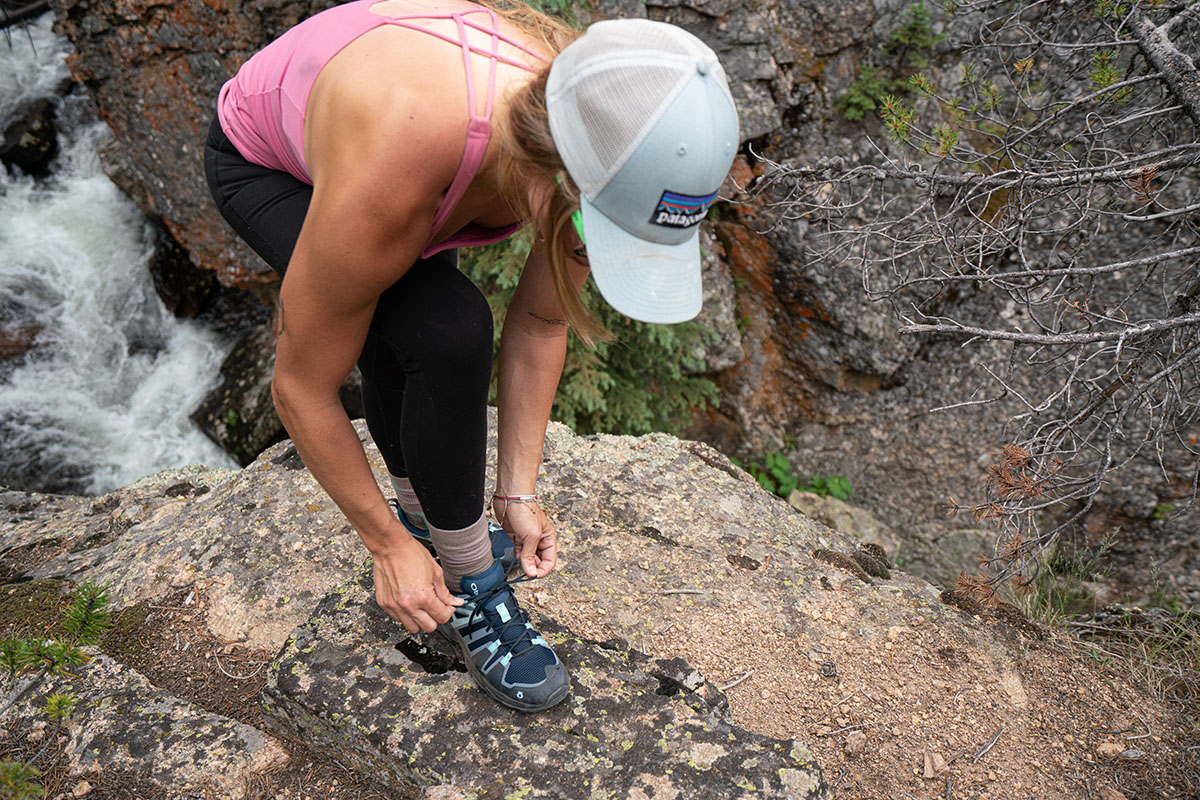 Other Versions of the Oboz Arete
I put the women's low-top, non-waterproof version of the Arete to the test for this review, and Oboz makes the shoe in a number of other variations. As I touched on above, the shoe is also offered in a waterproof model with Oboz's B-Dry membrane. Apart from the obvious boost in wet-weather protection, the women's Arete Low Waterproof clocks in slightly heavier at 1 pound 7.8 ounces and costs $20 more than the version we tested, but otherwise the shoe retains an identical construction and feature set. Rounding out the Arete collection, Oboz offers a mid-height boot in both waterproof ($160) and non-waterproof ($135) options. Finally, all of the aforementioned shoes/boots are sold in men's variations for the same price (weight and colorways vary).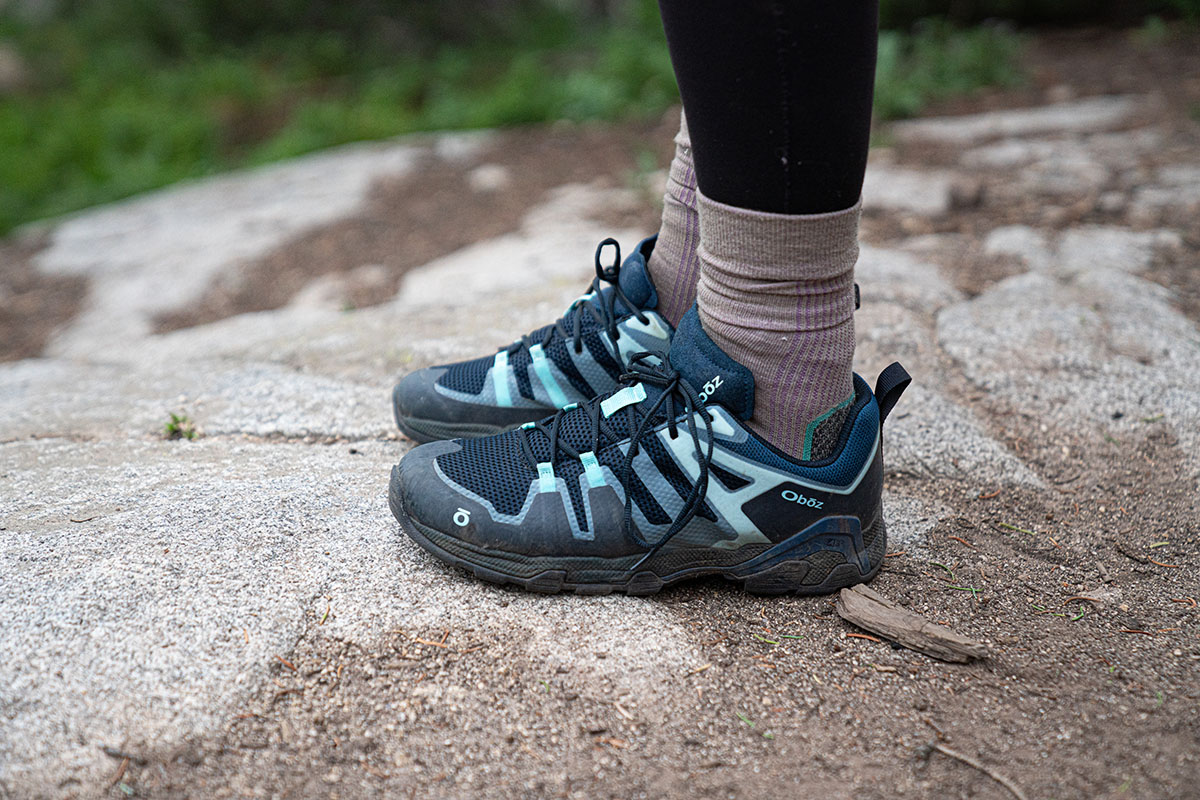 What We Like
Comfort is top-notch. I took the Arete directly from the box onto the trail and had no issues with breaking in, experienced no hot spots, and found that the generous midsole nicely cushioned my feet from sharp rocks.
Impressively stable and supportive considering the low collar.
Non-waterproof design and mesh-heavy upper make the Arete a great breather, even in hot summer temperatures.

What We Don't
Traction fell notably short in wet conditions. The shoes were grippy on dry terrain, but as soon as it started raining, the Arete became noticeably unstable on features like rocks and logs.
Fit was a little on the roomy side with extra space at the front of the shoe (although I appreciated this after long days of hiking).
Those who prefer a lot of stability and support for especially technical trails will likely want to upgrade to a higher-riding or burlier design.


Comparison Table

The Competition
Oboz's Arete is a promising addition to the hiking shoe market and nicely balances weight and on-trail performance. Our top-rated hiking shoe this year is Salomon's popular X Ultra 3, which provides a great mix of lightness, grip, and durability. Stacked up against the Oboz, the Salomon is slightly heavier at 1 pound 6.4 ounces for the non-waterproof, low-top women's model but offers better grip on wet surfaces. We're also big fans of the X Ultra's single-pull Quicklace system, which allows you to snug down the fit quickly and easily (this is a matter of personal preference, however, and some prefer traditional laces like you get with the Arete). Both are impressively well-rounded shoes for day hiking and light backpacking, and a final decision will likely come down to fit: we've found the Salmon runs narrow in the toe box (it's also available in dedicated wide sizes), while the Arete is more accommodating overall.
For those who want to go even faster and lighter, a true trail runner like Altra's Lone Peak 5 is a viable option. Popular among thru-hikers on routes like the Pacific Crest and Appalachian trails, the Lone Peak offers a great combination of lightness (the women's version clocks in at 1 lb. 2.4 oz.) and cushioning for long days on your feet. Traction is also a strong suit, although protection along the front and sides does fall short of the Arete. Additionally, the Lone Peak flexes more than the Oboz and doesn't provide as much isolation from sharp rocks and other trail obstacles. We think the Arete is a better match for most day hikers and backpackers, but those used to traveling light likely won't mind the tradeoffs of the Lone Peak.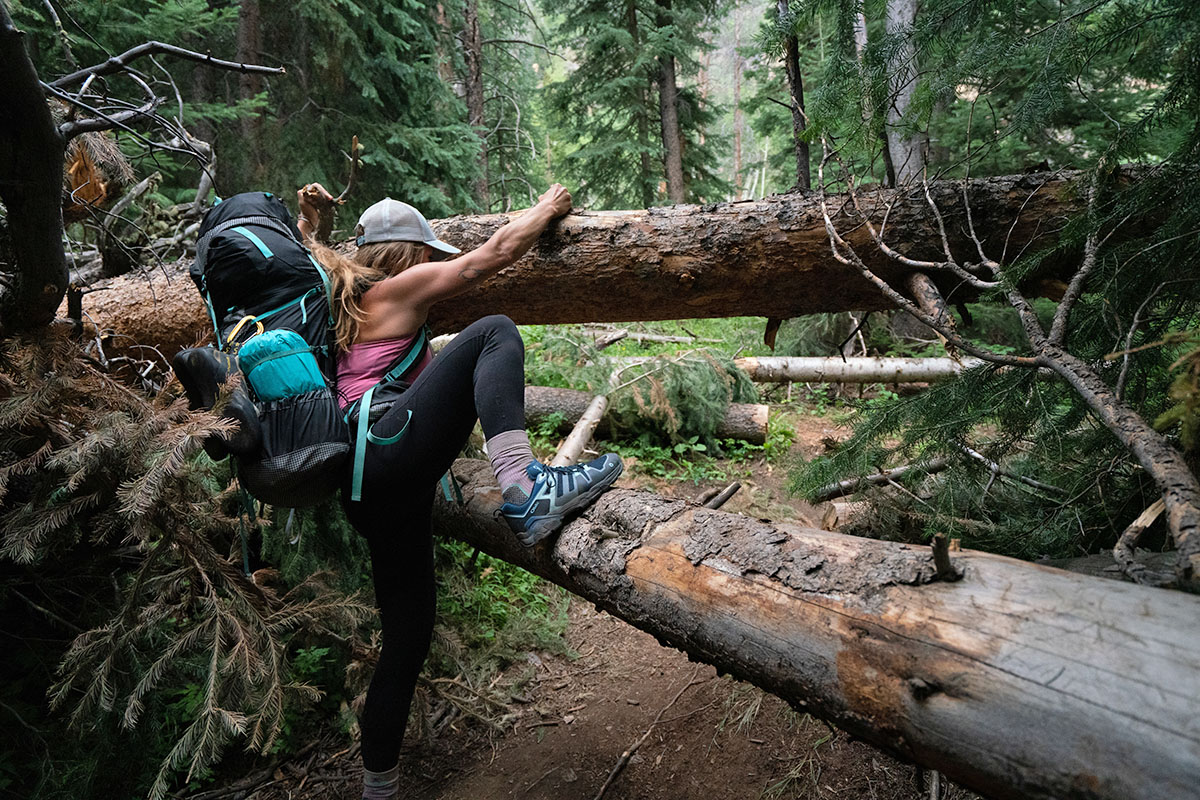 In the same "fast and light" category as the Arete, we also like Salomon's X Raise. We brought the low-top version of the X Raise to Patagonia and found it to be a true standout in the comfort department, with generous cushioning, a well-padded collar, and a smooth interior. Like the Arete, it also has a trail runner-like feel that's sprightly and agile on the trail, and the Salomon undercuts the Oboz in weight by around 1.5 ounces per pair. As mentioned above, we did find the X Raise to be a bit squirrelly and slippery on wet rock (very similar to the Arete), but we think it's the slightly more well-rounded build.
Merrell's MQM Flex 2 is another light and flexible design that shares similar intentions as the X Raise and Arete. Like the X Raise, the MQM resembles a beefed-up trail runner with a thin mesh upper, nimble on-trail feel, and light weight (1 lb. 5 oz. for the women's version). However, we experienced premature wear at the outsole while testing the shoe over rocky terrain and found the midsole to be fairly thin and not very comfortable over long distances and while carrying a heavy pack. That said, the MQM lines up nicely for light trail work and comes in $15 less than the Oboz shoe.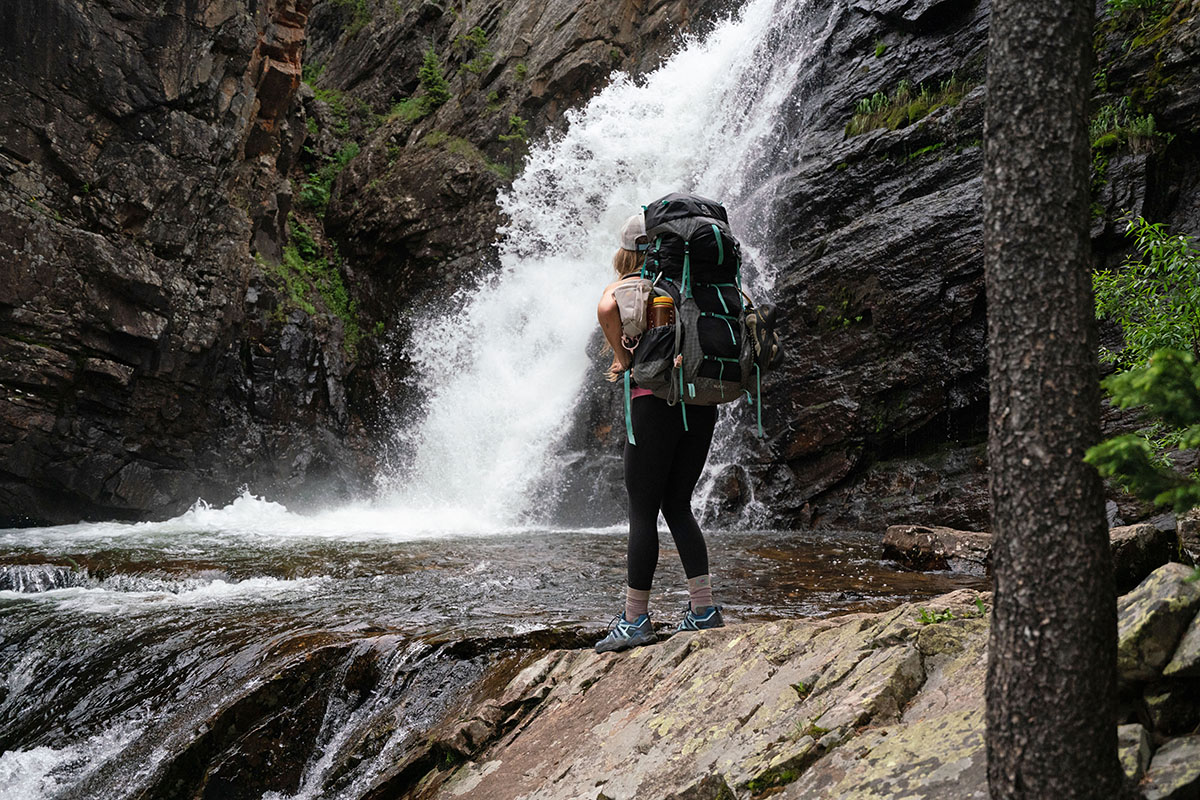 Last but not least, for a more traditional feel, Oboz's own Sawtooth II Low is a popular pick. Compared to the Arete, you get a significant boost in both stiffness and support, which is a great match for those who prefer a bit of added assurance underfoot. Comfort is similar between the two shoes—the Sawtooth has an accommodating fit with good all-around cushioning—although we found the Sawtooth to feel noticeably clunkier and more cumbersome than its 1-pound-8.8-ounce weight would suggest. In the end, it comes down to how you prioritize weight versus stability: if you want a light and flexible shoe for covering serious ground, we prefer the Arete; for those who want a more traditional ride without the heft of a true hiking boot, the Sawtooth is a nice compromise.
If you're thinking about buying gear that we've reviewed on Switchback Travel, you can help support us in the process. Just click on any of the seller links above, and if you make a purchase, we receive a small percentage of the transaction. The cost of the product is the same to you but this helps us continue to test and write about outdoor gear. Thanks and we appreciate your support!
Depending on the seller, most products ship free in the United States on orders of $50 or more. International shipping availability and rates vary by seller. The pricing information on this page is updated hourly but we are not responsible for inaccuracies.
Read More From Switchback Travel