Recently updated with a new collar design and increased ventilation, Oboz's Sawtooth II Mid is a stable and tough boot meant to handle the rigors of backpacking. We put the women's Sawtooth through a fitting four-day trek in the Grand Canyon and came away with mixed feelings. While the waterproof boot is nicely cushioned and its height offers ample protection from sharp rocks, it felt clunky and awkward on the trail. Stacked up to most modern lightweight hikers, the Oboz was noticeably slower and less sprightly. Below we break down the Oboz Sawtooth II Mid's comfort, traction, waterproofing, breathability, sizing and fit, and more. To see how the Sawtooth stacks up, see our articles on the best hiking boots and hiking shoes.

Performance
Comfort
Oboz is known for its focus on comfort, and this comes across clearly with the Sawtooth II Mid Waterproof. Out of the box, I was immediately struck by the leather boot's snug fit: it hugged my foot without feeling overly tight or loose in any area. A few days later, when we began our descent into the Grand Canyon, I quickly noticed that my foot didn't feel any of the rocks on the loose trail thanks to the boot's heavily cushioned foam midsole and removable footbed. I had spent most of the winter hiking in my trail-running shoes (the La Sportiva Bushido) and wasn't used to the additional padding underfoot. But on the rocky and rough trails of the Escalante Route under the weight of a 35-pound pack, I was initially glad to have it.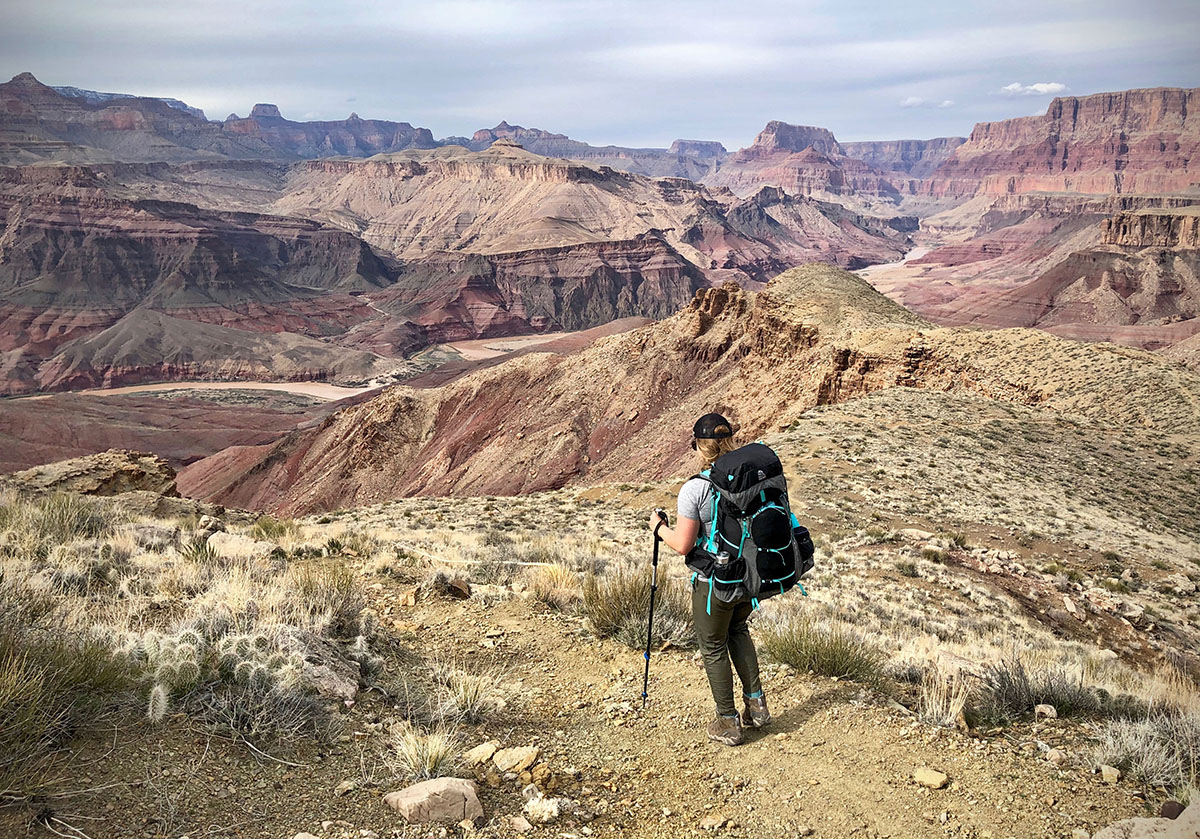 All that said, after our first 10-mile day, my feet were throbbing. While there weren't any pressure points or areas of rubbing, the well-cushioned design had my arches aching and my feet in considerable discomfort. Further, the boots felt heavy and awkward on my feet all day—I struggled to gracefully navigate the 5,000-foot descent into the canyon without slipping down rocks or consciously repositioning my feet. I initially chalked this up to the lack of both break-in period and recent experience carrying a heavy pack, but four days later, there was little improvement. I even took the Sawtooth out more recently on a couple local trails without a pack and suffered the same discomfort after about 5 miles. All told, while the Sawtooth provides a great fit and is nicely cushioned underfoot, it is noticeably clunky and grows uncomfortable on long days, lacking the light and flexible feel of many other modern boots and lightweight hiking shoes.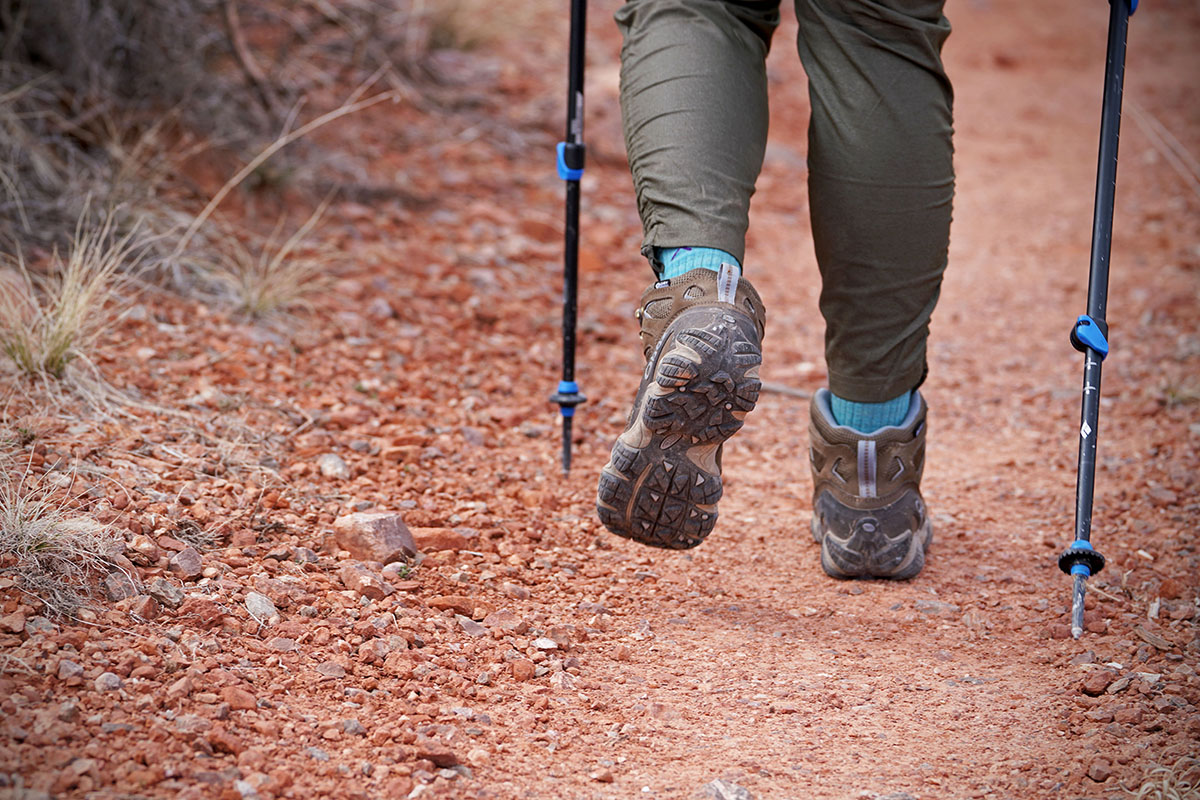 Weight
At 1 pound 15 ounces for the pair, the Sawtooth II Mid is a fairly average weight compared to the competition. Similar models like the Keen Targhee III Mid (1 pound 12.4 ounces) undercut the Sawtooth ever so slightly, while others like the Vasque Breeze III Mid (2 pounds 4 ounces), Merrell Moab 2 Mid WP (2 pounds), and Oboz's own Bridger Vent Mid Waterproof (1 pound 15.8 ounces) come in a bit heavier. That said, for its weight, I expected the boot to feel much lighter and sprightlier underfoot. After four days of hiking on everything from loose rock to well-maintained trail, I was a bit disappointed by how heavy, clunky, and slow the Sawtooth felt. I had intentionally opted for the protection of a mid-height hiking boot over less supportive trail runners or approach shoes, but by the end of the trip I was wishing that I'd worn a more responsive shoe.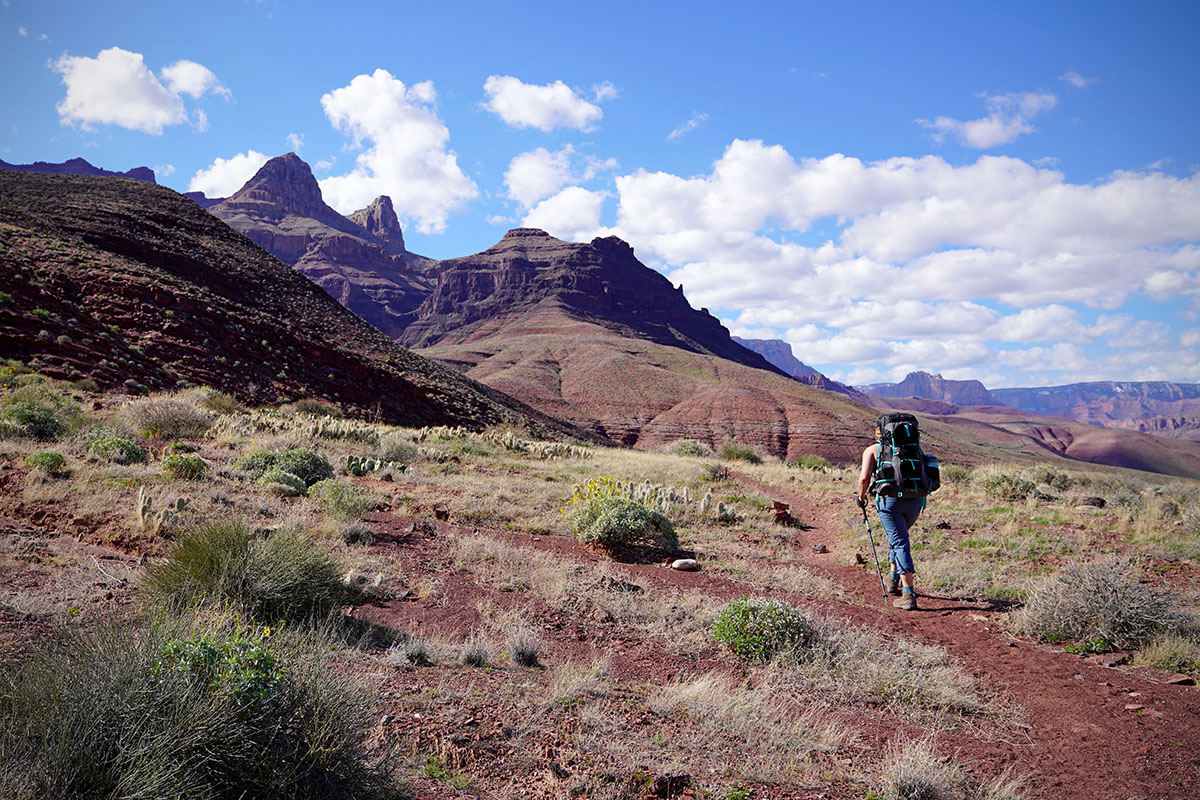 Traction
The Sawtooth's relatively deep lugs effectively gripped everything from slick rock to ice-crusted snow. At first, I was a bit wary: since the Sawtooth felt awkward underfoot, I didn't feel confident in its ability to navigate any sort of uneven terrain. However, after carefully stepping my way down a boulder-filled rock slide, I began to trust my feet more and found that the Sawtooth adequately gripped anything I threw its way. It held on nicely over everything from loose gravel to a short section of steep scrambling and 6 inches of snow at the top of the rim. The proprietary design even dug into soft mud and dirt without caking up too heavily. Additionally, I appreciated that the boot's lugs extended just over the sides, which can be helpful on trickier terrain like slabs and boulders. All things considered, the Sawtooth's bite doesn't match that of a performance model like the Salomon X Ultra 3 Mid or a tackier approach shoe, but it's plenty good for most backpacking adventures. 

Stability and Support
Unsurprisingly, the mid-height Oboz Sawtooth II Mid excels when it comes to stability and support. I'm prone to rolling ankles, but the Sawtooth's sturdy heel counter, above-the-ankle height, and high laces allow me to snug the shoe tightly over my foot for a close fit. Unlike my experience with other mid-height boots, I never had an off-balance feeling in the Sawtooth and was able to navigate tricky sections of trail without any twisting or side-to-side movement. Further, the Sawtooth's thick outsole gives the shoe a noticeable planted feel on each step. But as I touched on above, this also contributes to the boot's sluggishness and sacrifices the flexibility that many modern boots offer.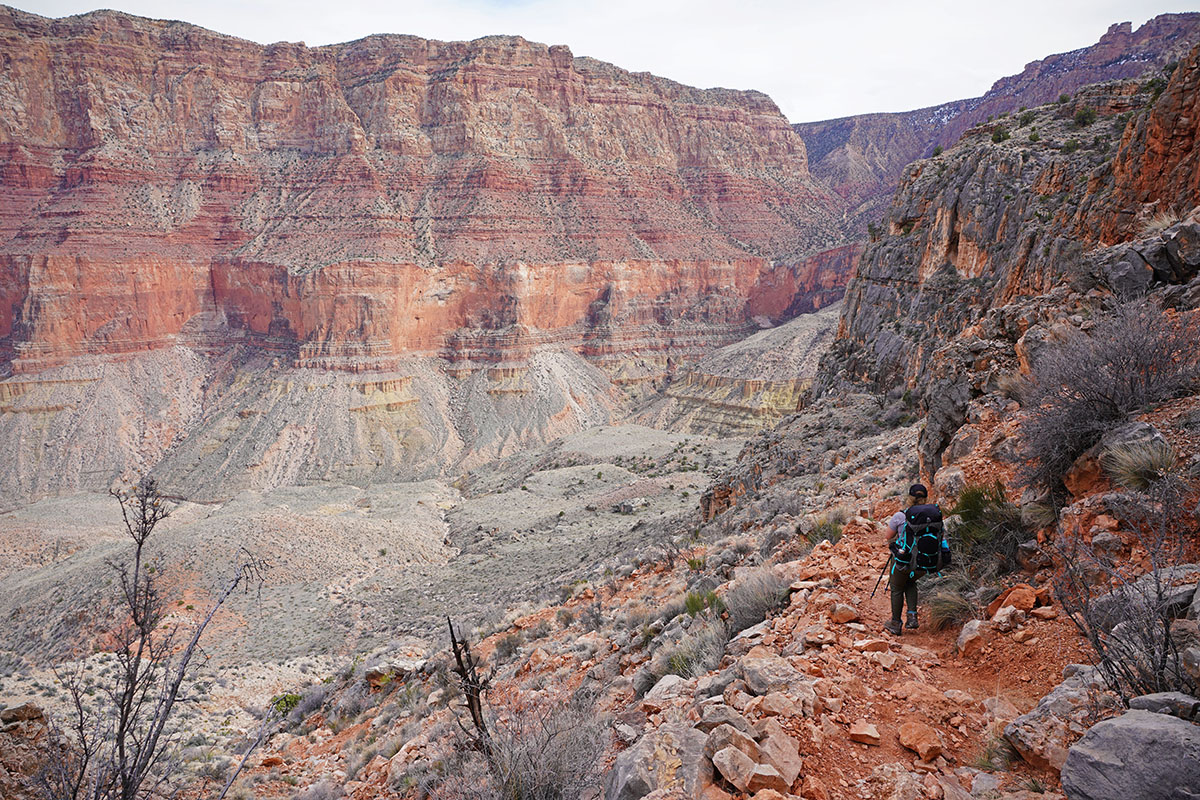 Waterproofing
Combining a leather upper, an in-house B-Dry membrane, and a DWR finish, the Sawtooth provides ample protection against both snow and rain. The final couple days of our trip were rife with intermittent storms—the lower half of my boots even spent a particularly rainy night peeking out under my tent's vestibule. The result: while the outside of the boots grew soaked in the downpour, the insides were still dry in the morning. Further, on our ascent out of the canyon, the rim was lined with 6 inches of snow and the boots kept my feet noticeably warm, dry, and comfortable. But while I appreciated the waterproofing overall, if I had to choose again, I'd opt for the non-waterproof Sawtooth. My shoe simply lacked the breathability needed to stay comfortable throughout most of the trip (more on this below).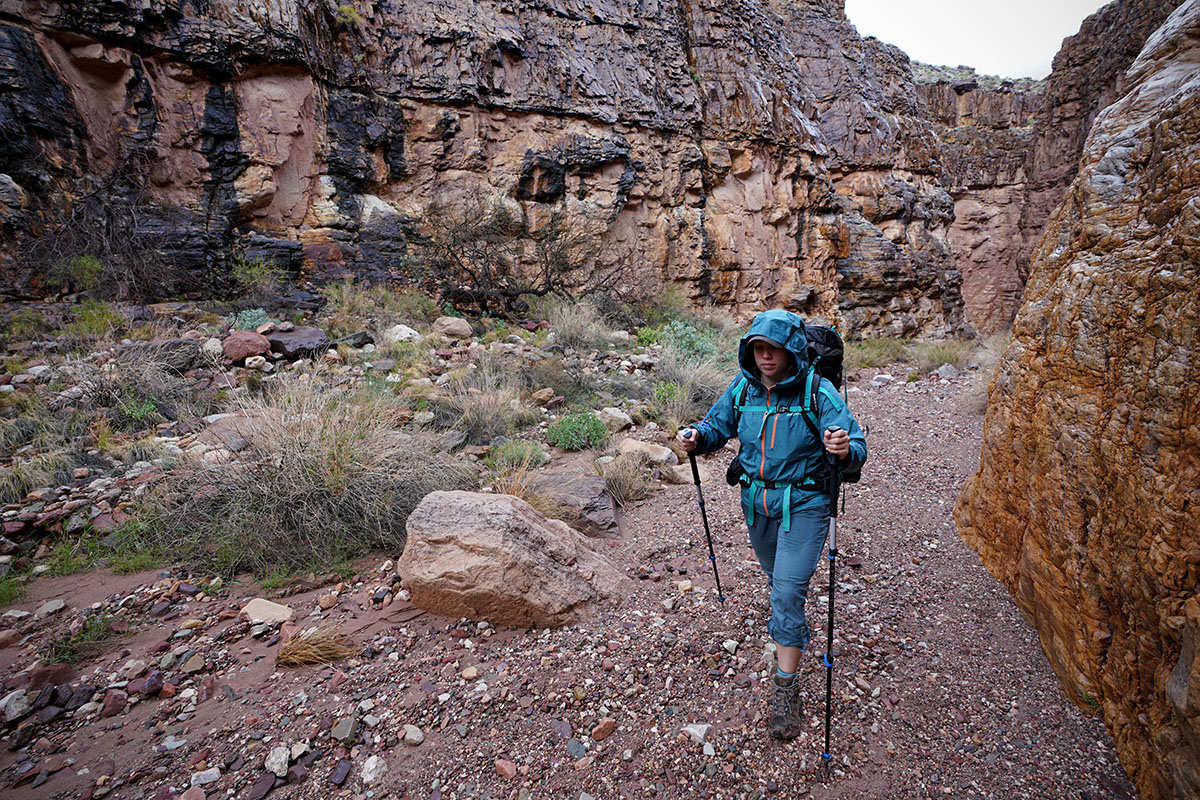 Breathability
Compared to the previous generation, Oboz made notable improvements in the waterproof Sawtooth's breathability, with much wider vents and more liberal use of mesh. That said, despite this generous mesh paneling along the sides and front, the Sawtooth warmed up quickly while hiking in spring weather, causing my feet to overheat and grow sweaty. This is common for shoes with waterproof membranes: since they're meant to seal out moisture, they lack wide enough openings to allow significant airflow. In the end, it's a tradeoff: you can opt for a non-waterproof boot that will dry much faster and ventilate better but inevitably let in moisture. Or you can choose a waterproof boot but risk overheating. Predictably, the Sawtooth effectively kept my feet dry all trip, but it also sealed in sweat and warmth—even in moderate 50-degree morning temperatures.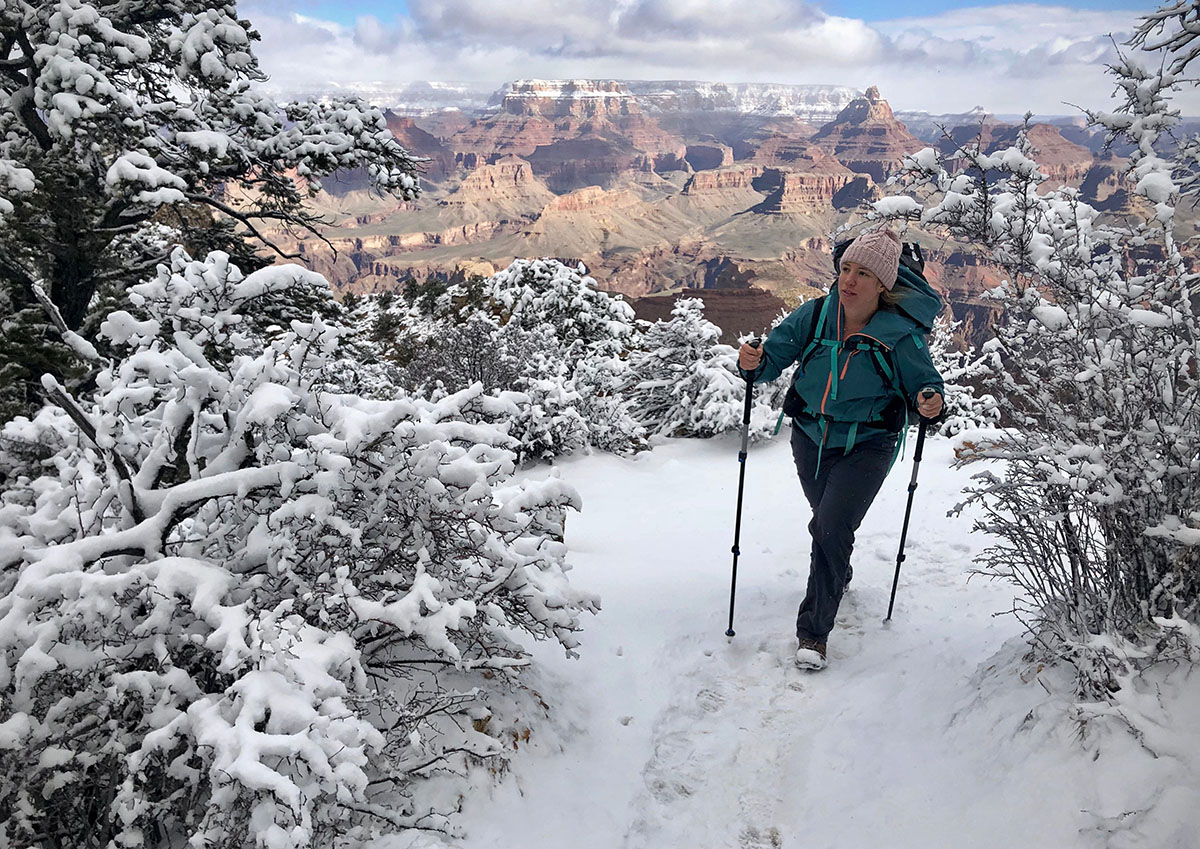 Build Quality and Durability
The Sawtooth is a hardwearing leather hiking boot made to withstand the rigors of backpacking. Throughout our trip into the Grand Canyon, it faced sharp rocks, hiking through thick brush, and steep up- and downhill sections over loose trail. This resulted in minor scuffs at the front of the shoe where the rubber outsole meets the leather upper, but that's to be expected after the abuse it faced. Aside from this minor cosmetic damage, the Sawtooth is in great condition: the tread looks like new with no noticeable signs of wearing down, the laces show no fraying whatsoever, and all the mesh is still perfectly intact. In comparison to the much lighter-weight shoes and boots worn by my group members—one of which delaminated after only 15 miles on the trail—durability is an obvious strong suit of the Sawtooth.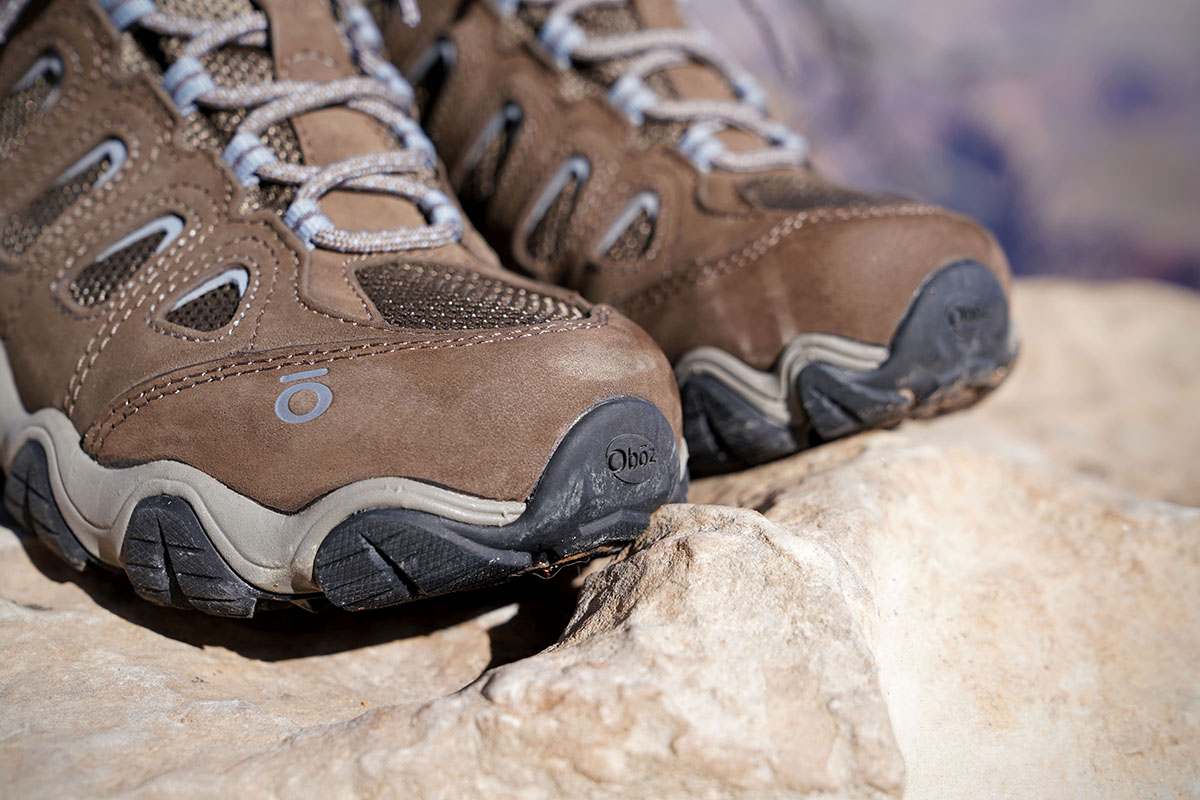 Sizing and Fit
I ordered my usual size (a women's size 9.5) in the Oboz Sawtooth II Mid and found that it fit very well overall. The boot didn't feel roomy or loose in any given area, my heel fit snugly into the heel cup, and my foot didn't move around while hiking—even on steep uphill and downhill sections. Compared to most other hiking boots I've worn, including the original Merrell Moab Mid (which is a tad roomy in the heel and causes my toes to jam forward on steep downhill sections), the Oboz boot offers the best and closest fit to my foot.

Other Versions of the Oboz Sawtooth II
For this review, we tested the women's Sawtooth II Mid Waterproof. Oboz also makes the boot in a men's version for the same price with a slightly heavier weight and different colorways. In addition, both the men's and women's models are made in waterproof low-top models ($140), which sacrifice some ankle protection but shave off around 2 ounces per boot. If you prefer non-waterproof shoes, both the mid- and low-height Sawtooth are available without the B-Dry membrane, which saves you $15 and $40 respectively (compared to the waterproof mid-height version). In the end, it comes down to priorities: if you don't need the additional support, the low-top shoe is a great option. And if you want added breathability for mostly fair-weather hiking and backpacking, opting for a non-waterproof model makes a lot of sense.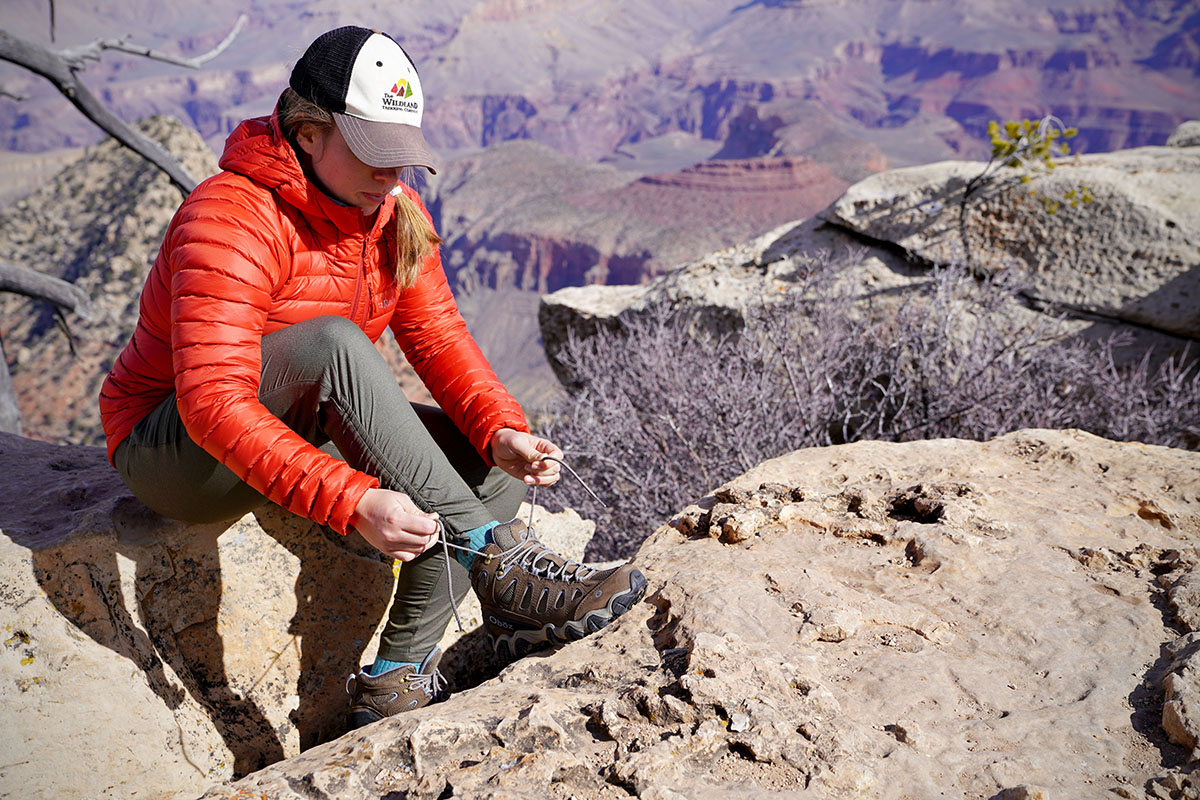 What We Like
With a waterproof B-Dry membrane and leather upper, the Sawtooth II Mid provides effective protection against sustained rain and full immersion in snow.
The over-the-ankle design offers a secure fit, good support, and solid protection even on rough sections of trail.
The Sawtooth fits like a glove: there are no areas of looseness, my heel fits snugly into the heel cup, and my feet don't move around while hiking.
The high-quality construction is durable and long-lasting.
 
What We Don't
Despite a snug fit, the Sawtooth feels heavy, cumbersome, and clunky on the trail.
Not very breathable, even given the generous mesh paneling.
Heavily cushioned midsole might be a bonus for some, but I find it makes me feel much less connected to the trail—and therefore, less stable and confident.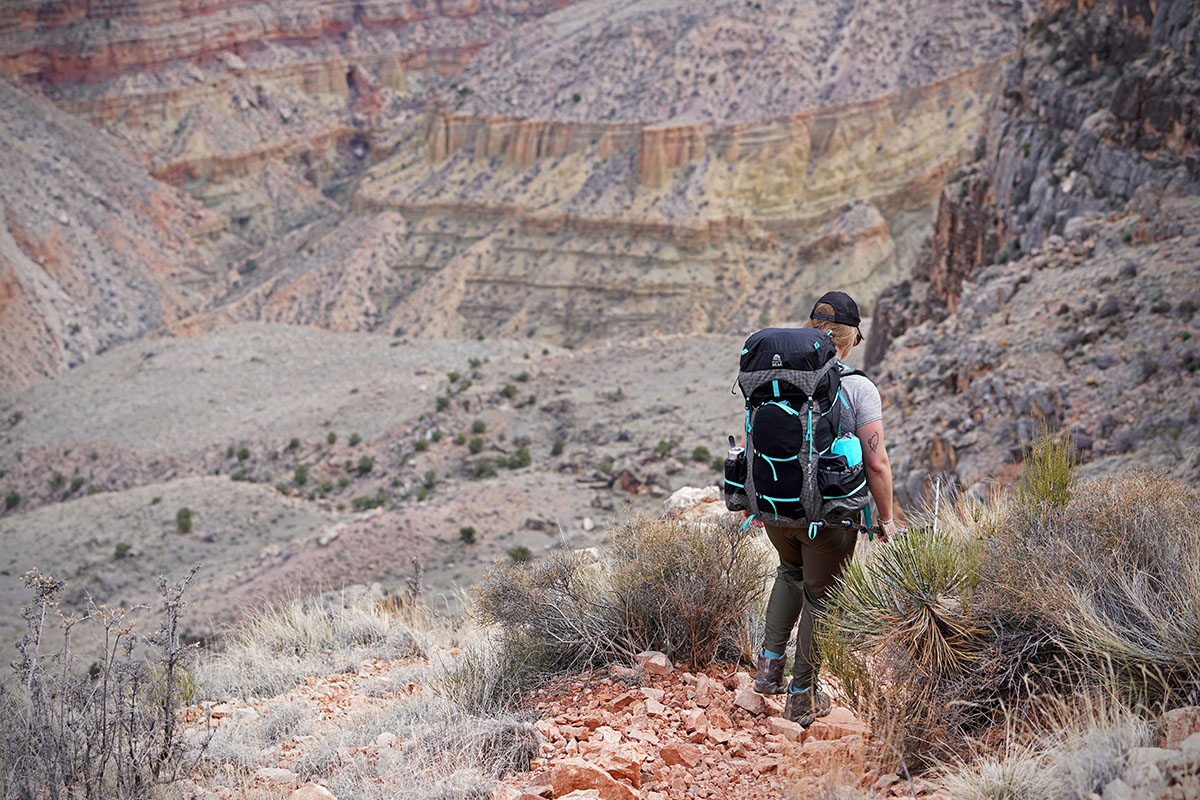 Comparison Table

The Competition
The Oboz Sawtooth II Mid is a light-to-mid-weight hiking boot that nicely balances durability, waterproofing, and traction on the trail. In this category, there's no shortage of options to choose from. Merrell's Moab 2 Mid, for example, is another popular over-the-ankle boot that's lightweight (1 ounce heavier than the Sawtooth II Mid) with similar waterproofing, nice cushioning under the heel, and impressive all-around comfort (see our in-depth review here). That said, we found that in comparison the Moab's Vibram sole offered less traction on rock and in mud, and the shoe lacks support for heavier loads compared to the Sawtooth. For day hikes and those carrying light loads, the Moab is our top pick. But for $20 more, we'd spend up for the stiffer and more supportive Sawtooth on extended trips or rough trails.
Keen's Targhee III Mid also looks strikingly similar to the Oboz Sawtooth II Mid on paper with a durable leather build, over-the-ankle design, and reasonably light weight. Clocking in at 1 pound 12.4 ounces per pair, the Keen boot undercuts the Sawtooth by 2.6 ounces and feels much more responsive on the trail—in fact, our testers experienced no fatigue or feelings of clunkiness after big-mileage days. But while the Targhee is great for day hiking and easy-to-moderate backpacking, it lacks the stability of the beefed-up Sawtooth, especially on rugged terrain. All told, the Targhee gets the edge for its less cumbersome trail feel on all but the roughest terrain.
Within Oboz's own boot lineup is the new Bridger Vent Mid. Like the Sawtooth, the Bridger Vent is offered in waterproof and non-waterproof versions, and it has large swaths of mesh in the upper to trim weight and improve ventilation. Both designs utilize Oboz's high-quality insoles for good foot hold, and strategic use of leather and durable rubber along the toe caps make them long-lasting. In parsing out the differences, the Bridger costs $20 more and includes a TPU plate that gives it a stiffer and slightly less cushioned feel underfoot. We also give it the advantage in breathability, which is a factor for warm-weather adventuring. We prefer the cost savings and similar trail performance of the Sawtooth overall, but both are solid boot options that excel on day hikes as well as backpacking trips.
Vasque's Breeze III Mid GTX is a final option to consider. With generous mesh paneling, a leather construction, and waterproof membrane (in this case, Gore-Tex), the Breeze bears a striking resemblance to the Sawtooth. However, the Breeze comes in slightly heavier at 2 pounds 4 ounces per pair (compared to 1 pound 15 ounces for the Sawtooth) and costs $30 more. Further, while Vibram Megagrip is known to be an impressive gripper, the Vasque's outsole doesn't extend over the sides which can be helpful on slabs or big boulders. In the end, it's a bit of a toss-up: both shoes are great options for long mileage and heavy loads, but our personal experience with the slow-feeling Sawtooth makes us more likely to reach for the Vasque.
If you're thinking about buying gear that we've reviewed on Switchback Travel, you can help support us in the process. Just click on any of the seller links above, and if you make a purchase, we receive a small percentage of the transaction. The cost of the product is the same to you but this helps us continue to test and write about outdoor gear. Thanks and we appreciate your support!
Depending on the seller, most products ship free in the United States on orders of $50 or more. International shipping availability and rates vary by seller. The pricing information on this page is updated hourly but we are not responsible for inaccuracies.
Read More From Switchback Travel