Outdoor Research Microgravity
Price: $249
Weight: 14.3 oz. (men's medium)
Waterproofing: 3L AscentShell
What we like: AscentShell construction is exceptionally comfortable and breathable.
What we don't: Disappointing performance from the DWR coating; odd-fitting hood.
See the Men's OR Microgravity  See the Women's OR Microgravity
Built for working hard in the mountains, Outdoor Research's new-for-2020 Microgravity joins the company's impressive lineup of hardshells. We took the jacket backpacking in Patagonia, where it faced the kind of high winds and rough weather the area is well-known for. All in all, we found the AscentShell construction to be exceptionally comfortable and breathable, but the jacket fell short in sustained, heavy moisture, and the hood caused a few issues on the trail. Below we break down the Microgravity's weather protection, breathability, weight and packability, durability, fit and sizing, and more. To see how it stacks up to the competition, see our articles on the best rain jackets and best hardshells.
 
Performance
Weather Protection
We've worn a number of Outdoor Research's 3-layer AscentShell jackets, from their impressive Interstellar to the ski-specific Skyward, so we came into this test with high expectations. And in many ways, the new Microgravity Jacket delivered. I first donned the jacket while hiking in very strong Patagonian winds, and it performed like a proper 3-layer hardshell. And on the same backpacking trip, the jacket did an admirable job completely isolating me from pelting, almost hail-like rain. I did find the fit of the large helmet-compatible hood to be a source of frustration, as it was difficult to get a comfortable fit when not wearing a helmet. Even with a ballcap on, the cinch cord pressed annoyingly against the side of my head and ears (more on this in "Features" below). But otherwise, all-around coverage was good, and you can further block out weather with Velcro-adjustable cuffs and hem cinches at each side.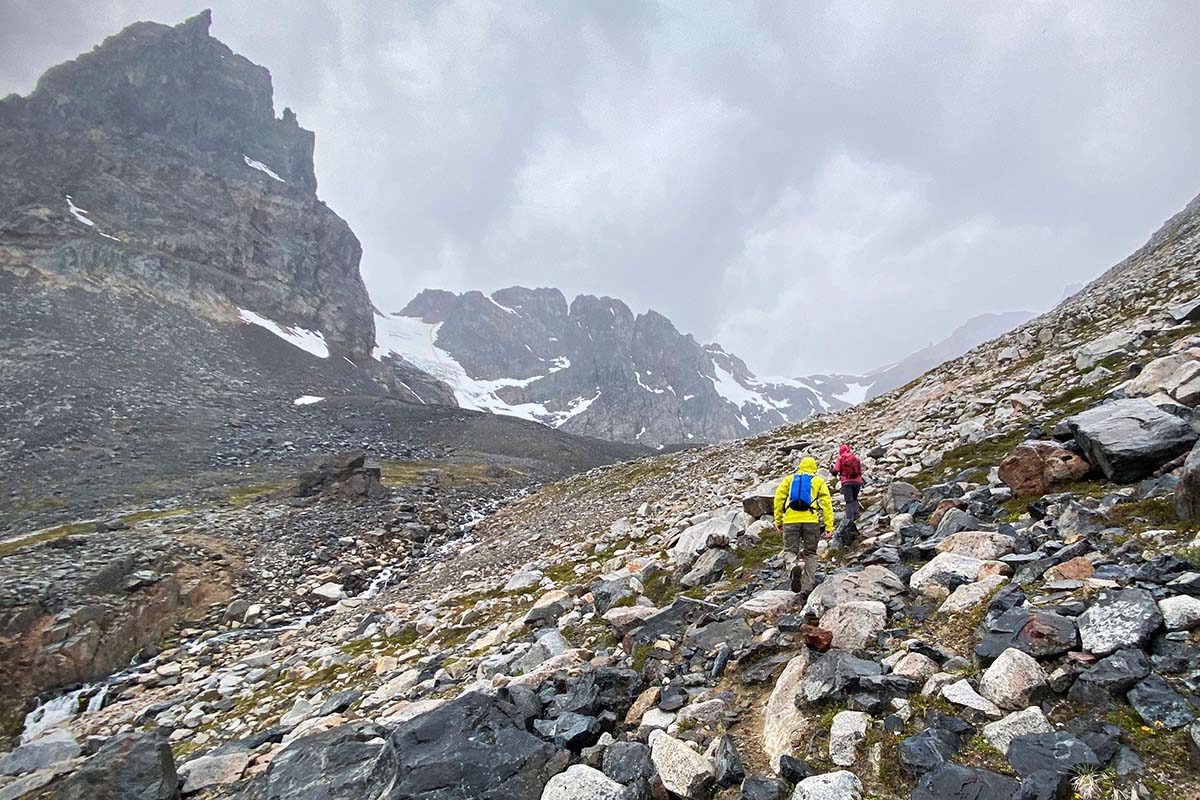 Where the Microgravity falls short is in truly harsh conditions. In particular, we were disappointed with the DWR coating, or lack thereof. The jacket performed as expected in light rain and did fine with hail and dry snow, but sustained downpours quickly overwhelmed the coating on the chest, shoulders, and arms. As a result, the outer fabric started absorbing moisture far faster than the vast majority of 3-layer shells I've tested. In fact, it performed more like a thin 2.5-layer build in this respect, with the jacket pressing against bare skin and feeling heavy and wet (and this issue continued even after washing the shell). In all fairness, other than one user-related error when I left a hand pocket open, the jacket didn't leak or fail. But the Microgravity's tendency to absorb water is enough of a downside to make me hesitate recommending it for sustained, heavy rain.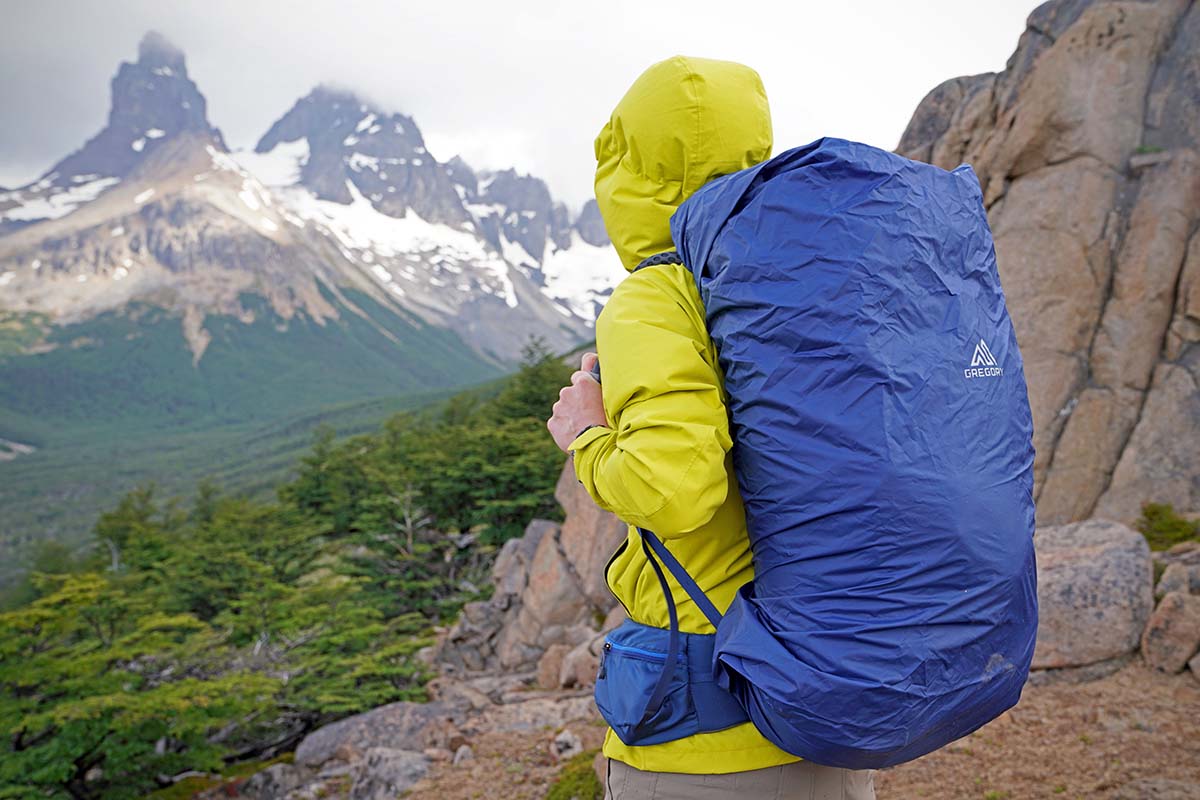 Breathability
Unlike its weather protection, the Microgravity's breathability met our high expectations. I wore the jacket on a couple of backpacking trips and was fully comfortable while hiking in temperatures that varied from the low 40s to mid 50s Fahrenheit. Even on sustained climbs, I was able to keep the jacket on for far longer than expected. It's worth noting I also had OR's own ultralight, 2.5-layer Helium along on the trip, and the difference in breathability with the 3-layer Microgravity was substantial. The softer liner did a far better job pulling moisture away from my skin and improving comfort, and the air-permeable AscentShell build exceeded the Helium's Pertex Shield in releasing hot air.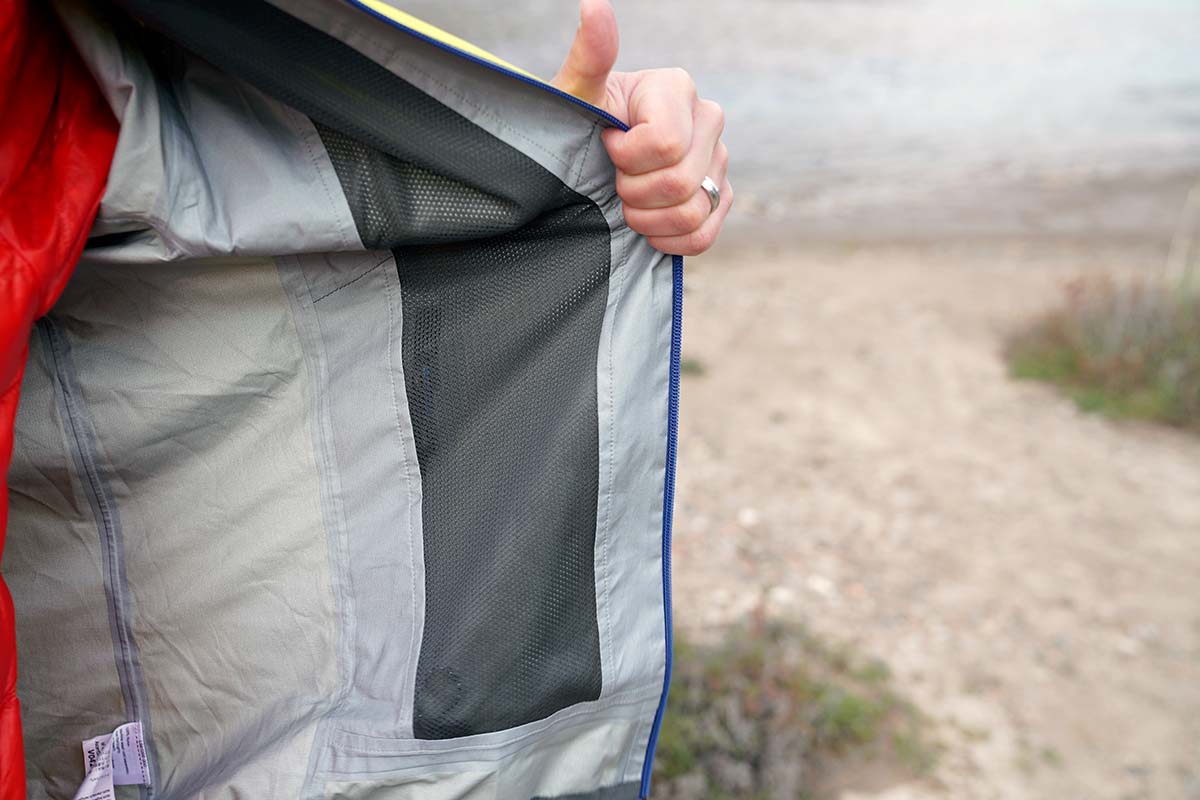 That said, the Microgravity foregoes pit zips, which are a necessity for me if I'm going to wear a shell while backcountry skiing. I was able to regulate temperature a little by opening the mesh-lined hand pockets (the chest pockets also have a mesh lining), but they still don't match the heat-dumping abilities of dedicated underarm vents. I suspect most hikers and alpine explorers won't miss the pit zips too much, but it does impact the jacket's overall versatility.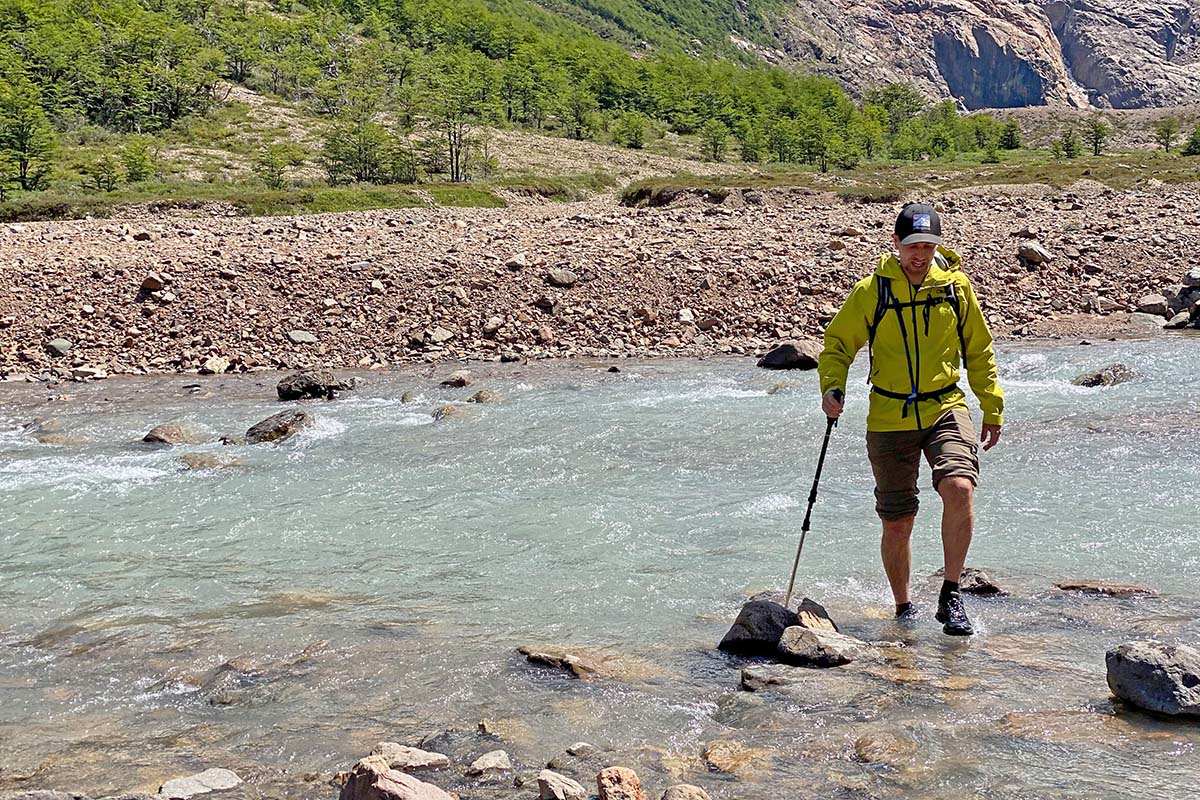 Comfort and Stretch
Comfort is another strong suit of the Microgravity: the difference between it and a standard, rigid hardshell is immediately apparent. The interior has a fairly soft (and non-clammy) feel that's nice even when wearing short sleeves, and there's just enough stretch in the build to feel comfortable on the move. The Microgravity is not full-on stretchy like a softshell jacket, but there's a noticeable amount of give in the fabric. It's worth noting that there are quite a few more options in this stretchy waterproof market than when we first tried out OR's original Realm, including Patagonia's 3-layer Rainshadow and Black Diamond's new HighLine. But the comfort you get from AscentShell is still a highlight of the build.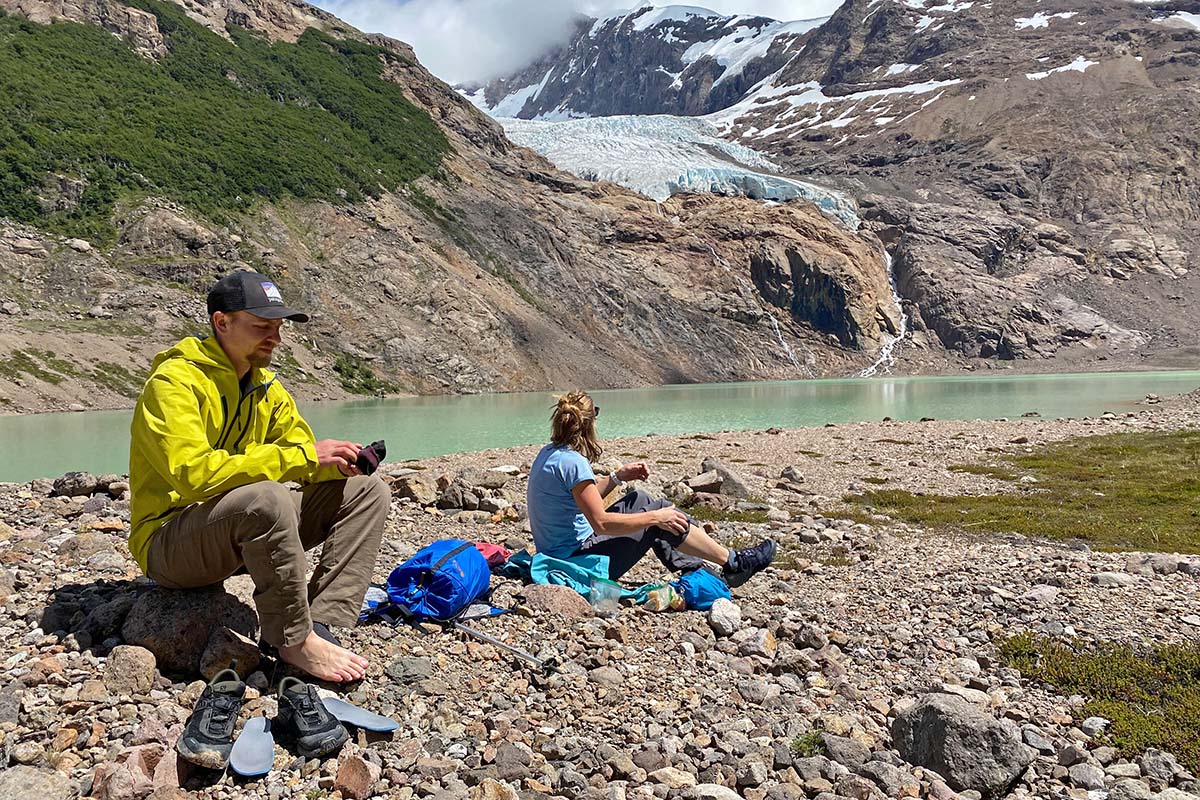 Weight and Packability
The Microgravity trims off $50 from OR's popular Interstellar jacket but does add a fair amount of weight. At 14.6 ounces (14.3 oz. on our scale in a men's medium), it's on the heavy side for a hiking-ready rain jacket/hardshell. The aforementioned Interstellar weighs quite a bit less at 11.8 ounces, and so does BD's 3-layer HighLine Stretch (12.7 oz.). Patagonia's stretchy Rainshadow is more of a direct competitor and closer to the Microgravity at 14 ounces, and REI Co-op's 3-layer, Gore-Tex-equipped Stormbolt matches it in weight at 14.6 ounces. What you get with the OR's heavier build, however, is a reasonably burly face fabric and a fair amount of storage and features. But given that it's not a full-on hardshell in terms of all-around protection, I found myself wishing I had the lighter Interstellar in most cases.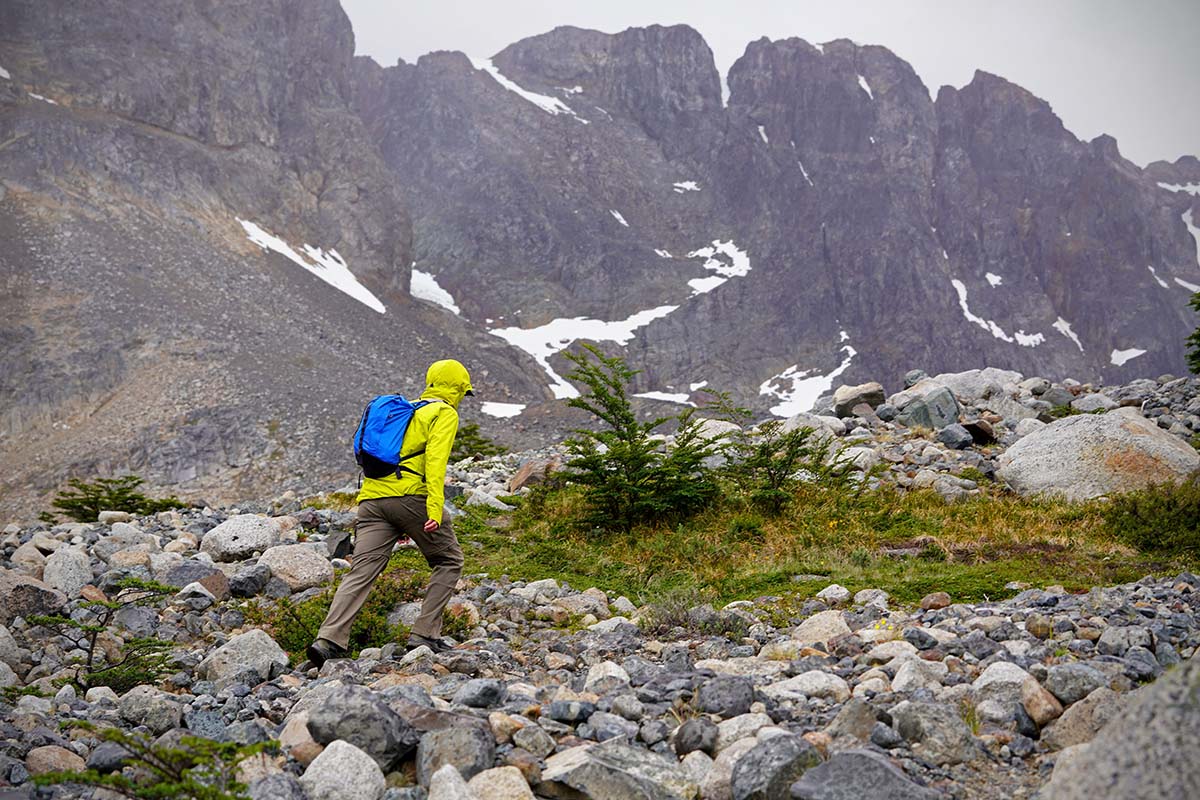 Packability is a similar story: the Microgravity is moderately compressible and was fine for storing in our larger backpacking pack, but it's far from a standout. The jacket stuffs into its left hand pocket and secures with a two-sided zipper. The stuff pocket measures roughly 8 by 6 inches (L x W), which puts it mid-pack among heavier and more weather-worthy rain jackets. Simply put, it's not a shell you throw in for those "just in case" situations, but it's light and stowable enough for more serious adventures.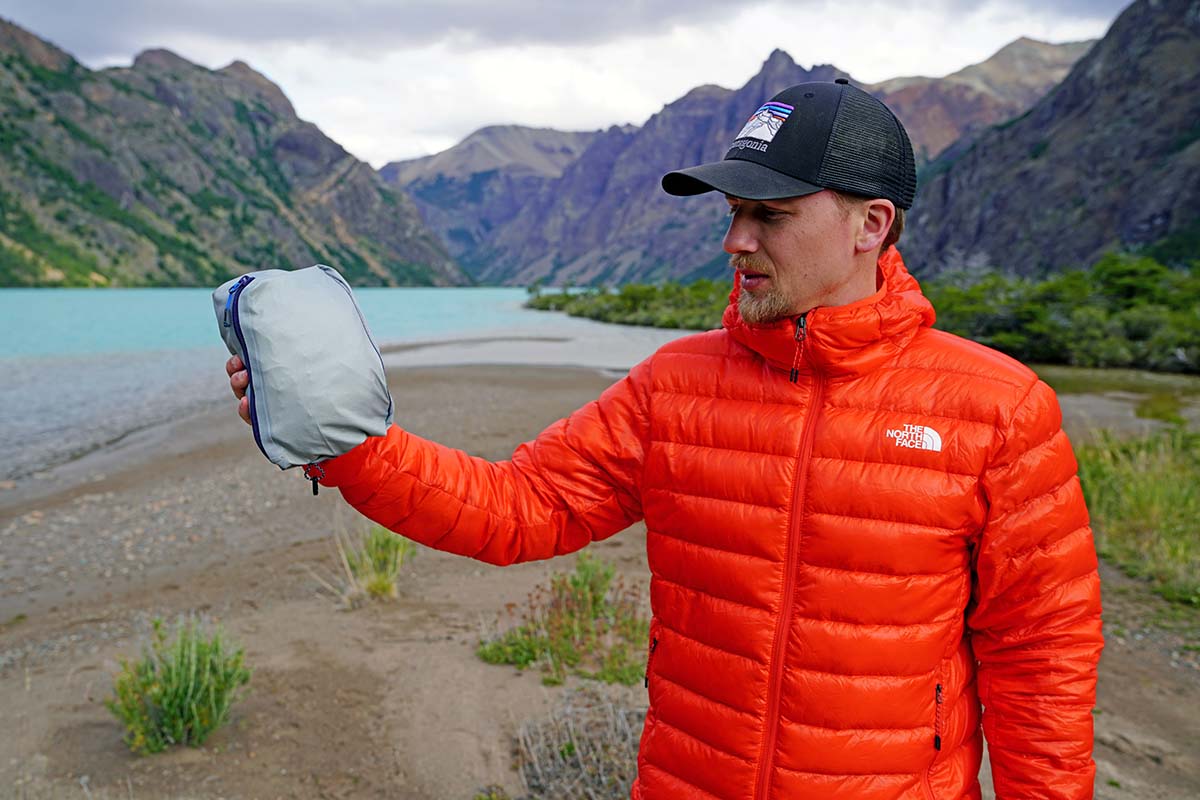 Key Features 
Hood with Hood Lock
The Microgravity features a large, helmet-compatible hood that cinches with a single cord in the back and one on each side of the face. The fit is quite big, and I was even able to wear the jacket over a ski helmet with only minimal restrictions to side-to-side movement (the stretchy fabric helps too). One unique touch is OR's "Hood Lock," which is a plastic hook integrated into the rear cinch that can be connected to a fabric loop at the base of the neck. In theory, it helps to reduce extra bulk when not wearing a helmet. In use, however, I didn't find it all that helpful, and the hood adjustment already does a decent job keeping bunching along the sides of the face to a minimum. 
One hood-related complaint I have is the positioning of the rear cinch cord. Most hoods seal around the top of your head above the ears, while the Microgravity's cord is positioned lower and ran straight across my earlobes, creating a fair amount of discomfort when tightened. Using the Hood Lock system, which angled the cord further downward, made it even worse—it would awkwardly hook the cord under my earlobes. Needless to say, this was a source of frustration and led to a lot of readjusting on the trail. But in the end, it's a unique issue and not one we've had with OR jackets in the past (and interestingly, the hood on their simpler Helium shell managed to offer a much better fit and adjustability).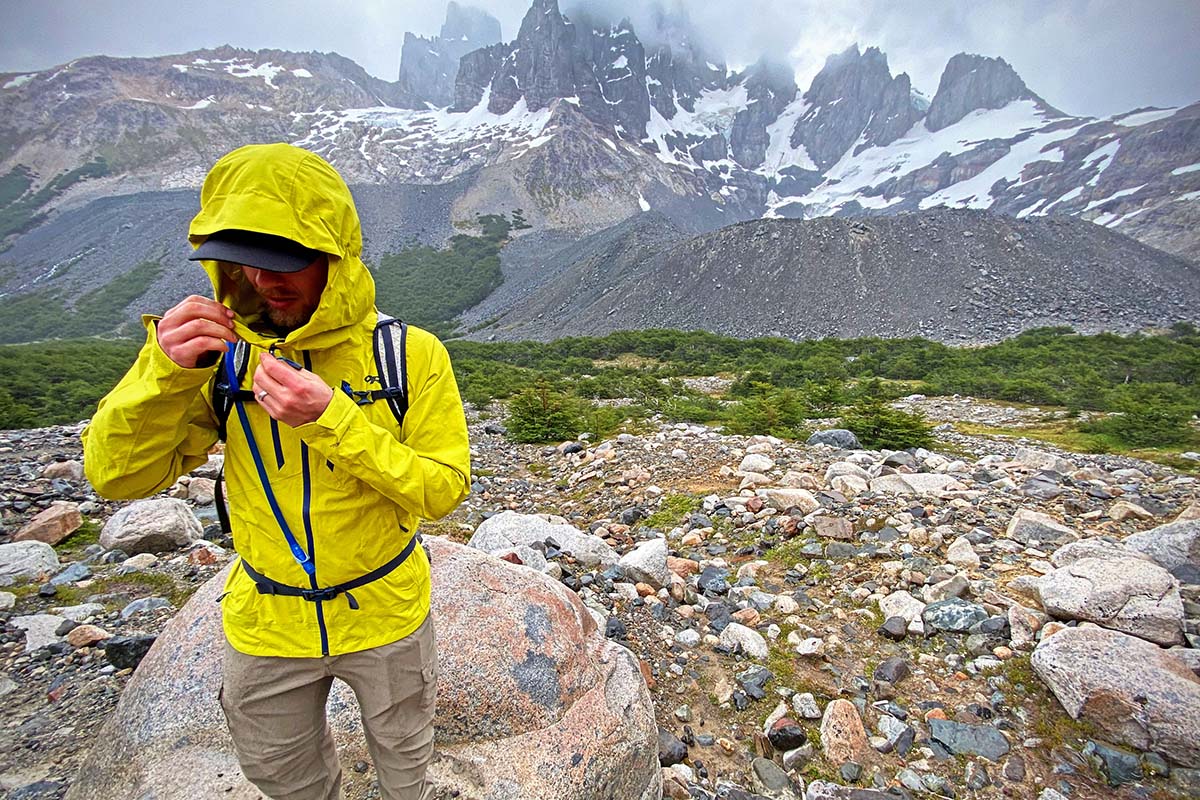 Pockets
Those that like a fair amount of storage will be happy with the Microgravity's layout. Although you don't get any interior pockets, a total of four zippered pockets line the exterior. The hand pockets are set low enough that they'll interfere with a pack or climbing harness, but they're nice for everyday use and around camp. The upper chest pockets offer sufficient space for keeping small items close by as needed. On the trail, I found myself opening the lower pockets partway to encourage airflow, while using the top pockets for storage. And as I mentioned above, all pockets are mesh-lined, so you can open them to help regulate temperature (just make sure to close them in heavy rain to avoid water leaking in).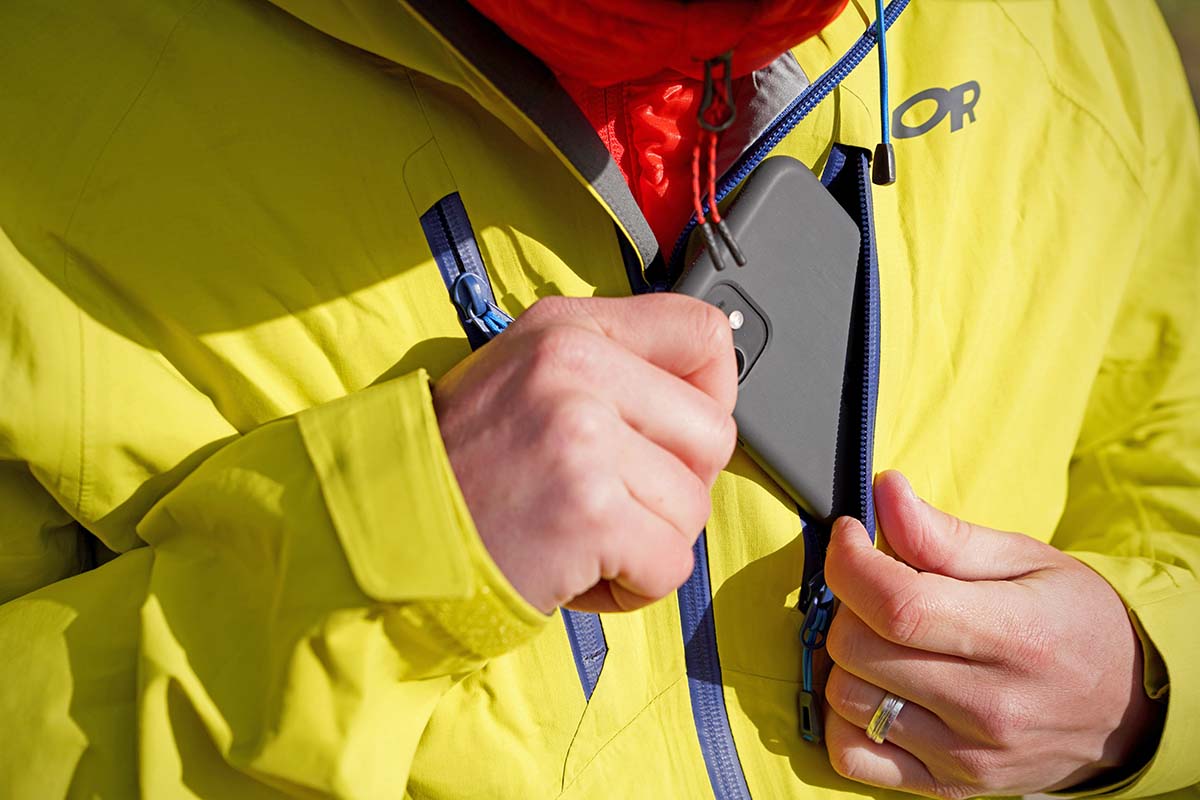 Build Quality and Durability
For the most part, we've found OR products are a cut below high-end offering from brands like Arc'teryx and Patagonia, but you still get a consistently good product at a solid value. With the Microgravity, the DWR coating was a disappointment and a few loose threads have had to be trimmed around the inside of the hood, but overall the jacket has a nice look and feel. The softshell-like materials are supple, and all-around comfort is great. Plus, OR has really dialed in the fit nicely (more in "Fit and Sizing" below).
In terms of durability, the jacket is beefed-up compared to the thinner Interstellar. You get a face fabric that's a weave of 20-denier and 45-denier nylon, and the interior is 30 denier (the Interstellar has a 20D shell and 12D lining). In use, I felt confident hiking and scrambling off trail around rough rock and branches, and the jacket has no signs of wear on the exterior other than the cuffs starting to darken and look dirty (it's remained this way even after washing). Opting for a more muted colorway may be a better bet to avoid these dirt stains that mine is developing. But in the end, if you're deciding between the two OR jackets and plan to have it around rock a fair amount, we think it's worth upgrading to the Microgravity for its more hardwearing build.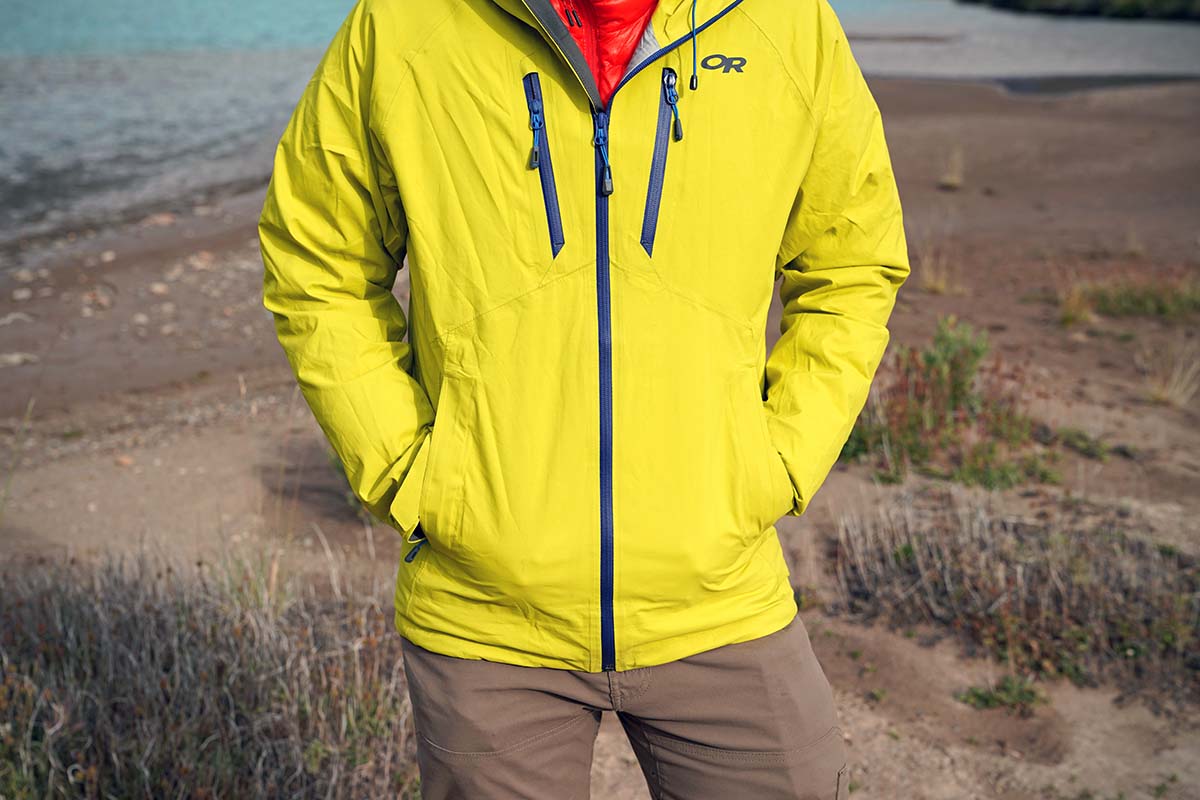 Fit and Sizing
Like many of the recent insulated and shell pieces from Outdoor Research we've tested, the Microgravity's fit is fairly trim. This made it really nice when wearing just a thin baselayer or t-shirt underneath while hiking—there wasn't any excessive bunching under my pack's shoulder straps or hipbelt. At the same time, there's enough room for me to wear a lightweight down jacket without restricting movement (the stretchy build comes into play here, as well). For reference, I'm 5'9" and 155 pounds and often have issues getting a good, active fit with most rain shells (they're too bulky unless I layer up). But the Microgravity offers that just-right fit for me.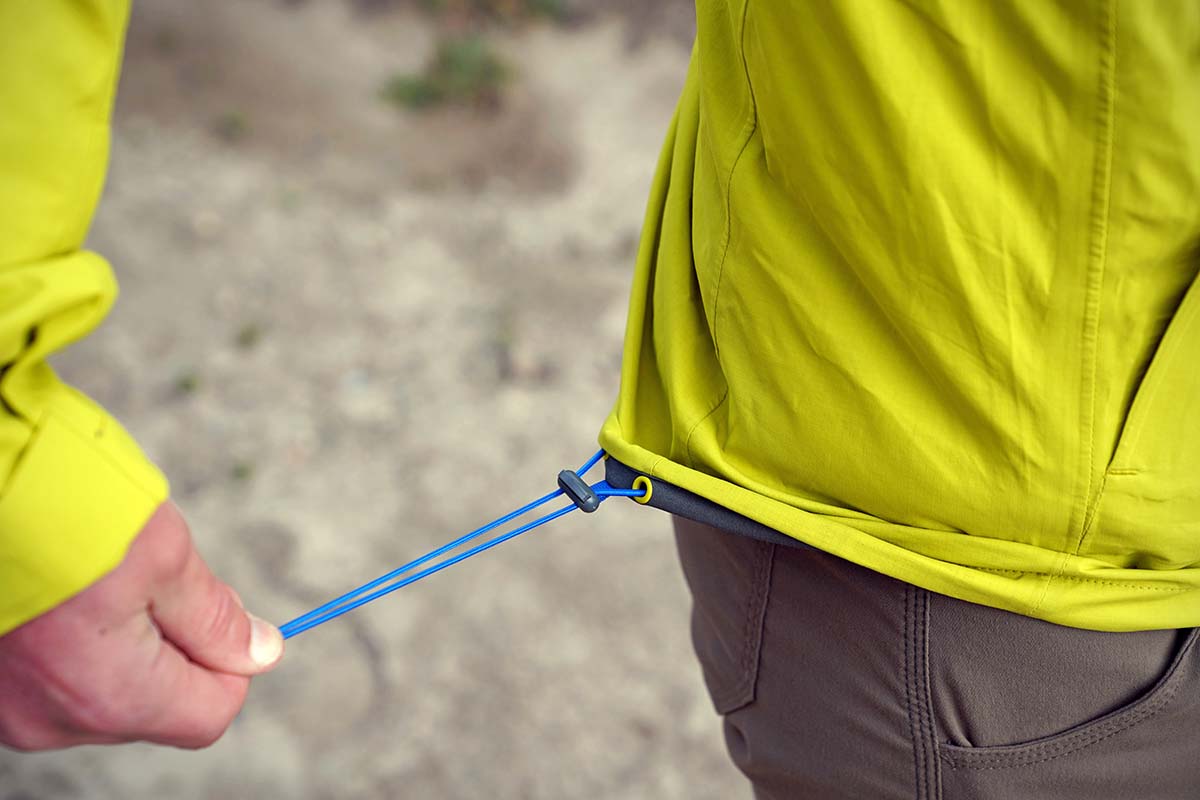 Women's Version of the Outdoor Research Microgravity
We brought the men's Microgravity to Patagonia for testing, and Outdoor Research also makes the jacket in a women's version. The women's Microgravity costs the same at $249 and sports an identical construction, including the use of OR's proprietary AscentShell fabric, a trim fit for performance use, and a helmet-compatible hood with Hood Lock. The main differences between the men's and women's models are weight and colorways: the women's jacket comes in lighter at 11.9 ounces and is sold in four color options at the time of publishing.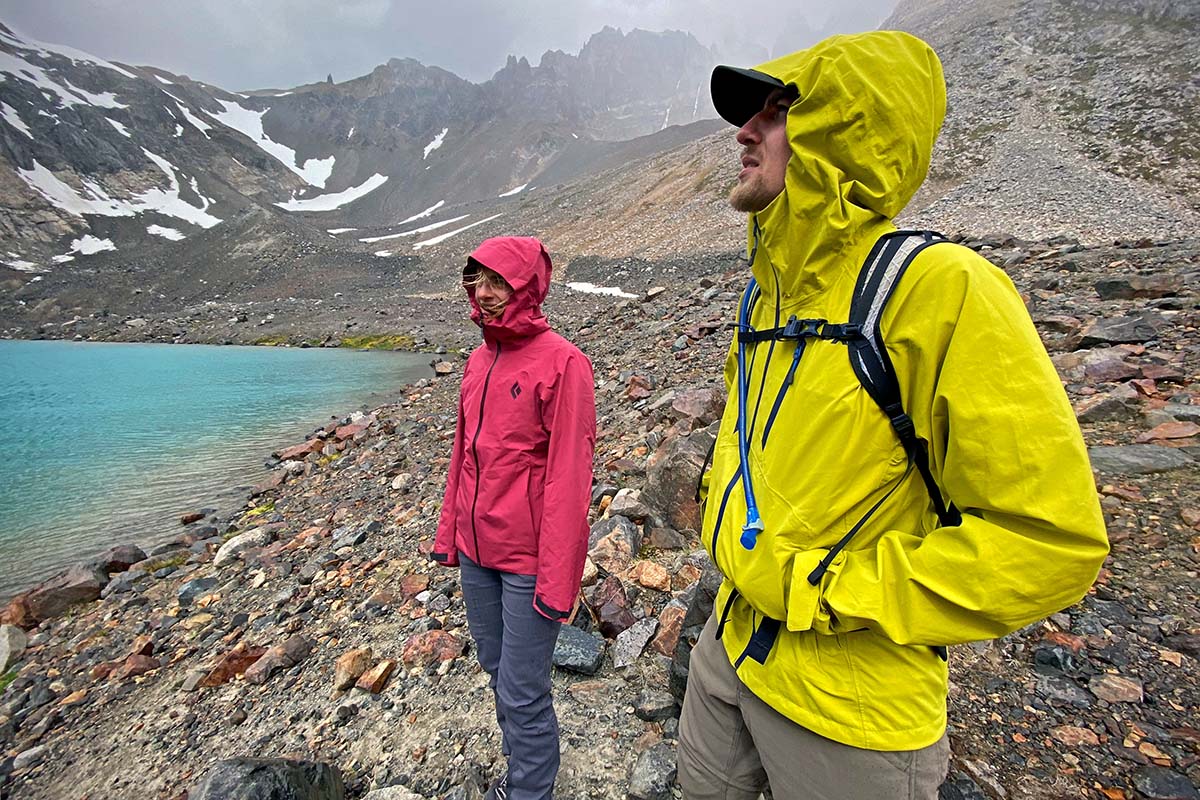 What We Like
AscentShell fabric has a softshell-like feel that's extremely comfortable against the skin.
Air-permeable build is impressively breathable.
Trim fit works well for layering over just a baselayer or with a lightweight midlayer.
 
What We Don't
DWR coating wetted out quickly in sustained downpours, causing the outer fabric to absorb moisture far faster than other 3-layer hardshells we've tested.
No pit zips, which impacts the jacket's versatility for activities like backcountry skiing.
We had a couple issues with the hood design: the Hood Lock wasn't all that helpful and the cinch cord sits awkwardly over the ears when tightened.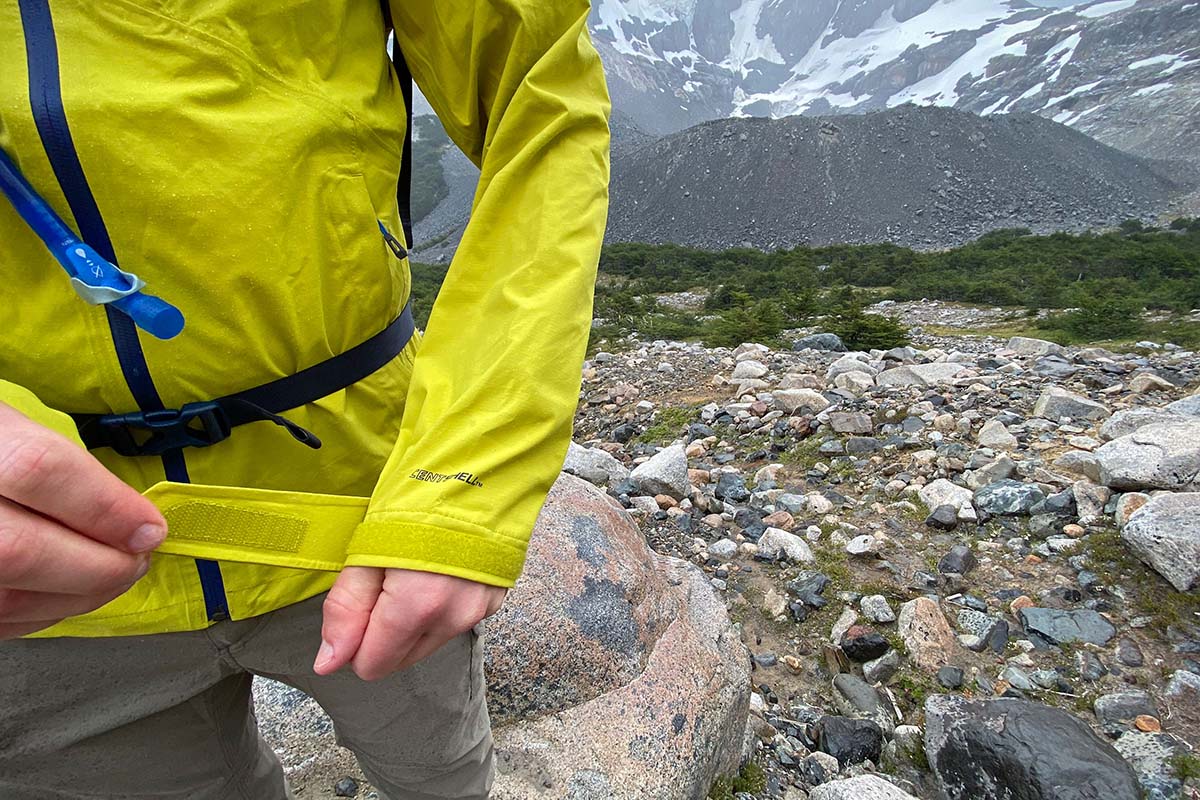 Comparison Table

The Competition
Outdoor Research's Microgravity joins a crowded field of capable hardshell jackets built for hiking and alpine use. One of the Microgravity's closest competitors in terms of construction is Patagonia's Rainshadow. Recently upgraded to a 3-layer build (the original was 2.5L) without an increase in price, the jacket offers similar levels of comfort and stretch, durability, and weight at 14 ounces. However, the two differ in hood design: while the Rainshadow's should fit better for hiking or everyday use, it's not large enough to wear over a helmet. Further, the OR's AscentShell fabric gets the edge in breathability, although you get pit zips with the Patagonia. Overall, given the disappointing wet-weather protection from the OR, the $50-cheaper Patagonia strikes us as the better buy.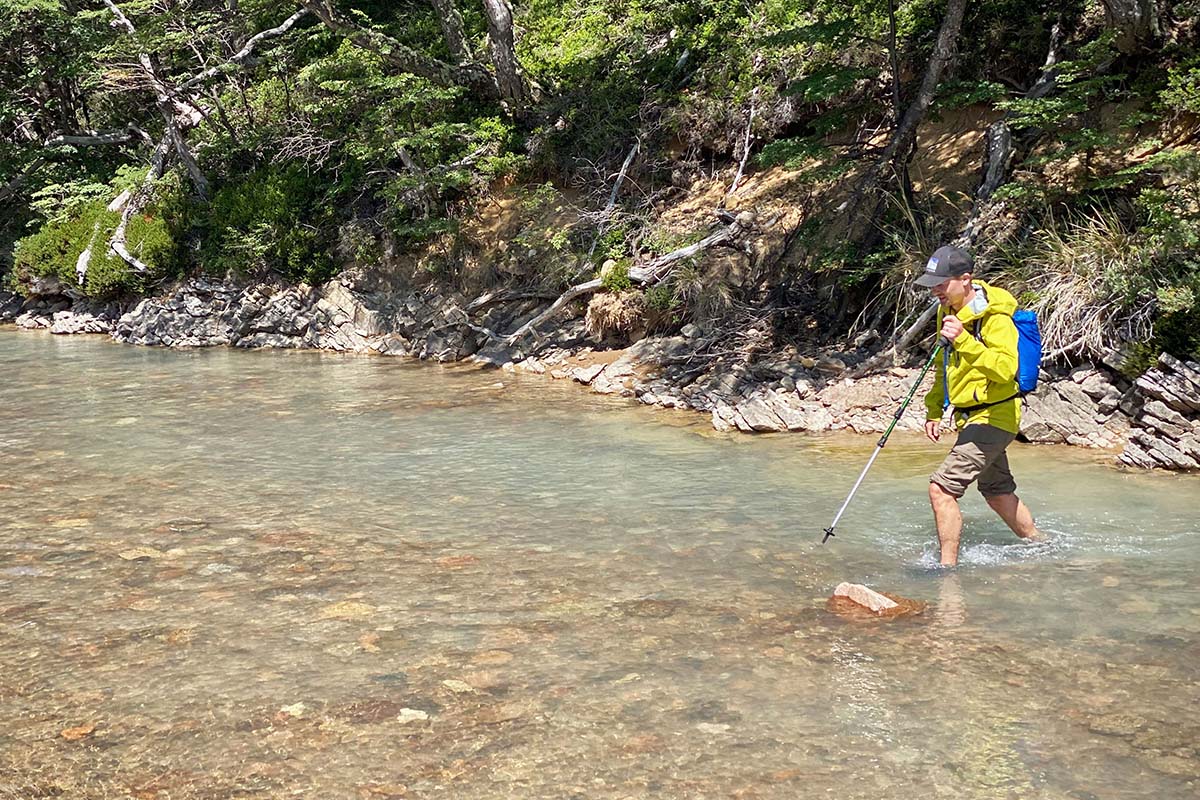 Black Diamond has been rapidly expanding their rain shell lineup, and the latest model is the HighLine Stretch. At $300, it's around $50 pricier than the Microgravity but has similar alpine ambitions with a 3-layer stretchy build and climbing helmet-compatible hood—all while coming in about 2 ounces less (12.7 oz.). BD has also incorporated a notable earth-friendly feature with a PFC-free DWR coating. Given that it's brand new and incorporates some innovative tech, the HighLine doesn't have much of a track record, but we've been pleased with the protection and comfort from their simpler, 2.5-layer StormLine and FineLine shells. If it holds up as well as those jackets, the HighLine could be a real winner. 
A third alternative is a jacket we've alluded to a number of times in this write-up: OR's own Interstellar. Released a couple years ago as a replacement to the impressive Realm, the jacket shares the Microgravity's AscentShell build in a trimmed-down form. You lose some durability with the 20-denier shell and thin lining, but the gains in weight savings and packability are well worth it. Plus, the lighter build is more in line with AscentShell's strengths—the material can't match a Gore-Tex shell in terms of outright protection in the harshest conditions, but it's impressively breathable. Even without the issues with the DWR coating, the Microgravity is still a cut below the Interstellar.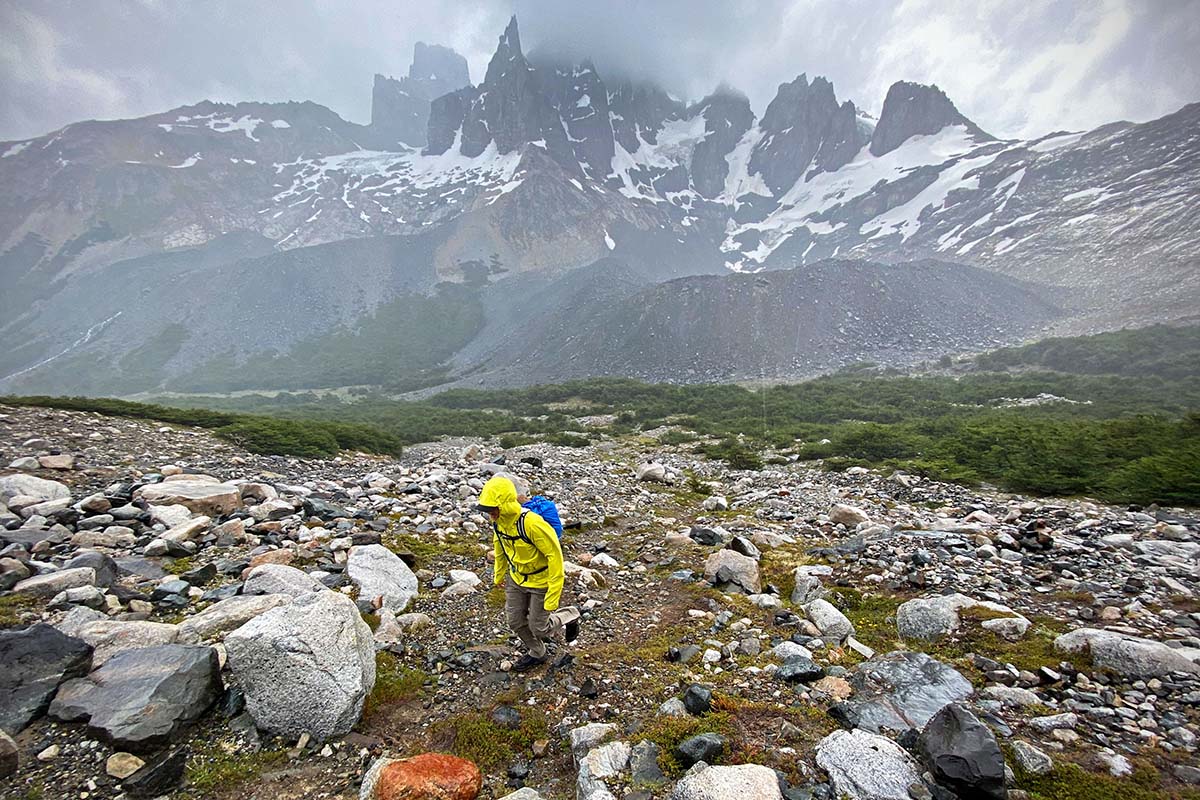 Moving outside of stretchy designs and instead towards a more traditional hardshell is REI Co-op's Stormbolt GTX. For $30 more than the Microgravity, you get superior protection from 3-layer Gore-Tex, the same listed weight of 14.6 ounces, and a helmet-compatible hood. Unsurprisingly, the Microgravity is the better breather—you do get pit zips with the Stormbolt, however—and it's more comfortable and less crinkly than the REI when on the move. Both jackets would be considered "budget" hardshells, but the REI is easier to trust in bad weather. As long as you're OK with its baggier fit, we think the Stormbolt is the more well-rounded option.
If you're thinking about buying gear that we've reviewed on Switchback Travel, you can help support us in the process. Just click on any of the seller links above, and if you make a purchase, we receive a small percentage of the transaction. The cost of the product is the same to you but this helps us continue to test and write about outdoor gear. Thanks and we appreciate your support!
Depending on the seller, most products ship free in the United States on orders of $50 or more. International shipping availability and rates vary by seller. The pricing information on this page is updated hourly but we are not responsible for inaccuracies.
Read More From Switchback Travel