REI Co-op Flash 18
Price: $40
Weight: 9 oz.
Capacity: 18L (22L also available)
What we like: An ultralight yet extremely versatile daypack that excels at anything from travel and hiking to climbing.
What we don't: Minimalist build sacrifices ventilation, comfort, and some features.
See the REI Co-op Flash 18
REI Co-op's popular Flash 18 was my very first daypack, as I'm sure it is for many. This versatile hauler has served me well, from its role as travel bag during a study-abroad semester in Europe to the follower pack on my first ever multi-pitch rock climb. I recently became reunited with the latest version of the Flash 18 while day hiking in Patagonia and was reminded why this pack has achieved such popular status amongst outdoor adventurers of all kinds. Below we outline our experiences with the legendary and affordable Flash 18. To see how it stacks up to the competition, see our article on the best daypacks.
 
---
Table of Contents
---

Performance
Carrying Comfort
We'll get the bad news out of the way first: the REI Co-op Flash 18 is not built to handle a heavy load. With just a thin foam framesheet for structure, minimal padding in the shoulder straps, and a simple webbing hipbelt and sternum strap, this is a pack that clearly prioritizes weight-savings and packability over carrying capability. I've opted to haul the Flash 18 during many rock climbing adventures (due to its minimalist build) and have endured climbing gear jutting into my back, overloaded straps digging into my shoulders, and the sharp pressure of a burdened hipbelt. If you want a comfort-first design, we recommend stepping up to a more structured and cushioned build like the Osprey Talon 22 or Deuter's Speed Lite 24.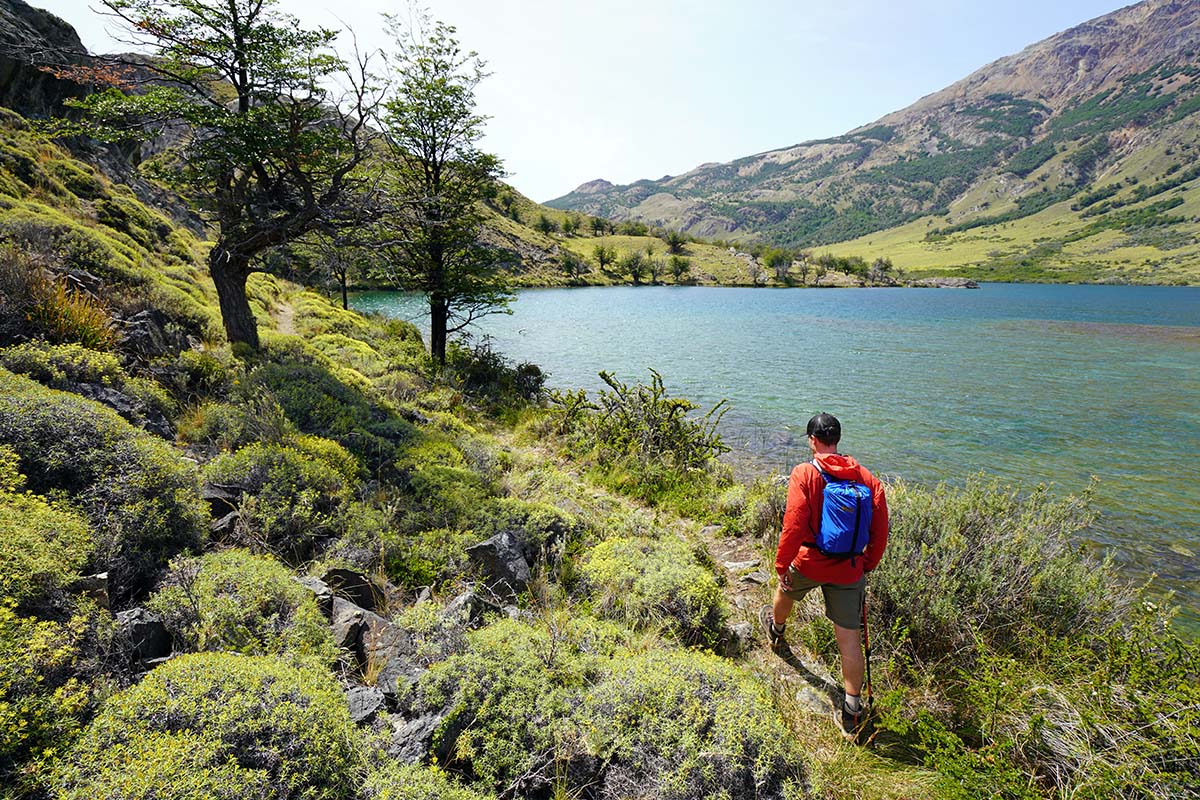 If you set reasonable expectations and pack it well, however, the Flash 18's versatility really shines. We've found if we keep weight to 10 pounds of gear or less (a realistic day-hiking or travel kit) and place softer items or hang a hydration reservoir along the backpanel, the bag becomes an ideal companion. We hauled it and the 22-liter model around on multiple full-day hikes on a recent trip to Patagonia and had no comfort-related concerns. The adjustable hipbelt and sternum strap helped it stay snug against our backs, and its minimalist build meant we had less overall weight to haul around. In the end, if you carry a lot of gear for full-day adventures, the Flash will likely come up short. But for the right uses and with a little creativity in your packing, it's a fine companion.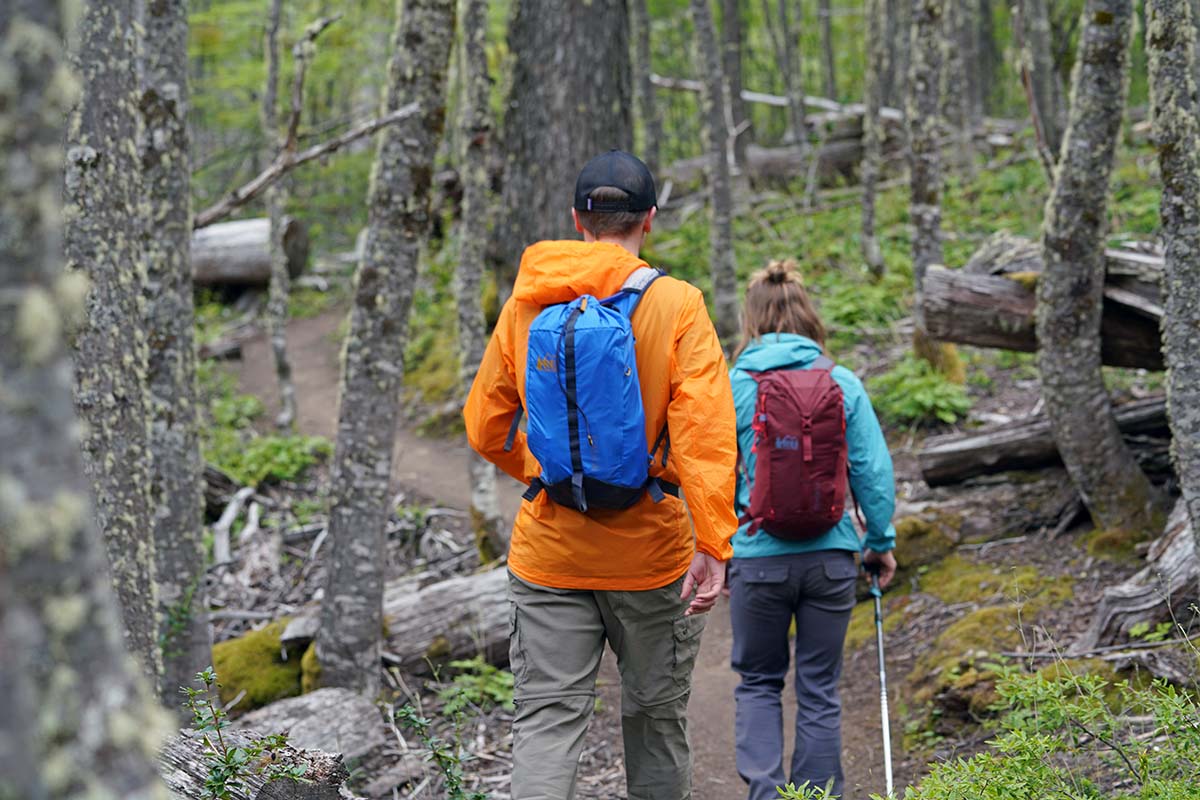 Carrying Capacity
Despite its small 18 liters of carrying capacity, we've been impressed by what the Flash 18 is able to store inside. Hikers will find that they can fit all of their supplies for a day—2-liter reservoir, jacket, snacks, camera, sunscreen, etc.—and still have room to spare. In terms of daily use, the Flash 18 easily fits our 15-inch laptop, a stack of books, a few Tupperware containers full of lunch food, a water bottle, and more. For climbers, it accommodates a full rack, or alternatively a pair of climbing shoes, harness, belay device, and helmet. But as mentioned above, you'll want to be strategic with what you store inside and keep your weight under about 10 pounds total.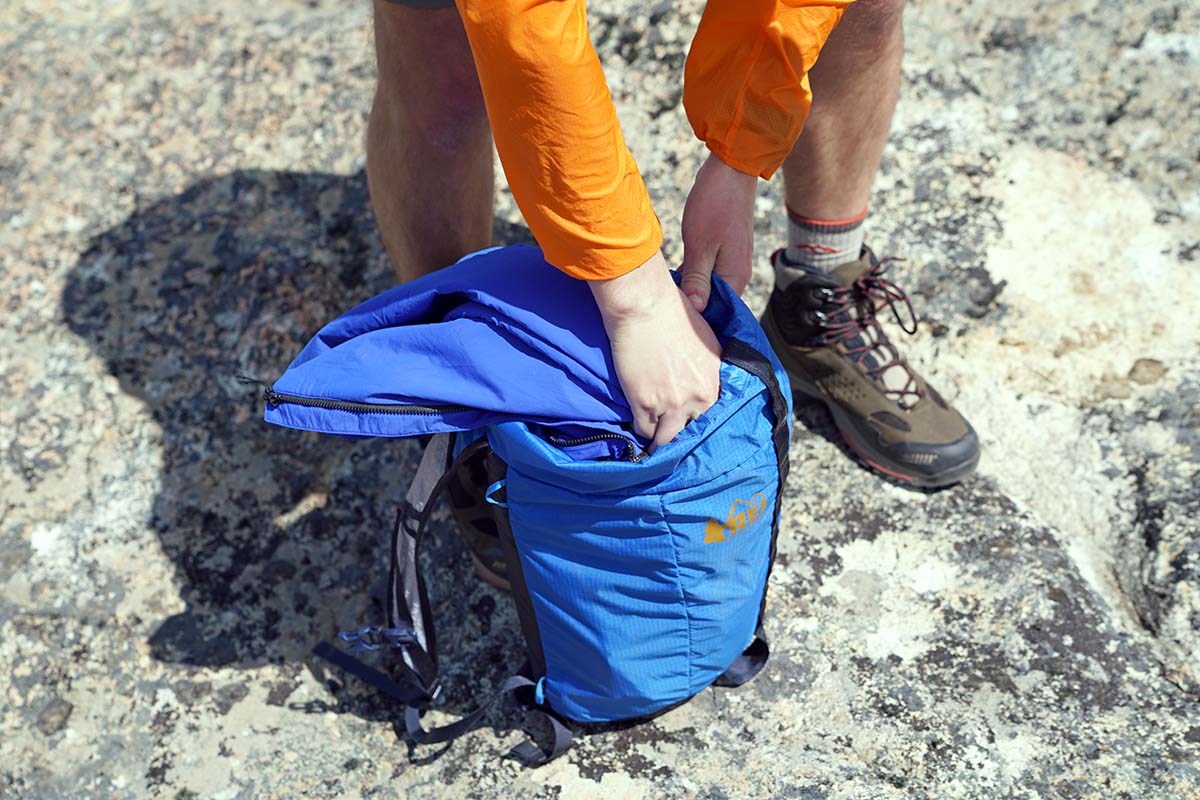 Weight and Packability
At only 9 ounces for the one-size-fits-all pack, the REI Co-op Flash 18 is one of the lightest daypacks available (removing the foam pad, hipbelt, and sternum strap drops the weight to 7.4 oz.). In terms of the competition, the 20-liter Sea to Summit Ultra-Sil goes extreme with a 2.5-ounce build that forgoes all padding, features little in the way of pockets and organization, and removes the hipbelt completely. While this might be an impressively low weight for a backpack, we think that the Flash 18 is a better compromise of weight and features. Another comparable bag is the Marmot Kompressor, which at 10.2 ounces adds a top lid, side pockets, and compression straps (similar to the REI Flash 22). Outside of the ultralight realm, most daypacks range between 1 and 3 pounds, with popular models like the Osprey Talon 22 clocking in at 2 pounds 1 ounce (for the small/medium size).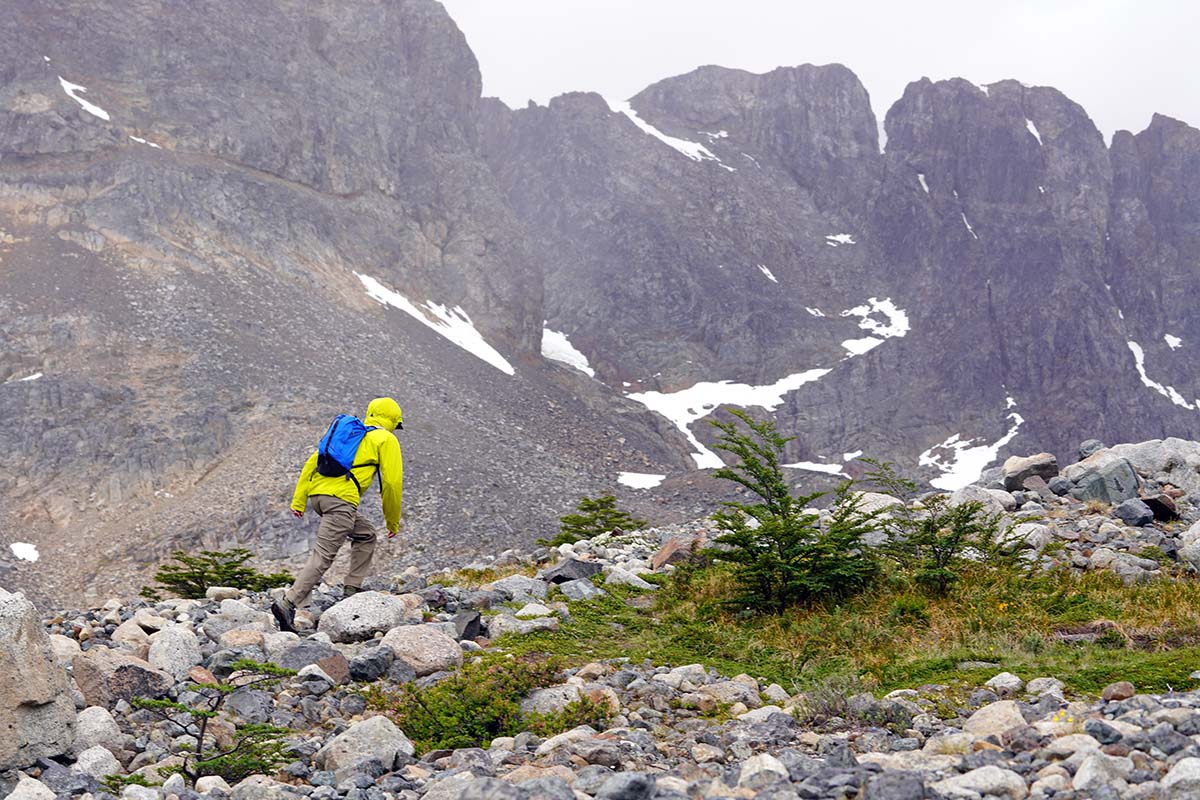 Alongside its minimalist weight, the Flash 18 is exceptionally packable. Without an internal frame, thick fabrics, or a beefy hipbelt, it rolls up to the size of a large burrito (and smaller if you remove the foam backpanel). Whether you're stuffing it into your backpacking pack for a week-long outing or throwing it into your duffel for a trip abroad, it's a good bet that there's always enough room to fit the Flash 18. Packs with more robust padding (the Deuter Speed Lite 20 or Gregory Nano 18, for example) don't compress nearly as small, making us more likely to leave them at home. Overall, the Flash 18's low weight and packability come with a fair share of tradeoffs, but such a versatile pack will be well worth the compromise for many.

Ventilation
Whereas some daypacks feature suspended mesh backpanels or ventilated hipbelts for increased airflow, the REI Co-op Flash 18 keeps things simple with its design. You'll find mesh across the majority of the shoulder straps—keeping air flowing across your neck, shoulders, and armpits—but that's about the extent of the pack's ventilating features. The backpanel is made of ripstop nylon, which is not particularly breathable and has a tendency to clam up against your body on a hot day. That said, with a light and airy load, you can hope to get some help from drafts that will inevitably flow between your back and the pack.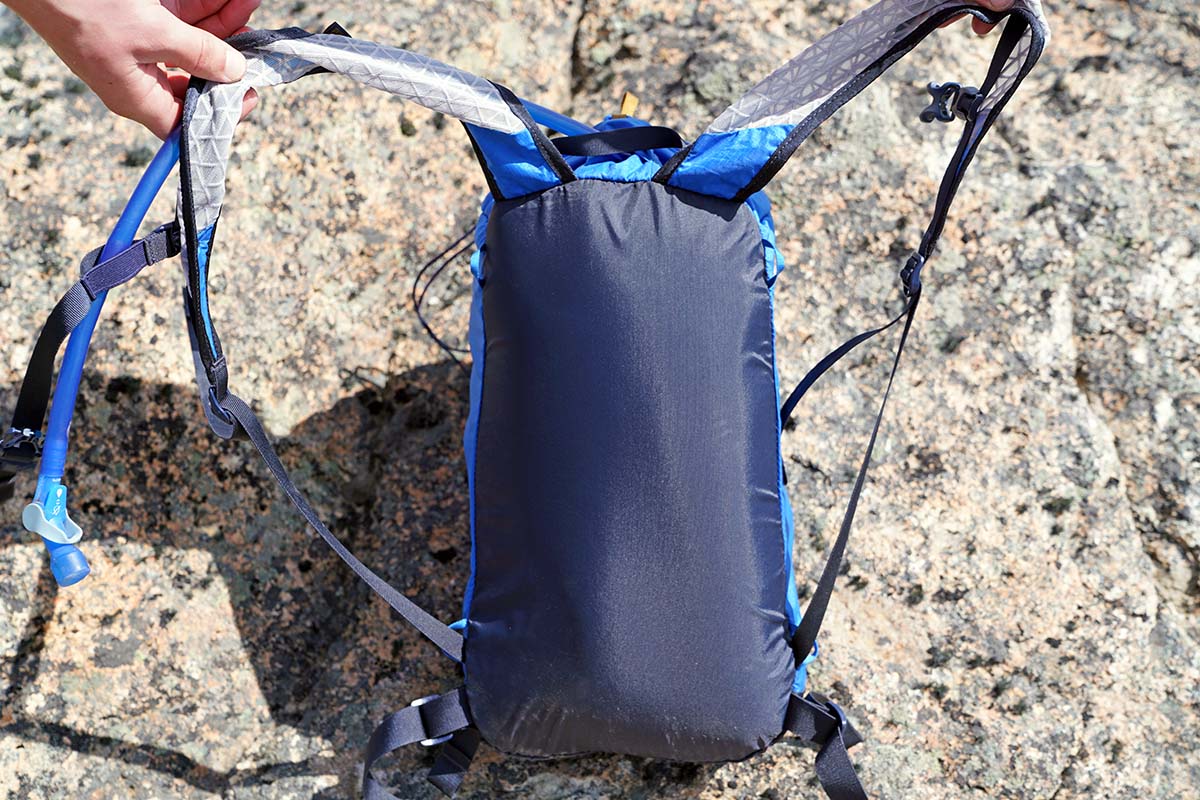 Water Resistance
The REI Co-op Flash 18 can shed a light rain or snow, but it is decidedly not waterproof. The pack features a durable water repellent (DWR) finish, its ripstop nylon is moderately water-resistant, and you get additional water protection via a small storm flap that covers the drawcord opening at the top. In this respect, the Flash 18 isn't too dissimilar from most daypacks—many of the most popular models are also water-resistant rather than waterproof (the Deuter Speed Lite's DWR coating and burlier fabric help it resist moisture better than most). For those who plan to hike in steady rain, REI does offer an extra small version of their Duck's Back Rain Cover, which will run you an extra 3 ounces and $25. Alternatively, you can use a dry bag on the inside of the pack to seal up your gear against moisture.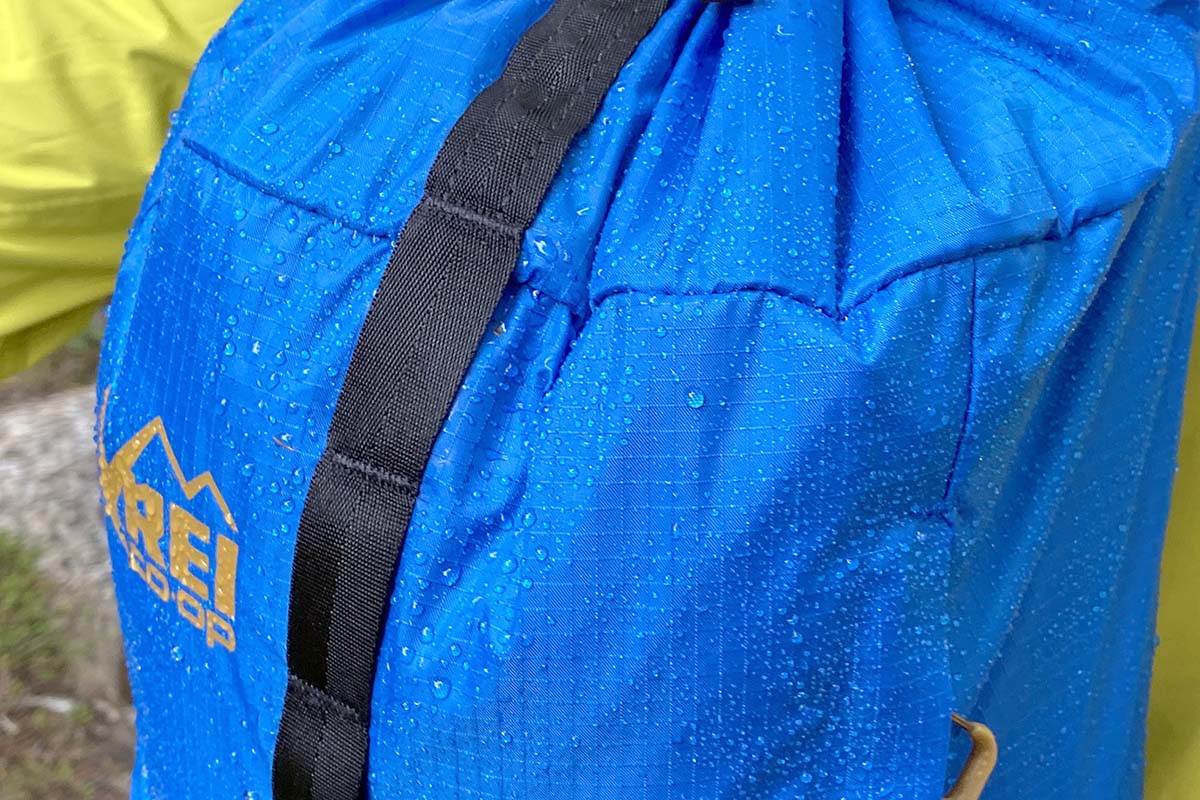 Pockets and Organization
The Flash 18 manages to pack in a fairly robust amount of organization options for being such a minimalist design. You get a decently cavernous, 18-liter main compartment, which has a wide opening and easily cinches closed with a one-handed, quick-pull drawcord. Two small drop pockets line the inside and are nicely sized for items like bars or your keys (a key clip is included). And along the backpanel is a dedicated sleeve, exit port, and Velcro loop for hanging a hydration reservoir (we've fit a 3L CamelBak inside without issue). Finally, a long vertical zipper extends down the front of the pack and allows access into a deep exterior front pocket. More feature-rich packs will have a range of additional storage options (including a zippered pocket in the top lid and stretch dump pockets on the front and sides), but the only one we've occasionally missed is some form of exterior water bottle storage.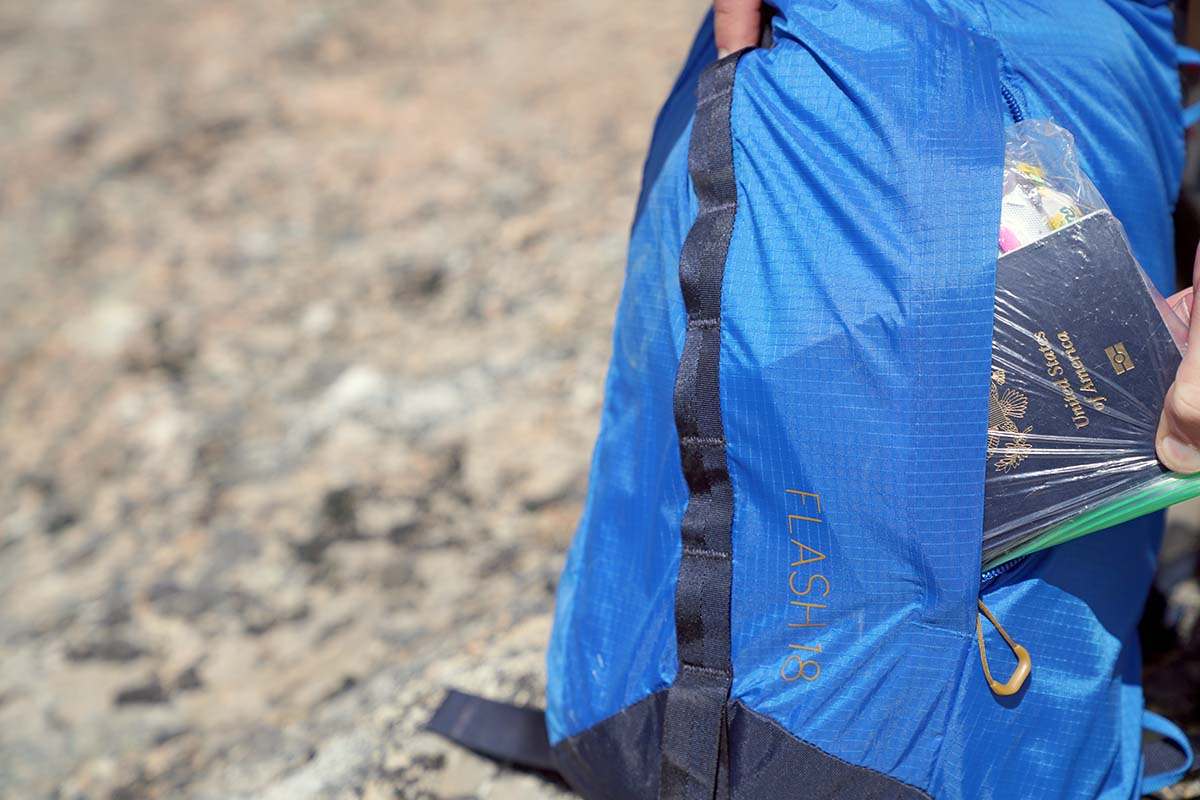 Along with the pockets, REI keeps it simple with the Flash 18's feature set. On the center front, you get a full-length daisy chain for lashing extra gear (such as a helmet or sandals). At the bottom of the daisy chain is an ice axe loop, but you'll have to finagle your own attachment system to secure your axe at the top of the pack. At the top and bottom of the backpanel on each side, REI has added small loops that can also be used as attachment points for gear or compression straps. Moreover, they've incorporated a whistle into the sternum strap for emergency use. Finally, the Flash 18 can be turned inside out and used as a stuff sack inside a larger backpacking pack or suitcase. All in all, we think REI landed on a great compromise between minimizing weight while retaining enough essential and practical features.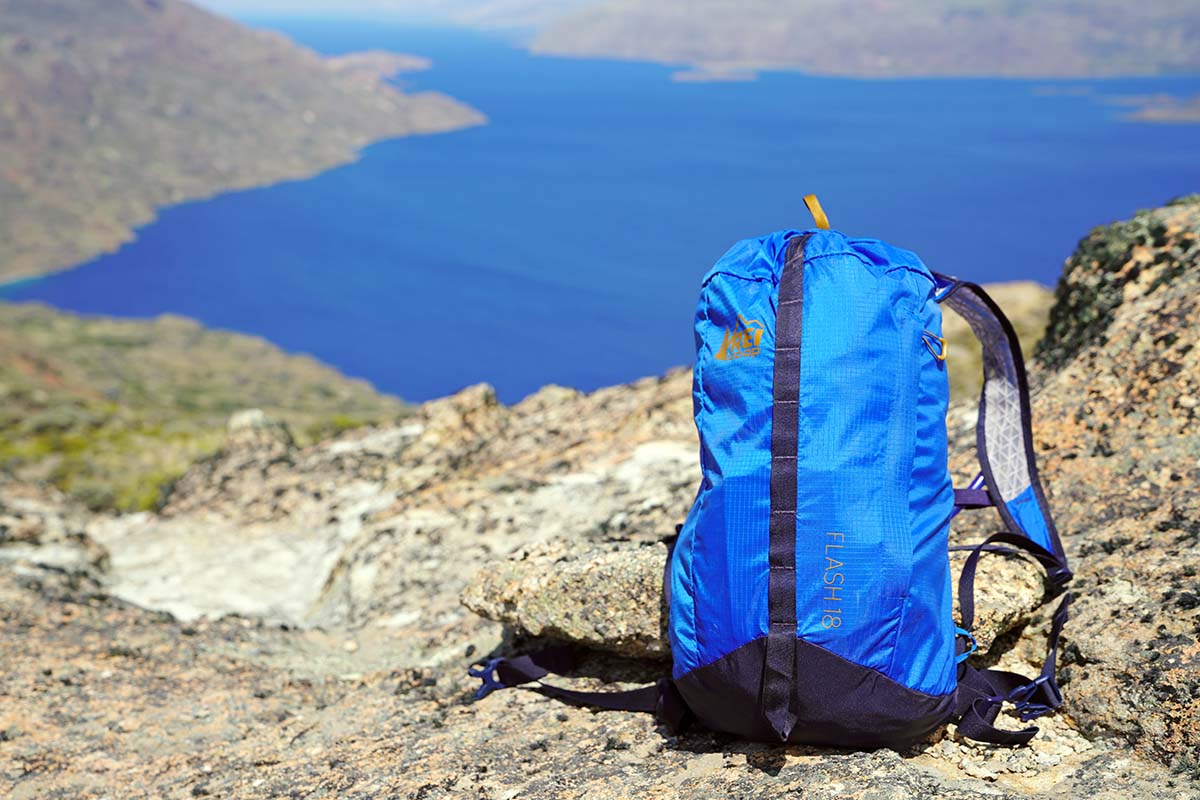 Build Quality and Durability
Lightweight gear often sacrifices durable materials in the name of weight-savings, and this rings true for the Flash 18. REI doesn't specify the denier (thread thickness) of their fabrics, but the previous model used 140-denier in the pack body, and we're guessing the current version isn't much different (like most packs, the bottom is significantly more robust). For comparison's sake, the 1-pound-1.3-ounce Deuter Speed Lite 20 features a combination of 210- and 420-denier nylon on the pack body and bottom respectively. In short, the Flash 18 is no tank, and with such a thin fabric you can expect a few rips and tears with heavy use (nothing a bit of duct tape or gear repair tape can't handle).
In the same vein, the foam backpanel is thin and should be handled with caution—we ripped a chunk out of it once while pulling it out of the tight sleeve. Thankfully, the piece was from the very top and hasn't had much of an impact on carrying comfort or its use as a sit pad. All told, thin foam and fabric aside, REI's pack has a great, high-quality feel, complete with well-built buckles, zippers, and cords that have worked flawlessly throughout our testing.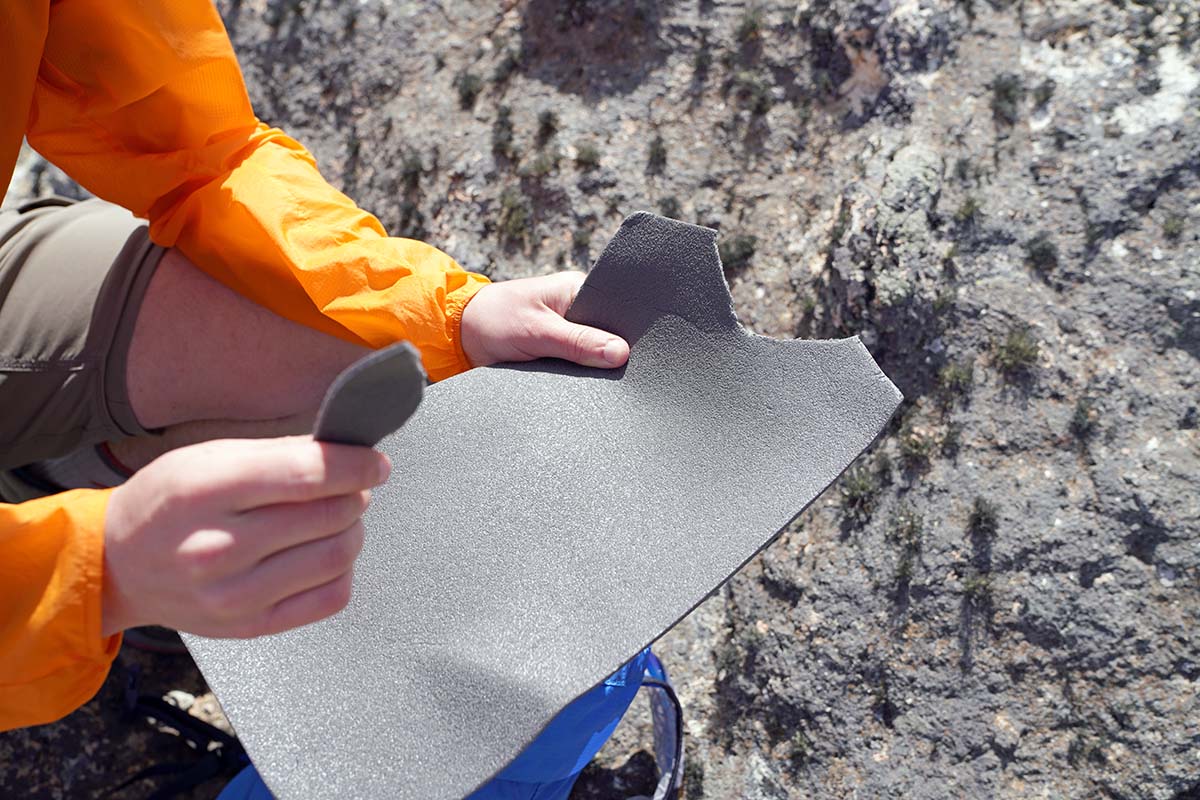 Fit and Sizing
REI Co-op's Flash 18 is a simple daypack that comes in just one size. REI specifies that it fits those with 16- to 20-inch torsos and 26- to 42-inch waist/hip measurements, which we realize is a rather limiting factor. However, this one-size-fits-all sizing is fairly standard among ultralight daypacks, including models like the Gregory Nano and Osprey Daylite. In contrast, there are a variety of more featured daypacks that come in two or more sizes—Osprey's Talon 22, for example, is available in two sizes (plus, it's also made a in women's-specific variation called the Tempest). In the end, the Flash 18 is a great pack for those with small to average statures, but unfortunately isn't as well-suited to accommodate a wide range of body types as some other options.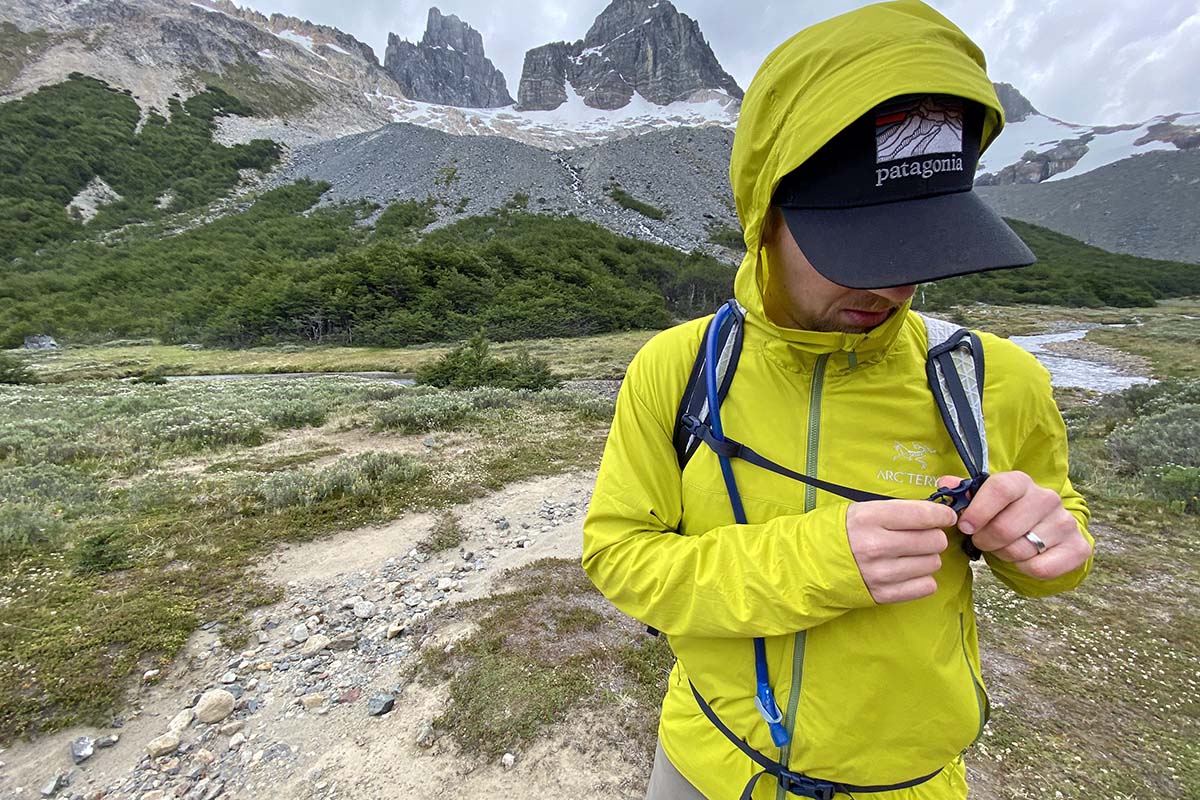 Other Versions of the REI Co-op Flash
REI Co-op's Flash 18 comes in both solid colors and prints (the Flash 18 Print), which both retail for $40 and have identical designs. At the time of publishing, the Flash 18 is available in six colorways and the print pack in four separate versions (plus an additional three on clearance). The Flash also comes in a 22-liter variation, which weighs 13 ounces and retails for $55. The Flash 22 is different from the 18 in a number of ways, with more robust padding along the backpanel and shoulders, increased ventilation, a lid with zippered pocket, stretch dump pockets along each side, and a fully functioning ice axe attachment. It's also one-size-fits-most and has the same listed torso and waist ranges (for more, see our in-depth Flash 22 review). Finally, it's worth noting that REI's Flash collection also features a variety of other ultralight-focused gear, including sleeping pads, a tent, trekking poles, and, most notably, 45- and 55-liter backpacks for overnight trips.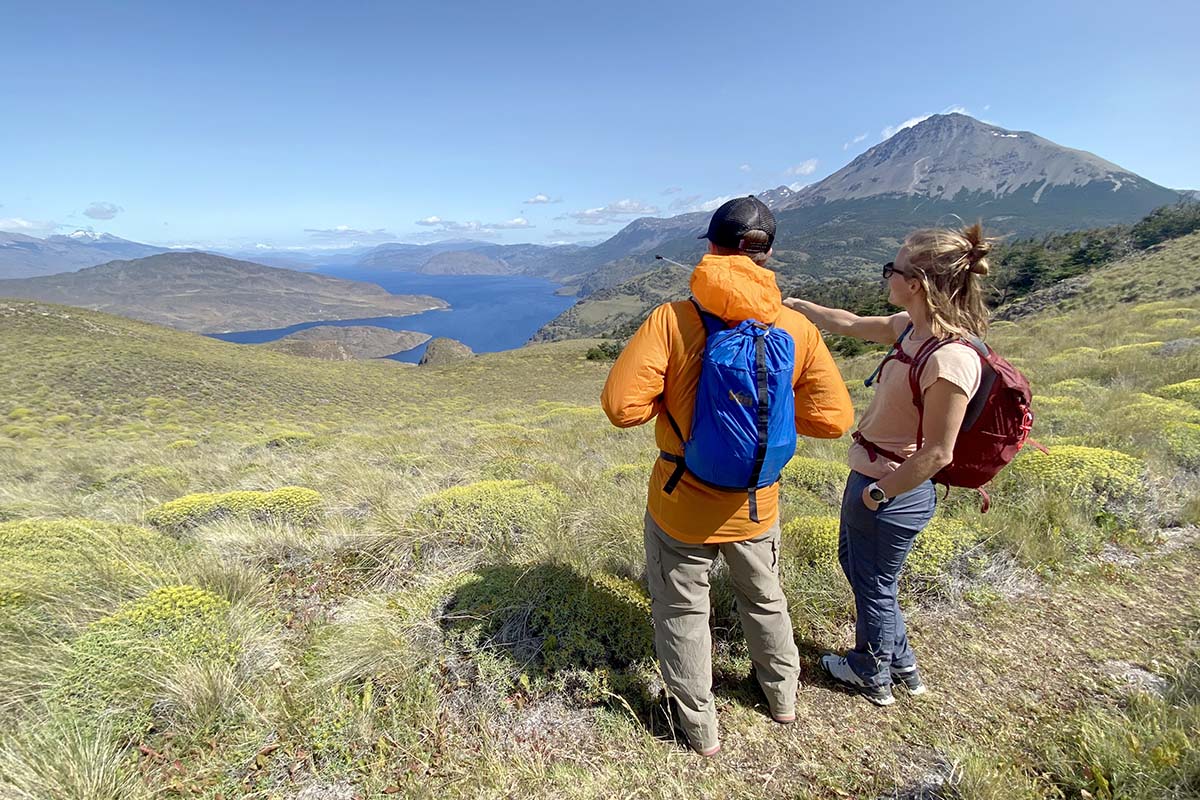 What We Like
A functional, well-made, and extremely versatile daypack for just $40.
At only 9 ounces and with a very packable build, the REI Flash 18 is easy to throw into your travel duffel or backpacking pack.
Great feature set, including an external zip pocket, removable foam backpanel that doubles as a sit pad, and lots of external lash points.

What We Don't
With little in the way of padding and suspension, the Flash 18 is uncomfortable when weighed down.
Very thin fabric in the pack body makes it less durable than most daypack options.
Only made in one size and has a fairly limited torso fit range.


Comparison Table
The Competition
The REI Co-op Flash 18 is a minimalist daypack that prioritizes weight and packability at a low price point. Within this class, the Marmot Kompressor is a close competitor, also featuring a lightweight (10.2 oz.) and minimalist 18-liter build. With a thin, 100-denier pack body and 210-denier base, the Kompressor and Flash 18 are similar in terms of durability (again, REI doesn't specify the Flash 18's fabric, but it falls into a similar class), and both lack ventilation along the backpanel. The Kompressor gets the slight edge in terms of features, with a top lid with zippered pocket, compression straps along the side, and two stretch dump pockets. That said, it's a significant $15 more and doesn't come with a hipbelt, making the REI the clear winner for us as our favorite budget-oriented ultralight daypack.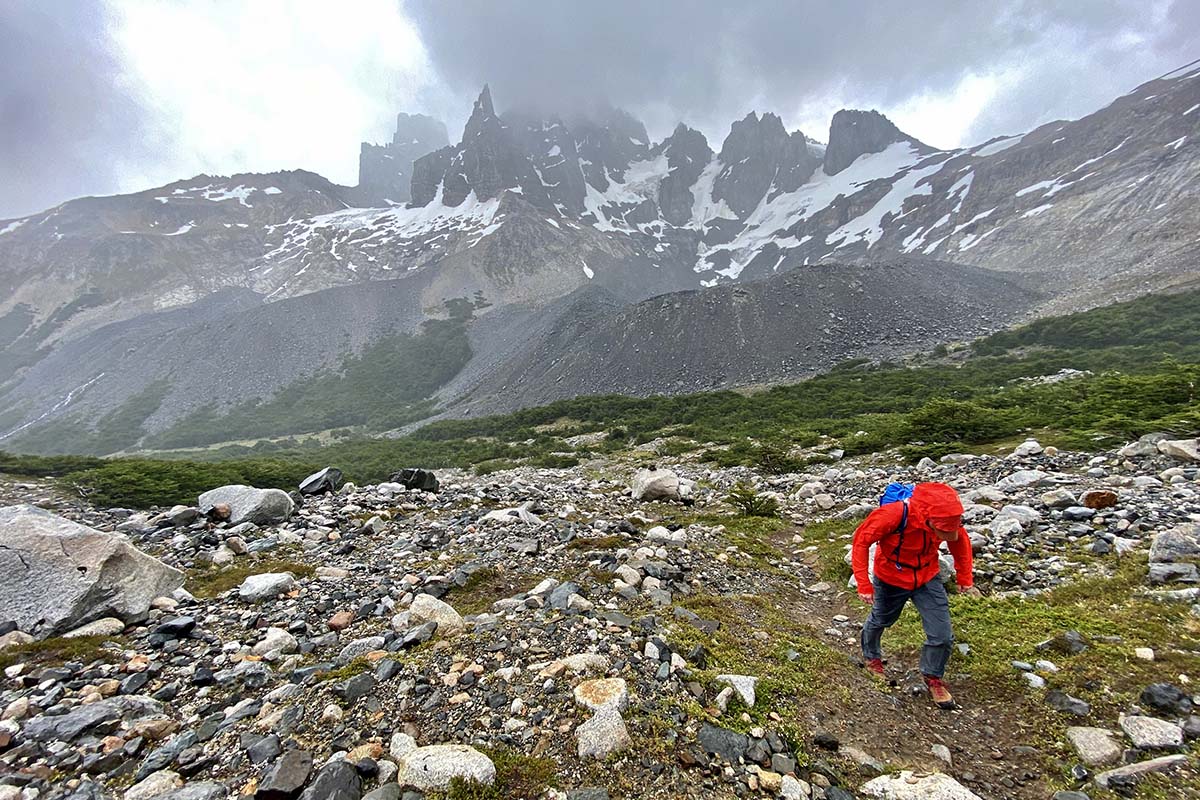 For those looking for a small daypack without as many compromises, Gregory's Nano 18 strikes a bit more of a middle ground. The 1-pound Nano 18 comes loaded with storage options, ranging from a separate sleeve that holds your hydration reservoir (or laptop), a main compartment, small zippered pocket for organization, and stretch dump pockets along the sides and front of the pack (great for water bottle storage or stuffing an extra layer). You also get a fully ventilated backpanel, durable 210 x 420-denier fabrics, and a bit of a larger size range (the one-size Nano 18 fits torsos between 16 and 21 inches). The Gregory is no match for the REI in terms of minimalism or price, but it's a nice option for those wanting a bit more out of their pack.
If the Gregory Nano sounds appealing to you, another pack to consider is the Deuter Speed Lite 20. With the 20-liter version you get a bit more capacity for just 1 ounce more than the Nano (the Speed Lite also comes in 12-, 16-, 24-, and 32-liter options), and more comfort with significantly beefier padding along the shoulder straps and backpanel. The feature set is well-rounded, with a hydration sleeve and port, external dump pockets, dedicated pocket for valuables, and removable webbing hipbelt. Finally, the Speed Lite is ready for action with helmet attachment points and a DWR coating. At $75, Deuter's daypack is significantly more of an investment than the Nano or Flash 18, but it's a much more capable hauler for heavy loads and inclement weather.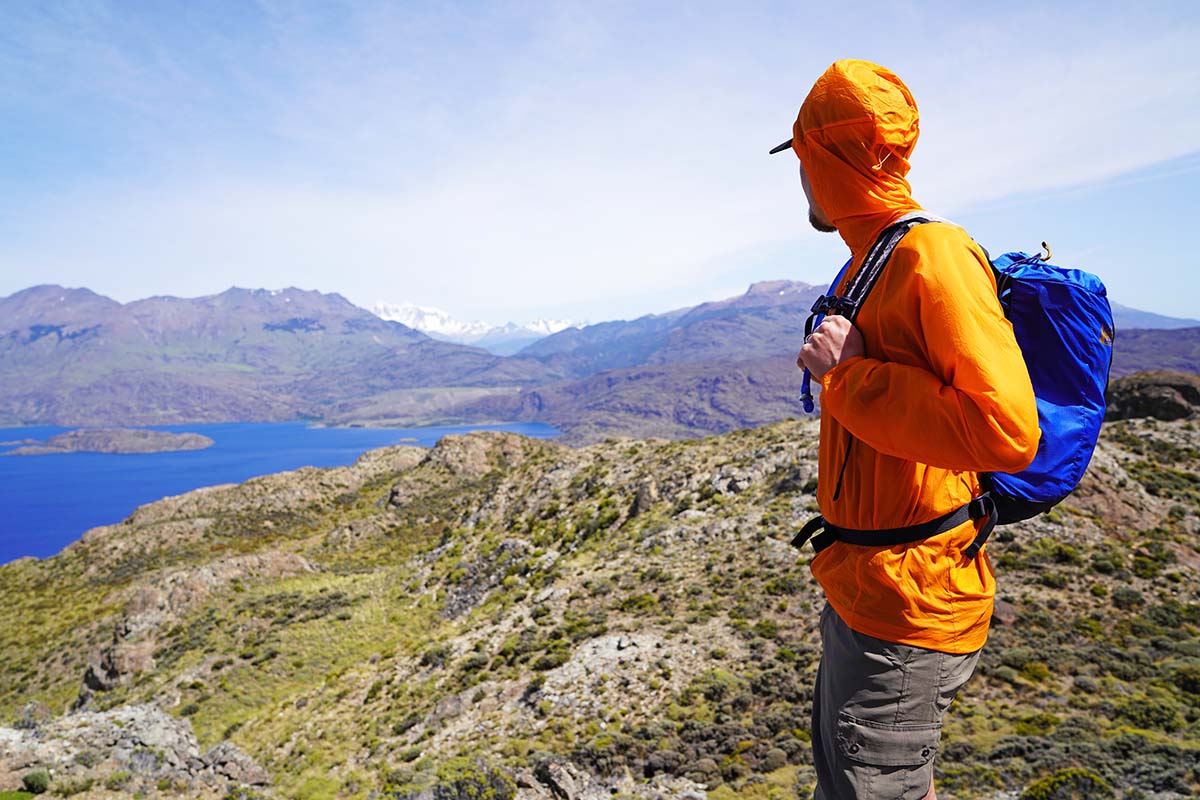 We'd be remiss not to mention an Osprey daypack here, and their Daylite is a noteworthy option for minimalist hikers and travelers. At only 13 liters, you get less capacity for noticeably more weight than the Flash 18 (the Daylite tips the scales at 1 lb. 1.4 oz.), but Osprey manages to squeeze in a good deal of features nonetheless. Like the Nano and Speed Lite above, the Osprey Daylite has a front zippered pocket great for stowing valuables, and side dump pockets and compression straps offer slightly more organizational options than the Flash 18. Finally, the Osprey comes with padded and ventilated shoulder straps and a mesh die-cut foam backpanel, making it more comfortable and ventilated than the REI. With the Daylite you pay more ($60) for less capacity, and it can't match the Flash 18 in terms of packability and weight-savings, but it's a better option for those who prioritize comfort and organization.
Last but not least, Sea to Summit's Ultra-Sil is one of the lightest and most packable daypacks on the market at a scant 2.5 ounces. However, the Ultra-Sil is undeniably basic with a single main compartment, no accessory pockets or hipbelt, and a very small daisy chain attachment at the base for securing light gear to the exterior. And despite offering 20 liters of capacity, we wouldn't recommend weighting the Ultra-Sil down with more than a few pounds given its minimal suspension and lack of padding (on the flipside, we've overloaded the Flash without issue). All in all, the Sea to Summit pack is serviceable for short hikes and travel with minimal weight, but the Flash 18 offers greater comfort and versatility for the same price.
Editor's note: We usually provide a live price comparison table below our outdoor gear reviews, but the Flash 18 is sold exclusively by REI Co-op. You can see the Flash 18 page here and support us in the process. Thanks!
Read More From Switchback Travel