The Arc'teryx Zeta LT manages an impressive balance that few rain jackets are able to achieve: design and performance that nearly match an alpine hardshell with the comfort and weight of a packable rain jacket. Retailing for over $400, the Zeta LT doesn't have a whole lot of direct competition, with most hiking-ready shells coming in at half price or less. But following a season of testing, we've concluded that for hikers needing a bomber shell that doesn't weigh down their pack, it's hard to match the Zeta LT's overall performance. Below we break down the Zeta's C-Knit construction, weather protection, sizing and fit, and more. For more options in this category, see our articles on the best rain jackets and hardshell jackets.

Performance
3 Layers with C-Knit Technology
The Arc'teryx Zeta LT breaks from the typical hiking shell mold by swapping budget-friendly 2- or 2.5-layer constructions for a premium Gore-Tex 3-layer build. The more substantial design gives you hardshell-like protection from the elements without the clammy feeling common with other rain jackets. Further, the jacket's inner C-Knit backer is quite thin, which helps make the Zeta LT competitively lightweight and packable—praise you don't often hear for a true 3-layer shell. Additional benefits include increased breathability and a smooth finish that is quieter than most crinkly hardshells.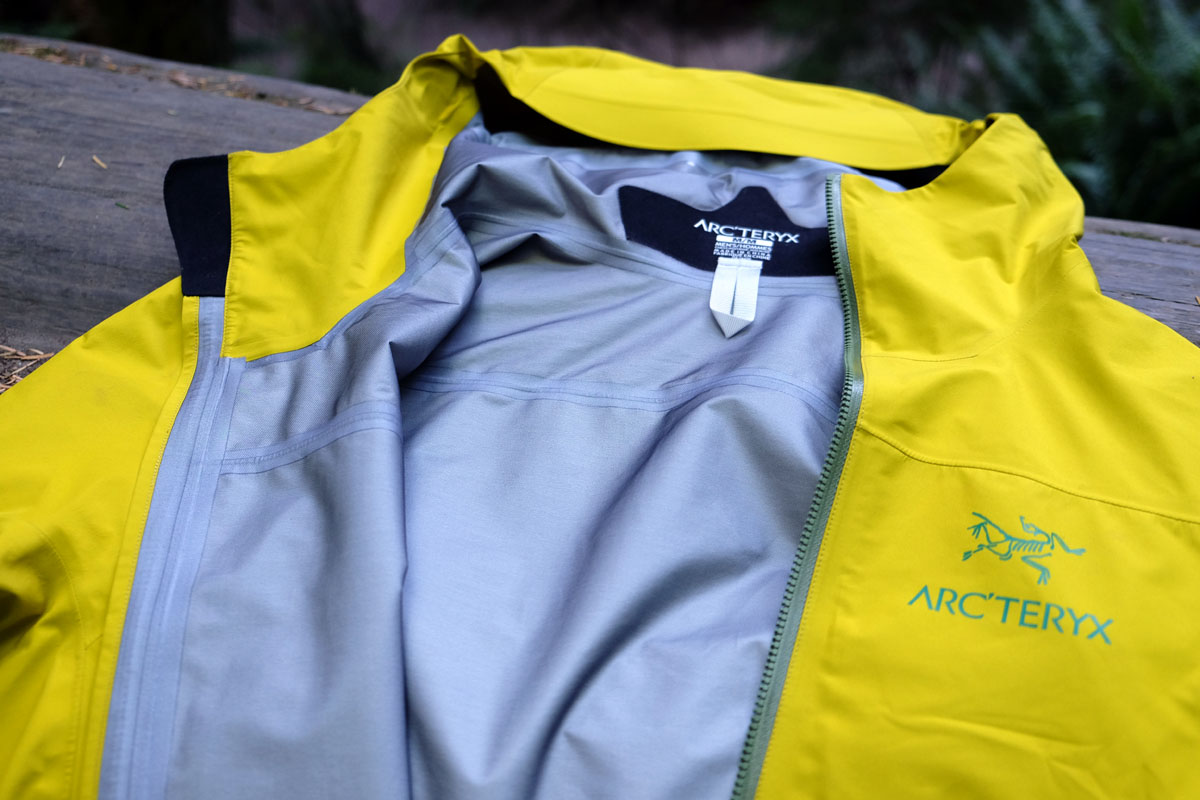 In our use we found all of the above to be true, but most impressive is the next-to-skin comfort. The interior feel of most hiking shells is an afterthought in the quest to cut weight, resulting in a slippery and plastic-like feel when you're wearing a short-sleeve shirt that is exacerbated in heavy rain when the jacket presses against your skin. Not so with the Zeta. That slippery feel is replaced with buttery softness. And the C-Knit fabric pulls moisture away from your skin better than other hiking shells, including a previous hiking favorite: Gore-Tex Paclite. In comparing to C-Knit's feel and performance, Paclite jackets such as the Marmot Minimalist are clammier inside yet have a similar packed size.

Weather Protection
As we touched on above, the Zeta's 3-layer construction is unique for a hiking shell. Most manufacturers opt for a 2.5 layer, which means the jacket has a thin veneer on the interior rather than a full fabric layer as a means of trimming weight and packed size. What you give up with the 2.5-layer design is durability and performance in high winds and heavy rain.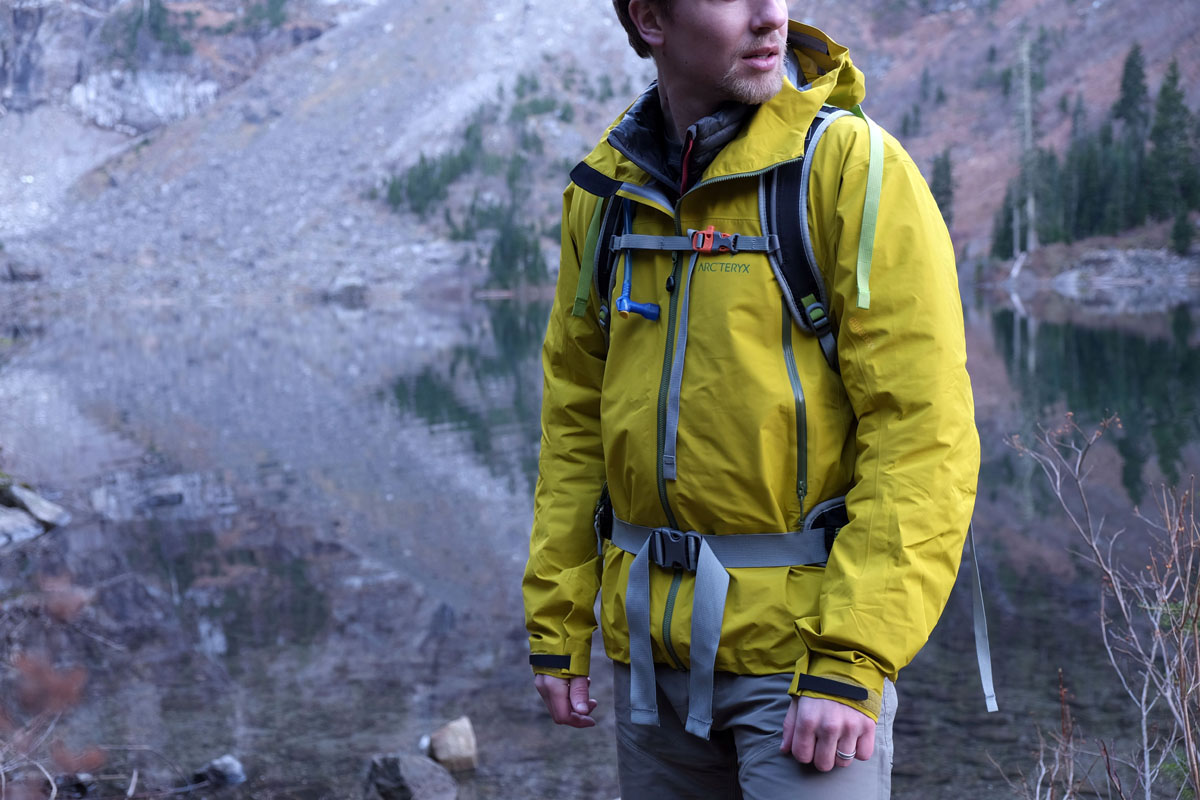 Impressively, the Zeta manages to keep total weight competitive while completely outperforming most 2.5-layer rain jackets thanks to a burly outer shell, water-resistant zippers, and a superb hood. It's been made to handle the worst subalpine conditions you'll run into, making it a great match for treks through remote areas where the weather can turn nasty: places like Patagonia, New Zealand, Scandinavia, Alaska, and the Pacific Northwest. 

Breathability
During early-season hikes in cool weather, we rarely ran into issues with breathability. But as is the case with any waterproof rain jacket, ventilation is a challenge when you're really working hard. Totally zipped up, performance is solid and the C-Knit liner does a nice job keeping you cool. The liner fabric and snug fit effectively draw hot air away from your skin and help avoid the "sauna effect" better than any other hiking shells (note: this does not include hardshell jackets). However, to really dump heat on warmer days on the trail, pit zips or at least some form of pit venting would be helpful. And for super strenuous hiking in warm weather, we did find ourselves wanting a more efficient venting system (pit zips do add extra weight and bulk so we can see why they were left out).

Weight and Packability
The first time we put on the Zeta we were struck with just how light it felt. On our scales, the Zeta LT in a men's medium weighs 11.85 ounces—essentially dead on its listed weight of 11.8 ounces. For some perspective, true ultralight shells like the Outdoor Research Helium weigh half that but come with a laundry list of compromises that limit their performance in rough conditions—in this case, it means less breathability, no hand pockets, and a much clammier-feeling interior. Mid-level performance hiking shells, such as the Outdoor Research Foray or Marmot Minimalist, are a better reference point, and come in about 3-4 ounces heavier than the Zeta LT. The extra weight of those jackets can be attributed to pit zips and a less streamlined design, and the extra bulk is readily apparent when trying on the jackets back-to-back.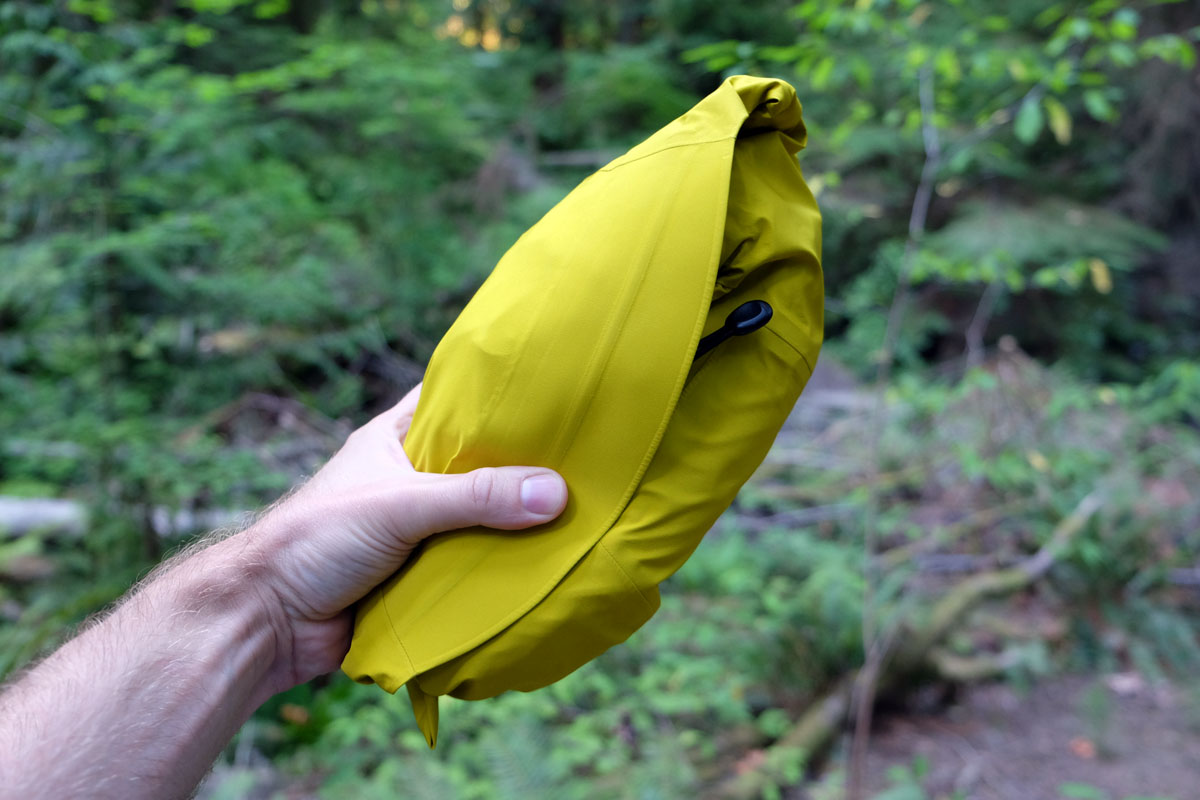 The Zeta LT technically isn't packable: it doesn't include a stuff sack or a two-sided zipper for stuffing it into a hand pocket. It is, however, easy to compress into a manageable, compact size. For throwing it in a backpacking pack, you can roll or stuff the jacket into the interior of the hood and cinch it down to hold everything in place. Doing so helps reduce the risk of tearing the shell while stowing it in your pack.

StormHood
The Zeta is made with Arc'teryx's low-profile, simplistic StormHood. It's a design we've loved in a number of applications, including the popular Cerium LT Down Hoody, for the secure feeling and excellent coverage. Pulling a single toggle cord at the back of the hood tucks the fabric evenly around the sides and face, and the uniform adjustment retains a good field of vision. You also get a real bill on hood of the Zeta that hangs over your forehead at a downward angle a couple inches, which offers more coverage and protection than most other rain jackets we've tested. The bill has a solid enough structure to withstand direct wind and does a nice job protecting your face from raindrops. Even for some of our smaller-headed testers, the fully cinched StormHood fits well and offers excellent protection.

Pockets
The Arc'teryx Zeta LT comes with a standard assortment of pockets: two for your hands and one for interior storage. The hand pockets sit high enough to avoid a backpack hipbelt. Standard-height hand pockets not only create annoying pressure points underneath a hipbelt, but they're also useless when wearing a pack if you can't access the zipper. But for daily use or even just resting your hands, the pocket location on the Zeta LT isn't completely natural. In many ways, hand pocket placement is one of the more limiting aspects of the design. Outside of this, the rest of the jacket is suitable for any day of the week—in town or in the woods. But the pockets leave no doubt that this $425 jacket is first and foremost a performance piece.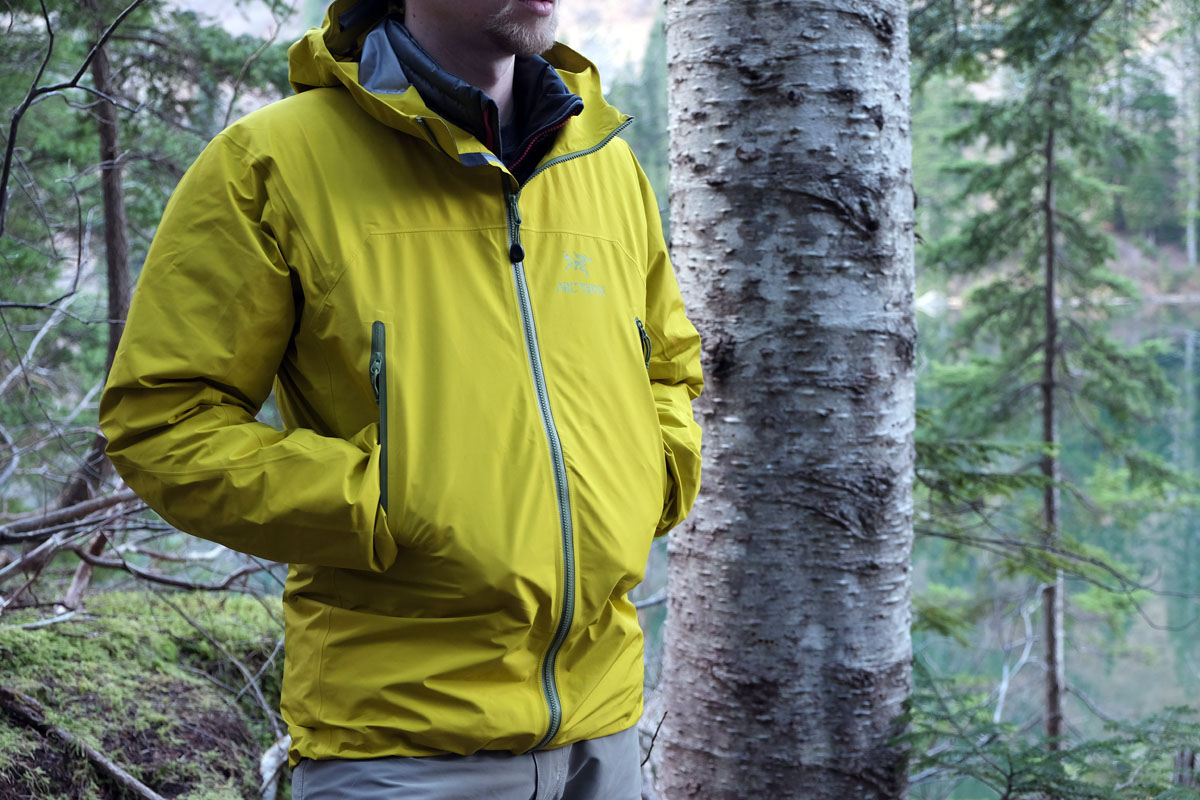 Arc'teryx's WaterTight zippers provide excellent water resistance for any smaller items you'd like to store in the hand pockets, but we still recommend placing valuables like a phone or wallet in the interior pocket. The zippered closure is placed lower than a standard Napoleon pocket, and instead layers behind the left-side hand pocket. The space is large enough for any phone but is a bit small to fit a pair of gloves, for example.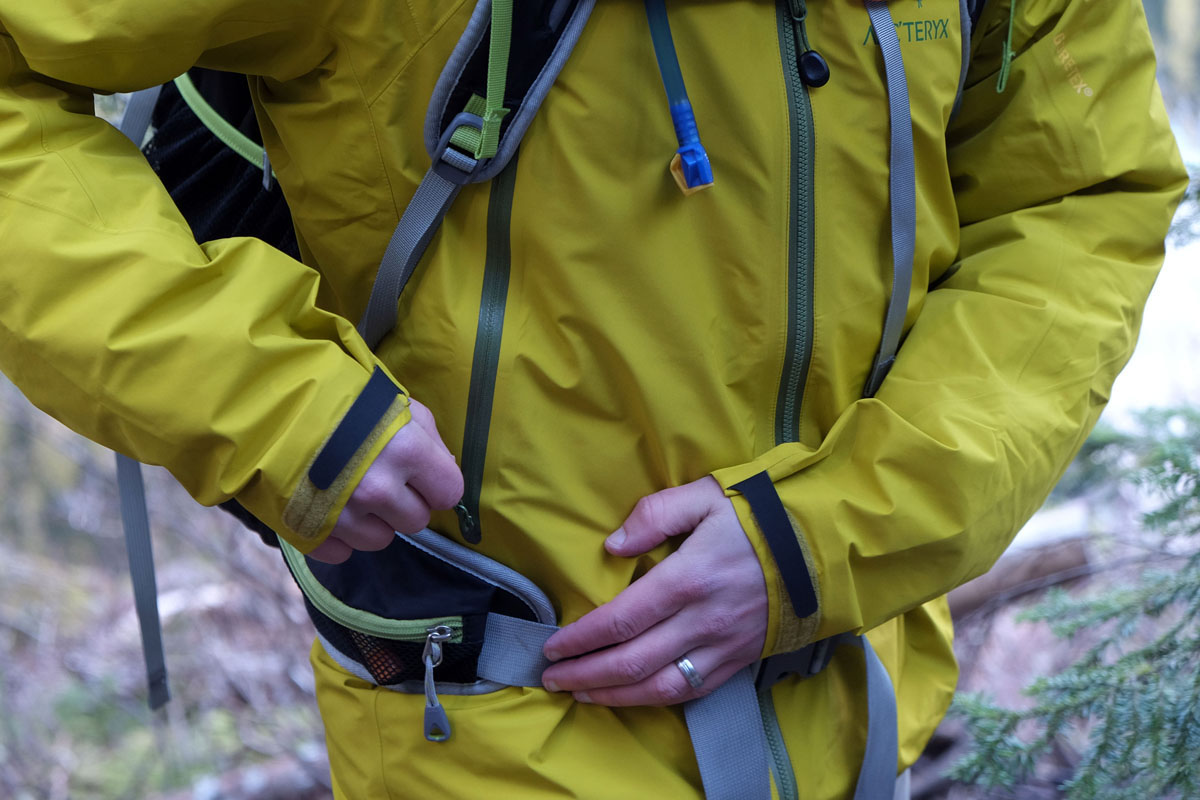 Cuffs and Zippers
Rain jacket cuffs fall all over the map, from burly Velcro to minimalist elasticized cuffs to cut weight. The cuffs on the Zeta LT are nicely in the middle, with partial Velcro that gets the job done without any discomfort. We also like the angled cuff design, which allows for slighter fuller coverage over the top of the hand while hiking without restricting use of the hands. The Marmot Minimalist has a similar hand design and we were happy to see it on the Zeta LT.
As I touched on above, the water-resistant zippers also are impressive, which have a proper coating to keep moisture out but aren't sticky like some other jackets. The action is smooth for the protection you get, and Arc'teryx added a nice piece of thin fleece at the chin to prevent rubbing.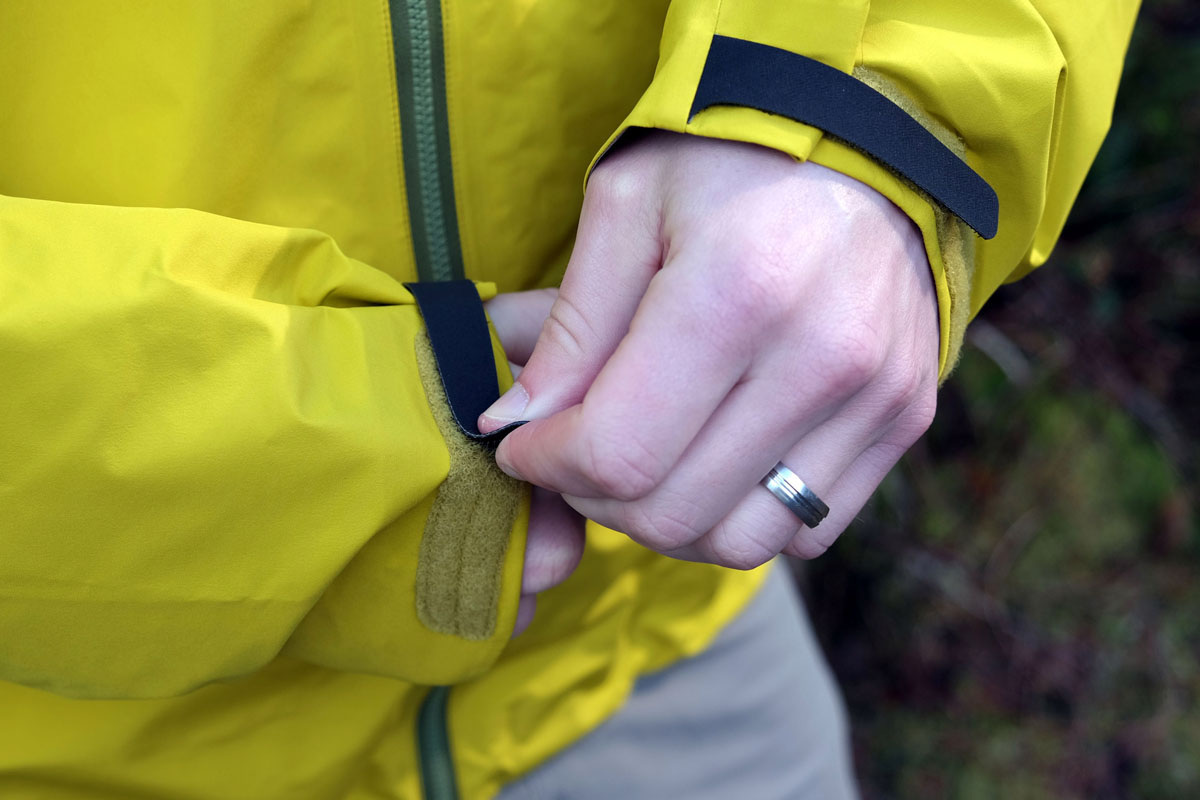 Sizing and Fit
Arc'teryx lists the fit as trim, with the intent for the outer layer to accommodate a baselayer or midlayer. We mostly agree with the designation, but would say that the fit is a little more forgiving by Arc'teryx's standards. The brand is known for having a streamlined athletic cut, something we experienced with the Cerium LT midlayer and other Arc'teryx shells. Both our testers fall on the slim side, ranging in height from 5'10 to 6'1", and were happy with the amount of space with the medium size to squeeze a puffy underneath the shell while retaining good range of motion (the gusseted underarms help). The Zeta LT also runs a little on the long side and has a drop hem that provides great protection should you want to use it for spring skiing.

Women's Version of the Arc'teryx Zeta LT
For this test, we wore the men's version of the Zeta LT rain shell. Arc'teryx also makes a women's-specific model that has the same $425 MSRP, 3-layer Gore-Tex with C-Knit construction, and hiking-ready feature set. Because of sizing differences, the women's LT is a little lighter at 10.5 ounces compared with 11.8 ounces for the men's. And the color options also differ, although both men's and women's LT jackets are currently offered in three unique colorways.

What We Like
Fantastic mix of light weight and trail performance: the Zeta offers 3-layer hardshell protection and breathability with a feature set that's been tuned for hiking and trekking.
The best-fitting hood we've tried—the StormHood is easy to adjust and provides excellent protection in bad weather.
The C-Knit backer has a soft feel that makes it very comfortable for a rain shell (and it's not crinkly).

What We Don't
At $425, the Zeta LT is very expensive for a rain jacket.
We prefer pit zips for strenuous hiking and in moderate conditions.
Higher pocket location isn't ideal for daily use.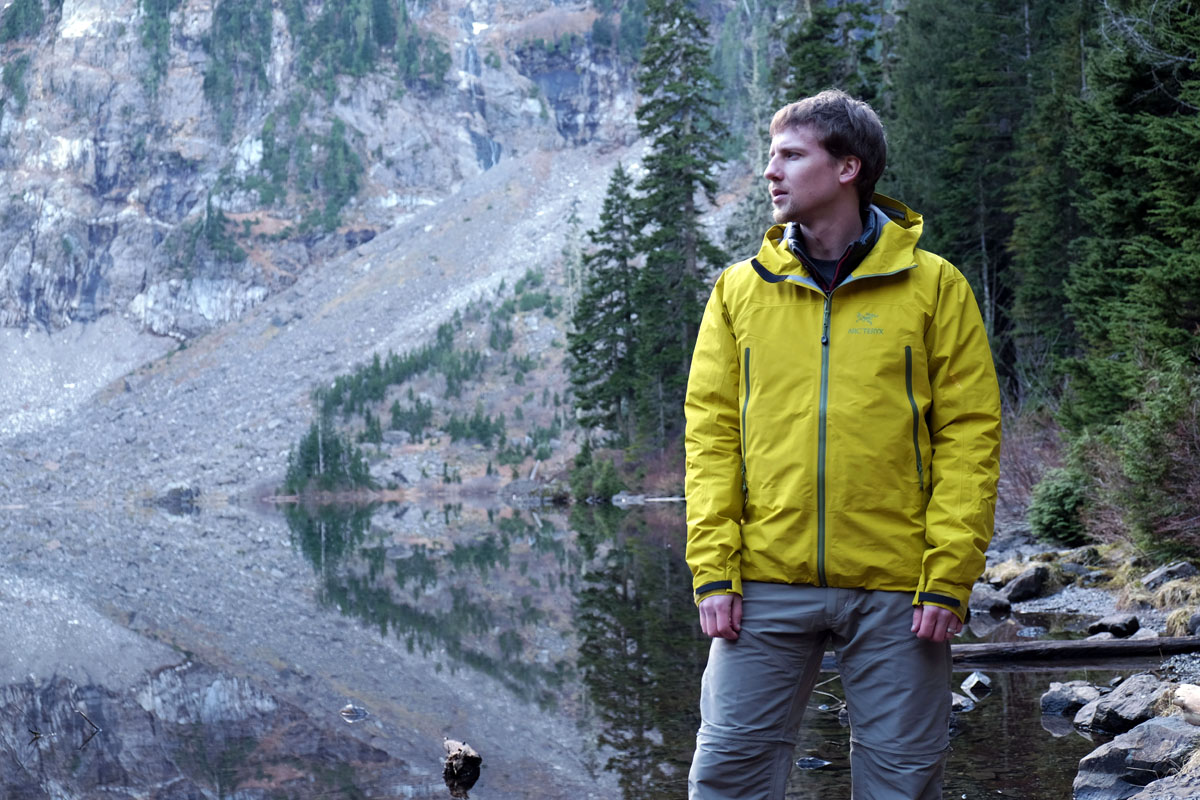 Comparison Table

The Competition
The Zeta LT is fairly unique in the rain jacket market with its premium, 3-layer hardshell-like build that doesn't compromise weight and packability. Another standout in this category is the REI Co-op Drypoint GTX, which features a similar 3-layer Gore-Tex construction (Gore-Tex Active, in this case) and offers excellent weather protection. Further, the Drypoint has a supple interior that's comparable to the Zeta LT's C-Knit, mesh-lined hand pockets that double as core vents, and an even lower weight than the Arc'teryx (10.5 ounces vs. the Zeta LT's 11.8). We prefer pit zips for added breathability and to retain the pockets for storing small items, but it's hard to fault REI for cutting significant weight. In the end, although we love the high quality of Arc'teryx products, the Drypoint is undeniably a stellar value at $249—a whopping $176 cheaper than the LT—and we give it the edge over the pricey and vent-less Zeta LT.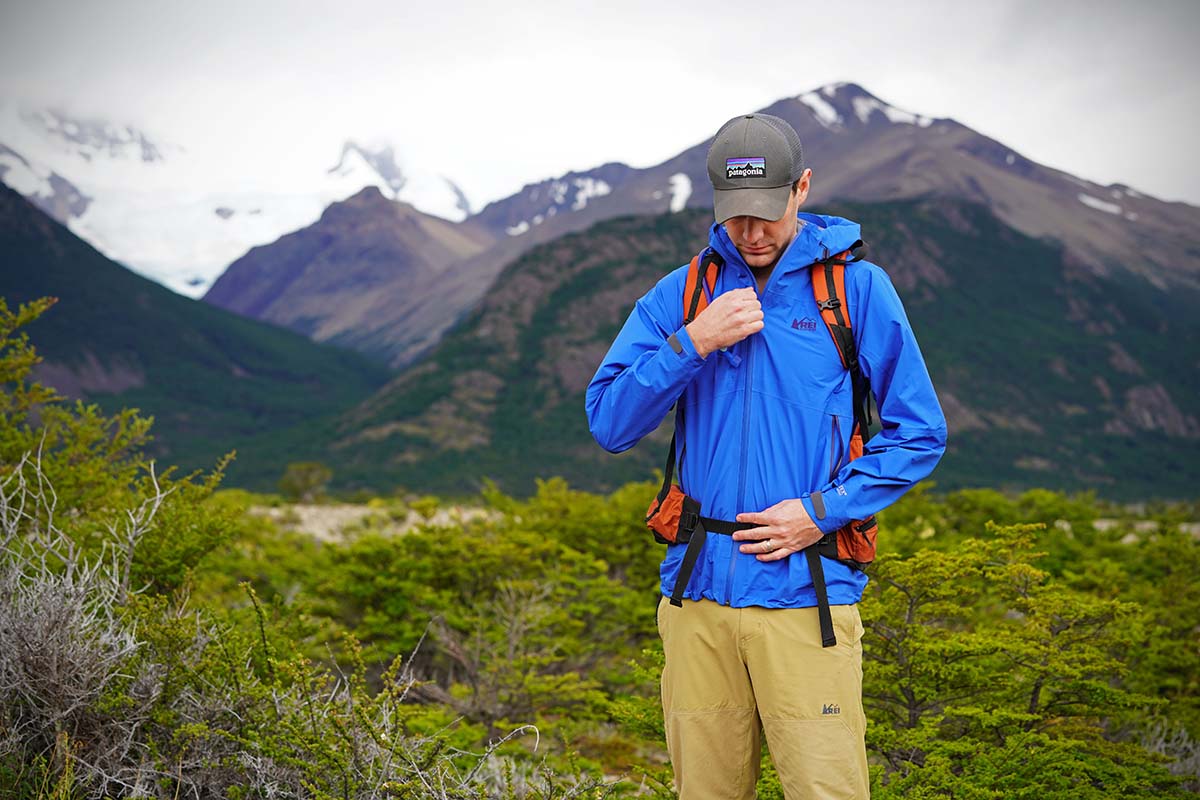 Another favorite rain jacket this season is the Marmot Minimalist: it performs well across the board and doubles as a nice everyday option, too. Unlike the Zeta LT and REI Drypoint, the Minimalist includes pit zips, which in our opinion is a major plus. However, at 14.9 ounces, the Minimalist is much bulkier and less packable than the Zeta LT, and its 2.5-layer Gore-Tex Paclite design isn't as bombproof as that of the 3-layer Arc'teryx. We also prefer the softer feel of the Zeta's C-Knit backer, its water-resistant zippers, and its hipbelt-compatible hand pockets (the Minimalist's ride lower which is good for everyday users but difficult to access under a pack or harness). All told, if you're looking for a solid all-rounder, we'd go with the Minimalist and save $236. However, if you instead prioritize performance and saving weight, the Zeta LT wins hands-down.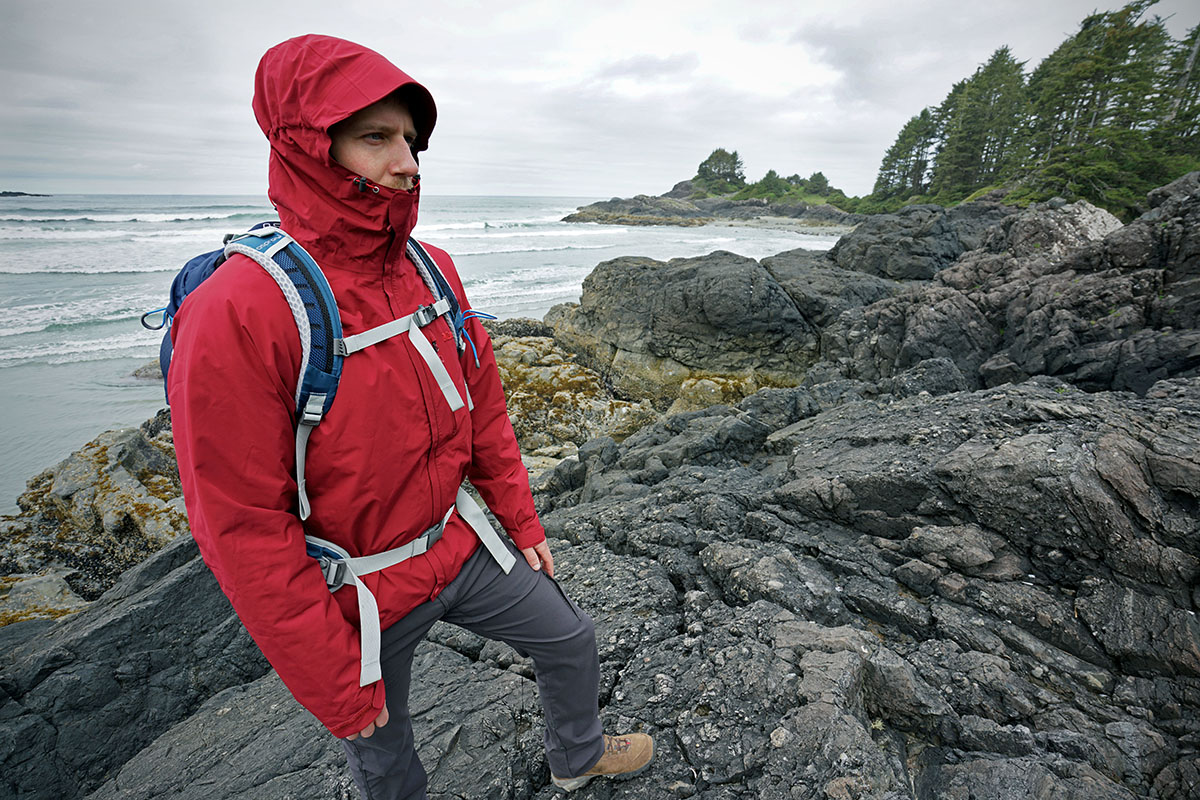 On that note, the Outdoor Research Interstellar meets these requirements: it's a more performance-oriented shell than the Minimalist with a 3-layer build and weighs 0.2 ounces less than the Zeta LT. Its hood is also helmet-compatible, its pockets don't get in the way of a hipbelt or harness, and—unlike the Zeta—it stuffs into its left-hand pocket for easy storage in a pack. Like the Arc'teryx, the Interstellar lacks pit zips to save weight, but we've found that OR's AscentShell is impressively breathable. The Zeta's addition of a C-Knit backer does add next-to-skin comfort, its shell is a little tougher, and its Gore-Tex protection is more weather-resistant overall, but it's debatable whether those advantages justify the $126 difference in price.
A final consideration is the rest of the hiking-specific Zeta line. True to form, Arc'teryx also includes the Zeta SL (superlight), FL (fast and light), and AR (all round). The $299, 2-layer Zeta SL (which uses Gore's Paclite Plus) is lighter than the LT at 10.9 ounces, made for summer trekking, and transitions nicely to daily wear. The FL ($325) is the lightest of the bunch at just 7.2 ounces. Similar to the SL, it has a 2-layer Gore-Tex Paclite Plus construction but with a thinner face fabric, trimmer fit, and minimalist feature set. Finally, the Arc'teryx Zeta AR ($475) is the top-end design, with the same Gore-Tex with C-Knit construction as the LT. Importantly, the AR has pit zips and a burly 70-denier face fabric (the LT has 40 denier), but this comes at a cost: it's the heaviest option at 15 ounces (for more information, see our in-depth Zeta AR review). In the end, we think the LT hits a nice sweet spot for protection and comfort, but the SL's significant price advantage makes it our favorite of the grouping.
If you're thinking about buying gear that we've reviewed on Switchback Travel, you can help support us in the process. Just click on any of the seller links above, and if you make a purchase, we receive a small percentage of the transaction. The cost of the product is the same to you but this helps us continue to test and write about outdoor gear. Thanks and we appreciate your support!
Depending on the seller, most products ship free in the United States on orders of $50 or more. International shipping availability and rates vary by seller. The pricing information on this page is updated hourly but we are not responsible for inaccuracies.
Learn More About Outdoor Gear