Arc'teryx Zeta AR
Price: $525
Weight: 15 oz. (men's)
Waterproofing: 3-layer Gore-Tex with C-Knit
What we like: Excellent weather protection, versatility, durability, and comfort.
What we don't: At $525, it's one of the most expensive hiking-focused shells on the market.
See the Men's Arc'teryx Zeta AR  See the Women's Arc'teryx Zeta AR
Sitting atop Arc'teryx's Zeta lineup is the Zeta AR ("all round"). Designed as a versatile and fully featured shell for trekking, the jacket performed extremely well throughout a thorough round of testing in Colorado's San Juan Mountains where weather moves in quickly and often unexpectedly. To be sure, the Zeta isn't the lightest or cheapest option available, but it's a great pick for hikers who need top-notch protection from the elements. Below we break down our experiences with the Zeta AR. To see how it stacks up to the competition, see our articles on the best rain jackets and best hardshells. 
 
---
Table of Contents
---

Performance
Water and Wind Protection
Most hiking-focused rain jackets are 2- or 2.5-layer designs, but the Arc'teryx Zeta AR features a premium 3-layer Gore-Tex with C-Knit construction. This translates to hardshell-like weather protection without the clammy feeling you commonly get with rain jackets, as well as better breathability and durability. During testing, the Zeta AR deftly fended off heavy winds, afternoon rain, and even the occasional southern Colorado hailstorm. Other weatherproofing measures include taped seams and a durable water repellent (DWR) finish, which made heavy rain and hail bead up and roll off the shoulders and hood during sustained storms.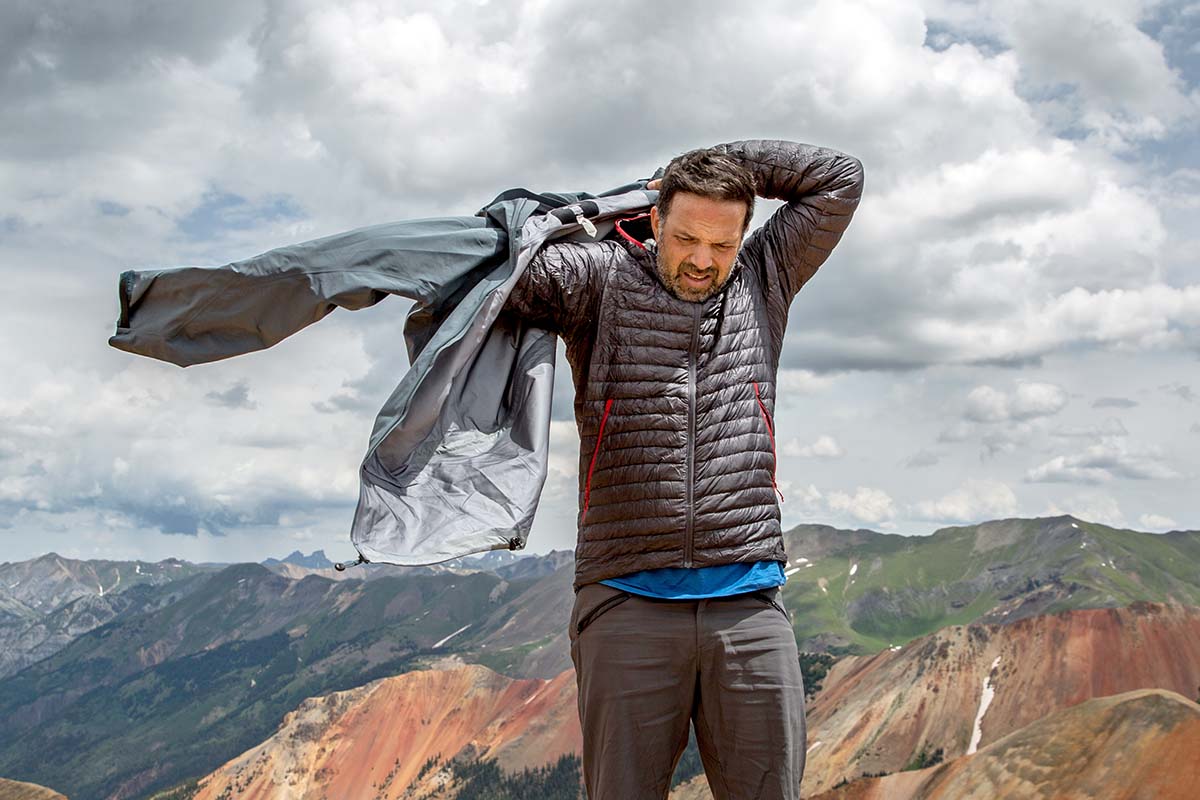 The Zeta AR also is packed with Arc'teryx's typical weather-resistant features, including WaterTight zippers, an adjustable hem and hood, and Velcro cuffs. While setting up camp during another testing excursion in British Columbia's Cathedral Provincial Park, we were suddenly hit with a wet and windy rainstorm that had me hurriedly throwing on the Zeta AR. By tightening the Velcro cuffs around my wrists and cinching the hood and hem drawcords, I was able to quickly and effectively seal out the weather and stay dry. It wasn't the most ideal start to our camping trip, but the shell kept me far happier and more comfortable than I would have been otherwise.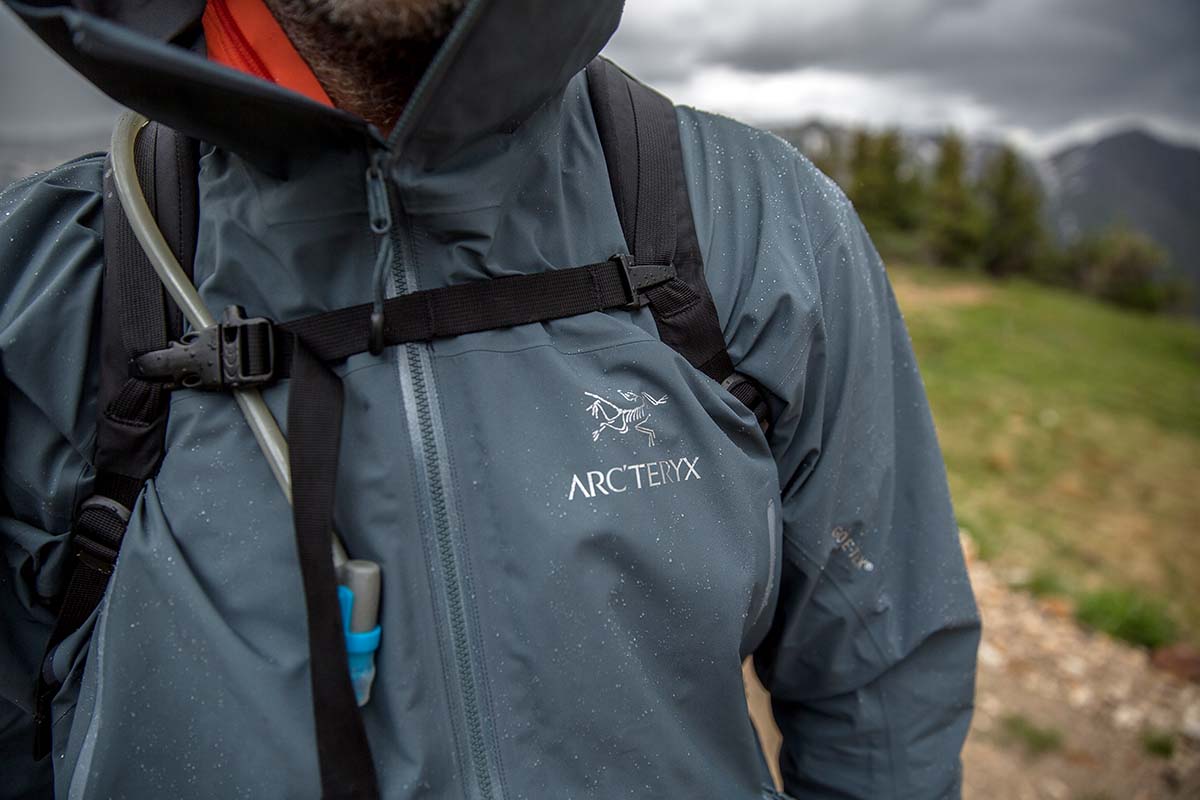 Finally, the Zeta's AR's trim-fitting StormHood has proven to be a very capable barrier against the elements. It features a well-structured, laminated brim that doesn't get floppy or fall in my face. Additionally, the tall collar is great for tucking my chin and nose into when wind or rain pick up, and the microsuede chin guard is a nice, soft touch. In sum, the late afternoon thunderstorms typical to the San Juan Mountains of Colorado were no match for the Zeta AR. In fact, the jacket as a whole is so weatherproof and protective that I would rely on it as a backcountry ski shell, which is saying a lot for a piece that's designed for less demanding activities like hiking. The only downside here would be the low-profile hood, which comfortably fits a climbing helmet but is too tight for a larger ski helmet (more on this below). It would work in a pinch, but it's not the best option.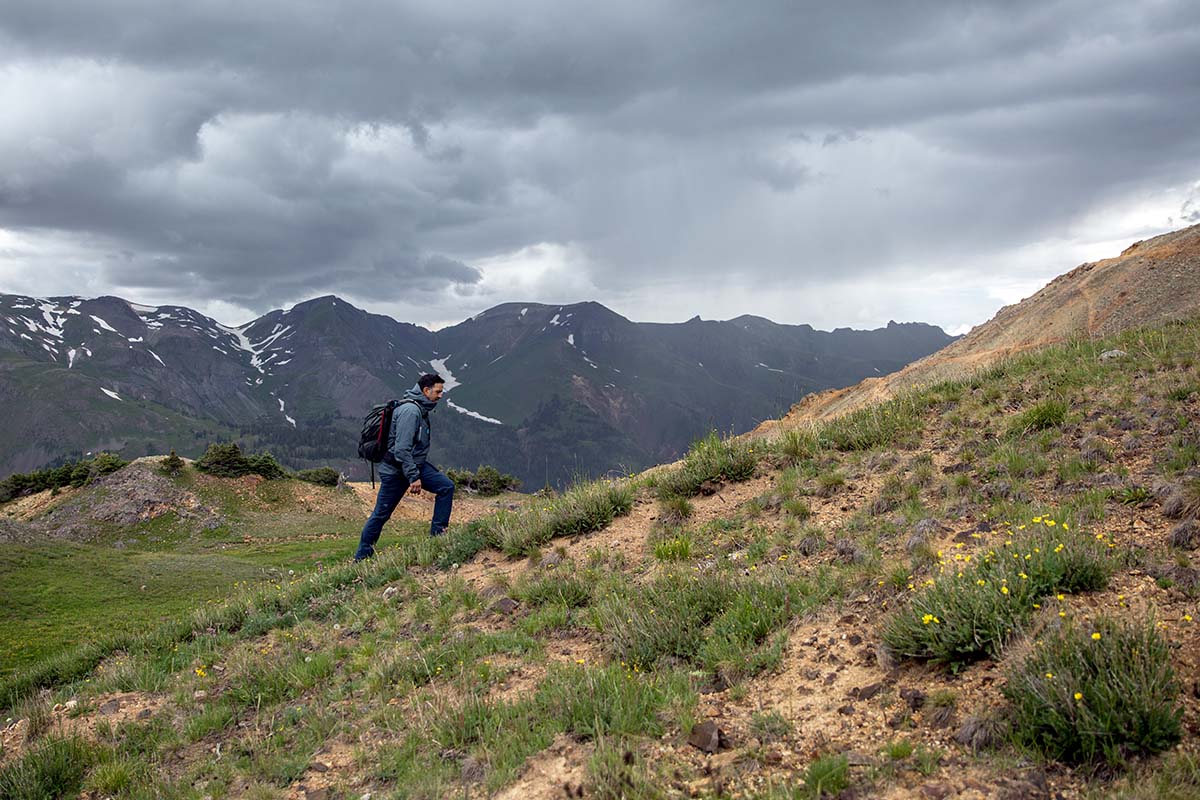 Breathability
I run far too warm to wear a hardshell during high-output activities, so I typically relegate jackets to my pack and pull them out when the weather takes a severe turn or to block wind at camp. That said, when conditions worsened while hiking at 12,500 feet in the San Juans, I had no choice but to don the Zeta AR while clambering up a steep slope. The 3-layer Gore-Tex with C-Knit construction, along with opening the pit zips and front zipper a bit, prevented me from overheating and kept sweating to a minimum. I was still warm, but I remained drier with the shell on than with others I have tested in the past.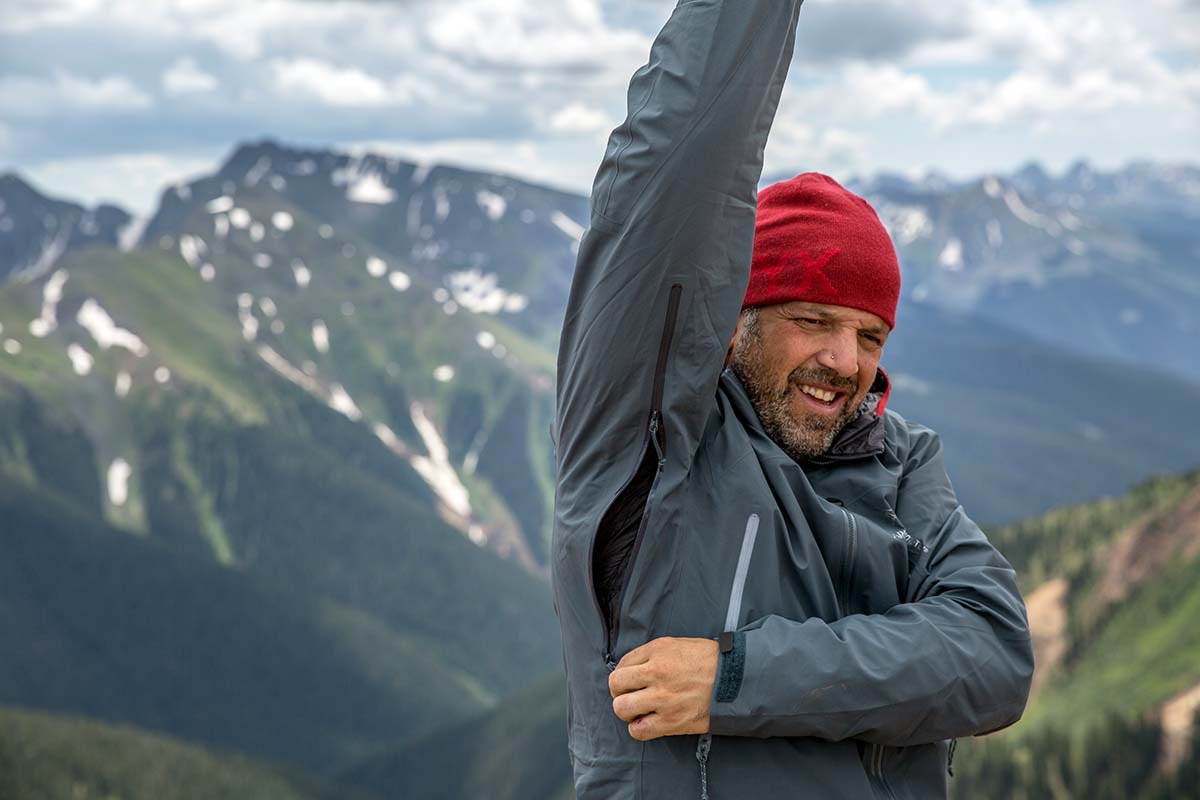 Weight and Packability
At 15 ounces, the Arc'teryx Zeta AR is the heaviest option in the Zeta lineup but still reasonably light given its feature set and construction. You can go lighter with a jacket like the REI Co-op Drypoint GTX (10.5 oz.), but that jacket sacrifices pit zips (it does have core vents) and isn't as mountain-ready as the Zeta. Within the Zeta family, the Zeta FL (7.2 oz), SL (10.9 oz.), and LT (11.8 oz.) undercut the AR, though they also forego pit zips and are less durable. And looking outside of Arc'teryx's in-house collection, competitors like the Black Diamond Highline Stretch (12.7 oz.) and Patagonia Pluma (14.6 oz) also check in a little lighter. Finally, in terms of storage, the Zeta AR easily packs down into its own hood. In practice, I often packed the jacket into its hand pocket even though it isn't specifically designed to double as a stuff sack (it doesn't have a two-sided zipper).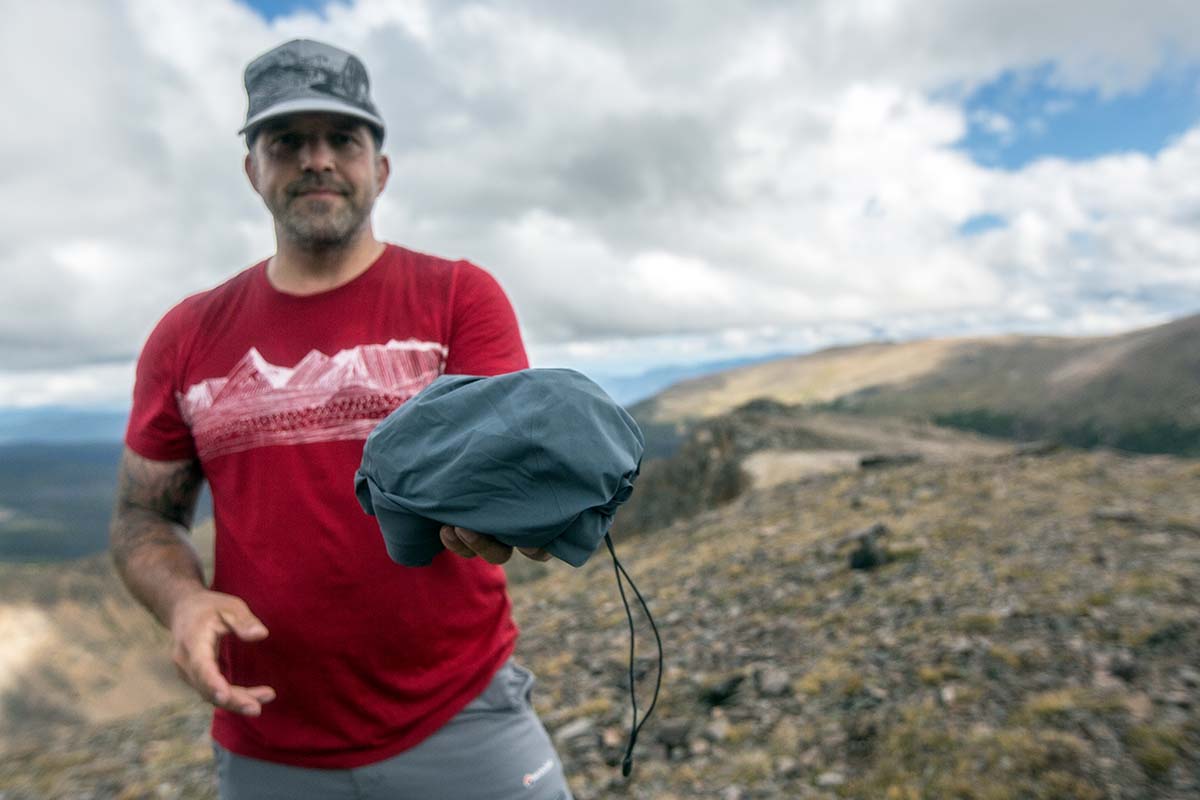 Build Quality and Durability
Arc'teryx hardshells rarely let us down when it comes to durability, and the Zeta AR is yet another hardwearing, well-made jacket. With a 70-denier face fabric, the Zeta feels very robust and has held up impressively well to alpine hiking, scrambling, and multi-day backpacking with a heavy pack. Further, attention to detail is superb with features like a microsuede chin guard, smooth WaterTight zippers, and 1.6mm micro-seam allowance to reduce weight and bulk. After extensive testing, the Zeta AR has shown no wear or damage from my pack's shoulder straps or hipbelt, there have been no snags or tears, and no moisture has penetrated the shell or even the outer DWR finish.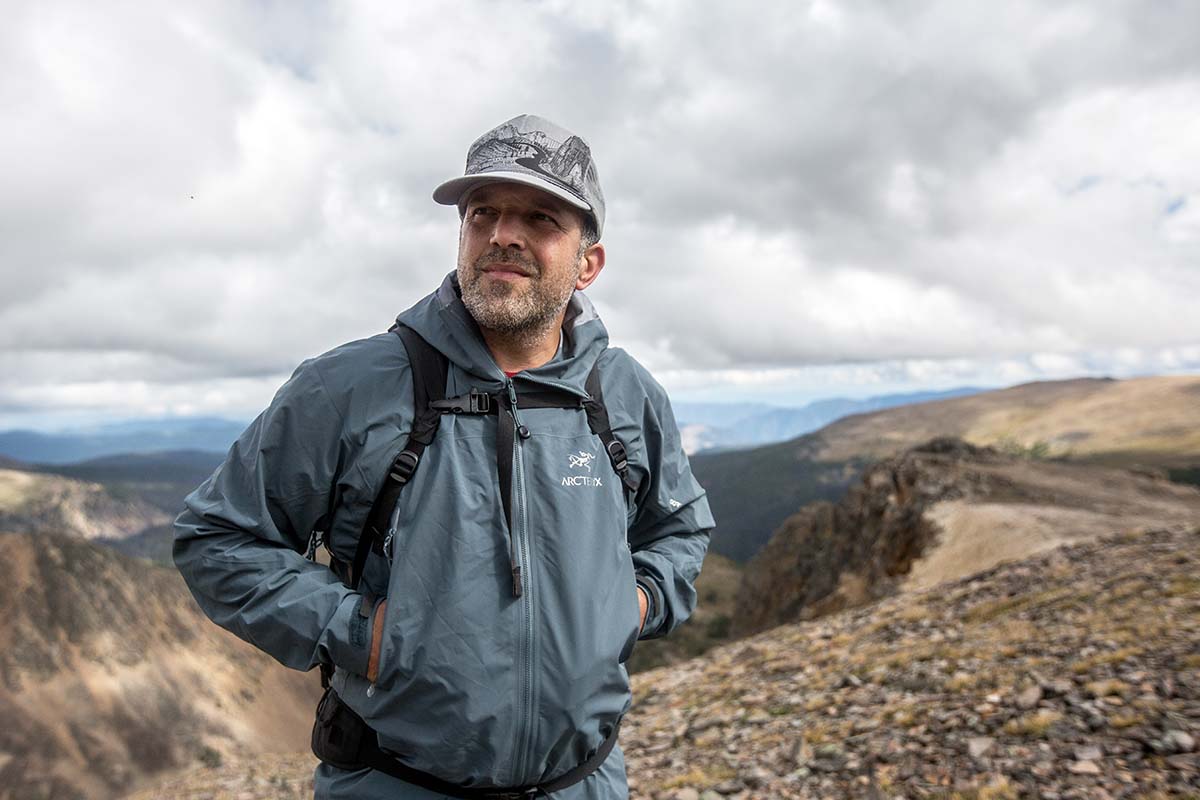 Key Features
Hood
For hiking use, the Zeta AR's low, trim-fitting StormHood provides ample protection. Compared to Arc'teryx's traditional StormHood (found on their more premium and purpose-built hardshell jackets), the Zeta AR's is smaller and only has one drawcord for adjustment. That said, it's still easy to cinch down over a hat or ballcap, is able to withstand very heavy winds without blowing off, and fits nicely over my climbing helmet (although it's too snug and restrictive for a larger ski helmet). Adjusting the hood wasn't a particularly easy task with big gloves on—particularly when trying to loosen it—but I was able to manage.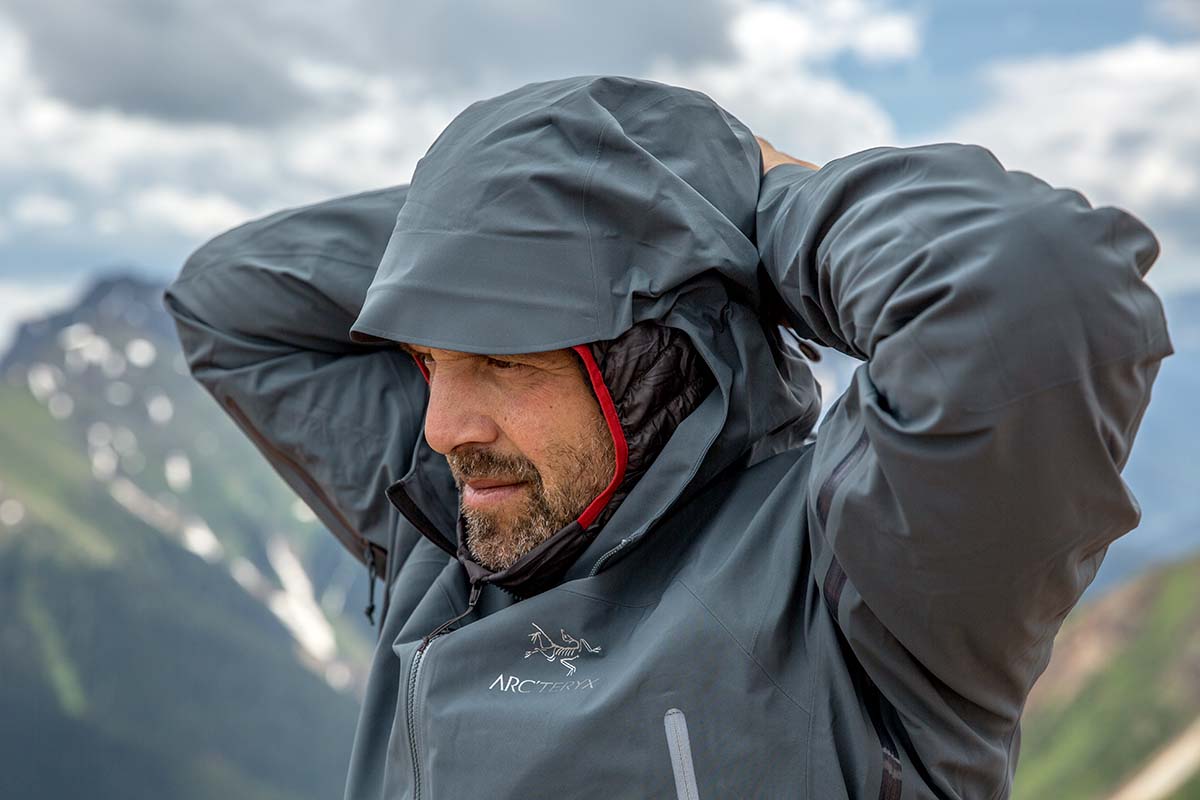 Storage: Pockets
The Zeta AR sports two hand pockets and a single internal chest pocket. Simply put, the hand pockets are massive. I had ample room to stow my gloves, maps, a Garmin inReach device, and any other assortment of small items that I wanted easily accessible. Surprisingly, I even managed to stuff my Canon 70-200mm lens in the hand pocket while shooting in poor conditions—the first time I've ever been able to do that. In terms of layout, the hand pockets are located mid-torso and I was able to easily access them while wearing a pack (they sit between the hipbelt and sternum strap). Finally, the small internal chest pocket was ideal for storing valuables like a smartphone or wallet.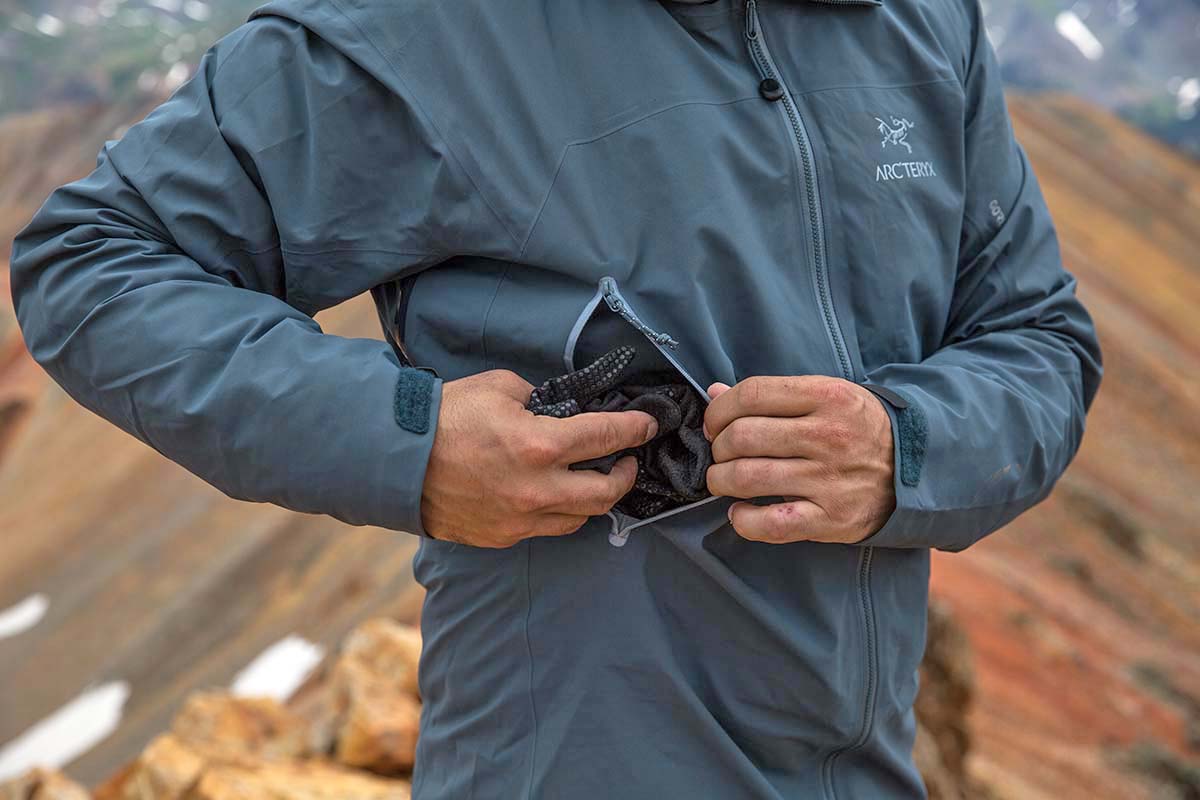 Fit, Sizing, and Comfort
Like many Arc'teryx performance jackets, the Zeta AR is labeled as "trim" fit, but I found that it was one of the more accommodating pieces I've worn. In use, it was slightly roomier than the Zeta SL (also "trim" fit), particularly in the shoulders. On the other hand, it didn't feel quite as boxy as the Beta AR ("regular" fit). Combined with the gusseted underarms and articulated elbows, the extra space allowed for comfortable layering and great mobility. And comfort-wise, the Gore C-Knit backer is impressively quiet, soft, and not clammy against the skin. I tend to wear just a merino t-shirt when hiking and find that most hardshell jackets feel plasticky on my arms when damp, but that wasn't the case with the Zeta AR.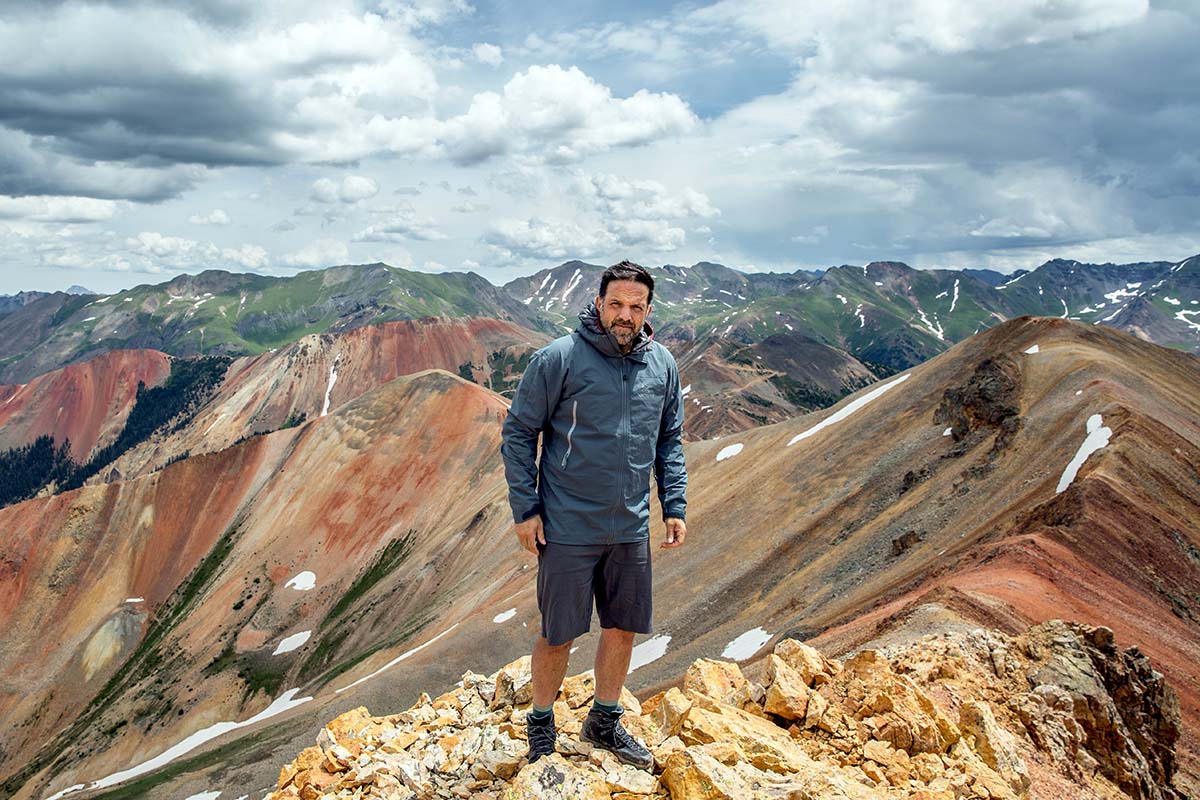 In my opinion, center back length also is very important to consider when discussing fit. At 32.25 inches, the Arc'teryx Zeta AR is longer than options including the Zeta SL (30.6 in.) and Beta AR (30.4 in.) and features a slight drop hem that adds extra thigh coverage when sitting on logs or rocks. In practice, this added length helped keep my baselayers from getting wet—a major problem when I'm hunched over on a bike—and left plenty of room under the hipbelt of a pack to minimize bunching and riding up. As an unintended bonus, the longer hem also effectively seals out bugs all summer.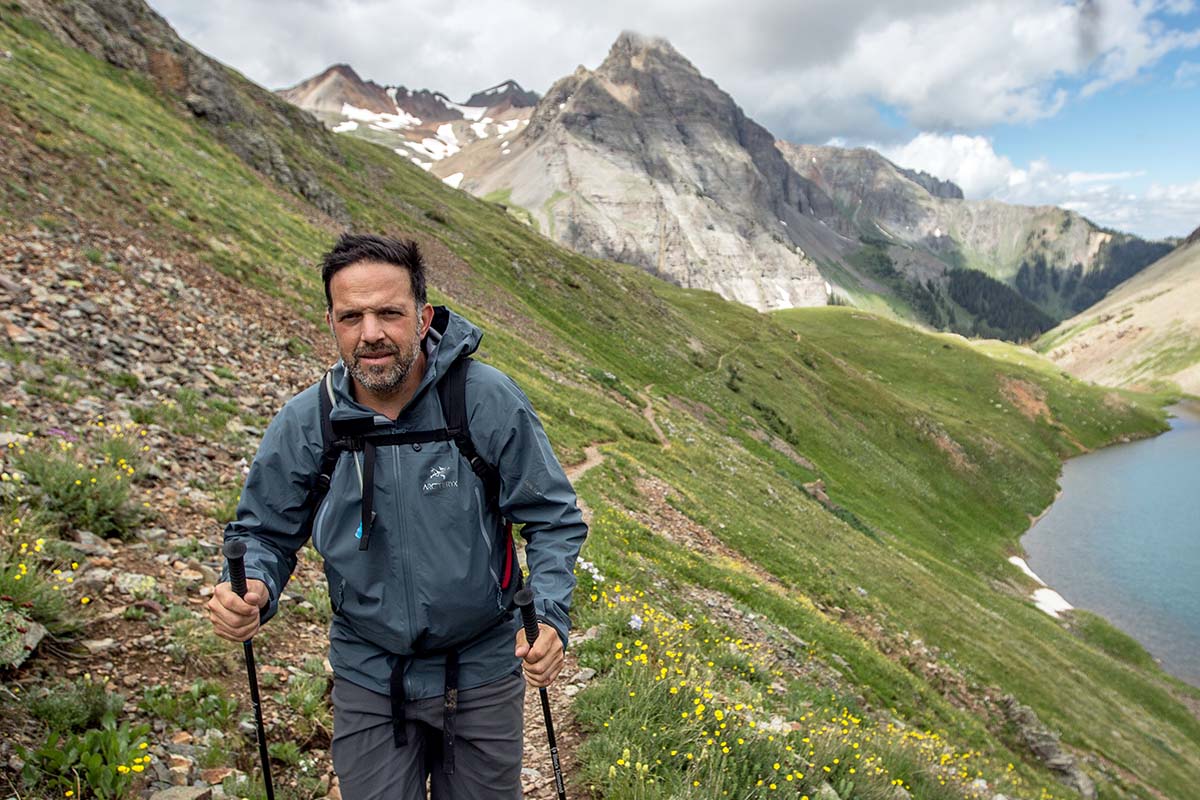 Women's Version of the Arc'teryx Zeta AR
We put the men's Zeta AR through its paces in Colorado and Canada, and Arc'teryx makes the same jacket in a women's-specific version. The women's Zeta AR costs the same at $525, clocks in a bit lighter at 13.8 ounces, and features the same 3-layer Gore-Tex with C-Knit construction as the men's model. The women's version also shares an identical feature set: pit zips for dumping heat, WaterTight zippers for protecting the pockets, and a low, trim-fitting StormHood. Colorways differ slightly, although you get four options to choose from with both the men's and women's jackets.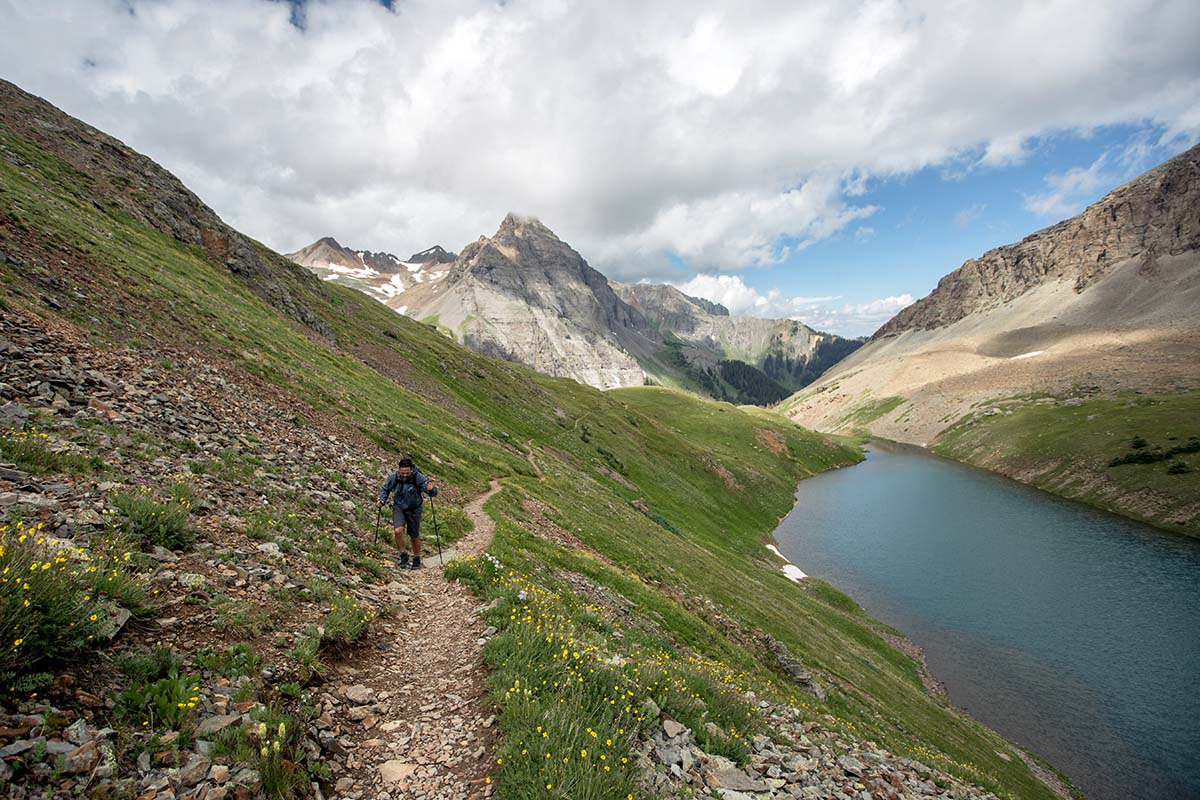 What We Like
With a feature-rich build and accommodating fit, the Zeta AR is a versatile and tough shell for a variety of activities and seasons.
Excellent protection from wet weather and wind. 
Build quality is second to none.
Gore-Tex with C-Knit construction is soft and supple against the skin, and great when paired with just a t-shirt, which many hikers will appreciate.
 
What We Don't
At $525, the Zeta AR is one of the most expensive hiking-focused shells on the market.
Low, trim-fitting hood is a little more restrictive and less versatile than Arc'teryx's traditional StormHood found on its hardshells.
Muted color selection.


Comparison Table

The Competition
At $525, the Arc'teryx Zeta AR doesn't have a lot of direct competition, with most hiking-focused shells coming in around half the price or less. However, those looking at the Zeta AR should also consider the rest of the Zeta family. From this lineup, the Zeta SL ("superlight") is more of a fastpacking shell with a fitted cut in a lighter-weight package (10.9 oz.). It also features Gore's Paclite Plus technology in a 2-layer build, which is noticeably less bombproof than the 3-layer construction of the AR. The FL ("fast and light") is even more minimalist than the SL, with a scant 7.2-ounce weight, shorter center back length, and thinner 20-denier shell. In the end, both the SL and FL make sense for minimalists and ounce-counters, but the AR is the more complete and protective design.
Unlike the SL and FL, the Arc'teryx Zeta LT ("lightweight") shares the same Gore-Tex with C-Knit construction as the AR. In parsing out the differences between the two shells, the LT is less durable with a 40-denier face fabric (compared to the burly 70D on the AR), and the AR is the only Zeta that sports pit zips. Again, you save a bit of weight with the LT (it checks in at 11.8 oz.) and it's a little less expensive at $475, but unless your main concern is shaving ounces, we think the AR is the more well-rounded Zeta.

Another Arc'teryx jacket to consider is the Beta SL Hybrid. The SL Hybrid is much more of an all-rounder with a helmet-compatible StormHood, and its hybrid waterproofing (2-layer Gore-Tex with Paclite Plus with 3-layer Gore-Tex in high-wear areas) does an excellent job of sealing out weather. The jacket has a shorter cut (30-inch back length compared with the Zeta's 32.25 inches) and its 40- and 42-denier face fabric isn't as burly as the 70-denier Zeta AR's, but we haven't had any issues after extensive outdoor use (for more, see our in-depth Beta SL Hybrid review). In the end, the Zeta is a great and very weather-worthy hiking shell, but if you don't mind a little less coverage, we can't help but love the Beta's versatility at a lower cost ($425).
Outside of Arc'teryx's offerings, the Black Diamond Highline Stretch is another 3-layer, mountain-ready design. As its name suggests, the Highline is stretchier with a 3-layer BD.dry (Black Diamond's proprietary waterproofing) construction, lighter at 12.7 ounces, and cheaper at $299. Importantly, it also retains helpful features like pit zips and a climbing helmet-compatible hood. However, the BD's build is no match for Gore-Tex in truly rough conditions, giving the Zeta the edge when it comes to outright protection. But for those on a budget or who don't need the Zeta's bombproof weatherproofing, the Highline will save you a good chunk of change. 
As we touched on above, the Zeta AR doesn't have many competitors in its price range, but Patagonia's Pluma is a similarly premium alternative. Right off the bat, we'll note that the Pluma is more of an alpine-focused, technical piece with Gore's upgraded Pro waterproofing, harness-compatible pockets, a highly adjustable hood, and an all-in weight of 14.6 ounces. It also incorporates Gore's Microgrid Backer for added comfort and breathability during high-output pursuits, and you get one more pocket at the outer chest. However, the Pluma is thinner than the Zeta at 40 denier, crinklier with the Pro shell fabric, and costs an additional $24. But for the utmost protection in harsh alpine conditions, the Pluma is a well-built and highly capable option.
If you're thinking about buying gear that we've reviewed on Switchback Travel, you can help support us in the process. Just click on any of the seller links above, and if you make a purchase, we receive a small percentage of the transaction. The cost of the product is the same to you but this helps us continue to test and write about outdoor gear. Thanks and we appreciate your support!
Depending on the seller, most products ship free in the United States on orders of $50 or more. International shipping availability and rates vary by seller. The pricing information on this page is updated hourly but we are not responsible for inaccuracies.
Read More From Switchback Travel