Patagonia Down With It Parka
Price: $349
Fill: 8.5 oz. of 600-fill down
Weight: 2 lb. 5 oz.
What we like: Patagonia's typical performance and quality in a warm, stylish, winter-ready parka.
What we don't: Not as weather-resistant as we'd like.
See the Patagonia Down With It Parka
Patagonia's high-performance and responsibly produced outerwear is known both for excellent protection from the elements and looking good in the process. Their casual Down With It Parka follows suit, bringing Patagonia design to a daily winter jacket. We wore the Down With It Parka during a particularly snowy and cold winter in Bend, Oregon, and came away impressed with its sleek lines, impressive insulating abilities, and unparalleled quality and durability. To see how it stacks up, see our articles on the best women's winter jackets and best women's down jackets.
Editor's note: The Patagonia Down With It Parka has been updated since our review, with minor changes to both the style and materials. The newest version of the Down With It Parka now features 8.5 ounces of 600-fill recycled down, diagonal baffles, a slightly longer (39.3-in.) hem, and a PFC-free DWR finish. Due in part to the lower-fill-power down, it's also heavier at 2 pounds 5 ounces. The Down With It Parka now retails for $349.
 
---
Table of Contents
---

Performance
Warmth
Patagonia's Down With It is an extremely warm parka that can handle the depths of winter in the some of the coldest climates. First, you get 600-fill-power down, which provides excellent loft and warmth, especially when compared to synthetic insulation. Second, the Down With It Parka is stuffed with 8.1 ounces of down, also known as the fill weight (note: the newest version has 8.5 oz. of 600-fill-power down). Few manufacturers in the winter parka category provide fill weight, which makes apples-to-apples comparisons difficult. But in practice, we can say that the Patagonia is slightly warmer than Marmot's popular Montreal and notably warmer than The North Face's Metropolis Parka. If you run cold or plan on spending time in frigid winter climates, the Down With It should be up to the task.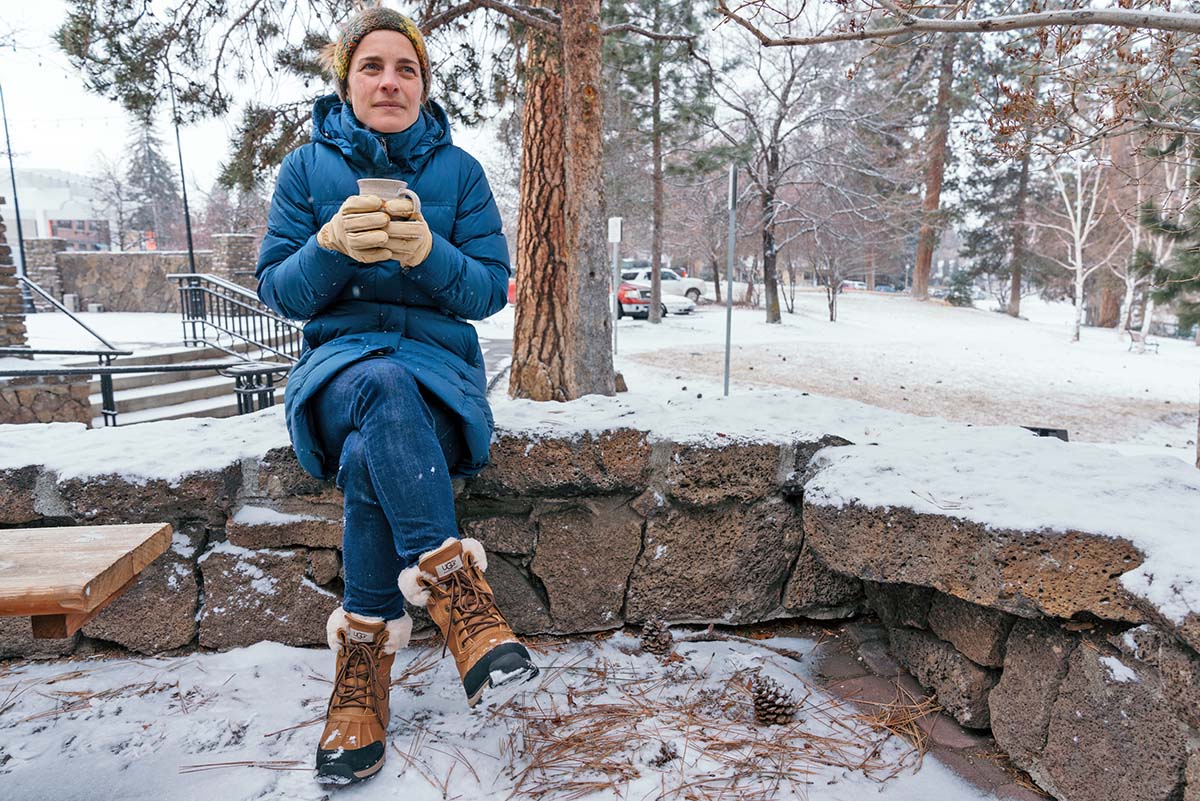 The length of your winter parka is another key factor in evaluating warmth, and coverage around the midsection and upper legs can vary significantly between models. For example, measuring down the center back, Marmot's Montreal is just 33 inches in length, whereas the Down With It Parka is a notable 5 inches longer at 38 inches (the redesigned jacket has a 39.3-in. length), extending to the knees as opposed to the Montreal's thigh-length fit. There are pros and cons here: the Montreal is better for movement with less jacket getting in the way of walking and other activities, but the Patagonia undoubtedly wins out in the warmth department. It provides far more coverage when sitting down, bending over, or standing for extended periods of time. It is worth noting that Patagonia makes a shorter jacket version of the Down With It that extends just 30.25 inches down the center of the back and has more of a hip-length cut.
Last but not least, Patagonia included a few nice features that help boost the warmth factor. The generous hood cinches tightly around the head to seal out the cold, a fleece-lined collar provides next-to-skin comfort and added coziness, and a mostly seamless liner provides a solid layer of reinforcement behind the external baffles, preventing wind from getting past the external stitching. In addition, the front two-way zipper is covered with a protective flap, keeping warm air in and cold air out (the Marmot Montreal lacks this heat-trapping feature). If you're looking to seal out the elements, The Down With It Parka does a darn good job at it.

Water and Wind Protection 
The Patagonia Down With It Parka offers great protection in snowy and windy conditions: think winter in places like Minneapolis or Chicago. Down is a great insulator and can serve as an excellent wind barrier, but a few features allow the Down With It to resist wind better than comparable baffled jackets. As mentioned above, the interior provides an extra layer of protection against wind and escaping heat, and a flap covers the front zip and keeps gusts from entering. These features provide a bump in wind protection from jackets like the Marmot Montreal (which does not have a covered zipper) and The North Face's Metropolis (which lacks both a front flap and an interior lining).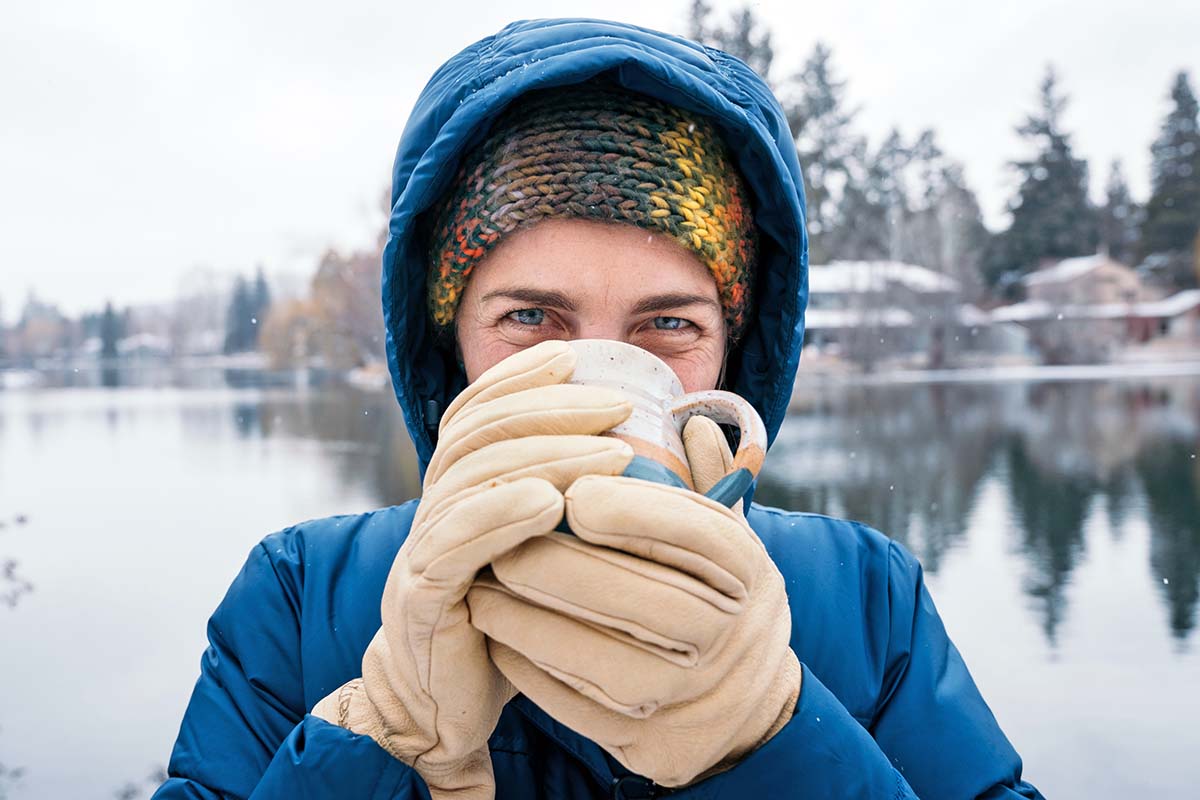 In terms of wet-weather protection, the Down With It's 100%-recycled polyester shell is coated in a durable water repellent (DWR) finish (PFC-free in the latest version), keeping light moisture from penetrating the jacket. In our testing, water beaded on the external fabric and quickly rolled off, leaving no trace of wetness. Keep in mind that the DWR finish was fresh on our new jacket and will wear away over time (but can always be refreshed with a machine washing or reapplication). It's also important to remember that a DWR finish does not mean a jacket is waterproof; rather, it implies that a jacket can resist moisture for short periods of time. Think puddle splashes, light rain showers, or sustained contact with dry snow.
Finally, the Down With It does not feature hydrophobic down, meaning that if water gets past the outer shell, the down will get wet, losing its loft and insulating abilities. With hydrophobic down, the Marmot Montreal is a better choice for wet climates—but still pales in comparison to the wet-weather performance of jackets with waterproof membranes such as the Arc'teryx Patera or The North Face Arctic Parka.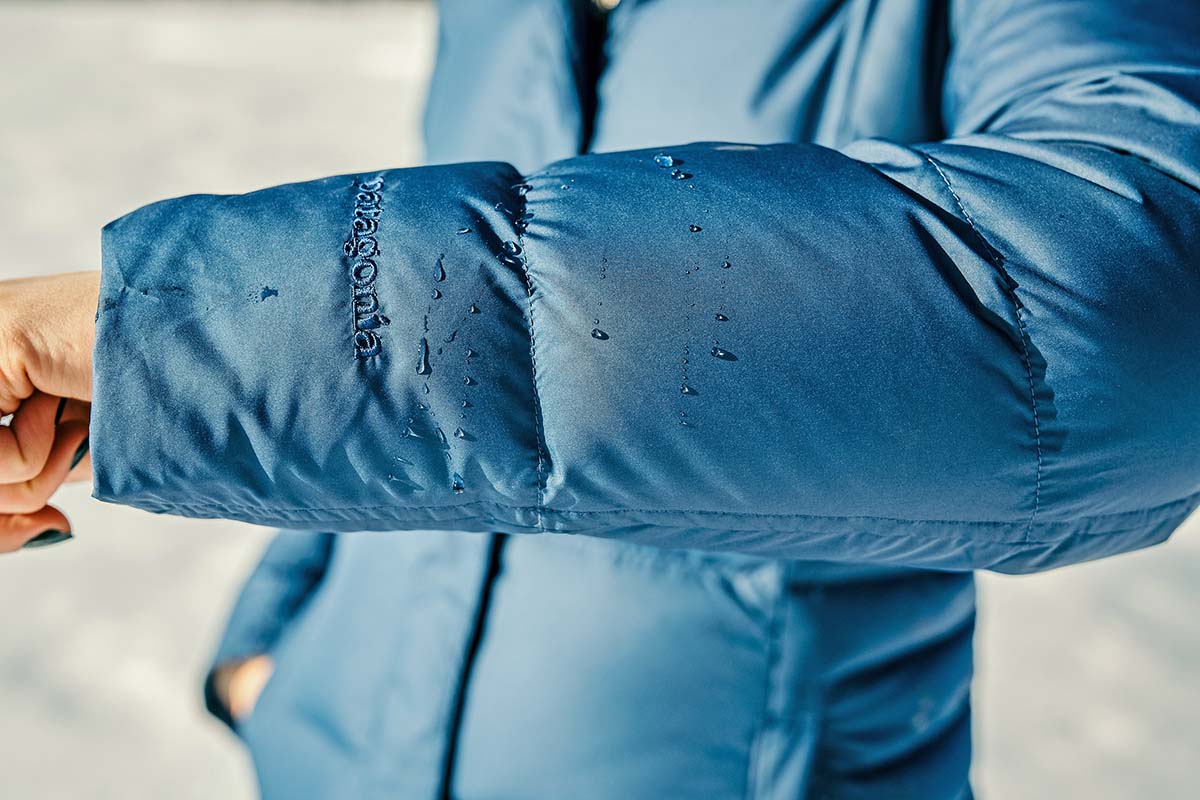 Features
Hood
The Patagonia Down With It Parka features a down-insulated hood with simple and glove-friendly adjustments along the sides that allow you to cinch it close to your face during particularly cold or gusty weather. Most comparable parkas have a removable hood, and Patagonia follows suit with a hood that attaches via a series of simple snaps. We generally prefer a zipper attachment over snaps—it's simpler to attach and remove, and does not leave gaps for cold air to enter. Patagonia addresses the latter issue with a narrow internal flap that functions both to keep cold air from entering through the gaps between the snaps and to cover the snaps when the hood is removed. Furthermore, a fleece-lined collar adds next-to-skin comfort and warmth, regardless of whether or not you have the hood attached.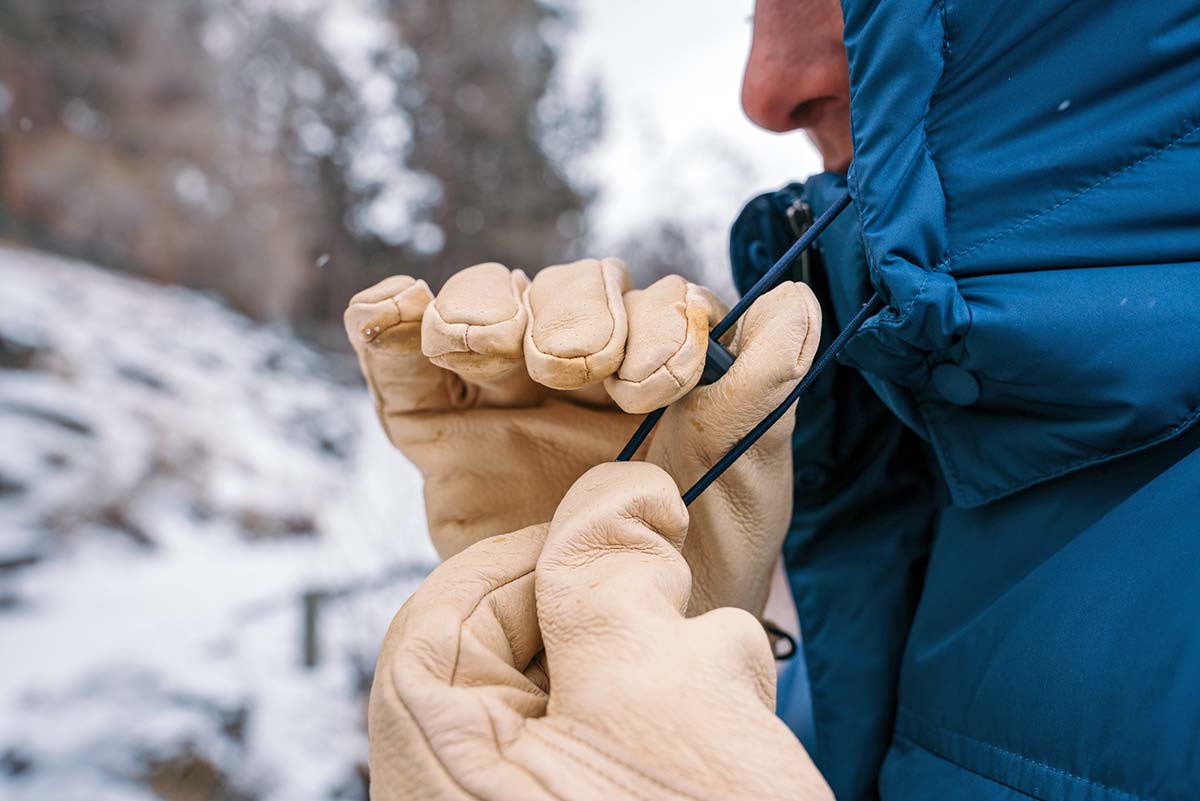 Cuffs
Patagonia keeps it simple with the cuffs on the Down With It, opting for tapered arms and down baffles that extend all the way past the wrists. While streamlined and visually pleasing, we find that these cuffs lack the heat-trapping and weather protection we like from our winter jacket. They'll do the trick when paired with gloves that extend past the wrist, but for truly cold weather, we prefer internal gaskets (such as those found on the Marmot Montreal or The North Face's Arctic) or Velcro straps along the cuffs that keep out snow and cold air.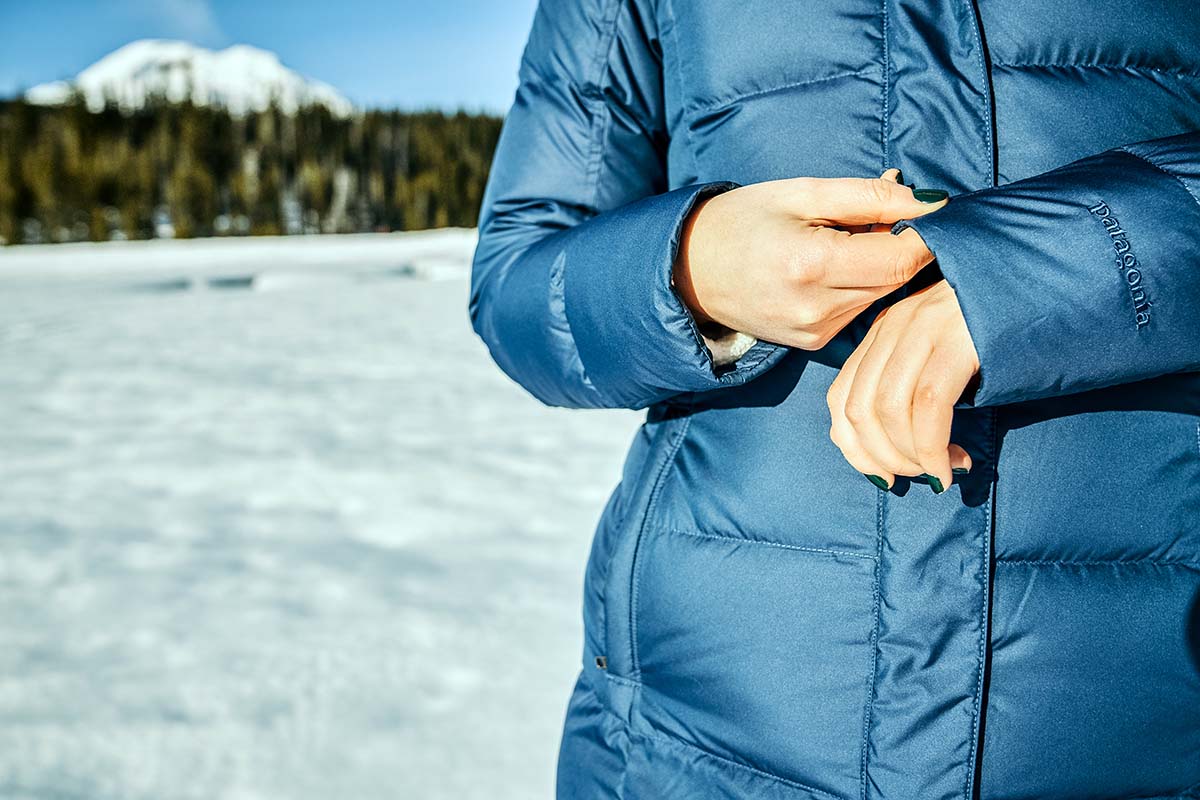 Pockets
The Down With It features two generously sized handwarmer pockets that are both insulated and lined with fleece for added comfort. These zippered pockets are welted for extra style points and come with relatively long zipper pulls for glove-friendly access (a hole at the end of the zipper pull also allows you to attach a longer piece of cord for even more convenience when wearing thick winter gloves or winter mittens). The parka also features a large internal zippered chest pocket for keeping valuables safe and warm, which we appreciate.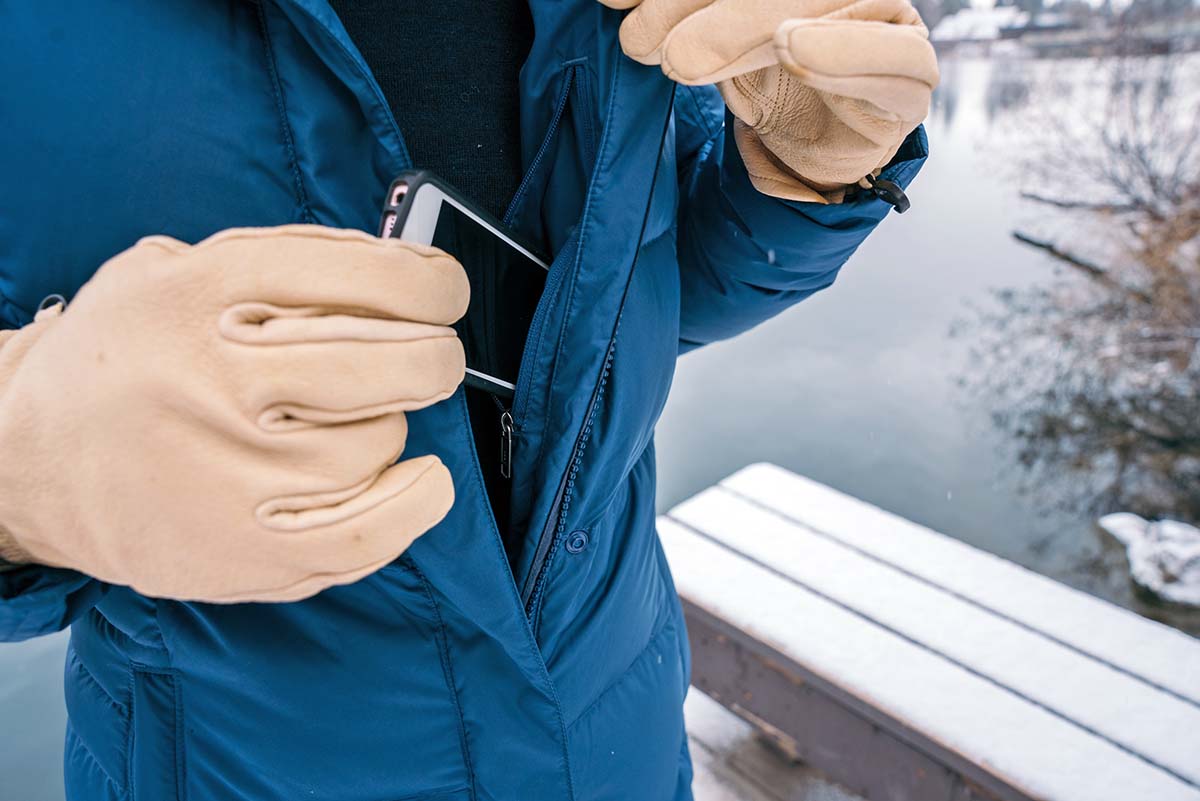 Length
The Down With It is a knee-length parka that measures 38 inches down the center back panel (the redesigned model measures 39.3 in.). Held up against comparable models, the Patagonia's length is on the longer side. The North Face's Arctic and Metropolis parkas are 35.8 and 37 inches respectively, and the Arc'teryx Patera Parka comes in at 39.3 inches. On the other hand, Marmot's thigh-length Montreal is a notable 5 inches (now over 6 in.) shorter than the Patagonia at 33 inches total. With more length you get more insulation over the legs and more coverage when bending over or sitting down, which means more warmth overall. However, you do sacrifice some freedom of movement when opting for a longer jacket. All in all, it's a matter of personal preference, although we do recommend longer jackets like the Down With It for truly cold weather.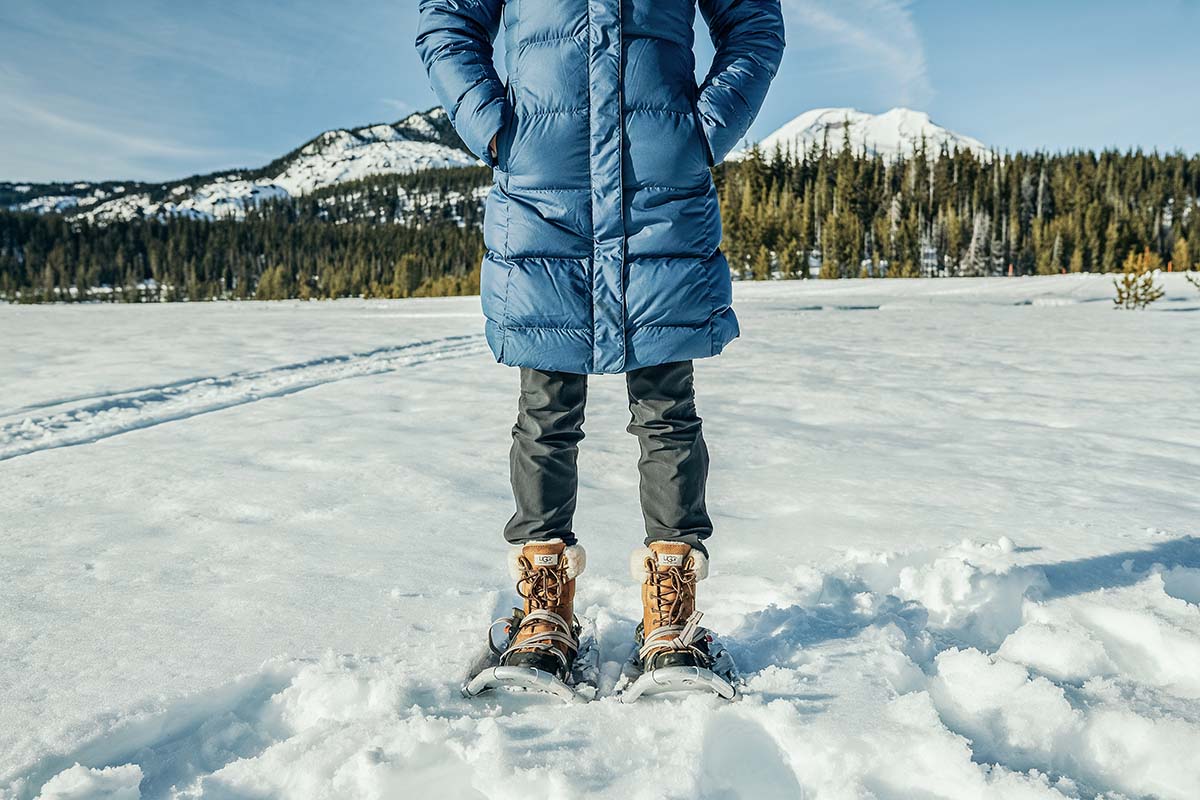 Construction and Durability
Patagonia almost always impresses in terms of design and build quality, and their Down With It Parka is no exception. The jacket features robust zippers and a thick and durable face fabric, and the shell is showing no signs of wear after a winter of use. Compared to the 1.8 ounce-per-yard fabric of the Marmot Montreal, the Down With It features a 2.3-ounce (2.2-oz. in the latest version) shell that is noticeably thicker and more durable. Furthermore, the stitching is immaculate with no escaping feathers, and features like the welted pockets and princess seams give the jacket an extra dose of style and shaping. And to top it all off, both the down fill and polyester shell are made with recycled materials—one more way that Patagonia leads the industry in sustainability and environmental consciousness.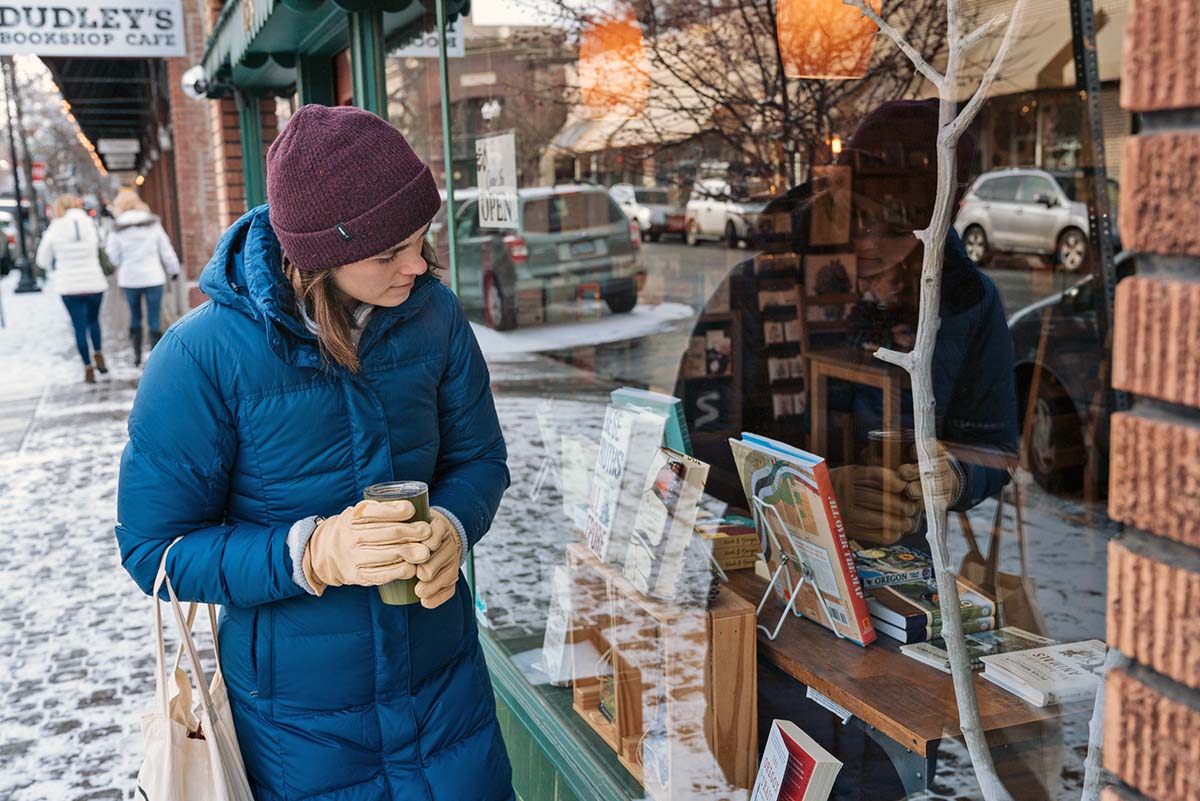 Weight and Packability 
For a jacket that's meant to be used in town, weight and packability might not be your biggest concern. However, whether you're taking a trip to a colder climate or packing winter clothes away for the summer, the ability to compress your jacket certainly doesn't hurt. The Down With It is impressive in this respect: it can pack down to about the size of a basketball, and at 1 pound 14.8 ounces, is extremely lightweight for the warmth and coverage it provides (the new model is heavier at 2 lb. 5 oz.). You'll find many other winter jackets to be bulkier and more difficult to transport (The North Face's Arctic Parka and Arc'teryx's Patera Parka being prime examples). Furthermore, the Down With It's low weight makes it feel cozy and flowy, unlike the weightiness of the Arctic, a jacket that's actually made our shoulders sore after a few hours of use. And impressively, the Patagonia is a warmer jacket than the 2-pound-2.2-ounce Marmot Montreal.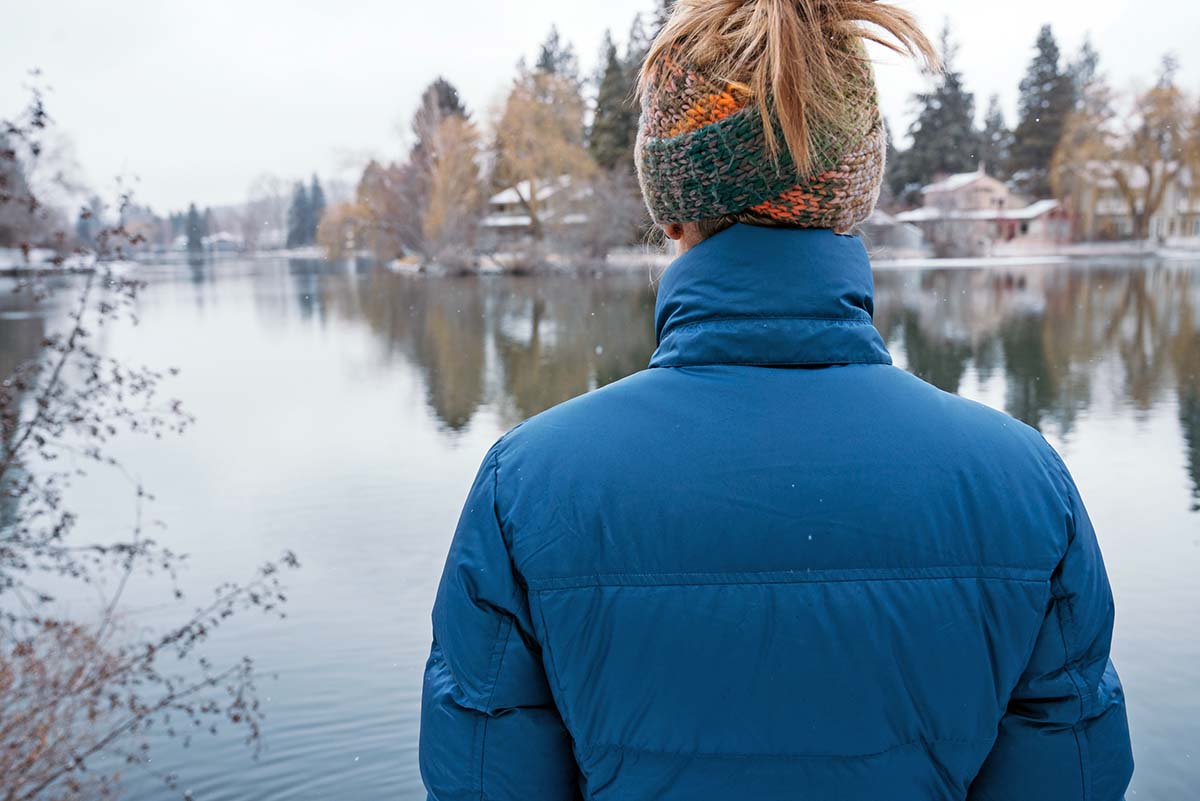 Fit and Sizing
The Patagonia Down With It is a knee-length parka available in a range of sizes from XS to XL. Princess seams give it a form-fitting and flattering shape. I typically wear a size small in all things Patagonia and the Down With It fits the bill. That said, the parka is more trim-fitting than Patagonia's more performance-oriented jackets and permits less freedom of movement in the arms and shoulders than I am used to. If you plan on wearing a midlayer or bulky sweater underneath, you may want to size up.
 
Sustainability
Patagonia leads the outdoor industry in sustainable sourcing and production practices, and the Down With It Parka follows suit, with 100%-recycled materials both in the shell fabric and down fill. Further, the parka is Fair Trade Certified, meaning that the factory workers creating this garment were treated fairly and paid a living wage. Finally, it's worth noting that the Down With It features a fluorinated DWR finish which contains PFCs (short for perfluorocarbons), a chemical that Patagonia acknowledges has an environmental cost (the newest version now uses a PFC-free DWR finish). However, Patagonia is working on finding a viable alternative that performs as well as the standard coating (you can read more about their efforts with DWR here), so expect to see slight changes to the Down With It in the upcoming years.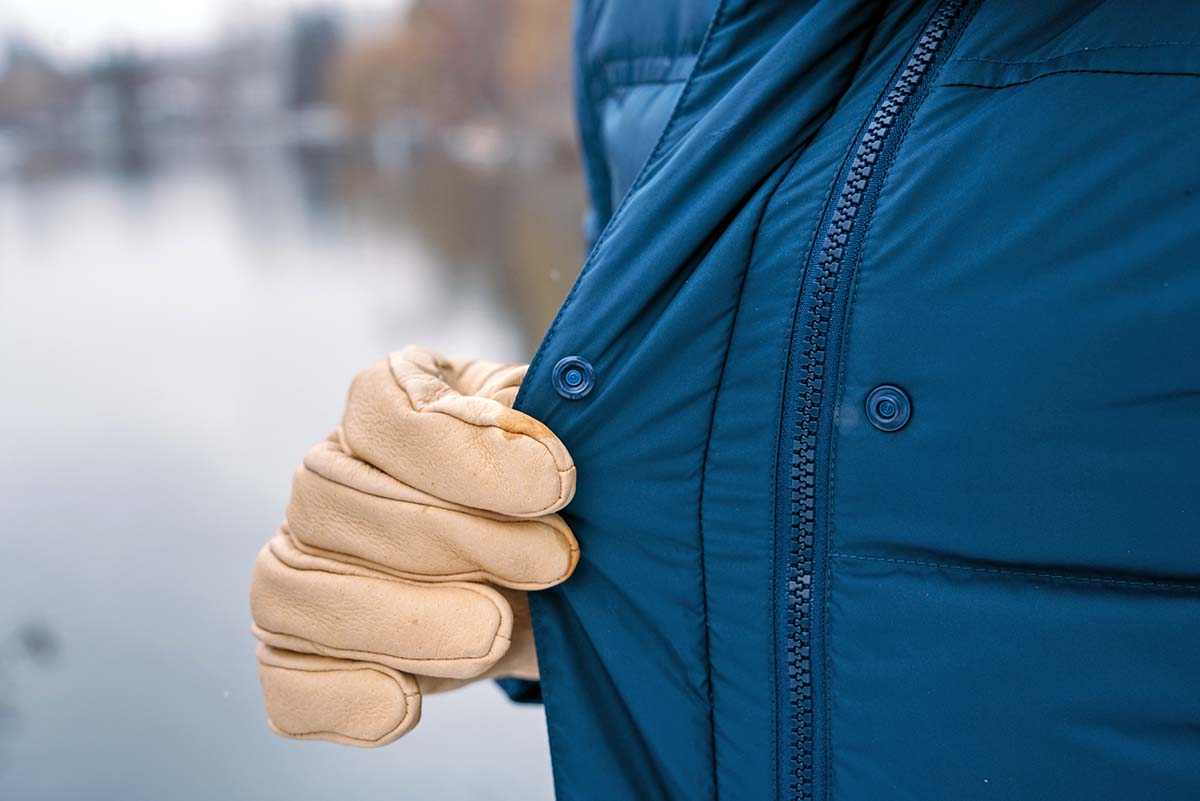 Other Version: Patagonia Down With It Jacket
As we touched on above, Patagonia offers the Down With It in a shorter jacket version that runs 30.25 inches in length down the center back for more of a hip-length cut. The jacket is cheaper at $229 and lighter at 1 pound 15.1 ounces, but it uses the same 600-fill down and durable face fabric. Most people will prefer the longer parka version for its extra coverage and added warmth during the depths of winter, but the Down With It jacket is a nice option for more moderate climates and the shoulder seasons.

What We Like
A super warm and comfortable winter parka that looks great.
Features Patagonia's high-quality design and construction. 
Durable 2.3-ounce (now 2.2-oz.) face fabric is more tear-resistant and robust than similar baffled down parkas. 
The 38-inch (39.3-in. in the newest version) center back measurement provides knee-length coverage, which is great for staying warm whether walking or sitting.
Cuts down on waste with 100%-recycled down and polyester.
 
What We Don't
The cuffs lack gaskets or adjustments, meaning cold air and moisture can easily enter at the wrists.
Not as water-resistant as a jacket with a waterproof membrane or hydrophobic down.
The snaps on the hood attachment and zipper flap can be difficult to use, especially with gloves on.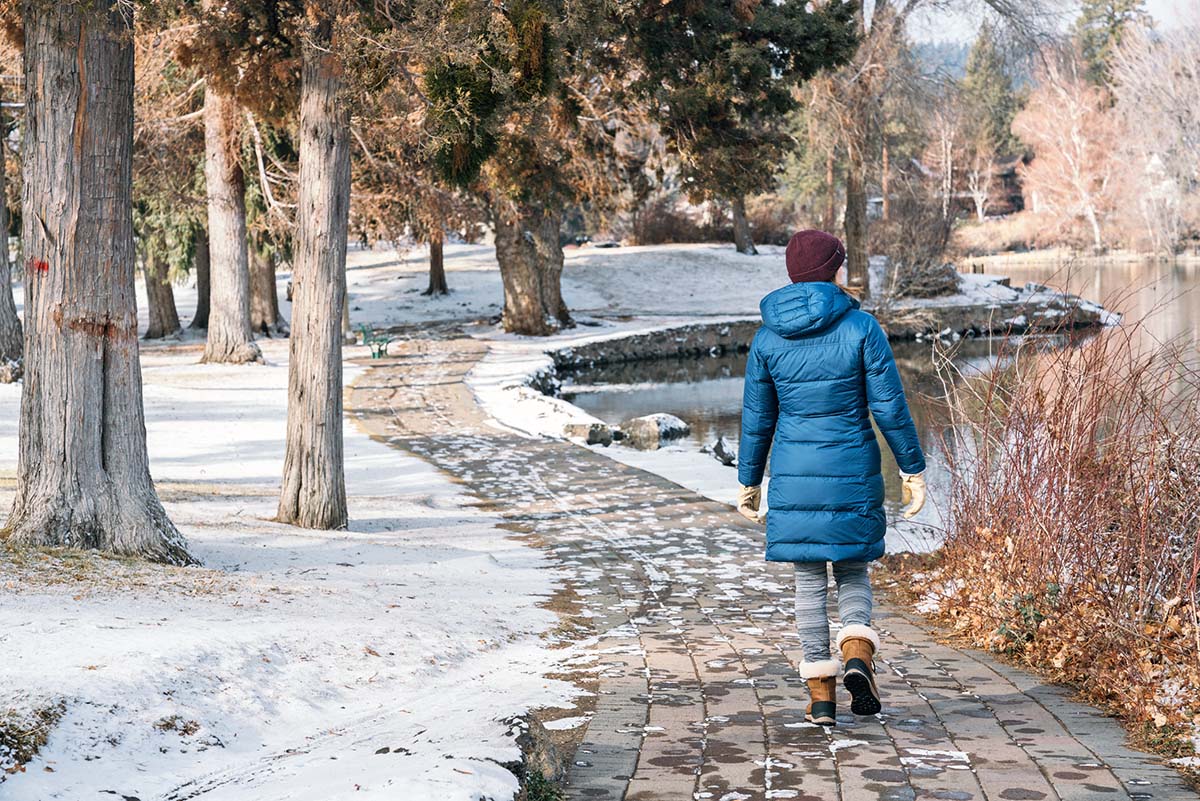 Comparison Table​

The Competition
If you're on the hunt for a casual winter jacket, there are a number of high-quality options. The Marmot Montreal is another great choice that's similar to the Down With It in design, but with a few features that set it apart. For one, it contains hydrophobic down (700-fill), which lends an extra layer of security in wet snow or rain. Second, the Marmot is a whole 7 inches (now 6.3 in.) shorter than the Patagonia (classified as thigh-length rather than knee-length), which gives it more freedom of movement but less warmth and coverage overall. And third, it comes with a fur-brimmed hood for added style points and a fleece-lined interior for extra coziness. But with no flap covering the front zipper, noticeably less warmth during our testing, and thinner, less durable face fabric and zippers, it's less of a performance piece than the Patagonia. For just $14 more ($49 more for the latest version), we give the edge to the Down With It for its impressively durable build and extra warmth-related features.
The North Face's Metropolis Parka is another comparable option, offering the same lightweight and baffled design as the Down With It and Montreal. Unlike the Patagonia, the TNF features a drop-tail hem, which gives you slightly more mobility around the knees with a shorter length in front (the Metropolis measures 37 in. down the center back). However, you get noticeably less warmth with the TNF, which features lower-quality 550-fill down and a 1-pound-11.5-ounce build, and the face fabric is significantly thinner at 1.47 ounce per square yard (the updated Patagonia is 2.2 oz/sqyd). With both parkas priced around $300, the clear edge goes to the Patagonia, but some might appreciate the styling of the Metropolis.
For climates where wet winter weather can be an issue (we're looking at you, Seattle), you'll likely want an insulated jacket with a waterproof membrane, and The North Face's Arctic Parka is a great place to start. For the same price as the Patagonia, the Arctic is the more weather-worthy offering with a mix of 550-fill-power down and TNF's Heatseeker synthetic insulation (150g) wrapped in a 2-layer, waterproof DryVent shell. The Arctic is shorter than the Down With It at 35.75 inches down the back, but you still get critical leg coverage while maintaining good mobility. However, the Arctic's thick shell fabric and burly build add considerable weight and heft (2 lb. 13.5 oz.), and we found the fit to be boxy from the waist down. In the end, the Arctic is a nice option for those who need the waterproofing, but we consider the Down With It to be the more high-quality and flattering option at this price point.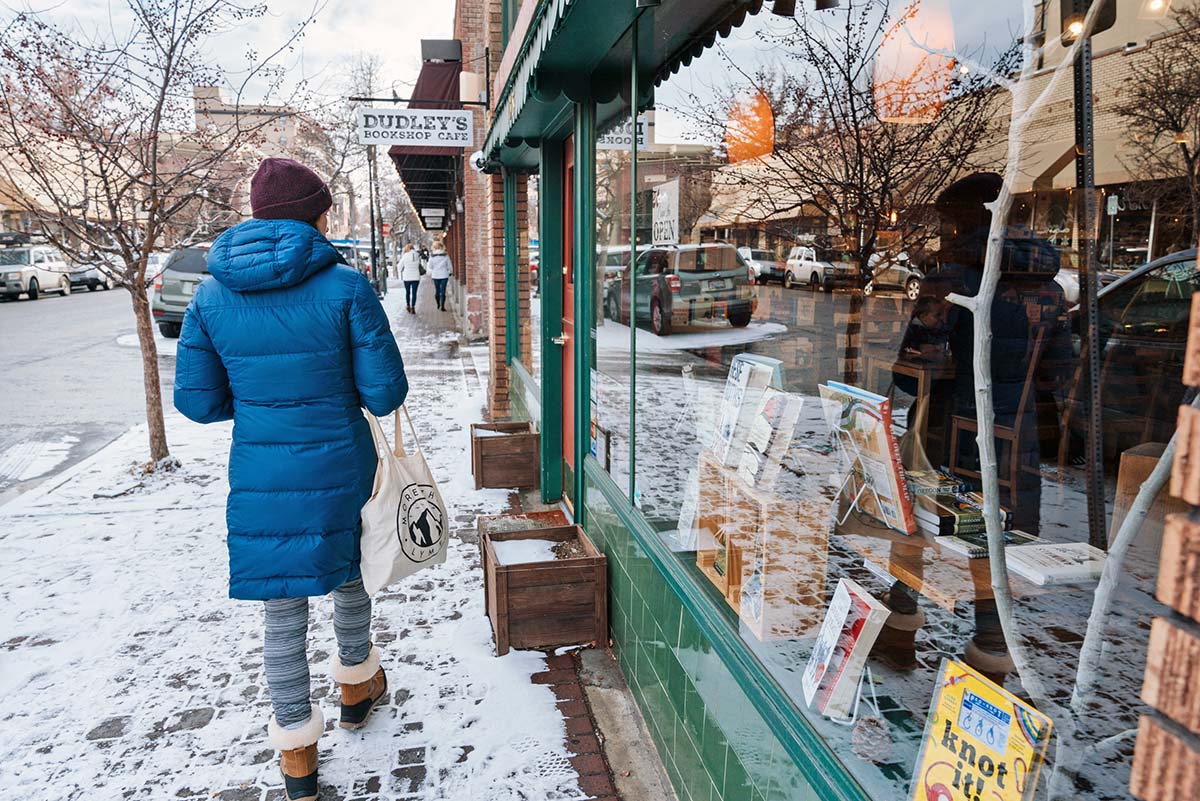 Staying in the waterproof category, Patagonia's Tres 3-in-1 Parka is a step up from the Arctic in all-around quality and performance. At $699, the Tres is twice the price of the Down With It, but you get twice the jacket, too, with a 2-layer waterproof shell and a removable 700-fill down liner that can be paired or worn separately. Other parkas (such as The North Face's Arctic and the Arc'teryx Patera) build their insulation into the waterproof shell, but in reality you'll rarely need both at once—on mild rainy days the warmth will be overkill, and below-freezing conditions rarely call for a waterproof jacket. If you live in the right region, the Tres very well could be worth the investment.
Last but not least, REI Co-op offers a more budget-friendly alternative to the Down With It in their Norseland Insulated Parka 2.0. For $150 less than the Patagonia, the Norseland utilizes slightly higher-quality 650-fill-power down and boasts a very functional feature set that includes 6-inch side vents at the hem for added freedom of movement, a DWR-coated shell, stylish knit cuffs, a fleece-lined hood, and an insulated storm flap over the front zipper. The Norseland offers a bit less coverage than the Down With It with a 36.5-inch back length, but our main complaint has to do with fit, which is decidedly on the boxy side. In other words, the Patagonia is the more flattering and tailored option and our preferred pick for women looking for that quintessential city styling. If you put more of a priority on value, however, the REI is a well-rounded design at a very competitive price.
If you're thinking about buying gear that we've reviewed on Switchback Travel, you can help support us in the process. Just click on any of the seller links above, and if you make a purchase, we receive a small percentage of the transaction. The cost of the product is the same to you but this helps us continue to test and write about outdoor gear. Thanks and we appreciate your support!
Depending on the seller, most products ship free in the United States on orders of $50 or more. International shipping availability and rates vary by seller. The pricing information on this page is updated hourly but we are not responsible for inaccuracies.
Read More From Switchback Travel