U.K.-based Rab was a climbing company first, and their popular Microlight Alpine Down Jacket pays tribute to that mountain expertise. Throughout two years of testing the women's model, including multiple backpacking and climbing trips, we've come away impressed by the jacket's weather-resistant construction, functional feature set, and versatile warmth for everything from moderate winter conditions to chilly days in the alpine. It's a little heavy and has less everyday appeal that some of its main competitors, but it's undeniably a well-rounded and thoughtfully built backcountry piece. Below we outline our experiences with the Microlight Alpine. To see how it stacks up to the competition, see our articles on the best down jackets and best women's down jackets.
Editor's note: We tested a past-generation version of the Microlight Alpine, and Rab has since made some tweaks to the design. Namely, weight dropped a little (from 15 to 14.6 oz.), the fit is more generous (from "slim" to "regular") and the jacket has a little more down (from 4.7 to 5.1 oz.), although it's of a slightly lower quality (from 750- to 700-fill). We've noted these changes where applicable below.
 
---
Table of Contents
---

Performance
Warmth
Packing 5.1 ounces of 700-fill-power down, the Rab Microlight Alpine is a warm and comfortable place to be in moderate winter conditions and on chilly alpine adventures. For reference, other performance-focused options like Arc'teryx's Cerium LT Hoody (3.4 oz. of 850-fill down) and Feathered Friends Eos (2.8 oz. of 900-fill down) use higher-quality and loftier down that's warmer for the weight, but less of it. It's worth noting that it's tough to compare warmth accurately given the different fill powers, but I've found the Microlight Alpine to be an ideal match for temperatures around 30 to 40 degrees Fahrenheit with just a light baselayer underneath, and I can bring it lower with more layering. However, when you start getting down into the teens or below, it's worth stepping up to a mid- or heavyweight down jacket like Rab's own Neutrino Pro.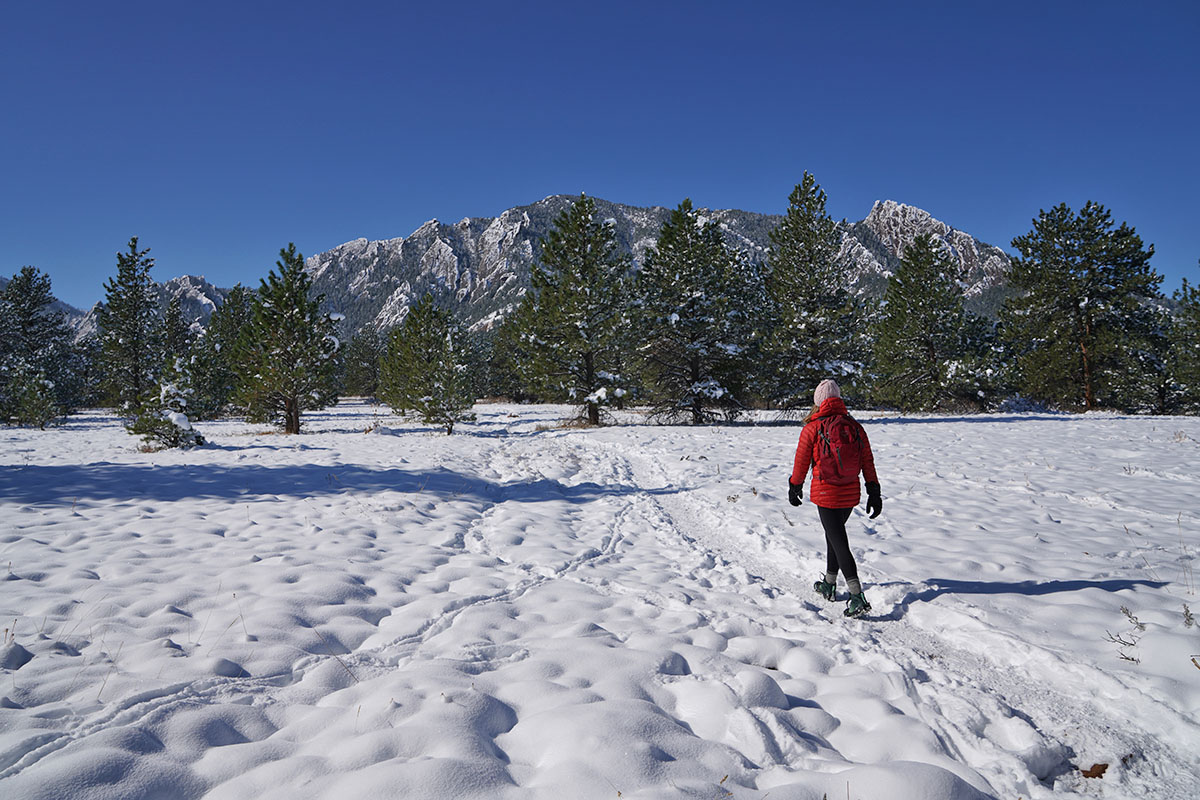 Weight and Packability
At 14.6 ounces for the latest women's version, the Rab Microlight Alpine is on the heavier end of the down jacket spectrum. For reference, our favorite model this year, the Patagonia Down Sweater Hoody, clocks in at 13.1 ounces and has far more daily appeal. Other performance-ready competitors, including the aforementioned Arc'teryx Cerium LT Hoody (9.9 oz.) and Feathered Friends Eos (9 oz.), also check in significantly lighter. That said, the Rab is the warmest of that grouping, and I've never felt that the jacket was overly hefty or cumbersome for bringing on a backcountry trip. And as I touched on above, if you need even more warmth for truly frigid winter temperatures, you can step up to a heavyweight option like Rab's Neutrino Pro, although that will come with a 4-ounce weight penalty (1 lb. 2.7 oz.).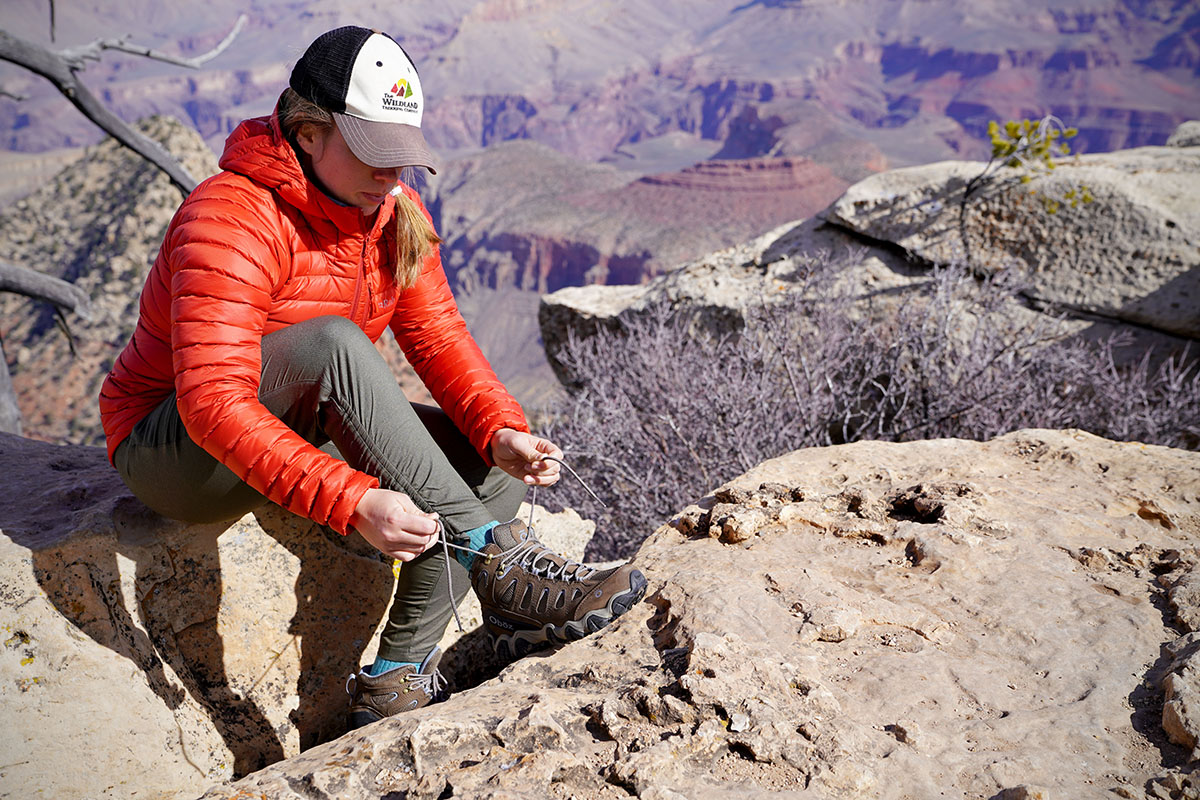 Since weight and packability often go hand in hand, it came as little surprise that the Microlight Alpine takes up a decent amount of space in my pack. The jacket comes with a separate stuff sack to compress down (to about the size of an American football), but unfortunately, the drawcord to cinch the bag tore off after just a couple outings. Now, the jacket spills over the edge and doesn't compress as well, so I typically forgo the sack entirely and just shove the Microlight into any free space in my pack (not to mention, I've also lost the stuff sack more times than I can count). Given these issues, I wish Rab had made it possible for the Microlight to self-stuff into one of its pockets, like Patagonia did with their Down Sweater Hoody.

Weather Protection
Weather protection isn't typically a strong suit of down jackets—down is notorious for clumping and failing to insulate when wet—but the Microlight Alpine comes better equipped than most to fend off the elements. A standard durable water repellent (DWR) coating is the first layer of defense, and inside, the jacket uses hydrophobic down, which is treated with Nikwax to repel light precipitation (although it will still clump in sustained rain). The outer and inner fabric are both water-resistant Pertex Quantum, and the Microlight also sports YKK zippers on all pockets for another dose of assurance against light moisture. Finally, the wire-brimmed hood offers great coverage and effectively prevents rain from dripping onto my face. Taken together, the Microlight Alpine is one of the most weather-worthy down jackets we've tested to date. Again, it won't hold up in sustained storms, but I've taken it into fairly moderate precipitation with no waterproof shell (often by accident) and haven't experienced any wetting out.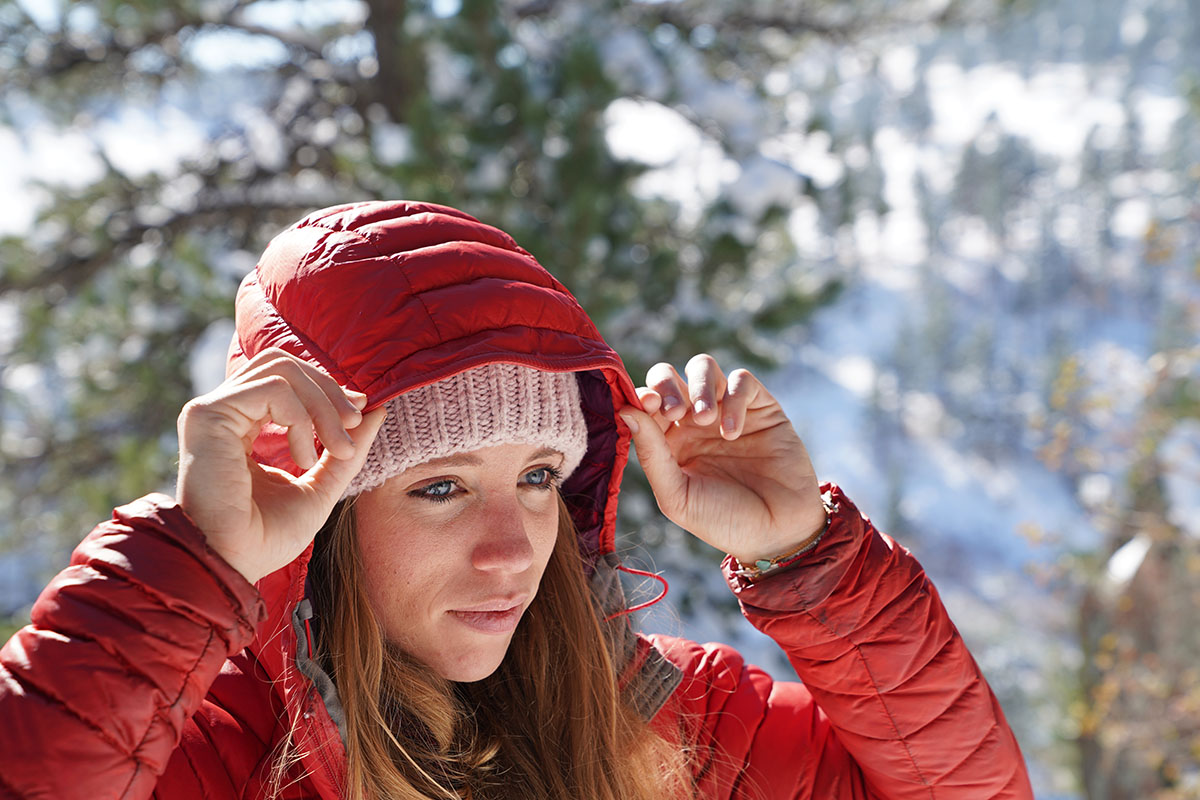 Hood and Other Key Features
As I mentioned, the Microlight Alpine's hood is wire-brimmed and almost hardshell-like in feel. In practice, it's been great at keeping moisture from dripping onto my face, and cinch cords at the inside of the collar adjust the aperture evenly and effectively. Rounding out the adjustments, the hem features a drawcord for tightening the waist to seal out drafts. Additionally, the cuffs are glove-friendly and have simple, elasticized bands inside to keep them in place, and I like that they're hidden to give the arms a streamlined, sleek look (and provide insulation all the way to the wrists).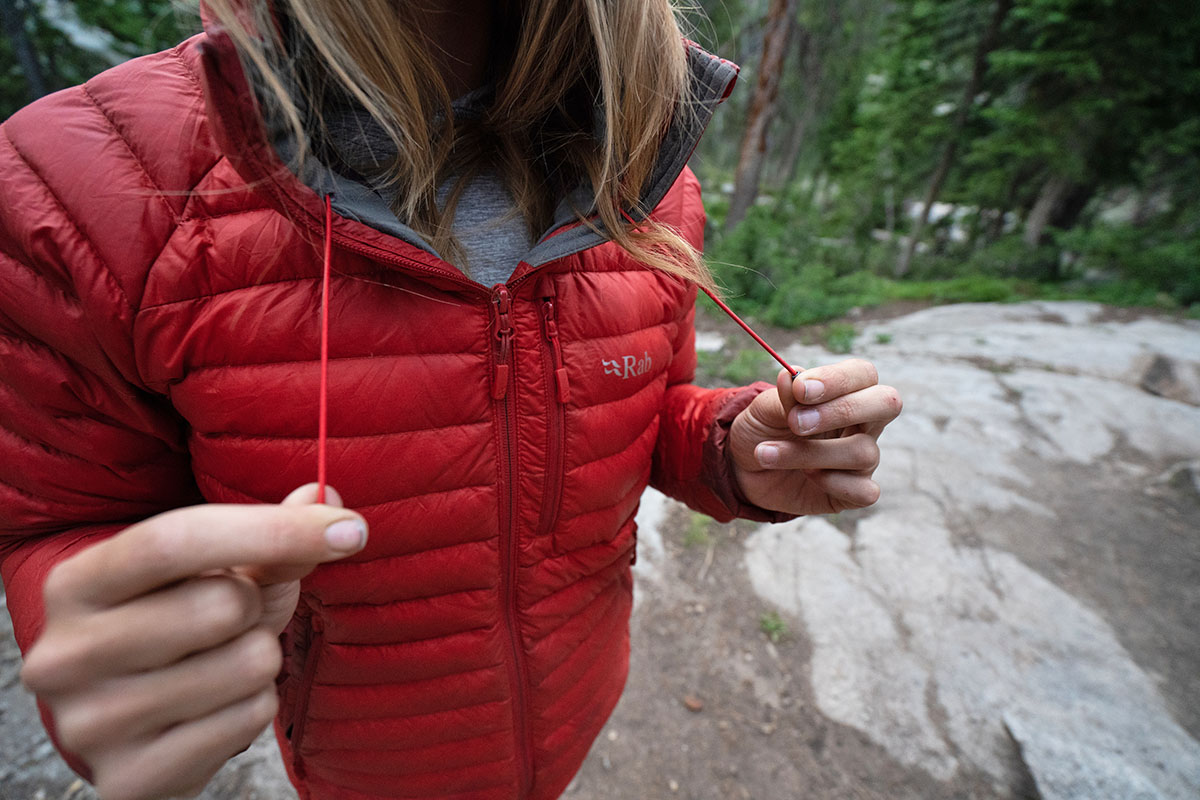 As far as storage goes, the Microlight Alpine has a simple but functional layout including two hand pockets and one exterior chest pocket on the left side. As I touched on above, all three have water-resistant YKK zippers that effectively seal out moisture—I've left my phone in the hand pockets during light rain on multiple occasions without issue. All of the pockets are also generously sized and can easily accommodate valuables like my plus-sized iPhone, keys, a map, etc. It's worth noting that Rab lists the hand pockets as climbing harness-compatible, but I've found that they sit right under my backpack's hipbelt, which makes on-the-go access very difficult. On the bright side, however, they're set at a comfortable and natural-feeling height for stuffing cold hands into while walking around town.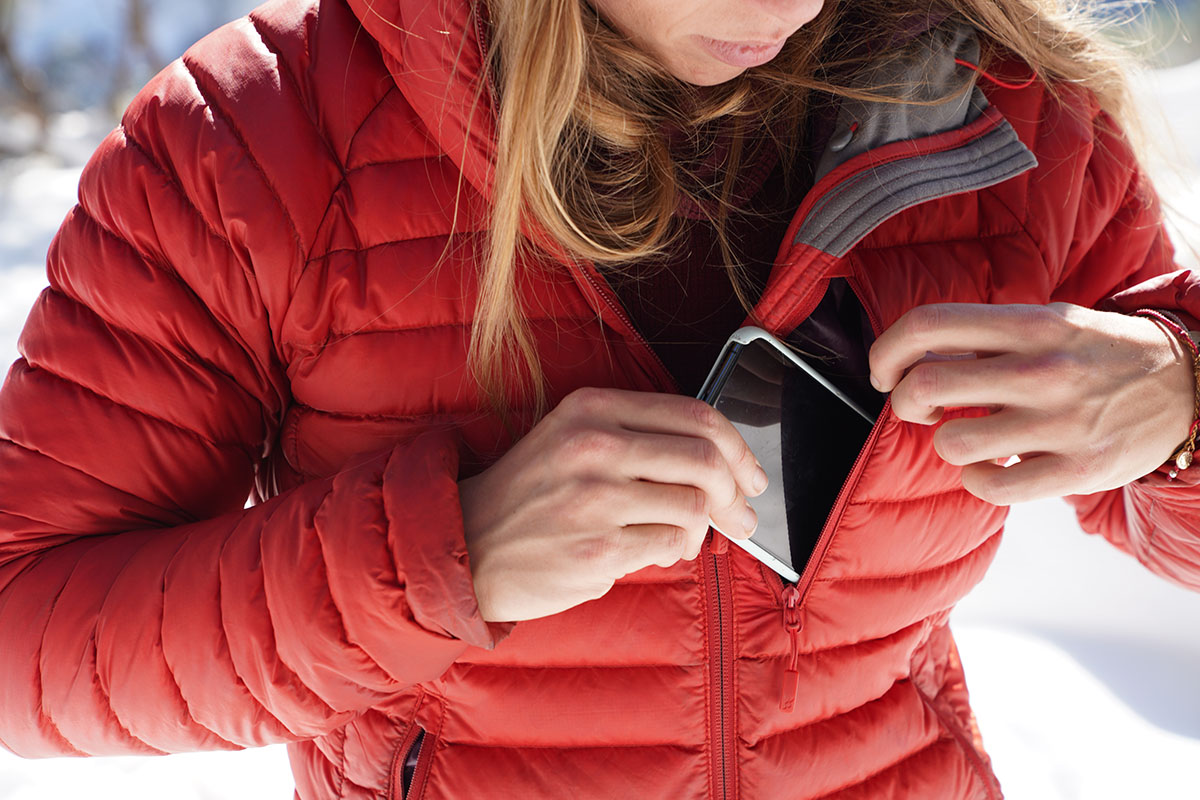 Build Quality and Durability
Rab is a leader in technical mountain apparel, so it comes as little surprise that the Microlight Alpine is a well-made and thoughtfully built backcountry piece. After two years of testing, including multiple backpacking and climbing trips, my jacket is holding up well with no major issues to date. The 30-denier (D) shell fabric and 20D lining are fairly standard compared to the competition but plenty hardwearing provided you take reasonable care around objects like branches and sharp equipment. And importantly, the Microlight continues to repel moisture—I haven't needed to re-apply the DWR finish—and feels just as cozy as it did when I first received it.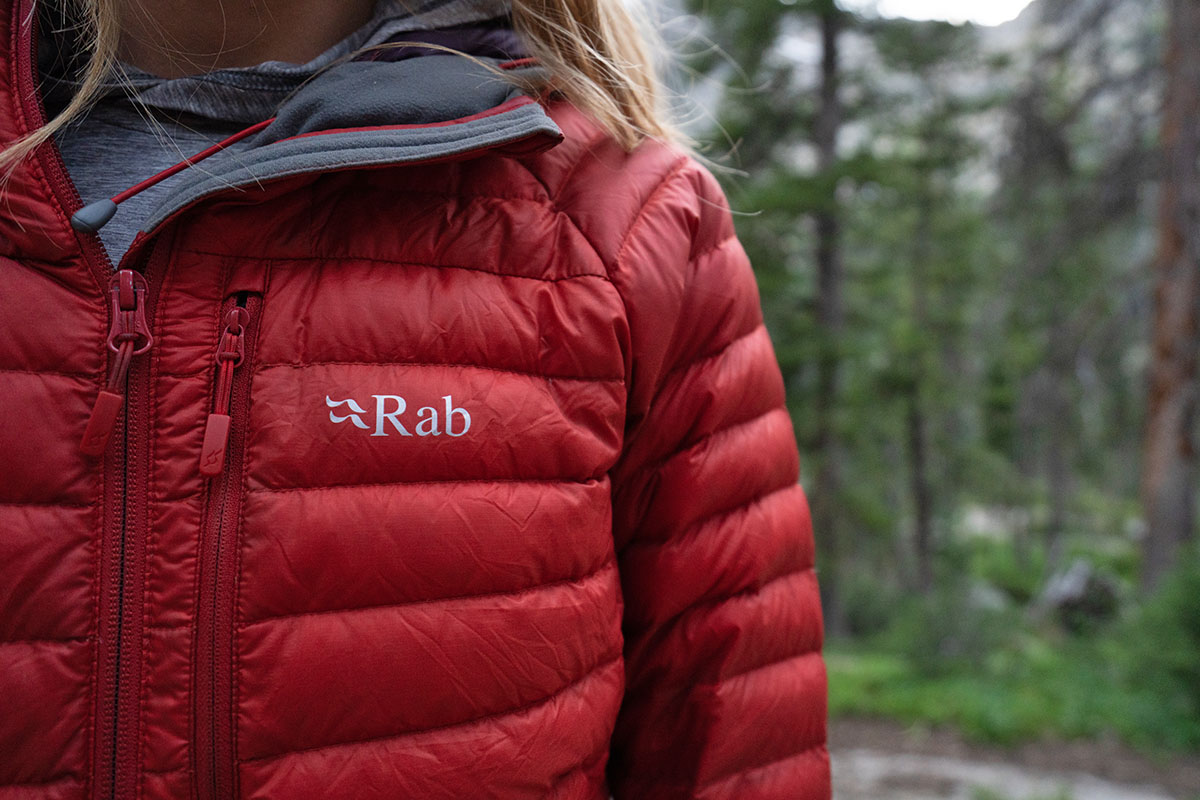 That said, I do have a couple of quibbles to report. As I mentioned, the stuff sack's drawcord did fall out early on, and some of the down has started to pack out in certain high-wear areas, including under the arms and along the wrists (drying the jacket with tennis balls to fluff up the insulation has helped a bit). And the cuffs of my red jacket have accumulated some stains that don't wash out, but that's purely cosmetic and to be expected after such considerable use.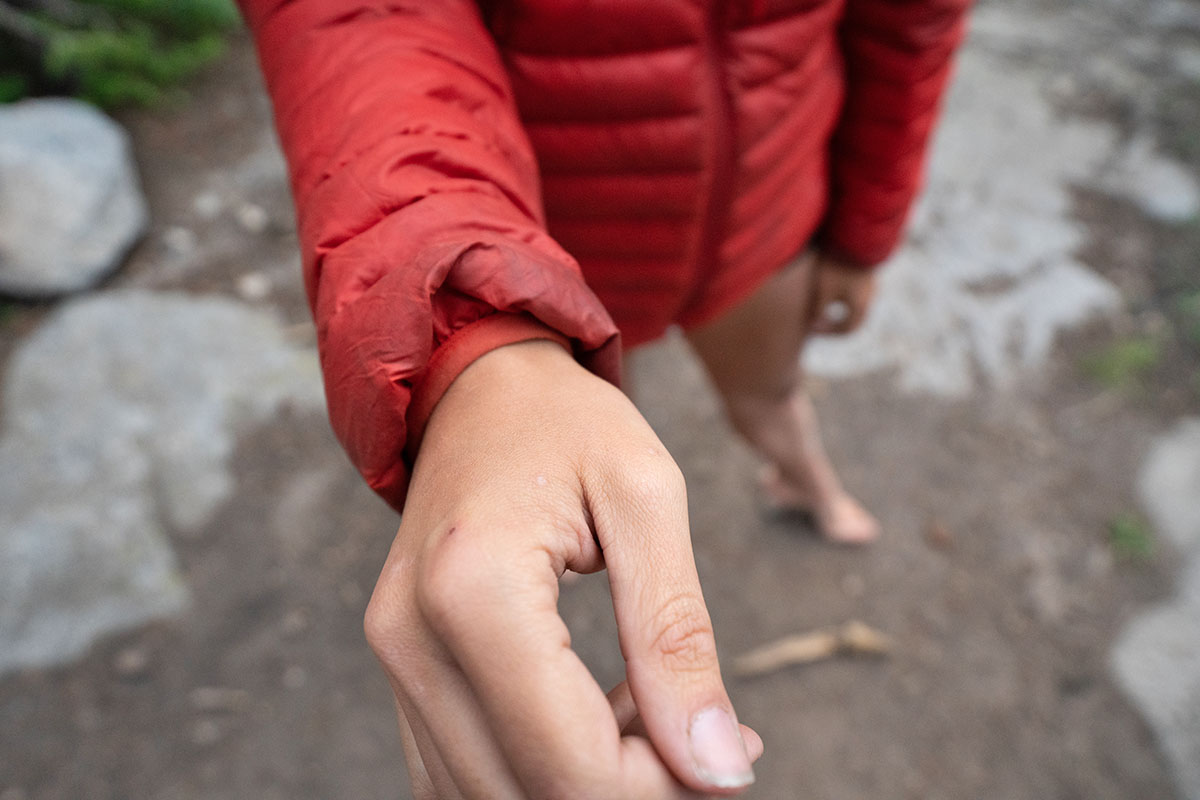 Fit and Sizing
I opted for a women's medium in the Rab Microlight Alpine Down Jacket and found it to be a good all-around fit. It's important to note here that my earlier version of the jacket has a "slim" cut that tapers in at the waist and gives it a fairly form-fitting shape. In use, this has been great for layering under a shell, although it can be tough to fit even a light synthetic midlayer underneath when the mercury drops (like Arc'teryx's Proton FL). All that said, Rab has since updated the fit of the jacket to be slightly more relaxed and accommodating, although it's still on the trimmer side, which is typical of performance pieces. If you prefer a roomier cut, Patagonia's Down Sweater is a bit boxier but nicely accommodates a shell and/or light midlayer. Finally, the drop-tail hem at the back provides great coverage and has never ridden up during activity, and the aforementioned hem drawcord makes it quick and easy to seal out drafts.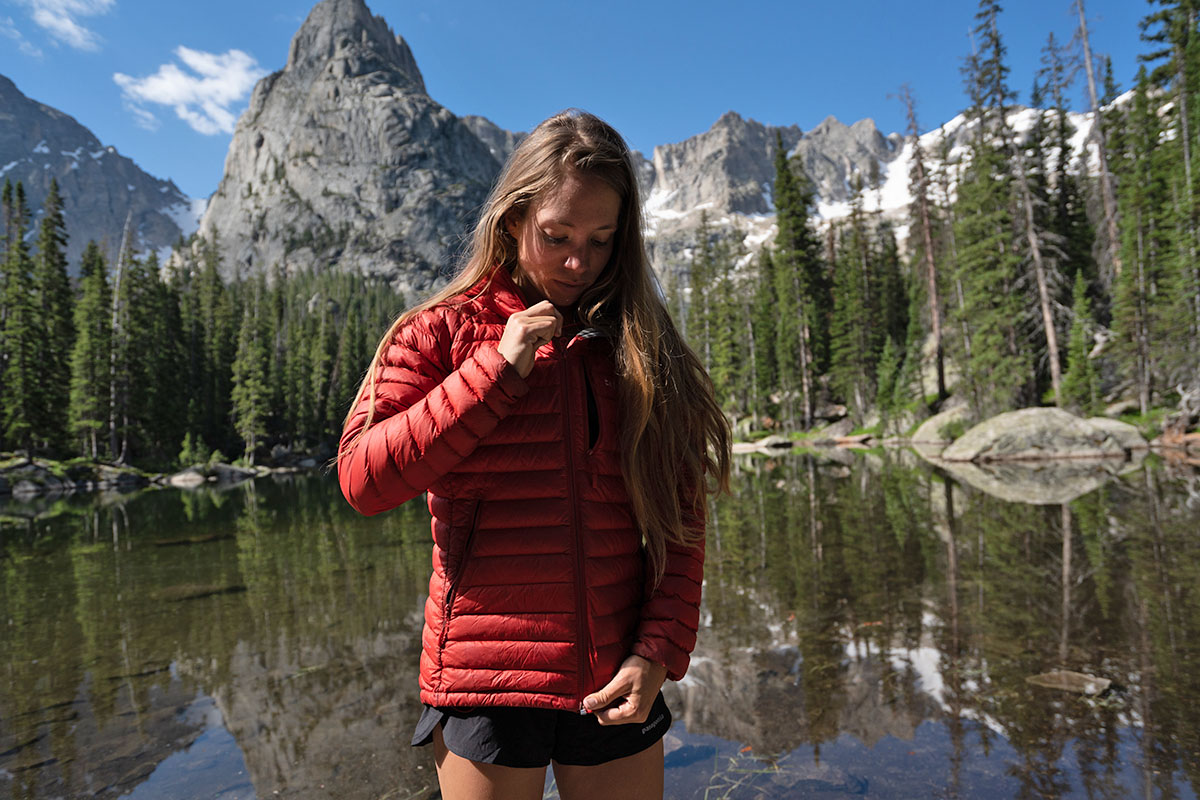 Sustainability
Sustainability has become an increasingly important consideration among many outdoor consumers, and we think Rab did an excellent job incorporating eco-friendly measures into the Microlight Alpine. For starters, the lining and outer fabric are both 100-percent-recycled. The down insulation is also recycled using Rab's P.U.R.E. program, which involves taking down from other products like pillows or sleeping bags, cleaning and treating it with Nikwax for water resistance, and then stuffing it into the jacket (you can read more about the process here). All in all, we think this is a great way to upcycle old down products.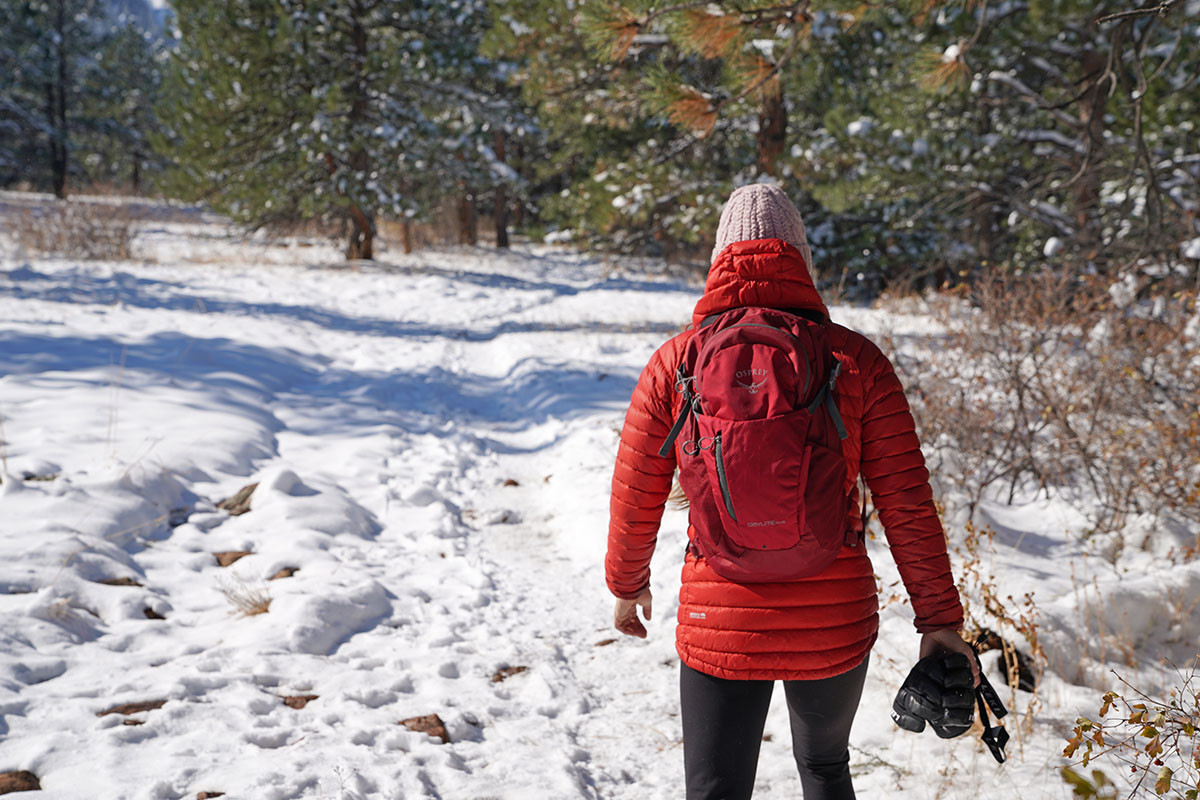 Other Versions of the Rab Microlight Alpine
We put the women's Microlight Alpine Down Jacket to the test for this review, and Rab has a number of other offerings in the Microlight collection. First is the men's version of the jacket, which costs the same at $280 and has a nearly identical construction and feature set, including three total pockets and water-resistant fabrics. In parsing out the differences, the men's Microlight Alpine Down Jacket weighs a little more at 1 pound 0.5 ounces, comes in different colorways, and is stuffed with 5.4 ounces of 700-fill-power down (for a size large). Rounding out the collection, Rab offers the standard Microlight Down Jacket (no "Alpine"), which is a non-hooded variation that retails for $250, as well as a vest and women's-specific Microlight Parka.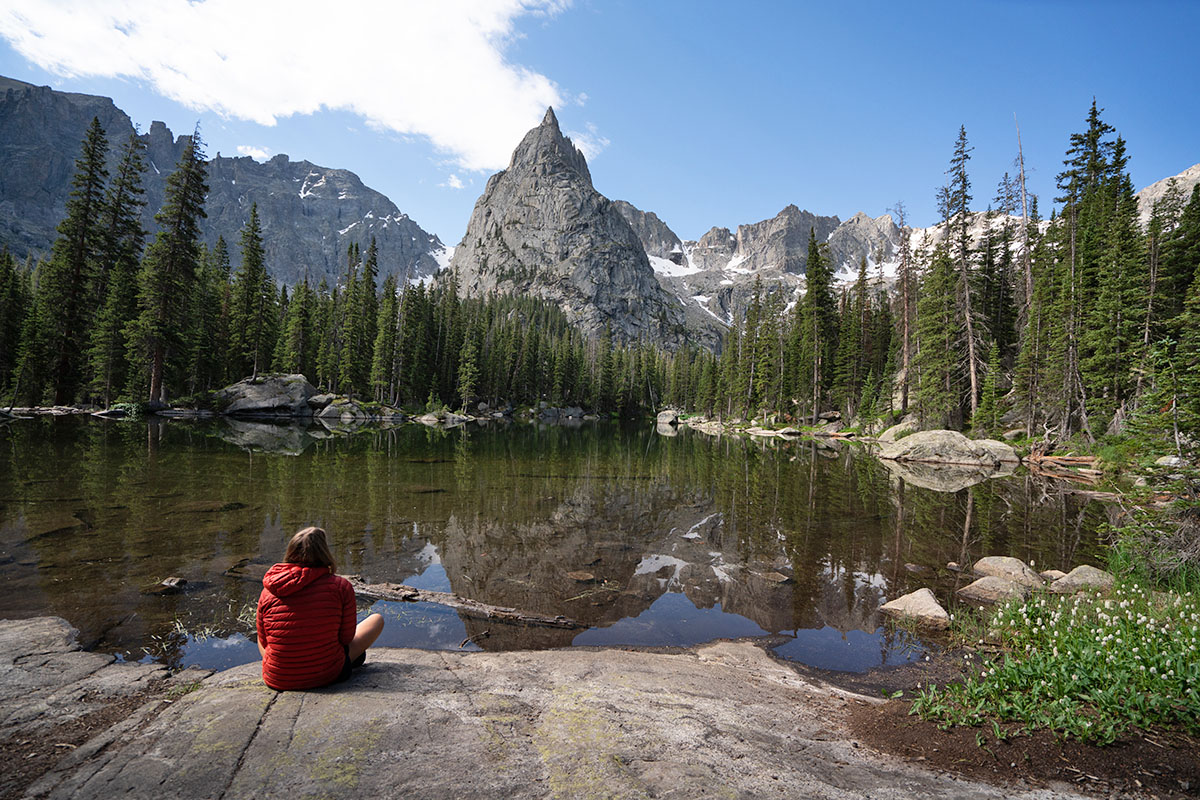 What We Like
Packing in 5.1 ounces of 700-fill down, the Microlight offers excellent warmth for everything from moderate winter days to chilly outings in the alpine.
Highly weather-ready build including a DWR coating, hydrophobic down, and water-resistant fabrics and zippers.
Wire-brimmed hood is reminiscent of a hardshell and effectively prevents moisture from dripping onto your face.
Clean styling and nice array of colorways.

What We Don't
Despite the sleek styling, the Microlight Alpine is a little technical for daily use (Patagonia's Down Sweater has more everyday and around-town appeal).
At 14.6 ounces, the jacket is fairly heavy and bulky for stowing in a pack on backcountry adventures.
Cuffs stain easily and down has packed out in certain areas, including under the arms and along the wrists.
We prefer when down jackets self-stuff into a hand pocket, as it's easy to lose the Microlight's stuff sack (and the drawcord to cinch the sack fell out after just a couple outings).


Comparison Table
The Competition
Rab's Microlight Alpine stands out among the down jacket competition for its highly weather-resistant build. Our favorite down jacket this year is Patagonia's uber-popular Down Sweater, which is less technical than the Microlight but nicely transitions between the backcountry and around town. In terms of warmth, the Patagonia is comparable to the Rab with 3.5 ounces of more premium 800-fill down, and it also weighs less at 13.1 ounces and packs down into its internal chest pocket. The Microlight gets the clear edge when the weather takes a turn—the Down Sweater lacks waterproofing measures other than a standard DWR finish—but the Patagonia wins out in daily appeal and all-around versatility with a clean, attractive look and classy colorway options. In the end, a final decision will come down to your objectives and whether or not you need the added wet-weather assurance.
For a step up in warmth, a full-on winter down jacket like Rab's own Neutrino Pro is a good option. The Neutrino packs in 7 ounces of higher-quality, 800-fill down (also hydrophobic) and boasts similar weatherproofing measures as the Microlight Alpine, including a Pertex Quantum Pro outer fabric, wire-brimmed hood (which is also helmet-compatible), and YKK zippers. Predictably, weight goes up—the Neutrino Pro clocks in at 1 pound 2.7 ounces for the women's version—and cost increases to $375. In the end, the Microlight Alpine is the more versatile pick for most conditions, but the Neutrino Pro is the more capable piece for truly frigid winter conditions and high-alpine adventures.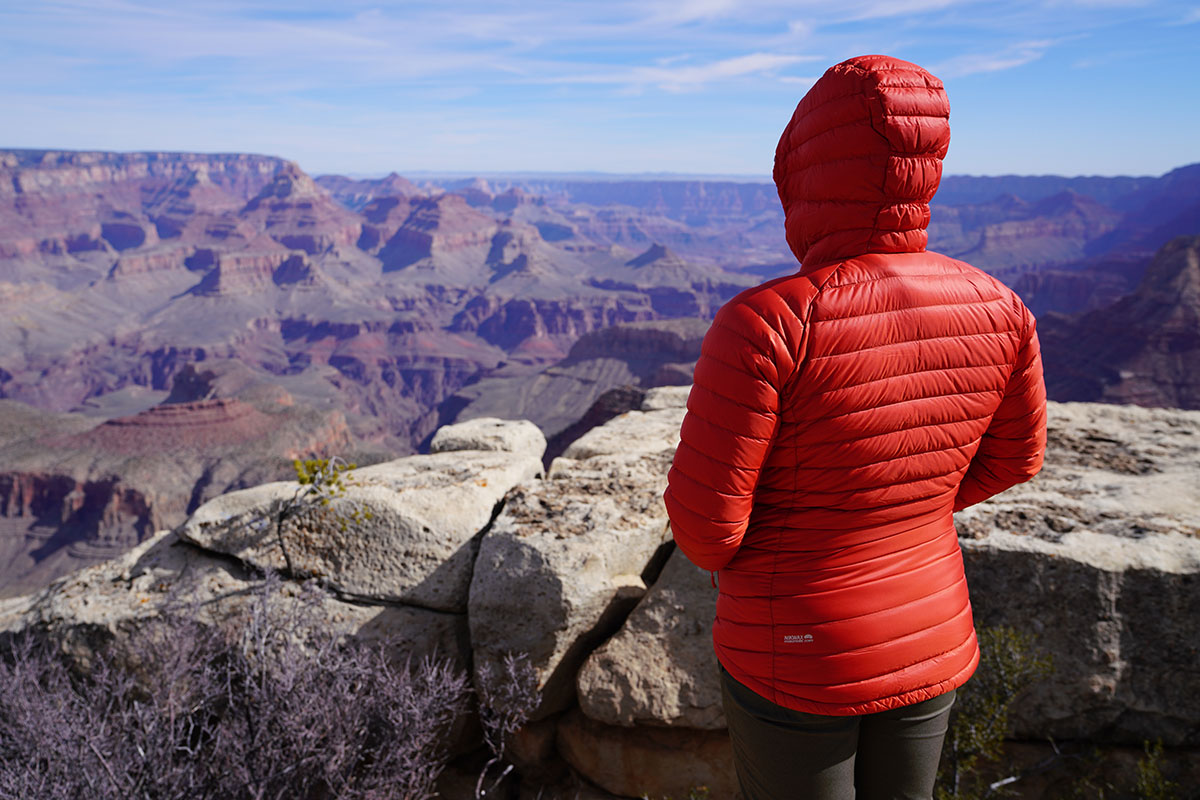 Stepping back down in warmth, two of our top lightweight performance picks this season are Arc'teryx's Cerium LT Hoody and Feathered Friends' Eos. Starting with the Cerium, you get 3.4 ounces of premium 850-fill down in an impressively light 9.9-ounce package (around 5 oz. less than the Microlight Alpine). We also love the addition of synthetic Coreloft (80g & 100g) in moisture-prone areas like the shoulders, underarms, cuffs, and collar. This adds a sizable boost in weather protection—synthetic insulation continues to insulate when wet—while maximizing warmth with the down concentrated where you need it most. The biggest downside is cost: at $379, the Cerium is around $100 pricier than the Rab, and it's also noticeably less hardwearing with a thin 10D shell. Whether or not the added protection and lower weight are worth that extra investment (and drop in durability) is up to you.
Next up is the Feathered Friends Eos, which packs 2.8 ounces of 900-fill down into a feathery 9-ounce package. This translates to a fairly considerable step down in warmth from the Rab, although we've found it to be comfortable down to around freezing without much layering underneath (for more, see our in-depth Eos review here). Other drawbacks include a non-adjustable hood, limited color options, and a relatively technical appearance that doesn't wear particularly well around town. However, the Eos is one of the warmest jackets per ounce on the market, and Feathered Friends' build quality is second to none. If you're looking for a light and premium piece for serious adventures, it's simply hard to beat. If you care less about weight and need the added warmth, go with the Rab.
Last but not least is Outdoor Research's Helium Down Hoodie, which is one of just a few down jackets on the market that can compete with the Rab in terms of weather resistance. In this case, the Helium utilizes a Pertex Quantum with Diamond Fuse shell to fend off light moisture and boost abrasion resistance, in addition to fully waterproof Pertex Shield along the hood and shoulders. That said, the Helium isn't as warm as the Microlight with 3.2 ounces of 800-fill down, and it weighs a little more at 15.4 ounces. We've also found the shell to be fairly crinkly and far less cozy than the Rab's. Given the similarity in price—plus the fact that you'll still want to add a shell overtop in rough and rowdy conditions—we think the Microlight Alpine is the more well-rounded backcountry piece. 
If you're thinking about buying gear that we've reviewed on Switchback Travel, you can help support us in the process. Just click on any of the seller links above, and if you make a purchase, we receive a small percentage of the transaction. The cost of the product is the same to you but this helps us continue to test and write about outdoor gear. Thanks and we appreciate your support!
Depending on the seller, most products ship free in the United States on orders of $50 or more. International shipping availability and rates vary by seller. The pricing information on this page is updated hourly but we are not responsible for inaccuracies.
Read More From Switchback Travel