Specialized 2FO DH Clip
Price: $170
Pedal compatibility: Clipless
Weight: 1 lb. 11.9 oz.
What we like: Powerful, sturdy, protective, and well-built—a nice match for downhill-oriented riders.
What we don't: Flat and rigid feel underfoot impacts comfort; we'd prefer a Boa system rather than laces.
See the Specialized 2FO DH Clip
Specialized's outgoing 2FO ClipLite shoe was a favorite of ours for its well-rounded up and downhill performance, and the latest 2FO DH Clip targets the same group of enduro-focused riders. Throughout a season of testing, the shoe has provided ample support, coverage, and stiffness for tackling technical descents and climbs. The padding underfoot is fairly flat and has led to aching arches, and I'm not a fan of the traditional lacing system (I wish Specialized had retained Boa dials), but it remains a versatile design for everything from longer, mellow trail rides to aggressive downhill use. Below we break down our experiences with the 2FO DH Clip. To see how it stacks up to the competition, see our article on the best mountain bike shoes.
 
---
Table of Contents
---

Performance
Comfort
Given its technical intentions and downhill-focused build, the Specialized 2FO DH Clip is not the most comfortable shoe out of the box and felt reminiscent of a stiff skate design the first time I tried it on. The biggest contributor seems to be the relatively flat and rigid build underfoot, which I found to be lacking in arch support. To be fair, I have high arches and therefore commonly have this issue with shoes, but the 2FO DH Clip offers less support and padding from the EVA foam than I'd prefer. It wasn't as noticeable on long descents (unsurprising given this is the 2FO DH's intended use), but my arches ached after long days in the saddle, particularly on rides that required a lot of pedaling. That said, the stiff and unforgiving feel does promote excellent power transfer and bike control, which is important for serious downhill riders (more on this below). And I do like that the inner ankle area is slightly more cushioned and rises higher than the outer side, which protects my ankles against getting beaten by crank arms while trying to clip in quickly on the go.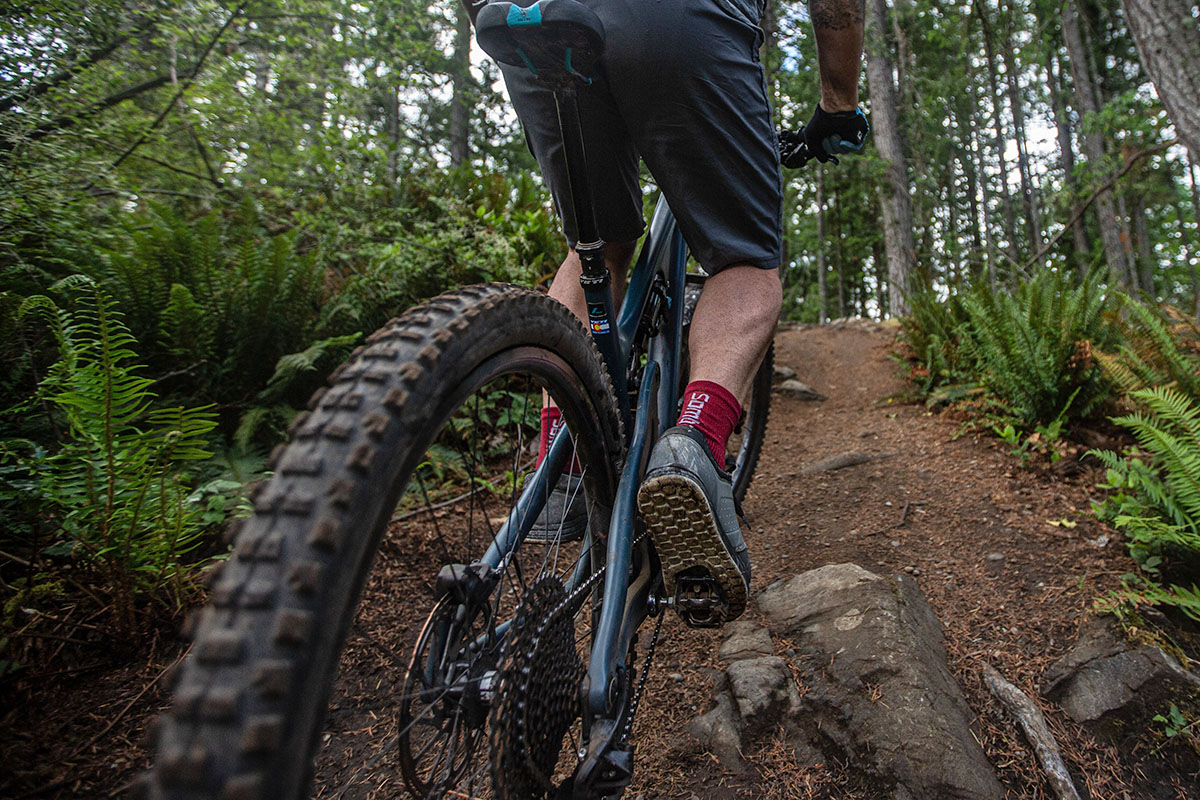 Another comfort-related complaint I have is that the 2FO DH Clip feels noticeably rigid around the lacing and tongue area. The laces themselves are quite stiff and don't tighten evenly—instead, I've found they cinch disproportionally towards the top. The tongue is also relatively thick and inflexible, which likely contributes to the lacing issue but does help in protecting the upper foot against hits from trail obstacles like rocks or roots. It's worth noting here that Specialized's outgoing 2FO ClipLite featured more customizable and easier-to-adjust dual Boa dials, and I wish they had retained those on the 2FO DH Clip. If you prefer the convenience of a Boa system, I recommend checking out alternatives like Shimano's SH ME-5 or Five Ten's Kestrel Pro.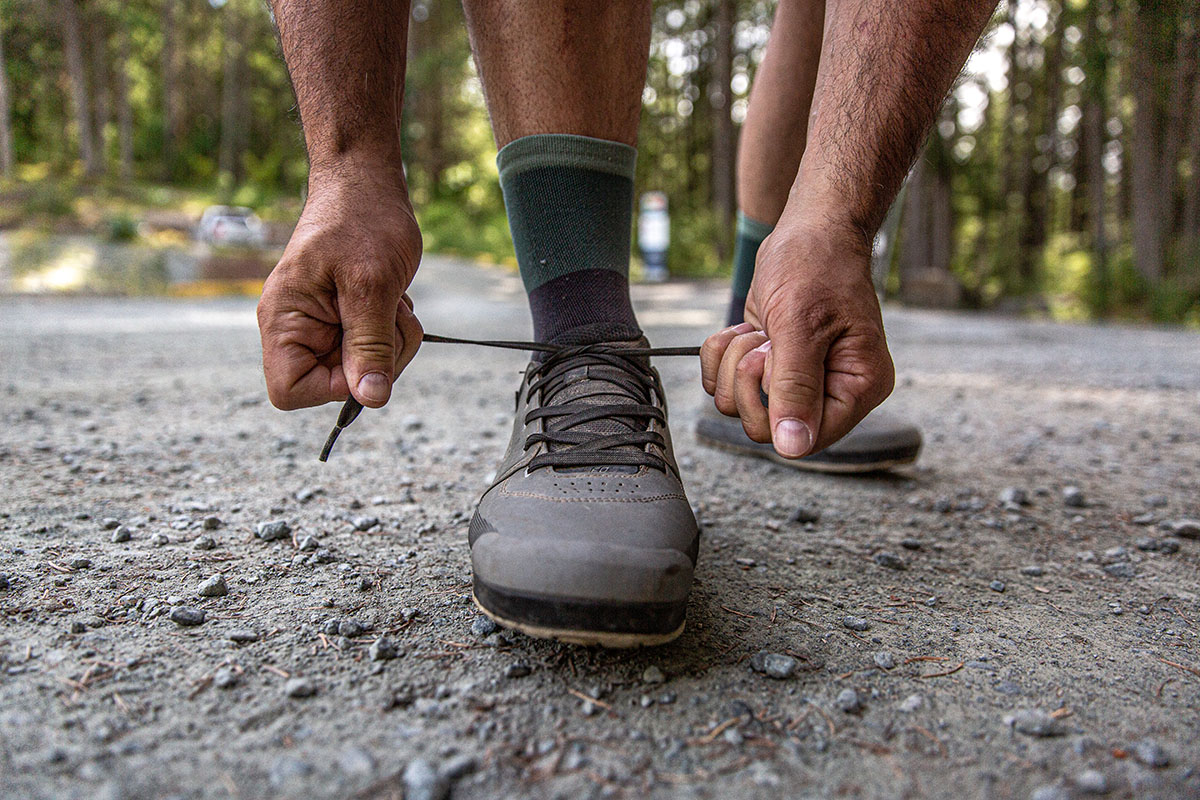 Clipping In and On-Bike Performance
From a security standpoint, the 2FO DH Clip has proven to be very reliable and easy to trust. It's quick and simple to engage with the pedals, and the shoe feels very secure when attached. For reference, I've paired the 2FO DH Clip with Shimano XT trail pedals and regular XT pedals and have had no issues clipping in or out or maneuvering on the pedal when unclipped. Additionally, the stiff sole does a nice job handling the demands of technical descents and hard landings, pivoting but maintaining a solid and reliable connection with the pedals. The only caveat is that the laces need to be pretty snug to maintain this level of performance—if left loose, the shoes feel like stiff Vans and lose that impressive responsiveness.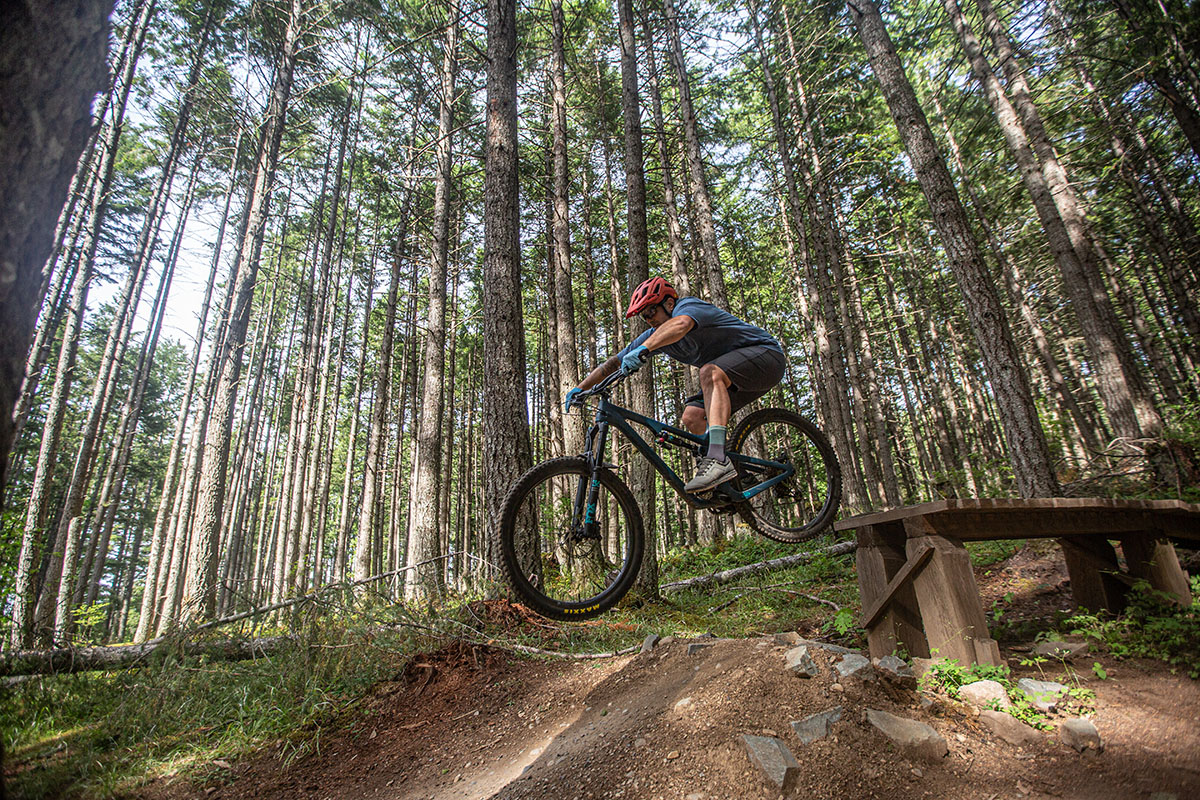 Traction
The 2FO DH Clip's SlipNot FG rubber soles provide excellent pedal grip, even on especially techy sections and when clambering up steep hills. In fact, I have had no issues with slippage or losing traction when riding, and I'm able to confidently navigate tricky terrain with ease. That said, it's important to be careful if you wear the shoes during post-ride activities on flatter and smoother surfaces like tile floors, as the cleats stick out a bit and can cause issues with sliding. If you like to keep your shoes on after your ride or anticipate doing a lot of hike-a-biking, I'd recommend choosing a more versatile model with additional flex in the sole, like the Pearl Izumi X-Alp Summit or Shimano's SH-ME5. But for my uses, the 2FO DH Clip was a good match and offered reliable bite when I needed it.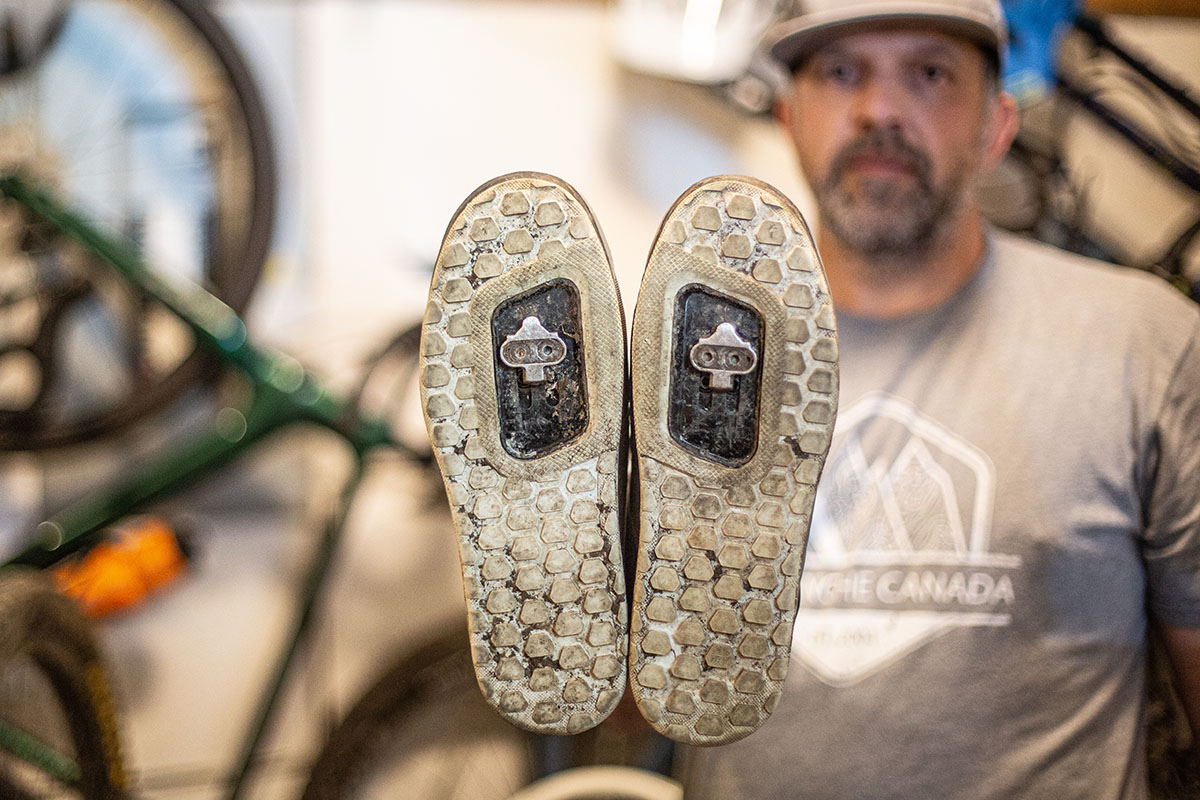 Breathability and Weather Resistance
Despite its fairly burly construction, the Specialized 2FO DH Clip does a great job releasing hot air. The XPEL hydrophobic mesh, perforations in the upper, and mesh-heavy tongue breathe well, don't retain a ton of moisture when they get wet, and dry quickly. Even on long, hot, and exposed days in the saddle, my feet have never grown overly sweaty or overheated. And when the shoes have gotten soaked, they haven't felt heavy or gotten bogged down with water, even in pouring rain and on sloppy, wet trails and service roads. All in all, I'm happy with the choices that Specialized made here: the synthetic leather upper does sacrifice a little breathability, but the advantages in durability and weather resistance (the shoes fend off moisture and mud well) is worth that slight tradeoff, in my opinion.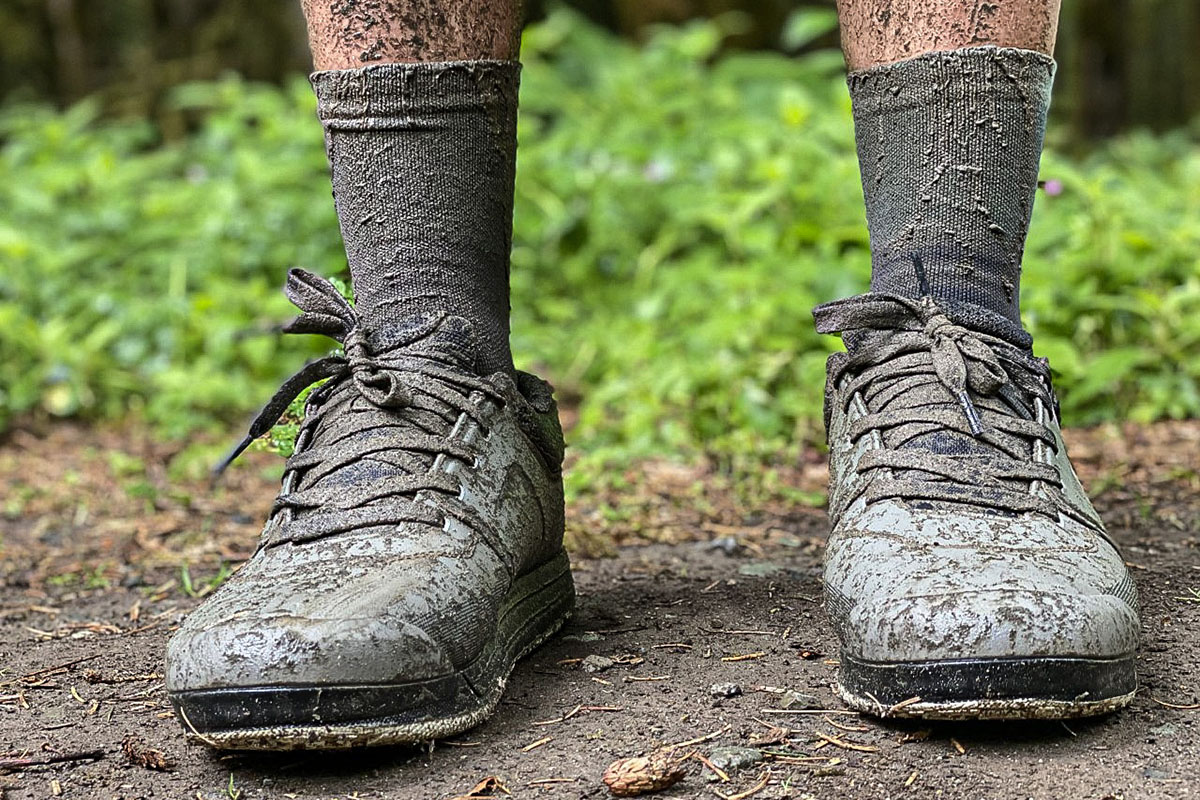 Weight
The 2FO DH Clip shoes check in at 1 pound 11.9 ounces per pair, which stacks up pretty favorably in the trail/downhill category. Another one of our favorites for serious riders is Giro's Chamber II, which is noticeably heavier at 2 pounds 3.6 ounces. Other options in this category include Five Ten's Kestrel Pro (1 lb. 15 oz.), Crank Brothers' Mallet Speed Lace (1 lb. 11 oz.), and Shimano's SH-ME7 (1 lb. 10.8 oz.). All told, considering the levels of protection and durability (more on this below), I feel the 2FO DH Clip's weight is entirely reasonable and well-spent. And perhaps most importantly, it's never felt overly heavy or bulky underfoot and has been able to put the power down with little effort required.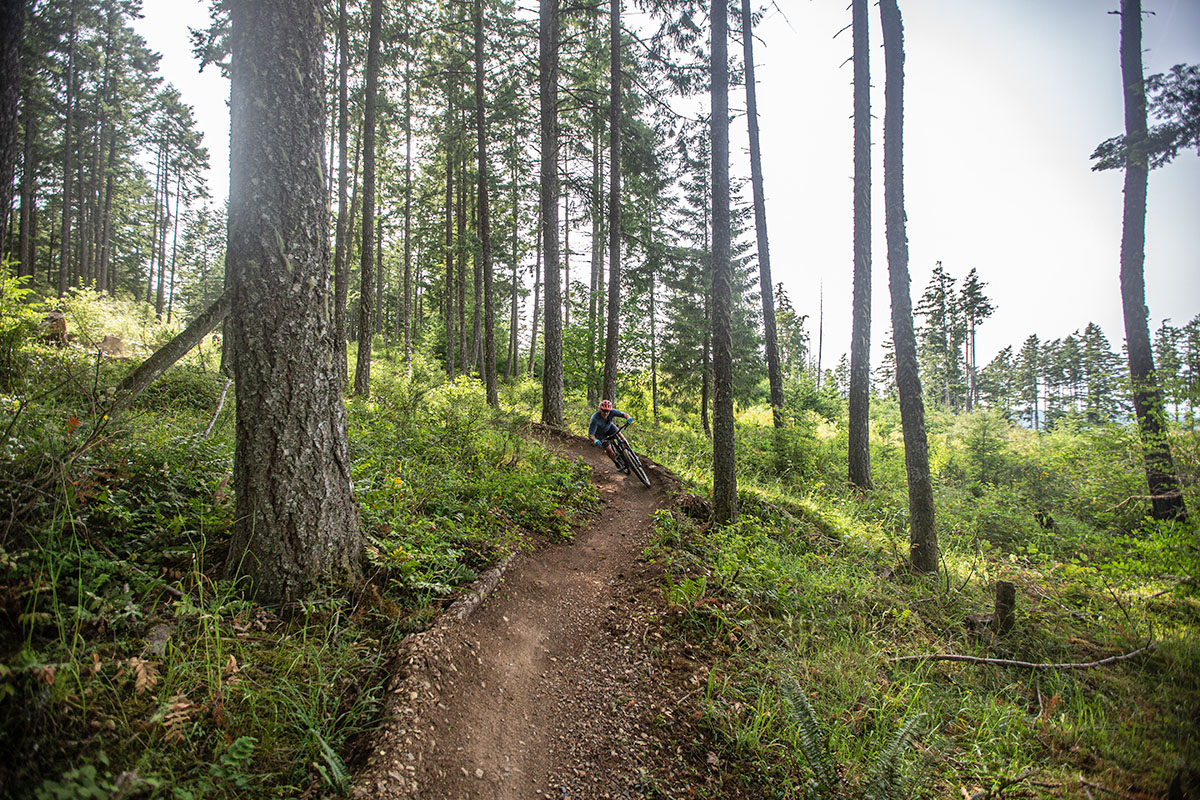 Build Quality and Durability
Specialized is no stranger to the mountain biking realm, and that expertise comes across clearly with the 2FO DH Clip. First and foremost, everything on the shoe looks and feels well-built and sturdy, from the confidence-inspiring synthetic leather upper to the composite nylon plate underfoot, breathable XPEL mesh, and burly SlipNot rubber outsole. As I touched on above, the higher inner ankle also does a nice job fending off hits from the crank arms, and the thick tongue protects the foot against impacts from rocks and roots. Impressively, after months of testing, there are no signs of wear other than minor cosmetic scuffs on the upper and plastic mold around the cleat. I'll follow up if any concerning issues arise, but all signs are positive that the 2FO DH Clip will have a long and problem-free lifespan.

Fit and Sizing
I typically wear a size 45, and the Specialized 2FO DH Clip fits true with just a little extra room at the toe box for leaning into the shoe on long descents. For reference, I have relatively wide feet and have had no issues with the 2FO DH. As I touched on above, the shoe is pretty stiff overall, but it hasn't caused any blisters or uncomfortable rubbing. Additionally, the extended cleat slot (4mm) leaves plenty of room for riders to personalize their cleat placement. I like to place my cleat towards the top of the ball of my foot—striking a balance between downhill comfort and pedal efficiency—and the Specialized offers plenty of real estate to do so. On the flipside, those that prefer the cleat farther back in a more downhill-oriented position shouldn't have any issues either.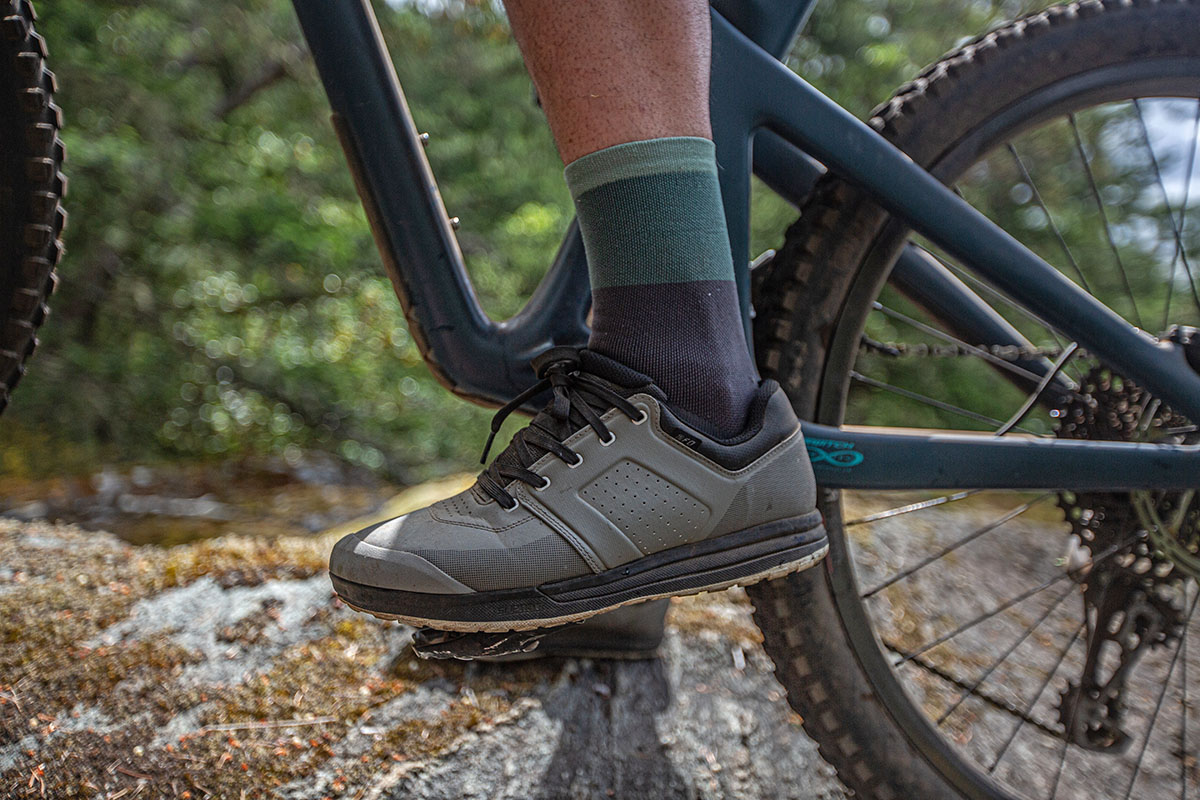 Other Versions of the Specialized 2FO
We tested the clipless 2FO DH Clip for this review, but if you prefer to ride flats, Specialized also makes the 2FO DH Flat for $160. Like the clipless version, the 2FO DH Flat boasts excellent pedal grip with a SlipNot rubber outsole (in this case, it's their stickier ST compound), uses XPEL hydrophobic mesh to reduce water absorption and boost breathability and drying time, and has an identical listed weight to the 2FO DH Clip at 1 pound 11.9 ounces. Rounding out the collection, the 2FO Roost Clip ($130) and 2FO Roost Flat ($120) are less technical, more casual alternatives that wear better around town but aren't built for serious downhill use like the standard 2FO models.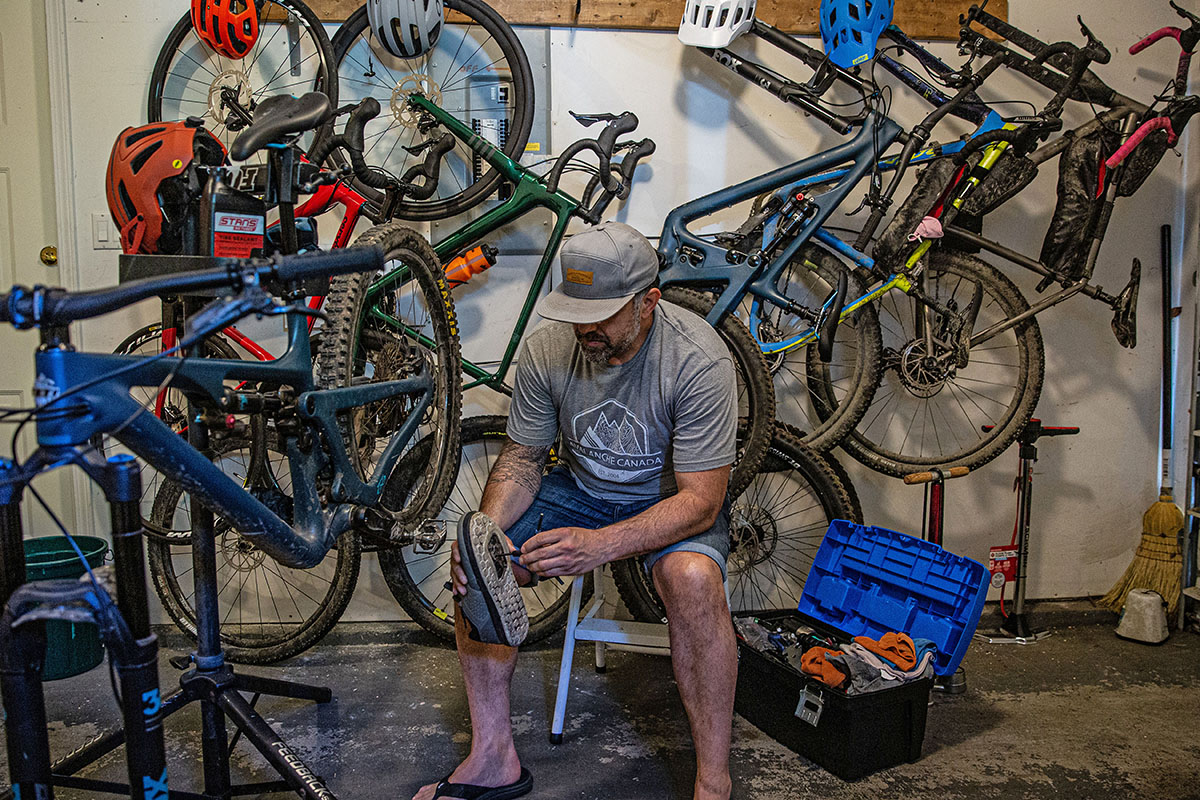 What We Like
The 2FO DH Clip is noticeably powerful and sturdy, with a confidence-inspiring and protective construction, excellent pedal grip, and a stiff build that promotes great energy transfer and bike control.
Good balance of weather protection and breathability thanks to the synthetic upper, hydrophobic mesh, and perforations for releasing hot air.
Extended cleat slot leaves plenty of room to customize cleat placement depending on your riding preferences.
Subtle colors and clean design make the 2FO DH Clip versatile for wearing directly from the trail to around town.

What We Don't
Pretty rigid and flat underfoot, which has led to achy arches after long days in the saddle. 
The shoe is noticeably stiff at the laces and tongue, and I prefer the micro-adjustability and convenience of the outgoing 2FO ClipLite's dual Boa dials. 
Laces need to be quite snug in order to maximize responsiveness.


Comparison Table

The Competition
The 2FO collection has been a popular choice in the all-mountain and downhill realm for many years, but there are a healthy number of mountain bike shoe alternatives. One strong option is Shimano's ME7, which sports space-age looks but a solid and functional feature set. First off, you get a little extra coverage with the raised collar and neoprene cuff, and we prefer the speed lace and ratchet system that makes it quicker and easier to dial in fit. The 2FO wears much better around town, has a bit more protection, and gets the edge in price by $30, but they're similarly capable in general and we've had fewer comfort-related issues with the ME7, which puts it over the top for us.
Next up is Five Ten's aggressive Kestrel Pro. This all-mountain shoe is stiff underfoot and decently protective, and its Boa lacing system makes micro adjustments a hassle-free process (unlike the stiff laces on the Specialized). Its synthetic upper also holds up well to rough use, although it can't match the overall cushioning and protection of the 2FO DH. As a result, we think downhill-focused riders will prefer the toughened-up Specialized, while those looking for more of a true all-rounder will be happier with the Kestrel.
Crank Brothers recently jumped into the mountain bike shoe world, and their closest design to the 2FO DH is the $170 Mallet Speed Lace. As the name indicates, this shoe comes with a single pull quick-lace system, which has its share of pros and cons. Most notably, it's faster to cinch evenly than the Specialized, although we found the Velcro strap that secures over the laces can cause a pressure point when pulled tightly (for another $30 you can get a Boa design). In terms of performance, both are stiff and pretty powerful, and there's enough traction for shorter hike-a-bikes. What pushes the Crank Brothers ahead for us, however, is comfort. Its superior cushioning and feel—especially underfoot—make it the better option for us.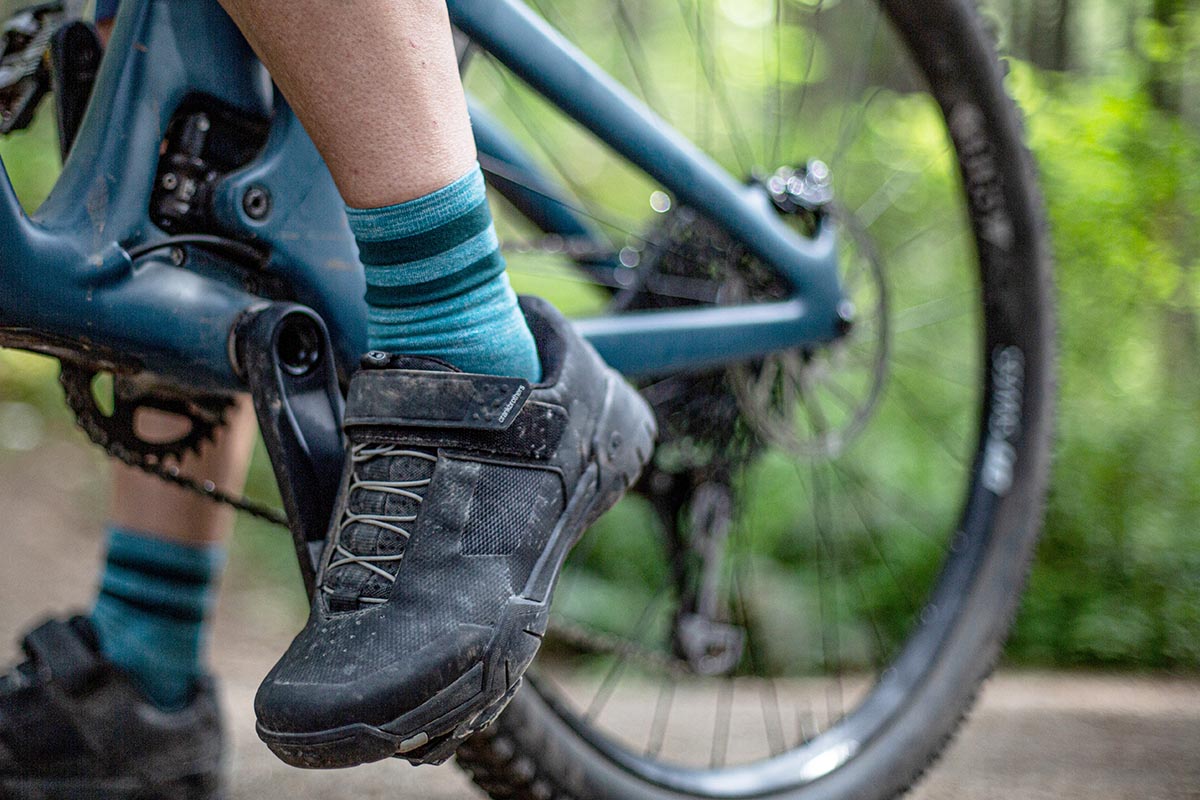 A final design to consider is the Roost Clip variation of Specialized's 2FO. Where this model differs from the DH is its light-trail-focused nature. It's lighter and less protective and rigid, which provides better off-the-bike walking comfort and a nimbler feel overall. And you don't compromise on build quality or grip (the Roost also has the SlipNot rubber compound). As such, a good portion of riders will likely be better off with the $40-cheaper Roost. That said, if you ride in rough conditions and like an extra layer of cushioning or plan to mix in some racing, the DH is well worth the extra cash and ounces.
If you're thinking about buying gear that we've reviewed on Switchback Travel, you can help support us in the process. Just click on any of the seller links above, and if you make a purchase, we receive a small percentage of the transaction. The cost of the product is the same to you but this helps us continue to test and write about outdoor gear. Thanks and we appreciate your support!
Depending on the seller, most products ship free in the United States on orders of $50 or more. International shipping availability and rates vary by seller. The pricing information on this page is updated hourly but we are not responsible for inaccuracies.
Read More From Switchback Travel