Volkl Blaze 106
Price: $600
Ability level: Intermediate to advanced
Dimensions: 146-106-128mm (179cm length)
What we like: Light, playful, and maneuverable; a fun ski for those that spend more than half their time off trail.
What we don't: So-so edge hold and prone to chattering on hardpack.
See the Volkl Blaze 106  See the Women's Volkl Blaze 106
In a departure from their core all-mountain lineup, Volkl has taken aim at the freeride category with the new-for-2021 Blaze. We tested the unisex and women's 106 models in Crested Butte, Colorado, in a range of conditions, from smooth and fast hardpack to a powder sidecountry hit. Our time was cut short due to COVID-19, but some key characteristics stuck out: the Blaze lacks the speed and edge hold of Volkl's more serious designs, but the ski's lightweight and mostly wood construction give it a fun, maneuverable, and poppy feel off-piste. Below we break down the Blaze's hardpack performance, soft snow performance, build quality and durability, fit and sizing, and more. To see how it stacks up to the competition, see our article on the best all-mountain skis.

Hardpack Performance
Building on its predecessor, the 100Eight, Volkl's new Blaze 106 is quick, nimble, and easy to control. But a small amount of camber underfoot (the old 100Eight was flat) and a unique side cut deliver moderate improvements in edge hold and power on hardpack. In testing, we transitioned to the Blaze from more serious and stiffer designs like Salomon's new Stance and the Nordica Enforcer/women's Santa Ana, and there was a short adjustment period on groomers. On one hand, the ski's natural feel and lack of metal in the construction gave it a very light, playful, and maneuverable personality. With both the men's and women's variations, we found it very easy to initiate a turn, slarve, and come to a sliding stop (it didn't take a lot of muscle to pivot). Further, its tip and tail rocker, which is long but stays low to the ground, does a good job keeping the ski fairly damp and handled chopped-up snow relatively well.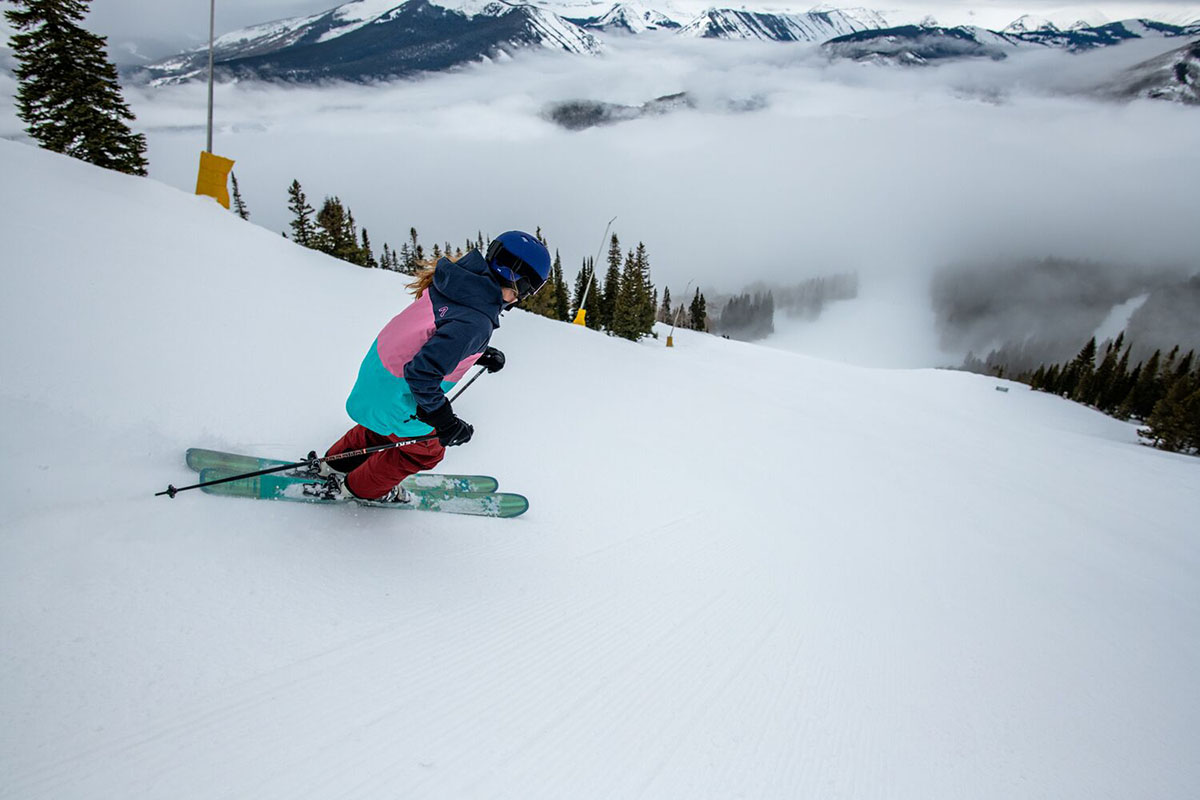 On the other hand, the tip in particular was prone to chattering even at a moderate pace, and it lacked the precision to confidently lay down a big, sweeping high-speed turn like you can on Volkl's own M6 Mantra or Kendo. Popping between shorter turns, however, was really enjoyable and a credit to the ski's small amount of camber as well as its fairly short turn radius in the center of the ski (17m on the unisex 179cm and 14cm on the women's 165cm). We specifically call out the "center" due to the fact that the Blaze actually has three separate side cut radii, with longer numbers at the tip and tail (36m and 28m respectively). On hardpack, the center radius seemed to play the clearest role for us—again, it just didn't feel like it wanted to do wider GS-style turning—but it's more versatile off-piste (more on this below), and perhaps more time on the ski will allow us to tap into that adaptability.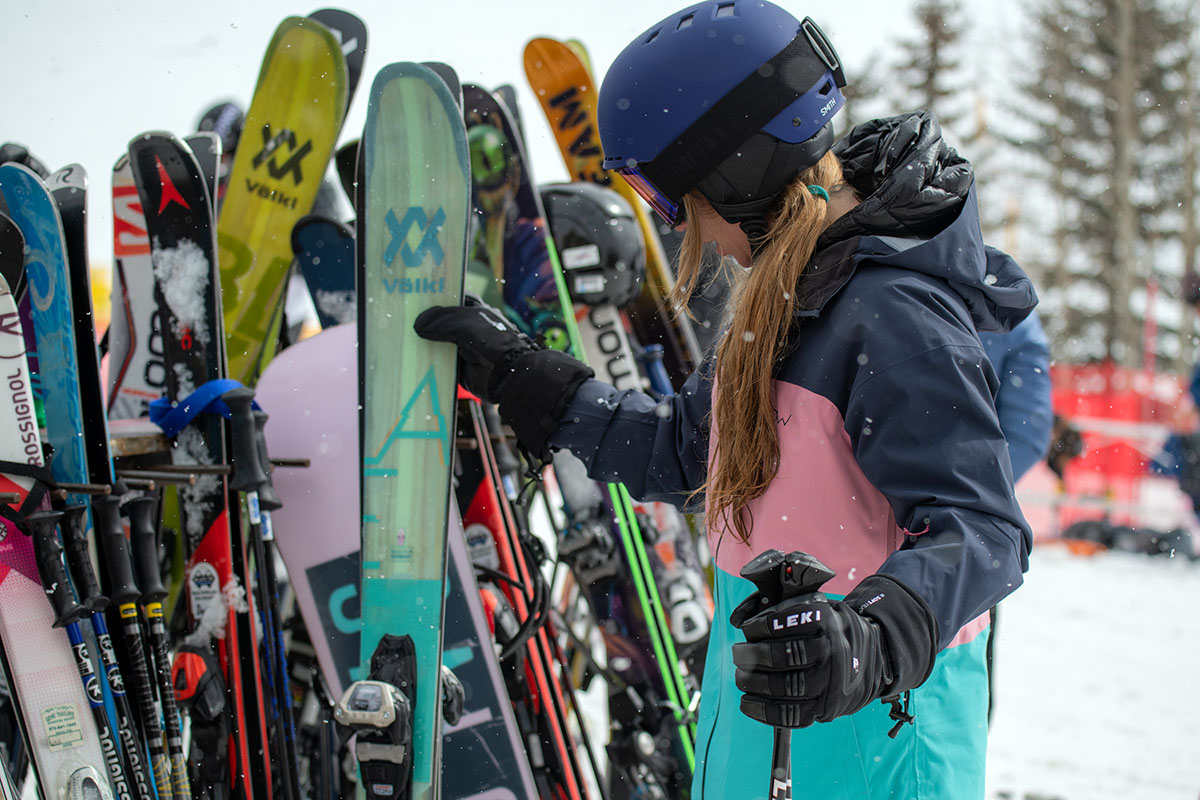 Soft Snow (Powder) Performance
We only had the chance to get one sidecountry run in with the Blaze, but that short experience revealed a lot about its off-piste abilities. Here, the ski felt completely at home, offering excellent floatation and control in moderately deep powder—it was a dry spell in Crested Butte, but there were still pockets of soft snow—while still managing to retain the nimble feel it displayed on-piste. All in all, it felt easy to pivot even at low speeds, which was largely a result of its light weight and shorter turn radius. And unlike stiffer builds like Volkl's M5 Mantra, the Blaze didn't take a heavy hand to control and felt very intuitive executing a range of turning styles and widths.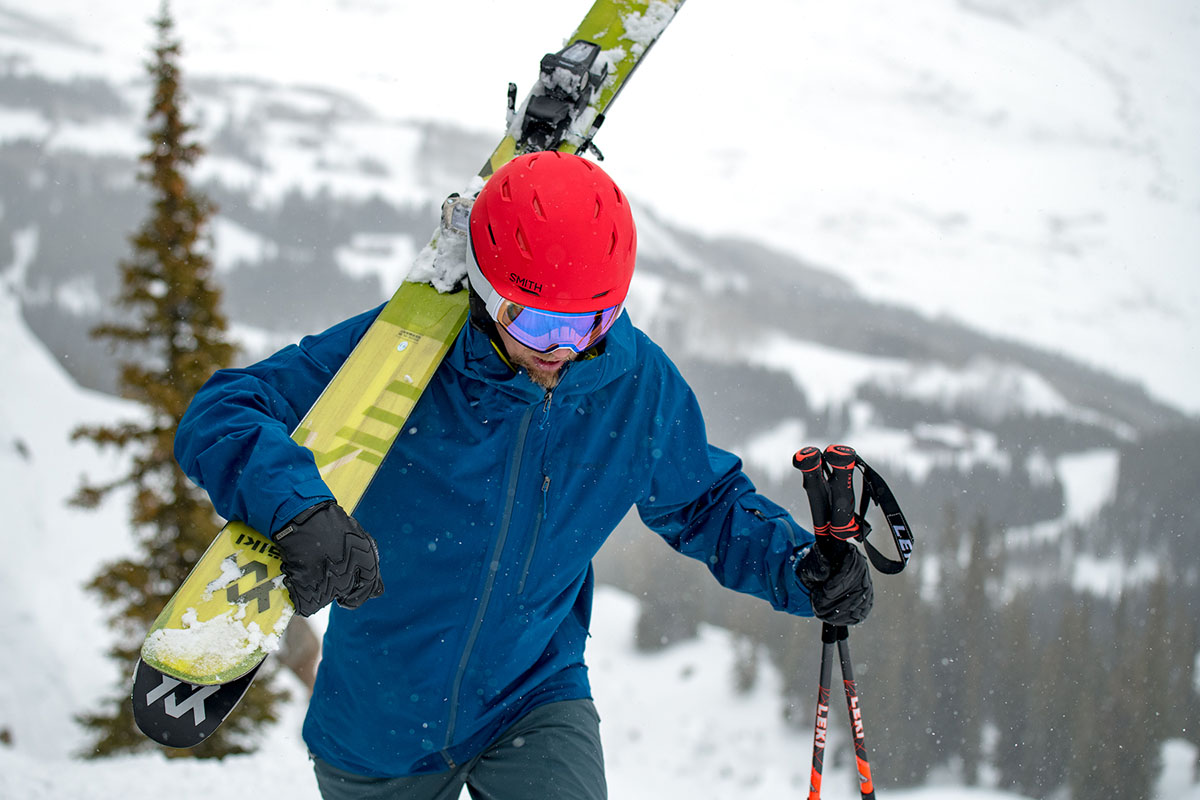 In terms of best uses, it strikes us as a quality one-quiver option for areas that get a fair amount of snow (including Colorado) and for riders that spend half or more of their time off-trail. And the weight and general shape should also put it on the map of those wanting a mixed resort and backcountry ski (again, in areas where you need the 106mm width).
 
Performance in the Bumps
For a design on the wider end of the spectrum, the Blaze 106 is well-tuned for tight spaces, moguls, and trees. The ski has a good combination of a willing and easy-to-turn shape, a low swing weight, and moderate stiffness that's forgiving in the tip to absorb impacts and powerful enough in the tail to pop between turns. Overall, we found it to be a nice choice for those that like to attack moguls on occasion and want a capable companion without compromising in soft snow performance by sizing down to a narrower width. And it's worth mentioning that the Blaze is also offered in a 94-millimeter width, which could check a lot of boxes for those who like putting in work in the bumps.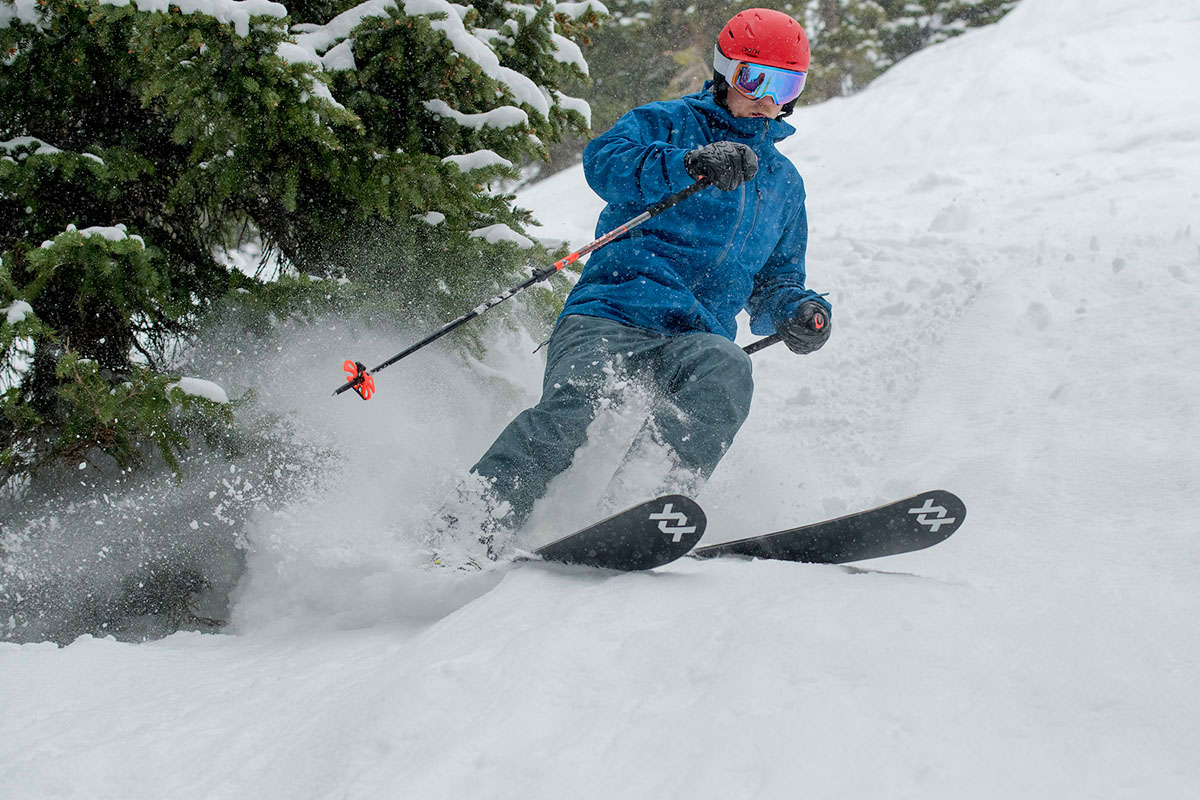 Build Quality and Durability
As expected from the Germany-based company, the Volkl Blaze 106 has a premium feel and top-notch build quality. What was a little unexpected, however, is the fun, semi-transparent top sheet. In a nod to its more playful ride, you get to see a good amount of the hybrid wood core, including beech and poplar woods and a thin Titanal plate around the binding. Combined with large fonts and pops of color, the net result is a fun and attractive design. All in all, it's unique and distinctive—something that's hard to pull off with so many skis on the hill—without resorting to anything over the top. And by sticking to fairly standard materials in general—there's no fancy carbon and only a small amount of Titanal—the ski hits a great price point at $600. For a model that can be used all over the mountain (and even in the backcountry given its reasonable weight), we think the Blaze is an excellent value.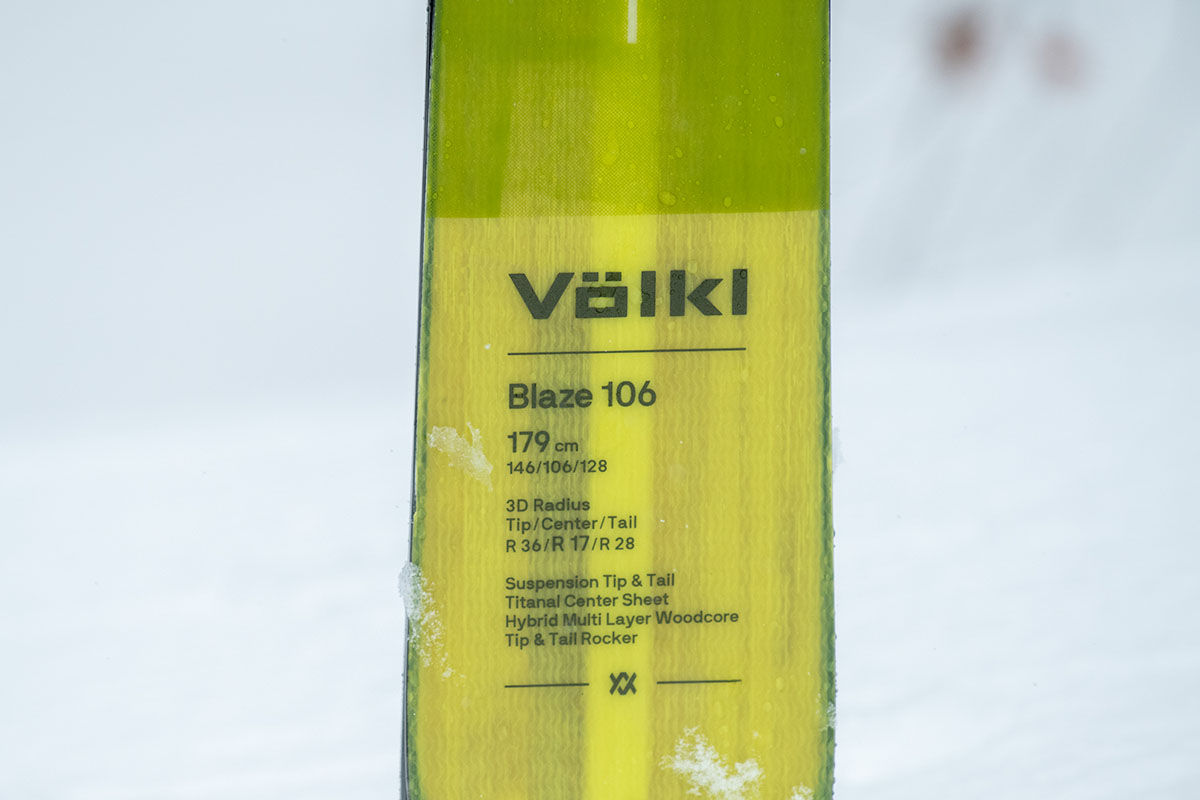 Fit and Sizing
We tested the 179-centimeter unisex Blaze 106 for this review and also brought along the women's Blaze 106 in the 165-centimeter length. Overall, the 179 was the perfect length for me (for reference, I'm 5'9" and 155 lbs.): it felt true to size with a good combination of maneuverability and control. Our female tester (5'6" and 135 lbs.) on the 165-centimeter Blaze felt similarly: sizing up would have likely eliminated some of the ski's playfulness off-piste. All in all, the Blaze strikes us as a ski that performs best at your standard length. And finally, keep in mind that turn radius varies by size—the 172-centimeter unisex model, for example, has a shorter 16 meter radius at the center of the ski, while the longer 186 is 19 meters.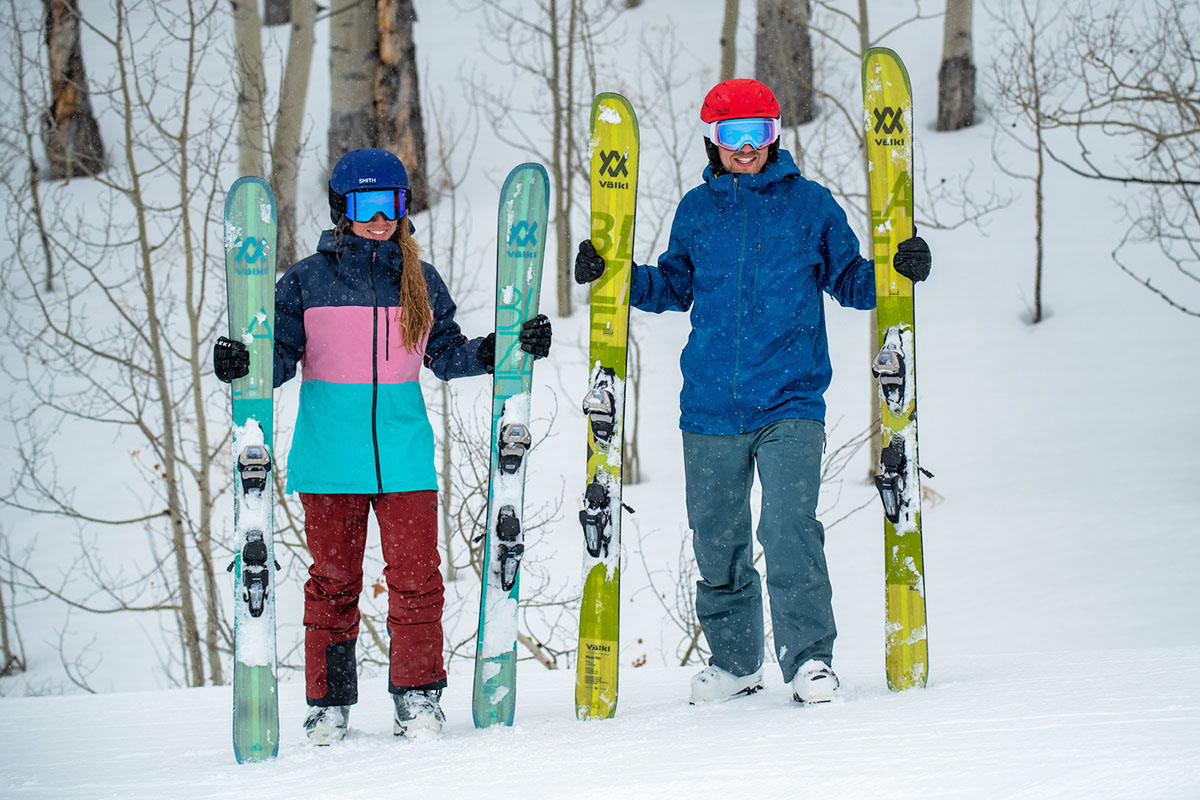 Other Versions of the Volkl Blaze
We brought the unisex and women's Blaze 106 to Crested Butte for testing, and Volkl also makes the ski in 94-millimeter models. As we touched on above, the Blaze 106 is on the wider end of the spectrum, and the 94 strikes us as a better match for tight spaces like moguls and trees. It's also a good choice for off-piste riders in areas with less snowfall. Stacked up against the 106, the unisex Blaze 94 is $50 cheaper at $550 but otherwise sports an identical construction, including the 3D Radius side cut, mixed wood core, and same overall shape. Given its forgiving ride, the narrower version could be a nice option for intermediate-level all-mountain riders.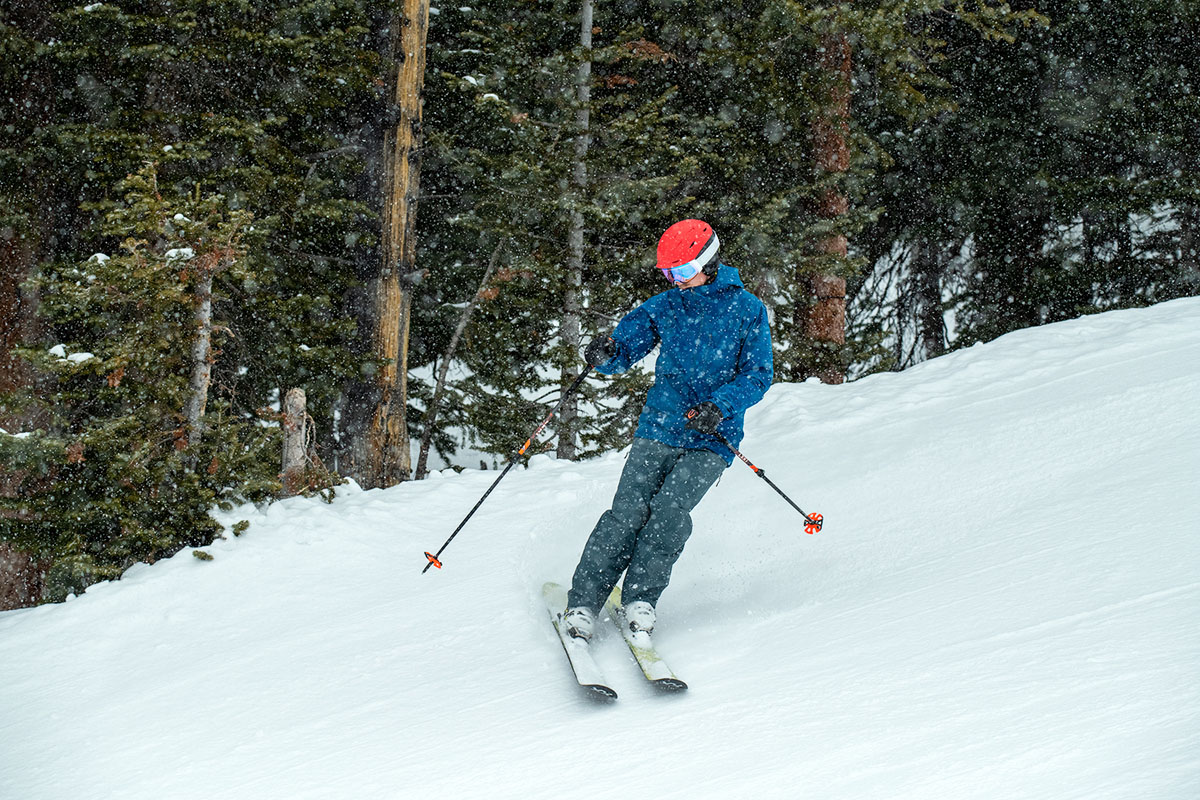 What We Like
The Blaze 106 is playful, light, and maneuverable both on hardpack and in soft snow (although it particularly excels in the latter).
Despite the 106-millimeter waist, the Blaze's shape, low swing weight, and moderate stiffness make it a capable partner in tight spaces and moguls.
Premium feel and top-notch quality, including a unique design that showcases the hybrid wood core and Titanal in the construction.
The versatile, lightweight build make it a viable option for mixed touring and resort use.

What We Don't
Tip was prone to chattering on hardpack even at moderate speeds.
The Blaze lacks the precision and edge hold to execute fast and precise sweeping turns (Volkl's own Mantra and Kendo are better options here).
Expert-level hard chargers will likely want a little more all-around stiffness and stability.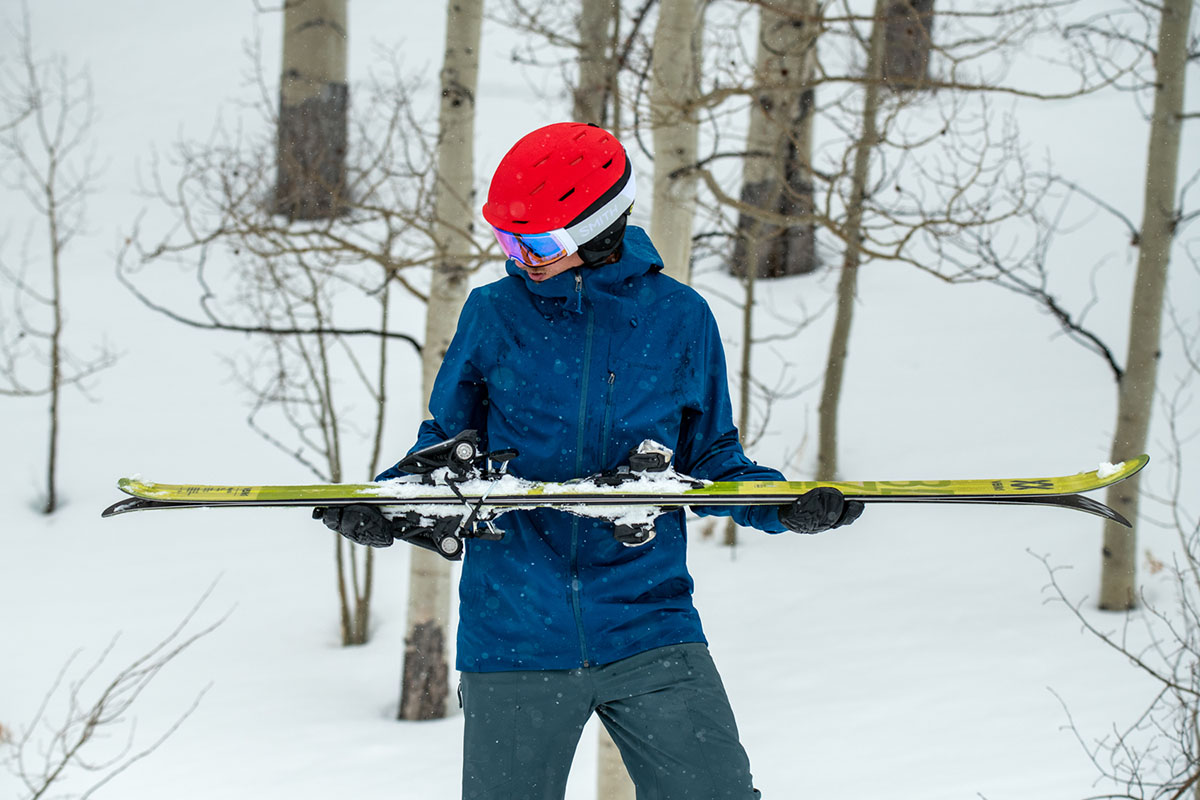 Comparison Table
| Ski | Price | Ability Level | Dimensions | Radius | Construction |
| --- | --- | --- | --- | --- | --- |
| Volkl Blaze 106 | $600 | Intermediate to advanced | 146-106-128mm | 28/17/36m | Wood, Titanal |
| Blizzard Rustler 10 | $700 | Intermediate to expert | 133-102-122.5mm | 17.5m | Wood, Titanal, carbon |
| Salomon QST 106 | $700 | Intermediate to expert | 139-106-125mm | 20m | Wood, Titanal, carbon, flax |
| Rossignol Black Ops | $700 | Intermediate to advanced | 138-104-128mm | 18m | Wood, carbon, fiberglass |
| Armada Tracer 108 | $750 | Advanced to expert | 134-108-126mm | 19m | Wood, Titanal |
| Line Sick Day 104 | $600 | Intermediate to advanced | 137-104-121mm | 17.7m | Wood, carbon |

The Competition
Volkl's Blaze 106 is new for 2021 and a well-rounded all-mountain ski for those that spend time both on- and off-piste. As soon as we heard about the Blaze, one of the first skis that came to mind was Blizzard's popular Rustler 10. Both models share an emphasis on a poppy and fun ride with accommodating dimensions for splitting time between hardpack and soft snow. Neither is meant to hammer groomers, but you do get a little extra dampness and control from the Rustler—its higher weight, added Titanal in the construction, and narrower tip play a role here—but it comes with a more complex build and costs $100 more. We think the added investment is worth the boost in versatility, but both models excel for those that want a playful build.
Salomon's QST 106 is another favorite of ours at this waist width and shares the same freeride ambitions as the Blaze. That said, the two skis have very distinct personalities: the QST has a longer turn radius (20m for the 181cm version) and much more complex construction, which includes materials like carbon fiber in the core and cork in the tip and tail. What you get with the QST is better dampness and a little more edge hold in hardpack at the compromise of weight and viability for touring. A final decision will come down to priorities and how much time you plan to spend off-piste.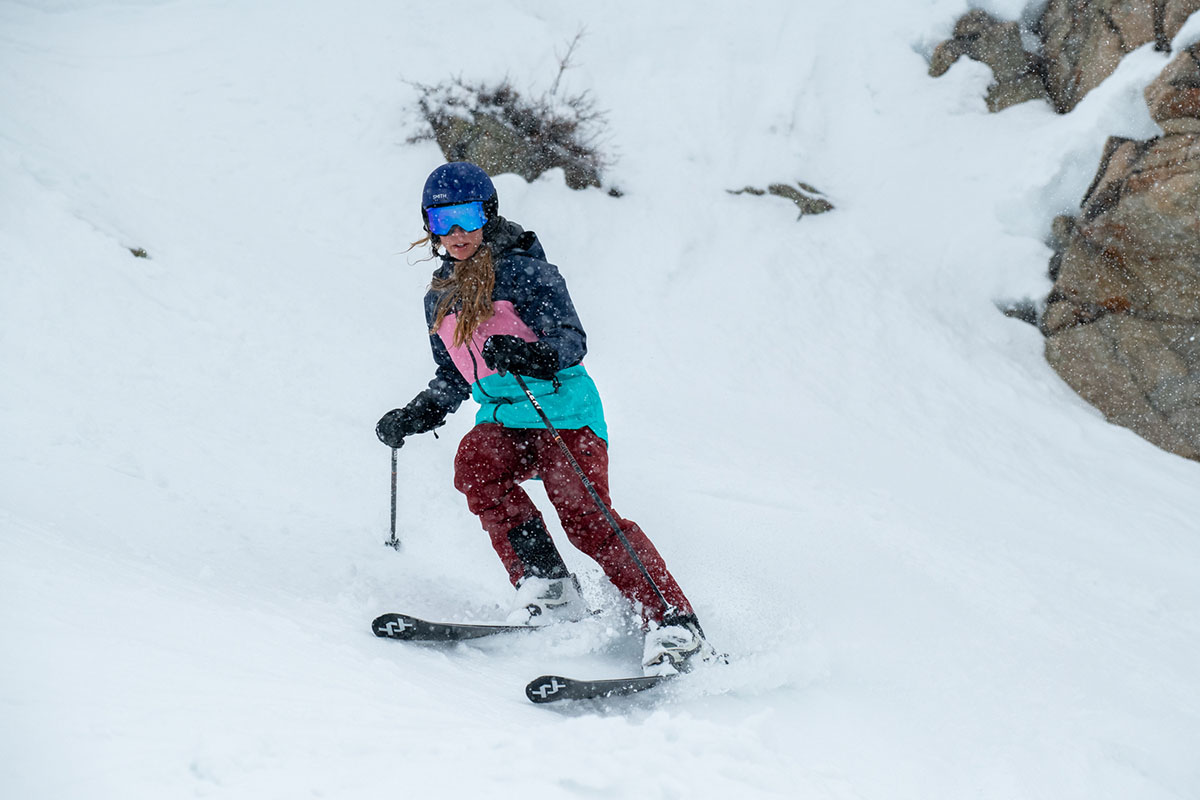 Rossignol's Black Ops Sender is another intriguing alternative to the Blaze and is a full rethink of the extremely popular Soul 7. Right off the bat, we'll note that this is more of a serious ski than both the outgoing Soul and the new Blaze. Heavier and with a flatter tail and stiffer overall feel, the Black Ops is more of a hard charger but less flickable and fun than the Blaze. And versatility and cost might be the deciding factors for many: the Volkl is the clear choice for mixed backcountry/resort use and costs $100 less.
For a lightweight alternative, Armada's Tracer is one of our favorite hybrid backcountry/resort designs. In the 108-millimeter variety, you get a moderately stiff build and some camber underfoot for putting the power down. In comparing the two builds, the Tracer can't match the playfulness of the Blaze, but it's more capable for general use and less prone to tip flap. You do pay a premium at $750 (the Blaze costs $600), but the Armada is the more well-rounded ski overall and worth the added cost for expert-level riders.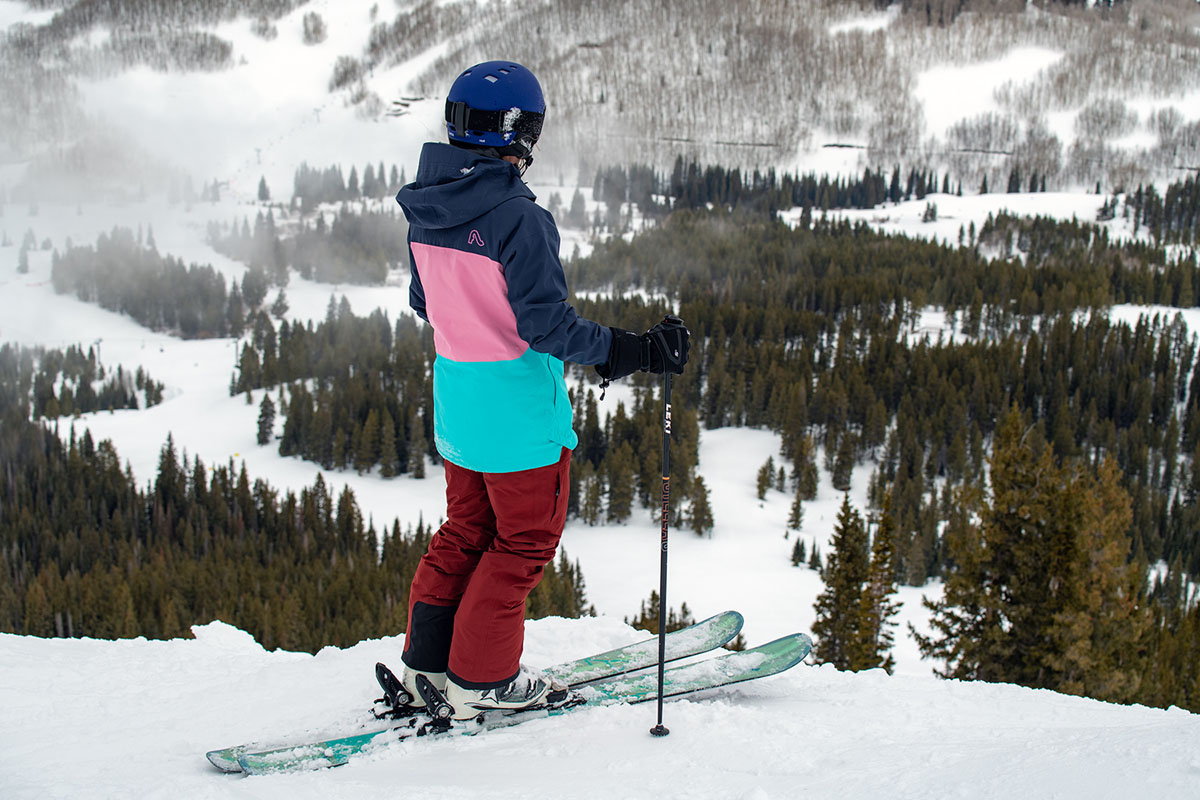 A final option to consider is Line's Sick Day 104. Like the Tracer, the Sick Day is a viable one-quiver resort and touring option and hits a sweet spot in dimensions for areas that get a fair amount of soft snow. And similar to the Blaze, the Sick Day is designed to handle a variety of turn styles with a "5-Cut" radius (i.e., a grand total of five turn radii). Carbon fiber also helps the Line lay into and hold a high-speed turn better than the Blaze, but neither will excel in icy and overly firm conditions. It's a close call between the two, and a decision will likely come down to how you prioritize versatility (the Sick Day gets the edge here) versus a nimble ride (the Blaze wins out slightly). 
If you're thinking about buying gear that we've reviewed on Switchback Travel, you can help support us in the process. Just click on any of the seller links above, and if you make a purchase, we receive a small percentage of the transaction. The cost of the product is the same to you but this helps us continue to test and write about outdoor gear. Thanks and we appreciate your support!
Depending on the seller, most products ship free in the United States on orders of $50 or more. International shipping availability and rates vary by seller. The pricing information on this page is updated hourly but we are not responsible for inaccuracies.
Read More From Switchback Travel