Head Kore 99
Price: $699
Ability level: Advanced to expert
Dimensions: 134-99-120mm (177cm)
What we like: Light and flickable but still strong; excels off trail and in light to moderate powder.
What we don't: Less stable and not as fun on hardpack as others in its width class. 
See the Head Kore 99
Head's 2022 Kore collection covers widths from 87 to 117, and towards the middle of that lineup is the versatile 99. Like the rest of the Kore models, this ski saw a number of changes for this season, including a revised construction, even lighter weight, and a smaller (7cm) gap between lengths. In testing the latest variation, it struck us as a solid 50/50 on- and off-trail ski: it's still impressively powerful yet light, but it's not a standout in terms of stability or dampening on hardpack. That said, if you like to pop in and out of the trees, prioritize a nimble feel, and have enough soft snow to justify the wider set-up, it's a compelling package. Below we outline our experiences with the Kore 99. To see how it stacks up to the competition, see our article on the best all-mountain skis.
 
---
Table of Contents
---

Hardpack Performance
The Head Kore 99's mix of lightness and power give it unique characteristics on hardpack. Unlike a heavier and very damp design like Nordica's Enforcer 100, the Kore is lively, reacts quickly to input, and has a nimble feel that matches its lightweight build. That said, there's still quite a bit of stiffness underfoot, and it's not something we'd recommend for intermediates (or even strong intermediates) that like to take it easy and slarve their way down the hill. It takes some muscle to really lay into a turn and get on edge, and if you're not pushing into the front of your boots, the ski's rigid tail with relatively limited rocker has a tendency to grab and punish poor technique. On the flipside, powerful skiers that love a highly responsive ride will be rewarded with lots of energy and pop in between turns (quick and medium-width turns are the ski's specialty), and the Kore's great off-trail manners (more on this below) encourage a creative riding style.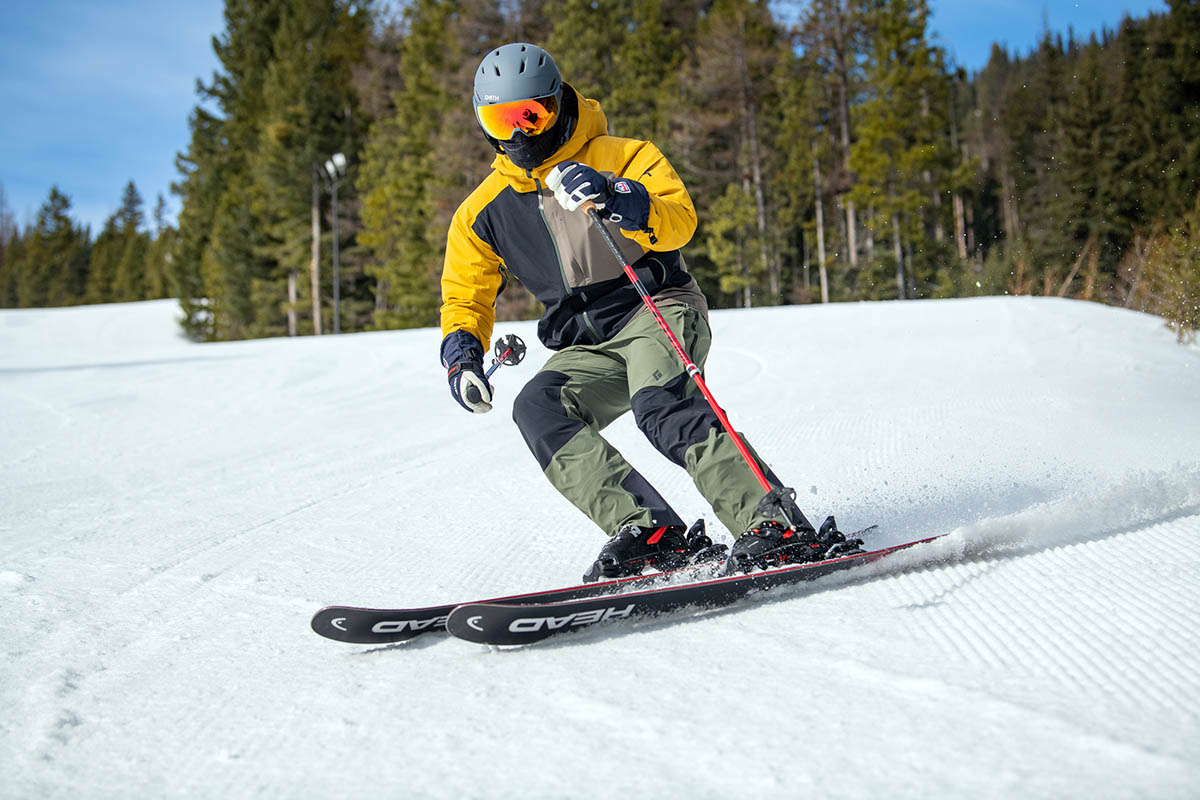 As I touched on above, the Kore 99 does have its downsides in firm conditions. Specifically, I found it more skittish and prone to getting knocked around than the narrower Kore 93. During wider, high-speed sweepers on bumpy snow, the 99 was just a touch less fun, not as smooth, and harder to trust than the 93. As such, we recommend the narrower variation or one of the many strong and wide models in the all-mountain market for those that spend more than half their time on trail (including the aforementioned Enforcer 100, Volkl's M6 Mantra, and others).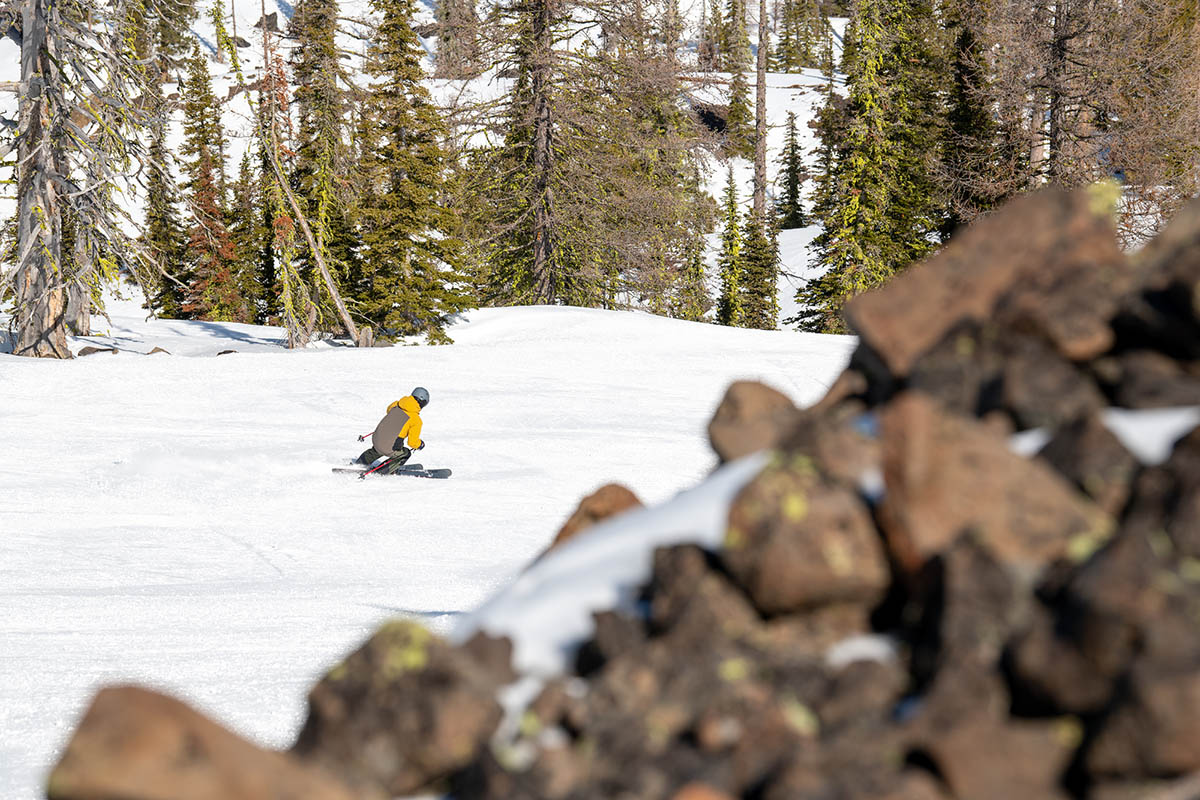 Soft Snow (Powder) Performance
In contrast to my experiences on hardpack, the Kore 99 really came to life when I ventured off trail and into my local hill's sidecountry. Here, that lightning-quick personality shone through: the ski felt completely in control in everything from moderate powder (around 6-10 in. over a solid base) to just a light dusting in the trees. The moderate rocker profile and superlight Graphene tip and tail do a great job with floatation—the Kore definitely punches above its width in this regard—and the ski felt smooth and relatively easy to handle in just about all conditions. The only notable exception would be at absolute top speed through a wide and open bowl, where I'd prefer a little more dampening (like what you get with the Nordica Enforcer 100).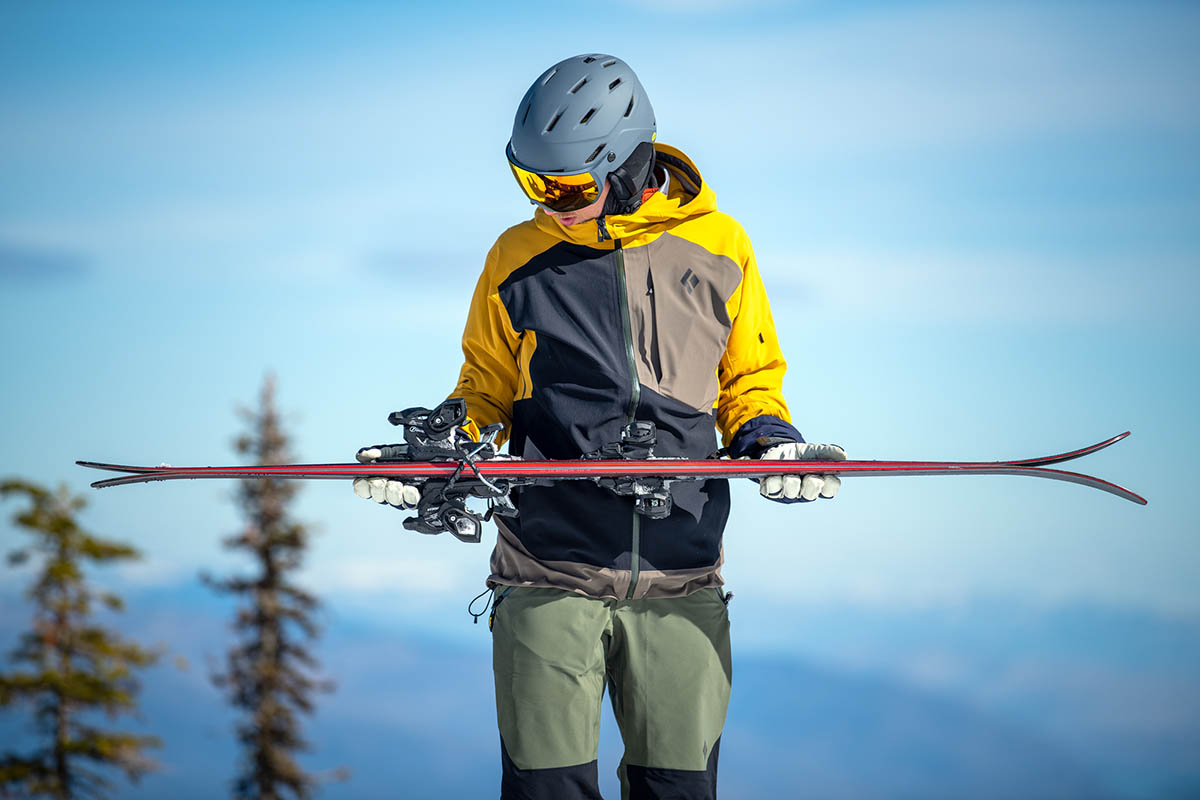 And as the terrain gets tighter, the difference between the nimble Kore and a heavier option like Volkl's M6 Mantra really becomes apparent. It's less fatiguing, easy to flick around and pivot in technical spots, and frankly more enjoyable to ride in these conditions. All told, the Kore 99 was a little more soft-snow biased than I expected given the popularity of these wider, all-mountain models, but for the right user, it's an excellent option. And that "right" user group can certainly include advanced to expert backcountry skiers that want a stiffer set-up.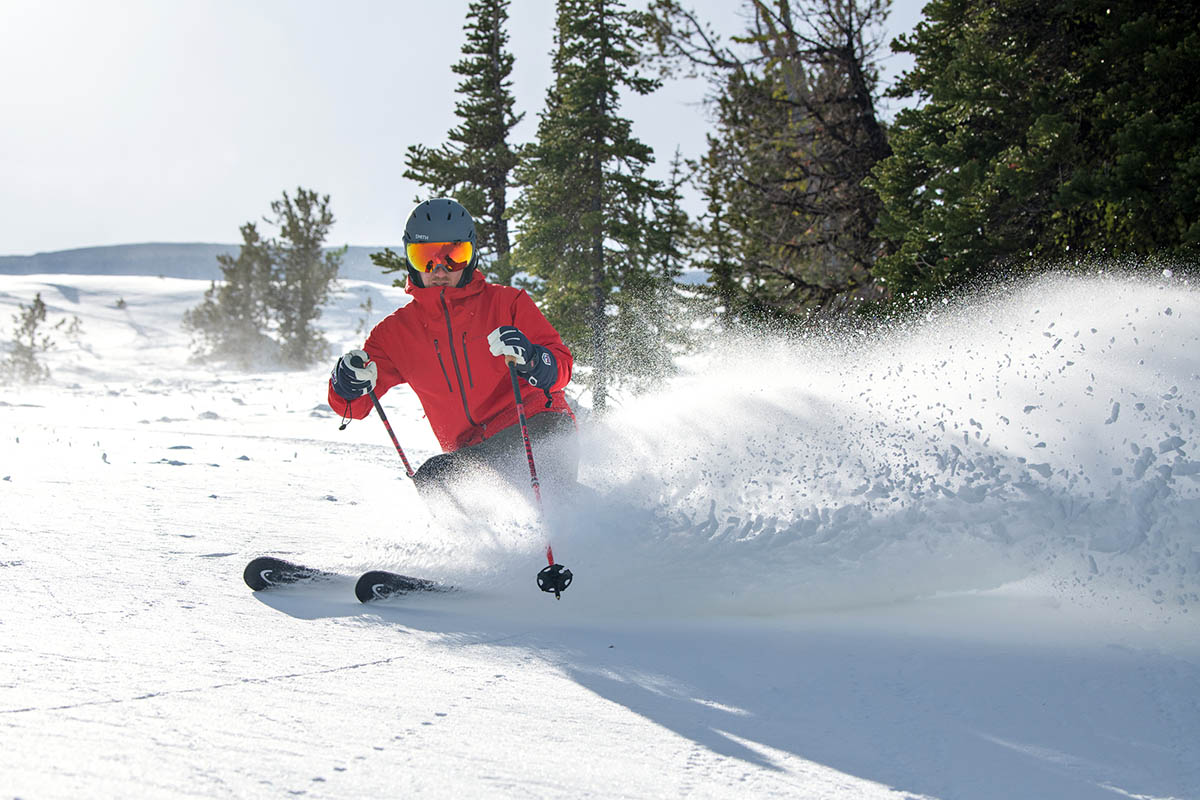 Performance in the Bumps
Given its relatively wide dimensions, the Kore 99 won't be at the top of any mogul skier's list. However, its responsiveness and limited swing weight are a nice combination for dipping into the trees and through bumps. Similar to its hardpack performance, it'll take a strong, advanced-level rider to make the whole experience enjoyable, but there's a lot of power in the tip and tail to drive the ski, and its flickable nature really shines in tight spots. All that said, the narrower Kore 93 is still the better performer here thanks to its reduced mass. And if you're like most bump skiers and want a little more shock absorption and compliance, you may want to consider a softer option like the Blizzard Rustler 10 or Salomon's QST 98.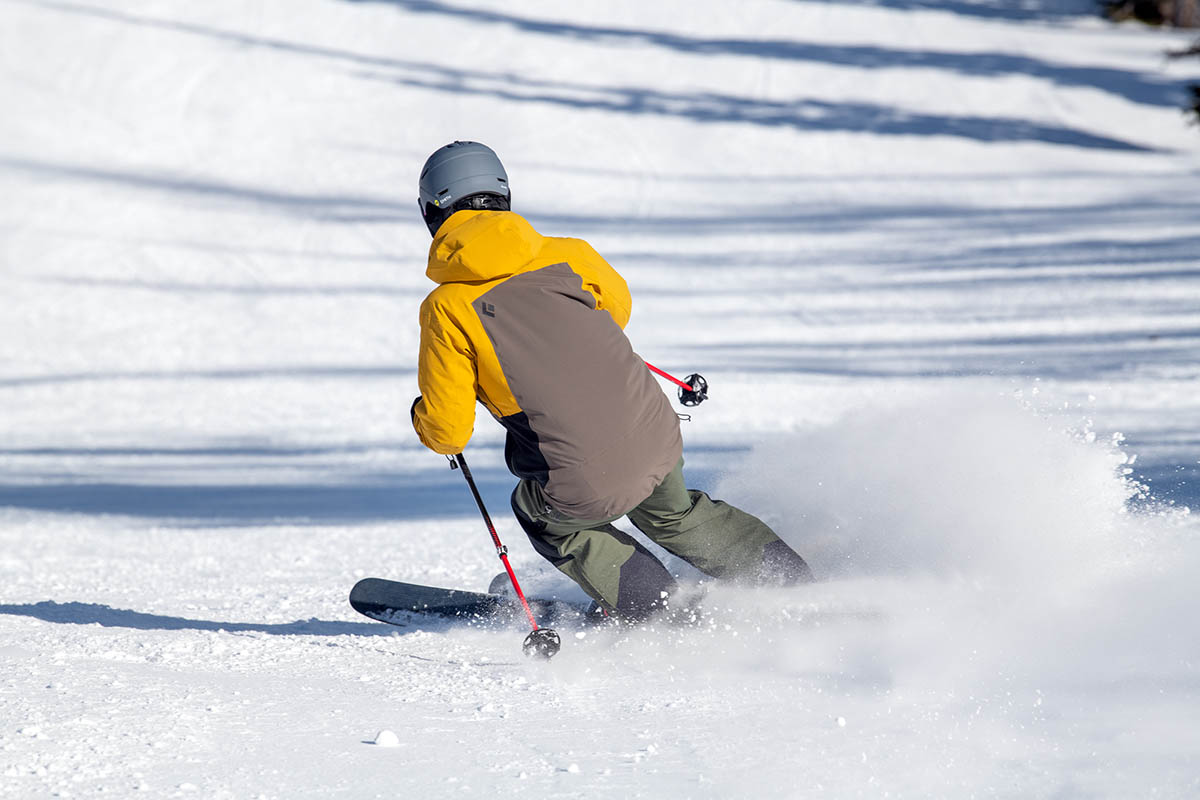 Build Quality and Durability
The past-generation Kore was prone to showing premature wear, but Head attempted to address that with this latest model by rounding off the top of the ski. With this chamfered build, the ski should be less susceptible to chipping. That said, the polyester fleece topsheet (Head calls it "topless tech," although it still technically has a topsheet) is still thin and pretty prone to showing scratches. To be clear, it's an improvement over the prior model, but cosmetic wear will still happen faster than with other all-mountain designs. But importantly, from a build quality standpoint, there's absolutely nothing to complain about: you get high-end materials throughout, including a lightweight combination of karuba and poplar for the core, two sheets of carbon fiber (one above and one below the wood), and the light yet stiff Graphene tip and tail. And in person, the ski looks fantastic, with clean lines and a decidedly sleek and high-end feel.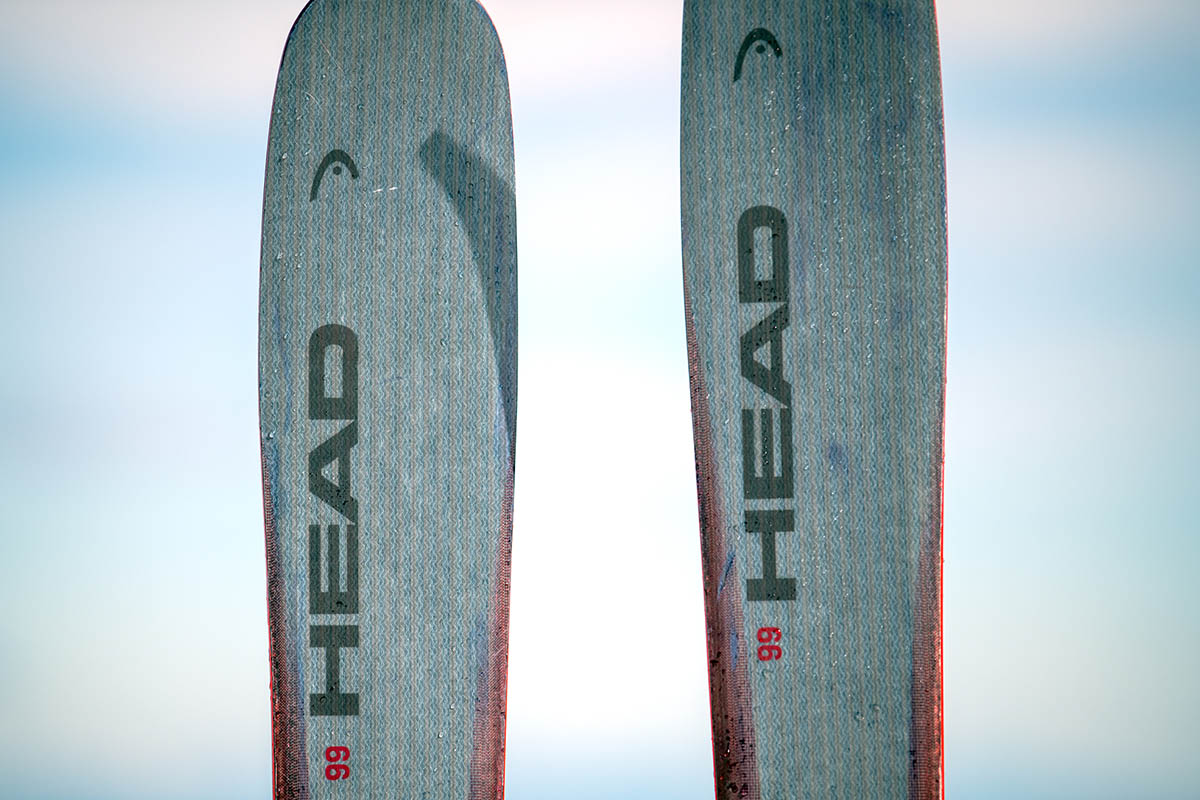 Fit and Sizing
With the latest 2022 Head Kore 99, the ski is now available in a wider range of sizes with only 7 centimeters separating lengths (from 163 to 191cm). These smaller increments make it much easier to find an ideal match for your height and riding style. For reference, I'm 5'9" and 155 pounds, and I found the 177-centimeter length to be a great all-around choice for me. Finally, it's worth noting that each length has a unique turn radius that gets longer as ski length increases, which should help riders tune their turning style a bit more easily.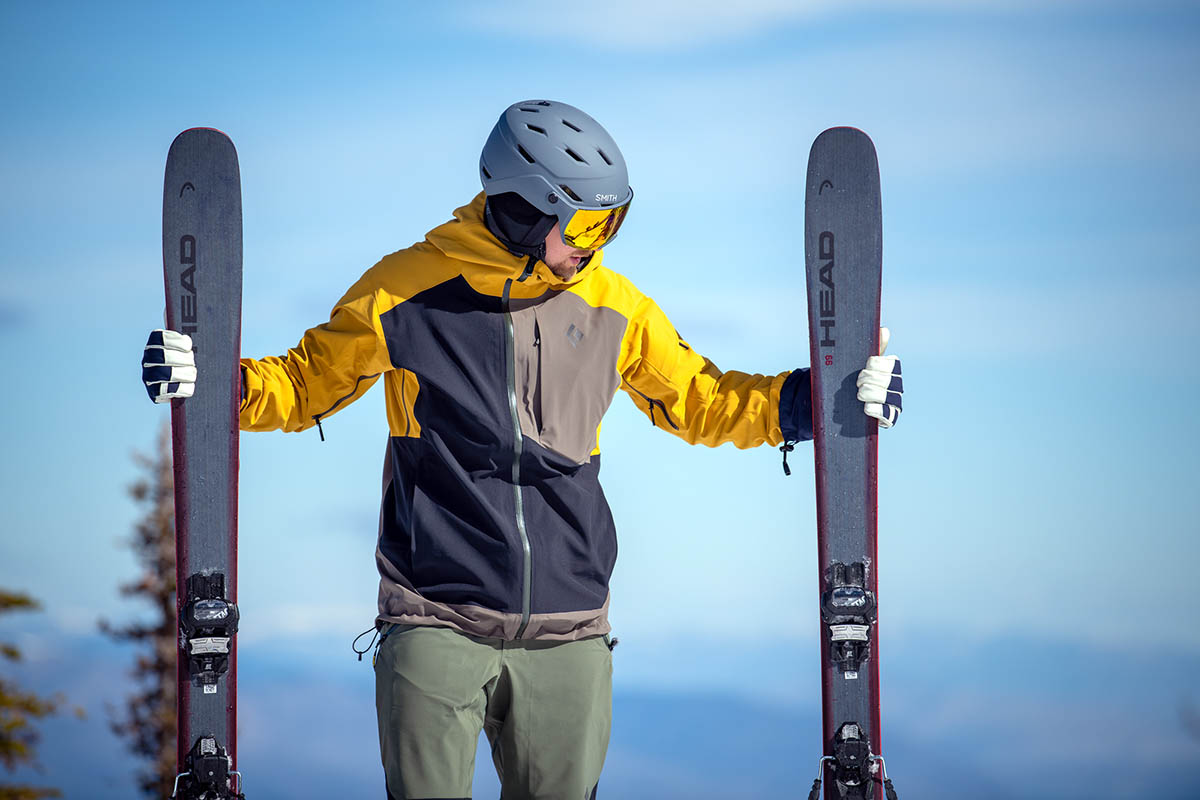 Other Versions of the Head Kore
We put the 99-millimeter Kore through its paces for this review, and there are a number of other widths in the lineup depending on your riding style and expected terrain. As I mentioned above, the Kore 93 strikes me as the more versatile all-mountain design: it's less skittish than the 99 and smoother and easier to trust during high-speed turns in choppy conditions, and the shorter turn radius and nimbler feel encourage quicker movement in the bumps (for more, see our in-depth Kore 93 review). Other options in the collection include an 87-millimeter model for resort use on firm conditions, as well as wider 105, 111, and 117 models for powder hounds and committed backcountry-goers. And on the women's side, widths include 85, 91, 97, and 103-milimeter models.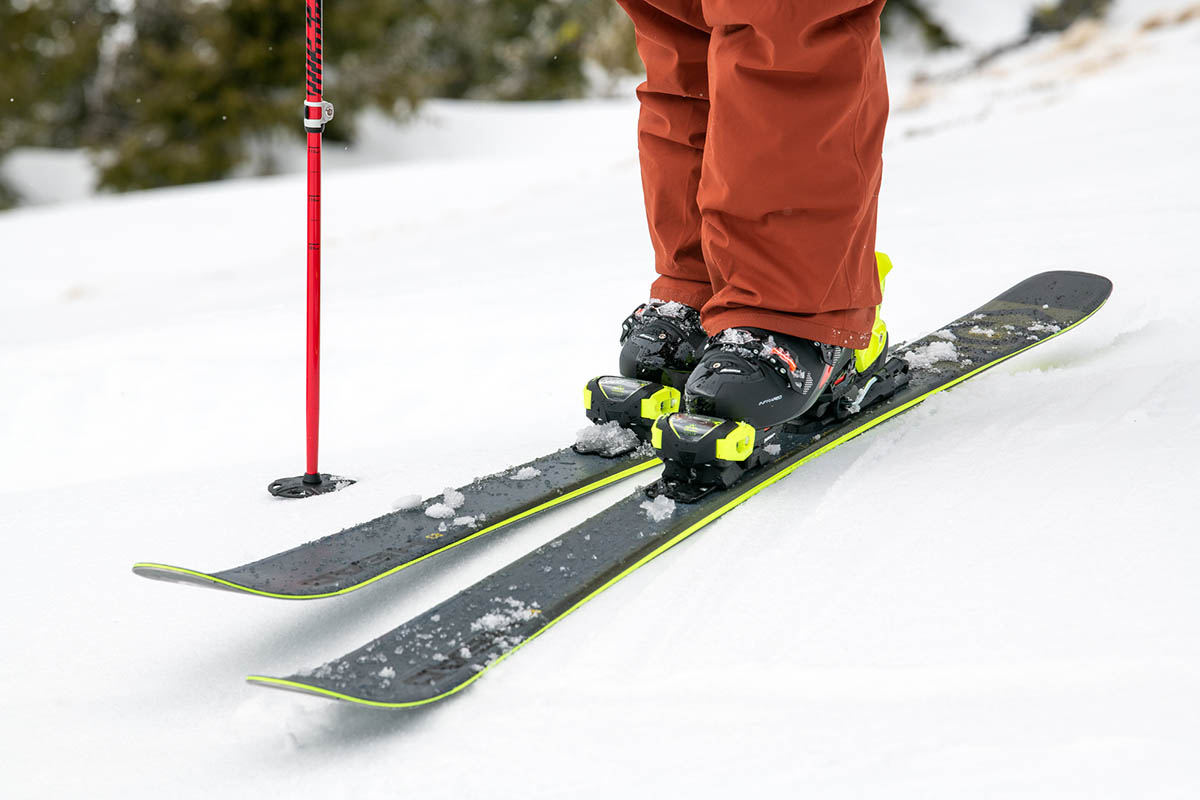 What We Like
The Kore 99 is an excellent performer in powder: it's quick, smooth and easy to control in a range of conditions, and punches above its width in terms of flotation.
Light but powerful construction rewards advanced pilots with good pop and energy between turns on hardpack.
Chamfered design makes the topsheet less susceptible to premature chipping, and the ski is well-built with high-end materials throughout.
Available in a wide range of lengths and widths to fit various riding styles and terrain types.

What We Don't
Stiff design requires strong input to control—especially on hardpack and in the bumps—and is best suited for advanced to expert riders.
Noticeably less stable and harder to maneuver than the narrower Kore 93 on firm snow, especially at speed. 
Polyester fleece topsheet still is thin and prone to showing scratches and cosmetic wear.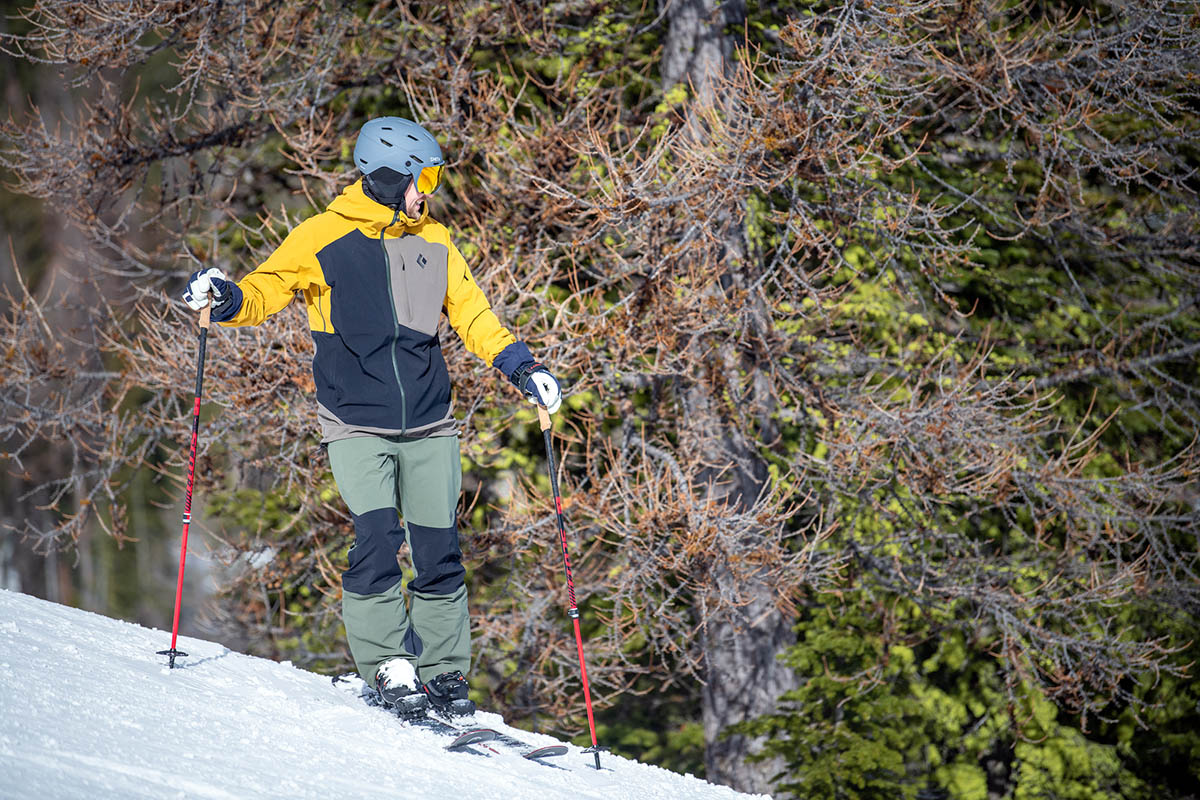 Comparison Table
| Ski | Price | Ability Level | Dimensions | Radius | Construction |
| --- | --- | --- | --- | --- | --- |
| Head Kore 99 | $699 | Advanced to expert | 134-99-120mm | 17m | Wood, Graphene, carbon |
| Nordica Enforcer 100 | $750 | Intermediate to expert | 132.5-100-120.5mm | 17.3m | Wood, Titanal, carbon |
| Volkl M6 Mantra | $700 | Advanced to expert | 135-96-119mm | 30/18/24m | Wood, Titanal, carbon |
| Blizzard Rustler 10 | $700 | Intermediate to expert | 133-102-122.5mm | 17.5m | Wood, Titanal, carbon |
| Salomon QST 98 | $600 | Intermediate to expert | 132-98-120mm | 16m | Wood, Titanal, carbon, flax |

The Competition
Head's Kore 99 is a fun and versatile entry to the all-mountain ski market with a nice balance of on- and off-trail performance. As we mentioned above, Nordica's Enforcer 100 is a consistent best seller in this width category and for good reason. Most notably, it's a standout on hardpack thanks to a damp, smooth, and very powerful construction. The differences with the Kore 99 are pretty clear: The Nordica easily wins out for those that like high levels of stability for bombing down runs and connecting wide, GS-style sweepers; on the flipside, those that prioritize fun without sacrificing much in the way of stiffness will probably lean toward the nimbler Kore. And if you want to throw on a pair of tech bindings, the Head is the clear choice.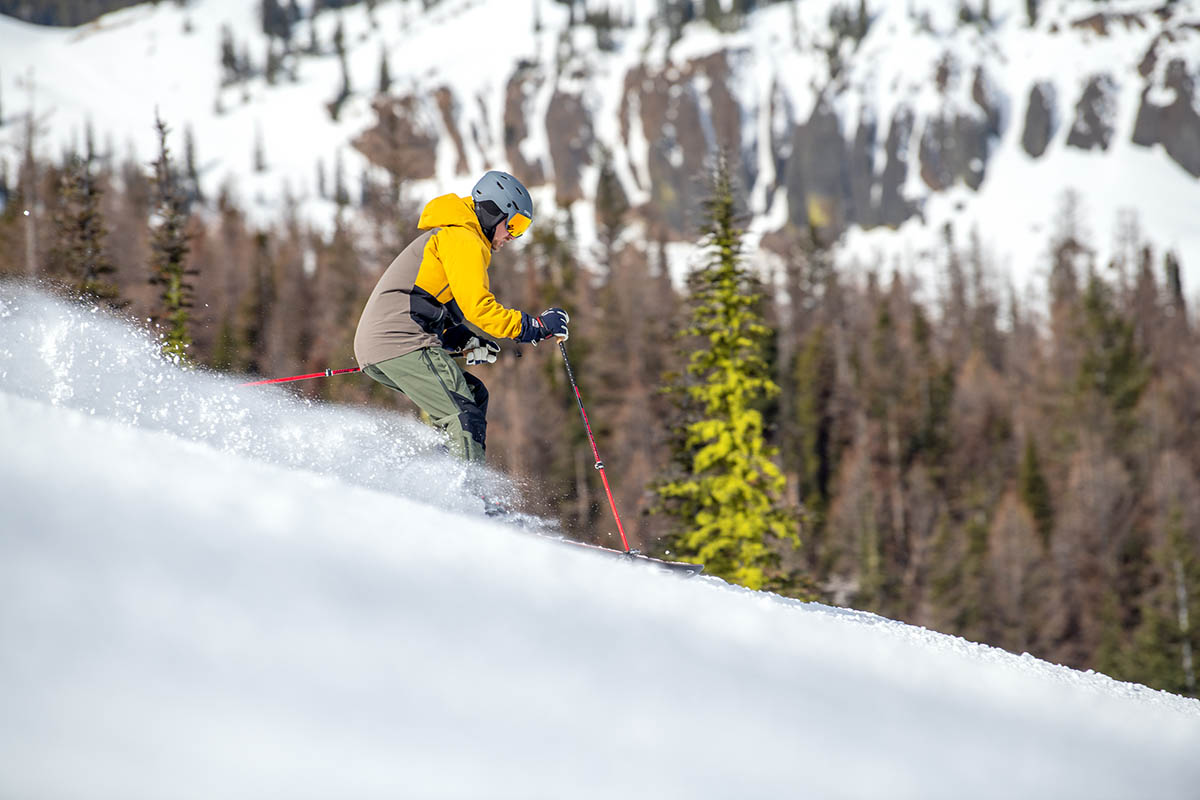 Next up is Volkl's M6 Mantra, which was also updated for the 2022 season and boasts a similar personality as the Enforcer above. Similar to the Nordica, the Mantra prefers speed, power, control, and wider turns over the quick handling and superb responsiveness of the Kore. In contrast to the Head, the Volkl rips on groomers but isn't as maneuverable in tighter spaces, and we've found the Head to be the more fun and playful option in powder. In the end, we'd break it down as follows: for hard chargers that like to ski fast, the Mantra is a great match; for those that prefer more well-rounded performance for having fun both on- and off-piste, go with the Kore. 
Switching to a wider and more playful model, Blizzard's Rustler 10 is a consistent favorite. It's light like the Kore but goes about its business in a different way: it has more rocker, is great for slarving, and is easier to manage at slower speeds on hardpack. The biggest tradeoff is that you miss out on the power and stiffness of the Kore, especially for advanced and expert riders. Both excel off trail and can be flicked around, but the Kore will be more rewarding for a hard-charging pilot, while the Rustler is less demanding and easier to get along with (it's the much better choice for intermediates).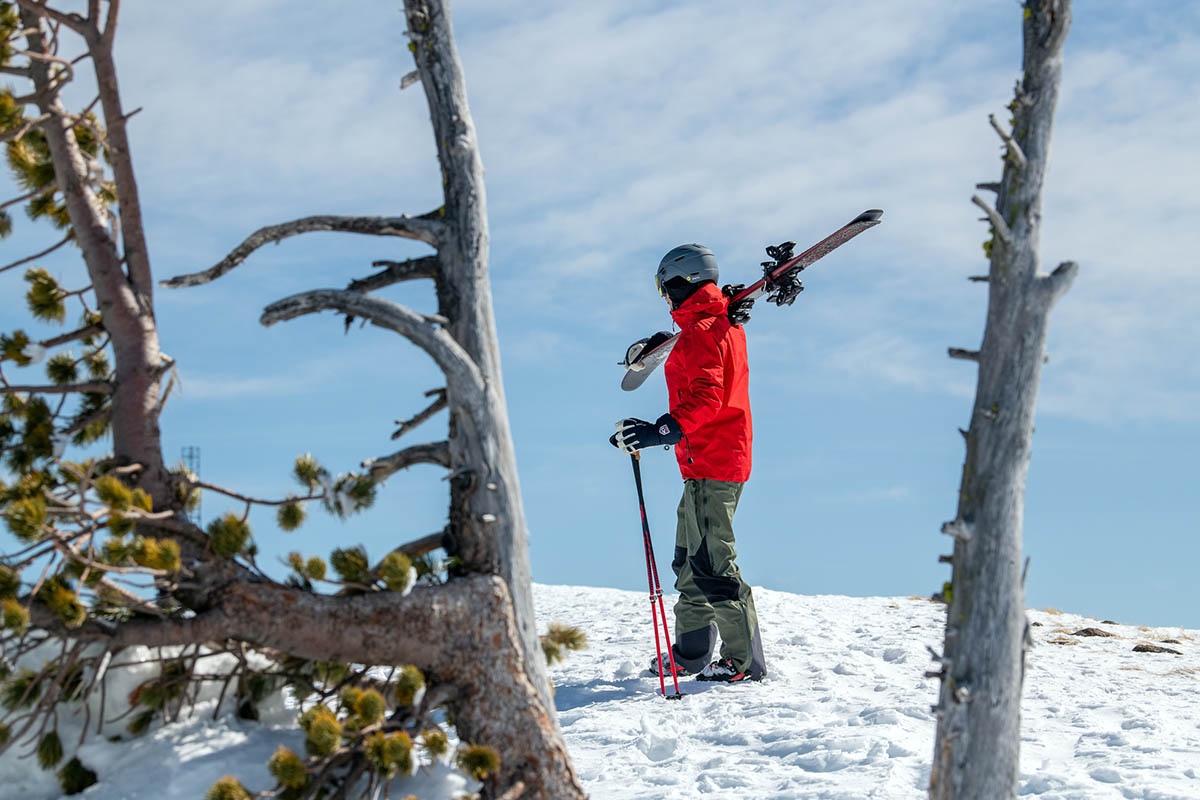 Finally, like the Rustler above, Salomon's QST 98 is a less serious alternative to the Kore. It has a softer front end and more tip and tail rocker than the Head, which translates to easier turn initiation and a smoother ride in general. All told, it's a ski that has a natural and easy-to-trust feel in a wide range of conditions, although (similar to the Rustler again) you're not getting top-end stability and can expect some decent tip flap at high speed. If you prioritize quickness, especially in soft snow, the Kore has its appeal. Otherwise, I prefer the friendlier overall personality of the QST—and it doesn't hurt that it comes in around $100 less.
If you're thinking about buying gear that we've reviewed on Switchback Travel, you can help support us in the process. Just click on any of the seller links above, and if you make a purchase, we receive a small percentage of the transaction. The cost of the product is the same to you but this helps us continue to test and write about outdoor gear. Thanks and we appreciate your support!
Depending on the seller, most products ship free in the United States on orders of $50 or more. International shipping availability and rates vary by seller. The pricing information on this page is updated hourly but we are not responsible for inaccuracies.
Learn More About Ski Gear