Flylow Gear Quantum Pro
Price: $420
Weight: 1 lb. 7.1 oz.
Waterproofing: 3L Intuitive 
What we like: Excellent weather protection and standout durability.
What we don't: Rigid, crinkly feel and narrow opening at the neck when fully zipped.
See the Men's Flylow Gear Quantum Pro
Designed for use both on and off piste, Flylow Gear's Quantum Pro Jacket offers standout levels of protection. Using in-house waterproofing and a substantial face fabric, it proved to be a great match for the high winds and wet weather I experienced at home in British Columbia and while exploring Japan's resorts and powder stashes. It lacks the breathability, packability, and overall comfort that we prefer for serious backcountry use, but it's an excellent choice for hard-charging resort-goers that often explore the sidecountry. Below we break down the Quantum Pro's weather protection, breathability, comfort, durability, weight, fit and sizing, and more. To see how it stacks up to the competition, see our article on the best ski jackets.

Performance
Weather Protection
Upon trying on the Flylow Gear Quantum Pro Jacket, I was immediately struck by its bombproof and impervious feel. For starters, the jacket uses an in-house 3-layer Intuitive Oxford build and durable water repellent (DWR) finish, which were a great match for everything from long and wet days along British Columbia's West Coast to cold, dry, and powder-heavy outings in Japan. Combined with a substantial 150-denier face fabric (more on this in "Build Quality and Durability" below), the Quantum Pro is a highly protective barrier against the elements, even when stacked up to premium Gore-Tex-equipped models like Arc'teryx's Sabre AR. It really proved itself by keeping me sheltered when temperatures dipped well into the negatives in Japan and I was stuck on a stopped chairlift for 45 minutes due to high winds. And my experience was similar on foul-weather days while touring: I stayed warm and cozy while skinning and descending without any moisture or wind creeping through the shell.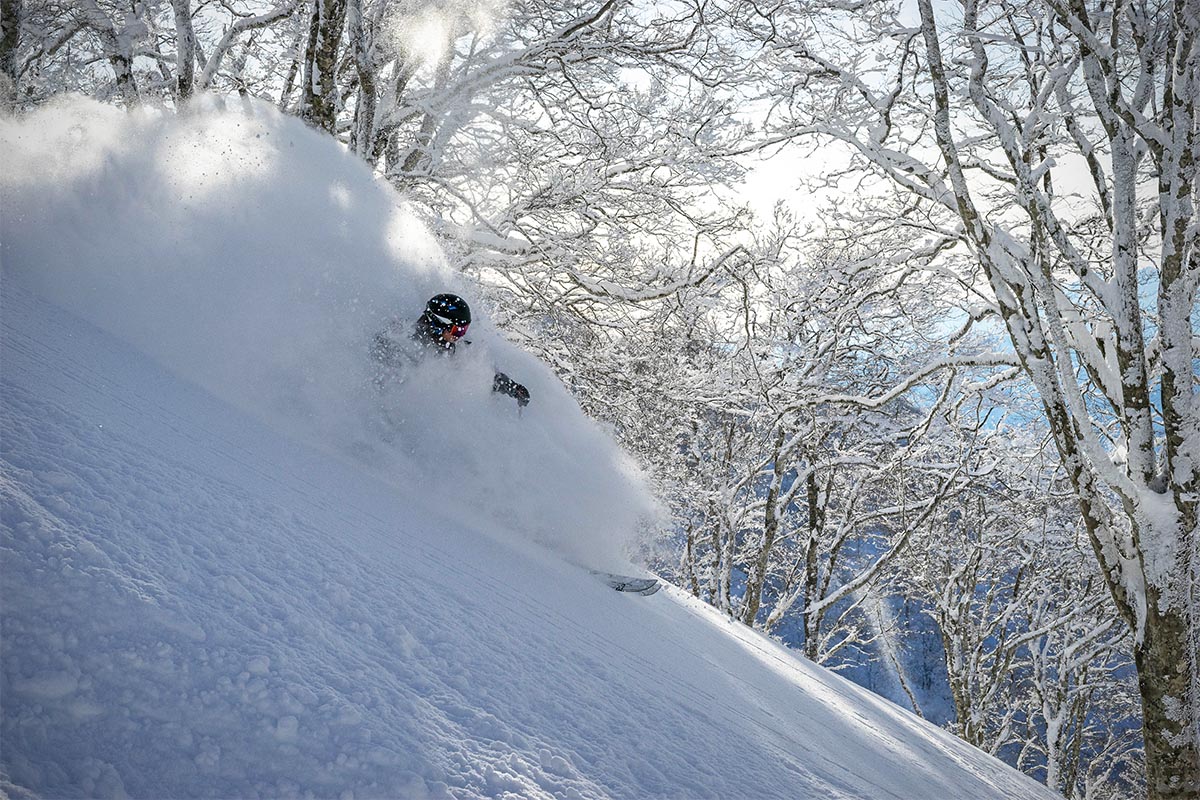 When it comes time to batten down the hatches, the Quantum Pro comes well-equipped. First, the jacket's seam taping has held up nicely with no delamination to date, and the premium YKK waterproof zippers are a quality touch that add a good dose of assurance against moisture seeping in. I did find some of the zippers to be noticeably stiff, however, and require two hands to unzip. The jacket also features a functional powder skirt for sealing out snow—a necessity on windy and deep days in Japan—as well as Velcro cuffs that fit nicely over my gauntlet-style Arc'teryx Rush SV gloves. Finally, the helmet-compatible hood cinched well over my Salomon MTN Lab Helmet, although I found that with the zipper done up fully, I wasn't able to move my head enough to descend (it prevented me from shoulder-checking and effectively eyeing my line in the backcountry). But unzipping the jacket around 2-3 inches helped, and the hood provided great coverage whenever I was hunkered down on a lift.

Breathability
As a backcountry skier, I avoid wearing serious hardshells whenever possible, as they typically lack enough breathability for me to tour comfortably. The Quantum Pro was no exception: unless the skies opened up with heavy snow and strong wind, the jacket stayed in my pack. From coastal conditions hovering near freezing to negative temperatures in Japan, I always needed to open the 13-inch pit zips when moving (although temperature regulation was better on the descents). And on more recent spring outings with the sun out and temps hovering around freezing, the vents didn't cut it for cooling me down. But the good news is that the zipper pulls are easy to use even with gloves on, and I was able to stay comfortable on short to moderate uphills. All in all, the Quantum Pro isn't the best breather—my Outdoor Research Skyward II vents noticeably better—but for hard-charging resort skiers and those who like to explore the sidecountry, the tradeoffs in weather protection and durability are likely worth it.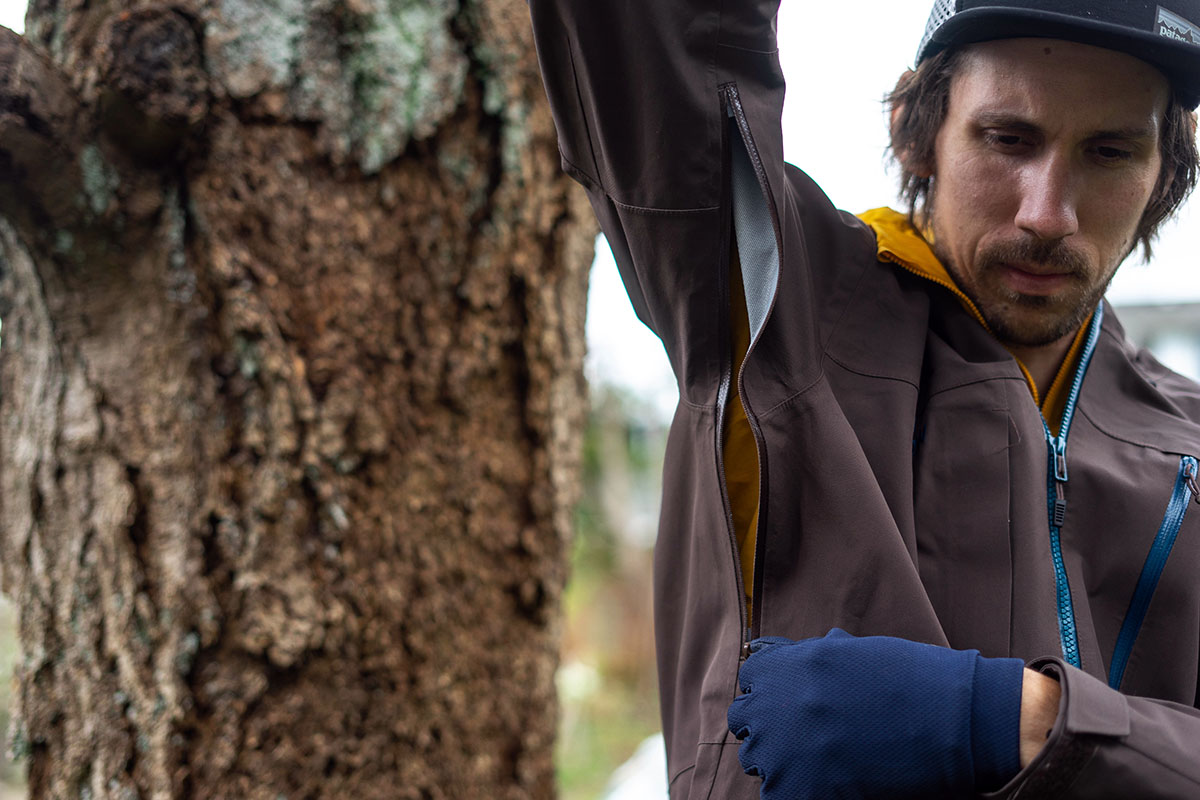 Comfort
Simply put, I found the thick and burly Quantum Pro to be one of the most rigid jackets I've owned. It wouldn't be my first pick for all-day outings, wearing around town after a ski session, or even while driving to and from the hill (I always brought along another layer). Further, the membrane's backer isn't particularly smooth and felt slightly abrasive against bare skin, but it hasn't caused any issues (and many will pair a long-sleeve baselayer or midlayer underneath). Additionally, I found that the jacket moved with me fairly well while skiing both on and off piste, but the shoulders did feel a bit restrictive. For reference, I don't have especially broad shoulders, so this might pose an issue for those with more athletic builds. And as I mentioned above, with the jacket zipped up and my helmet on, I found the collar to be overly tight and ended up having to lower the main zip a few inches to gain enough mobility to descend safely.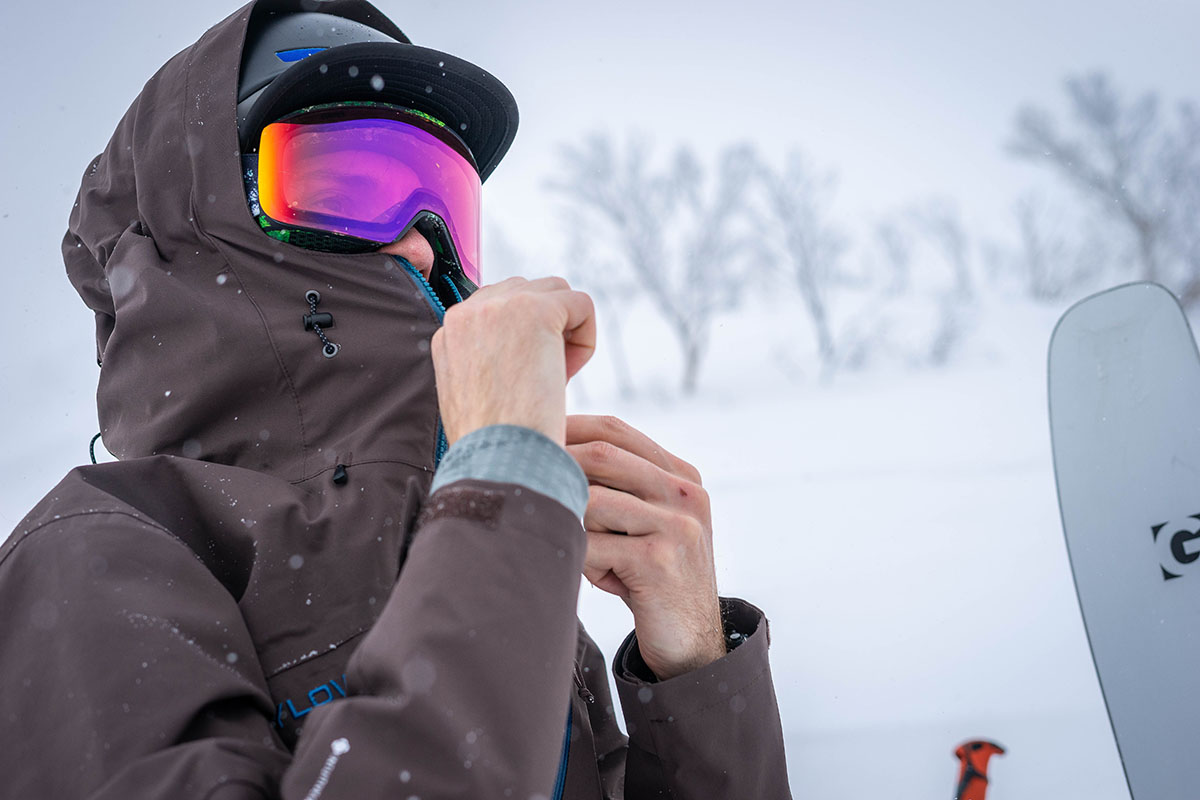 All that said, Flylow did incorporate some handy features for boosting overall comfort. The "No Bulk" cuffs are great for sliding over undercuff gloves or under gauntlet-style ski gloves/mittens and keep form factor to a minimum to prevent snagging. Additionally, the collar sports a soft fleece-like fabric that's supple against the skin, and the bottom hem has stayed nicely in place without riding up over my pack's hipbelt. And one major benefit to the rigid construction is that the jacket excels in extreme conditions: despite skiing consecutive days in Japan with temperatures consistently in the negatives, the Quantum Pro helped keep me comfortable and warm. In fact, I've often found myself wearing one less layer underneath because of how well it blocks out the elements.

Build Quality and Durability
As I touched on above, the Quantum Pro has a substantial 150-denier (D) face fabric that's built to take a licking. West Coast touring often includes a fair amount of bushwacking, but the Quantum Pro has shrugged off all the abuse I've thrown its way. Further, the rest of the design is holding up well: the Velcro on the Quantum Pro's cuffs has not weakened over the season and still holds strong, the zippers are functional with no catching or snagging issues, there are no signs of wear on the face fabric, and no thread is out of place. All in all, I expect the jacket to last many more seasons without issue.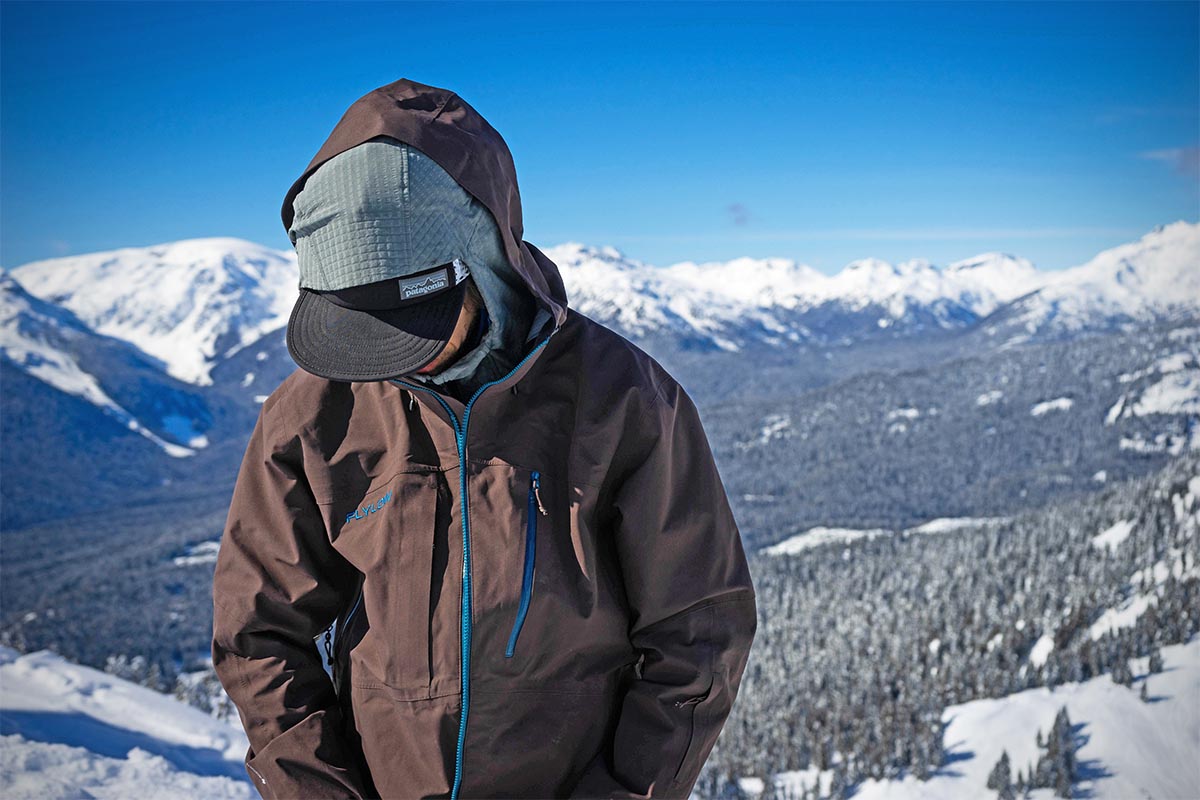 Weight and Packability
At 1 pound 7.1 ounces, the Quantum Pro is fairly average when stacked up against similar uninsulated ski shells. For reference, our favorite all-around ski jacket this year, Arc'teryx's Sabre AR, clocks in a bit heavier at 1 pound 8.7 ounces but comes with a light flannel backer for increased comfort and a small dose of warmth. Other direct competitors like the Marmot Spire (1 lb. 9 oz.) and Flylow's own Higgins 2.1 (1 lb. 8.6 oz.) also come in around the same weight, while Mammut's Stoney HS (1 lb. 11.2 oz.) and Patagonia's Powder Bowl (2 lb. 1.2 oz.) are heavier. The thicker materials and features like the removable powder skirt do make the Quantum Pro less packable than many other uninsulated options, but this largely comes down to how you prioritize durability and protection versus compressibility.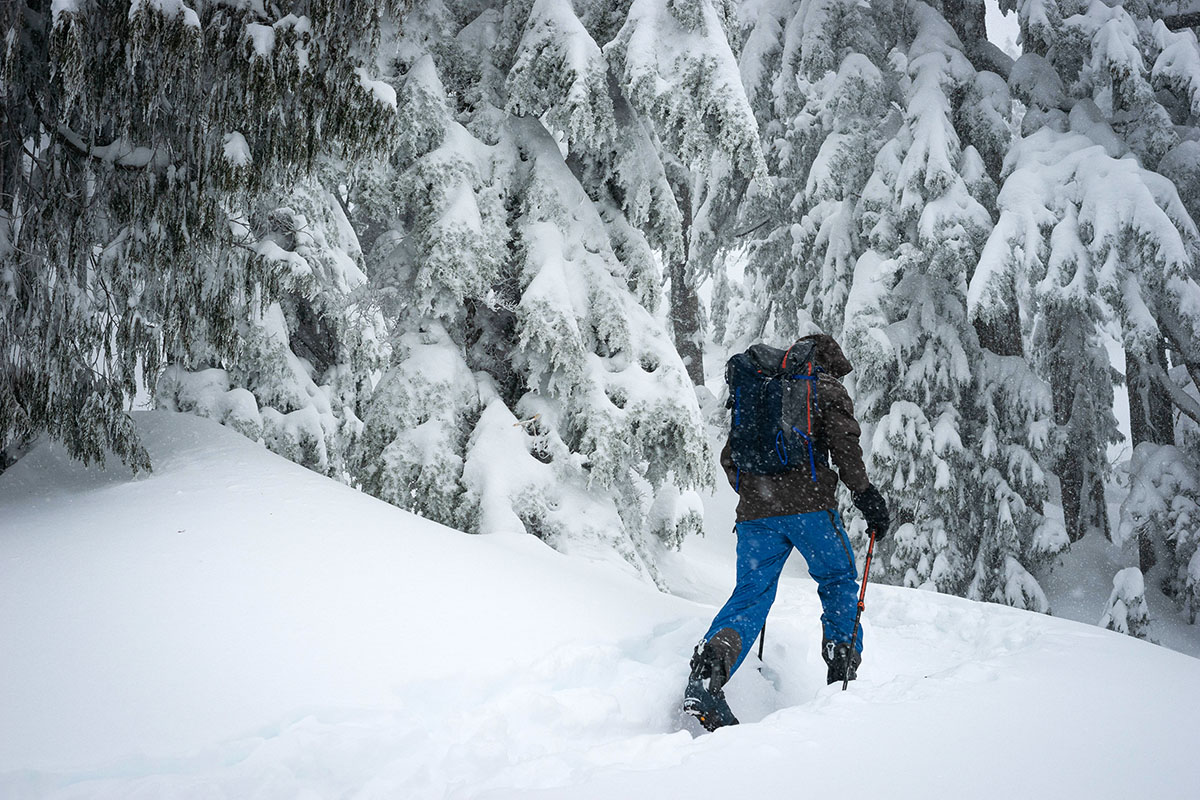 Key Features
Hood
As I touched on above, my experience with the Quantum Pro's hood was mixed. On one hand, the hood offered good all-around protection and comfort when I was hunkered down on a lift or resting while touring. However, as soon as I started moving, I noticed that the collar area became overly tight and restrictive around the neck if I was wearing a helmet underneath (I typically wore my Salomon MTN Lab helmet, which isn't overly bulky by any means). Additionally, the brim isn't rigid and crept back on my helmet frequently, requiring me to pull it forward to adjust. I also found that loosening the hood drawcord was almost impossible with gloves (a fairly common issue with ski shells) due to the awkward positioning of the toggle. All things considered, it's not my favorite design and caused some minor frustrations, but it's nevertheless serviceable with a few tweaks.

Storage: Pockets
The Flylow Gear Quantum Pro Jacket comes well-appointed for stowing the essentials with eight total pockets. For starters, you get a low-profile zippered pass pocket on the left sleeve, which is perfect for stashing an RFID ski pass. The jacket also sports large dual chest pockets (they measure around 7 in. long and 7.5 in. deep), both of which have coated zippers—the right one has a storm flap for added assurance. In practice, I've found these to be great for stashing a goggle bag or essentials I might need quick access to throughout the day. Rounding out the exterior storage, there are two nicely sized hand pockets with storm flaps and YKK waterproof zippers. I mainly used these for snacks and other small items, although I found them difficult to access when wearing a harness or backpack (likely not a deal breaker for resort-goers).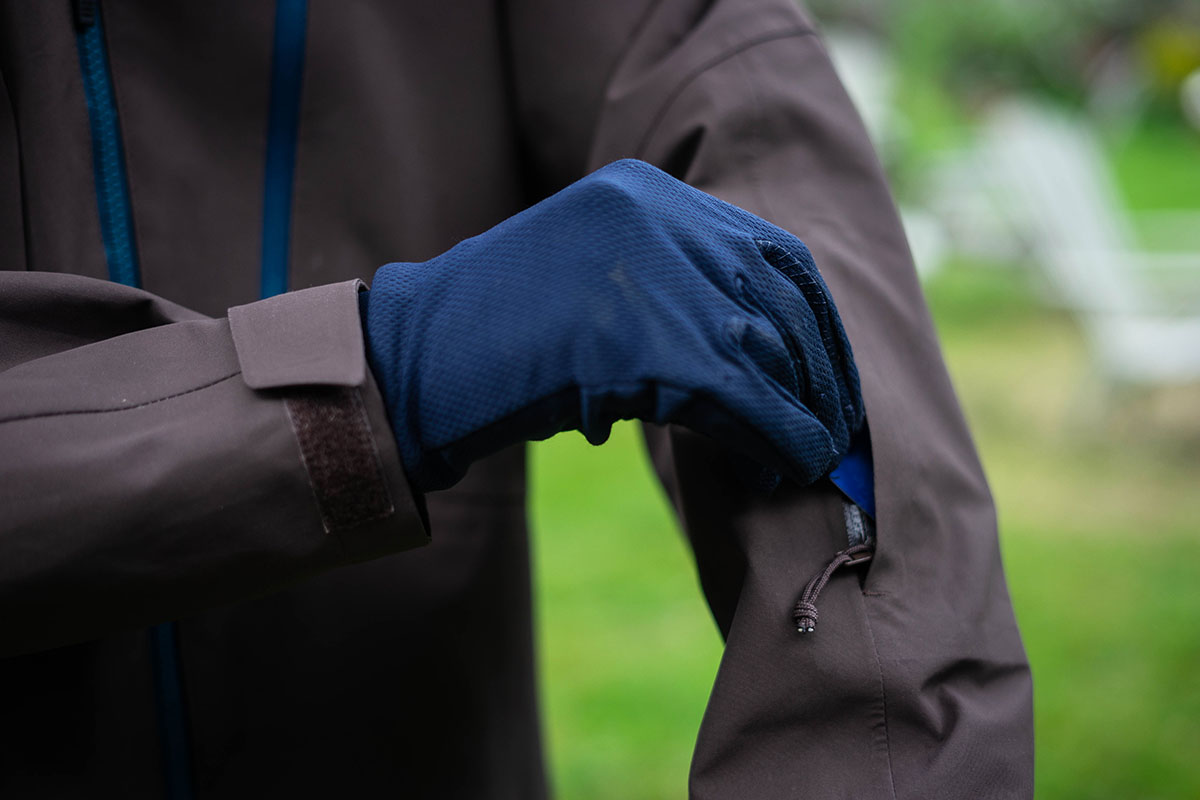 Inside the jacket, you get a seam-taped zippered pocket along the right side. But keep in mind that this tape can delaminate over time or if it's heated too long (avoid using the dryer when possible), so I prefer to stow electronics elsewhere just to be safe. The inside of the jacket also includes two lower pockets which are quite big with 8-inch zippers and deep interiors—I typically stuffed my climbing skins in here on short laps, and they also swallowed my beanie when I needed to drop layers without taking my pack off.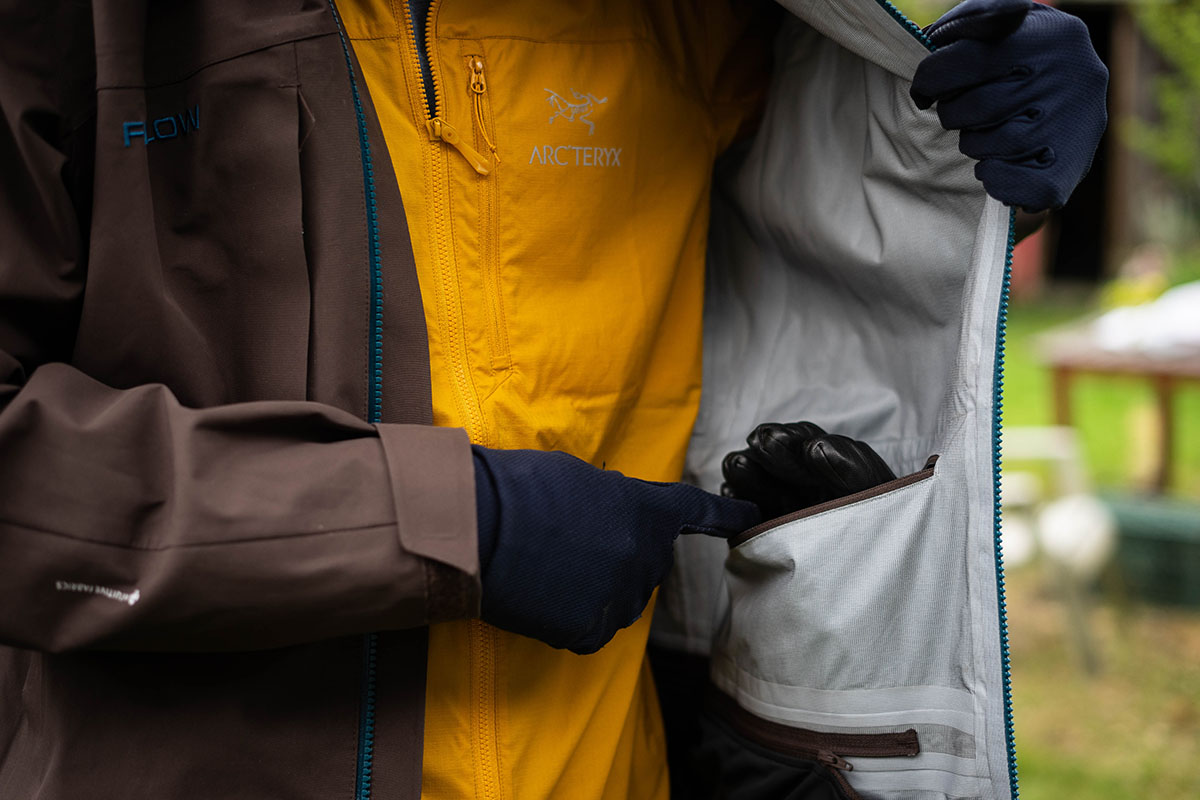 Powder Skirt
Like much of the competition, the Flylow Gear Quantum Pro Jacket sports a powder skirt for sealing out snow at the waist. Overall, it's a functional design with an elastic waistband, silicone-like material to hold it in place, and buttons along the inside to connect compatible Flylow pants. I found it to be bulkier than much of the competition with thicker-than-average fabrics, but the good news is that for those who don't plan to use the feature or want to shave a little weight, the powder skirt is removable.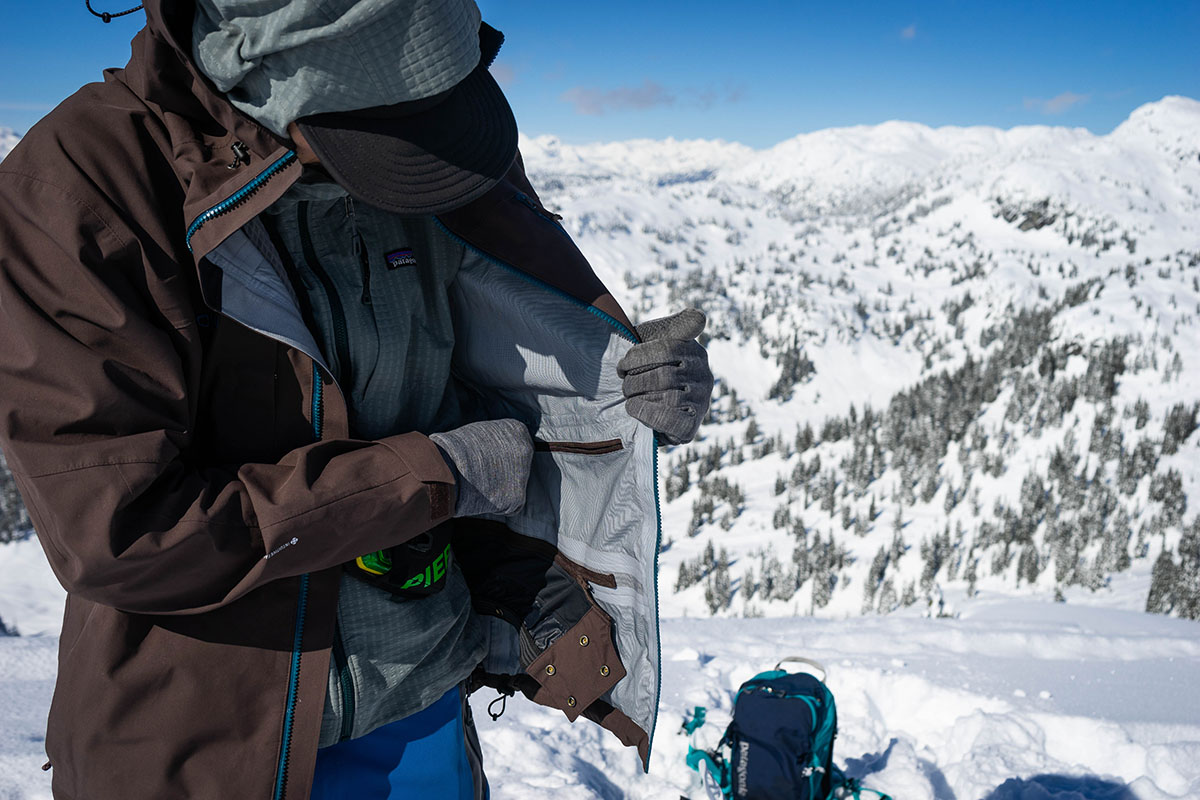 Fit and Sizing
Flylow Gear products unfortunately aren't widely available in Canada, so I had to go off of my average size, which is a men's medium. Thankfully, the Quantum Pro fit well overall, with enough room to layer while still remaining fairly streamlined and not overly baggy. The 30-inch center back length was also great for sealing out snow in deep powder or during a fall (this length is relatively standard among the ski jacket competition). If my shoulders were any broader, however, the upper half would likely be too snug (if you're bigger up top, I recommend sizing up). And one final gripe that I mentioned previously: with the jacket fully zipped and my helmet on, the neck is quite tight—I found myself lowering the main zipper about 2-3 inches to allow for normal head movement.

What We Like
Burly 150-denier shell and 3-layer build is hardwearing and very trustworthy in rough conditions. 
Full and functional feature set including pit zips, a removable powder skirt, waterproof zippers, ample storage, and adjustments at the hem and hood.
Classy styling/colorways and modern looks.

What We Don't
Rigid and crinkly feel detract heavily from overall comfort.
With the jacket fully zipped and a helmet on, head movement was restricted at the neck and required unzipping the main zipper around 2-3 inches.
Fairly narrow fit at the shoulders (if you have an athletic build, you may want to size up). 


Comparison Table
| Jacket | Price | Best For | Type | Waterproofing | Weight | RECCO |
| --- | --- | --- | --- | --- | --- | --- |
| Flylow Gear Quantum Pro | $420 | Resort/backcountry | Hardshell | 3L Intuitive | 1 lb. 7.1 oz. | No |
| Flylow Gear Higgins 2.1 | $380 | Backcountry/resort | Softshell | 3L Intuitive | 1 lb. 8.6 oz. | No |
| Mammut Stoney | $499 | Resort/backcountry | Hard/softshell | 3L DRYtech | 1 lb. 11.2 oz. | No |
| Marmot Spire | $400 | Resort/backcountry | Hardshell | 3L Gore-Tex | 1 lb. 9 oz. | No |
| Patagonia Powder Bowl | $399 | Resort/backcountry | Hardshell | 2L Gore-Tex | 2 lb. 1.2 oz. | Yes |
| Arc'teryx Sabre AR | $625 | Resort/backcountry | Hardshell | 3L Gore-Tex | 1 lb. 8.7 oz. | Yes |

The Competition
Flylow Gear's Quantum Pro is a highly protective ski shell that's best on resort days and in rough weather but can pull occasional double-duty in the backcountry. From within Flylow's own lineup, we also like their Higgins Coat 2.1. Rather than the rigid and crinkly hardshell construction of the Quantum Pro, the Higgins is a softshell with a stretchy and smooth build that offers good mobility and breathability. That said, Flylow still managed to retain full waterproofing with a 3-layer design and seam taping. Weight is similar between the two jackets (1 lb. 8.6 oz. for the Higgins vs. 1 lb. 7.1 for the Quantum Pro), although the Higgins' fit is a little loose and baggy. Both are well-made all-rounders, and a final decision will come down to how you prioritize waterproofing versus breathability and comfort. For the best protection, we'd go with the Quantum Pro.
Another jacket we've been testing this season is Mammut's Stoney Hardshell. Stacked up against the Quantum Pro, the Stoney is heavier at 1 pound 11.2 ounces and pricier at $499. That said, it's the more comfortable option of the two with a soft and stretchy construction, trim fit, smooth integrated hand gaiters, and a fleece-like material at the front collar. The Quantum Pro wins out in weatherproofing—the Mammut's soft face fabric was prone to wetting out, although moisture never fully seeped through—but the Stoney offers better freedom of movement. In the end, the Quantum Pro has the advantage in all-out protection, but the Stoney is far more comfortable and mobile without sacrificing much in the way of performance.
Transitioning to a Gore-Tex alternative, Marmot's Spire uses the proven 3-layer construction for sealing out the elements while coming in at a reasonable $400 (the Gore-Tex-equipped Sabre AR below, for example, costs $625). Like the Quantum Pro, the Spire also transitions decently well from the resort to the backcountry with a reasonable 1-pound-9-ounce weight, pit zips for dumping heat quickly, and a zip-off powder skirt. All in all, both are highly protective designs that work best for resort-goers who spend time exploring the sidecountry, but the Spire's upgraded construction and $20-cheaper price tag give it the edge for us.
Patagonia has an extensive lineup of quality ski shells, and we especially like their Powder Bowl Jacket. The uninsulated model stacks up well to the Quantum Pro with a burly 150-denier face fabric that offers impressive durability and assurance against the elements. However, the Patagonia uses a simpler 2-layer Gore-Tex shell for waterproofing, weighs more at 2 pounds 1.2 ounces (partly due to the mesh lining), and costs nearly the same at $399 (for more, see our in-depth Powder Bowl review). All things considered, we don't think it's the best value given the downgraded construction. For $21 more, the Quantum Pro provides similar wet-weather assurance and is equally durable while weighing less.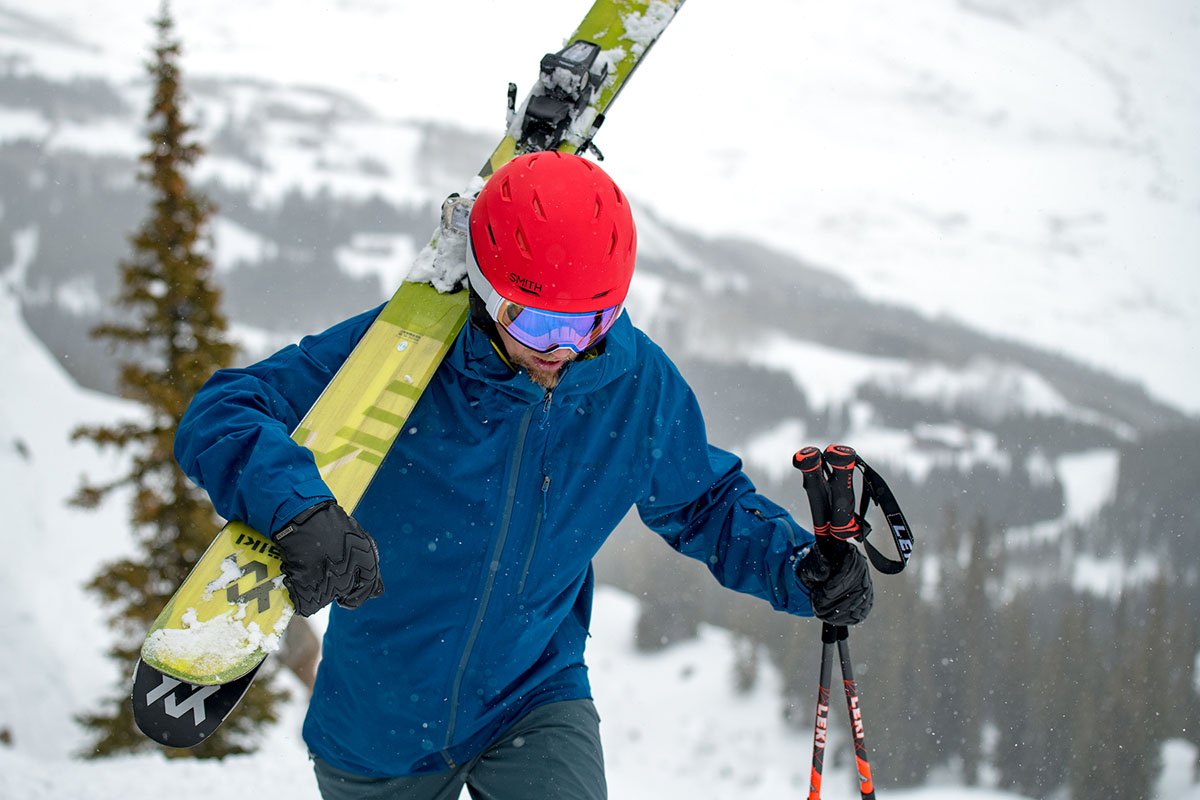 At the premium end of the spectrum, Arc'teryx's Sabre AR is a final competitor and our favorite all-around ski shell this year. What makes it stand out? For starters, the Sabre transitions nicely between on- and off-piste use with a premium 3-layer Gore-Tex construction, soft flannel backer for added warmth and comfort, and a full feature set including pit zips, a highly adjustable and helmet-compatible hood, standout protection from the tall collar, and five total pockets. The Sabre is fairly heavy for touring at 1 pound 8.7 ounces, expensive at $625 ($205 more than the Quantum Pro), and the inner liner detracts a bit from overall breathability, but it's the best all-rounder currently on the market. If you're looking for one ski jacket to do it all, we can't recommend the Sabre AR enough.
If you're thinking about buying gear that we've reviewed on Switchback Travel, you can help support us in the process. Just click on any of the seller links above, and if you make a purchase, we receive a small percentage of the transaction. The cost of the product is the same to you but this helps us continue to test and write about outdoor gear. Thanks and we appreciate your support!
Depending on the seller, most products ship free in the United States on orders of $50 or more. International shipping availability and rates vary by seller. The pricing information on this page is updated hourly but we are not responsible for inaccuracies.
Read More From Switchback Travel