The Outdoor Research Skyward II ski jacket blends the weather protection of a hardshell with the comfort, breathability, and stretch of a softshell. We put the Skyward through a season-long test in everything from typical Pacific Northwest spring conditions to brutal wind and cold in Japan. The verdict: it's one of the most comfortable and mobile ski shells we've worn to date. Battening down the hatches did come with some challenges, but the Skyward nevertheless is an impressively capable backcountry companion. Below we break down the OR Skyward II's performance. To see how it stacks up, see our article on the best ski jackets. And to complete your kit, we've also tested and reviewed the OR Skyward II Pant.
 
---
Table of Contents
---

Performance
Weather Protection
Throughout our testing, the Outdoor Research Skyward II has confidently withstood harsh conditions ranging from sub-zero temperatures to spring sleet, snow, and hail. Rather than Gore-Tex, the Skyward comes equipped with OR's proprietary waterproofing membrane, AscentShell, which I was initially doubtful would stack up. However, the in-house design has well exceeded my expectations. In fact, compared to Gore-Tex, I've found that AscentShell offers comparable weather protection and even better breathability. You don't get the same bombproof feel, but it hasn't let me down yet. And most other features are equally up to snuff: all zippers are water-resistant, the DWR coating effectively repels light moisture and has yet to wet out, and the elastic/Velcro cuffs seal out snow nicely.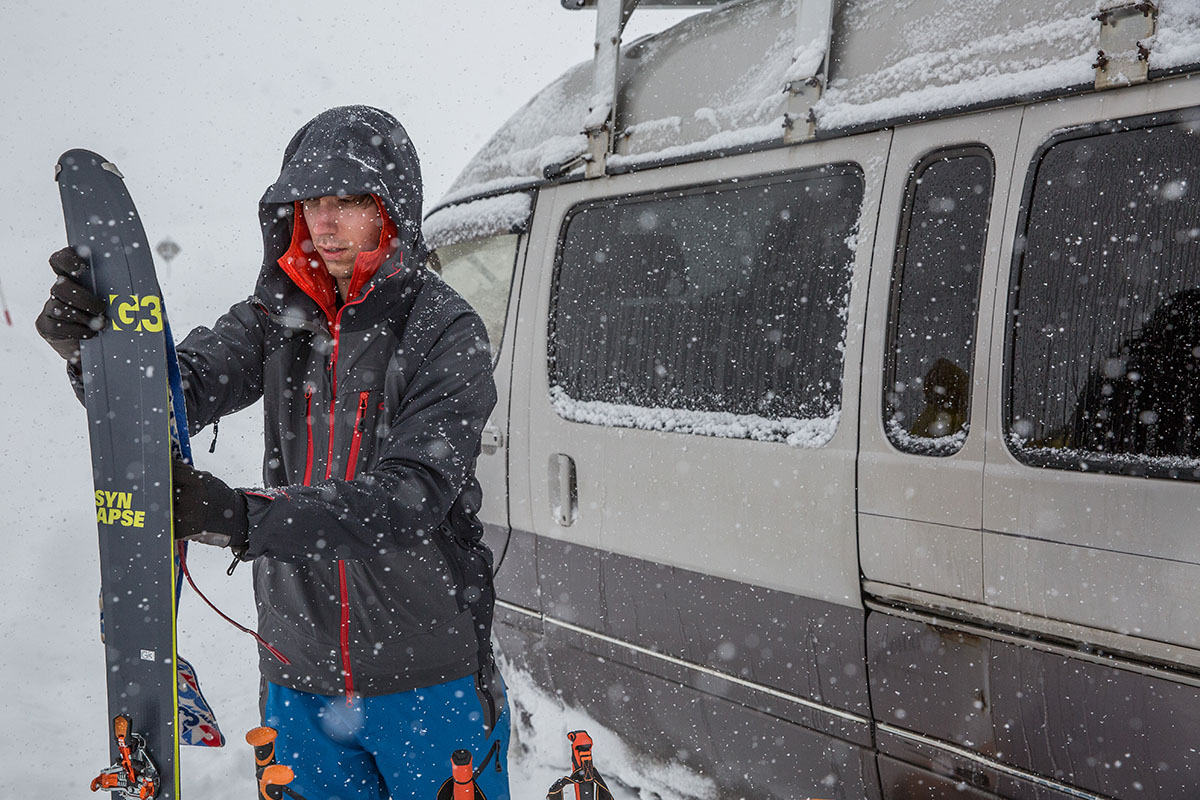 That said, I did struggle when it came time to batten down the hatches. First and foremost, the Skyward lacks a powder skirt and rides up higher than I'm used to with a center back length of 31.5 inches (80cm), which fell just below my hips. This meant that snow could creep in from below, which happened quickly during consecutive snow days in Japan. The hem drawcord helps a bit but only tightens the rear of the jacket. Second, when paired with my Salomon MTN Lab helmet, the hood's wire brim didn't extend far enough to shield my goggles and face from the elements (with no helmet, however, it provided ample coverage). Finally, when fully cinched, the collar only reaches my mouth, leaving most of my face exposed. While skinning in 40mph winds, I found myself tucking my nose into my buff for more protection.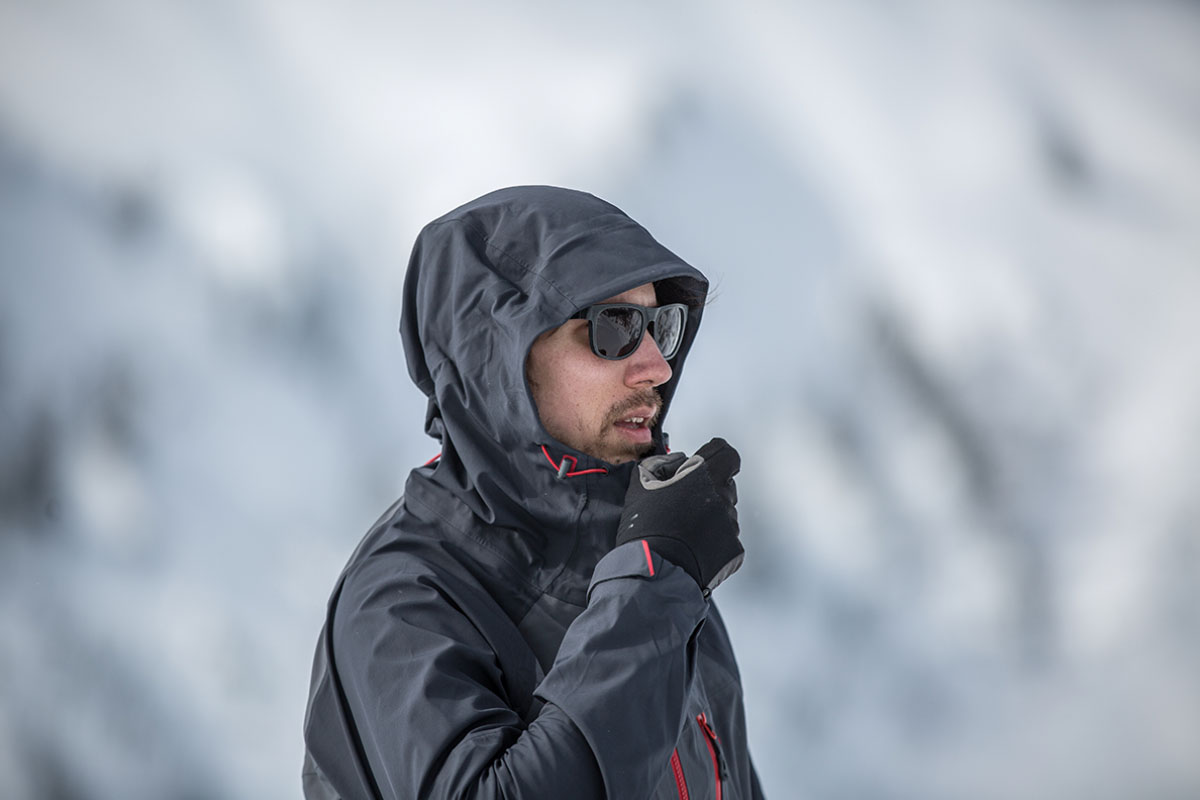 Breathability
When backcountry skiing, I often avoid wearing Gore-Tex shells for their general lack of breathability, but OR's AscentShell fabric is an exceptional breather. In fact, I didn't even have to use the side vents (more on these below) until temperatures creeped into the 30s Fahrenheit. Further, the mesh-backed pockets provided additional venting and allowed a good amount of airflow when opened (at the sacrifice of weather protection). All in all, we aren't often wowed by in-house designs, but OR's AscentShell breathed incredibly well.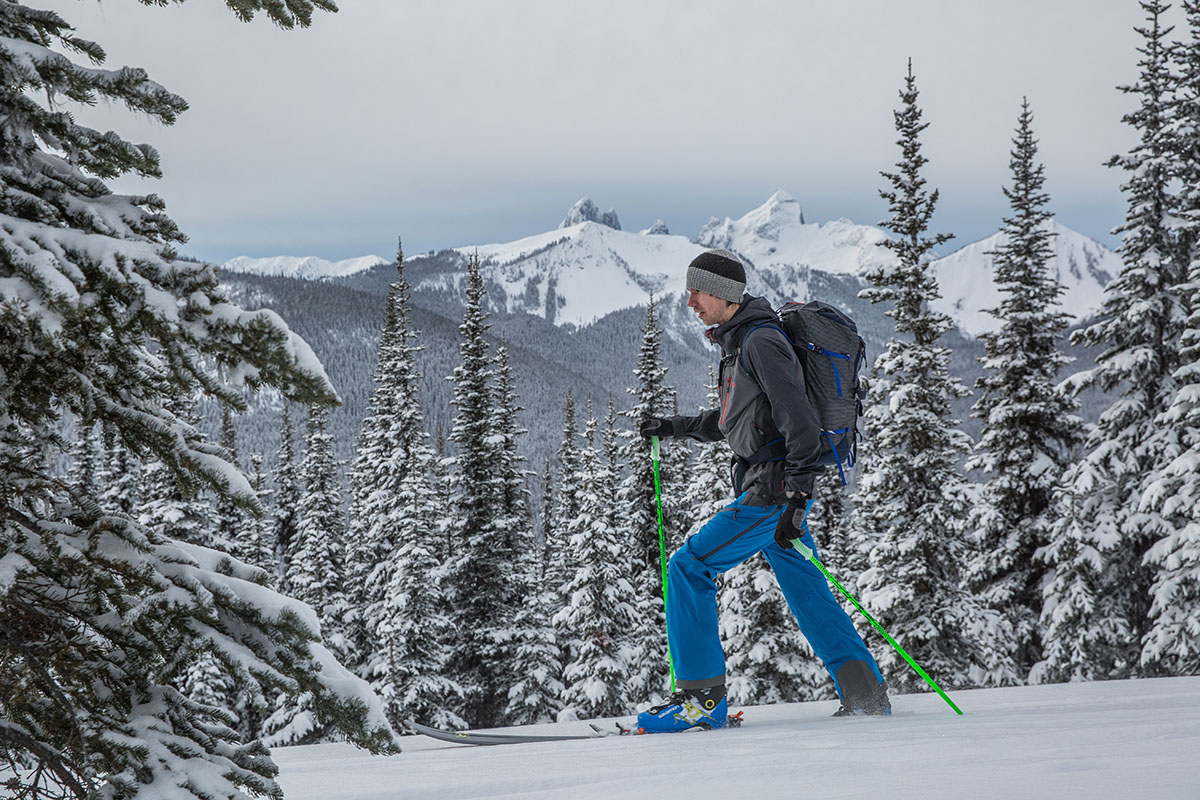 TorsoFlo Vents
Like Outdoor Research's more premium Hemispheres Jacket, the Skyward II features unique poncho-style side vents called "TorsoFlo." Rather than classic pit zips, these open from the hem to the bicep (15 inches), which is great for dumping heat quickly. It can be cumbersome to get the zippers past pack straps, but I did appreciate that OR added a snap at the bottom of the hem to keep the fabric in place when the vents are fully open. In practice, I was able to stay comfortable in spring temperatures that hovered around freezing, even while ascending. However, in warmer conditions with little wind, I still prefer to go without a jacket entirely.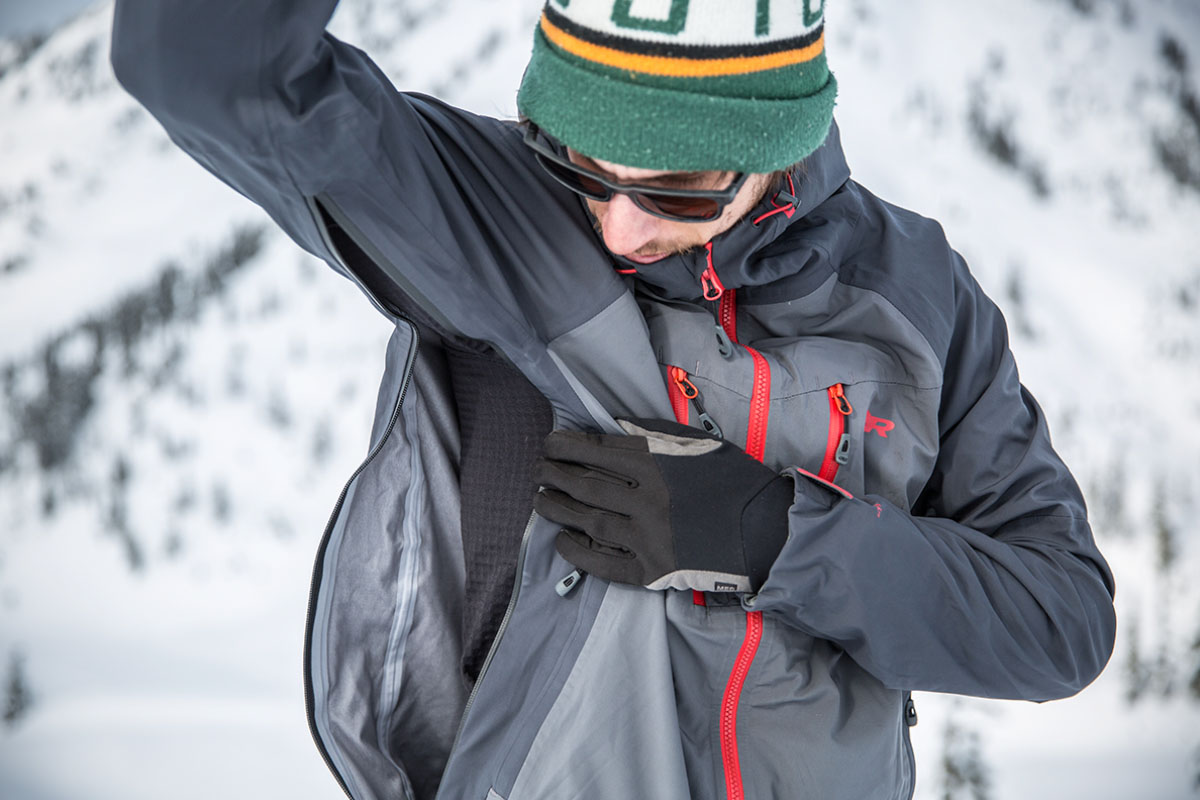 Comfort
By adding 12-percent spandex into the Skyward's build, OR created an impressively mobile ski jacket that stretches like a softshell. In short, it has quickly become my go-to touring jacket because of its excellent range of motion—I've never once felt restricted while skinning or skiing. The Skyward also has articulated elbows and an elastic hem drawcord that cinches the rear half of the jacket, which allowed me to get a secure fit without any bunching or riding up. After wearing a closet full of Gore-Tex-equipped jackets for the past few years, I'm confident in saying that the Skyward is softer, more comfortable, and offers better range of movement without sacrificing much in the way of protection.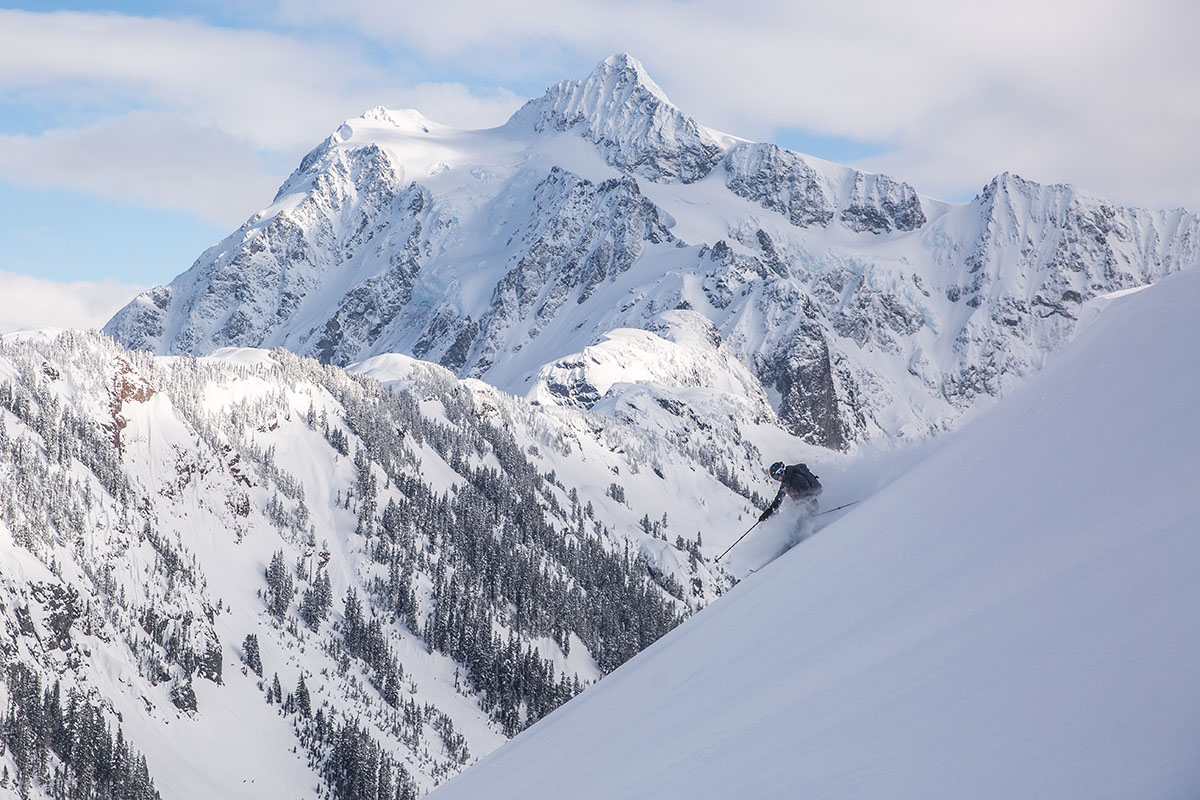 Build Quality and Durability
In British Columbia's Coast Range, typical ski approaches involve navigating up and over fallen trees, alder bushwacking, and skinning up steep icy tracks. Therefore, a backcountry ski jacket needs to be able to withstand a lot of rigorous and often abrasive use, and the OR Skyward II has done just that. I'll admit that I was initially concerned about the stretchy face fabric, but the 50-denier shell has held up impressively well thus far. There are minimal signs of wear after multiple tree snags, rubbing from my pack's straps, and being repeatedly stuffed away with sharp ski equipment. Further, after over 120 hours of skiing, the DWR coating is still going strong and repelling moisture and all zippers continue to operate smoothly. Finally, the stitching has not frayed, the elastic hood and hem drawcords still work well, and the Velcro cuffs stick like new (for comparison, my Patagonia PowSlayer's cuffs lost their connectivity over time and had to be replaced). All in all, this is one hardwearing, backcountry-ready jacket.

Weight and Packability
On first glance, the OR Skyward II Jacket seems relatively heavy for a backcountry design at 1 pound 9.5 ounces for the men's version. But once you account for the stretchy build and full feature set, it starts to look more competitive. For comparison, similar stretchy ski jackets like Patagonia's SnowDrifter (1 lb. 4.7 oz.) and Flylow Gear Malone (1 lb. 5.3 oz.) come in only slightly lighter. Dynafit's Beast Hybrid (1 lb. 3.2 oz.) is another incredibly mobile jacket, although the lack of waterproofing along the lower body comes with a major sacrifice in weather protection. And to be fair, packability was very good considering the Skyward's weight—I was able to roll it into its hood and it stuffed down to about the same size as my Patagonia PowSlayer and Arc'teryx Alpha SV (both hardshells). All things considered, for high-output missions where breathability, comfort, and range of movement are key, I don't mind shouldering the extra few ounces.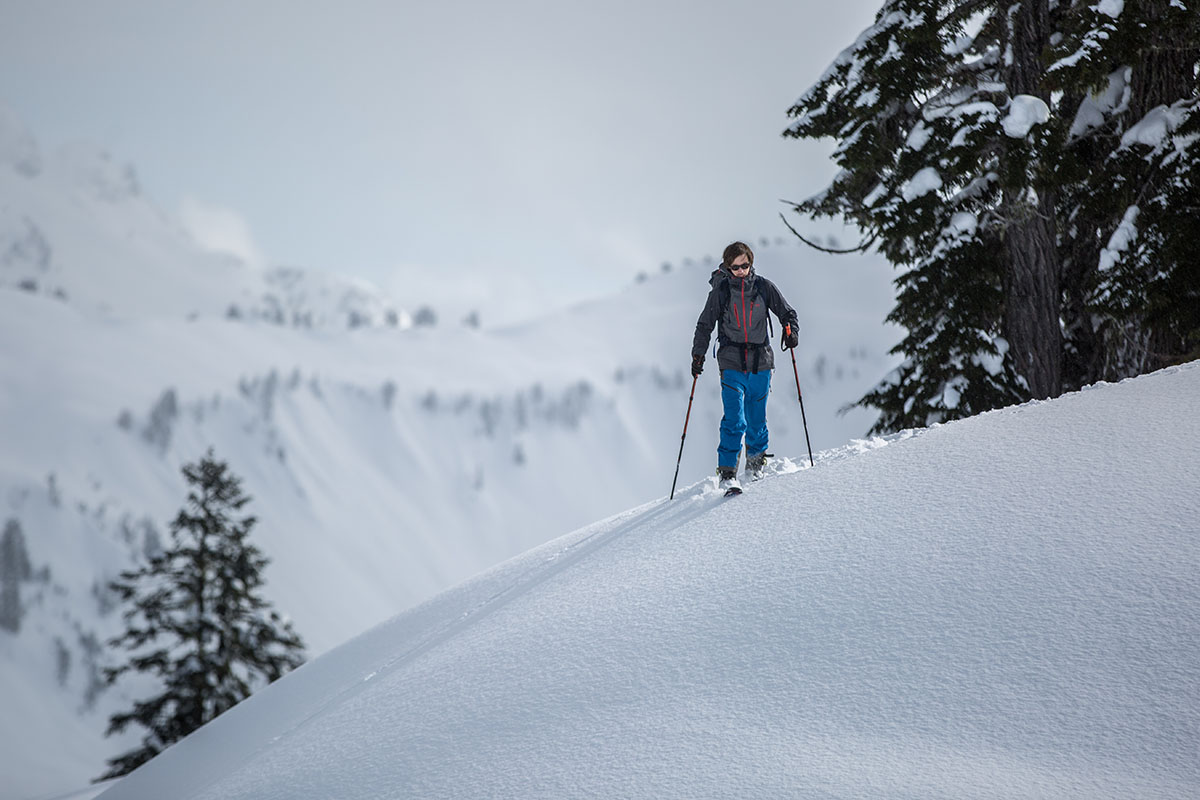 Key Features
Hood
Overall, the Skyward's helmet-compatible hood is very functional and never felt restrictive with a ski helmet underneath. It's easy to tighten using the integrated cordlocks (two at the front and one at the back) even while wearing gloves. Additionally, it features a hook at the back, which attaches to a small fabric loop about 5 inches lower. This secures the hood out of your face while skinning up while still providing plenty of protection. I did find it a little finnicky at first, but it was easy to use once I knew exactly where the hook clipped into. My only notable complaint is that I found the hood difficult to loosen while wearing bulky hardshell gloves (and in Japan, when it dropped well below zero Fahrenheit, this was a major concern as any exposed skin was at risk of frostbite). In the end, I recommend bringing along additional liner gloves to stay protected during transitions if you're skiing in frigid temperatures.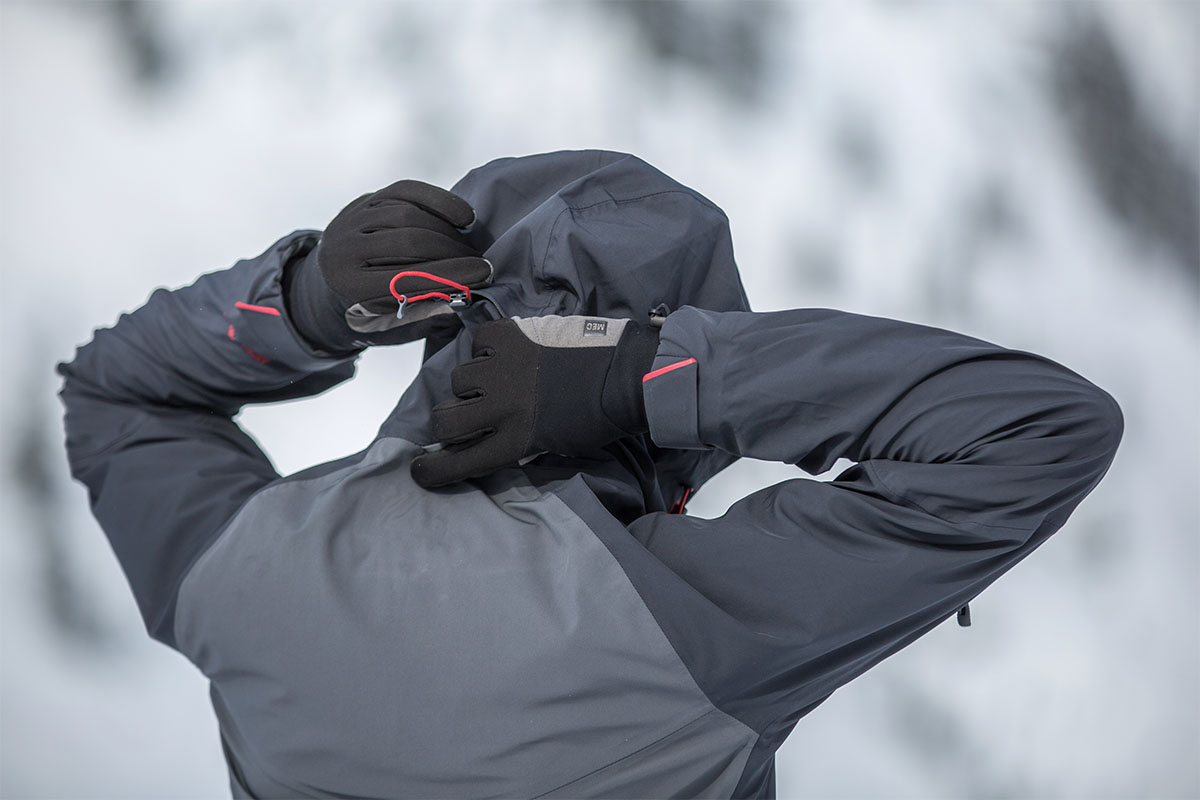 Another noteworthy part of the hood's design is the wire-brimmed halo shape. Here, Outdoor Research sewed in a sleeve of fabric for the elastic drawstring to run through—from the brim to the rear of the hood—and when tightened, it cups your head securely like a snug beanie. When the wind picked up or I was descending quickly, the hood stayed in place and didn't allow much cold air to blow in (and it's also handy when you want to unzip the main zipper for ventilation but keep the hood on). But as I mentioned above, while the brim offered great protection for my bare head, it didn't extend far enough over my Salomon MTN Lab Helmet, leaving my ski goggles and face exposed to the elements.

Storage: Pockets
Simply put, there's no shortage of organization with the Outdoor Research Skyward II. In total, you get seven pockets: two internal shove-it pockets, two outer chest pockets, one internal media pocket with a slot for a headphone cord to poke through, and two harness-compatible, zippered hand pockets (although I found that my pack's hipbelt interfered with these when it was buckled). The interior dump pockets were ideal for stashing gloves or my camera (on the uphill), and they were even large enough to stow a skin on each side when going for a quick descent. Further, I found the two outer chest pockets easy to access even while wearing a pack, and I often stuffed essentials here like a buff, compass, lift pass, or sunglasses.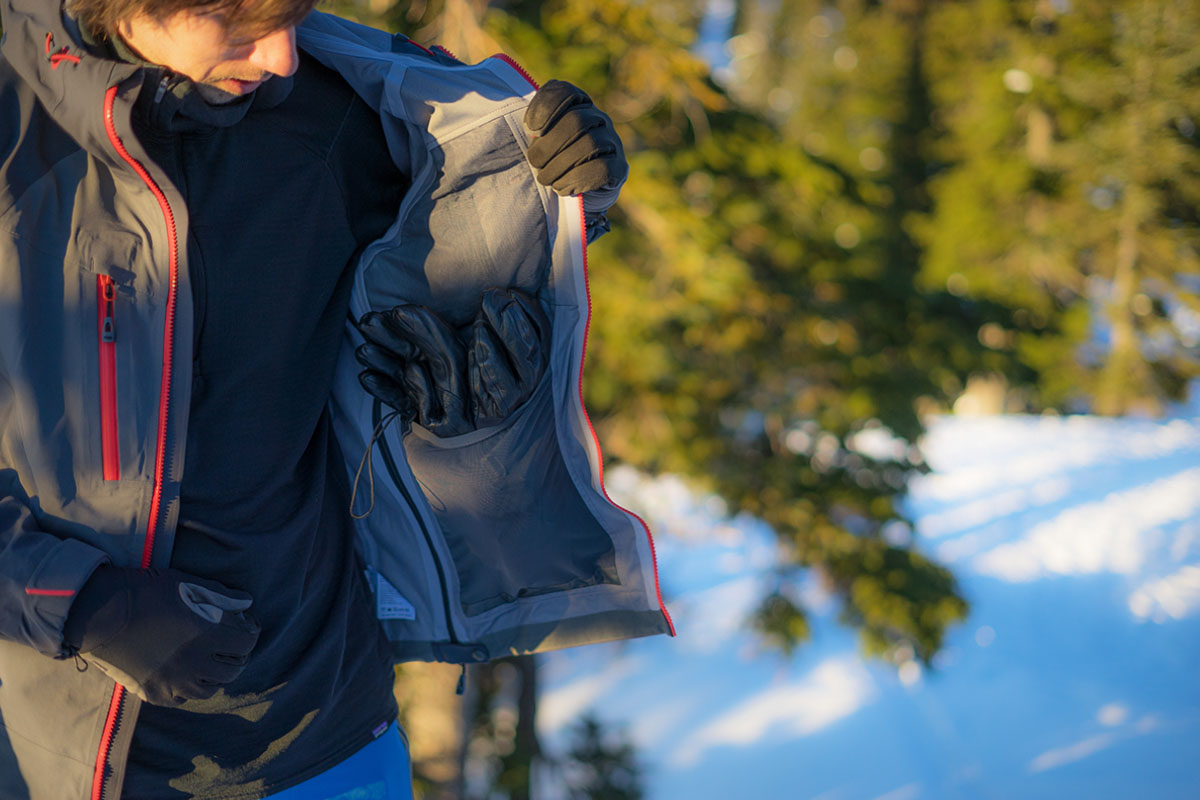 However, it's important to note that all of the Skyward's pockets have mesh backings, which helps with ventilation (when they're open) but makes them less resistant to the elements. In other words, in deep snow, snow can creep into the hand pockets, and if you run hot and tend to sweat in cold conditions, your electronics can ice up. In the end, it's best to store valuables that you don't want getting wet in your ski pack or put them in a Ziploc back before stuffing them in your pockets. I use the latter method (or use a waterproof Loksak bag) and haven't had any issues.

Fit and Sizing
Outdoor Research describes the Skyward's fit as "standard," but I found that it was more on the trim and fitted side. For reference, I'm 6'1" and 160 pounds, and a size medium fit me well overall. However, if my shoulders were any broader, I would have had to size up to a large so that I could still layer liberally underneath (we had a similar concern with OR's Hemispheres' Jacket). But all in all, I had plenty of room to layer without feeling restricted—my outfit when winter camping consisted of a thin baselayer, Patagonia Micro Puff Hoody, and burly Patagonia Fitz Roy Down Parka (note: the parka has since been discontinued, but the point is that I was able to fit a midweight down jacket underneath). My only fit-related complaint is the aforementioned length: at 31.5 inches (80cm) down the back, the jacket came up to just below my hips. But to be fair, this trims critical bulk for use in the backcountry, helps with mobility, and not many competitors are longer.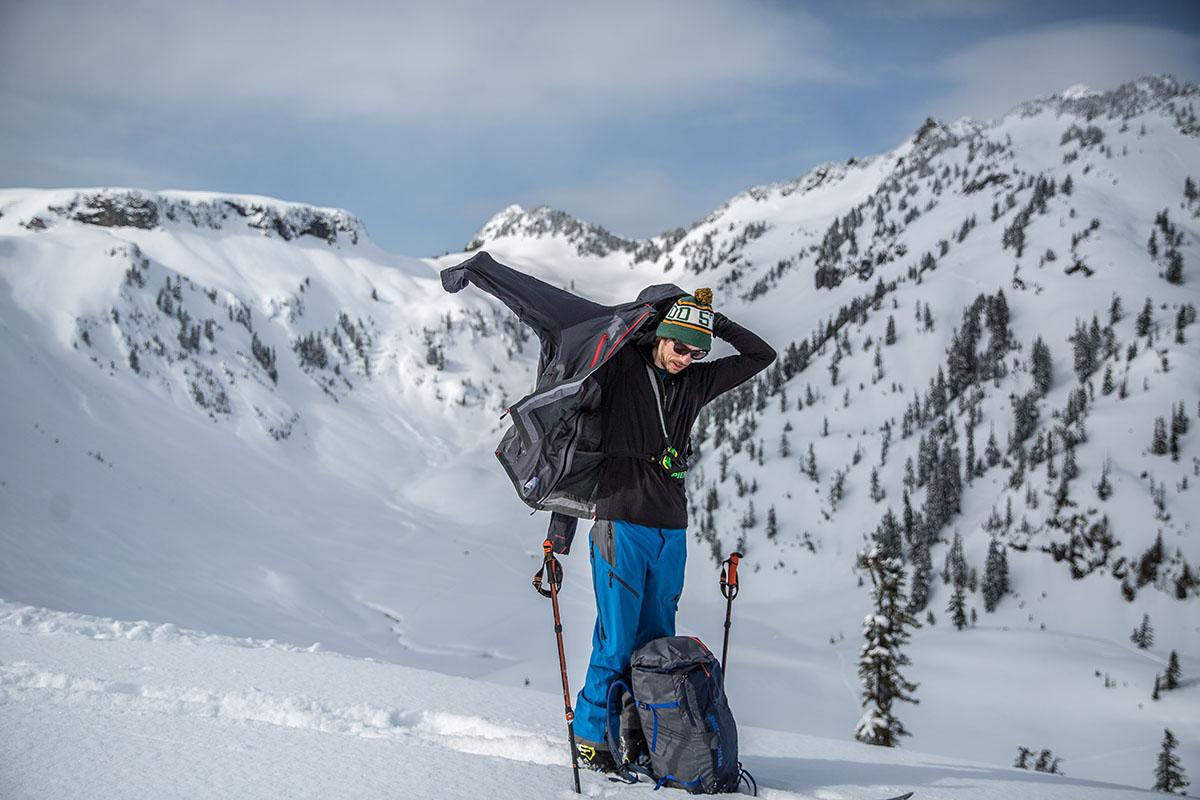 Other Versions of the Outdoor Research Skyward II
We put the men's Skyward II Jacket through the wringer for this review, and Outdoor Research also makes it in a women's-specific version for the same price ($350). Compared to the men's Skyward, the women's is slightly lighter at 1 pound 6.3 ounces, shorter at 27 inches (69cm) down the back, and sold in different colorways. To complete your kit, both the men's and women's jackets pair with OR's Skyward II Pants ($299), which we found to be impressively breathable and comfortable with great freedom of movement for backcountry skiing.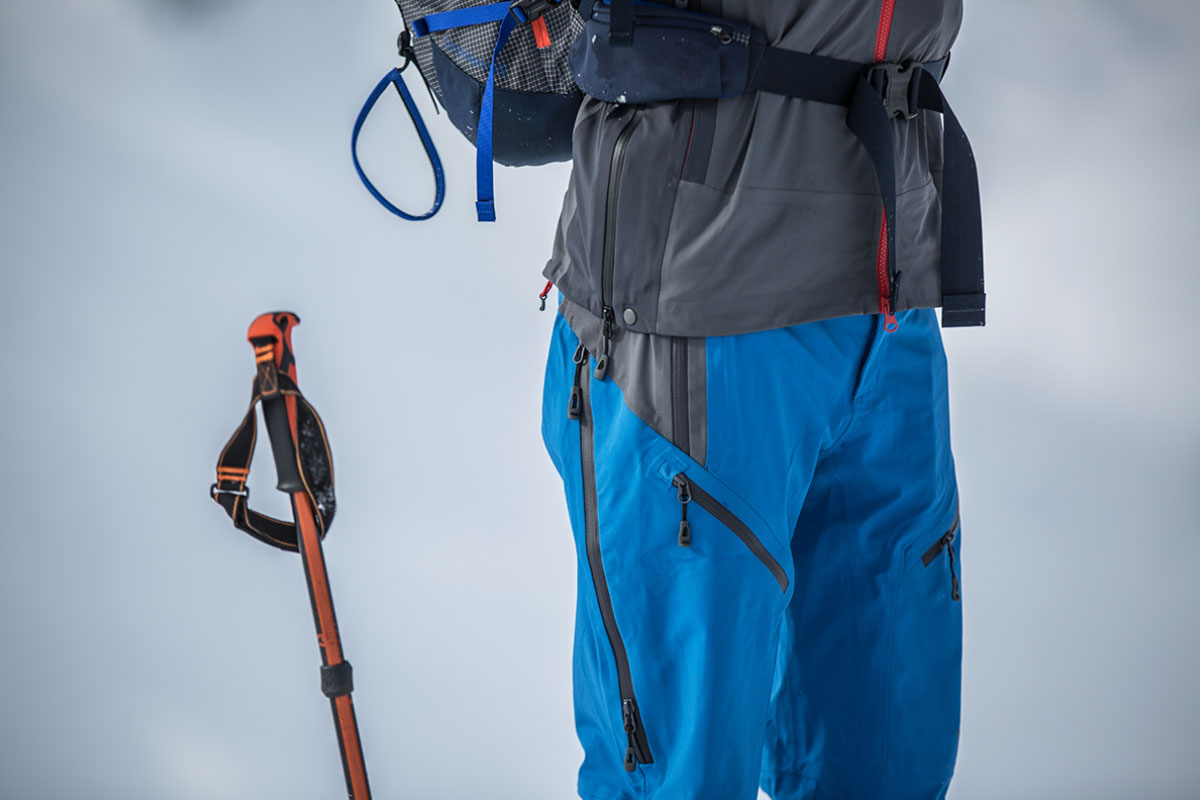 What We Like
The Skyward II's AscentShell construction offers comparable weather protection to Gore-Tex with even better breathability. 
The addition of 12-percent spandex adds excellent mobility and stretchiness.
At $350, the Skyward II is a great value in the world of ski jackets. 

What We Don't
Hem fell a bit short on my 6'1" frame and allowed snow to creep in from below (a powder skirt would've been nice to have).
While the hood is easy to tighten with bulky gloves on, it can be difficult to loosen.
All pockets are mesh-lined, which is good for breathability but means that valuables can get wet (we recommend putting them in a waterproof bag before stowing them in the jacket).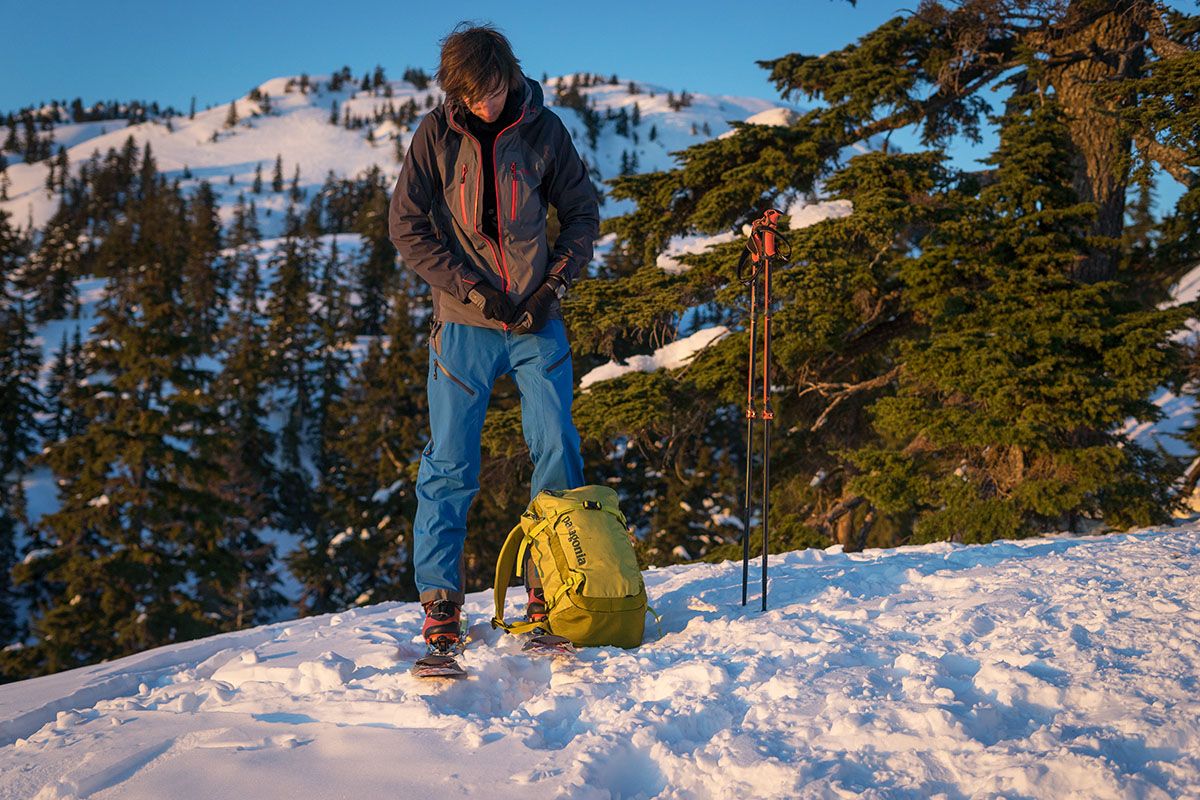 Comparison Table
| Jacket | Price | Type | Best For | Waterproofing | Weight |
| --- | --- | --- | --- | --- | --- |
| OR Skyward II | $350 | Hardshell | Backcountry/resort | 3L AscentShell | 1 lb. 9.5 oz. |
| Patagonia SnowDrifter | $399 | Hardshell | Resort/backcountry | 3L H2No | 1 lb. 4.7 oz. |
| Flylow Gear Malone | $400 | Hard/softshell | Backcountry/resort | 3L Intuitive | 1 lb. 5.3 oz. |
| Mammut Stoney | $499 | Hard/softshell | Resort/backcountry | 3L DryTech | 1 lb. 11.7 oz. |
| Dynafit Beast Hybrid | $400 | Softshell | Backcountry | 3L Dynashell/2L Stormwall | 1 lb. 3.2 oz. |
| OR Hemispheres | $599 | Hardshell | Backcountry/resort | 3L & 2L Gore-Tex w/Stretch | 1 lb. 4.7 oz. |

The Competition
With its built-in stretch, breathable fabric, and fully featured build, the Outdoor Research Skyward II is a very capable ski jacket for backcountry-goers. For a similar design, Patagonia's SnowDrifter is a nice option. Like the OR, the SnowDrifter uses a 3-layer in-house build (in this case, Patagonia's H2No) and incorporates stretch into the fabric for added mobility. It doesn't offer hardshell levels of protection, but it provides solid weatherproofing and includes touring-friendly features like pit zips and ample storage with six total pockets (one fewer than the Skyward). The SnowDrifter falls short of the Skyward for the backcountry with less breathability, but it wins out for on-piste use with a more durable 75-denier shell (the OR uses 50D). In the end, we prefer the $49-cheaper Skyward for touring, but the SnowDrifter crosses over a bit better to the resort.
Another hybrid hard/softshell option to consider is Flylow Gear's new-for-2020/2021 Malone. Designed with both backcountry and frontcountry use in mind, the Flylow has five pockets, a large and helmet-compatible hood, pit zips, and a long cut that provides ample coverage. Further, the softshell build is impressively breathable, and the Malone offers good range of motion with built-in stretch. The main difference between the Flylow and OR is fit: the Malone is baggier and less streamlined than the Skyward, which can be a downside for touring (but this can vary based on personal preference). Both are mobile, comfortable, and reasonably priced ski shells, but we prefer the Skyward for its comparable performance and better fit at $50 cheaper.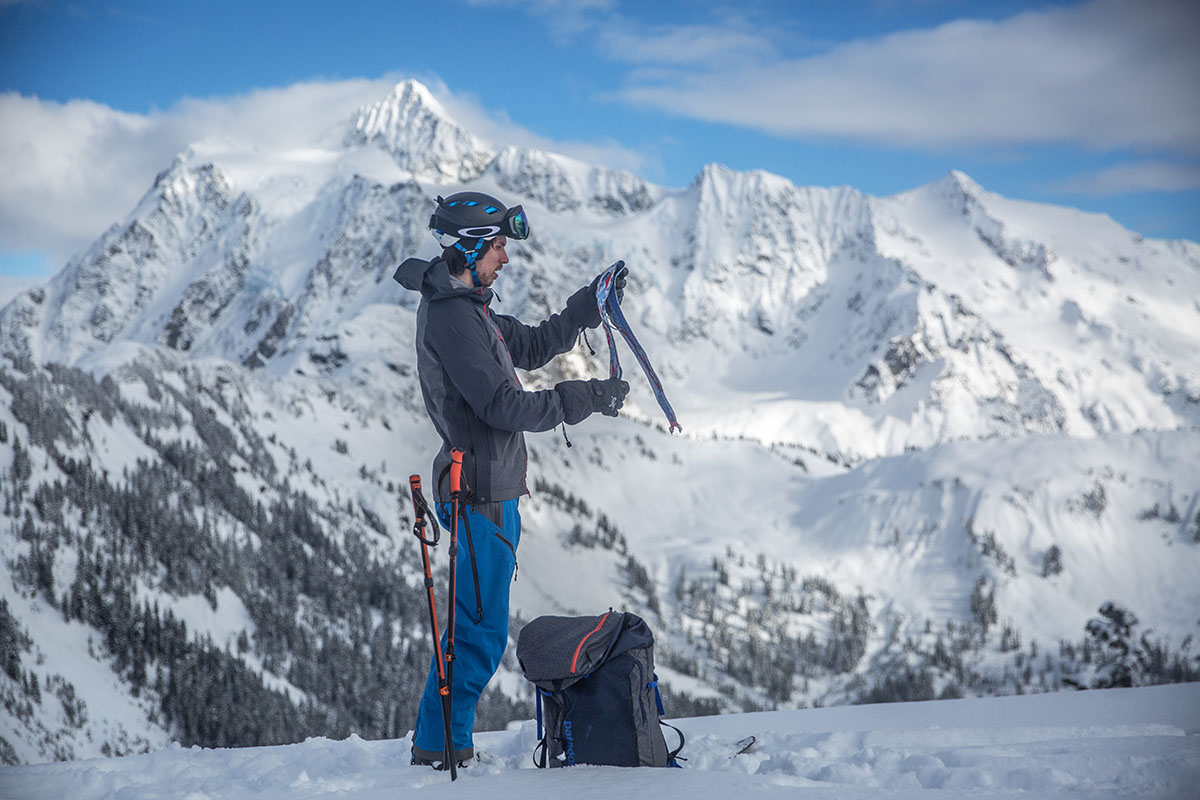 Like the Skyward and Malone, Mammut's Stoney is a hybrid design that nicely balances resort and backcountry needs. Like the OR, the Stoney is comfortable with a stretchy construction and uses an in-house 3-layer build for waterproofing, which we found to be decently breathable but a step down from Gore-Tex in truly rough and rowdy conditions. The Mammut is also slightly heavier than the OR at 1 pound 11.7 ounces (but you do get a powder skirt) and a bit less hardwearing with a 40 x 40-denier shell. And the real clincher for us is price: at $499, the Mammut costs around $150 more than the Skyward without any notable upgrades in performance. For these reasons, we consider the OR the better value. 
Dynafit's Beast Hybrid is another intriguing alternative to the Skyward II. Rather than a 3-layer build throughout, the Dynafit uses a waterproof 3-layer shell on the upper body, arms, and hood, with a 2-layer softshell around the lower body for added breathability and mobility. However, this translates to a major sacrifice in weather protection—in fact, we'd only recommend the Beast Hybrid for use in spring conditions or places known for dry powder. The Dynafit also lacks pit zips, which isn't ideal for those who put in a lot of work on the skin track. All told, we think the fully waterproof and better-appointed Skyward II is the superior all-around jacket for $50 less.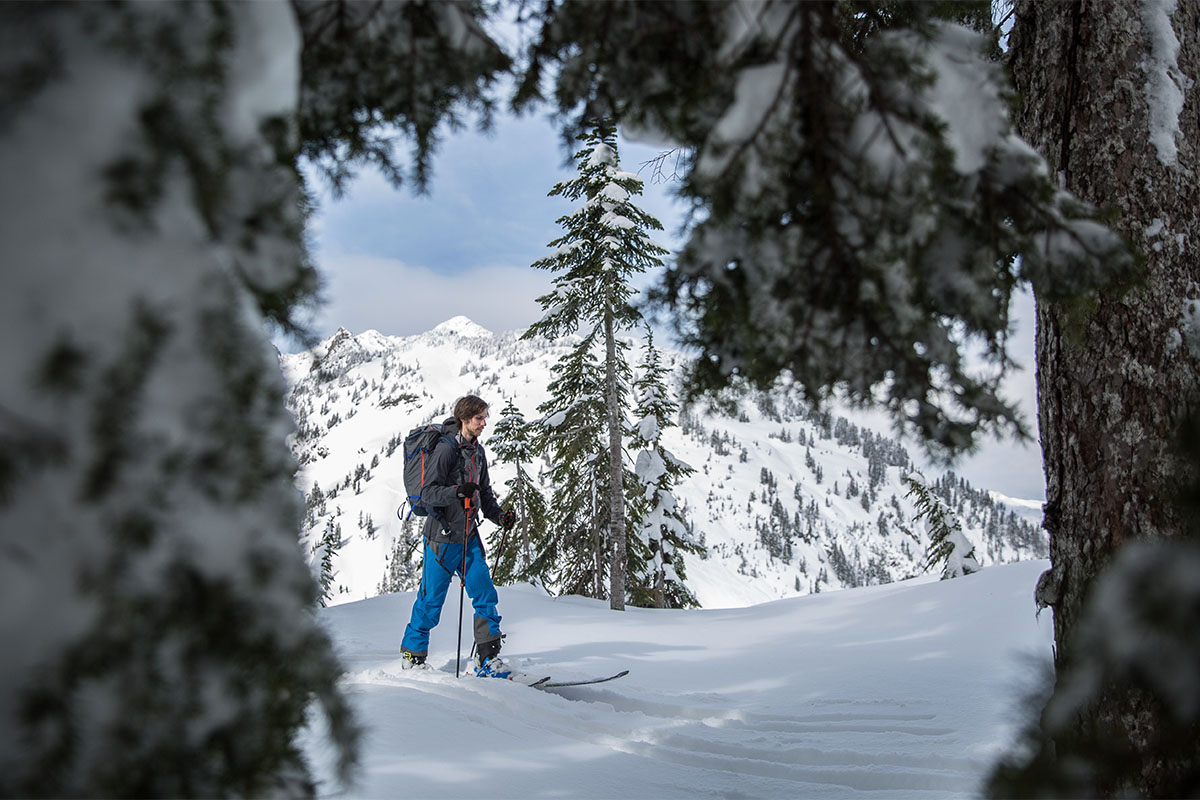 Last but not least, for a step up in performance (and price), OR also makes the premium Hemispheres Jacket. Like the Skyward, the Hemispheres features OR's hem-to-bicep TorsoFlo side vents and has ample storage with seven total pockets. But rather than in-house AscentShell, the Hemispheres uses more bombproof Gore-Tex (in this case, both 3-layer Gore-Tex with C-Knit and 2-layer Gore-Tex with Stretch Technology). The Hemispheres also is around 5 ounces lighter than the Skyward at 1 pound 4.7 ounces, more durable with a 70-denier shell, and slightly longer with a 32.75-inch (83cm) hem. Plus, it has stretchy panels along the back and hood for added range of motion. All things considered, the Skyward II is a nice alternative for a considerable $250 less, but those who split their time between the resort and backcountry likely will prefer the more versatile Hemispheres.
If you're thinking about buying gear that we've reviewed on Switchback Travel, you can help support us in the process. Just click on any of the seller links above, and if you make a purchase, we receive a small percentage of the transaction. The cost of the product is the same to you but this helps us continue to test and write about outdoor gear. Thanks and we appreciate your support!
Depending on the seller, most products ship free in the United States on orders of $50 or more. International shipping availability and rates vary by seller. The pricing information on this page is updated hourly but we are not responsible for inaccuracies.
Read More From Switchback Travel