For hikers and mountaineers alike, a quality altimeter watch is a worthy addition to your gear collection. Popularly referred to by the acronym ABC (altimeter, barometer, compass), these watches offer the most essential information for backcountry adventures. Built to handle the extremes, altimeter watches have a distinct look with durable, scratch-resistant faces and large screens flanked by glove-friendly buttons. You'll see a lot of familiar faces in our 2023 top picks, including Casio, Suunto, and GPS-giant Garmin. For more information on ABC watch features, check out our comparison table and buying advice below the picks.
 
---
Our Team's Altimeter Watch Picks
---

Best Overall Altimeter Watch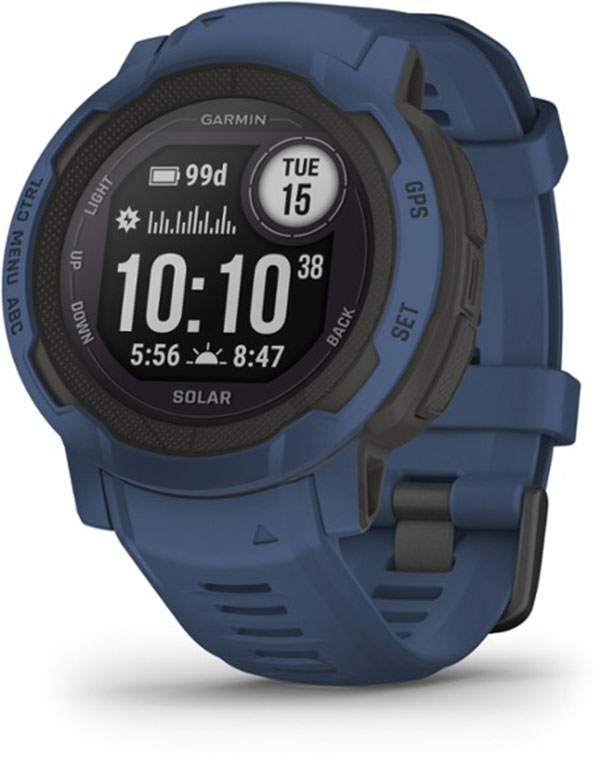 Weight: 1.9 oz.
GPS: Yes
Battery: Lithium-ion and solar
Diameter: 40, 45, 50mm 
What we like: A rugged, long-lasting altimeter watch with GPS and smart features.
What we don't: Pricey and small monochrome screen.
If you're in the market for a do-all altimeter watch, Garmin's Instinct 2 Solar hits a fantastic balance of price and performance. The Instinct is all business on the outside, with a durable case, monochrome display, and five-button interface that's easy to use in wet weather or while wearing gloves. And with an update last year, the inside now features impressively modern tech, including a host of sensors, GPS support, numerous activity modes with accompanying data analysis, and everyday features like health monitoring, contactless pay, and music control. To top it all off, the headlining feature is the Instinct's substantial built-in solar panel, which gives the watch a significant boost in battery life compared to similar designs (up to 48 hours while tracking and unlimited in smartwatch mode).
The Garmin Instinct falls into a bit of a 'tweener category, combining the looks and savvy of an altimeter watch with the features of a multisport GPS design. While most hikers and mountaineers will love the added technology (many ABC watches don't include GPS, activity tracking, or smart features), those looking for a simpler timepiece can save a lot of money with models like the Suunto Core and Casio Pro Trek PRG-270 below. On the other hand, if you plan to use your watch for navigation, the Garmin Fenix 7 (also below) is much more capable, with a colorful display and preloaded maps that include details like location markers and topographic lines. But for a modern altimeter watch built for rugged environments, the Instinct 2 Solar gets our top spot this year.
See the Garmin Instinct 2 Solar
Best Non-GPS Altimeter Watch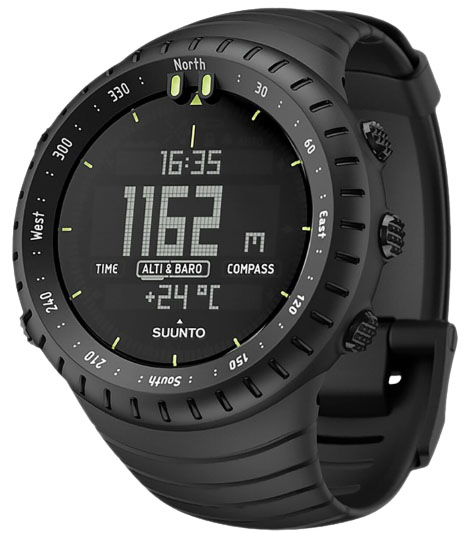 Weight: 2.3 oz.
GPS: No
​Battery: CR2032
Diameter: 49mm
What we like: Proven technology and performance in a modern altimeter design.
What we don't: Reliability issues with the band; not the cheapest option in this category.
The Garmin Instinct 2 Solar above is a modern sports watch complete with GPS support and smart features, but not everyone needs such a complex design (or wants to pay for it). For the best in ABC functionality without additional bells and whistles, it doesn't get much better than the Suunto Core. Priced at $219 on Sunnto's website, the Core offers top-notch accuracy with a premium barometric altimeter and packs in an impressive lineup of features, including sunset and sunrise times for more than 400 locations, alerts of changing pressure or disappearing daylight, and a seven-day altitude log for hikers. Tack on a sleek minimalist design and a wide variety of optional colors, and the Suunto Core is a true everyday multifunction watch. 
The Suunto Core has been on the market for a number of years, and in that time users have seen a couple issues crop up. First, the band doesn't always hold up well under heavy use, and a replacement piece will run you around $61 (or cheaper for a knock-off). Second, despite the large screen, some find the black background and white text difficult to read in sunlight. And finally, the Core is far from the cheapest option here—you can save money with watches like the Pro Trek PRG-270 and Lad Weather Master Sensor below, and even the GPS-equipped COROS Pace 2 is more affordable at $200. But for the best combination of quality, functionality, and durability, the Suunto Core is our favorite non-GPS altimeter watch of the year.
See the Suunto Core
Best Budget Altimeter Watch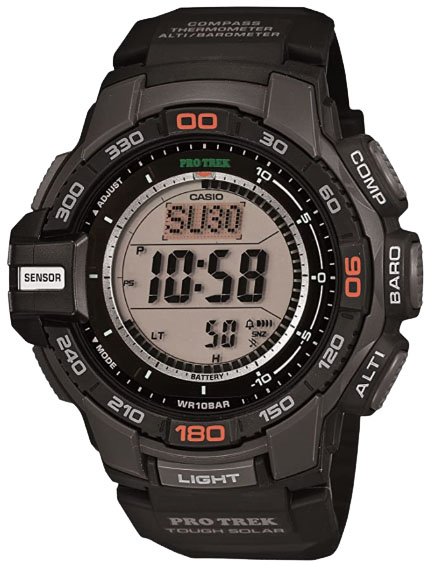 Weight: 2.4 oz.
GPS: No
​Battery: CR2 and solar
Diameter: 52mm
What we like: A basic altimeter watch that looks the part for just $150.
What we don't: Few modern features and smaller than other Casio models.
If you're looking for a basic altimeter watch that won't cost you an arm and a leg, the Casio Pro Trek PRG-270-1 fits the bill. At a $200 MSRP (often available through Amazon for $150), the watch features Casio's hallmark aesthetic and detailed LCD screen, which easily toggles between modes by way of a number of large, glove-friendly buttons. In terms of sensors, you get a built-in compass, barometric altimeter, and thermometer, great for navigating, judging altitude, assessing conditions, or predicting weather on extended backcountry trips. And the PRG-270-1 is fully functional as a basic watch, too, with a stopwatch, timer, alarm, and more.
The Casio here is about as bare-bones as it gets for an altimeter watch, lacking modern features like bluetooth connectivity and activity tracking. And while it's relatively bulky even compared to models like the Garmin Instinct 2 Solar above, the 52-millimeter diameter is small for a Casio (for comparison's sake, the other Casio models here measure 57.5 and 60mm across). On the bright side, the Pro Trek PRG-270-1 does feature a solar panel for an extended lifespan, along with a durable build that's resistant to wear and tear and moisture. For those just getting into backcountry exploration or curious about what an altimeter watch has to offer, it's an affordable place to start. And if you're really looking to keep costs low, check out the Lad Weather at the bottom of our list.
See the Casio Pro Trek PRG-270-1
Best GPS Watch for Maps and Navigation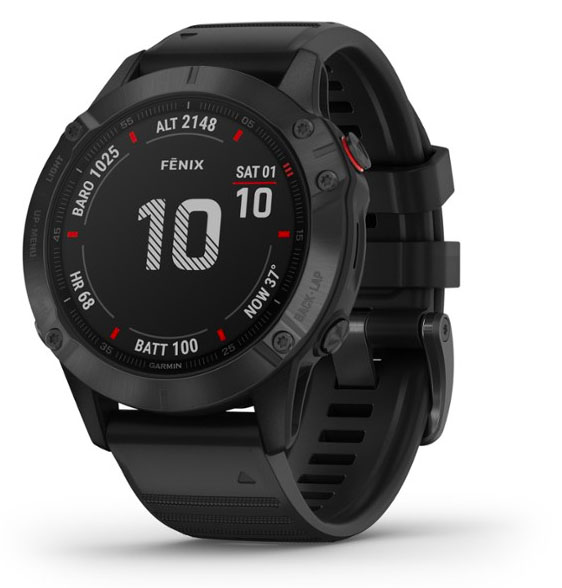 Weight: 2.8 oz.
GPS: Yes
Battery: Lithium-ion
Diameters: 42, 47, 51mm 
What we like: Top-notch navigation with preloaded road, trail, and topographic maps.
What we don't: Expensive, heavy, and overkill for casual users.
The Instinct 2 Solar gets our top pick for its durable construction and long-lasting solar power, but explorers who want top-of-the-line GPS navigation should look to Garmin's premier multisport watch, the Fenix 7. Like the Instinct, the powerhouse Fenix includes quality ABC sensors, accurate tracking—thanks to GPS, GLONASS, and Galileo satellite compatibility—and features like heart rate monitoring and sleep tracking. Importantly, the Fenix 7 also has the best available wrist-based mapping: detailed contour lines and extensive navigation tools that excel for activities ranging from hiking and mountaineering to trail running and skiing. Finally, while not quite up to snuff with the Instinct 2 Solar, the latest version of the Fenix also got a serious bump in battery life, which is helpful for extended trips.
The biggest downsides of the Fenix 7 are cost, complexity, and weight. Considering that you can get a capable altimeter watch for less than $200, the $700 MSRP for the Fenix will put it out of reach for many (the solar edition is $800, while the sapphire model will run you $900). What's more, the tech is overkill for someone just looking for the basics like barometric pressure, elevation, and temperature—and when it comes to getting the most out of your altimeter watch, sometimes less is more. Finally, even in the smallest "S" form, the Fenix is on the heavy side due to its stainless steel build, and you'll feel the extra heft during activities like running. But if you value the Garmin's slick navigational features and don't mind paying for extras like WiFi support and music storage, it's one heck of an altimeter watch.
See the Garmin Fenix 7
Best of the Rest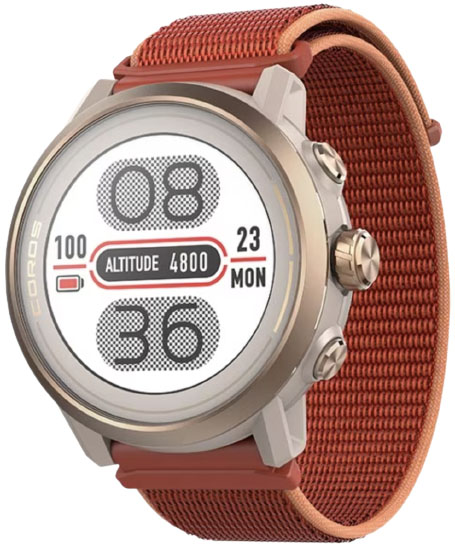 Weight: 1.5 oz.
GPS: Yes
Battery: Lithium-ion
Diameters: 43mm
What we like: A multisport GPS and ABC watch with outstanding battery life.
What we don't: Limited smart features and lacks the rugged appearance of an altimeter watch.
COROS might not have the brand recognition of Suunto, Casio, or Garmin, but they're quickly gaining momentum in the sports watch world. Built with a clear uphill-athlete focus, their mid-range Apex 2 includes a barometric altimeter (not a given in multisport GPS watches), 29 sport modes ranging from cross-country skiing to triathlon, and a durable build with titanium alloy bezel and sapphire glass display. What's more, we've found the COROS' simple dial and button interface easy to use with gloves on, and you get touchscreen mapping for convenient navigation. The battery life is also outstanding at 45 hours in tracking mode and up to 17 days with simple use. 
The COROS Apex 2 isn't perfect, but it does stand out in three major ways. First, you'll be hard pressed to find another altimeter watch at this price point that features music storage and maps/navigation (the $200 COROS Pace 2 does feature a barometric altimeter, but lacks the Apex 2's backcountry focus in most other ways). Second, the Apex 2 has a sleeker design than many of the other watches here, making it a great option for those who want the tech of an ABC watch without the stereotypical militaristic look. And finally, its battery life is impressive at this price point, especially considering the watch's power-sucking feature set. Most users won't find COROS' ecosystem as intuitive as Apple's or Garmin's, but the Apex 2 is nevertheless a high-end watch and a great value at $399.
See the COROS Apex 2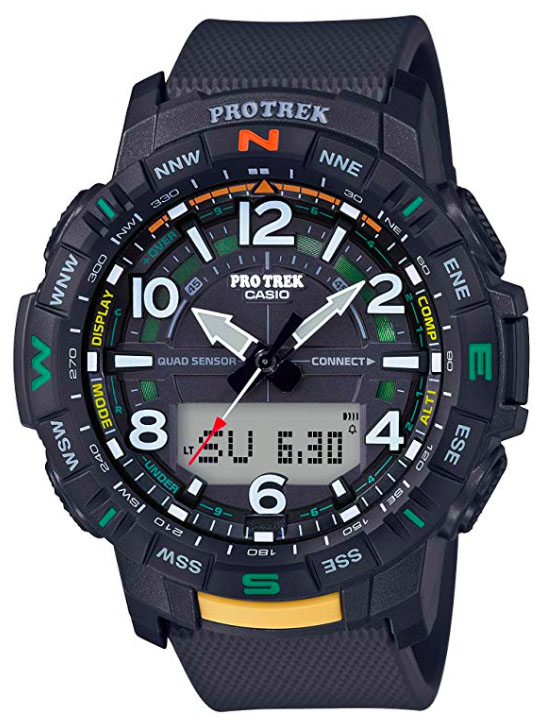 Weight: 2.3 oz.
GPS: No
Battery: CR2025
Diameter: 57.5mm
What we like: Quality build, great price, and useful smartphone app.
What we don't: Fairly large for a non-GPS device; no atomic timekeeping.
Casio's Pro Trek line is among the most recognizable in the ABC watch world, and one of their more recent releases is the PRT-B50. Like other Casios we've tested, the design has a solid feel, logical layout with well-labeled buttons flanking each side, and reliable sensors. The PRT-B50 is a bit bulky and falls on the budget end of the spectrum at $270 (you can often find it for less at places like Amazon), so you do miss out on some features like solar power and atomic timekeeping. But the latest Pro Trek is tough enough for serious backcountry use and provides useful data ranging from altitude and barometric pressure to current temperature (provided you remove the watch from your wrist to get an accurate reading).

What truly sets the PRT-B50 apart from the more affordable PRG-270-1 above are its GPS and Bluetooth sensors. This additional tech allows you to track your activities and pair the watch with the Pro Trek App on your smartphone. Similar to ultra-modern designs like the Apex and Fenix, you can then gain access to all sorts of activity data, including a step counter, elevation gained/lost, and miles traveled. However, the functionality is fairly basic compared to apps from COROS and Garmin—if this is a priority, a budget design like the COROS Pace 2 below might be a better fit. But for Casio-lovers looking for a modern timepiece, the PRT-B50 is a great combination of price, features, and accuracy.
See the Casio Pro Trek PRT-B50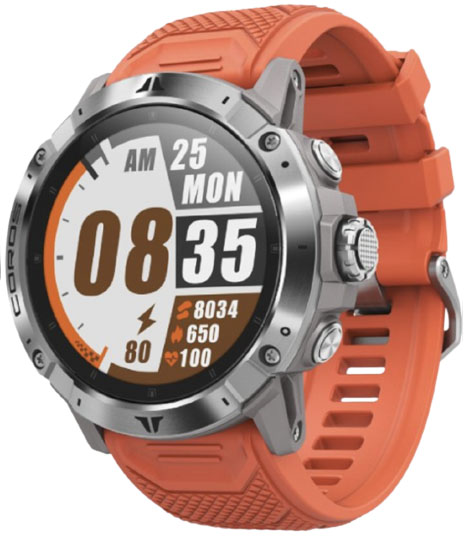 Weight: 3.1 oz.
GPS: Yes
Battery: Lithium-ion
Diameter: 50.3mm
What we like: Incredibly durable; great at altitude and in extreme temperatures.
What we don't: Falls short of the Garmin Fenix 7 in features.
With a steep price tag and rugged, mountain-ready build, it doesn't take more than a quick glance to see that the COROS Vertix 2 goes head-to-head with our top-ranked Garmin Fenix 7. This is COROS' premium offering, equipped with all the sensors we look for in a high-end watch, a battery life of 140 hours in GPS mode (the Garmin's is 40), and great performance in extreme temperatures and at altitude—including SpO2 alerts that help you monitor your blood oxygen levels. To add to its already-impressive durability, the Vertix 2 comes in a Pelican-style hard case, and the rest of the design follows suit with a sapphire glass screen and a titanium bezel and cover. COROS even added a touchscreen, which is especially helpful when using mapping and navigation features. Plus, the large dials are a breeze to operate with gloves on.
COROS' update to the Vertex 2 included a price increase and a number of noteworthy additions. You now get music and preloaded maps (two key features the first iteration lacked), but these improvements have their caveats. To start, COROS does not include location names on their maps, and you don't get turn alerts or turn-by-turn navigation. Second, the watch does not offer Spotify, Apple, or Pandora support, making the music feature a bit clunky. Finally, for those who use ANT+ sensors, it's important to note that the "2" is not compatible. The Vertix 2 certainly is a nice choice for COROS devotees looking for a rugged design to take into extreme environments, but the Fenix 7 is the better all-around design, especially if you plan to use music and mapping functions (not to mention, the Garmin is offered in three sizes in addition to a few solar-powered variations, while the COROS comes in just one model and size). 
See the COROS Vertix 2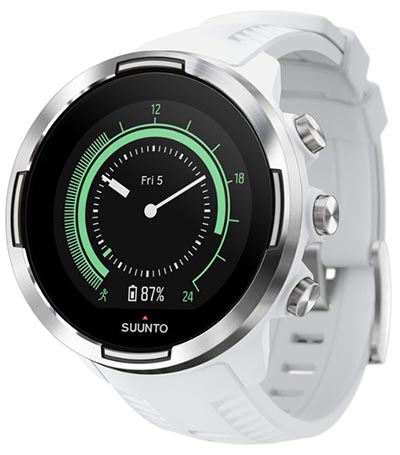 Weight: 1.8 oz.
GPS: Yes
Battery: Lithium-ion
Diameter: 43mm
What we like: Feature-rich and sleek design that's great for everyday use.
What we don't: Lacks the GPS accuracy and navigational prowess of the Fenix 7 above.
Suunto has long had a reputation for reliable products and accurate tracking, but their watches haven't always been the most modernized offerings—until the 9 Peak series. The 9 Peak Titanium all but brings the Finnish company up to speed: With a slim profile, sleek titanium bezel, and classy wrist strap, it's easily one of the best-looking ABC watches here. And on the inside, it's capabilities are on par with (and in many ways exceed) a design like the Apex 2 above, including multi-GNSS support, breadcrumb navigation, a pulse oximeter, and the ability to choose between power modes to preserve battery life.
One of the 9 Peak Titanium's most innovative features is Suunto's Snap to Route setting, which keeps your track aligned to preloaded routes and is especially helpful when you need highly accurate speed and distance data for activities like road races. But while this is a great frontcountry feature, it carries less appeal for backcountry users; it's also worth noting that the 9 Peak lacks dual-frequency GPS support, which boosts accuracy and is fairly commonplace at this price point. Finally, compared to the Fenix 7 above (which includes preloaded maps rather than a simple line across the screen), the Suunto's navigation falls far short. But if you're looking for a capable outdoor watch that also gets the job done for daily use, the 9 Peak Titanium nevertheless has a lot to offer.
See the Suunto 9 Peak Titanium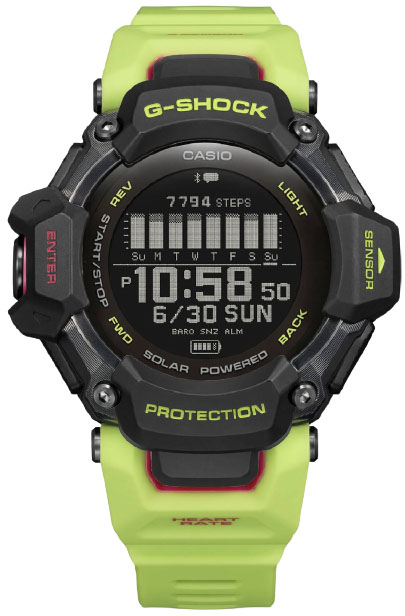 Weight: 2.2 oz.
GPS: Yes
Battery: Lithium-ion and solar
Diameter: 60mm
What we like: Hard to kill.
What we don't: Outdated, heavy, and more expensive than modern options with similar tech.
One of Casio's latest watches to bear its venerable G-Shock name is the Move GBD-H2000. Building on the brand's initial foray into the GPS world, the Pro Trek WSD-F20, the G-Shock Move GBD-H2000 combines Casio's trademark durability and solar power with modern touches like activity tracking, heart-rate monitoring, and a variety of additional sensors (including a barometric altimeter and compass, thermometer, and accelerometer). Importantly, the watch also integrates with Casio's app to make all this data more digestible. And as expected from a G-Shock design, the G-Shock Move GBD-H2000 is about as bombproof as an outdoor watch gets.
Perhaps the most compelling reason to opt for the Casio over other watches here is the rugged and shock-resistant case, which you'll either love or hate. The G-Shock Move GBD-H2000 also features the most impressive water rating on our list (it can handle pressure up to a depth of 200m), which gives even more credence to its bombproof construction. And finally, with a built-in solar panel, it can last for up to a year of daily use without needing a charge. But in 2023, most of these features are fairly standard in outdoor watches, and the Casio doesn't offer anything remarkable for $399. In the end, we're partial to more modern and sleek designs from brands like Garmin, COROS, Polar, and Suunto.
See the Casio G-Shock Move GBD-H2000 HR GPS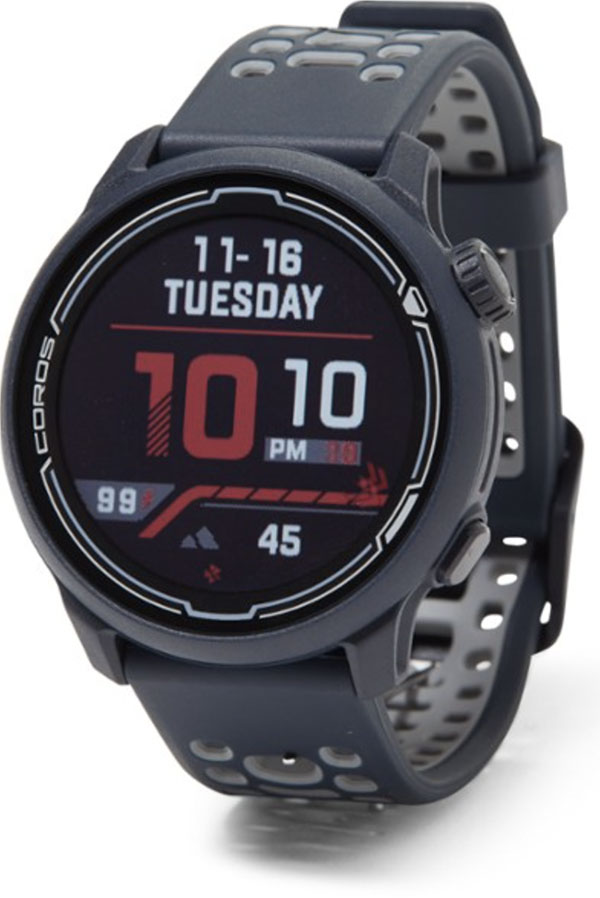 Weight: 1.2 oz.
GPS: Yes
Battery: Lithium-ion
Diameter: 42mm
What we like: GPS support and ABC sensors for just $200.
What we don't: Not designed for backcountry use.
We're big fans of COROS' Apex 2 above, especially for those in the market for a do-all multisport watch with both GPS and ABC functionality. But we'd be remiss not to also mention COROS' Pace 2 here, which offers similar functionality (including both GPS support and ABC sensors) for $200 less. Over the years, the Pace 2 has become one of our go-to watches for outdoor activities thanks to its low profile, ease of use, and accuracy, and at just $200 it easily undercuts designs like the Suunto Core above while offering significantly more features.
It's important to note that COROS designed the Pace 2 with less of a backcountry focus than the Apex 2: The polymer bezel and Corning Glass screen aren't particularly tough or water resistant, the battery isn't quite as long-lasting, and the Pace lacks tracking modes for activities like hiking, skiing, and climbing. But the entry-level watch certainly gets the job done for light backcountry use—we like how the sleek profile fits under our jacket cuffs, and the battery life still outlasts much of the GPS-equipped competition. As a work-around, we use the "walk" mode to track our hikes, and you can easily customize activity screens to display information like elevation gain and loss.  and have grown accustomed to using the running activity mode for tracking our hikes. In the end, if you don't mind the Pace's diminutive appearance and compromised durability, it's one of our favorite altimeter-equipped GPS watches of the year.
See the COROS Pace 2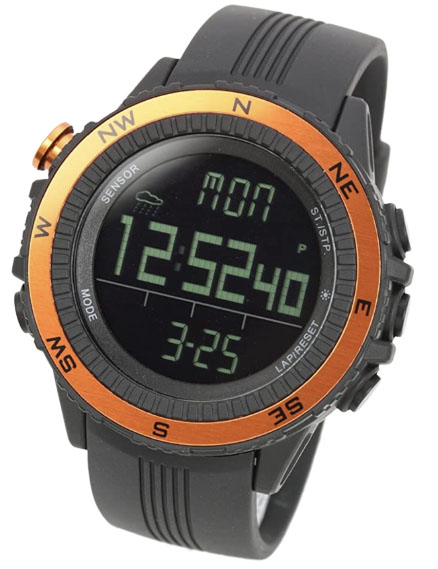 Weight: 2 oz.
GPS: No
Battery: CR2032
Diameter: 45mm
What we like: Affordable and functional for casual exploration.
What we don't: Lacks durability and accuracy.
The final watch to make our list is the Lad Weather Sensor Master. For just $45, the Lad Weather is a great option for those just testing the waters of ABC watches. Does it connect to your smartphone via bluetooth? No. Can it track your activities via GPS? Negative. Will it survive the weight of a truck or 200 meters of water pressure? Certainly not. But for just a fraction of the cost of the offerings above, the Sensor Master has a reliable altimeter, barometer, compass, and thermometer, including multiple displays to interpret the data. We wouldn't take the Lad Weather up Everest, but it'll certainly get the job done for casual backyard adventuring.
But it goes without saying that a watch at this price point will have some inherent compromises. The Sensor Master's cheap plastic face will accumulate scratches over time, and its user interface is less intuitive than most of the competition. Further, don't expect the Lad Weather to be as accurate as the more premium offerings above—you'll likely need to recalibrate the sensors routinely. But if you're just learning the ropes or like the idea of a souped-up timepiece for outdoor recreation, the Sensor Master is a great first altimeter watch for just $45.
See the Lad Weather Sensor Master
Altimeter Watch Comparison Table
Editor's note: The stated battery life is the manufacturer's claim while in time mode. When using the ABC sensors, smart features, or GPS, battery life will be reduced.

Altimeter Watch Buying Advice

Altimeter Watch Features
Altimeter, Barometer, and Compass
Entry-level ABC watches come with the basics: an altimeter, a barometer that provides measurements of current atmospheric pressure, and a compass. You'll also get a temperature sensor in most cases, including with budget-oriented designs like the Lad Weather and Casio Pro Trek PRG-270-1 ($150 at the time of publishing). And finally, all watches on our list include features like lap timers, a stop watch, alarm, multiple time modes, and a backlight.
Advanced Features
As prices rise, the biggest shift will come in the quality of the timepiece. Cosmetic changes make them more functional for daily use with less plastic in the construction and sleeker, lower-profile designs. You'll also get superior water resistance, more comfortable bands, and upgraded watch faces that resist scratches and are easier to read. In addition, they'll often provide more detailed insights about the ABC data they're collecting. Examples include mapping of elevation gained and lost as well as shifts in barometric pressure (and big shifts in pressure will trigger an alarm on the watch to warn of incoming weather). Finally, at around $300 MSRP for a non-GPS model, you will get a watch with atomic timekeeping for greater accuracy.

GPS-Enabled Altimeter Watches
Originally popular in the running and triathlon crowds, there are a growing number of GPS-enabled sports watches that excel in the backcountry. In short, they combine the feature sets of a handheld hiking GPS, altimeter watch, and fitness tracker (some entry-level designs forgo ABC sensors). Compatibility with a range of satellites, including GPS, Galileo, and GLONASS (also known as multi-GNSS support) improve coverage and accuracy. And features like downloadable routes, tracking to recount your travels, and extended battery lives make these ideal partners for hikers, mountaineers, skiers, and ultra-distance athletes. We've included a number of GPS-equipped designs here, but for a complete breakdown, see our round-up of the best sports watches.
Mapping
One area where GPS-enabled watches vary significantly is in their mapping and navigation abilities. In general, the market can be broken into two categories: topo-equipped models like Garmin's Fenix 7 that feature detailed contour lines, and simple mapping that includes only a basic line or marker on an otherwise blank screen. Both are useful for following a preset route or retracing your steps with the breadcrumb functionality (which works just as its sounds), but topo mapping provides helpful insights into the terrain, including expected elevation change if you're off-trail or considering a different route. No matter the respective mapping abilities, as with all pieces of technology, GPS watches should not be relied on as your only source of backcountry navigation (we love using the Gaia app on our phone, and there's always the good old paper map and compass).

Multisport Features
As touched on above, outdoor GPS models share many features with watches intended for sports like running, cycling, and swimming. High-end designs like the Suunto 9 Peak Titanium and Garmin Fenix 7 can pretty much do it all, with built-in ABC sensors, wrist-based heart rating monitoring with zone recording for training purposes, and dedicated modes for triathletes. COROS's Apex 2 is a great value option with excellent battery life that excels for long runs, although its user interface is slightly less refined than the more proven Garmin and Suunto models.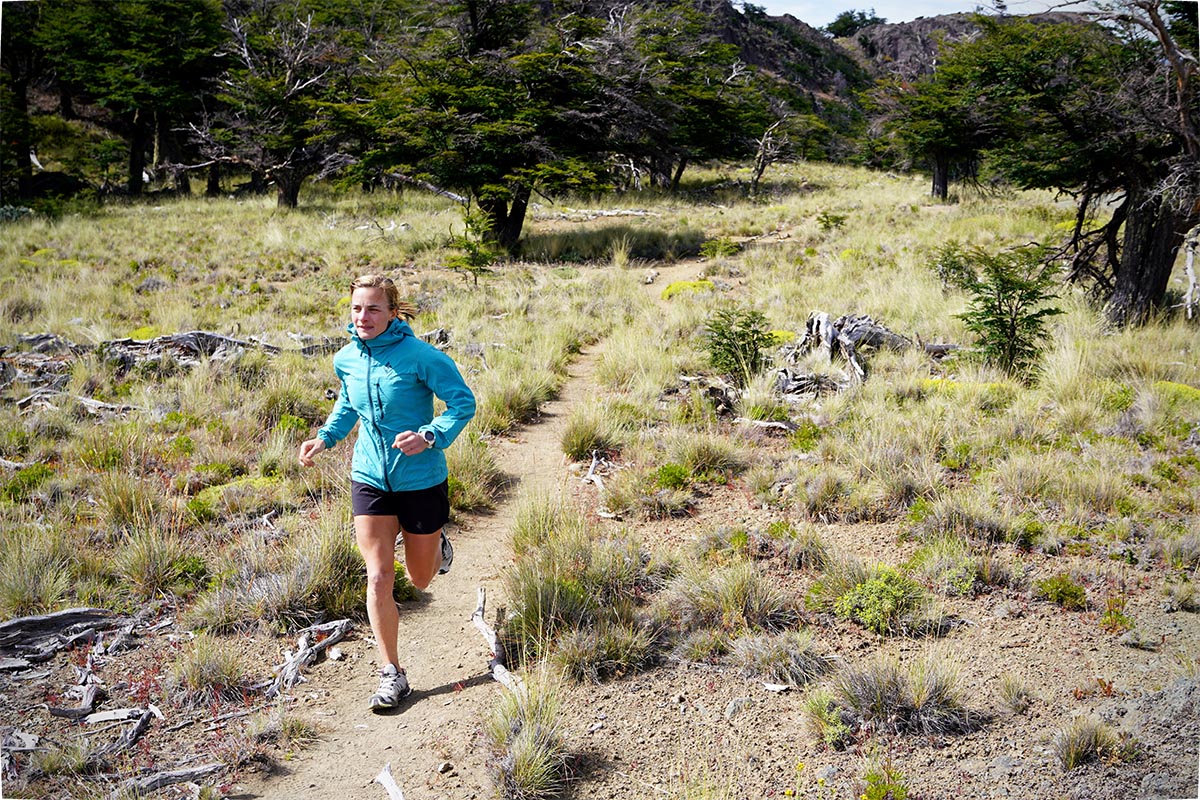 Ski Functionality
For winter use, some of the higher-end models from Garmin offer extensive capabilities for activities ranging from XC skiing to resort and backcountry riding. The Fenix 7 line, including the standard and Solar models, is able to record everything from distance covered and elevation change while XC skiing (for both skate and classic) to the number of laps you ski or snowboard at the resort. Taking it a step further, the Fenix 7 has preloaded maps for more than 2,000 ski resorts, which we found provided impressive detail for navigating on-trail runs. And in the backcountry, you can quickly check on data like topo mapping to analyze the steepness of the terrain, barometric pressure, distance covered, and elevation gained/lost throughout the day. Like with the mapping section above, the watch shouldn't be your only resource for navigating and understanding your winter surroundings, but it's undeniably a fun and valuable tool in a range of conditions.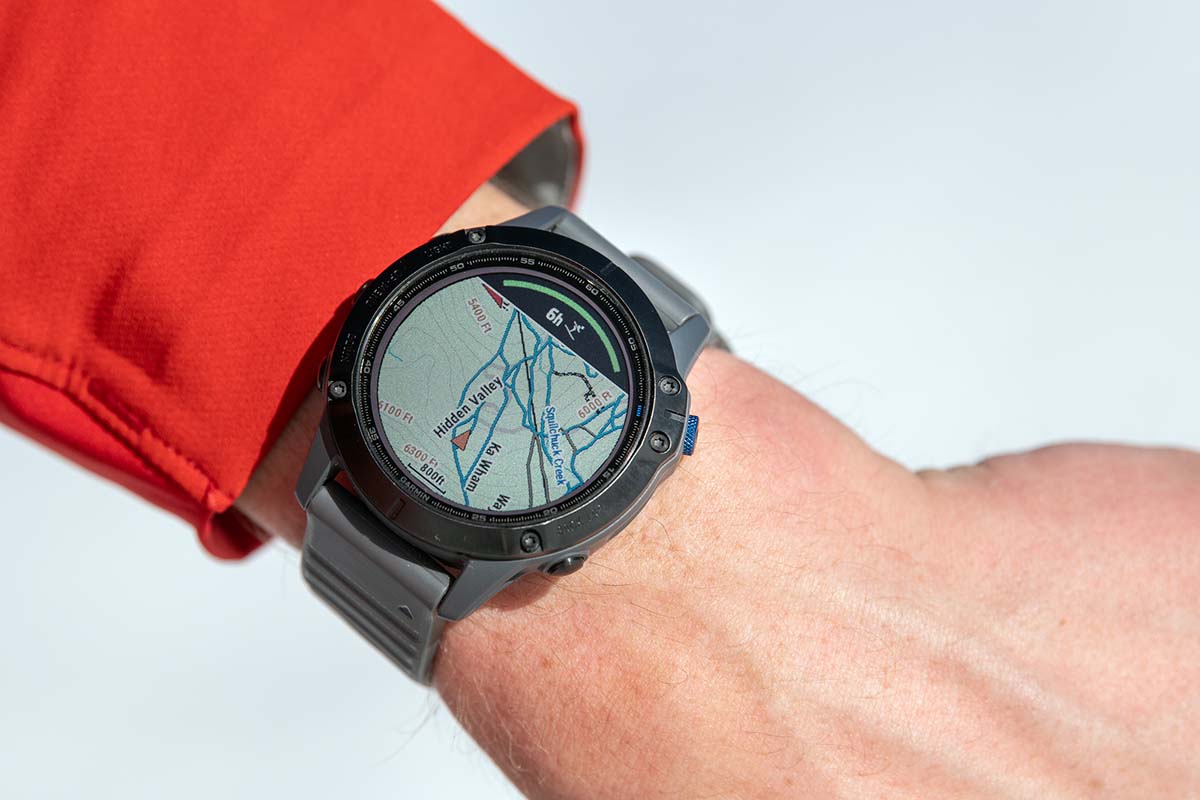 Smartphone Connectivity
A final notable feature of many GPS watches is their connectivity to smartphones. Similar to everyday pieces like the Apple Watch, you can pair the two via Bluetooth for receiving notifications like text messages or to download activity data to your phone. Further, some units (like the COROS Vertix and Apex 2) store and play music (via bluetooth headphones), while others allow you to use the watch face to control music playing from your smartphone. In general, non-GPS devices have limited to no connectivity to smartphones. One notable exception is Casio's Pro Trek PRT-B50, which leverages your phone's GPS to track and upload data from your trips. That said, the connection is limited to the Pro Trek App and isn't useful around town.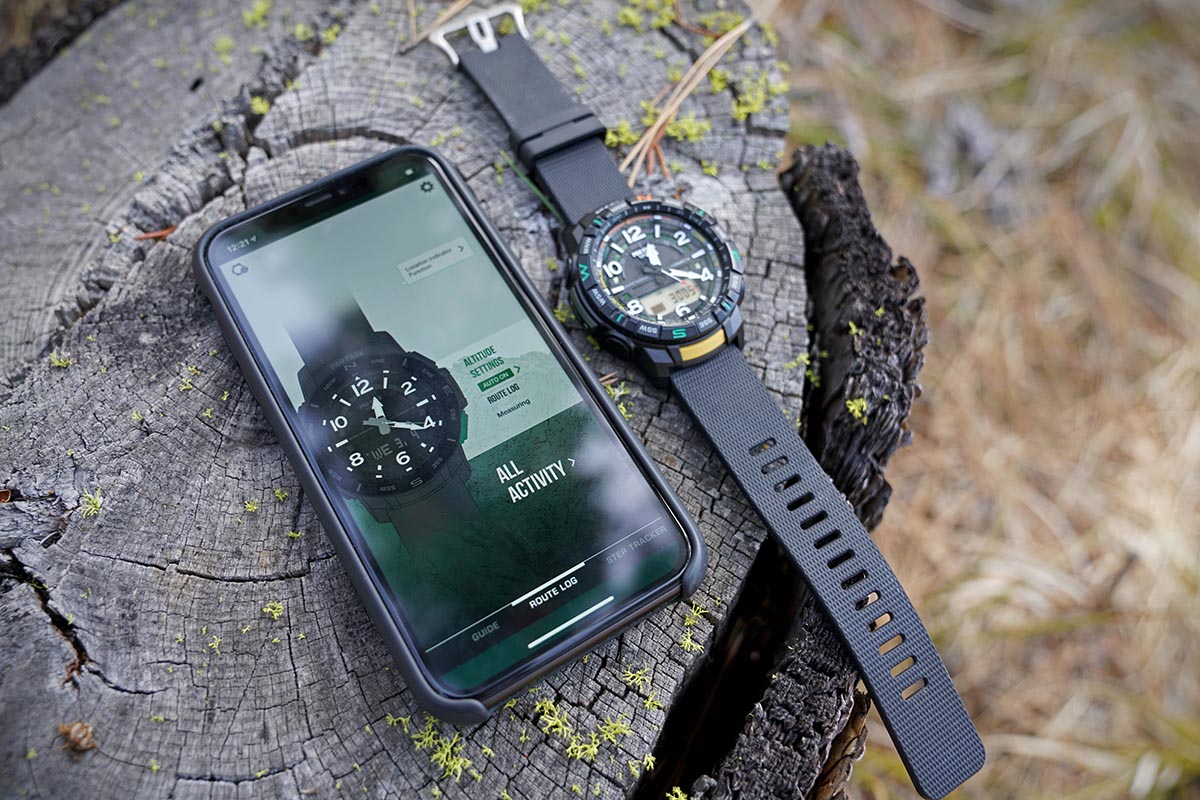 Dimensions and Size
Since you'll be wearing it for extended periods, the physical size of a watch is another important consideration (we've included the diameter of each model in our product write-ups, and the comparison table above includes both diameter and height). Many altimeter watches trend towards the bulky end of the spectrum, and models like the Casio G-Shock Move GBD-H2000 and Pro Trek PRT-B50 look and feel overly large on small- to average-sized wrists. Even sleeker designs like the Suunto 9 Peak Titanium and standard Garmin Fenix 7 take up quite a bit of real estate and can be uncomfortable if you prefer a light and compact shape. The good news is that there are a number of trimmed-down models, including the 43-millimeter COROS Apex 2 and the smaller Garmin Instinct 2S Solar (40mm). You do sacrifice a little screen size and often some battery life in going with the smaller variations, but the tradeoff in comfort will be worth it for some.

Weight
Closely tied to dimensions is the weight of a given watch. As expected, a lighter and more compact design is one that you won't notice as often, especially during active pursuits like running, biking, or backcountry and XC skiing. Weight inevitably goes up with more durable and longer-lasting materials, as well as when you select a feature-rich model with GPS. Our picks above vary quite a bit, ranging from the hefty Garmin Fenix 7 (2.8 oz.) to the COROS Pace 2 (1.2 oz.). Many of our favorites land in between at around 2 ounces, which we've found to be a good balance of durability and all-day comfort.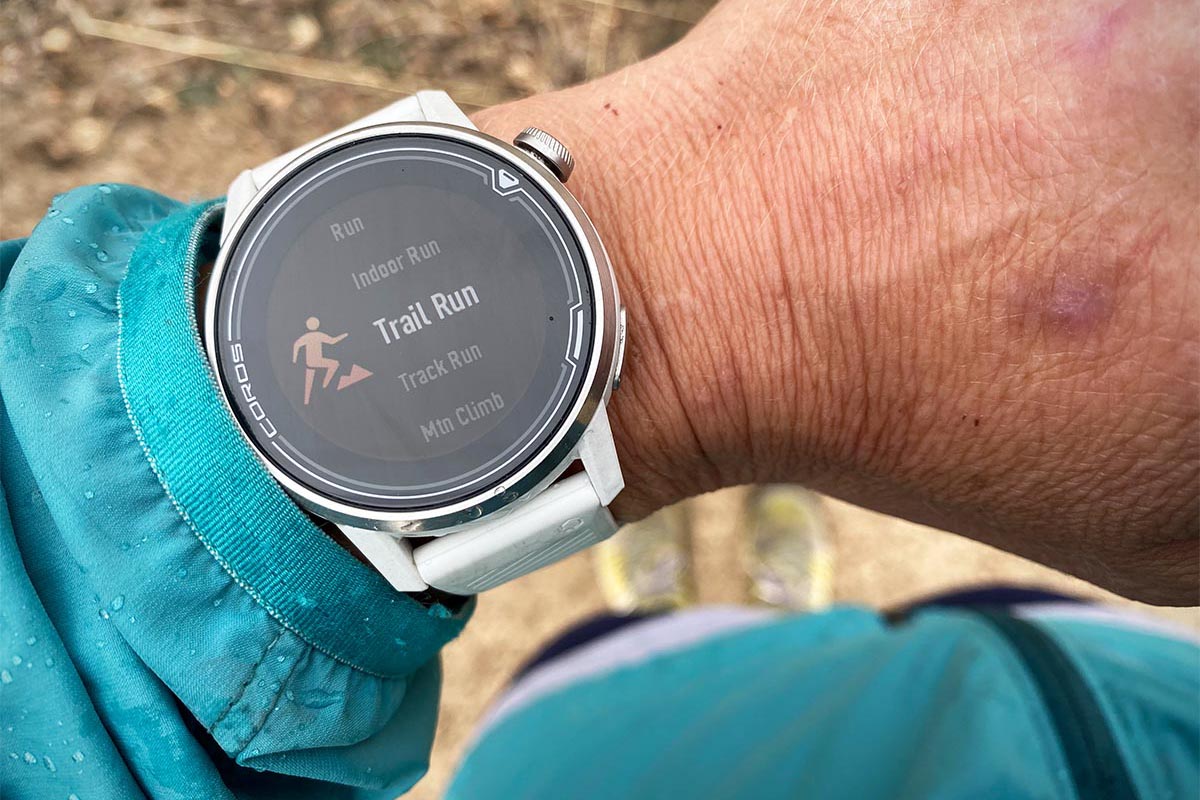 Power Source and Battery Life
Coin Cell Battery
The traditional way to power a timepiece is with a coin cell battery. This holds true for a number of non-GPS products, and with battery life typically lasting one to two years and plenty of low battery warnings, it's rarely a major issue to get it changed in time. You'll often find coin cell batteries in entry-level designs, and from our list above, this includes the Suunto Core and Casio Pro Trek PRT-B50.

Solar
Solar comes with the benefits of limiting waste and not having to worry about bringing along a replaceable battery or needing to charge the watch every few days. Not to mention that a self-sufficient little instrument has a simple beauty to it—especially for travelers and extended backcountry trips. You also don't have to worry about getting the watch its vitamin D that often, because they can store a charge for months at a time. Casio is the clear leader in this realm, although Garmin is making inroads with their new Power Glass technology seen in our top-ranked Instinct 2 Solar (note: Garmin's design is intended to supplement their lithium battery, while the non-GPS Casio models are fully solar powered).

Lithium
Like a smartphone, GPS-enabled watches rely on rechargeable lithium batteries. These watches drain battery life fairly quickly with their digital screens and connectivity to phones and satellites for tracking purposes. As a result, they can only go relatively brief stretches in between charges, although the technology is making big improvements as of late. On the short end, the Suunto 9 Peak Titanium lasts only 14 days as a standard smartwatch, while the Garmin Fenix 7 can stay powered for up to 40 days in Expedition GPS mode.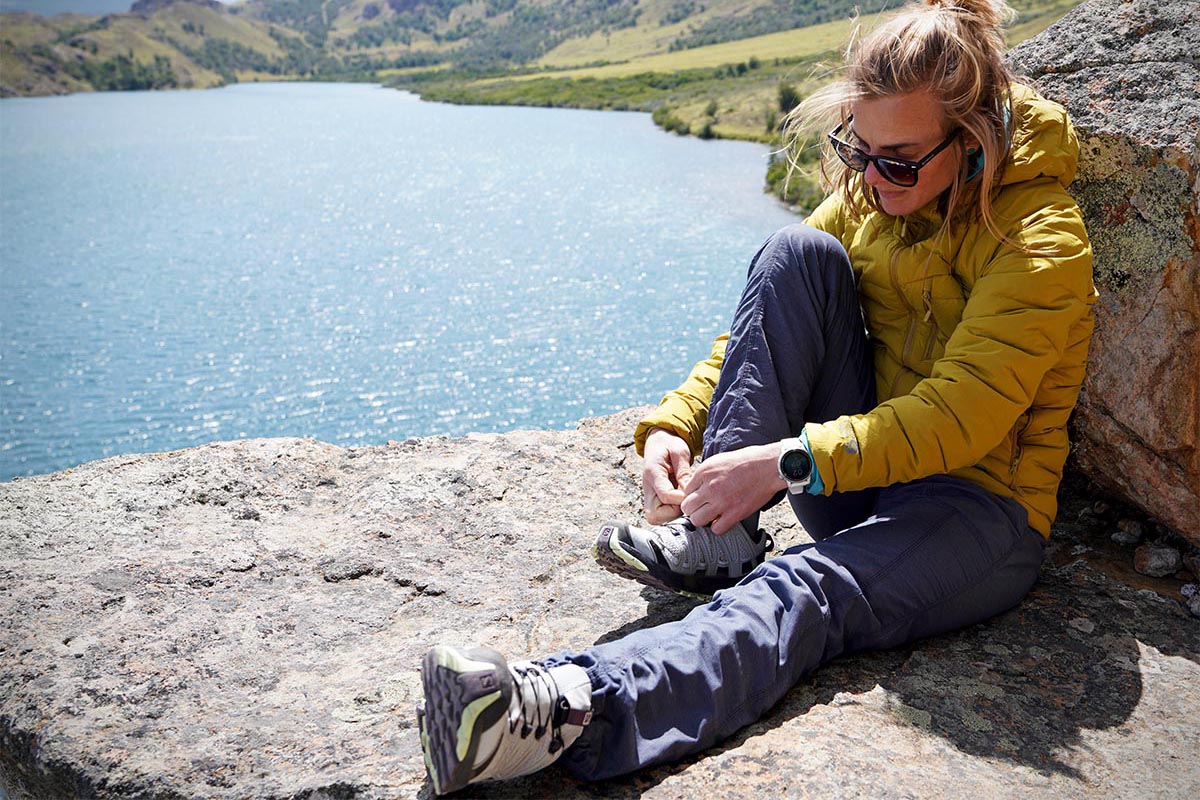 It's worth noting that battery life has been improving with just about every new release. Using our top-rated Garmin Instinct 2 Solar as an example, the outgoing version maxed out at 54 days in watch mode, while the updated 2 now features unlimited battery life. In addition, Suunto, Garmin, and COROS offer battery-saving modes that cut down on smart features and extend the period between when the watch collects your satellite coordinates, thereby increasing battery life. For the aforementioned Instinct 2 Solar, Max Battery GPS Mode boosts battery life up to 370 hours, while the watch's life is unlimited in Expedition GPS Activity mode.

Daily Use
ABC watches traditionally had a decidedly outdoorsy look to them, so they weren't a popular choice for daily wear. These models were plenty capable from a features standpoint and easy to read, but the large size and numerous buttons and compass markings looked out of place. Watches like Casio's Pro Trek PRT-B50 and Garmin's Instinct Solar still aren't great for around town (depending of course on the town), but the sleek, simple designs and digital screens on the high-end offerings from Suunto, Garmin, Casio, and COROS have gone a long way towards changing that perception, and in 2023, smartwatch designs like the Apple Watch Ultra even include ABC sensors (along with a serious multisport feature set). In addition, compatibility with smartphones and Bluetooth headphones only make them more appealing for everyday wear.
Back to Our Top Altimeter Watch Picks  Back to Our Altimeter Watch Comparison Table
Learn More About Outdoor Gear