For hikers and mountaineers alike, a quality altimeter watch is a worthy addition to your gear collection. Popularly referred to by the acronym ABC (Altimeter, Barometer, Compass), these watches offer the most essential information for backcountry adventures. Built to handle the extremes, altimeter watches have a distinct look with durable, scratch-resistant faces and large screens flanked by glove-friendly buttons. You'll see a lot of familiar faces in our 2021 top picks, including Casio, Suunto, and GPS giant Garmin. For more information on ABC watch features, check out our comparison table and buying advice below the picks.
 
Best Overall ABC Watch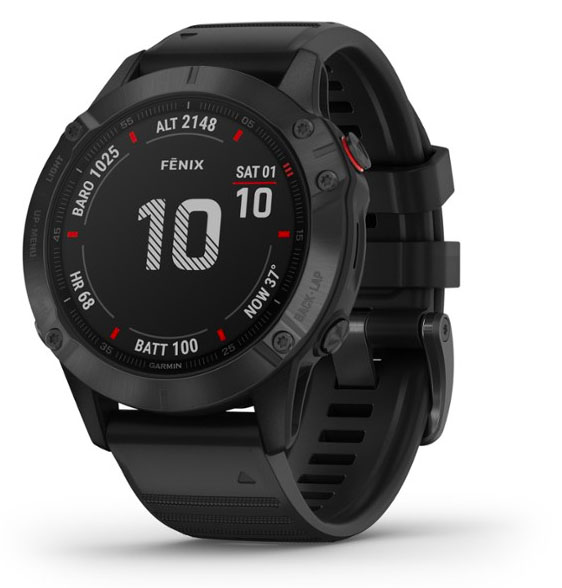 Weight: 2.9 oz.
GPS: Yes
Battery: Lithium-ion
Dimensions: 1.9 x 1.9 x 0.6 in.
What we like: TOPO maps, excellent battery life, and three sizes to choose from.
What we don't: Expensive, heavy, and overkill for casual users.
For those looking for a do-it-all multisport altimeter watch, Garmin's Fenix 6 collection is in a class of its own. The powerhouse line features more than 10 variations and includes quality ABC sensors, accurate tracking thanks to GPS, GLONASS, and Galileo satellite compatibility, and wrist-based heart rate monitoring (and the "Pro" model we have listed here includes premium upgrades such as music and Wi-Fi). Importantly, Fenix Pros also have the best available watch-based mapping: detailed contour lines and extensive navigation tools that excel for activities ranging from hiking and mountaineering to trail running and skiing. Finally, the latest version of the Fenix also got a serious bump in battery life, which is helpful for extended trips.
The biggest downsides of the Fenix 6 Pro are cost, complexity, and weight. Prices have been increasing in general, but the $650 MSRP for the mid-range 6 Pro puts it out of reach for many people (the larger 6X is $700, while the smaller 6S also is $650). Moreover, the tech is overkill for someone just looking for the basics like distance covered, elevation gain, and barometric pressure (Garmin's Instinct below is a better option for just hiking). Finally, even in the smallest "S" form, the watch is on the bulky and heavy side and you will feel the extra heft during activities like running. But if you value the Fenix's slick navigational features and will use its multisport capabilities for running, biking, skiing, and more, it's our top choice.
See the Garmin Fenix 6 Pro
Best Budget ABC Watch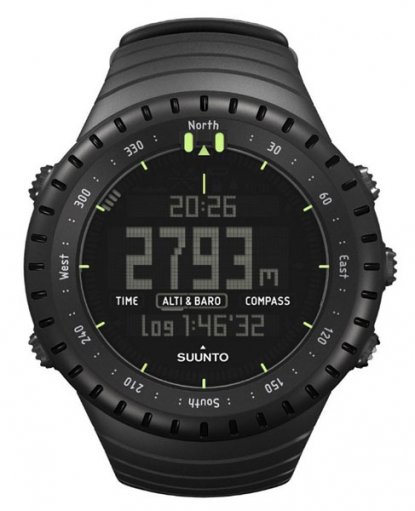 Weight: 2.26 oz.
GPS: No
​Battery: CR2032
Dimensions: 1.9 x 1.93 x 0.57 in.
What we like: Proven technology and performance.
What we don't: Reliability issues with the band.
With a sleek minimalist design and a wide variety of optional colors, the Suunto Core is a true everyday multifunction watch. Often on sale for $200 or less, the Core also has an impressive lineup of features: sunset and sunrise times for more than 400 locations, alerts of changing pressure or disappearing daylight, and seven-day altitude log tracking for hikers.
The Suunto Core has been on the market for a number of years, and as such, there are a couple known issues that can crop up. First, the band doesn't always hold up well under heavy use and might need to be replaced for around $50. Second, despite the large screen, some people find the black background and white text difficult to read in sunlight (there are options with a white background and black text, however). But the basics are there, and the price is right for many who want a no-frills, easy-to-use design.
See the Suunto Core
Best Value Outdoor GPS Watch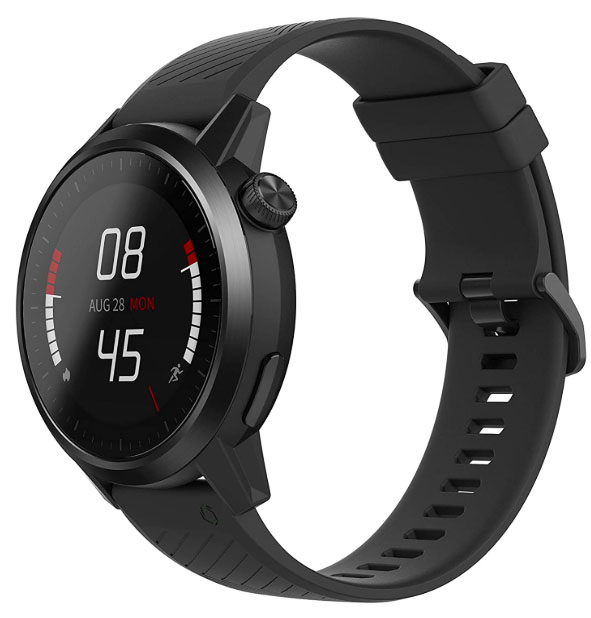 Weight: 1.95 oz.
GPS: Yes
Battery: Lithium-ion
Dimensions: 1.8 x 1.8 x 0.5 in. (46mm version)
What we like: An affordable GPS-enabled watch with incredible battery life.
What we don't: Lacks the fit and finish of other brands.
Coros might not have the brand recognition of Suunto, Casio, or Garmin, but their Apex is a noteworthy addition to the ABC watch market. Built for endurance athletes, its interface features a clear prioritization of sport-specific tracking (there are currently 20 modes ranging from ski touring to running) that pairs seamlessly with a smartphone app. You get a sleeker design than many of the other watches here, and the choice between 42- and 46-millimeter sizes makes the Coros a workable option for both male and female athletes (the 42mm has a shorter battery life and costs slightly less at $300).
The Coros Apex isn't perfect, but it does stand out in two major ways. First, you'll be hard-pressed to find another multi-sport GPS watch at this price point that comes with a barometric altimeter (the Garmin Instinct Solar below is one example, but it has fewer multi-sport functions). If tracking elevation stats or altitude is part of your training, this is a huge bonus. Second, the Apex has standout battery life. Whereas some GPS watches won't last a full day on the trail, the Coros can run for up to 35 hours (or 25 for the 42mm) while tracking your workout and up to 30 days with simple usage. And while we were initially put off by the Apex's packaging and set-up—which is not as user-friendly as an Apple or Garmin product—the simple two-button design was a breeze to learn. Further, we've been impressed with the updates that Coros continues to roll out. For a multisport GPS and ABC watch at an approachable price, the Apex is a very attractive option.
See the Coros Apex
Best of the Rest
Weight: 1.87 oz.
GPS: Yes
Battery: Lithium-ion and solar
Dimensions: 1.8 x 1.8 x 0.6 in.
What we like: Great integration of solar power and multi-sport GPS technology.
What we don't: Small screen and no available maps hurts its navigation functionality.
Sporting throwback looks but modern tech is Garmin's Instinct Solar GPS, which targets the general outdoors crowd with full ABC functionality, basic GPS navigation with waypoints, and a very durable construction. Further, Garmin incorporated extras like an integrated heart rate monitor and dedicated modes for hiking, cycling, and even open water swimming. And the real standout is the inclusion of solar charging, with a substantial solar panel incorporated into the watch's face. In sunny conditions, this gives the Instinct a significant boost in battery life (up to 38 hours in GPS mode and 54 days as a smartwatch).
What do you give up with the Instinct compared with the pricier Fenix 6 Pro above? To start, you lose the base maps and impressive on-screen navigation. The Instinct still includes TracBack for retracing your route, but the small display and detuned design limit its usefulness. Further, the sport mode options are greatly simplified—committed triathletes will be better off with the Fenix or Suunto Baro below. All told, we think the Instinct fills an important gap in Garmin's ABC lineup as a tough, midrange backcountry piece.
See the Garmin Instinct Solar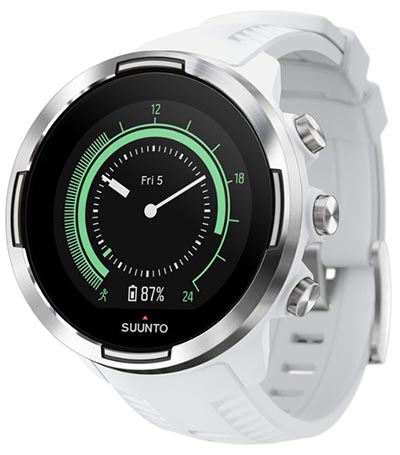 Weight: 2.86 oz.
GPS: Yes
Battery: Lithium-ion
Dimensions: 1.97 x 1.97 x 0.66 in.
What we like: Fantastic battery life in GPS mode.
What we don't: Only offered in one size; far less feature-rich than the Fenix 6.
Suunto's latest flagship ABC watch, the 9 Baro, was released midway through 2018. Building on the Spartan Ultra, the model features the brand's latest tech: accurate GPS tracking, touchscreen capabilities that work reliably well, and a logical menu system that we found easy to master. Feature-wise, its simple breadcrumb navigation and fairly limited software and app functionality fall well short of the impressive Fenix 6 Pro above (Garmin is a standout in this respect), but the Suunto checks the basics for triathletes and backcountry enthusiasts with multi-sport recording and a durable construction.
The most notable upgrades with the 9 Baro relate to its battery life. To start, the watch allows you to choose how often the GPS is recording your location—every 1, 60, or 120 seconds—and you can even change the setting in the middle of an activity to ensure the battery won't die. And in the latter two recording modes (known as "endurance" and "ultra"), the watch compensates for the limited GPS tracking by using its accelerometer, gyro, and compass to piece together surprisingly precise location, distance, and pace information. The net result is a truly impressive 120 hours of battery life in GPS mode without compromising the accuracy of the data. In the end, the watch's trimmed-down feature set keeps it off the podium for us—plus it's only available in one size, which we found to be too large for small wrists—but there's a lot to like with the Suunto 9's clean lines, reliable performance, and standout battery life.
See the Suunto 9 Baro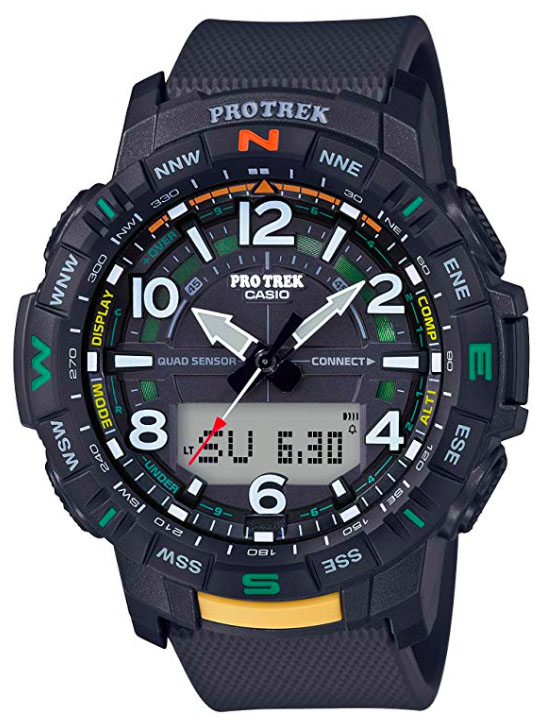 Weight: 2.26 oz.
GPS: No (tracking available with smartphone app)
Battery: CR2025
Dimensions: 2.3 x 2.0 x 0.6 in.
What we like: Quality build, great price, and useful smartphone app.
What we don't: Fairly large for a non-GPS device; no atomic timekeeping.
Casio's Pro Trek line is among the most recognizable in the ABC watch world, and one of their more recent releases is the PRT-B50. Like other Casios we've tested, the design has a solid feel, logical layout with well-labeled buttons flanking each side, and reliable sensors. The PRT-B50 is a bit bulky for a non-GPS watch and falls on the budget end of the spectrum with a $220 MSRP (and you can often find it for less at places like Amazon), so you miss out on some features like solar power and atomic timekeeping. But the latest Pro Trek is tough enough for serious backcountry use and provides useful data ranging from altitude and barometric pressure to current temperature (provided you remove the watch from your wrist to get an accurate reading).

One feature that sets the PRT-B50 apart from other entry-level designs is its Bluetooth sensor. This allows you to pair the watch with a smartphone and the Pro Trek App. Benefits include the ability to track and store activities, quick access to data like the step counter and elevation gained/lost, and auto time correction (it bases this off your phone's information). Compared with the apps from Suunto and Garmin, the functionality is fairly basic. But considering the excellent price of the PRT-B50 and general ease of use, we think it's a nice bonus feature to have.
See the Casio Pro Trek PRT-B50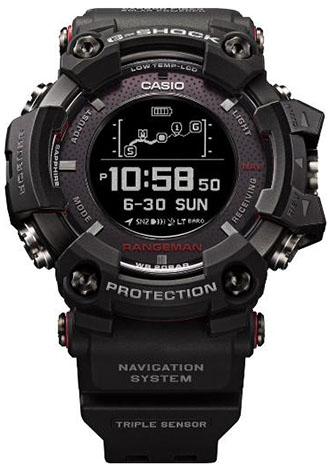 Weight: 5 oz.
GPS: Yes
Battery: Solar
Dimensions: 2.37 x 2.27 x 0.8 in.
What we like: G-Shock toughness, GPS compatibility, and solar power.
What we don't: Heavy, bulky, and unproven.
One of Casio's latest watches to bear its venerable G-Shock name is the Rangeman GPR-B1000. Building on the brand's initial foray into the GPS world, the Pro Trek WSD-F20, the Rangeman is the first ever to combine solar power with GPS compatibility. To be clear, there are limitations with the design—using the navigation tools require pairing the Rangeman with a smartphone, and the GPS mode will drain the battery even in direct sunlight. But it still represents a notable step to address the issue of battery life for extended backcountry trips. And as expected from a G-Shock watch, the Rangeman GPR-B1000 is about as bombproof as an outdoors watch gets.
What are the downsides with the Rangeman GPR-B1000? First is price. At $850 MSRP ($800 on Amazon at the time of publishing), it's significantly more expensive than watches like the Fenix 6 Pro or Instinct Solar above, and it can't come close to Garmin's refined software. Nor does this watch offer multi-sport modes for triathletes like the Suunto and Garmin GPS options. Finally, the G-Shock is much heavier and larger on your wrist than its sleeker competition. But it's also the toughest of the bunch, and its combination of solar power and GPS compatibility is enough to earn it a spot on our list for 2021.
See the Casio G-Shock Rangeman GPR-B1000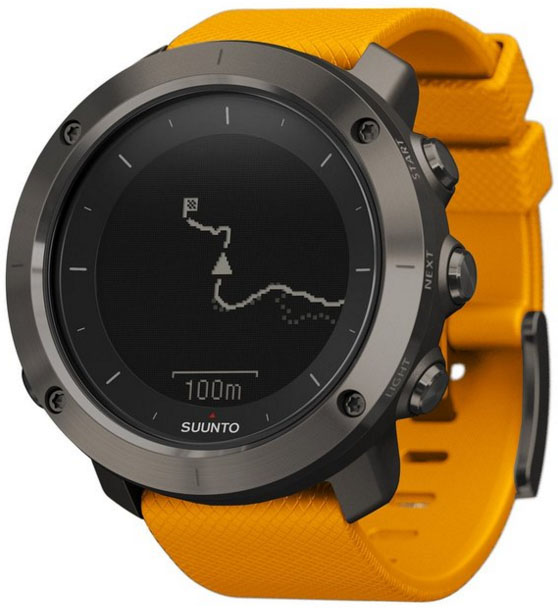 Weight: 2.82 oz.
GPS: Yes
​Battery: Lithium-ion
Dimensions: 1.97 x 1.97 x 0.65 in.
What we like: Focused design for hiking.
What we don't: Dated design and functionality.
Billed as an ABC and GPS watch for hikers and trekkers, the Suunto Traverse is a competitor to the Garmin Instinct Solar above. Based on the discontinued Ambit3, the Traverse shares many of its internals with the high-end model but in a slightly lower-profile design and at a lighter weight. Moreover, the Traverse aims for a narrower market and only records basic data for runners, bikers, or swimmers. Instead, it has navigation and tracking capabilities—it's as easy as planning a route on your computer using the Movescount application and downloading it to your watch. As with the Ambit, the map on the Traverse is a pretty basic line but does provide helpful guidance and is quite accurate.
We like the Traverse, and especially at its reduced price of around $240 (on Amazon at the time of publishing). But the watch has been around for a few years and shows its age when stacked up to the newer Garmin Instinct. For approximately $100 more (depending on current sale prices), the Instinct gets you improved navigation, a more modern layout and menu system, and extras like the ability to control phone music from the watch. Plus, its solar panel gives it the clear advantage in battery life. Unless you prefer the Traverse's styling—which admittedly is less "outdoorsy" than the Instinct—we think the Garmin is the superior all-around product.
See the Suunto Traverse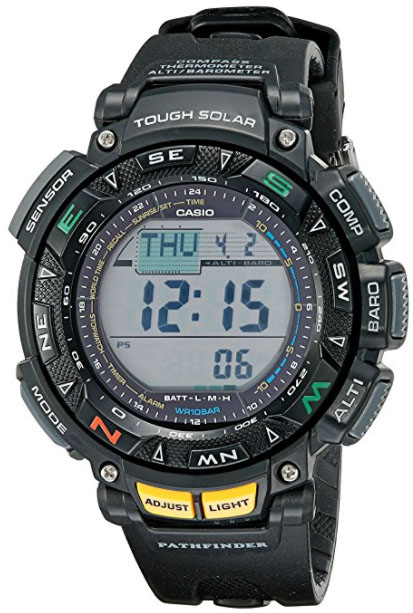 Weight: 2.3 oz.
GPS: No
​Battery: Solar
Dimensions: 2.25 x 2.0 x 0.6 in.
What we like: A strong all-around value.
What we don't: Bulky and polarizing styling.
Consistently priced around $200 or less, the Casio Pathfinder PAG240-1 is among the best values on this list. This solar-powered multifunction watch can run for up to six months without seeing the sun and performs well on virtually any outdoor excursion, no matter the conditions. The altimeter, barometer, and compass modes are easy to use out of the box, and the watch is tough enough to handle bumps and scrapes along the way. We also like the time zone function (41 cities) and multiple alarms (up to 5).
What are the downsides of the Pathfinder PAG240? It feels bulkier than other watches on this list and doesn't dress up in the city as well as a Suunto. And like other less expensive ABC watches, its data is more limited, plus the PAG240 lacks the Bluetooth connectivity of the PRT-B50 above. For the same model with a titanium finish, see the Casio Pathfinder PAG240-7.
See the Casio PAG240-1
Altimeter Watch Comparison Table
Editor's note: The stated battery life is the manufacturer's claim while in time mode. When using the altimeter or GPS functionality, battery life will be reduced.

Altimeter Watch Buying Advice

Altimeter Watch Features
The Basics: Altimeter, Barometer, and Compass
Entry-level ABC watches come with the basics: a barometer that provides measurements of both current atmospheric pressure as well as elevation, and a compass. You'll also get a temperature sensor in most cases, including with budget-oriented designs like the Suunto Core ($219) and Casio Pro Trek PRT-B50 ($220 at the time of publishing). And finally, all watches on our list include features like lap timers, a stop watch, alarm, multiple time modes, and a backlight.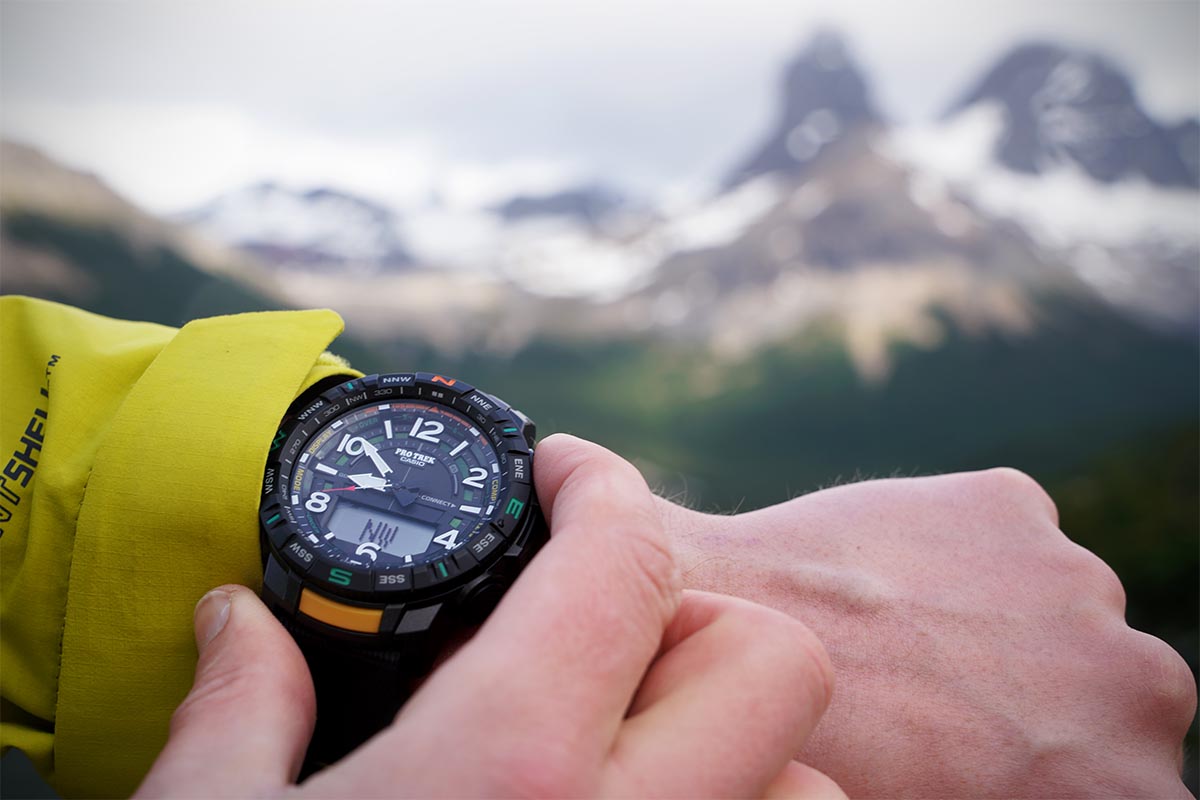 Advanced Features
As prices rise, the biggest shift will come in the quality of the timepiece. Cosmetic changes make them more functional for daily use with less plastic in the construction and sleeker, lower-profile designs. You'll also get superior water resistance, more comfortable bands, and upgraded watch faces that resist scratches and are easier to read. In addition, they'll often provide more detailed insights about the ABC data they're collecting. Examples include mapping of elevation gained and lost as well as shifts in barometric pressure (and big shifts in pressure will trigger an alarm on the watch to warn of incoming weather). Finally, at around $300 MSRP for a non-GPS model, you will get a watch with atomic timekeeping for greater accuracy.

GPS-Enabled Altimeter Watches
Originally popular in the running and triathlon crowds, there are a growing number of GPS-enabled watches that excel in the backcountry. In short, they combine the feature sets of a handheld hiking GPS, ABC watch, and multi-sport design in a very expensive package (our top-rated Garmin Fenix 6 Pro retails for $650). Compatibility with a range of satellites, including GPS, Galileo, and GLONASS (depending on the model) improve coverage and accuracy. And features like downloadable routes, tracking to recount your travels, and extended battery lives make these ideal partners for hikers, mountaineers, skiers, and ultra-distance athletes.

Mapping
One area where GPS-enabled watches vary significantly is in their mapping and navigation abilities. In general, the market can be broken into two categories: TOPO-equipped models like Garmin's Fenix Pro that feature detailed contour lines, and simple mapping that includes only a basic line or marker on an otherwise blank screen. Both are useful for following a preset route or retracing your steps with the breadcrumb functionality (which works just as its sounds), but TOPO mapping provides helpful insights into the terrain, including expected elevation change if you're off-trail or considering a different route. No matter the respective mapping abilities, as with all pieces of technology, GPS watches should not be relied on as your only source of backcountry navigation.

Multi-Sport Features
As touched on above, outdoor GPS models share many features with watches intended for sports like running, cycling, and swimming. High-end designs like the Suunto 9 Baro and Garmin Fenix 6 Pro can pretty much do it all, with built-in ABC sensors (many multi-sport watches don't have a barometer), wrist-based heart rating monitoring with zone recording for training purposes, and dedicated modes for triathletes. Coros's Apex is an intriguing value option with excellent battery life that excels for long runs, although its software and data collection is less refined than the more proven Garmin and Suunto models.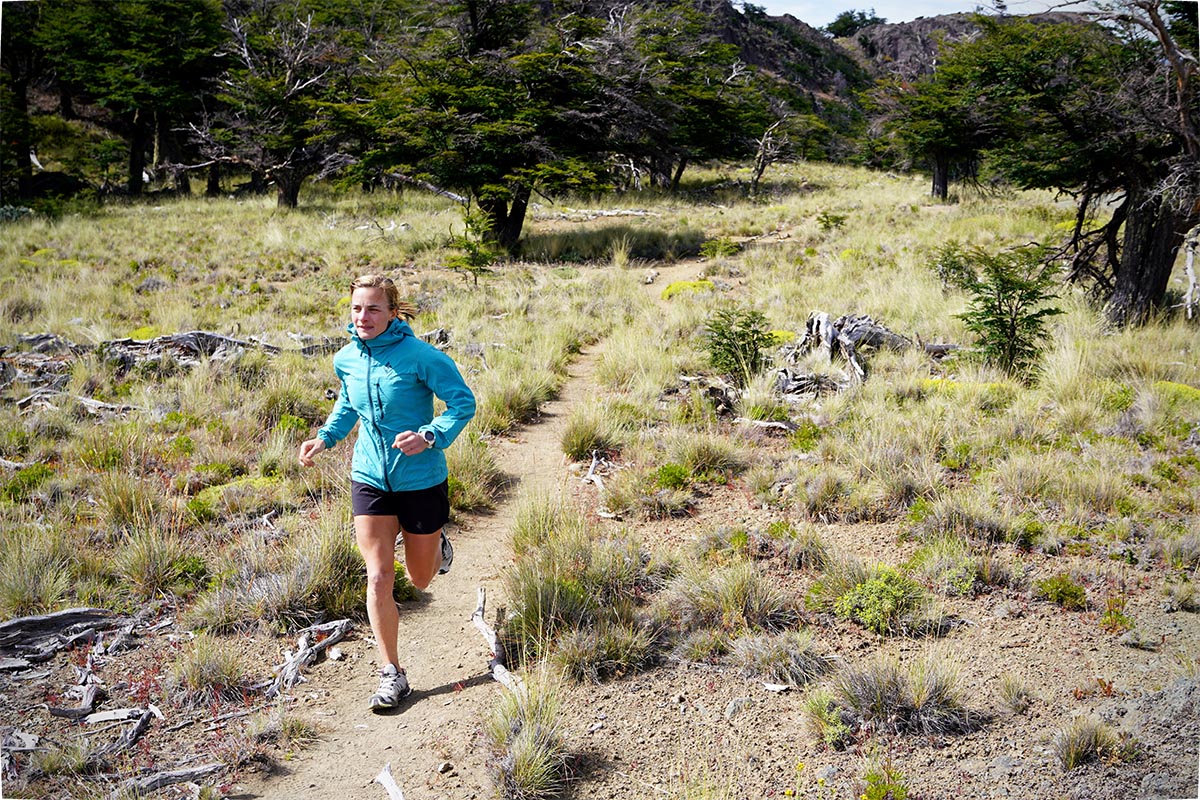 Ski Functionality
For winter use, some of the higher-end models from Garmin offer extensive capabilities for activities ranging from XC skiing to resort and backcountry riding. The Fenix 6 Pro line, including the standard and Solar models (we tested the latter using these features), is able to record everything from distance covered and elevation change while XC skiing (for both skate and classic) to the number of laps you ski or snowboard at the resort. Taking it a step further, the Fenix Pro has preloaded maps for more than 2,000 ski resorts, which we found provided impressive detail for navigating on-trail runs. And in the backcountry, you can quickly check on data like TOPO mapping to analyze the steepness of the terrain, barometric pressure, distance covered, and elevation gained/lost throughout the day. Like with the mapping section above, the watch shouldn't be your only resource for navigating and understanding your winter surroundings, but it's undeniably a fun and valuable tool in a range of conditions.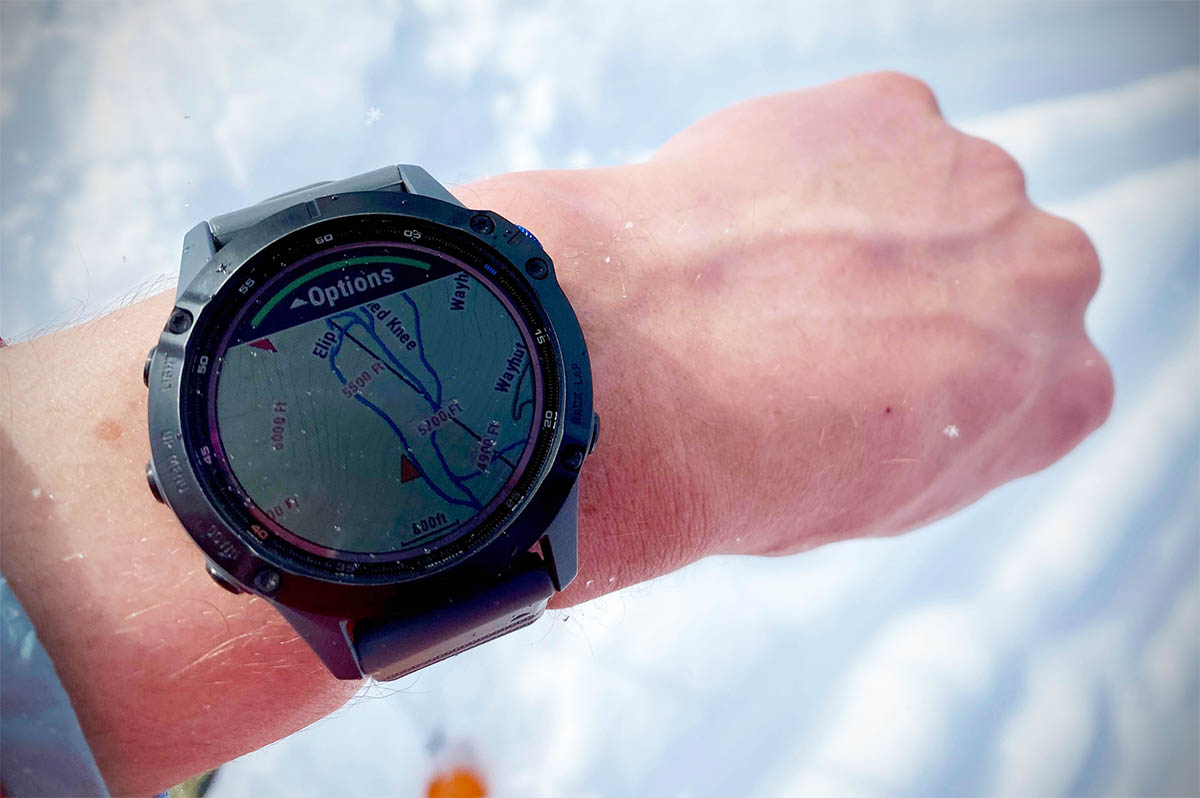 Smartphone Connectivity
A final notable feature of many GPS watches is their connectivity to smartphones. Similar to everyday pieces like the Apple Watch, you can pair the two via Bluetooth for receiving notifications like text messages or to see who is calling on your watch's screen. Further, some Garmin units like the Fenix and Instinct Solar allow you to directly control music volume on Bluetooth headphones. In general, non-GPS devices have limited to no connectivity to smartphones. One notable exception is Casio's Pro Trek PRT-B50, which leverages your phone's GPS to track and upload data from your trips. That said, the connection is limited to the Pro Trek App and isn't useful around town.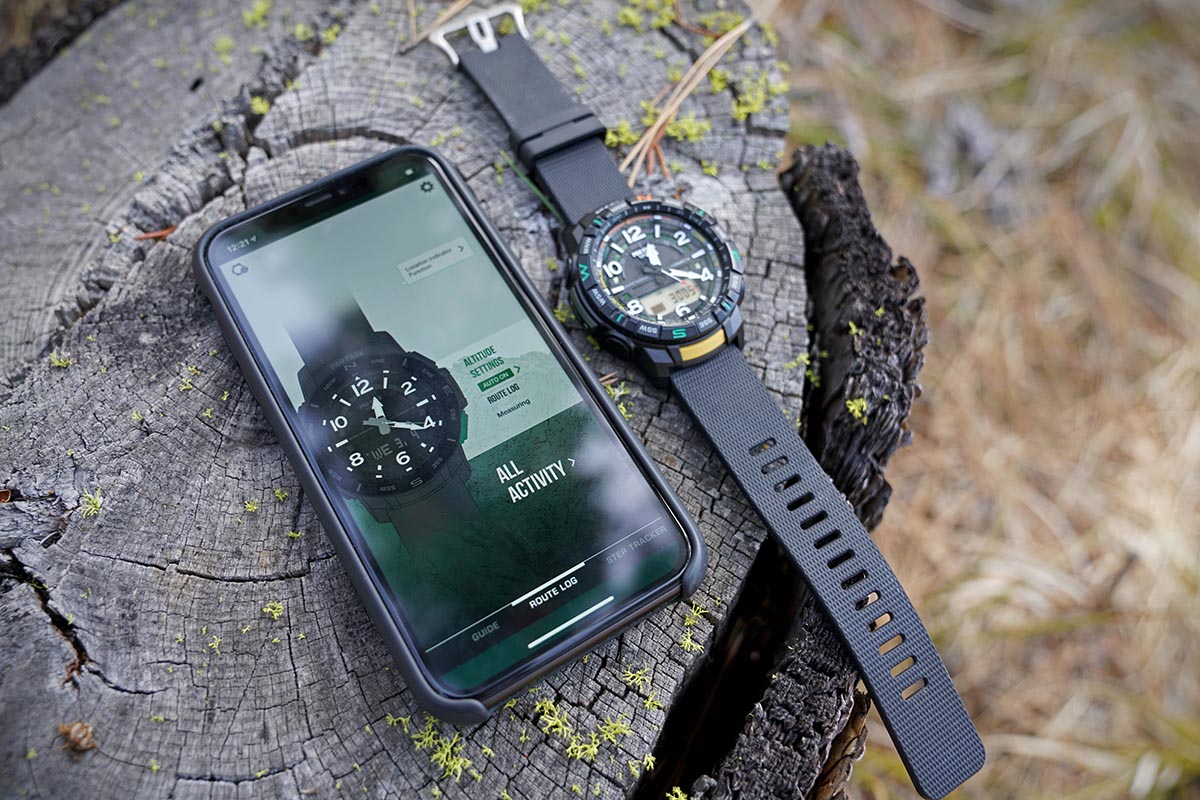 Dimensions and Size
Since you'll be wearing it for extended periods, the physical size of a watch is another important consideration (we've included the listed dimensions of each model in both our product write-ups and comparison table above). Many ABC watches trend towards the bulky end of the spectrum, and models like the Casio G-Shock Rangeman and Pathfinder PAG240 look and feel overly large on small- to average-sized wrists. Even sleeker designs like the Suunto 9 Baro and standard Garmin Fenix 6 Pro take up quite a bit of real estate and can be uncomfortable if you prefer a light and compact shape. The good news is that there are a number of trimmed-down models, including the 42-millimeter version of the Coros Apex and the smaller Garmin Fenix 6S Pro (also 42mm). You do sacrifice a little screen size and often some battery life in going with the smaller variations, but the tradeoff in comfort will be worth it for some.

Weight
Closely tied to dimensions is the weight of a given watch. As expected, a lighter and more compact design is one that you won't notice as often, especially during active pursuits like running, biking, or backcountry and XC skiing. Weight inevitably goes up with more durable and longer-lasting materials, as well as when you select a feature-rich model with GPS. Our picks above vary quite a bit, ranging from the hefty Casio G-Shock Rangeman (5 oz.) to the Garmin Instinct Solar (1.87 oz.). Many of our favorites land in between at 2 to 3 ounces, which we've found to be a good balance of durability and all-day comfort.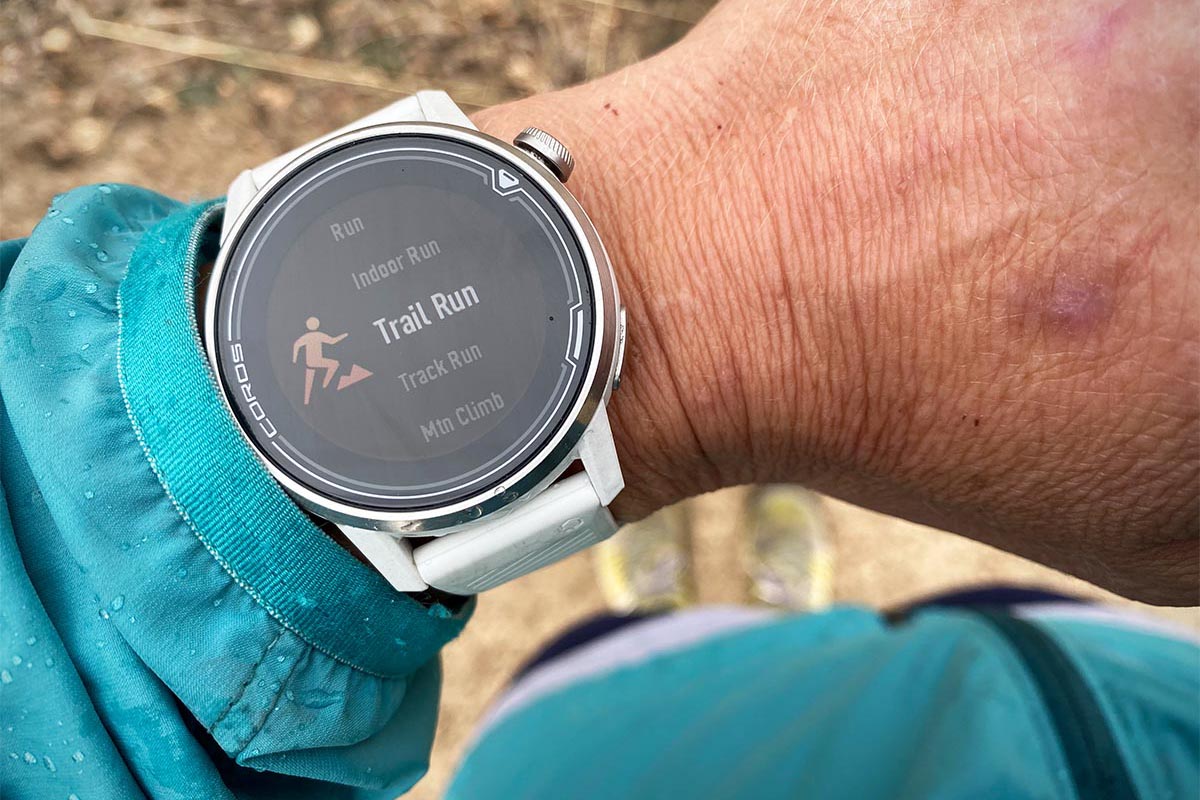 Power Source and Battery Life
Coin Cell Battery
The traditional way to power a timepiece is with a coin cell battery. This holds true for a number of non-GPS products, and with battery life typically lasting one to two years and plenty of low battery warnings, it's rarely a major issue to get it changed in time. You'll often find coin cell batteries in entry-level designs, and from our list above, this includes the Suunto Core and Casio Pro Trek PRT-B50.

Solar
Solar comes with the benefits of limiting waste and not having to worry about bringing along a replaceable battery or needing to charge the watch every few days. Not to mention that a self-sufficient little instrument has a simple beauty to it—especially for travelers and extended backcountry trips. You also don't have to worry about getting the watch its vitamin D that often, because they can store a charge for months at a time. Casio is the clear leader in this realm, although Garmin is making inroads with their new Power Glass technology (note: Garmin's design is intended to supplement their lithium battery, while the Casio models are fully solar powered).

Lithium
Like a smartphone, GPS-enabled watches rely on rechargeable lithium batteries. These watches drain battery life fairly quickly with their digital screens and connectivity to phones and satellites for tracking purposes. As a result, they can only go relatively brief stretches in between charges. On the short end, Suunto's Traverse lasts 10 hours in GPS mode, although it can stretch to two weeks functioning as a standard smartwatch. Coros's Apex more than doubles the Traverse at 35 hours in full GPS and 30 days for regular use (in the larger 46mm model).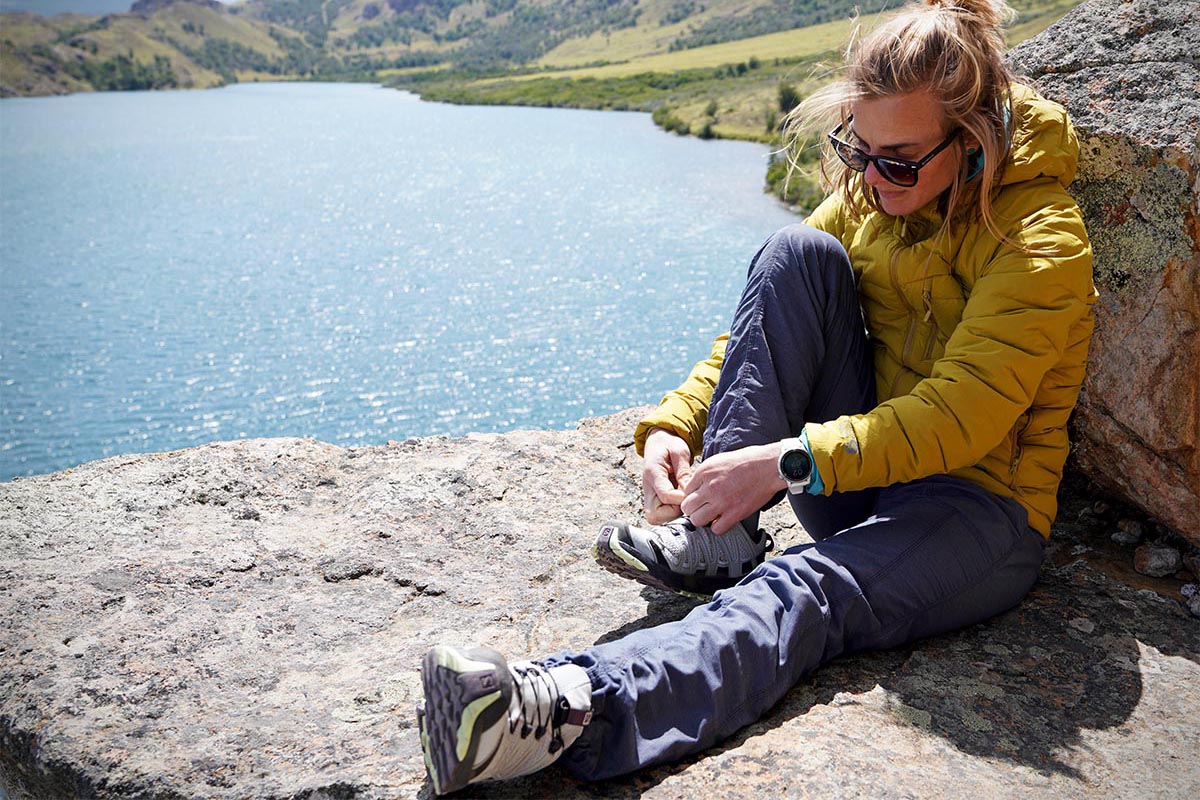 It's worth noting that battery life has been improving with just about every new release. Using our top-rated Garmin Fenix as an example, the old 5X maxed out at 12 days in smartphone mode while the latest 6X has jumped to 21 days. In addition, Suunto, Garmin, and Coros offer battery-saving modes that extend the period between when the watch collects your satellite coordinates, thereby increasing battery life (at the cost of recording accuracy). For the aforementioned Garmin Instinct Solar, UltraTrac mode boosts battery life to 70 hours, while the Coros Apex reaches 100 hours when you select UltraMax GPS.

Daily Use
ABC watches traditionally had a decidedly outdoorsy look to them, so they weren't a popular choice for daily wear. These models were plenty capable from a features standpoint and easy to read, but the large size and numerous buttons and compass markings looked out of place. Watches like Casio's Pathfinder PAG240 and Garmin's Instinct Solar still aren't great for around town (depending of course on the town), but the sleek, simple designs and digital screens on the high-end offerings from Suunto, Garmin, Casio, and Coros have gone a long way towards changing that perception. In addition, compatibility with smartphones and Bluetooth headphones only make them more appealing for everyday wear.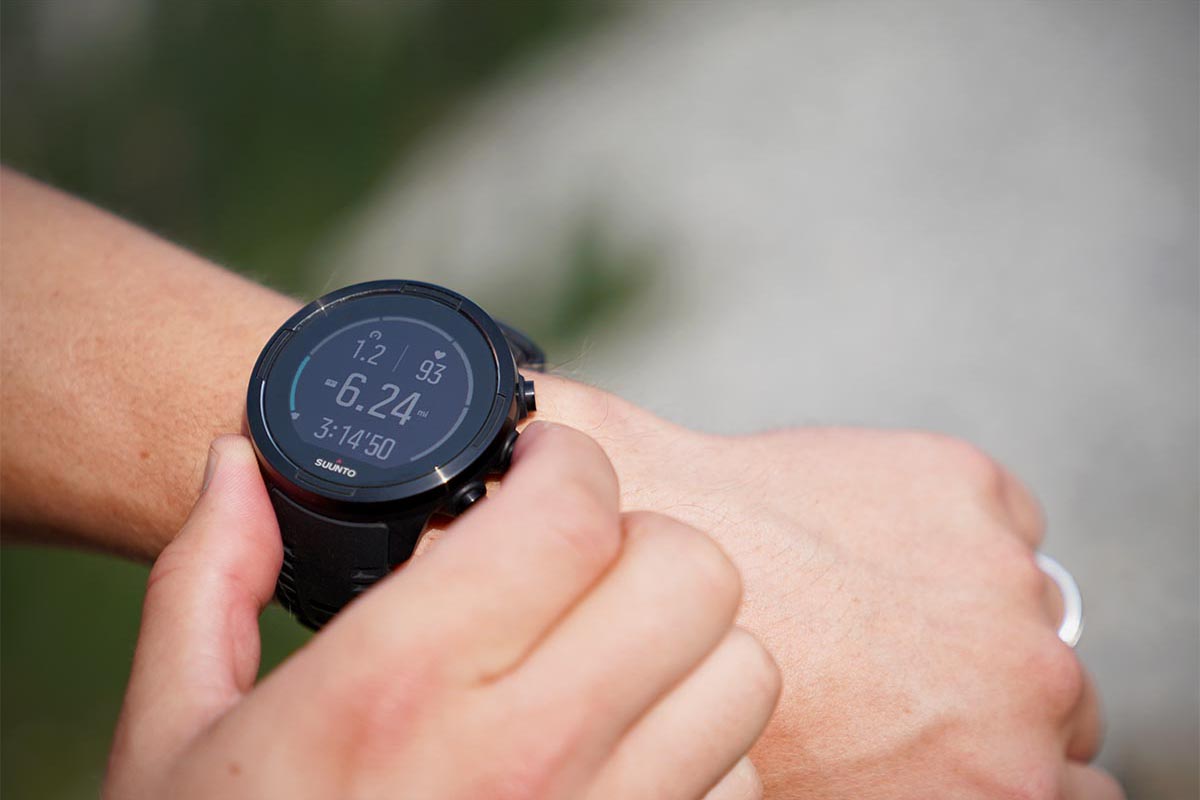 Smartphone/Watch Altimeter Apps
Over the past few years, smartphones and smartwatches have made inroads on the altimeter watch market. Specifically, there are a number of apps for both iOS and Android that measure your distance and altitude profile, and many even include maps. There are a number of considerations here, including the necessity to be connected to a GPS signal (often you can download and save maps but you will need a signal for accurate tracking). Perhaps most importantly, GPS apps are absolute battery hogs. So unless you plan on bringing a portable or solar charger, these altimeter apps are better for short day hikes than serious forays into the backcountry. If you are interested in going this route, Gaia is one of the most popular GPS apps (starting at $10), and a handful of others are available for free.
Back to Our Top Altimeter Watch Picks  Back to Our Altimeter Watch Comparison Table
Learn More About Outdoor Gear