Osprey Mutant 52
Price: $200
Weight: 3 lbs. 3.2 oz. (size S/M)
Capacities: 22, 38, 52L
What we like: Osprey's carrying comfort and build quality in a fully featured alpine pack.
What we don't: Too heavy, large, and bulky for use on technical rock or ice.
See the Osprey Mutant 52
Osprey might be best known for their impressive lineup of backpacking packs, but they took that expertise and tailored it to the alpine with the climbing-focused Mutant. We took the 52-liter version on an expedition in the Alaska Range, using it both as an approach pack and a primary bag for our four-day traverse in the mountains. While not our first choice for taking on route, the Mutant 52 has all the alpine-specific features we typically look for, quickly proving itself as a capable hauler for long approaches and technical high-elevation travel. Below we break down our experiences with the Mutant. To see how it stacks up, see our article on the best climbing backpacks.
 
---
Table of Contents
---

Performance
Carrying Comfort
Although designed as a lightweight and minimalist climbing pack, the Osprey Mutant 52 is a true leader in carrying comfort. For starters, the pack features sturdy internal suspension including a framesheet and foam pad. Further, hipbelt stabilizers and load lifters—often omitted on climbing packs—allow you to effectively customize the Mutant to best fit your body. And although the shoulder straps and hipbelt use fairly thin padding, the pack still manages to carry a heavy load well. I wore the Mutant for 10 consecutive days and experienced no hotspots, chafing, or pressure points. Even while maxing out its 50-pound load limit—carrying a packraft, paddles, ice axe, snowshoes, overnight gear, and multiple days' worth of food—the Mutant rode close to my body and never felt unwieldy.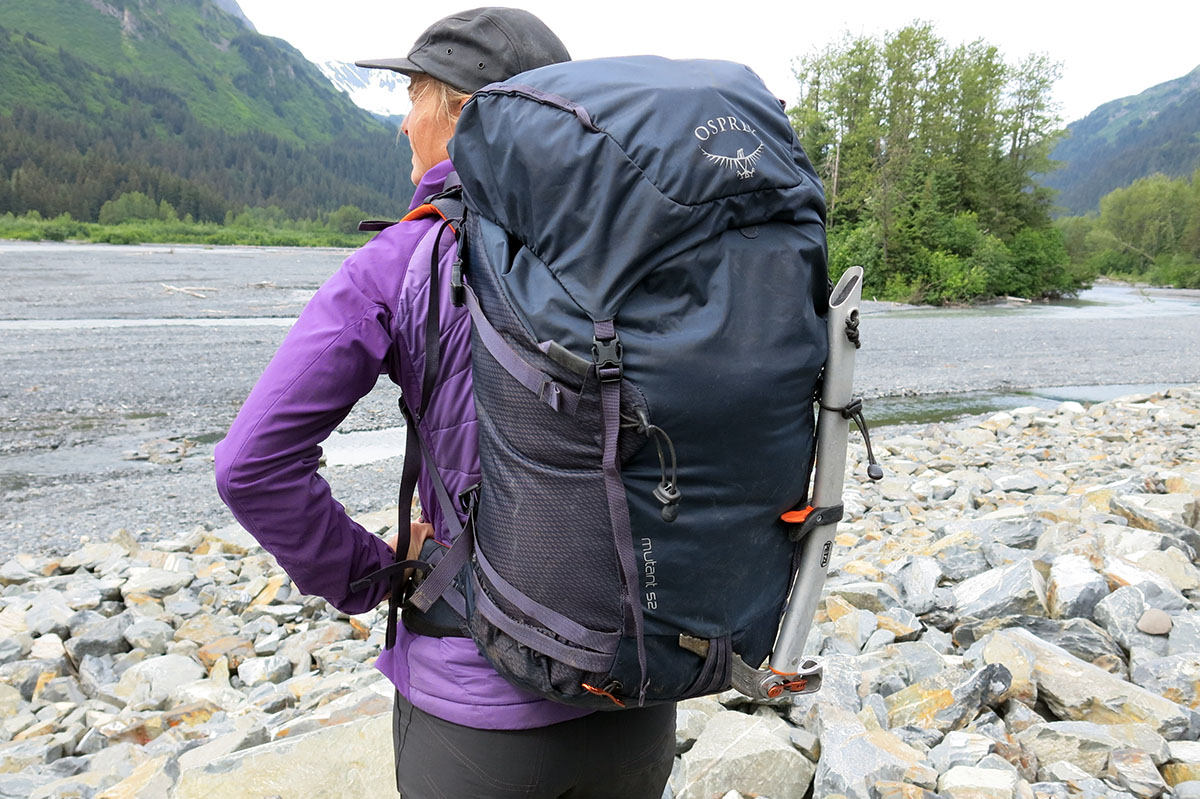 When held up against other climbing packs, the Mutant's carrying comfort is even more impressive. Although its padding is minimal by backpacking standards, many alpine packs have even less support and structure to keep weight low. For example, both the Hyperlite Mountain Gear 3400 Ice Pack and Arc'teryx Alpha FL utilize thin pieces of foam in lieu of more supportive and heavier framesheets (and the Hyperlite also has removable aluminum stays). But while you can get away with less structure when carrying a lighter load, we find that proper load distribution and support are essential in a pack of this size—and the Osprey accomplishes both with aplomb.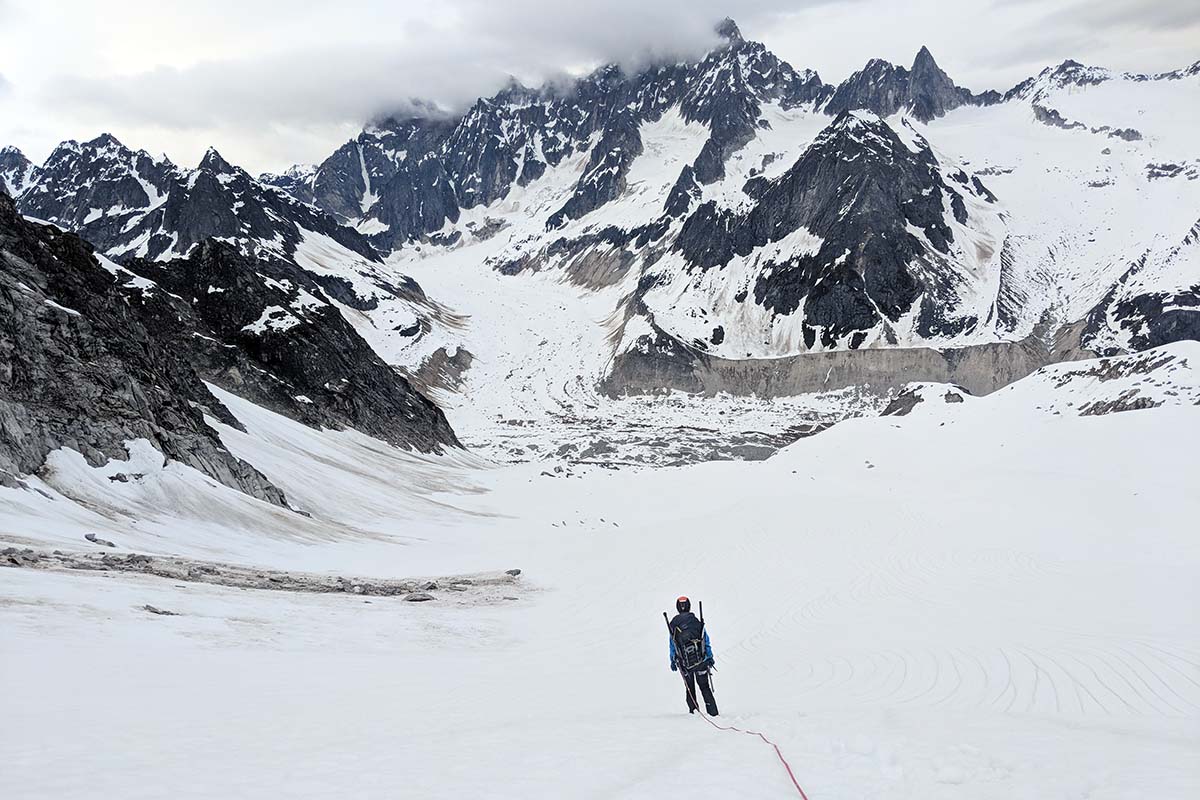 The Mutant also is extremely customizable, allowing you to pare it down for climbing. By removing the framesheet, foam pad, and waistbelt, the pack can be cinched down to ride higher on the back, ultimately moving as an extension of the body (with a lightweight load, that is). It even has a slightly tapered shape—wider at the top and narrower at the bottom—which arguably is the best way to carry weight when climbing. However, the large 52-liter Mutant is bulky, and when scaling technical rock and ice, we'd much rather size down to the 38-liter version or another option like Arc'teryx's Alpha FL 40 or Alpha FL 30. 

Weight
The small/medium Mutant that I tested clocks in at 3 pounds 3.2 ounces with a carrying capacity of 50 liters. This puts it on the heavy end of the spectrum for a climbing pack of its size, but it's important to keep in mind that the Mutant is more comfortable and fully featured than most of its competition. Comparatively, the Black Diamond Speed 50 clocks in a bit lighter at 2 pounds 11 ounces with a similar feature set. Arc'teryx's ultralight Alpha FL 40 weighs in at an impressively low 1 pound 9 ounces, but with no framesheet or top lid, a webbing hipbelt, and fewer external attachment points, you give up a lot in carrying comfort and versatility (not to mention overall capacity). Similarly, Hyperlite's 3400 Ice Pack (55L) is notably light at 1 pound 13.6 ounces, but it's pricey at $370 and has a very limited feature set. All told, the Osprey's weight is very reasonable given its overall comfort and build.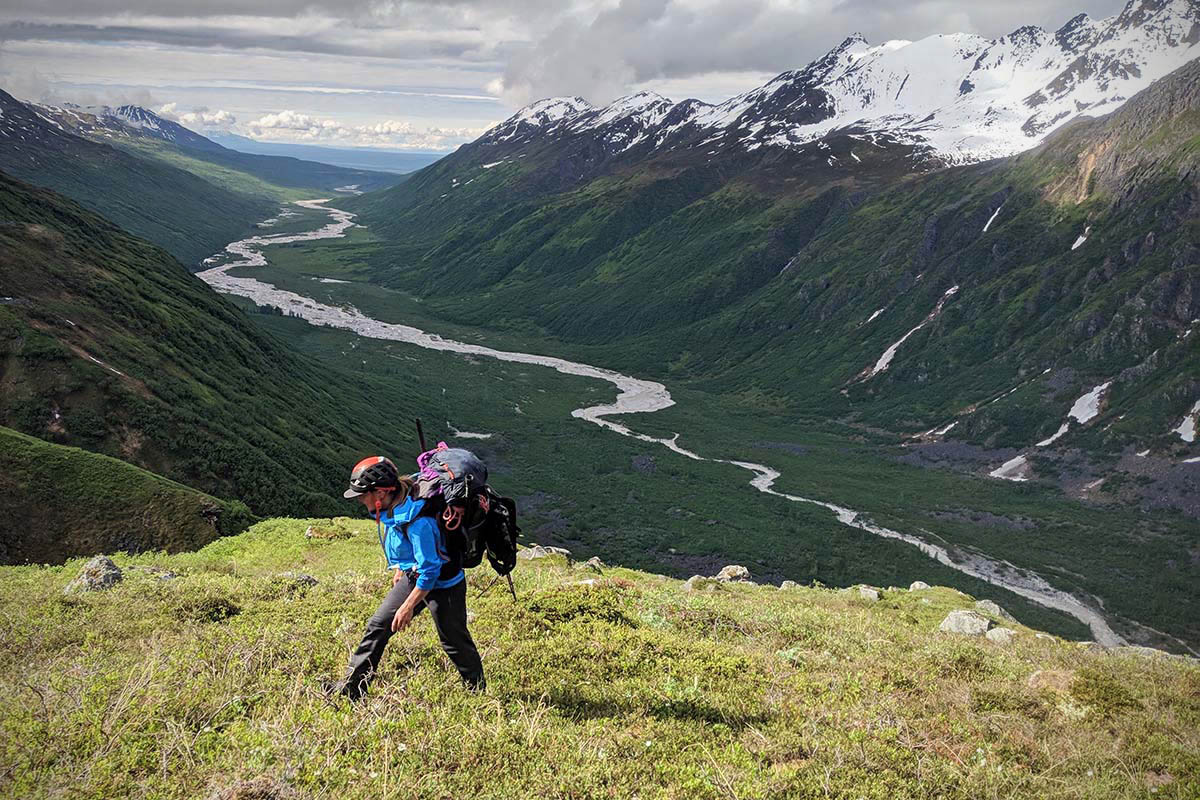 Like many weight-conscious climbing backpacks, the Mutant is designed with removable features including the hipbelt, top lid, framesheet, foam pad, and helmet carry. Stripping these items reduces the pack's weight by about 1.5 pounds and effectively minimizes bulk. I often left behind the helmet carry and top lid (using the built-in "FlapJacket" to cover the main compartment), but did not remove the suspension features (you'd only want to use the pack without the framesheet, pad, and hipbelt if you were carrying a very light load). For some packs, this ability to streamline can result in a suitable technical climbing pack, but unfortunately that's not the case with the Mutant. As I touched on above, I'm unlikely to bring the Mutant 52 on route given its large size (the 38-liter Mutant—which also strips down—is a much better choice).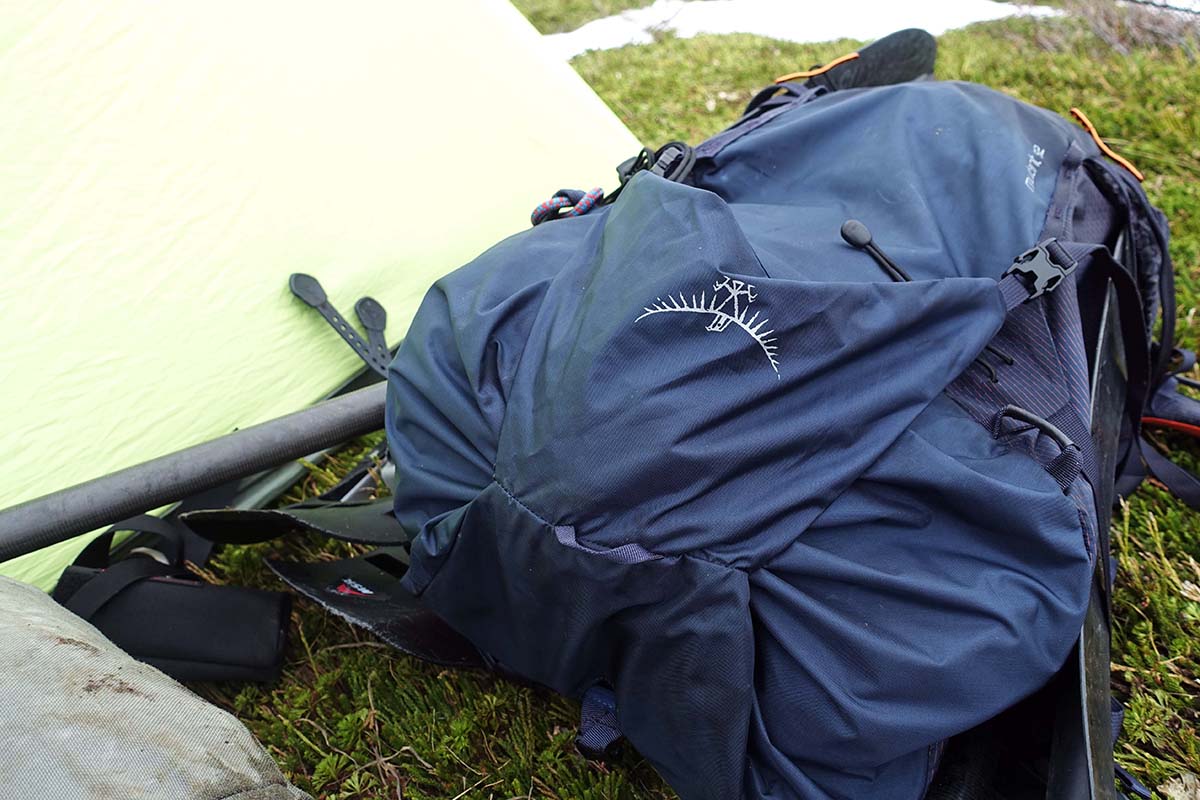 Organization
With ample organization options both inside and out, the Osprey Mutant 52 is one of the most fully featured climbing packs on the market. For starters, you get a cavernous main compartment (accessed only via the top drawstring closure) with an internal hydration sleeve. The Mutant also features a removable top lid—often omitted in climbing packs—which I used as a functional tote around basecamp and while traveling before and after our trip. And most importantly, the Mutant sports a host of external organization options for alpine-specific gear, which proved to be extremely useful during our traverse from glacier to river—I was able to carry an ice axe, snowshoes, four-piece paddle, helmet and rope all on the outside of my pack. While this might sound like the makings of a junk show (and that's not entirely inaccurate), the Mutant has dedicated straps for each item and accommodated the load exceptionally well.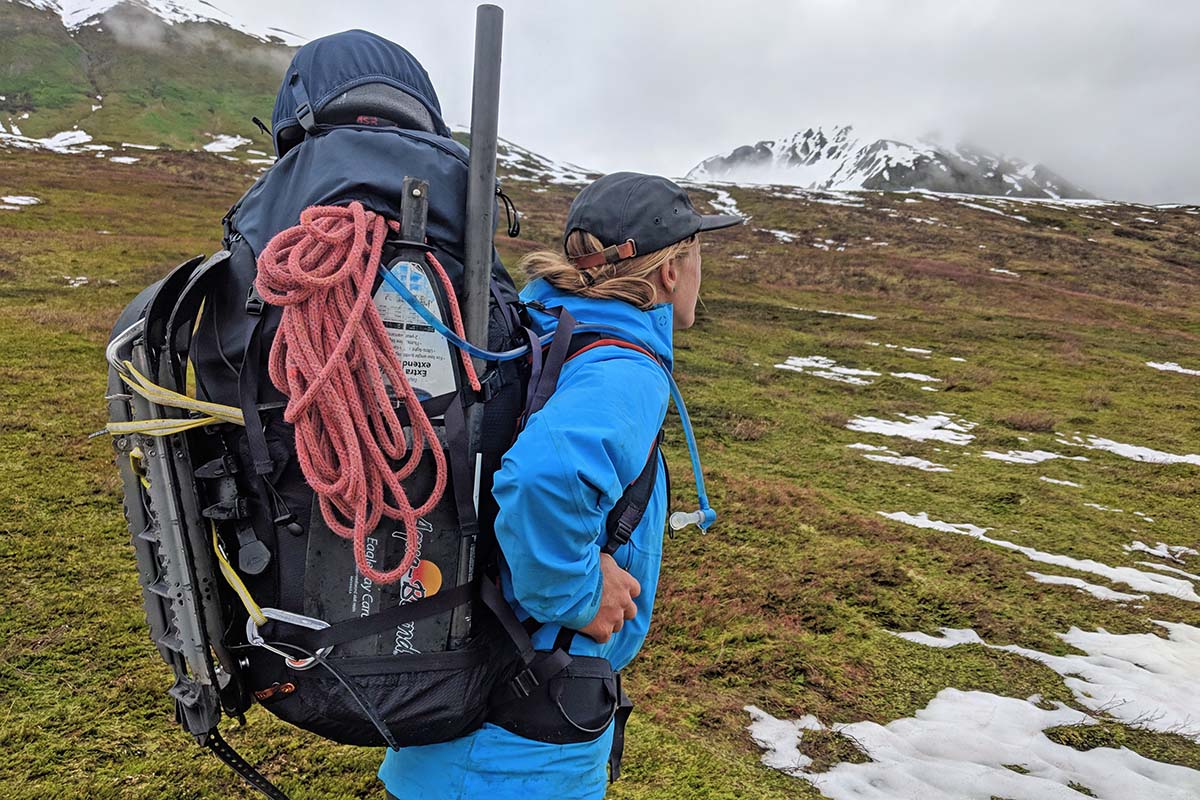 Because of its alpine focus, it's important to clearly highlight the versatility of the Mutant's external straps. The pack features a rope-carry strap that doubles as an internal compression strap to snug down gear, two outer compression straps (one quick-release), a picket pocket on both sides, and a helmet carry net that attaches to either the lid or front of the pack. Further, three reinforced loops can be equalized for vertical hauling or used as additional outer storage, daisy chains run along both sides of the front panel, two robust side loops can be used for A-frame ski carry, and both sides of the hipbelt feature a gear loop that can fit an ice screw carabiner—particularly useful for glacier travel. Finally, two ice axe attachment points share a center pick pocket, but take note: these "ToolLocks" will only accommodate tools with a hole in the head (such as my Petzl Sum'Tec). The only omission I noticed was a crampon attachment patch, but you could easily improvise if necessary.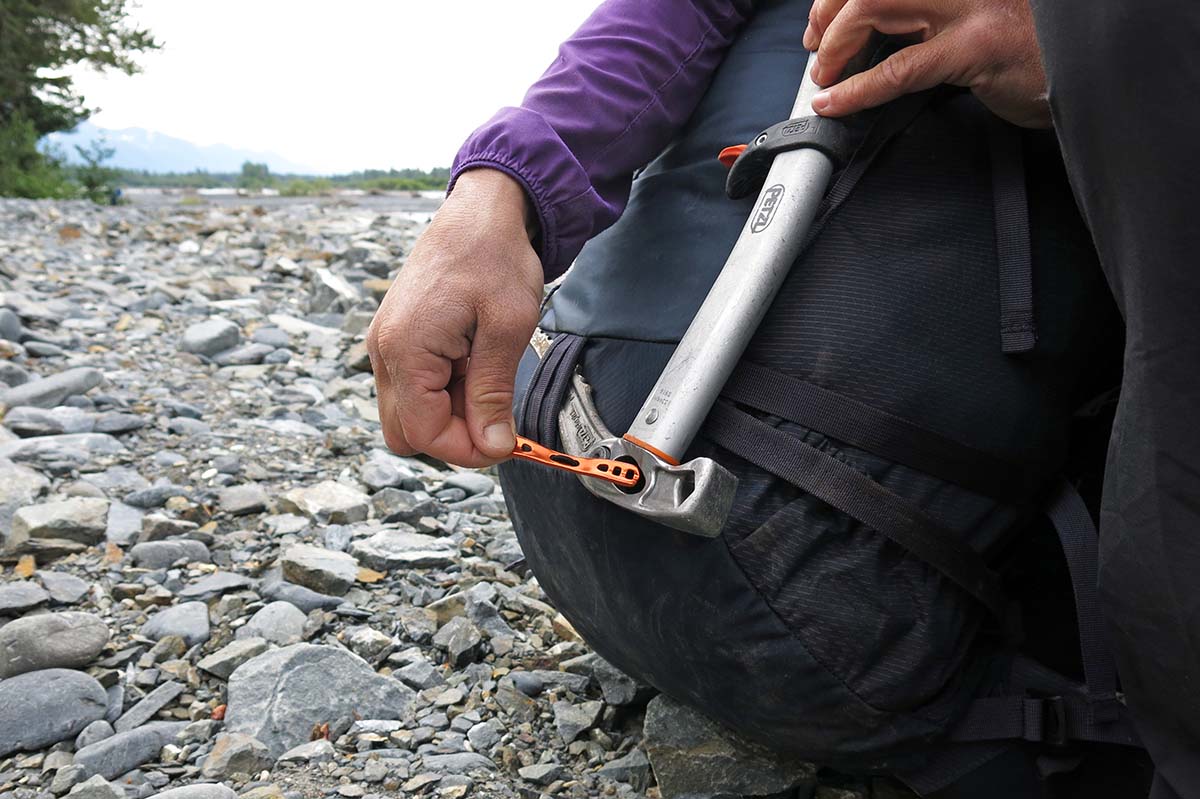 Added up, I was incredibly impressed by the Mutant's feature set while exploring the Alaska Range. Put simply, it has far more external organization than I'm used to seeing on a climbing pack, which means it can effectively be overloaded on the approach and then significantly streamlined once at basecamp (as climbers are known to do). In this regard, I heavily prefer the Mutant over minimally featured packs like the Alpha FL and Ice Pack.

Ventilation
Unlike many of Osprey's backpacking packs that feature suspended mesh to keep air flowing behind the back, the Mutant has a very basic design with no built-in ventilation. That said, the sheer "Snowshed" backpanel (built to resist snow buildup) is fairly effective at wicking moisture. Compared to the competition, I heavily prefer the feel and breathability of this fabric to the rough Dyneema and nylon of packs like the Hyperlite Ice Pack and Arc'teryx Alpha FL 40 and AR 35. And perhaps most telling: throughout my time spent on extremely demanding terrain, I experienced no overheating while wearing the Mutant.

Build Quality and Durability
Like most Osprey packs we test, the Mutant is built to last with robust materials, hardwearing stitching, and thoughtful design choices. However, although lightweight, the pack's 210 x 420-denier (D) nylon build does fall on the thin end compared to most climbing rigs. For example, Arc'teryx's Alpha FL uses burlier 400D nylon, while Hyperlite's 3400 Ice Pack is made with super-durable Dyneema Composite Fabrics (3.5 and 5 oz./sqyd). In addition to its size, this is another reason I wouldn't choose the Mutant 52 as my dedicated climbing pack. But for uses like long approaches and technical glacier travel, the Mutant is perfectly suitable (not to mention, the pack is backed by Osprey's no-questions-asked, lifetime repair policy).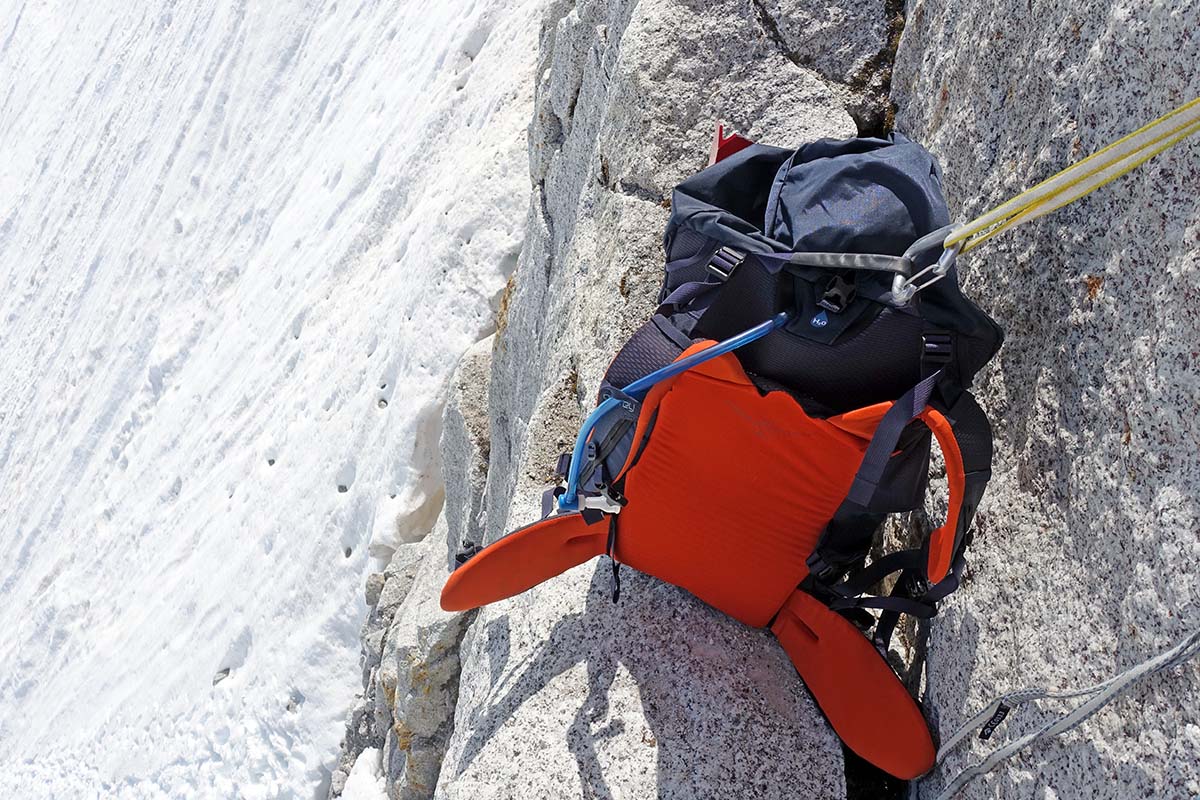 Fit and Sizing
The Osprey Mutant 52 is a unisex pack available in two sizes: small/medium and medium/large (which tips the scales at about 3 ounces heavier). Unlike many backpacking packs, the alpine-focused Mutant has very few adjustment options and does not allow you to change the length of the torso or placement of the hip straps. However, I was able to utilize the hipbelt stabilizers, load lifters, and sternum strap adjustment to effectively customize fit. In the end, I had no complaints—the Mutant rode impressively close and comfortably to my body.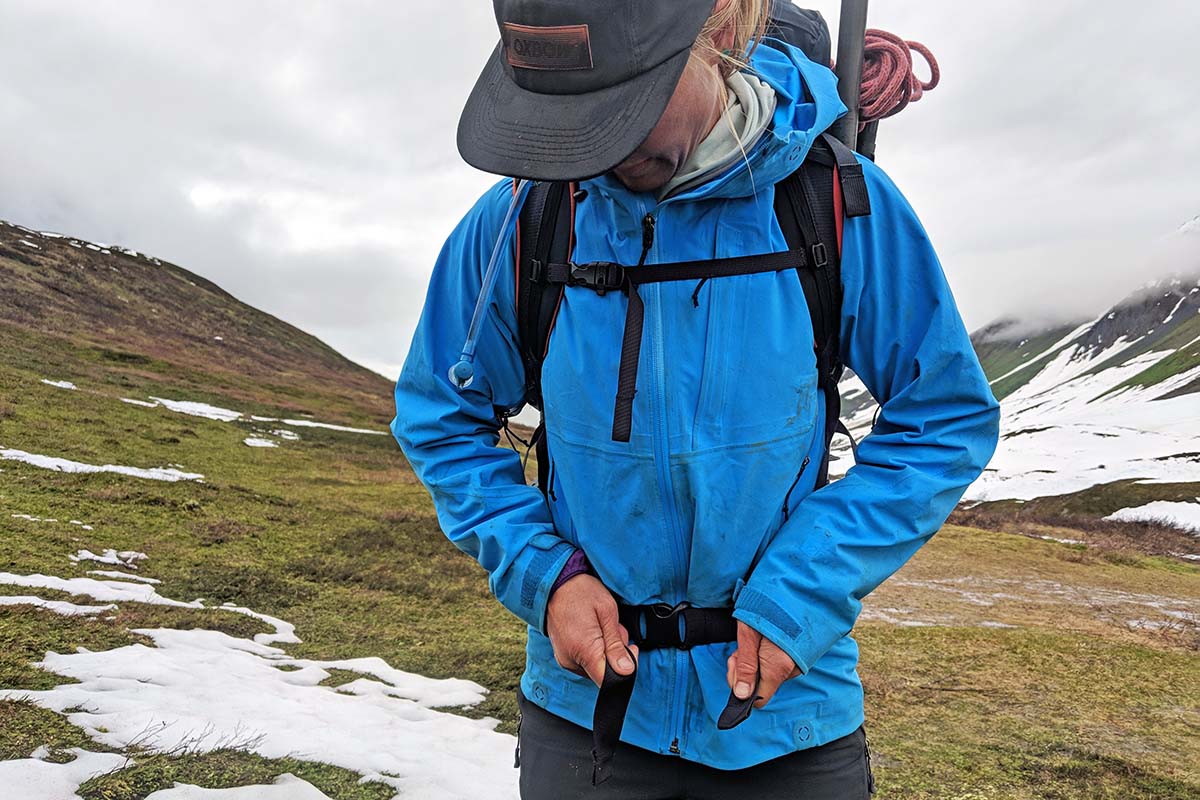 Other Capacities of the Osprey Mutant
We tested the 52-liter Mutant (Osprey's climbing-specific pack built for multi-day missions), but the pack also comes in smaller 38- and 22-liter versions. The 38-liter Mutant ($170) is ideal for long days, ultralight overnights, and on-route use, and sports many of the same features as the 52L. However, it comes in slightly lighter at 2 pounds 11.2 ounces, can haul up to 40 pounds, and doesn't have a removable hipbelt. We find this capacity a much more versatile choice for both the approach and the climb. Finally, the 22-liter Mutant ($100) is the best climber of the bunch: it's small, streamlined, and great for hauling up technical rock and ice. Instead of a lid, the 22L has a single top zip and a pared-down webbing hipbelt, but clocks in at only 1 pound 4.8 ounces.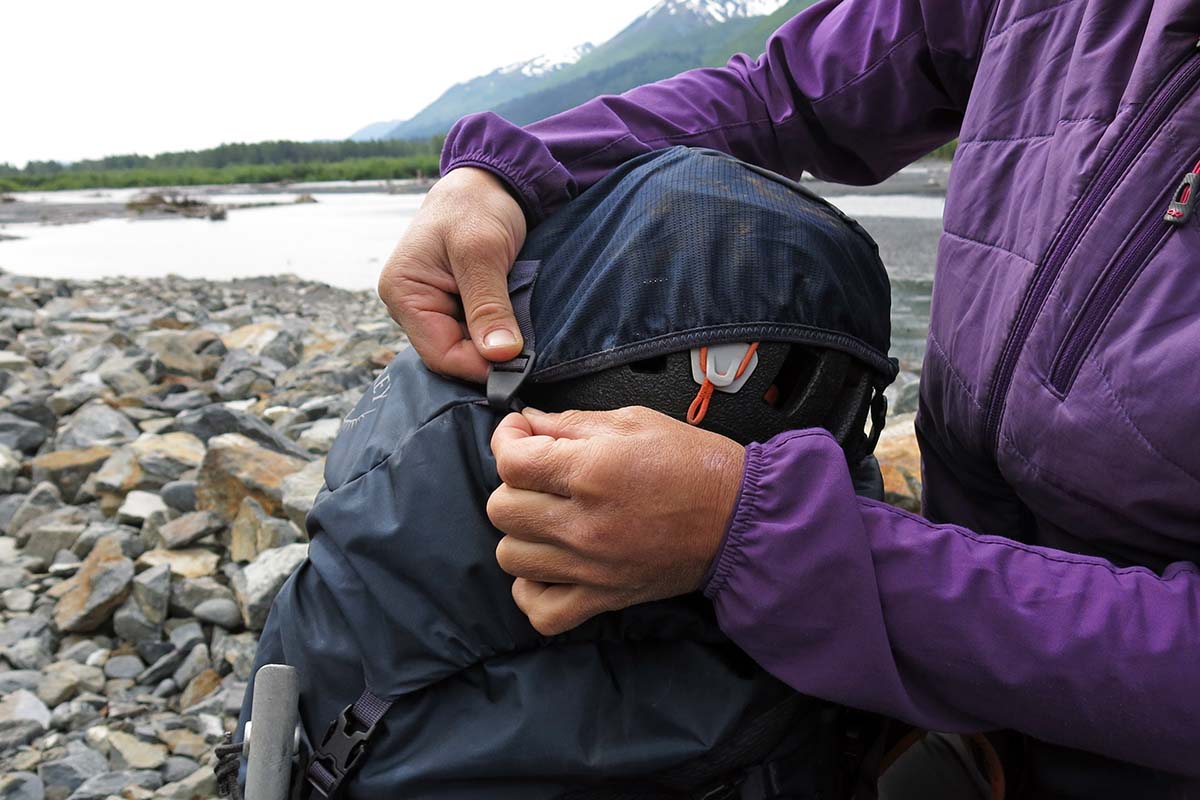 What We Like
With a framesheet and Osprey's typical impressive fit, the Mutant carries a heavy load exceptionally well for a climbing pack.
The pack offers an extensive amount of options for external carry without being unsightly or cumbersome when loaded up.
The top lid—often omitted in climbing packs—is a great organizational tote for basecamp.

What We Don't
The 52-liter Mutant is fully strippable, but we would never take such a large pack on technical rock or ice. The smaller Mutant 38 is a more versatile size, great for both overnight loads and on-route use.
Ice tool attachments are only compatible with tools that feature a hole or slot in the head.
Although we had no issues with fit, the suspension system offers very little adjustment.


Comparison Table
| Backpack | Price | Category | Weight | Capacities | Fabric |
| --- | --- | --- | --- | --- | --- |
| Osprey Mutant 52 | $200 | Alpine | 3 lb. 3.2 oz. | 22, 38, 52L | Nylon (210D & 420D) |
| Black Diamond Speed 50 | $200 | Alpine | 2 lb. 11 oz. | 22, 30, 40, 50L | Nylon (210D & 420D) |
| Arc'teryx Alpha AR 55 | $200 | Alpine | 2 lb. 14 oz. | 35, 55L | Nylon (315D) |
| Arc'teryx Alpha FL 40 | $240 | Alpine | 1 lb. 9 oz. | 30, 40L | Nylon (400D) |
| Patagonia Ascensionist 55 | $219 | Alpine | 2 lb. 13.2 oz. | 35, 55L | Nylon (420D) |
| Hyperlite 3400 Ice Pack | $370 | Alpine | 1 lb. 13.6 oz. | 40, 55, 70L | Dyneema (3.5 & 5 oz./sqyd) |

The Competition
"Climbing pack" is a catch-all term that encompasses featured cragging packs, on-route follower packs, mid-capacity bags for both the approach and the climb, and heavy haulers that can transport multi-day loads over mountainous terrain. The 52-liter Osprey Mutant falls into the last grouping, joined by Black Diamond's Speed 50. The two packs share similar capacities, cost around the same, and have remarkably similar feature sets. However, the Speed manages to pack in a padded backpanel, extensive organization options, and a removable waistbelt, lid, and framesheet at an impressive 9 ounces less than the Mutant. The ice tool attachments also are a bit more versatile on the Speed, and we appreciate the added protection of a crampon patch (which the Mutant omits). That said, despite an identical 210 x 420-denier build, we were disappointed in the Speed's overall durability during testing (we had the 30L). Overall, we think the Mutant wins out in most major categories including comfort, build quality, and value.
In the same category as the Mutant and BD Speed 50 is Arc'teryx's Alpha AR ("all round") 55. The Alpha AR features ample external attachment points, gear loops on the waistbelt, and a removable lid and framesheet. You also get a generous 55 liters of capacity at a slightly lower weight (2 lbs. 14 oz.) than the Osprey, along with a reasonable $200 price tag (by Arc'teryx standards, that is). All that said, the Osprey is more well-cushioned and offers better carrying comfort, which makes it our preferred choice for extended trips when you need added support to carry a sizable load comfortably. For long day missions and ultralight overnights, the lighter and more streamlined Alpha AR is a viable alternative.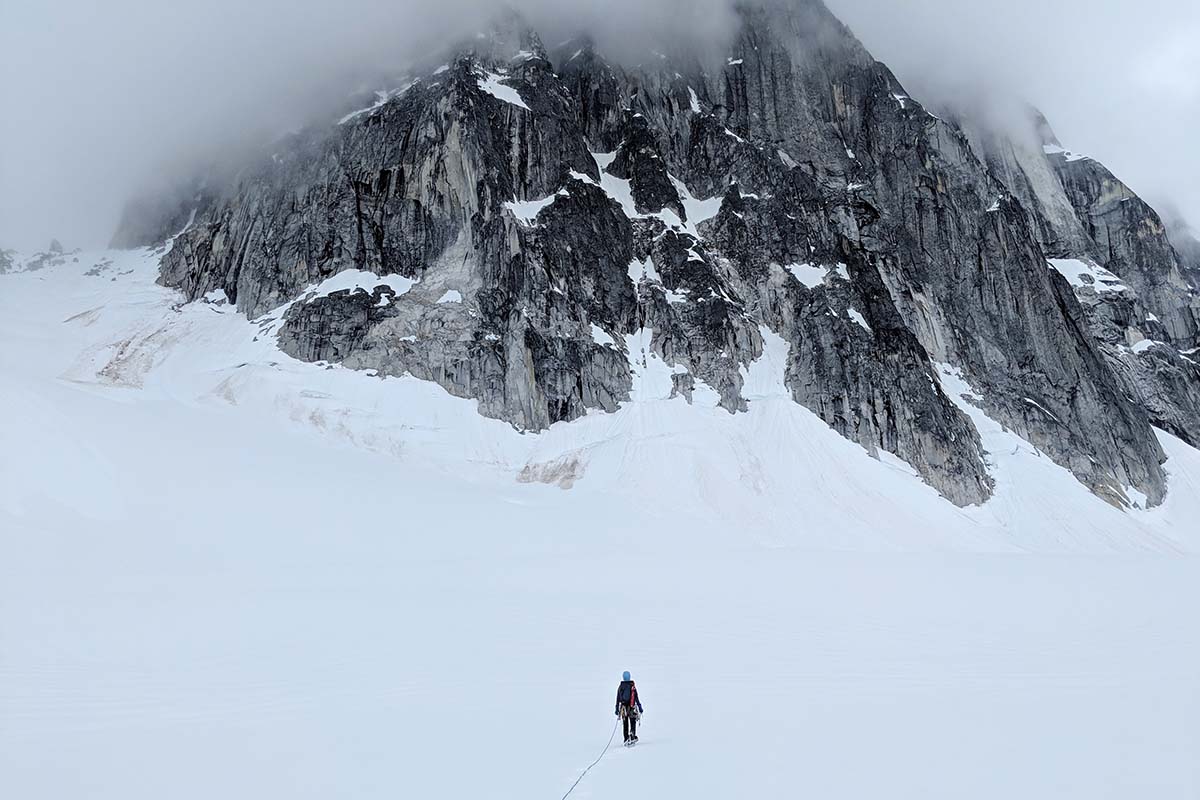 Staying within Arc'teryx's lineup, their Alpha FL ("fast and light") 40 is one of the most popular alpine climbing packs on the market, and for good reason. The pack weighs a feathery 1 pound 9 ounces and sits close and high on the back, effectively moving as an extension of a climber's body. We also love the roll-top closure, which allows you to cinch down the collar for use as a dual approach/on-route pack or extend it and stuff it to the gills for multi-day missions. However, this versatility comes with a notable sacrifice in comfort: with a webbing hipbelt and thin internal padding (no stays or framesheet), the Alpha FL pales in comparison to the Mutant. The Arc'teryx pack also is far less featured, which reduces weight but comes at the cost of convenience and organization. In the end, the $40-cheaper Mutant gets the edge for its more well-rounded feature set and ability to carry heavy loads.
Patagonia is another leader in the alpine category, and their multi-day offering is the Ascensionist 55. We particularly love the Patagonia's versatile build that is highly customizable: for the hike in, use the rope strap and side compression straps to attach gear; once you're on route, remove the lid, frame, and hipbelt padding (you can also take off the compression straps) and cinch the bag down snugly. In use, we've found the Ascensionist climbs even better than the Mutant, and it's also lighter (2 lbs. 13.2 oz.) and more hardwearing with a 420-denier ripstop nylon body. However, the Osprey wins out in all-around comfort for long, multi-day approaches, which is why we rank it higher in our climbing backpack round-up.
A final competitor to consider is Hyperlite Mountain Gear's 3400 Ice Pack. Where do the two packs differ? Most notably, the Ice Pack's Dyneema construction translates to superior durability and waterproofing—two major considerations for an alpine pack. However, the Ice Pack isn't as comfortable as the Mutant with a lack of framesheet (it uses a ¼-inch foam pad and stays), and you also can expect a significant drop in breathability. Further, with a roll-top closure (no lid), no helmet carry or picket pockets, and no haul loops, the Hyperlite also is less versatile. For weight-conscious alpinists, the Hyperlite's 1-pound-13.6-ounce build might be worth the $370 price tag. But if you're more concerned about carrying comfort and overall performance, go with the heavier and more feature-rich Mutant.
If you're thinking about buying gear that we've reviewed on Switchback Travel, you can help support us in the process. Just click on any of the seller links above, and if you make a purchase, we receive a small percentage of the transaction. The cost of the product is the same to you but this helps us continue to test and write about outdoor gear. Thanks and we appreciate your support!
Depending on the seller, most products ship free in the United States on orders of $50 or more. International shipping availability and rates vary by seller. The pricing information on this page is updated hourly but we are not responsible for inaccuracies.
Learn More About Climbing