You have a huge range of widths to choose from when making a ski purchase, from 60-millimeter racing skis to 130-millimeter big-mountain sleds designed for extreme places like Alaska. After years of trending ever-wider, we have seen the market level off over the past few seasons in terms of ski waist width. That being said, the 2023-2024 models are almost unrecognizable compared to even 15 years ago. Below we examine the factors that play into your ski buying decision, including a look at width-related ski categories, new technologies that are helping make wide skis better for all-mountain use, and the importance of location and ability.

Ski Width Measurement
Shaped skis have been around for a number of years, and their hourglass appearance is prominent on downhill models. Reflecting the variable width silhouette, there are three common points of measurement: at the tip (the shovel or most often the widest part of the ski), the waist (middle), and the tail (back). Ski dimensions are measured in millimeters and often include three numbers in the following format: 128-98-118mm (tip-waist-tail). The most important number for the majority of skiers is the middle number, also referred to as waist or width underfoot, and this is what many people use to analyze ski width.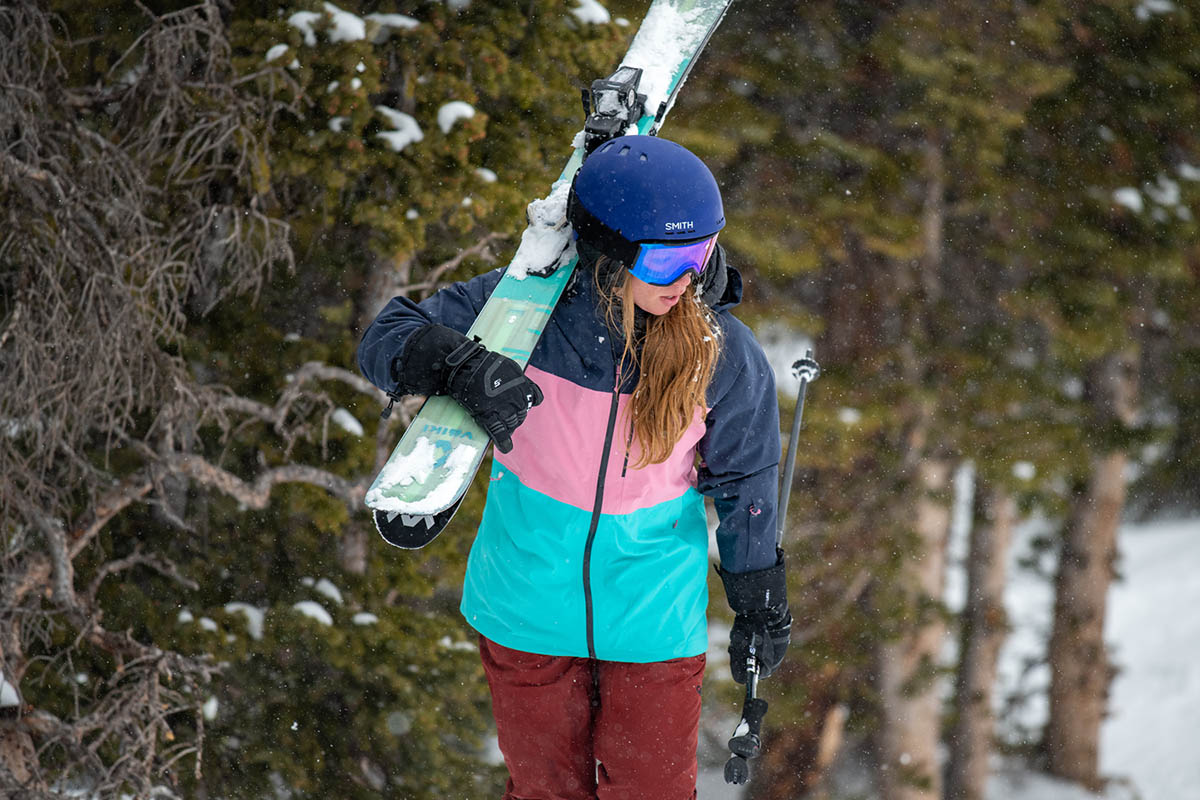 Ski Categories Defined
Generally, a narrow ski excels in turn initiation and carving and therefore is used for racing and standard use on hardpack. They are also easier to handle for beginners still putting together the basics on balance and edging. However, these skis immediately sink under the surface in powder and require a lot of effort to keep the ski tips up. Wide skis, on the other hand, have more surface area and therefore provide more flotation (think snowshoes as an example). This means that they perform great in powder but take more effort to turn and are harder to control and sloppier on groomers. All-mountain skis fall somewhere in the middle as the most versatile type of ski that—at least in theory—can handle most conditions reasonably well.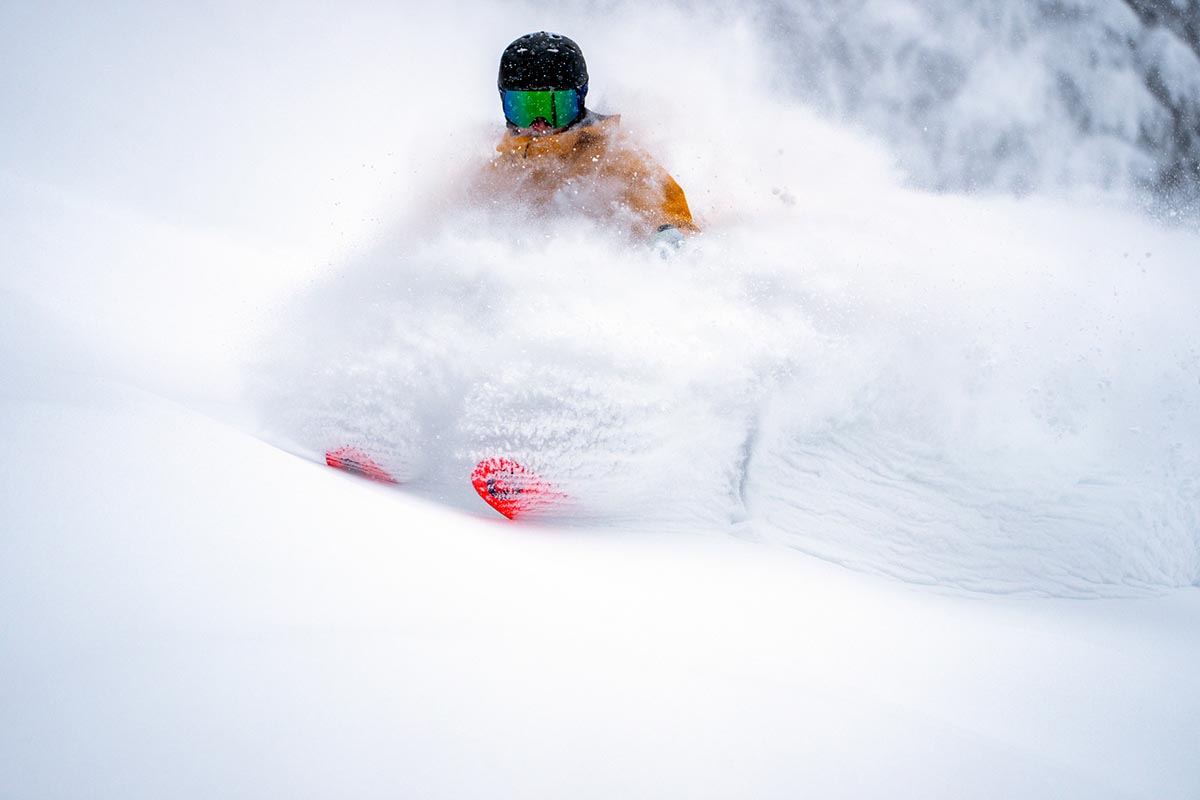 In a perfect world, you would have a few pairs of skis in your quiver: a good narrow ski for carving on hardpack, a wide ski for those beautiful powder days, and a nice all-rounder for variable conditions and terrain. Many of us don't have that luxury, however, so it's important to dial in a ski width that will perform best throughout the season.
Unfortunately, you won't find universal ski categories in terms of waist width. There is a lot of common ground, but different manufacturers and retailers all have their own definition of all-mountain skis, powder skis, etc. As examples, below are ski categories based on width from three leading online retailers:
Backcountry.com
Carving: Less than 85mm
Park and pipe: Less than 90mm (90-99mm for all-mountain versatility)
All-mountain: 85mm to 105mm
Backcountry touring: 80mm to 115mm
Powder: 98mm to 125mm
Freeride: 100mm to 125mm

REI Co-op
Frontside: Up to 85mm
All-mountain: 85mm to 95mm
All-mountain wide: 90mm to 109mm
Backcountry touring: 80mm to 120mm
Powder: 109+mm (men), 100+mm (women)

Evo.com
All-mountain: 80mm to 110mm
Ski mountaineering/long tours: 85mm to 95mm
Mid-winter tours in deep/variable snow: 100mm to 110mm
Powder: 115mm+
 
New Technology Bridges the Gap
As we mentioned above, the ski industry trended wider for a number of years. Why the changes? Ski manufacturers put a lot of effort into making their wide skis friendlier on groomers by improving carving ability, edge control, and stability. For example, modern designs like Nordica's Enforcer, Volkl's Mantra, Salomon's QST, and Head's Kore utilize lightweight materials like carbon fiber and graphene to lighten up the tips of the skis for improved flotation in soft snow and less weight to carry when you throw them over your shoulder. But it also pays off at the resort when you can take a wide ski like the Head Kore 99 and flick it between turns. Throughout the industry, reducing the swing weight of a ski has become a high priority in delivering all-mountain versatility to these wider models.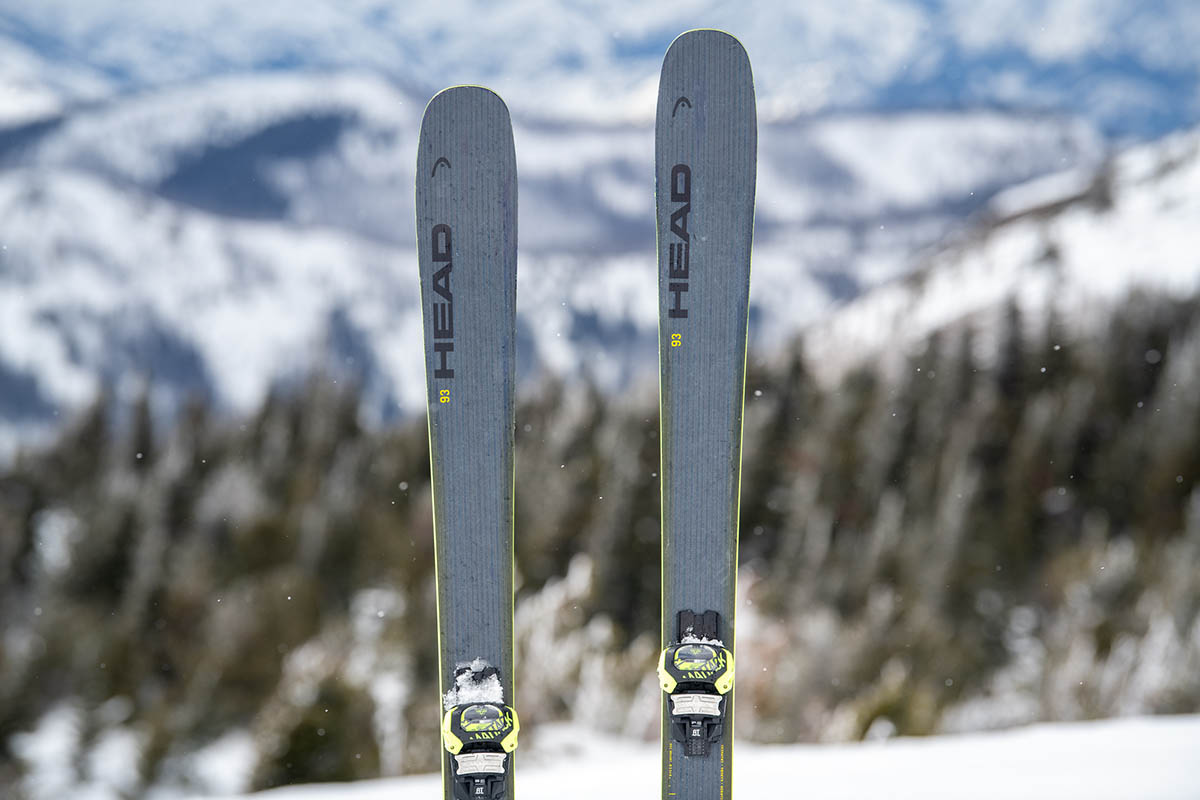 In addition to drops in weight, edge control on wide skis has improved substantially over the years. Many older skis had simple profiles that consisted of traditional camber tip to tail, which means that the middle of the ski was bowed or raised up with contact points at the top and bottom of the ski. Then rocker, or reverse camber, was developed to keep the tips and tails of powder skis out of the deep snow. People soon realized that skiing with rocker on hardpack helped with maneuverability and reduced the tendency to catch an edge in a turn. And by using a milder form of rocker—meaning a smaller percentage of the tip and/or tail of the ski is raised off the ground—issues with either end flapping at high speed on groomers have been greatly reduced in most all-mountain models. Hence the evolution of rocker/camber, which includes the best of both ski types and is one of the reasons why wider skis have become much more versatile.
Many all-mountain skis in 2023-2024 are relatively wide and have a rocker/camber profile with mild rocker at the tip (and sometimes at the tail) for flotation in soft snow and camber underfoot for edge control and turn initiation. The result is that wide skis like the Volkl M6 Mantra (96mm) now have much greater power and turn more easily than they once did. Combine this with lighter overall weights and the incorporation of advanced materials—including carbon fiber—that stiffen up the skis for a more responsive ride, and the 90- to 100-millimeter width range has transitioned from being limited to powder skis to now having true all-mountain capabilities.
 
Location, Location, Location
Now that we've established what prominent retailers think and what ski technology means in terms of width, another final consideration is the type of conditions that you will ski most. Let's first take a look at the annual snowfall in some popular ski locations (we used self-reported data provided by each resort below): 
Stowe, VT: 314 inches per year
Vail, CO: 354 inches per year
Breckenridge, CO: 355 inches per year
Alta, UT: 538 inches per year
Crystal Mountain, WA: 486 inches per year
Mt. Baker, WA: 666 inches per year
Whistler, B.C.: 448 inches per year
Aleyska, AK: 650 inches per year
As you can see, there are huge variations in annual snowfall around North America. It's worth noting that all snow is not created equal: Washington state, for example, gets more snow than Colorado, but the moderate temperatures and high annual rainfall make for conditions that can vary from light and powdery to wet and heavy. Both Colorado and Utah have fantastic snow: They stay cold during the winter and the air is dry, so less snow goes a lot further in creating great conditions. And the final lesson from this chart: We should all go to Alaska to ski!
The bottom line is that where you ski should largely dictate the width of your ski. If you live on the East Coast of the United States, unfortunately you can expect few powder days, and therefore a narrower ski designed for hardpack (80mm to 90mm waist) will suit you best. If you live in Bellingham, Wash., and Mt. Baker is your home resort, you definitely want to buy at the wide end of the ski spectrum (100mm+), as you can expect a high percentage of powder days.
Ability Level and Preferred Terrain
Location matters, but so do the parts of the resort you will end up skiing most. Even beginner skiers in snow-heavy places like Colorado and Utah will spend the vast majority of their time on groomed runs, and therefore a narrower ski is best. Skiers who like to charge down moguls will also benefit from a narrower ski since it will keep a tighter line through the bumps and be easier to control through quick turns. Intermediate and advanced riders will be pushing the boundaries more, both literally and figuratively, and a wider ski makes the most sense. Experienced skiers will also be able to control their skis better and therefore can take on a wider and stiffer ski like Nordica's Enforcer 100 that would be challenging for beginners.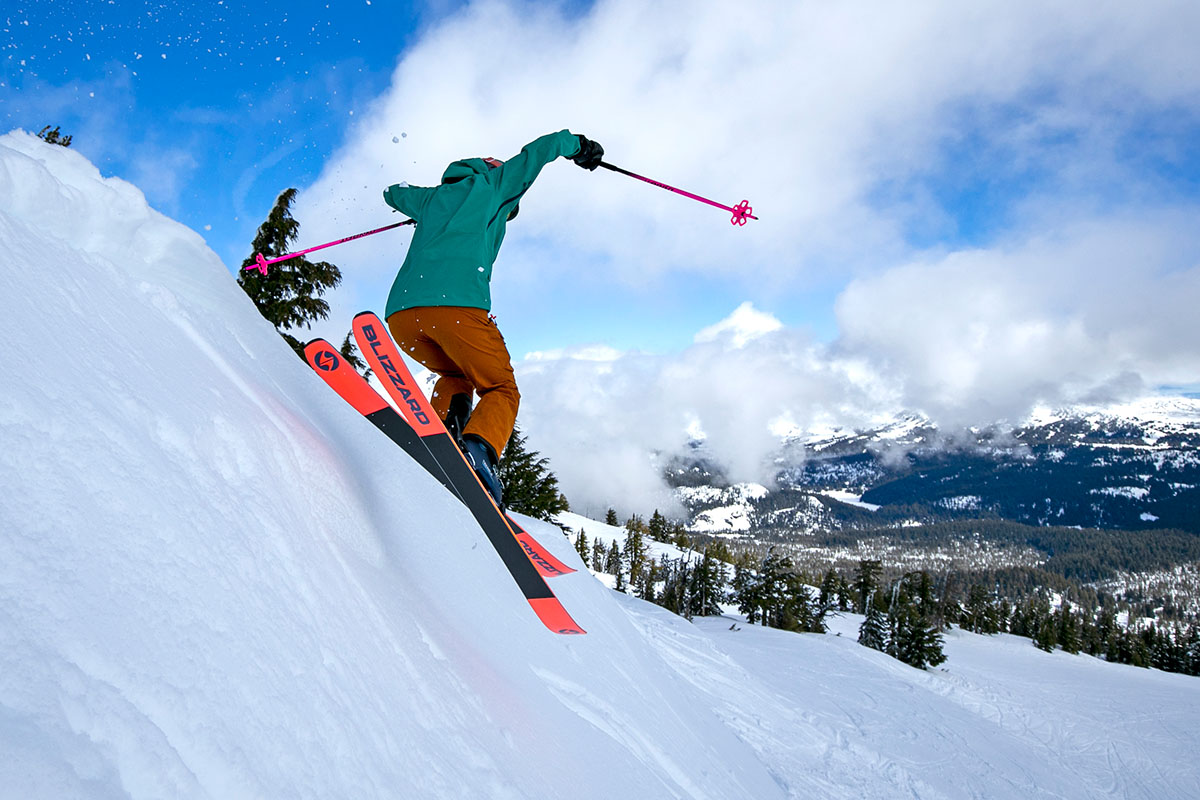 Finding the Sweet Spot
To help bring everything full circle, we've created our own criteria for ski width selection below. Of course, the specific model you choose matters in the equation, but we feel it's a good general picture of where things stand in 2023-2024.
Race and GS Skis: 60mm to 70mm
Beginner Skis: 70mm to 80mm
Groomer/East Coast Skis: 80mm to 90mm
Ideal All-Mountain East Coaster: 80mm to 95mm
Heart of the All-Mountain Range: 88mm to 100mm
Ideal All-Mountain Rocky Mountains/West Coaster: 90mm to 105mm
Backcountry Touring: 90mm to 115mm
Powder/Big Mountain Skis: 105mm+
If you only plan on buying one ski and are an intermediate to advanced skier, we think that the true sweet spot for all-mountain use is the 88- to 100-millimeter range. The skis will be nimble enough to carve but wide enough to get some float in the deep stuff. Groomer skiers and East Coasters should look in the 70- to 90-millimeter range, and West Coasters in the 90- to 105-millimeter range. If you're looking to get off piste in the deep snow, you can start at 105 and get all the way up to 130 millimeters.
Our Ski Picks
If you are still looking for that perfect ski for this season, below are our top selections from the various categories. For even more picks, see our full articles on the best skis for beginners, intermediate skis, all-mountain skis, women's all-mountain skis, powder skis, and backcountry skis.
Men's/Unisex Skis
Beginner: Rossignol Experience 78 Ca w/Xpress 11 Bindings
All-Mountain (East Coast): Volkl Kendo 88
All-Mountain (West): Nordica Enforcer 100
Powder Skis: Atomic Bent Chetler 120
Backcountry Skis: Blizzard Zero G 105
Women's Skis
Beginner: Rossignol Experience 78 Ca w/Xpress 10 Bindings
All-Mountain (East Coast): Blizzard Black Pearl 88
All-Mountain (West): Nordica Santa Ana 98
Powder Skis: Coalition Snow Rafiki
Backcountry Skis: Blizzard Zero G 105
Back to Our Ski Waist Width Guide  See Our Ski Gear Reviews
Learn More About Ski Gear