Blizzard Sheeva 10
Price: $800
Ability level: Intermediate to expert
Dimensions: 133-102-122mm (174cm)
What we like: It's a great all-rounder: carves beautifully on hardpack and thrives in shallow powder.
What we don't: Difficult to drive in heavy chop; not a beginner-friendly ski.
See the Women's Blizzard Sheeva 10  See the Blizzard Rustler 10
Blizzard's Sheeva 10 is the women's counterpart to the popular Rustler and an impressively well-rounded ski for everyone from progressing intermediates to expert riders. For 2024, Blizzard retooled the construction—Titanal now runs the full length along the edges of the ski—and made slight tweaks to the sidecut and rocker profile. We put the latest design to the test at Mt. Bachelor in Oregon last winter and came away impressed by its versatility: The ski loves to carve groomers, floats and glides through shallow powder, and can even hold its own in soft chop. It does take some effort to pilot through the bumps and roughed-up snow, but if you're looking for one ski to do it all, the Sheeva is a worthy contender. Below we break down our experiences with the Sheeva 10. To see how it stacks up to the competition, check out our article on the best women's all-mountain skis.
 
---
Table of Contents
---

Hardpack Performance
The Blizzard Sheeva 10 is an impressively versatile all-mountain ski, and hardpack performance is undeniably a strong suit. Despite the wider dimensions, I had complete confidence pushing the skis' speed on everything from icy crud to soft corduroy and shaded springtime groomers that had hardened with the afternoon refreeze. I did experience a little chatter during tight turns on a particularly firm day, but this wasn't too surprising given the Sheeva's medium turn radius (16.5m in the 174cm length) and substantial shovel. On the bright side, I was able to dump speed quickly and return to smooth carving without issue, and I haven't once felt out of control. Beginners may find the Sheeva a little difficult to pilot at full tilt, but it's an intuitive and predictable design for everyone from progressing intermediates to expert riders.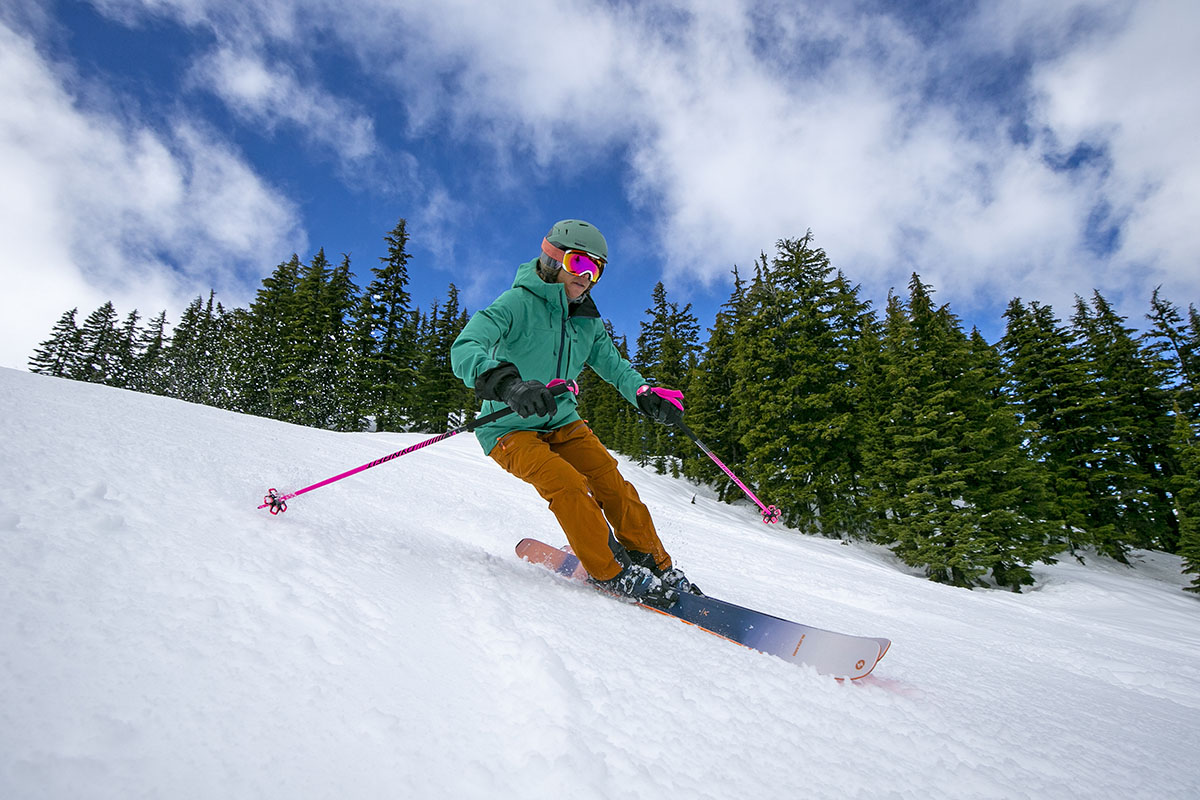 Like any ski, the Sheeva's construction plays a big role in its on-piste performance. The latest model is made with two pieces of Titanal that run the length of the ski along the edges and taper at the tip and tail, giving it more control and edge grip while maintaining good flex at either end. Additionally, Blizzard added a layer of fiberglass underfoot to boost stability and dampening while keeping things light (of note: The unisex Rustler 10 adds a layer of Titanal here and is heavier and stiffer as a result). Finally, the 2023-2024 Sheeva 10 has slightly less tip rocker than its predecessor, which increases the effective edge. The net result is a ski that rips on soft groomers and is overall a blast to ride at the resort.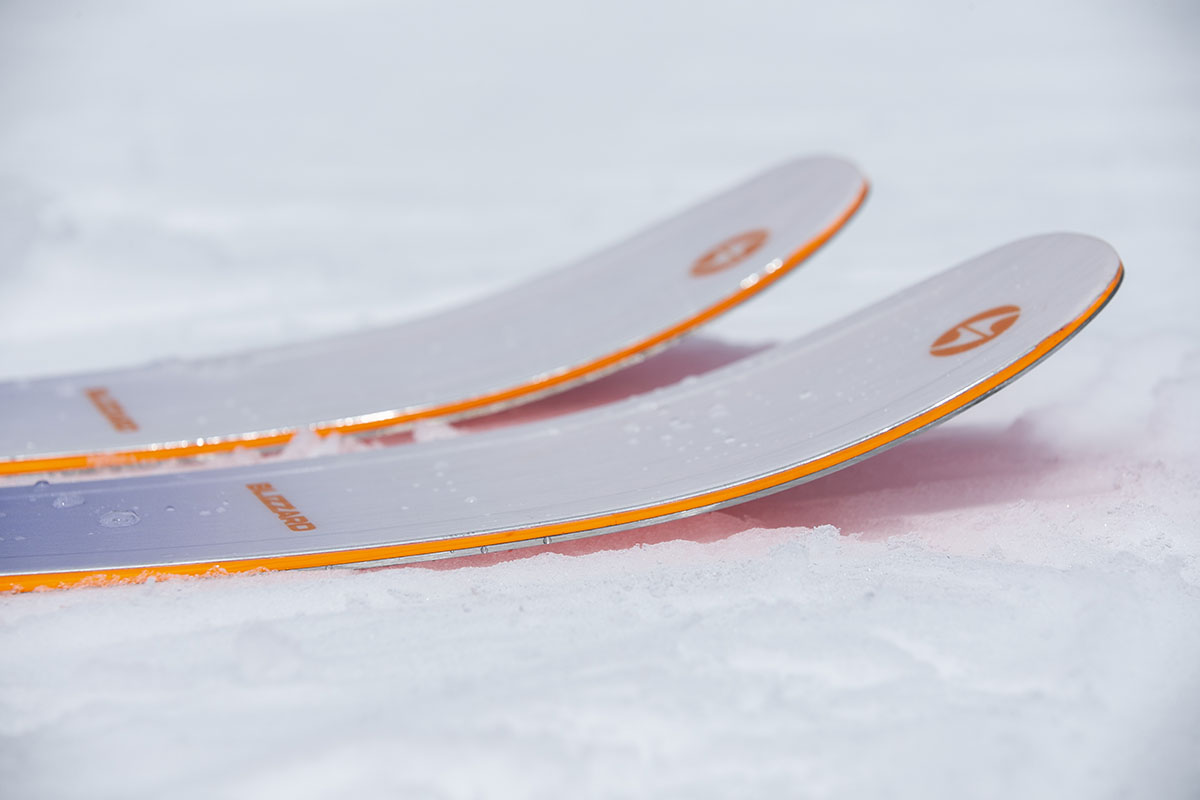 Soft Snow (Powder) Performance
After testing the Sheeva 10 in the full gamut of conditions, I've found the ski thrives in soft snow on all but the deepest days. Even when descending off-piste glades in flat light or whiteout conditions, the ski cut effortlessly through the fluff and floated as well as you could hope for an all-mountain design. Credit the partial twin-tip profile, which is rockered at the tip and tail with camber underfoot, and mid-fat dimensions (133mm tip, 102mm waist, and 122mm tail) for the smooth operations off-piste. While not as floaty as a true powder ski in the deep stuff, the Sheeva 10 is light and forgiving enough that it feels intuitive and fun in soft snow (I particularly enjoyed it in boot-top powder). And for those who live in very snow-heavy areas, Blizzard offers the wider Sheeva 11 (112mm underfoot), which offers a substantial bump in float and a little softer flex to make it easier to handle the bigger dimensions.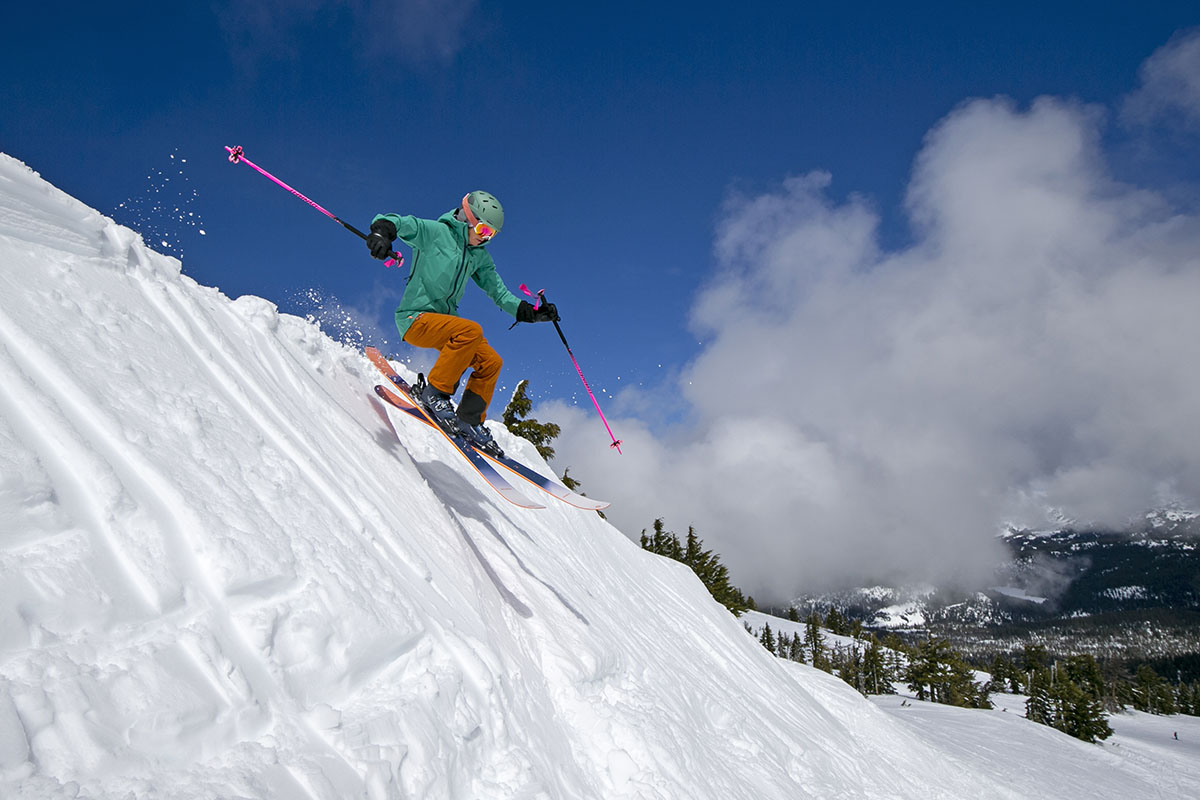 Performance in the Bumps
When the season's constant cycle of storms started letting up in late March, I took the Sheeva 10 off Mt. Bachelor's summit through its iconic summit bowls. Since I was not up there for the freshies, it provided some great opportunities to test the ski on moguls and choppy snow. Given the ski's medium turn radius, I was pleasantly surprised with how nimble it was in the bumps. That said, while this ski blasts through soft chop very well, it was not quite as powerful through heavier chopped up snow or the chunky debris leftover from ski patrol's avalanche control work. I found myself working harder than I really wanted to in that kind of snow and falling behind my friends who were riding better setups for those conditions. I would give the Sheeva 10 mediocre to moderately decent marks for its performance in this type of snow and suggest a smaller ski or at least one with a smaller turn radius if you love skiing moguls (alternatives include the Icelantic Riveter 95 and Salomon's QST Lux 92).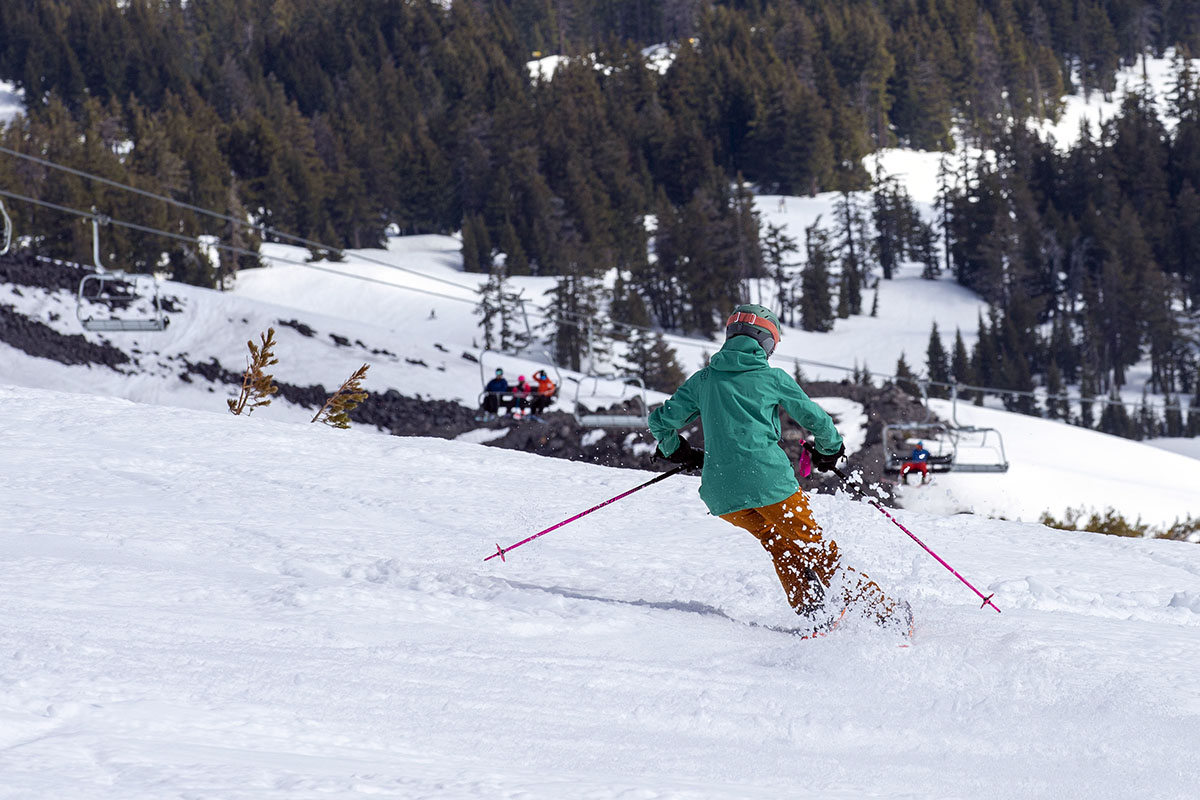 Build Quality and Durability
Blizzard makes some of our favorite skis on the market, and the Sheeva 10 is another well-built and hardwearing design from the Austrian brand. In terms of construction, the ski boasts the brand's Trueblend Free core, which blends poplar, paulownia, and beech woods for an effective balance of stability, flexibility, weight, and durability. I'm not particularly gentle on my gear—and the Sheeva had more than a couple run-ins with rocks by late spring—but the skis have held up impressively well thus far. While the top sheets have a little fraying around the perimeter, there are no dings, dents, or gouges. Even more impressively, the bases look nearly impeccable with no noticeable damage. And this is largely subjective, but I like the vibrant but classy top sheet design that's reminiscent of a winter sunrise. All in all, this is clearly a premium all-mountain ski, and I expect it to hold up well over the long term.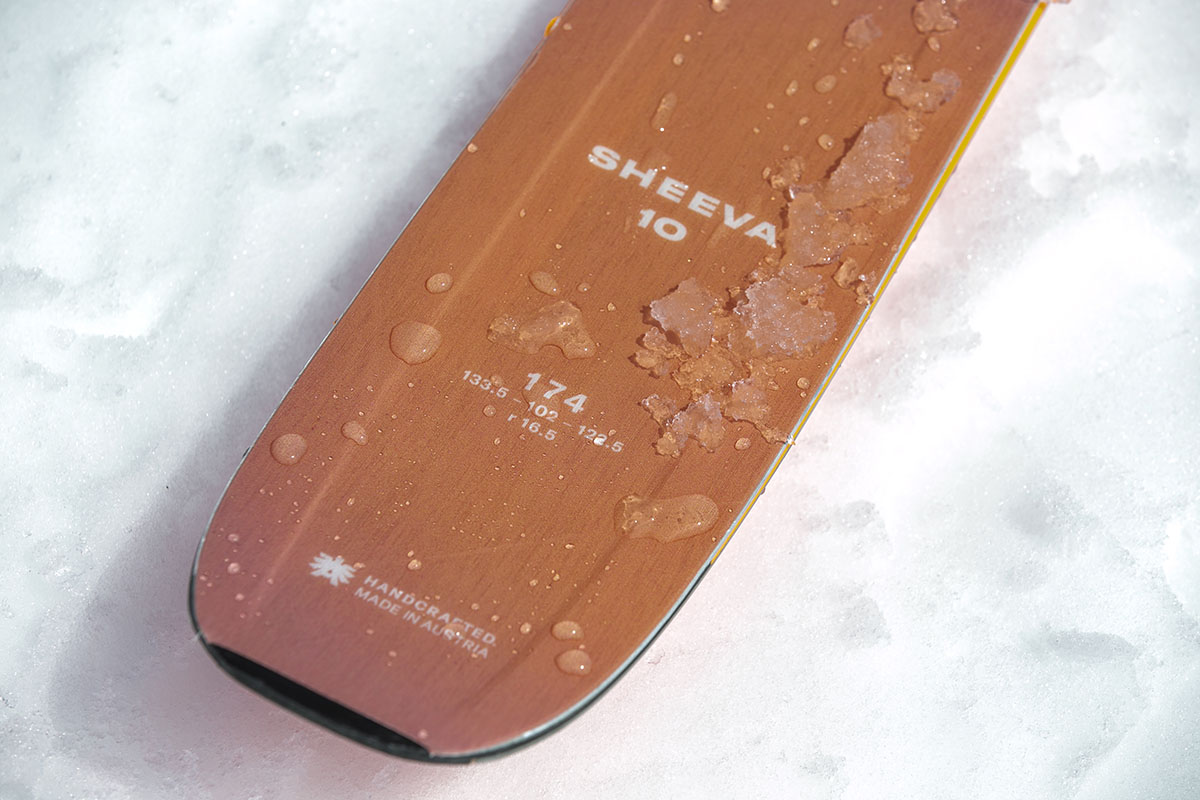 Fit and Sizing
I'm 5'7" and opted for the 174-centimeter length in the Blizzard Sheeva 10, which is a little longer than my usual length (around 168-172cm) but proved to be a good all-around match. For reference, I consider myself an advanced skier but don't necessarily like to charge hard all the time at the resort—especially on crowded days. Instead, I like hunting for powder stashes and making long, smooth turns. The Sheeva 10 fit my preferences well: The 16.5-meter turn radius is about medium and can be shortened or extended without compromising performance, while the 102-millimeter waist is perfect for all-mountain riding in areas like the Pacific Northwest that have a deeper snowpack and consistent storm cycles delivering fresh snow. And Blizzard also offers the ski in 156, 162, 168, and 180-centimeter versions, so most skiers should be able to find a good match for their preferred length and riding style (turn radius goes up as you get longer).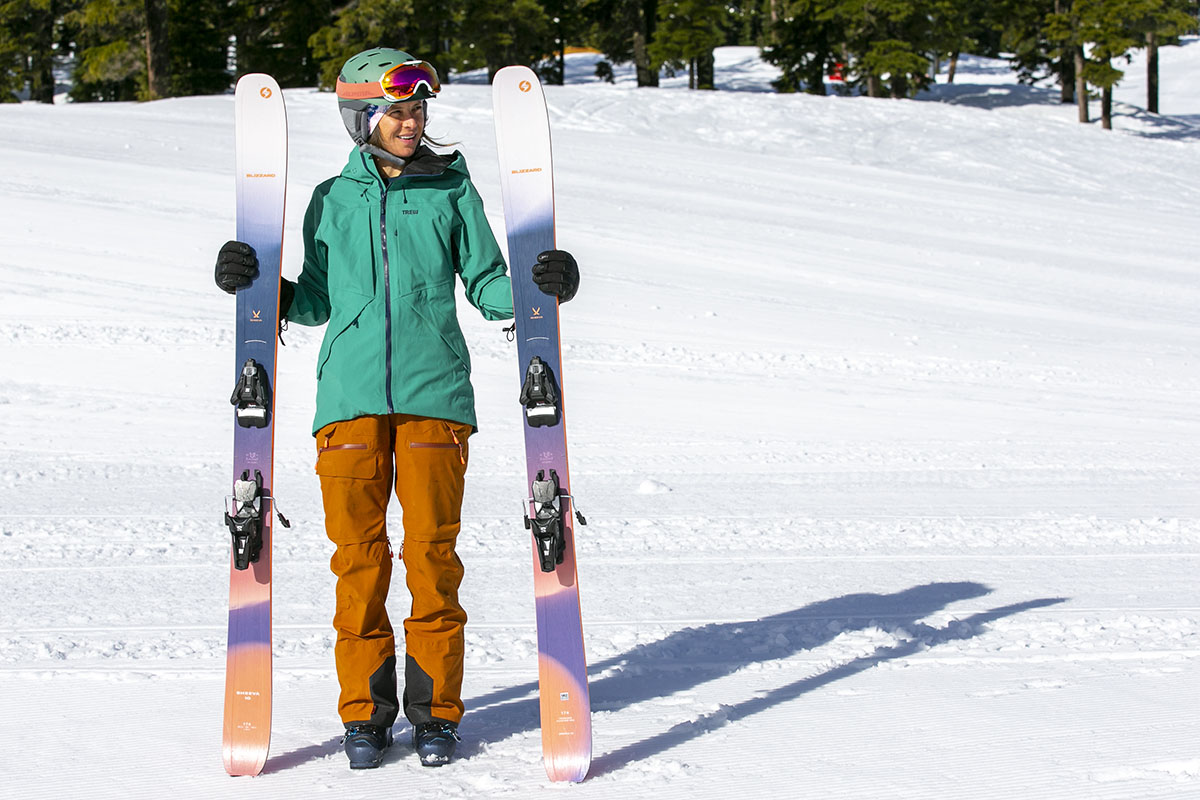 Other Versions of the Blizzard Sheeva
The Sheeva 10 is the all-mountain model within the namesake freeride line, and Blizzard also offers the Sheeva 9 ($750) and Sheeva 11 ($850). The Sheeva 9 is shorter (150-174cm), narrower (96mm at the waist), and has a tighter turn radius (14m in the 162cm length). It also has more metal than the Sheeva 10 or 11 to maximize edge grip and dampening—great for carving tight turns and ramping up the speed on trail. On the flip side, the Sheeva 11, which has a 112-millimeter waist, is a capable powder ski that's available in three lengths (168, 174, and 180cm) and has a slightly longer turn radius than the Sheeva 10 (17.5m in the 174cm size). All three models have similar profiles with rocker at the tip and tail and camber underfoot, feature the brand's Trueblend Free core, and boast classy, good-looking top sheets. Finally, it's worth noting that the entire collection is part of the brand's Women2Women program, which means the skis were intentionally built with input and feedback from female riders.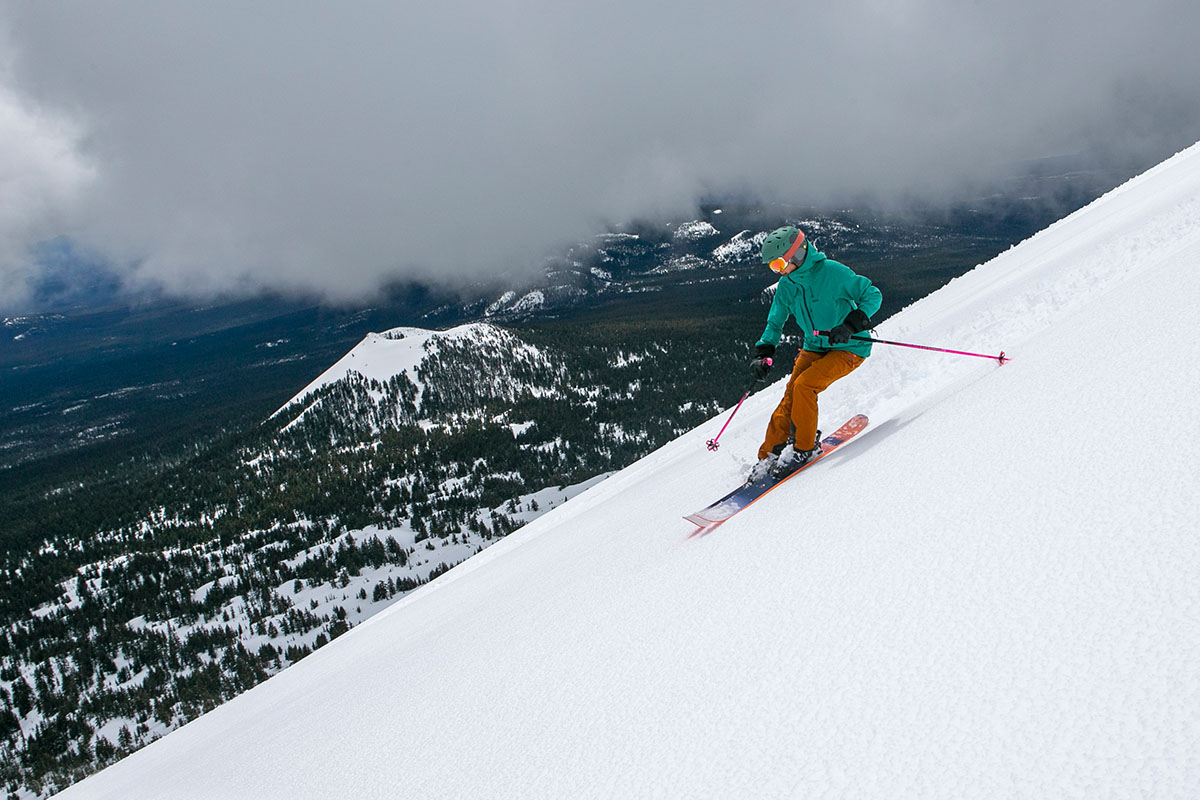 Men's Blizzard Rustler
The men's/unisex counterpart to the Sheeva is the Rustler, and the lineup is structured very similarly. Compared to the Sheeva 10 covered here, the Rustler 10 has identical dimensions and is offered in six length options from 162 to 192 centimeters. As I touched on above, it also has an additional layer of Titanal under the center of the ski for added stiffness and power and is slightly heavier as a result. But most other characteristics remain the same, including the Trueblend Free core, rockered tip and tail, and 16.5-meter turn radius (for the 174cm size). For more, see our in-depth Rustler 10 review. And like the women's models, the Rustler is available in narrower (Rustler 9) and wider (Rustler 11) variations, too.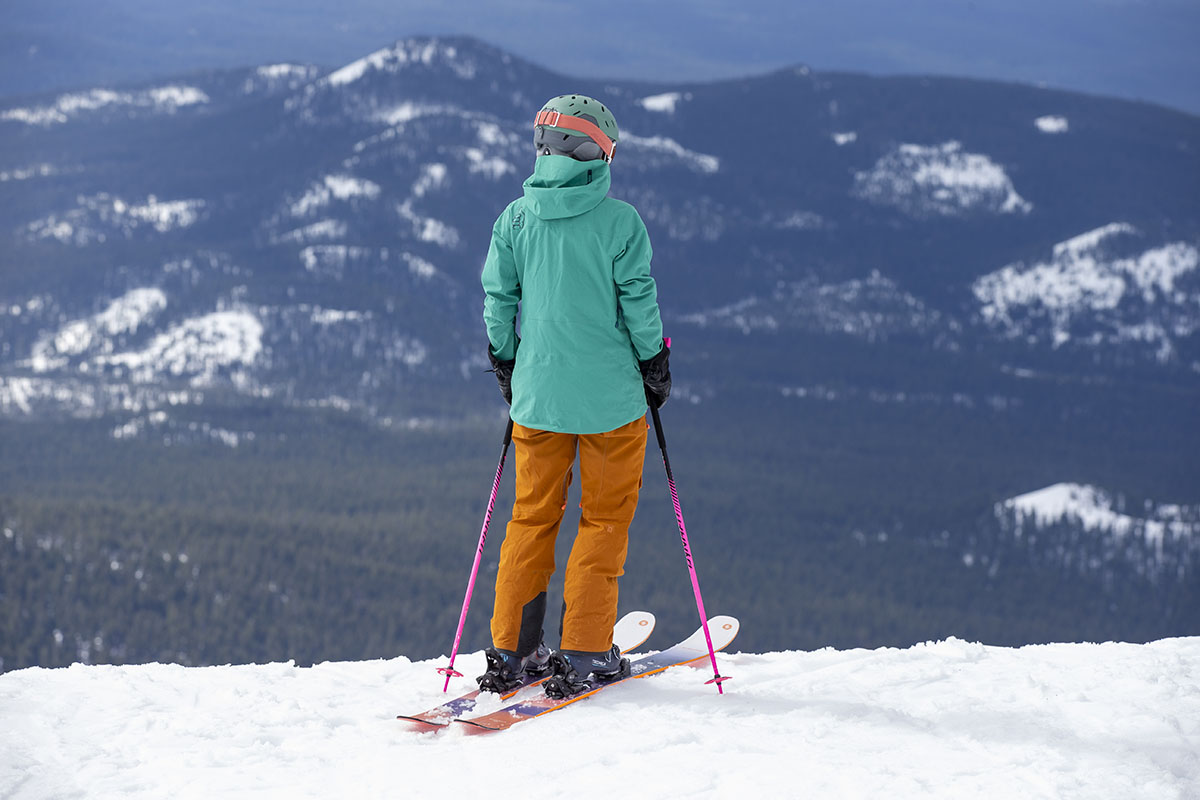 What We Like
The latest Sheeva 10 is consistently precise and easy to trust in a range of on-piste conditions, from icy crud to soft corduroy.
Excellent soft snow performance: The ski cuts effortlessly through light powder and floats very well for an all-mountain design.
Recent updates to the design—including additional use of Titanal and a little less tip rocker—result in a noticeable boost in stability and edge grip.
Hardwearing and built to last with a good-looking top sheet to boot.

What We Don't
Requires some work to pilot off-piste, particularly in deep snow and heavy chop.
Fairly unforgiving and tough to control in the bumps, especially in the longer lengths—beginner riders will want to look elsewhere.
Prone to chatter during tight turns at high speeds.
Ex-racers wanting a stiffer and faster ride may prefer the unisex Rustler, which includes an additional sheet of Titanal.


Comparison Table
| Ski | Price | Ability Level | Dimensions | Radius | Construction |
| --- | --- | --- | --- | --- | --- |
| Blizzard Sheeva 10 | $800 | Intermediate to expert | 133-102-122mm  | 16.5m | Wood, Titanal, fiberglass |
| Nordica Santa Ana 98 | $750 | Intermediate to expert | 132-98-120mm | 16.3m | Wood, Titanal, carbon |
| Volkl Secret 96 | $750 | Advanced to expert | 135-96-119mm | 16m | Wood, Titanal, carbon |
| 4FRNT MSP CC | $729 | Intermediate to advanced | 132-99-121 mm | 15.8m | Wood, Titanal, carbon |
| Salomon QST Stella 106 | $750 | Intermediate to advanced | 137-106-124mm | 17m | Wood, Titanal, carbon, flax |

The Competition
The women's all-mountain ski market is vast, and Blizzard's Sheeva 10 is just one of many versatile designs that can handle everything from groomers to powder and the occasional tree run. The first noteworthy competitor is Nordica's Santa Ana 98, which is one of the most well-rounded designs on the market: It's reliable on hardpack, agile in the bumps, maneuverable in powder, and blasts through crud with control and confidence. That said, the Nordica's narrower waist translates to a step down in performance from the Sheeva in soft snow, and it's not the most playful or flickable design. Which one should you choose? Both are quality all-mountain options and a final decision will come down to preferences between off-trail performance and playfulness (the Sheeva gets the edge) versus a more planted feel and slightly more manageable width (the Santa Ana).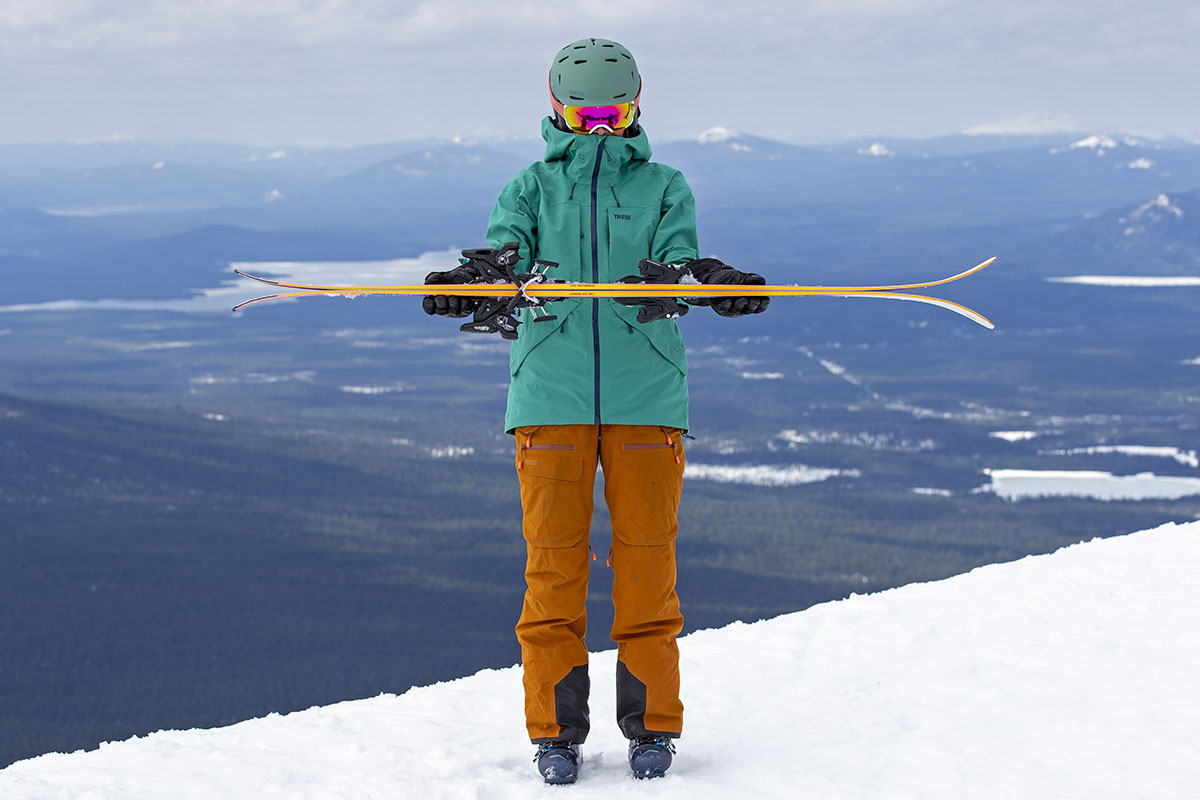 Next up is Volkl's Secret 96, which is a crowd favorite for strong skiers who love to carve hard and move fast through mixed snow. While marketed as an all-mountain design, the Secret is particularly adept on steep and rowdy bump lines, and the 3D radius sidecut—longer at the tip and tail and shorter in the center—allows it to transition smoothly between short, medium, and long turns without sacrificing speed or stability. By contrast, the Sheeva 10 is slower and less agile, but the tradeoff is better soft-snow performance and a more intuitive feel. In the end, we'd break it down as follows: The Secret 96 is best suited for hard-charging riders who are comfortable keeping their foot on the gas, while the Sheeva 10 is the more balanced option for those who prioritize all-mountain versatility over top-end speed.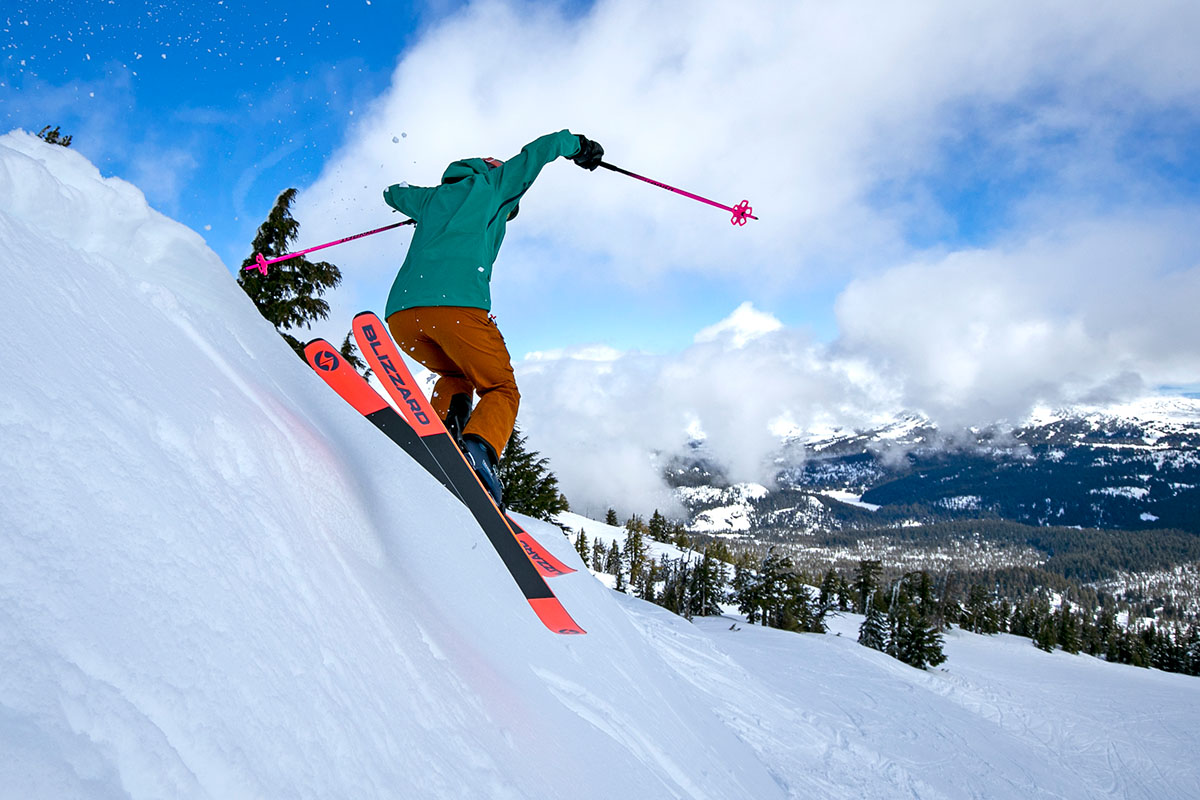 Closer in personality to the Sheeva 10 is the 4FRNT MSP CC, which is a worthy choice for everyone from progressing intermediates to advanced or even expert riders. The "CC" stands for Contour Core technology: 4FRNT shifted the thickest and stiffest part of the core farther back to match the way most women generate power through a turn (via their hips, compared to men who typically drive from the torso), which helps with turn initiation and control. The MSP CC also has a very poppy feel—it's the better performer in the bumps, though the 3-millimeter-wider Sheeva gets the edge in untracked powder. The only real drawback is that the 4FRNT skis are only offered in a few lengths (159, 165, and 171cm) compared to the Sheeva's five offerings from 156 up to 180 centimeters, which is a downside for particularly short or tall riders. But if one of the lengths works for you, the MSP CC is an impressively well-rounded alternative at a small discount.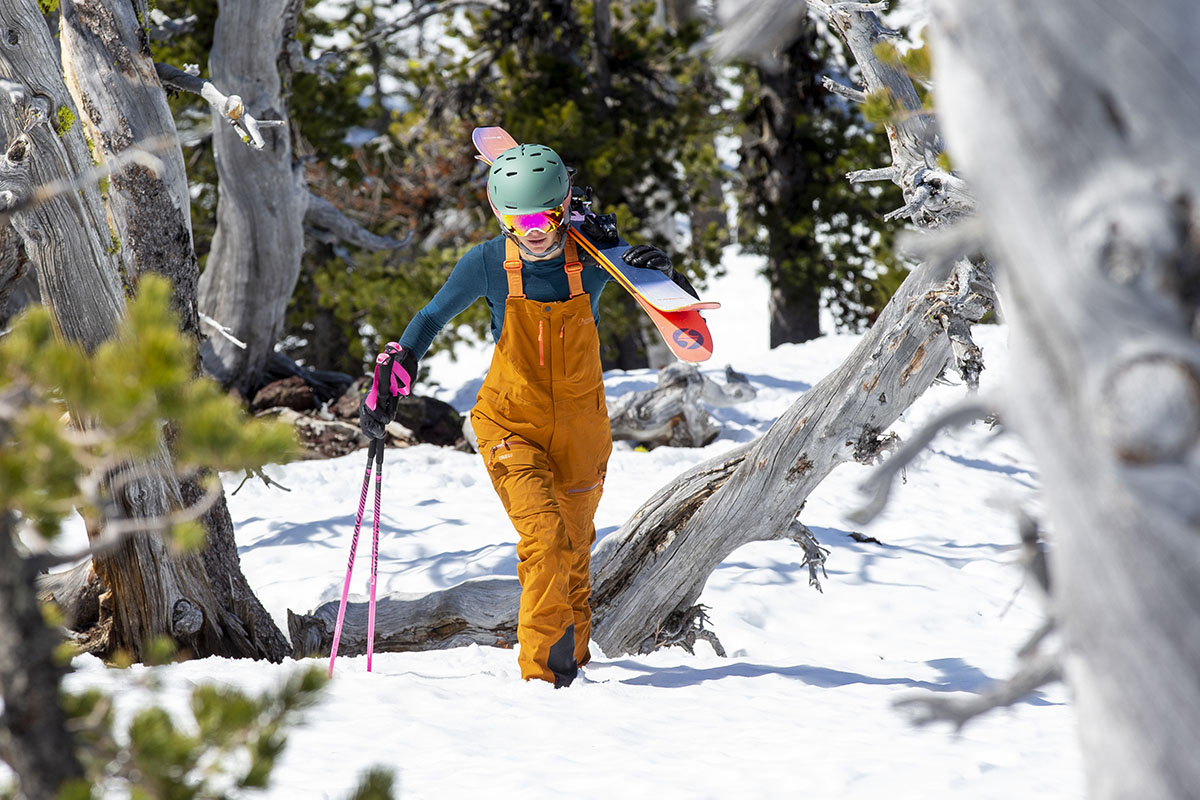 Finally, if you live for powder days but want one ski that can do it all, we like Salomon's QST Stella 106. As expected with its wider footprint, the QST is most at home in backside bowls, tree stashes, and sidecountry glades but can still hold its own on hardpack with a stiff flex through the middle and tail for stability at high speeds and through chop. By comparison, the narrower and heavier Sheeva is less surfy in powder but provides better edge hold in firm conditions, and its shorter turn radius (16.5m for the 174cm length compared to 18m for the 173cm Salomon) translates to better maneuverability in the bumps and when navigating tight spaces. There's no question that the QST Stella is impressively well rounded for its width, but all-mountain riders who spend a lot of time on the frontside—or who live in less snow-heavy areas—will almost certainly prefer the narrower Sheeva. 
If you're thinking about buying gear that we've reviewed on Switchback Travel, you can help support us in the process. Just click on any of the seller links above, and if you make a purchase, we receive a small percentage of the transaction. The cost of the product is the same to you but this helps us continue to test and write about outdoor gear. Thanks and we appreciate your support!
Depending on the seller, most products ship free in the United States on orders of $50 or more. International shipping availability and rates vary by seller. The pricing information on this page is updated hourly but we are not responsible for inaccuracies.
Learn More About Ski Gear