Blizzard Rustler 10
Price: $800
Ability level: Intermediate to expert
Dimensions: 134-102-123mm (180cm)
What we like: An excellent do-everything ski that's stable on hardpack, floats in soft snow, and plows through crud.
What we don't: A little more demanding and less playful than the original Rustler.
See the Blizzard Rustler 10  See the Women's Blizzard Sheeva 10
Blizzard's original Rustler was consistently one of our favorite all-mountain skis thanks to its focus on fun over all-out power and speed. The design has gotten a big revamp for 2024, including changes to the construction (Titanal now runs the length of the ski along the edge), shape, and rocker profile. We put in nearly a full season on the Rustler 10 and loved it from the first lap: The latest iteration hits a sweet spot of edge grip, float, and maneuverability for skiers who like to do it all. It did lose a little of the flickable, freestyle fun of the original, but the tradeoff is a supremely balanced all-mountain design. Below we break down our test of the latest Rustler 10. To see how it stacks up to the competition, see our article on the best all-mountain skis. 
 
---
Table of Contents
---

Hardpack Performance
For a 102-millimeter-wide ski with freeride aspirations, I was very impressed with the 2024 Blizzard Rustler 10's on-trail performance. There's a noticeable boost in stability compared with the prior-generation Rustler—credit the increased use of Titanal in the tip, tail, and perimeter of the ski—and the reasonably long effective edge holds nicely as you carve medium-width turns. That said, what really stands out on hardpack is the ski's approachable nature: You don't need to be on the gas to enjoy groomer laps, unlike the brand's stiffer and more serious Brahma/Bonafide. Put another way, it lands in a highly desirable place for a lot of skiers: enough precision, stability, and edge hold to ski aggressively but with a light-enough feel and flex to slarve a turn or tone it down on a post-lunch cruise. All told, skiers ranging from progressing intermediates all the way up to expert-level riders should find plenty to like with the 2024 Rustler 10.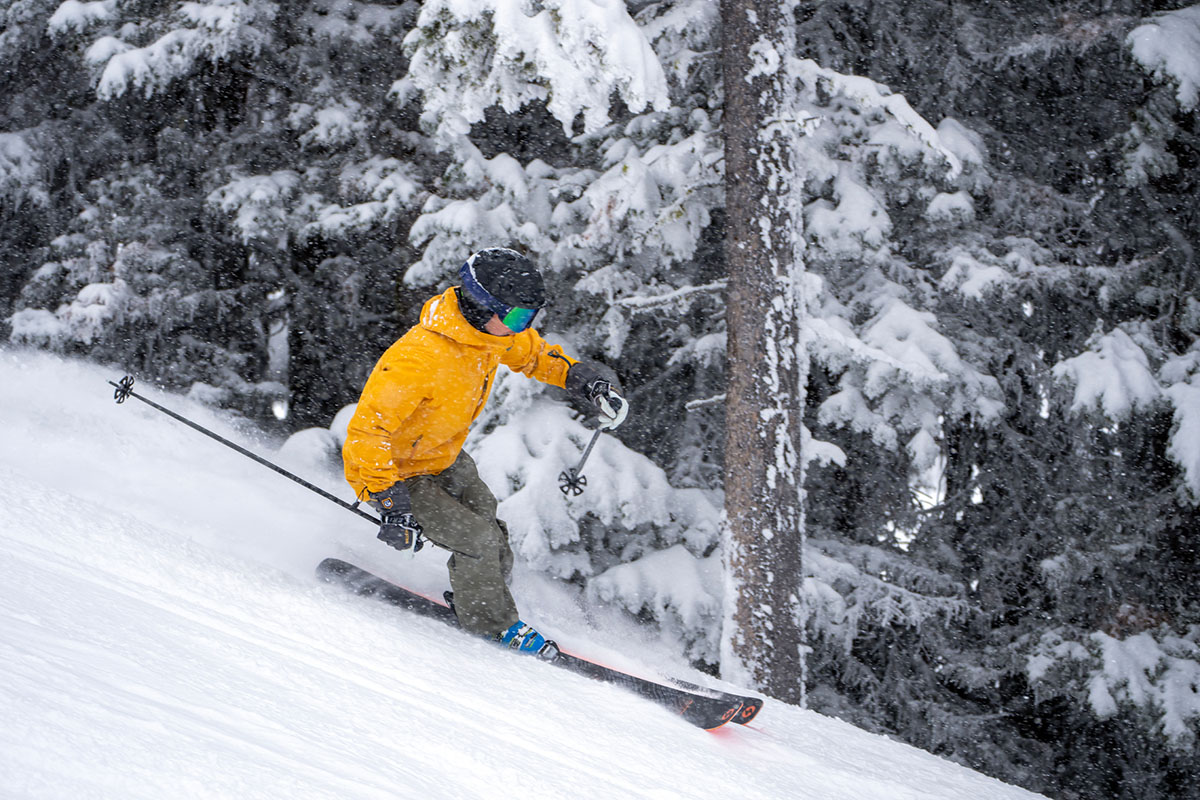 I put the "for a 102-millimeter-wide" qualifier above for a reason, however. Simply put, the Rustler 10 is best suited for those who truly split their days on- and off-trail, with more time spent on the latter. You can feel the extra real estate piecing together tight turns—I was on the 180-centimeter length, for reference—and I experienced a little chatter at high speeds. As such, aggressive skiers and expert-level riders who prioritize a rock-solid feel will likely want to opt for a ski with more metal in the construction like Blizzard's own Bonafide 97, Nordica's Enforcer 100, or Volkl's M6 Mantra. Blizzard also sells the narrower (96mm) Rustler 9, which offers better control and a more natural feel on hardpack.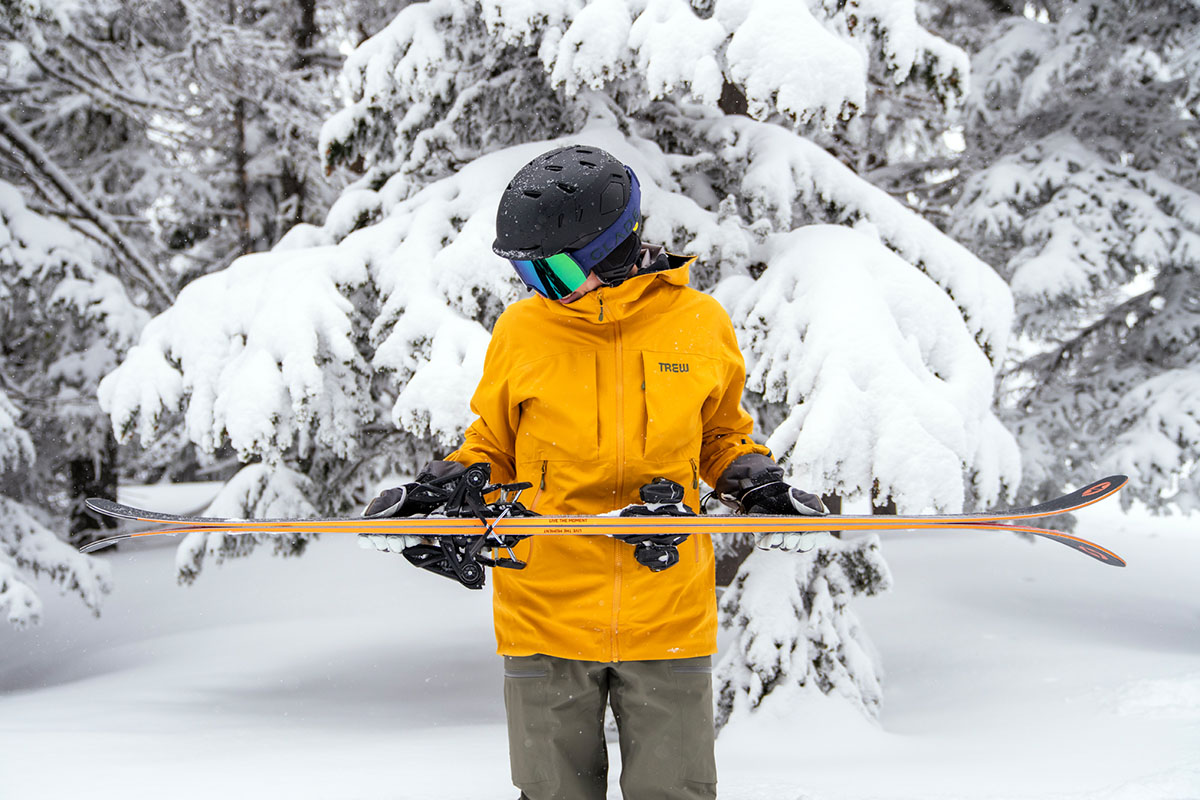 Soft Snow (Powder) Performance
The Rustler 10 is the middle child of the Rustler family and lands in a really desirable space for off-trail use in regions like the Pacific Northwest (where we conducted our testing). We had a lot of big snow days this past season—from refill days to dreamy, deep conditions—and the Rustler was my go-to choice for lift-accessed sidecountry outings. It's not a burden to throw over a shoulder and hike multiple laps with, it pivots nicely and is manageable in the trees and chutes, and there was plenty of float even following bigger snowfall (up to about 10 in.). The Rustler does require an active skier to get the most out of it—my backcountry setup (Elan's Ripstick Tour 104) was noticeably easier to flick around in tight spots—but the balance of power in open snowfields with control in new-to-me zones off-trail was a real boon. And if you need more float, check out the 112-millimeter-wide Rustler 11.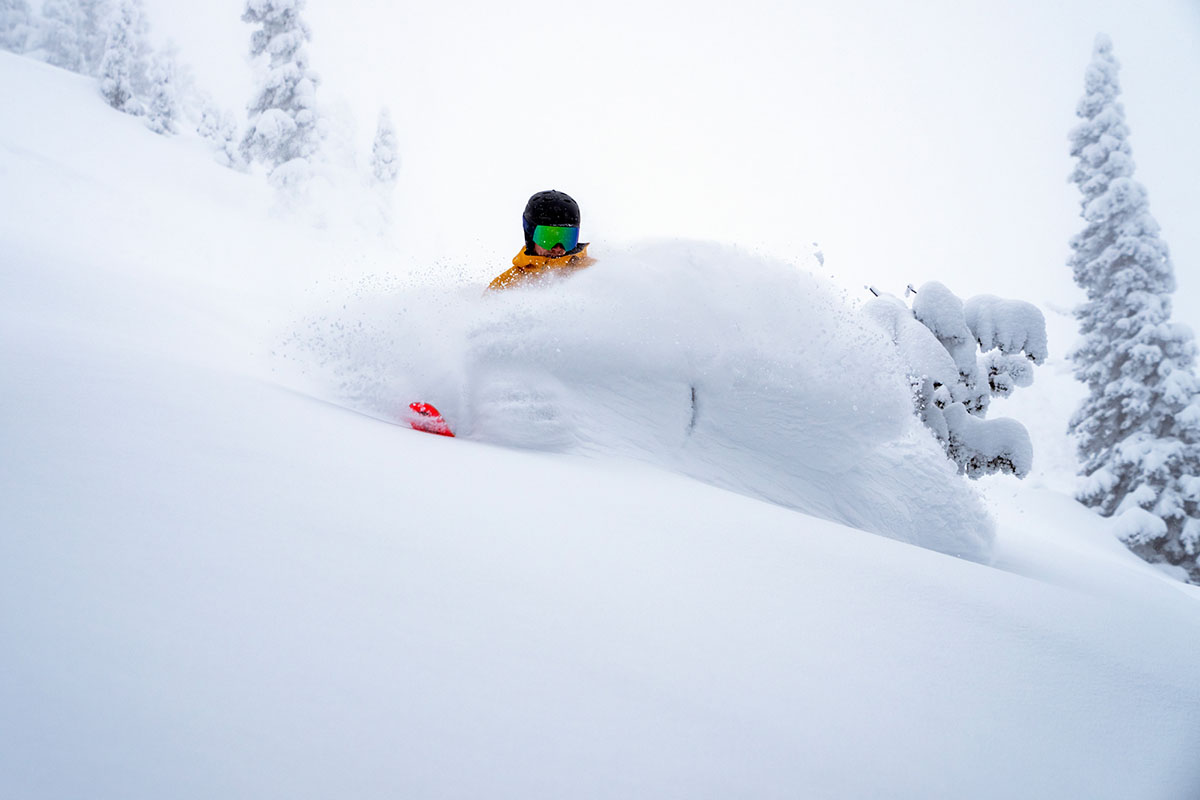 Performance in the Bumps
Not many skiers look to such a wide setup for moguls, but the Rustler has several traits that make it a decent option. For starters, the relatively quick-pivoting feel in the trees translates here, and the skis have plenty of energy for a confident pilot to generate pop between turns. Blizzard also kept weight in check with the 2024 model—it's slightly lighter than the prior-generation version—which helps with control. That said, there's still a fair amount of metal in the construction, and it's a lot of ski to turn quickly, which makes it more fatiguing than a lighter and nimbler option like Icelantic's Pioneer 96 or the narrower variations of Salomon's QST collection. In the end, this is one area where the Rustler feels like it lost a little of the freestyle fun of the original, but it's still plenty competent for most all-mountain riders.

Build Quality and Durability
Blizzard is an irrefutable leader in the ski market, and the Rustler 10 is another well-built design from the longstanding Austrian brand. The updated construction features their Trueblend Free core, which combines polar, paulownia, and beech wood stringers. Tack on the aforementioned Titanal along the edges and a plate of metal under the bindings, and the net result is a really nice balance of stability, flex, and weight.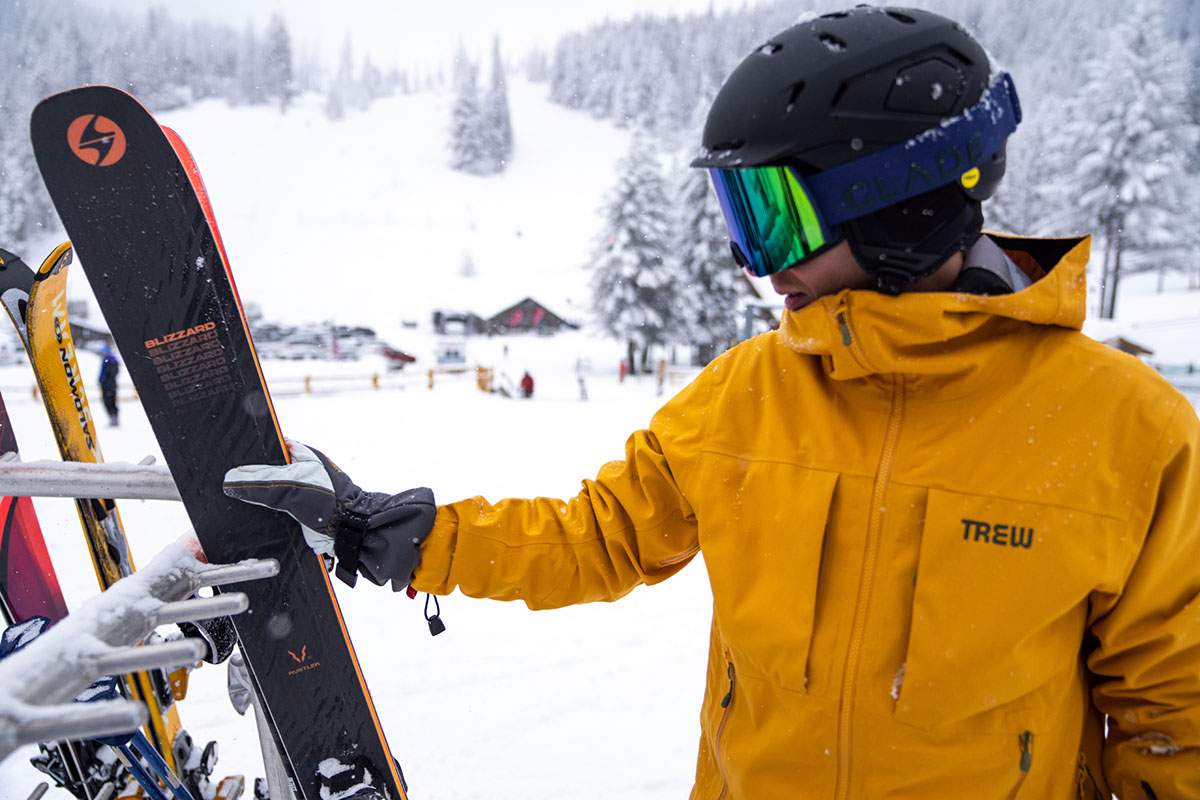 In terms of durability, my pair is holding up well overall. A close, post-season inspection revealed light scrapes along the top sheet (the design hides it well), and the durable base has seen a fair amount of abuse thanks to the rough basalt found locally hiding underneath the snow layer. One very solid hit did damage the base near the middle edge of the ski, but it was an easy repair—the metal edge was unaffected—and I've seen no performance impact. I'll update this review if anything changes, but after a very full season of use, all signs are positive that the Rustler is built to last.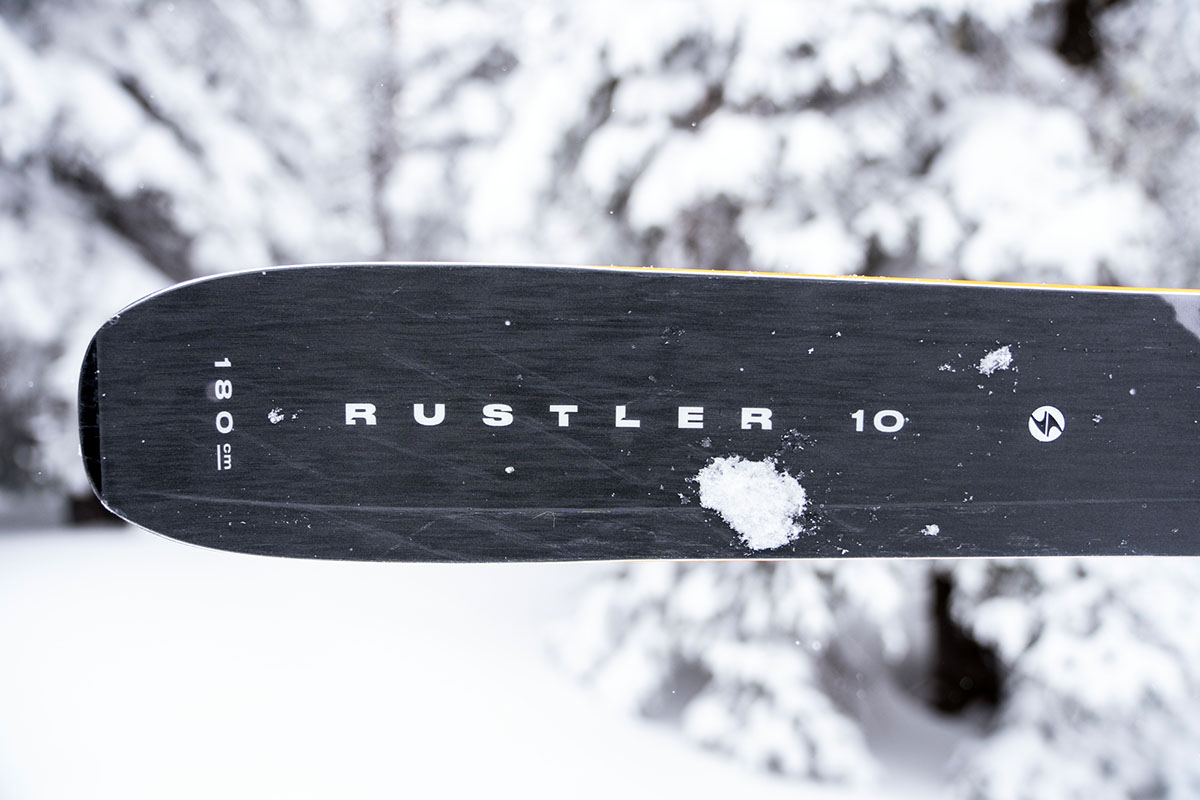 Fit and Sizing
At 5'9" and 155 pounds, I typically find myself most comfortable on skis in the 175- to 180-centimeter length range. For this review, I was on the 180-centimeter Blizzard Rustler 10 and felt at home immediately: It was impressively stable at speed but less demanding than designs with two sheets of metal, the medium-width turn radius (17.5m) was a great match for hardpack laps, and the ski felt reasonably light and confidence-inspiring while exploring off-trail. Finally, it's worth noting that the Rustler 10 is offered in a wide range of lengths—from 162 all the way up to 192 centimeters—with small (6cm) increments between sizes, meaning most skiers should be able to find a length that works.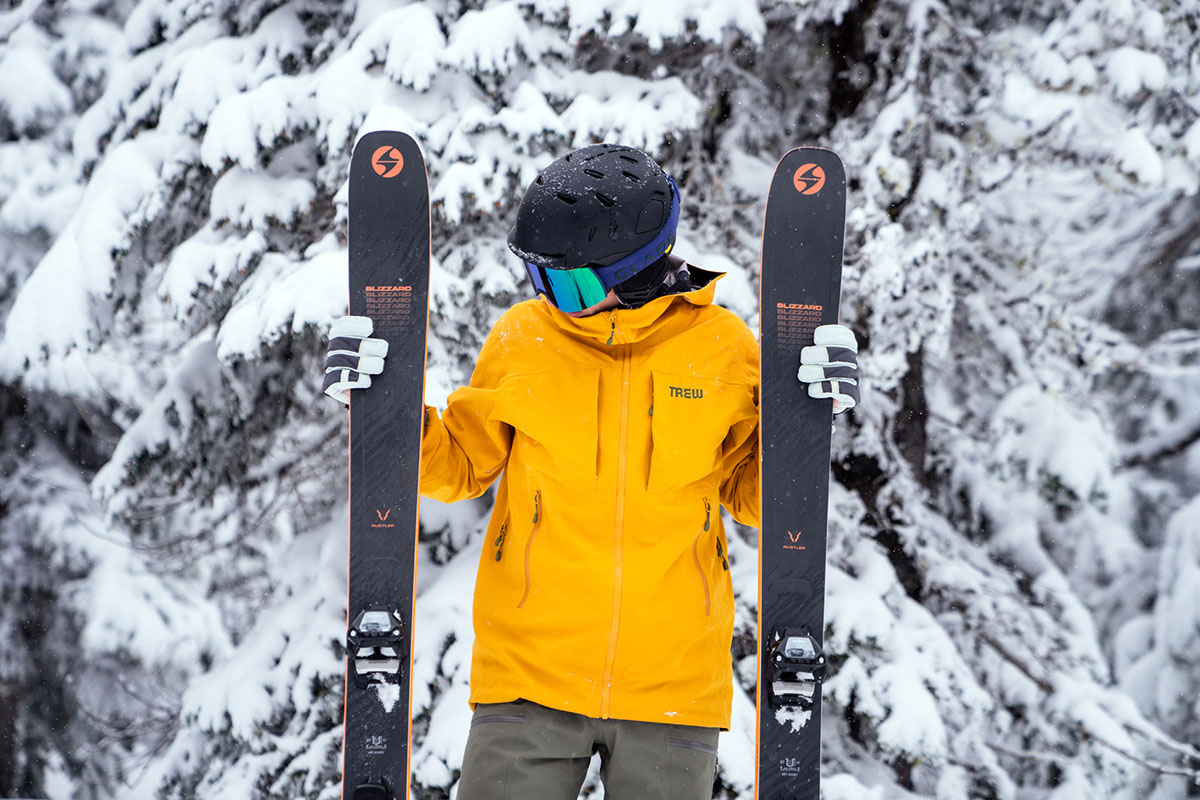 Other Versions of the Blizzard Rustler
The Rustler 10 is the all-mountain offering within the namesake freeride collection, and Blizzard also sells the Rustler 9 ($750) and Rustler 11 ($850). Comparing the three, the Rustler 9 is the narrowest in the lineup with a 96-millimeter waist, has a slightly tighter turn radius (17m in the 180cm length), and features more metal for better edge grip and dampening—great for carving tighter turns as well as ramping up the speed on hardpack. At the other end of the spectrum is the Rustler 11, which has a 112-millimeter waist, comes in five lengths from 168 to 192 centimeters, and has a longer turn radius (19m in the 180cm size) for wide, sweeping turns in soft snow. All three models have similar profiles with rocker at the tip and tail and camber underfoot, feature the brand's Trueblend Free core, and use quality materials that should stand up well to long-term use.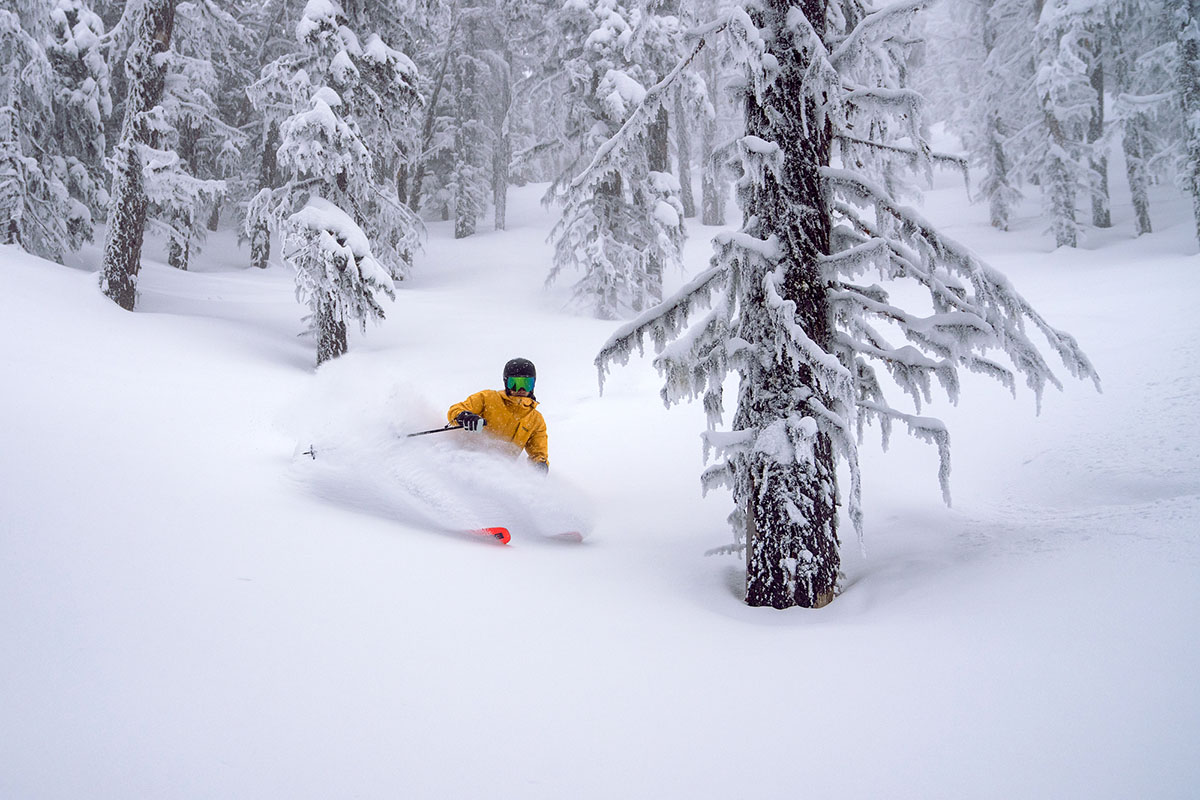 Women's Blizzard Sheeva
The women's counterpart to the Rustler is the Sheeva, and the lineup is structured very similarly. Compared to the Rustler 10 covered here, the Blizzard Sheeva 10 has the same dimensions and is offered in five length options from 156 to 180 centimeters. However, the construction is slightly different: The Sheeva uses a layer of fiberglass (rather than Titanal) under the bindings, which keeps things light and results in a softer ride (for more, see our in-depth Sheeva 10 review). But most other characteristics remain the same, including the Trueblend Free core, rockered tip and tail, and 17.5-meter turn radius (for the 180cm size). And like the Rustler, the Sheeva is offered in narrower (Sheeva 9) and wider (Sheeva 11) variations, too.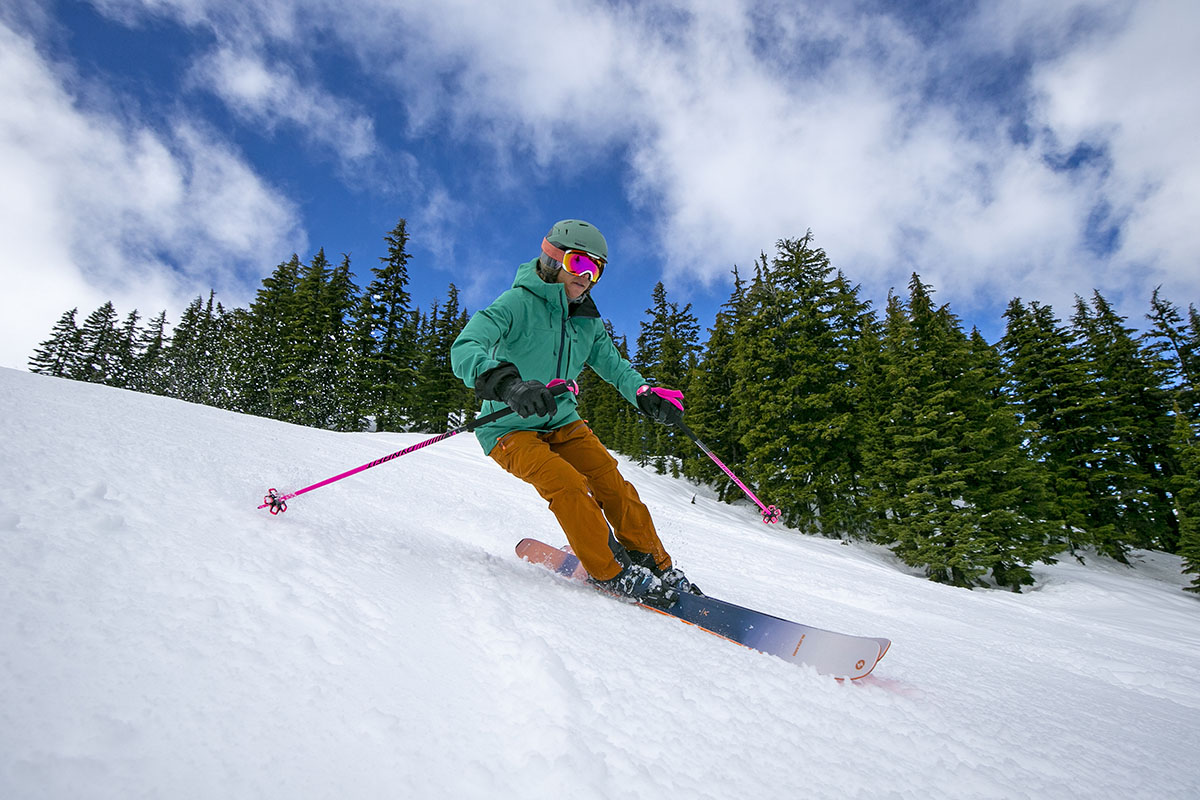 What We Like
Surprisingly good hardpack performance for the width, including great stability, plenty of edge hold for medium-width turns, and a very approachable feel.
Lands in a really desirable space for off-trail use in areas like the Pacific Northwest: It pivots nicely, isn't a burden to haul into the sidecountry, and has plenty of float even in moderately deep snow (up to around 10 in.). 
Stable and precise enough to ski aggressively but with a light-enough feel and flex to slarve a turn or tone it down on a post-lunch cruise.
Highly durable with quality materials that stand up well to frequent inbounds use.
Wide range of lengths and small increments between sizes mean most skiers should be able to find the right fit.

What We Don't
Slightly more demanding and less playful than the original Rustler.
Prone to chatter during tight turns at high speeds, and you can feel the extra real estate when flicking the ski around (it requires an active pilot in soft snow especially).
More fatiguing to control in the bumps than lighter and nimbler designs, although it's plenty competent for most all-mountain riders.
Aggressive skiers or expert-level riders who prioritize a rock-solid feel will likely want a ski with more metal in the construction.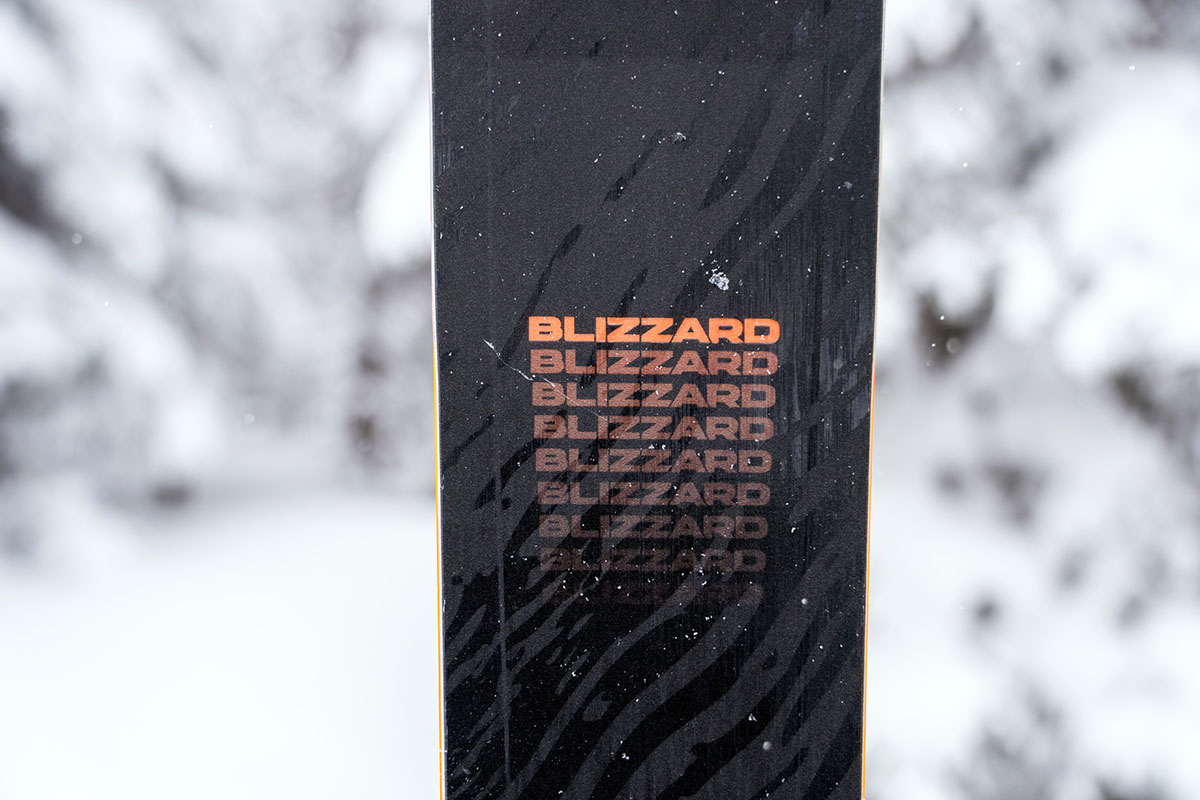 Comparison Table
| Ski | Price | Ability Level | Dimensions | Radius | Construction |
| --- | --- | --- | --- | --- | --- |
| Blizzard Rustler 10 | $800 | Intermediate to expert | 134-102-123mm | 17.5m | Wood, Titanal |
| Nordica Enforcer 100 | $800 | Intermediate to expert | 132.5-100-120.5mm | 17.3m | Wood, Titanal, carbon |
| Volkl Mantra 102 | $800 | Advanced to expert | 142-102-124mm | 18m | Wood, Titanal, carbon |
| Salomon QST 106 | $750 | Intermediate to advanced | 139-106-126mm | 19m | Wood, Titanal, carbon, flax |
| Head Kore 99 | $799 | Advanced to expert | 134-99-120mm | 17m | Wood, graphene, carbon |

The Competition
Blizzard's Rustler 10 is an impressively well-rounded all-mountain ski, but expert riders looking for a rock-solid feel may want to check out a stiffer and burlier design like Nordica's Enforcer 100. Considered the standard bearer in the wide all-mountain ski market, the Enforcer can put more power down with two sheets of metal but remains impressively versatile with good float and a lightened-up tip that offers decent maneuverability in tight spaces. It lacks the ease of control you get with the Rustler, but the tradeoff is better top-end stability for those who like to get after it and are comfortable keeping their foot on the gas. On the flip side, progressing intermediates and advanced riders who prefer a bit softer and more natural ride will be better off with the Rustler.
Next up is Volkl's Mantra 102, which is another well-loved ski among hard-charging riders. The design features a pretty advanced construction with a Titanal frame along the sidewall and tip and tail, along with a second, thin layer of Titanal underfoot. As a result, the ski has a fair amount of backbone that's really rewarding for strong pilots, although the 3D Radius Sidecut—the ski has three distinct radii to help tight to wide turns feel natural—gives it a surprising amount of control off-trail. In the end, the Volkl is a step up from the Rustler in all-out performance and a nice alternative for expert skiers, but a good chunk of the resort market (including most intermediate riders) will be happier with the more approachable Rustler.
Shifting gears to a softer and more off-trail-oriented design, Salomon's QST 106 is one of our favorite wide all-mountain picks for areas that get a lot of snow. The ski exceeds even lofty expectations in soft snow (the 106 is a borderline powder ski), is super predictable and smooth in chop, and has enough control to easily pivot in tight spots. That said, the front end can feel overly light and doesn't like being driven hard on icy groomers. By contrast, the narrower and heavier Rustler is less surfy in powder but provides better edge grip in firm conditions, and its shorter turn radius (17.5m for the 180cm length compared to 19m for the 181cm Salomon) translates to better maneuverability in the bumps. All in all, the QST is a legitimate all-mountain option in places that see a lot of powder (think the West Coast, Colorado, or Utah), but the Rustler is the better pick for less snow-heavy areas and those who spend a lot of time on the frontside.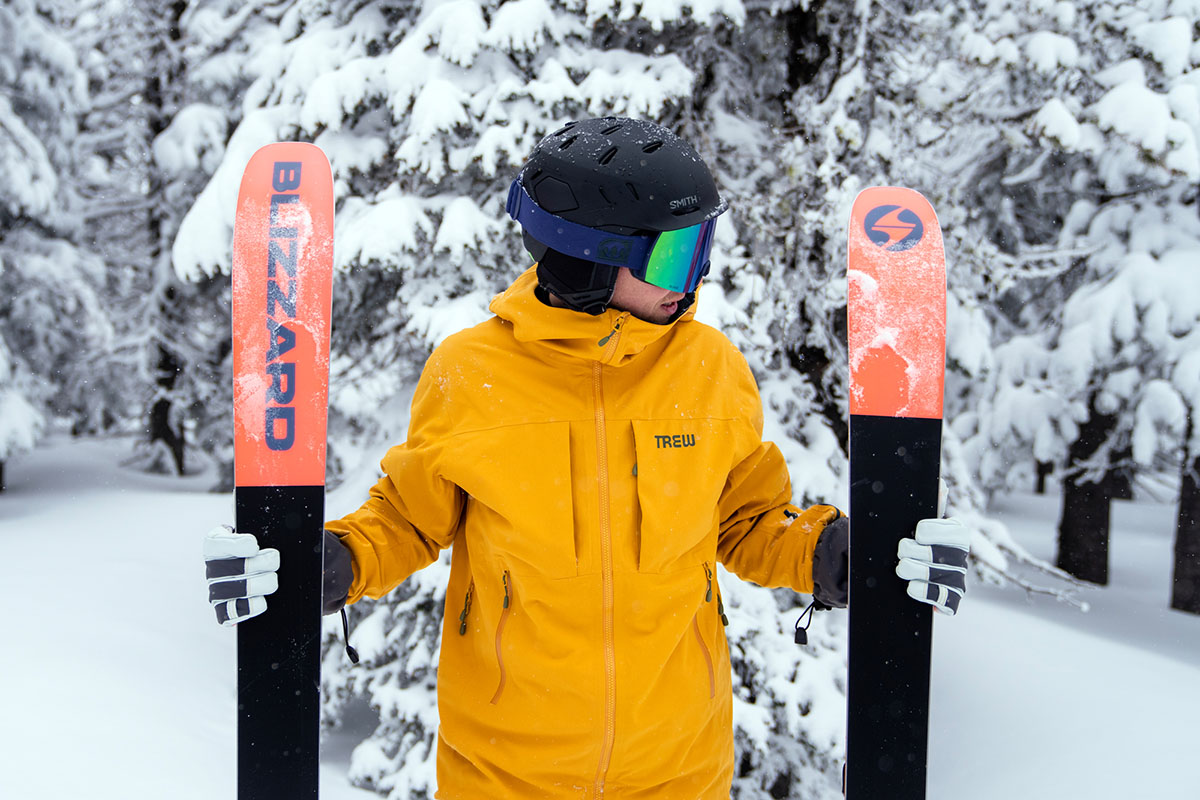 Head's Kore series has garnered similar acclaim as the Rustler over the years, albeit for slightly different reasons: The Kore is known for its blend of stiffness at a very low weight, while the Rustler has gained a strong following based on its fun-to-drive nature. Comparing the Kore 99 to the latest Rustler 10, we found the Kore to be noticeably lighter and more flickable off-trail. It seemed to punch above its width in terms of float, too, performing similarly to the wider Rustler. But on groomers (and particularly icy and poor snow), the Kore's lower weight results in a skittish feel at speed and through chop, and the rigid tail and relatively limited rocker tend to grab and punish you if you fall into the back seat (for more, see our in-depth Kore 99 review). Expert skiers will like the extra responsiveness of the Kore—and it's a real treat in soft snow—but we give the edge to the Rustler as the superior all-rounder.
If you're thinking about buying gear that we've reviewed on Switchback Travel, you can help support us in the process. Just click on any of the seller links above, and if you make a purchase, we receive a small percentage of the transaction. The cost of the product is the same to you but this helps us continue to test and write about outdoor gear. Thanks and we appreciate your support!
Depending on the seller, most products ship free in the United States on orders of $50 or more. International shipping availability and rates vary by seller. The pricing information on this page is updated hourly but we are not responsible for inaccuracies.
Read More From Switchback Travel