Patagonia Descensionist 40L
Price: $199
Weight: 2 lbs. 13.5 oz. 
Fabric: Nylon (420D)
Capacities: 32, 40L
What we like: A thoughtfully designed, comfortable pack that checks all the boxes for demanding tours and weight-conscious missions.
What we don't: No backpanel access and limited organization overall.
See the Patagonia Descensionist 40L
Skiers, snowboarders, and other adventurers headed into the backcountry will need a pack to carry their supplies, and options range from highly organized and plush haulers to minimalist models for weight-conscious missions and multi-day outings. Within this competitive field, the Patagonia Descensionist stands out as a thoughtfully made pack that strikes an excellent balance of functionality, weight, and comfort for long days in the mountains. We took the 40-liter version into early-season conditions in the Pacific Northwest and came away with mostly high praise. There are a couple of organizational shortcomings, but this pack puts it all together better than most. Below are our experiences with the Descensionist. To see how it stacks up to the competition, see our article on the best ski backpacks.
 
---
Table of Contents
---

Performance
Carrying Comfort
There are a lot of factors to consider when purchasing a ski pack, but comfort tops our priority list. With the Patagonia Descensionist 40L, you get excellent load-carrying capability thanks to a sturdy plastic framesheet with a metal stay and nicely padded yet breathable backpanel, hipbelt, and shoulder straps. Many minimalist ski packs forgo rigid suspension and padding—they opt instead for thin foam inserts in the backpanel or streamlined straps—but we appreciate the Descensionist's more well-rounded and complete design. Importantly, Patagonia also includes load lifters where the shoulder straps connect to the pack body, which is a key feature that helps dial in fit and tailor the suspension depending on your load. You can carry a lot of gear in a 40-liter pack, and the Descensionist is built to handle it with ease.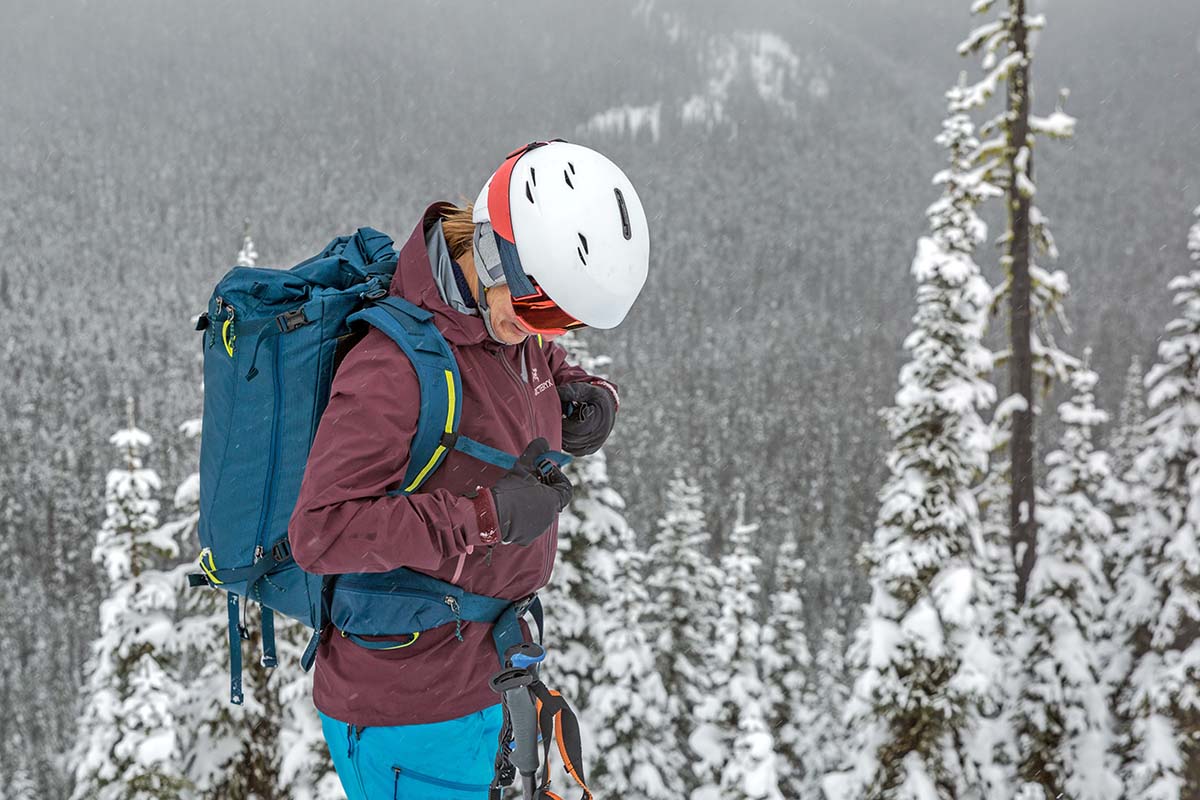 During testing, I wore the Descensionist 40L with a full day's worth of supplies (roughly 25 lbs.) and was impressed by how evenly it distributed the weight across its frame. Further, when I attached my skis for a short bootpack, it handled the load well and without any pressure points. For comparison, when carrying my skis on the Patagonia SnowDrifter ski pack (which forgoes suspension to accommodate a full-zip backpanel), the pack feels noticeably unwieldy, and the weight slumps almost completely onto my shoulders. All told, despite its streamlined build, the Descensionist shuttles heavier loads well and is a great choice for those who expect to max out its capacity.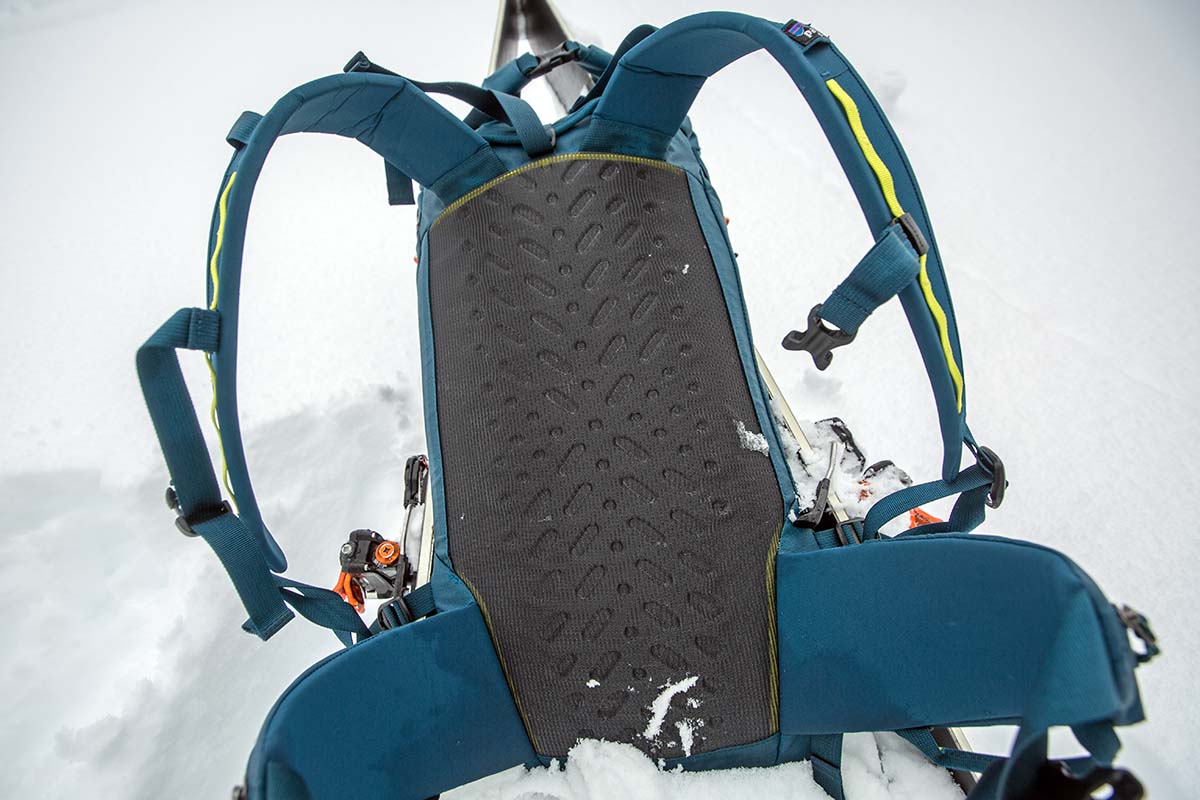 Pockets and Organization
Main Compartment
Like most ski packs, the Patagonia Descensionist features one primary compartment, which is accessed via a roll-top closure and generous side zipper. Unlike a standard zippered closure, the roll-top lends a lot of versatility for varying load sizes: fold it tightly to compress a partially full pack or extend the collar around bulky gear. It even allows for easy external rope carry. Additionally, the side zipper (which measures 16 in. on my size S/M) adds a lot of convenience, and I've gotten into the routine of storing my water bottle and skins beside it for easy access during transitions. The interior of the main compartment is very simple with no additional organization or dividers, but I do appreciate the bright yellow fabric (in the Crater Blue colorway) that makes it slightly easier to see my gear. Finally, you get a tab for hanging a hydration reservoir, although there's no port at the top of the pack to feed the tube through (I route mine through the side zipper and a loop on the shoulder strap).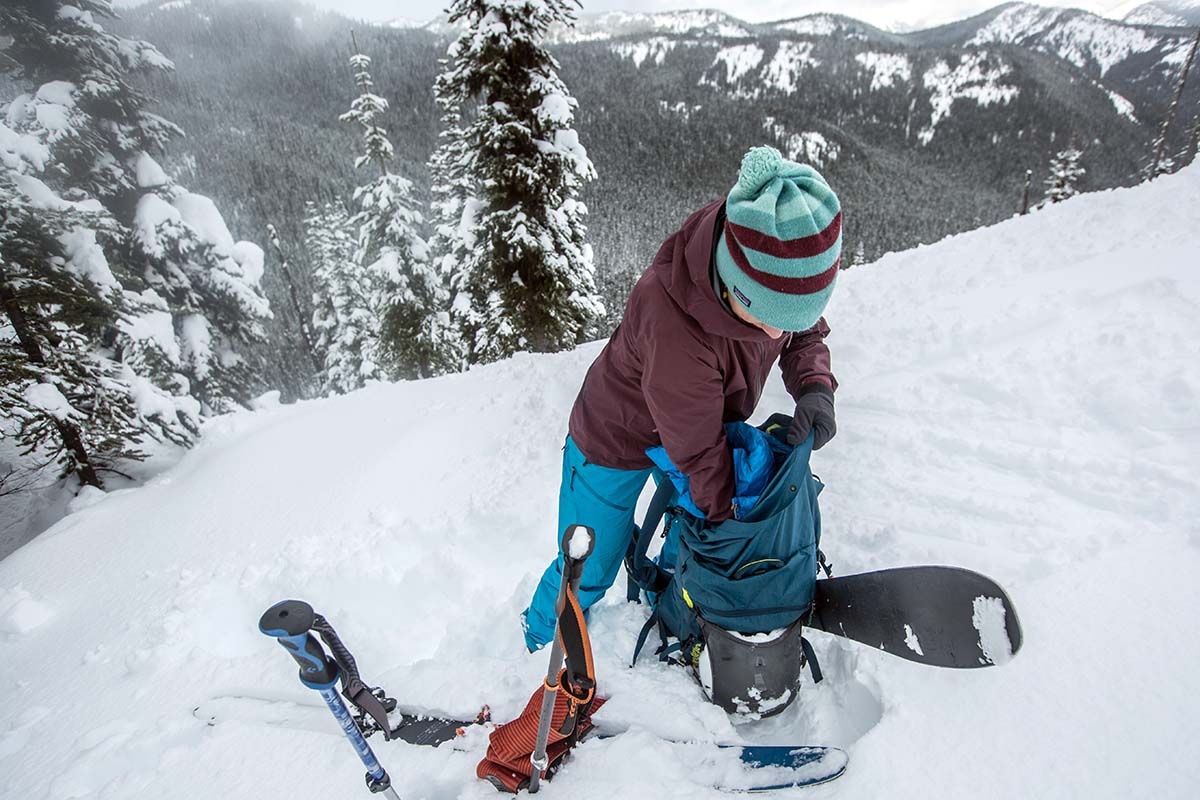 When it comes to organization, we strongly prefer full backpanel access, which can be found on models like the Deuter Freerider Pro 34+ and Osprey Soelden 32 (or women's Sopris 30). For transitions, there's simply no easier or faster way to access to all your gear while keeping it off the snow. Despite the generous side zip on the Descensionist, I still find it hard to locate items within the cavernous main compartment (made even deeper by the roll top) and often revert to throwing a jacket or skins into the snow so I can more easily locate items at the bottom of the pack. All that said, while a full-zip backpanel is great for organization, carrying comfort diminishes with a heavy load. Again, we think it's worth it for the added convenience, but this is largely a matter of personal preference.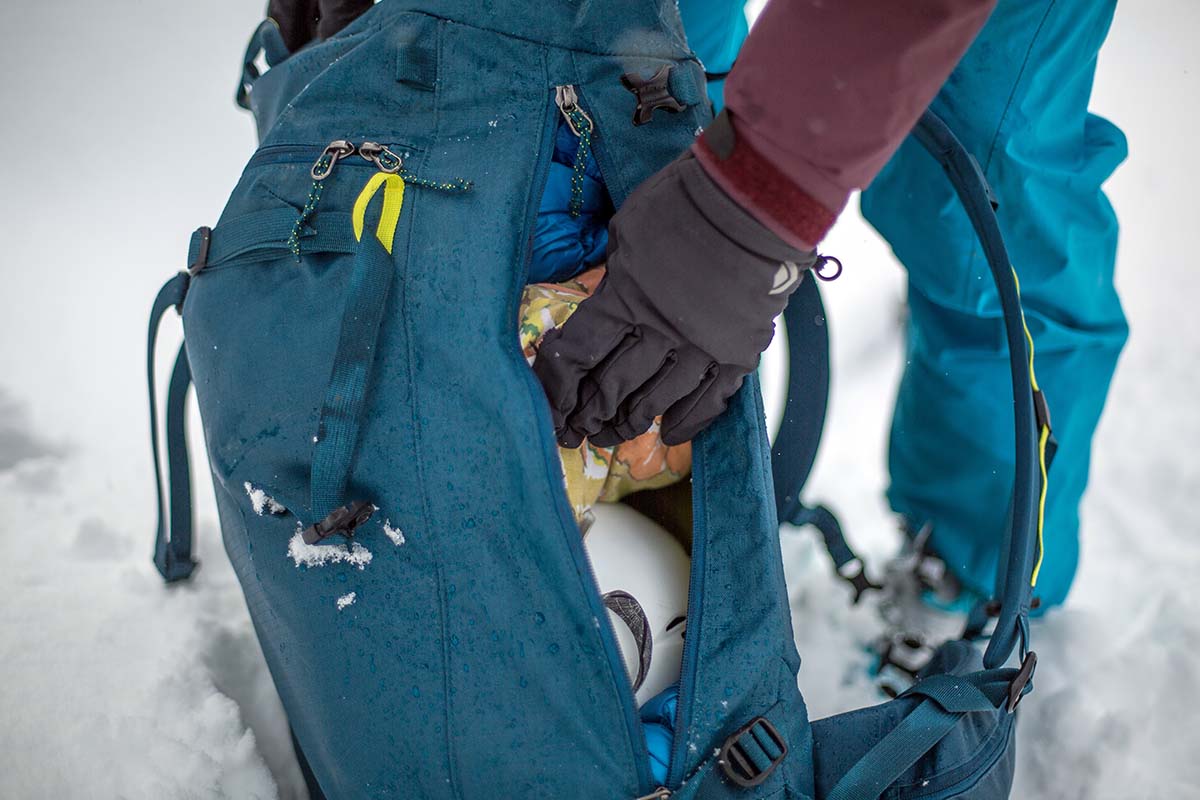 Avalanche Gear Compartment
The Patagonia Descensionist sports a separate zippered compartment on its front, which is designed specifically for stowing snow safety gear like a shovel, probe, snow saw, and ice axe (complete with a pick protector). This pocket is accessed via a horizontal zipper and contains simple dividers to keep your gear organized, as well as a tiny opening at the bottom to drain melted snow. You also get a small internal accessory pocket for organizing items like extra batteries, sunscreen, and more. As far as access goes, the avalanche tool compartment is accessible when carrying skis or a splitboard in an A-frame configuration, but unfortunately becomes blocked with skis attached diagonally or with a snowboard mounted vertically on the front of the pack.
Compared to other models we've tested, the Descensionist's avalanche tool pocket gets the job done, but its streamlined opening makes gear slightly more difficult to access. Packs like the aforementioned Freerider Pro and Soelden feature a more generous zipper that extends down the sides, giving you a lot more space to slide gear (especially a shovel) in and out. The Black Diamond Cirque, on the other hand, incorporates the avy tool compartment into the main storage area, which can be very tight and difficult to comb through with a full load. Regardless of which pack you choose, the most important consideration is that you're able to respond quickly in the event of a slide. In this regard, the Descensionist is entirely functional, but designs like the Freerider and Soelden do make the process a little easier.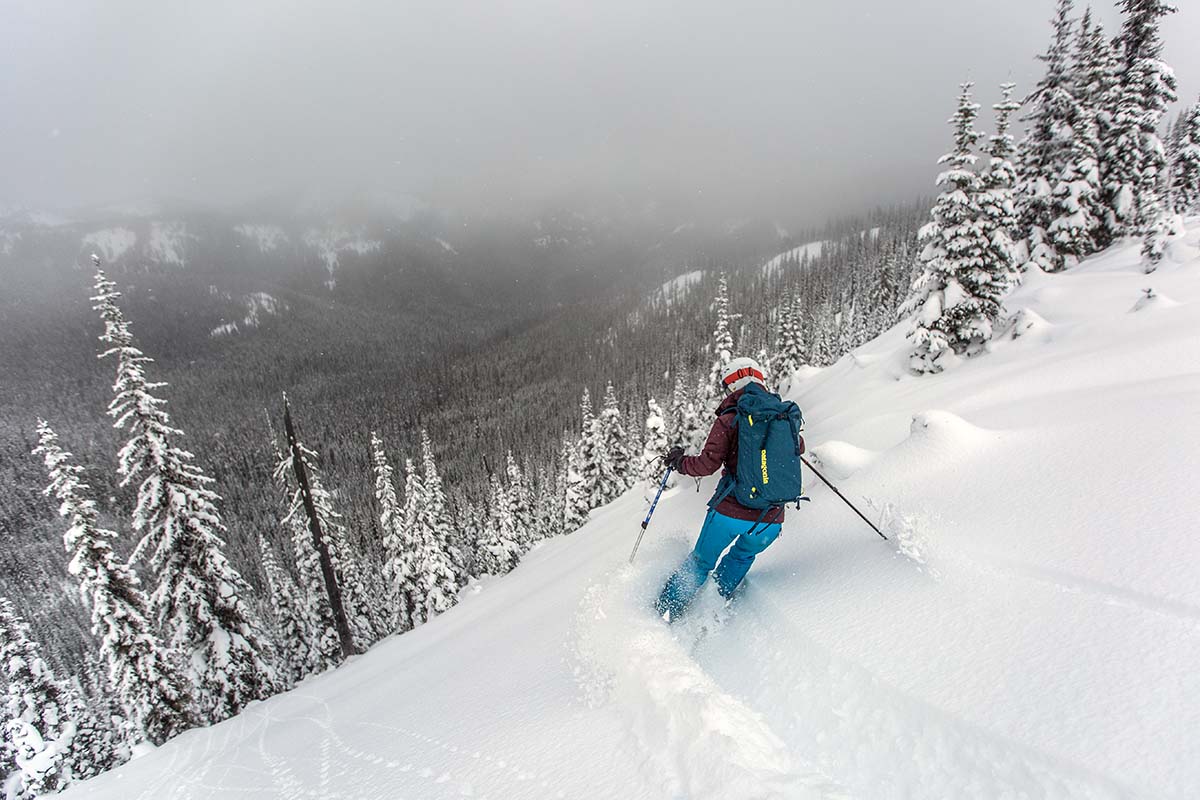 Additional Storage: Accessory Pockets
In addition to the main storage compartment and dedicated avy tool pocket, the Descensionist also boasts two zippered hipbelt pockets. These pockets are too small for most modern smartphones, but they do accommodate smaller items like energy bars, lip balm, sunglasses, and sunscreen. Overall, I've found these useful while wearing the pack, but I do wish that Patagonia included an external pocket on top to access smaller items during transitions (when the pack is on the ground). In my experience, the small zippered pocket inside the avalanche gear compartment fills up quickly, is difficult to reach into behind a probe and shovel, and doesn't fit bulky items like ski goggles. Again, I appreciate the Descensionist's sleek design, but the addition of an external accessory pocket would greatly improve organization.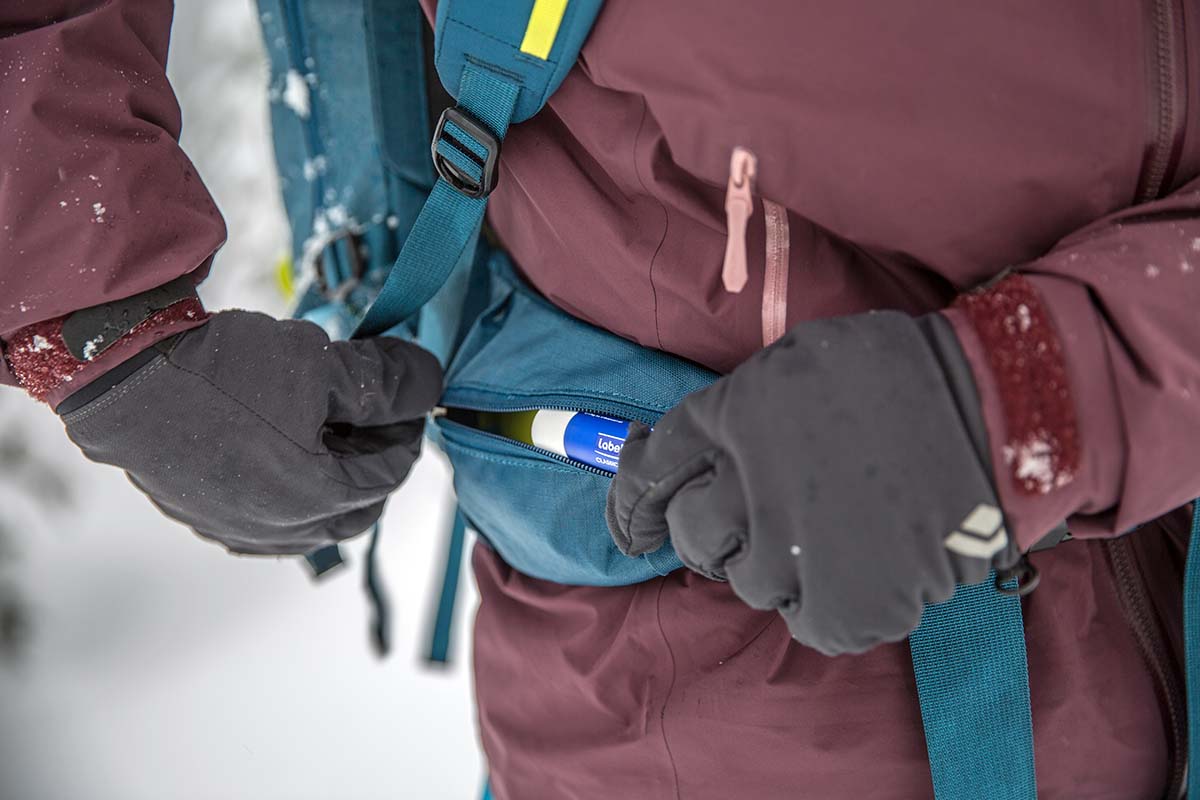 External Attachment Points
Many skiers and riders value the ability to store bulky items on the outside of their pack, including a ski helmet, skis or snowboard, and an ice tool. To accomplish this, Patagonia's Descensionist features a unique and thoughtfully designed external strap system that's both versatile and keeps weight to a minimum. Almost every strap is multi-purpose—for example, one attachment point for the helmet carry doubles as an ice axe loop—and many are removable to shave crucial ounces (most skiers will have no need for the front snowboard-carry straps, for example). Further, the Descensionist includes options for A-frame or diagonal ski carry and vertical snowboard carry, and many of these straps can also be used to compress a lighter load. Finally, gear loops on the hipbelt give you the option of attaching equipment without donning a harness. Overall, I think Patagonia nailed the Descensionist's external organization and have no complaints from a performance or functionality standpoint.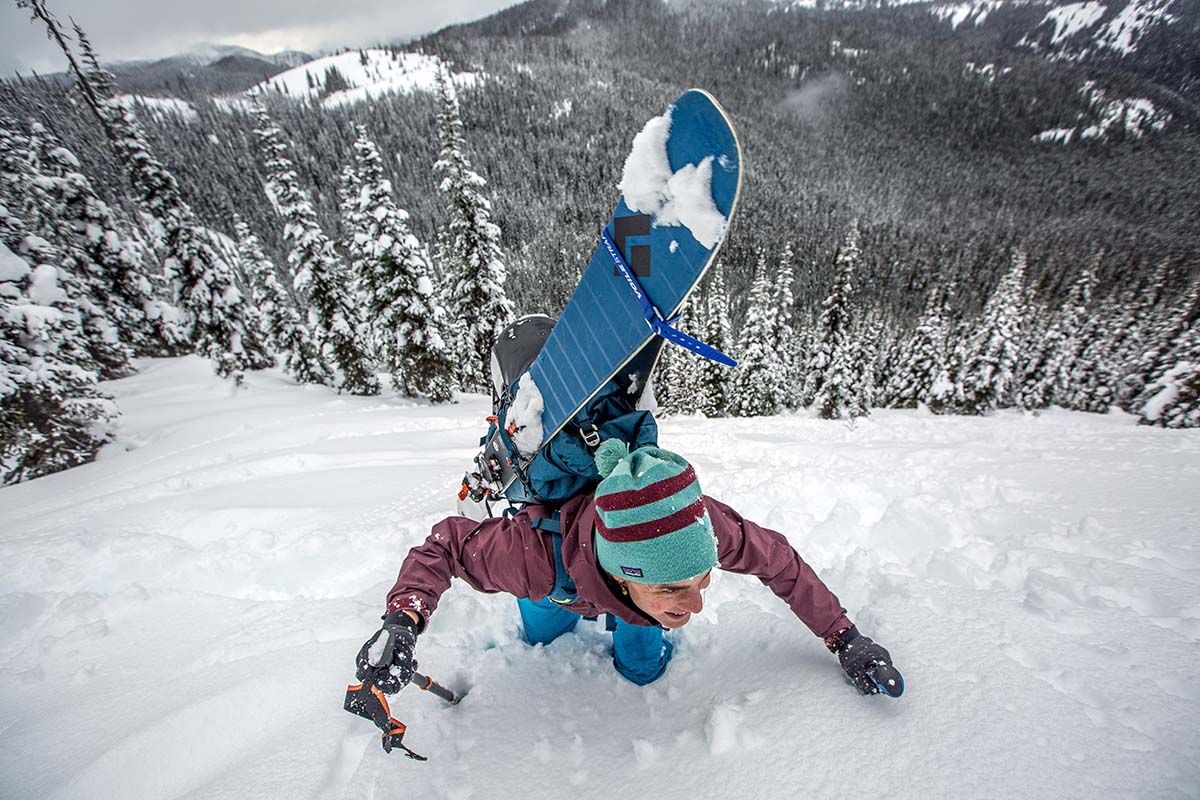 Weight
The 40-liter Patagonia Descensionist clocks in at 2 pounds 13.5 ounces, which is just slightly lighter than average for a pack of this capacity. For comparison, the minimalist Black Diamond Cirque weighs considerably less at just 2 pounds 4 ounces for the 45-liter version, but that design comes with significant compromises in both organization (the avalanche tool sleeve is part of the main compartment) and carrying comfort (the Cirque has no plastic framesheet or load lifters and features minimal padding). On the other end of the spectrum are more fully featured options like the Gregory Targhee 45 (3 lbs. 10.6 oz.) and Osprey Kamber 42 (4 lbs.), which have premium feature sets and suspension systems but aren't ideal for weight-conscious missions. In the end, I think the Descensionist strikes a nice middle ground between weight-savings and functionality.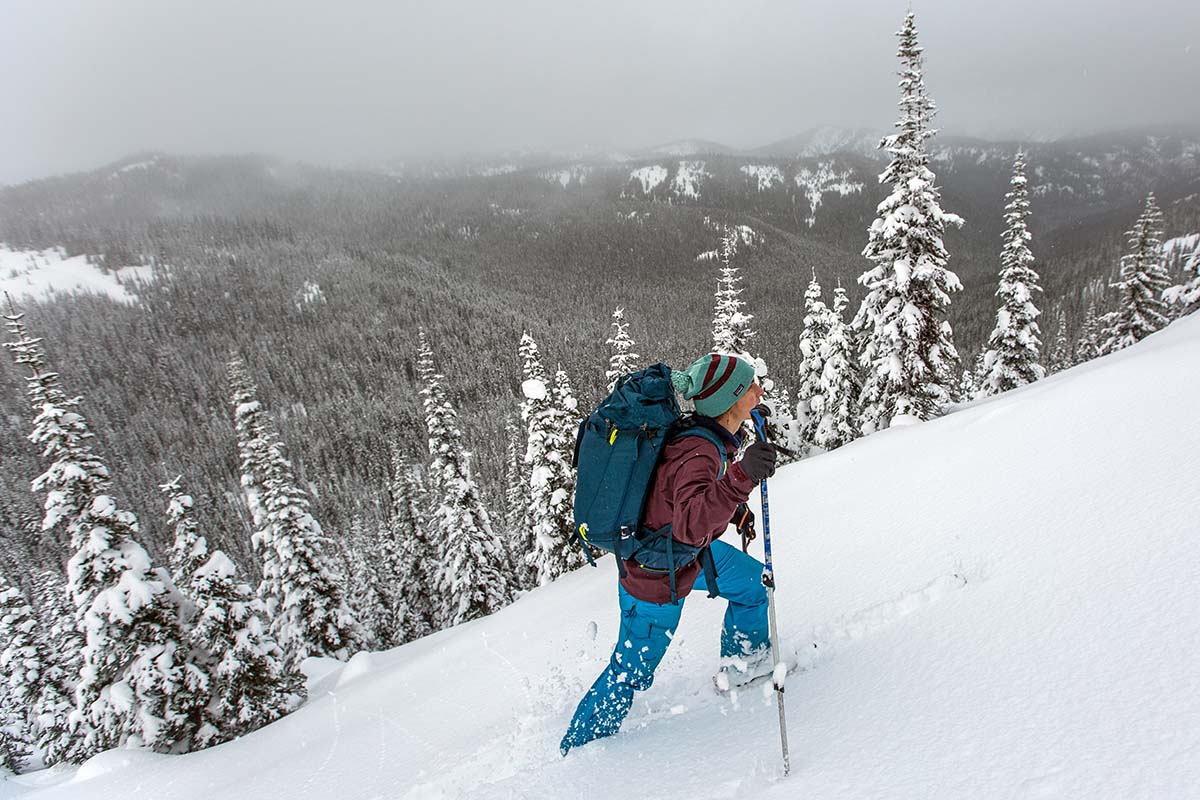 Build Quality and Durability
Patagonia's fit and finish are consistently top-notch, and the Descensionist has a premium feel that is built to withstand multiple seasons of use. The nylon ripstop body is noticeably robust at 420 denier, which puts it on par with other hardwearing packs like the Gregory Targhee 45 (210D nylon with a 630D bottom) and Osprey Kamber 42 (420D nylon), and it's significantly more durable than the 210-denier Black Diamond Cirque 45. In addition to being tough, these fabrics also do a great job fending off moisture: even while touring in wet, early-season snowfall, the contents of my pack stayed dry. Clean stitching, smooth-pulling zippers, and thoughtfully designed straps round out the Descensionist's build, and all closures and adjustments are easy to operate even with gloves on.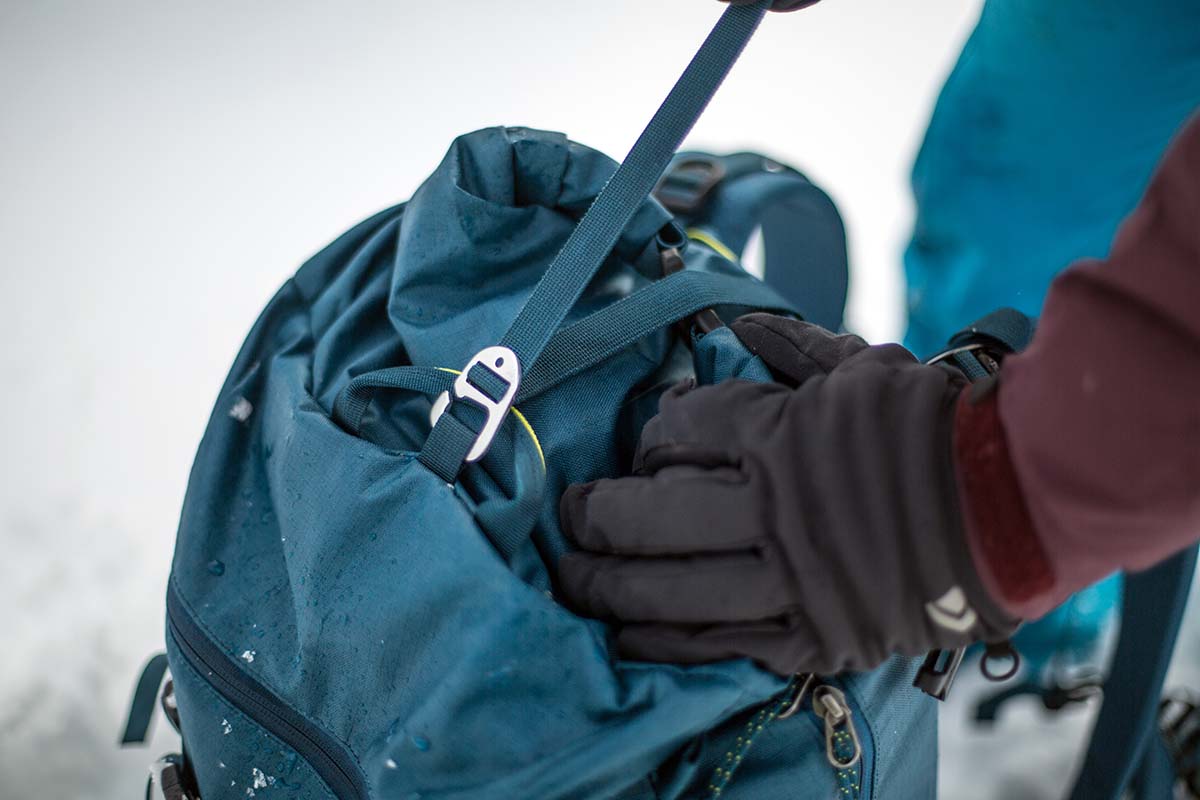 Fit and Sizing
The Patagonia Descensionist is available in two sizes—S/M and L/XL—and includes a range of adjustments to dial in fit. Patagonia's unisex packs haven't always worked well with my 5'5" female frame, but I opted for a S/M and have been pleased with the pack's overall shape and fit. Like the vast majority of ski packs, you don't get a torso length adjustment (this is more common in backpacking packs), but the load lifters help ensure a comfortable carry at the shoulders, while the sternum strap easily adjusts to tighten at the chest. Those with larger builds might find that the fixed hipbelt pockets sit a little too far back, but I haven't experienced any issues with accessibility.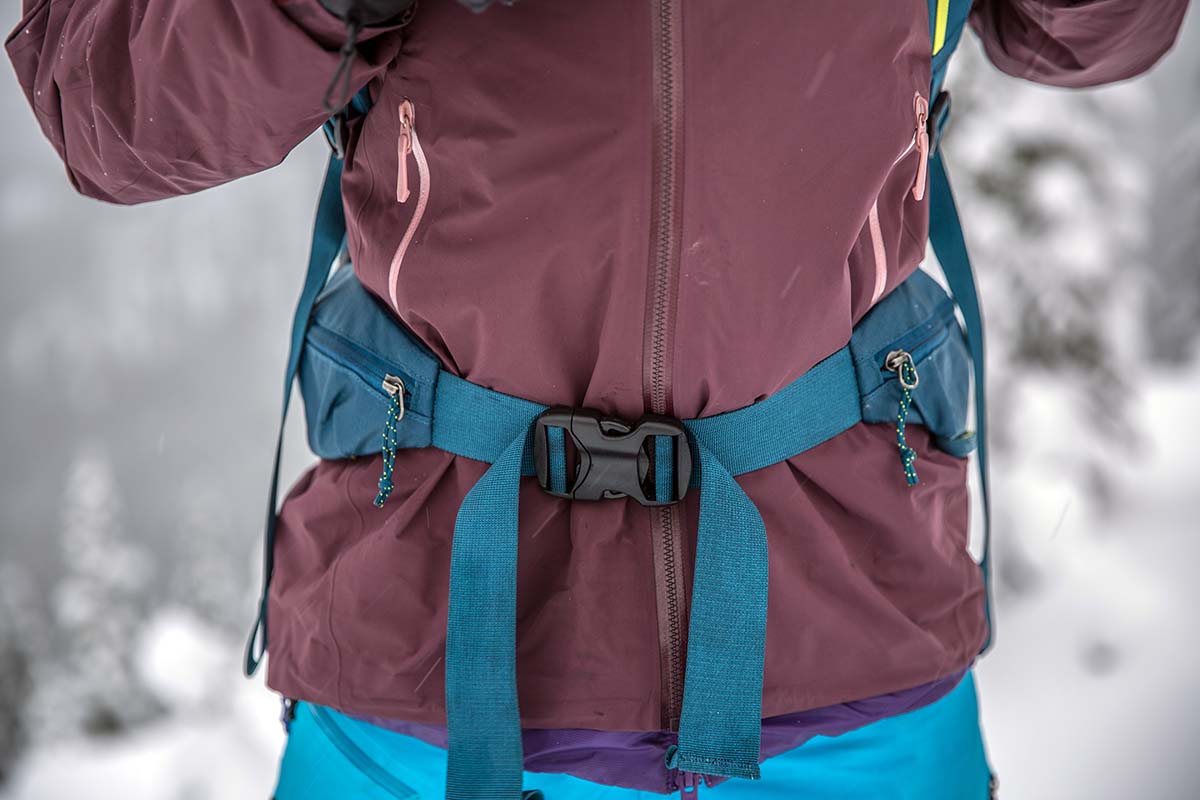 Sustainability
Patagonia has focused much of their efforts over the past several years on sustainability, and the revamped Descensionist is no exception. For starters, the pack uses 100-percent-recycled materials in both the body and the liner. Further, the body fabric is bluesign-approved, meaning that it is produced in a way that's safe for the environment, consumers, and workers. Overall, we're happy to see these efforts and will continue to note any improvements or new sustainability measures that Patagonia incorporates.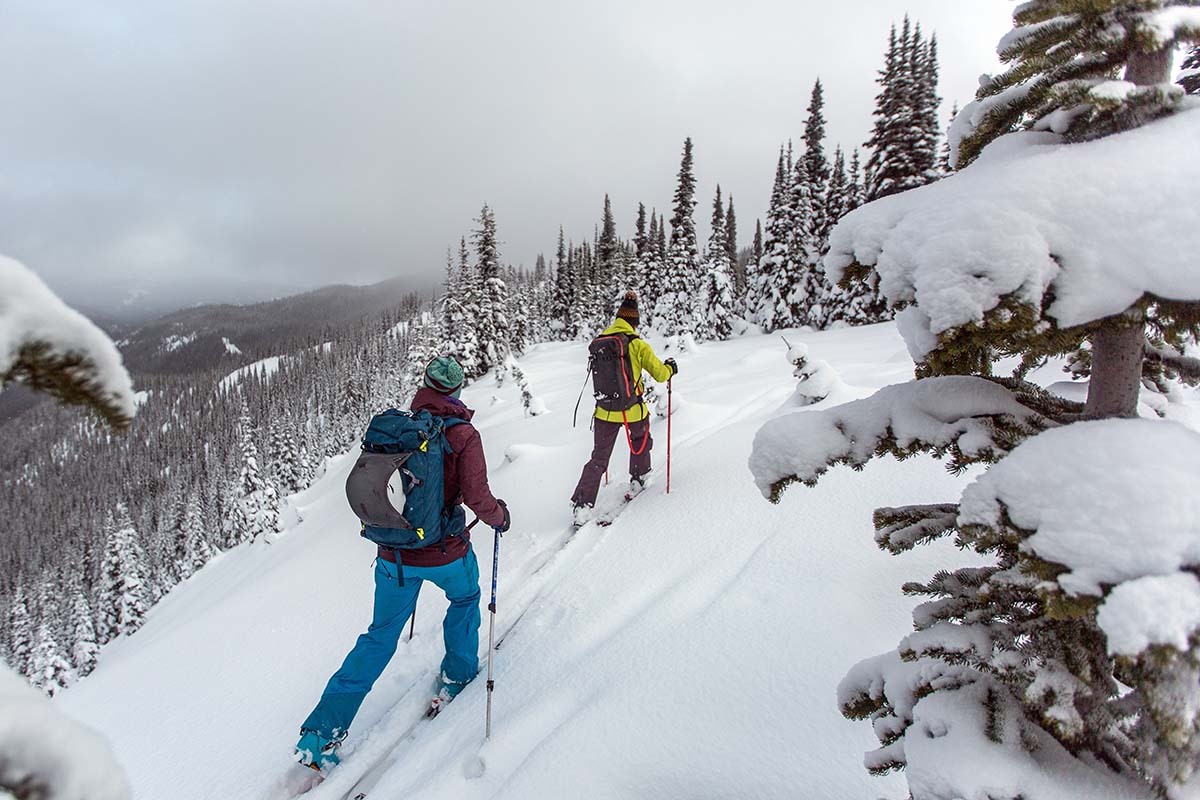 Other Capacity: Patagonia Descensionist 32L
The Patagonia Descensionist comes in 32- and 40-liter versions, and you'll want to make sure you choose the capacity that best fits your objectives. The 40L version tested here is a great option for those embarking on more technical missions and offers ample room for carrying a rope, a glacier harness, and extra layers and snacks. It's also ideal for overnight ski tours, and the roll-top closure means the pack can expand to fit a sizable load (in fact, the main compartment feels larger than the 45L Black Diamond Cirque). For standard day tours, however, the 40L simply is too much pack and can feel particularly bulky on the downhill unless I take care to cinch down the compression straps. In the end, if you don't plan to max out the pack's capacity, I would recommend saving with the Descensionist 32L ($179), which clocks in at 2 pounds 9.1 ounces and retains a nearly identical feature set and overall construction as its larger sibling.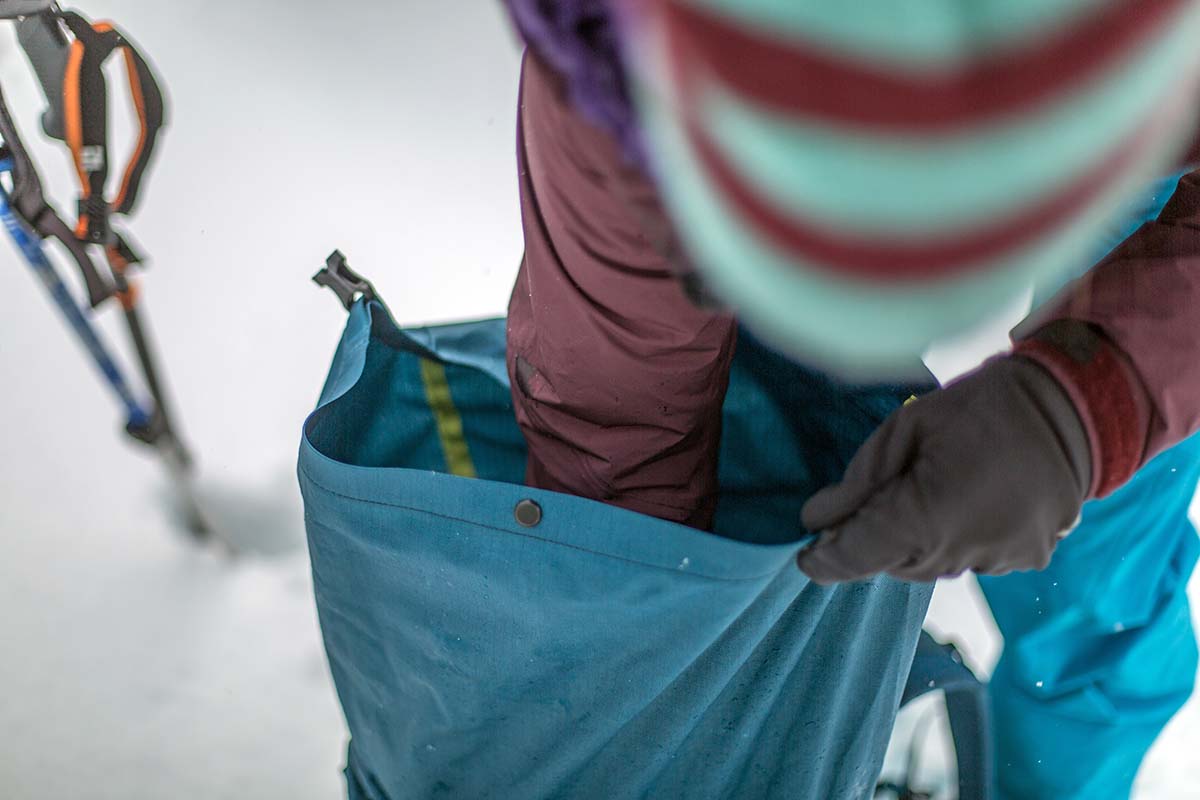 What We Like
A thoughtful design that balances a streamlined build with functional storage and all-day comfort.
Roll-top closure is highly versatile: roll it tightly to compress a small load or extend the collar to accommodate bulky gear.
Carries heavy loads better than most ski packs with a plastic framesheet and metal stay, in addition to a padded hipbelt, backpanel, and shoulder straps.
External strap system is minimalist yet functional and offers a variety of ski/snowboard carry configurations as well as attachment points for a rope, helmet, and ice tool.
 
What We Don't
For most day touring, we prefer the convenience of a full-zip backpanel.
Organization could be better. There's no external goggle pocket, only one small internal zippered pocket, and the hipbelt pockets are too small for stowing bigger items like a smartphone.
The short zipper on the avalanche tool compartment makes it difficult to quickly access snow safety gear, and particularly a shovel.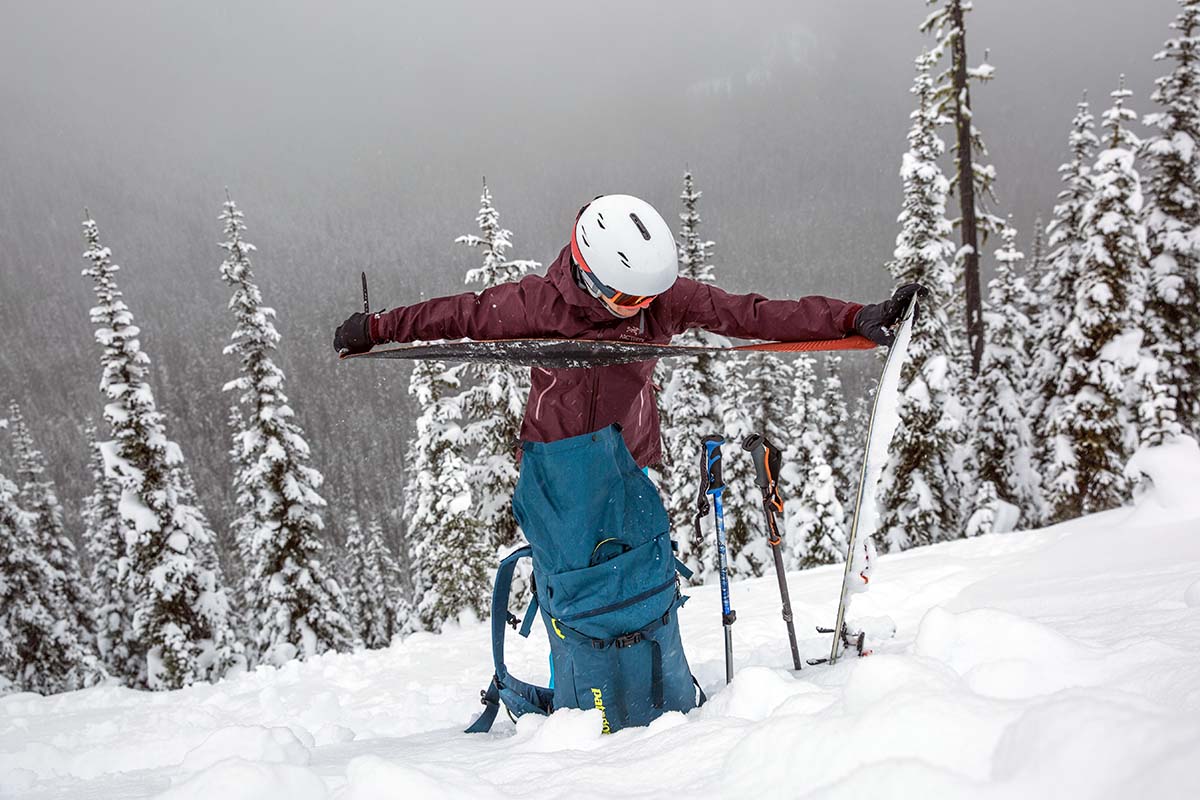 Comparison Table
| Ski Pack | Price | Capacities | Weight | Fabric | Access | Pockets |
| --- | --- | --- | --- | --- | --- | --- |
| Patagonia Descensionist 40L | $199 | 30, 40L | 2 lbs. 13.5 oz. | 420D | Top, side | 3 exterior |
| Osprey Soelden 32 | $160 | 22, 32L | 2 lbs. 8.6 oz. | 210D | Back | 3 exterior |
| Black Diamond Cirque 45 | $220 | 30, 35, 45L | 2 lbs. 4 oz. | 210D | Top, side | 2 exterior |
| Gregory Targhee 45 | $210 | 26, 32, 45L | 3 lbs. 10.6 oz. | 210 & 630D | Top, back | 5 exterior |
| Deuter Freerider Pro 34+ | $180 | 34+ | 2 lbs. 13.1 oz. | 420 & 330D | Top, back | 4 exterior |
| Ortovox Haute Route 40 | $190 | 32, 40L | 3 lbs. 5.3 oz. | 210 & 420D | Top, back | 4 exterior |
Editor's note: exterior pockets includes avalanche tool compartment where applicable

The Competition
Patagonia's Descensionist is one of our favorite ski packs this season, but there's no shortage of options to choose from. New for winter 2020/2021, Osprey's Soelden 32 (and women's Sopris 30) has quickly gained popularity among the backcountry touring crowd, and for good reason. Like Deuter and Gregory below, Osprey is a leader in the backpacking pack market, and the Soelden follows suit with a comfortable and well-fitting design. In terms of features, you get a full-zip backpanel, easy access to avalanche safety tools, and an additional external pocket for stowing items like goggles or sunglasses. And the real clincher for us is price: at just $160, the Soelden is a complete, well-rounded design and our top pick this season for days tours and shorter backcountry outings. But for more demanding or longer missions, we'd stick with the larger and more durable Descensionist 40L.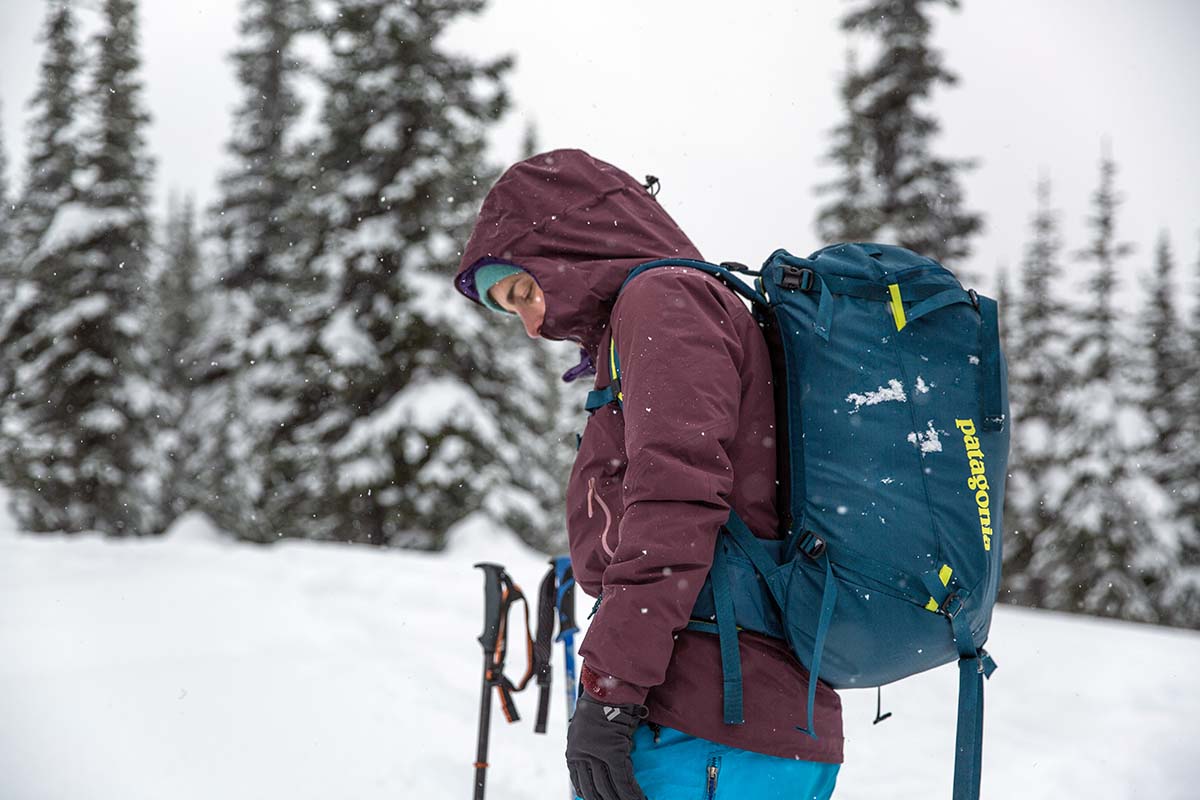 If the goal is traveling fast and light, Black Diamond's Cirque is one to have on your radar. With a considerably lighter build (2 lbs. 4 oz. for the 45L version), a convenient single-pull top cinch, and ample options for external gear carry, the Cirque stands out as an impressive ski mountaineering design. However, there are some inherent compromises to cutting weight: comfort suffers noticeably with no load lifters, less padding, and no plastic framesheet, and the avalanche tool compartment (which is just a separate sleeve inside the main compartment) is even more difficult to access than the Patagonia's. Additionally, you get much thinner fabric (210 vs. 420D) and a significantly shorter (by about 6 in.) side zipper. Most backcountry-goers will prefer the more comfortable and functional Descensionist, but the Cirque has its appeal for those tackling big objectives when every ounce counts.
Those looking for an overnight or high-capacity ski pack might also consider the Gregory Targhee 45. Gregory specializes in backpacking packs, so it comes as little surprise that the Targhee's carrying comfort is top-notch with an alloy frame and well-padded shoulder straps, hipbelt, and backpanel. You also get both top and backpanel access to the main compartment, along with a full suite of features including a floating lid, robust ski and snowboard carry straps, and hydration compatibility. However, the downside to such a well-appointed build is added weight, and the Targhee is fairly hefty at 3 pounds 10.6 ounces (almost a pound heavier than the Patagonia). In the end, we think the Descensionist strikes a better middle ground for serious skiers and riders, but the Targhee is an intriguing alternative for those who prioritize organization and comfort.
Deuter's freshly updated Freerider Pro 34+ also goes head-to-head with the Descensionist in many ways. At 2 pounds 13.2 ounces, it's roughly the same weight as the Patagonia, and a stowable 10-liter roll-top offers similar versatility for securing varying load sizes. But compared to the Descensionist, the Freerider wins out in organization with two additional pockets on the outside, a full-zip backpanel, and a U-shaped opening to the avy tool compartment. As we touched on above, you can expect to give up some structure with the Deuter's full-zip backpanel, although the Freerider does incorporate a U-frame around the zipper to help retain carrying comfort. We haven't had a chance to put the Freerider to the test yet (it also comes in the women's-specific Freerider Pro 32+ SL), but all signs point to it being a highly functional design at a great price.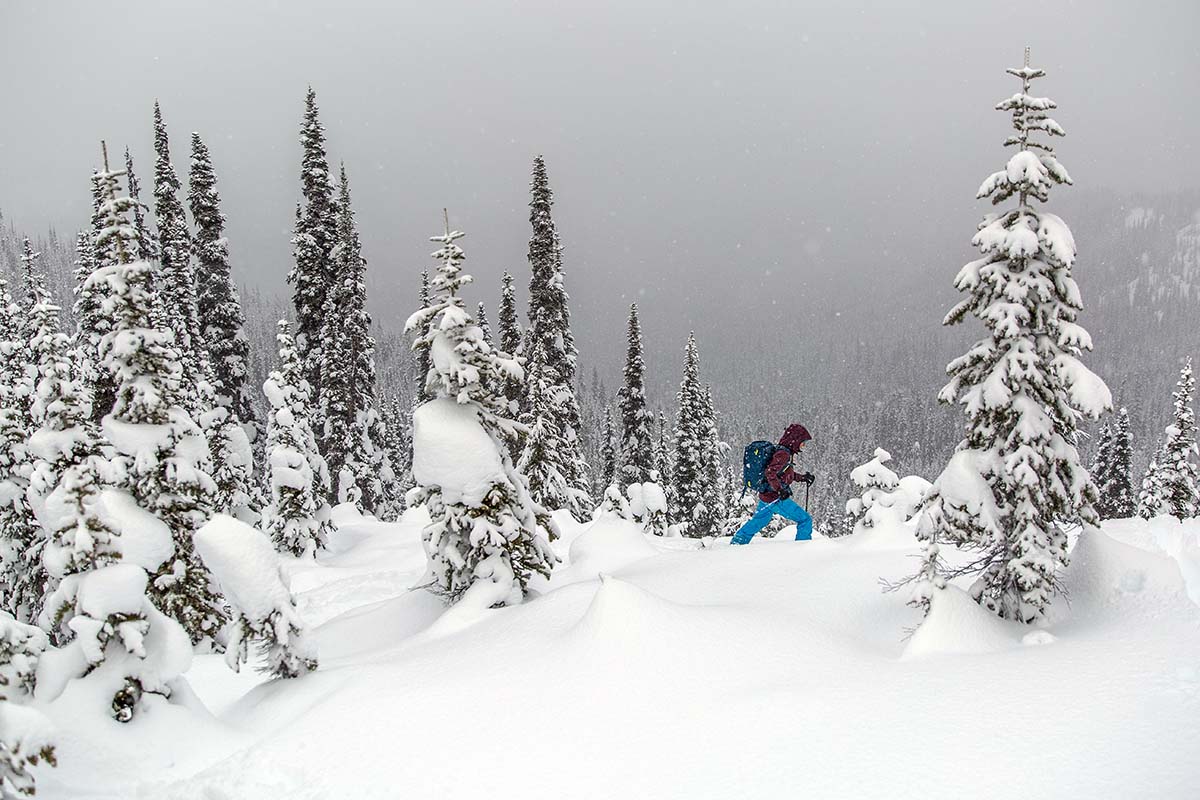 Last but not least is Ortovox's Haute Route 40, which shares a lot in common with the Descensionist. For starters, both packs are offered in 32- and 40-liter capacities, cost around the same (the Haute Route 40 is $190), and sport a nice array of exterior straps and attachment points for various ski and snowboard configurations, ice axe and helmet carry, and rope-carrying capability. However, the Ortovox (which is also available in the women's-specific Haute Route 38 S) takes organization to the next level with additions like a dedicated map compartment, hiking pole attachment point, and convenient backpanel access. The penalty is a considerable boost in weight to 3 pounds 5.3 ounces. If you plan to utilize the features, the Haute Route has its appeal, but we found the Descensionist to be plenty of pack for less weight.
If you're thinking about buying gear that we've reviewed on Switchback Travel, you can help support us in the process. Just click on any of the seller links above, and if you make a purchase, we receive a small percentage of the transaction. The cost of the product is the same to you but this helps us continue to test and write about outdoor gear. Thanks and we appreciate your support!
Depending on the seller, most products ship free in the United States on orders of $50 or more. International shipping availability and rates vary by seller. The pricing information on this page is updated hourly but we are not responsible for inaccuracies.
Learn More About Ski Gear