Patagonia Fitz Roy Down Hoody
Price: $399
Weight: 14.6 oz. (women's small)
Fill: 4.5 oz. of 800-fill down
What we like: Winter-ready warmth in a lightweight and packable design. 
What we don't: Not a standout in weather resistance; dual chest pockets will be overkill for some.
See the Women's Patagonia Fitz Roy  See the Men's Patagonia Fitz Roy
An iconic Patagonia jacket named after an iconic Patagonian peak, the Fitz Roy has gone through a number of iterations over the years. The latest model is around 20 percent lighter than its predecessor, uses a less impervious stitch-through construction, and delivers less warmth. However, we wore the revamped jacket as a belay parka for winter rock climbing and during a few early-season backcountry ski missions and found that it remains a top performer in the cold and retains the quality fit and finish we've come to expect from the brand. Below are our experiences with the Fitz Roy. To see how it stacks up, see our articles on the best down jackets and the best women's down jackets.
 
---
Table of Contents
---

Performance
Warmth
Classified as a midweight belay hoody, the women's Patagonia Fitz Roy Down Hoody boasts a generous 4.5 ounces of 800-fill-power goose down. This is fairly substantial compared to most other down jackets, and it makes the Fitz Roy a suitable cold-weather option for activities like winter camping, ice and alpine climbing, and mountaineering. In addition to the down fill, you get an adjustable, helmet-compatible hood and draft collar that seal in warmth around the head, and the front zipper is backed by an internal storm flap to keep gusts out. Throughout testing, the Fitz Roy has kept me warm in temperatures as low as 20 degrees Fahrenheit (layered on top of a baselayer and midlayer), and its high-loft build is so comfortable that I'm often tempted to wear it around the house too.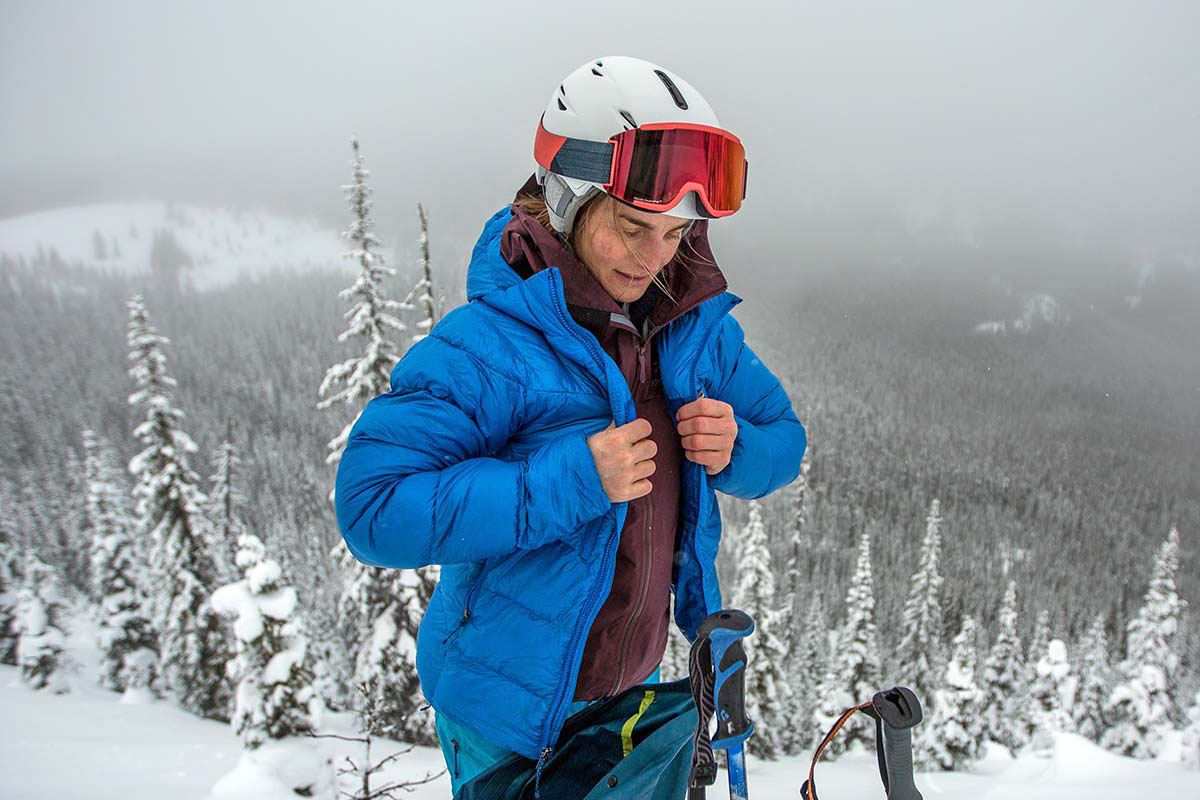 Compared with last year's parka design, the 2020-2021 Fitz Roy has significantly less down fill (4.5 vs. 6.4 oz.), eliminates the draft tubes behind the front zipper, and drops an inch off the hem (26.5 vs. 27.5 in.). Importantly, it also features a stitch-through construction rather than the previous iteration's box-wall design, which reduces weight but introduces cold spots at the seams. These changes all result in a jacket that provides significantly less warmth than its predecessor, but it's still perfectly serviceable for most winter and shoulder-season pursuits—and many weight-conscious alpinists will appreciate the lighter design. You can bump up to the Rab Neutrino Pro (7 oz. of 800-fill down) or Arc'teryx Cerium SV (4.9 oz. of 850-fill down with synthetic Coreloft insulation) for more warmth, but these come with penalties in either weight (the Rab clocks in at 1 lb. 2.7 oz.) or price (the Arc'teryx costs $575).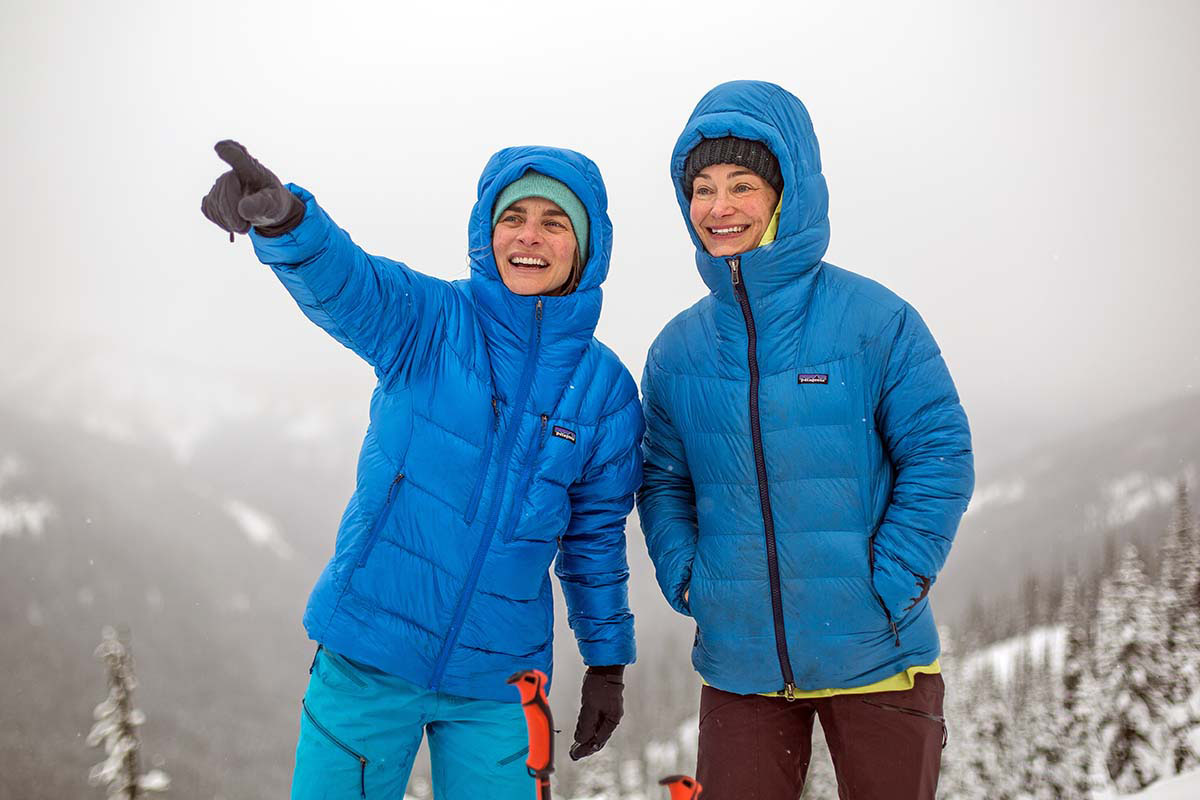 Weather Protection
In terms of protection against wind and rain, the Patagonia Fitz Roy is fairly middling and lacks the assurance of many other options in its class. The jacket boasts a 20-denier Pertex Quantum shell with a durable water repellant (DWR) finish, which is designed to be soft and supple but lacks the moisture-blocking abilities of Pertex's premium Quantum Pro. The stitch-through construction (compared to a box-wall construction) also creates weak points in the jacket at the seams where wind can enter, although you do get an internal storm flap behind the center zipper to help seal out gusts along the front. All told, while it's true that most down jackets don't excel in wet and rough weather, the Fitz Roy's intended use for belaying and other alpine activities left us wishing for a more protective build.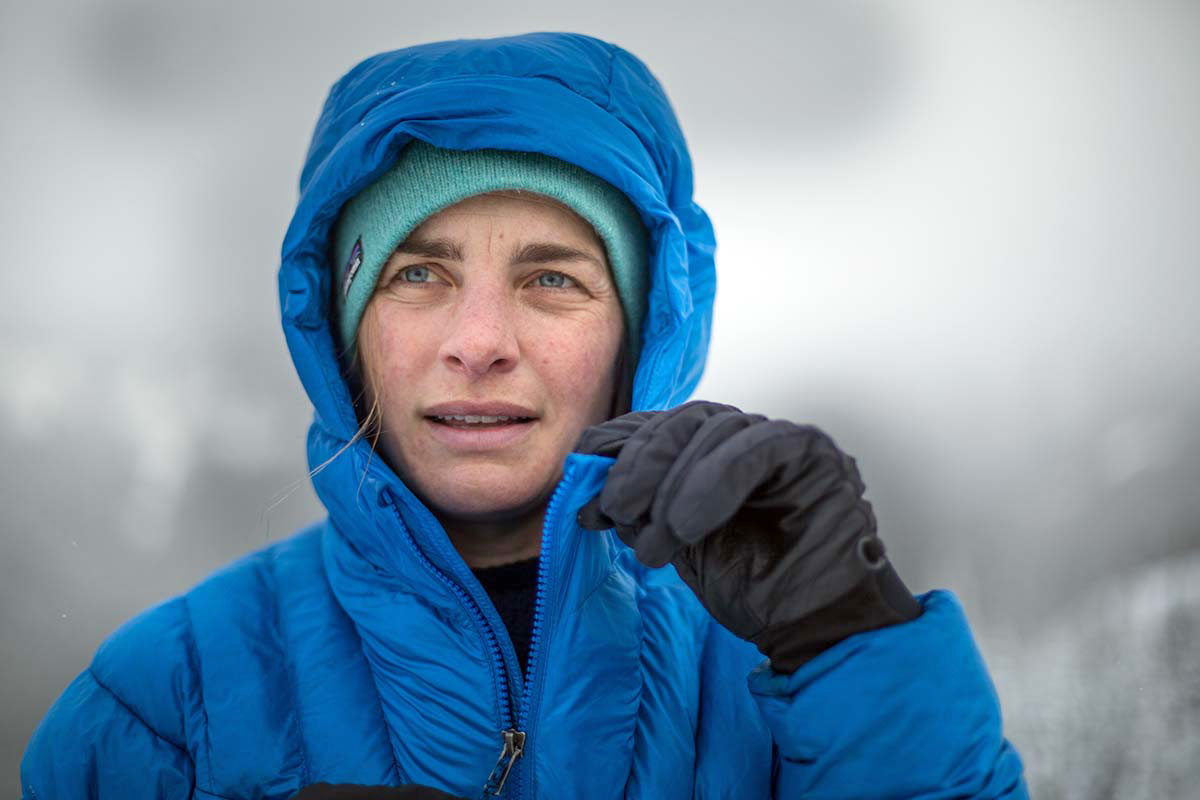 If you're looking for a down jacket that's better equipped for harsh mountain conditions, we recommend a model with a beefier shell, hydrophobic down, or synthetic insulation in moisture-prone areas. The Rab Neutrino Pro, for example, features a Pertex Quantum Pro shell—we've tested this material on a variety of jackets (including Patagonia's DAS Parka) and found it very impressive in terms of durability and weather resistance. Arc'teryx's Cerium SV, on the other hand, ups its wet-weather performance with synthetic Coreloft insulation in areas most vulnerable to rain and snow (or sweat). And of course, your best option for insulation in wind and rain is a fully synthetic jacket, which generally forgoes a baffled design (read: no stitches for wind to enter) and retains its ability to keep you warm even when wet.

Weight and Packability
The Patagonia Fitz Roy Down Hoody clocks in at 14.8 ounces for the women's version (14.6 oz. on our scale for the size small) and packs into its left handwarmer pocket to about the size of a loaf of bread (you can pack it even smaller in a compression sack). Despite the jacket's winter-ready warmth, Patagonia kept weight low with a thin (20D) shell fabric, stitch-through construction, and high-quality, 800-fill down. This design is very well-thought-out, and the end result is a jacket that's lighter and more packable than most of its midweight competitors.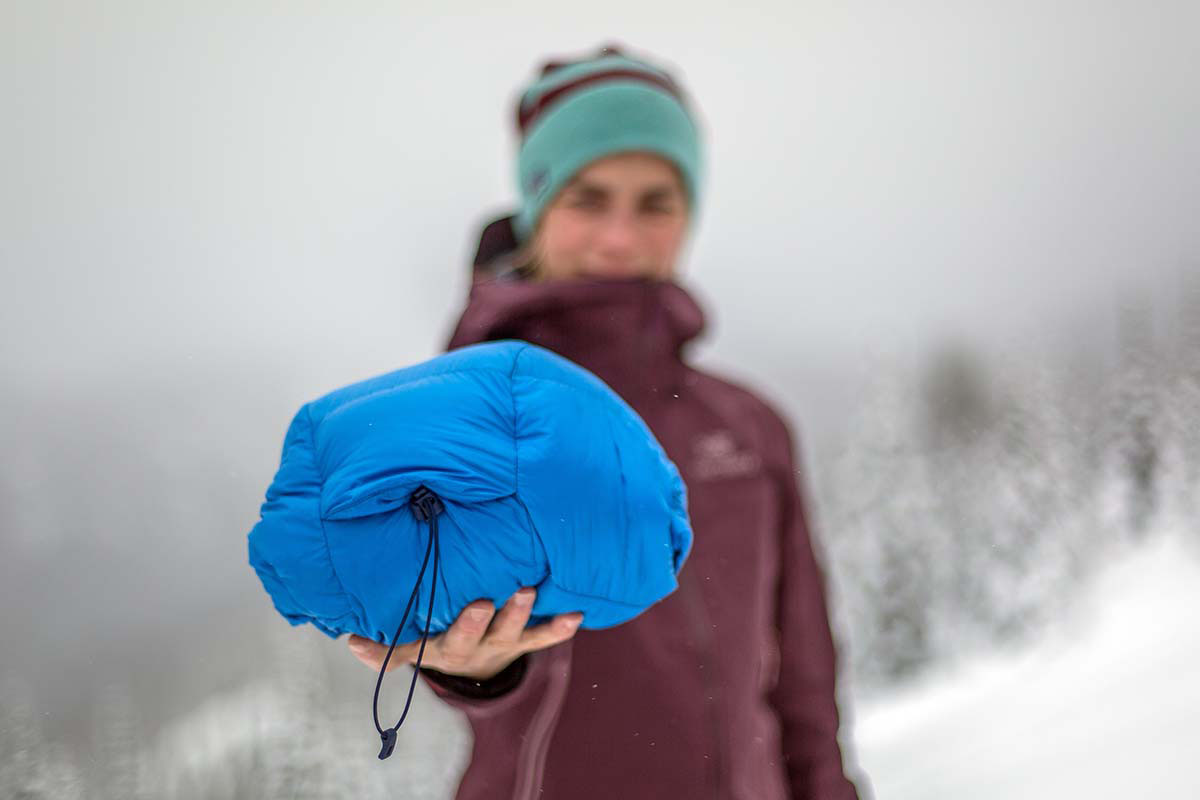 For comparison, Rab's Microlight Alpine is similar with 5.1 ounces of 700-fill down in a 14.6-ounce build, while the aforementioned Neutrino Pro clocks in significantly heavier at 1 pound 2.7 ounces. The premium Arc'teryx Cerium SV Hoody is an impressive 13.9 ounces but doesn't pack down quite as small due to the Coreloft insulation (synthetic fill is less compressible). And keep in mind that you can go much lighter with more targeted designs like the Arc'teryx Cerium LT (9.9 oz.) or Feathered Friends Eos (9 oz.), but these jackets are built for summer and shoulder-season use in temperatures of around 40 degrees Fahrenheit and above.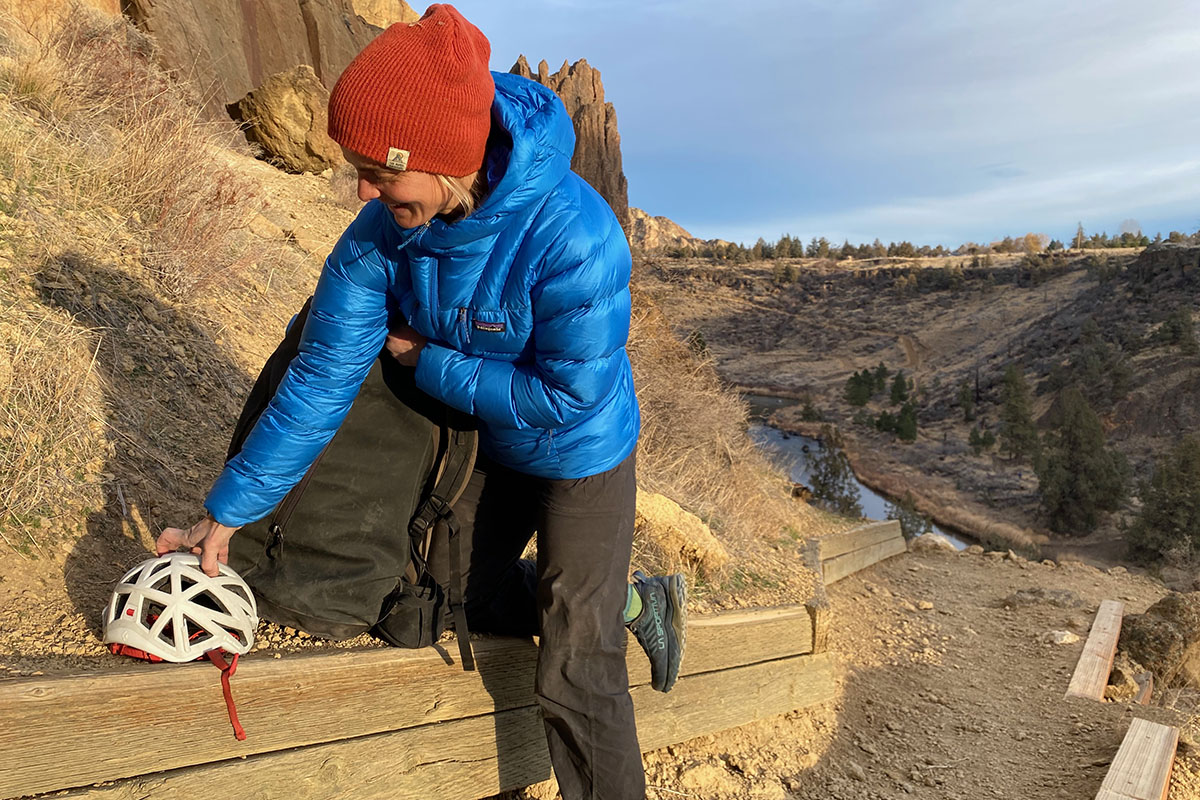 Build Quality and Durability
We're rarely disappointed by Patagonia's outerwear, and the Fitz Roy Down Hoody follows suit with high-end materials and a noticeably solid construction. This jacket exudes quality with clean stitching throughout and well-designed adjustments at the hood and hem. Further, most of the zippers run very smoothly, including the main front zip, although I have noticed that the left-hand pocket zipper (the one designed to convert to a stuff sack) tends to catch the inside fabric unless I'm careful.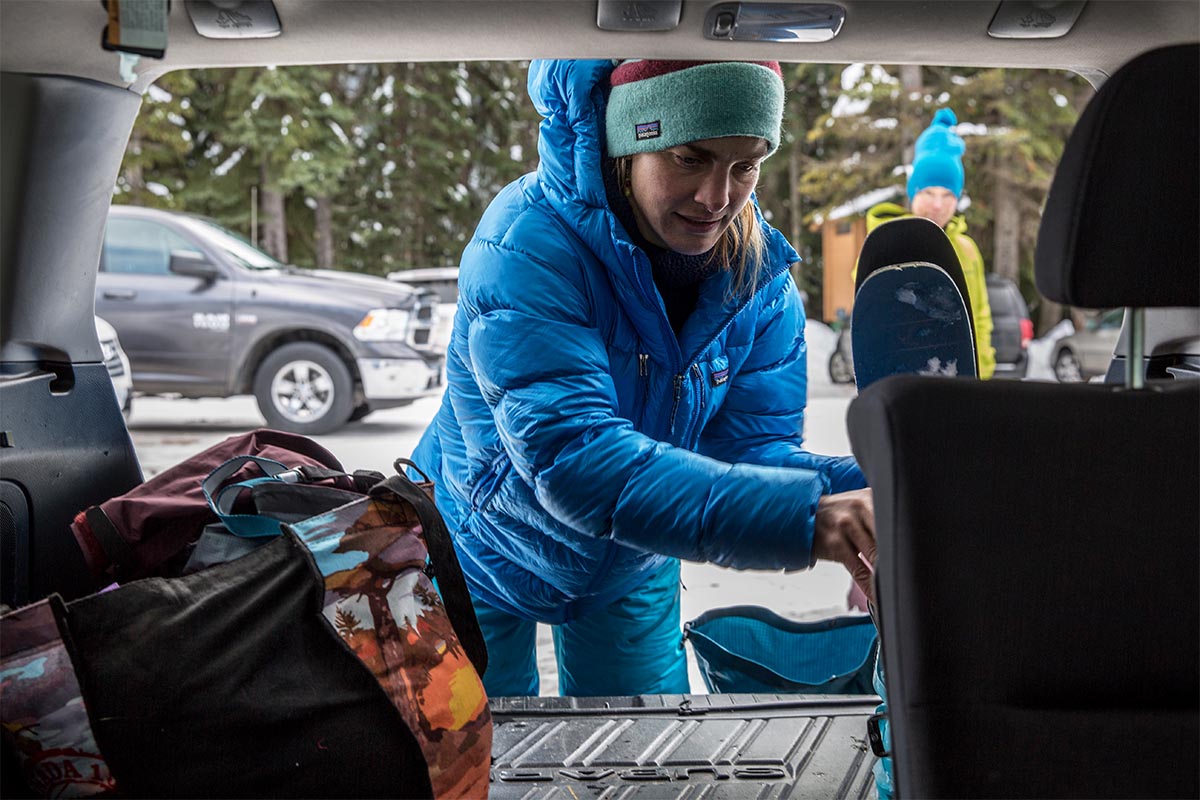 In terms of the shell fabric, the jacket's 20-denier recycled nylon ripstop features Pertex's Quantum technology, which prioritizes a soft and lightweight build over all-out protection. Like the previous iteration, this jacket is noticeably supple and cozy and feels akin to being wrapped in a premium down sleeping bag (you lose a lot of this feel with thicker or more protective fabrics). Its thin nature does require some care—I get nervous stuffing the jacket beside a shovel or probe—but I have yet to put a hole in it after two months of heavy use. I recommend opting for a more robust design like the Rab Microlight Alpine (30D) as a daily driver, but the Fitz Roy is perfectly serviceable for fast-and-light pursuits like ice climbing, backcountry skiing, and alpine rock climbing.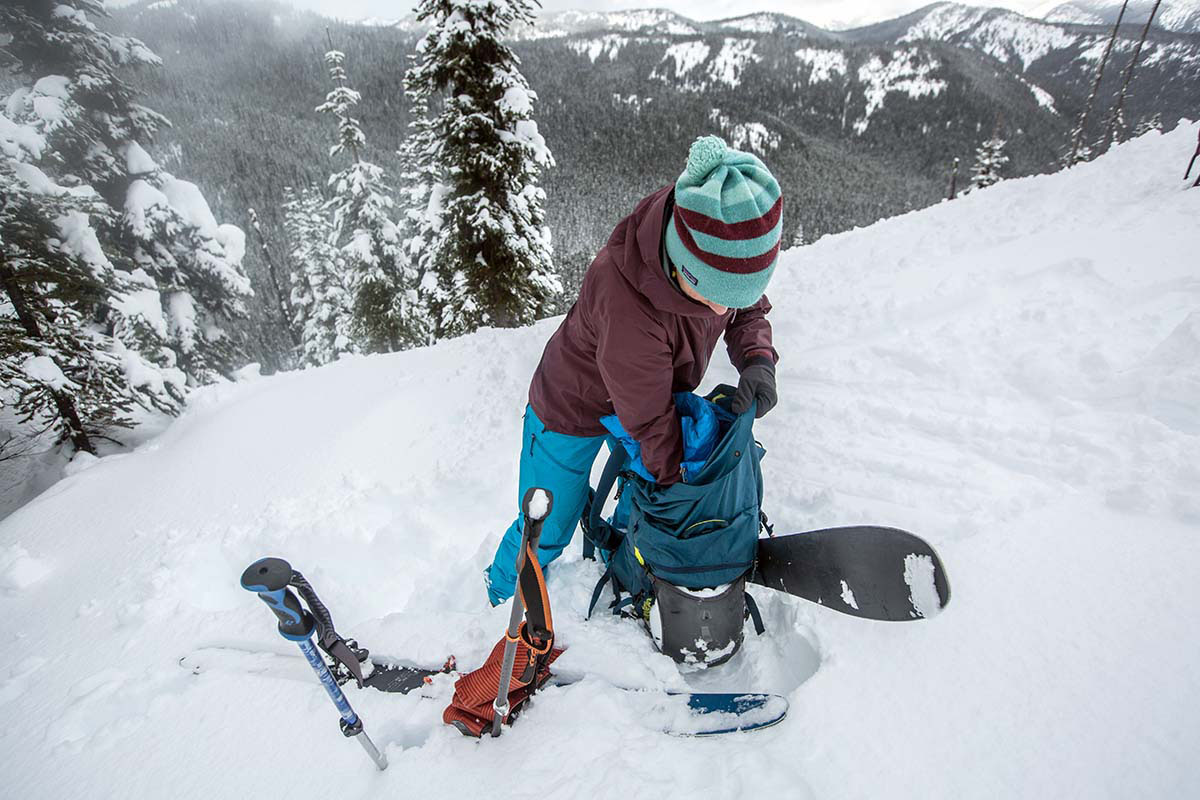 Key Features
The Fitz Roy Down Hoody is a fairly minimalist piece, but its feature set is entirely functional. First, you get a helmet-compatible hood that offers great coverage and easy adjustment with one simple pull tab at the rear. This hood is designed to fit over a climbing helmet, but I've found it also works surprisingly well over a lower-profile hat or beanie. Additionally, the hem offers a simple adjustment at each hip to keep warm air in and cold air out, and elasticized stitching at the cuffs stretches to fit over ski gloves but nicely seals in warmth against bare skin. In my opinion, the only real notable omission on the Fitz Roy is a two-way front zipper. For climbers who routinely access their harness while wearing a belay parka, being able to unzip the jacket from the bottom is a very helpful feature.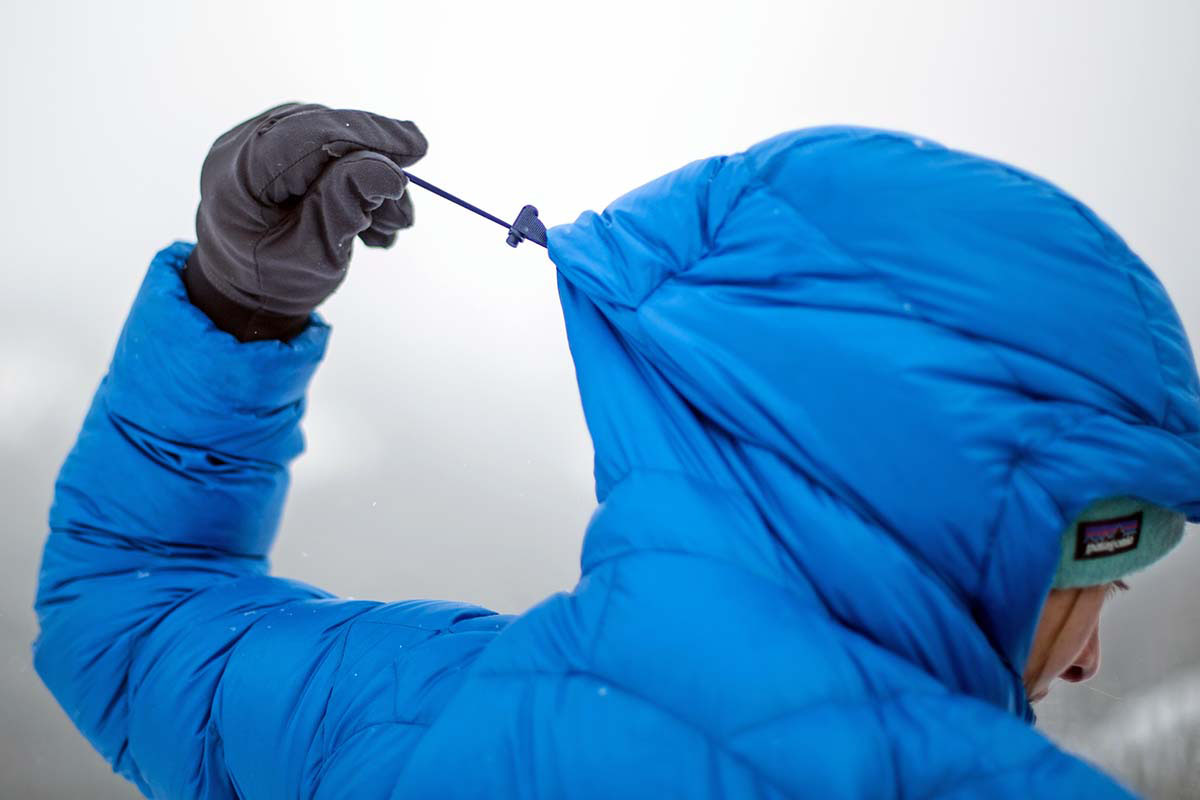 In terms of storage, the Fitz Roy sports four external zippered pockets: two handwarmer and two at the chest. My hunch is that Patagonia designed the chest pockets to be used as hand warmers (with arms crossed), but I found the design to be overkill (it's definitely a matter of personal preference). These pockets do tend to gape if left unzipped, so be sure to keep them closed to keep drafts out. Finally, you get one internal dump pocket with a lightly elasticized opening, which is great for warming skins, gloves, climbing shoes, and more. I'm a big fan of dump pockets for backcountry skiing and climbing, and I'm thankful that Patagonia included at least one in the Fitz Roy.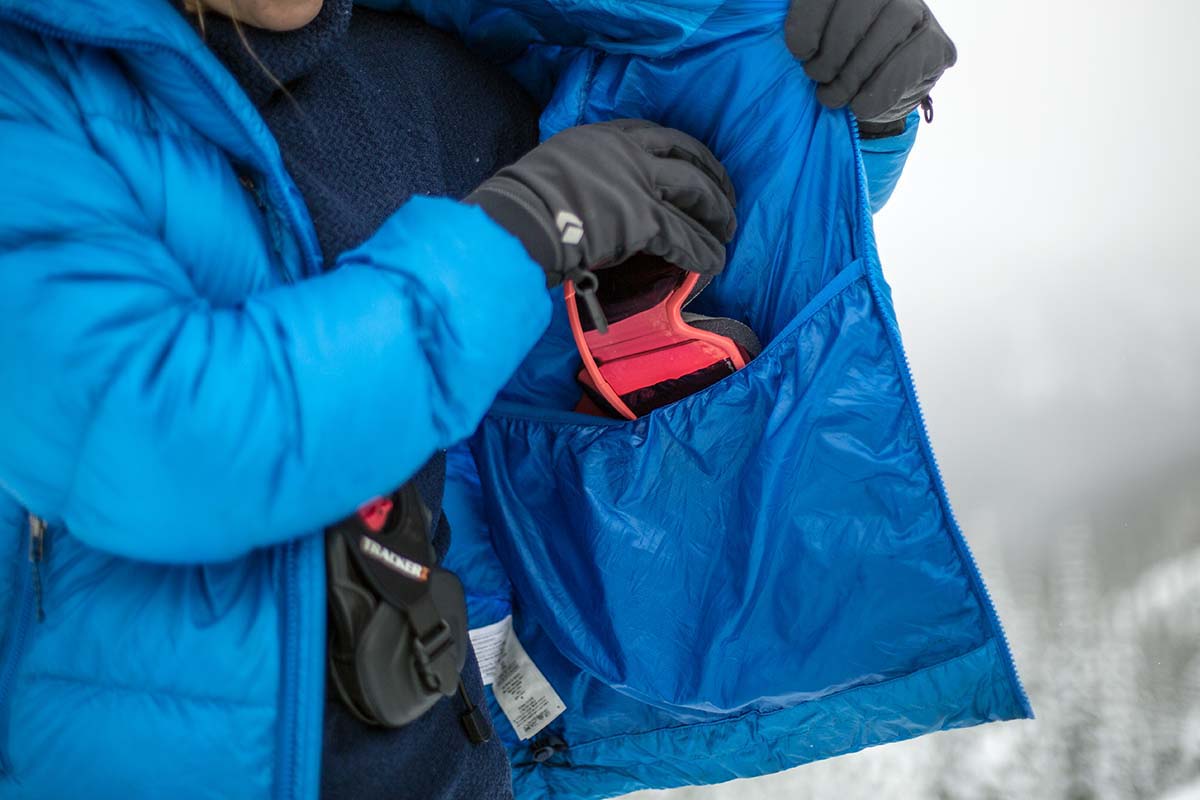 Fit and Sizing
The Fitz Roy Down Hoody is oversized by design and built to fit over multiple layers, including a hardshell jacket at belays and during ski transitions. As a result, it serves as a de facto outer layer and should not be considered a midlayer for use under a shell (it's far too lofty and bulky). In terms of sizing, I am consistently a women's small in Patagonia gear, and the small Fitz Roy fit true to size, with its 26.5-inch hem falling just a little higher than last year's "parka" design (with a 27.5-in. center back length). I've found that this provides ample coverage whether I'm bending over or reaching above my head, but some might prefer the increased protection of a parka-length piece like the Patagonia DAS Parka, which measures 30 inches for a women's medium.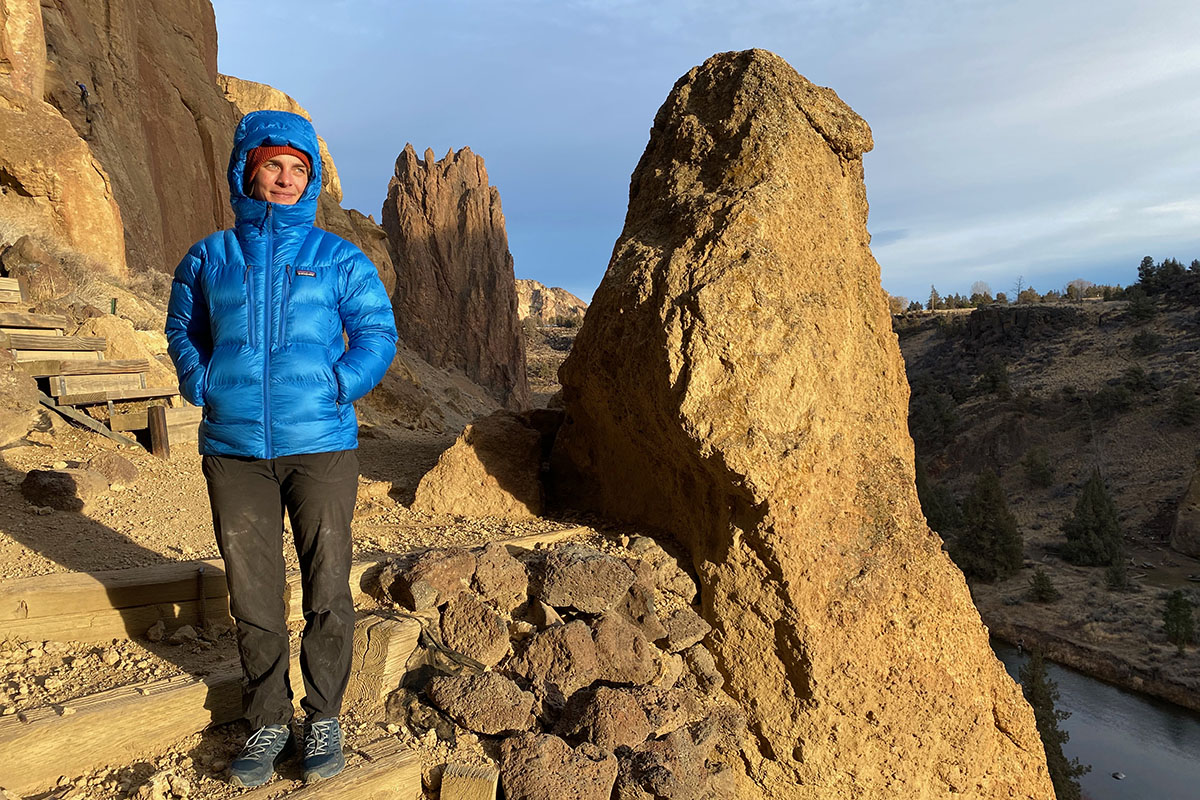 One minor gripe I have is that the Fitz Roy has a good deal of extra room in the chest and shoulders. The materials are so lightweight and lofty that the jacket has a tendency to bunch up underneath my chin when I'm sitting down (especially if I'm wearing a thin or silky layer underneath), which makes me feel like a top-heavy Michelin Man. This likely won't be an issue for everyone (and we haven't tested the men's version to verify if it's a problem there too), but some might want to size down to mitigate the extra bulk.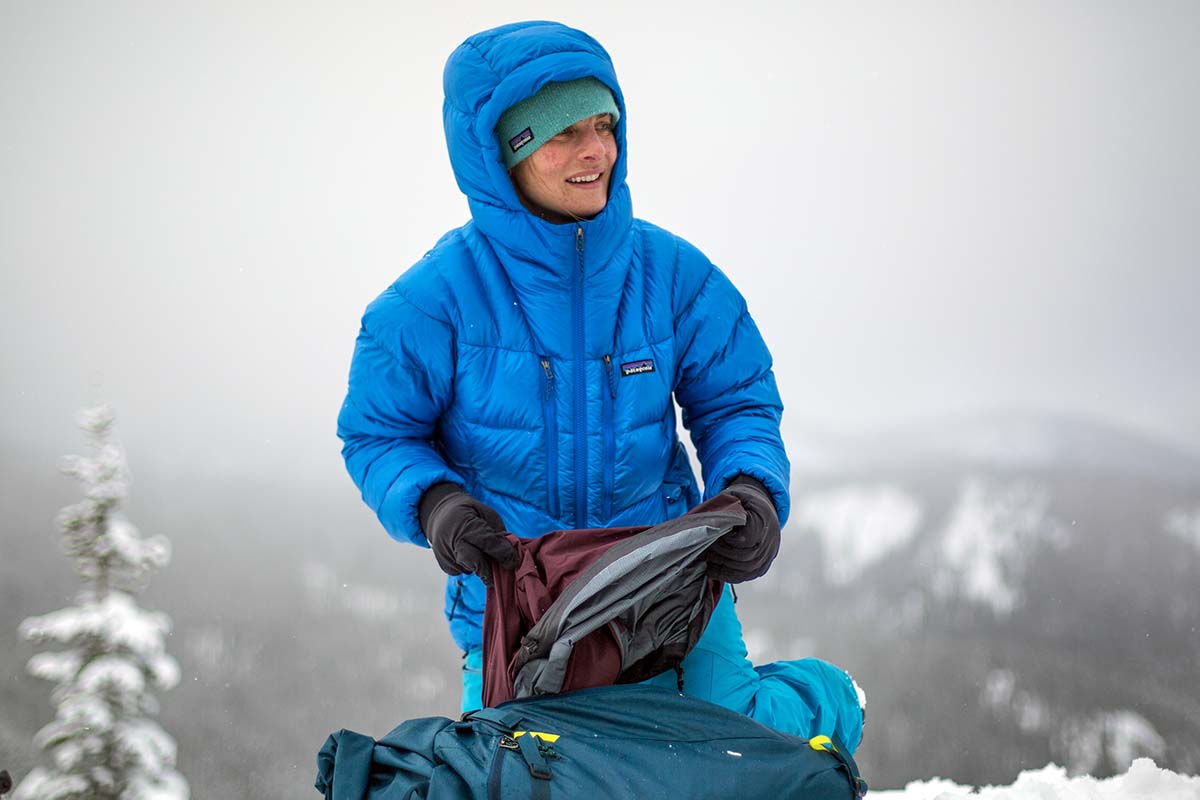 Sustainability
Patagonia is an industry leader in sustainable practices, and the Fitz Roy is no exception. For starters, the hoody uses a recycled nylon shell and down that's been certified to the Advanced Global Traceable Down Standard, which indicates that the birds were treated humanely including no force-feeding or live-plucking. Further, the jacket is sewn in a Fair Trade Certified factory, which ensures that workers are compensated fairly and have access to community-funded projects like healthcare, childcare services, and more. All in all, the Fitz Roy isn't cheap at nearly $400, but the transparency and sustainability measures do help justify the cost.

Men's Version of the Patagonia Fitz Roy
We tested the women's Fitz Roy for this review, and Patagonia makes a nearly identical men's version. The men's Fitz Roy Down Hoody also retails for $399 and sports the same materials and feature set as the model tested here, but it comes in four different colorways (the women's is offered in three), is slightly heavier at 1 pound 1.1 ounces, contains 5.6 ounces of 800-fill down, and has a center back length of 29 inches.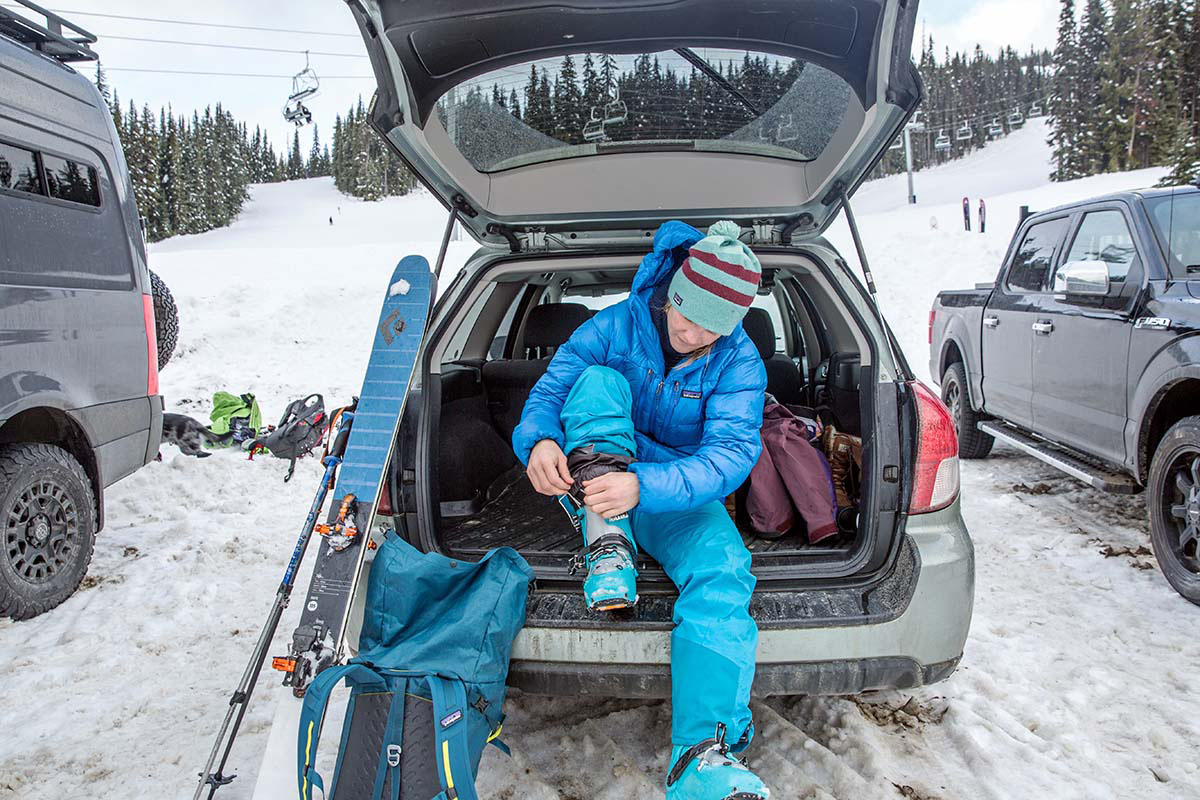 What We Like
Winter-ready warmth in a design that's lighter and more packable than much of the competition. 
Self-stuffs into its pocket for easy carry on a harness (and you don't have to worry about misplacing the stuff sack).
Pertex Quantum shell is noticeably soft and supple, resulting in a very cozy jacket that feels reminiscent of a sleeping bag.
Goose down is certified to the Advanced Global Traceable Down Standard, providing assurance that the birds were not force-fed or live-plucked. 

What We Don't
Thin shell fabric and stitch-through construction make the Fitz Roy vulnerable to wind and rain.
Lacks the heavyweight warmth of most winter belay parkas (including the previous parka version of the Fitz Roy).
The two chest-pocket design might feel overkill and polarizing to some.
We've had issues with the zipper catching on the stuff pocket, which can be difficult to unstick and has led to minor tears on the inside fabric. 


Comparison Table
The Competition
Patagonia classifies the Fitz Roy Down Hoody as a midweight belay parka, and there are a number of other capable options in this class. One of the Fitz Roy's closest competitors is the Arc'teryx Cerium SV Hoody, which clocks in about an ounce lighter but packs in slightly more down (of a higher quality) and adds synthetic Coreloft insulation in moisture-prone areas. As a result, the Arc'teryx is warmer and more reliable in wet weather, although it's considerably pricier at $575. In our experience, the Fitz Roy has a roomier cut that fits slightly better over layers (especially a hardshell), but the Cerium SV nevertheless is a top-notch choice that will provide better warmth and protection in true winter conditions (for more, see our in-depth Cerium SV review).
Rab's Neutrino Pro is another viable heavyweight option, with a parka-length hem and less compromised design. You get 7 ounces of 800-fill down—a considerable 2.5 ounces more than the Fitz Roy—and a highly weather-resistant Pertex Quantum Pro shell, which translates to added warmth and protection. Some weight-conscious mountain-goers won't be thrilled by the Rab's 1-pound-2.7-ounce weight and bulkier packed size (the Fitz Roy is a much better fit for alpine climbers, for example), but it's the much safer bet in inclement mountain weather. Durability is another deciding factor, as you're likely to get more life out of the Neutrino Pro's shell (Pertex Quantum Pro) than the Fitz Roy's soft and lightweight Pertex Quantum.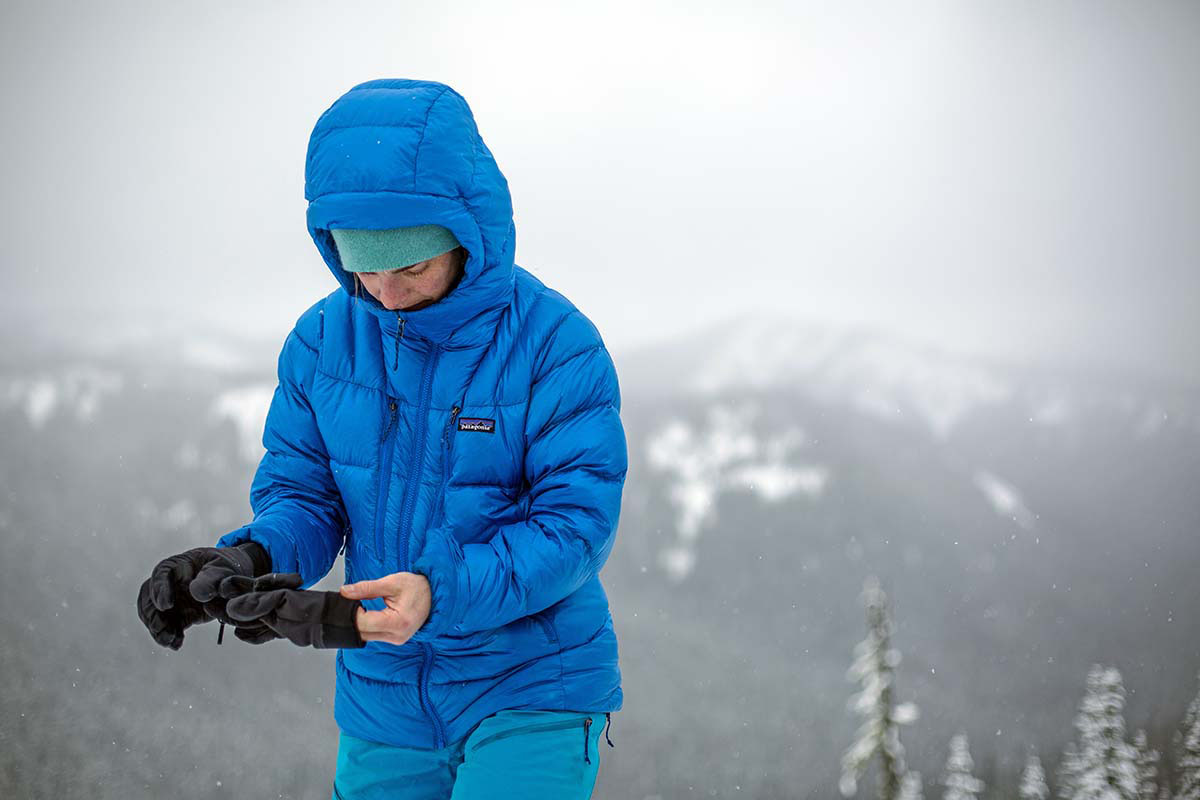 Staying within Rab's lineup, another quality down jacket to consider is the Microlight Alpine. The true selling point here is price: for just $280, you get a durable (30D) and lightweight (14.6 oz.) jacket that provides similar warmth as the Fitz Roy. However, it's worth noting that the Microlight Alpine's cut and styling are fairly different, with slimmer baffles and a trimmer-fitting design. As a result, you won't be able to layer as much underneath (the Rab is decidedly not a belay parka), but the tradeoff is increased versatility for active use. Keep in mind that the Microlight Alpine does not provide the best combination of warmth and weight (700-fill down is fairly middling), but as an all-around and affordable midweight down puffy, it's still an attractive choice.
Looking specifically at the belay-parka competition, Patagonia's synthetic DAS Parka is a standout. New to Patagonia's lineup this year, the DAS is a true heavyweight piece, with a 30-inch back length, 133-gram PrimaLoft Gold Eco insulation (plus an additional 40g in the core), and a highly water-resistant Pertex Quantum Pro shell. At 1 pound 1.4 ounces, the DAS is significantly heavier than the Fitz Roy (and not nearly as packable), but the jacket offers a lot more assurance in inclement weather and is a particularly great option for ice climbers (see our in-depth DAS Parka review). In the end, a choice will come down to your intentions, as the DAS costs $50 more and lacks the more casual appeal of a down puffy.
Last but not least is Outdoor Research's Super Alpine Parka. For the same price as the Fitz Roy, the belay-ready Super Alpine is significantly more protective and hardwearing with a water-resistant Pertex Quantum Pro shell and a parka-length cut (32.5 in.). At 1 pound 9.9 ounces, it's far too bulky and heavy for most fast-and-light pursuits, but the added coverage and insulation (7.1 oz. of 800-fill down) are great for true cold-weather activities like winter camping, ice climbing, and high-altitude expeditions. Those who live in cold climates can also get away with using the OR as their daily insulator thanks to its durable 30-denier shell. 
If you're thinking about buying gear that we've reviewed on Switchback Travel, you can help support us in the process. Just click on any of the seller links above, and if you make a purchase, we receive a small percentage of the transaction. The cost of the product is the same to you but this helps us continue to test and write about outdoor gear. Thanks and we appreciate your support!
Depending on the seller, most products ship free in the United States on orders of $50 or more. International shipping availability and rates vary by seller. The pricing information on this page is updated hourly but we are not responsible for inaccuracies.
Read More From Switchback Travel