Patagonia DAS Parka
Price: $449
Weight: 1 lb. 1.4 oz. (women's small)
Insulation: PrimaLoft Gold Eco (133g & 40g)
What we like: Excellent warmth and protection in an incredibly light package.
What we don't: Expensive and highly specialized—this isn't a daily/around-town piece.
See the Women's Patagonia DAS Parka  See the Men's Patagonia DAS Parka
Ever since its debut in 1992, Patagonia's DAS Parka has been a staple for winter climbers and backcountry skiers due to its excellent combination of warmth and weather protection. Reintroduced for 2020, the newest model is even lighter and more compressible than its predecessor and slots in as the warmest synthetic jacket in Patagonia's lineup. We tested the latest DAS throughout a cold fall of cragging in central Oregon and found that although it's a pretty specialized piece, it's yet another well-built, high-quality offering from Patagonia. Below are our experiences with the DAS Parka. To see how it stacks up to the competition, see our article on the best synthetic insulated jackets.
 
---
Table of Contents
---

Performance
Warmth
The DAS Parka not only is the warmest synthetic jacket in Patagonia's lineup, but it's among the warmest on the market. Short for Dead Air Space, which alludes to the way in which the insulation traps air, the DAS packs in 133-gram PrimaLoft Gold Eco insulation throughout and an extra layer of 40-gram in the core. The additional insulation features Cross Core technology, which fuses the synthetic fibers to other materials like aerogel to boost warmth without increasing weight. To top it off, the DAS sports a parka-length cut that offers great all-around coverage (the center back measures 30 in. for a women's medium), and Patagonia used an elasticized stitch on the side panels to bring the jacket closer to the body and trap more body heat.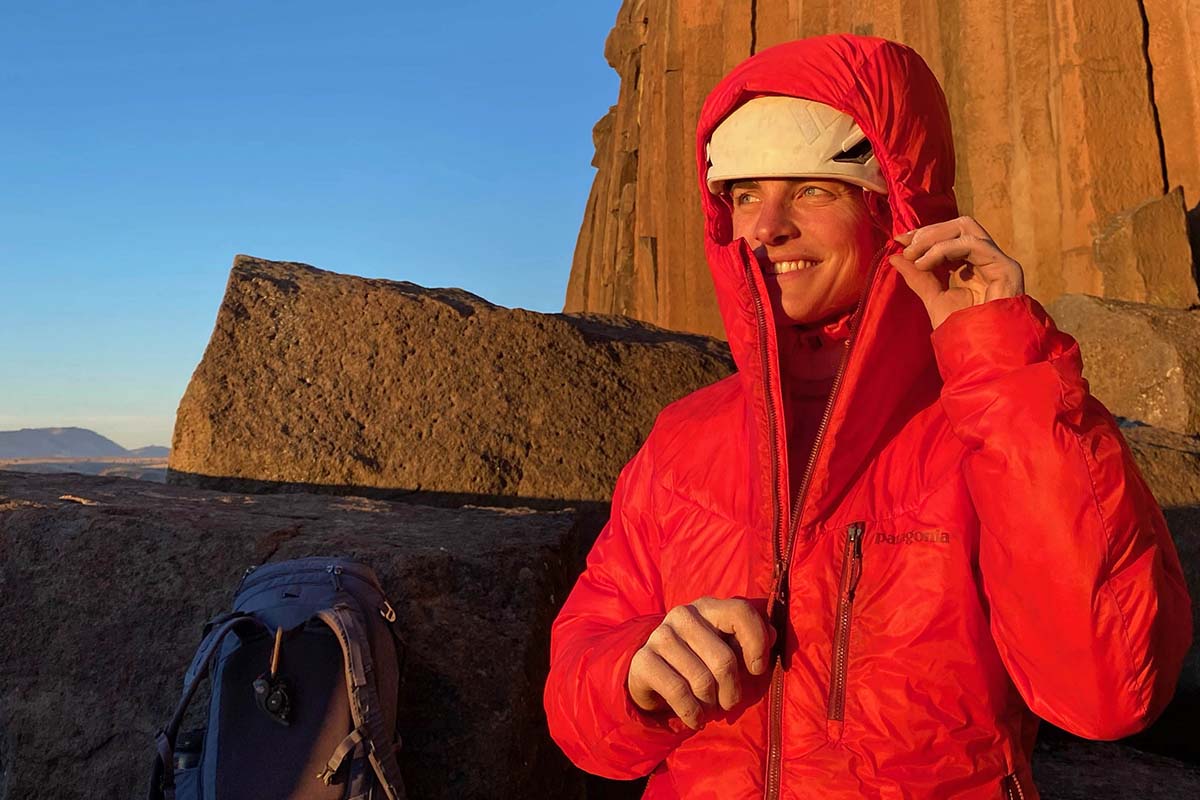 Patagonia made it easy to batten down the hatches and seal out the elements. At the cuffs and brim, low-profile elastic keeps out cold air, and retractable thumb loops are there when you need them (helpful when pulling on gauntlet-style gloves or mittens) and barely noticeable when you don't. Finally, a sleek internal waist cinch is adjustable on both sides: when tightened, the elastic brings an inner gasket close to the body to keep spindrift and cold air at bay, but the jacket's hem stays uncinched to maintain coverage (very similar to the powder skirt of a ski jacket). Added up, the DAS is a highly capable winter belay parka that can hold its own even in especially frigid conditions.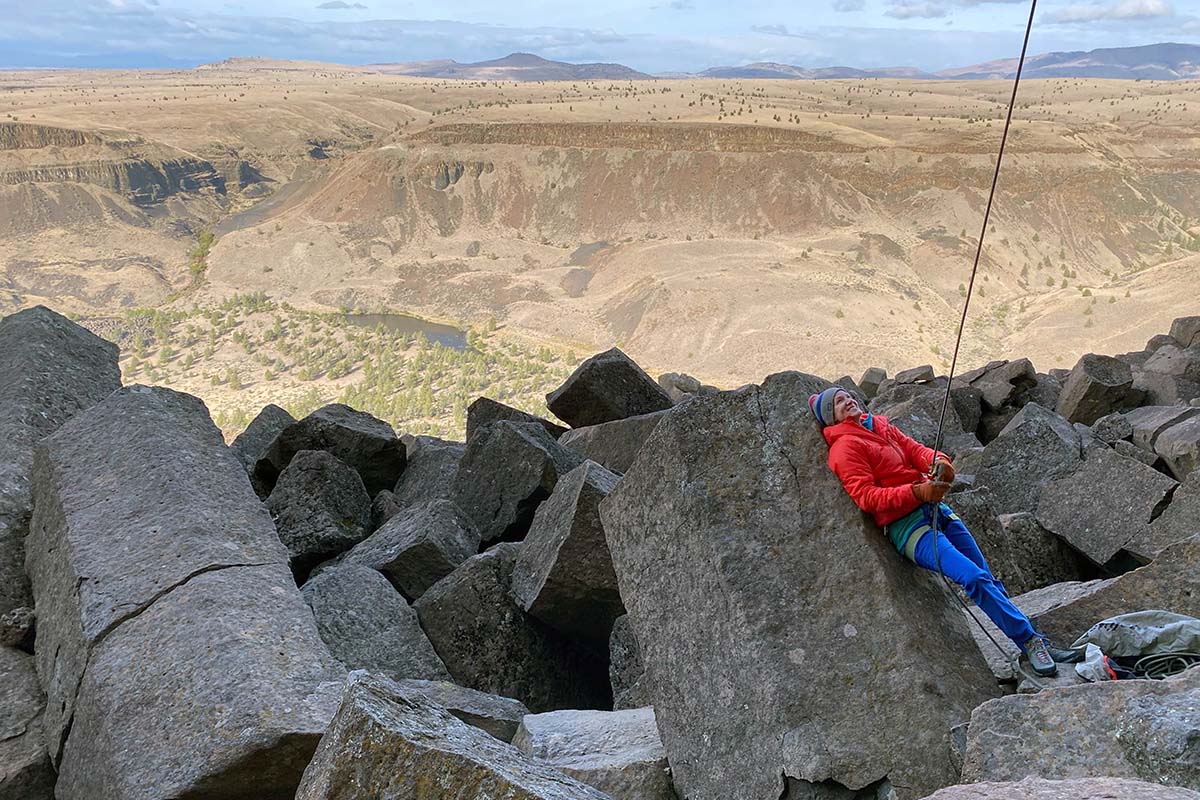 Water and Wind Protection
For winter weather, climbers and skiers often opt for synthetic insulation over down due to its ability to insulate when wet, and the DAS' high-end PrimaLoft Gold gets the job done. As the first line of defense, the parka's Pertex Quantum Pro shell provides a stalwart barrier between you and the elements. The shell is a 10-denier ripstop nylon that boasts a polyurethane coating and DWR finish, which causes water to bead up and roll off the surface rather than soak through. We've tested a lot of down and synthetic jackets, and Pertex Quantum Pro consistently stands out as one of the most wind- and water-resistant fabrics on the market (among non-waterproof options, that is).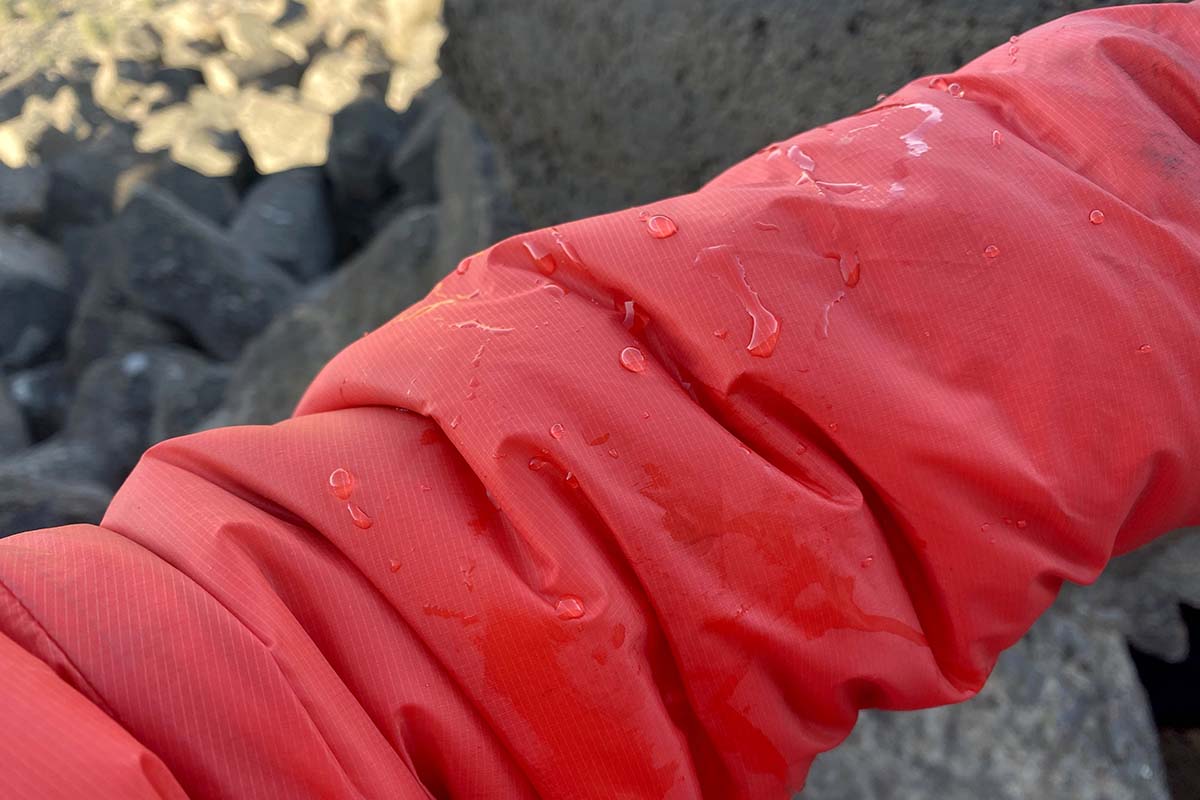 However, keep in mind that the DAS Parka is so warm that you're unlikely to be wearing it in a full-on rainstorm. While it's designed to handle ice drips and snow (typical of winter climbing adventures), it's important to remember that Pertex Quantum Pro is not fully waterproof, and the 10-denier build provides only a very thin barrier against the elements. If you anticipate heavy precipitation, we'd instead recommend a lighter synthetic jacket (like the Arc'teryx Atom LT or Patagonia's own DAS Light) layered under a waterproof rain jacket or hardshell.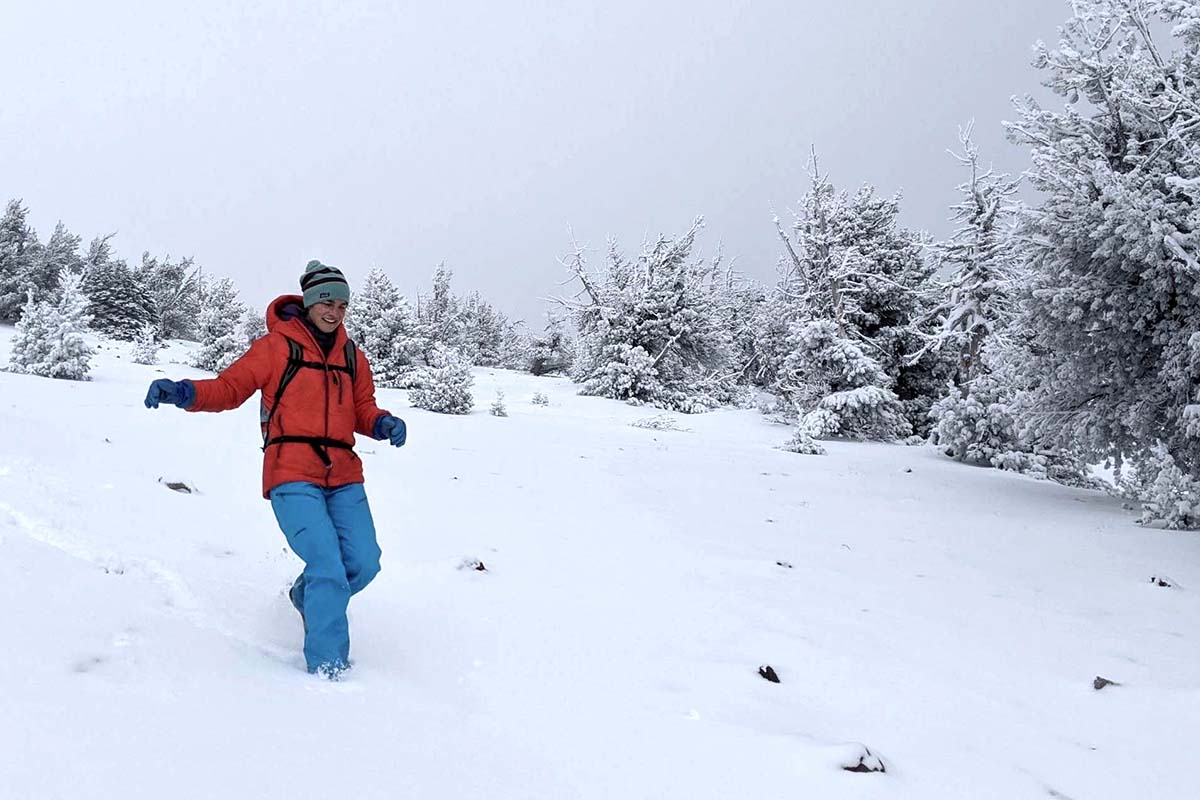 Weight and Packability
The women's DAS Parka weighs 1 pound 2.4 ounces (our women's small clocks in at 1 lb. 1.4 oz.) and packs up to about the size of a large bread loaf. While many will simply use the DAS as a belay parka for single-pitch rock and ice climbing, it's low weight and good compressibility make it a great candidate for multi-pitch routes, long alpine ascents, and breaks while backcountry skiing. And while we didn't receive one with our early-edition sample of the parka, the DAS does come with an included stuff sack to make the packing-down process easier.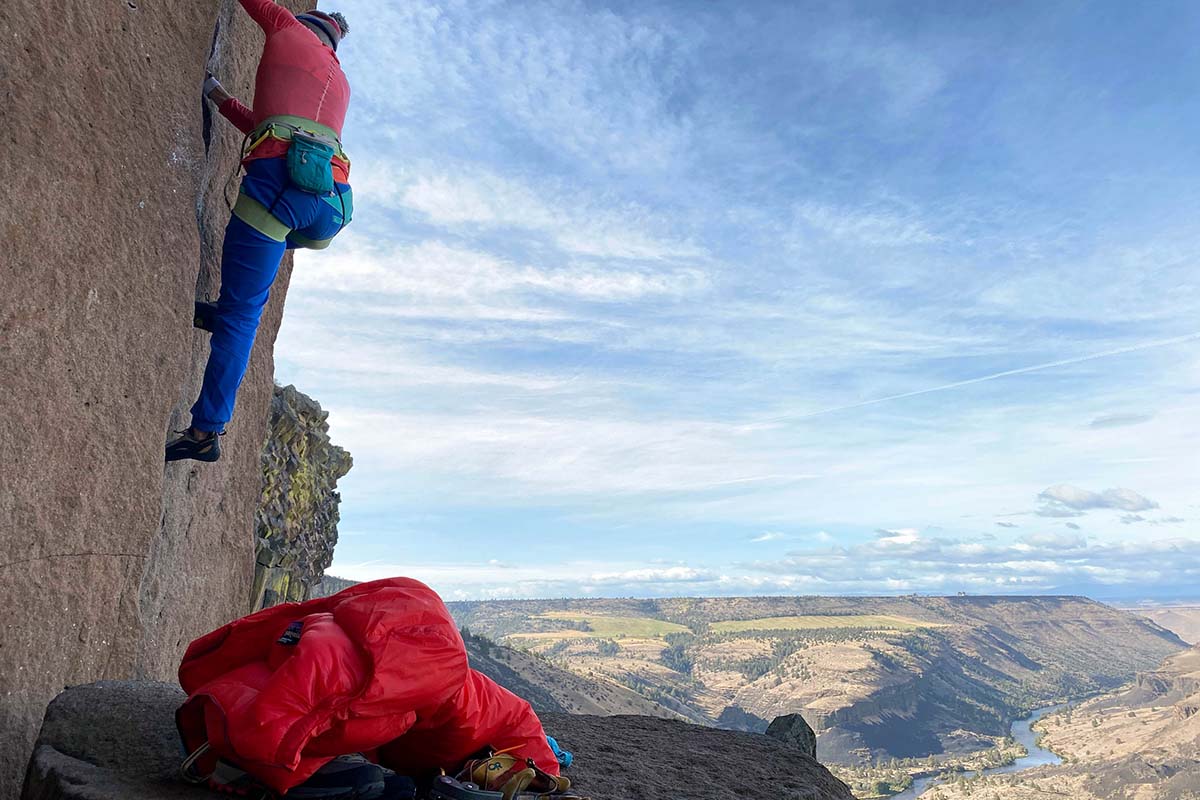 Stacked up to other winter-ready synthetics, the Patagonia DAS Parka is unmatched in terms of warmth for its weight. The Arc'teryx Atom AR Hoody (14.5 oz.) is significantly lighter but packs in considerably less warmth with a mix of 60, 80, and 120-gram Coreloft insulation. Similarly, Patagonia's own Macro Puff Hoody (12.8 oz.) uses 135-gram PlumaFill insulation in the body and 90-gram in the sleeves, with no additional insulation in the core (and a less protective shell). At the other end of the spectrum, you have more targeted options like Black Diamond's Belay Parka, which offers slightly more warmth but weighs significantly more (1 lb. 9.3 oz.) and is bulkier.

Features
Hood
The DAS Parka features a climbing helmet-compatible hood that's adjustable via a one-handed pull cord at the rear. Tightening the elastic secures the hood and pulls it away from your eyes (great for visibility), while a gently elasticized internal gasket sits close to the face to seal out cold air. A brim extends about an inch and a half past the gasket, keeping drips away from your face. Unlike many hoodies, the DAS' hood fits well with or without a helmet underneath, and the tall collar zips up nicely over the chin to secure it. Patagonia certainly kept the design basic in order to save weight—you don't get features like a fleece-lined chin guard or side adjustments—but we have no complaints from a performance standpoint.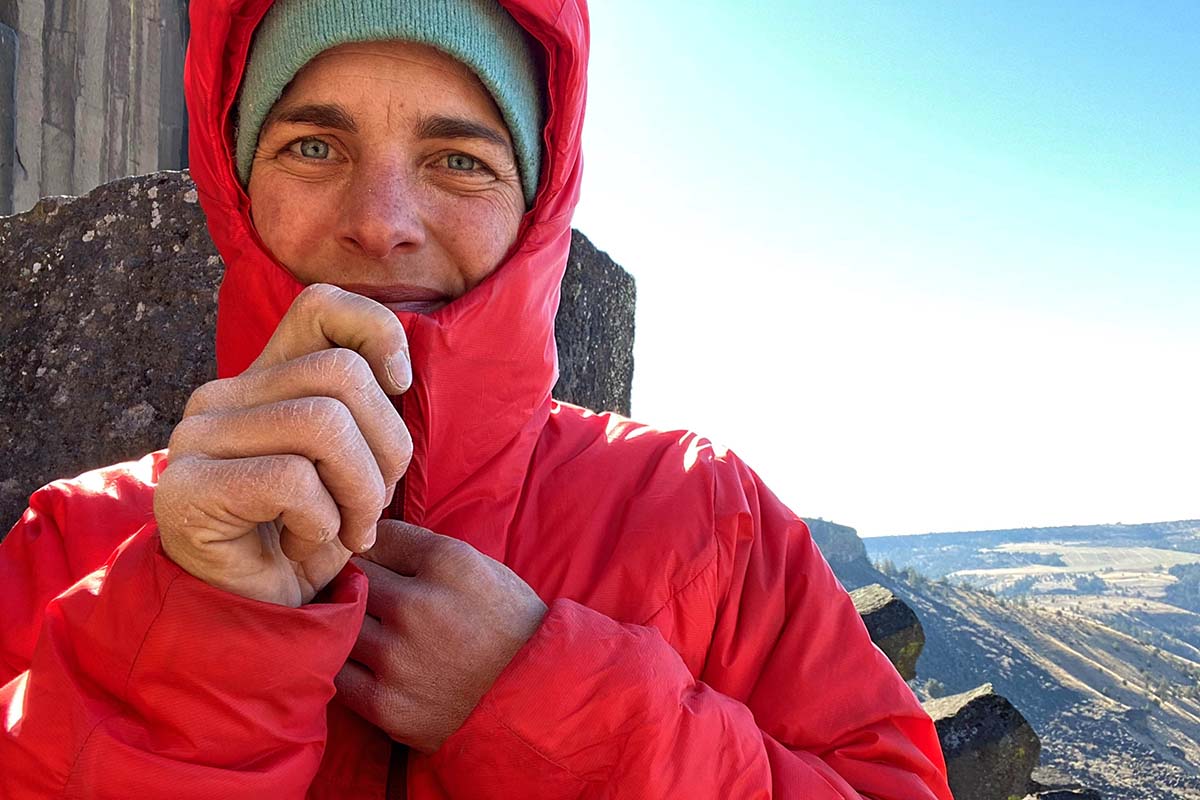 Pockets
Functional organization is a must-have in a belay parka, and the DAS checks all the boxes. On the outside, you get two handwarmer pockets and a chest pocket, all of which feature zipper garages to protect against moisture and insulation on both the inside and outside. Internally, gently elasticized dump pockets sit right next to the center zip and are great for stashing items like gloves, skins, and climbing shoes (to keep them warm on especially frigid days). We've found that most jackets only sport one interior dump pocket, which can be limiting in especially cold conditions, but we're very pleased that Patagonia included two.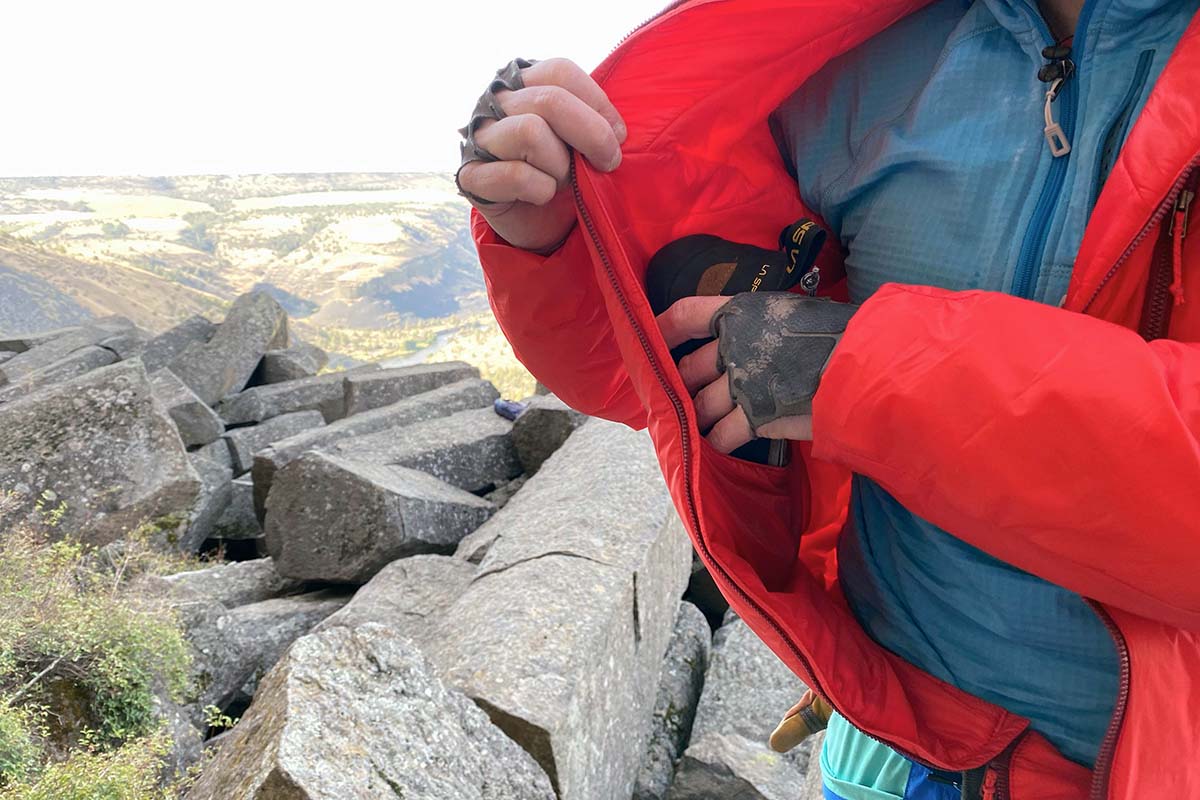 Two-Way Main Zipper
The DAS' two-way front zipper is one of my favorite features on the jacket and something every belay parka should have, in my opinion. When fully zipped, the Patagonia DAS Parka covers my harness, resulting in a lot of bunching and poor access to the belay and gear loops. With the two-way zipper, however, I can unzip the jacket from the bottom to reach my gear and safely belay. And the design is very well-executed: the plastic zipper is backed by an internal flap to seal out the cold, and the pull tab is easy to use, even with gloves on.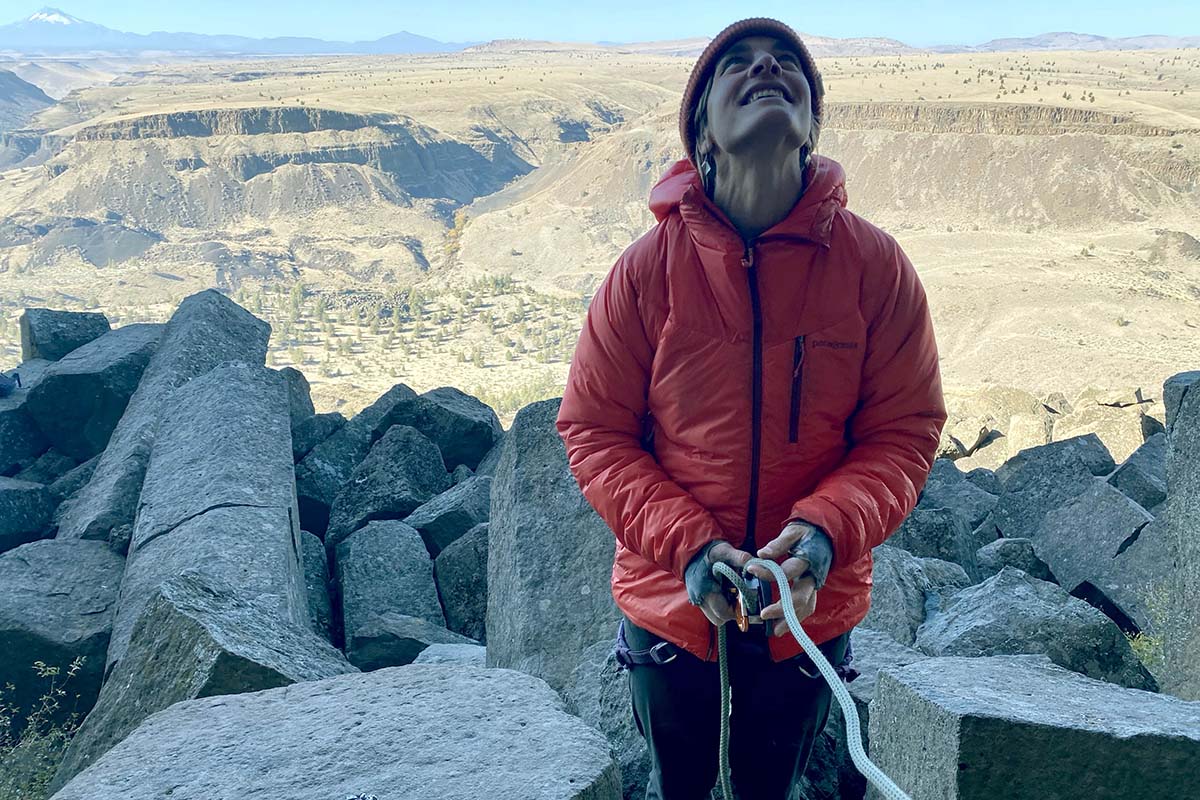 Cuffs and Hem
Patagonia's premium craftsmanship is readily apparent at the hem and cuffs. At the hem, you get a fully cinchable gasket with a single-pull adjustment at each hip (when tightened, the extra elastic cord tucks neatly in the handwarmer pockets). To uncinch the hem, simply squeeze the release button on the pull cord. As we mentioned above, this gasket—which lies roughly two inches above the jacket's hem—serves as a sort of streamlined powder skirt, keeping the inside of the jacket close to your body while allowing the hem to extend to its full length and maintain coverage.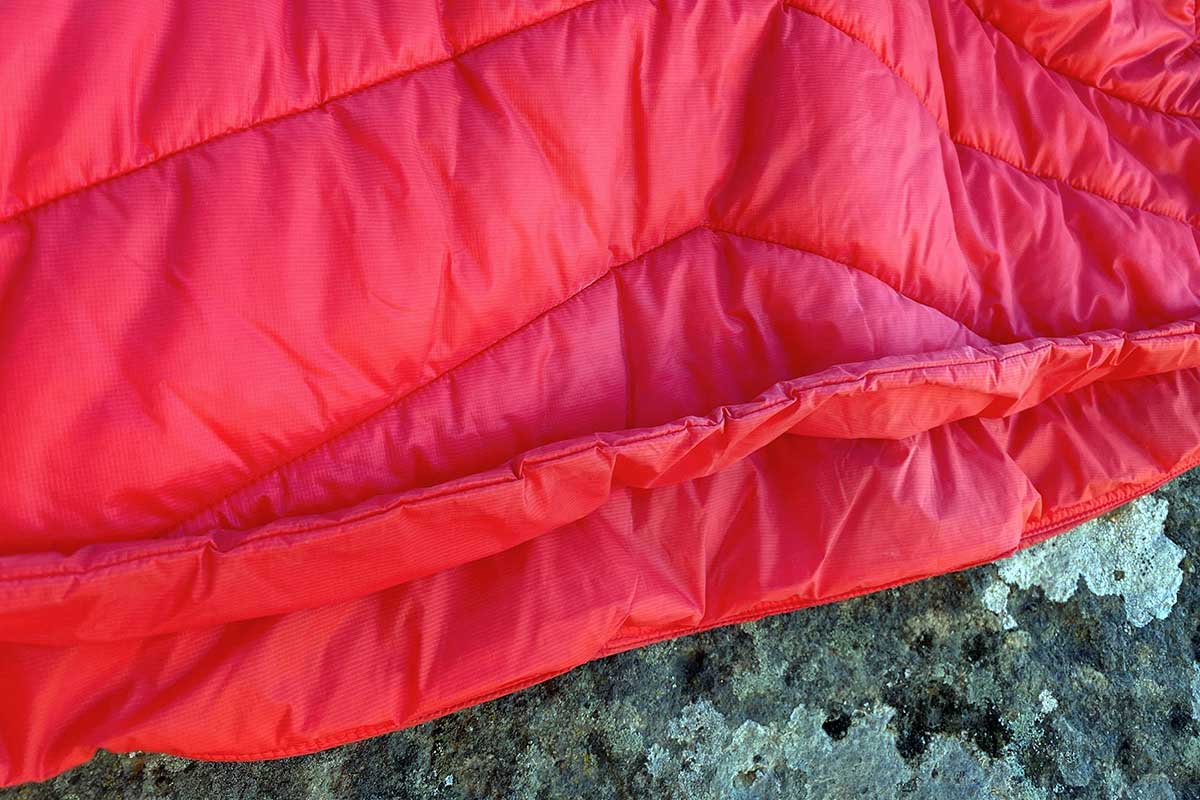 The DAS Parka's cuffs are stretchy and feature a unique design that incorporates an optional thumb loop, which tucks away neatly when not in use. Thumb loops can be a bit polarizing (we personally don't use them often), so we appreciate that Patagonia designed the DAS' to be as unobtrusive as possible. My only gripe is that the loops have a tendency to twist, which can result in a bit of bunching at the wrists. But the cuffs are well-executed overall and can be worn either over gloves or underneath belay mitts.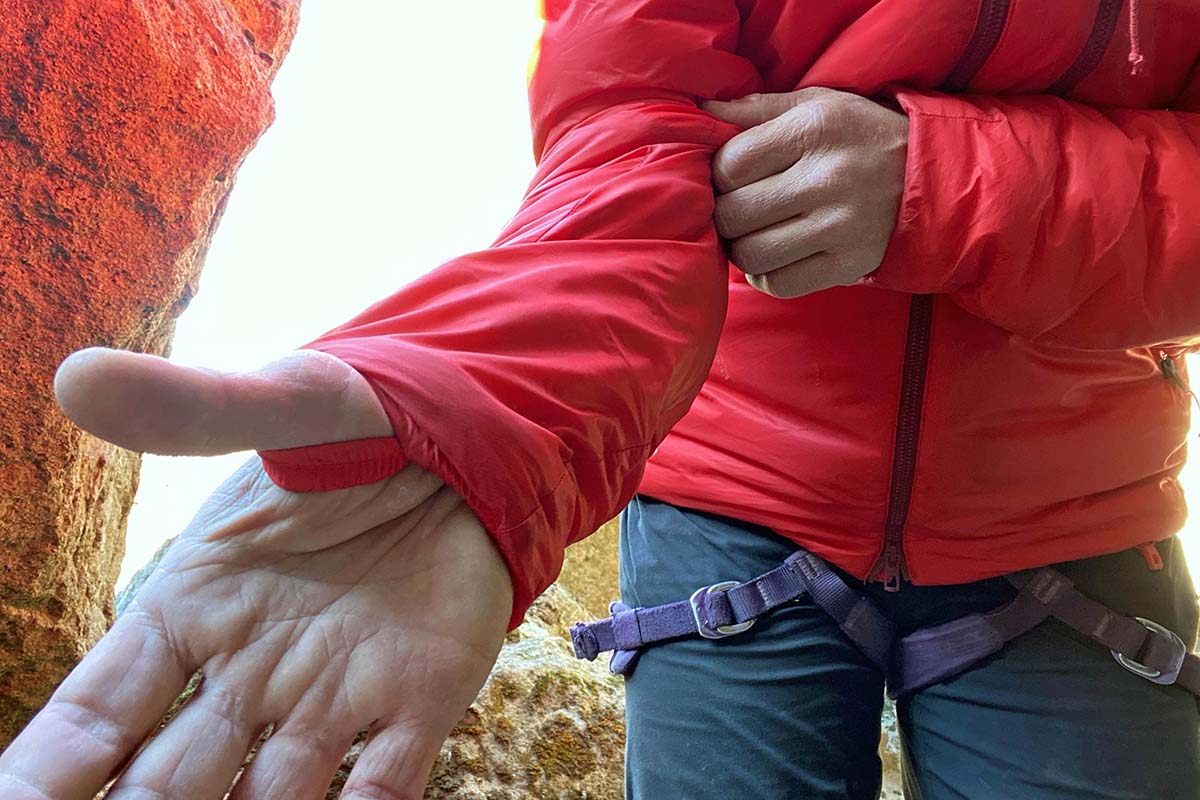 Build Quality and Durability
As we've come to expect from Patagonia, the DAS Parka uses high-quality materials and exudes an impressive attention to detail. Not a single stitch is out of place on my jacket, and all features are well-thought-out, from the protective zipper garages to the hem cinch that routes excess cord into the handwarmer pockets. The shell fabric was initially a point of concern—it's a fairly thin 10 denier, which is the same as my Micro Puff Hoody that I've put countless holes in. However, its Pertex Quantum Pro ripstop fabric and polyurethane coating offer noticeably better tear resistance than the Micro Puff's standard Quantum shell. After two months of heavy use, the only noticeable wear on my DAS Parka is at the cuffs, where the fabric appears almost singed (likely a result of abrasion). That said, considering its use around rough rock, I've overall been very impressed by how well the parka has held up, and thus far the shell fabric has formed no holes or tears.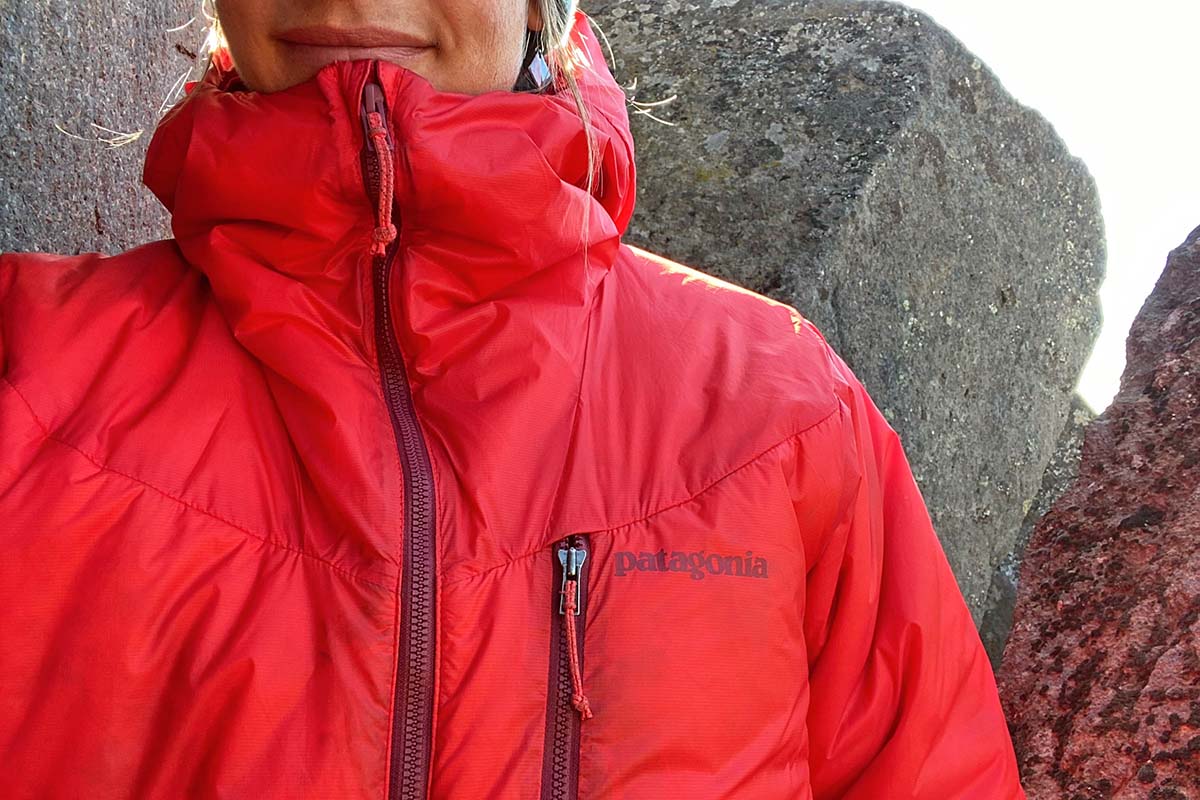 Fit and Sizing
The women's DAS Parka is labeled as a "regular fit" and comes in six sizes ranging from XXS to XL, while the men's jacket is offered from XS to XXL. I typically wear a size small and found that the DAS fits true. It's important to keep in mind that this is a belay parka, meaning that it's built to wear over multiple layers of clothing, including other jackets (even a hardshell). In other words, it's quite roomy and loose-fitting by design, but that's the intention. If you're looking for a closer, performance fit, you'll likely want to size down or opt for a jacket like the Patagonia Fitz Roy Hoody, which isn't meant to layer over multiple jackets.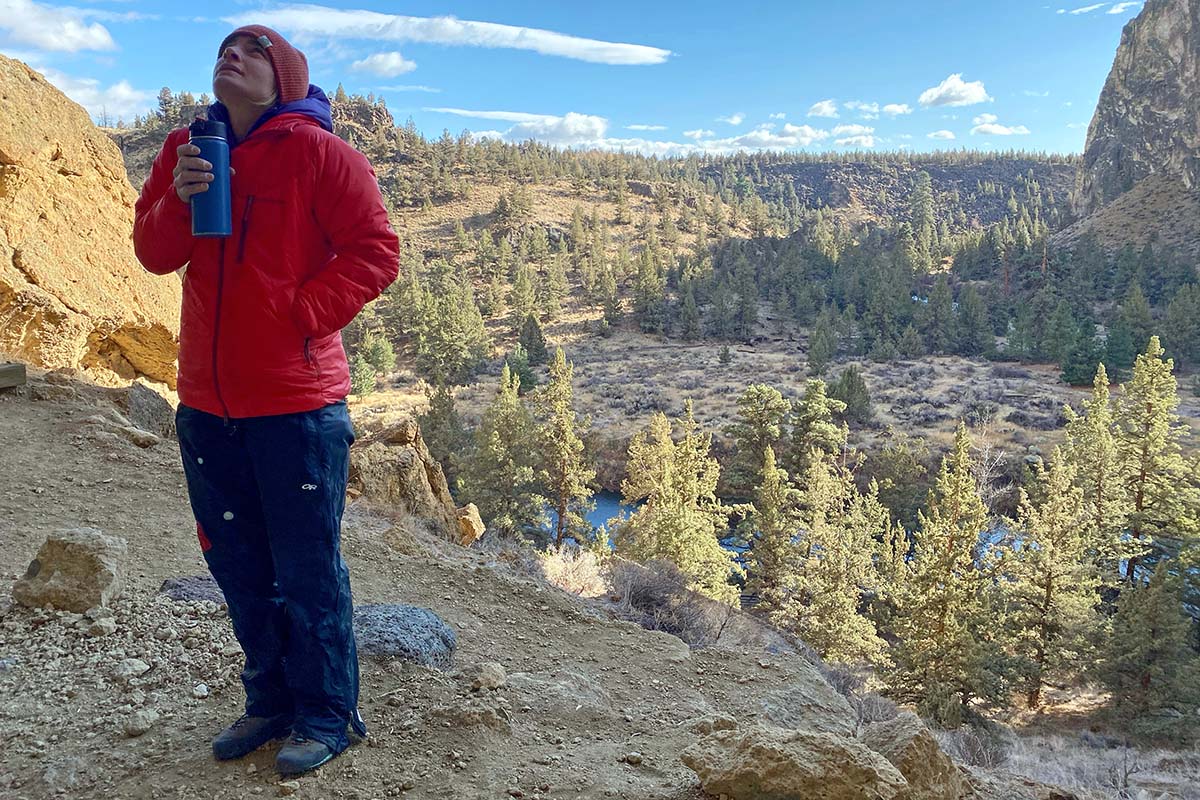 Sustainability
Patagonia is an industry leader in eco-friendly practices and ethically produced gear, and the DAS Parka is no exception. It does fall short of some of Patagonia's other offerings—many of which are made with almost 100-percent-recycled materials and are bluesign-approved—but the DAS is off to a solid start. Most notably, the PrimaLoft Gold Eco insulation uses a mix of 55-percent and 35-percent recycled materials (the core area uses the latter amount). And the jacket is Fair Trade Certified sewn, which means Patagonia put extra money into making the DAS to ensure workers are compensated fairly and have access to community-funded projects like healthcare, childcare services, and more. Again, there's room for improvement, but we appreciate the steps that Patagonia has taken thus far.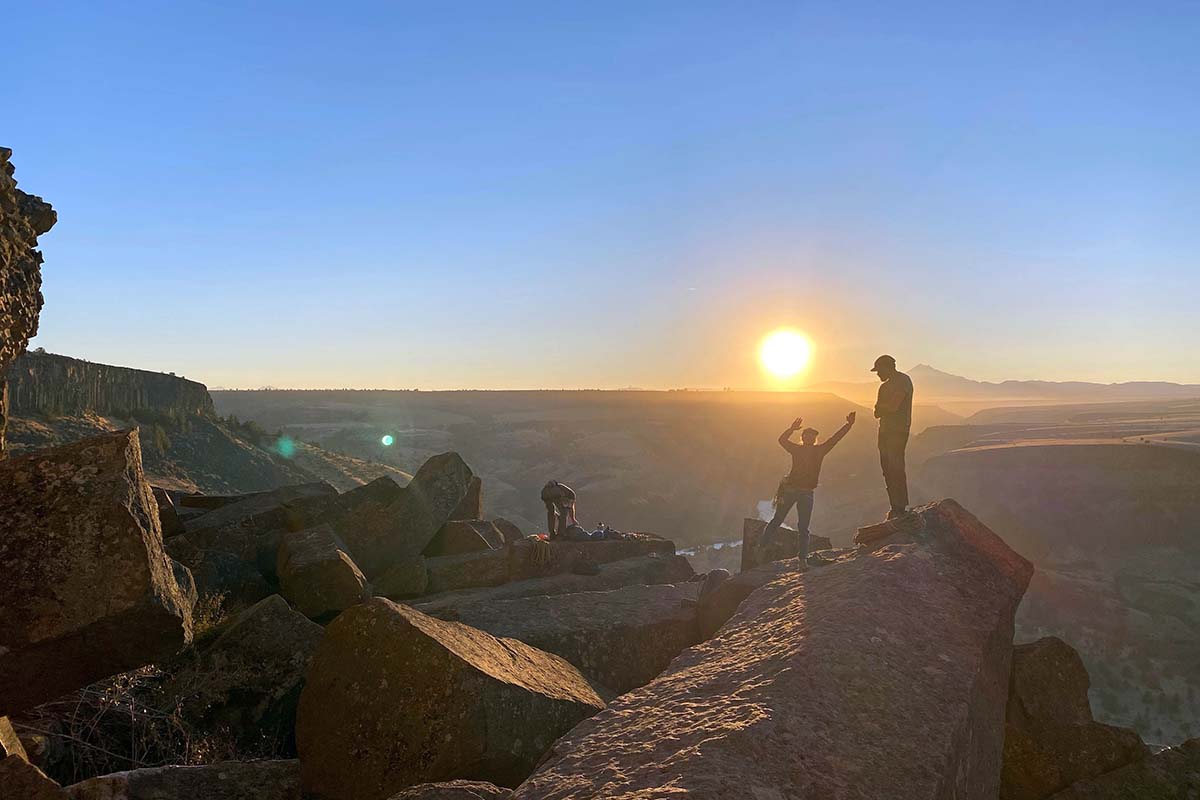 Men's Version of the Patagonia DAS Parka
The Patagonia DAS Parka was reintroduced this year (the previous-generation jacket was discontinued in 2016), and the newest iteration is available in both men's and women's versions. The men's DAS Parka is identical to the women's model reviewed here in price and features, but it's a bit heavier at 1 pound 3.6 ounces, comes in different colorways, and has a more men's-specific cut with less of a taper at the waist. Given the similarities between the two, we expect performance to be very similar across the board.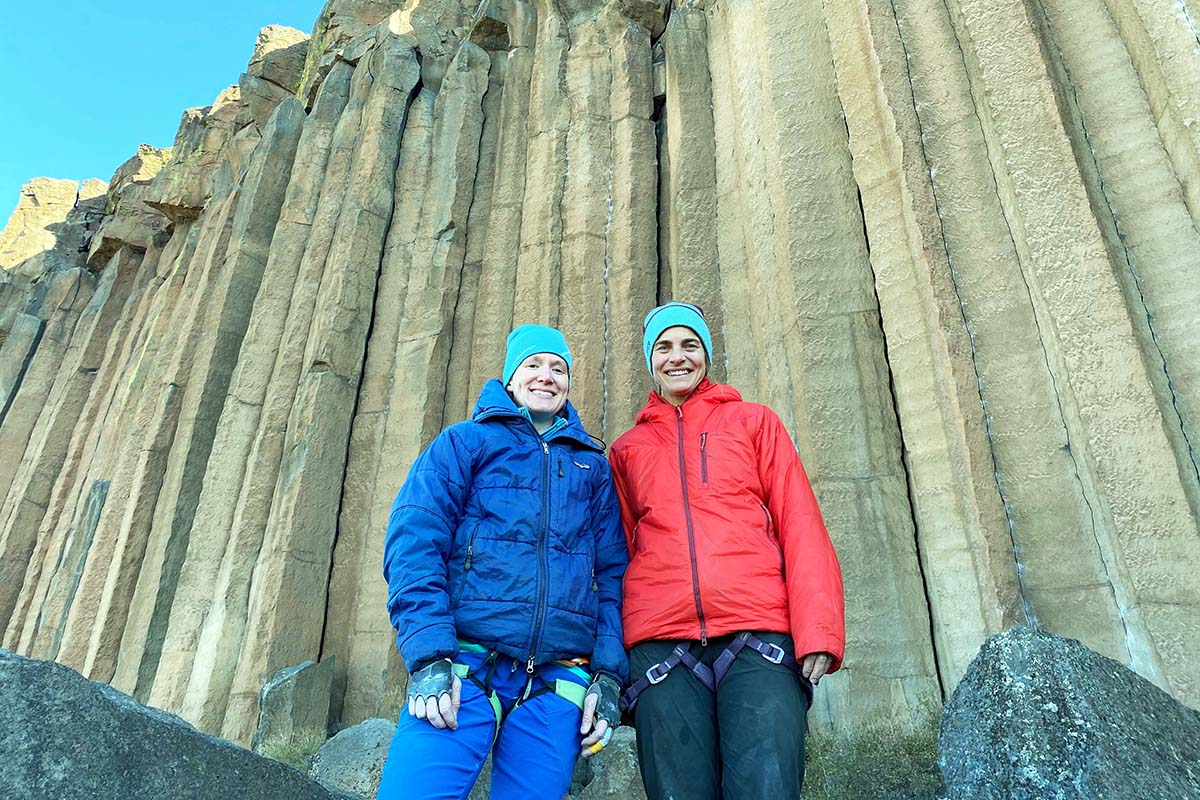 What We Like
The latest DAS Parka delivers exceptional warmth and protection in an impressively light package. 
Top-end build quality, including its Pertex Quantum Pro ripstop shell and polyurethane coating, which increase water and tear resistance.
Thoughtful and functional feature set for belaying and alpine pursuits. You get two internal dump pockets, ample adjustability, a two-way main zipper, and a simple, helmet-compatible hood.
 
What We Don't
Bulky and roomy fit is fairly limiting—unless you're using the DAS as a belay parka, you'll likely want to opt for a closer-fitting outer layer.
10-denier fabric is very thin for a jacket that's meant to be worn around rock (although we have yet to put a hole in ours after two months of heavy use).
Expensive at $449. If weight and packability don't matter to you, you can get an equally warm jacket for a fraction of the cost.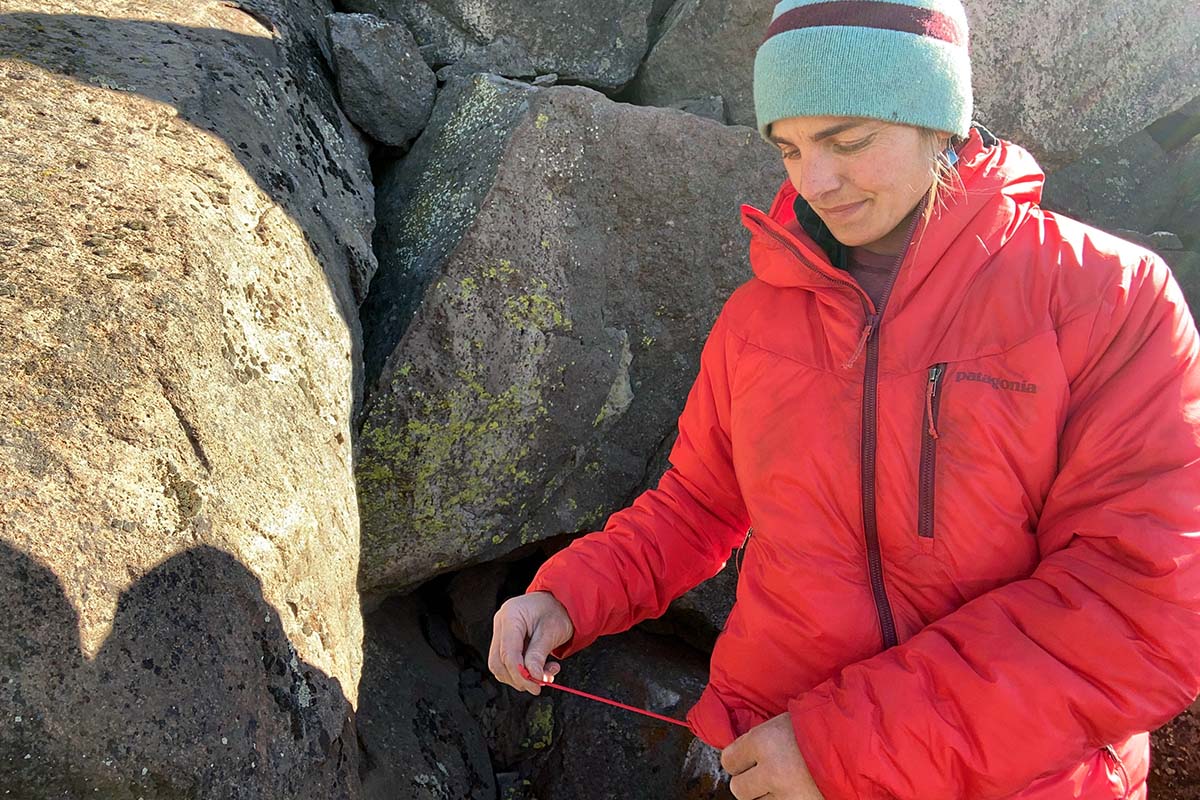 Comparison Table

The Competition
Patagonia's DAS Parka is designed as a belay parka for cold-weather rock climbing, ice climbing, and alpine pursuits. Within this fairly niche market, Black Diamond's Belay Parka is one of the DAS' closest competitors. At 1 pound 9.3 ounces for the women's version (almost 8 oz. more than the DAS), the Belay isn't markedly lightweight or packable, but the 200-gram insulation and 50-denier shell fabric make it a durable and capable option for cragging. On top of that, you get all the features we look for in a belay parka, including a two-way main zipper, helmet-compatible hood, accommodating fit, and generous storage (including two internal dump pockets). The Patagonia wins out for weight-conscious missions and especially cold temperatures, but the BD will save you a significant $200.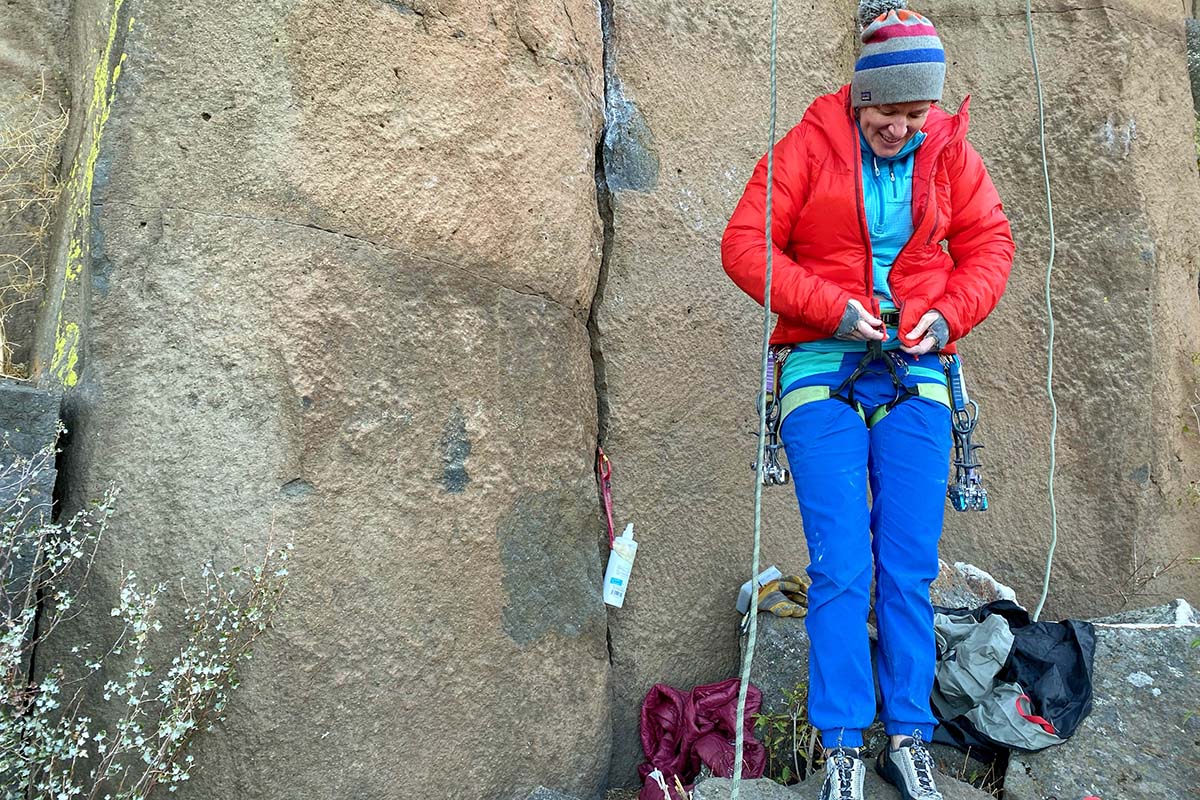 At the ultra-premium end of the belay parka spectrum is Arc'terxy's Dually, which is currently only offered in a men's version. For a steep $699, the Dually is the whole package: it sports two layers of synthetic ThermaTek insulation that provide a bit more warmth than the DAS, along with a thicker, 30-denier outer shell fabric, more adjustability at the hood, and Arc'teryx's high-end fit and finish. However, the Dually is heavier at 1 pound 8.9 ounces (compared to the men's DAS Parka at 1 lb. 3.6 oz.), and not everyone needs this level of performance. But the real clincher for us is value: for the same price, you could purchase a DAS along with a second synthetic jacket, like Patagonia's own Micro Puff ($249), which is a much more versatile layering system. 
For a less specialized piece, Rab's Nebula Pro is another capable winter-weight synthetic. Priced at only $220, you get the same Pertex Quantum Pro technology as the DAS, along with a thicker, 30-denier shell. Further, the Rab tips the scales at a competitive 1 pound 5 ounces for a women's medium and is decently warm with 7.9 ounces of recycled synthetic insulation. You don't get the length, roominess, or internal drop pockets of the DAS Parka, but Rab's Nebula Pro is a cheaper and less technical alternative for those who don't plan to use those features.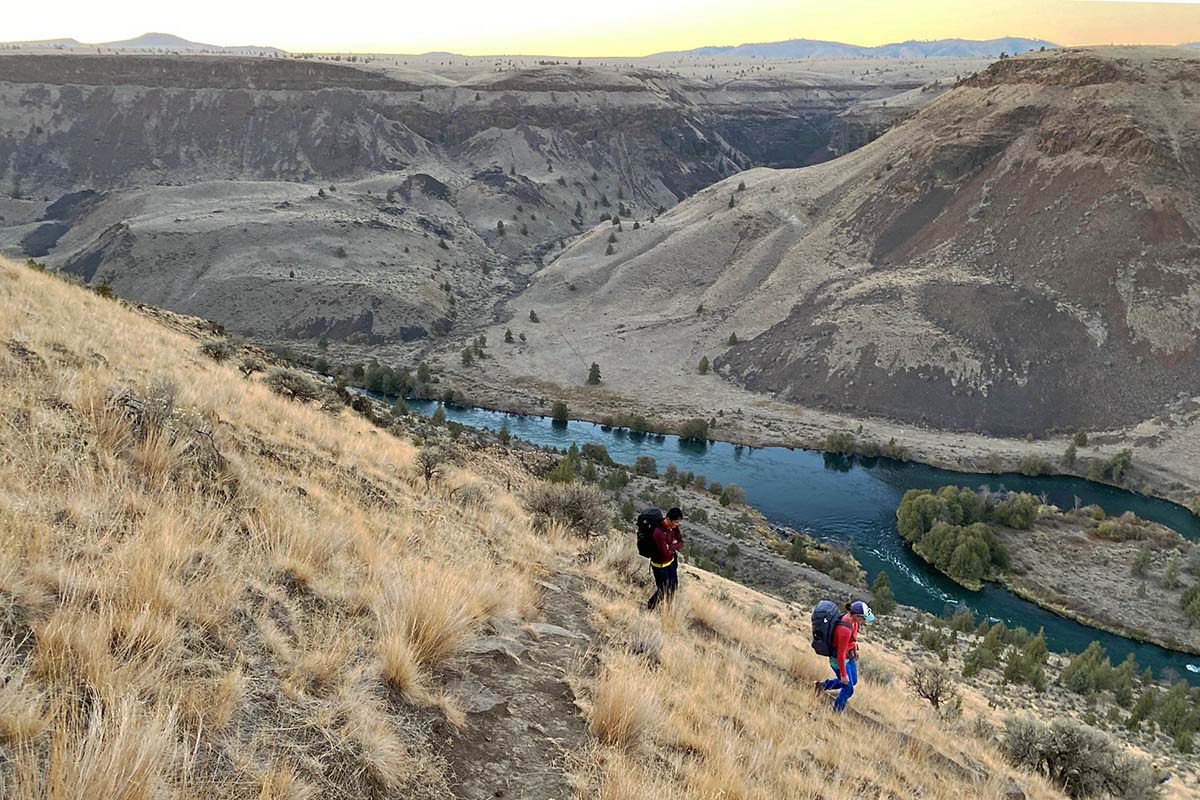 In addition to the parka, Patagonia also recently released the DAS Light Hoody. Warmth is the most obvious difference here: the DAS Light Hoody packs in significantly less with 65-gram PlumaFill. This translates to a lighter weight (9.7 oz.), but most other features remain the same, including a thin, 10-denier Pertex Quantum Pro shell, alpine helmet-compatible hood with a single drawcord for adjustment, and two-way front zipper with an internal wind flap (keep in mind that the Light does not have internal dump pockets). Both are very targeted pieces and fairly pricey for their limited appeal (the DAS Light Hoody retails for $329). But for alpinists and climbers who get out regularly and need the specialized features, the DAS series is a real standout, and a final decision between the two jackets will come down to how much warmth you want and your preferred layering system (for more, see our DAS Light review).
Finally, we'd be remiss not to mention Patagonia's own down-filled Fitz Roy here. For years, the DAS and the Fitz Roy shared a parka-length cut and technical feature set including two-way main zippers, internal drop pockets, and helmet-compatible hoods. But Patagonia recently revamped the Fitz Roy, cutting 2 inches off the length (it's now 27.5 in. compared to the DAS' 30-in. length) and taking out a fair amount of down (the Fitz Roy is now classified as a midweight jacket rather than heavyweight parka). The latest Fitz Roy still has a great warmth-to-weight ratio with 4.5 oz. of 800-fill down in a 14.8-ounce package, but the DAS' synthetic insulation and more protective shell make it a better option in inclement weather. For dry days, milder temperatures, and when every ounce counts (think alpine rock climbing in sunny conditions), we'll still reach for the Fitz Roy.
If you're thinking about buying gear that we've reviewed on Switchback Travel, you can help support us in the process. Just click on any of the seller links above, and if you make a purchase, we receive a small percentage of the transaction. The cost of the product is the same to you but this helps us continue to test and write about outdoor gear. Thanks and we appreciate your support!
Depending on the seller, most products ship free in the United States on orders of $50 or more. International shipping availability and rates vary by seller. The pricing information on this page is updated hourly but we are not responsible for inaccuracies.
Read More From Switchback Travel