Arc'teryx Cerium SV Hoody
Price: $450
Weight: 8.6 oz. (women's small)
Fill: 2.7 oz. of 1,000-fill down & Coreloft synthetic
What we like: Very warm for its weight and can be worn as an outer layer in light to moderate precipitation.
What we don't: Delicate feel; you can get considerably more warmth for less money. 
See the Women's Arc'teryx Cerium SV Hoody
Arc'teryx's Cerium collection is known for its cozy warmth and competitive wet-weather appeal, and they recently reintroduced the Cerium SV (short for "severe weather"). We recently put the retooled women's version (there's currently no men's counterpart) to the test in southern Patagonia and were impressed by how much warmth Arc'teryx packed into the ultralight package. The latest jacket does feel (and look) noticeably different from the original—including a lower weight, smaller baffles, and less down fill—but the remarkable warmth-to-weight ratio, solid weather protection, and practical feature set remain. Below we break down our experiences with the Cerium SV Hoody. To see how it stacks up to the competition, see our article on the best women's down jackets.
 
---
Table of Contents
---

Performance
Warmth
The Cerium SV Hoody is built to maximize warmth while keeping weight to a minimum, and we think Arc'teryx pulled it off quite well. For insulation, you get 2.7 ounces of 1,000-fill-power down, which is a rarity in the market—most competitors use lower-fill varieties that aren't as lofty or compressible, requiring more insulation to achieve the same warmth. Since the Cerium SV is a bit of an outlier, it's hard to make an apples-to-apples comparison, but it stacks up similarly to Arc'teryx's own Cerium Hoody (3.2 oz. of 850-fill down) while offering a little more warmth than Mountain Hardwear's Ghost Whisperer UL (1.9 oz of 1,000-fill down). Arc'teryx also used a mix of 80- and 100-gram (g) Coreloft in moisture-prone areas for a nice dose of wet-weather assurance (more on this below). All told, the Cerium SV has been cozy for everything from mild backcountry ski tours to an unseasonably cool backpacking trip in Patagonia (although it's not a winter-ready piece like its predecessor, which contained 4.9 oz. of 850-fill down).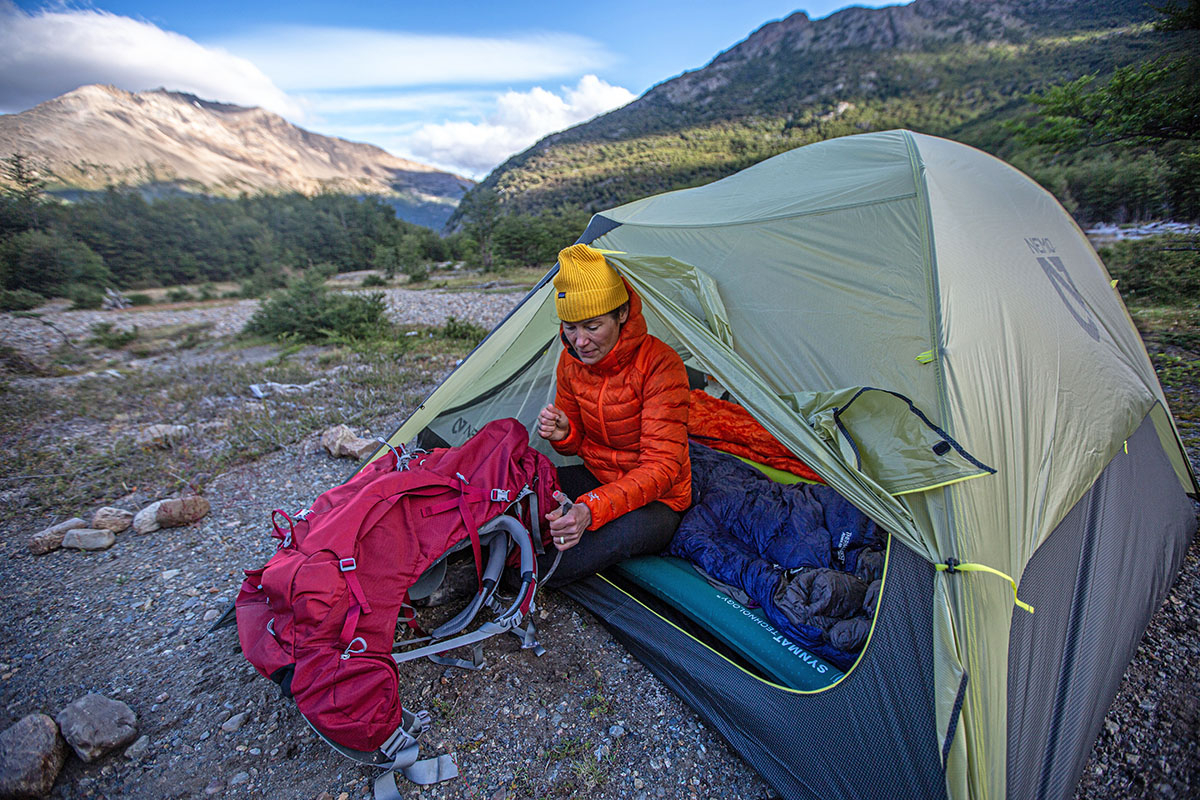 To help you retain body heat, Arc'teryx outfitted the Cerium SV with a few key protective features. First and foremost are the hood and collar, which provide excellent coverage and are nicely insulated to keep your head and neck cozy. Additionally, a drawcord at the hem allows you to cinch the jacket tight at the waist, and the elastic cuffs are snug enough to prevent cold air from creeping in (and warm air from escaping). Taken together, it's fairly easy to batten down the hatches.

Weight and Packability
At a scant 8.6 ounces for my women's small—0.4 ounces lighter than its listed weight and a considerable 4.5 less than the original in the same size—the latest Cerium SV Hoody is remarkably light given its level of warmth. This is especially impressive considering the use of synthetic insulation, which is much heavier and less compressible than down fill. For comparison, it stacks up very competitively in the ultralight market and significantly undercuts leading lightweight designs like Patagonia's Down Sweater Hoody (12.1) and Arc'teryx's own Cerium Hoody (10.2 oz.). You can go lighter with Arc'teryx's Cerium Lightweight Hoody (7.2 oz.) or Mountain Hardwear's Ghost Whisperer/2 Hoody (7.8 oz.), but both of those jackets have fewer features and thinner shells that are more susceptible to snags and tears. In my opinion, Arc'teryx hit a nice balance of weight, features, and durability with the Cerium SV.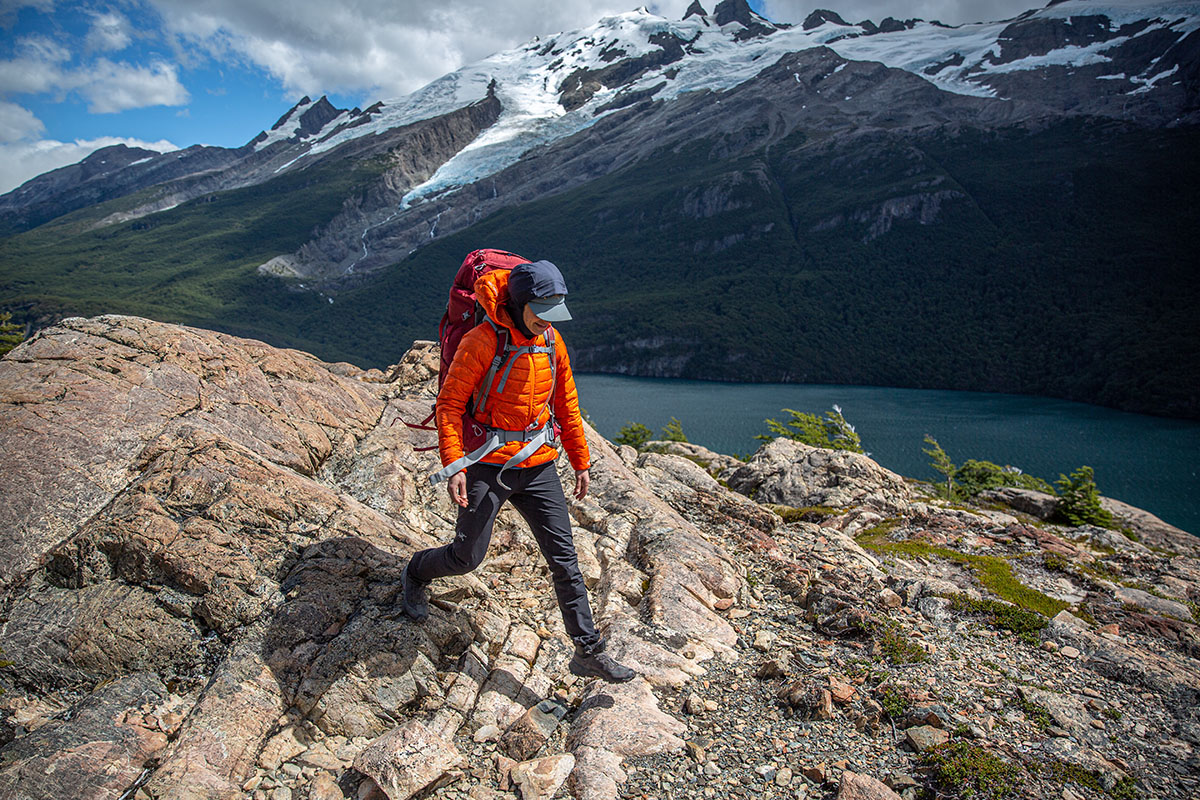 In terms of packability, the Cerium SV's high-quality down allows it to pack down impressively small. For storage, the jacket comes with a generously sized stuff sack (attached with a loop inside the interior pocket) that easily swallows the jacket and can be packed down to about the size of a grapefruit. If you opt to forgo the stuff sack, the Cerium SV rolls neatly into its hood and can be cinched with the pull cord, but this will leave the thin shell exposed (more on this below). Regardless of how you choose to store it, the Cerium SV's low weight and small packed size make it a no-brainer to throw in my daypack or running vest—I expect it to be a particularly great companion on long alpine runs this summer.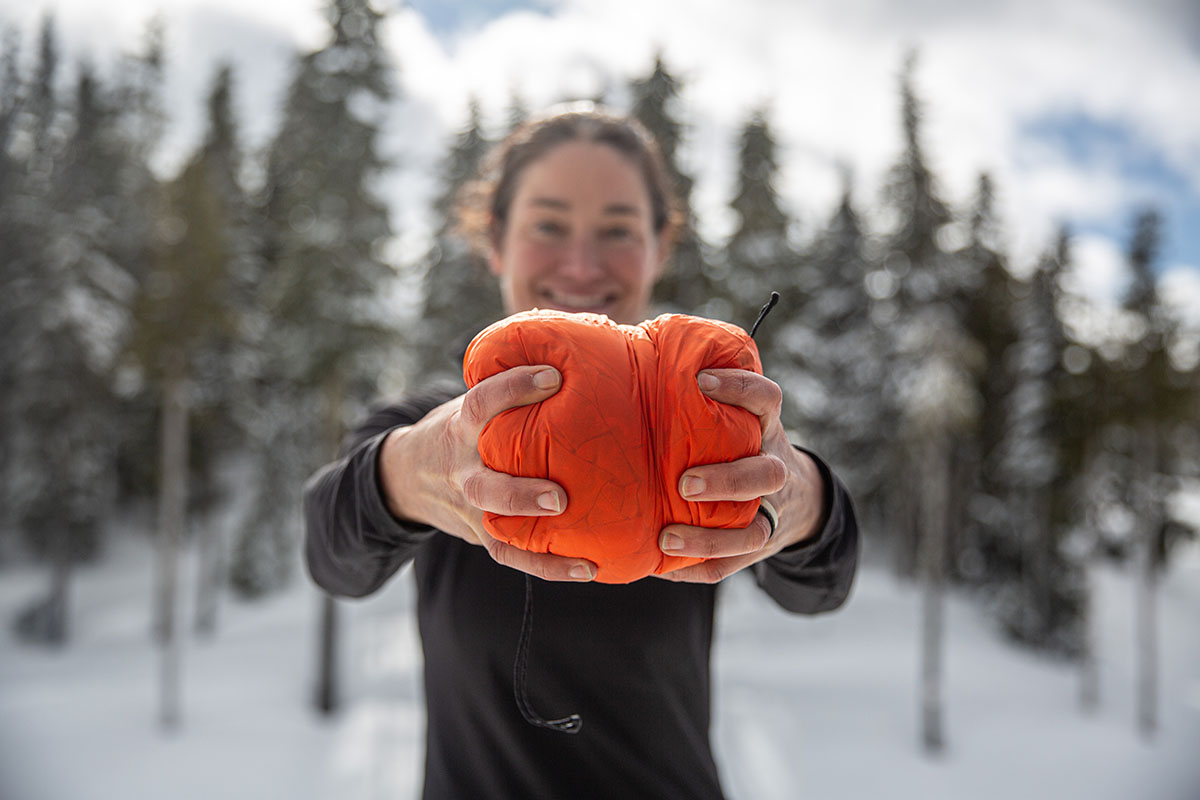 Weather Protection
Down jackets typically aren't effective barriers against the elements, but Arc'teryx added a few key features to boost the Cerium SV's weather resistance. As a first layer of defense, the jacket boasts a durable water repellent (DWR) coating, which helps light moisture like mist or dry snow bead up on the surface rather than soaking through. Inside, Arc'teryx added the 80 and 100g Coreloft mentioned above in areas prone to wetting out: the shoulders, underarms, cuffs, and front of the collar. Unlike down, synthetic insulation continues to insulate when wet, meaning it will keep you warm should moisture penetrate the outer shell. To be clear, I'm still quick to throw on a waterproof rain jacket or hardshell in heavy or extended rainfall, but the Cerium SV is perfectly capable of handling short bouts of moisture. I also found it to be surprisingly effective at blocking wind, which was no small ask in notoriously blustery Patagonia.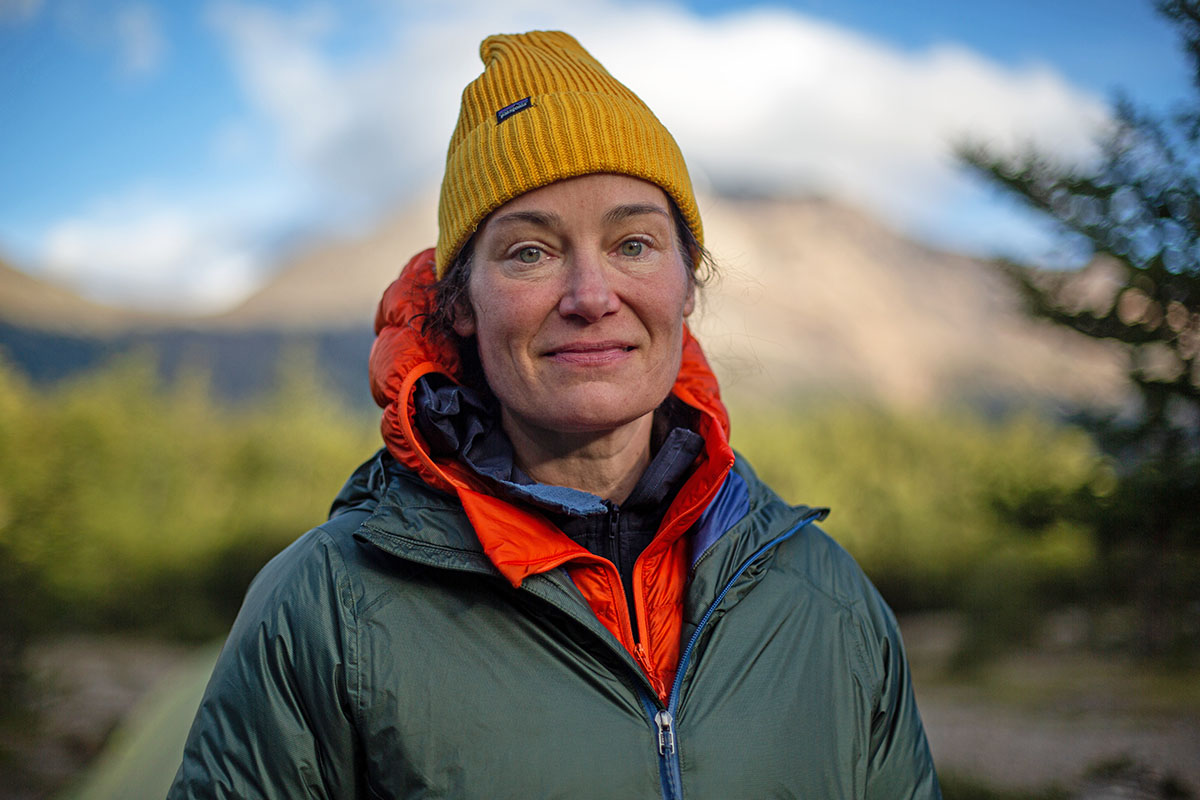 Build Quality and Durability
Given its lightweight build, it should come as no surprise that Arc'teryx had to make some concessions with the Cerium SV Hoody, and the most notable is durability. To be fair, the latest version uses a 15-denier (D) shell that's a step up in thickness from its 10D predecessor, but it still has a noticeably delicate feel that's not confidence-inspiring for daily wear, haphazard packing, or rough backcountry use. This was especially obvious in the Phenom colorway that I tested, which was translucent enough that I could see the insulation clearly through the shell and created a noticeably mottled look.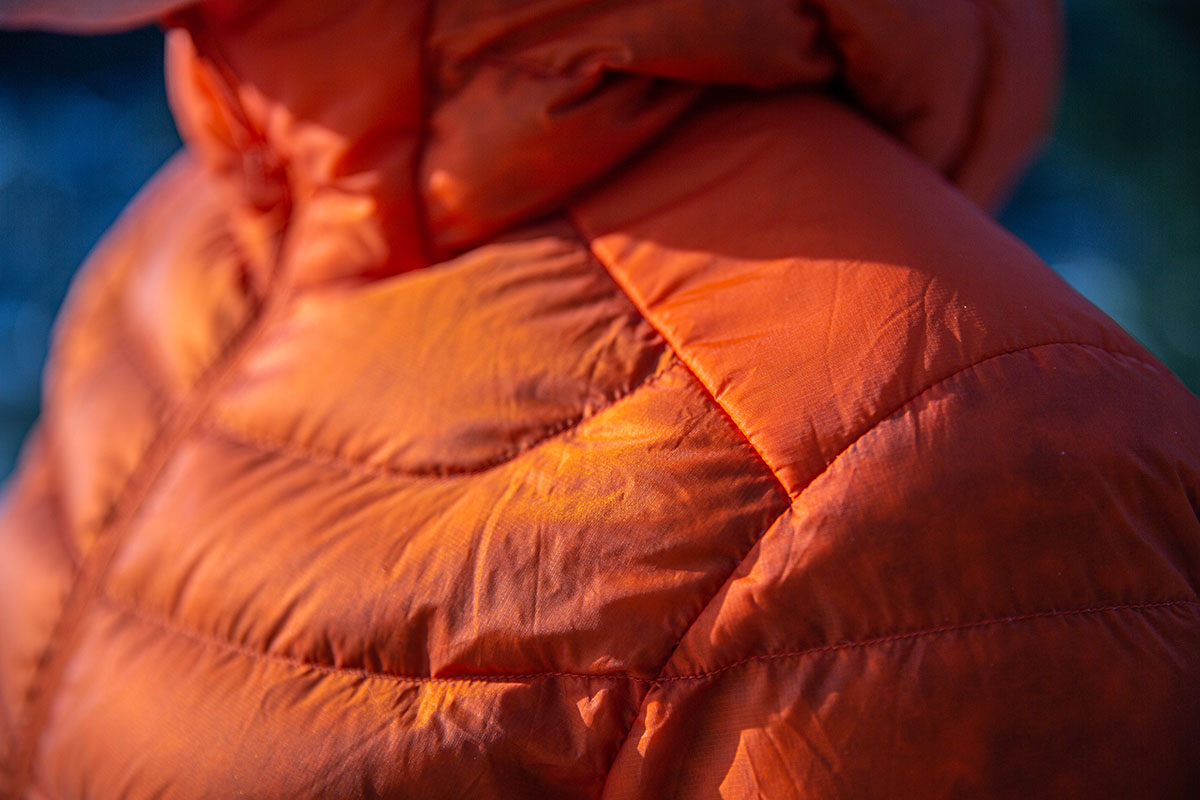 However, despite its fragile appearance, my Cerium SV has held up surprising well throughout testing, including multiple outings with a heavy backpacking pack. Impressively, not a single feather has poked through, the stitching is still impeccable, the zippers—although small and fragile-feeling—continue to operate smoothly, the insulation has maintained its loft, and the single hood toggle and hem cinch are working well. Again, this is a specialized piece that will require some added care, but overall quality still is excellent.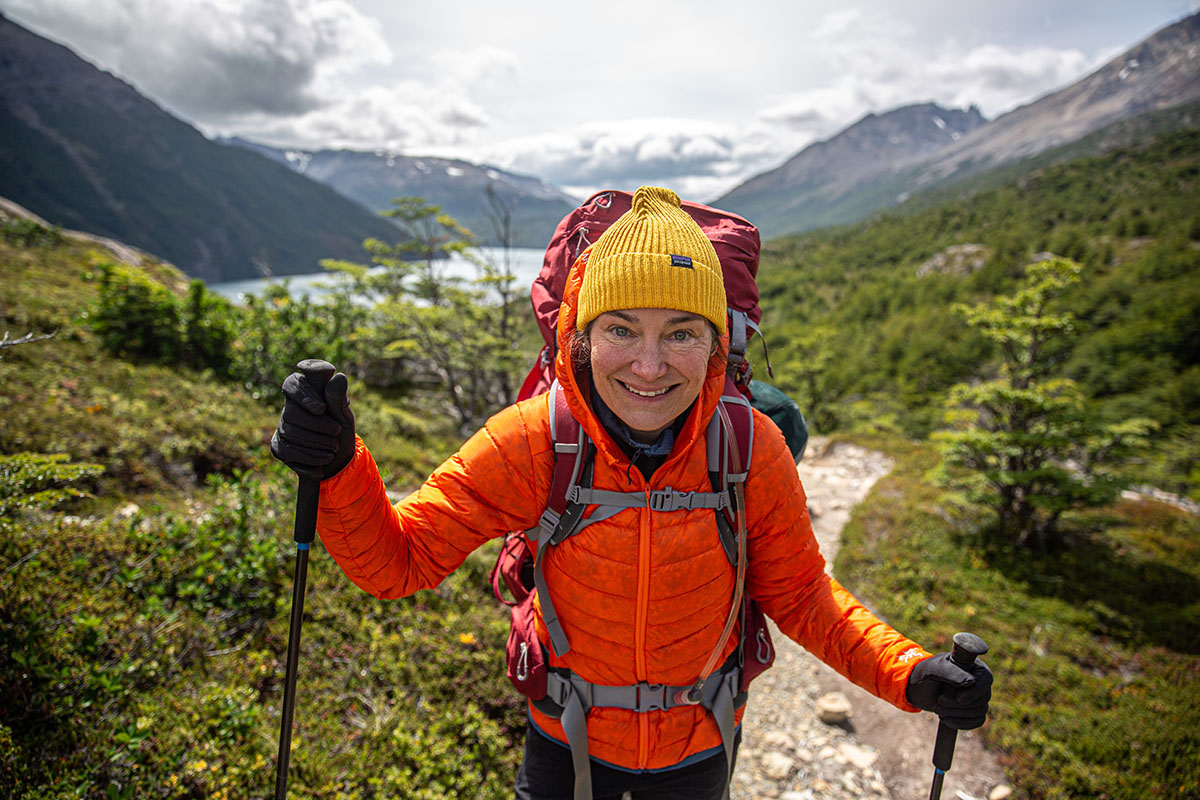 Key Features
StormHood
We have yet to find a more well-rounded design than Arc'teryx's StormHood. In short, it's easily adjustable, provides great all-around coverage, and offers an accommodating fit that's sized right for a variety of activities. Starting with adjustability, you get a single toggle at the back that's easy to cinch and tightens the hood evenly around the head. Even in strong Patagonian winds, it stayed securely in place and nicely sealed out drafts. It's worth noting that the original Cerium SV included additional pull cords along the inside of the collar for a slightly more tailored fit, but the difference in adjustability is fairly minimal. Importantly, you still get a tall collar that offers coverage up to the chin, and the hood is climbing helmet-compatible for trips into the alpine.

Storage: Pockets
Arc'teryx kept things simple with the Cerium SV's organization, including two zippered hand pockets and one zippered interior pocket. That said, the layout is entirely functional and well executed. The hand pockets have down insulation on both the inside and outside, which helps keep hands warm. And the pocket zippers feature "garages" that protect them at the top by deflecting moisture. Finally, the internal security pocket is large enough to swallow a plus-sized iPhone or Garmin inReach device (it also houses the stuff sack, although you can detach that and stow it wherever you want).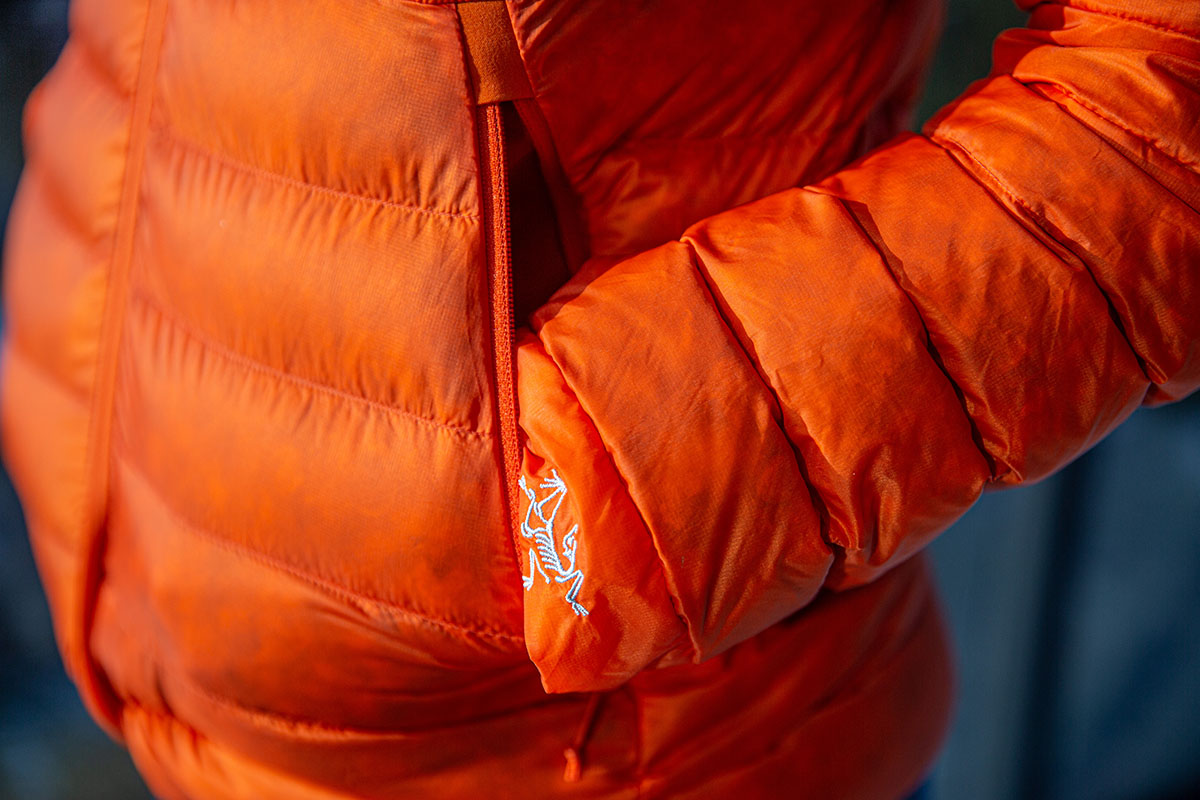 Fit and Sizing
The past-generation Cerium SV had a fairly accommodating "regular" cut, but the latest model boasts Arc'teryx's much trimmer "fitted" designation. For reference, my usual women's size small fit comfortably over a long-sleeve baselayer with no restriction to freedom of movement while still being form-fitting enough to easily slide under a hardshell (the Outdoor Research Aspire Super Stretch) or ski jacket (the Arc'teryx Sentinel). Those who want the ability to layer heavily underneath will likely want to size up—or opt for a more accommodating design like Mountain Hardwear's Ghost Whisperer/2 Hoody—but I feel that the Cerium SV's streamlined cut lines up well with its intentions as an ultralight midlayer.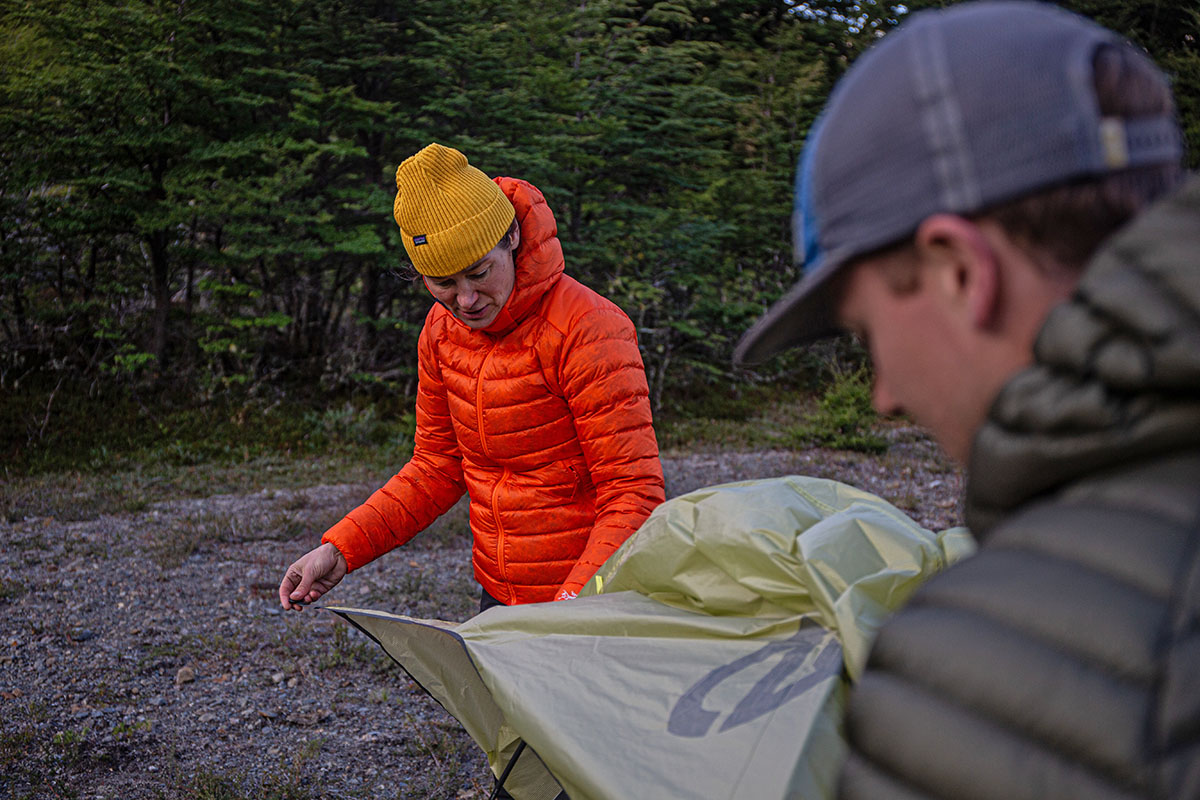 Sustainability
Arc'teryx has joined many other leading outdoor brands in the push for sustainability, and the latest Cerium SV Hoody is a nice reflection of their ongoing efforts. First, the jacket uses recycled nylon and bluesign-approved materials that have been deemed safe for consumers, workers, and the environment. Arc'teryx also opted to dope dye the shell—a process that uses considerably less water and energy consumption than standard dyeing practices. Finally, the Cerium SV's down insulation is certified to the Responsible Down Standard (RDS), which ensures the geese were treated humanely and not force-fed or live-plucked. Added up, it's a competitive sustainability slant and a welcome improvement over the past model.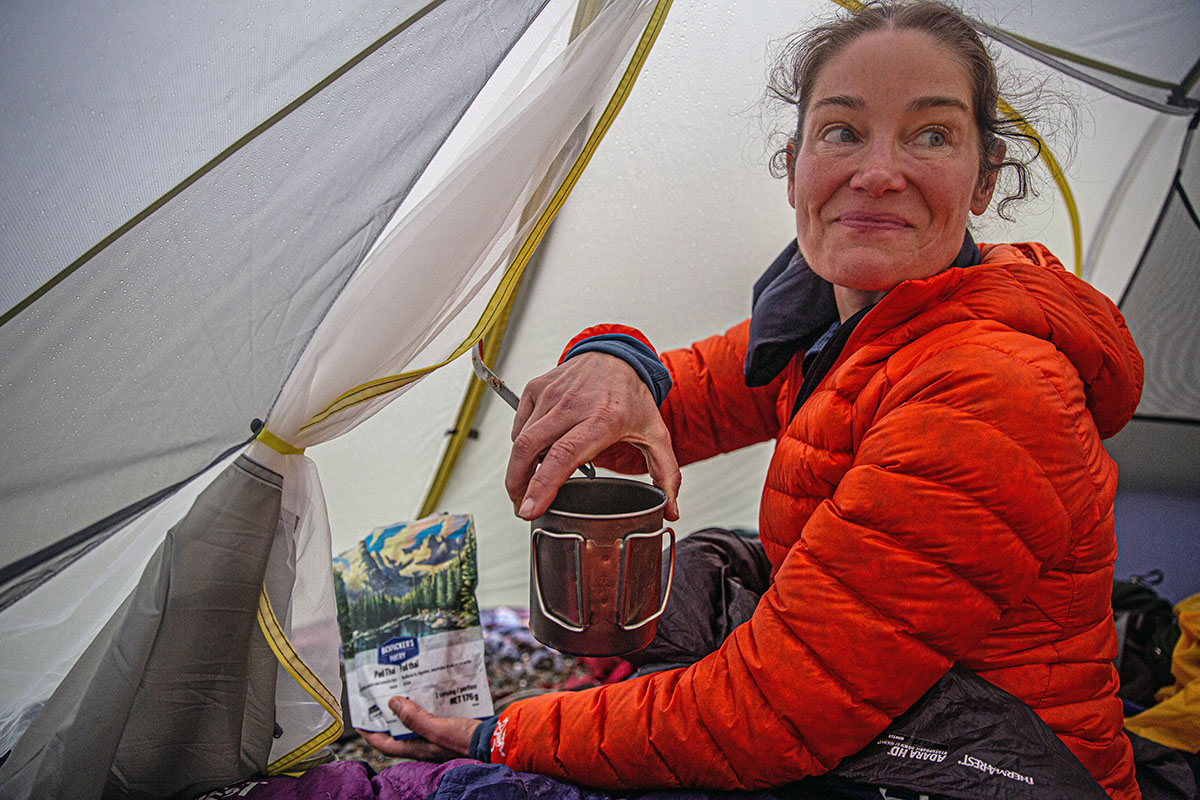 What We Like
With 2.7 ounces of 1,000-fill in a 9-ounce package, the Cerium SV is very warm for its weight and packs down impressively small.
Strategic use of Coreloft insulation and a DWR coating add a solid dose of assurance in light to moderate precipitation (without any notable impact on weight or packability).
Feature set is very well sorted for a UL design, including an adjustable and helmet-compatible hood and practical storage layout.
Surprisingly good wind resistance considering the stitch-through construction.
Sustainably built with recycled and bluesign-approved materials, RDS-certified down, and a dope-dyed shell that requires minimal water and energy consumption.

What We Don't
Translucent shell fabric and delicate-feeling zippers don't inspire much confidence (you'll want to exercise caution around sharp equipment or when bushwhacking).
Like most Arc'teryx products, the Cerium SV doesn't come cheap at $450, and you can go much warmer for significantly less.
Trim fit works well over a baselayer but won't accommodate much more—those who want to layer heavily underneath should consider sizing up.
Limited colorway selection and currently only offered in a women's model.


Comparison Table

The Competition
Arc'teryx's Cerium SV is an impressive insulator given its low weight and small packed size, but there's no shortage of quality down jackets to choose from in 2023. We'll start with two options from the same collection: the standard Cerium Hoody ($400) and Cerium Lightweight Hoody ($360). The former is the heaviest of the bunch at 10.2 ounces and uses lower-quality 850-fill down (3.2 oz. of it) but has a thicker lining and is offered in a wider selection of classy colorways, as well as a dedicated men's version. The aptly named Cerium Lightweight is the lightest option at a feathery 7.2 ounces but uses less down (around 2 oz.), a thinner mix of Coreloft (40 and 80g), and an even more delicate (7D) shell. You also forgo an interior pocket. In the end, we'd break it down as follows: The Cerium Hoody is the most balanced option for both outdoor and everyday use, the Cerium Lightweight is the targeted backcountry piece for committed ULers, and the Cerium SV is a nice middle ground for those willing to spend up.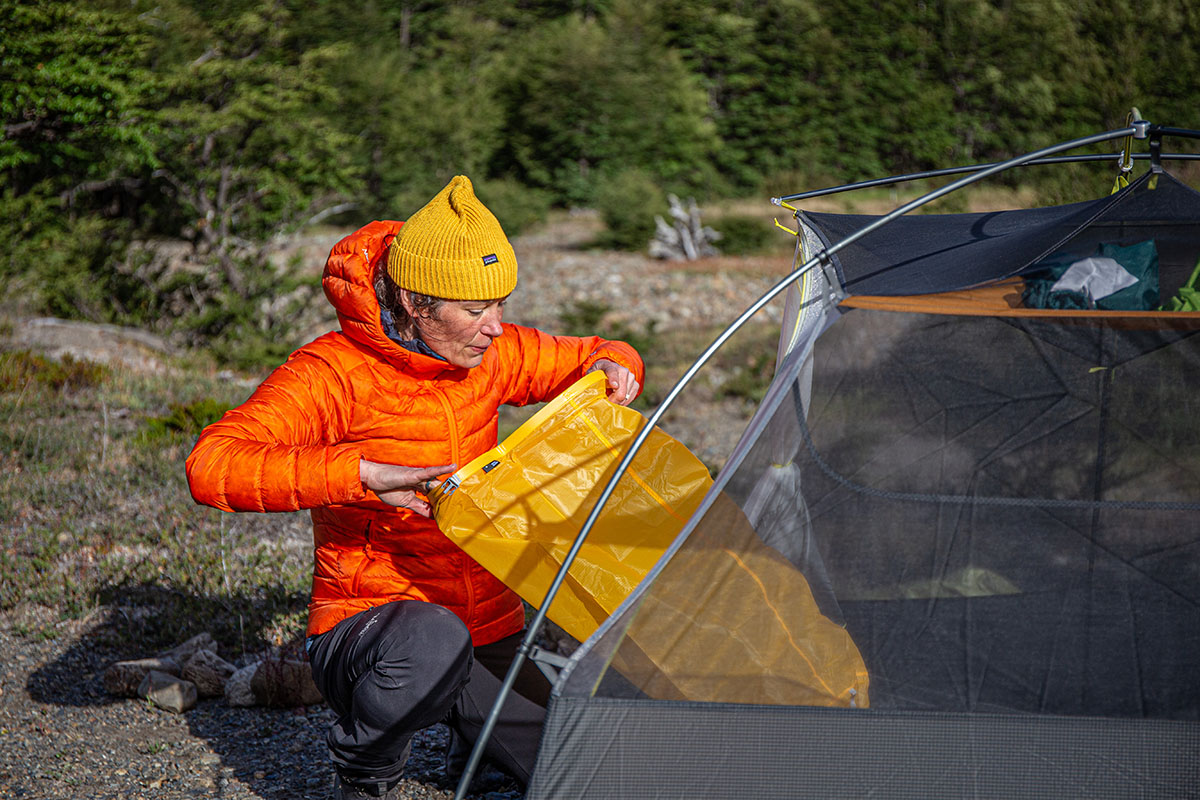 Another one of our top-rated ultralight down jackets is Rab's Mythic Alpine Light, which stacks up very competitively to the Cerium SV in warmth, weight, and features. In parsing out the differences, the Rab is lighter by around an ounce, tacks on water-resistant YKK zippers, and boasts a more protective Pertex Quantum shell—all for a considerable $135 less. Like the Cerium SV, the Mythic Alpine Light also includes synthetic fill in moisture-prone areas, although it's a small step down in warmth with 2.1 ounces of 900-fill down. Final downsides include a thinner 10D shell fabric and non-adjustable hood, but it's for good reason that the Rab has quickly become one of our go-to jackets for weight-conscious running, skiing, and climbing objectives. Unless the Arc'teryx's more technical feature set is a must-have for you, we'd opt for the lighter and cheaper Mythic Alpine Light.
Next up is the Mountain Hardwear Ghost Whisperer/2 Hoody, which costs $90 less than the Cerium SV and checks in even lighter at just 7.8 ounces for the women's version. That said, apart from the weight and price advantages, the Arc'teryx wins out in most other areas: It uses higher-fill-power down (1,000 vs. 800-fill for the Mountain Hardwear), has a thicker shell (15D vs. 10x10D), includes just two hand pockets, and features a non-adjustable hood that's not designed to fit over a helmet. The Ghost Whisperer also lacks the Cerium's generous use of synthetic fill in moisture-prone areas, although you do get some at the front of the cuffs to prevent them from wetting out. Both jackets are impressively warm for their weight, but we give the nod to the Arc'teryx for its more well-rounded build. For the most diehard of ounce counters, there's also a UL version available that weighs 6.2 ounces, boasts 1.9 ounces of 1,000-fill down, and uses an ultra-thin 5 x 7D shell.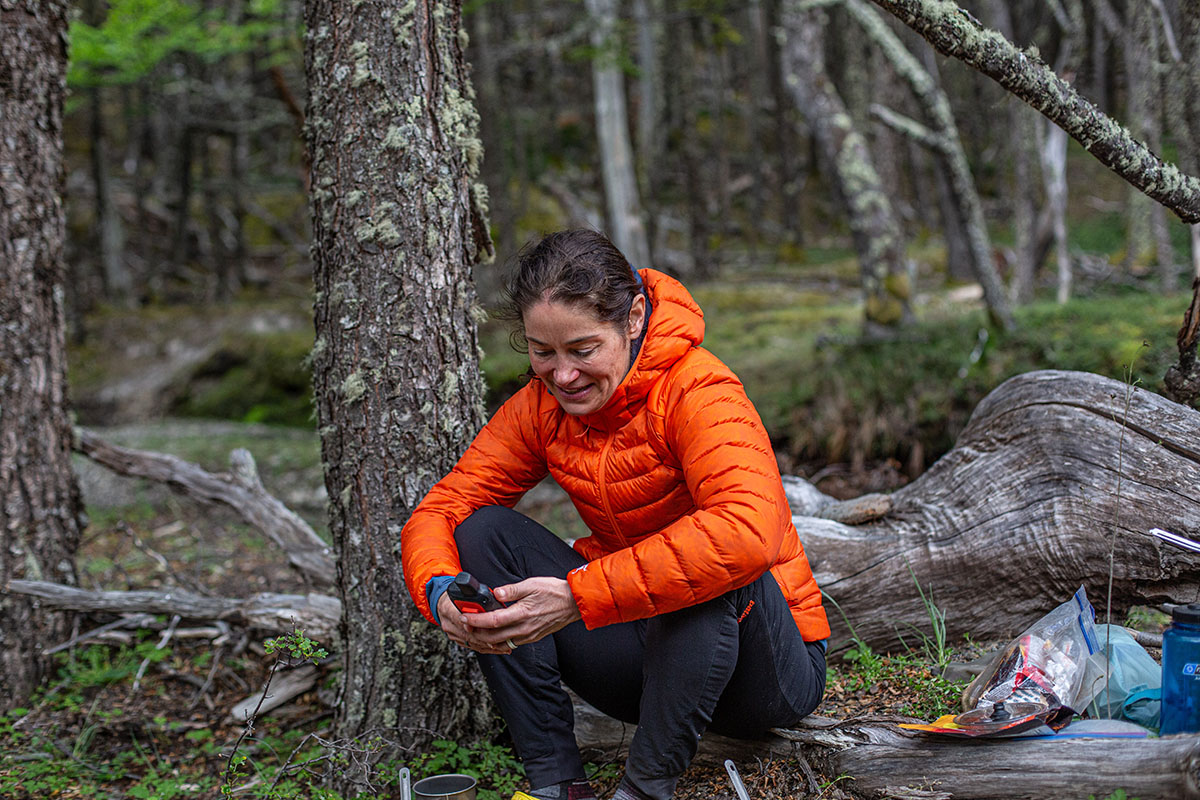 Stepping up in weight, Feathered Friends' Eos Down Jacket has been a favorite of ours for years. For just an ounce more than the Cerium SV, the Eos packs in 3.7 ounces of high-quality 900-fill down for a modest bump in warmth, as well as a weather-resistant Pertex Quantum shell that's more adept at fending off moisture than the Cerium's standard DWR coating (although you don't get any synthetic insulation). The feature set also lines up well, including an adjustable hood and hem, zippered hand pockets and an exterior chest pocket (but no interior storage), and a stuff sack for packing the jacket down. The fairly boxy fit isn't ideal for layering a shell overtop—dedicated ULers will almost certainly prefer the trimmer Cerium—but the Eos is a similarly well-built alternative for those who value the added warmth.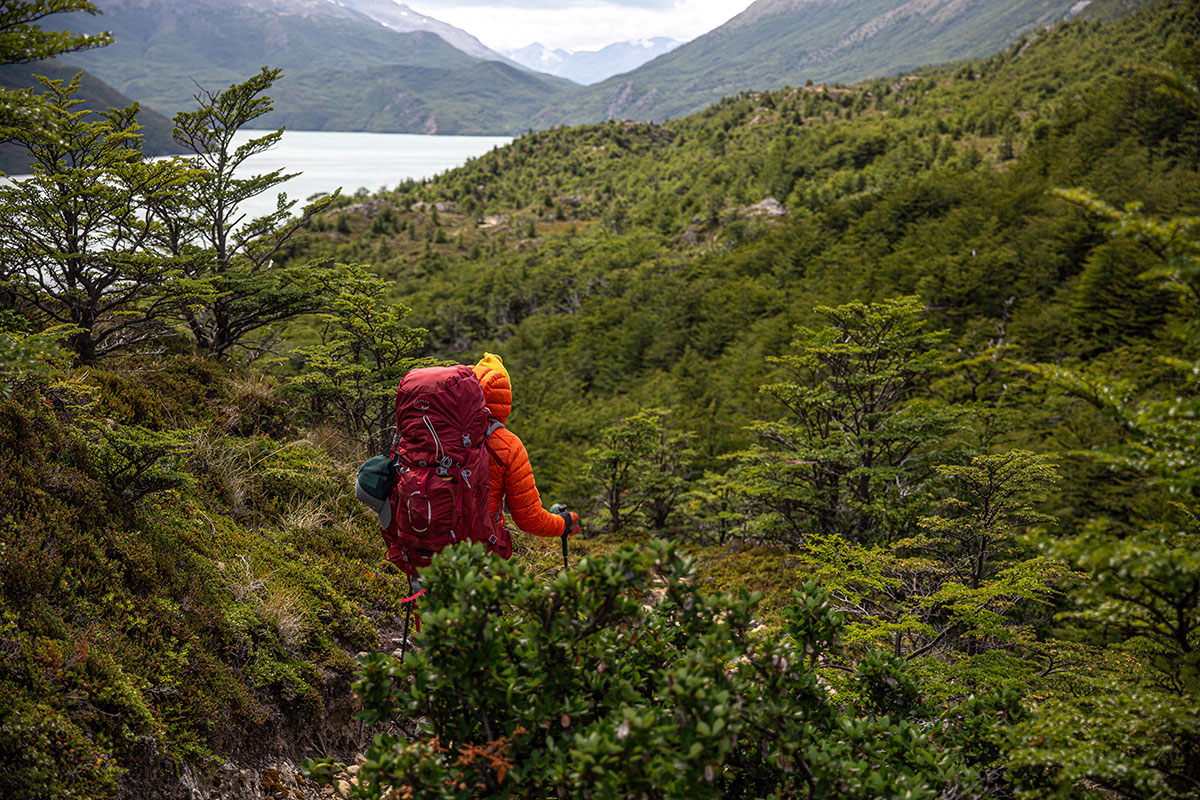 Last but not least is the most specialized ultralight design here: Montbell's Plasma 1000 Alpine Down Parka. Compared to the Cerium, the Plasma is both lighter at 7.9 ounces and warmer with 3 ounces of 1,000-fill down, and Montbell didn't skimp on features with a two-way adjustable hood, a cinchable hem, zippered hand pockets, and a stuff sack. The biggest tradeoff is durability: The Montbell's ultra-thin 7D shell has a noticeably more fragile feel than the 15D Cerium and will require added care to avoid snags and tears. The "skip-stitch" baffling pattern is also fairly polarizing—those wanting the traditional down puffy look will want to stick with the Arc'teryx. In the end, the Plasma's warmth-to-weight ratio is undeniably impressive, but the Cerium SV is the more approachable option for most (and will save you around $30).
Editor's note: We usually provide a live price comparison table below our outdoor gear reviews, but the Cerium SV is currently only available directly through Arc'teryx. You can see the Cerium SV Hoody page here and support us in the process. Thanks!
Read More From Switchback Travel