Hyperlite 2400 Southwest
Price: $320
Weight: 1 lb. 14 oz.
Fabric: Dyneema (50D & 150D)
Capacities: 40, 55, 70L
What we like: Impressive carrying capabilities in a sub-2-pound package.
What we don't: Expensive, especially given the limited feature set and lack of organization.
See the Hyperlite 2400 Southwest
Dyneema is a hot ticket in ultralight gear, and for good reason: it's one of the strongest materials in the world relative to its weight, resists moisture well, and is incredibly light. Maine-based Hyperlite Mountain Gear leads the charge in utilizing Dyneema, and we were eager to test their 2400 Southwest, a 40-liter pack made for rugged terrain. In the end, while we knew to anticipate the feathery weight and superb durability, we came away even more impressed by the pack's comfort and functionality. Below we outline our experiences with the Southwest. To see how it stacks up to the competition, see our articles on the best backpacking packs, women's backpacking packs, and ultralight backpacks.
 
---
Table of Contents
---

Performance
Weight
The Hyperlite Mountain Gear Southwest's 1-pound-14-ounce weight is noteworthy for a couple of reasons. First, it puts the 40-liter pack in a competitively small group of sub-2-pound backpacking designs. For comparison's sake, other ultralight packs of the same (or lower) capacity include the Granite Gear Crown2 38 (2 lbs. 1.6 oz.) and Osprey Eja 38 (2 lbs. 6.2 oz.). Second—and even more impressive—is the remarkably few compromises the Southwest makes in order to maintain this low weight. Even loaded down for a multi-day trip, the pack kept my gear organized and was noticeably comfortable on my back.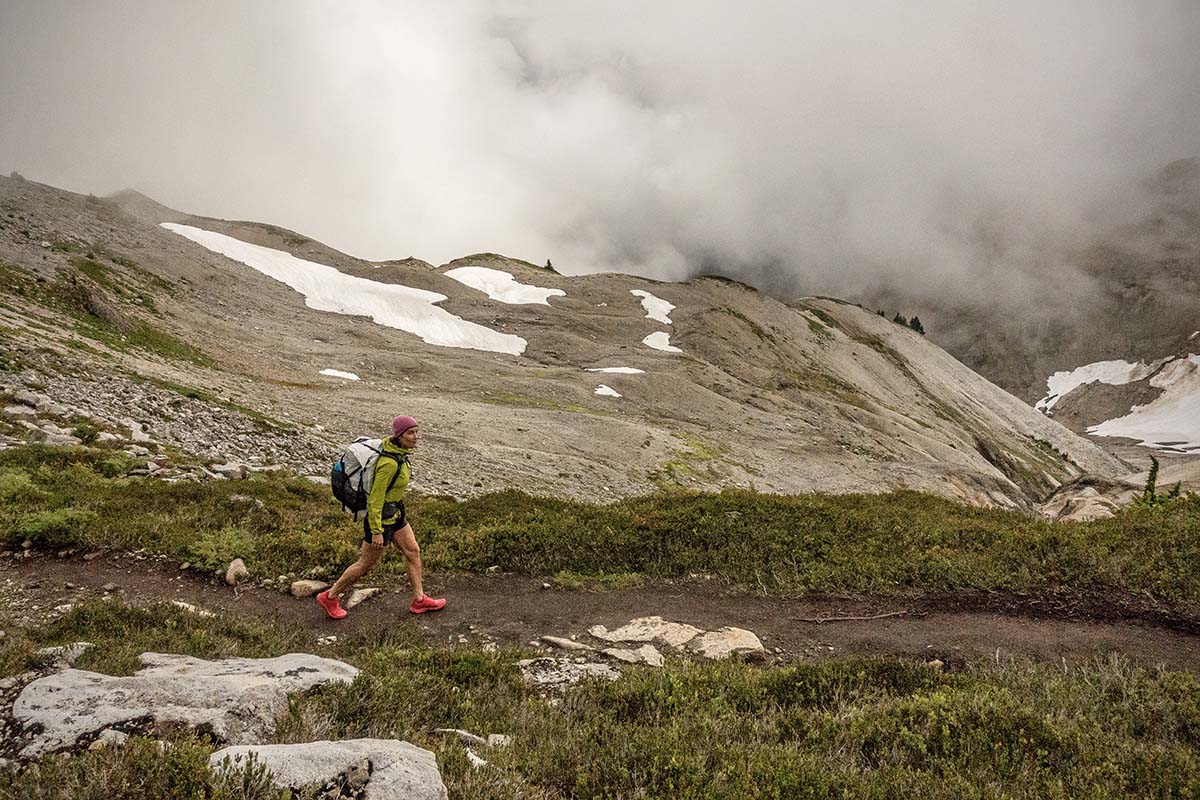 We have Dyneema to thank for the Southwest's impressive combination of low weight and toughness. Formerly known as Cuben Fiber, Dyneema is among the strongest materials in the world in terms of strength-to-weight ratio. Although very much still a minimalist pack in terms of build and features (more on this in the "Organization and Pockets" section below), the Dyneema and Dyneema Composite Fabrics throughout—on the main body, hipbelt, shoulder straps, and external pockets—shave considerable ounces compared to packs of the same capacity. After several long, heavy-mileage days in the Mount Baker Wilderness backcountry, I was grateful for the Southwest's sleek build. It's no wonder Hyperlite's packs have a cult-like following among thru-hikers.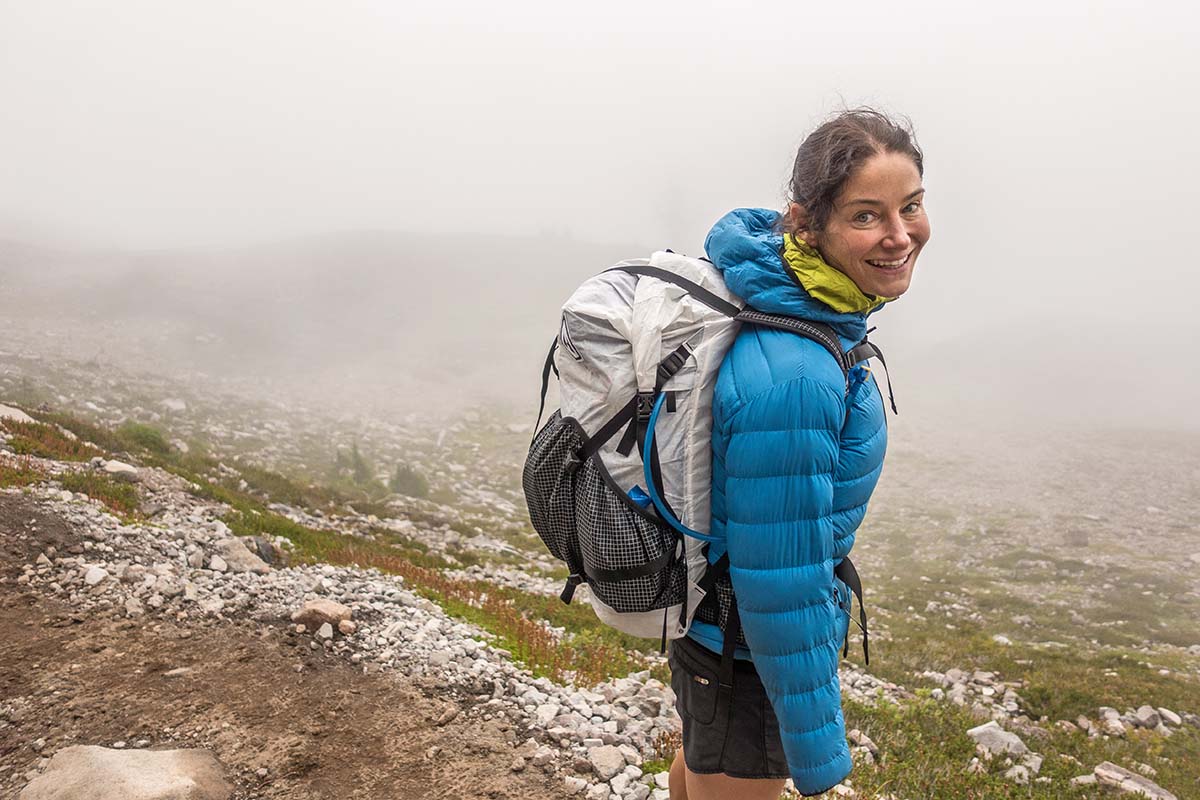 Carrying Comfort
As soon as I donned the Hyperlite Mountain Gear 2400 Southwest, I was struck by its comfortable design and fit. Weight and interior space are understandably important considerations when looking at packs, but comfort is always paramount. The Southwest's lightweight and pliable materials had me initially fearful, but my worries were expelled as soon as I stuffed my gear inside and threw the pack over my shoulders. The ¼-inch foam backpanel pad added a nice cushioned layer that kept the contents of the pack from poking into my back, and the removable aluminum stays were effective in distributing the weight (I haven't attempted to wear the pack without them, although doing so would shave 4.4 ounces).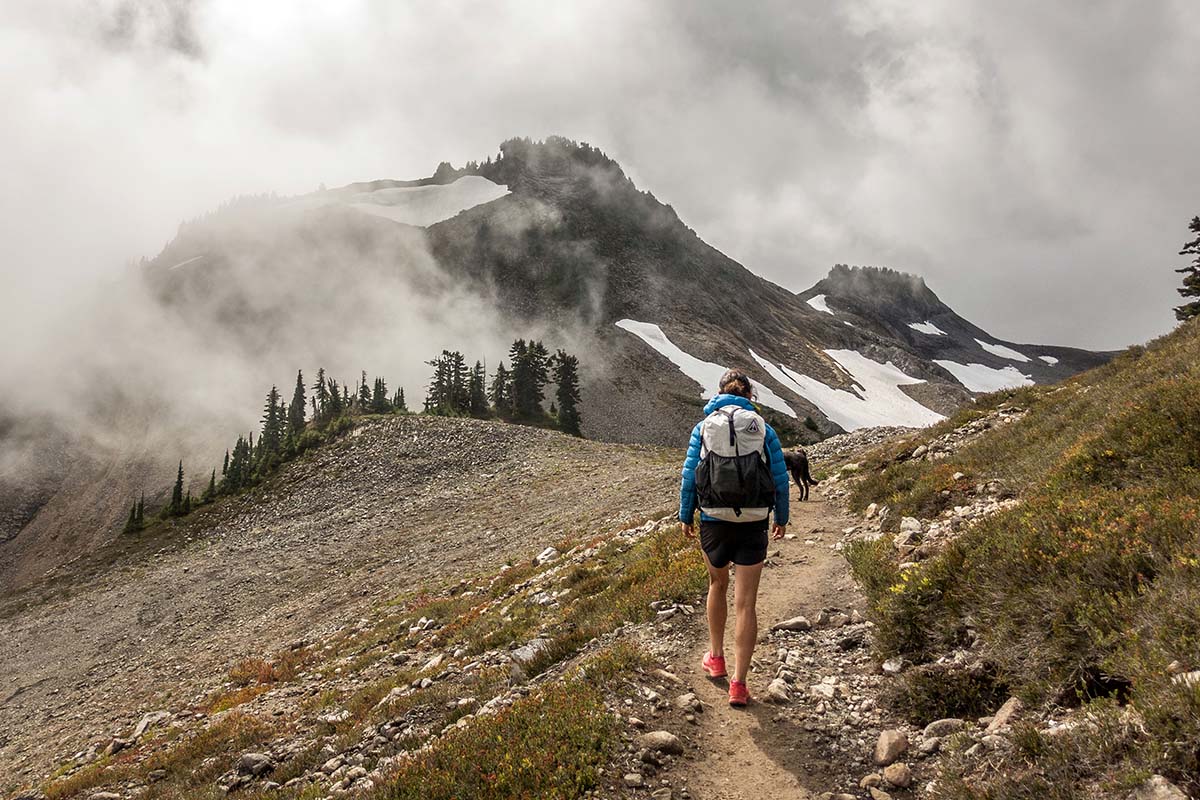 For a minimalist pack, the Southwest's hipbelt is reasonably padded and snug. Even during long days on the trail with up to 30 pounds of weight (the pack's maximum capacity is 40 pounds), I've experienced no hotspots or discomfort. That said, my experience with the shoulder and sternum straps has been less than ideal (this strikes me as a female-specific fit issue with a unisex pack—for more see the "Fit and Sizing" section below). It took a few trips to break in the stiff shoulder straps, but they've become comfortable and feel adequately cushioned despite initially digging in underneath my armpit. The sternum straps, on the other hand, have been harder to tailor. In the end, I found that their optimal position on my upper half requires defacing the poorly placed Hyperlite logo—but all in the name of comfort, right? With this adjustment, the band sits perfectly across my chest.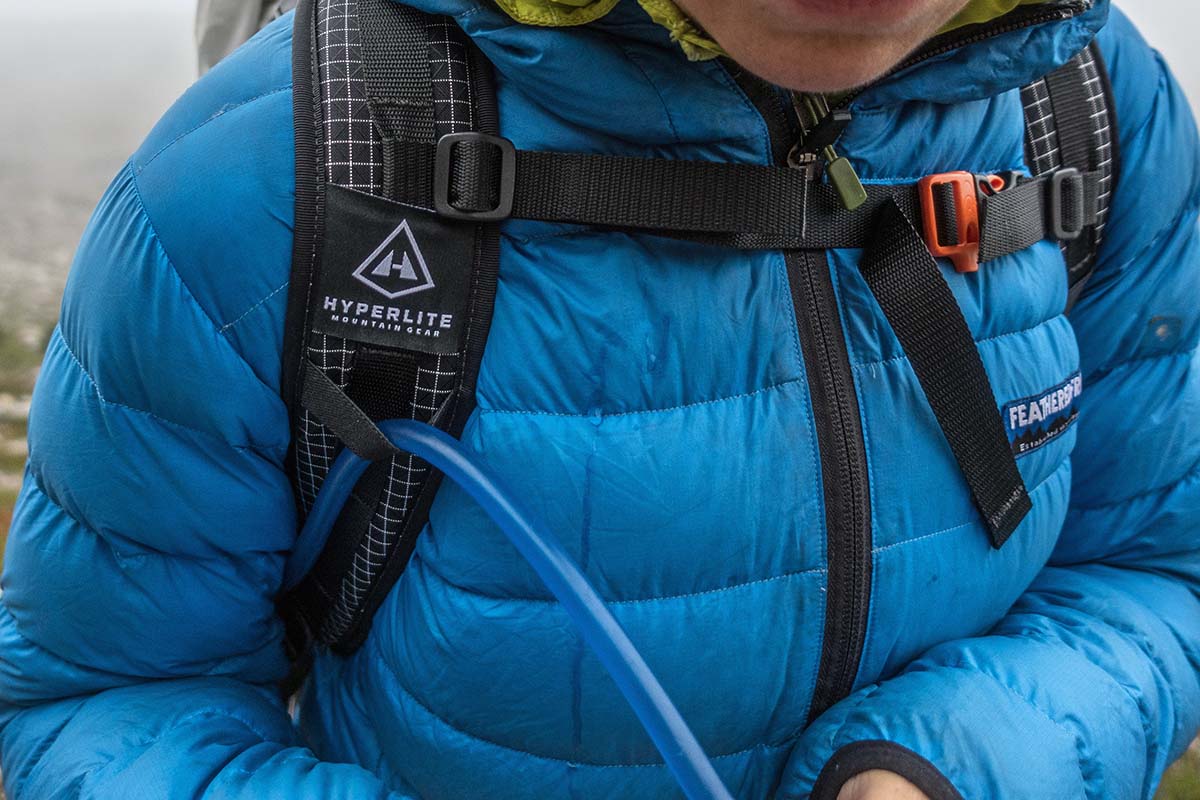 Organization and Pockets
The Southwest's design is undeniably basic, with only a single main compartment and three exterior pockets for organization (plus two hipbelt pockets). Similar to Hyperlite's 2400 Windrider, the body of the Southwest is basically a tube that's closed with a roll-top system, sealed at the top with a Velcro closure and fastened to the sides with buckles. This main compartment has a hydration bladder sleeve inside, but is otherwise bereft of pockets and storage. I do wish Hyperlite had included an internal zippered pocket for personal items like a wallet or keys, as I found it hard to find a spot for these otherwise.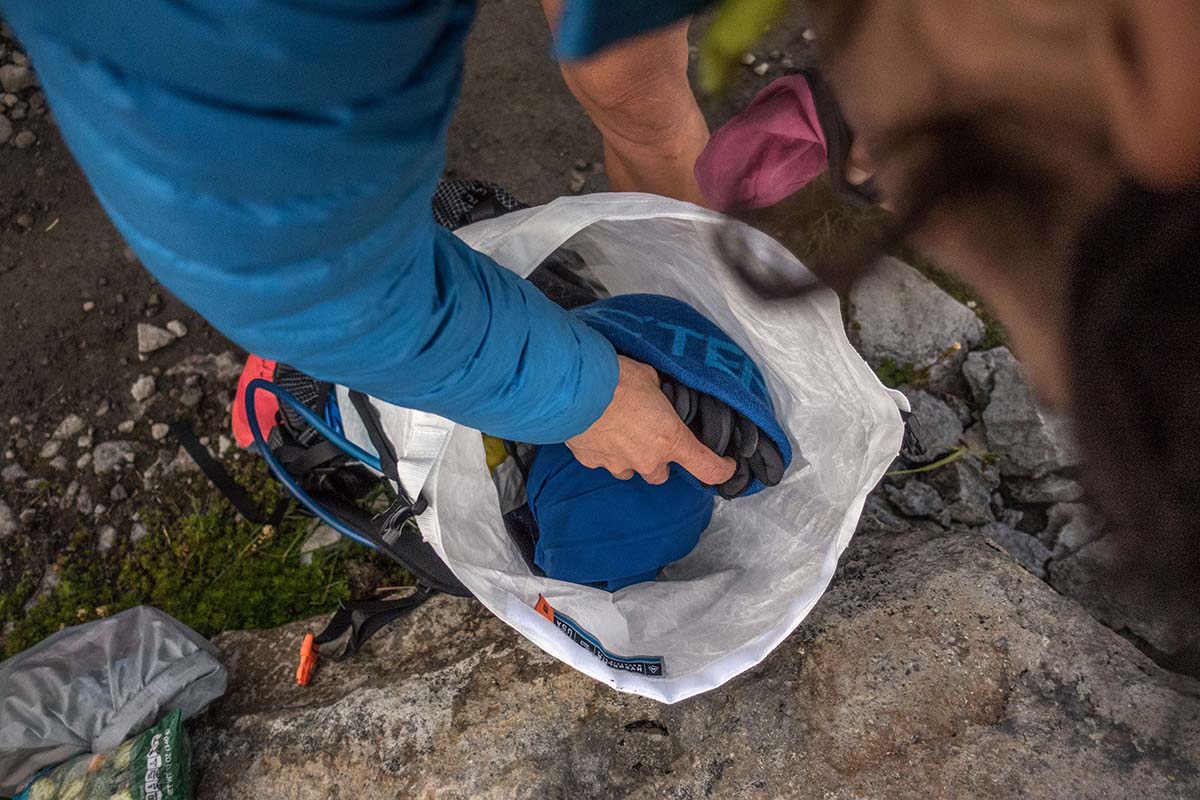 On the outside of the pack, the Southwest features three generously-sized stuff pockets that add an additional 7.3 liters of capacity. I tended to use these for extra layers, food, water, or damp items that I wanted to keep away from the rest of my gear. Unlike the mesh of the Windrider's outer storage, however, the Southwest's pockets are made with Dyneema-based Hardline for added durability, which also means that items stuffed here won't dry as well or as quickly as they would in mesh. That said, Hyperlite did include a hole at the bottom of all three pockets, allowing them to drain water.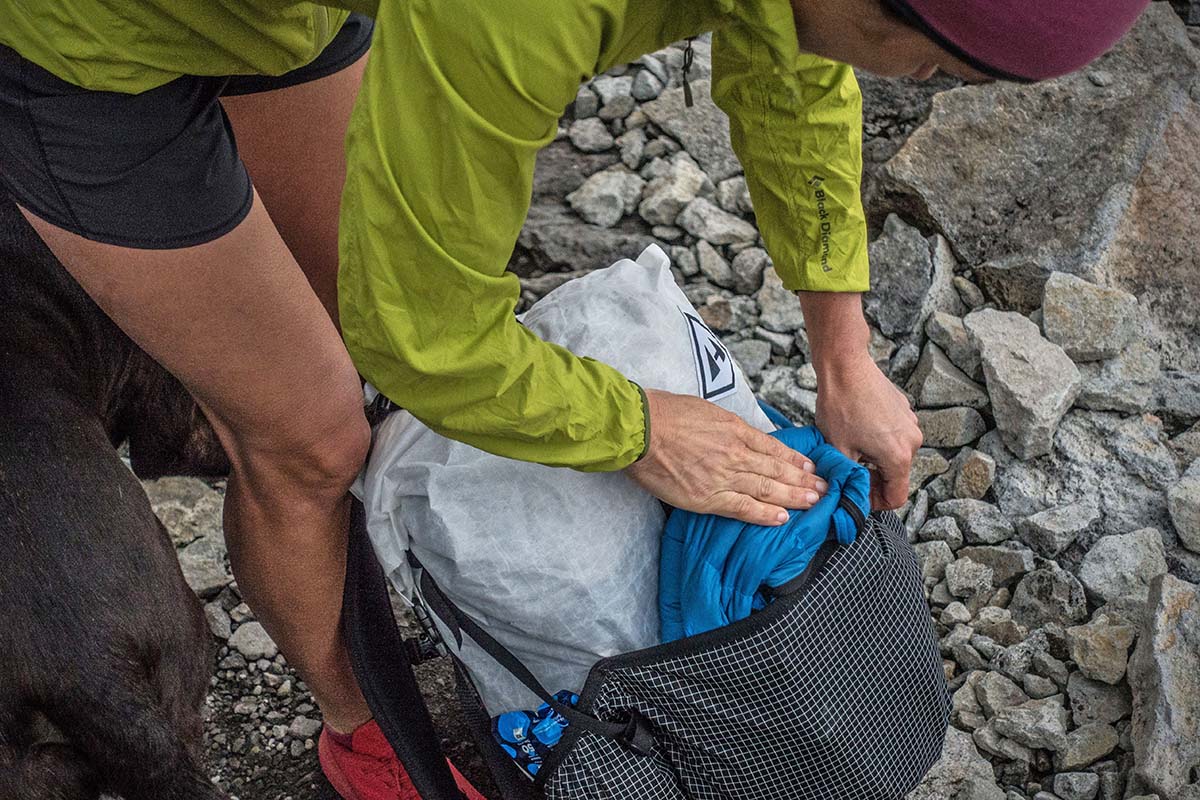 As someone who snacks often, I'm a sucker for sizable hipbelt pockets, and the Southwest's easily fit the bill. The two zippered pockets are water-treated for added insurance against the elements, and I especially love the generous size: one pocket easily swallowed my GPS device, cell phone, handwarmers, and snacks. In my mind, the small addition of hipbelt pockets transforms the Southwest from ultralight hauler into a more fully-featured backpacking pack.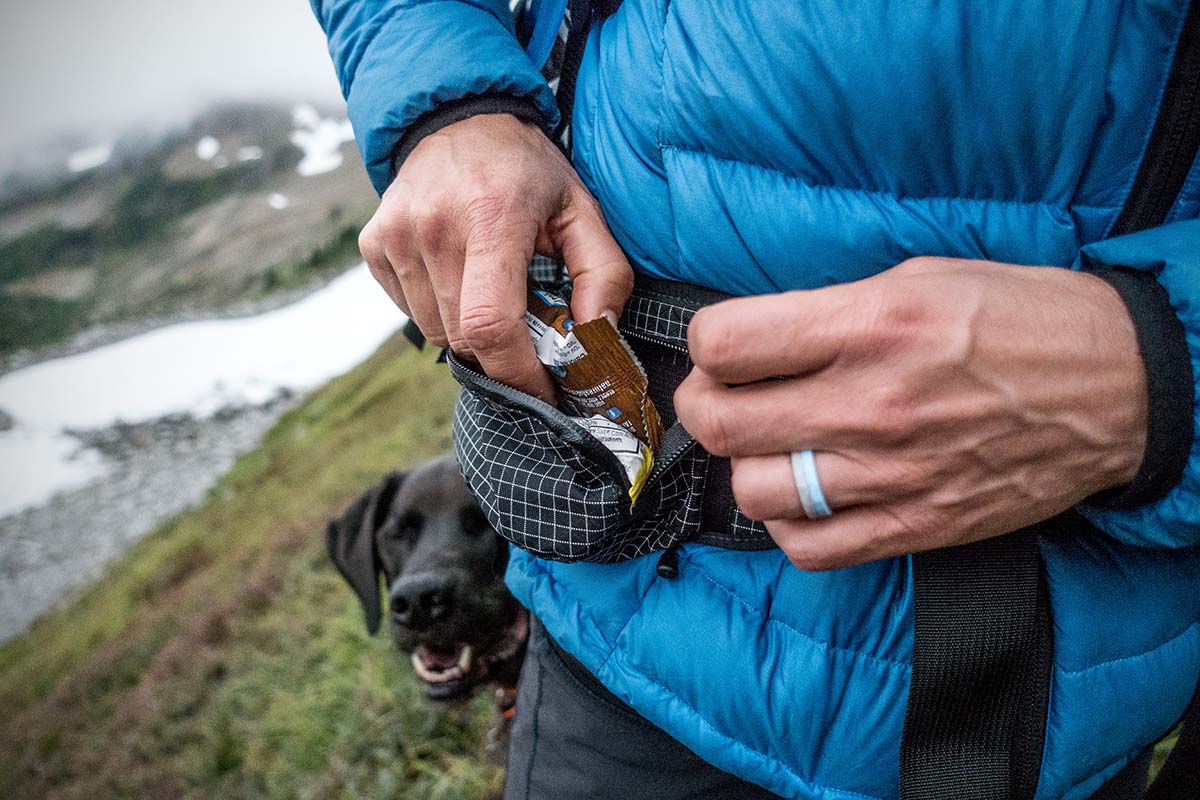 Build Quality and Durability 
Despite the lightweight focus and minimalist build, the Southwest has shown no signs of wear throughout its extensive testing. Although I chose the 50-denier white 2400 Southwest (the black 2400 model has 150D fabric for $20 more), it has withstood being battered, dropped, and dragged, and so far has proven indestructible (the base of both models is made with 150D fabric). I've had no seam issues, either—they've all held up tight with no signs of fraying, and the seam seal has not peeled or worn at all. Do keep in mind, however, that regardless of how strong Dyneema may be, the spaces between the woven fibers are vulnerable to puncture. 50-denier fabric is on the thinner end of backpack fabrics, meaning this pack will likely require more attentive care over time than burlier models.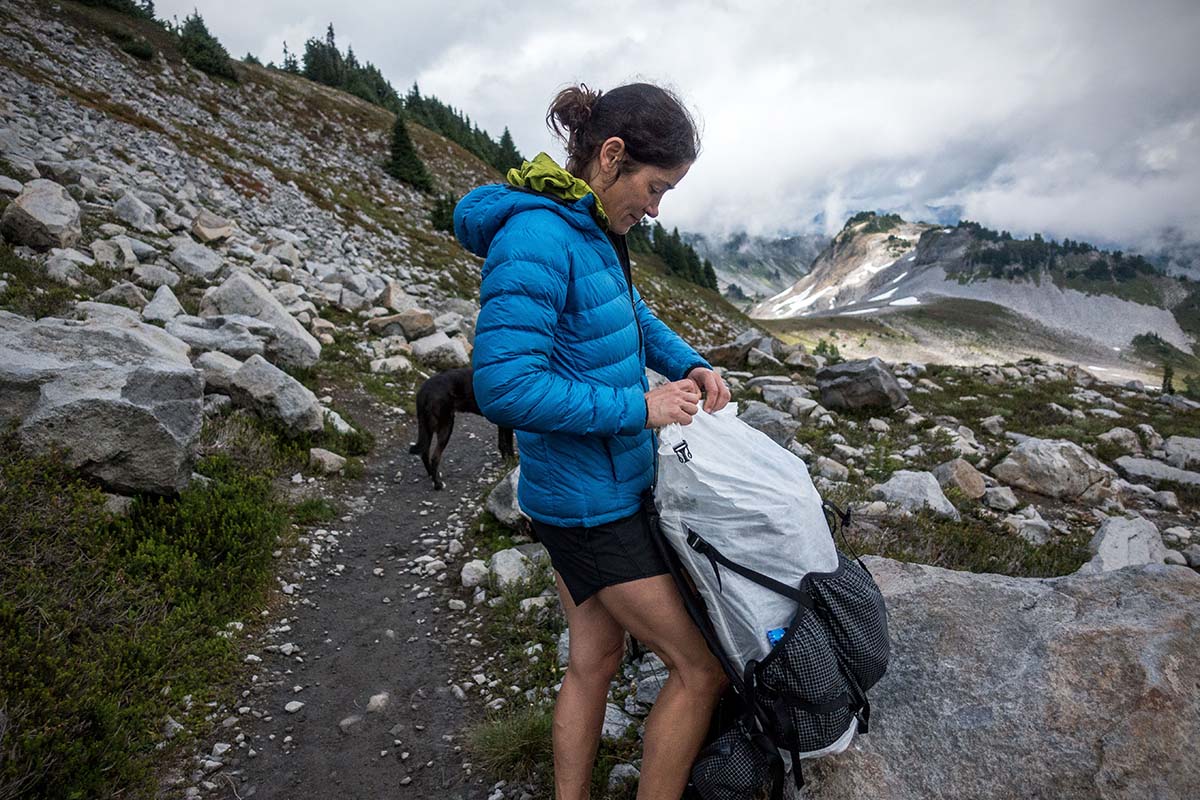 What takes the Dyneema construction from good to great is the fact that it doesn't compromise waterproofing. On one particularly frigid day of hiking in the Whistler alpine, we were pelted with rain and sleet in near-freezing conditions. Towards the end of the afternoon, I leaned the Southwest against a tarp leg for hours before realizing runoff from the roof was pouring directly onto the pack. After a brief moment of panic, I tore open the Velcro top to find my expensive camera gear completely dry. The Dyneema and roll-top closure had done an exemplary job of keeping out every droplet of moisture.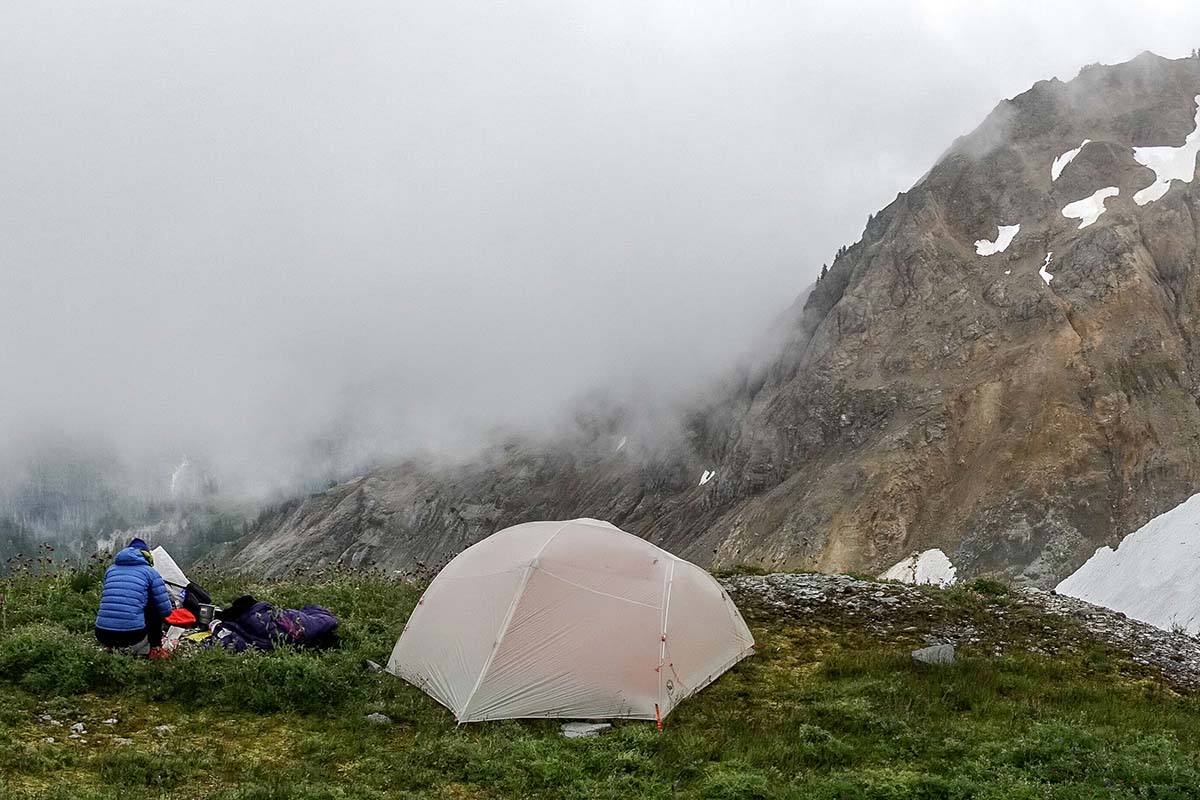 Ventilation
Hyperlite Mountain Gear is all about minimalism with very few bells and whistles, so you won't find any back ventilation systems on their packs. For those who run hot, this lack of airflow might be an issue. The pack's Dyneema sits snuggly against the back and does not wick or breathe well, which has left me uncomfortably damp on a few occasions. Other lightweight packs, specifically those in Osprey's lineup, use suspended mesh panels along the back, along with mesh-padded shoulder straps and hipbelts to promote airflow. That said, what you lose in ventilation with the Southwest you gain in interior space—the lack of added materials along the backpanel make this pack feel very spacious.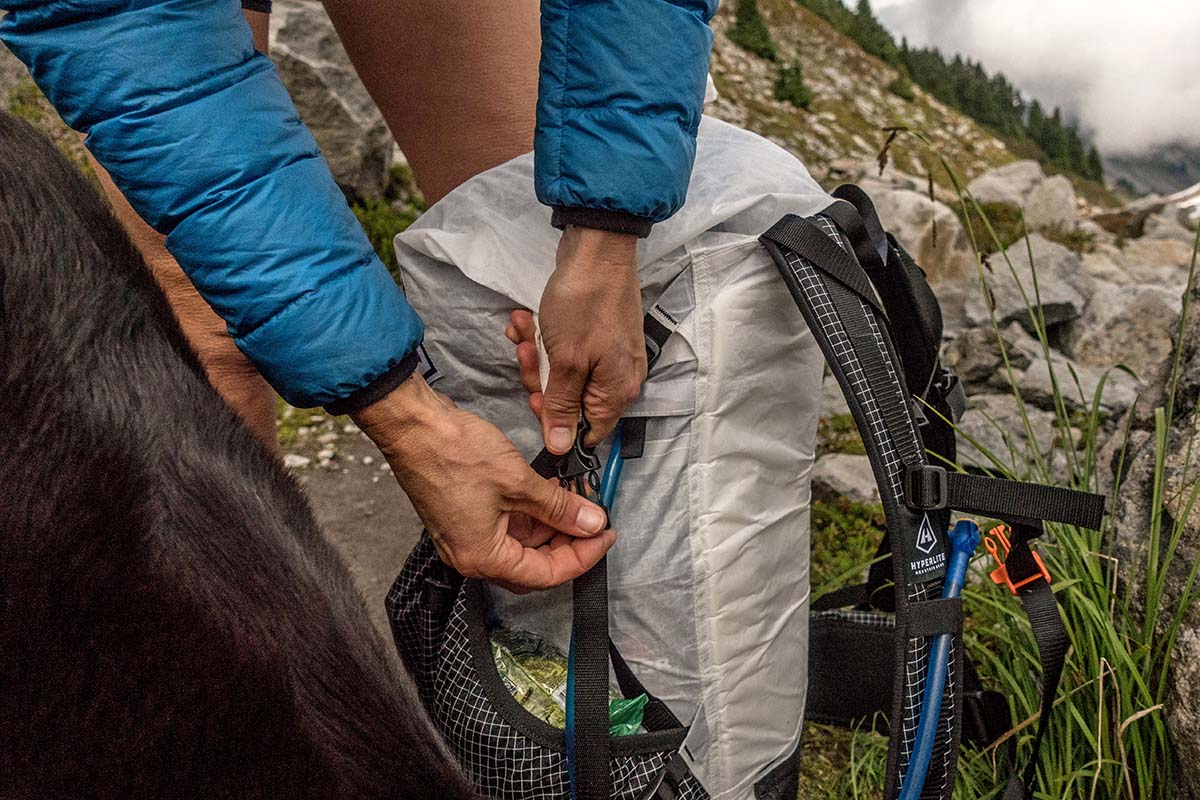 Fit and Sizing
The Hyperlite Mountain Gear 2400 Southwest is offered in four different sizes (small, medium, large, and tall), and I opted for the medium based on torso length. While the shoulder straps were initially a bit wide for me, they became noticeably snugger once they softened. However, I find that women's-specific packs from companies like Osprey are slightly better options for women with longer torsos (but not necessarily wider shoulders). But overall, the Southwest ended up being extremely comfortable after some breaking in and the sizing was spot-on.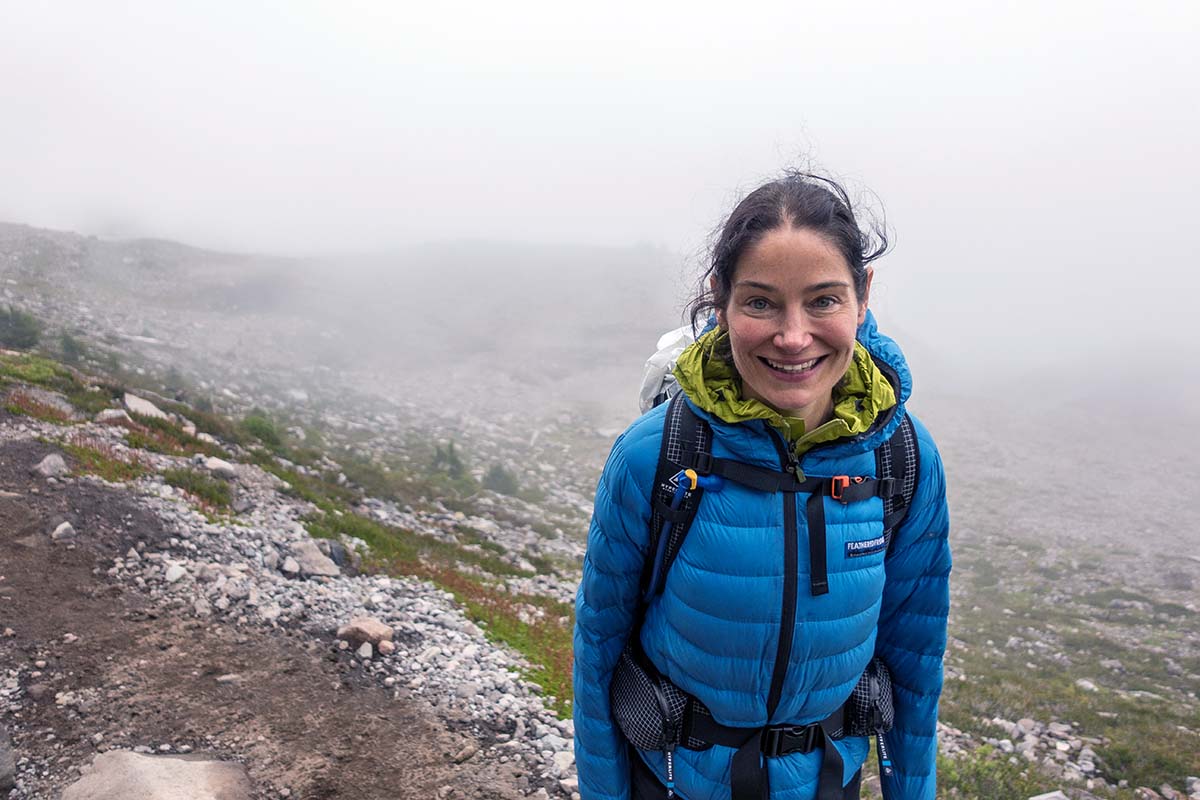 Other Versions of the Southwest
We tested the 2400 Southwest (the 40-liter model), but it also comes in 3400 (55 liters) and 4400 (70 liters) versions. Cost-wise, you'll pay $35 more when sizing up from one capacity to the next. As mentioned above, color also matters: the white version of each pack is made with a thinner 50D body fabric, while the black pack uses 150D for $20 more (and an additional 2.3 ounces). But other than size and the optional beefier material, all models have identical construction, organization, features, and design. Hyperlite also makes the near-identical Windrider in the same three sizes (see our in-depth Windrider review here), with the major difference being the material used in the external dump pockets (mesh vs. the Southwest's Dyneema).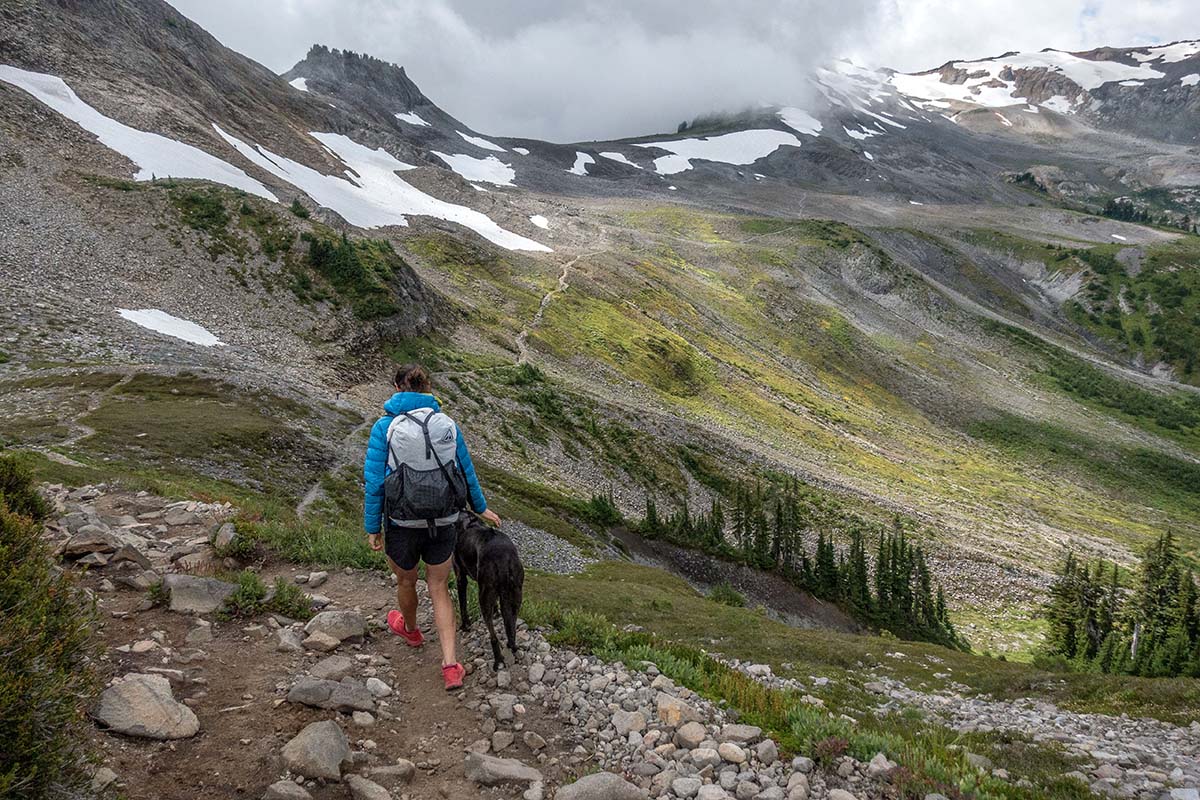 What We Like
The 2400 Southwest is one of the lightest packs on the market, but still reasonably comfortable.
The main compartment is totally waterproof, even when faced with flood-like conditions.
Despite its feathery feel and thin materials, the pack proved very durable throughout rigorous testing.
 
What We Don't
At $320, it's expensive for a 40-liter pack, especially given the limited feature set.
Dyneema doesn't breathe well, and there's no back mesh panel to promote airflow. 
Lack of internal pockets makes staying organized difficult.
 
Comparison Table

The Competition
Not many packs can match the ultra-low weight of the 2400 Southwest without being overly compromised, but Osprey's Lumina 45 (and men's Levity) stands out in this respect. At 1 pound 13.6 ounces for the women's medium (0.4 ounces lighter than the Southwest, yet 5 liters larger), the Lumina still boasts an impressive feature set, including a real metal frame, suspended mesh backpanel, and adequate storage (including a top lid zippered pocket)—all for $70 cheaper. That said, the Lumina's 30-denier silnylon body and sides aren't as robust (or waterproof) as the Hyperlite's 50-denier Dyneema, and we also found that the Southwest was able to handle a 30-pound load more comfortably. For the best value (and space) for your dollar we give the nod to the Lumina, but those with waterproofing and durability concerns should stick with the Hyperlite.
Another UL competitor to consider is the Granite Crown2 38, an impressively functional pack for its low weight (2 pounds 1.6 ounces without the lid) and reasonable price ($185). We found tailoring fit to be much easier on the Crown2, mostly due to the Velcro system that lets you adjust the hipbelt to your exact waist measurement. Further, its beefier 100-and-210-denier construction make it a more robust option if you tend to be hard on your gear, but take note that that you don't get the same waterproofing as you do with the Hyperlite's Dyneema. The Granite Gear is an excellent budget pick, but we give the overall edge to the Southwest for its similar feature set, light weight, and surprising amount of comfort on the trail.
Another ultralight option is the Zpacks Arc Blast 55L. In terms of materials, Zpacks uses similar 50-denier Dyneema in the body, meaning the pack is similarly waterproof and durable. However, with 50D on the base (compared to the Southwest's 150D), it's less suitable for heavy use or off-trail scrambling (we got a small puncture in the bottom of our Arc Blast after setting it down on granite). Importantly, the Arc Blast clocks in at $29 more than the Southwest but tacks on an additional 15 liters of interior space in a significantly lighter package (1 lb. 4.6 oz.). Last but not least, it has noticeably more ventilation thanks to its unique tensioning system that pulls the bag away from your back. All in all, while the Zpacks is one of the top ultralight options for thru-hikers, the Southwest is more durable and we think the better all-rounder.
Osprey's Eja 38 (and men's Exos) is another UL pack to consider. At 2 pounds 6.2 ounces for a size small, the Eja 38 is a couple ounces heavier than the Hyperlite but offers impressive carrying comfort and features for the weight. Namely, you get a removable floating lid with two zippered pockets, trekking pole attachments, stretch mesh side pockets, a generous front shove-it pocket, and ample exterior straps and attachment points. Durability is the Osprey's biggest downside: we've gotten multiple tears in the thin, 100-denier nylon body. And we're also disappointed that Osprey removed the hipbelt pockets from the latest version of the Eja, which has a big impact on convenience. Given these drawbacks, we think the Hyperlite is the better-built pack, but the Osprey will save you a considerable $140.
Last but not least, there are other interesting pack options within Hyperlite Mountain Gear's lineup. To start, the larger 3400 Windrider brings the capacity up to a 55-liter equivalent, making it much more viable for multi-day backpacking trips without the most minimalist of gear. Plus, the 3400 version has a roll-top closure that easily compacts down to 40 liters to match the 2400. That pack is $35 more expensive and about 2 ounces heavier (it clocks in just under 2 lbs. total), but you get much more versatility for longer trips. And since the release of the Southwest line back in 2015, the newer Hyperlite Junction—which comes in 2400 and 3400 capacities—marries the Southwest and Windrider designs with an exterior pocket that is solid Dyneema on the sides and mesh in the middle. In terms of combining durability with the ability to dry your gear, it's a great all-around design. 
If you're thinking about buying gear that we've reviewed on Switchback Travel, you can help support us in the process. Just click on any of the seller links above, and if you make a purchase, we receive a small percentage of the transaction. The cost of the product is the same to you but this helps us continue to test and write about outdoor gear. Thanks and we appreciate your support!
Depending on the seller, most products ship free in the United States on orders of $50 or more. International shipping availability and rates vary by seller. The pricing information on this page is updated hourly but we are not responsible for inaccuracies.
Read More From Switchback Travel