REI Co-op Base Camp 6
Price: $469
Floor area: 84 sq. ft.
Doors: 2
Weight: 20 lbs. 10 oz.
Capacities: 4P, 6P
What we like: Sturdy structure, ease of use, and full-coverage rainfly.
What we don't: Interior isn't as roomy as REI's Kingdom; mediocre ventilation.
See the REI Co-op Base Camp 6
Featuring high-quality materials and a traditional dome shape, REI Co-op's Base Camp has been a long-time staple in their tent lineup. Offered in four- and six-person capacities, the car camping-focused model is a top choice among those looking to balance a roomy interior with solid weather protection. In testing the Base Camp 6, we were impressed by its sturdiness in foul conditions, durable materials, and generous interior and exterior storage. Below we break down our experiences with the Base Camp 6. To see how it stacks up to the competition, see our article on the best camping tents.
 
---
Table of Contents
---

Performance
Interior Space
With its dome-like shape, two large doors, and 74-inch peak height, REI's Base Camp 6 provides ample living space. While it can't quite compete with REI's more upright and cavernous Kingdom 6, the crisscrossing five pole design does a nice job stretching the walls up and away from you. There's sufficient space for multiple campers to move around, and at 5'9", one of our testers was easily able to stand up in the middle of the tent. That said, his outstretched arms could touch both walls when doing so—something that's not possible in the Kingdom. In terms of sleeping, the square floor dimensions (110 x 110 in.) are a bit crammed in our opinion, as six standard 20-inch sleeping pads don't fit side-by-side (five will barely fit and the sixth would need to sleep perpendicularly at the head or foot end).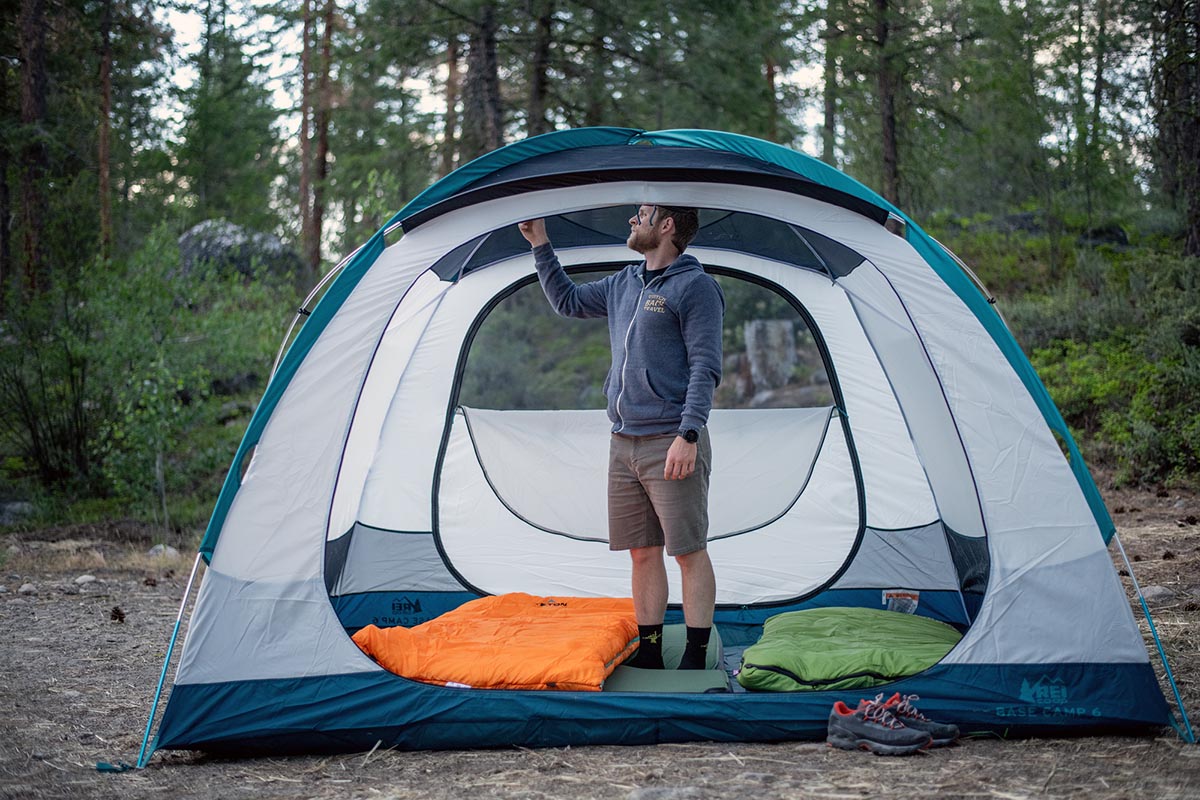 As is the case with nearly all camping tents, we think sizing up in terms of capacity is a good idea. Even with smaller kids, the Base Camp 6 is best suited for groups of three or four. This allows for plenty of room to spread out while sleeping—and gives enough cushion for wider pads or mattresses—while leaving enough space to change and move around during the day. For smaller groups in the two to three range, REI also makes the Base Camp 4.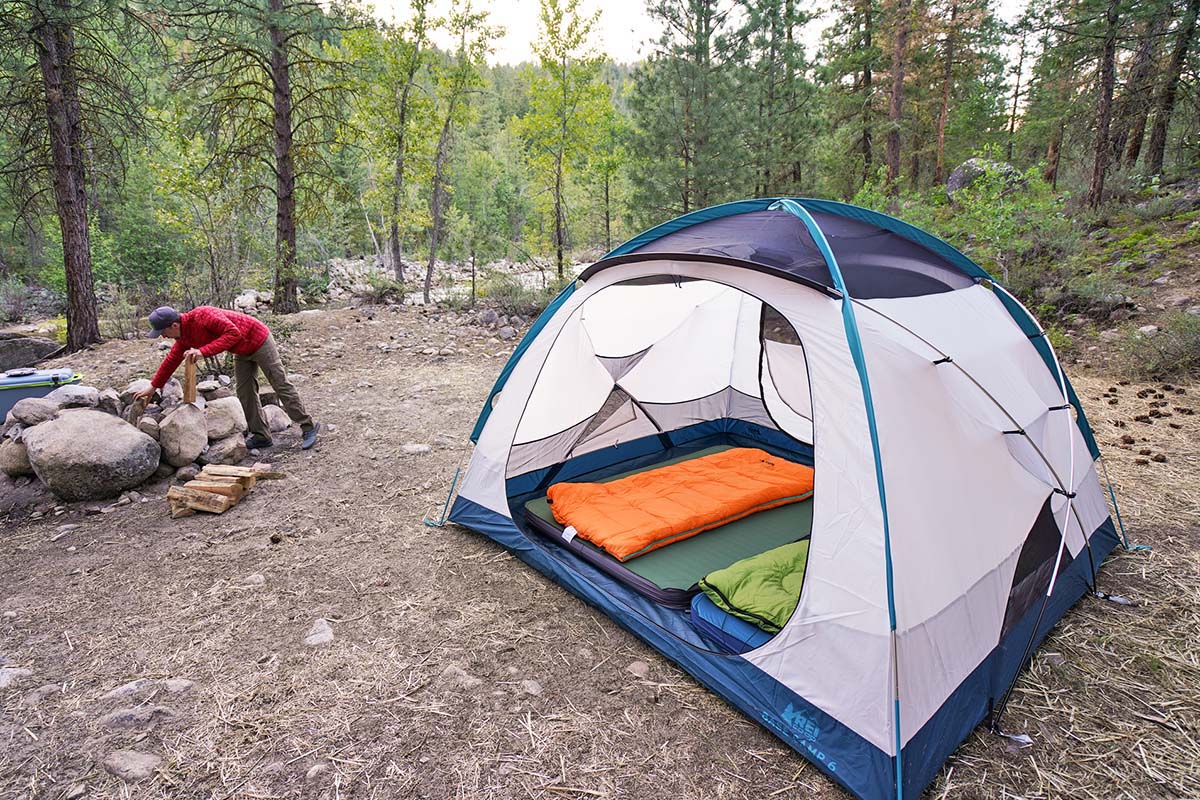 Weather Protection
If wind and wet weather protection are near the top of your list of must-haves, then we think the Base Camp 6 is a great choice. Its pole design resembles a mountaineering tent—albeit a taller and toned-down version—the rainfly extends all the way to the ground and completely covers the doors, and its seam sealing has held up without issue. While we haven't experienced any gale-force winds in the Base Camp, we can attest that it remains stable in gusts of around 20 miles per hour when properly anchored down (guylines are included but you'll need to purchase additional stakes to use them). All in all, REI's Base Camp is properly equipped for foul-weather camping. But as we alluded to above, if you don't need the extra wind and rain protection, we think you'll be better served by the more livable and slightly less weatherproof Kingdom series.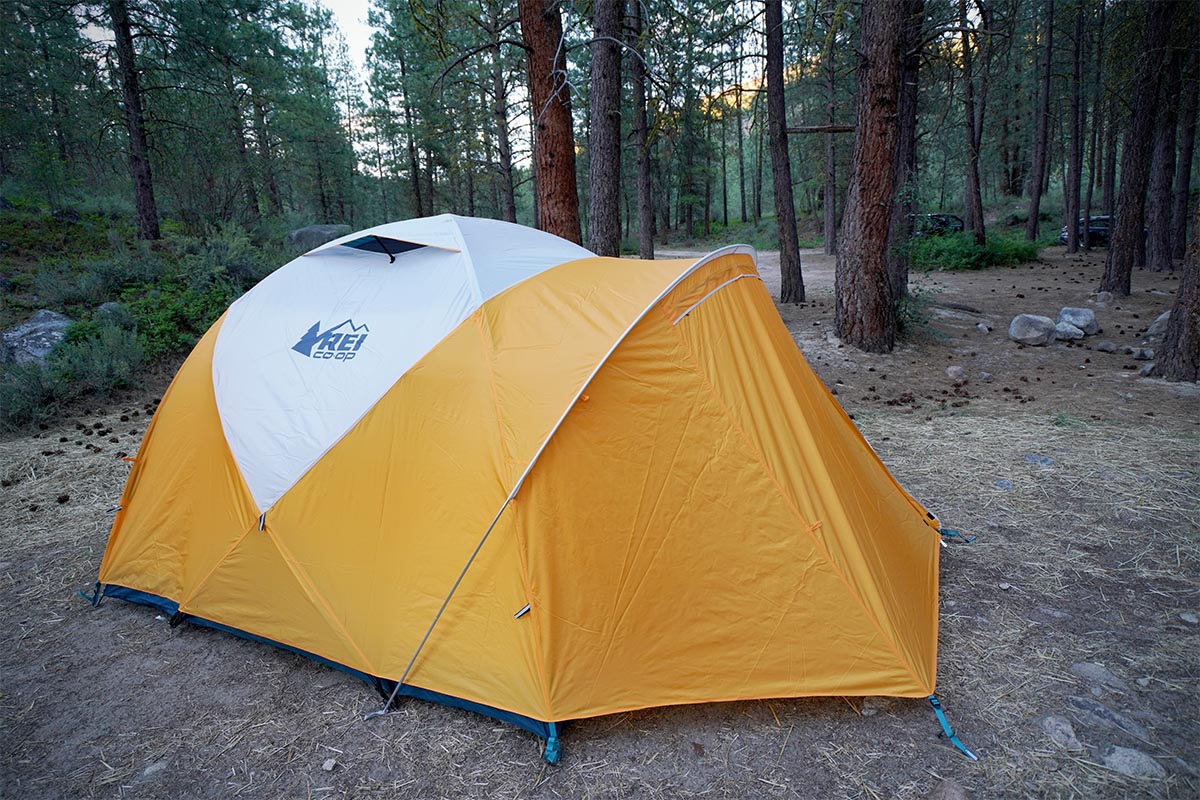 Ventilation
With a strong emphasis on sealing out wind and rain and less on maximizing airflow, we found the Base Camp is only a mediocre ventilator. Even with the partial mesh doors open, rainfly vents propped up, and floor vents unzipped, the Base Camp 6 simply can't compete with a mesh-heavy design. It certainly does the trick in moderate temperatures, but the solid fabric side walls and full-coverage rainfly limit air circulation. The pricier Marmot Limestone beats the Base Camp fairly easily in this respect. The Marmot has a healthy dose of mesh on the front door, sides, and roof—all of which help to keep air moving on muggy nights.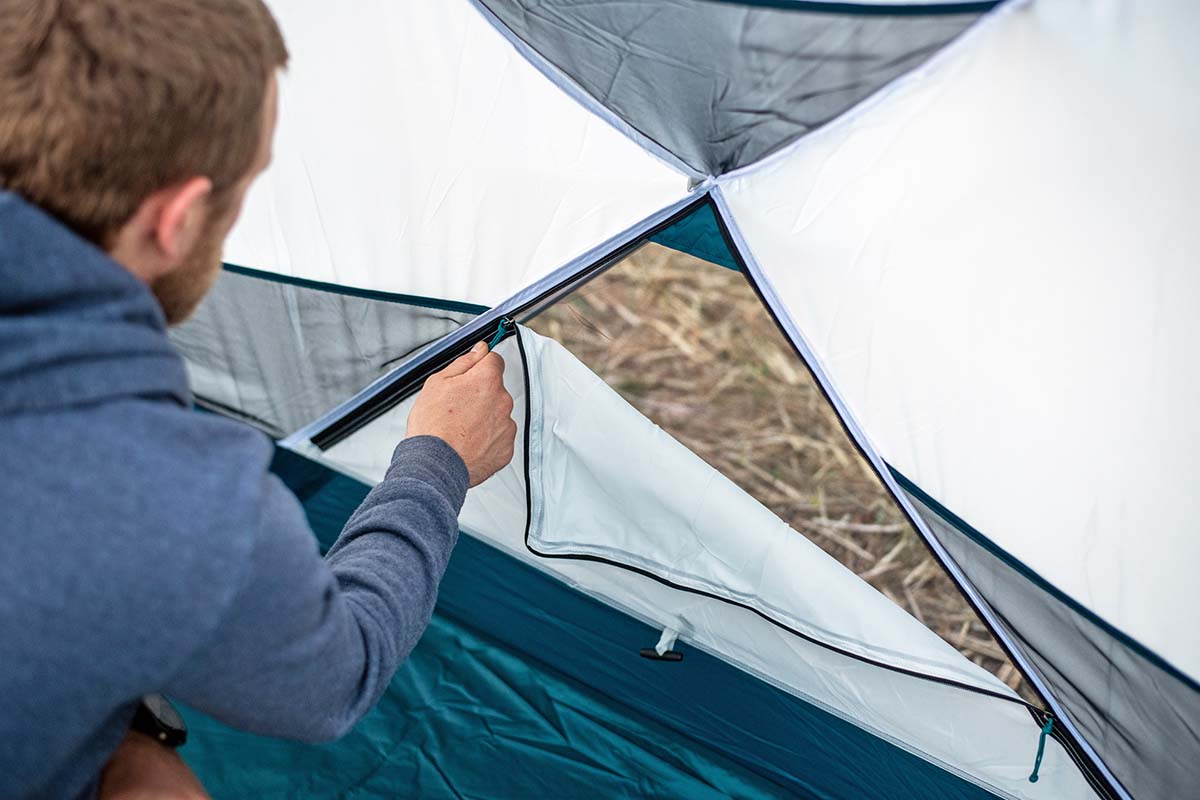 Storage and Organization
Proper organization is important for successful car camping adventures, and we're pleased to report the Base Camp 6 has plenty of storage. A grand total of 14 conveniently placed pockets adorn the inside of the tent. The lower eight are large in nature and a great place to stash extra layers like a puffy, while two smaller mid-height options are perfect for keys and a phone. You'll also find overhead pockets at either end of the tent for storing the doors when they're completely unzipped. Overall, the Base Camp 6 is a well-thought-out tent in terms of interior organization.
For the exterior, the Base Camp 6 includes two large vestibules that work well for storing items like camp chairs or a table that require protection from the elements. The combined 44 square feet of space is quite impressive for a camping tent, and we like the fact that they have large zippered openings for easy entry and exit. The one notable downside of the Base Camp, however, is that there are no available attachments or accessories to boost covered space. REI's Kingdom models have optional mud room and sunshade attachments, which are great ways to improve livability.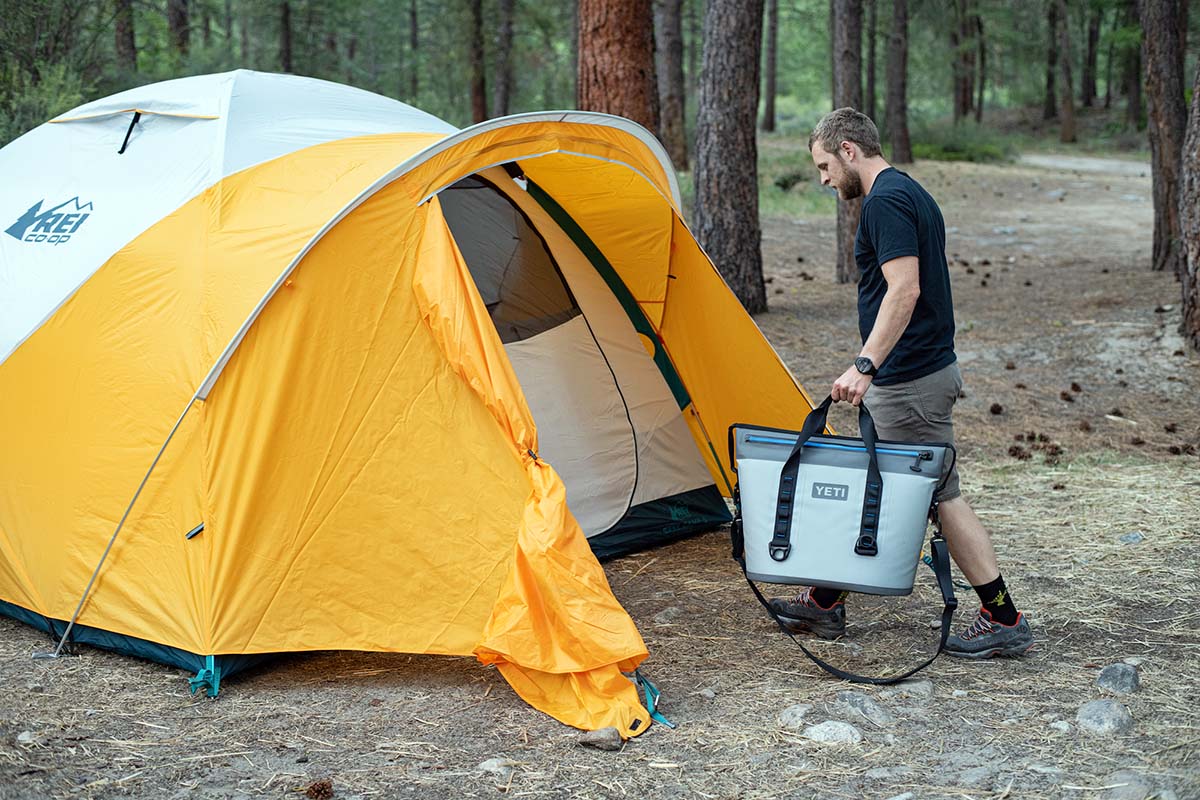 Build Quality and Durability
When setting up the Base Camp 6 for the first time, it was immediately clear that high-quality materials were used throughout. The thick aluminum poles are sturdy, the substantial 75-denier fabric on the rainfly and tent body is confidence-inspiring, and the stitching looks top-notch. Oftentimes it's easy to find errors or small manufacturing defects in outdoor gear, but this is not the case with the Base Camp. Perhaps best of all, the 150-denier floor feels more like a tarp (in a good way) and means you won't necessarily need a footprint (using one is never a bad idea, however, to extend its lifespan). Overall, we think the build quality matches the big $469 price tag, and we expect the Base Camp to hold up nicely over the long haul.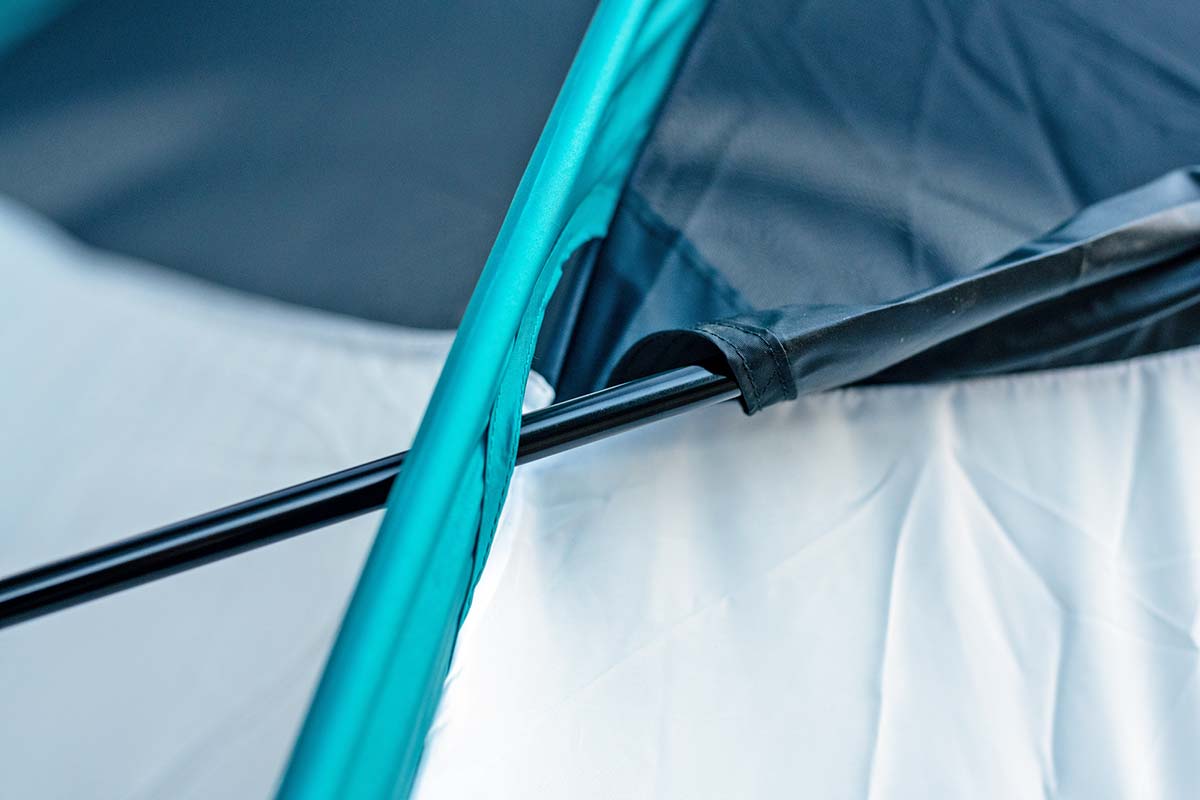 Weight and Packed Size
If you have dreams of setting up the ultimate backcountry base camp with this tent, we'll just stop you right there. Tipping the scales at 20 pounds 10 ounces, the "6" is a beast to pack and carry around. That said, the Base Camp falls mid-pack compared with other premium car camping designs. Alternatives like the burly Cabela's Alaskan Guide Model 6 (33 lbs.) and massive REI Kingdom 6 (21 lbs. 6oz.) weigh more, while Marmot's Limestone 6P model undercuts it slightly at 17 pounds 3 ounces.
Regarding the included carry bag, its simple tube-like shape and shoulder strap make it fairly easy to haul to and from a vehicle. Having said that, two things would have made packing up the tent a better experience. One, its relatively small size requires careful and precise folding and rolling to make everything fit. And two, internal dividers would be nice for separating and organizing the rainfly, tent body, poles, and stakes. In our opinion, REI should have used their backpack-style Kingdom storage bag for the Base Camp, as it addresses these two main issues.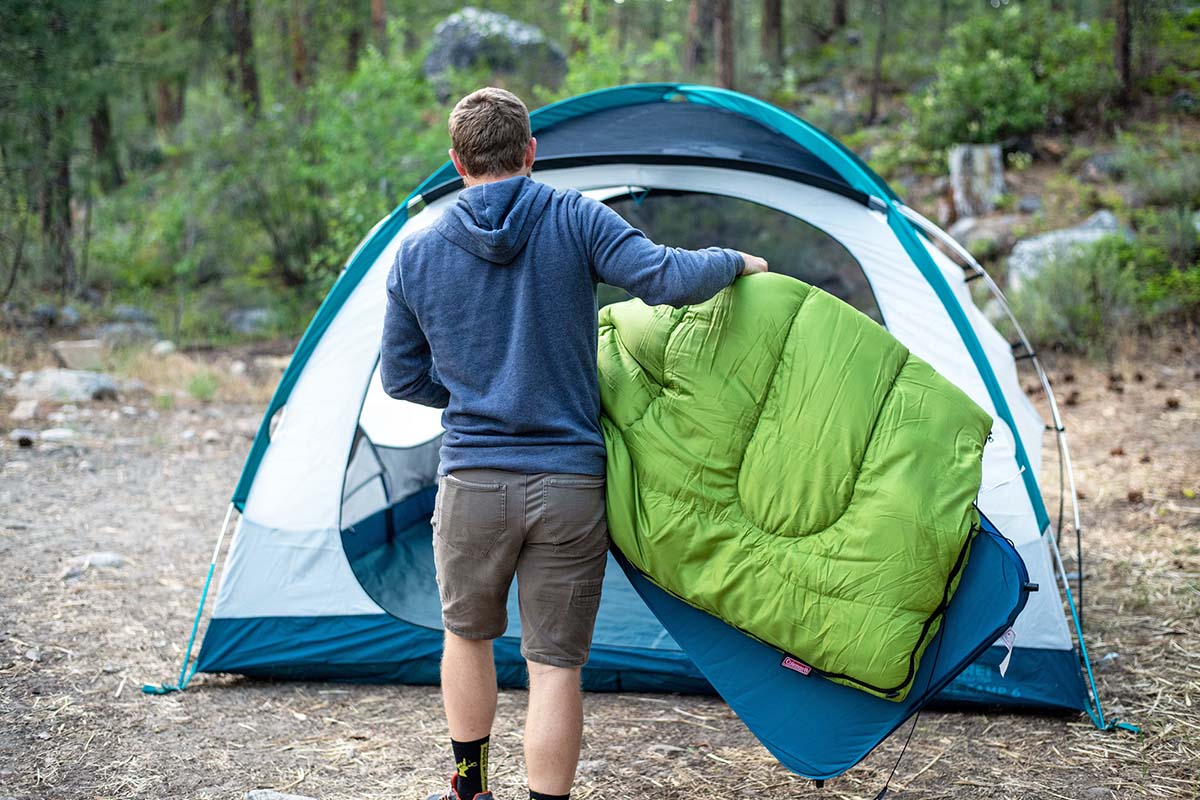 Set up and Take Down
Among large, six-person camping tents, the Base Camp 6 is one of the easiest and most intuitive to set up. Its poles, sleeves, and webbing are color-coded, which means all you have to do is match them and clip everything together. As with pitching most large tents, we think it's best done in pairs—and it never hurts to do a test run in your backyard before heading out—but even solo the Base Camp only takes about 10 minutes. And it's worth noting that REI has attached detailed set up instructions on the stuff sack, which serves as a nice refresher if you haven't used the tent in a while.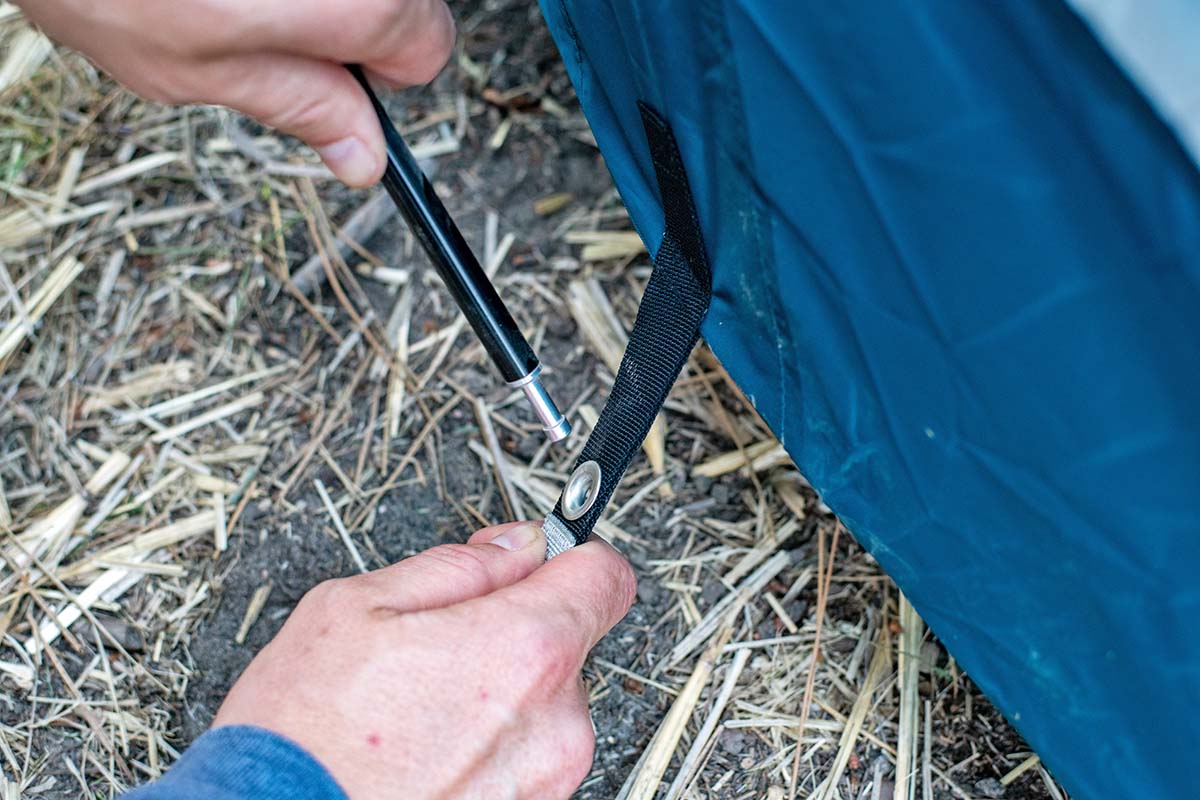 Additional Capacity: REI Co-op Base Camp 4
We tested the six-person version of the Base Camp for this review, but REI also offers a four-person model. Overall, we think the "6" is the better choice for most campers and is an ideal size for groups of three to four people. This allows for ample room to sleep, while leaving enough space to move around during the day without the need to stack sleeping pads and bags. For smaller parties of two or three, or those needing to limit their footprint size, the Base Camp 4 is a viable option (its floor area is 100 x 86 in. and peak height is shorter at 60 in.). But in most cases, we think it's well worth erring on the side of a little extra room. There's a reason six-person models are consistently the biggest sellers among car camping designs.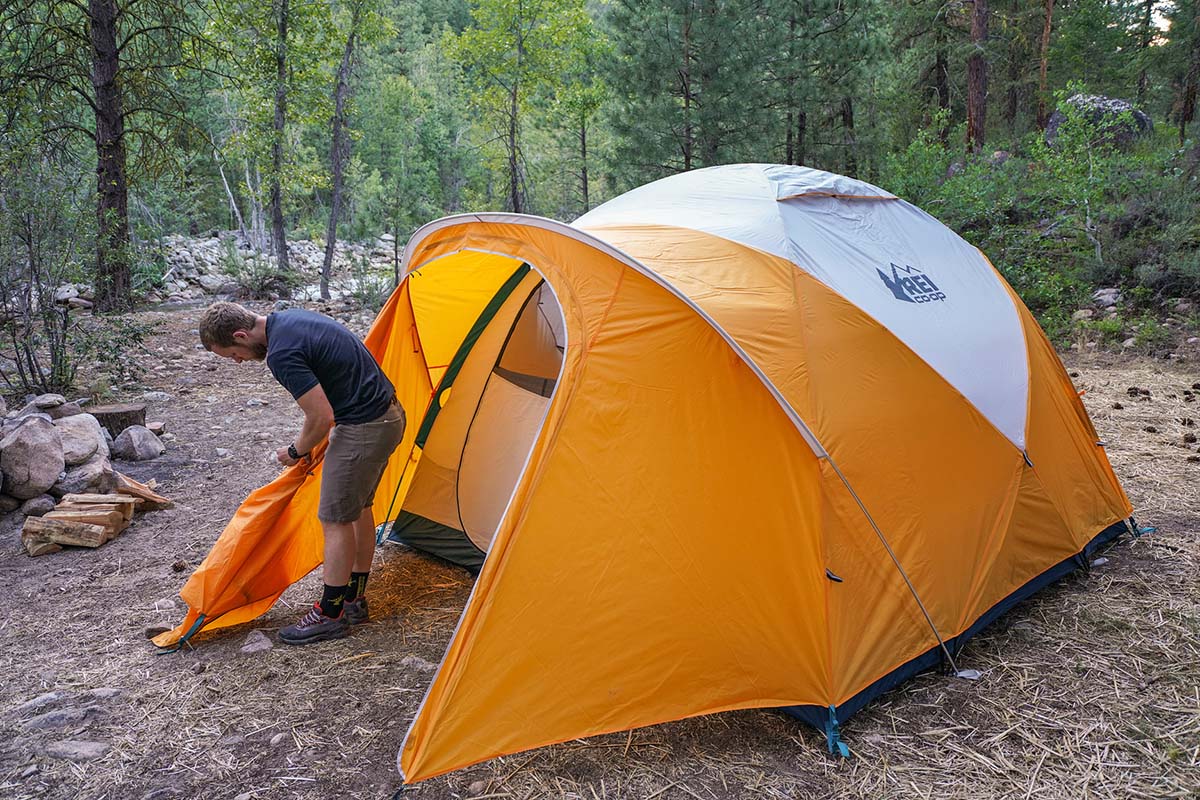 What We Like
The Base Camp's dome-like shape and full-coverage rainfly inspire confidence through bouts of heavy wind and rain.
Made with durable materials that should hold up to years of use and abuse.
Fourteen internal storage pockets are great for keeping your gear organized and within reach.
Despite its massive size, the Base Camp 6 is easy to set up and take down, even for one person.
 
What We Don't
While the dome-like shape makes it sturdy in rough conditions, the sloped interior walls cut into livable space.
Mediocre ventilation due to the solid fabric that covers most of the tent body.
We wish REI included the excellent backpack-style carry bag that comes with their Kingdom series. The Base Camp stuff sack is a bit small and lacks internal dividers.


Comparison Table

The Competition
The REI Co-op Base Camp 6 impressed us with its foul-weather performance, stout design, and quality materials, but there are plenty of formidable competitors. In fact, one of the best models out there comes in-house in the form of REI's Kingdom 6. The Kingdom's tunnel-like shape, larger footprint, and more vertical walls make it noticeably more livable compared with the Base Camp. Furthermore, the generous use of mesh and modular rainfly on the Kingdom promote a lot of airflow and make it a better choice for warm summer camping trips. And the Kingdom has a number of aftermarket accessories, like the Mud Room, that increases both storage space and versatility (for more, see our in-depth Kingdom review). In the end, unless you need the Base Camp's superior weather protection—the upright Kingdom struggles in heavy wind—we give the nod to the Kingdom's more open layout.
Staying within REI's lineup, their Grand Hut collection is a step down in price from the Base Camp (the 6P model costs just $349). Like the aforementioned Kingdom, the Grand Hut has more of an upright design than the Base Camp, with translates to great overall livability with an open, cabin-like shape, near-vertical walls, and a tall peak height (78 in.). Like the Base Camp, the Grand Hut is impressively hardwearing with a burly 150-denier floor and 75-denier fabric on the rainfly and tent body. Our biggest complaints with the Grand Hut are wind protection and storage: the upright walls and X-shaped pole structure are more susceptible to bowing in strong gusts, and the Base Camp offers more interior organization. But if you don't mind the slight downgrade in weather-worthiness, we think the Grand Hut is the better overall value.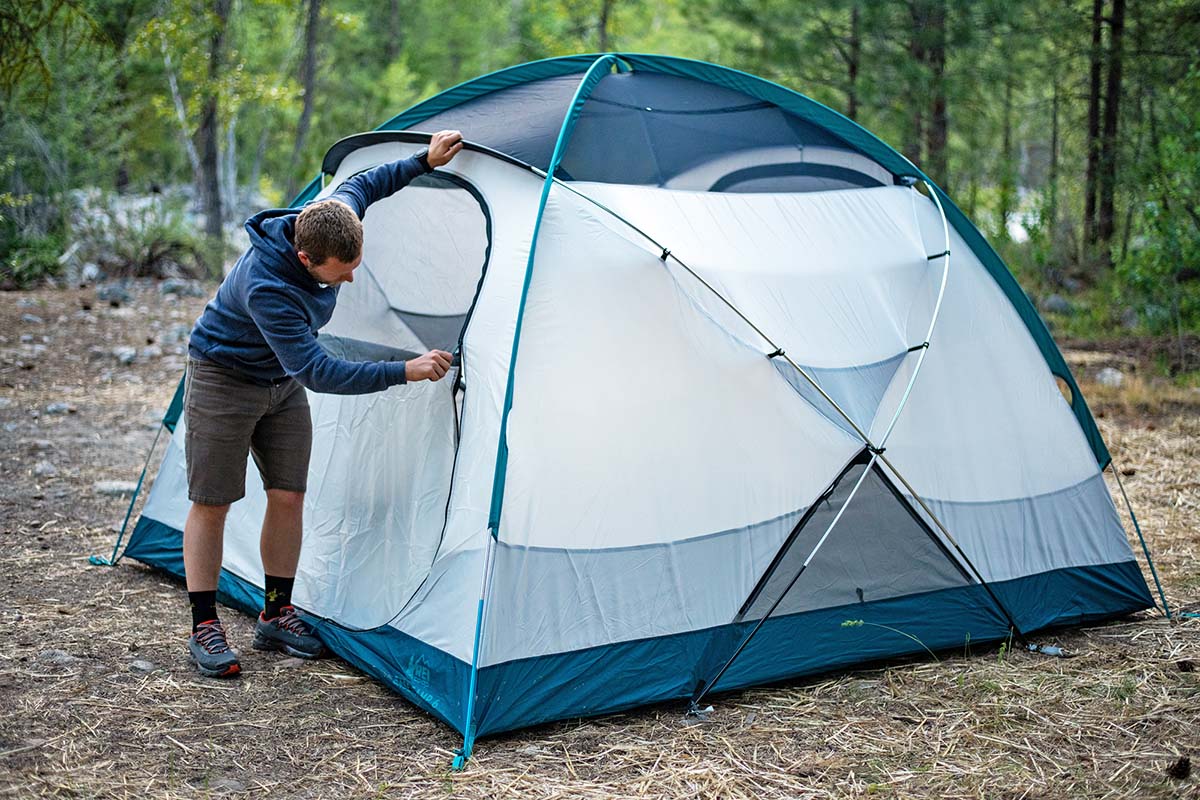 Another popular option is Marmot's Limestone series. Like the Base Camp, it's also made in four- and six-person capacities and utilizes a dome-like shape. But with pre-bent poles and a unique halo-like structure along the sides of the roof, the Marmot has a more expansive interior. Additionally, the heavy use of mesh on the Limestone results in superior ventilation. And the rectangular floor dimensions of the six-person Limestone (120 x 100 in.) are easier for fitting six 20-inch pads in a pinch (the Base Camp is 110 x 110 in.). Where the Base Camp gets the edge is vestibule space (44 sq. ft. vs. 27 sq. ft) and weather protection with its stronger pole structure. 
Cabela's Alaskan Guide Model also shares a lot in common with the Base Camp, including similar price tags (the Guide Model is $19 less at $450), dome shapes with sloping interior walls, heavy-duty and high-quality materials, and solid protection from the elements. The Cabela's is the sturdier of the two in seriously rough conditions—it's even rated to withstand wind gusts of up to 50 miles per hour. But the Base Camp pulls ahead in three key areas. To start, we much prefer the REI's aluminum poles, which are less susceptible to breaking under stress than the fiberglass ones used for the Alaskan Guide Model. Secondly, you get two large doors and vestibules with the REI (the Cabela's comes with just one). And finally, the Base Camp has far better interior storage with its 14 well-distributed pockets. Unless you need 4-season-worthy weather protection, the Base Camp is the more well-rounded design.
Lastly, Big Agnes' Big House 6 is another impressively livable tent at a good price. The Big House is similar in size to the Base Camp with 83 square feet of floor area, but the 81-inch peak height and near-vertical walls open up in the interior in a big way. That said, the taller build isn't nearly as stable in strong winds, and the included rainfly doesn't cover the front door (you can buy an accessory vestibule separately for an additional $140). Added up, the Big Agnes is much less weather-resistant than the REI. It's still a viable option for those who camp in mild conditions, but the Base Camp wins out as the more versatile overall design.
Editor's note: We usually provide a live price comparison table below our outdoor gear reviews, but the Base Camp 6 is sold exclusively by REI. You can see the Base Camp 6 page here and support us in the process. Thanks!
Read More From Switchback Travel