REI Co-op Skyward 4
Price: $349
Floor area: 60 sq. ft.
Peak height: 78 in.
Weight: 13 lbs. 11 oz.
Capacities: 4P, 6P
What we like: Expansive interior, sets up fast, and reasonably lightweight.
What we don't: Lacks a full-coverage rainfly and only has one door.
See the REI Co-op Skyward 4
REI gave their camping tent collection a shakeup for 2022, including replacing their mid-range Grand Hut series with the all-new Skyward. Offered in four- and six-person capacities, we brought the smaller version to Moab for testing this spring and came away feeling like REI took a step back in both design and value. There are certainly some highlights—including the quick and easy set up and expansive interior—but the new model is less protective with a partial-coverage rainfly and has only one door, which heavily impacts convenience. Below we break down our experiences with the Skyward 4. To see how it stacks up to the competition, check out our article on the best camping tents.
 
---
Table of Contents
---

Performance
Interior Space
Like the discontinued Grand Hut, REI Co-op's Skyward 4 Tent stands out for its tall and expansive interior. With near-vertical walls, pre-bent poles, and a dome-like roof, the tent is very livable and offers plenty of space for families and small groups (as long as you don't mind the single door). Additionally, both the four- and six-person versions share the same generous 78-inch peak height (not all 4P camping tents are as tall as their 6P counterparts), which makes it easy it to move around and change. And floor space is equally commodious: Listed at 100 x 87 inches (60 sq. ft.), I had no issue fitting a large two-person camping mattress (NEMO's Roamer Double) alongside a second single pad (Therm-a-Rest's MondoKing). Finally, for families bringing cots or portable cribs, the Skyward's upright shape makes it easy to arrange those items close to the walls.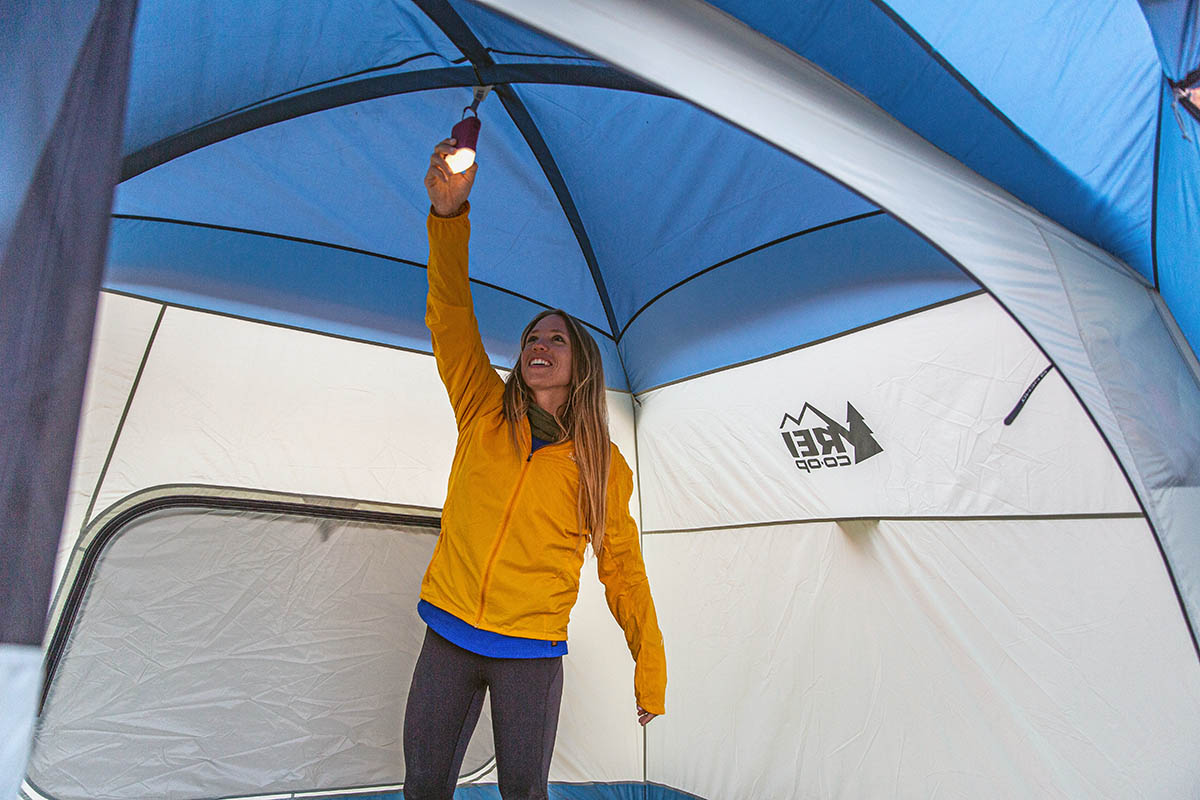 Looking at the wider camping tent market, the $349 Skyward 4 offers a lot of space for the money—it's roomier inside than competitors like $375 The North Face Wawona 4 (which is only 68 in. at its peak with 58.1 sq. ft. of floor area) and Marmot's $389 Limestone 4P (61 in. peak height and 59.2 sq. ft. of floor space). In fact, we found it similarly livable as REI's upgraded $499 Wonderland 4P (75 in. and 69.4 sq. ft.). That said, the single door does have a noticeable impact on livability, which might give the edge to any of those three other tents for some campers (ourselves included).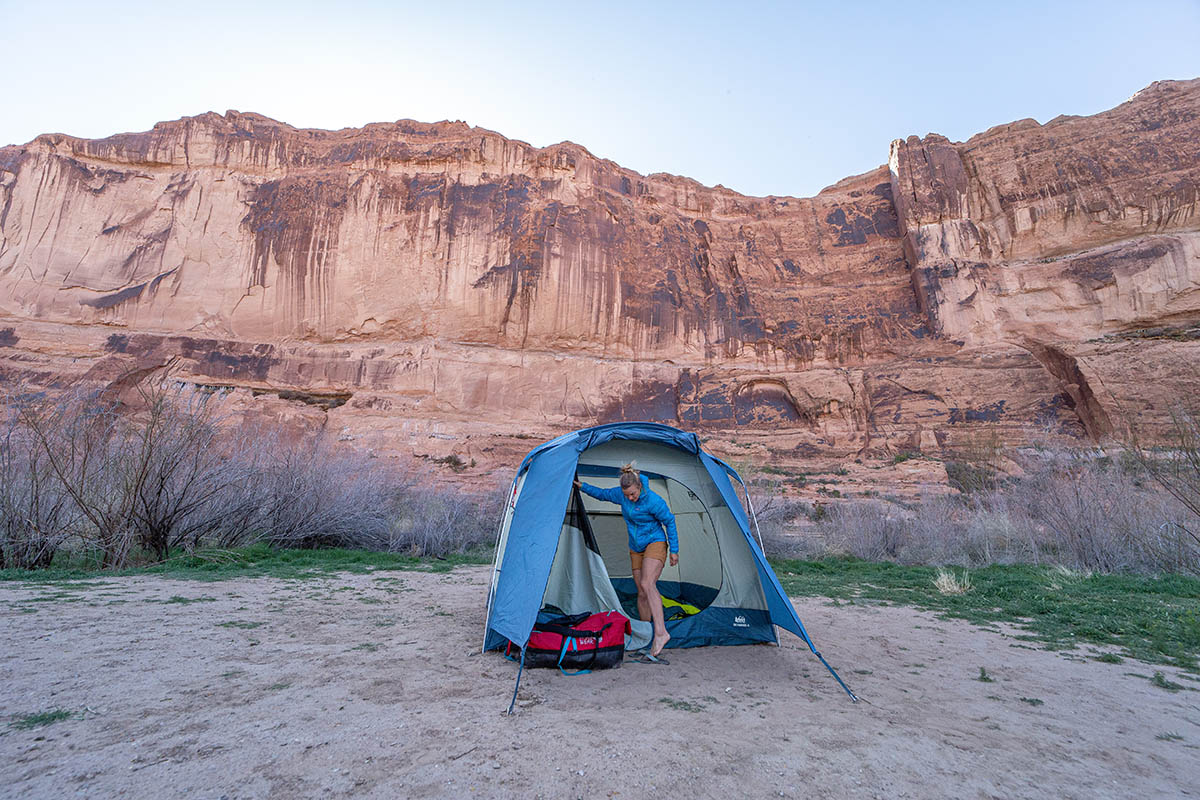 Additionally, despite the Skyward 4's generous living quarters, groups of four (especially adults) will likely want to size up to the six-person version. To be clear, the Skyward 4 can fit four standard sleeping pads side by side in a pinch, but it's tight and allows virtually no additional space to move around—a real downside if you're camping with kids or dogs. As such, we found the Skyward 4 is best suited for two to three campers and perhaps a well-behaved dog.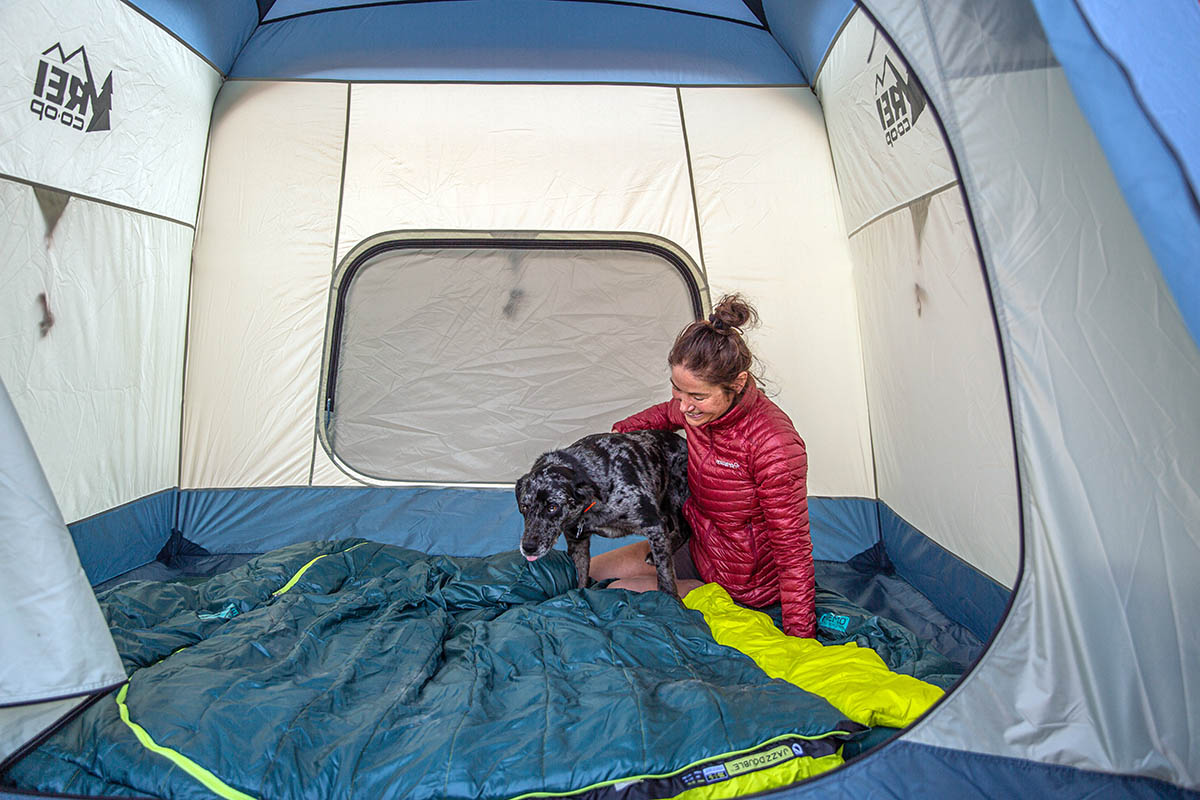 Weather Protection
While interior space is a clear highlight of the Skyward 4, we can't help but feel that REI took a step back in terms of weather protection. Our biggest complaint is related to the new rainfly, which only covers the tent's mesh top. You do get good protection at the front from the attached vestibule, but that leaves three single-wall sides exposed. If you'll be out in heavy precipitation—an inevitability for many campers in the Pacific Northwest and many areas of the country—you're going to have to put a lot of faith in the fabric quality and seam taping. The Skyward's walls are technically waterproof, and the window at the back has been reinforced, but there's no denying it's less protective than a traditional double-wall setup. For campers wanting superior protection, the aforementioned Marmot Limestone 4P and The North Face Wawona 4 both beat out the Skyward.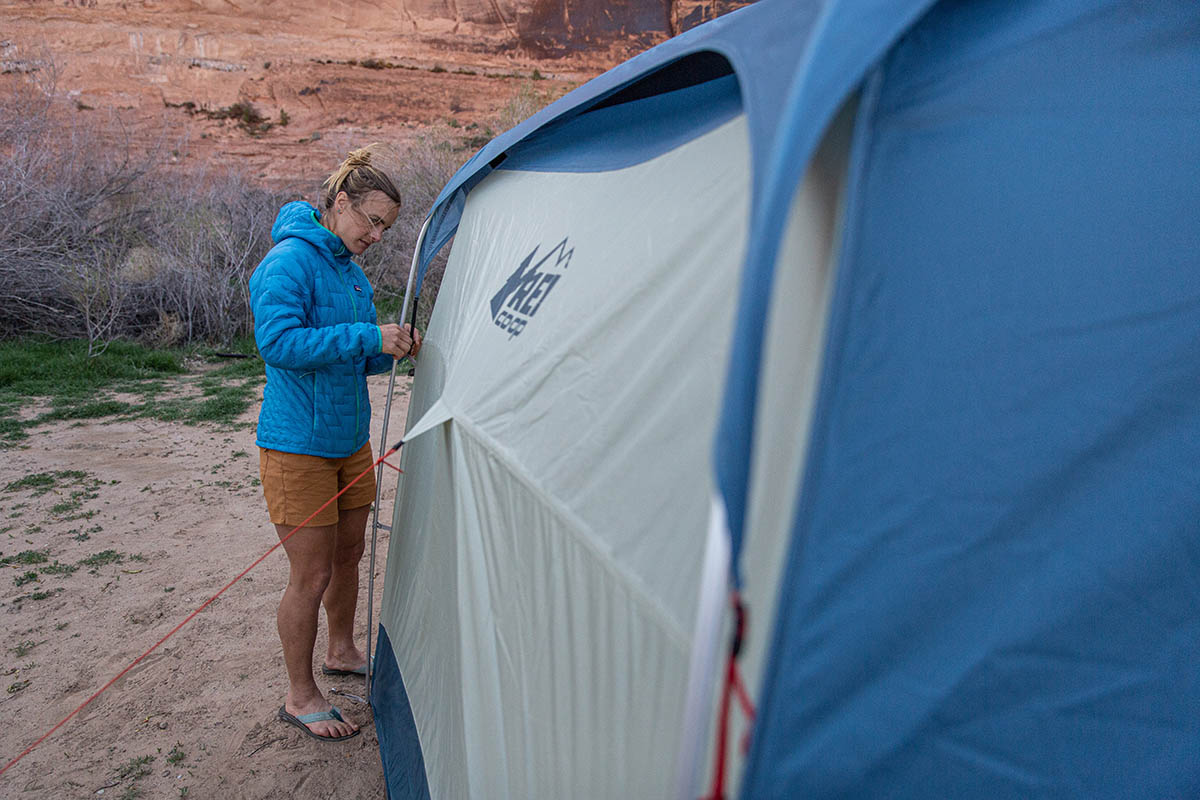 As expected with its very upright and tall shape, the Skyward isn't built to hold strong in a storm, and we quickly had to break out the guylines to secure it even in moderate winds. On a positive note, you do get four guylines and enough stakes (10 total) to achieve a taut and even pitch (many tents only come with enough stakes for a minimalist setup). But you'll still want to be intentional about how you position the tent (if you have flexibility to do so) if wind is going to be a concern on your trip. Our tent buckled in at the sides as it got hit with gusts and required some restructuring to mitigate. In the end, fair-weather campers may not consider these downsides to be deal breakers, especially if the tall interior is a big draw. But if you want the ability to camp when the forecast looks questionable or worse, we think it's worth upgrading to a sturdier and more weather-worthy design like Marmot's Limestone or REI's own Base Camp 4.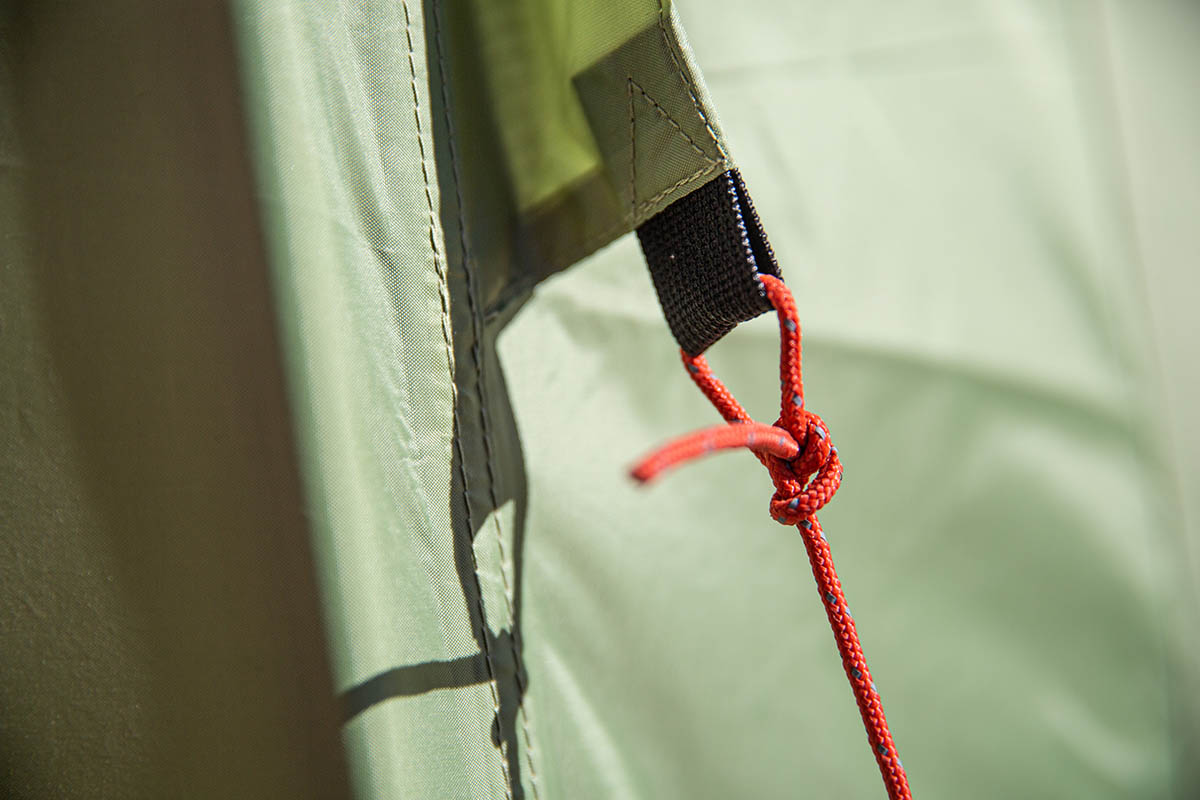 Ventilation
In line with its fair-weather focus, the REI Co-op Skyward 4 is nicely equipped for warm-weather camping. The entire top of the tent body is mesh, and the minimalist rainfly means that plenty of air still flows out even with the fly on. Additionally, the upper half of the front door is mesh, and you can unzip the fabric over the window at the back to reveal even more mesh. With everything opened up—including rolling back the vestibule—the tent does an excellent job at keeping you as comfortable as possible in the summer heat. The flipside is that if the temperature dips, as it did for us in Moab with temps in the low 30s on a couple nights, the Skyward can feel pretty drafty. But if you'll be out in hot conditions, the Skyward is one of the better options on the market at keeping air moving.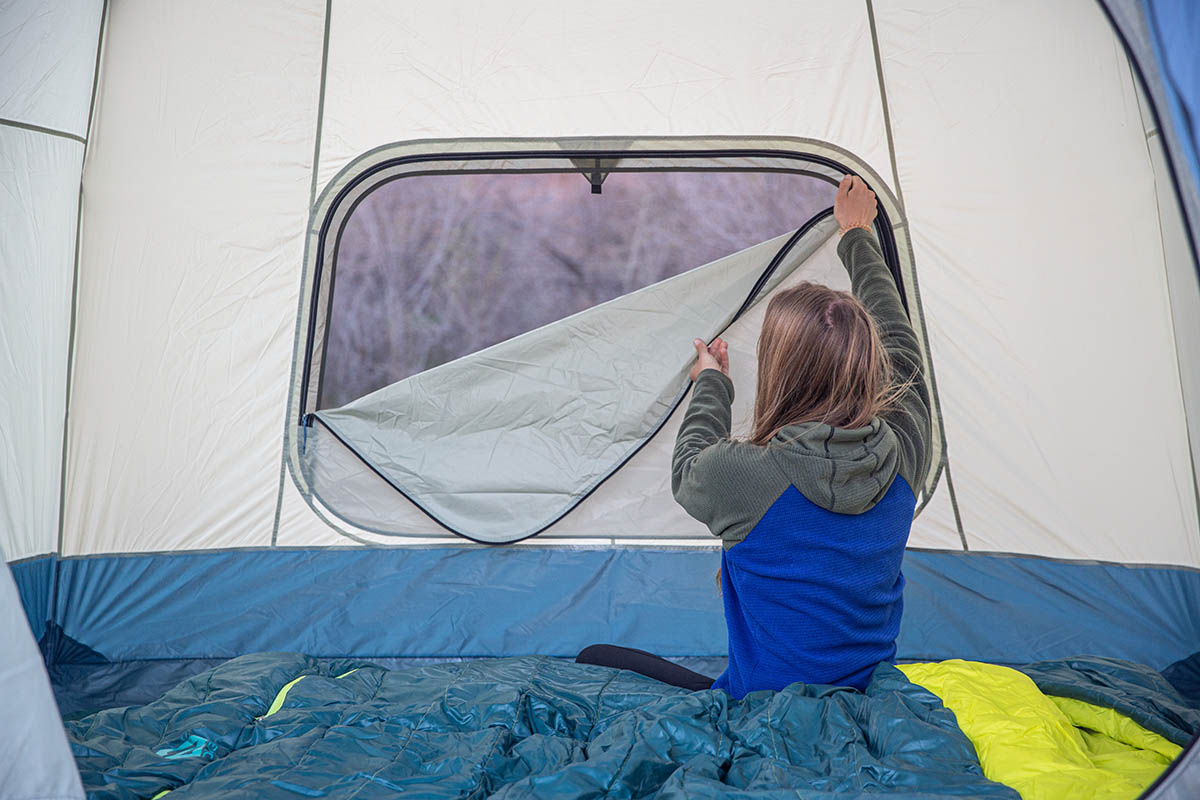 Storage and Organization
For storage, the REI Skyward 4 has a practical but fairly minimalist layout. Starting along the exterior, you get a zippered vestibule in front of the large D-shaped door. At 19.5 square feet, the vestibule space is about average, and we found it sufficient for stowing bulky items like a mid-size cooler along the side (and out of the way of the door itself). That said, it's not big enough to spend considerable time in—it's fine for removing your shoes and getting in or out of the tent, but not much else.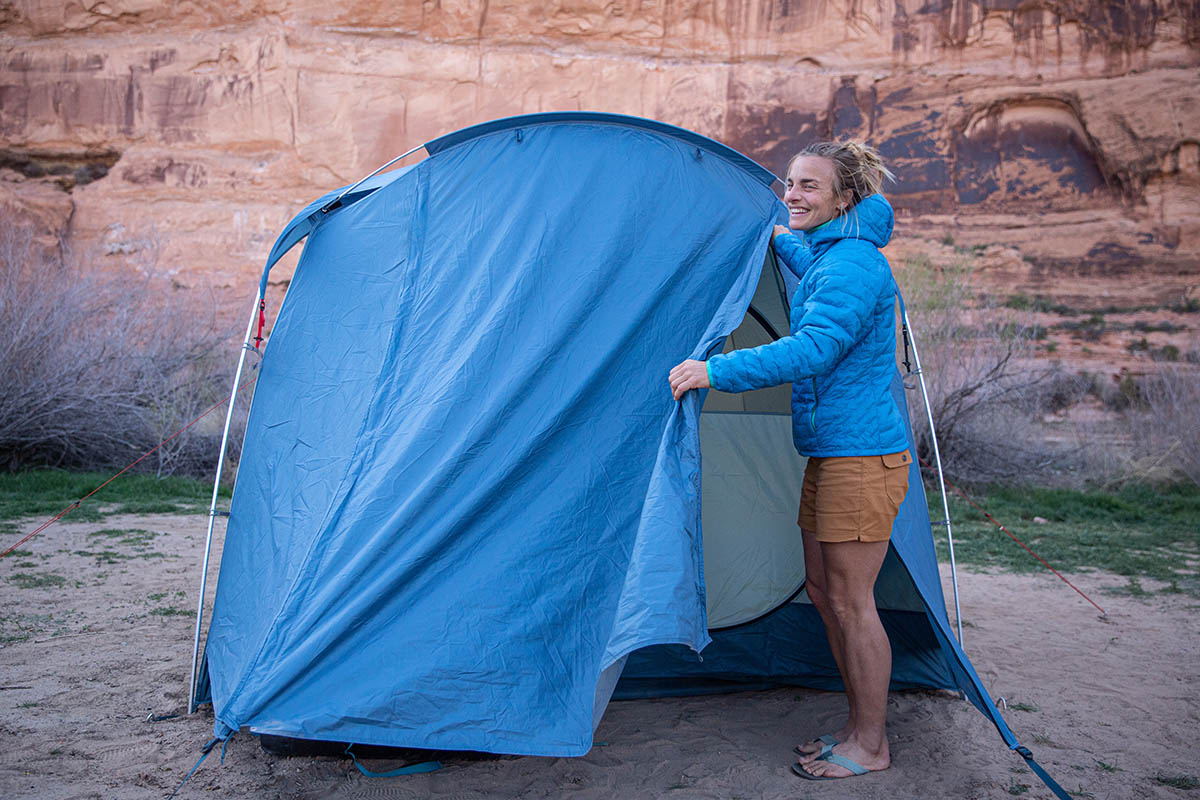 In nice weather, however, the vestibule proved to be a pretty versatile feature with two sets of zippers that allow you to unzip the center completely and roll up the door. This greatly improves convenience for getting in and out of the tent and also helps with keeping air flowing in warm conditions. And if you purchase or have a set of adjustable tarp poles (REI sells some for $40 each), you can convert the vestibule into an awning for some additional shade out front. One final note on the vestibule: Over the top of the door is a U-shaped pole that stretches the rainfly over the door just enough to keep water from pooling and dripping down when you enter or exit. This was an issue we had with the prior-generation Grand Hut, so it's nice to see that REI addressed it this time around.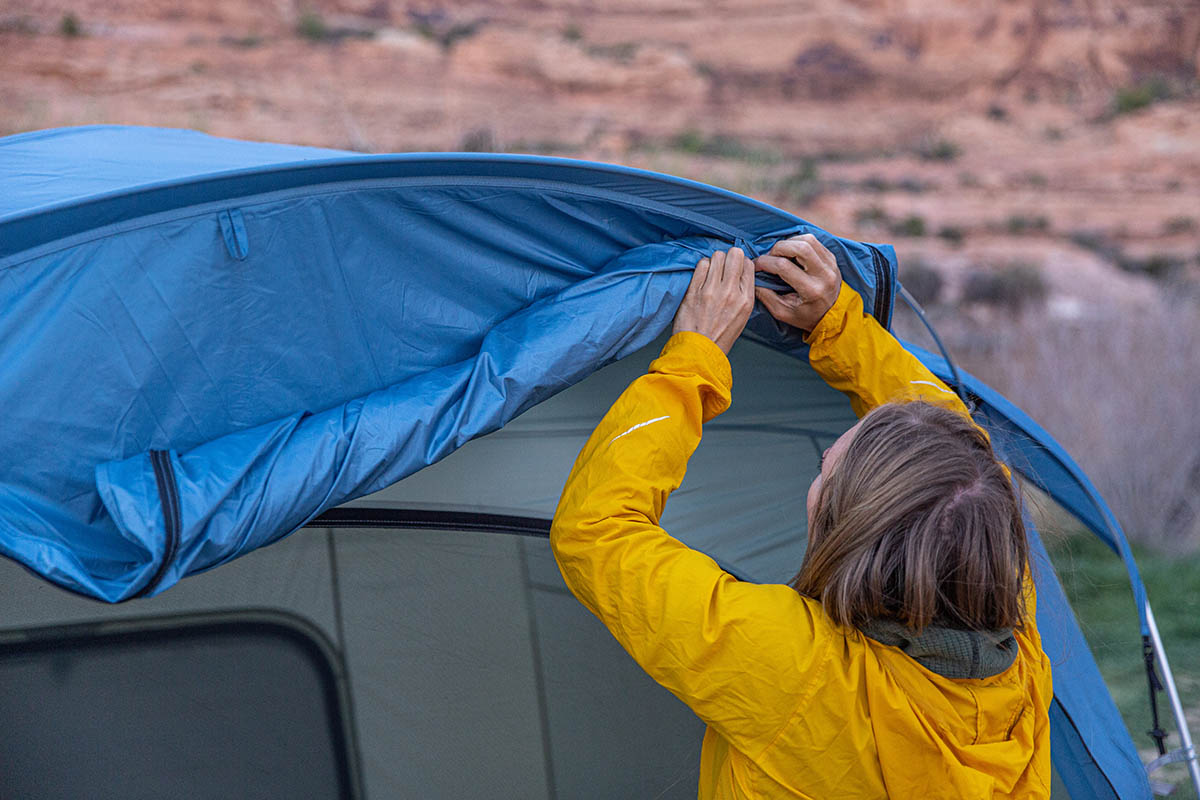 Along the inside, there are four total pockets that flank the door. Two of the mesh pockets are set higher up, while the other two are positioned low enough that you can reach them while lying down (if you're near the door). In truth, we weren't in love with the layout since it limits what you can access during the night—another mesh hanging pocket at the side or far end of the tent would greatly improve overall convenience. But on a positive note, there are plenty of hang loops along the ceiling, and the one directly in the middle is perfectly placed for attaching a camping lantern.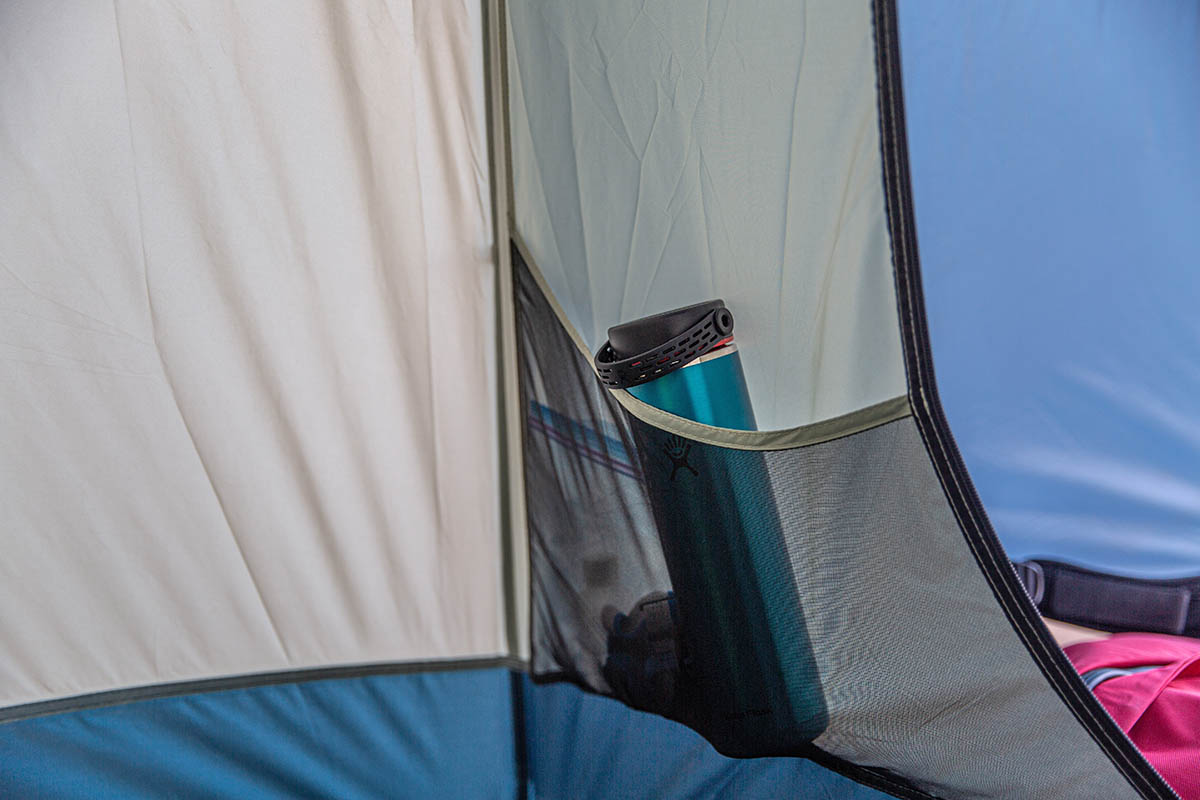 Build Quality and Durability
REI tents typically offer a lot of bang for your buck, but the new Skyward 4 strikes us as less of a value than we're used to seeing from the brand. Starting with the positives, the material quality appears to be up to their usual standards (including the seam taping along the interior), and the 150-denier (D) polyester floor has been plenty tough to trust without a footprint. In addition, the aluminum poles are fairly robust, the zippers operate smoothly, and even the mesh on the tent body has a quality look and feel to it.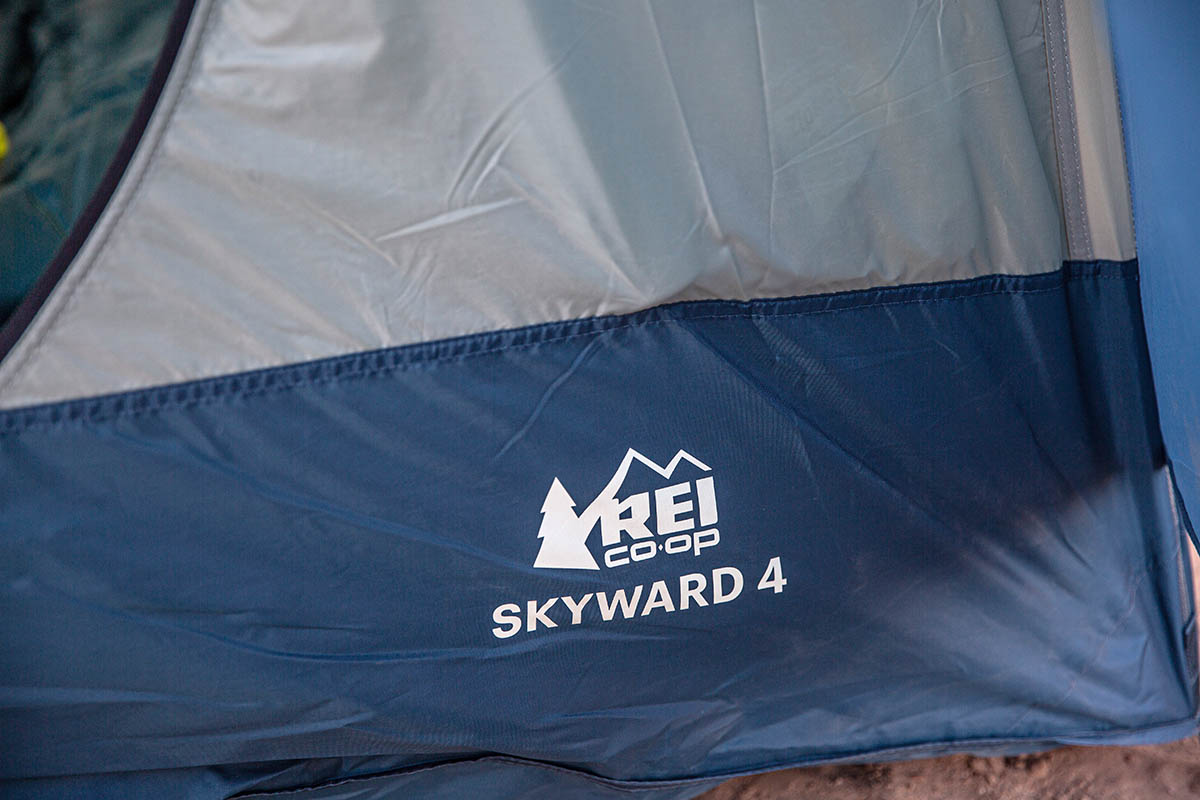 What gives us pause is the Skyward 4's $349 price tag ($449 for the 6P model). With the tent lacking a full-coverage rainfly, it looks a lot like a budget model (similar to the many Colemans you'll see dotting a campsite) that simply features higher-quality fabric and materials. You're not getting notable upgrades in weather protection—either for wind or rain—and storage isn't anything to write home about either. And although some campers may not mind, the sky blue and tan color scheme doesn't stand out as particularly modern or fun. In our opinion, the Skyward is a little overpriced for what you get and would be a lot more desirable for $50 to $100 less.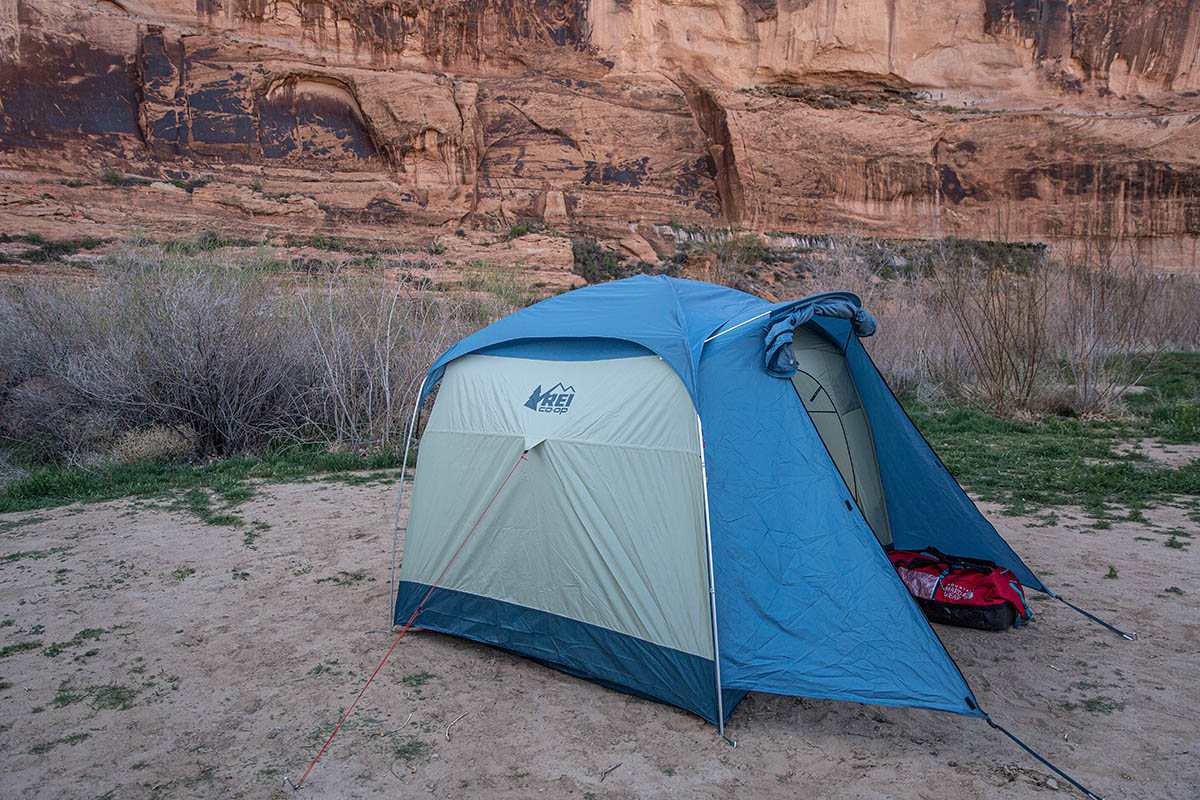 Weight and Packed Size
Camping tents can creep over the 20-pound mark, so it's notable that the Skyward 4 tips the scales at a reasonable 13 pounds 11 ounces all in. For reference, it undercuts other REI offerings including the roomier Wonderland 4 (21 lbs. 11 oz.) and sturdier Base Camp 4 (16 lbs. 14 oz.) while stacking up similarly to The North Face's popular Wawona 4 (13 lbs.). Marmot's Limestone 4 is lighter at 10 pounds 13.5 ounces, but again, that tent is noticeably less spacious with a 61-inch peak height (although floor area is nearly identical at 59.2 sq. ft.).
However, while overall weight is reasonable, the REI Skyward 4 still is a handful to pack and haul around. Our biggest complaint here is that the stuff sack requires a pretty diligent folding and rolling technique to accommodate all of the components. We prefer when our camping tent comes with a generously sized storage bag, which the Skyward does not. It took us a couple efforts to get the tent into its stuff sack the first time we broke camp, and it was a continued annoyance each time we packed it away for transport. Expanding the bag's diameter (it measures roughly 9.8 x 27.5 in.) would go a long way towards streamlining the packing process.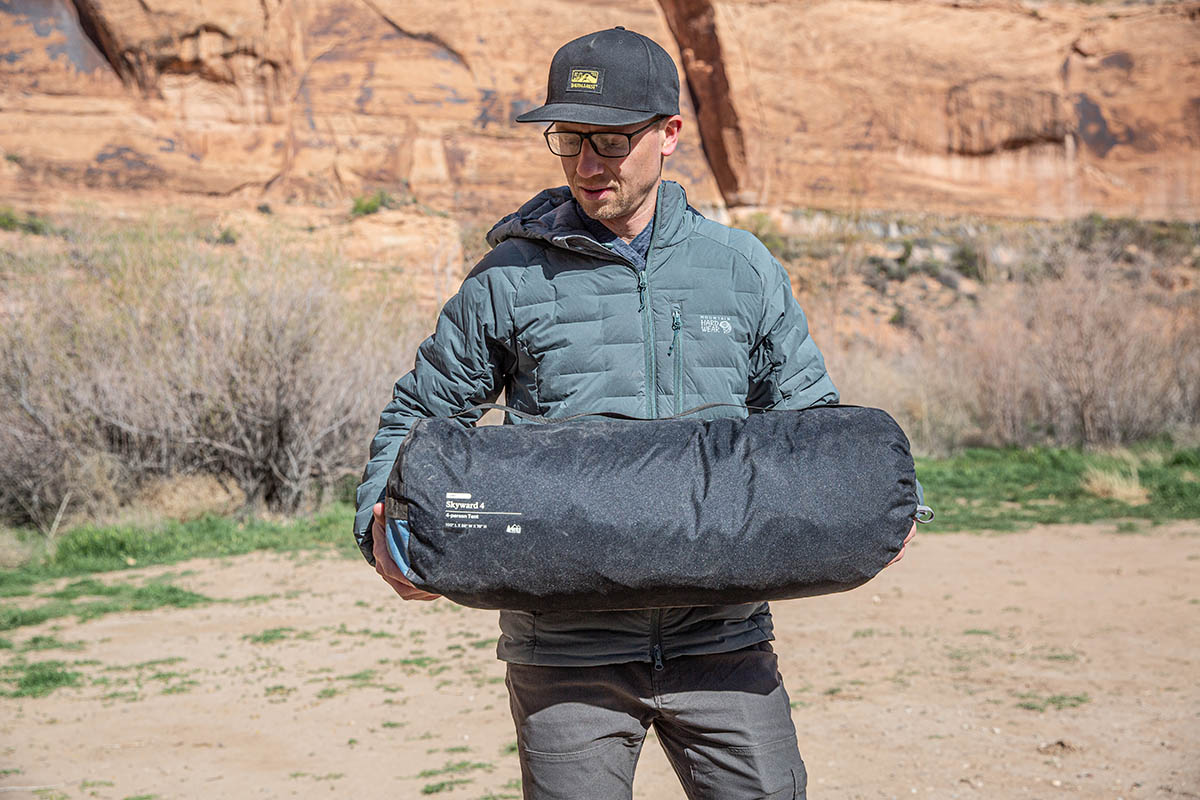 Set up and Take Down
With our group convening late in the day in Moab, we had the challenge of setting up the Skyward 4 for the first time in the dark. But thankfully, it was a relatively simple process, and REI provides instructions on the inside of the bag that clearly outline the steps. Although there are seven poles, the general layout is a simple X-shaped design, and the built-in sleeves do a good job guiding the poles into place. Securing the rainfly is also pretty straightforward once you figure out where the tabs connect at the sides. All told, it's something that a single person can do with practice in roughly 10 minutes (not including securing any guylines). For a car camping tent, that's downright speedy.

Other Capacity: REI Co-op Skyward 6
We put the four-person Skyward to the test for this review, and REI also sells it in a larger six-person capacity for $449. As we touched on above, the Skyward 6 has the same 78-inch peak height as the 4P version, although you get a sizable boost in floor area (83 sq. ft.) by upgrading. Again, the Skyward 4 can fit four standard sleeping pads side by side, but groups of four (especially adults) or more will likely want to size up.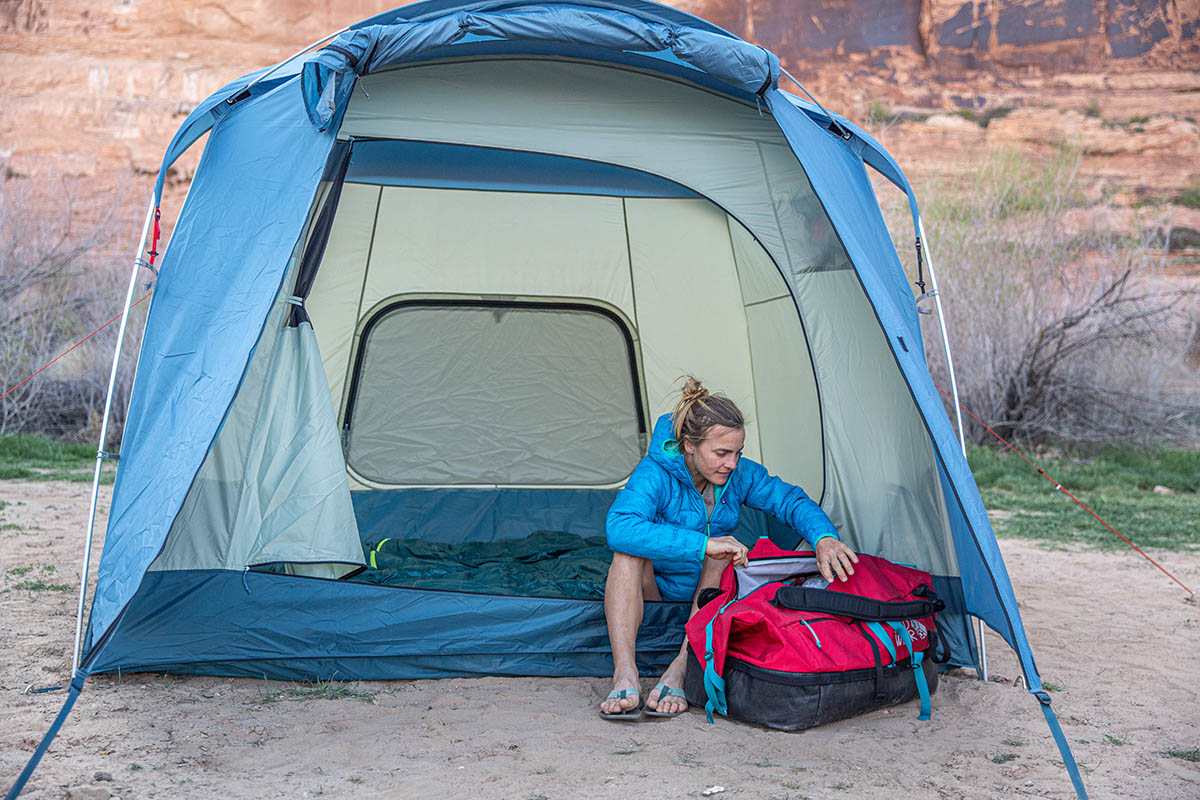 Sustainability
REI frequently incorporates eco-friendly practices into their products, and the Skyward 4 Tent is no exception. In this case, the tent utilizes solution-dyed mesh, which requires less water and energy use during manufacturing. We do wish they had included other measures like recycled or bluesign-approved materials, but it's nevertheless a nice and welcome upgrade from the discontinued Grand Hut.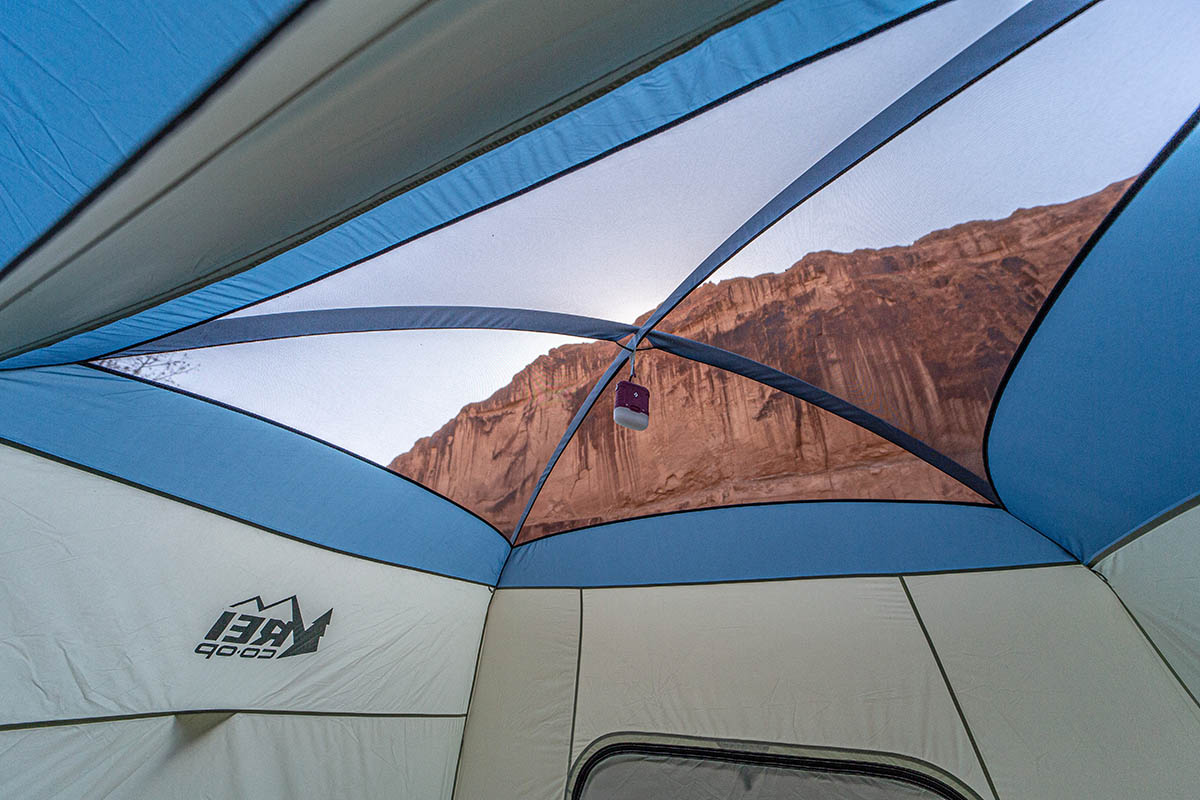 What We Like
Near-vertical walls, pre-bent poles, and tall, dome-like roof create a very livable and spacious interior.
Pretty light at 13 pounds 11 ounces and easy to set up for such a large camping tent.
Ventilation is excellent thanks to the mesh-heavy build, convertible vestibule design, and window at the back.
Well built overall with a thick floor, robust aluminum poles, and smooth zippers. 

What We Don't
Not a standout in weather protection: The rainfly only covers the tent's mesh top, and the tall and upright shape doesn't hold up well in strong winds (you'll need to guy it out properly).
Single door makes it hard for multiple campers to enter and exit and heavily detracts from overall convenience.
Not a strong value at $349 considering the middling protection and storage.
Stuff sack is relatively small and requires diligent folding and rolling to accommodate all of the tent's components.
Drab colorways give the Skyward a fairly dated look and feel.


Comparison Table
The Competition
REI's new Skyward 4 offers impressive livability thanks to its tall and expansive interior, but there are several quality camping tent competitors on the market in 2022. One standout is Marmot's Limestone 4P, which costs $40 more than the REI and has a shorter 61-inch peak height but wins out in just about every other category. Like the REI, the Marmot offers a generous floor area (59.2 sq. ft.) but includes two doors for a sizable boost in convenience, offers more vestibule space (30.1 total sq. ft.), and provides a noticeable boost in weather-worthiness with a full-coverage rainfly and taut DAC pole design. It's also lighter than the Skyward by around 3 pounds and packs down a little smaller. In the end, unless the tall peak height is the deciding factor for you, we think the Limestone is the more well-rounded camping tent and worth the added investment.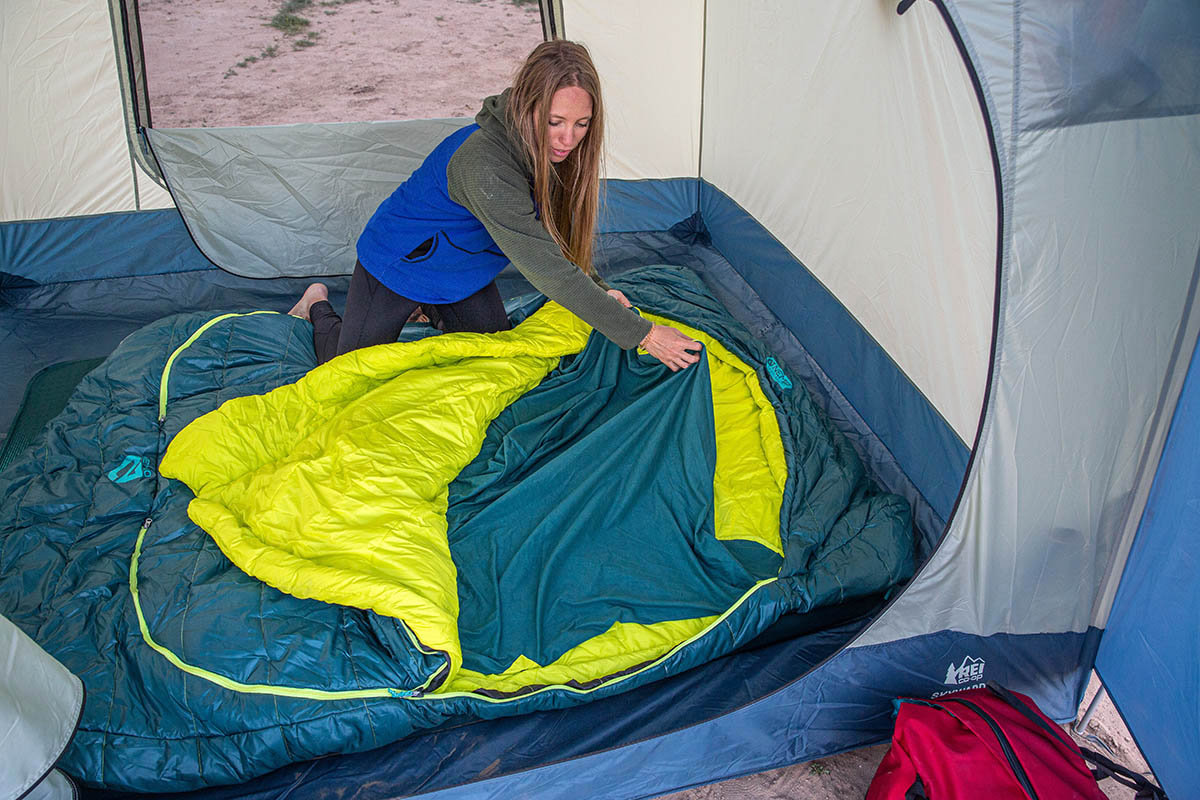 At a similar price point as the Skyward 4, The North Face's $375 Wawona 4 provides a comparable mix of build quality, weight, and livability. The interior is similarly spacious with 58.1 square feet of floor area and a relatively tall, 68-inch peak height, although you get two doors for easier entry and exit. We also like its interior storage, which includes a nice array of pockets—including along the back door—for distributing small items. Finally, while the Wawona's rainfly doesn't cover the lower portion of the tent, it still provides better coverage than the Skyward's. In the end, no tent is perfect, but the Wawona strikes us as a little less compromised than the REI.
Next up is an in-house alternative to consider: REI Co-op's Wonderland 4, which replaced their legendary Kingdom series for this year. Like the Kingdom, the Wonderland stands out for its near-vertical walls, ample mesh for ventilation, and tunnel-like shape that offers great livability. In terms of dimensions, the Wonderland boasts more floor space than the Skyward (69.4 sq. ft) with a similarly tall 75-inch peak height. You also get functional storage with plenty of pockets along the interior, as well as two massive doors that make entry and exit a breeze. However, the Wonderland's rainfly offers zero vestibule space (a Mud Room add-on is available but it'll cost you another $125), and it's quite a bit more expensive at $499. Finally, the Wonderland is decidedly hefty and bulky at over 21 pounds all in. It's a close call between the two, but the Wonderland's second door, more protective rainfly, and more functional interior give it the edge for us.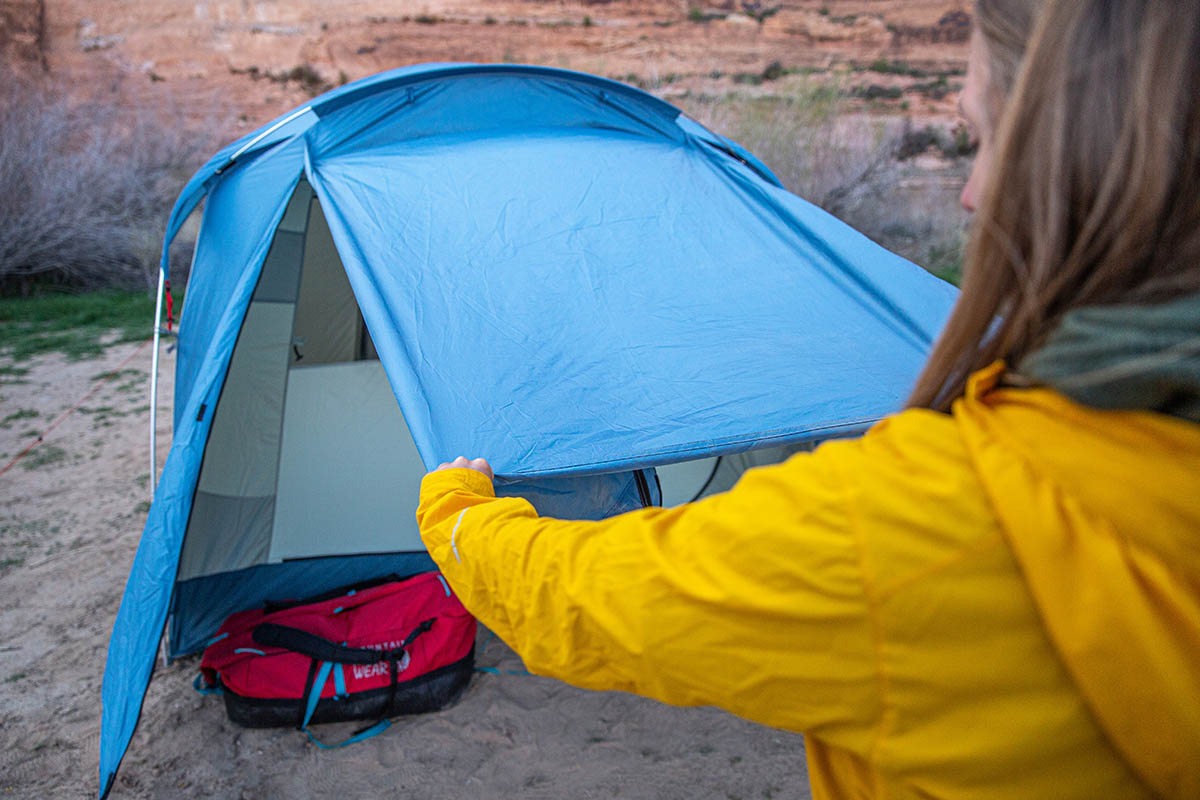 Last but not least is Kelty's Wireless 4, which is the cheapest of the bunch at just $190. But despite the savings, the Wireless is still pretty well equipped and livable with two doors and vestibules, a full-coverage rainfly that offers better protection than the Skyward, and a decently roomy interior (59 sq. ft.) with a center ridgepole that stretches the walls up and away. However, the 59-inch peak height is on the shorter end, its fiberglass poles aren't long-lasting, and the 68D floor and rainfly are notably thinner and less durable than the Skyward's 150D floor and 75D fly. Some campers will find the Skyward's upgrades worthwhile, but we think the Wireless offers better bang for your buck.
Editor's note: We usually provide a live price comparison table below our outdoor gear reviews, but the Skyward is sold exclusively by REI Co-op. You can see the Skyward 4 Tent page here and support us in the process. Thanks!
Learn More About Camping Gear