There is a short squat bird I know well who frequents the "Bivy Boulder" in Cochamó Valley's Anfiteatro. While his latin name escapes me, I refer to him fondly as the "Work Work Work" bird.  His call sounds eerily similar to the word, sung slowly at a high pitch, and repeated five times. I'd call him the "Work Work Work Work Work" bird, but I am less verbose than he. This bird has a penchant for early morning serenades, and during the last two weeks—which I spent sleeping beneath a huge boulder in the middle of an enormous cirque of 1,000-meter granite walls—he has been my alarm clock.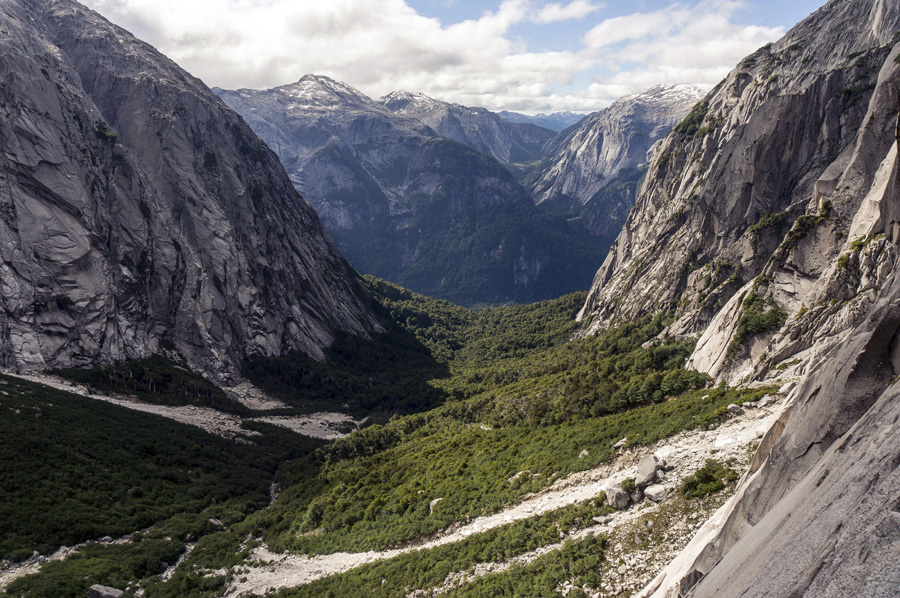 As if I needed a reminder!  Opening new routes for climbing in Cochamó is a lot of work.  This year my friends Austin Siadak, Florian Haenel, and myself chose to further complicate the task by attempting to open a new route that can be climbed at a moderate grade by climbers relatively new to the sport. As one might imagine, lower-angle terrain provides not only better purchase for feet and hands, but also for soil and roots. Hence, the inherent difficulties in our route of choice this year—an impressive sweeping ridgeline along a huge triangular wall—lay more in cleaning than climbing.
Yet all were up for the task at hand and we worked diligently until the route was done. We summited Cerro Laguna on our third day of climbing via the previously unclimbed wall that we have dubbed, La Aleta de Tiburon (The Shark's Fin).  Our route followed the striking southwest ridge of the wall for 10 pitches (around 500 meters) and terminated in a comparatively easy 4th class scramble of about 1/2 mile to the summit.  At the end of day three, our new route featured one pitch of relatively safe bolted slab, an entirely unprotected second pitch which we climbed at 5.5X (X meaning potentially fatal falls), two stellar pitches of bolted arete climbing, some forest scrambling, and a variety of R and X pitches up to 5.10+ until the top.  Though we had climbed the line, our work was far from done.  The "Work Work Work" bird would sing to us three mornings more before we were able to make the route safe and enjoyable for future climbers.
Now, as the rain washes away the memory of our frenzied brushing (at one point, after completely exhausting a 6-inch long wire brush with bristles well over an inch long, Florian continued cleaning for a stretch of two hours with only a bundle of tree branches), and the dust settles at the base of the wall, I rest peacefully in Puerto Varas knowing that we have left a proud contribution to the Cochamó Valley that visiting climbers can enjoy for years.  While the route clocks in at 5.10+, which is hardly a beginner grade, it is arguably now one of the best "easy" routes in Cochamó, and the easiest route yet to reach the summit of Cerro Laguna from the Anfiteatro.
The view from the top of Cerro Laguna is without parallel.  Looking north, you can see Cerro Capicua, Cerro Arco Iris, and Volcanos Tronador and Osorno.  East, you can peer all the way over the Trinidad Valley's impressive 1,000-meter walls and into Argentina, and the pointy towers of Frey.  South is Cochamó's largest wall, El Monstruo, and the needled summit of snowy Cerro Torrecillas.  West you can see all the way down valley, and back to the Estuario Reloncavi - the meeting place of the rio Cochamo and the Pacific Ocean.  In every direction from Cerro Laguna, the eye feasts upon distant and remote mountains, many of which are still unclimbed, unvisited, and undisturbed native Valdivian rainforest.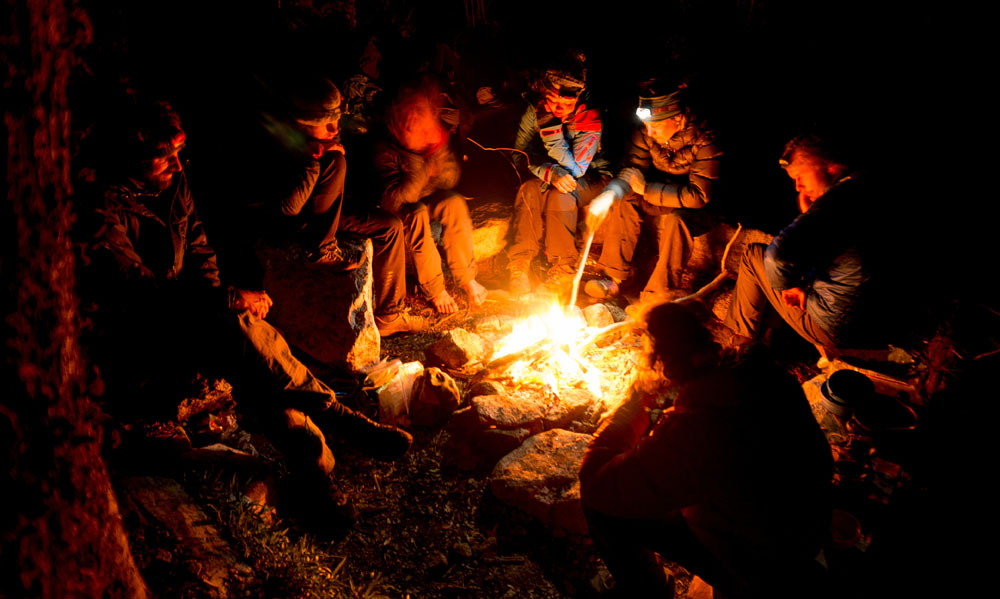 Climbing at its best is a medium through which we can become closer with Pachamama: the millennia-old name used by Andean natives for Mother Earth.  Visiting climbers to Cochamó have the luck and good fortune to connect to this special place in a profound way, making close contact with ancient old-growth forests, and their unique flora and fauna.  Together, Austin, Flo, and I hope that our route will help to bring climbers of all skill levels closer to Cochamó, and serve as a reminder that it is not purely the freedom of movement that makes climbing so special, but the natural beauty of the mountains where that movement occurs.
Switchback Travel's Cochamó Journals will document climber Chris Kalman as he journeys down to Southern Chile in 2014 for another epic climbing season. You can learn more about Chris and follow his work at www.chriskalman.com.
Read More From Switchback Travel