Patagonia R1 TechFace Hoody
Price: $179
Weight: 15.3 oz. (men's large)
Fleece weight: Lightweight
What we like: Highly weather-resistant, breathable, and hardwearing—a great match for demanding pursuits like climbing and backcountry skiing.
What we don't: Loose fit doesn't wick moisture well and can make it tough to add a shell overtop.
See the Men's Patagonia R1 TechFace  See the Women's Patagonia R1 TechFace
Patagonia has one of the most extensive fleece collections on the market, and their performance-focused Regulator (R) series is designed with active use in mind. Straddling the softshell and fleece categories, the R1 TechFace Hoody takes their popular R1 and adds more weather and abrasion resistance. We took the hoody camping, backpacking, and rock climbing around British Columbia and the Yukon and came away with mostly positive feedback. The baggier fit doesn't wick moisture well and is too large to wear on its own, but it's a great match for climbers and skiers who want a baselayer and light shell in one. Below we break down our experiences with the R1 TechFace Hoody. To see how it stacks up to the competition, see our articles on the best fleece jackets and best softshell jackets.
 
---
Table of Contents
---

Performance
Breathability
One of the biggest selling points of the Patagonia R1 TechFace Hoody is its breathability, which is ideal for cool-weather activities like hiking, backpacking, and climbing. I wore the jacket in a range of conditions, but perhaps the most revealing test was camping in B.C.'s Cathedral Lakes backcountry, when a wildfire moved in quickly and forced us to pack up camp in a hurry and evacuate to a nearby helicopter landing pad. Upon receiving direction from the rangers, we quickly donned our 65-liter packs and jogged several miles uphill to the evacuation point. Once we received word that wildfire crew had the situation under control a few hours later, I realized I had been wearing the R1 the entire time. Although I was definitely warm, I was able to comfortably exert myself with a fully loaded pack without overheating, which is in large part due to the jacket's grid-like patterning that allows air to flow through.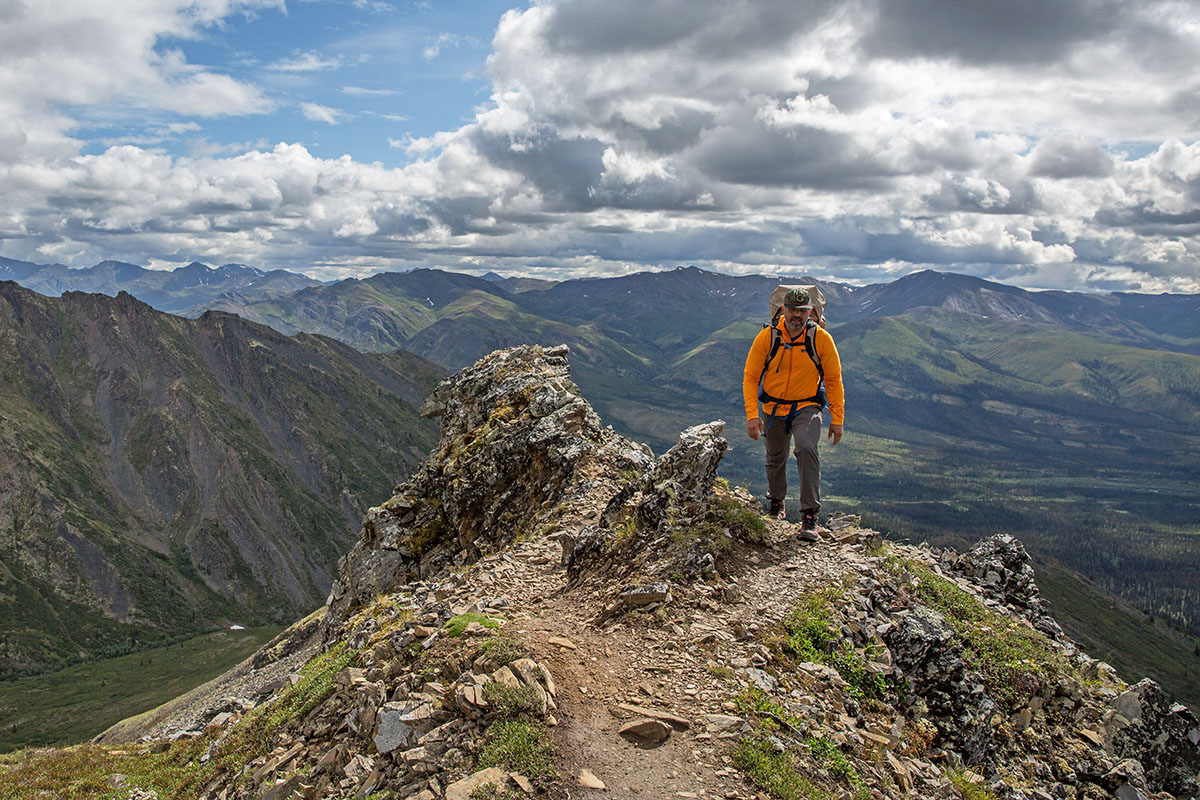 All that said, since the R1 TechFace Hoody doesn't fit snugly against the skin (more on this in "Fit and Sizing" below), I found it doesn't wick sweat as well as more fitted fleeces like Arc'teryx's Delta MX Hoody. And it wouldn't be my first pick on mild days—in warmer temps, I overheated quickly while ascending steep, lengthy sections of trail. I'm looking forward to testing its performance this winter on cold backcountry ski approaches, but so far, I'd say it's a nice match for shoulder seasons and cool alpine environments.

Warmth
As I touched on above, the R1 TechFace's warmth limits it to colder days. If I'm exerting, the temperatures are mild, and the sun is out, I'm very quick to warm up in the jacket. That said, I should admit that I do run particularly hot, and the aforementioned breathability makes this jacket suitable for most shoulder-season activities and conditions. All in all, it's become my go-to layer for sitting around camp in cooler temps, packing my van in the morning before an early adventure, and during more static activities like belaying (I typically pair the R1 with a light merino baselayer). And because of the fairly generous fit, I can easily wear the R1 in much cooler conditions by adding a down or synthetic jacket underneath.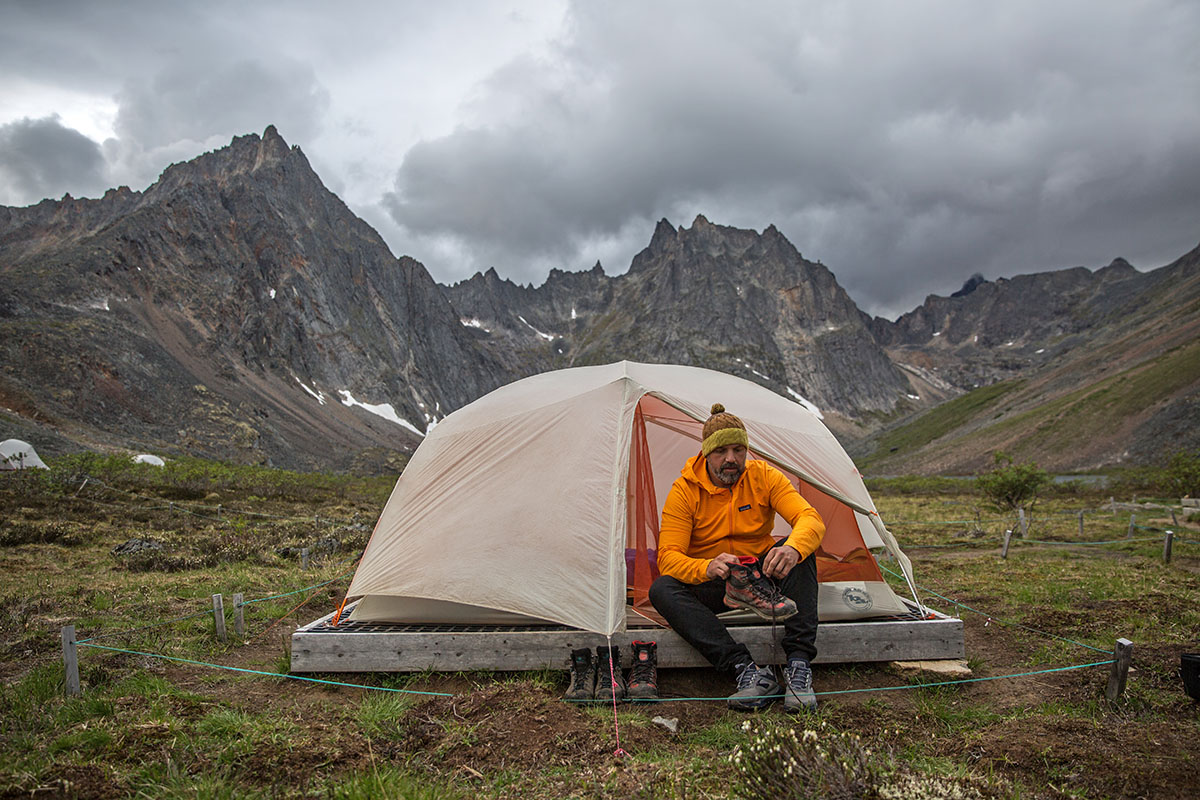 Comfort
As far as comfort goes, the R1 TechFace is decently pliable and cozy, but it lacks the super soft and supple feel that you get with a standard fleece and has much less loft than Patagonia's own standard R1 and R2. That said, while wearing a short-sleeve baselayer underneath, I had no issues with abrasion or rubbing, and the inner fabric felt comfortable against bare skin. The cuffs also sport a small section that's softer than the rest of the grid-patterned build and proved to be ideal for wiping my brow or nose. All told, I wore the R1 for everything from sitting around camp in cooler temperatures to mid-hike breaks and the aforementioned wildfire evacuation and have little to complain about—just don't expect pillowy softness.

Weather Resistance
Fleeces and softshells aren't the best options for protecting against harsh weather—for this, we turn to hardshells and rain jackets—but the R1 TechFace Hoody does an admirable job in light rain and wind. For starters, the jacket has a durable water repellent (DWR) finish that helps moisture bead up on the surface rather than soaking through, and the double-weave fabric is highly wind-resistant. Despite very blustery conditions in the Yukon's Tombstone Territorial Park, the R1 put up a great defense against light to moderate gusts. When the mercury dropped and the wind was really howling, however, I did need to don my hardshell jacket to fend off the chill. And on a long stretch of hiking in sustained rain, the shoulders of the hoody did wet out and take a while to dry. In the end, the R1 can pull double duty as a shell in a pinch, but it's best suited for mild days and non-inclement conditions.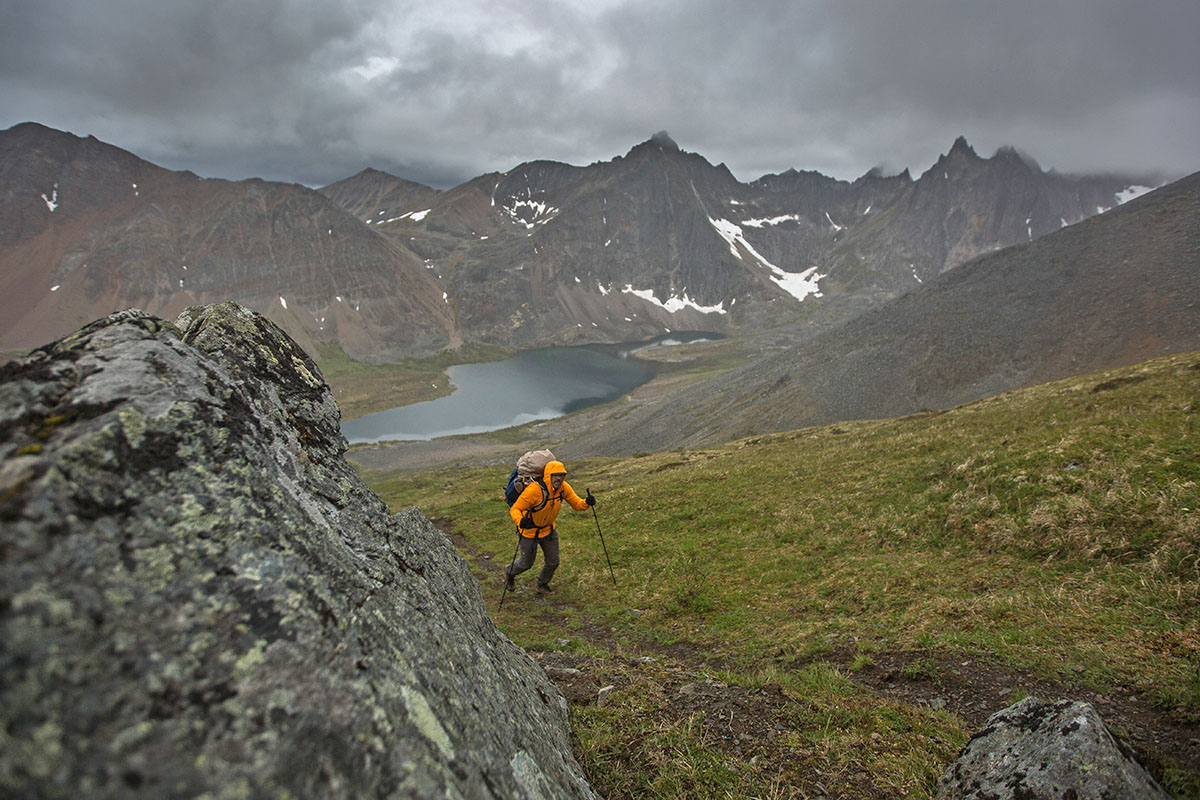 Weight and Packability
My R1 TechFace Hoody in a men's size large clocked in at 15.3 ounces (its listed weight is 13.8 oz.), which falls at the lighter end of the softshell spectrum but is fairly heavy for a performance-focused fleece. For reference, Arc'teryx's similarly designed Delta MX Hoody weighs less at 12.6 ounces, their Delta LT Hoody is 10.1 ounces, and Patagonia's own R1 Fleece Full-Zip Hoody—a more breathable but less abrasion- and weather-resistant alternative—comes in at 13.9 ounces. For a step up in warmth, Patagonia also makes their R2 in a TechFace version for an additional $10 (1 lb. 1.1 oz.). On the bright side, the R1 does stuff easily into its own hood and can be further compressed with the drawcord, although I wish it had a dedicated stuff pocket (it does fit in its pocket, but the zipper isn't designed for this).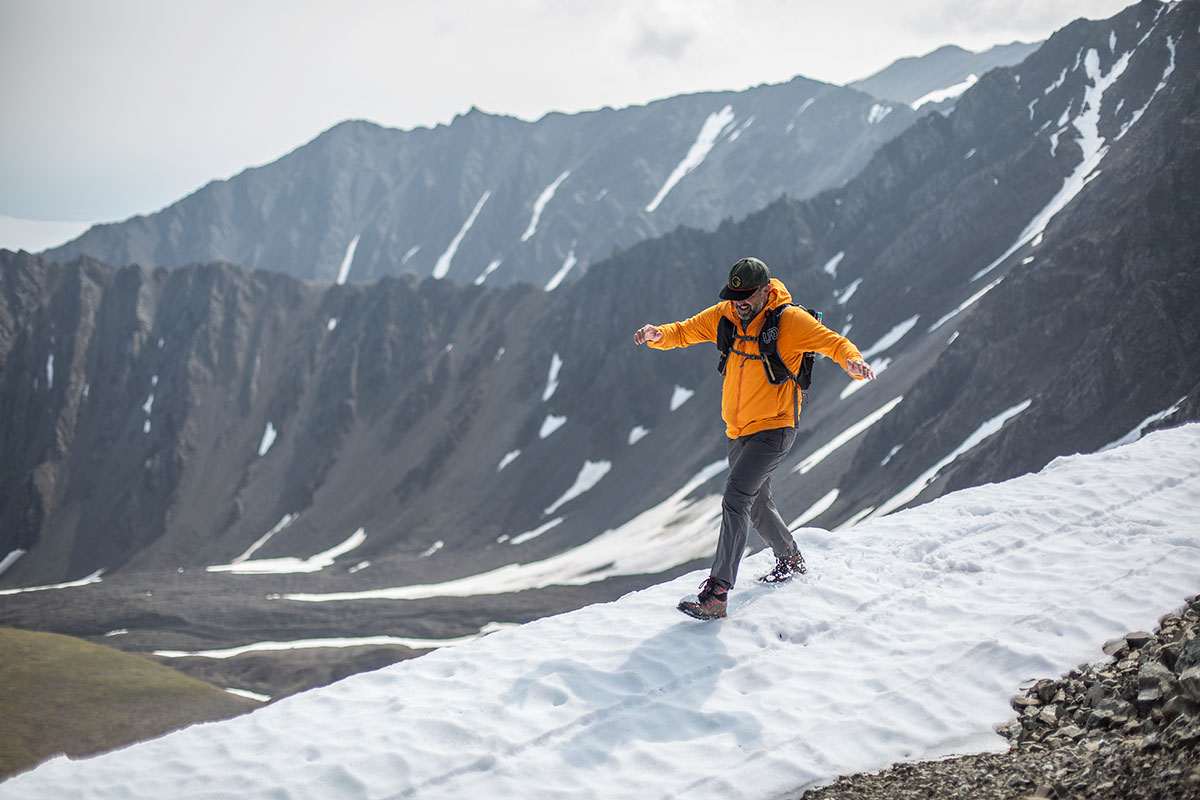 Key Features
Hood 
The R1 TechFace's hood is quite versatile: it's designed to fit close to the head when cinched and can easily (and comfortably) be worn under a climbing or ski helmet. However, I found it was also large and elastic enough to stretch over an alpine climbing or even low-profile ski helmet, although it can restrict movement at the neck while fully zipped (undoing the main zip a couple inches helps). Additionally, the hood features a laminated visor that does a nice job keeping moisture out of my eyes. And as far as adjustability goes, the hood sports three drawcords—two at the collar and one at the back—for dialing in fit, which allow for great customization but can be tough to toggle with gloves on (especially the rear adjustment).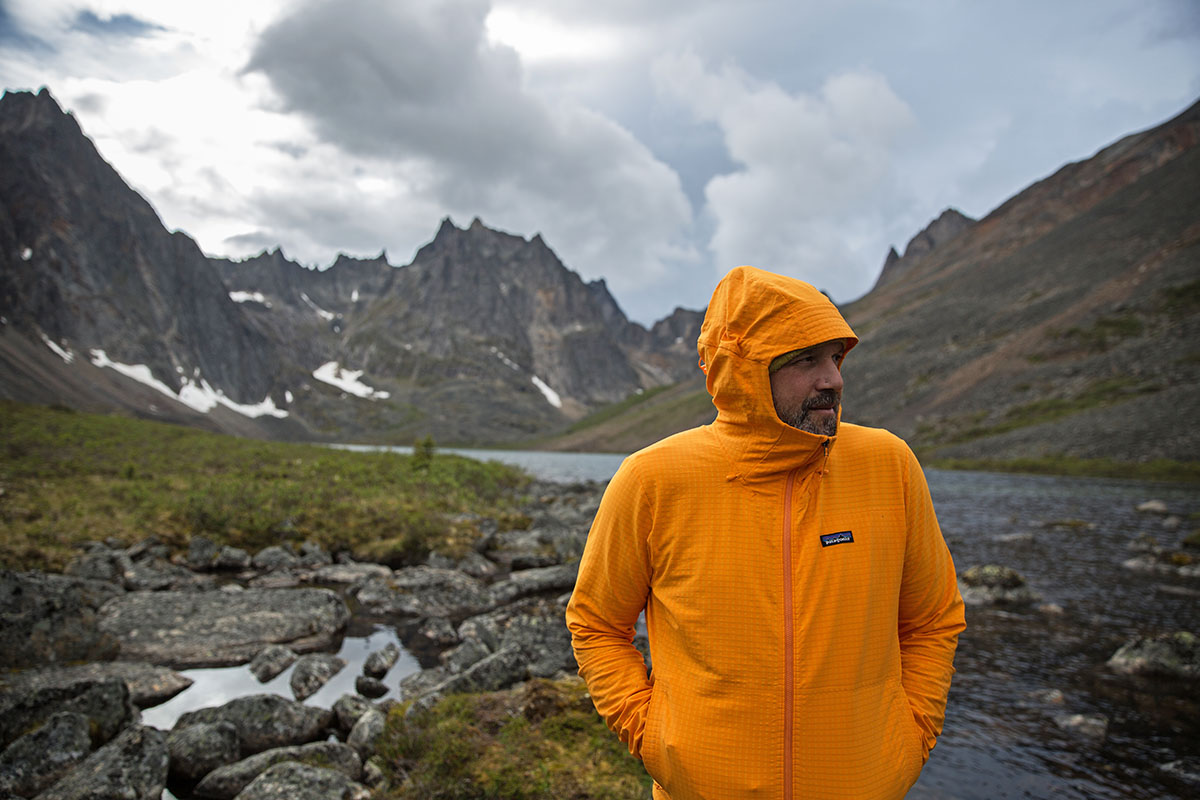 Storage: Pockets
The R1 TechFace Hoody comes decently equipped for stashing the essentials with two large handwarmer pockets and one small internal chest pocket. The hand pockets are placed high enough to allow access while wearing a climbing harness or backpack hipbelt, and the chest pocket is ideal for stowing smaller items that you don't need frequent access to, such as car keys (this reduces the risk of losing critical items in the backcountry). That said, the previous-generation R1 TechFace had an external chest pocket, which I personally prefer over the interior one, as internal zippers are more of a hassle to access and toggle under a sternum strap or while wearing gloves.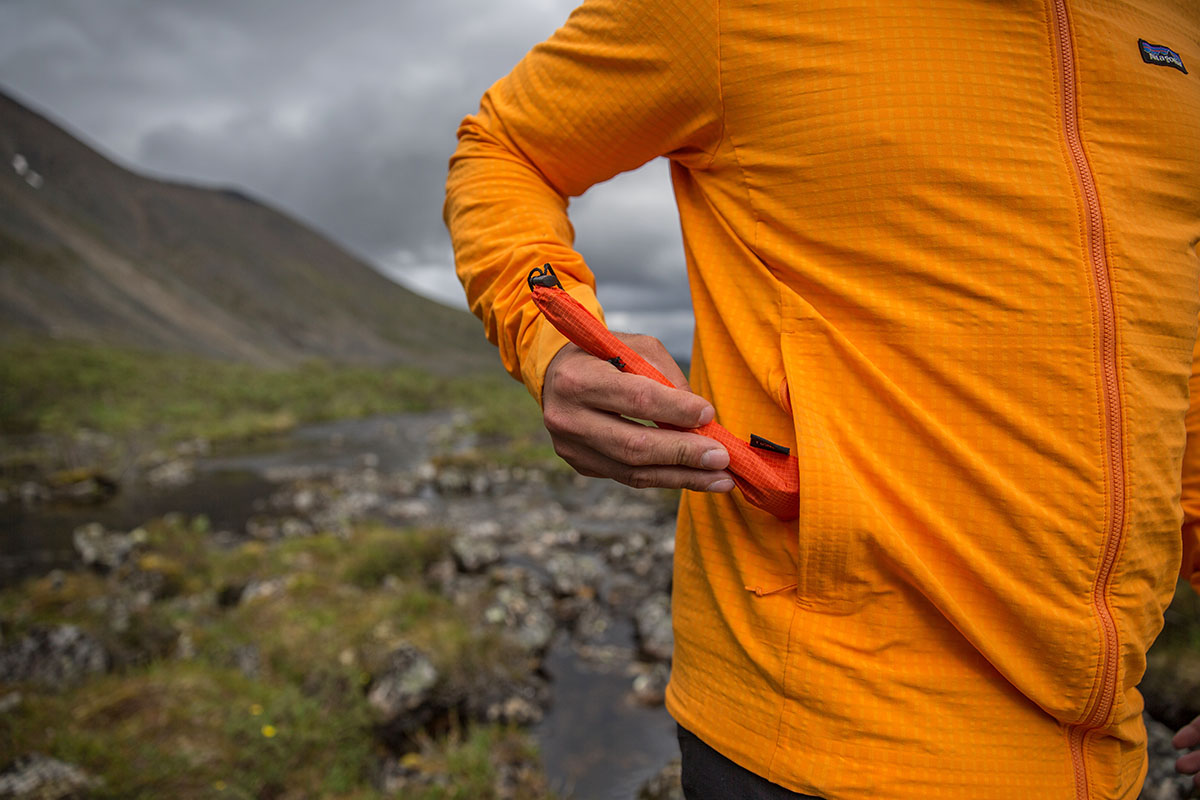 Build Quality and Durability
Patagonia is known for their quality craftsmanship, and the R1 TechFace Hoody is exactly what we've come to expect from the brand. The fabric is a mix of 92 percent polyester and 8 percent spandex, which feels decently soft against the skin and offers great mobility for activities like backpacking and climbing. Further, all features are well-executed and holding up well, from the adjustable and functional hood to the snag-resistant cuffs and cinchable hem. Finally, the jacket has decent everyday appeal with a clean look and classy styling.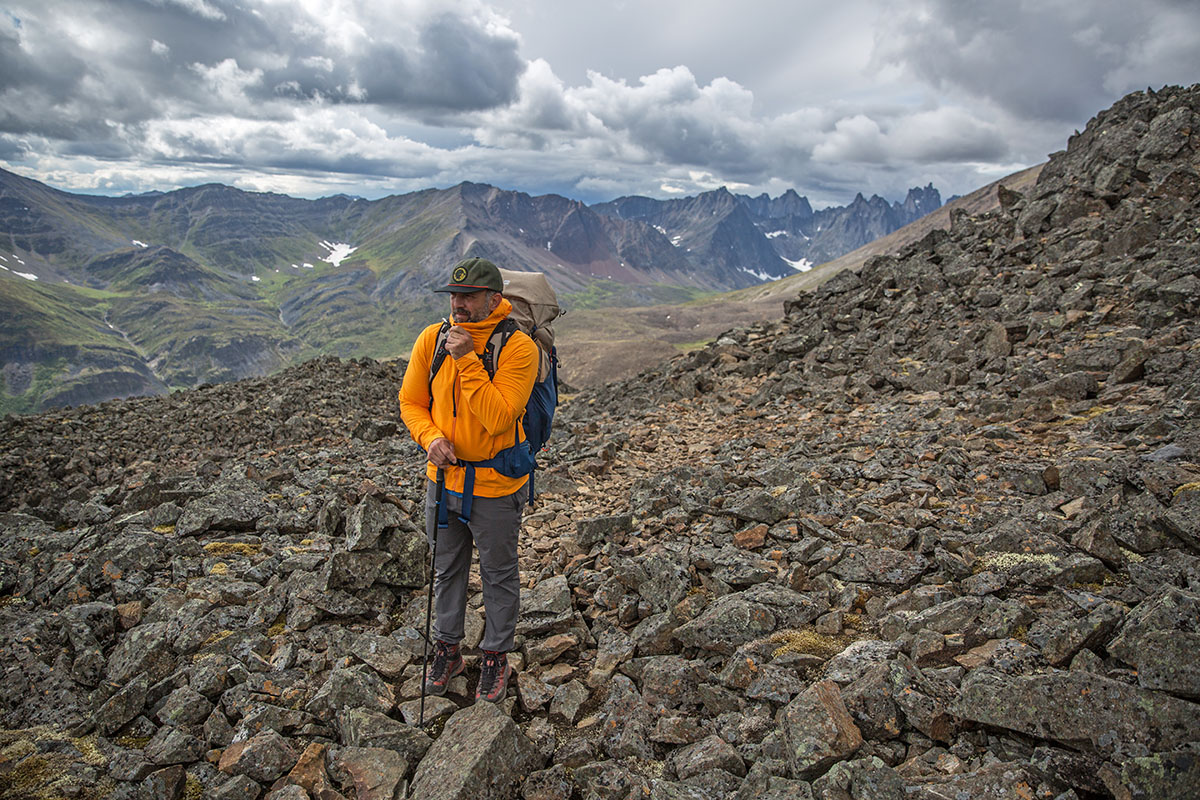 Fit and Sizing
I ordered my usual men's size large in the R1 TechFace Hoody and found it to fit surprisingly generously given the "slim" designation. I wouldn't go as far as calling it boxy, but I think "relaxed" is a more appropriate moniker. This can be a good thing for those who plan to layer underneath—I was able to wear my Delta MX as a baselayer and throw on my Patagonia Torrentshell 3L overtop when the weather turned—but it's not a great next-to-skin layer (the baggier fit doesn't wick moisture as well as a more fitted piece). That said, the jacket is the perfect length at the arms, waist, and shoulders for me, and the 8 percent spandex and articulated patterning add a nice dose of stretch that makes it very easy to move around in.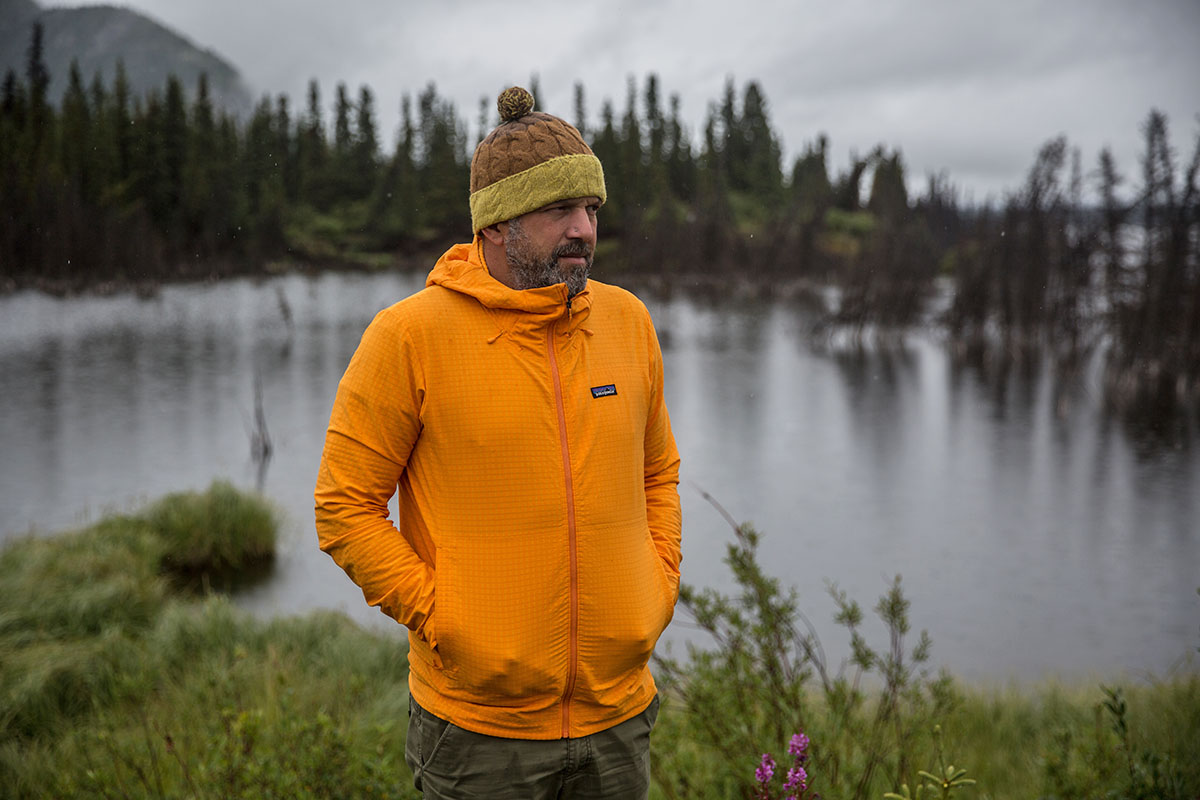 Sustainability
As expected from the brand, the R1 TechFace Hoody embodies Patagonia's focus on sustainability. First, the jacket's face fabric is 69-percent recycled, and all materials are bluesign-approved, meaning they're safe for the environment, workers, and consumers. The hoody is also Fair Trade Certified sewn, which indicates that Patagonia put extra money into production to help ensure workers are compensated fairly and can fund community projects, healthcare programs, and more (you can read more about the program here). Unlike some other outdoor brands, Patagonia hasn't yet switched to a PFC-free DWR coating across the board (they have with some items, but not the R1 TechFace), but we appreciate the steps they've taken of late to create more ethically sourced and made products.

Other Versions of the Patagonia R1
We brought the men's R1 TechFace Hoody into the Yukon and B.C. backcountries for testing, but the R1 collection includes a number of other variations. For starters, Patagonia sells a nearly identical women's version, which clocks in at 11.9 ounces and comes in different colorways but otherwise sports the same features and overall construction. Additionally, the R1 TechFace is also sold in a non-hooded version for $20 less, although given the jacket's climbing intentions, we think it's worth spending up for the hoody. Rounding out the collection, Patagonia also sells their standard R1 in pullover, full-zip hoody, non-hooded jacket, pant, and crew-neck variations, which are more breathable but less abrasion- and weather-resistant than the TechFace collection.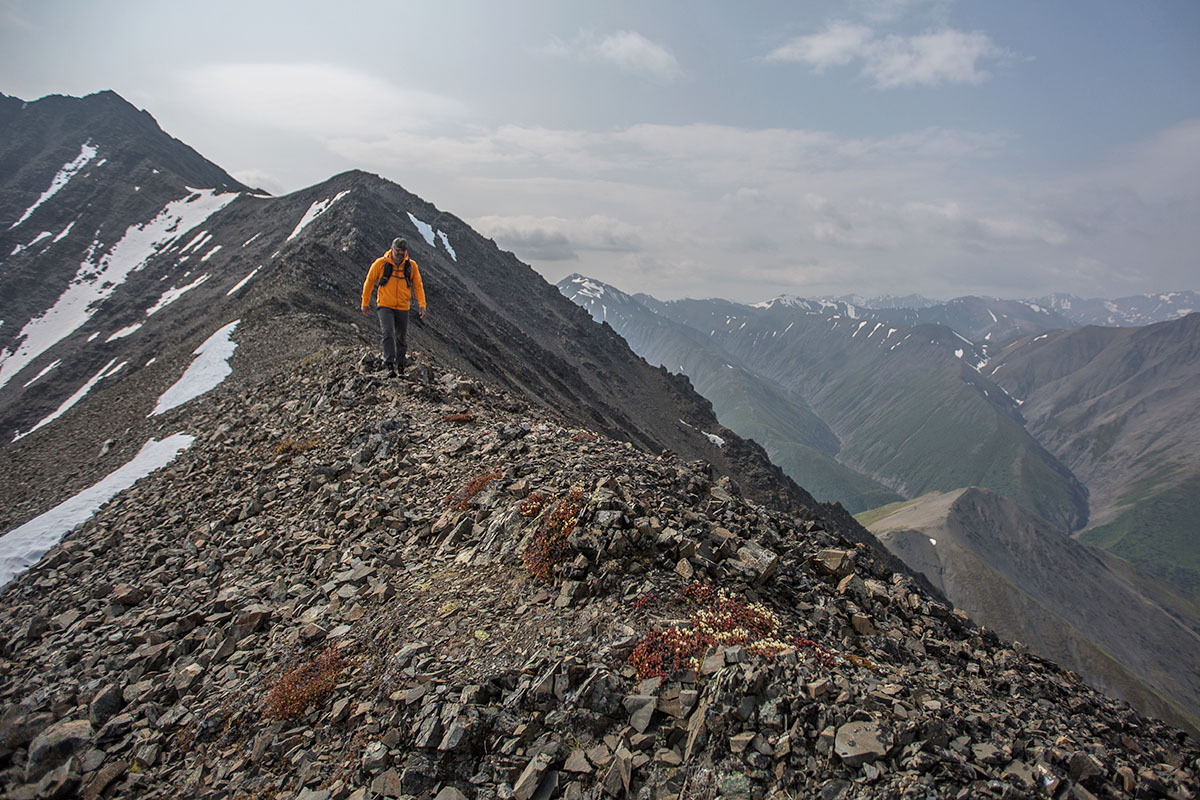 What We Like
The R1 TechFace nicely toes the line between performance fleece and softshell: this jacket is decently warm, weather-resistant, and breathable enough for active pursuits like climbing and skiing. 
Offers better protection than most fleeces against light to moderate precipitation and wind.
The fit and finish we've come to expect from Patagonia: this jacket is well-made, looks good, and uses recycled materials.

What We Don't
Looser fit doesn't wick moisture as well as a trim-fitting layer like the Arc'teryx Delta MX, and it can be tough to add a shell overtop.
No dedicated stuff pocket, although the jacket stuffs easily into the hood and can be compressed further with the drawcord.
I wish Patagonia had kept the external chest pocket of the previous-generation R1 TechFace, as it was easier to access under pack straps and while wearing gloves.


Comparison Table

The Competition
Patagonia's R1 TechFace Hoody straddles the fleece jacket and softshell categories, with good all-around warmth and enough weather resistance and durability to wear as an outer layer in mild conditions. Not surprising given the shared name, the closest competitor comes from within the same Regulator lineup: Patagonia's standard R1 Fleece Full-Zip Hoody. In parsing out the differences, the TechFace is thinner than the R1 but offers better protection against wind and water. It's also more abrasion-resistant, although the tighter weave translates to less breathability. As far as fit goes, the TechFace is a little larger than the R1, which is good for layering but makes it less warm and not as capable at wicking moisture. And the TechFace's hood is also better tuned for climbing (it fits over an alpine helmet, whereas the R1's is snugger and only works under a helmet). For shoulder-season hiking, backpacking, and other non-technical pursuits, we think the R1 is a great choice. Climbers and those who need the added durability and protection will likely prefer the TechFace.
For a step up in warmth, Patagonia also makes a TechFace version of their R2 fleece. We consider the R2 TechFace Hoody a nice cold-weather alternative to the version tested here: like the R1, the R2 is durable, water- and wind-resistant, and breathable for active pursuits. However, the R2 is heavier at 1 lb 1.1 ounces, uses a bit more polyester and less spandex in the build (read: less mobility), and boasts more storage with five total pockets, including one chest, two handwarmer, and two interior. The R2 is also noticeably softer against the skin with a higher-loft fleece interior, although the added warmth limits the jacket's appeal to truly cold days. For milder temperatures, shoulder-season outings, or high-output pursuits, we prefer the thinner and more breathable R1.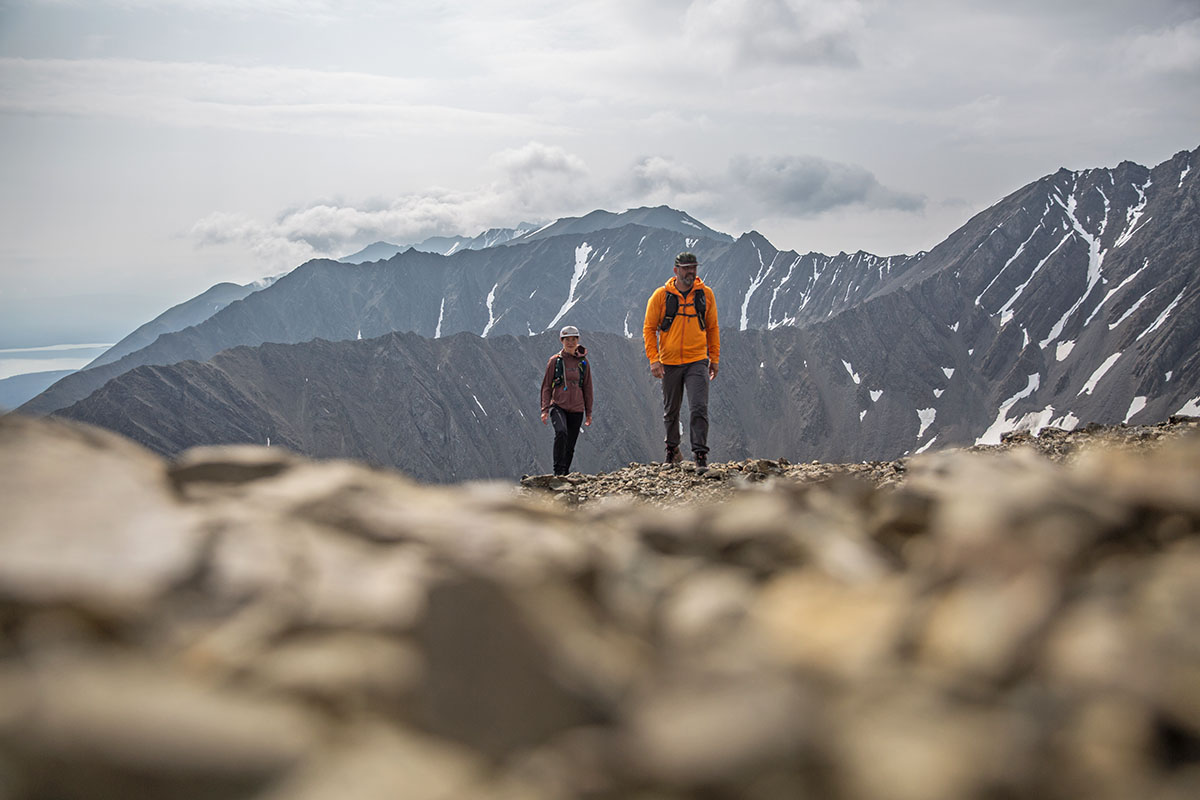 Arc'teryx is another brand with an extensive collection of technical fleeces, and their R1 TechFace equivalent is the Delta MX Hoody. In comparing the two, the R1 doesn't feel as soft against the skin, is heavier at 13.8 ounces versus the Arc'teryx's 12.6-ounce weight, and is less breathable. However, the Patagonia wins out in durability, weather resistance, and packability (the Delta MX doesn't have a hood adjuster to cinch down further). In the end, the two have very different strong suits: the R1 strikes us as a better softshell than midlayer, while the Delta MX fits better under a shell and doesn't protect as well against precipitation or wind (for more, see our Delta MX review). But both are good-looking, well-designed fleeces from two of the best brands in the business. 
Another technical Arc'teryx fleece to consider is their Fortrez Hoody. Like the R1, the Fortrez is an excellent breather, has a tough face fabric, and offers great mobility for activities like climbing and backcountry skiing. Weight is similar between the two hoodies (13.2 oz. for the Arc'teryx vs. 13.8 for the Patagonia), although the Fortrez has a trimmer fit that doesn't work as well for layering underneath. But we love the integrated neck gaiter, which provides a nice dose of added warmth and protection from cold gusts. In the end, the Patagonia will save you around $45, but we think the Fortrez is the better-made and higher-performing technical fleece.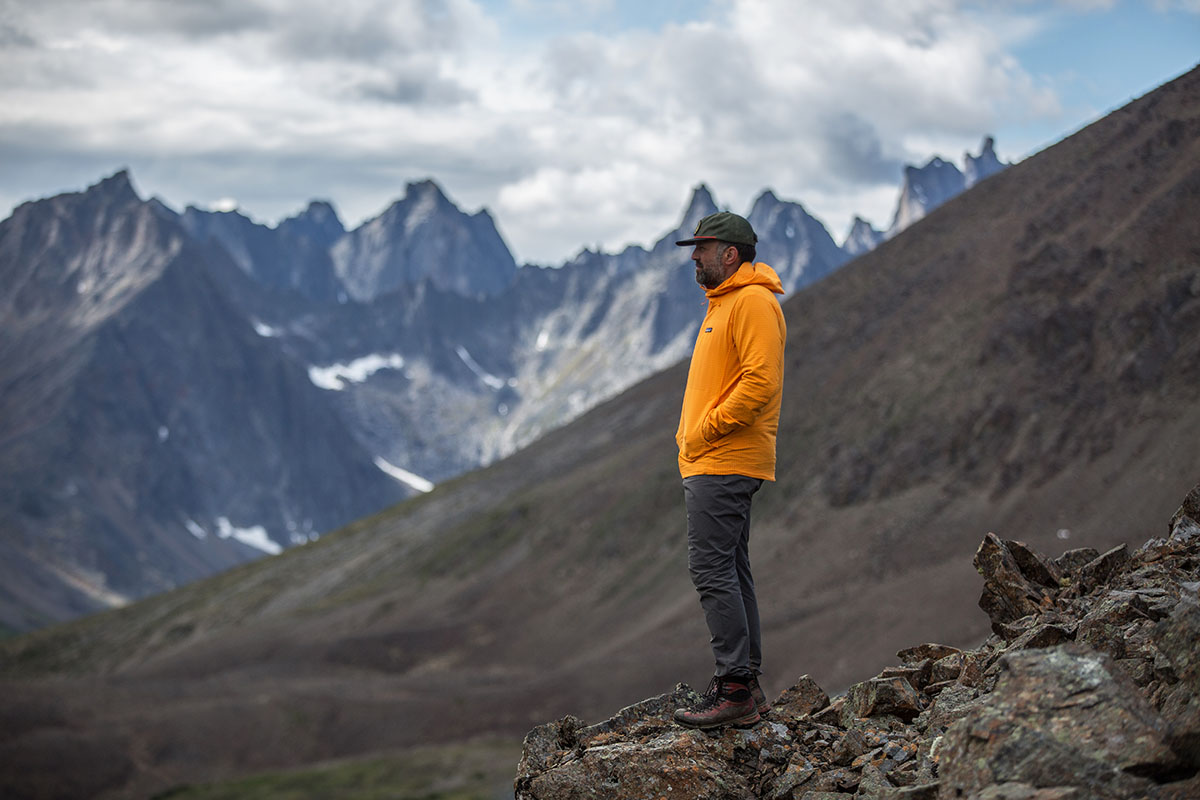 A final competitor to consider is our top-rated softshell this year, the Arc'teryx Gamma LT Hoody. Like the R1, the Gamma has a durable outer fabric, breathes reasonably well (although not as well as the R1), and has a roomy cut that allows for layering underneath but doesn't sacrifice range of motion. You also get technical features like a helmet-compatible hood with a laminated brim, gusseted underarms, and a tall collar to help seal out the elements. The Gamma is pricey at $249 ($70 more than the R1 TechFace) and heavier than the Patagonia at 1 pound 3.2 ounces, but we consider it the better outer layer and a superior protector against wind and rain. 
If you're thinking about buying gear that we've reviewed on Switchback Travel, you can help support us in the process. Just click on any of the seller links above, and if you make a purchase, we receive a small percentage of the transaction. The cost of the product is the same to you but this helps us continue to test and write about outdoor gear. Thanks and we appreciate your support!
Depending on the seller, most products ship free in the United States on orders of $50 or more. International shipping availability and rates vary by seller. The pricing information on this page is updated hourly but we are not responsible for inaccuracies.
Read More From Switchback Travel