A common debate amongst backcountry-goers is whether to wear a hardshell or softshell jacket as an outer layer. Both types have their priorities—hardshells excel in extreme conditions, while softshells are generally breathable, stretchy, and soft to the touch—and predictably, each makes sense in very different conditions. To help you choose the best option, below we break down the pros and cons of hardshell and softshell jackets, including weather protection, breathability, weight, comfort, cost, and more.
 
Types of Shells
Hardshells: Ultimate Weather Protection
As the name indicates, hardshell jackets are rigid and stiff. After all, they're designed to be your primary layer of defense against whipping winds and heavy precipitation. For those days when nothing can keep you inside (not even Mother Nature), a hardshell is your best friend.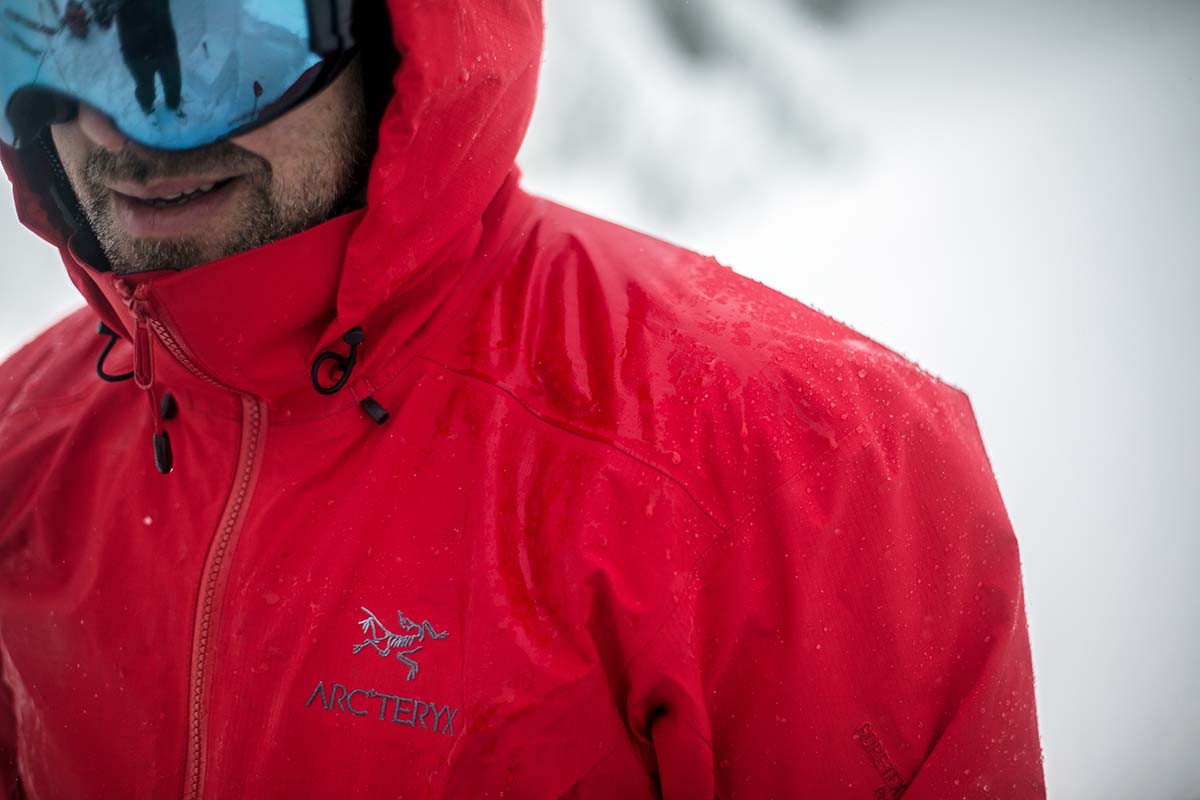 It's important to note that there's no industry-wide definition of a hardshell, but there are a number of common features that gear companies use to define this type of jacket. In terms of construction, hardshells all share a 3-layer build: a waterproof and breathable membrane is sandwiched between an interior liner and durable exterior face fabric. The most common membrane type is Gore-Tex, although you'll see eVent or Polartec NeoShell designs on occasion. Further, some notable in-house builds include Outdoor Research's AscentShell and The North Face's Futurelight. To finish things off, hardshells will often have taped seams and a water-repellant DWR finish. The result? A water- and wind-proof jacket that will keep the elements at bay as you venture into biting gusts and heavy rain or snow.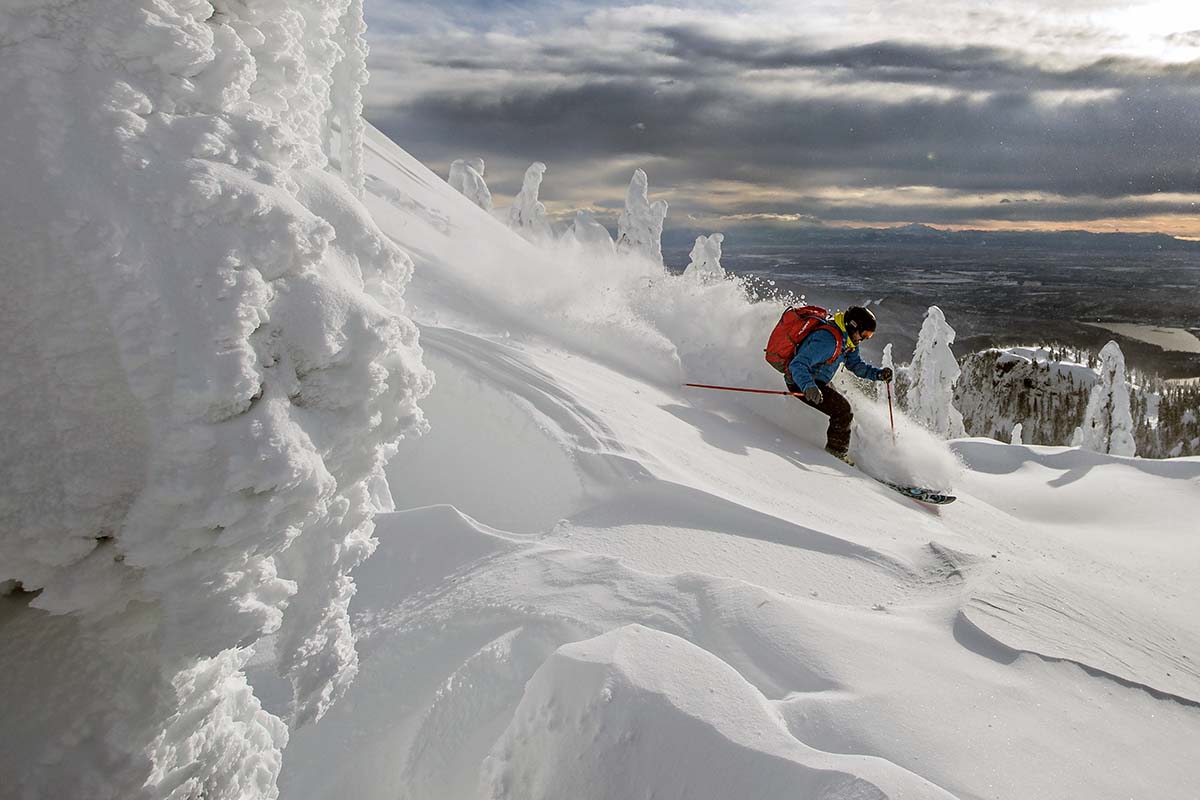 Softshells: The Wear-All-Day Jacket
A softshell, as its name states, is a cozy and pliable outer layer. Softshell jackets feature a durable nylon or polyester face fabric and an ultra-comfortable interior—often made out of brushed polyester or fleece. These stretchy jackets place a high priority on mobility and breathability, which translates to comfort during activity and a pliable shell that's a far cry from the "crinkly" feel common to hardshells. You get great wind resistance and a DWR finish that deftly sheds light rain and snow, making these jackets great for mountain environments. However, without a waterproof membrane, you don't get the same level of wet-weather protection as you do with a hardshell.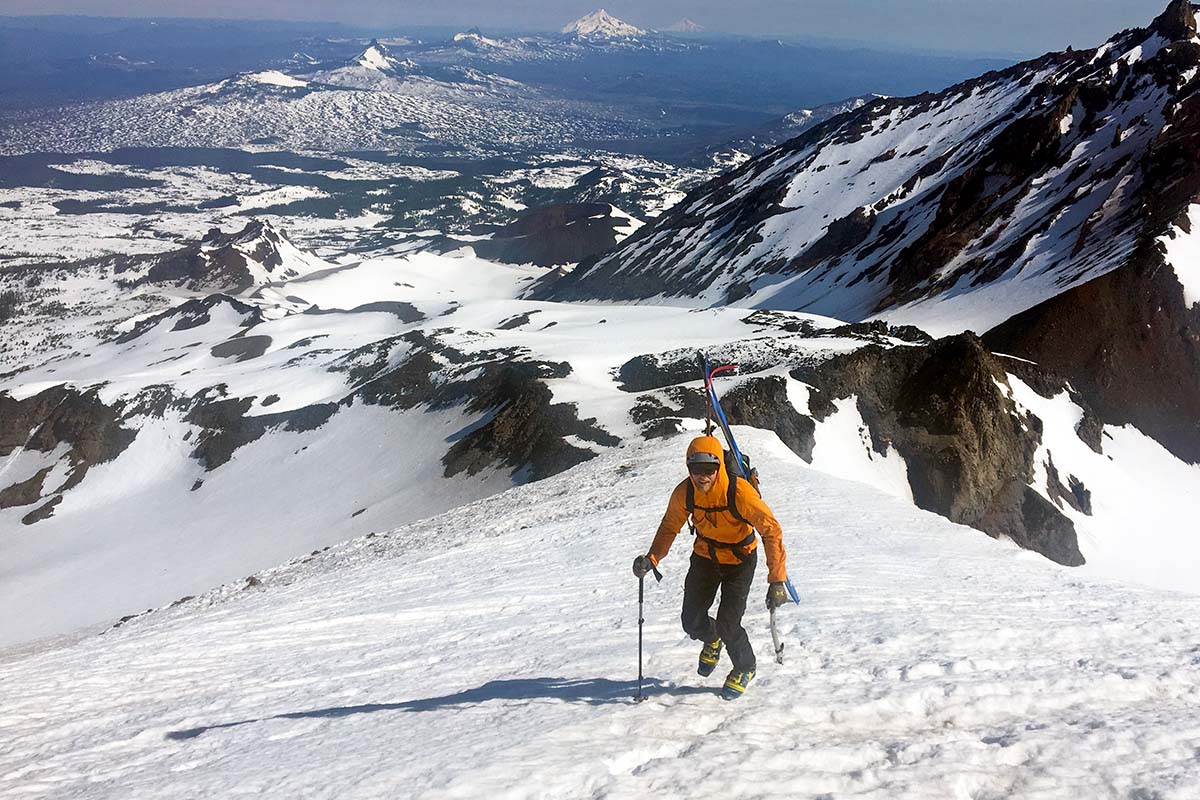 Toeing the Line: Hardshell/Softshell Hybrid Jackets
There's no universally accepted definition of hardshells or softshells, so naturally some jackets toe the line. In other words, a shell that's soft and stretchy on the outside might also have a waterproof membrane in the middle. Tack on seam-taping and a DWR coating, and the result is a jacket that combines the waterproofing of a hardshell with the comfort of a softshell. Outdoor Research's Skyward II backcountry ski jacket is a prime example, featuring a waterproof AscentShell membrane and solid DWR coating but also a soft and stretchy shell.
What's the downside to these hybrid jackets? In short, the jack of all trades is always master of none. By adding a waterproof membrane, you compromise some of the breathability that many seek out in a softshell. On the other hand, adding stretch-woven fabric to a hardshell increases the weight and packed size. These hybrid jackets certainly have their place (after all, who wouldn't want a stretchy hardshell or a waterproof softshell?), but it's important to be aware of the downsides when making your decision.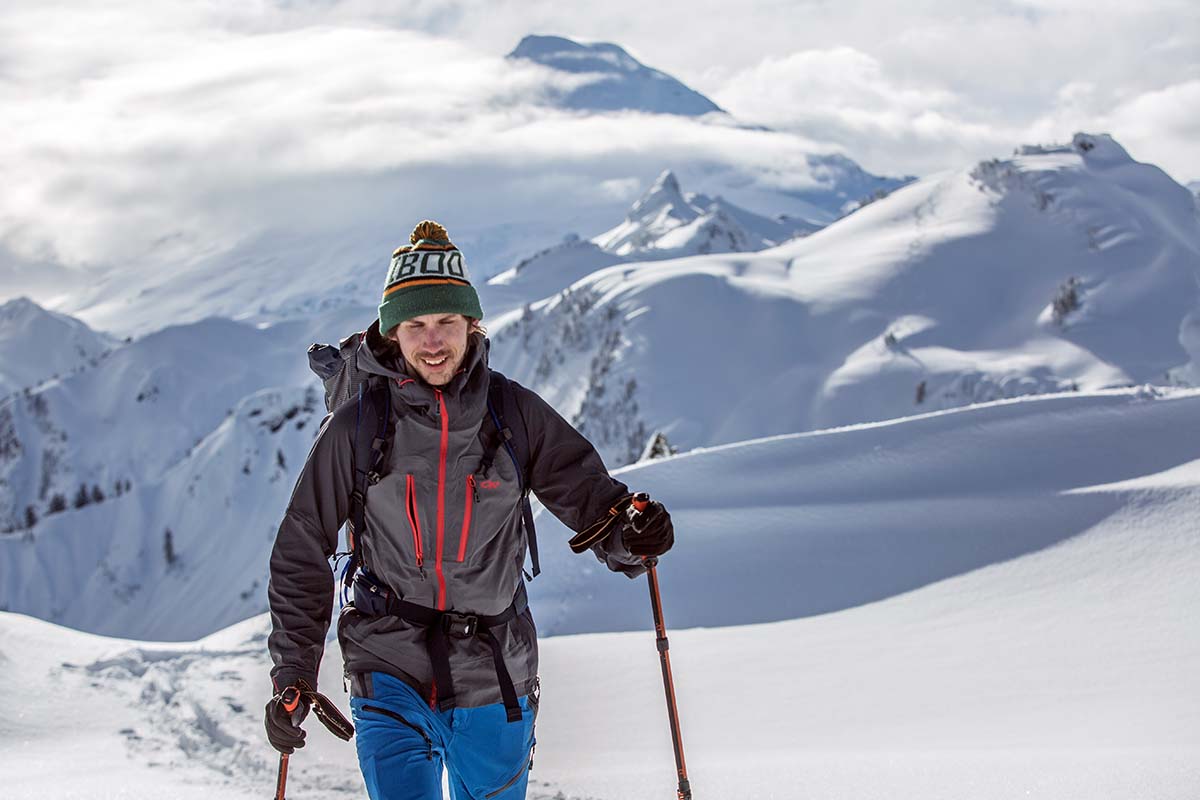 Performance Considerations
1. Weather Protection Advantage: Hardshells
If there's one thing that defines hardshells, it's unparalleled weather protection. Both softshells and hardshells have burly constructions and water-resistant finishes, but hardshells tack on a waterproof membrane for a bombproof defense against moisture. Thus, while a softshell does a decent job at resisting wind and sluffing off a light rain or snow, a hardshell is built for all-day protection in the wettest of weather. Further, most hardshells feature more comprehensive head-to-hip protection, including helmet-compatible hoods, tall collars, and drop-tail hems. Even under clear skies, many backcountry-goers will appreciate a hardshell's impervious nature while digging data pits, constructing snow shelters, or getting up from an unexpected fall in powder.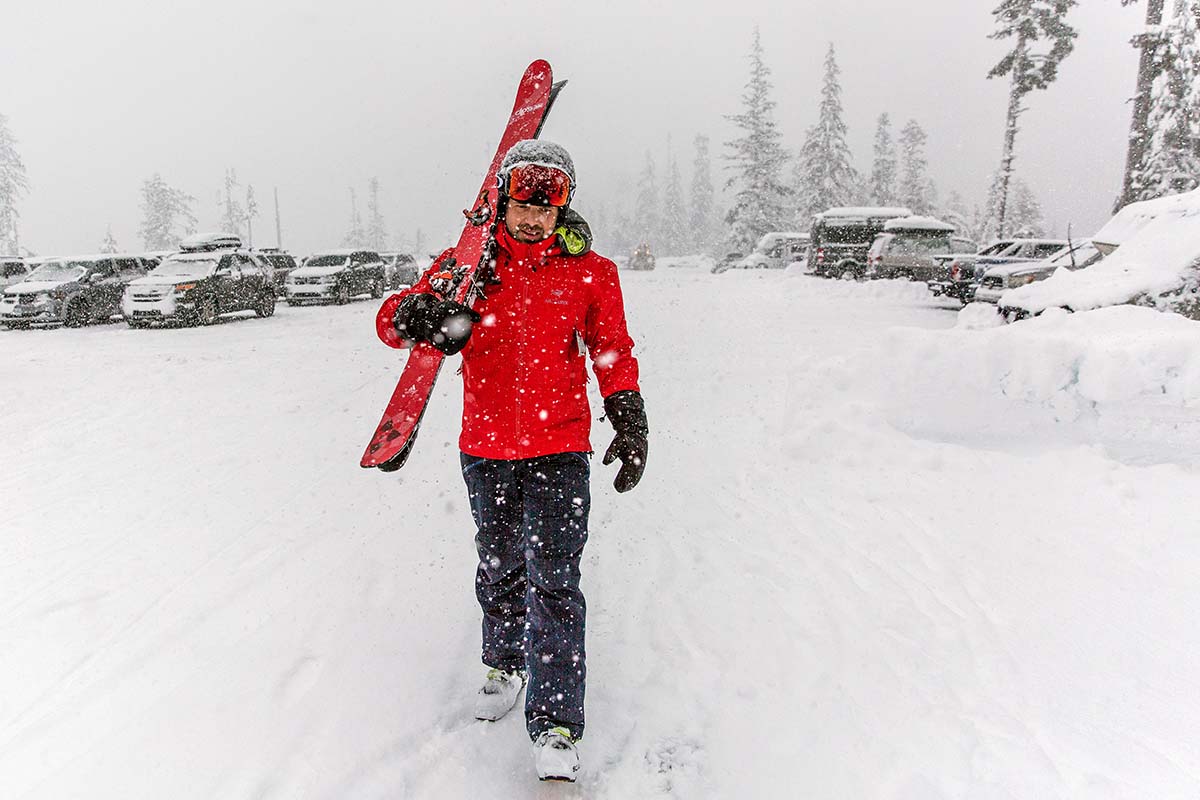 2. Breathability Advantage: Softshells
Just as hardshells excel at weather protection, softshells offer impressive breathability. Without the added barrier of a waterproof membrane, body heat can easily escape from a softshell, making it a great option for high-intensity activities. We know many climbers and backcountry skiers who love softshells for their ability to breathe while they're working hard in the mountains but still provide insulation when they stop to remove climbing skins, transition, or wait for their pals to catch up. Hardshells, on the other hand, are more likely to trap your body's heat during activities like skinning, snowshoeing, or hiking, causing a build-up of perspiration on your skin and baselayers. In winter specifically, it's important to prevent heavy sweating—hypothermia can set in quickly once you stop moving and that sweat freezes. 
If you're hellbent on a hardshell but want a modicum of breathability, the good news is that some waterproof membranes are more breathable than others. For example, Gore's "Active" (as seen in Black Diamond's Helio Active Shell) is more trimmed-down and lighter than their top-of-the-line "Pro," which allows more air to escape. Among Gore-Tex competitors, eVent offers a noticeable bump in breathability and Polartec NeoShell and Outdoor Research's AscentShell are also more air-permeable, but all lack the same level of durability and weatherproofing as Gore's Pro laminate. Finally, some hardshells do have vents or pit zips, but these aren't a true substitute for good breathability.
 
3. Weight and Packability Advantage: Hardshells
In general, hardshells are lighter than softshells, which makes them appealing for long days on the skin track, multiday backpacking trips, and other big mountain adventures. For example, our top-rated hardshell, the Arc'teryx Beta AR, comes in at 16 ounces, which is about average. Most of our favorite softshells weigh in well above this, falling between around 15 and 25 ounces with thicker fabrics and fleece liners. Predictably, this also affects packability: hardshells are generally more compact and stuff easier into a pack than softshells. It is important to note, however, that there are an increasing number of lightweight softshell jackets (the Black Diamond Alpine Start, for example), which are a great option for backcountry-goers willing to give up some warmth and weather protection to save on weight.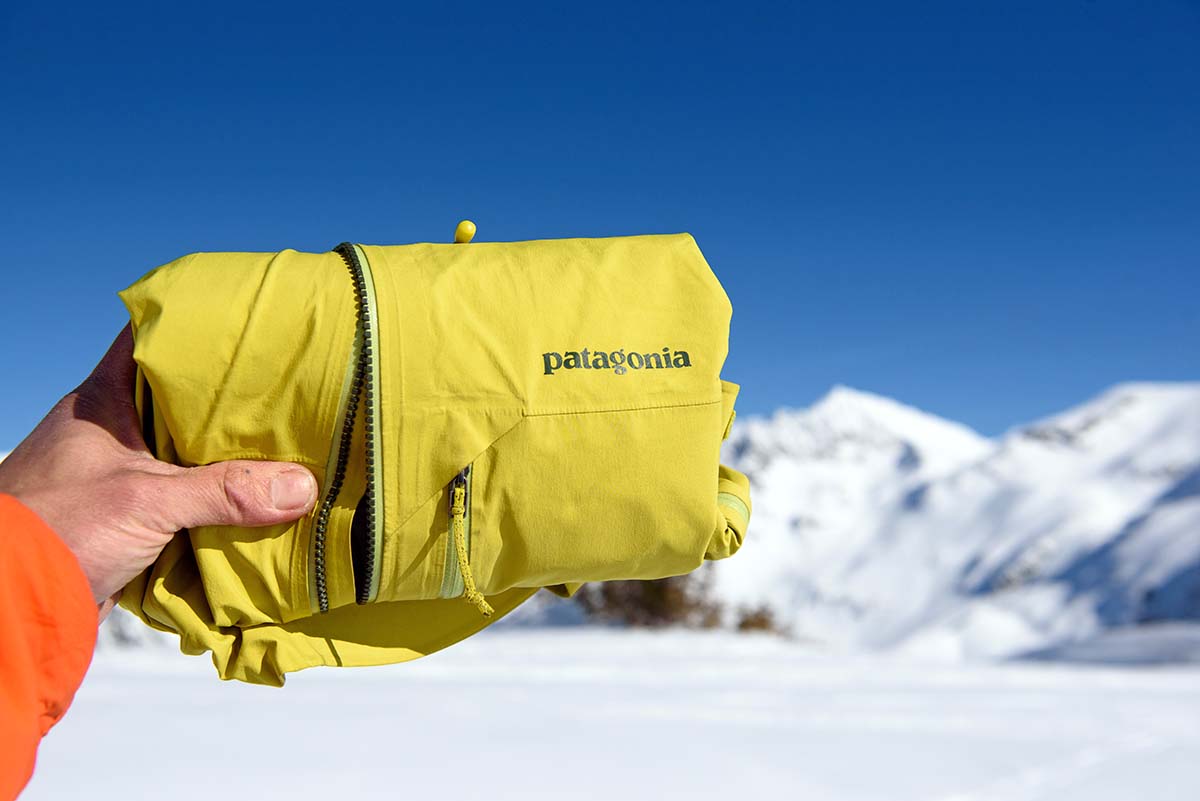 4. Durability Advantage: Tie
Hardshells and softshells share the podium when it comes to durability, with robust materials designed for heavy use. Most hardshells are built with rigid face fabrics ranging from about 20- to 80-denier (the higher the number, the heavier and more bomber the shell will be). On the other hand, softshells use thick, stretchy fabrics to guard against wear and tear. Keep in mind that with both styles, the thinner you go the less durability you get. This is especially true with rigid hardshells, while the built-in stretch of a thin softshell does protect it against abrasion (to a degree).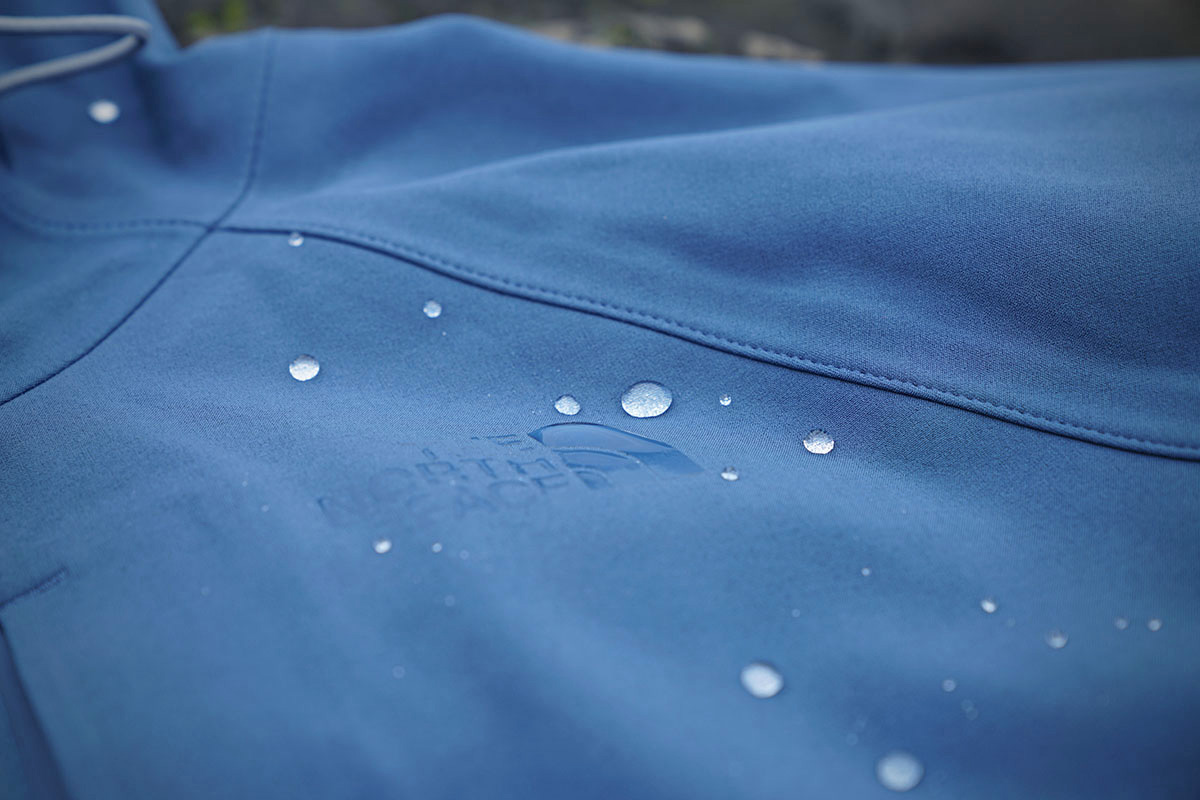 5. Comfort Advantage: Softshells
When it comes to comfort, softshell jackets are the clear winners. After all, it's hard to argue with soft and stretchy fabric, and many softshells also feature fleece liners for additional next-to-skin coziness. Hardshells, on the other hand, are generally more rigid, with loud, crinkly fabrics and less mobility overall. Some hardshells include stretch or a soft knit backer, but even these designs can't match the comfort of a true softshell. 
 
6. Cost Advantage: Softshells
If you're looking to save money, a softshell will be much easier on your wallet—even top-of-the-line softshells are much cheaper than hardshells. For example, most of our favorite hardshells hover around $400 to $500 (the Arc'teryx Alpha SV is a whopping $799), while the most expensive softshell we feature is $349 (the Arc'teryx Gamma MX Hoody). This isn't exactly comparing apples to apples—softshells and hardshells have very different priorities, so it makes sense that they differ greatly in cost. But for a layer that can be used as an outer shell for active winter sports, a midlayer on rainy or blustery days, or just a wear-around-town jacket, we think a softshell is still the better deal.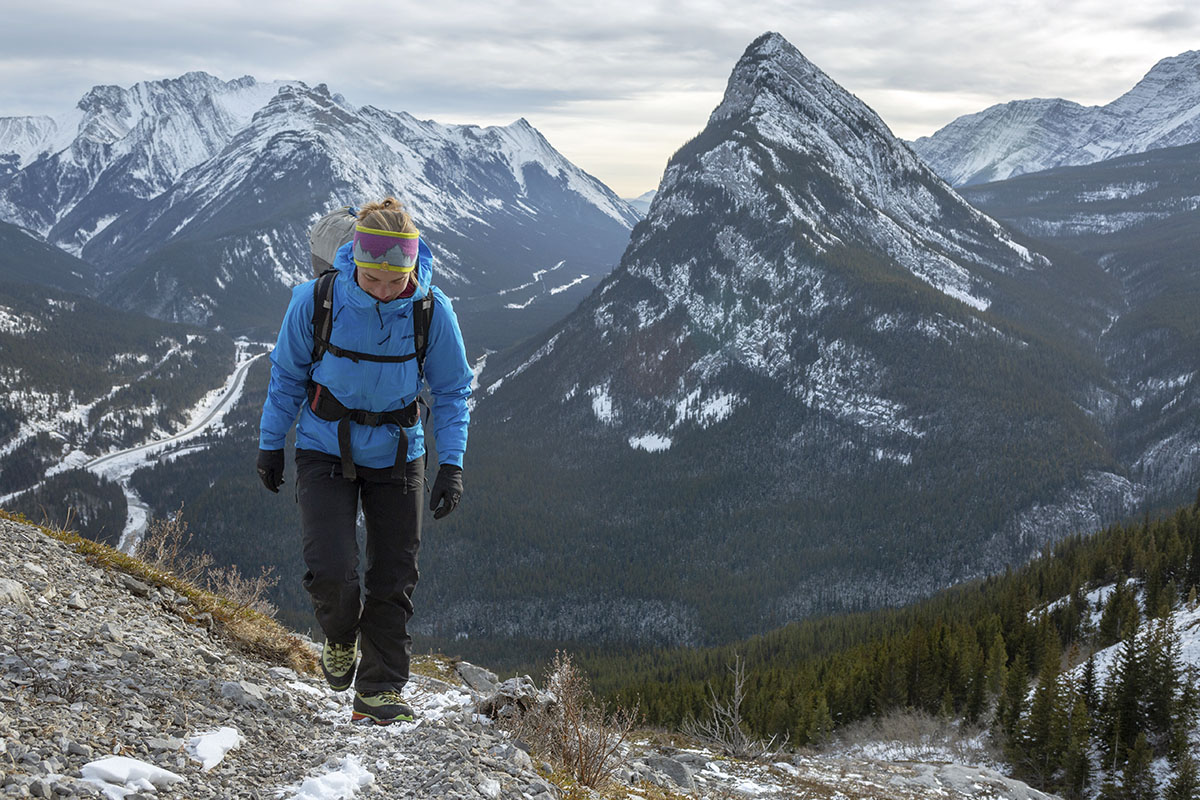 Making a Decision
In the end, choosing a high-performance shell comes down to conditions and activity level. The good news is that both hardshells and softshells are completely viable options for mountaineering, skiing, snowshoeing, hiking, and climbing. A hardshell will be the best option for days of heavy precipitation and high winds, while a softshell will be better for mild days when dumping heat while traveling uphill or fast is the goal. In our experience, the more familiar we've become with our gear and the conditions we'll be heading into, the more we find ourselves reaching for a softshell above all else (or even a stretchy windbreaker jacket). It might not be water- or wind-proof, but its stretch and comfort make it a lot more enjoyable to wear all day long. And realistically, those that spend a lot of time in the outdoors will eventually have at least one of each type of shell in their quiver.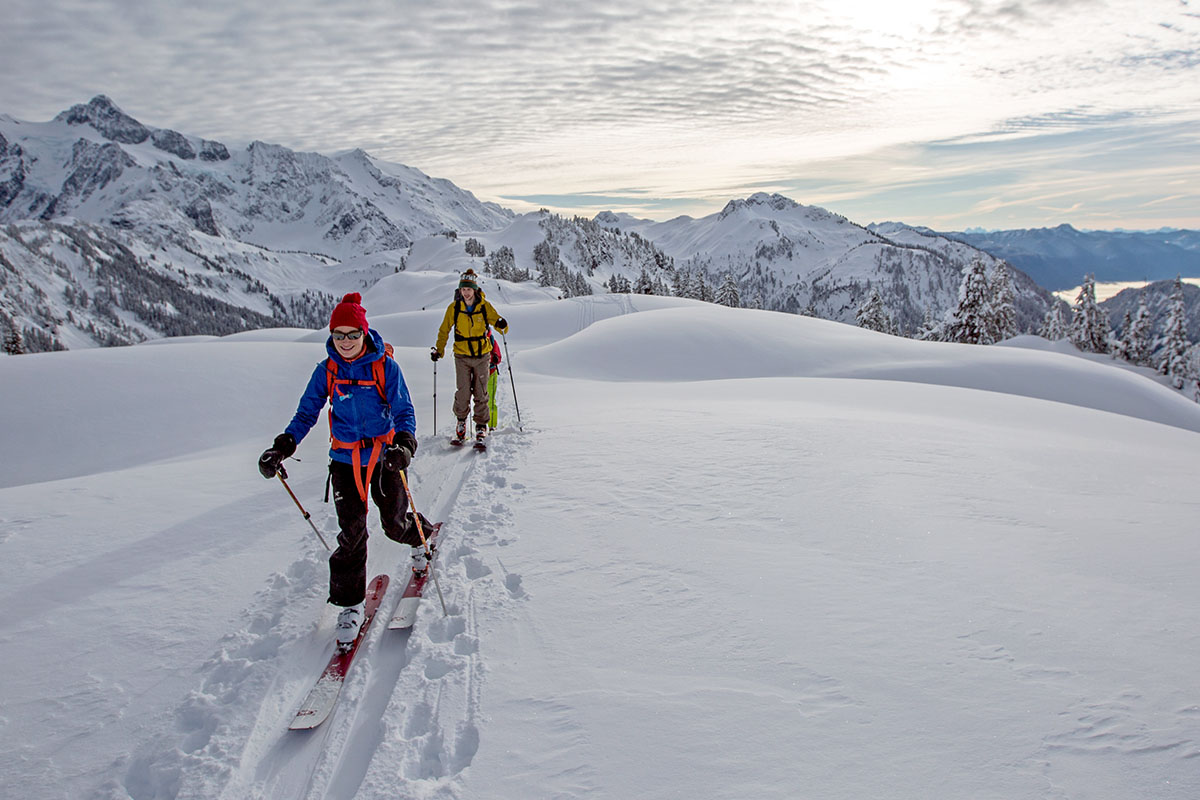 Our Favorite Shells
Once you have a better idea of what shell is best suited to your needs, you can begin to narrow down your search. To help, we've compiled a list of our favorite hardshell and softshell jackets, including helpful comparison tables and buying advice below the picks. And for even more categories, be sure to take a look at our winter gear reviews and ski gear reviews.
See Our Top Hardshell Jacket Picks  See Our Top Softshell Jacket Picks
Learn More About Outdoor Gear