Softshell jackets fill a much-needed void between lightweight insulating pieces and waterproof hardshells. They stretch for movement and breathe well, yet still offer better protection from the elements than a standard fleece or synthetic jacket. Below we break down what characteristics define a softshell, from their woven construction to the amount of weather resistance to expect. Softshells often are misunderstood as being warm, insulating pieces (at most they offer modest warmth) or fully waterproof (they're usually not), so we've detailed the major considerations in this article. And don't be deterred by what softshells are "not." Their balanced design makes them a go-to jacket for a wide range of activities all year round. Finally, for our top picks and buying advice, be sure to check out our article on the best softshell jackets.
 
1. Your Go-To High-Exertion Shell
First and foremost, softshell jackets are intended for high-output activities where you're working hard. They are made with woven nylon or polyester that is stretchy, highly breathable, and decently weather resistant. These characteristics make them ideal for climbing, biking, backcountry skiing, cross-country skiing, hiking, and the list goes on. Essentially, if it's cool outside, not too wet, and you're working hard, a softshell is a terrific outerlayer. The jackets allow enough air in and out to regulate your body heat, giving them a significant leg up on the other two shell options: hardshell jackets and rain jackets. But they offer more protection from the elements than a standard insulating midlayers like fleeces, synthetic jackets, or down jackets. Falling in that middle ground makes them a highly versatile piece that is usable in all four seasons.
2. Softshells are Water-Resistant (or Even Waterproof)
Most softshell jackets offer decent water resistance that can keep you dry in light to moderate precipitation. It starts with a durable water repellent (DWR) coating on the exterior, which beads up and sheds raindrops, and the jacket's hard-faced shell does a good job keeping moisture at bay. Softshells usually are not waterproof, however, and sustained rainfall will absorb and eventually soak through the woven fabric. This is one of the primary compromises in a softshell, but it doesn't deter us from bringing it along on most outdoor adventures, and you can always bring along a packable rain shell as backup.
On the other hand, some softshell jackets go one step further with panels of waterproof hardshell fabric or a full-on waterproof/breathable membrane behind the stretch-woven softshell fabric. With these jackets, you get the best of both worlds: protection from rain and snow, but also great breathability, mobility, and a comfortable next-to-skin feel. The Dynafit Free Infinium is a popular hybrid, combining highly water-resistant and windproof 3-layer Gore-Tex Infinium on the upper body, arms, and hood with 2-layer softshell around the lower body. For a more integrated design, the Rab Kinetic 2.0 sandwiches a 3-layer waterproof membrane between stretch-knit fabrics, giving it a much softer and more flexible feel than traditional hardshells. However, while a jacket like the Kinetic offers more protection from the elements, the full-coverage waterproof layer does inhibit some breathability.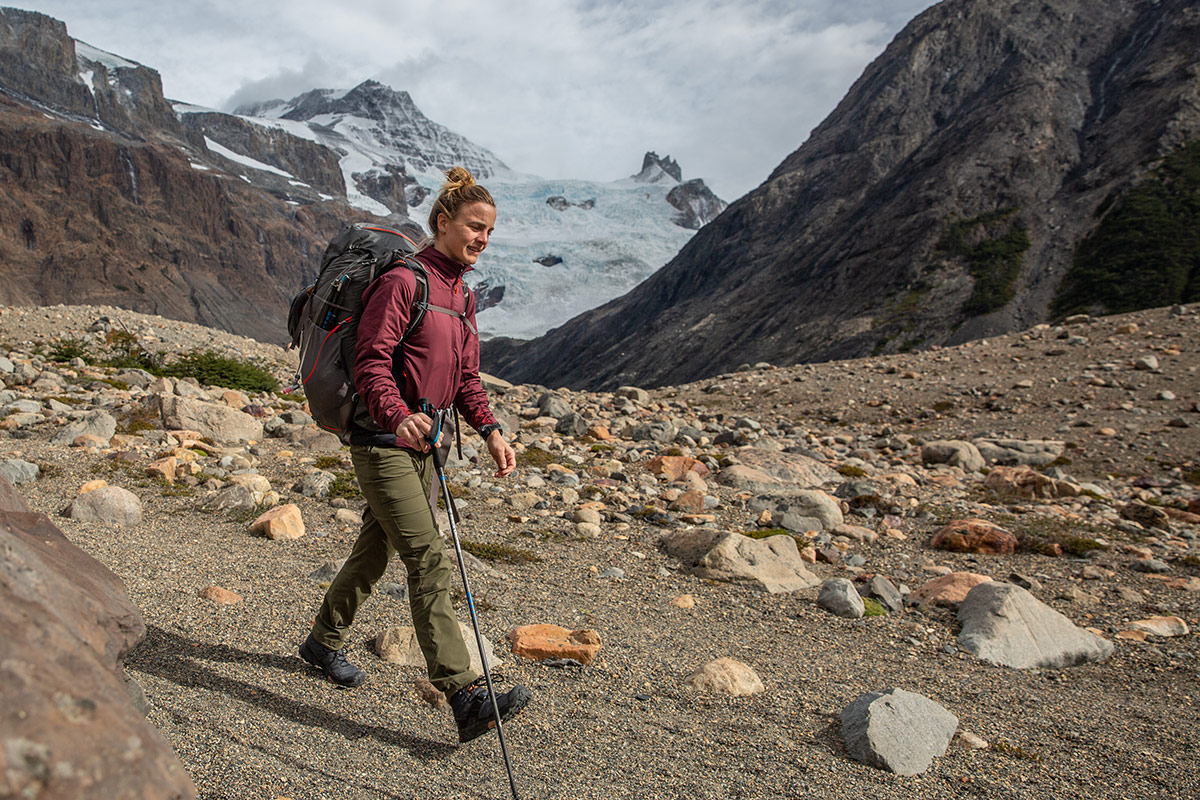 3. Softshells are Wind-Resistant
The smooth face fabric on a softshell typically is wind resistant but still porous enough to allow some airflow. It's enough where you may not feel a light breeze, but a strong gust definitely will be noticeable. This partial wind resistance is intentional because it allows you to stay cool when you're working hard. There are, however, softshell jackets and pants that are either fully or partially windproof. Gore's Windstopper—the same company that makes Gore-Tex waterproof products—is the most common design. A wind-blocking layer is sandwiched in-between the outer layer and inner liner. Just like with a Gore-Tex softshell, breathability is compromised but jackets with strategically placed panels of Windstopper (or comparable) fabrics, including the Marmot ROM Hoody, do a good job balancing windproofing while keeping you comfortable.
 
4. They're Stretchy and Great for Movement
Along with breathability, our favorite softshell characteristic is the stretchy feel. By definition, the outer fabric of a performance softshell has four-way stretch (stretching horizontally and vertically) for fantastic range of motion. This stretchiness and unparalleled mobility makes softshells popular for climbing, scrambling while hiking or mountaineering, and backcountry skiing where you'll be reaching, bending, and otherwise contorting your body. It also means that you can select a softshell with a slightly snugger fit, which is great for moving fast. All told, for active pursuits we much prefer the quiet and mobile nature of a softshell over a rigid and bulky hardshell.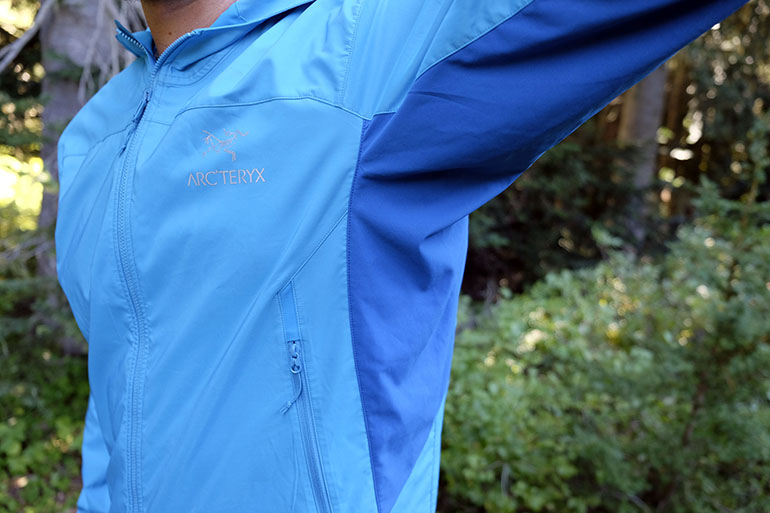 5. Softshells are Warmer than a Rain Jacket or Hardshell
The amount of warmth will vary based on the thickness and construction of the jacket, but softshells offer more insulation than a rain jacket or hardshell. While rain jackets and hardshells are just that—thin shells designed to keep moisture out—a softshell is thicker and often includes a light interior lining. The warmest softshell jackets bond fleece to the inside of the jacket, offering almost as much warmth as a thin fleece jacket or synthetic jacket. The boost in warmth over a hardshell is nice if you want to only wear a baselayer beneath in cool temperatures.
However, because some softshells are very air-permeable, they may not retain as much heat as a completely waterproof jacket. This is where a rain jacket or hardshell's lack of breathability can come into play. If you're working hard in a hardshell, you may actually get warmer (and often too warm) than doing the same activity in a softshell. But for pure insulation, a softshell still is the warmest outerlayer.
 
6. They're Heavier, Too (Usually)
With a thick construction, standard softshell jackets are the heaviest of the three outerlayer options. Rain jackets can weigh as little as 5 ounces, and just about every major outdoor gear manufacturer makes a waterproof shell that weighs less than 10 ounces. And while hardshells usually are a little heavier, the majority of designs clock in at well under a pound.
Softshells, on the other hand, are noticeably heavier, with most standard models ranging from a pound to a pound and a half. Further, they generally are bulky and not packable. While this can be an issue for backpacking and weight-conscious activities like running, climbing, and backcountry skiing, casual users will find that the extra ounces don't make much of a difference.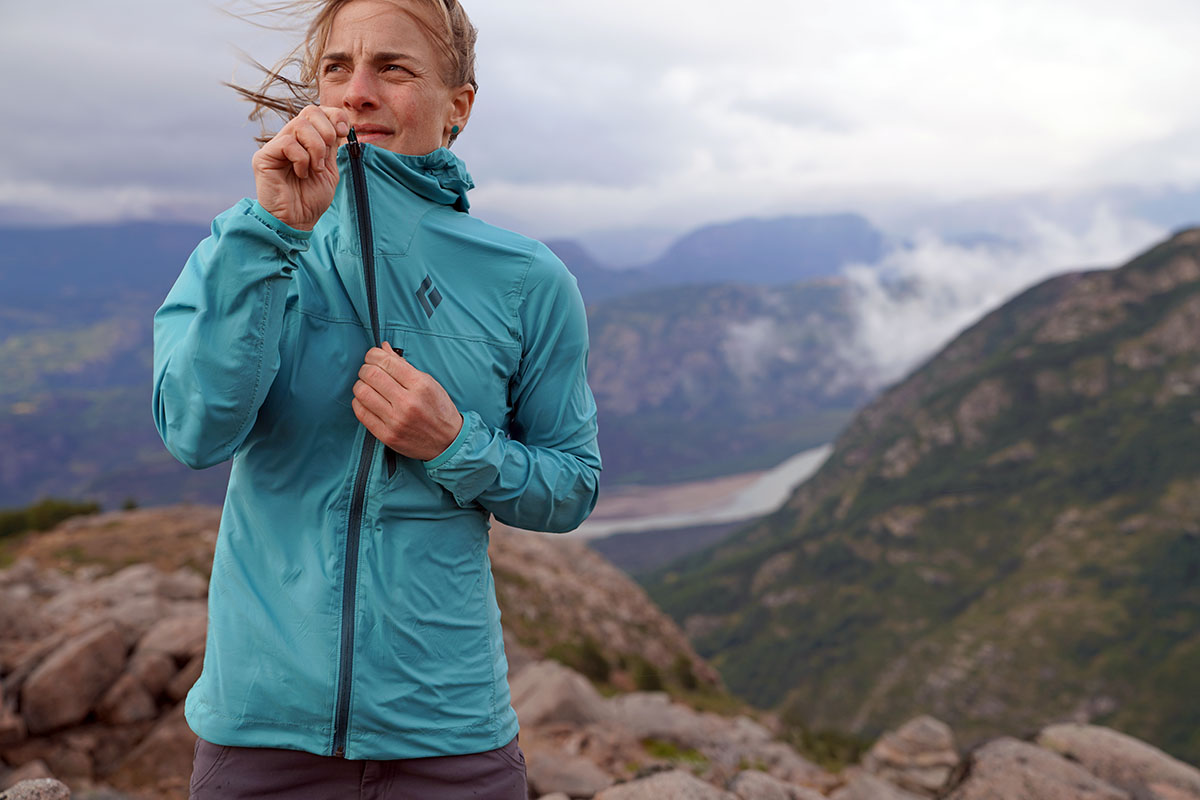 However, there is a recent trend in softshells towards lighter and more packable designs, with running- and climbing-specific jackets like the Patagonia Airshed Pro (4 oz.) and Black Diamond Alpine Start Hoody (7.4 oz.) leading the charge. Both of these jackets have the stretch, breathability, and wind protection that we love in a softshell but are streamlined enough to pack into their own chest pockets. Especially for high-output activities, we find these lightweight softshells to be a much more comfortable alternative to clammy windshirts like the Patagonia Houdini.

7. What Types of Outdoor Apparel Use Softshell Tech?
As we've touched on above, softshells are great for a wide range of outdoor activities where you're likely to work up a good sweat. The most common type of softshell is a pant or jacket used as an outerlayer for climbing, backcountry skiing in mild conditions, biking, and plenty of other cool weather sports. Softshell materials are also commonly found in hiking pants, too. Their stretchiness, breathability, and decent weather resistance work well in anything from a spring hike to peak bagging in the summer months.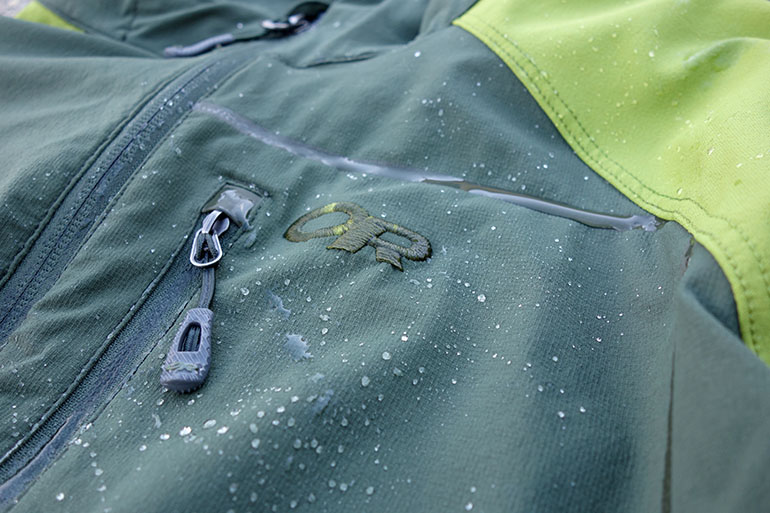 8. Everyday Use
One really nice use for a softshell jacket doesn't involve rock climbing or backcountry skiing as we've discussed above. Because of the water and wind resistance, they make great fall and spring daily pieces for simple activities like walking your dog and taking your daily stroll around the neighborhood. There are many times when it's chilly, a bit windy, or drizzling, but you don't want to carry a separate rain jacket with you just in case. At the same time, your sweatshirt or fleece will soak up water pretty quickly and won't block the wind. So if you have room in your closet, we bet you'll get more everyday wear out of a softshell than you might expect. They are great all-in-one pieces for the shoulder seasons, and of course, the extra weight doesn't matter much for these types of uses.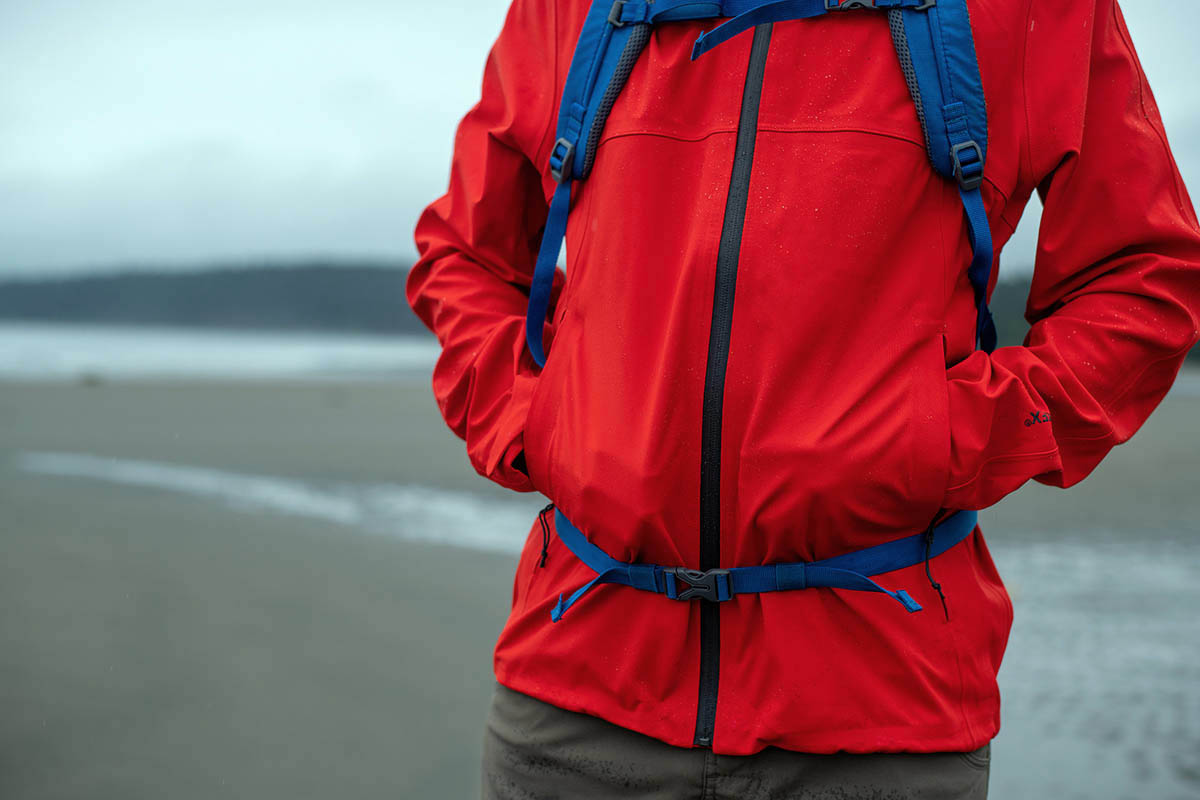 9. When to Leave the Softshell at Home
Softshells are among the most versatile pieces of outdoor apparel, but they do have their limitations. The most obvious instance is when the weather is severe. The air permeable construction is a detriment in high winds, particularly if you'll be stopped and hunkered down for an extended period of time. And the same goes for rain downpours: Softshell jackets just can't compete with the waterproofing of a rain jacket.
Weight is another important consideration, and for those that put a premium on going ultralight (backpackers come to mind), a softshell may not be your ideal outerlayer. Softshell jackets will weigh more than a rain jacket and still not give you complete waterproof protection, so you'd then have to bring two outerlayers. Outside of these specific scenarios, softshells are fantastic. We've found ourselves reaching for our favorites in more and more instances as we've become comfortable with their abilities.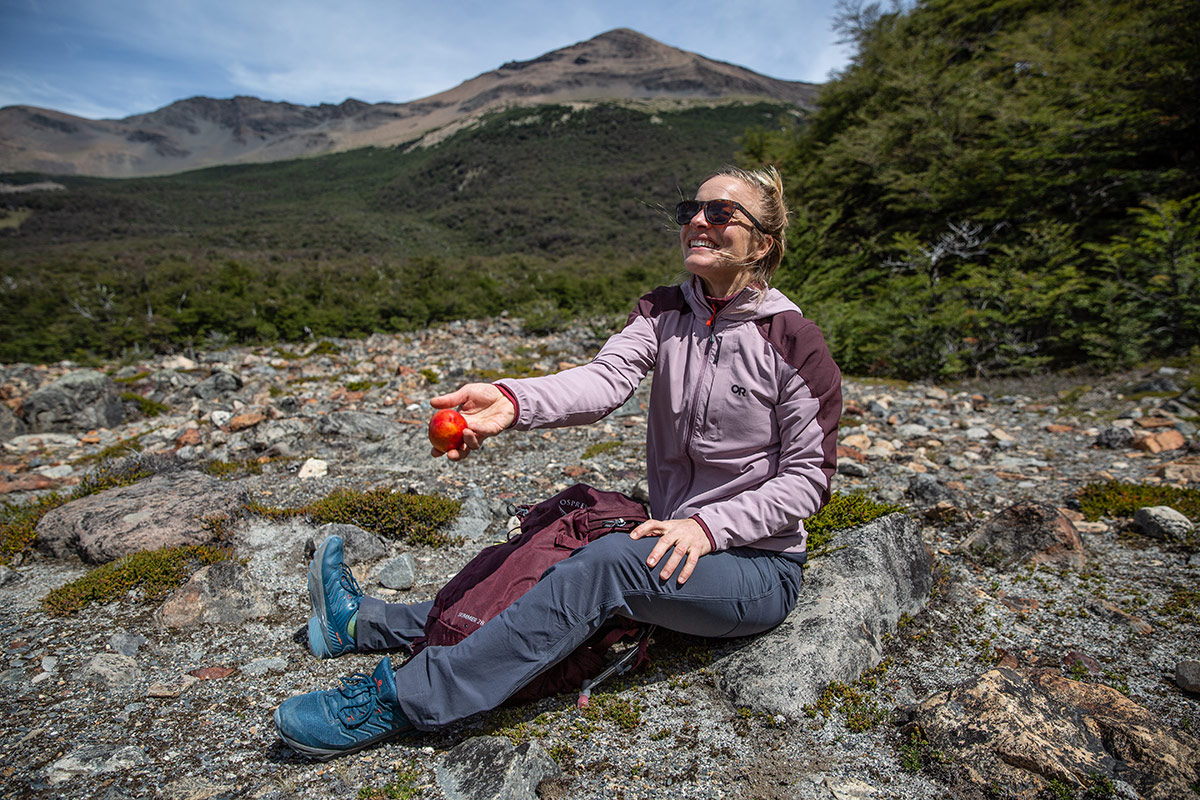 10. Our Top Softshell Jacket Picks
Now that we've outlined how useful softshell jackets can be, below are our top picks for the best softshell jackets. We've broken them down by use and price to help you find exactly what you need, and if you'd like even more detailed information and a full list of options to choose from, check out our article on the best softshell jackets.
Best Overall Softshell Jacket: Arc'teryx Gamma LT Hoody
Best Softshell for Backcountry Skiing: Black Diamond Dawn Patrol
Best Budget Softshell Jacket: Outdoor Research Ferrosi Hoody
Best Ultralight and Packable Softshell: Black Diamond Alpine Start
Back to Our Softshell Jacket Breakdown  See Our Ski Gear Reviews
Learn More About Outdoor Gear