Rab Kinetic Alpine 2.0 Jacket
Price: $280
Weight: 13.1 oz. (women's small)
Waterproofing: 3L Proflex
Denier: 20D
What we like: A stretchy, comfortable, and breathable hybrid with a streamlined yet functional feature set.
What we don't: Weather protection can't match that of a dedicated hardshell; no pit zips.
See the Women's Rab Kinetic Alpine 2.0  See the Men's Rab Kinetic Alpine 2.0
Hailing from a region known for its wet and moody weather, U.K.-based Rab specializes in functional and protective outerwear for alpine environments. Their Kinetic Alpine 2.0 is a hybrid jacket that merges the best traits from both hardshells and softshells in a design that's at once pliable, breathable, and waterproof. I put the Kinetic Alpine 2.0 to the test in Patagonia, where we faced both wind and rain throughout multiple days on the trail. In the end, the Rab excels in comfort and wind resistance, but falls short of dedicated hardshells in terms of wet-weather protection. Below I break down my experience with the Kinetic Alpine 2.0. To see how it stacks up to the competition, check out our articles on the best hardshell jackets, rain jackets, and softshell jackets.
 
---
Table of Contents
---

Performance
Weather Protection
The Rab Kinetic Alpine 2.0 defies categories, toeing the line between a hardshell and a softshell (Rab calls it a "soft hardshell"). It achieves this status by way of Rab's 3-layer Proflex fabric, which features a hydrophilic membrane sandwiched in between two stretch-knit fabrics (the outer layer is 20D). Rab claims that Proflex is waterproof, windproof, and breathable, although less so than their dedicated hardshells: The Kinetic Alpine 2.0 features a 10K hydrostatic head rating, compared to a jacket like Rab's Muztag, which has a 28K rating (more about hydrostatic head ratings here). In the end, "waterproof" is a spectrum, and the Kinetic Alpine 2.0 is on the lower end. Rounding out the build, reinforcements across the hips, arms, shoulders, and hood provide additional protection, and water-resistant zippers, taped seams, hem adjustments, and a large helmet-compatible hood keep leaks at bay.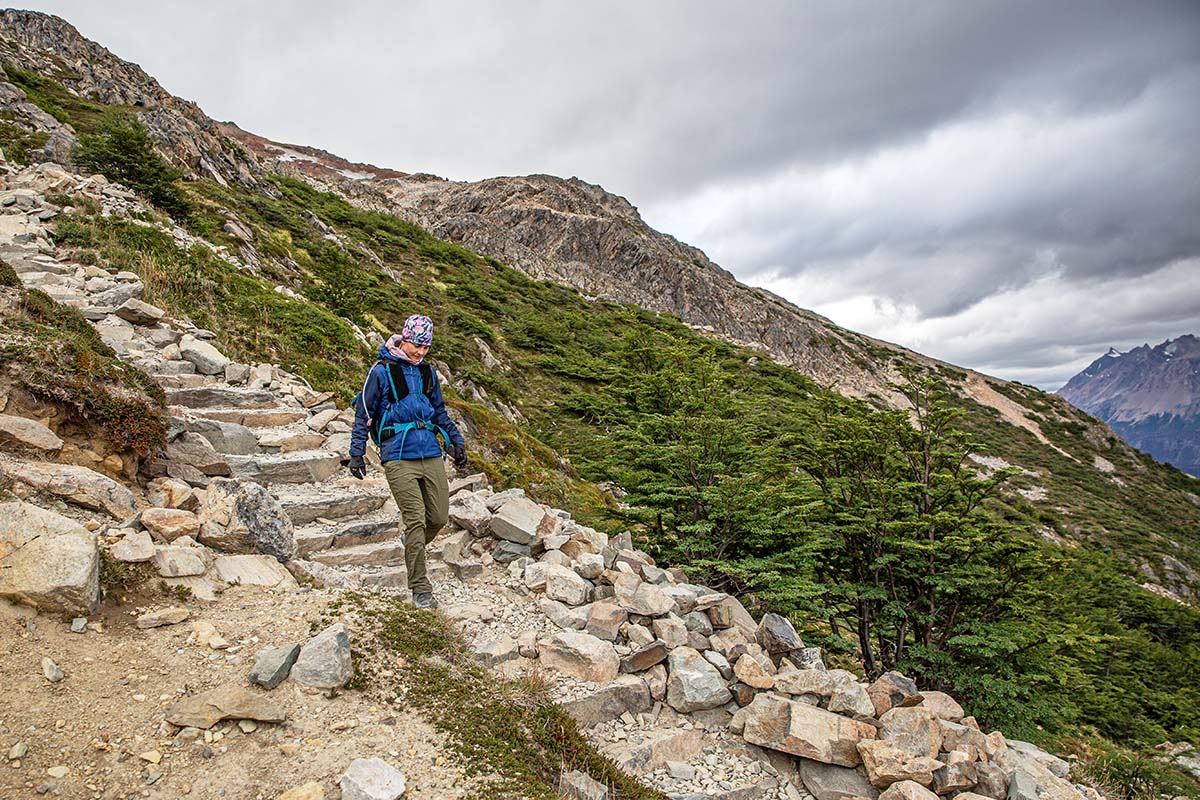 I took Rab's hybrid jacket hiking in Southern Argentina, where we experienced ideal testing conditions in typical Patagonian weather. The Kinetic Alpine 2.0 performed excellently in light rain and offered a serious barrier against wind, but it showed its weaknesses in sustained wet weather. During a heavy downpour, the stretch-knit face fabric (by nature, more porous than true hardshell fabric) began to absorb water, forming wet spots on my midlayer underneath. In the end, a hybrid jacket like the Kinetic Alpine 2.0 is a great choice when you're anticipating mild sprinkles or ice drips, but it's no substitute for the all-out protection of a dedicated hardshell. And the proof lies in my decision-making: While later preparing for a stint in the mountains in which inclement weather was expected, I packed a heavier and less breathable hardshell instead of the Rab, prioritizing wet-weather protection above all else.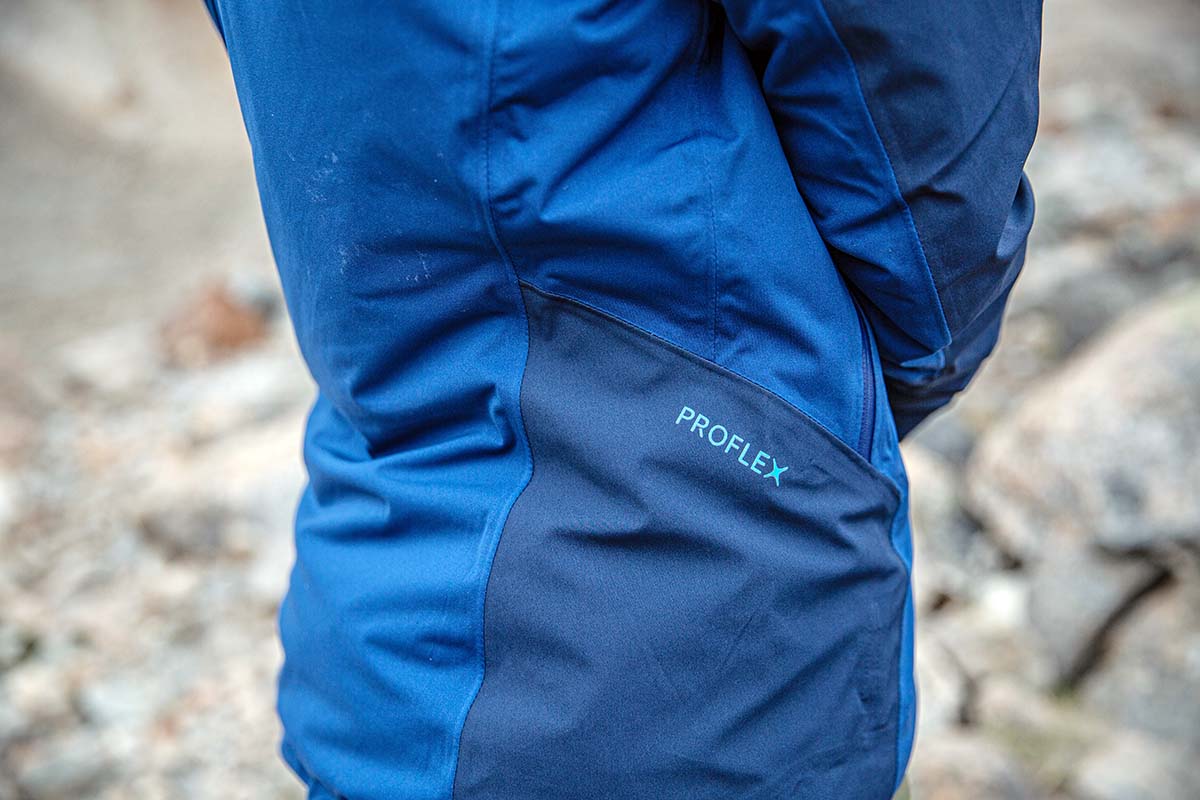 Breathability
Compared to a standard hardshell, the Rab Kinetic Alpine 2.0 shines in the breathability department. This is thanks to the jacket's thin (20D) stretch-knit Proflex fabric, which feels more akin to a softshell than a rigid and crinkly hardshell. And unlike Gore-Tex, which simply transports water vapor from one side to the other, Proflex uses a hydrophilic membrane, meaning it actively draws water away from the skin. As a result, I had little hesitation wearing the Kinetic Alpine 2.0 while hiking and backpacking—not once did I overheat—and even brought it along as my emergency layer during a mountain run in Patagonia.
However, the jacket does lack pit zips, which are a very helpful way to dump heat (notably, most of its closest competition forgo pit zips as well, including the Black Diamond Dawn Patrol Hybrid and Outdoor Research Microgravity). For a simple, streamlined design, the Kinetic Alpine 2.0 is more breathable than most, but it's important to note that a standard hardshell with pit zips will offer comparable temperature regulation alongside more complete weather protection.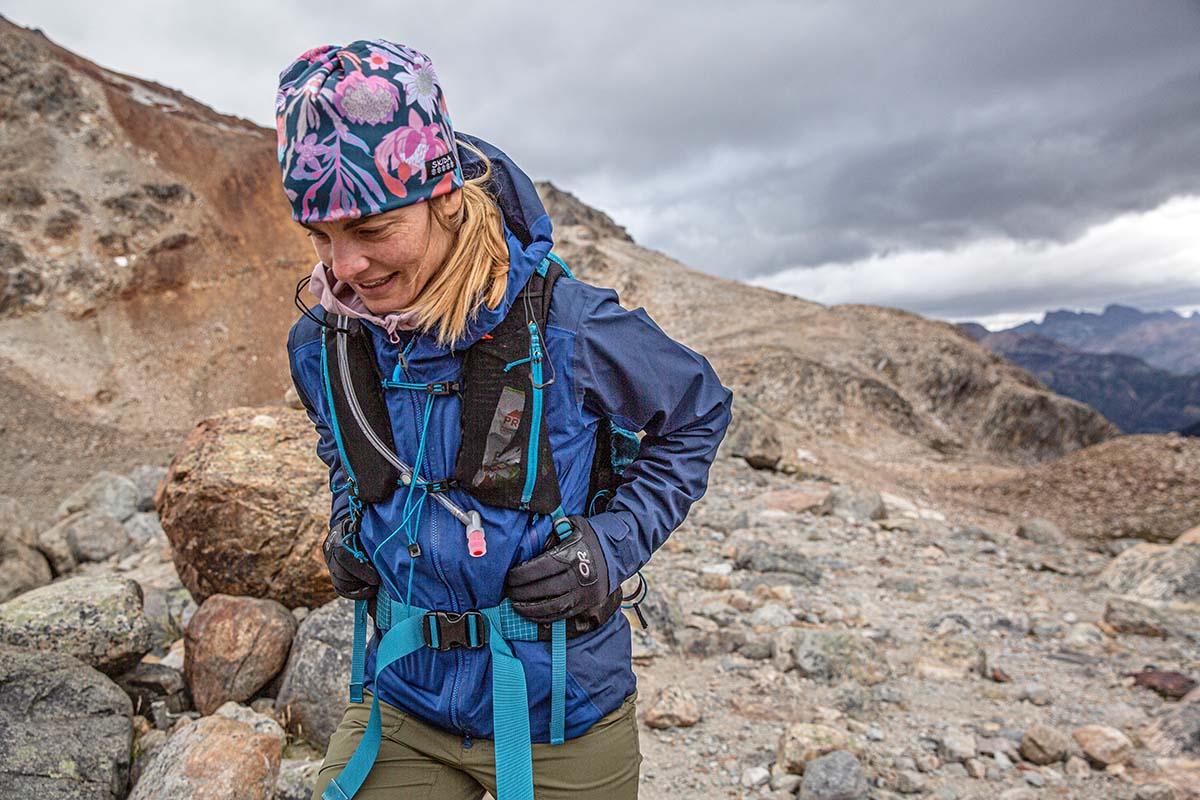 Comfort
One of my primary complaints with traditional hardshells is their rigid and crinkly fabric, which restricts movement, makes loud noises, and is overall a bit of a chore to wear. By contrast, the Kinetic Alpine 2.0 features a soft and flexible shell material and liner that moves easily with my body, far from the clammy, plasticky feel of most waterproof jackets. Articulated patterning and a brushed fleece chin guard add to the Rab's comfort, and the jacket's lightweight build sits lightly on my shoulders. In the end, I had no qualms wearing this jacket while hiking, at camp, or around town, and would much prefer it over a hardshell for highly athletic activities like ice climbing or backcountry skiing (assuming mostly dry weather).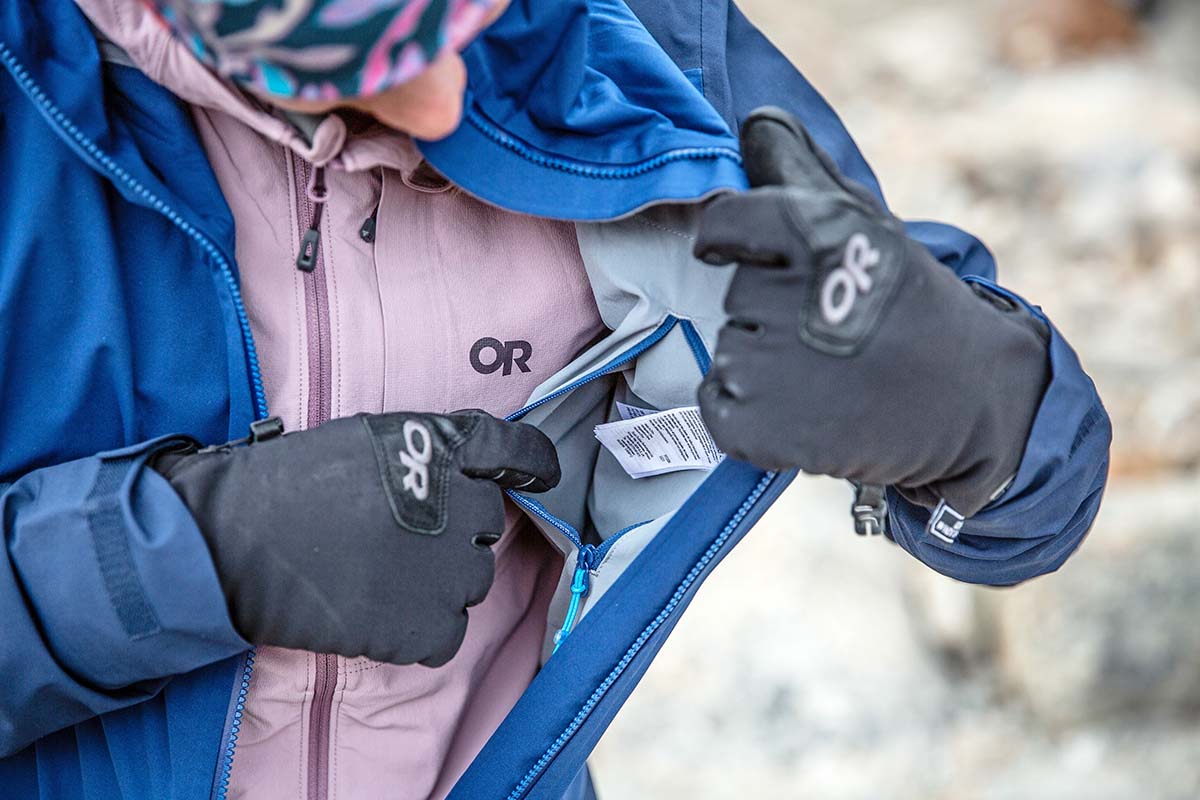 Build Quality and Durability
Rab might not have the same eye-catching price tags as brands like Arc'teryx and Norrøna, but their products have yet to let us down in terms of quality and durability. The Kinetic Alpine 2.0 in particular is a very well-made jacket, with a refined feature set that includes well-built Velcro cuff adjustments, thoughtful fabric reinforcements in high-use areas, and Aquaguard zippers. The Proflex fabric is thin yet tough and the added stretch helps to resist abrasions, but at just 20-denier (denier specifies the thickness of a fabric's fibers), it's no match for more robust shells like the Black Diamond Dawn Patrol Hybrid (40D & 70D) and Arc'teryx Beta LT (40D). Finally, fit is one of the main ways I've learned to differentiate top-quality products (many budget jackets are on the boxy side), and the Kinetic Alpine features great patterning and a close fit throughout.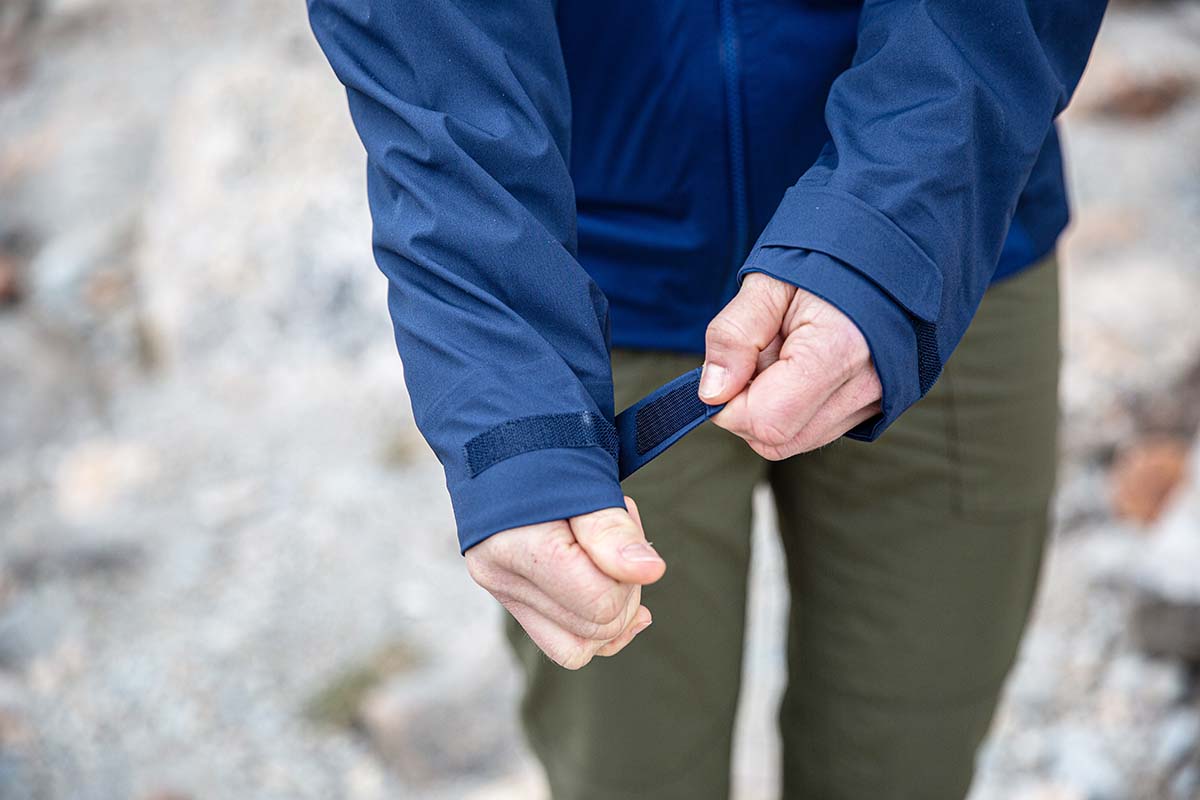 Weight and Packability
At 13.1 ounces for the women's small, the Rab Kinetic Alpine 2.0 is decently lightweight when compared to both hardshells and softshells. For example, our chart-topping Arc'teryx Beta AR hardshell checks in at 14.4 ounces, while the Gamma LT Hoody softshell tips the scales at 14.8 ounces. Generally, hybrid softshell/hardshell jackets are a bit heavier than standard hardshells (the stretch-knit fabric adds heft), but Rab keeps weight low with a very streamlined build that's thin (20D), trim-fitting, and avoids bells and whistles like pit zips. It is worth mentioning that you can go a lot lighter while still getting a stretchy design: 3-layer jackets like the Patagonia Storm10 (7.4 oz.) and Outdoor Research Helium AscentShell (10.5 oz.) both incorporate a bit of stretch, although they feel more akin to rain jackets than softshells and offer less comfort and breathability overall.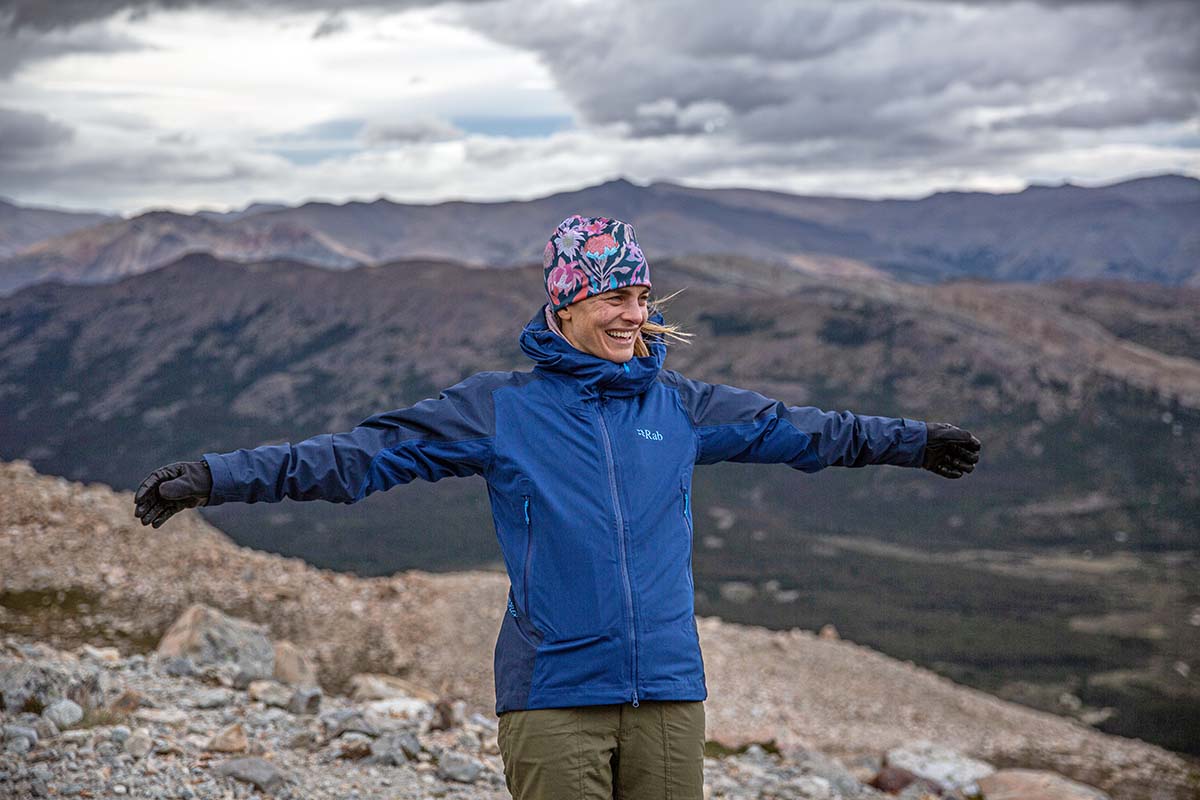 Despite its alpine-centric design, the Kinetic Alpine 2.0 does not pack into its pocket or include a stuff sack (many climbers love this feature for toting a jacket on their climbing harness). However, the Rab does compress down decently small, thanks to the thin and pliable 20-denier fabric. If you're looking for even more packability, it's worth checking out the aforementioned Storm10 or opting for the Rab Kinetic 2.0 (no "Alpine"), which features an even more minimalist design. But for most hikers, backpackers, and even climbers, the Kinetic Alpine 2.0 is a decently packable design that's more streamlined than hardshell competitors like the Arc'teryx Beta AR. 

Key Features
Hood
The Kinetic Alpine 2.0 features a large, helmet-compatible hood that fits nicely over both my climbing and ski helmets. The hood has adjustments both on the sides and at the rear; these can be fairly difficult to operate with gloves on (it can be a challenge to locate the small pull tabs), but in general the hood is simple to both tighten and loosen. In addition, the brim is a great design, with a stiff yet flexible polymer insert that keeps water off my face yet is easy to pack down and doesn't threaten to snap in half. All told, Rab did a great job with the Kinetic Alpine's hood, which is simple and streamlined yet functional.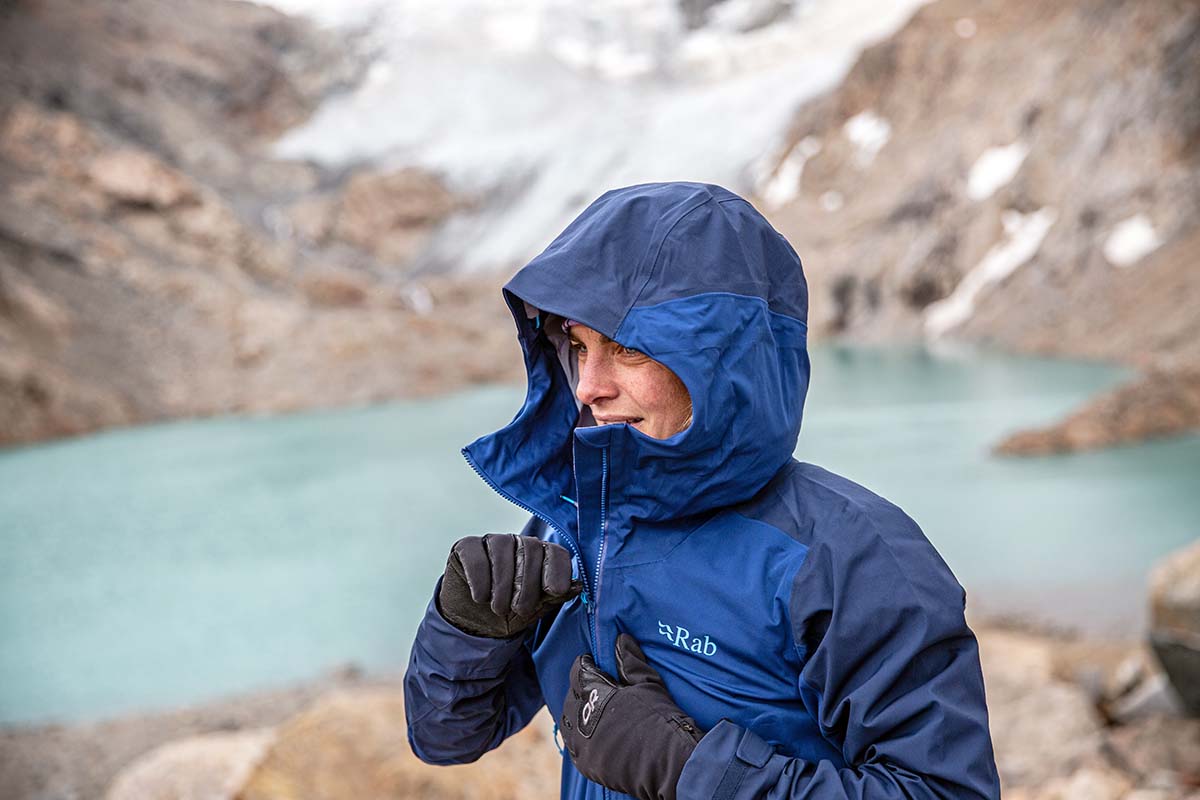 Storage: Pockets
The Kinetic Alpine 2.0 has a very simple pocket set, including two handwarmer pockets and an internal chest pocket. The external pockets are noticeably spacious, high enough to be accessed while wearing a backpack or harness, and feature water-resistant zippers that keep leaks at bay. The chest pocket is large enough to accommodate our iPhone 11 (with case), and opens and closes smoothly. While we have no qualms with the streamlined design, it's important to note that many hardshells offer a lot more storage options, including interior dump pockets (great for storing climbing skins or gloves), external chest pockets, small arm pockets, and more—although in most cases these do come at a slight weight penalty.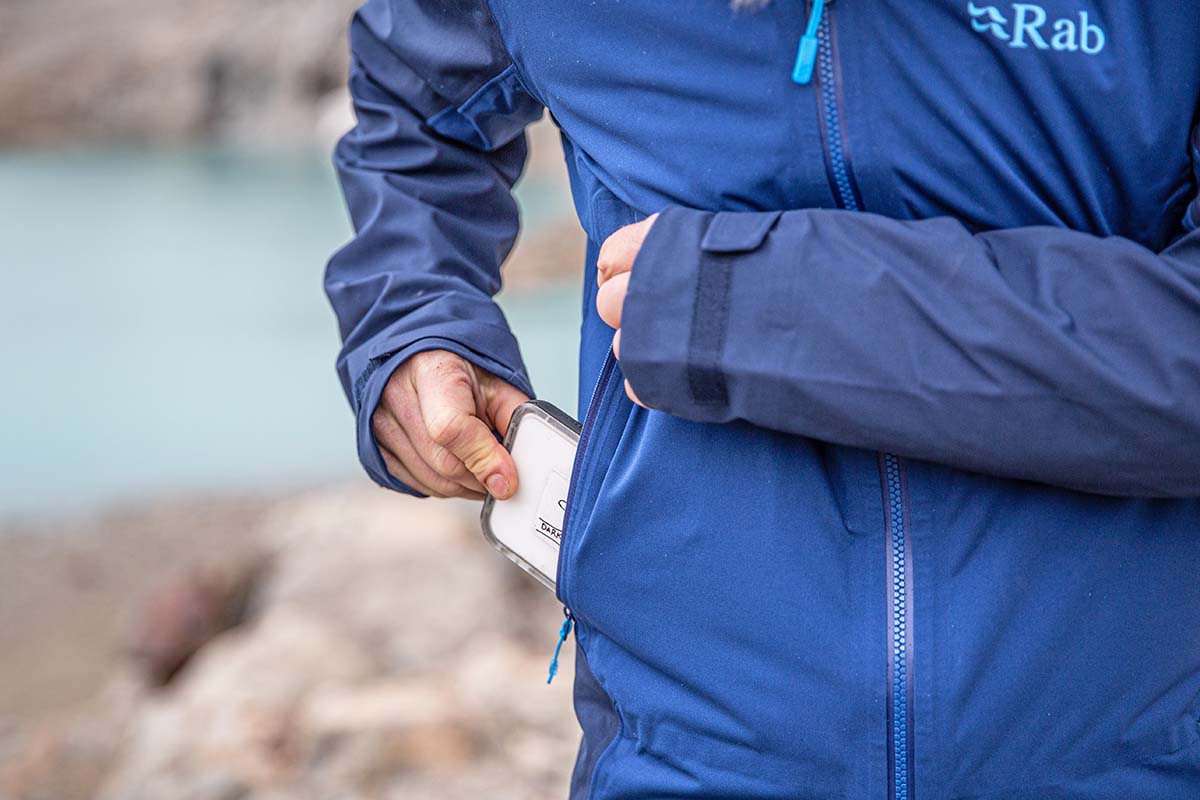 Fit and Sizing
The Rab Kinetic Alpine 2.0 is trim-fitting and decidedly streamlined, making it a great choice for alpine endeavors. With a drop-tail hem and center back length of 26.8 inches, it's one of the shorter jackets I've tested (although not by much). For example, the Arc'teryx Beta LT measures 27.2 inches at the back, and Fjallraven's Keb Eco-Shell extends 27.6 inches from nape to hem. What's more, the Rab's slim fit is enough for me to layer a thin midlayer underneath, but it's fairly maxed out over a puffier down jacket. 
I opted for my standard size small in the Rab, which is available in fives sizes from XS to XL. The size-small Kinetic Alpine 2.0 worked for me, but I likely would have tried on a medium had I been buying the jacket in a brick-and-mortar store. It's important to note that while many U.S.-based companies have begun to offer inclusive sizing that accommodates a larger range of body types, U.K.-based Rab hasn't yet caught on to this important trend.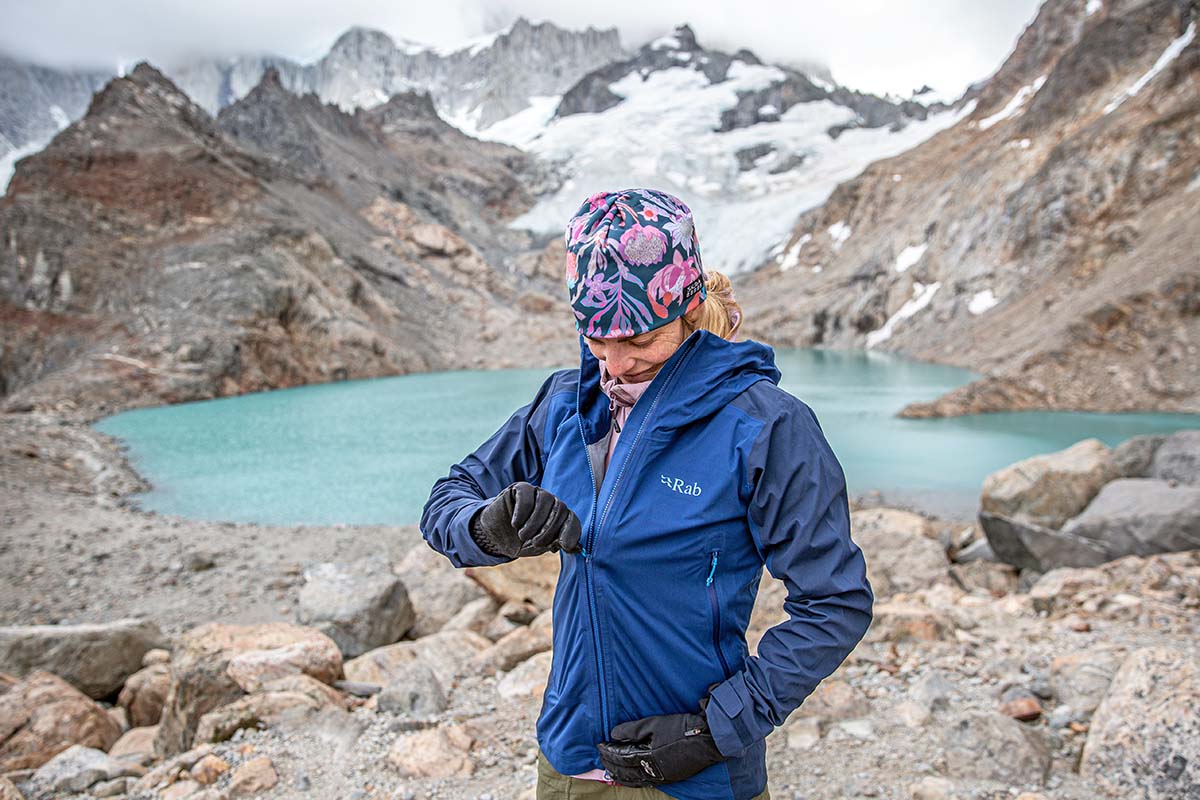 Other Versions
I tested the women's Rab Kinetic Alpine 2.0 for this review, but the jacket also comes in a men's version. The men's Rab Kinetic Alpine 2.0 features the same fabric and overall design, is offered in five sizes and four colorways (the women's comes in three), and retails for $280. Rab also makes the streamlined Kinetic 2.0 ($230), which features an under-the-helmet hood and a shorter 25.2-inch center back length and lacks the chest pocket and reinforcements of the Kinetic Alpine reviewed here. If you're looking for durable yet lightweight wind protection with more water resistance than a wind jacket or softshell (but considerably less than a hardshell), the Kinetic 2.0 is well worth a look.

Sustainability
Like many outdoor brands, Rab is committed to ethical and sustainable business practices. They're a carbon neutral company—balancing their emissions with carbon credits—and committed to the fair treatment of workers. In addition, they operate a U.S.-based repair center that can keep your gear going strong while minimizing waste. In terms of the Kinetic Alpine 2.0 jacket, you get 100% recycled face fabric. Unfortunately, unlike most brands in 2022, Rab's durable water repellent finish is not fluorocarbon-free, which means that harmful chemicals are still used in its production. In the end, Rab has a ways to go to match the sustainability of brands like Patagonia and Fjallraven, but they've made notable strides of late.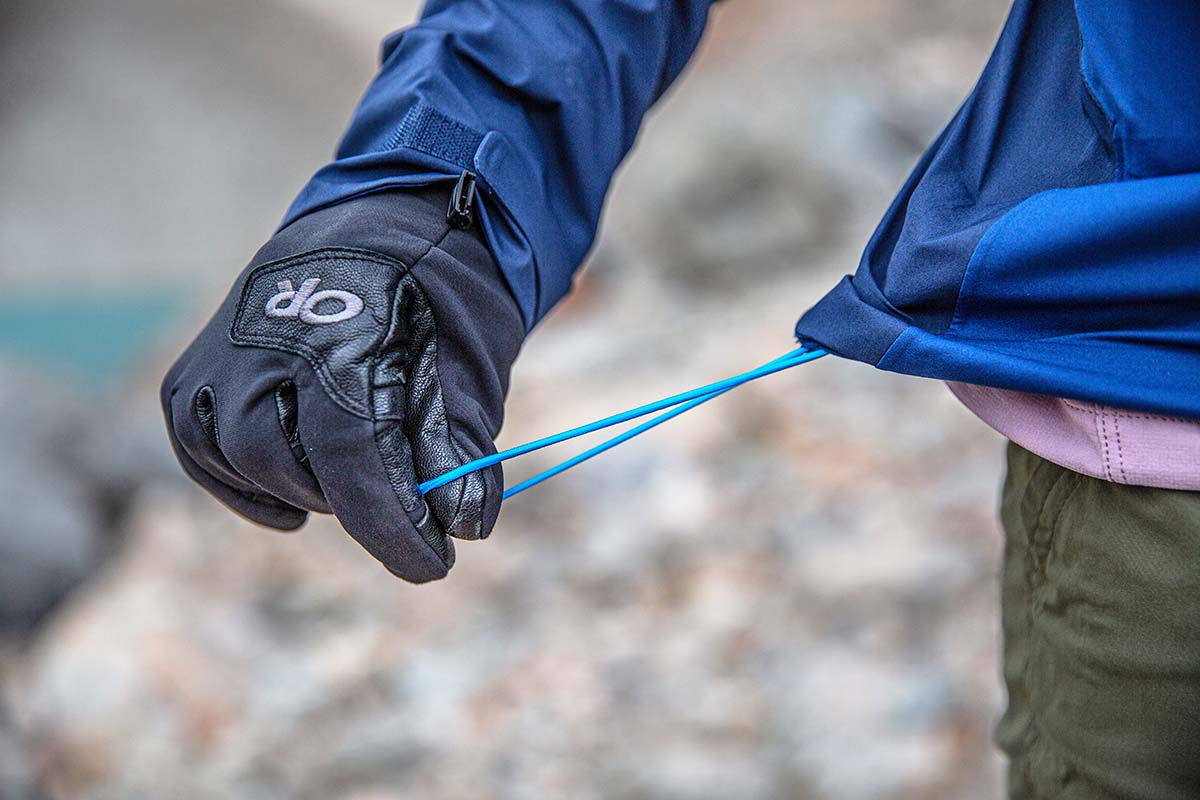 What We Like
Soft stretch-knit shell and liner fabrics are comfortable, breathable, and highly mobile.
With a decently waterproof 3-layer design, the Rab offers considerably more protection than a softshell or wind jacket. 
Thin fabrics and a functional yet streamlined feature set keeps weight low.
Generously sized hood easily accommodates both climbing and ski helmets yet still cinches down well around a bare head.

What We Don't
This hybrid shell is no competition for a true hardshell in terms of wet-weather protection.
The trim fit and fairly short hem don't offer much room for bulky layers.
Despite the highly breathable stretch-knit fabric, the lack of pit zips makes it difficult to dump heat in a hurry.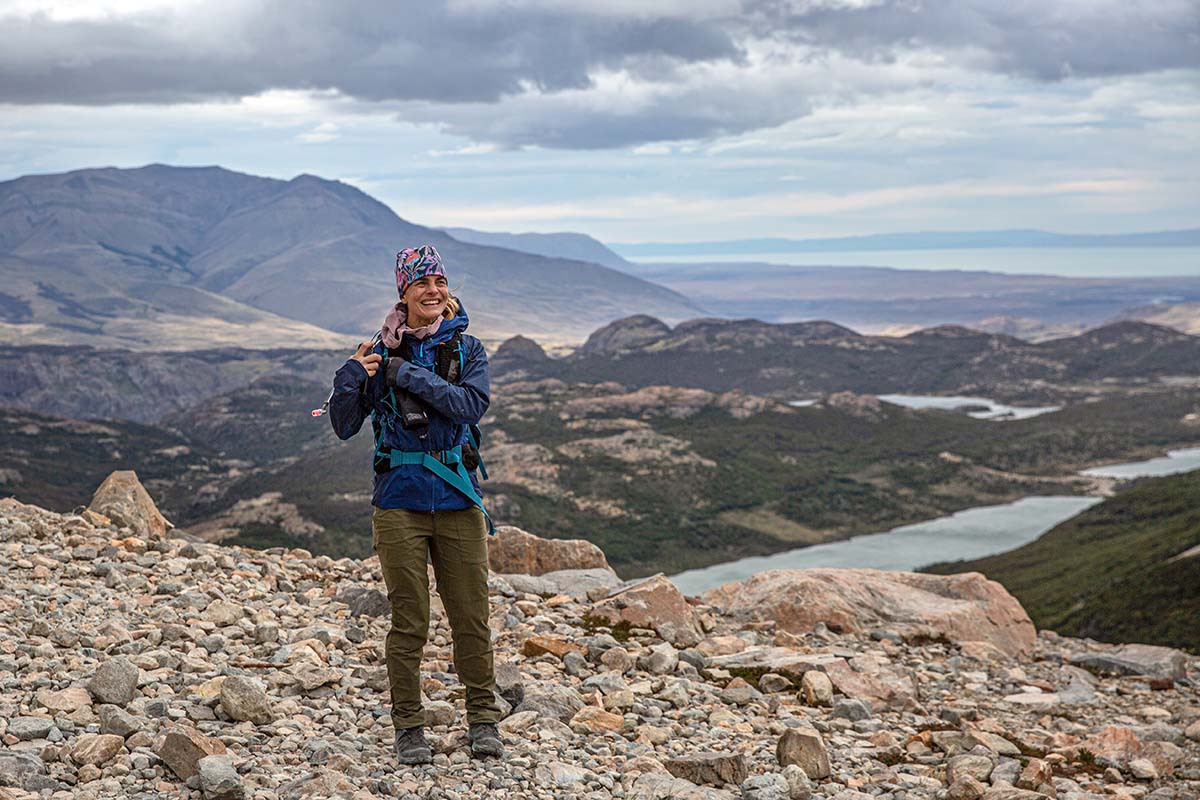 Comparison Table

The Competition
As a "soft hardshell" (by Rab's definition), the Rab Kinetic Alpine 2.0 has a very small group of true competitors that combine hardshell and softshell fabrics in the same way. The Black Diamond Dawn Patrol Hybrid ($350) puts a different spin on the hybrid concept, patterning hardshell fabric (40D) across high-exposure areas (the chest, shoulders, and hood) with softshell fabric (70D) down the back and under the arms. The result is better water protection (BD claims a 20K waterproof rating, compared to the Rab's 10K), but a heavier design (1 lb. for the women's version) that maintains most of the feel of a hardshell. The Dawn Patrol Hybrid also has a clear ski focus, with large chest pockets that accommodate skins along with a ski-helmet-compatible hood. It's a time-tested and impressive jacket that can sub in for a dedicated hardshell in most cases (especially when you're wearing a backpack, which covers the main softshell panel at the back), but is too heavy for most climbers and has less to offer than the Kinetic Alpine 2.0 in terms of comfort and mobility.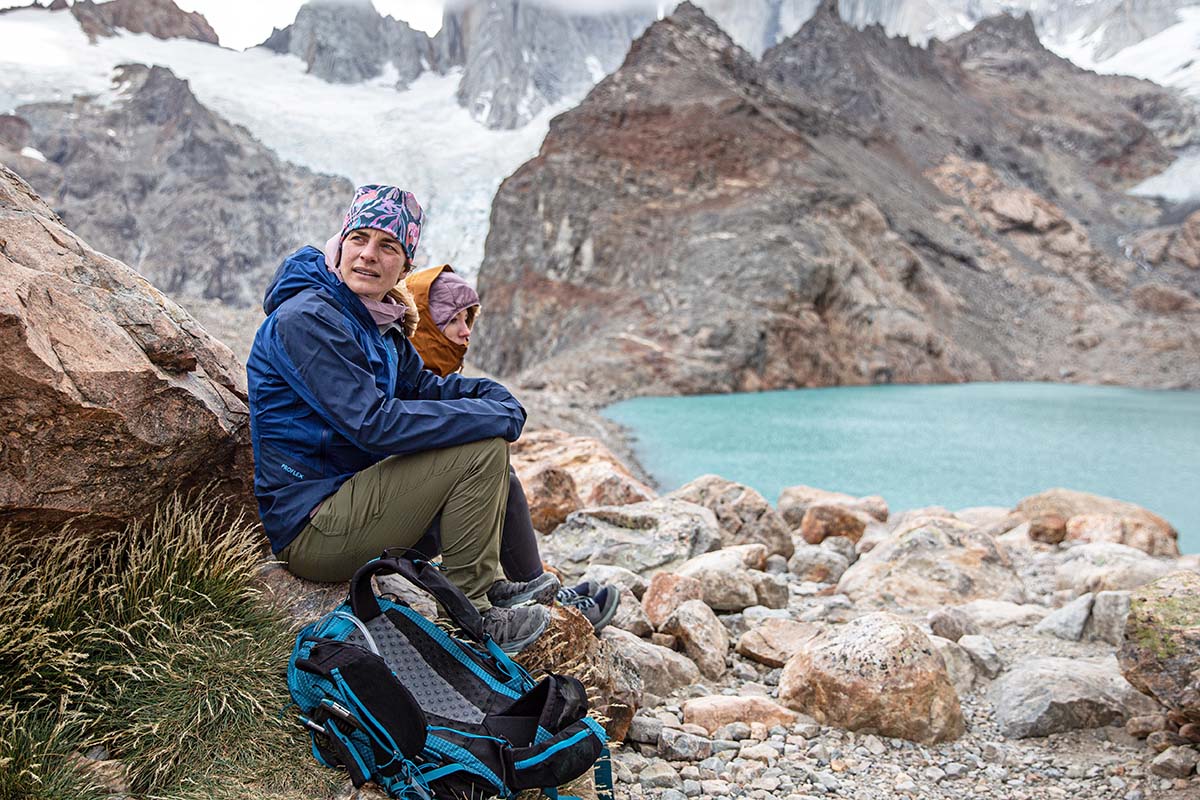 The Outdoor Research Microgravity toes the line between rain jacket and hardshell, with a fully waterproof design by way of OR's in-house AscentShell membrane. At $249 and 11.9 ounces, it drops a bit off the price and weight of the Rab, and its 20- by 45-denier ripstop nylon fabric offers much better water resistance, especially in sustained rain. The Microgravity also features some added stretch (in addition to a soft, 30D polyester backer)—resulting in great breathability and mobility for a nylon shell—but it's still no match for the Kinetic Alpine's softshell-like feel. We'd stick with the Rab for those wanting a boost in weather protection from their softshell or wind jacket, but the Microgravity is a competitive design for hikers, backpackers, and climbers prioritizing weather protection (it also packs down into its pocket and can be clipped to your harness).
If you're drawn to the Rab's lightweight build but want more wet-weather assurance in the form of a dedicated hardshell, it's worth checking out the Arc'teryx Beta LT. The second lightest jacket in Arc'teryx's heralded Beta collection (LT = "lightweight"), the Beta LT checks in at 12.3 ounces for the women's version and features durable 40-denier nylon with a Gore-Tex membrane. This hardshell fabric is inherently less breathable than the Rab's stretch-knit softshell (and less comfortable, too), but Gore-Tex is as good as it gets in terms of waterproof/breathable protection (Arc'teryx also added pit zips to help you dump heat during high-output activity). At $400 the Beta LT is more of an investment than the Kinetic Alpine 2.0, but the full-on wet-weather protection and premium materials will be worth it for many. And compared to the aforementioned Microgravity, the Beta LT is more durable and weather protective (especially in sustained wet weather), but it retains a bit more of the rigid feel of a hardshell. 
Hailing from within Rab's own lineup is the Kinetic 2.0, the Kinetic Alpine 2.0's little sibling. The standard Kinetic features the same Proflex fabric as the Alpine version reviewed here, but streamlines just about everything else: It forgoes a chest pocket and reinforcements across the arms, shoulders, and hood, features an under-the-helmet hood and 1.6-inch-shorter center back length (25.2 in. from nape to hem), and is $50 cheaper at $230. Without additional protection in high-exposure areas you get a bit less waterproofing than the Kinetic Alpine (that said, Rab gives the minimalist jacket the same 10K rating) and the lack of helmet-compatible hood will be a deal-breaker for some. But if you're looking for durable yet lightweight (10.2 oz.) wind protection with more water resistance than a wind jacket or softshell (but considerably less than a hardshell), the Kinetic 2.0 lands in an interesting middle ground.
Last but not least, we'd be remiss not to mention the Fjallraven Keb Eco-Shell here. With a similar stretch-knit shell that prioritizes comfort and breathability, the Keb Eco-Shell might at first appeal to a similar crowd as the Kinetic Alpine 2.0. But for $500, it's definitely a souped-up option: The design is decidedly fashionable (as we've come to expect from Sweden-based Fjallraven), considerably more durable with a 60-denier polyester fabric, and heavier at 1 pound 0.6 ounces. Notably, the Eco-Shell also proved to be a lot more waterproof throughout our testing (Fjallraven gives it a 30K waterproof rating, which towers over the Rab's 10K rating). In the end, the lightweight and streamlined Rab is a better option for weight-conscious alpine climbers looking for a decently waterproof hybrid, but we're big fans of the Fjallraven for shoulder-season hiking, skiing, and around-town use.
If you're thinking about buying gear that we've reviewed on Switchback Travel, you can help support us in the process. Just click on any of the seller links above, and if you make a purchase, we receive a small percentage of the transaction. The cost of the product is the same to you but this helps us continue to test and write about outdoor gear. Thanks and we appreciate your support!
Depending on the seller, most products ship free in the United States on orders of $50 or more. International shipping availability and rates vary by seller. The pricing information on this page is updated hourly but we are not responsible for inaccuracies.
Read More From Switchback Travel