Gregory Jade 63
Price: $270
Weight: 4 lbs. 3.2 oz. (size small/medium)
Capacities: 28, 43, 53, 63L
What we like: Competitive balance of comfort, durability, weight, and features at a reasonable price. 
What we don't: Not the most breathable or weather-ready design.
See the Women's Gregory Jade 63  See the Men's Gregory Zulu 65
Gregory has been pumping out quality packs since the late 1970s, and the Jade—the women's counterpart to the Zulu—is another high-quality and well-built design. I recently tested the pack in Patagonia and came away pleased by its effective balance of comfort, durability, weight, and features. The Jade isn't the cushiest option in Gregory's lineup (that title goes to the heavy-hauling Deva) and falls a little short of most competitors in ventilation and weather protection, but it's a well-rounded option at a reasonable price point. Below we break down our experiences with the Jade 63. To see how it stacks up to the competition, check out our articles on the best backpacking packs and best women's backpacking packs.
 
---
Table of Contents
---

Performance
Carrying Comfort
Right away, it was clear that the Gregory Jade 63 is a premium, comfort-first design. I'm a sucker for thick and cushy padding—Osprey's Aura AG has been my go-to pack for years—and the Jade didn't feel too far off. The shoulder straps and hipbelt are nicely cushioned (although a little less plush than the Aura), and I experienced no hotspots or pressure points despite taking the pack right out of the box and onto the trail. The Jade also carries weight extremely well with a generous 50-pound max weight capacity (for comparison, the Aura AG 65 has a recommended limit of 30-40 lbs.), load lifter straps that make it easy to bring the weight close to your back, and FreeFloat suspension system that effectively distributes the load with minimal sway while hiking. For reference, our backpacking adventures in Patagonia involved a lot of steep and off-camber sections of trail, and I never felt like the Jade was out of its element.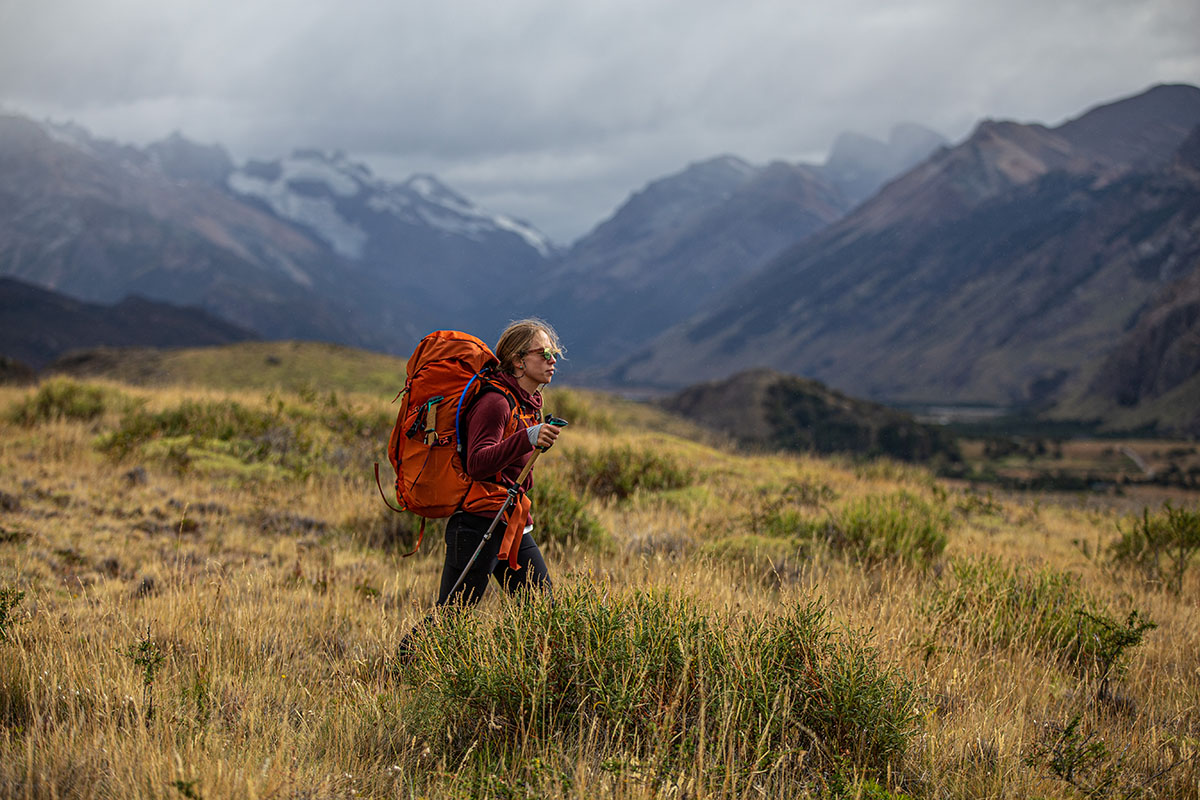 Weight
At 4 pounds 3.2 ounces for a size small/medium, the Gregory Jade 63 isn't breaking any weight records but is reasonably light for its level of comfort and feature set. For comparison, it's just a couple ounces heavier than our top-rated women's backpacking pack, the Osprey Aura AG LT 65 (4 lbs. 0.2 oz. for the M/L size), while undercutting heavy haulers like Gregory's own Deva 60 (4 lbs. 10.2 oz. in a small) and Osprey's Ariel 65 (4 lbs. 14.3 oz. for a M/L). You can shave considerable heft with a streamlined ultralight design like Hyperlite Mountain Gear's 3400 Southwest (1 lb. 15.6 oz. for a medium) or Zpacks' Women's Arc Haul Ultra 60L (1 lb. 5.2 oz. in the same size), although the sacrifices in carrying comfort and features are significant. In my opinion, the Jade hits a really nice middle ground: It's lighter than the feature-packed Deva and other comfort-first designs without making any major concessions in carrying capabilities or convenience.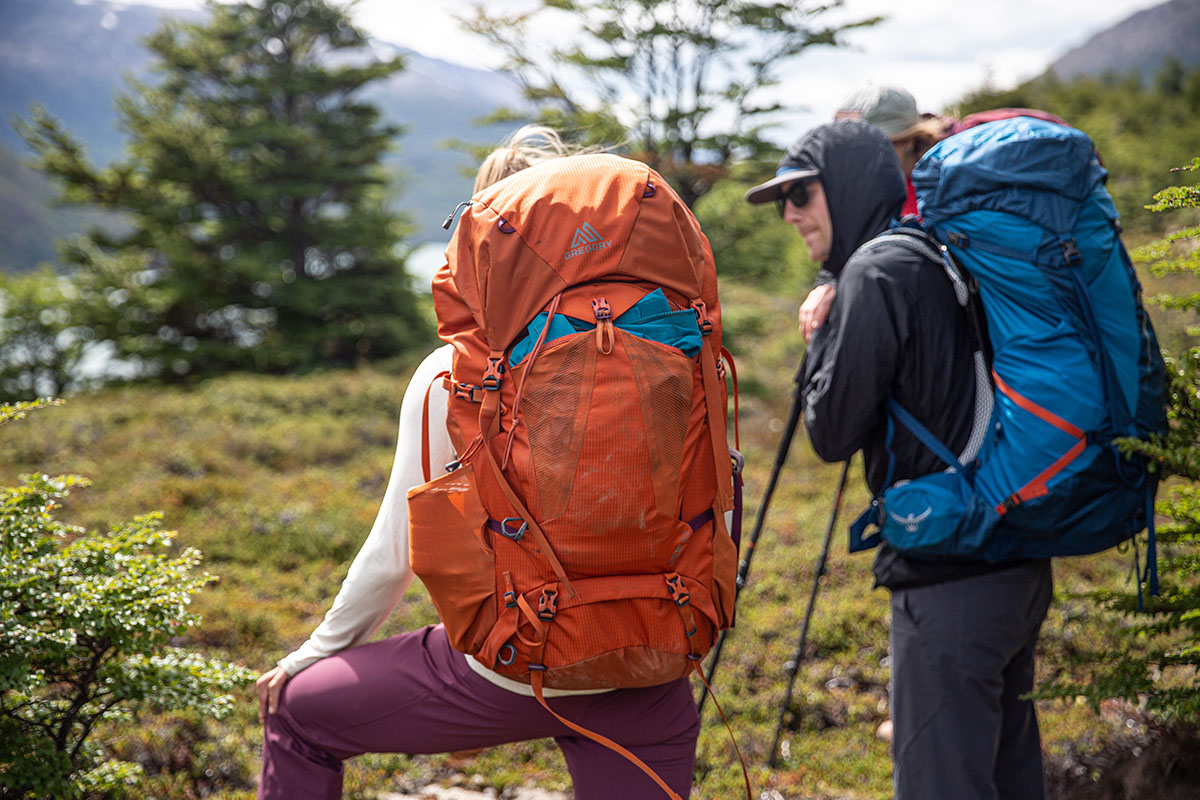 Organization
Access
Gregory covered all the bases with the Jade 63's organization layout. For starters, you can access the main compartment either through the top or via the U-shaped zipper along the front, which makes it very easy to organize and retrieve gear. For reference, I typically drop larger and bulkier items like my tent, sleeping bag, and sleeping pad in from the top and then use the zippered front panel to stuff remaining gear and clothing around those items. On the trail, the generous opening makes on-the-go access quick and painless—no need to take everything out to reach a certain item—and I much prefer the U-shaped design over a smaller side zipper (like what you get with Osprey's Aura AG LT).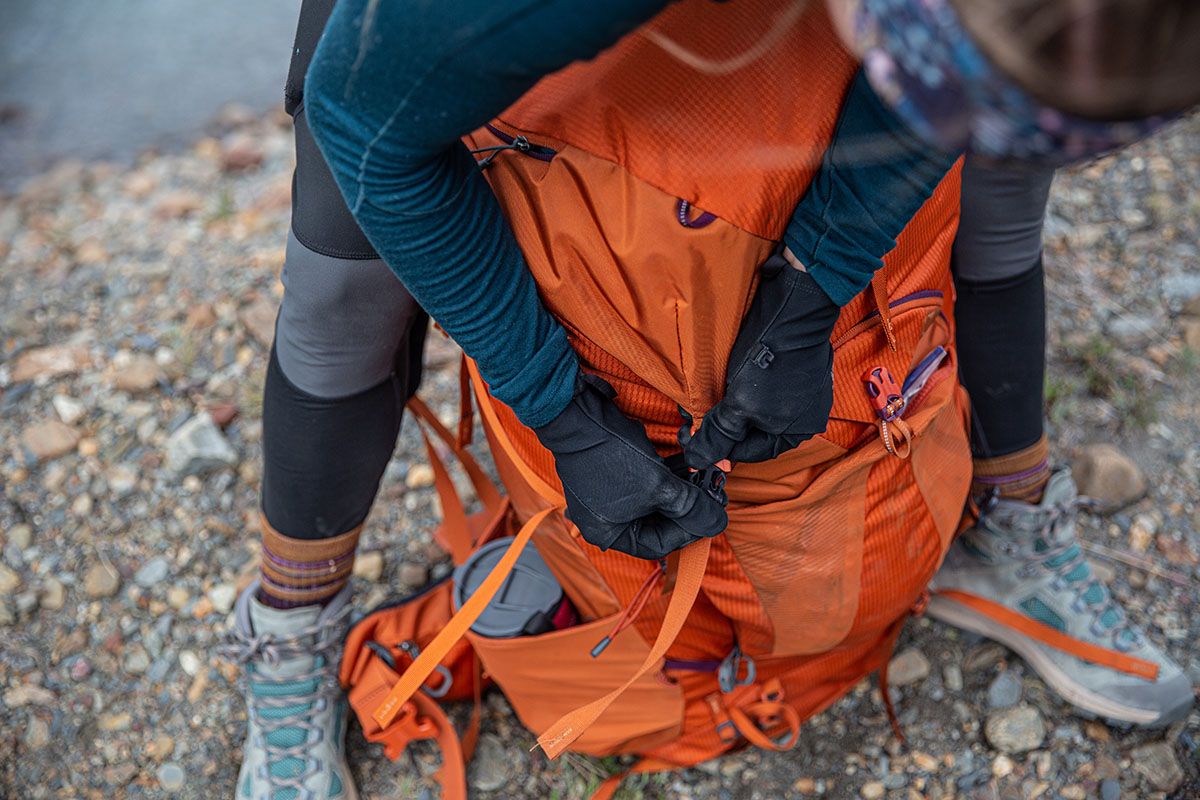 Pockets
The Jade 63 comes nicely appointed with six exterior pockets. First, you get large pockets on both sides of the lid that are great for stashing a headlamp, toiletries, electronics, and other valuables. My only complaint is that they can cause the pack to feel a little top-heavy when overloaded, which is easy to do given their size. The hipbelt pockets are also pretty big but unfortunately didn't fit my iPhone 13—I instead used them for quick access to snacks and lip balm. You also get stretchy mesh water bottle pockets at each side that fit a 32-ounce Nalgene, and the compression straps make it easy to secure hiking poles, too. Rounding out the layout is a front mesh shove-it pocket that secures with a buckle and works for storing a thin layer or two. It's pretty taut and shallow, however, and made it tough to fit a bulkier down jacket or even a dehydrated meal. Finally, there's a zippered sleeping bag compartment at the bottom with a removable divider, which isn't a must-have but can be helpful on particularly gear-heavy trips.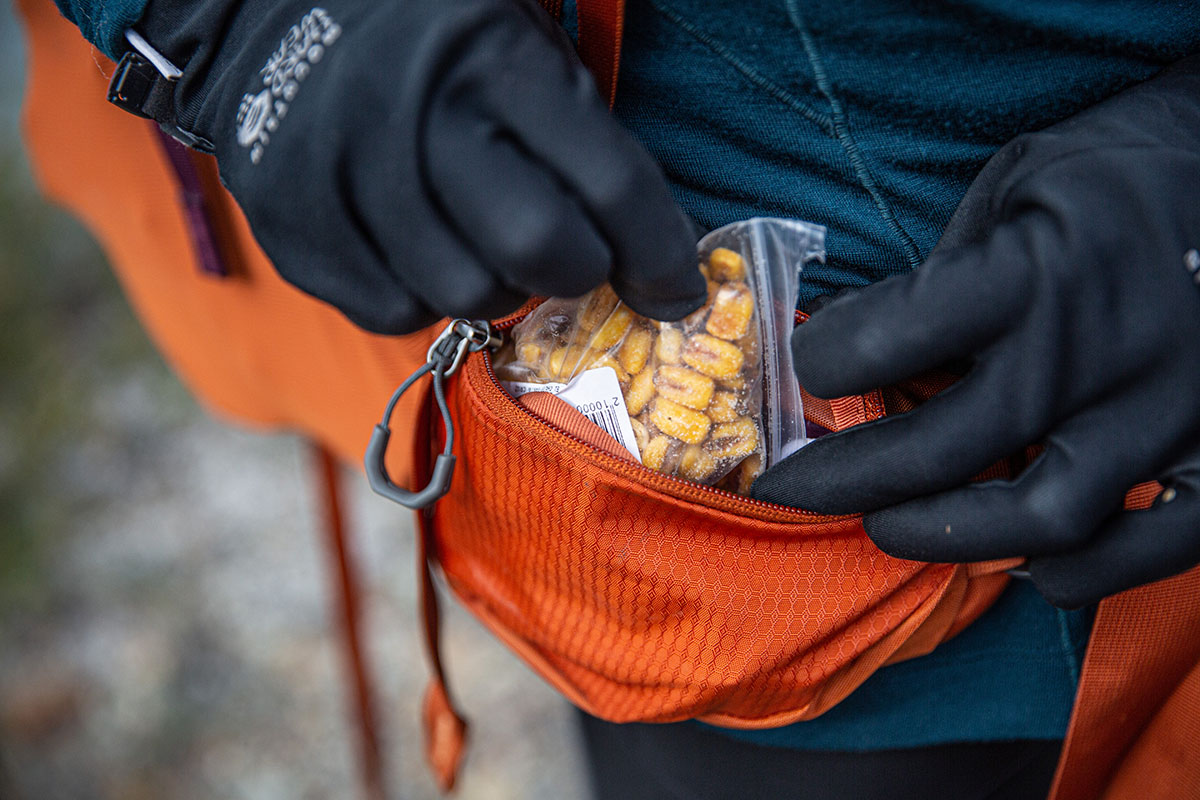 Ventilation
Like many modern competitors, the Gregory Jade 63 boasts a tensioned mesh backpanel that's designed to maximize airflow, but I came away a little disappointed. Specifically, I wish there were more space for air to flow between my body and the pack—I noticed my back growing a bit sweaty even in moderate (mid 50s-60s Fahrenheit) conditions in Patagonia. By comparison, Deuter's Futura Air Trek that I tested last year in the same area had a 2-inch gap between the pack body and my back, which was a little polarizing in terms of looks but kept me cool and comfortable in warmer temperatures. It didn't get to the point of soaking through my shirt, but I nevertheless was surprised by the Jade's middling ventilation (and that's coming from someone who runs cold). If you're planning to do a lot of backpacking in the middle of the summer, I'd recommend opting for a more breathable design like the aforementioned Futura or any of Osprey's Aura AG packs.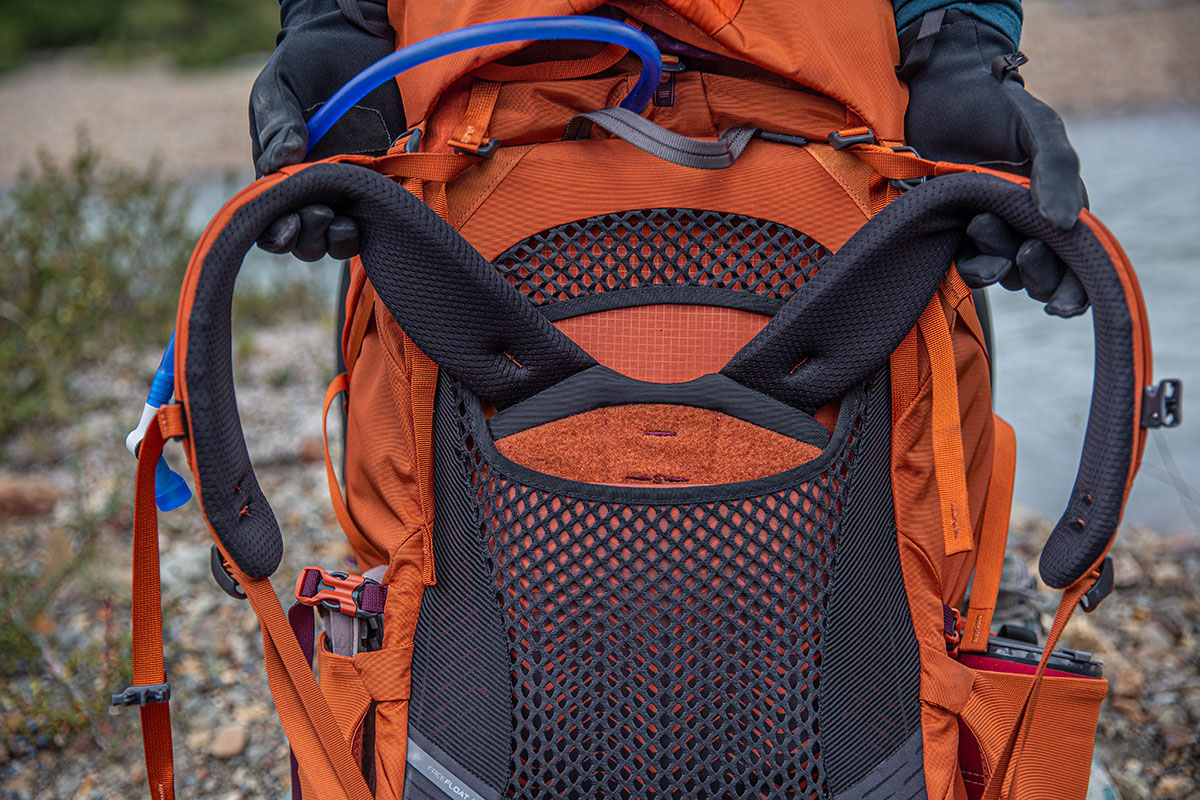 Weather Protection
Apart from durable water repellent (DWR) coatings along the body, bottom, and lining, the Gregory Jade 63 is bereft of any other weatherproofing measures. As expected, the treatments did a good job of sealing out light moisture, but they eventually began to succumb to extended rain during our final overnight in Patagonia. As soon as I noticed the lid of my pack growing saturated, I took my extra rain shell out and attached it to the top of the pack as a makeshift rain cover. The rest of the bag was exposed to the elements, but thankfully, all my gear inside stayed perfectly dry. I wouldn't recommend pushing the Jade's limits, however, and highly recommend purchasing a rain cover separately (Gregory sells one for $40) or waterproofing your gear with dry bags.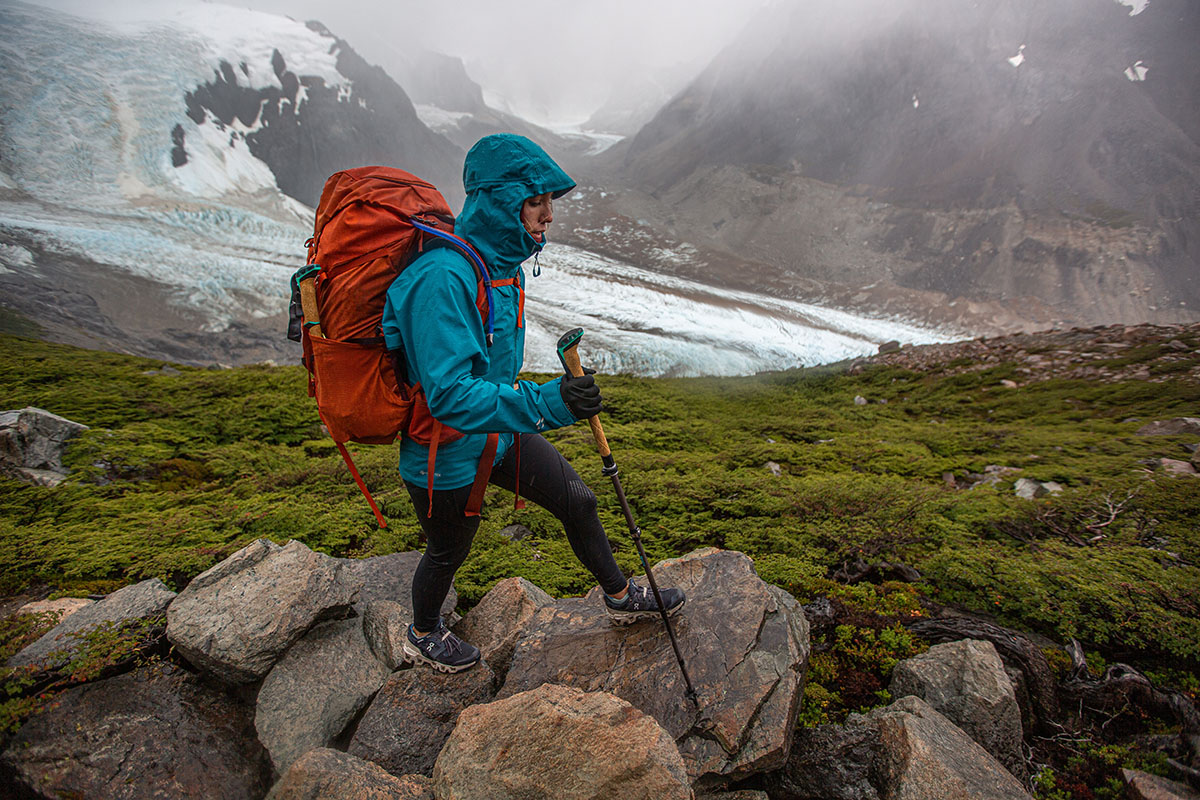 Build Quality and Durability
Gregory is no stranger to the backpacking pack market, and the Jade is exactly what we've come to expect from the seasoned brand. The 400-denier (D) polyester body has a noticeably robust and confidence-inspiring feel, and the bottom is reinforced with even thicker 420D nylon. For comparison, most competitors use thinner materials along the body—Osprey's Aura AG and AG LT packs use 210D nylon, as does Gregory's heavier Deva. My pack did suffer a hole in the water bottle pocket from being haphazardly thrown onto a shuttle bus in Patagonia, but it's very small and hasn't grown any bigger after multiple nights of subsequent use. The light orange exterior also looks a little more worn than expected this early on, although opting for the darker Midnight Navy colorway would likely curb that issue.

Fit and Sizing
Gregory offers the Jade 63 pack in two sizes (extra small/small and small/medium), which accommodate torsos ranging from 14 to 19 inches. You also get 3.5 inches of torso-length adjustment via a rip-and-stick Velcro system along the backpanel. In practice, it takes a good deal of effort and force to undo and resecure the shoulder straps to get a proper fit, although you theoretically should only have to do it once. The waist belt is also adjustable from 25 to 48 inches (24 to 46 in. in the extra small/small). In the end, the small/medium was a nice match for my 17-inch torso and provided a great all-around fit, although I wish the hipbelt went a little smaller—I had to tighten it fully with the buckles almost touching in order to keep the weight on my hips rather than my shoulders.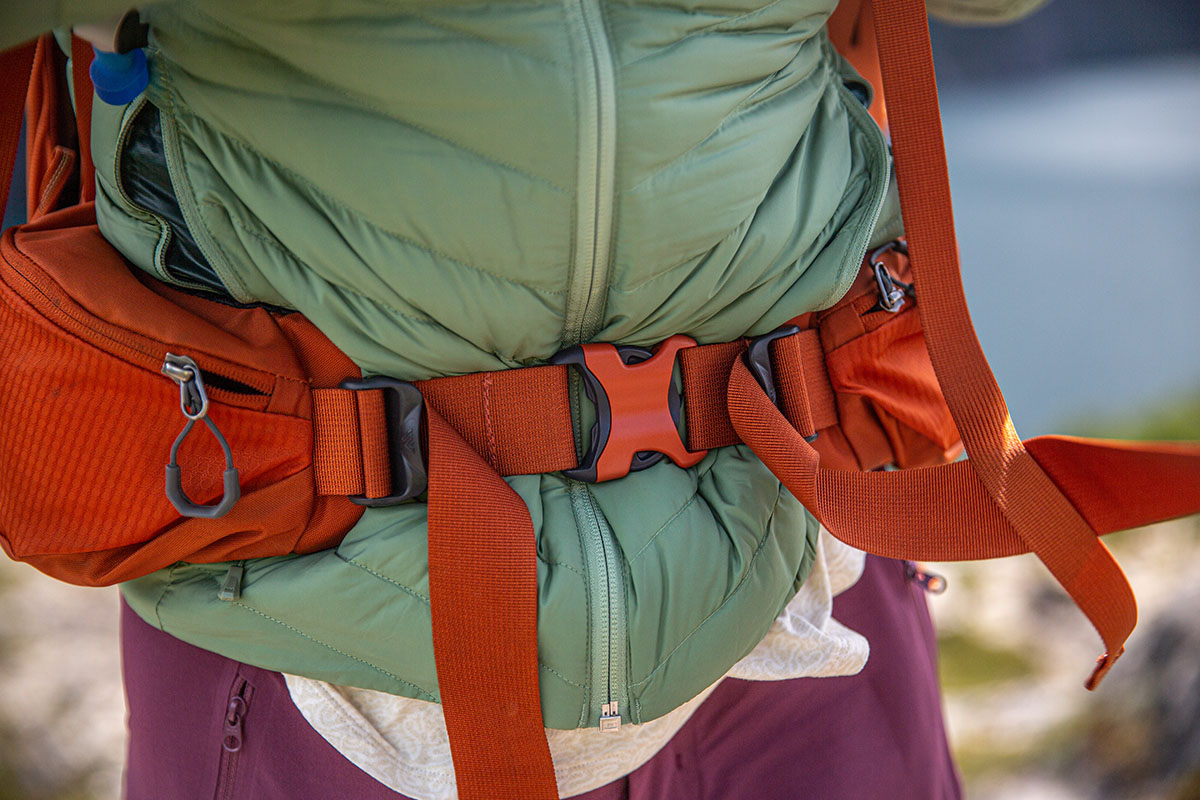 Sustainability
The sustainability bar is being pushed higher and higher each year, and we're happy to see Gregory making significant strides. In this case, the Jade's body and lining are made with 40% recycled polyester, and Gregory also used a PFC-free DWR coating along the body, bottom, and lining that forgoes the use of perfluorinated chemicals that are known to be harmful to the environment. We also appreciate how transparent the brand is about their production practices—there's a graphic on the Jade's product page that illustrates the pack's carbon footprint, water and energy consumption, and more. Taken together, it's an admirable effort that only adds to the Jade's all-around appeal.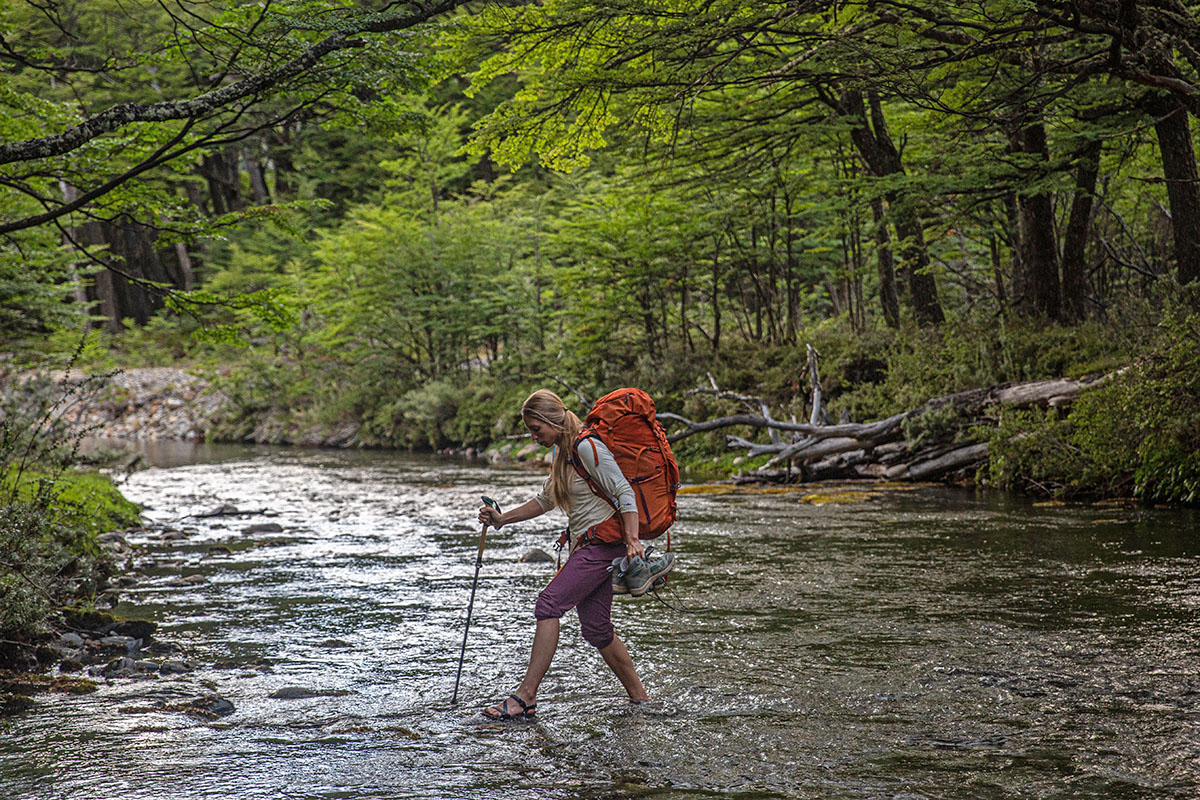 Other Capacities and Men's Gregory Zulu
I covered the women's Jade 63 for this review, and it's also offered in 28, 43, and 53-liter capacities. The latter two are very similar to the 63-liter model, including the same FreeFloat suspension system, tensioned mesh backpanel, and U-zip access to the main compartment. The Jade 28 is expectedly the most pared-down option of the bunch but retains the same comfort focus in a day hiking-friendly capacity. On the men's side, the Zulu is the Jade's counterpart and is offered in 30, 45, 55, and 65-liter capacities. Stacked up against the Jade 63, the Zulu 65 checks in a little heavier at 4 pounds 4.5 ounces, comes in different colorways, and has a wider fit range (15- to 22-inch torsos and 25- to 53-inch waists) but is otherwise largely identical.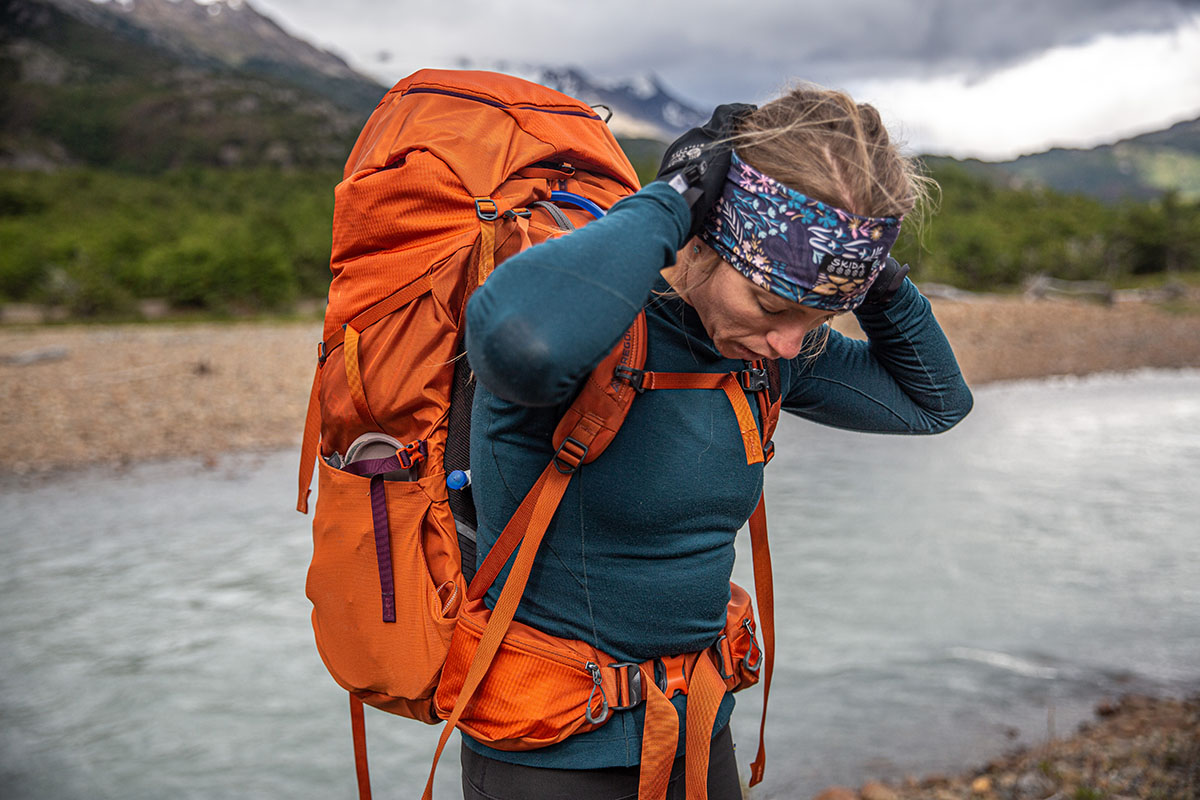 What We Like
All of the features we look for without feeling overly hefty or cumbersome—a nice middle ground between UL packs and heavy haulers.
Great carrying comfort thanks to thickly padded straps, a body-hugging suspension system that moves with you, and a generous 50-pound max load limit.
Well built with thick and high-quality materials throughout.
Around $10 to $30 cheaper than most competitors at $270.
Nice sustainability slant, including recycled materials and PFC-free DWR coatings along the body, bottom, and lining.

What We Don't
Far from the most weather-worthy design with no rain cover or water-resistant zippers.
Backpanel doesn't provide much space for air to flow between the pack and your back, resulting in subpar ventilation. 
Front shove-it pocket is prohibitively narrow and can't accommodate bulkier items, and the hipbelt pockets were too small for my iPhone 13.
My orange pack already looks relatively worn and stained—I recommend opting for a darker colorway.


Comparison Table
| Pack | Price | Weight | Fabric | Capacities | Access | Pockets |
| --- | --- | --- | --- | --- | --- | --- |
| Gregory Jade 63 | $270 | 4 lb. 3.2 oz. | Polyester/nylon (400 & 420D) | 28, 43, 53, 63L | Top, front | 6 exterior |
| Gregory Deva 70 | $360 | 4 lb. 11.2 oz. | Nylon (210, 420, & 630D) | 60, 70, 80L | Top, front | 9 exterior |
| Gregory Maven 65 | $280 | 3 lb. 8.2 oz. | Nylon (100, 210, & 420D) | 45, 55, 65L | Top, side | 6 exterior |
| Osprey Aura AG LT 65 | $290 | 4 lb. 0.2 oz. | Nylon (210 & 500D) | 50, 65L | Top, side | 6 exterior |
| Granite Gear Blaze 60 | $300 | 3 lb. 2.9 oz. | Nylon (100 & 210D) | 60L | Top, side | 6 exterior |

The Competition
Gregory's Jade 63 is a well-rounded women's backpacking pack that offers a nice mix of comfort, weight, and features. For a step up in hauling capacities, Gregory's own Deva 70 is our favorite design for shuttling heavy loads into the backcountry. For $90 more than the Jade, you get an additional 7 liters of capacity, three size options for more easily dialing in fit, and an upgraded FreeFloat A3 suspension system with auto-rotating shoulder straps that helps keep the weight evenly distributed while minimizing sway. The Deva also boasts three more pockets than the Jade and has a 5-pound-higher carry limit. Weight jumps to 4 pounds 11.2 ounces for the size small, but the cushy padding, extensive storage layout, and premium feel are hard to beat for comfort-focused backpackers who plan to max out the capacity (for more, see our in-depth Deva 70 review here). For most trips, however, the lighter and cheaper Jade is plenty of pack.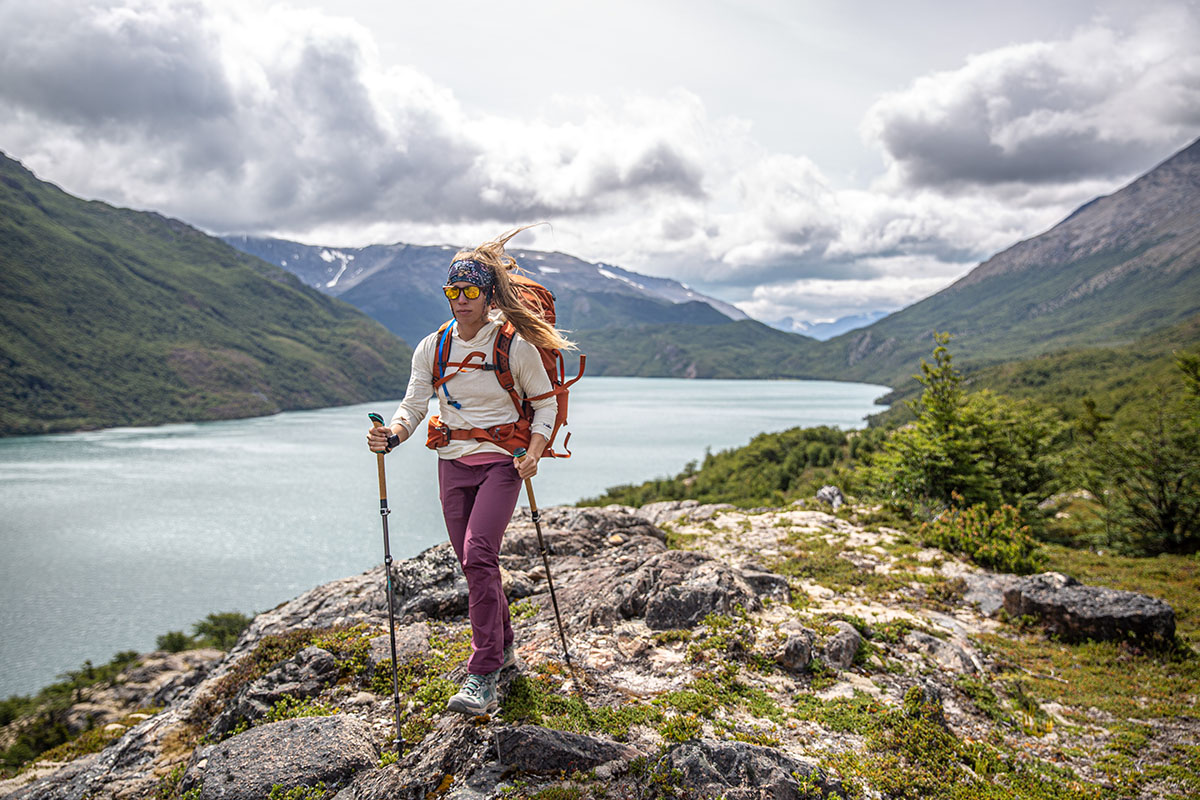 Another Gregory design to consider is their Maven 65, which is the women's counterpart to the popular Paragon. Similarities between the Maven and Jade include the same suspension system, max carry weight, and number of exterior pockets. However, the Maven checks in significantly lighter at 3 pounds 8.2 ounces in a small/medium, which is largely due to the thinner materials (the body uses a mix of 100 and 210D fabrics vs. 400D for the Jade). You also get a rain cover for better assurance in sustained rainfall, although we prefer the Jade's more generous U-shaped zipper along the front over the Maven's full-length side zip for accessing the main compartment. Finally, the Maven costs $10 more than the Jade without any notable performance benefits, although the drop in weight will be enough to sway some. For an even lighter design from Gregory, their $250 Facet 55 checks in at just 2 pounds 8.8 ounces but makes concessions in durability, carrying capacity, and fit (there's no torso-length adjustment).
Moving away from Gregory's lineup, Osprey's Aura AG LT 65 recently won us over with its impressive combination of comfort, durability, and all-around performance. While the Jade gets the slight edge in price (by $20) and durability (400D & 420D vs. the Aura's 210D & 500D), the Osprey strikes us as the more refined design overall. Namely, the Aura AG LT has a higher-end feel, thoughtfully streamlined feature set (including a rain cover), more comfortable suspension, and improved ventilation via its AntiGravity mesh backpanel. The Osprey forgoes a dedicated sleeping bag compartment and features a curved zipper for accessing the main compartment, which is a little less convenient than the Jade's U-shaped opening, but we consider it the most well-balanced women's design currently on the market.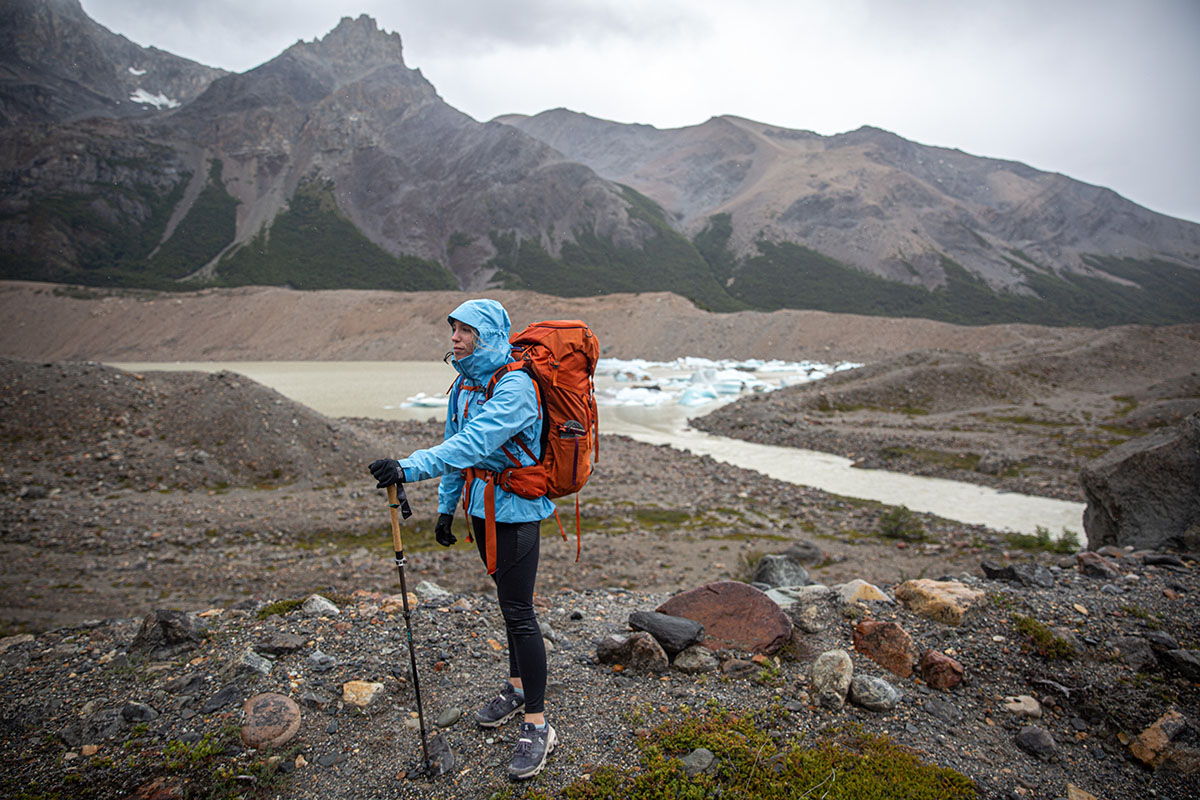 A final option to consider is Granite Gear's Blaze 60, which is significantly lighter than the Jade at 3 pounds 2.9 ounces but doesn't compromise much on carrying comfort or features. Highlights include a sturdy frame sheet and thick padding along the shoulder straps and hipbelt (both packs are rated to 50 lbs.), oversized front and side dump pockets, and ample compression straps for snugging down a half-full load. We also love the ability to remove the lid and secure it to the shoulder straps for on-the-go storage or wear it as a fanny pack on quick day trips from camp (you can also leave it behind and drop 2.9 oz.). On the flip side, the Jade gets the edge in ventilation with its mesh-heavy backpanel compared to the Blaze's molded foam design. It also offers easier access to the main compartment with its larger U-shaped opening and uses thicker and more durable materials throughout. In the end, the Jade is the more approachable pack for most comfort-focused backpackers, but the Blaze offers solid all-around performance at a lower weight.
If you're thinking about buying gear that we've reviewed on Switchback Travel, you can help support us in the process. Just click on any of the seller links above, and if you make a purchase, we receive a small percentage of the transaction. The cost of the product is the same to you but this helps us continue to test and write about outdoor gear. Thanks and we appreciate your support!
Depending on the seller, most products ship free in the United States on orders of $50 or more. International shipping availability and rates vary by seller. The pricing information on this page is updated hourly but we are not responsible for inaccuracies.
Read More From Switchback Travel