Best known for their heavy-hauling Baltoro, the Paragon backpack from Gregory cuts weight to appeal to the core overnight and weekend crowd. We've had a chance to get out on a couple trips with the 58-liter model and have come away pleased. The Paragon isn't a standout in any one particular category, but its competitive price, highly adjustable fit, and good mix of weight and features make it a great option for shorter trips or whenever your bag won't be loaded down. Below we break down the Paragon 58's carrying comfort and fit, weight, organization, durability, and more. To see how the Paragon stacks up, see our article on the best backpacking packs.

Performance
Carrying Comfort and Fit
Gregory has built its reputation around the comfort of its packs, and the Paragon 58 continues this in a trimmed-down form. The beefier Baltoro is optimal for those carrying 40+ pounds, but the Paragon is a better match for lighter loads more in the 25- to 40-pound range. The padding on the hipbelt is firm and supportive, and the backpanel and shoulder straps offer enough cushioning for full days on the trail. On a trip in Utah's Canyon Country where we needed to haul many liters of extra water, we did max out the pack's comfort. But on subsequent and more typical backcountry forays, the pack proved to be a great choice.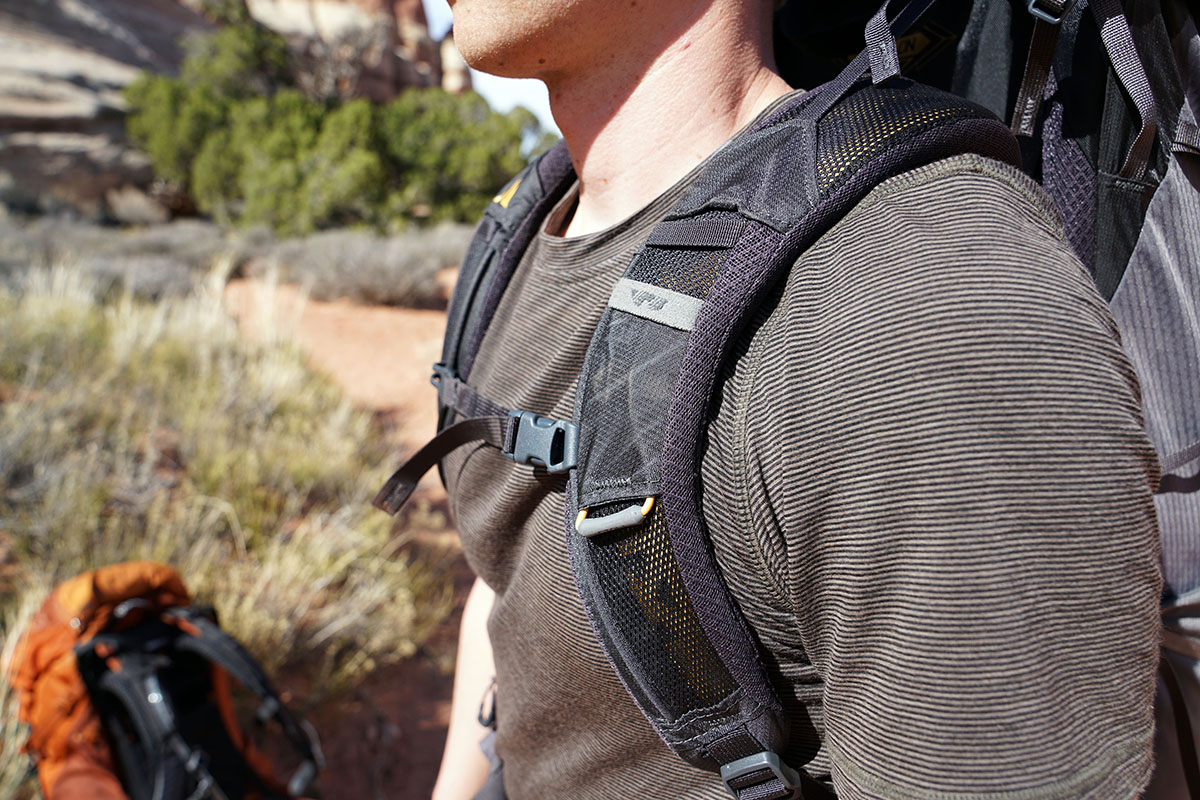 Key to the Paragon's ability to carry weight efficiently is the highly adaptable fit. The shoulder straps and hipbelt can be adjusted quickly with a Velcro rip-and-stick design. This was a great feature as we were swapping out the pack between testers with differing 18- and 21-inch torsos, but it's also a very practical solution for dialing in the fit. Along with a tailored backpanel that has a substantial lumbar support, the pack hugs you more than you would expect at this $230 price point. To reiterate, this Paragon is not the most comfortable pack for big loads, but it has all the right pieces for overnight and weekend trips.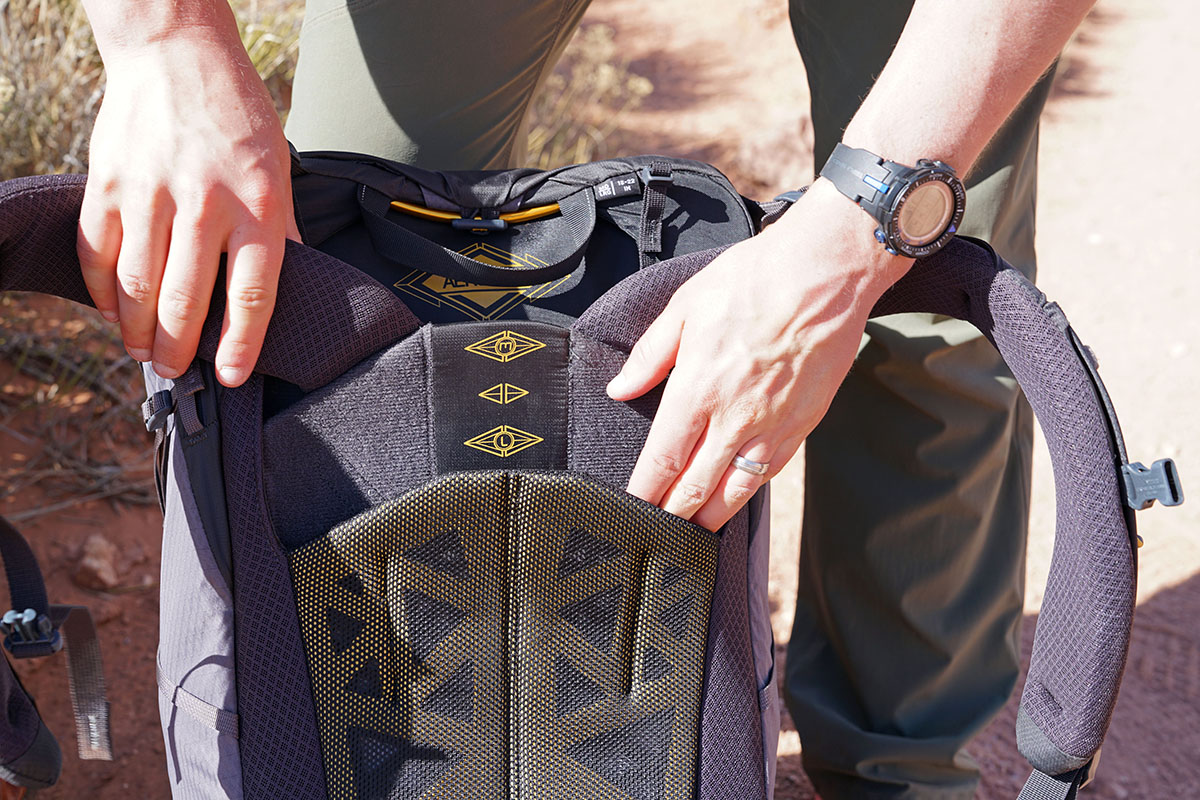 Weight
You can go lighter in the popular 55- to 65-liter range, but the Paragon's 3-pound-9-ounce weight is no slouch. It easily undercuts many popular backpacking packs like the Osprey Atmos AG 65 (4 pounds 9 ounces) and Gregory's own Baltoro 65 (4 pounds 13.4 ounces), and is a near match to Osprey's new-for-2019 Rook 65 (3 pounds 8.5 ounces) and The North Face Banchee 65 (3 pounds 4 ounces). You can save significant weight with the REI Co-op Flash 55 (2 pounds 10 ounces) and Osprey Exos 58 (2 pounds 10.4 ounces), but both are ultralight-focused and shouldn't exceed 30- to 35-pound loads.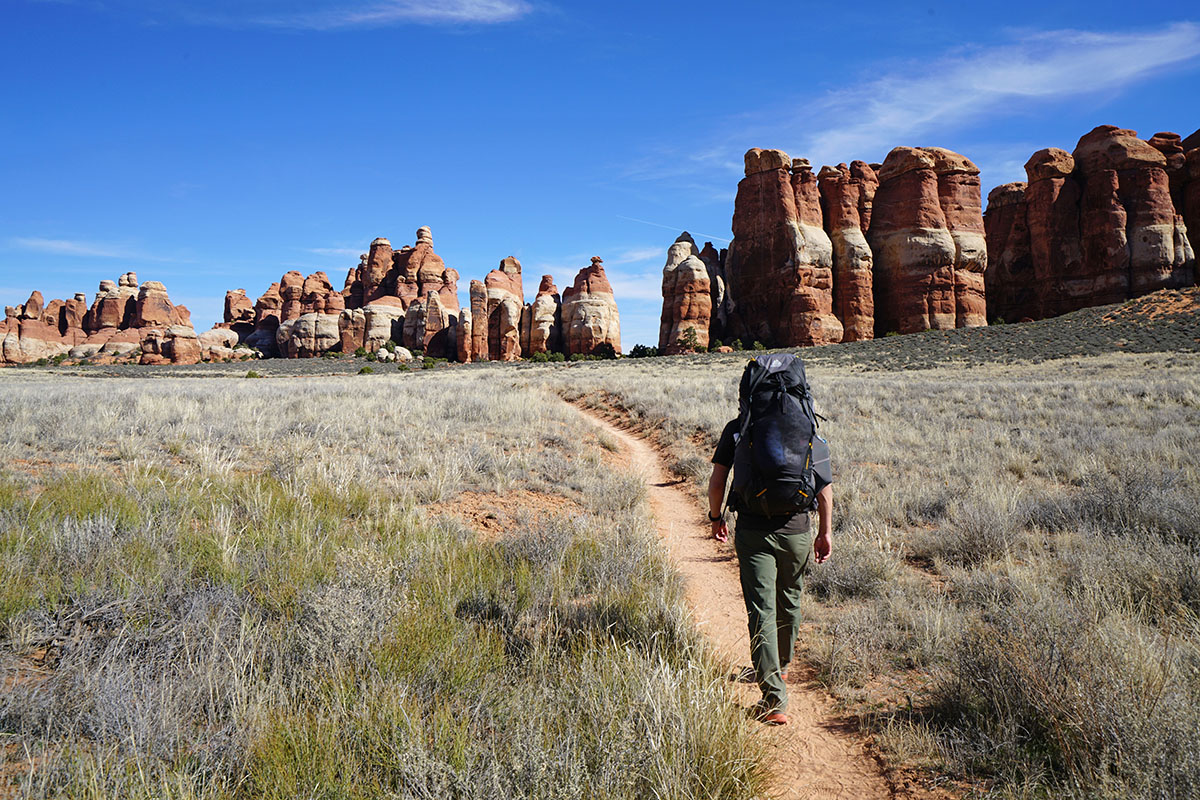 Of note for minimalist backpackers considering the Paragon: it's fairly easy to trim even more weight from the listed 3 pounds 9 ounces. To start, you can use the sleeping bag divider in place of the standard floating lid, which does compromise on organization but is a great way to save a few ounces. And leaving behind the rain cover and hydration sleeve that doubles as a daypack should bring your total weight closer to the 3-pound mark.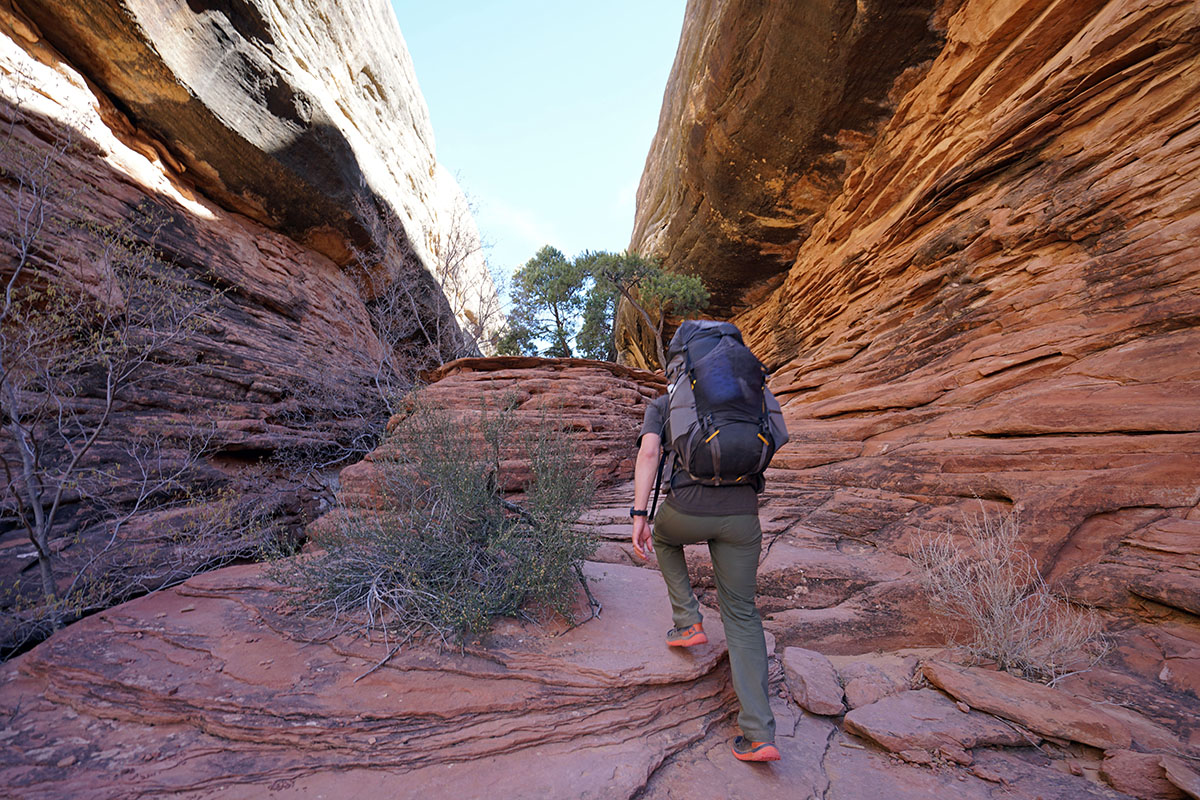 Organization
For such a light pack, the Gregory Paragon 58 has a good collection of organizational features. To start, they nailed the mesh water bottle design (more on the durability of the mesh below), something a surprising number of manufacturers don't accomplish. They're sized right to fit a wide range of bottles, can be cinched down with compression straps, and the pocket over your right shoulder has a second opening at elbow height for easy access without removing the pack.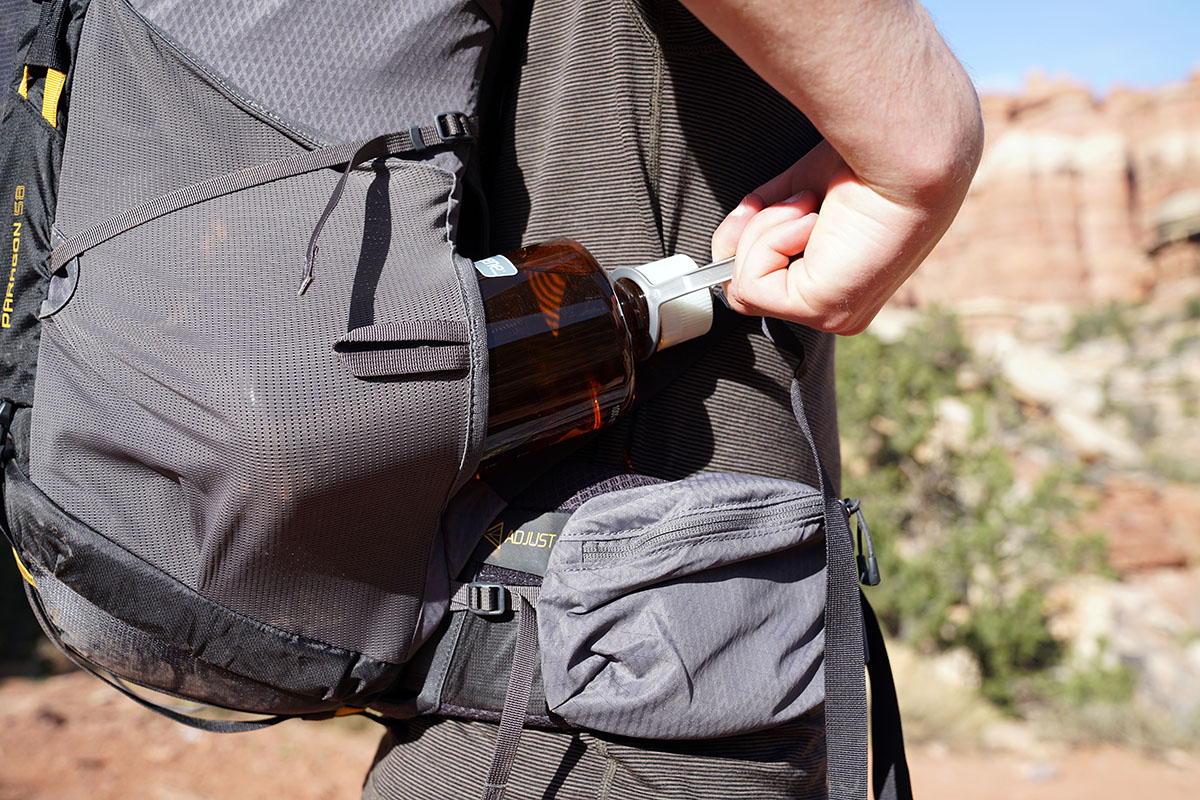 Additional storage includes a large mesh "shove-it" pocket along the front of the Paragon. It's very stretchy and a great place to store items you want easy access to, as well as wet or smelly gear you want to keep separate. The top lid includes two nicely sized pockets for items like a headlamp or map, and there is a small zippered space tucked behind the front mesh pocket that stores the rain cover (more on this below). We do prefer zippered access to the main compartment rather than just the top and sleeping bag opening at the bottom that you get here, but this is not a deal breaker for us. A final note on storage: the large main compartment is sized to fit most bear canisters.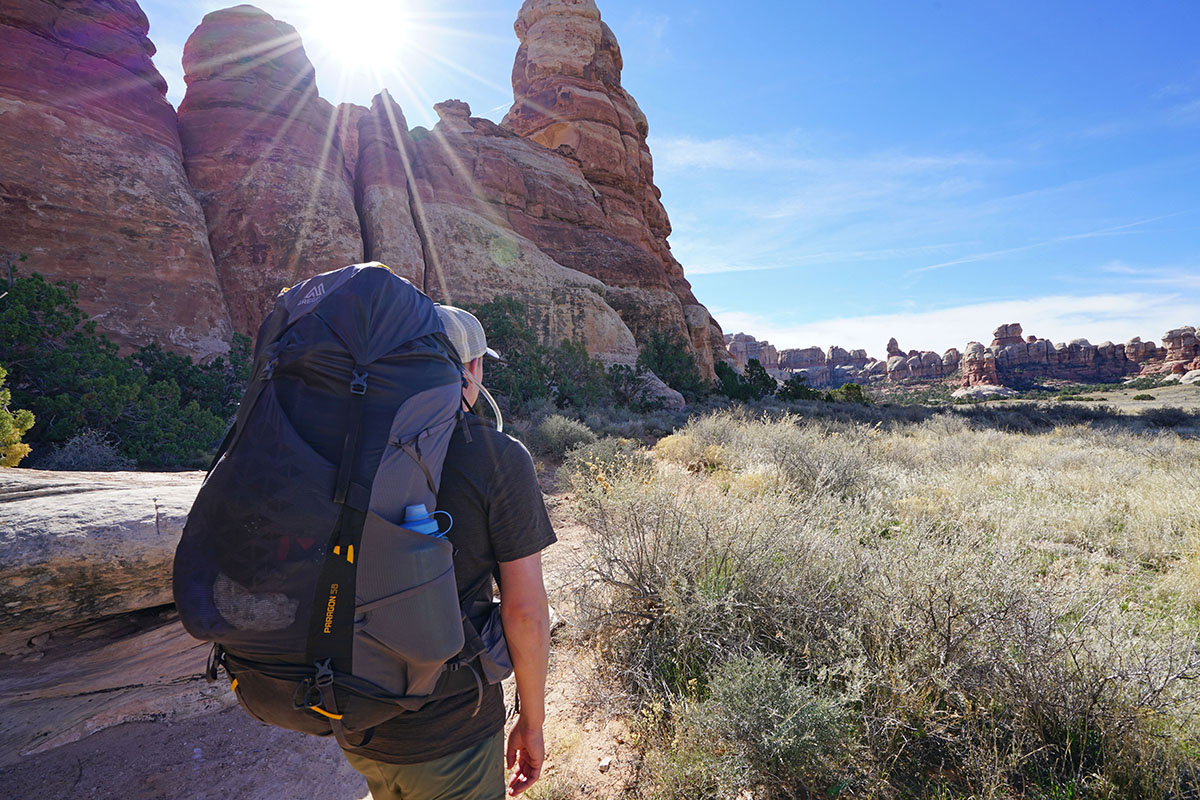 Sidekick Daypack
One organizational item we're less impressed with is the Sidekick hydration sleeve that can double as a summit or ultralight daypack. As a sleeve for holding your water reservoir, it's hard to fault—the Sidekick is large enough to fit our 3-liter reservoirs, but doesn't take up much space inside the pack. But the daypack portion is where it falls short. The shoulder straps are thin and dig into your shoulders even with a light load, and the pack is too small and not adjustable enough to sit comfortably on our backs. We love the concept—and thoroughly enjoyed the convertible top lid daypack on the Osprey Aether AG 70 on the same trip—but think Gregory could do better here.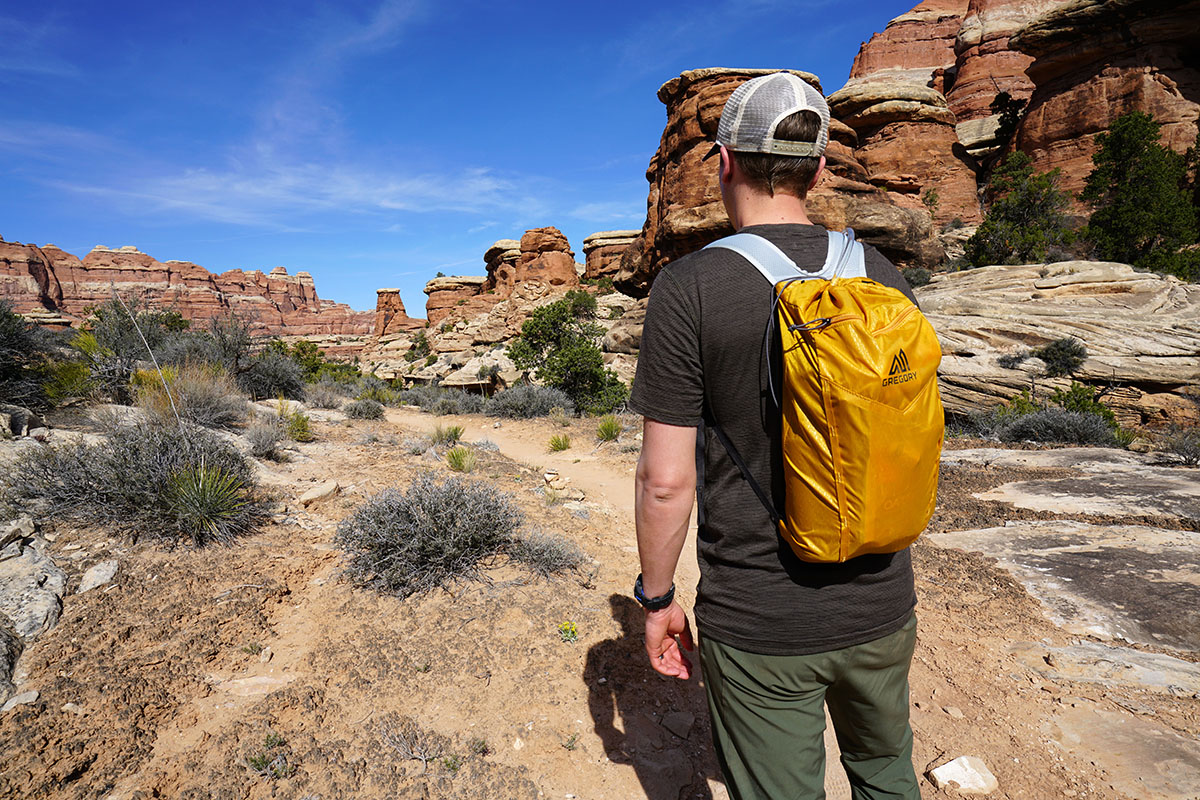 Ventilation
Our first trip out with the Paragon was backpacking in the dry heat of Utah's Canyonlands National Park. And as with most packs in this lightweight category, the pack left us with sweaty shoulders, backs, and hips. Gregory did trim away sections of foam in the backpanel and shoulder straps, but there simply isn't enough room to truly encourage much airflow (this often requires a suspended mesh panel like on the Osprey Atmos AG). On a follow-up trip in the cool Pacific Northwest, this was much less of an issue, but overall we find the Paragon's ventilation to be average.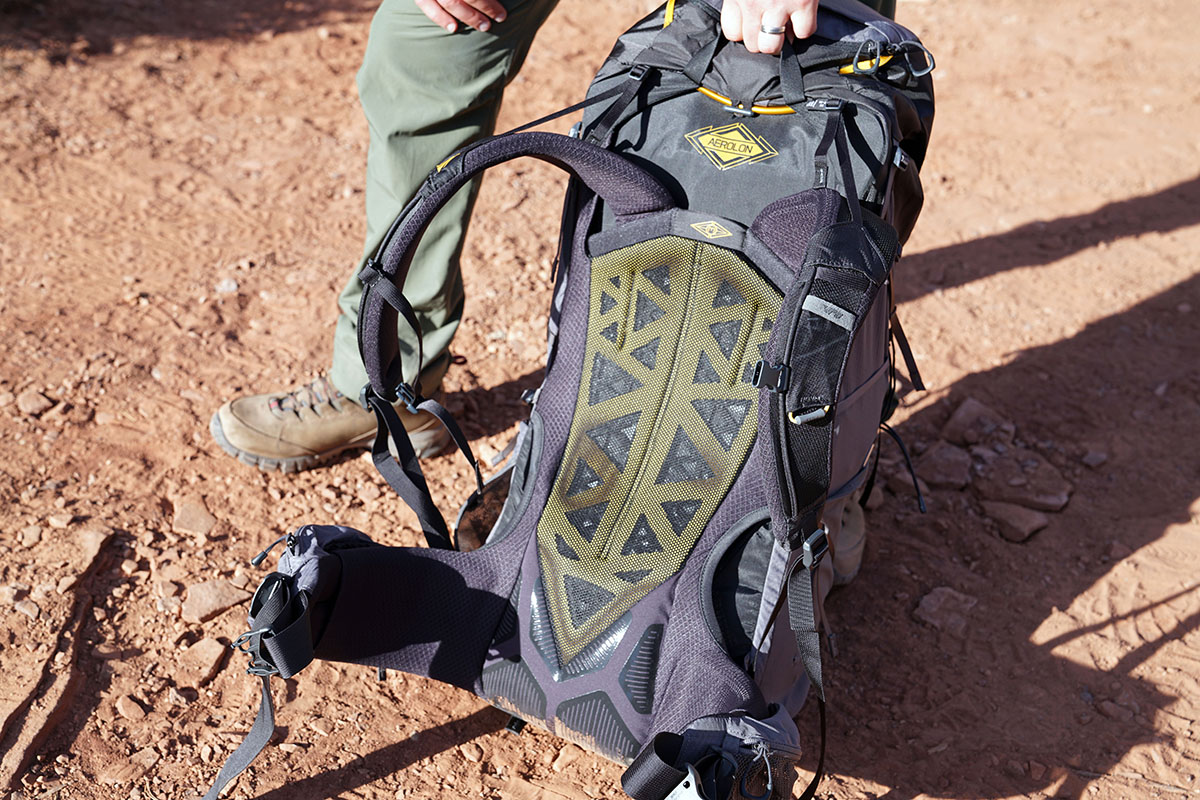 Weather Protection
A surprise inclusion to the Gregory Paragon 58 pack is a built-in rain cover. Tucked away in a dedicated pocket behind the large front mesh pocket, the bright yellow rainfly is quick and easy to deploy and fits snugly around the loaded down pack. The cover is a great feature for Pacific Northwesterners like ourselves or those that get out in the wet, and makes the Paragon an even better value overall (a typical pack rain cover is $25 or more). For those that don't need the cover, you can leave it behind and use the zippered pocket for additional storage.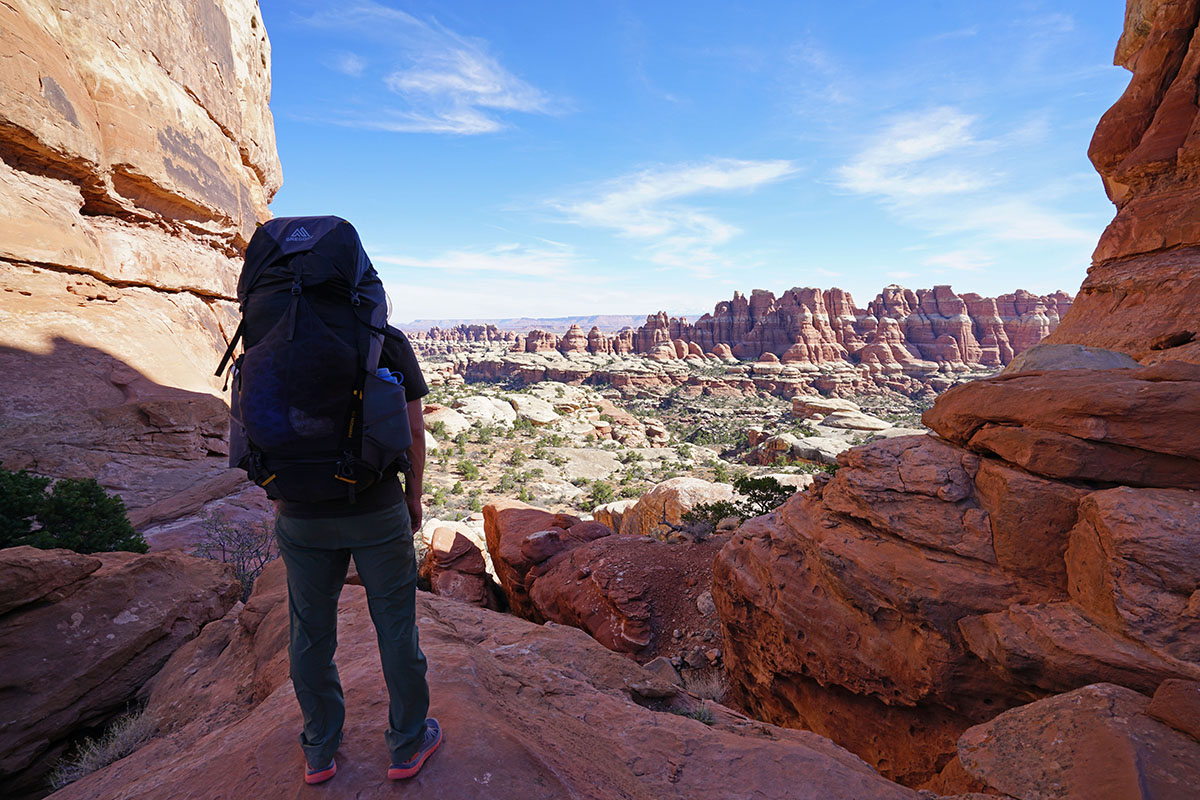 Durability
In almost all facets, the Paragon has good durability among lightweight packs. The material along the body mixes weight and toughness with a 210D x 100-denier ripstop nylon that has held up well through our trips so far. Packs with similarly thick fabrics—like Gregory's own Baltoro 65 that also uses 210-denier nylon on its body—have solid track records for long lifespans.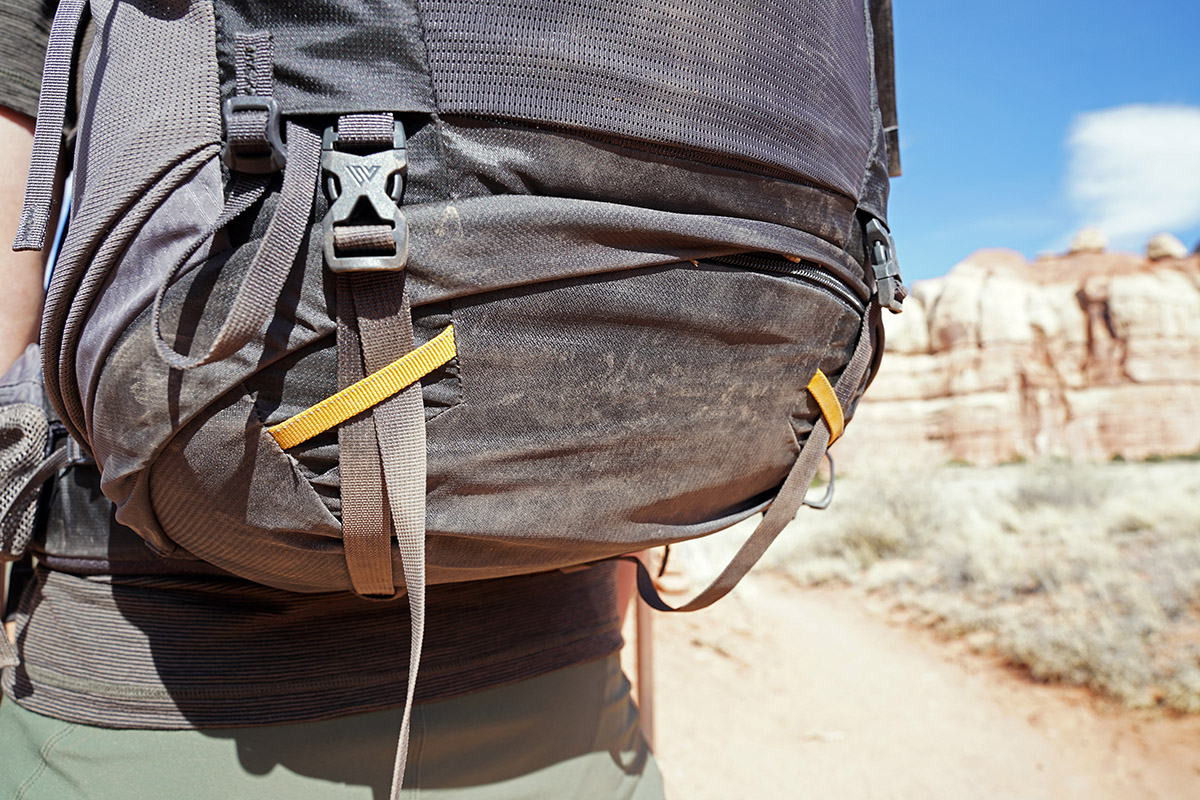 One notable area of vulnerability, however, is the side mesh pockets. The thin mesh used here is susceptible to tears, and we wound up with a hole on our very first backpacking trip (others have reported similar issues). To be fair, this was through the Canyon Country in Utah, but the other backpacking packs we've taken on similar routes have fared much better. At the moment, the rip is more cosmetic than a problem with the functionality, but we advise taking a little extra care when bushwacking or squeezing between rock walls. And we hope Gregory beefs up the mesh a bit on future versions.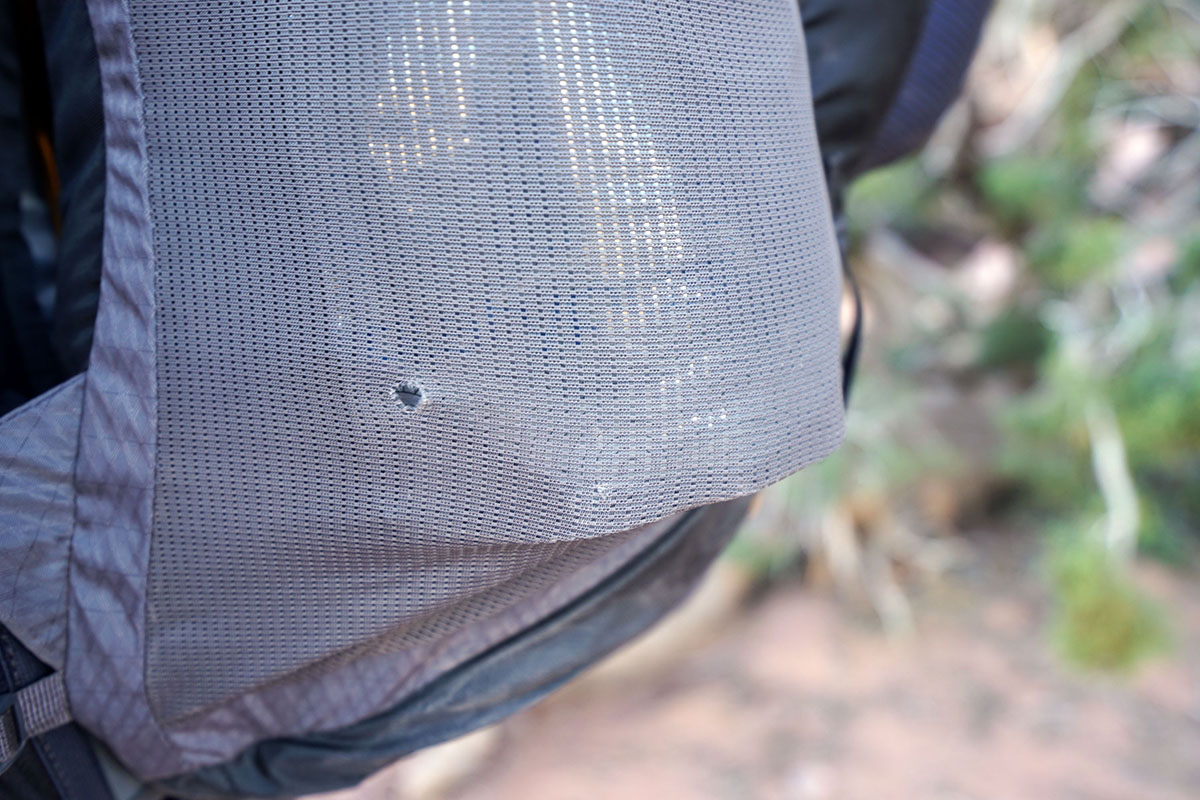 Other Capacities of the Gregory Paragon
For this review, we took the Paragon 58 into Utah's Canyon Country, and Gregory makes the same pack in 38, 48, and 68-liter capacities. As we touched on above, we maxed out the 58-liter Paragon's comfort during its testing, so those going on extended trips or to remote areas with infrequent access to water will likely prefer the Gregory Paragon 68 that's rated for up to 50 pounds ($250; 3 pounds 10.1 ounces). For those who don't need the extra room, the Paragon 38 ($160; 3 pounds) is a great match for long day hikes or short ultralight overnights, while the Paragon 48 appeals most to weight-conscious backpackers willing to pack light ($180; 3 pounds 3.2 ounces). With so many options in the Paragon lineup, most backpackers should be able to find a pack that fits the needs of just about any trip.

Women's-Specific Gregory Maven 55
The Paragon is a men's pack, but Gregory makes a women's-specific counterpart called the Maven that comes in similar capacities: 35, 45, 55, and 65 liters. Compared to the Paragon 58, the Maven 55 costs the same at $230 but comes in a few ounces lighter at 3 pounds 5.9 ounces for a small/medium. Otherwise, the two packs share an almost identical build, including the removable Sidekick daypack, ample organization, and good durability. The only discernible differences are in the pack's fit and sizing, with varying torso and waist measurements, along with varying colorways.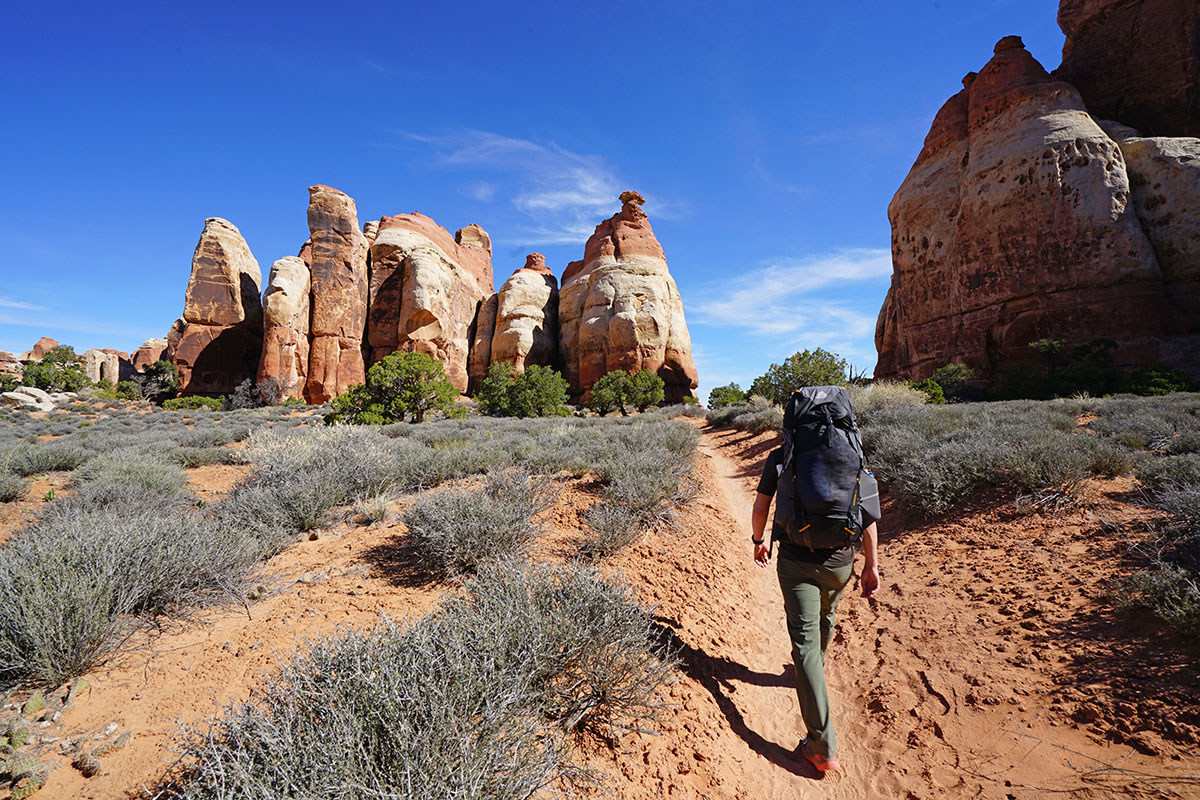 What We Like
A great overnight or weekend pack.
Lightweight but not compromised in carrying comfort and features.
Good overall organization and durability.
Easy to adjust and dial in the fit.
 
What We Don't
There are more comfortable packs in this price range (they weigh more, however).
The Sidekick hydration sleeve isn't very comfortable as a daypack.
The side mesh pockets are made with a very thin mesh that we managed to tear on our first trip out.

Comparison Table

The Competition
Many backpacking packs we test get stacked up in some way to Osprey's very popular Atmos AG. To start, the Osprey clearly is the more luxurious option: it can comfortably haul a bit more weight (we've been happy with the Atmos up to 45 pounds), has more exterior storage and noticeably better ventilation, and its materials have a higher-end and more durable feel (it uses a mix of 100- and 630-denier nylon on the body). Where the Paragon has the edge is a 1-pound weight savings and $40-lower price tag. Backpackers who get out a lot and occasionally needs to haul a heavy load probably will prefer the Atmos as the better all-around pack, but the Paragon meets our weekend needs at a lower weight and friendlier price.
An interesting budget option to the Paragon is REI Co-op's $199 Flash 55. The Flash was updated for 2019, clocks in almost a pound lighter at 2 pounds 10 ounces, and maxes out at 30 pounds, putting it squarely in the fast-and-light category (although we carried 35 pounds on a recent trip into the Grand Canyon and it did just fine). Feature-wise, the two packs have their organizational strengths: the Flash can be stripped of its top lid and other accessories to shave significant weight, but the Gregory comes with a rain cover and the option to adjust the torso and hipbelt. In truth, both are solid options for the majority of overnight and weekend backpackers, and a final decision should come down to features, price, and how much weight you plan to carry.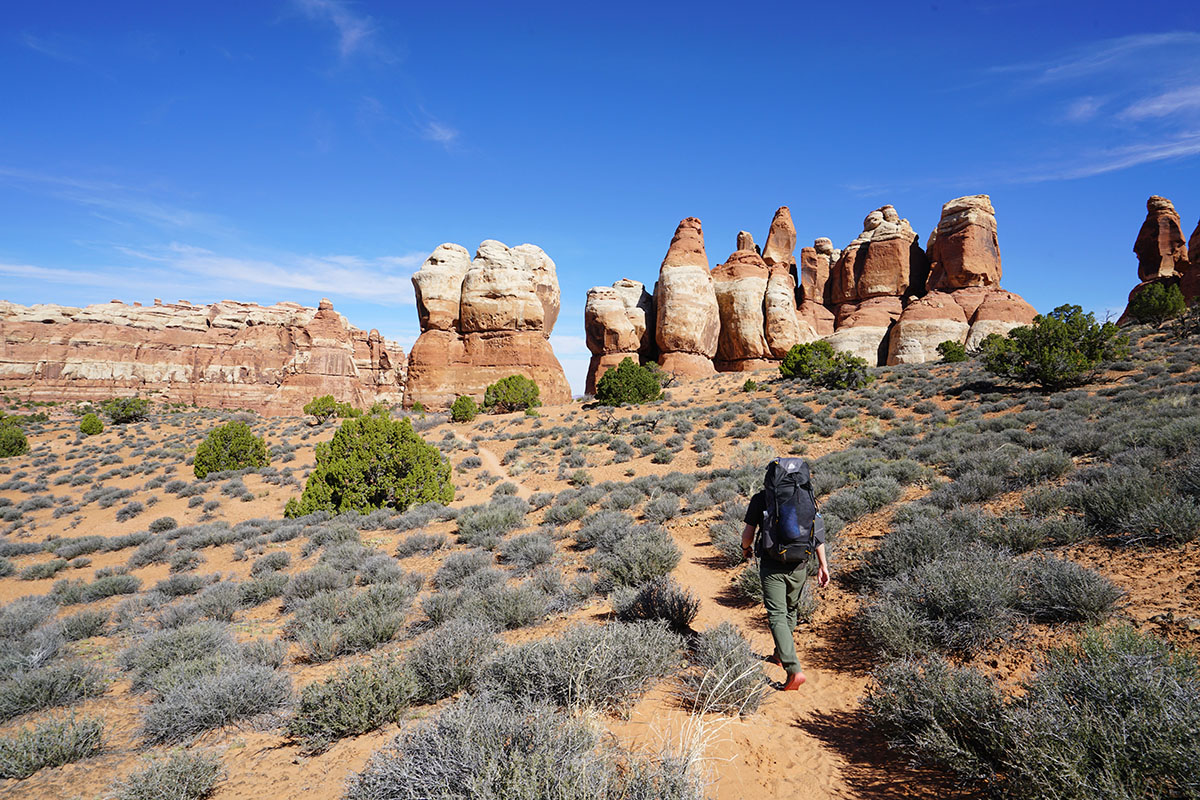 New for 2019, Osprey's Rook 65 is nearly identical in weight as the Paragon (3 pounds 8.5 ounces) but undercuts it significantly in price at $165. At first, we had high hopes for a new budget pack from such a reputable brand, but after shouldering the Rook for four days in the Grand Canyon, our tester came away unimpressed. Simply put, the Osprey lacks in overall carrying comfort, organization options, and the fit and finish of the Paragon (for more, see our in-depth Rook 65 review). Those on a strict budget might find what they need in the Rook, but for the same weight and a more well-rounded build, we recommend spending up for the Paragon.
Perhaps the closest competitor to the Paragon is The North Face's Banchee. Offered in 50- and 65-liter designs, the Banchee, like the Paragon, combines a sub-4-pound weight with enough features and comfort to please most weekend backpackers. Their designs are similar with a top-loader style, but the Banchee has two extra zippered pockets along the front and doesn't include a rain cover or the second side compression straps. The Paragon also makes it easier to really customize the fit—especially with the adaptable hipbelt—and we find the large mesh pocket to be more convenient for storage. Both are solid packs, but the detail work on the Paragon at a similar weight gives it the edge over the Banchee.
If you're thinking about buying gear that we've reviewed on Switchback Travel, you can help support us in the process. Just click on any of the seller links above, and if you make a purchase, we receive a small percentage of the transaction. The cost of the product is the same to you but this helps us continue to test and write about outdoor gear. Thanks and we appreciate your support!
Depending on the seller, most products ship free in the United States on orders of $50 or more. International shipping availability and rates vary by seller. The pricing information on this page is updated hourly but we are not responsible for inaccuracies.
Learn More About Outdoor Gear