Osprey Rook 65
Price: $165
Weight: 3 lbs. 8.5 oz.
Fabric: Polyester (600D & 1,000D)
Capacities: 50, 65L
What we like: An affordable and impressively durable multi-day pack from one of the top brands in the business.
What we don't: Lacking in comfort, features, and organization.
See the Osprey Rook 65  See the Women's Osprey Renn 65
At $165 for the 65-liter version, Osprey's Rook is their most affordable multi-day offering to date, coming in around $100 cheaper than much of the competition. Eager to put it to the test, we took this budget-friendly pack on a challenging four-day trek into the Grand Canyon. In the end, we found that the drop in cost also translated to a drop in performance: with a heavy load, the Rook's stiff padding and lack of features detracted from its overall functionality and comfort. Below we break down our experiences with the Rook 65. To see how it stacks up to the competition, see our article on the best backpacking packs. 
 
---
Table of Contents
---

Performance
Carrying Comfort
The Osprey Rook 65 is a budget-oriented pack that lacks the comfort and padding of more premium models. Most noticeably, the padding on the shoulder straps and hipbelt is fairly thin and feels cheap compared to pricier packs. On our trip into the Grand Canyon, the stiff padding was borderline uncomfortable under a heavy load including four days' worth of gear and food. Other members of our group were testing more expensive packs including Osprey's own Atmos and Aura AG, both of which easily outperformed the Rook in carrying comfort. All told, the Rook should be fine for short outings with lighter loads, but for long trips with a heavy pack, we'd spend up for a more capable model.

Weight
The Osprey Rook 65 comes in at 3 pounds 8.5 ounces, which is very respectable given the pack's low price ($165) and good overall durability (more on this below). In my opinion, this is what sets the Rook apart from its budget-friendly competition. For comparison, the Kelty Coyote 65 is around the same price at $160 but clocks in significantly heavier at 4 pounds 10 ounces and is less durable. There are lighter and more feature-rich packs on the market—including REI's Flash 55 (2 lbs. 10 oz.)—but they come with a bump in price. In the same weight class, Gregory's Zulu 65 (3 lbs. 11.3 oz.) and Paragon 58 (3 lbs. 9.3 oz.) both will cost you a significant $65 more. The bottom line: in terms of its price for the weight, the Rook 65 is pretty darn impressive, especially considering you're getting a pack from one of the best brands in the business.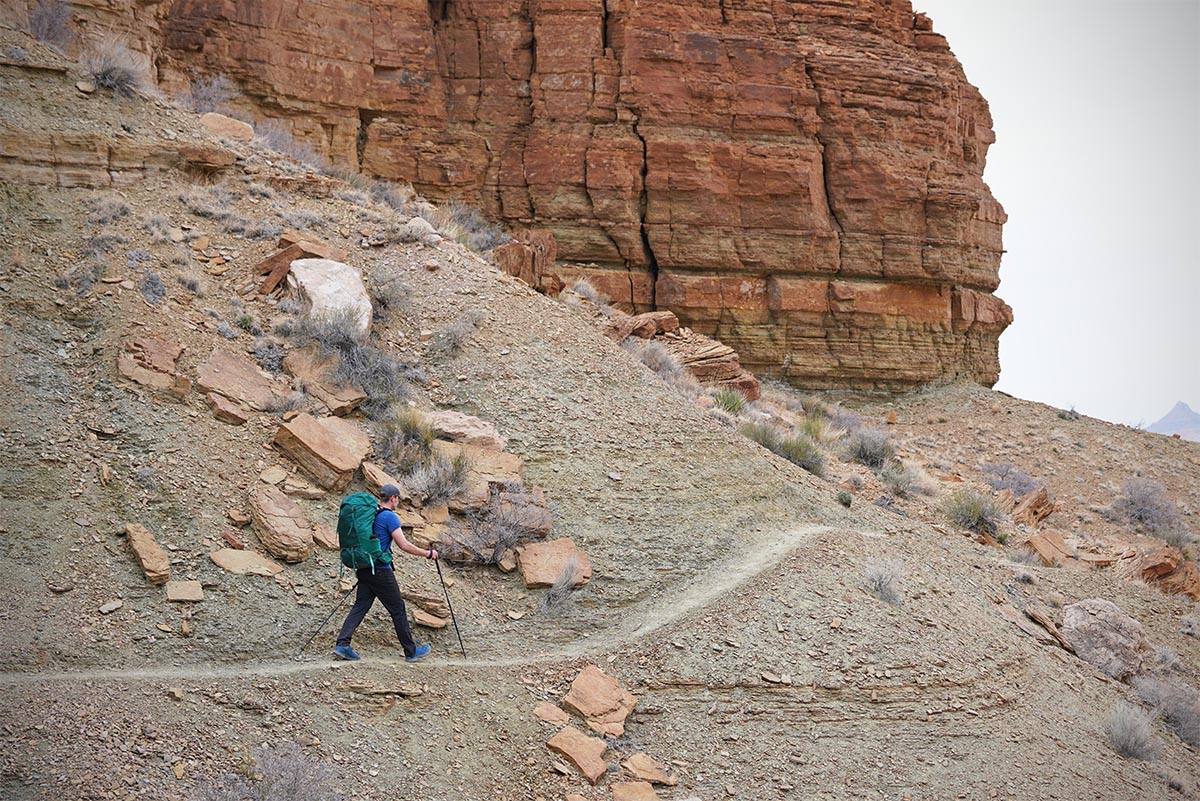 Organization
Given its budget slant, the Osprey Rook 65 is mostly bereft of features and lacks the organizational components of much of its competition. The most notable omission is a front shove-it pocket (the large pocket on the outside of the pack), which is a feature we really value for quickly stuffing or accessing gear on the go. In fact, on the final days of our multi-day backpacking trip, I had to revert to storing trash on the inside of the bag, which is far from optimal. Even at the budget end of the spectrum, most modern packs include some form of front storage and I was disappointed that Osprey chose to leave it out of the Rook's design. That said, the Rook is compatible with Osprey's Daylite daypack, which costs $60 and adds an additional 13 liters onto the front of the pack. While this is a unique solution to the lack of front storage, we don't think the additional cost and weight (1 lb. 1.4 oz.) are worth it.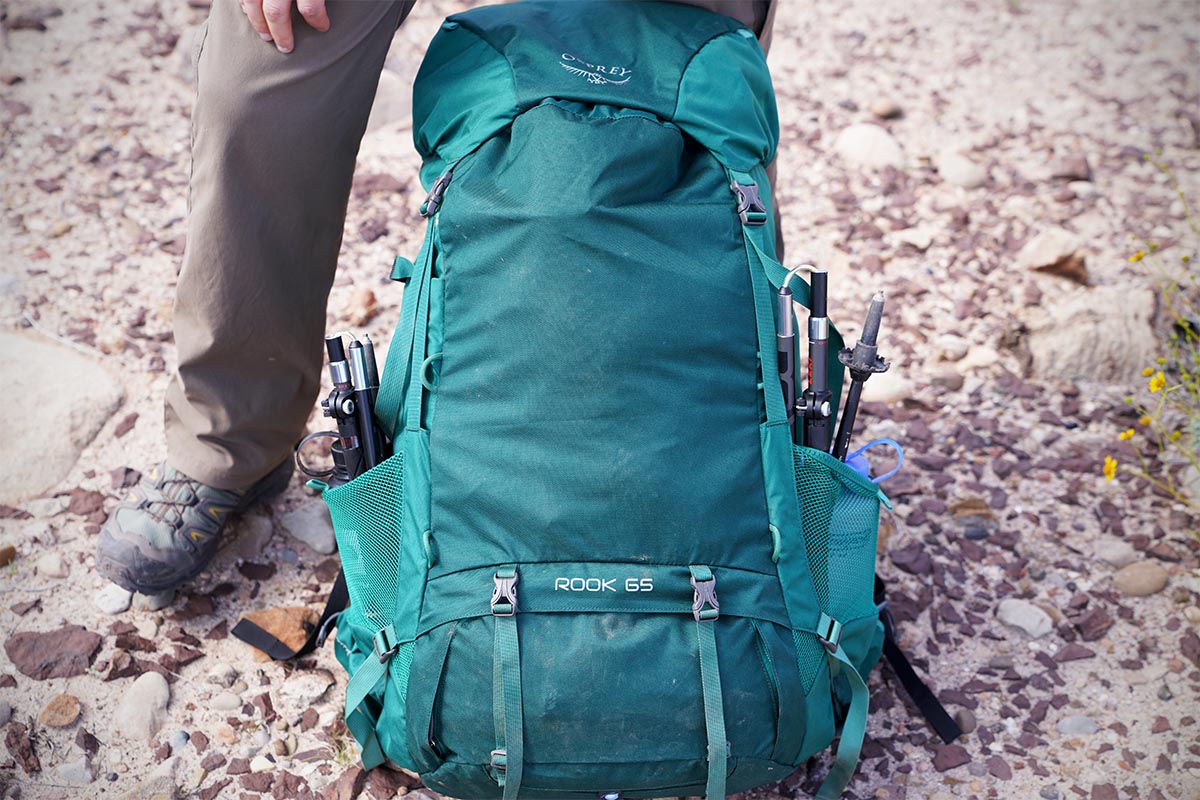 Unfortunately, the rest of the pack's layout was equally unimpressive. The large top lid contains a single zippered pocket with no separation, which makes it difficult to dig inside and find what you're looking for (I prefer dual zippers or some form of compartments to separate items). Additionally, the two water bottle holsters at the sides of the pack are awkwardly shaped—neither is ideal for a bottle and both are hard to access without help. The Osprey Rook 65 does include an internal hydration sleeve and built-in rain cover, but these features don't make up for the lack of overall organization.

Ventilation
Osprey's packs are known for their impressive ventilation, and the Rook 65 does a nice job in this regard. The raised mesh AirSpeed backpanel is sufficient for warm weather, essentially creating a pocket between the pack and your back for air to flow. That said, we still prefer Osprey's Anti-Gravity system that's found on the more expensive Atmos, which also extends around the inside of the hipbelt. The AirSpeed is a trimmed-down version, and the difference in performance was noticeable even in moderate, 50-degree weather. But at this price point, ventilation was fine.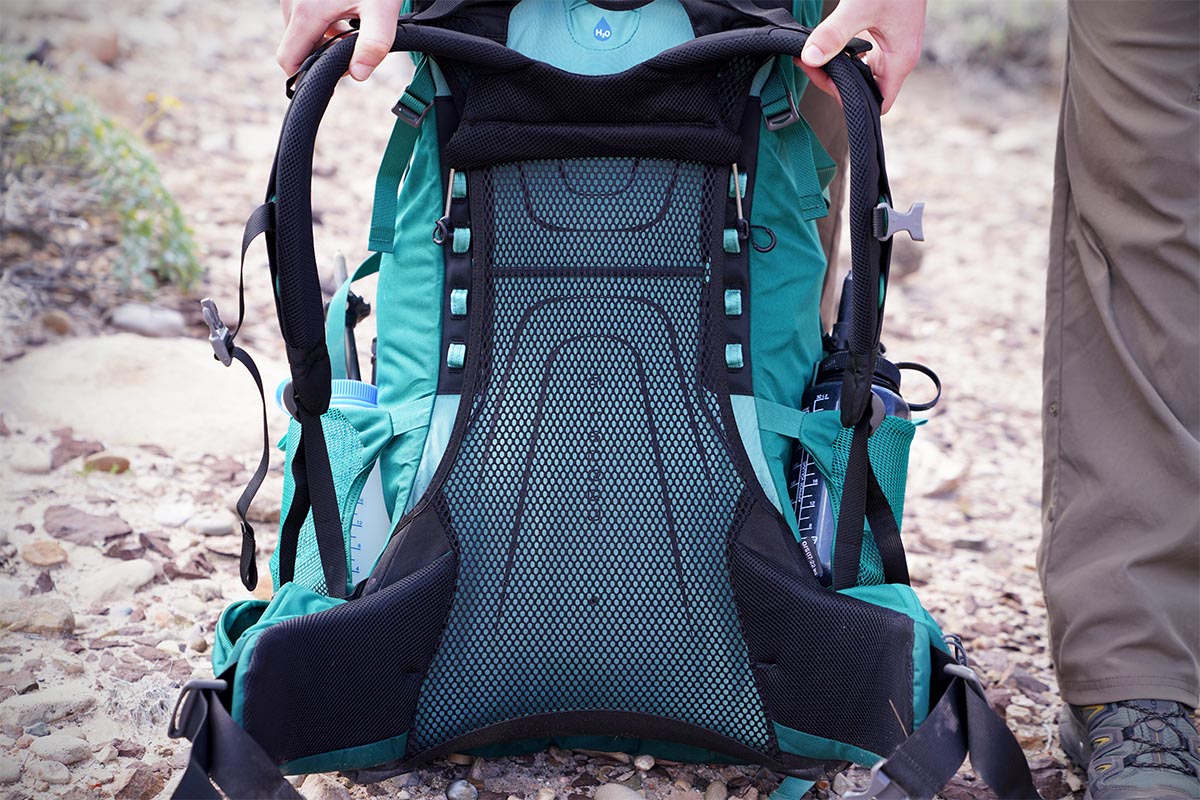 Build Quality and Durability
The Osprey Rook 65 is impressively durable for a sub-4-pound budget pack. In fact, with a burly 600-denier polyester body and 1,000-denier bottom, it's the thickest backpacking pack we've tested to date. So far, it has been tossed around the desert haphazardly and come away unscathed—there's barely a scratch on any part of the pack and it effectively shrugged off everything I threw at it. Further, while many modern backpacking packs feel more like thin and delicate nylon that requires extra care when setting them down or hiking through the forest, the Rook is reminiscent of the super-thick canvas packs of old. Again, this is particularly impressive given the low weight as most ultra-tough packs are noticeably heavier, and I expect the Rook to last many more seasons without issue.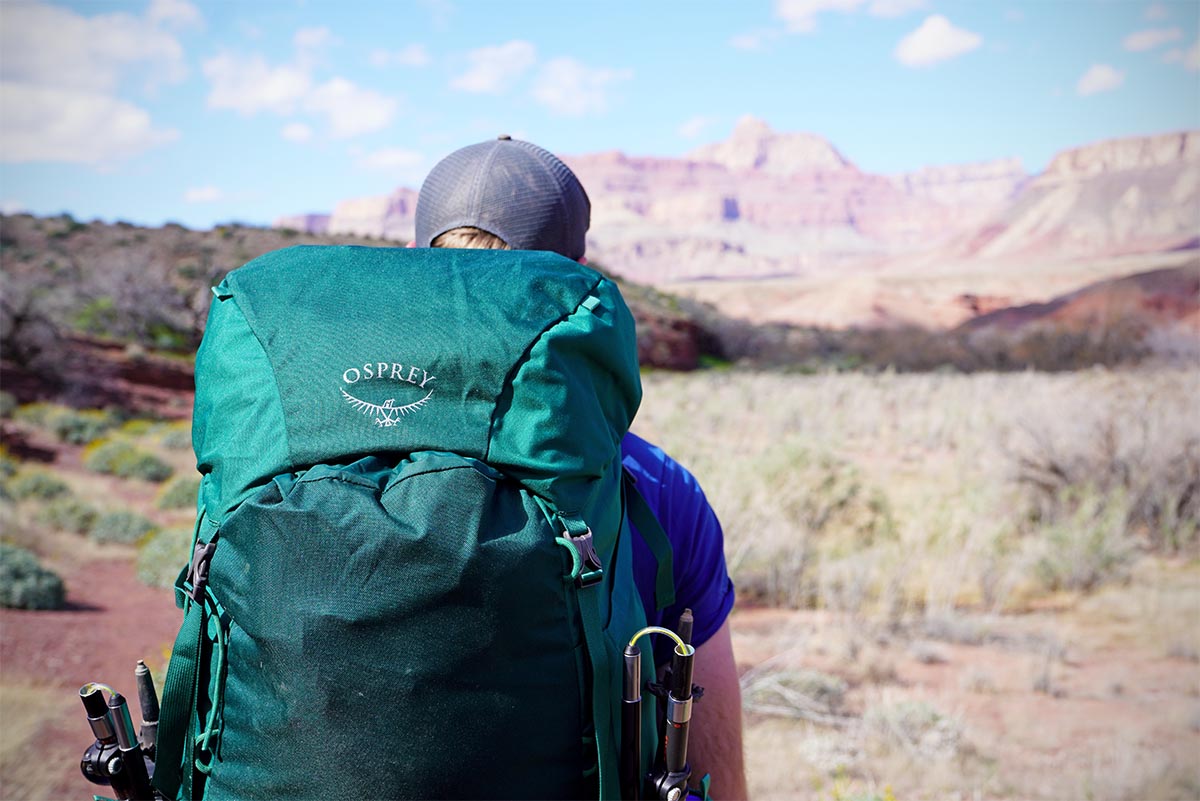 Fit and Sizing
The Osprey Rook 65 only comes in one size, but the pack does offer four levels of torso adjustability. To adjust, grab the vertical handlebars along the back of the pack, pull up or down, and slide them into the appropriate canvas eyelet. The system is a bit clunky and it took some finessing to nail the fit, but Velcro adjustments often are even tougher to tailor and most backpackers only adjust sizing once (or perhaps a second time if you lend it to a friend). In the end, the Osprey system works as intended and is a passable solution for fine-tuning the one-size-fits-all design.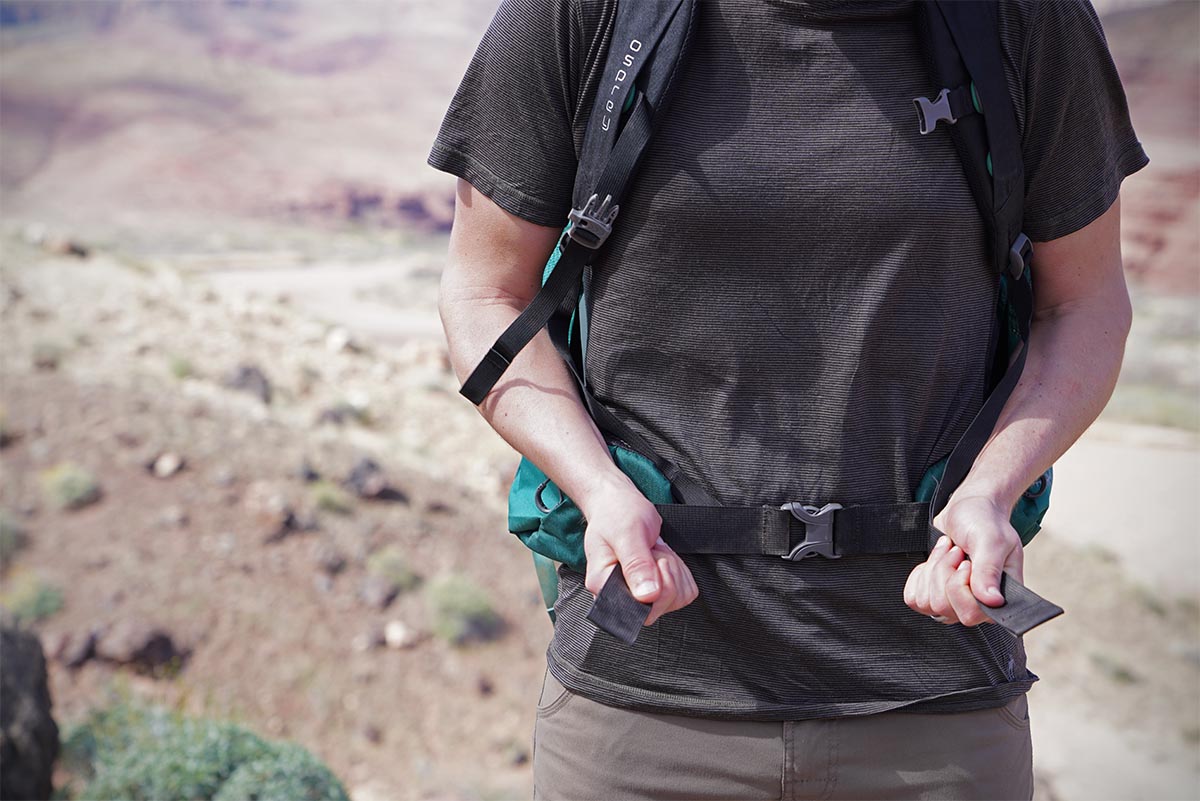 Other Capacity: Osprey Rook 50
In addition to the 65-liter pack tested here, Osprey also makes the Rook in a smaller 50-liter version. The Rook 50 is $10 cheaper at $155, slightly lighter at 3 pounds 7.8 ounces, and has a lower load limit of 25 to 35 pounds (the Rook is listed at 30 to 40 lbs.). All other features remain the same, including the AirSpeed backpanel design, zippered sleeping bag compartment, and integrated rain cover. But in the end, for just 0.7 ounces and $10 more, we think the Rook 65 is the more versatile size of the two, especially considering we didn't have much extra space with the higher-capacity pack on our trip. 

Women's-Specific Osprey Renn
In addition to the men's Rook, Osprey also offers the pack in a women's-specific design called the Renn, which costs the same and is available in both 65- and 50-liter options. Apart from colorways and a slight weight difference, the men's and women's packs are identical: both the Rook and Osprey Renn 65 feature a tensioned mesh backpanel, burly 600 x 1000-denier build, Daylite daypack compatibility, and built-in rain cover. We haven't had a chance to test the women's pack yet, but given the similarities, we imagine the two packs perform very similarly on the trail.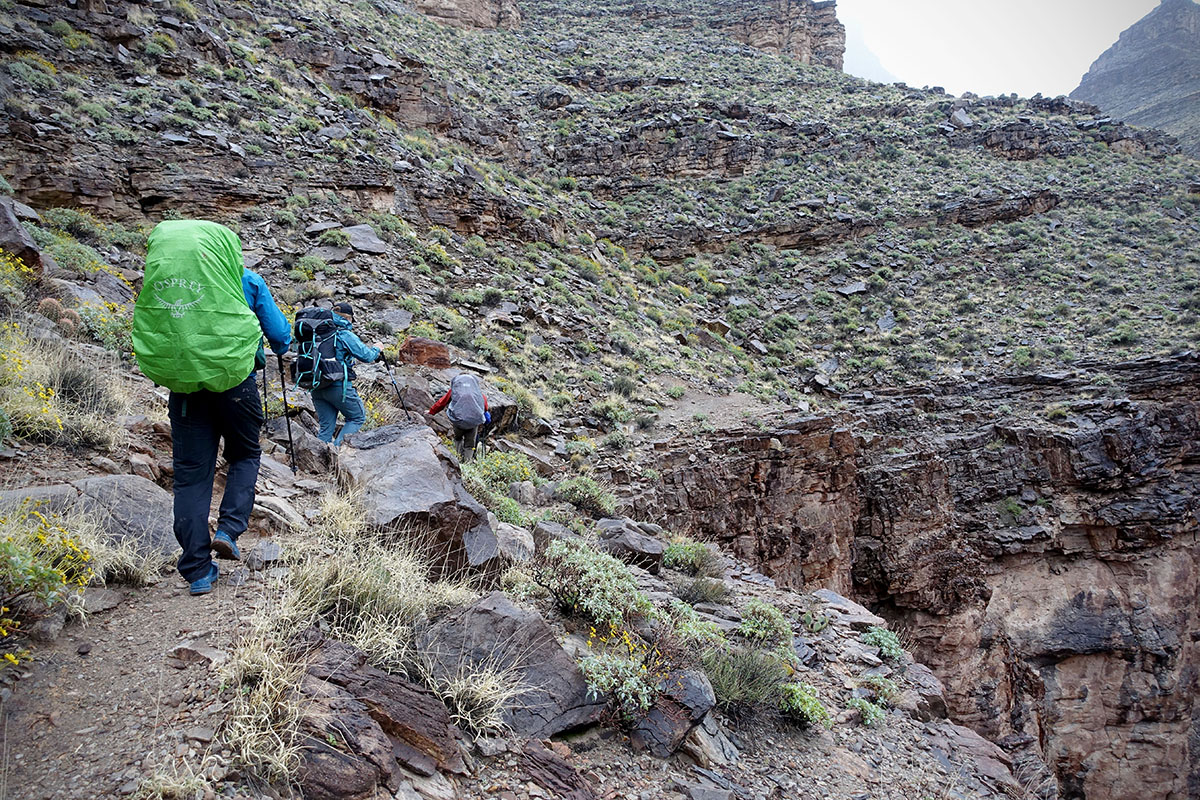 What We Like
At $165 and 3 pounds 8.5 ounces, the Osprey Rook is very competitive in both price and weight, especially from a top-tier brand. 
The pack is extremely durable. We spent the better part of a week hauling it around the desert and it's no worse for wear.
Torso length can be adjusted to fit a wide range of bodies.

What We Don't
Overall comfort is subpar, even for a budget option. If you plan on loading down your pack or taking lengthy trips, we would look elsewhere.
The Rook lacks a front-shove it pocket, which made it difficult to stuff and access gear on the go, and other organization is quite limited. 
Side water bottle pockets are awkwardly shaped and hard to access without help.
Only offered in one size.


Comparison Table
| Pack | Price | Weight | Fabric | Capacities | Access | Pockets |
| --- | --- | --- | --- | --- | --- | --- |
| Osprey Rook 65 | $165 | 3 lb. 8.5 oz. | Polyester (600D & 1000D) | 50, 65L | Top | 5 exterior |
| Kelty Coyote 65 | $160 | 4 lb. 10 oz. | Polyester (420D) | 65, 85, 105L | Top, front | 7 exterior |
| Gregory Stout 60 | $190 | 3 lb. 9 oz. | Nylon (210D & 420D) | 35, 45, 60, 70L | Top | 5 exterior |
| Osprey Atmos AG 65 | $270 | 4 lb. 9 oz. | Nylon (100D & 630D) | 50, 65L | Top | 8 exterior |
| Gregory Paragon 58 | $230 | 3 lb. 9.3 oz. | Nylon (100D & 210D) | 48, 58, 68L | Top, side | 6 exterior |
| REI Co-op Flash 55 | $199 | 2 lb. 10 oz. | Nylon (100D & 420D) | 45, 55L | Top | 9 exterior |

The Competition
Osprey's Rook 65 stands out in the backpacking pack market as a great value for its weight and durability. There aren't many standout competitors in the sub-$200 price range, but Kelty's Coyote 65 is an intriguing option for $5 less than the Osprey. Like the Rook, the Coyote targets entry-level backpackers and only is offered in one size, with the ability to adjust the waist, torso, and shoulders. However, the Coyote is heavier at 4 pounds 10 ounces and less robust with a 420-denier polyester body (compared to the Osprey's 600D). All that said, the Coyote includes helpful additions like a front shove-it pocket and front panel access. Both are good budget options, and the choice comes down to your preferences on weight versus features.
Gregory's large-capacity budget offering is their Stout 60. Priced at $190 and checking in at 3 pounds 9 ounces, the Stout offers a nice assortment of features including five exterior pockets and generous compression strap layout, boasts an adjustable suspension system to accommodate different torso sizes (it fits 16-21 in. torso lengths), and has a nicely padded hipbelt, backpanel, and shoulder straps (a bit more generous than the Rook). Unlike the Rook, the Gregory also features a front shove-it pocket for stuffing excess gear. Both packs are only offered in a single size, which can make it harder to dial in fit. But if you're willing to spend up a little, the Stout is a nicely appointed and more comfortable alternative to the Rook.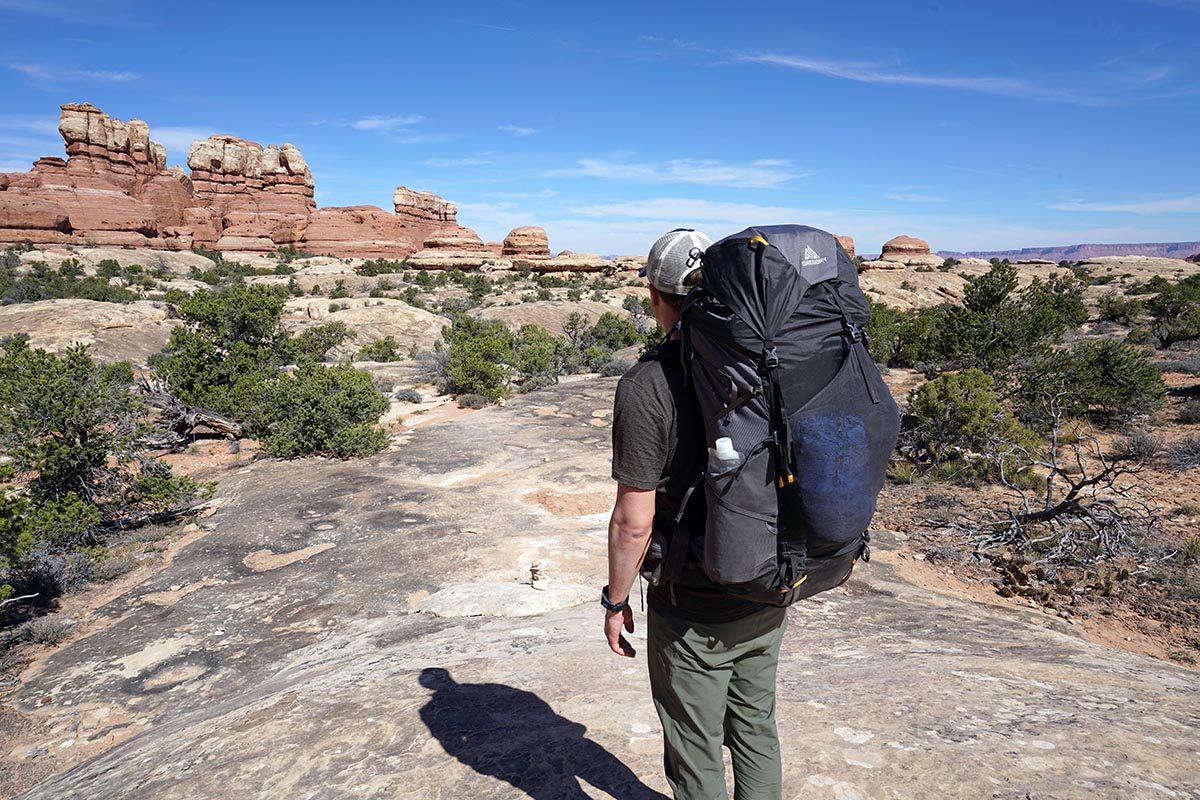 For more experienced backpackers or those willing to up the budget, Osprey's own Atmos AG 65 is our favorite overall pack this year. The $270 Atmos certainly isn't cheap, but the big bump in price gets you excellent back ventilation with Osprey's Anti-Gravity mesh backpanel, an easy-to-tailor fit, and superb on-trail comfort even with a heavy load (we've carried 45 pounds and up on more than one outing and it performs great). The Atmos does outweigh the Rook by a pound, which is significant, but its ventilation, features, and comfort are on a different level altogether (for more, see our in-depth Atmos review). Those looking to cut costs or shave weight might find what they need in the Rook, but the Atmos is a far better performer across the board.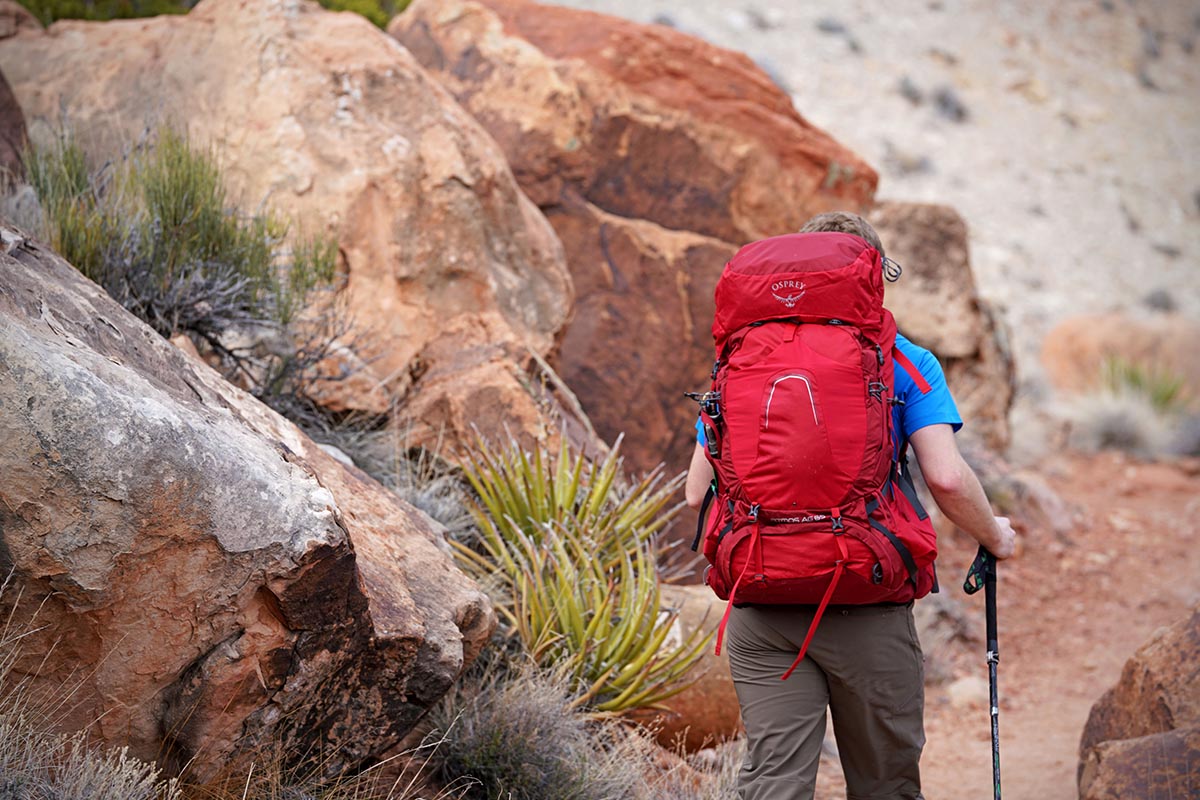 For $40 less than the Osprey Atmos, Gregory's Paragon 58 still offers a noticeable step up in performance from the Rook. You get a nearly identical weight as the Rook 65 at 3 pounds 9.3 ounces, but the Paragon wins out in most categories that matter including carrying comfort, organization, and features. It solves most of the issues we had with the Rook, including the addition of a front stuff pocket, functional water bottle storage, and two size options. For everyone but occasional backpackers on a budget, we would recommend spending up for the Paragon. 
Last but not least, we'll end with a fun comparison in the REI Co-op Flash 55. At $199, the Flash is one of the best values on the market with a low weight (2 lbs. 10 oz.), excellent build quality, and impressive carrying comfort. In addition, the REI is highly customizable: you can take off the lid, compression straps, and hipbelt and shoulder pockets to shave 7 more ounces. To be sure, the Flash is smaller than the Rook at 55 liters, much less durable at 100D/420D and therefore requires better care, and you don't get a built-in rain cover. But for just $34 more than the Osprey, you get a more modern and streamlined pack that should have you feeling better at the end of the day. For shorter trips and smaller loads, we'd take the Flash any day.
If you're thinking about buying gear that we've reviewed on Switchback Travel, you can help support us in the process. Just click on any of the seller links above, and if you make a purchase, we receive a small percentage of the transaction. The cost of the product is the same to you but this helps us continue to test and write about outdoor gear. Thanks and we appreciate your support!
Depending on the seller, most products ship free in the United States on orders of $50 or more. International shipping availability and rates vary by seller. The pricing information on this page is updated hourly but we are not responsible for inaccuracies.
Learn More About Backpacking