One of the few downsides in the industry-wide transition to internal-frame packs is ventilation. Enter the Atmos line from Osprey, and most recently, the Atmos AG pack. This bag has been designed from the ground up to keep your back dry without sacrificing the other things that we all love about the internal-frame design. After a number of backpacking trips, including multiday treks in hot weather in Utah, we've come away very impressed. Not only does the pack offer excellent ventilation, but it's a standout performer in nearly every category. Below are our thoughts on the Atmos AG's carrying comfort, weight, organization, ventilation, fit, and more. To see how the Atmos stacks up, see our article on the best backpacking packs.
 
Performance
Carrying Comfort
When I slid on the Osprey Atmos AG for the first time, I was struck with how well it fit. The mesh backpanel and hipbelt naturally want to fold inwards, which means the pack practically hugs you. It makes a strong first impression, and we've found it to be very comfortable even after logging serious miles on a number of overnight and extended trips. Even though the sculpted backpanel does pull the load a little bit away from you, we never felt any disconnect, nor the sensation of the weight pulling us backwards.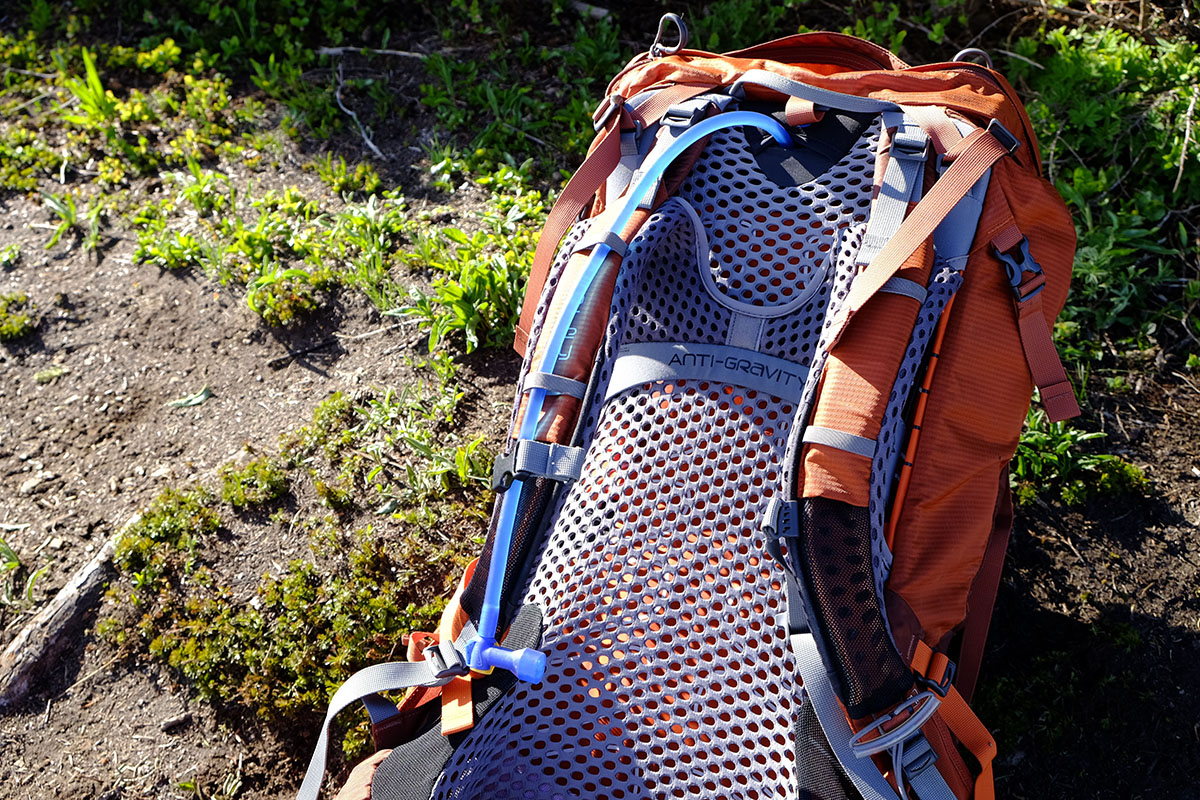 To be clear, the Atmos AG is not our absolute favorite pack for carrying a heavy load (45-plus pounds)—that honor is reserved for options like the Gregory Baltoro, REI Traverse 70, and Osprey's own Aether AG. But the Atmos holds its own on multiday treks. Even on trips where we've brought along extra water or items for gear testing, it's been decently comfortable. This is all despite using a suspended mesh hipbelt design rather than thick foam—a testament to the Anti-Gravity technology.
 
Weight
At 4 pounds 9 ounces in a medium frame, the Atmos AG is competitively lightweight for what we consider a luxury pack. Construction and features vary widely even among backpacks of a similar capacity: on one end of the spectrum are the ultralights (around 2-3 pounds) that only have a couple pockets and are made with very thin materials; and at the other are traditionalist packs with premium features and durable fabrics at the cost of weights that creep towards 5 pounds. The Atmos AG falls towards the premium side, although at 4 pounds 9 ounces, it's not excessive (the very popular Osprey Aether 70 AG weighs 5 lbs. 3 oz.). For those looking to trim weight, you can leave behind the top lid and use the attached "FlapJacket" to cover the main compartment. In the end, considering how well it can carry a load exceeding 40 pounds, we feel the empty weight is completely reasonable.
 
Organization
If organization is a priority, the Atmos AG is well appointed with plenty of pockets, lash points, and gear loops. To start, you get the standard array of 2 zippered pockets in the top lid, 2 mesh water bottle holders, a sleeve for a water reservoir, and a very large mesh stuff-it pocket along the front of the pack.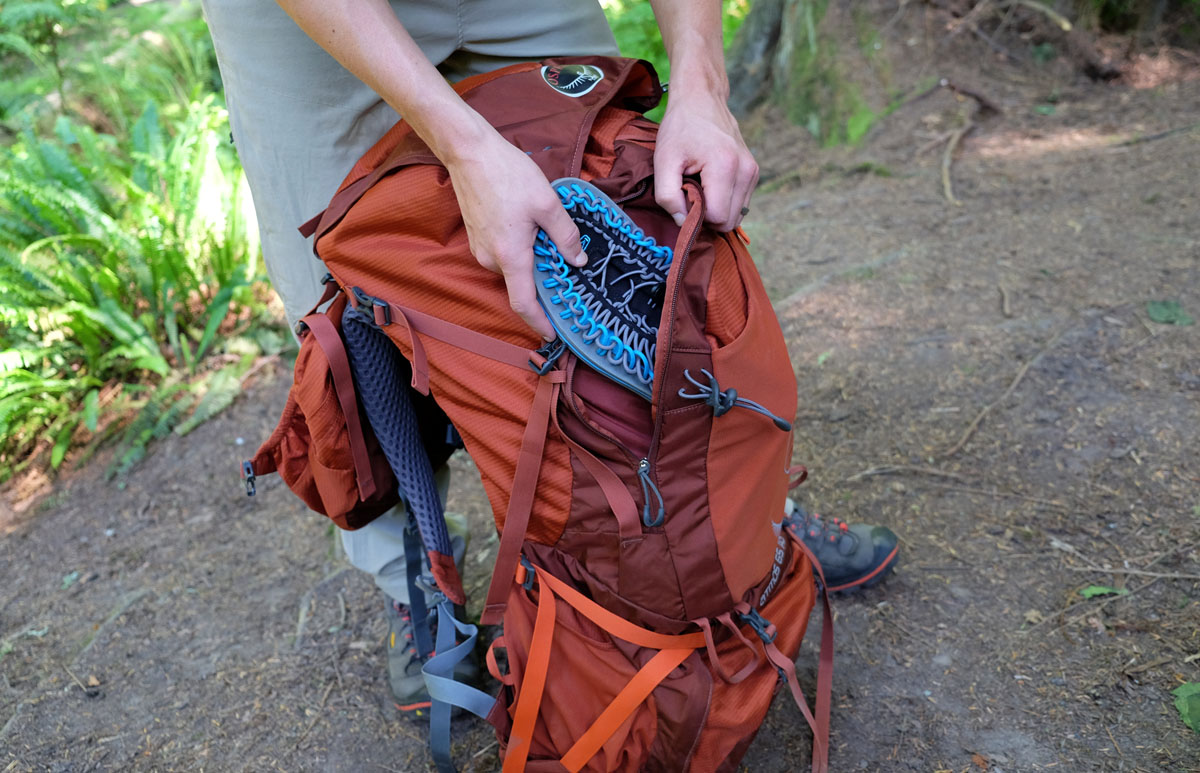 The features we've found most convenient are the zippered pockets that flank the large mesh front pocket—they're quite large and can swallow bulky items like a water filter or extra fuel canisters—and the 2 hipbelt pockets. These too are on the big side and should easily accommodate a modern smartphone in a case (we were even able to fit a point-and-shoot camera in its case).
One area for improvement would be a zippered access into the main compartment. The Atmos has a standard top loader design, which makes it a pain to dig through and find an item that's hidden deep inside, although the zippered sleeping bag compartment at the bottom helps some. Adding another zipper would tack on some ounces to the total weight, but we've come to appreciate the quick and easy access to the main compartment you get with this feature.
 
Ventilation
The big news here is along the back—one large suspended mesh panel covers the entire backpanel and hipbelt of the Atmos AG. Dubbed Anti-Gravity (hence the AG in the name), even the shoulder straps have the same open webbing. Simply put, we haven't worn a pack that encourages this much airflow. And expanding the concept to the hipbelt is seamless. If your number one consideration in buying a backpacking pack is ventilation, the Osprey Atmos AG is the one.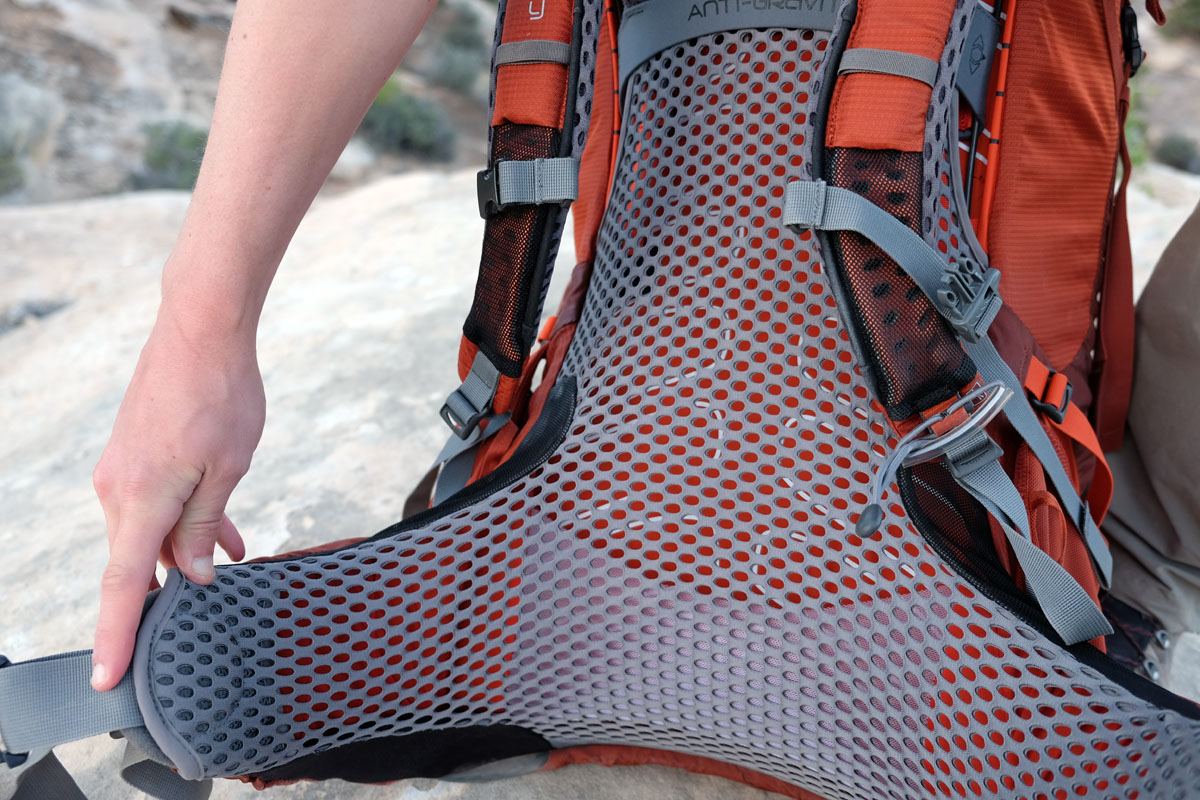 Build Quality and Durability
What takes the Atmos' ventilating design from merely good to great is the fact that it doesn't compromise the rest of the backpack. It's simply another quality Osprey item: the pack can haul a multi-day load in comfort, has thoughtful organization, and is made with durable materials that haven't shown any signs of excessive wear over extensive use. The curved backpanel, which creates the open space for air to reach your back, does cut into the main compartment a little, but it's still easy to fit large items like a standard bear canister inside.
 
Fit and Sizing
The Osprey Atmos is offered in three different sizes (small, medium, and large), and we've found it very easy to dial in a nice fit. As mentioned above, the bag conforms nicely to your back, and adjusting the shoulder straps is as simple as sliding them up and down along the backpanel. Additionally, the light foam padding along the hipbelt can be moved in or out to increase comfort. We had no issues sharing our medium-sized pack between two testers with 18 and 21-inch torsos.
 
Women's-Specific Osprey Aura 65
We tested the men's Atmos AG, but Osprey also makes the pack in a women's version, the Aura AG. Like the Atmos, the Aura comes in 50 and 65-liter capacities, but it offers a female-specific fit and different color options (for more, see our in-depth Aura AG review). Importantly, the two designs share the Anti-Gravity system and key features such as the pocket layout, high-quality fabrics, and attachment points for trekking poles and an ice axe.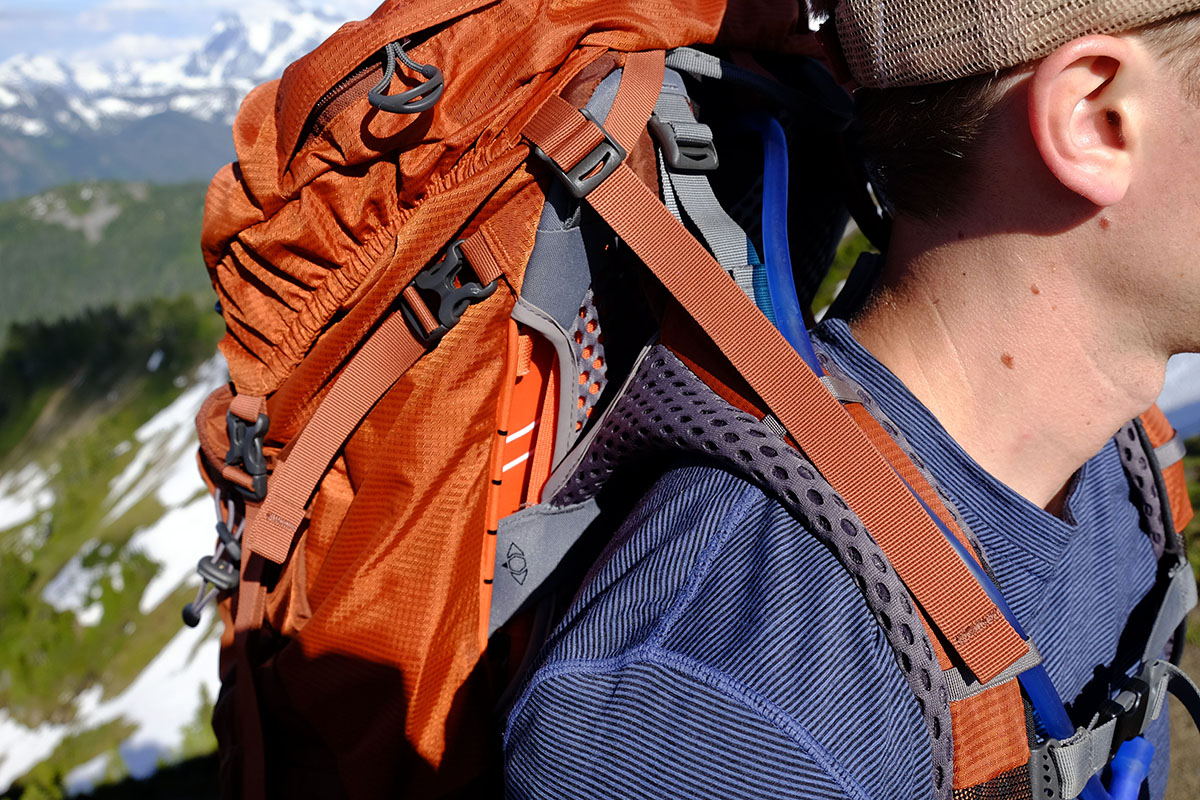 What We Like
A thoughtfully designed and well implemented ventilation system.
Solid carrying comfort, despite not relying on thick foam padding for support.
Good organization overall, with large pockets to divvy up gear.
High quality materials do a great job balancing weight and durability.

What We Don't
A zippered access to the main compartment would make it easy to grab items that aren't at the top or in the bottom sleeping bag compartment.
The pack has developed a noise around the hipbelt that is occasionally noticeable when on the go—it resembles a low-pitched groan.
 
Comparison Table
| Pack | Price | Weight | Fabric | Capacities | Access | Pockets |
| --- | --- | --- | --- | --- | --- | --- |
| Osprey Atmos AG 65 | $270 | 4 lb. 9 oz. | Nylon (100D x 630D) | 50, 65L | Top | 8 exterior |
| REI Co-op Traverse 70 | $249 | 4 lb. 14 oz. | Nylon (200D & 420D) | 35, 70L | Top, front | 11 exterior |
| Gregory Baltoro 75 | $330 | 4 lb. 15.4 oz. | Nylon (210D) | 65, 75, 85L | Top, front | 10 exterior |
| Osprey Aether AG 70 | $310 | 5 lb. 3.4 oz. | Nylon (210D & 500D) | 60, 70, 85L | Top, front | 7 exterior |
| Arc'teryx Bora AR 63 | $549 | 5 lb. 0 oz. | Nylon (420D & 630D) | 50, 63L | Top, side | 6 exterior |

The Competition
As a high-capacity ventilation pack, the Atmos AG stands alone as our top pick. But you do pay a slight premium for the Anti-Gravity suspension, and there are a number of other excellent backpacking models to consider. REI's Traverse 70 has long been a favorite of ours, and their updated 2018 model uses a creative compression system for keeping the load close to your back (see our in-depth review here). It's cheaper ($249) than the $270 Atmos, but its backpanel isn't as comfortable, and it weighs an extra 5 ounces. The other part of the decision may come down to how highly you prioritize ventilation—the Traverse falls a little short of the Atmos in that respect.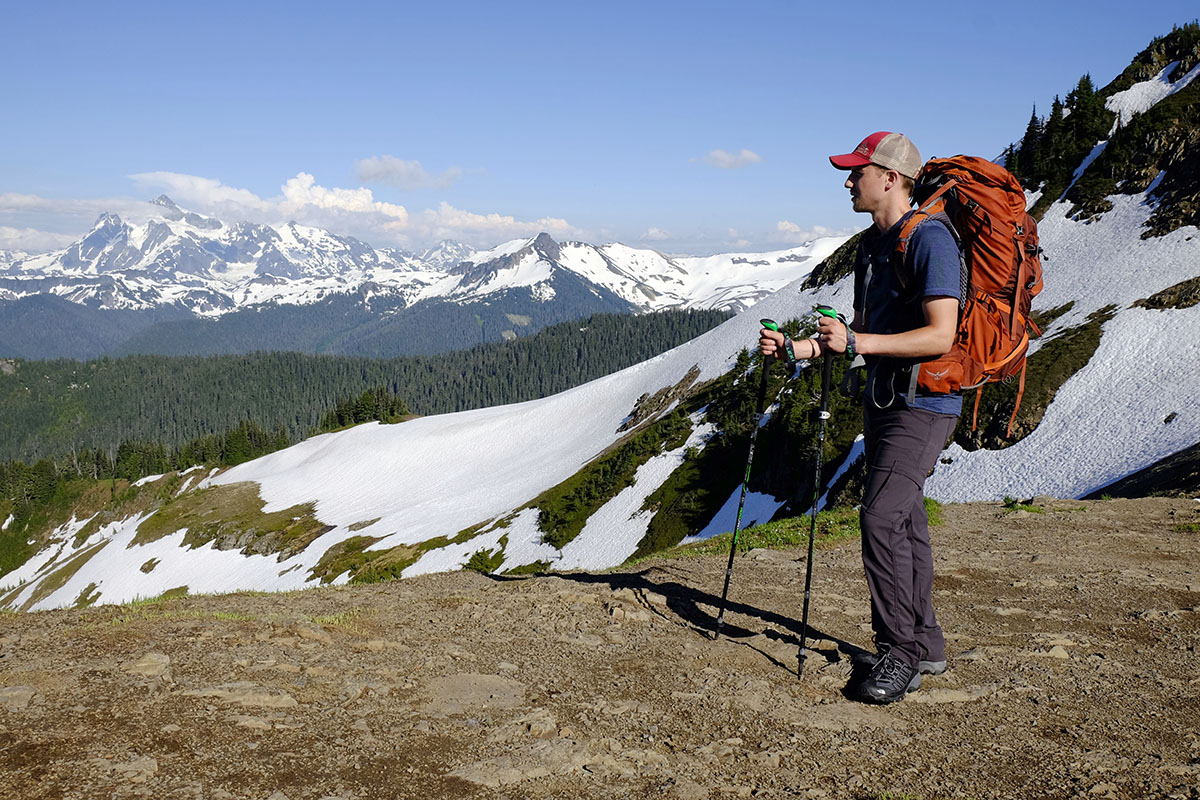 For carrying a very heavy load, the Gregory Baltoro as well as the Osprey Aether AG 70 are slightly better options, and both offer a zippered access to the main compartment (a notable omission with the Atmos AG). We love all 3 of these packs—it shouldn't come as surprise that they're near the top of our list of best backpacking packs—and it's hard to separate them. To keep it simple, we would break them down as follows: for comfort above all else, get the Baltoro; the Aether is for backpackers carrying a lot of weight or light mountaineering; and the Atmos gets the nod as the best all-around option for most overnight and multi-day trips.
If you're thinking about buying gear that we've reviewed on Switchback Travel, you can help support us in the process. Just click on any of the seller links above, and if you make a purchase, we receive a small percentage of the transaction. The cost of the product is the same to you but this helps us continue to test and write about outdoor gear. Thanks and we appreciate your support!
Depending on the seller, most products ship free in the United States on orders of $50 or more. International shipping availability and rates vary by seller. The pricing information on this page is updated hourly but we are not responsible for inaccuracies.
Learn More About Outdoor Gear