Gregory's flagship men's Baltoro and women's Deva packs are long-time favorites for those carrying serious weight, and the latest versions carry the torch. We recently took the 75-liter Baltoro to Patagonia for testing and were pleased with its stable feel and premium construction. Gregory did drop features like the built-in Sidekick daypack, rain cover, and pivoting hipbelt with the 2022 model, and it's still pretty hefty and overbuilt for those who want to travel fast and light. But if you value the extra cushioning, organization, and support, the Baltoro remains one of the best and most capable heavy haulers on the market. Below we outline our experiences with the Baltoro 75. To see how it stacks up to the competition, see our article on the best backpacking packs.
 
---
Table of Contents
---

Performance
Carrying Comfort
Heavy-hauling comfort has always been a defining characteristic of the Gregory Baltoro, and the latest model continues the tradition. With my 75-liter pack loaded down with all of my normal backpacking gear plus extras like a climbing helmet and plenty of layers for the fickle Patagonian "summer," I immediately was impressed with how well the pack supported and distributed the load. The full-perimeter metal frame and compression straps provide a sturdy structure, and the padding along the hipbelt and shoulder harness is noticeably high-quality, balancing softness with enough support for long days on the trail. For reference, I was pushing 40+ pounds at times on our backpacking trip, but the Baltoro handled the weight incredibly well with no excess movement even on the uneven, rocky traverse to our campsite along Lago Eléctrico.
In addition to the premium cushioning and strong build, the Baltoro's pivoting shoulder straps play an important role in carrying comfort. This allows the pack to move with you while still sitting close to your body, which was especially helpful on extended climbs and when moving quickly over technical terrain. Unlike the past-generation model, the latest pack's hipbelt no longer rotates, but it still flexes nicely and has a more body-hugging shape that doesn't rub against the lumbar or hips. It's also more customizable than the previous design with Velcro that allows you to shift the placement of the padding (the prior model's was fixed in place). It's a similar story at the shoulder straps: Simply separate the backpanel and slide it up or down to resecure. In the end, the system felt reminiscent of Gregory's mid-range Paragon and greatly improved the fit process.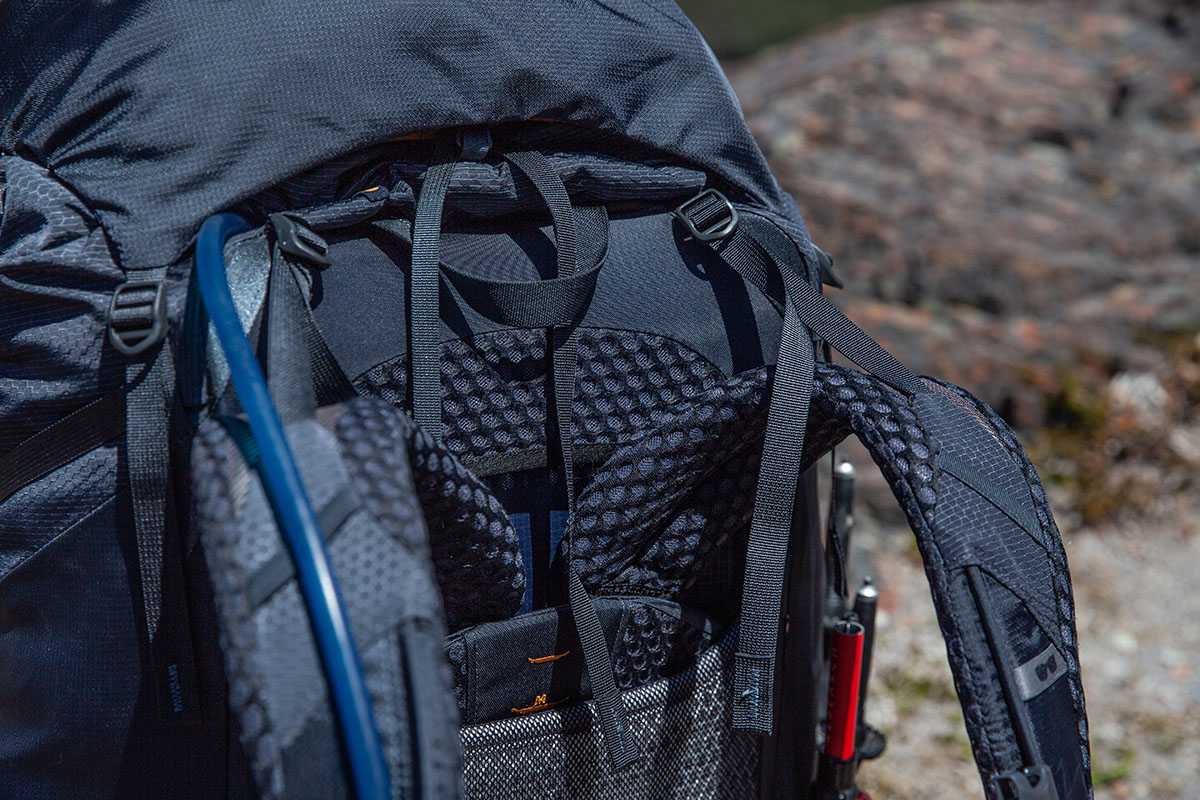 Weight
My past-generation Baltoro 75 checked in at 4 pounds 15.4 ounces, and the latest model is similarly hefty at 4 pounds 15.7 ounces for a size medium. Stacked up to its direct competitors, this is about average: Osprey's Aether 65 weighs 4 pounds 14.7 ounces for a size S/M, their Atmos AG 65 is 4 pounds 9 ounces, and Mystery Ranch's Glacier is heavier at 6 pounds 6.4 ounces. It's no surprise that you can go much lighter by opting for a more specialized ultralight design like Hyperlite Mountain Gear's 4400 Southwest (2 lbs. 7.2 oz.) or ULA's Circuit 68 (2 lbs. 4.6 oz.), but both of those packs come with major compromises in terms of features and carrying comfort. All in all, the Baltoro is far from a featherweight, but I certainly appreciated the cushy padding and generous storage layout when carrying a lot of gear.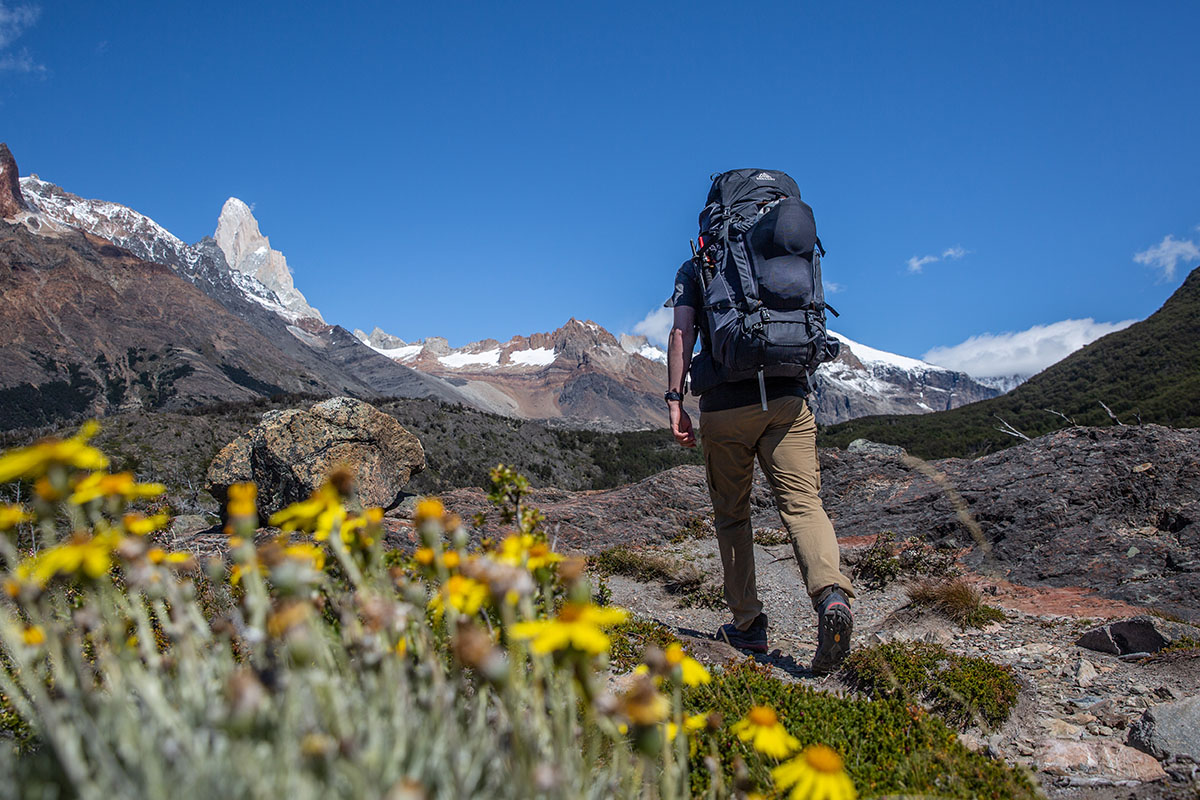 Organization
Pockets
One of the benefits of a feature-rich and heavy pack is excellent organization, and the Baltoro does not disappoint in this regard. You get a total of nine well-sized exterior pockets: Three zippered pockets in the top lid for small items, two tall zippered pockets and a large mesh shove-it pocket along the front, two mesh water bottle holders, and two enclosed hipbelt pockets. Importantly, the hipbelt pockets on the latest Baltoro are noticeably larger than the prior model and easily swallow a modern cell phone with room to spare. Additionally, the water bottle holsters were perfectly angled for quick and easy access to my Nalgene bottle while wearing the pack, and the mix of large and small pockets on the top lid made it easy to divvy up gear that I wanted to keep close at hand.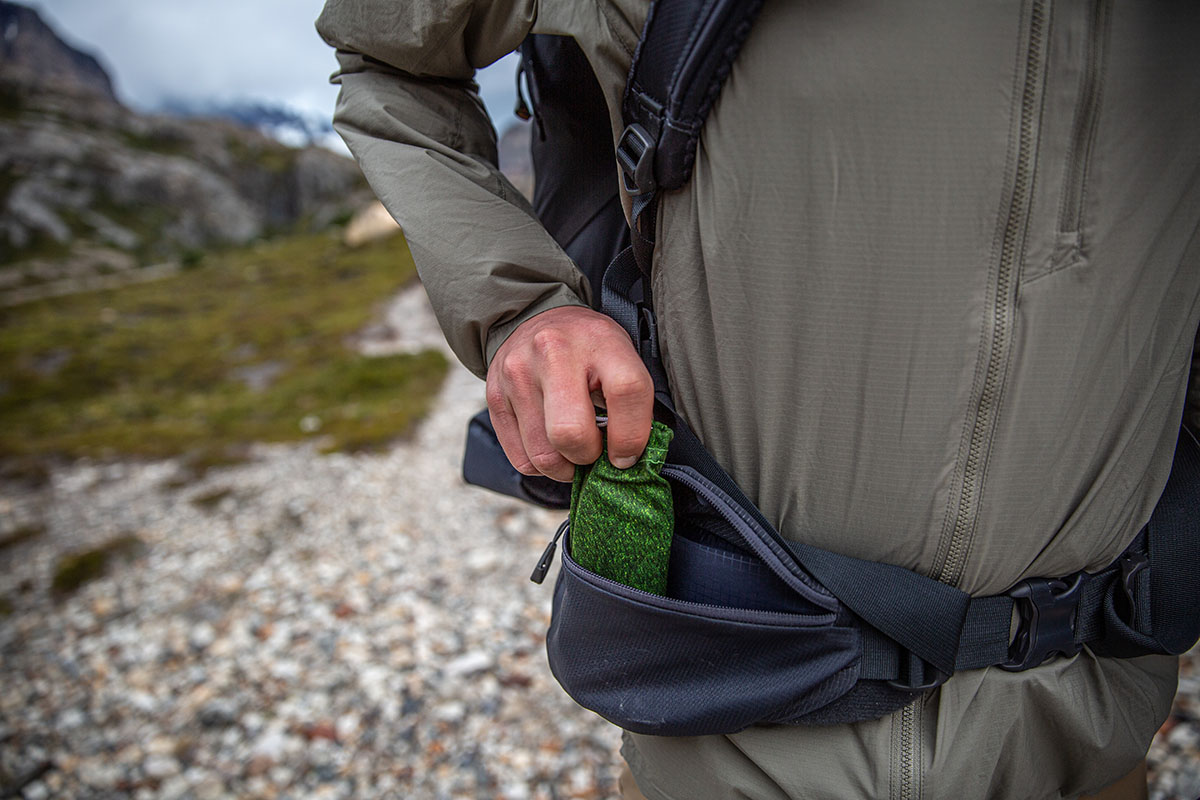 The only disappointment is that the tall side pockets on the front that flank the mesh shove-it pocket are difficult to access when the pack is full. The zippers are pretty tough to pull, and I was only able to stuff lower-profile items here, such as our group's gravity filter in its carrying bag. To be fair, the rest of the Baltoro's organization is excellent, but these pockets strike me as the least valuable of the layout.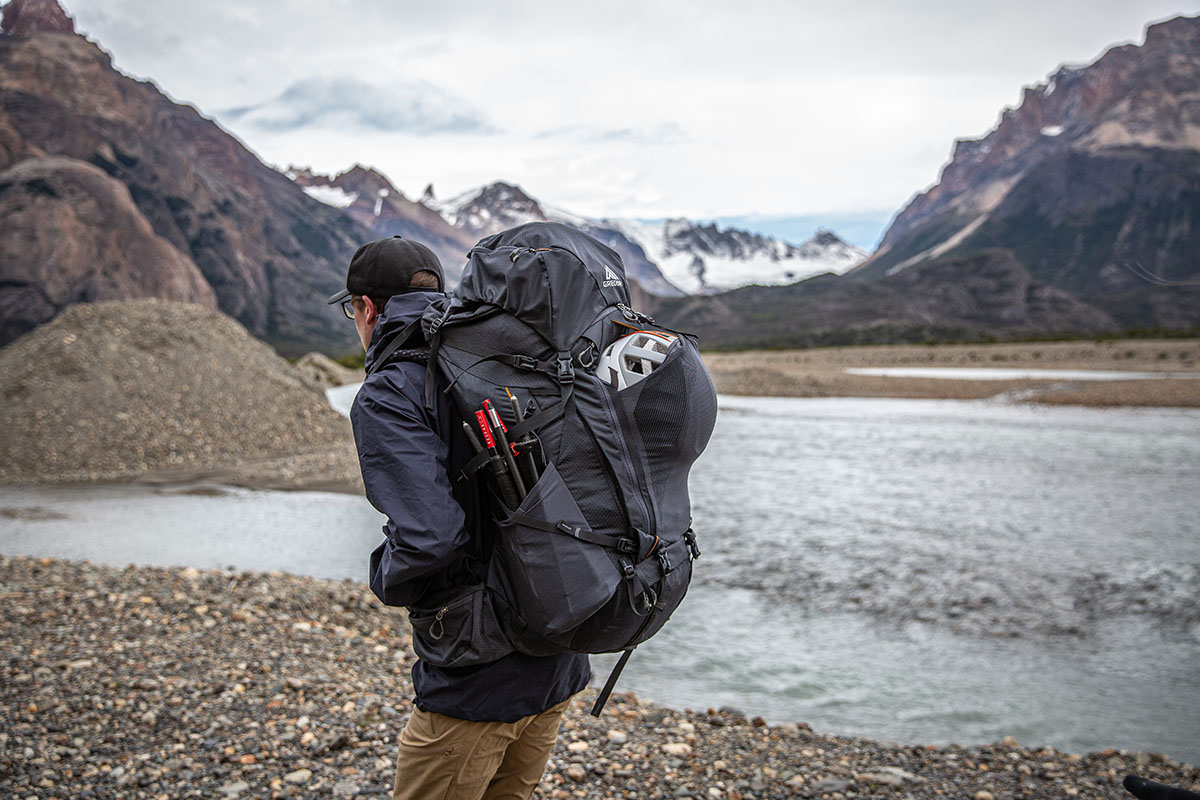 U-Shaped Main Compartment Access
Perhaps my favorite organizational feature of the Baltoro is the U-shaped zipper along the front that gives you complete access to the main compartment. Unzipping and opening the large flap makes it incredibly easy to find and grab just about anything inside the pack (there's also a separate zippered access for the sleeping bag compartment at the bottom). For a trip like our three-night outing in the Río Eléctrico Valley where I needed to put on and take off jackets as the winds shifted, the quick access saved a lot of time rummaging around or unloading the pack. For reference, another one of our testers that was using Gregory's Katmai 65 had a much harder time accessing gear via the side zipper without pulling everything out and lamented that he wished it shared the U-shaped design on my pack.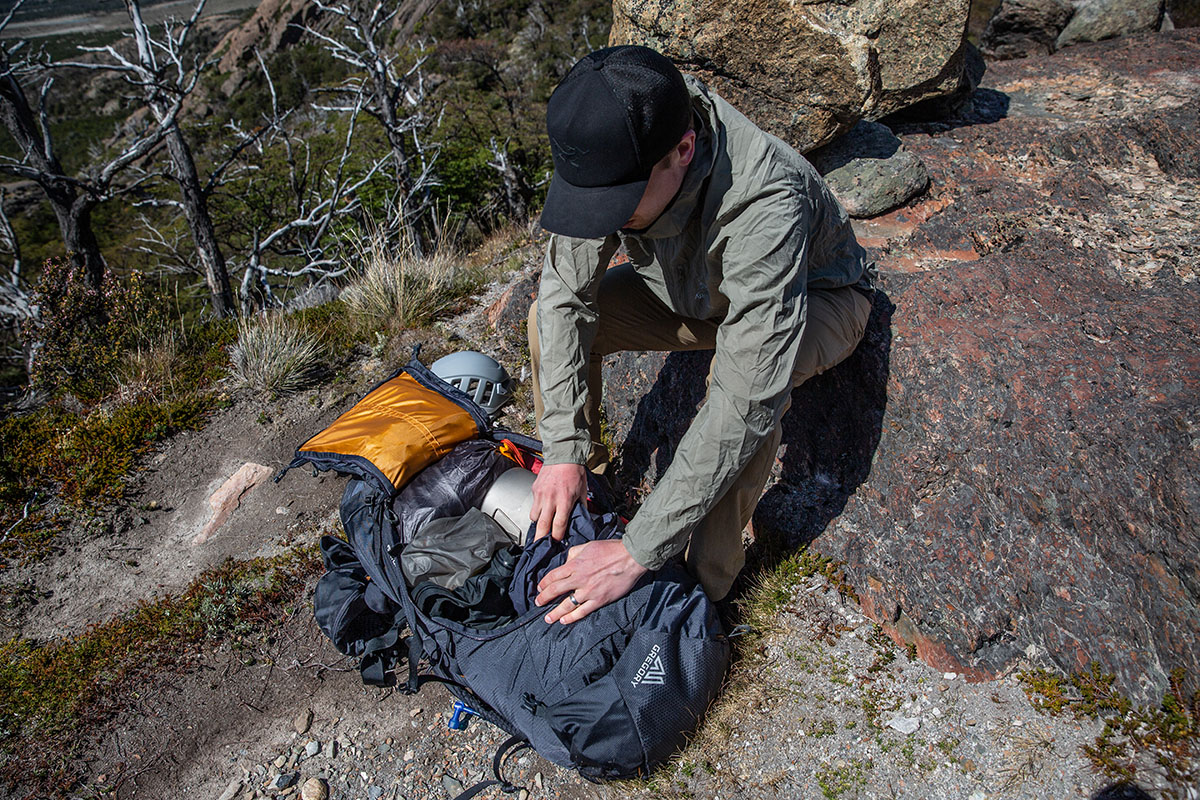 Ventilation
Gregory has improved ventilation considerably during the last couple of updates, and the latest Baltoro 75 is the best-ventilated iteration yet. Like the past generation, the new model boasts a sculpted backpanel that is mostly mesh and includes plenty of openings in the foam. However, there's now a noticeable boost in airflow right behind the middle of the back thanks to thinner padding in this area, which Gregory managed to pull off without impacting comfort. Even when temperatures in Patagonia reached into the 70s Fahrenheit on our backpacking trip, I managed to stay perfectly comfortable. Osprey's Anti-Gravity backpanel on their Atmos packs still leads the charge in ventilation with a hanging mesh design that sits farther off your back, but the Baltoro isn't far behind and will keep you cool in most conditions.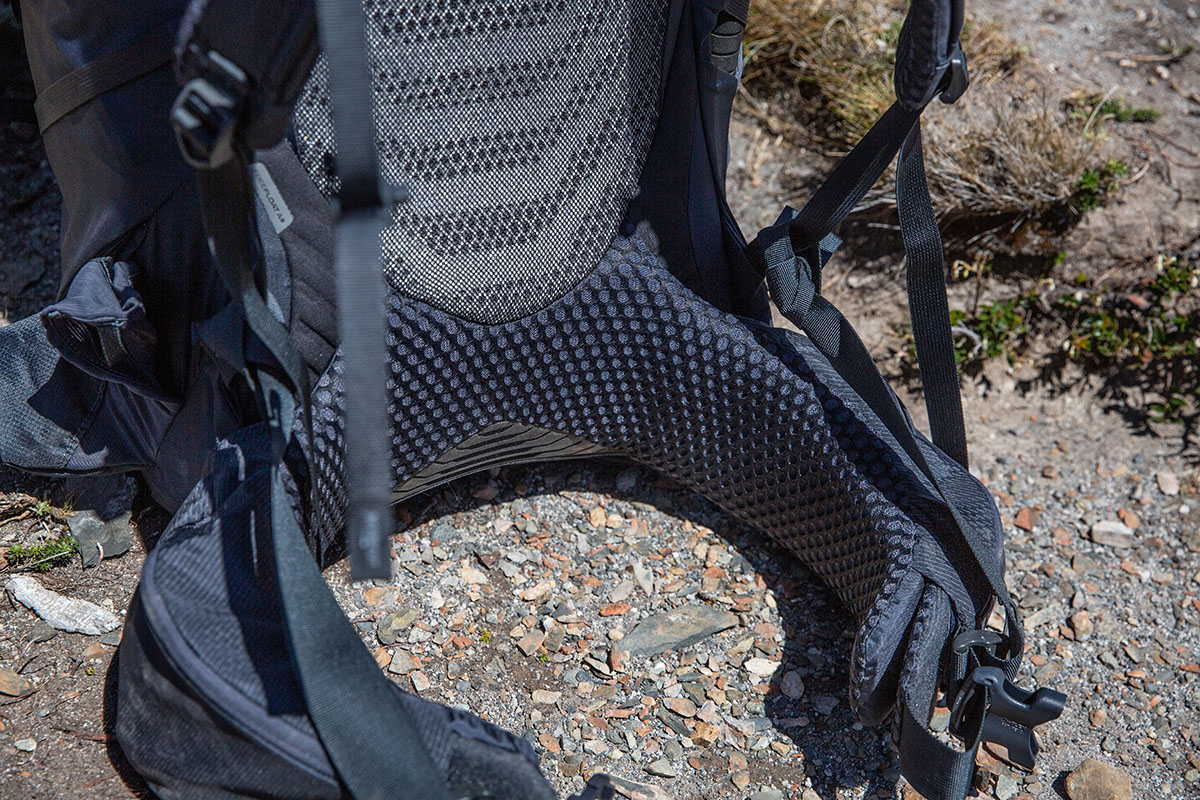 Weather Protection
Unfortunately, Gregory did away with a couple of protective details on the latest Baltoro, including ditching the rain cover and swapping the water-resistant fabric along the hipbelt pockets for standard nylon. To be fair, the entire pack—including the body, base, and lining—is coated with a durable water repellent (DWR) treatment for fending off light moisture, and I didn't experience any issues during water crossings or brief, intermittent rainstorms in Patagonia. That said, I wouldn't advise pushing the limits of the DWR and highly recommend waterproofing your gear with dry bags or purchasing a separate rain cover (Gregory sells one for $40) if serious rain is in the forecast.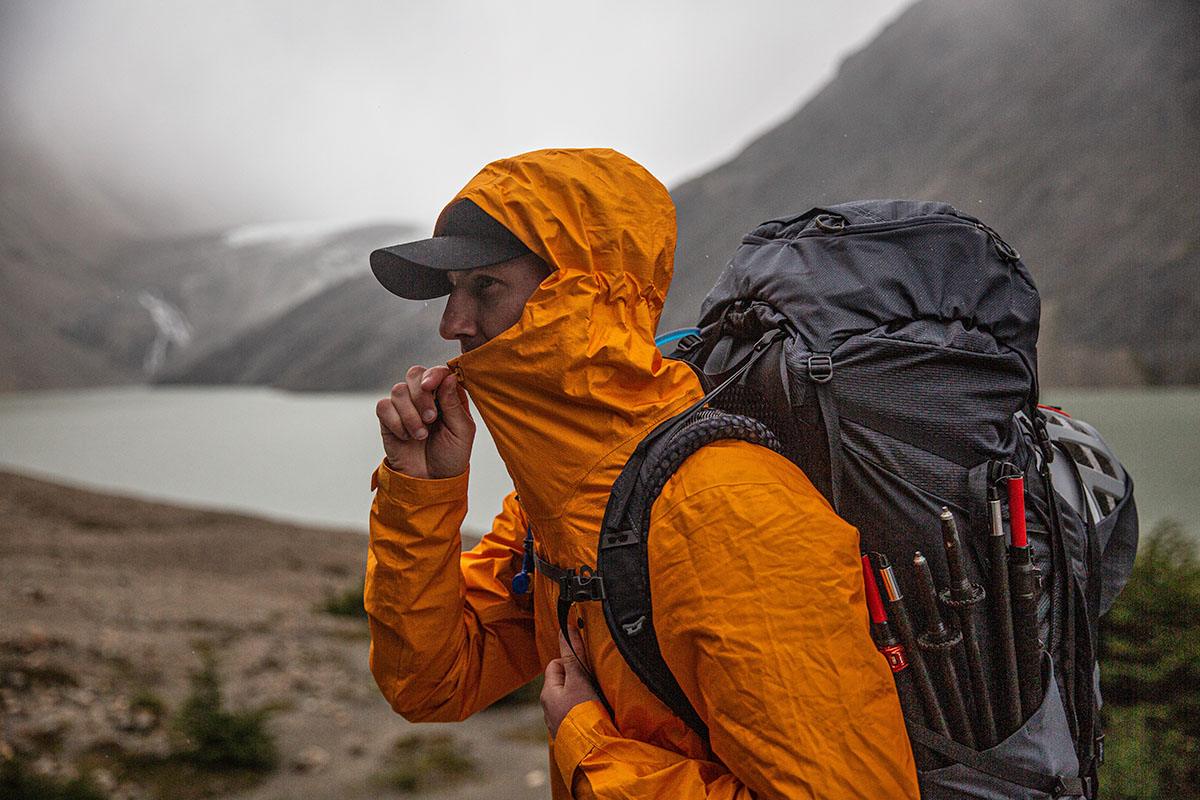 Build Quality and Durability
As I touched on above, the Baltoro 75 is a decidedly heavy backpacking pack at nearly 5 pounds, but one advantage is that you get very robust and confidence-inspiring materials throughout. The pack body balances weight and durability with high-quality zippers and a mix of light 210-denier (D) nylon and tough 420D high-density nylon, while the base is reinforced with an even thicker 630D nylon. I tested both the past-generation Baltoro and latest model in Patagonia, where they were exposed to rugged and exposed terrain frequently, but both came away looking pretty much like new with no concerning wear. All told, durability is one of the big selling points of the pack, especially for those that get out a lot and aren't easy on their gear.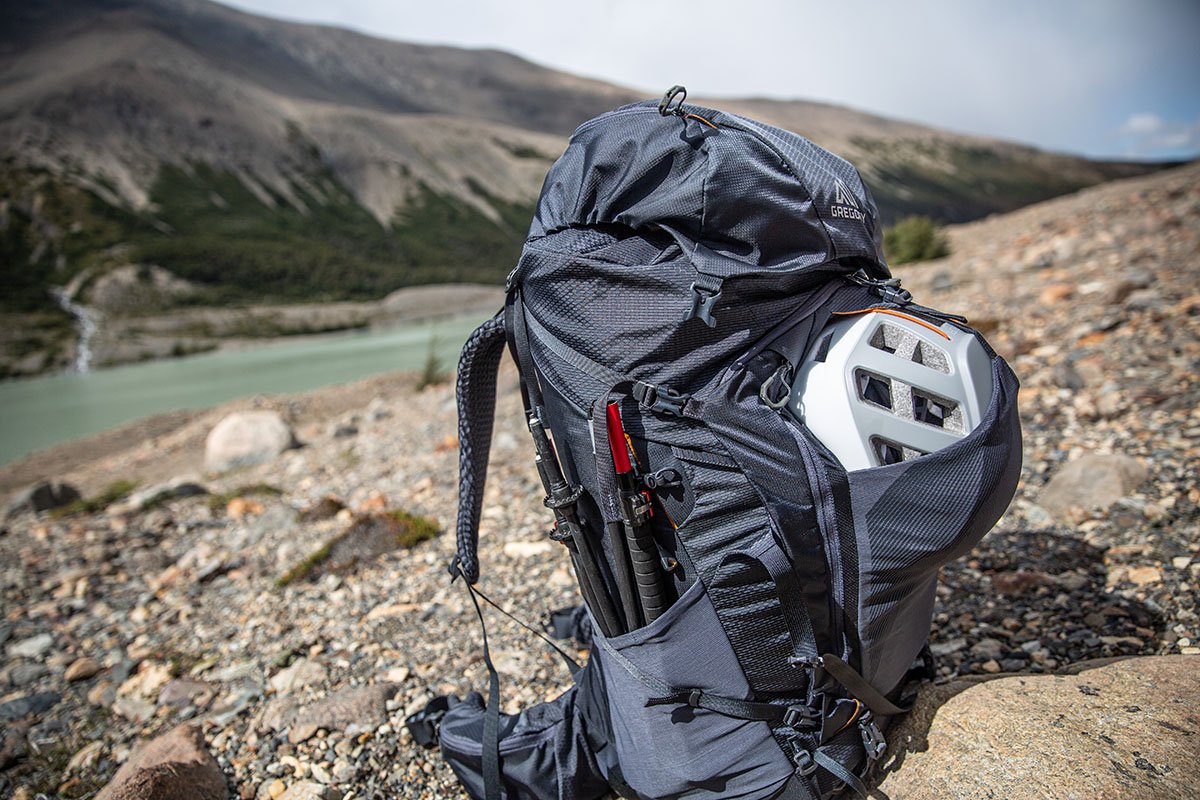 Fit and Sizing
With my 18-inch torso and 31-inch waist, I opted for a medium size in the Gregory Baltoro 75 and had no issues in getting an excellent fit. The new shoulder strap design allows for very precise adjustments with the Velcro setup (the size medium works for torsos from 17 to 20 in.). And the same goes for the hipbelt: Its Velcro system can shift the cushioning around the waist up to 3.5 inches side-to-side, making it easy to customize comfort. And a final note here: The pack also is available in small (which fits 16-19 in. torso lengths and 26-48 in. waists) and large (18-21 in. torso length and 30-52 in. waist) sizes.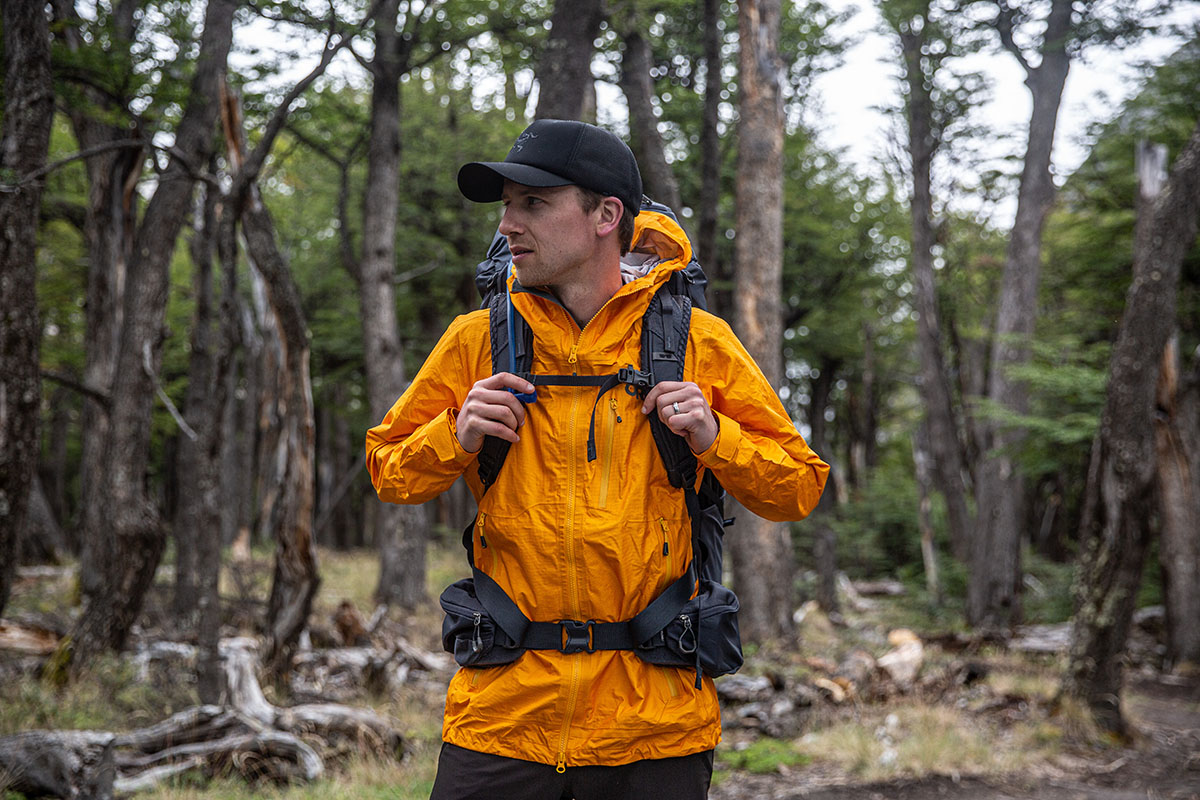 Sustainability
Gregory incorporated a host of new eco-friendly measures in their recent update to the Baltoro collection. Namely, the pack now utilizes recycled materials at the body (40-45% recycled nylon) and lining (40% post-consumer recycled polyester). They also opted for a PFC-free DWR coating that foregoes environmentally harmful perfluorocarbons. Gregory isn't the only pack manufacturer to employ these practices, but we're happy to see they're taking steps to design more sustainably built products. And importantly, these changes haven't had a noticeable impact on performance or durability.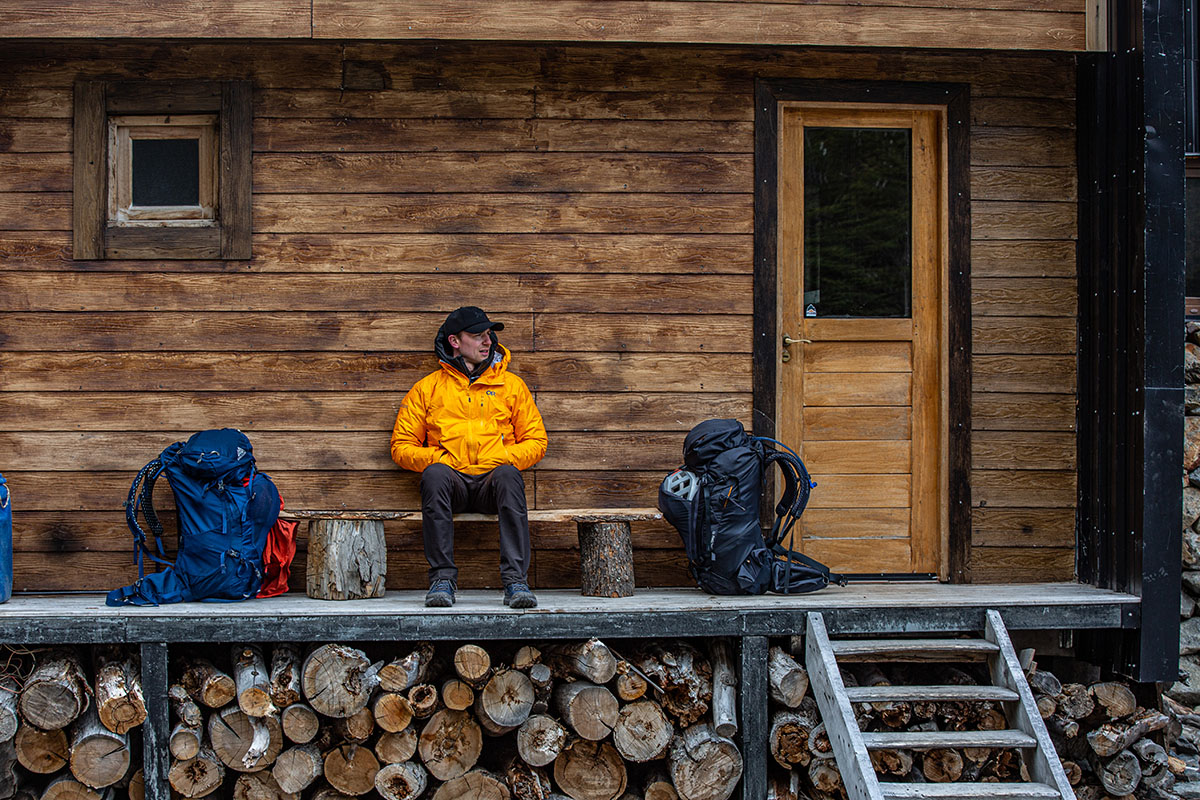 Other Capacities and Women's Gregory Deva
We tested the 75-liter version of the Baltoro for this review, which is the largest capacity in the collection for shuttling a full load over long distances. Those packing lighter or going on shorter trips should consider the Gregory Baltoro 65, which costs less at $320 and shaves around an ounce in weight but otherwise retains an identical feature set and overall build. The Baltoro's counterpart for women is the Deva, which is sold in 60- and 70-liter variations that also retail for $320 and $350 respectively. Importantly, the Deva includes all the features that we love in the Baltoro, including the U-shaped access to the main compartment, supportive cushioning, and a sturdy construction (for more information, see our in-depth Deva 70 review).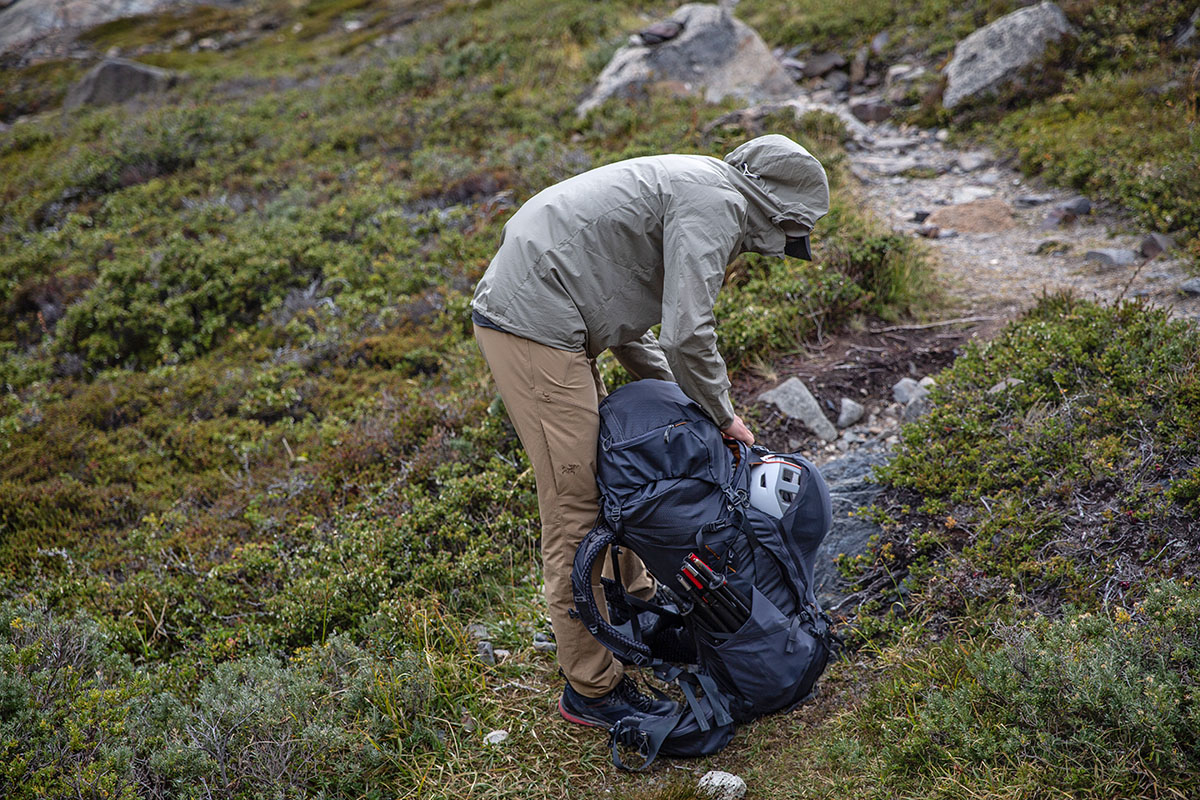 What We Like
The Baltoro is as comfortable as ever with a strong suspension and pivoting shoulder straps that carry heavy loads extremely well.
Fantastic organization: The pack has tons of exterior pockets to distribute gear, and the U-shaped access to the main compartment makes grabbing items that are stuffed away very easy.
Tough and confidence-inspiring construction with robust fabrics, quality details, and thick reinforcements at the base.
Thinner padding at the middle of the back provides a boost in airflow with no noticeable impact on comfort.
Adjustability at the torso and hipbelt make dialing in fit quick and easy.

What We Don't
Heavy at nearly 5 pounds and overkill if you pack light or only head out on short summer trips.
Tall side pockets that flank the mesh shove-it pocket are difficult to access when the pack is full and can only accommodate lower-profile items.
Lacking in wet-weather protection, including no rain cover or weather-resistant fabrics other than a standard DWR coating.
We liked the prior Baltoro's pivoting hipbelt, although the new system is more customizable and has a sleeker shape. 


Comparison Table
| Pack | Price | Weight | Fabric | Capacities | Access | Pockets |
| --- | --- | --- | --- | --- | --- | --- |
| Gregory Baltoro 75 | $350 | 4 lb. 15.7 oz. | Nylon (210D & 420D) | 65, 75L | Top, front | 9 exterior |
| Gregory Paragon 68 | $270 | 3 lb. 11.4 oz. | Nylon (100D & 210D) | 48, 58, 68L | Top, side | 6 exterior |
| Osprey Aether Plus 70 | $360 | 5 lb. 9.7 oz. | Nylon (210D) | 60, 70, 85, 100L | Top, front | 9 exterior |
| Mystery Ranch Glacier | $375 | 6 lb. 6.4 oz. | Cordura (500D) | 71L | Top, side | 4 exterior |
| Osprey Atmos AG 65 | $270 | 4 lb. 9 oz. | Nylon (100D x 630D) | 50, 65L | Top | 8 exterior |

The Competition
Even with the trend toward lighter backpacking gear, there's a strong market for heavy-hauling, mega-comfortable backpacking packs, and the Baltoro remains one of the best. For a slightly smaller but still supportive and feature-rich option from Gregory, we like their Paragon 68. At 3 pounds 11.4 ounces for the medium/large size and a more reasonable $270, the Paragon is a nice alternative for those looking to shave weight and save some cash. However, the Baltoro wins out in space (by 7 liters), exterior storage (the Paragon has six external pockets), and comfort with a more heavily padded hipbelt and shoulder straps. In the end, the two fill different niches: The Baltoro is our favorite heavy hauler for long and gear-intensive outings, but the Paragon is all most backpackers need.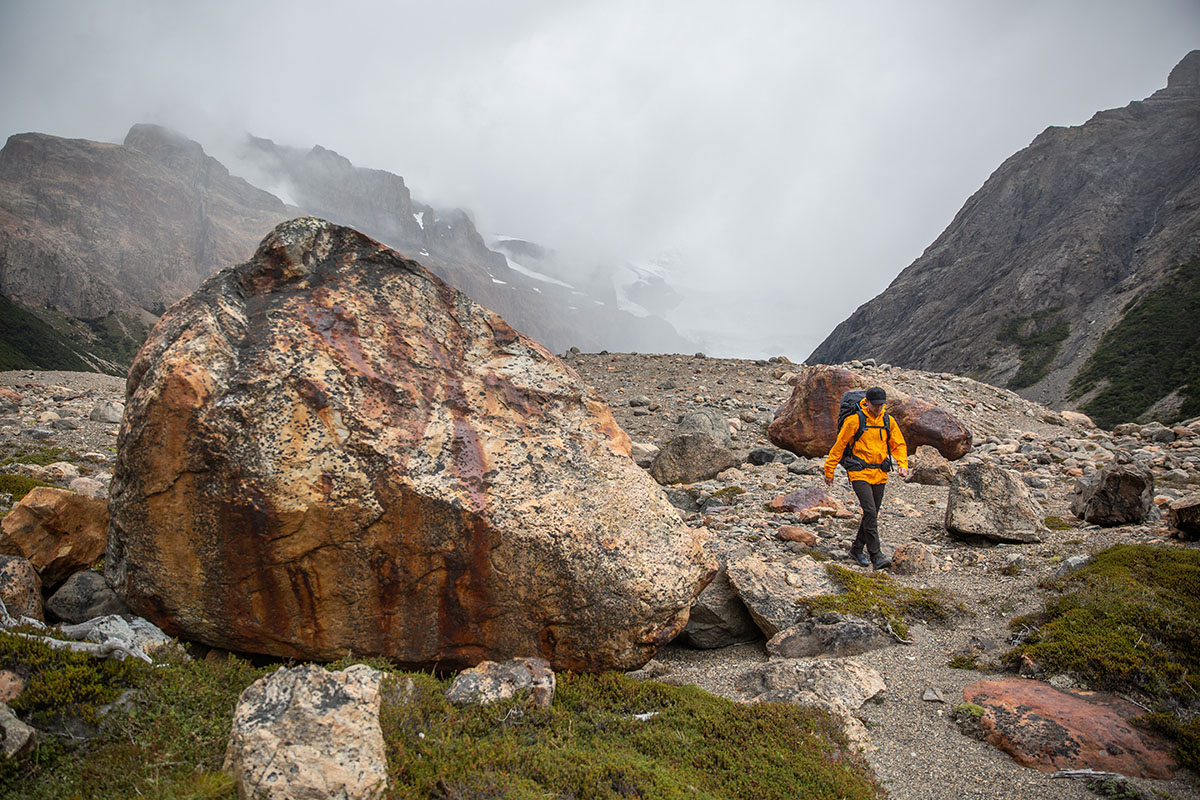 One of the Baltoro's long-time rivals is Osprey's Aether. Stacked up against the Baltoro, the Aether Plus 70 costs an additional $10 and weighs more at 5 pounds 9.7 ounces (for the S/M size) but comes with tons of storage and attachment points (including ice axe loops and trekking pole carriers), and allows for generous fine-tuning along the hipbelt, shoulder straps, and torso. The Aether also comes with a removable top lid that converts to a daypack, as well as an integrated rain cover, both of which Gregory dropped with the latest update to the Baltoro. However, while there's a lot to like with the Aether, it's hard to justify spending more for less capacity (for additional details, see our Aether Plus 70 review). For a simpler and more affordable option in the series, the Aether 65 checks in at a more palatable 4 pounds 14.7 ounces and $290, although in this weight class, we still prefer the larger Baltoro. 
Another heavy hauler to have on your radar is Mystery Ranch's Glacier 71L. While not a household name in the backpacking space, the brand has already built a solid reputation for carrying comfort. The Glacier is similar in total capacity and price with the Baltoro but differs in a few key areas. For one, the pack uses a super burly 500-denier Cordura fabric throughout that's built to last but is overkill for most backpacking trips. Along with a sturdy frame and buckles and zippers that prioritize quality over weight, and the Glacier comes in at a very hefty 6 pounds 6.4 ounces. If you'll be hauling a ton of gear for a winter expedition, you might be able to justify the extra poundage, but most will be far better off with the more versatile Baltoro.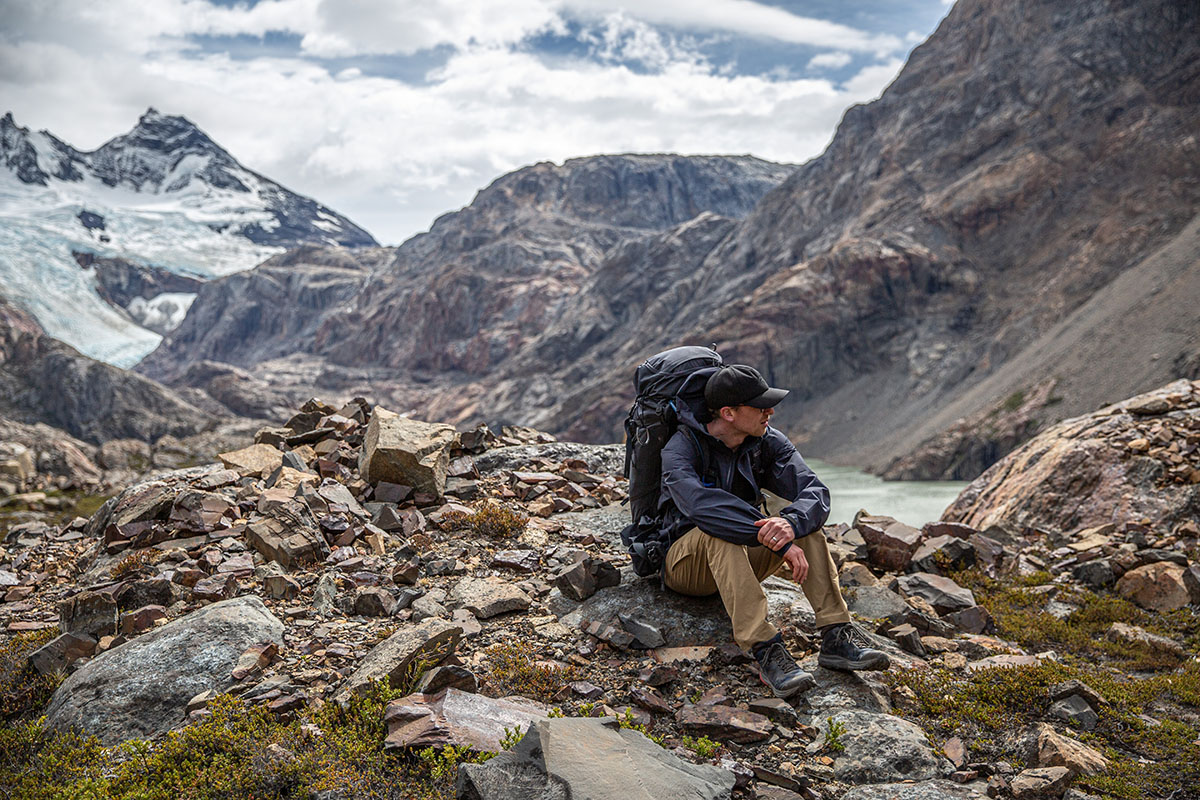 Last but not least, the Osprey Atmos AG 65 is our top overall backpacking pack of the year. As its name suggests, the Atmos offers 10 liters less in terms of capacity, although with the streamlined backpacking gear options available in 2022 (small tents, sleeping bags, and pads), 65 liters is ample for most multi-day trips. In addition, the Osprey lacks zippered access to the main compartment, which is a nice feature on the Baltoro. But we appreciate the weight and cost savings: At 4 pounds 9 ounces and $270, the Osprey is lighter and cheaper while managing to be nearly as comfortable as the Baltoro—and a better breather. For a more streamlined alternative without many sacrifices, the Atmos 65 is a great choice.
If you're thinking about buying gear that we've reviewed on Switchback Travel, you can help support us in the process. Just click on any of the seller links above, and if you make a purchase, we receive a small percentage of the transaction. The cost of the product is the same to you but this helps us continue to test and write about outdoor gear. Thanks and we appreciate your support!
Depending on the seller, most products ship free in the United States on orders of $50 or more. International shipping availability and rates vary by seller. The pricing information on this page is updated hourly but we are not responsible for inaccuracies.
Learn More About Outdoor Gear