Osprey's Aether is a longstanding and highly capable heavy hauler, and the upgraded "Plus" packs retain that proven performance but with more exterior storage and a convertible top lid that doubles as a daypack. I recently brought the mid-range 70-liter model to southern Patagonia for testing, where it impressed me with its highly adjustable and feature-rich build. The 6-pound weight and $410 price tag will be enough to deter most casual backpackers, but it's one of the most comfortable and thoughtfully built designs on the market for long and gear-intensive trips. Below are my thoughts on the Aether Plus 70. To see how it stacks up to the competition, check out our article on the best backpacking packs.
 
---
Table of Contents
---

Performance
Carrying Comfort
Building on their signature heavy hauler (the Aether), Osprey's Aether Plus 70 is a remarkably comfortable pack for shuttling serious weight over long distances. For starters, the wide hipbelt is generously cushioned with firm but supportive padding, and it's a similar story with the shoulder straps. Combined with the sturdy frame, the Aether Plus did an excellent job of distributing a full load (including heavy camera equipment) on technical terrain in Patagonia, including off-camber trails, boulder fields, scree slopes, and river crossings with fallen logs and slippery rocks. Finally, the fit is highly adjustable (more on this below), which helps promote a snug and confidence-inspiring feel on the trail, and there are ample compression straps to lock things down and minimize swaying.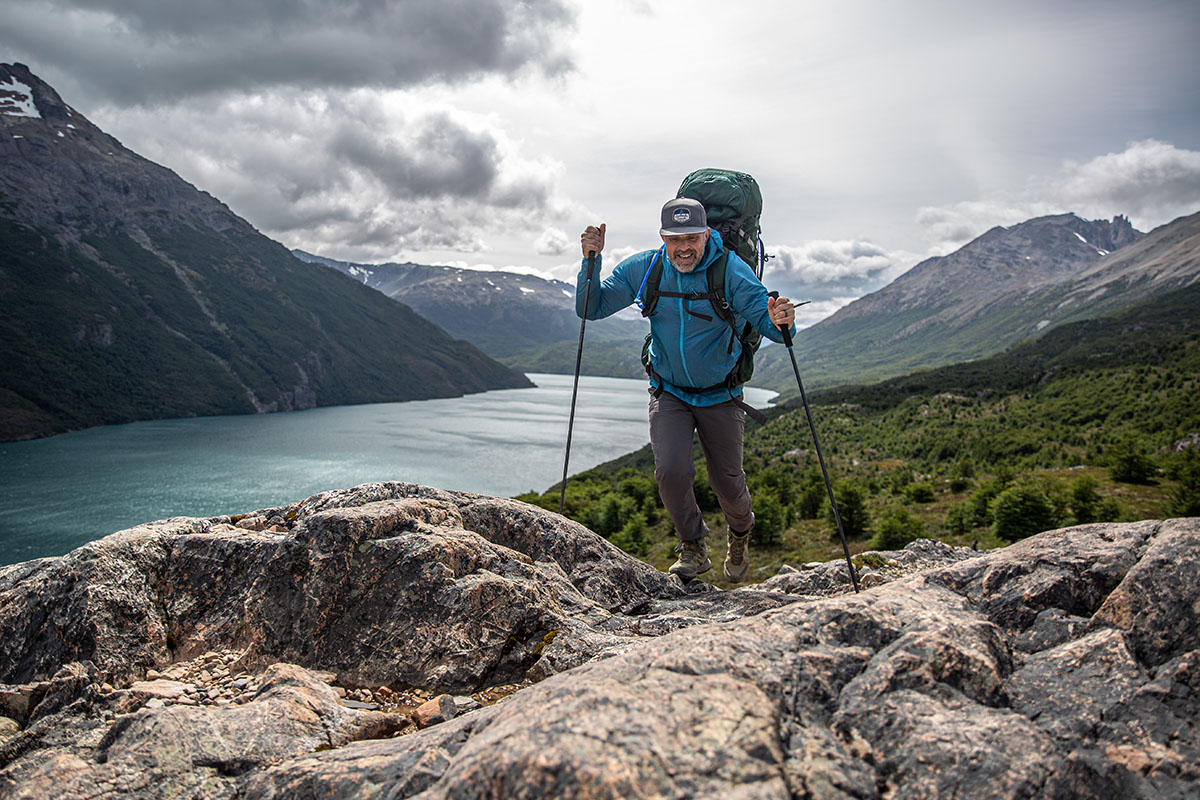 Like the standard Aether collection, the Aether Plus is highlighted by its customizable fit system, which Osprey calls "Fit-on-the-Fly." How it works: The hipbelt and shoulder straps feature a rip-and-stick Velcro design that allows you to move the padding to where it's most supportive and comfortable (I opted to leave both fully extended to minimize the amount of webbing in the system). It does take considerable effort and force to push the padding back in once it's been extended, but this is a small price to pay for the impressive customization. Combined with well-placed lumbar padding, the Aether Plus offered a close, body-hugging fit with minimal bounce. Not everyone will need or want this level of support—and you do pay a sizable weight penalty for the heavy-hauling capabilities—but the Aether Plus leaves little to be desired for comfort-focused backpackers carrying serious weight (up to 60 lbs.) over long distances.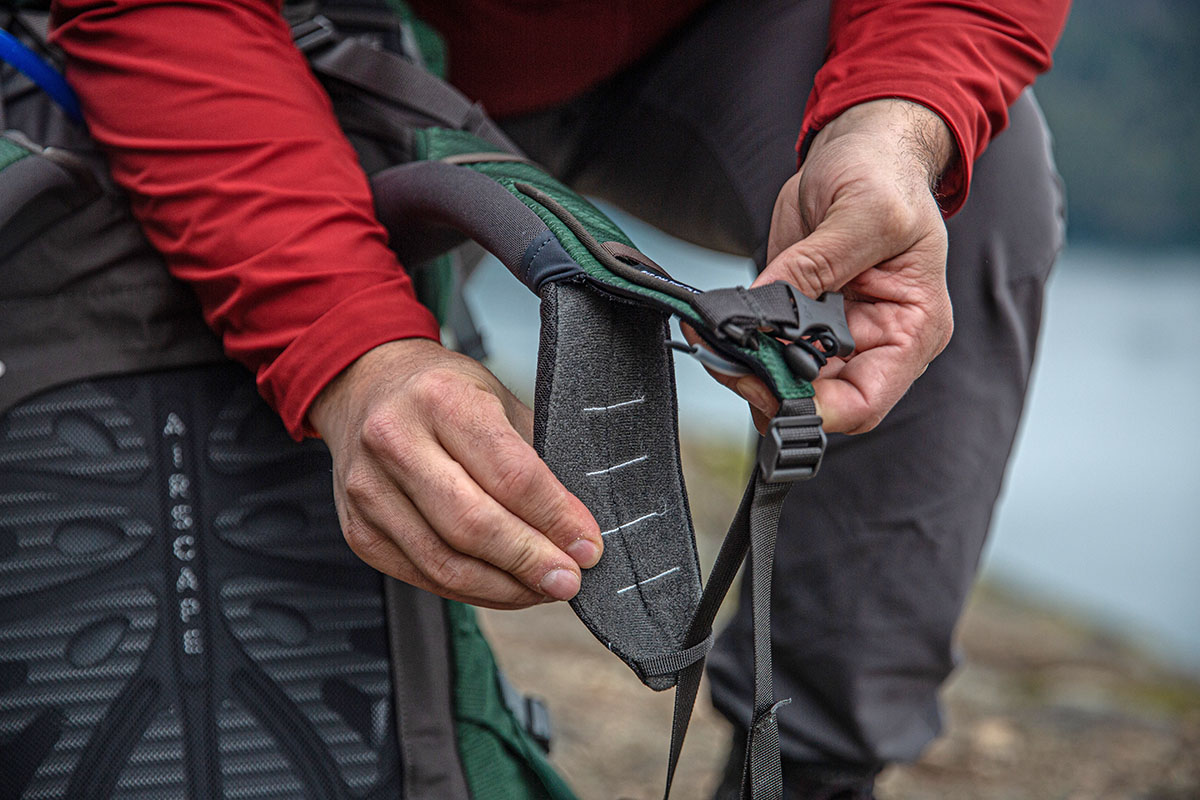 Weight
The "Plus" in the Aether Plus' name says it all: This is an unapologetically large and hefty pack, checking in at a whopping 6 pounds 2.7 ounces for my size L/XL (the S/M version is lighter at 5 lbs. 9.7 oz.). For comparison, that's considerably more than most competing heavy haulers, including Arc'teryx's Bora 75 (4 lbs. 8 oz.), Gregory's Baltoro 75 (5 lbs. 5.8 oz. in a size large), and Osprey's own Aether 65 (4 lbs. 15.4 oz. in an L/XL). And stacked up against ultralight designs like the Hyperlite Mountain Gear's 4400 Southwest (2 lbs. 6.8 oz.), the Aether Plus isn't even in the same stratosphere. The good news is that the weight penalty comes with several benefits, including tons of storage, easy access to the main compartment, a surprisingly functional daypack, and a quality build that's both comfortable and durable. You can also shave off a little weight by ditching the lid/daypack (around 11.5 oz. on our scale) and/or sleeping pad straps (1 oz.), but there's no way around the fact that this is a downright heavy pack.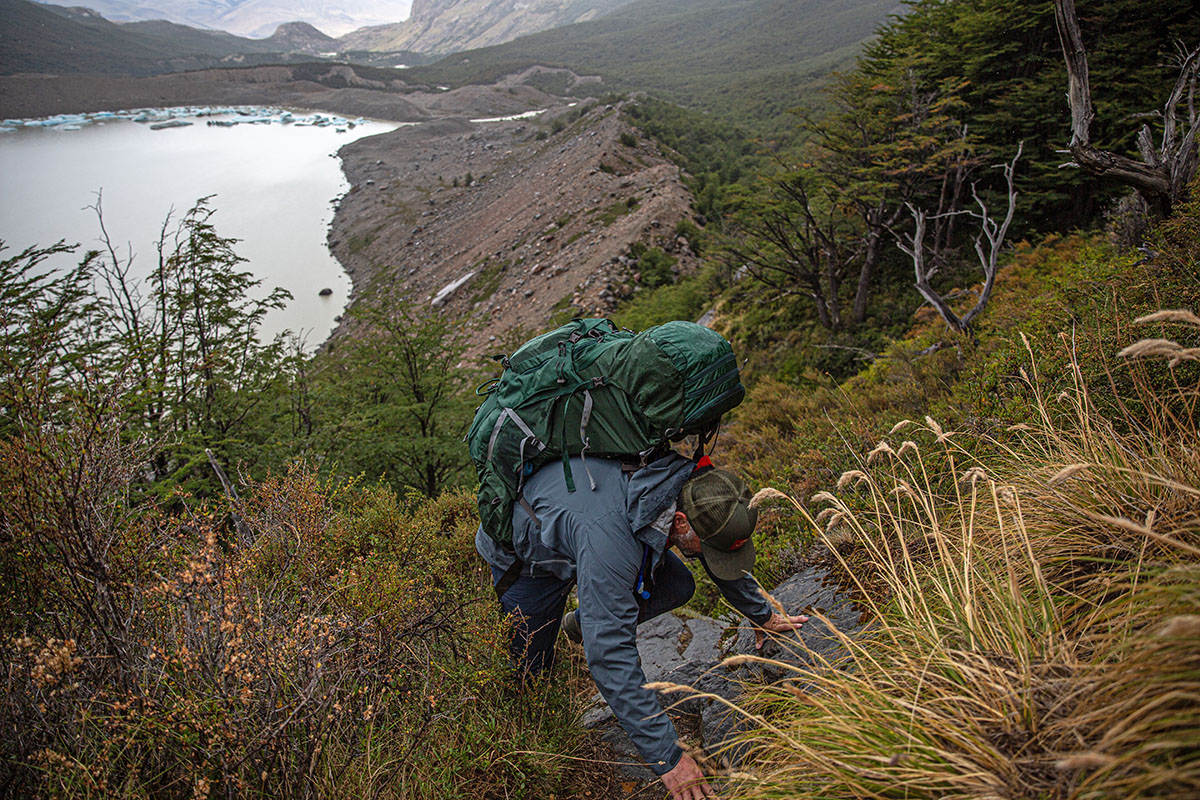 Organization
Access
As I touched on above, one benefit to the Aether Plus' heft is excellent access and organization. Starting with the former, you get a large U-shaped zipper at the front that provides nearly comprehensive visibility into the main compartment, which makes it very quick and easy to retrieve gear on the trail and at camp—no need to reach in elbow-deep and rifle around to find what you're looking for. Compared to the standard Aether's J-shaped design, we think the Plus model's U-shaped opening is a sizable improvement. Osprey also included a sleeping bag compartment with a removable divider at the bottom of the pack that can be accessed via a generous zippered opening. I typically used this space for our tent instead of a sleeping bag and removed the divider to better accommodate the longer shape.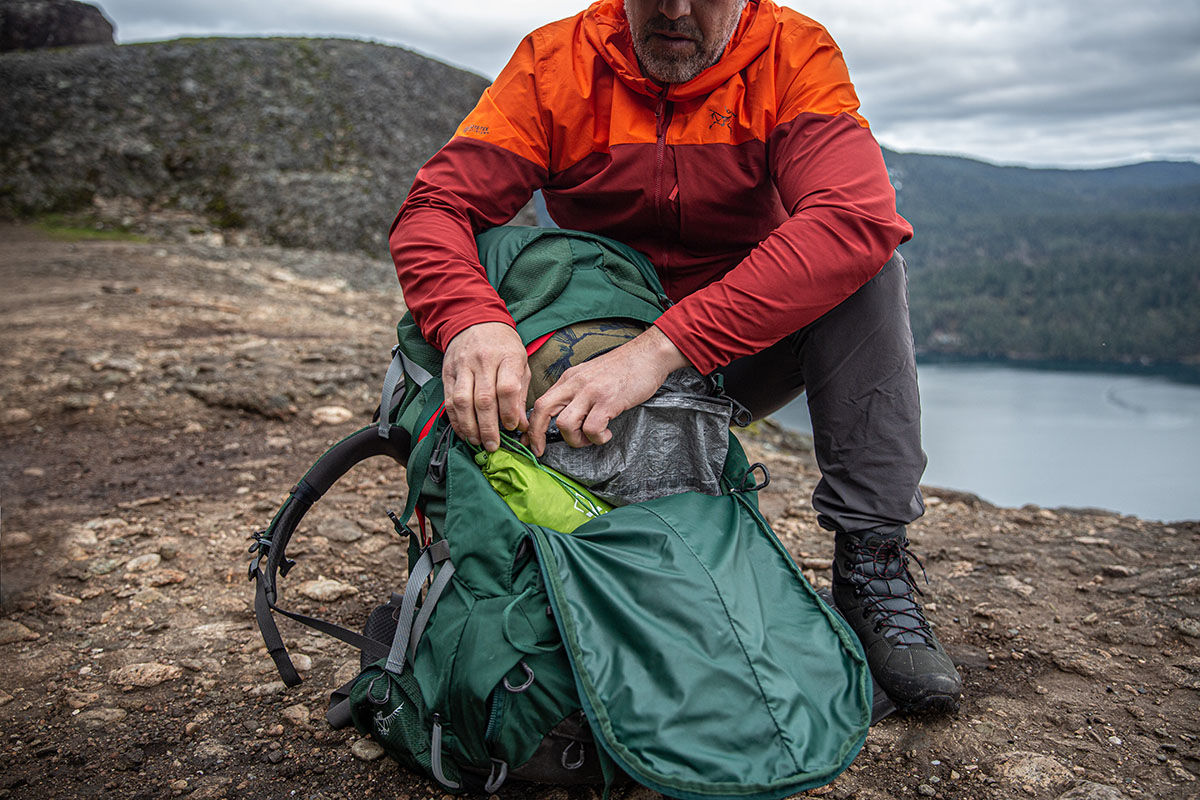 Pockets
The Osprey Aether Plus 70 leaves little to be desired from a storage standpoint with nine pockets (11 if you include the DayLid and rain cover compartments). Starting at the top, the lid boasts a pocket on either side for divvying up small items and valuables that you'll want quick access to, the bottom of which has a key clip that I used to secure an Apple AirTag for tracking during travel. Moving to the front, there's a large "shove-it" pocket that's made of mostly nylon for tear resistance with strips of mesh along the sides for added stretch and ventilation. I found this space great for stashing my camp shoes and rain shell, and it's also helpful for drying out wet gear. Flanking the sides are two long, narrow pockets that worked for tent poles, a small tripod, and other thin and low-profile items. Rounding out the layout are smartphone-compatible hipbelt pockets and stretchy mesh water bottle pockets with both top and side access for easy retrieval while hiking, although they were too snug for a Nalgene with the pack loaded full.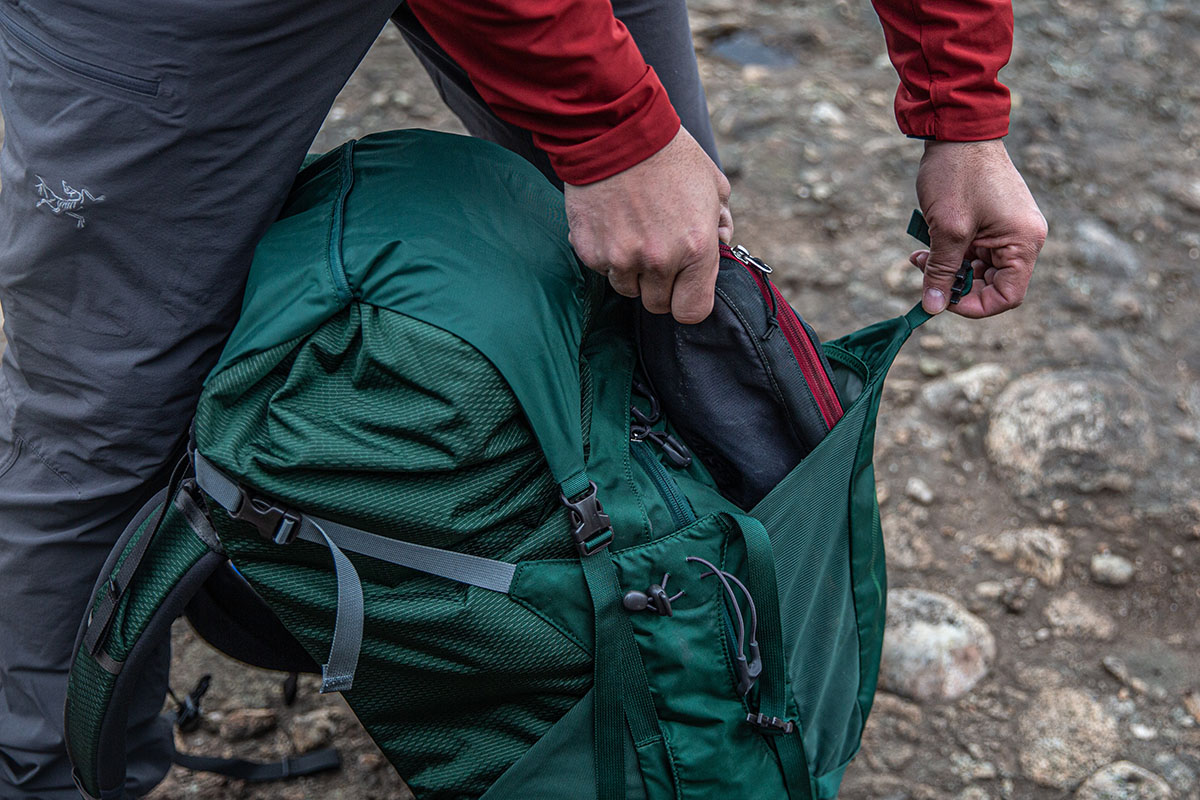 Other Features
In addition to the myriad storage options and dual access to the main compartment, the Osprey Aether Plus 70 has a few other tricks up its sleeve. Inside, there's a standard hydration sleeve with a clip for hanging a bladder and exit port for the hose. Outside, the pack features lash points on the lid for securing extra gear, ice axe loops with bungee tie-offs (which I ended up using for my trekking poles), removable sleeping pad straps that are equally great for securing a wet backpacking tent, and two horizontal straps running across the front for compressing your load or attaching items like a ball cap, dog bowl, or lightweight sandals/camp shoes.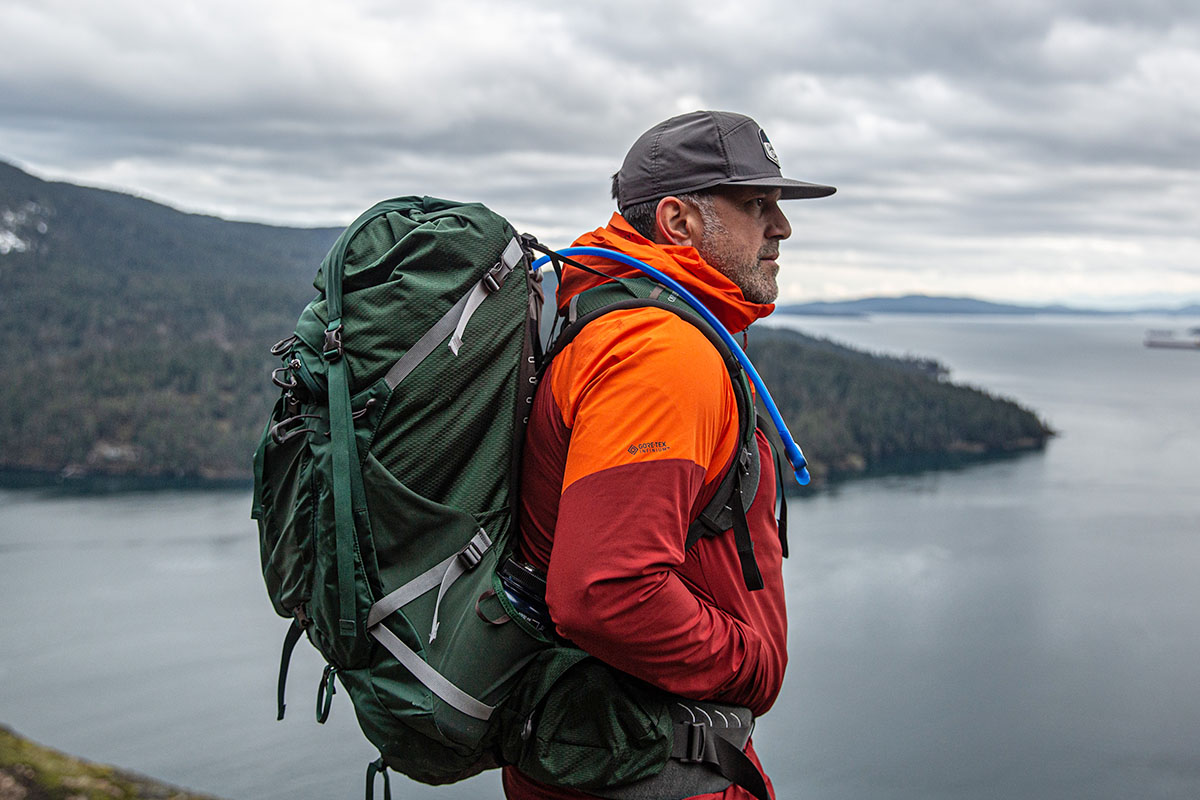 Unlike the standard Aether, the Aether Plus includes Osprey's Stow-on-the-Go trekking pole attachment points on the shoulder straps. However, I'm not sold on their utility—my foldable Black Diamond Distance Carbon Z poles were too short when collapsed to reach the lower loop (around where the hipbelt and base of the pack meet), which caused them to hang awkwardly off the front attachment point next to the sternum strap. Another downside is that the poles rest between your arm and torso, requiring swinging your arms out wide while hiking to avoid hitting them (this is true of any design, not just folding poles). In my opinion, removing this feature wouldn't have any impact on the Aether Plus' functionality or overall appeal.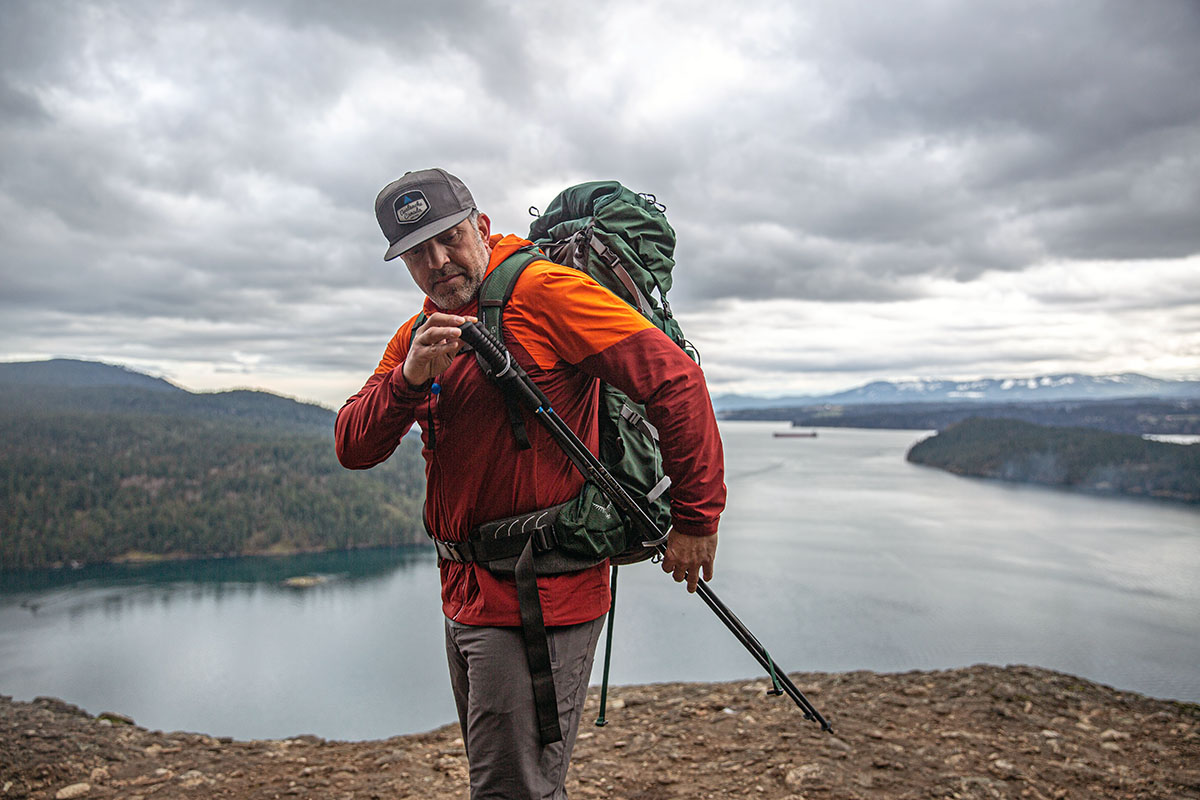 DayLid Daypack
We've tested several packs over the years with lids that convert into daypacks, and Osprey's DayLid design is easily one of the most functional. The process is simple: Detach the top lid from the Aether Plus via the buckles and unzip the small compartment to reveal the daypack. The design is relatively basic with minimal support and no waist strap, but it's lightweight at around 11.5 ounces and comes decently appointed with two zippered pockets and an adjustable sternum strap. Osprey doesn't list the capacity, but I'd estimate it's around 15 liters—perfect for summit pushes, scrambles, and other quick outings from camp that don't warrant shuttling a fully loaded backpacking pack. And with the lid/daypack removed, you can still protect your belongings by stretching the FlapJacket cover over the Aether Plus' top opening.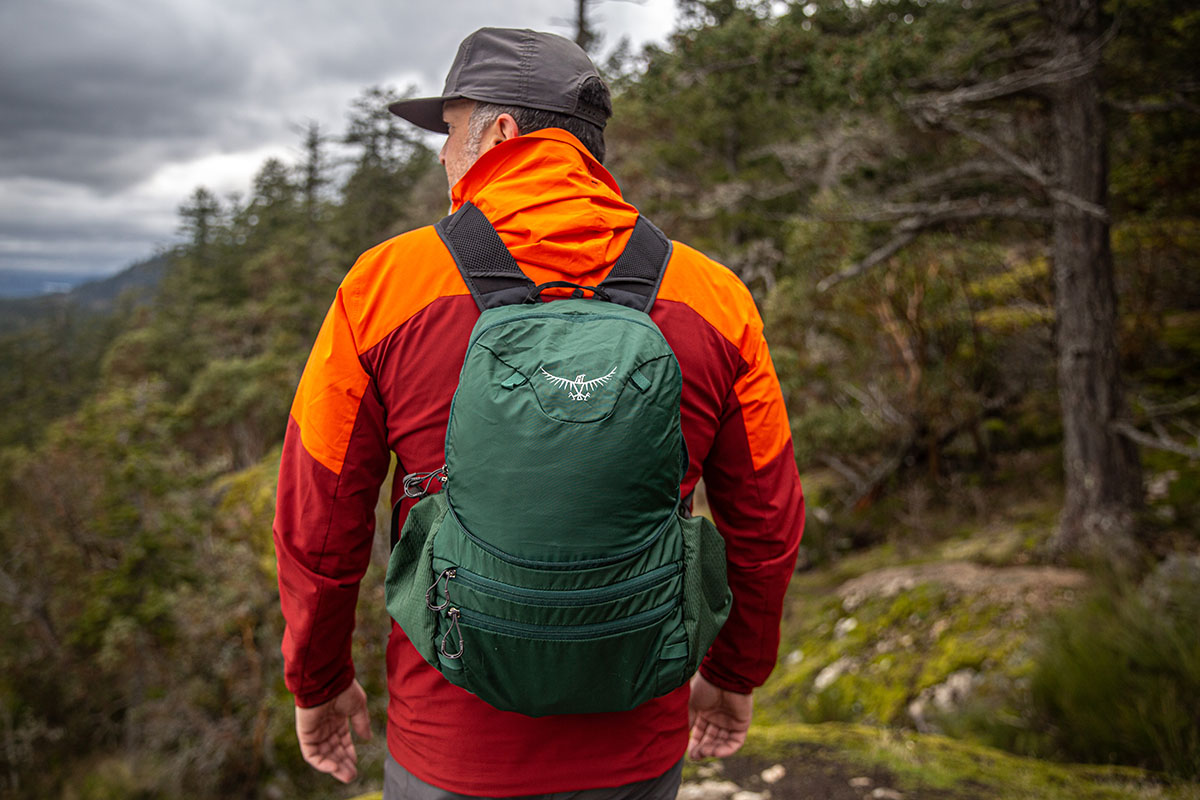 Ventilation
Like the standard Aether, Osprey's Aether Plus uses their AirScape backpanel that I would categorize as good but not great in terms of breathability. Compared to their class-leading AntiGravity design found on the popular Atmos and Aura packs, the AirScape backpanel has less suspended mesh against the middle and lower back, which means there's not as much room for air to flow between the pack and your body. I also noticed some sweatiness along the hipbelt and shoulder straps as a result of the thick padding. It's not all bad news, however: The upper portion of the backpanel is mostly comprised of foam with fairly large cut-outs and suspended mesh that creates a nice gap for air to flow. In the end, I feel the small downgrade in ventilation is easy to overlook given the Aether Plus' otherwise well-rounded build, but those who run particularly warm may want to consider upgrading to a more breathable design like the aforementioned Atmos AG.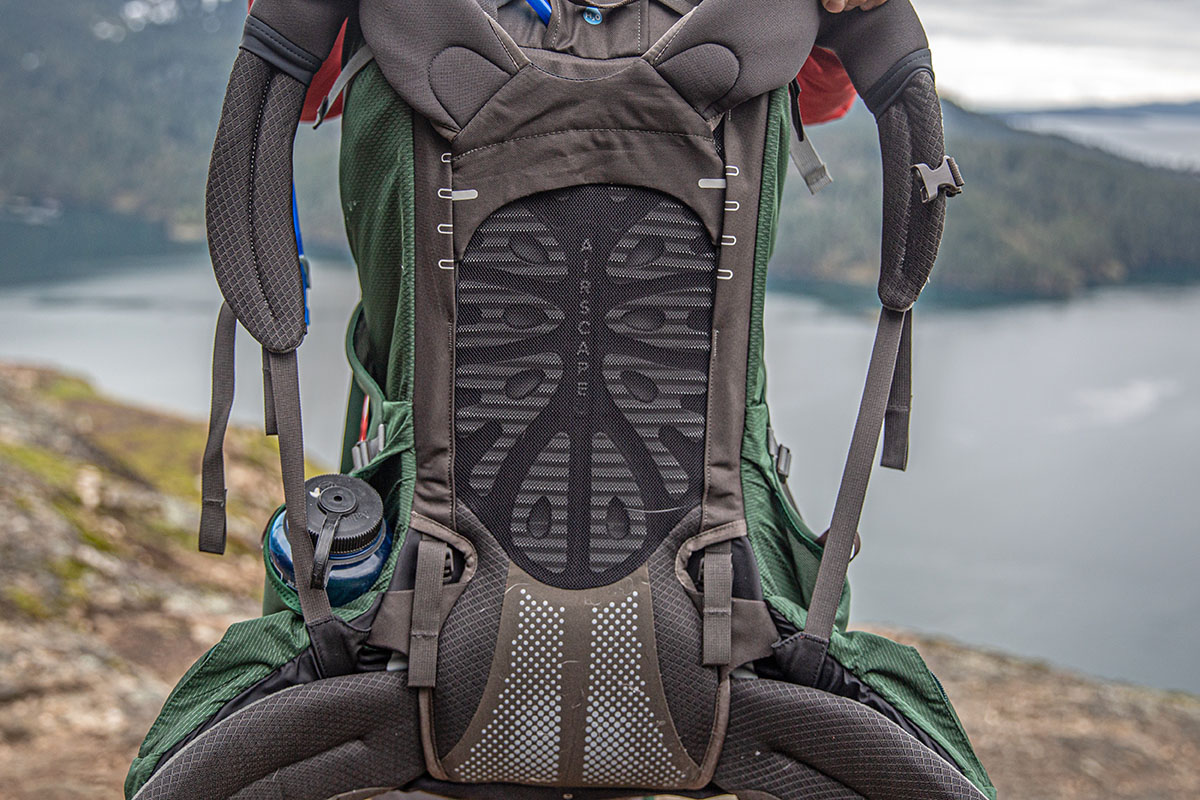 Weather Protection
Our trip to Patagonia was unseasonably wet—it rained almost every day, and often multiple times a day—and the Osprey Aether Plus 70 handled the conditions with aplomb. For starters, the pack comes with a rain cover that's tucked in a small zippered pocket at the very bottom. The body, accent fabrics, and base also boast durable water repellent (DWR) coatings for fending off light moisture (bonus: They're all PFC-free, which we break down further in the "Sustainability" section below). Despite waiting to pull out the rain cover a few times and allowing the Aether to grow noticeably dark from moisture (for testing purposes, of course), all my gear remained perfectly dry inside. It's worth noting that some competitors tack on water-resistant zippers for extra assurance, but I have no complaints about the Aether Plus' ability to weather the elements.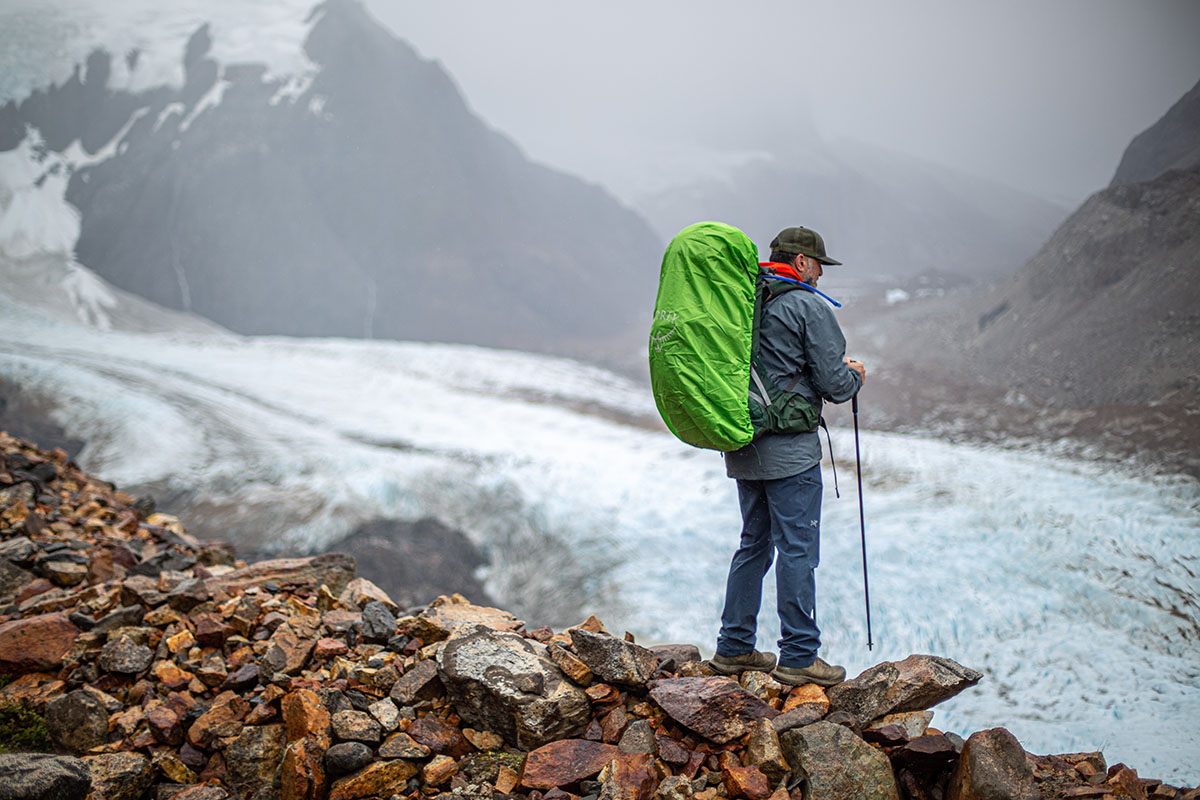 Build Quality and Durability
Osprey has been in the pack-making business for almost 50 years, and the Aether Plus 70 is exactly what we've come to expect from the seasoned brand. While thinner than Osprey's standard Aether collection, the Aether Plus' 210-denier (D) nylon body and bottom proved to be highly resistant to tears and abrasion with no signs of concerning wear or damage thus far. All of the smaller components—including the zippers, straps, clips, and stitching—are also fully intact and functioning flawlessly. And it's important to note that I definitely haven't gone easy on the pack: It was accidentally dipped in a glacial river while crossing a Tyrolean traverse; logged over 80 hours of travel time on multiple flights, ferries, and taxis; and took an accidental tumble down a steep scree field when I set it down in extremely high winds.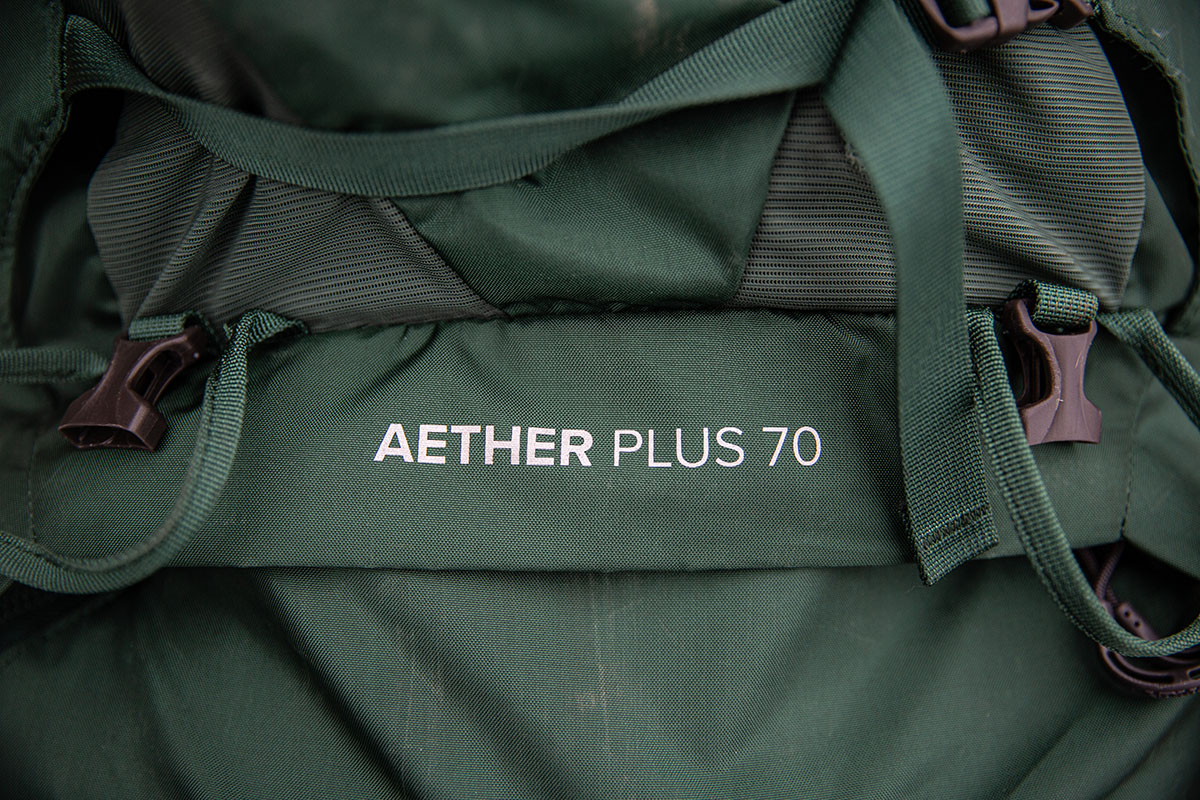 The only issue I've encountered thus far is a small tear in the shove-it pocket at the front of the bag, which was the result of my hiking poles poking through the mesh—an entirely avoidable mistake. As I mentioned, Osprey does include dedicated trekking pole attachment points along the shoulder straps, but they didn't quite work with my compact Black Diamond Distance Carbon Z poles. Instead, I ended up using the ice axe loops to avoid further damage to the front pocket. You can also store your poles in one of the water bottle pockets and secure them with the compression straps.

Fit and Sizing
Osprey offers the Aether Plus in two sizes (S/M and L/XL), and I opted for the larger version to accommodate my tall and broad build. As I covered above, adjustability is a real selling point—this is one of the most customizable backpacking packs I've tested to date. In practice, I had no issue fine-tuning the Fit-on-the-Fly hipbelt and shoulder strap padding to maximize comfort or to accommodate different layering systems (e.g., extended to fit a thick down puffy and rain shell or tightened when wearing just a baselayer). The torso length can also be lengthened or shortened (from 19 to 23 in. in the larger size and 17 to 21 in the S/M) by moving the harness up or down and pulling the tabs above the hipbelt, and the waist belt has plenty of wiggle room to fit a wide range of body types. Finally, the sternum strap can be moved up or down to tweak its positioning—a small but valuable feature—and hasn't slipped throughout testing.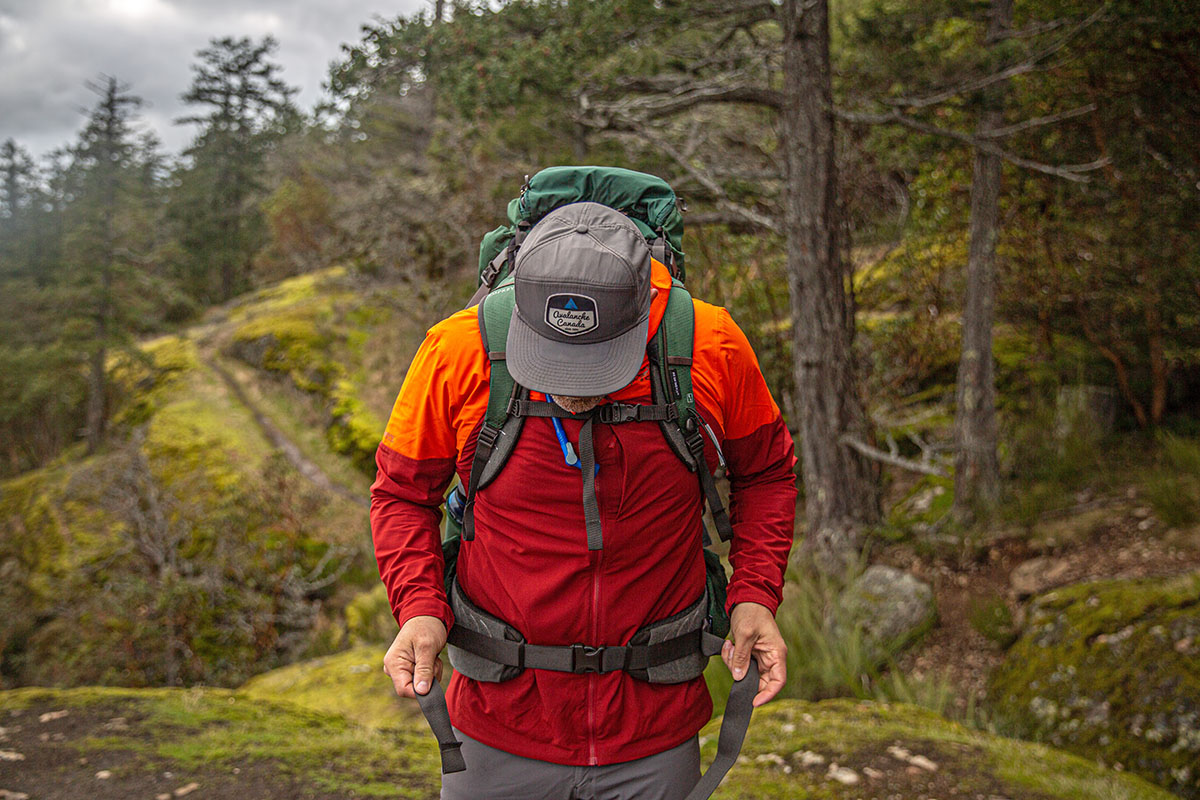 Sustainability
Like many outdoor brands, Osprey has made serious strides on the sustainability front in recent years. In this case, the Aether Plus' body, accents, and bottom are all made with nylon that's bluesign-approved, which indicates that all the chemicals used have been deemed safe for consumers, workers, and the environment. They also boast PFC-free DWR coatings that forgo the use of perfluorocarbons, which are known as "forever chemicals" due to their inability to break down. Osprey doesn't specify the rain cover material, but it's also bluesign-approved with a PFC-free DWR for fending off light moisture. We hope to see the use of recycled fabrics in a future update, but as it stands, the Aether Plus is a thoughtfully made and sustainably minded pack.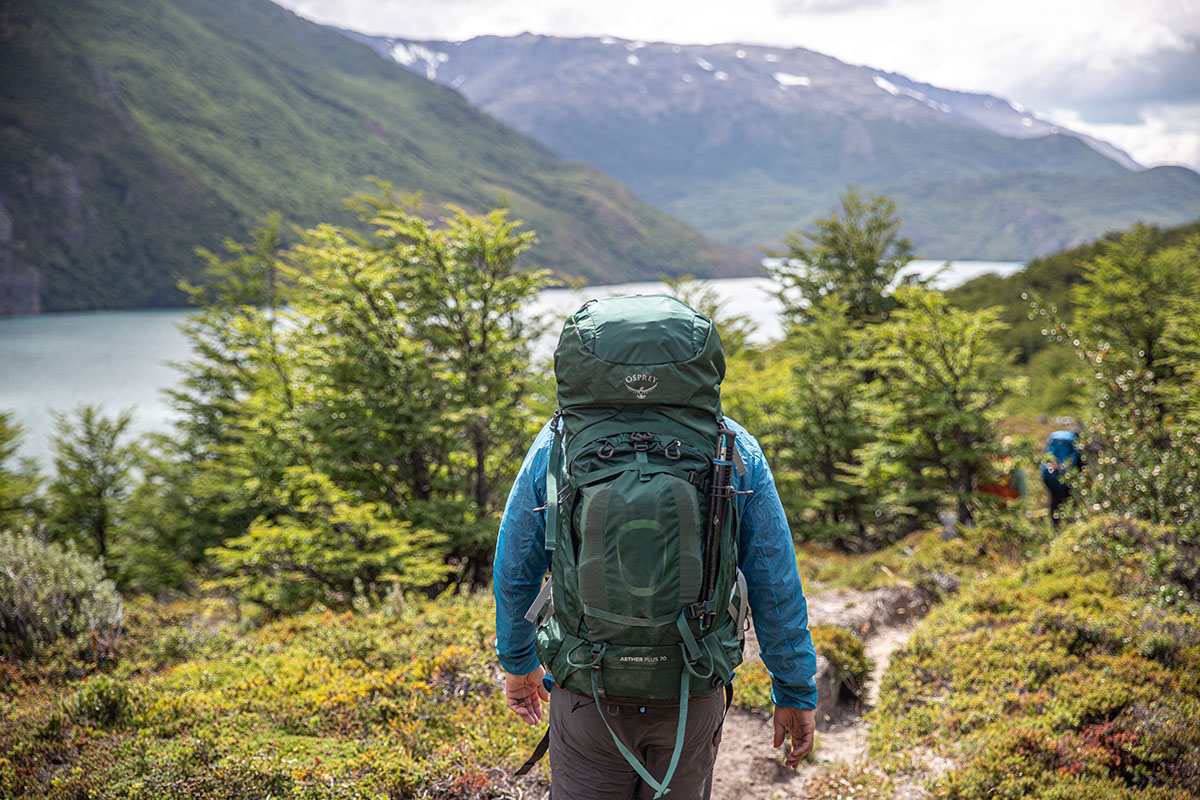 Other Versions of the Osprey Aether
We tested the Aether Plus 70 for this review, and the line also includes 60, 85, and 100-liter capacities. As expected, the Aether Plus 60 is the cheapest and lightest at $390 and 5 pounds 15 ounces for the L/XL size, the Aether Plus 100 is the priciest and heaviest at $450 and 6 pounds 11.1 ounces, and the Aether Plus 85 splits the difference at $440 and 6 pounds 3.7 ounces. Osprey also sells the standard Aether (no "Plus") in 55- and 65-liter versions, which boast trimmed-down exterior storage, have a J-shaped (rather than U-shaped) front zipper, and lack the convertible top lid but check in considerably lighter. New for 2023, there's also an "Extended Fit" version of the Aether 65, which is designed to fit hips up to 70 inches wide and includes a longer sternum strap, extended hipbelt and shoulder straps, and modified pocket placement. Rounding out the lineup is the Aether Pro 70, which is an even more streamlined variation with strippable features for uses like mountaineering and alpine climbing.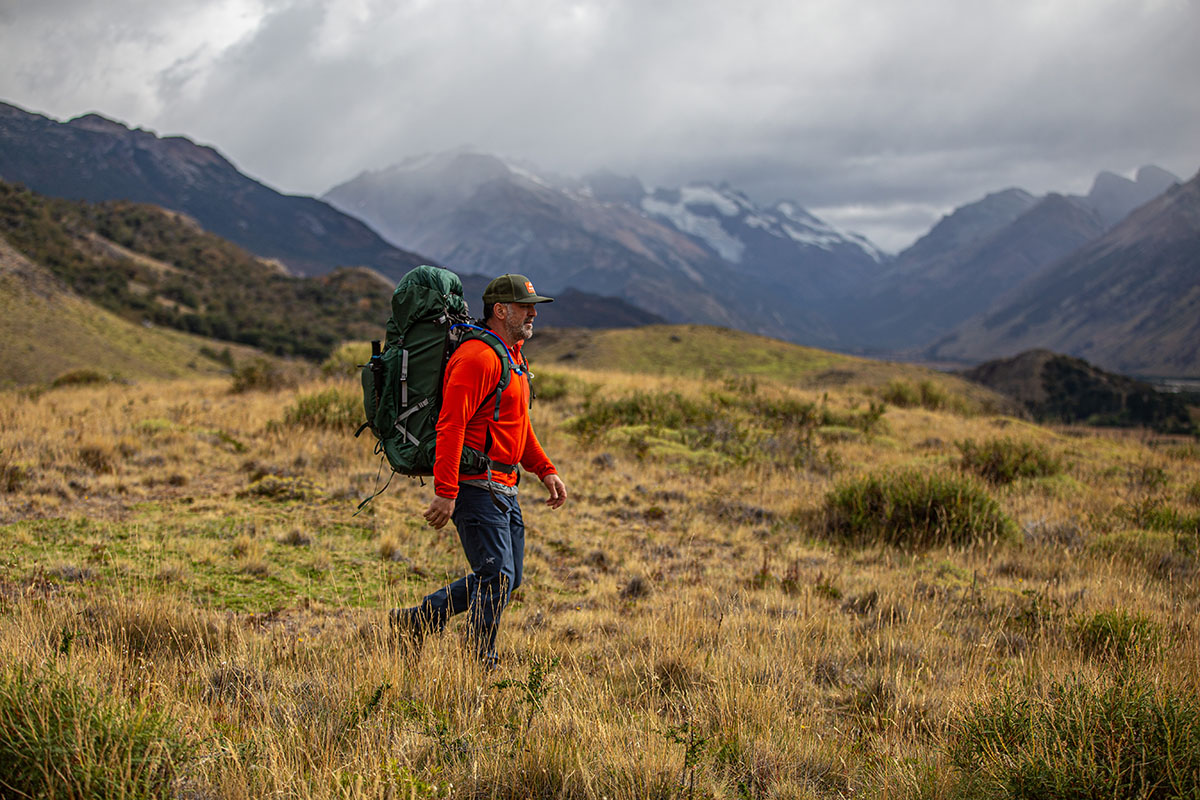 Women's-Specific Osprey Ariel
The Aether's women's-specific counterpart is the Ariel, and most of the collection mimics the men's models. Starting with the Ariel Plus lineup, you get the choice between 60, 70, and 85-liter capacities (there's no 100L option), which are lighter than the comparable men's versions, sold in different colorways, and have unique sizing options to accommodate smaller frames. For example, compared to the Aether Plus 70 here, the women's Ariel Plus 70 clocks in at 5 pounds 12.8 ounces, comes in extra small/small and medium/large sizes, and can accommodate torsos ranging from 13 to 20 inches. Similar to the Aether lineup, the Ariel is also offered in pared-down standard variations (55 and 65L, plus an "Extended Fit" option for the latter), as well as a 65-liter Pro option for alpine or weight-conscious pursuits.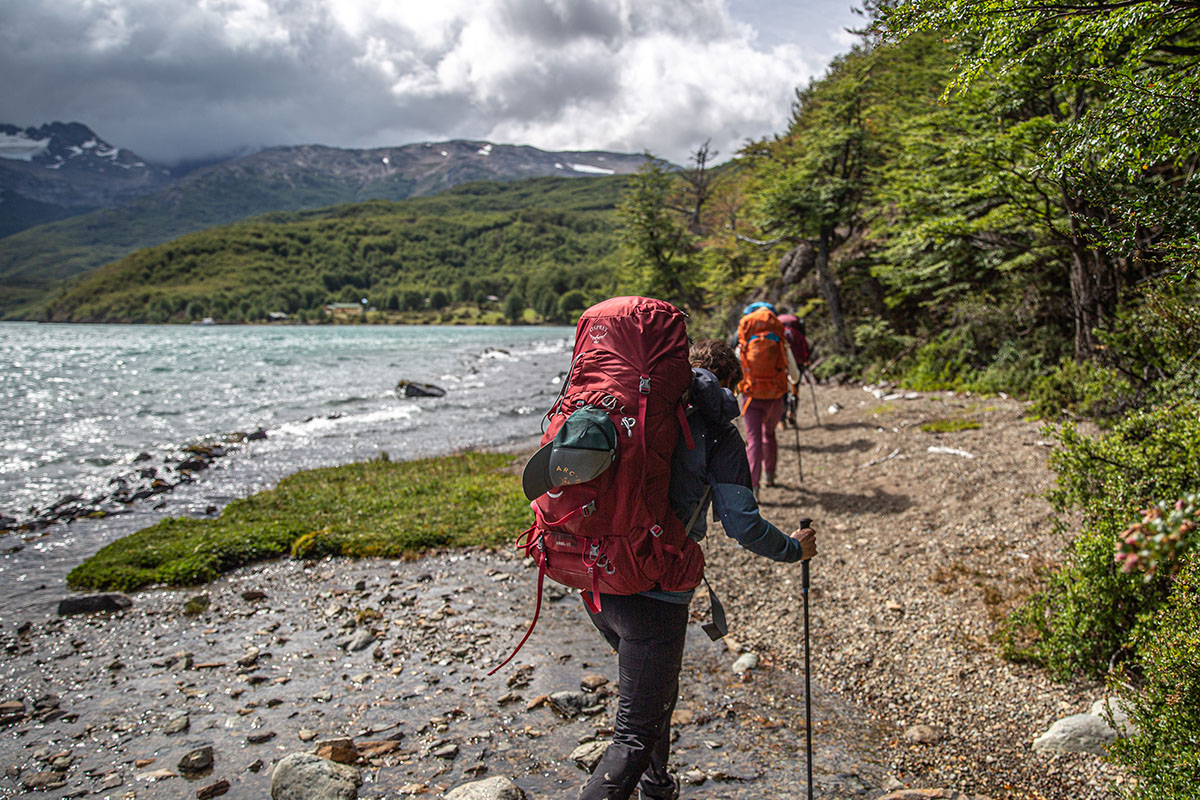 What We Like
Top-notch comfort and durability for shuttling heavy loads (up to 60 lbs.) over long distances.
Fit-on-the-Fly system for adjusting the shoulder strap and hipbelt padding is very effective at customizing fit and results in excellent support with minimal sway.
U-shaped zipper provides comprehensive access to the main compartment without having to remove items from the top.
Integrated daypack is surprisingly practical for summit pushes and quick outings from camp.
Ample space to stow all the essentials with nine total pockets (11 if you include the daypack and rain cover compartments).

What We Don't
At over 6 pounds for the L/XL size, the Aether Plus is unapologetically heavy and overkill for all but the most gear-intensive trips.
Around $50 pricier than most competitors without enough to show for it.
AirScape backpanel is a step down in breathability from Osprey's AntiGravity design found on their Atmos and Aura packs.
Stow-on-the-Go attachments didn't work with my folding poles and don't keep poles far enough away to avoid arm contact while hiking. 
Water bottle pockets are too snug to fit a 32-ounce Nalgene when the pack is full.


Comparison Table
| Pack | Price | Weight | Fabric | Capacities | Access | Pockets |
| --- | --- | --- | --- | --- | --- | --- |
| Osprey Aether Plus 70 | $410 | 6 lb. 2.7 oz. | Nylon (210D) | 60, 70, 85, 100L | Top, front | 9 exterior |
| Osprey Aether 65 | $320 | 4 lb. 15.4 oz. | Nylon (420D & 210D) | 55, 65L | Top, front | 7 exterior |
| Osprey Atmos AG 65 | $340 | 4 lb. 12.9 oz. | Nylon (210D & 500D) | 55, 65L | Top, front | 7 exterior |
| Gregory Baltoro 75 | $360 | 5 lb. 5.8 oz. | Nylon (210D) | 65, 75, 85L | Top, front | 9 exterior |
| Arc'teryx Bora 75 | $360 | 4 lb. 8 oz. | Nylon (420D & 630D) | 50, 63L | Top, side | 6 exterior |

The Competition
Osprey's Aether Plus 70 is a highly comfortable and feature-rich heavy hauler, but it's undeniably expensive and heavy. For $90 less, Osprey's standard Aether 65 (no "Plus") offers similar all-around performance and many of the same features in a slightly more streamlined package. In parsing out the differences, the Aether 65 is lighter by over a pound and boasts a thicker and more durable body fabric (420D) but forgoes the vertical pockets flanking the front shove-it pocket. It also features a J-shaped zipper for accessing the main compartment—which is a little less convenient than the Aether Plus' more generous U-shaped design—and leaves out the Stow-on-the-Go trekking pole attachments (not a big omission, in our opinion). Finally, the Aether's top lid doesn't convert into a daypack, although you get anchor loops for securing Osprey's Daylite pack (sold separately for $65). In the end, particularly gear-heavy trips may warrant the Aether Plus' upgraded storage layout, but the Aether 65 should suffice for most.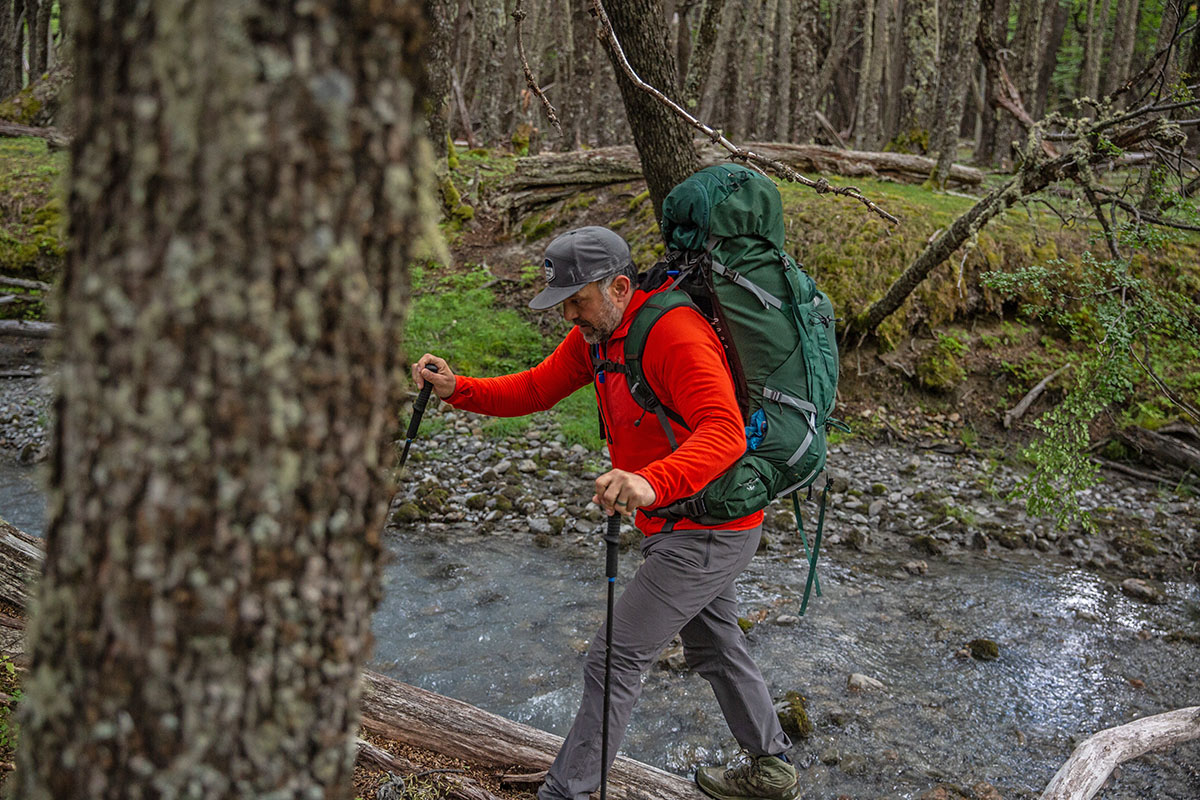 For comfort-focused backpackers who don't plan to max out the Aether Plus' 60-pound limit, Osprey's own Atmos AG 65 could be a better match. Benefits include a major drop in weight (4 lbs. 12.9 oz. for the L/XL), significant $70 savings, and sizable upgrade in breathability thanks to the AntiGravity mesh backpanel that features more hanging mesh (i.e., more space between the pack and your back) than the Aether Plus' AirScape design. The Atmos is only rated up to 40 pounds, although that's realistically ample for most backpackers headed out for a few days at a time. And importantly, you still get many of the features that we love, including the Fit-on-the-Fly adjustment system, integrated rain cover, reinforced shove-it pocket, and convenient access to the main compartment in the form of curved zippers at each side. In other words, unless you're embarking on a particularly long or gear-intensive mission, the Atmos AG 65 should be plenty of pack.
Back to the heavy-hauling category, Gregory's Baltoro 75 is our favorite backpacking pack for shuttling serious weight over long distances. Stacked up against the Aether Plus, the Baltoro costs $50 less and checks lighter at 5 pounds 5.8 ounces for the large size with an additional 5 liters of capacity. You don't get an integrated rain cover or daypack like you do with the Osprey, but there are ample exterior pockets (nine total) for stashing the essentials, and the strong suspension and pivoting shoulder straps carry heavy loads (up to 55 lbs.) extremely well. Like the Aether Plus, the Baltoro also boasts convenient U-shaped access to the main compartment, a tough and confidence-inspiring build, and adjustability at the torso and hipbelt. All told, while there's a lot to like with the Aether Plus, it's hard to justify spending more for less capacity—at a higher weight to boot.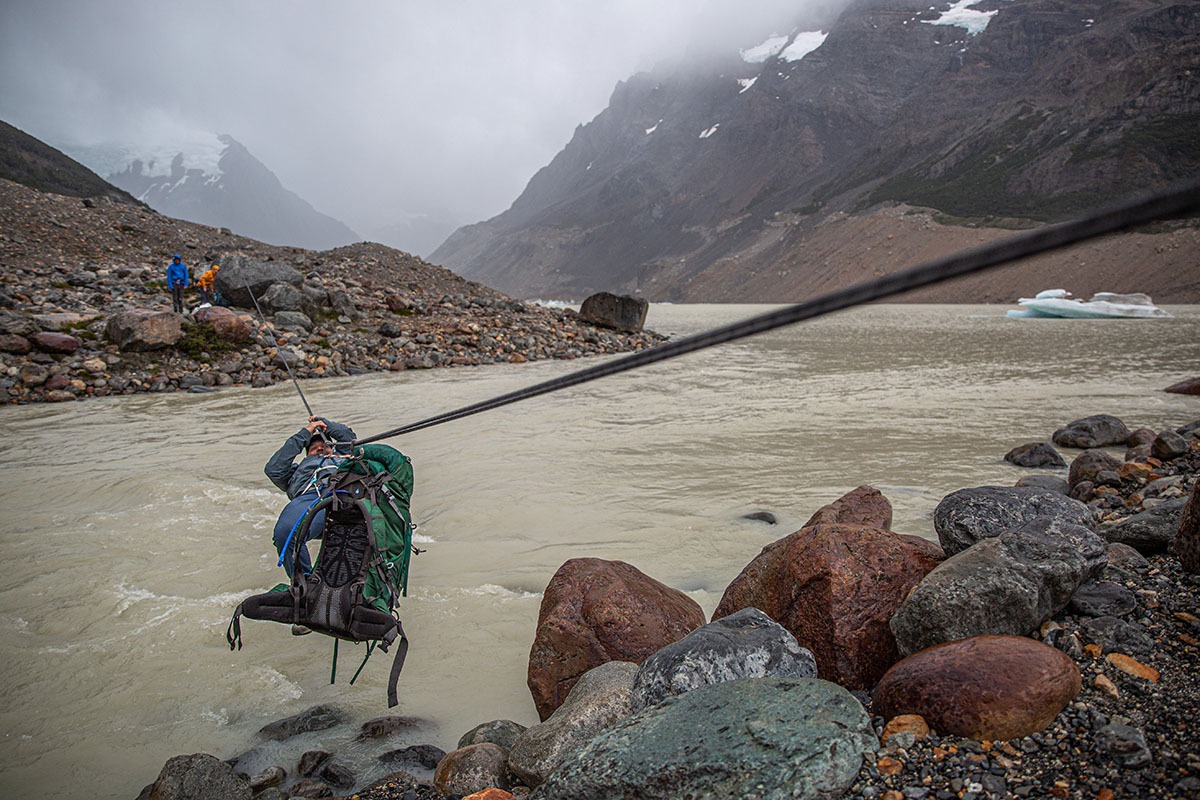 A final alternative to consider is Arc'teryx's Bora 75, which joins the Aether and Baltoro above as a purpose-built pack for shouldering heavy loads. Like the Baltoro, the Bora is both cheaper and lighter than the Aether Plus at $360 and 4 pounds 8 ounces while offering an additional 5 liters of capacity. As we've come to expect from Arc'teryx, the Bora is also well built with tough fabrics and waterproofing in areas prone to moisture (although no rain cover), features a more breathable backpanel design, and offers ample adjustability for dialing in fit. All that said, the Bora doesn't have an internal hydration sleeve, the hipbelt pockets lack zippers for securely stowing valuables, and we came away largely unimpressed by the RotoGlide hipbelt, which required frequent adjusting on steep slopes to maintain a well-balanced feel (for more, see our in-depth Bora 75 review). The cost and weight savings are certainly appealing, but we consider the Aether Plus to be the more capable and confidence-inspiring heavy hauler.
If you're thinking about buying gear that we've reviewed on Switchback Travel, you can help support us in the process. Just click on any of the seller links above, and if you make a purchase, we receive a small percentage of the transaction. The cost of the product is the same to you but this helps us continue to test and write about outdoor gear. Thanks and we appreciate your support!
Depending on the seller, most products ship free in the United States on orders of $50 or more. International shipping availability and rates vary by seller. The pricing information on this page is updated hourly but we are not responsible for inaccuracies.
Learn More About Backpacking Gear